Here is part 3 of my trip report to Tansania. After the outbound flight ZRH-DAR (see TR:
ZRH-DAR
and the domestic flight ZNZ-DAR (see TR:
ZNZ-DAR
, it was time to fly back home, again on LX with an en-route stop at NBO.
Flight LX 293
Routing DAR-NBO-ZRH
Seat 12A (Business)
Aircraft Airbus A330-200 HB-IQO
STD 9:35 PM
Flight time: DAR-NBO 50min, NBO-ZRH 7h30
We had arrived at 5:45 PM at the DAR domestic terminal on the Coastal Aviation flight from Zanzibar and took Coastal´s complimentary shuttle to the international terminal.
There was a security check and ticket control before we could enter the terminal. As we had only e-tix, the guy accepted my passport as well. Once we were inside the terminal, which was old and worn, but clean, we had to wait for 45 minutes in front of the LX check-in counters because we were early.
Check-in counters in the international terminal of DAR
When the agents arrived, there was some trouble with their computer system and it took a few minutes to fix it. As on the outbound flight (see the other TR), the check-in agent got the message that we were to be upgraded in case of availability, and this time they issued us C boarding passes right away. Passport control was quick and we took part in a survey of some government agency about tourism in Tansania. They wanted to know how much we spent for what and if we liked the country and so on.
We then decided to give the lounge a try, since we already had our C boarding passes. LX uses Air Tanzania´s lounge in DAR. It was hidden in a corner,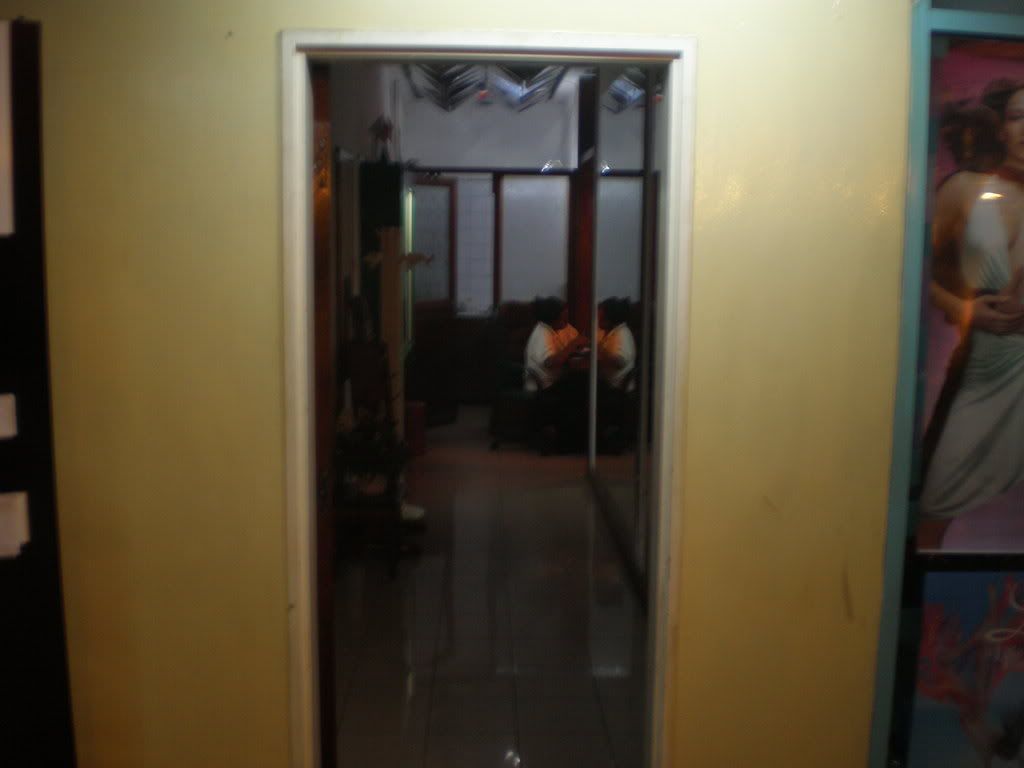 Entrance to the lounge
but they had even put up a Swiss sign next to it. The very friendly lady in there asked for our invitation to the lounge, which we didn´t have, and she asked us to enter the lounge and wait there until she had called an LX representative to figure out whether we were invited or not. It turned out that we were not, since we had staff tickets which had been upgraded, and she asked us whether we wanted to pay 10 US$ each or leave. The lounge was not comparable to what you see at most modern airports - it was a small room with fancy walls and ceiling, some old furniture, two fridges with soft drinks and beers, a cart with alcoholic beverages on it, and a snack bar with some real old sandwiches.
The lounge, with snacks to the left and drinks to the right
The highlight was a flat-screen TV in one corner which tried its best to show Manchester City vs. some other English team, might have been Fulham. Because the channel wasn´t well received, the lounge attendant changed to another channel with some Tanzanian talk show on.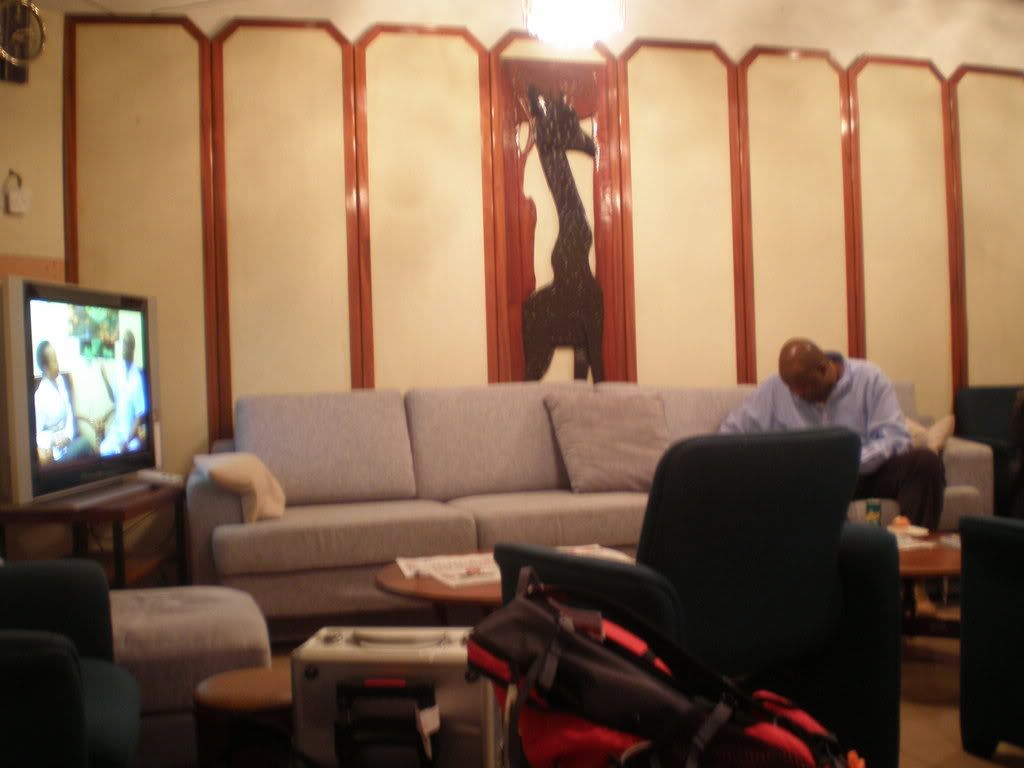 The TV
We kind of liked this funny place and I decided to pay for both of us as a thank you gesture to my friend who had taken me on this trip. So we stayed in there for a while, had some drinks and read a bit. Since we were hungry and we knew that dinner would only be served after the stop at NBO, we went to the Burger Bar next to the lounge (we decided not to try one of those sandwiches from the lounge...). After going back to the lounge for a moment and after shopping a bottle of Campari at the Duty Free Shop, we went to the gate.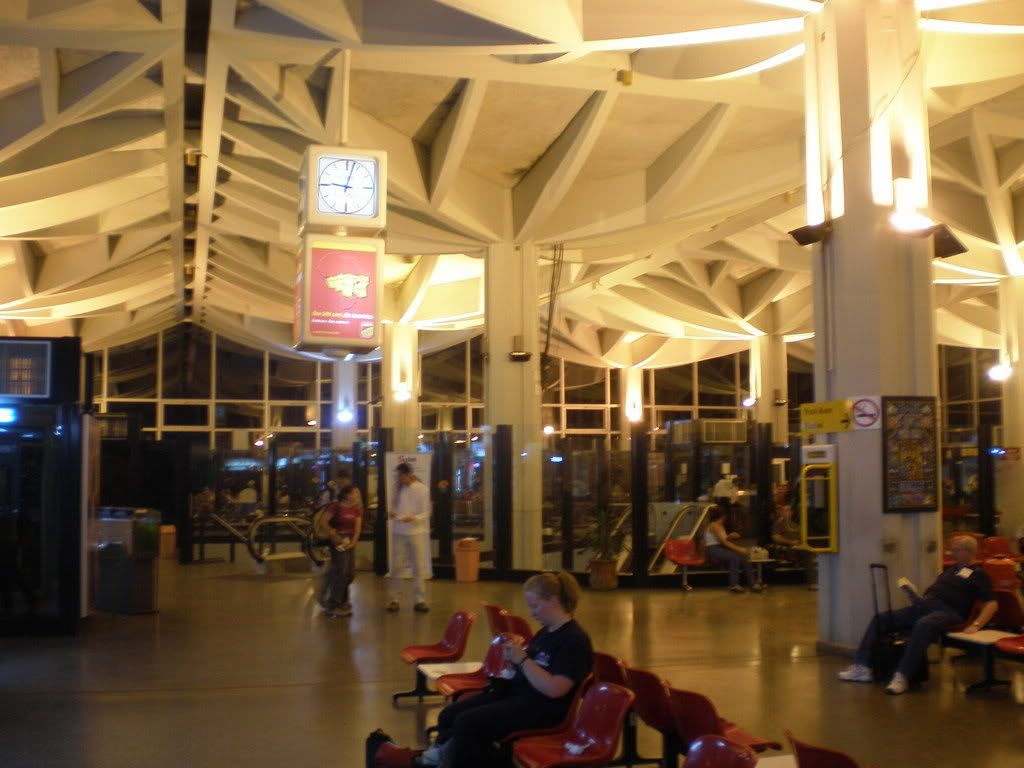 The main departures hall
At the gate, boarding was called quite soon, and despite the announcement about which rows etc. were to board first, everybody just lined up and nobody cared. I guess this wasn´t a problem, since it went smooth and there were only about half the pax boarding at DAR and the rest at NBO. We entered the aircraft, and this time our seats were in the second C cabin to the right of door 2L. After an orange juice / champagne / water for the C pax, they were ready for taxi and off we went.
C cabin after we had boarded
Takeoff was very powerful, which was clear because the plane was only half full and only fuelled for the short flight to NBO. During this leg, they served some drinks and a salt pretzel snack. After an uneventful flight through the African night sky during which I played some Black Jack on the IFE (relly stupid game indeed, without any money involved!) and then listened to some nice classical music, landing at NBO was smooth and boarding went really fast after the refuelling, so that we were in the air again after less than half an hour. I was impressed about this short time on the ground.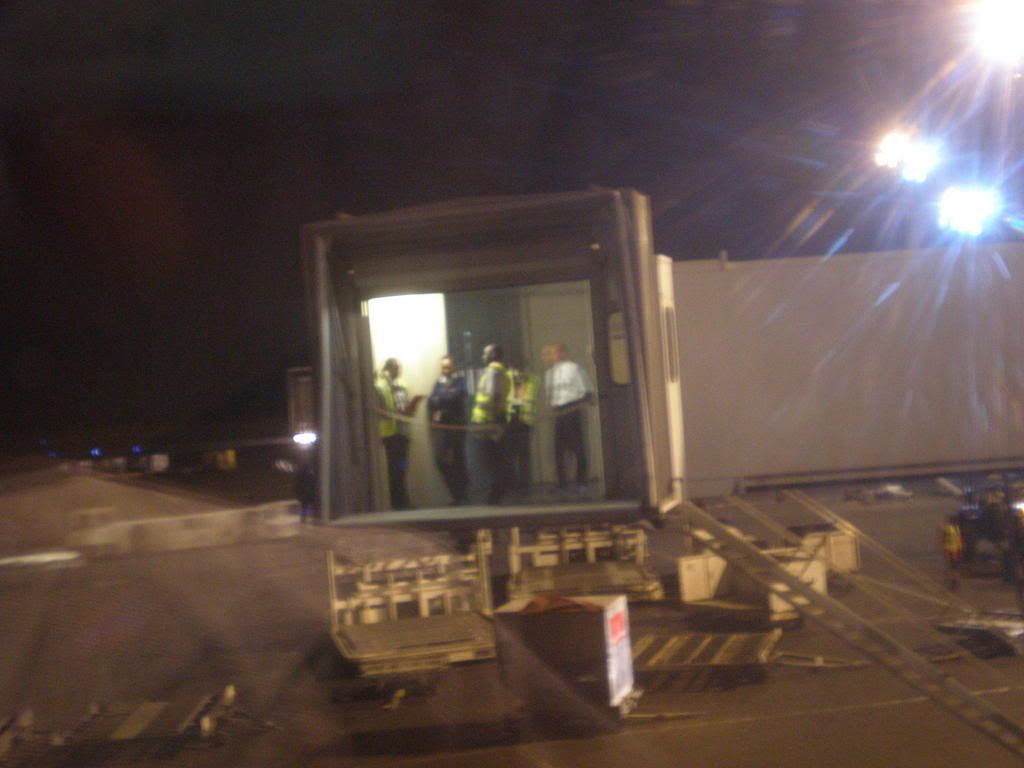 Lots of people in the finger at NBO before it docked to our aircraft
This time, takeoff took significantly longer. I listened to some music again and became really tired, so I was really hoping for a fast meal service. The meal was different this time, of course, and surprisingly, the starter was definitely a lot more interesting than on the outbound flight which had been catered at ZRH. This time, I got a shrimp cocktail, roasted vegetables, mango fruit slices, some salad and a slice of some African fish which was all very nice. The starter was accompanied by a plate of cheese.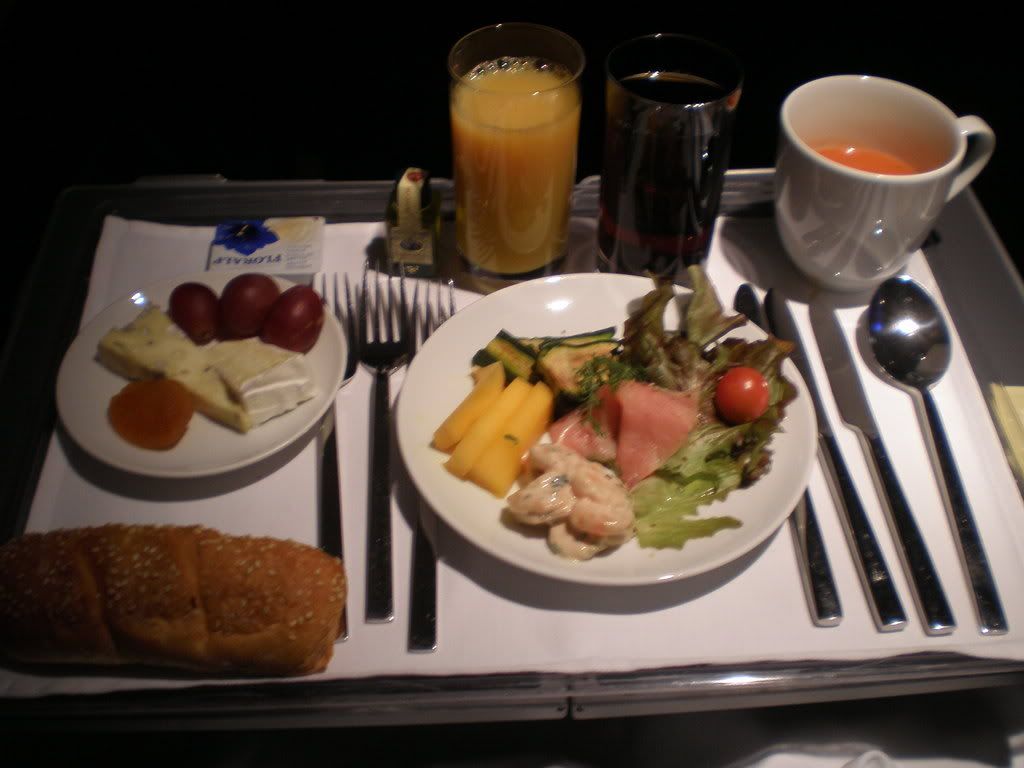 First course
For the main course, I had decided for some fish but to my disappointment, they had run out of it once they reached my seat and I had to take beef instead. It was some East African style meat with a nice sauce and I liked it. To my real shame, I forgot to take a picture of it and I also don´t know what came with the meat any more.
After the main course, I went to brush my teeth and then fell asleep in my seat which I had retracted to its maximum, which isn´t that much but I can´t complain because I didn´t have to pay for it and I´m normally used to flying Y on long haul flights. I managed to sleep about 5 hours, and when I woke up, breakfast had already been finished and we were starting our descent into ZRH. The good thing is that LX offer to skip breakfast, sleep longer and then have breakfast in the arrival lounge at ZRH instad.
After a nice approach over the still sleeping city of Zurich, we landed on Rwy 32 and arrived at the E gates. There was a pre-passport control after the aircraft door and then we went to the Skymetro. Passport control was very crowded this time (I had never arrived in ZRH in the morning longhaul rushhour before), but eventually we got through and went to the arrival lounge. We asked the friendly lady there if we were invited even with our special ticket and she said yes, so we had some breakfast and relaxed for a moment. The lounge looks nice and offers snacks, drinks, fruits, showers, comfortable seats and working spaces, and for those who want to sleep a bit, there are some cabins with deck-chairs.
We then took the train back to St. Gallen and the short vacation was over.
Thanks for reading, comments and questions are welcome.
HAM