Took a quick business trip to Ketchikan on September 24th, enabling me to catch AS 62, one of the infamous Alaska milk run flights through Southeast Alaska. This is a one way report, as I ferried/drove back to Anchorage from Ketchikan (if anybody wants a few Alaska Highway pictures, let me know and I'll post them.)
9/24/07
AS 62
ANC-JNU
Departure: 8:05 AM, gate C5
Arrival: 9:46 AM, gate 4
Seat: 1A
I awoke at 5:30 AM, showered and got cleaned up, gathered a few last minute items, and was headed down Minnesota Drive towards Anchorage International Airport by 6:15. Dropped off my rental at the brand new rental car center (I had just sold my car), and moseyed up to the so-called Airport of the Future to drop off my bag. Luckily there were no crowds at this time of the morning, so the Airport of the Future concept actually worked for me and I had a boarding pass in hand and was headed towards security within five minutes.
After coffee and an internet fix in the Alaska Airlines Board Room, I made the mosey down to C5, and boarded with first class shortly thereafter. I settled into 1A and the extremely friendly flight crew took my drink order (more coffee...I don't do mornings well). Not sure of the overall load factor, but judging from the number of people in the gate area, we were fairly full heading over to Juneau.
We pushed a few minutes early, taxied out past the usual assortment of freighters and turned onto runway 32 for a rolling takeoff and were airborne.
Chugach Mountains after takeoff: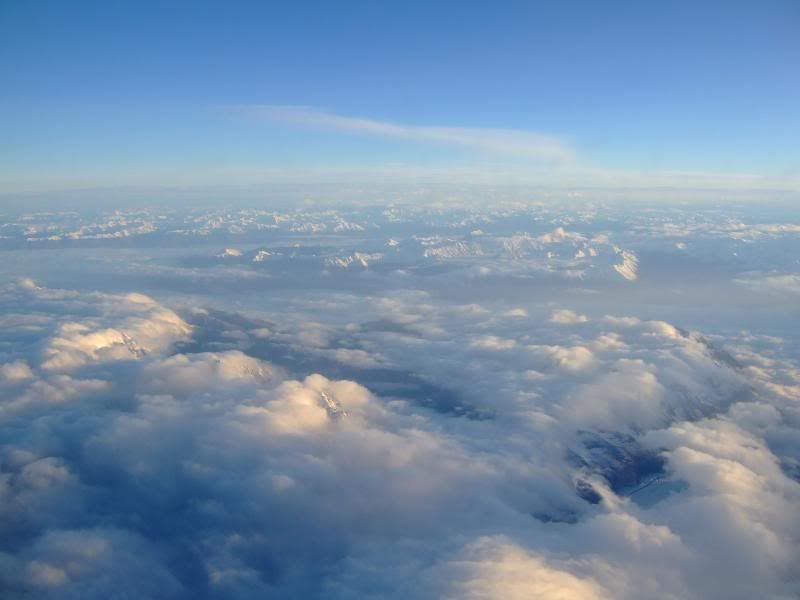 Mountain close-up: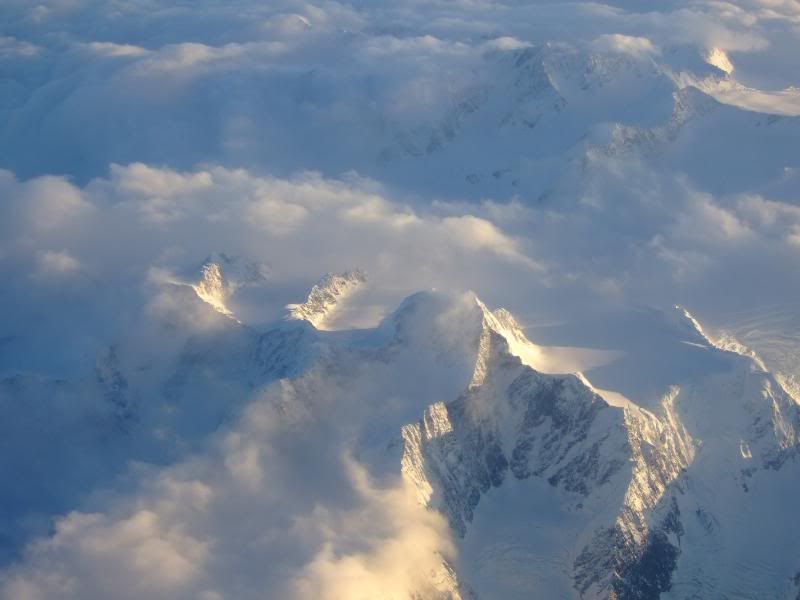 College Fjord, Harvard Glacier, and Yale Glacier:
Our flight path made a right turn shortly after takeoff, heading out over the suburb of Eagle River, then towards Prince William Sound and almost directly over the top of Valdez, down the coast to Yakutat, then over Glacier Bay and Lynn Canal into Juneau.
Drinks and a very tasty breakfast of eggs, fruit, and rosemary potatoes were served upon leveling off and the flight was smooth and uneventful. AS has stepped up their first class offering in the last month, and it shows. The person behind me was asleep, so I reclined back and enjoyed the views sliding by.
Bad picture of the Yakutat Airport and the infamous surfing area:
We started down for Juneau shortly before Glacier Bay, making a left turn into Southeast Alaska and Juneau. When the flaps and gear game down over Lynn Canal, I knew we were lining up for runway 8 at Juneau; not nearly as entertaining of an approach as runway 26, but fun nonetheless. I love landing in Juneau, as it is one of the most fascinating approaches anywhere.
Southern end of the Fairweather Range on approach to Juneau:
Lynn Canal looking north:
Down through the clouds: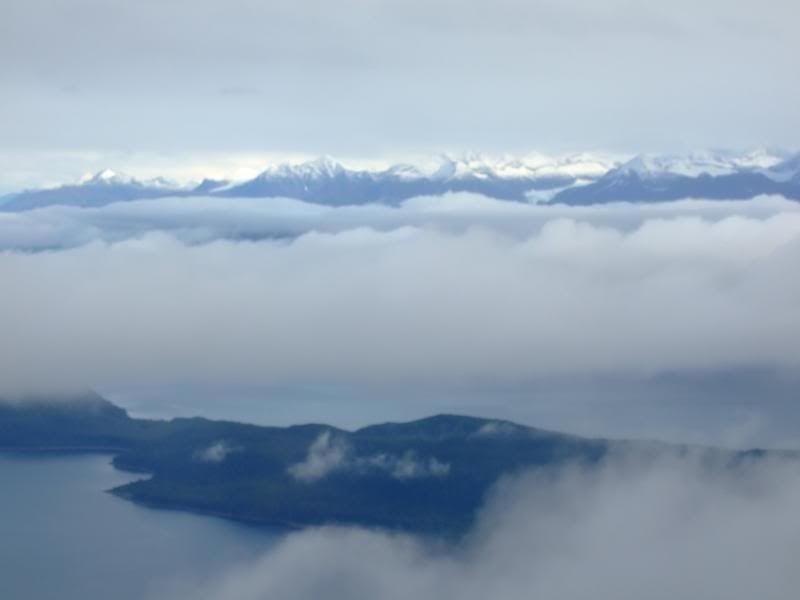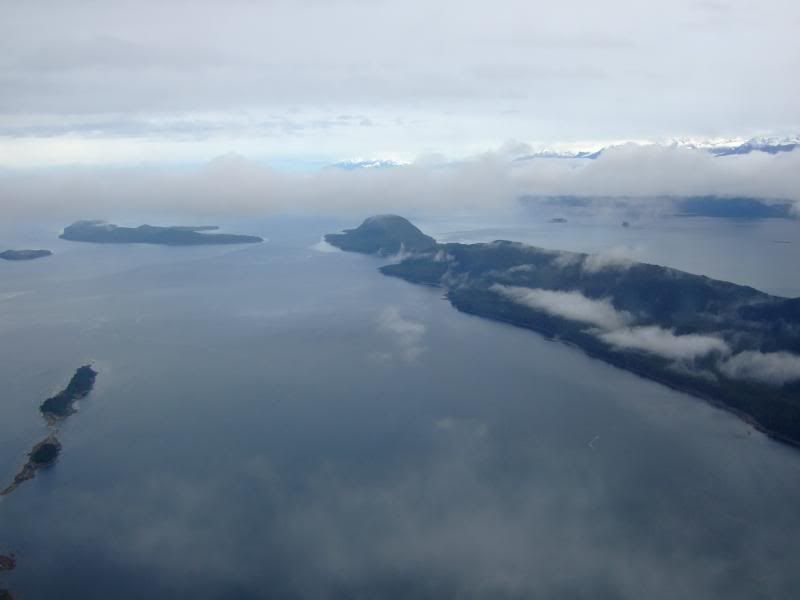 NOAA observatory at Lena Point:
Auke Bay with the state ferry terminal on the left: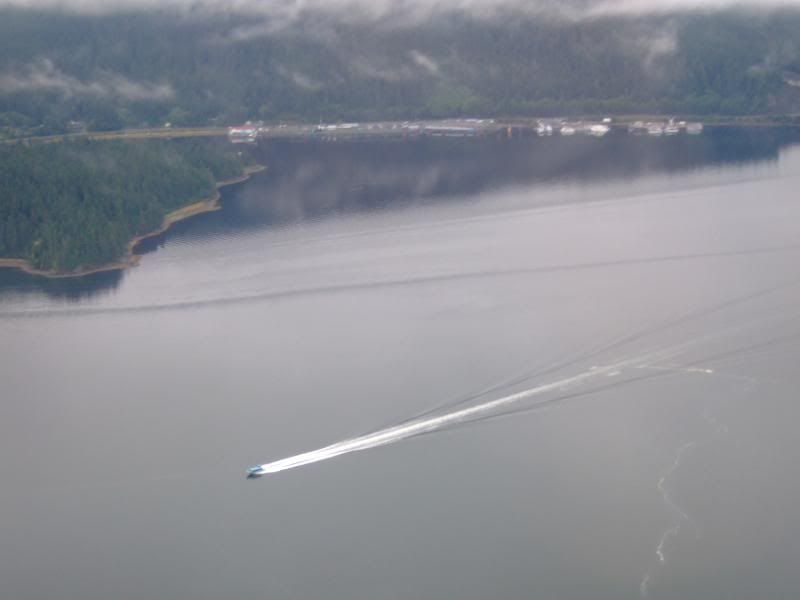 Auke Bay boat harbor: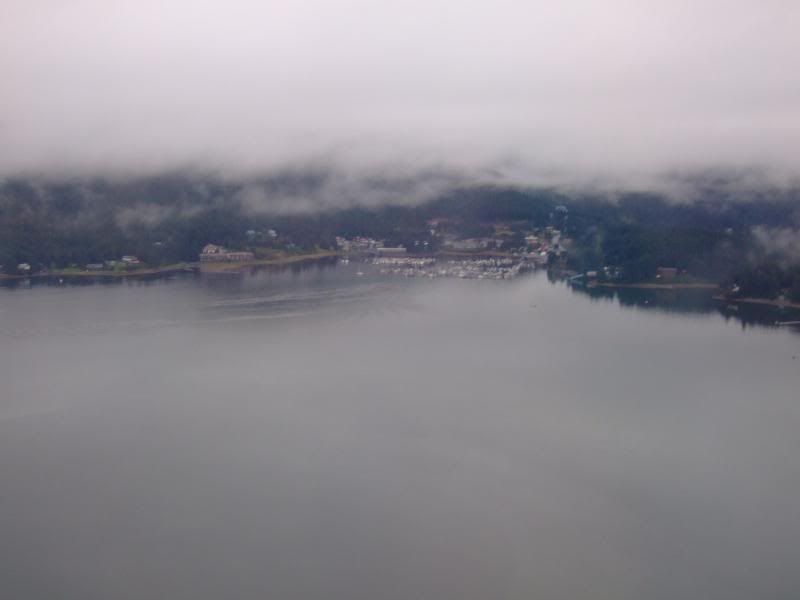 Turning onto final: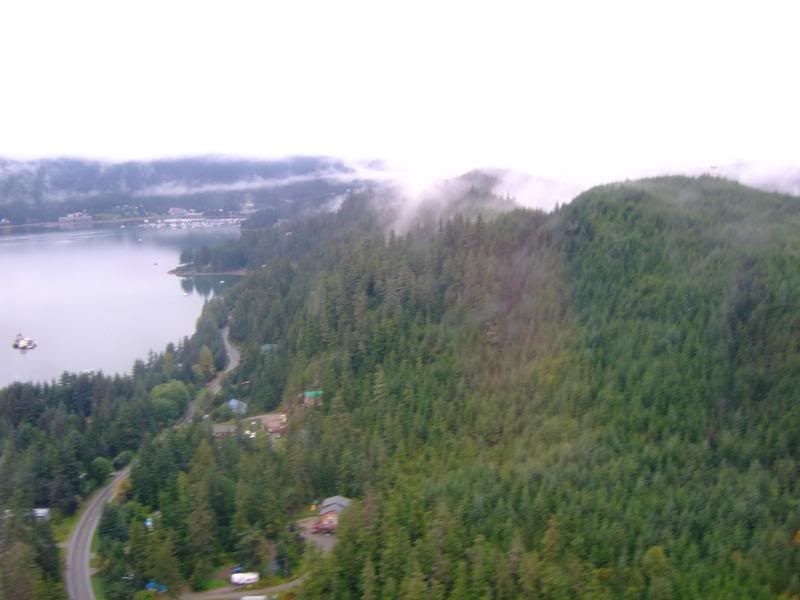 Mendenhall Wetlands on short final: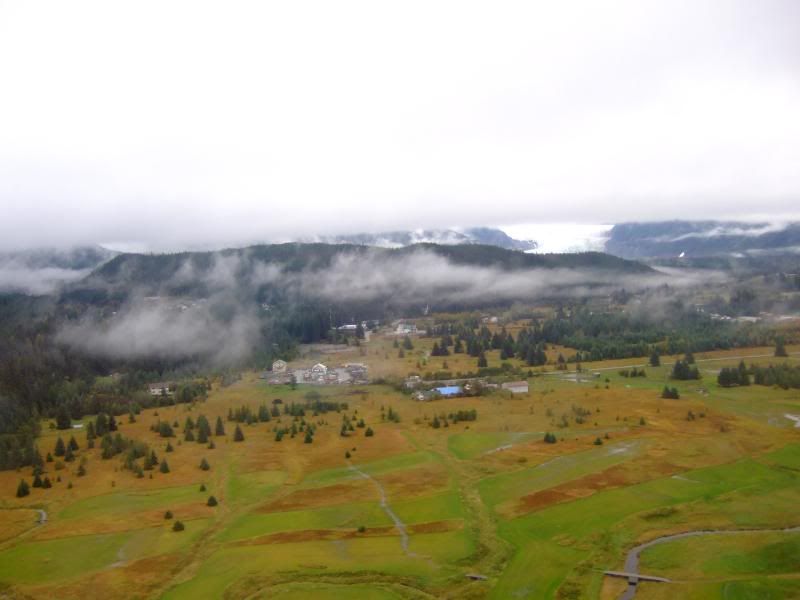 Mendenhall Glacier on extreme short final: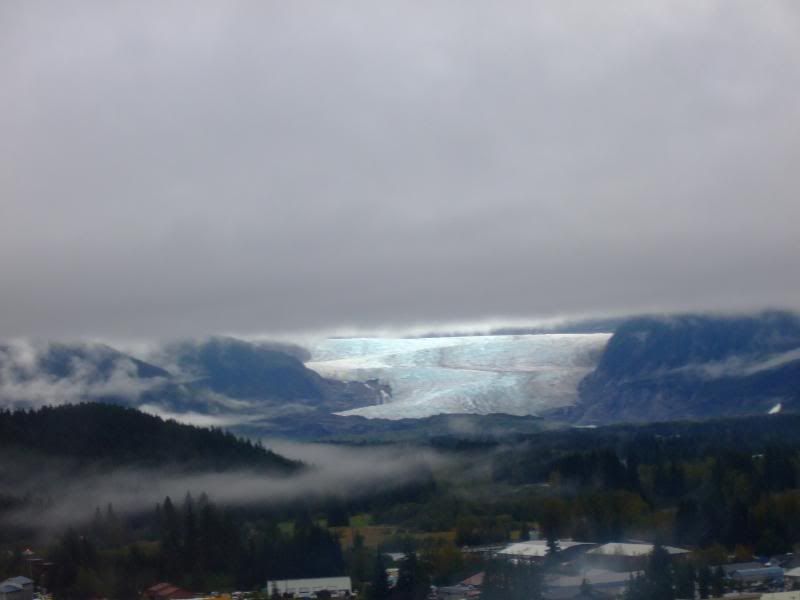 Our trusty steed parked at gate 4 at Juneau International Airport:
9/24/07
AS 62
JNU-SIT
Departure: 10:31 AM, gate 4
Arrival: 11:13 AM, gate 1
Seat 1A
I deplaned in Juneau to stretch my legs and use the bathroom. AS 61 to Yakutat, Cordova, and Anchorage was boarding next door at gate 3. Soon enough, boarding for AS 62 to Sitka, Ketchikan, and Seattle was announced and I meandered back on board.
Block time for this 95-mile flight is listed as about 40 minutes, but our air time over to Sitka today wound up being closer to 20 minutes. It was a short enough flight that there was no inflight service and the FA's just remained seated for the duration of the flight. We went up to 17,000 feet very briefly before heading down to Sitka.
We taxied to runway 26 and held at the threshold as some other traffic took off and landed ahead of us. Flight path called for a left turn to the southwest after takeoff, making a beeline for Baranof Island, and flying the approach over Sitka Sound to runway 11 at Sitka's Rocky Gutierrez Airport.
Bald Eagle holding for takeoff on runway 26 at JNU: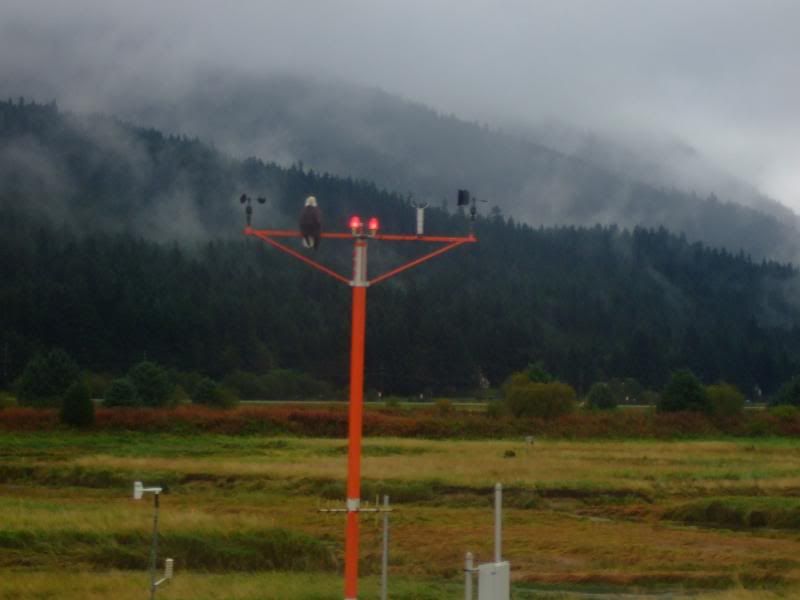 Mendenhall Wetlands from the threshold of runway 26:
Northern tip of Douglas Island shortly after takeoff from Juneau: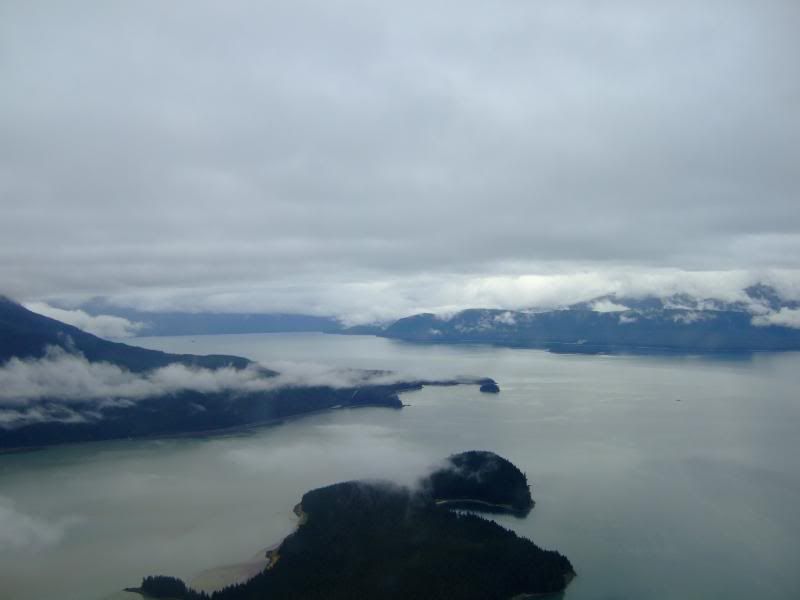 Sitka Sound on approach into SIT:
Northern end of the city of Sitka on final approach to runway 11: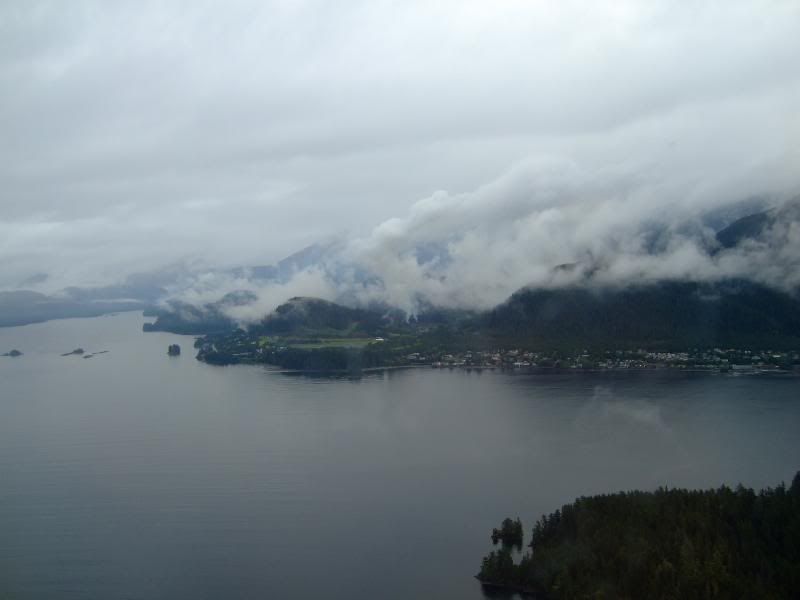 Harbor Bridge linking Sitka to Japonski Island, Mt Edgecumbe High School, the USCG Sitka base, and the airport: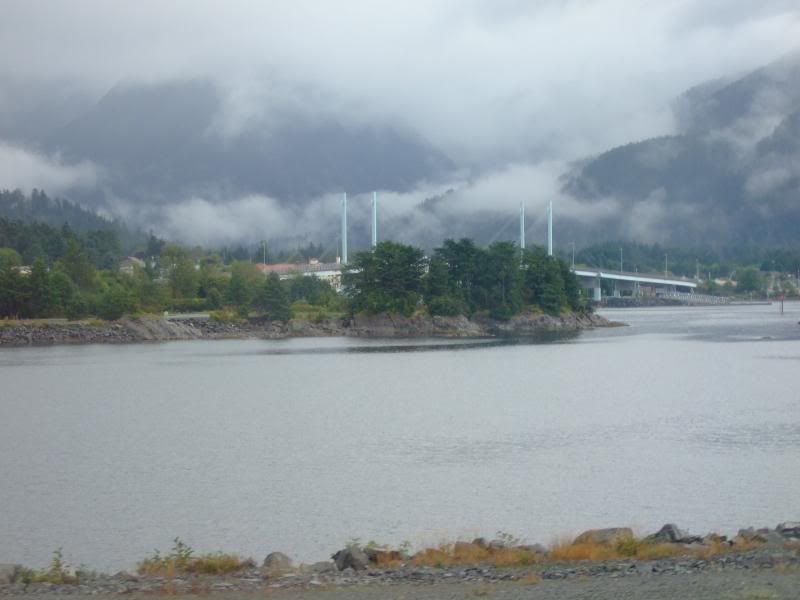 Backtracking on the runway: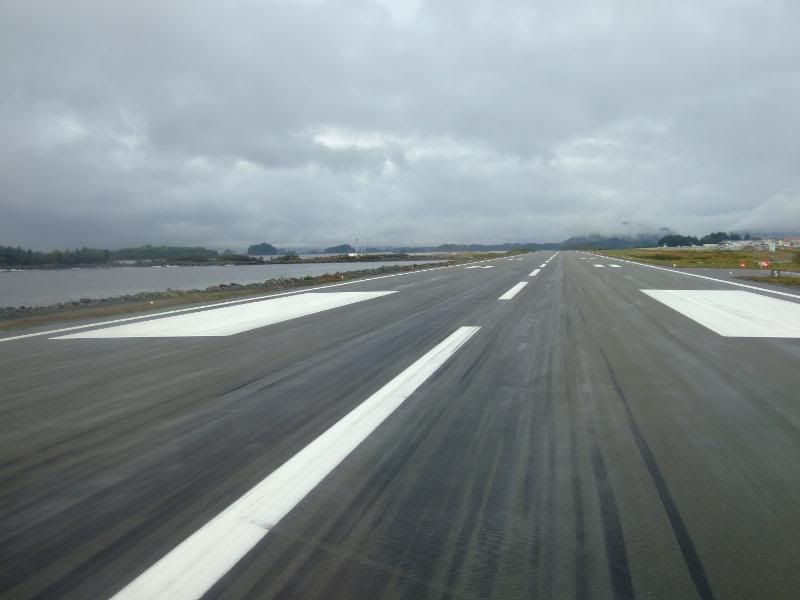 Sitka Sound as seen from the runway: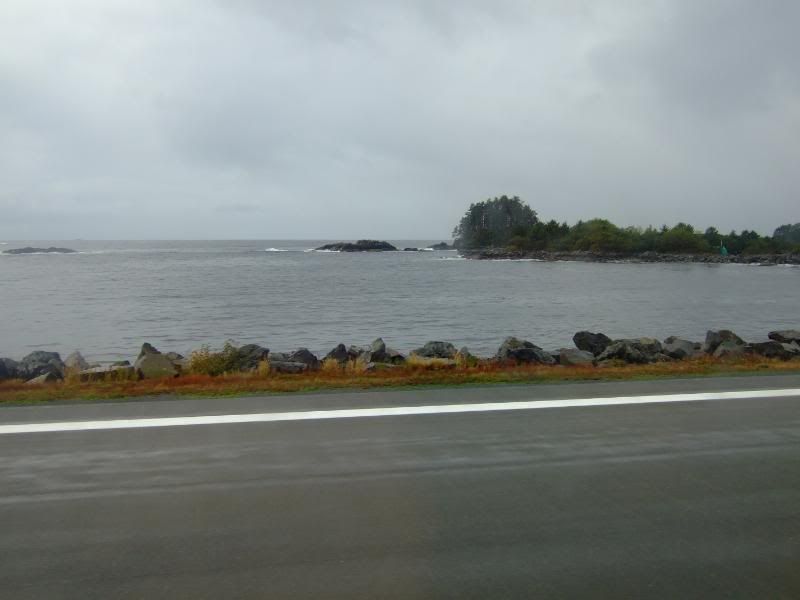 Ramp at SIT: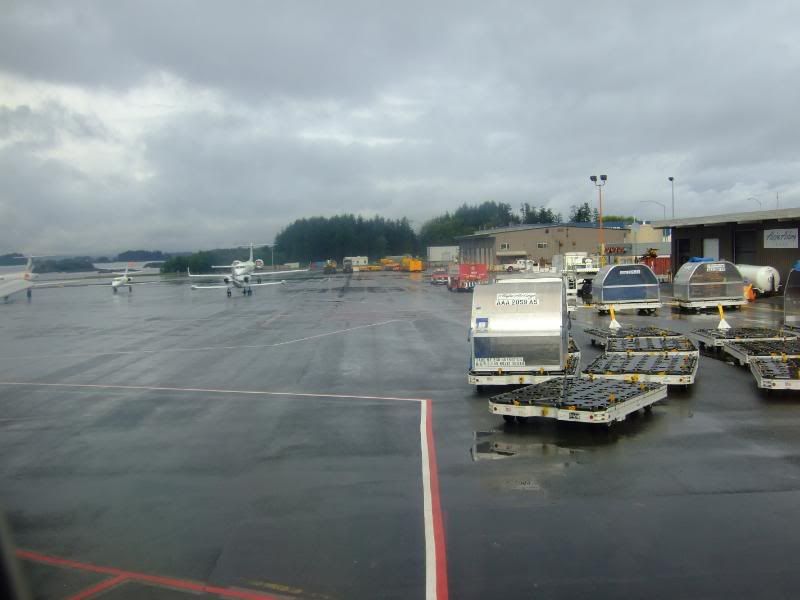 9/24/07
AS 62
SIT-KTN
Departure: 11:53 AM, gate 1
Arrival: 12:42 AM, gate C1
Seat 1A
Continuing passengers to KTN and SEA were asked to remain onboard, since anyone deplaning at Sitka must re-clear security to get back on. Soon enough, re-boarding began and we pushed back from the tiny SIT terminal and headed for runway 11. I apologize for the lack of pictures on this leg; we were in the clouds the entire way to Ketchikan, and once we landed at KTN I turned on my cell phone to find out about a crisis at work back in Anchorage, so I didn't think to get any shots of KTN. But I do have a couple other pictures of Ketchikan to tide you over.
Flight time to KTN was a quick 40 minutes, just enough time for a quick beverage service. We briefly went to FL330 before descending for KTN's runway 11. We made a smooth landing and did a slow roll out to the end of the runway and taxied back to the terminal. KTN has three gates: A1, B1, and C1. Why they didn't just number them 1, 2, and 3 is beyond me. Regardless, C1 is the jetway gate at KTN, and soon enough I was doing the rental car shuffle and took the airport ferry across the Tongass Narrows to my meeting, then spent a great weekend ferrying back north through Southeast Alaska.
Comments are always welcome.
Ketchikan International Airport at night:
Floatplane framed by Gravina Island mountains: