This trip was a quick getaway with my family who was visiting from the US. We all decided to get a flavor of Vietnam by taking a trip there and visiting a few cities going from South to North. This is Part I of a two part report. This part will focus on the flights taken to get to Vietnam and Part II will focus on the flights taken domestically within Vietnam.
Airline:
Tiger Airways (TR)
Flight:
TR 328
Sector:
SIN-SGN
Dep:
11:25AM
Arr:
12:20PM
After going to the office for an emergency meeting with my boss, I took a cab to Changi Airport's Budget Terminal to meet my family. The Budget Terminal is quite simple, and it houses mostly Tiger Airways plus a few Cebu Pacific flights to the Philippines.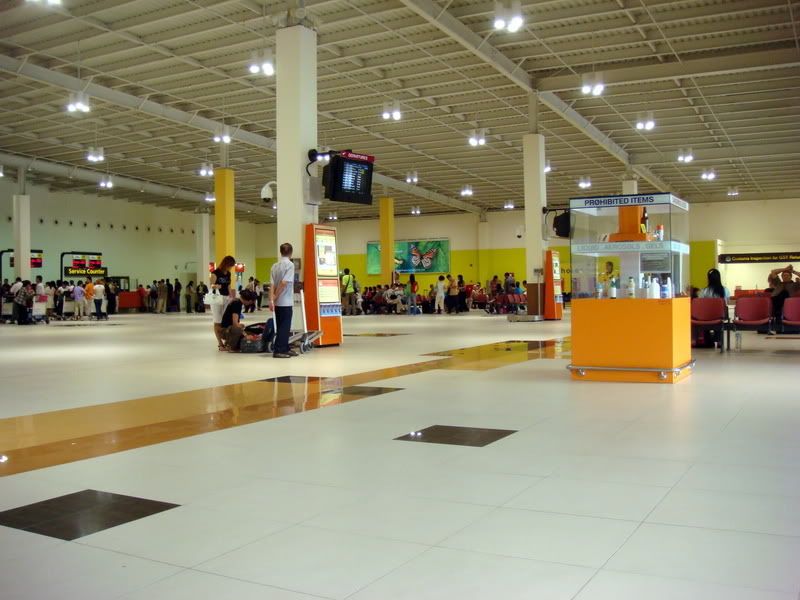 Budget Terminal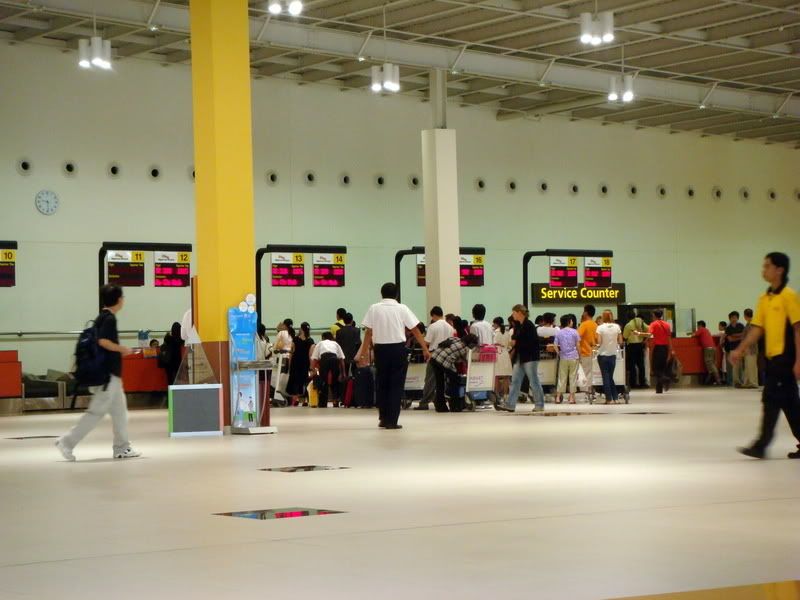 TR Check In
I needed a lock for one of our suitcases and I had to take a shuttle to T2, as the BT has no shops outside the security area. However, this feat took a long time as the bus to T2 was painfully slow.
After checking in, we went through to security and hung around the duty free area before heading over to Gate 6 for our flight to SGN.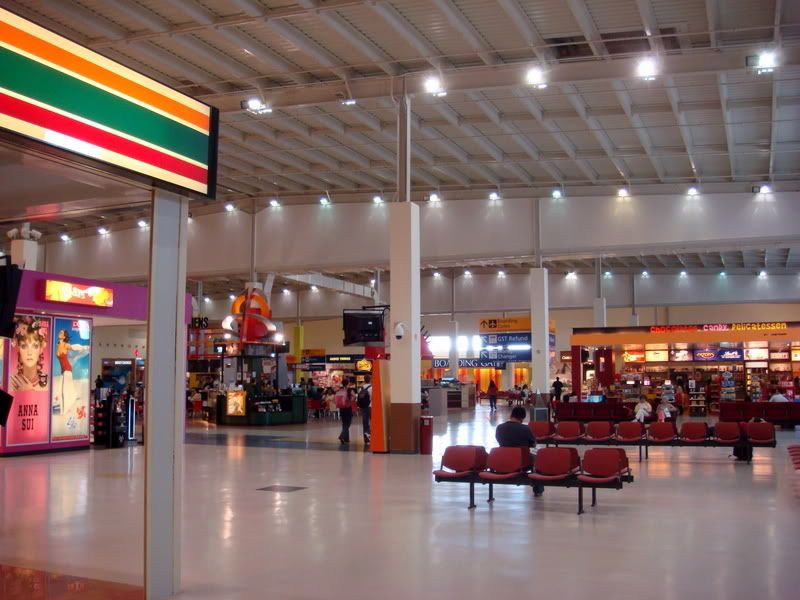 Duty Free Area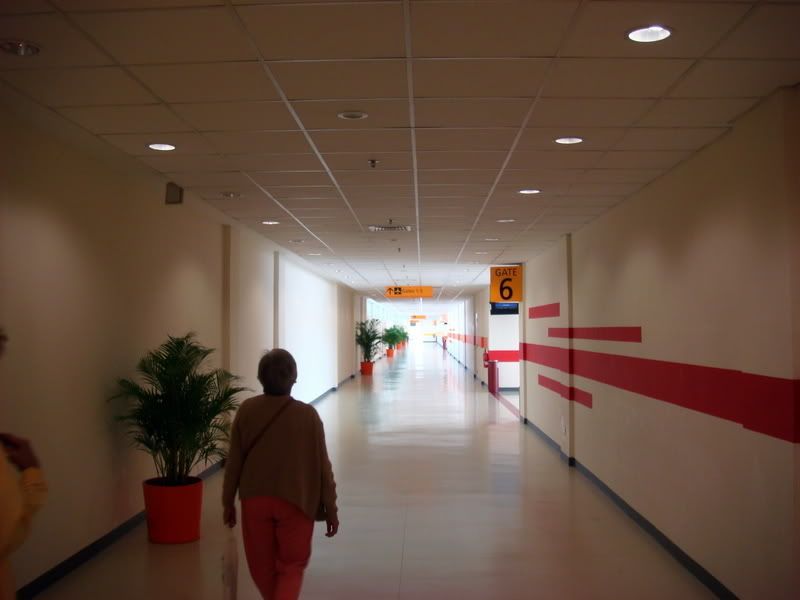 Gate Area
As we got to the gate, our flight was being called. We got in line and headed to the ramp to board the plane via stairs.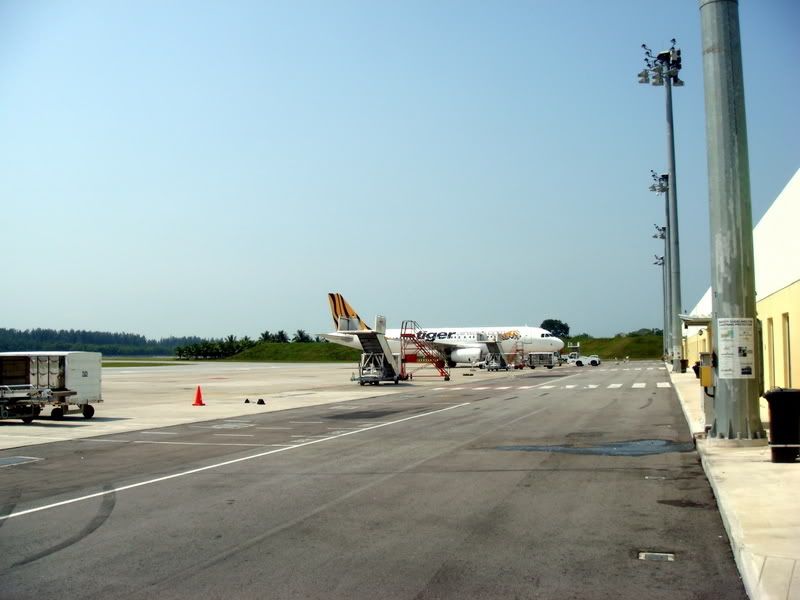 SIN's Budget Terminal ramp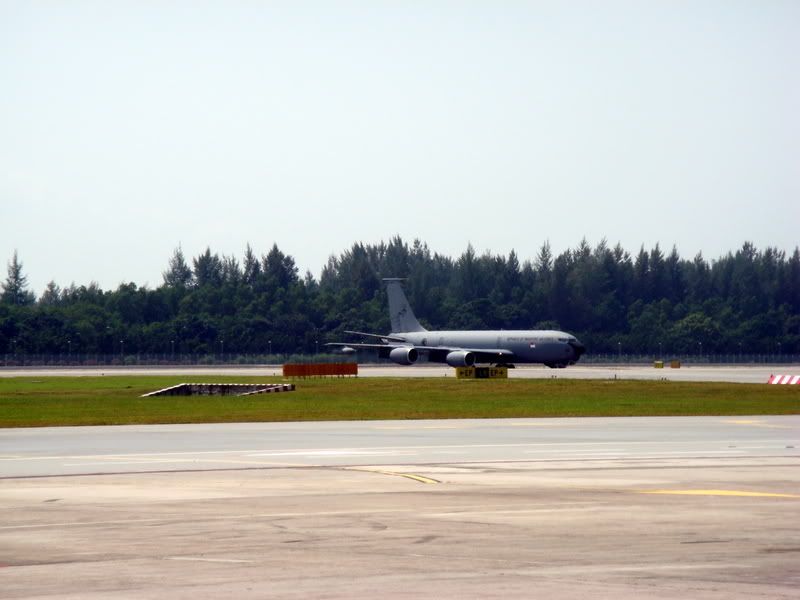 Singapore AF 707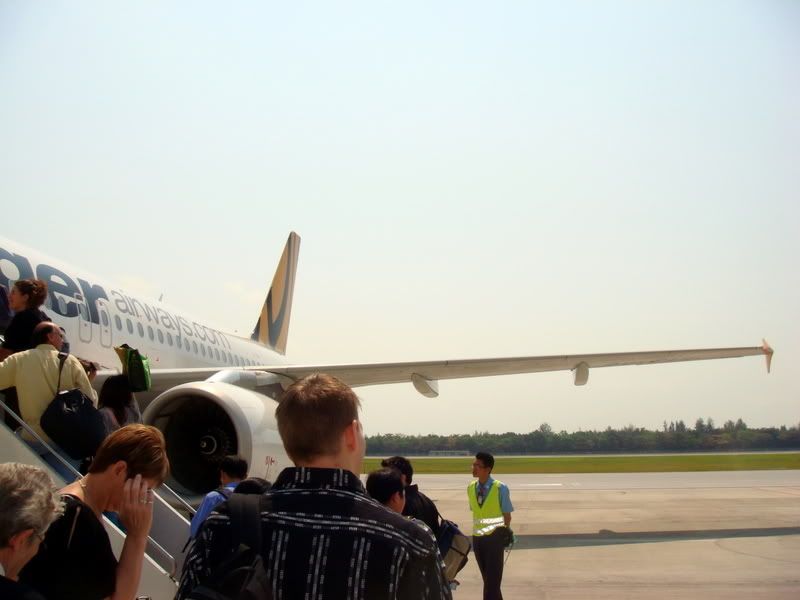 Boarding TR 328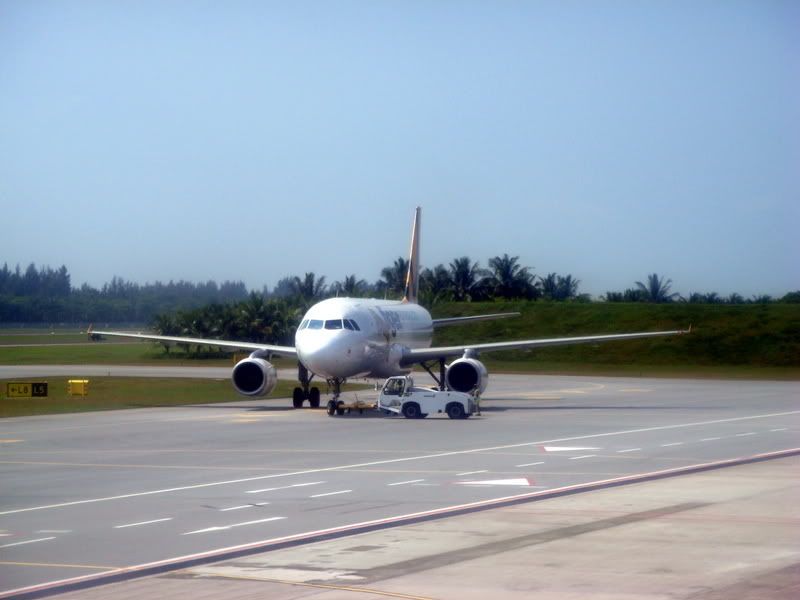 Another TR A/C
Boarding was soon finalized and we sat comfortably on seats 20 A, B, and C.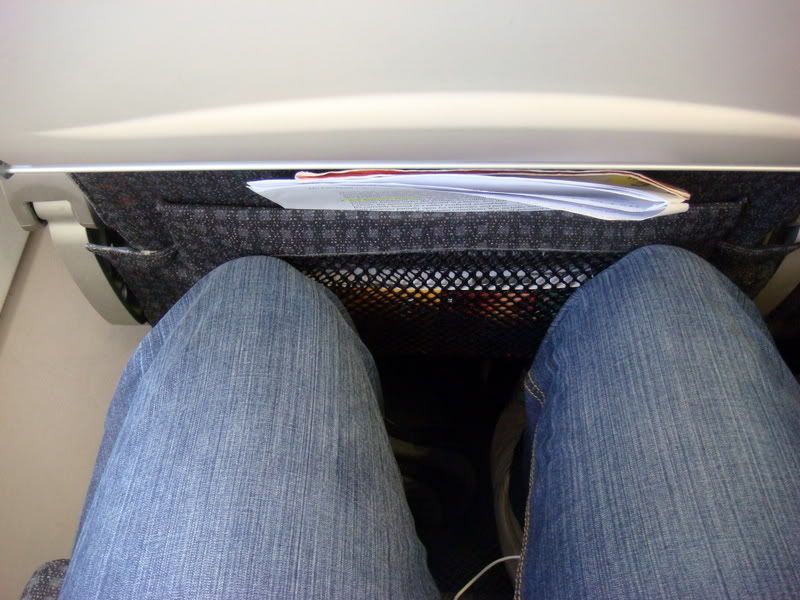 Legroom
The seats were quite tight, much tighter than on other LCCs, such as JQ or B6. It was ok for the 1+hr flight. Boarding was complete pretty soon, so we pushed back and headed for Rwy 02L.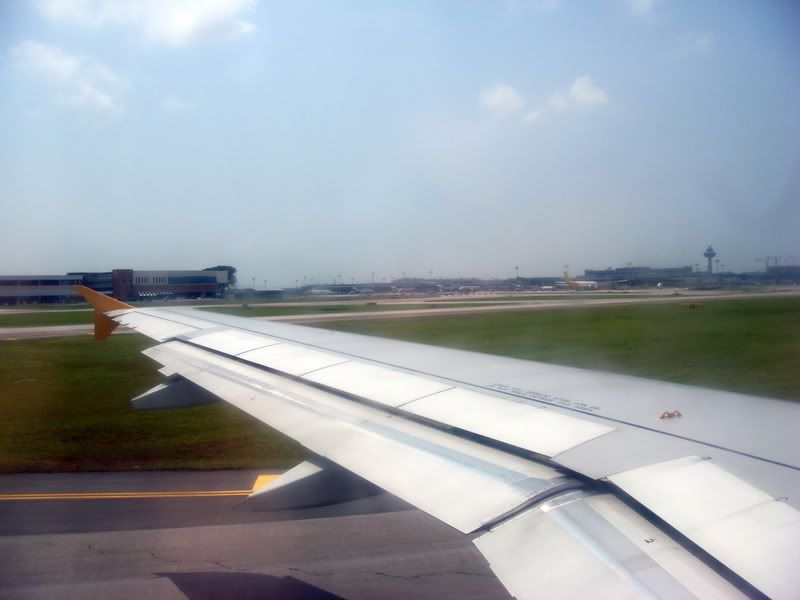 Roll out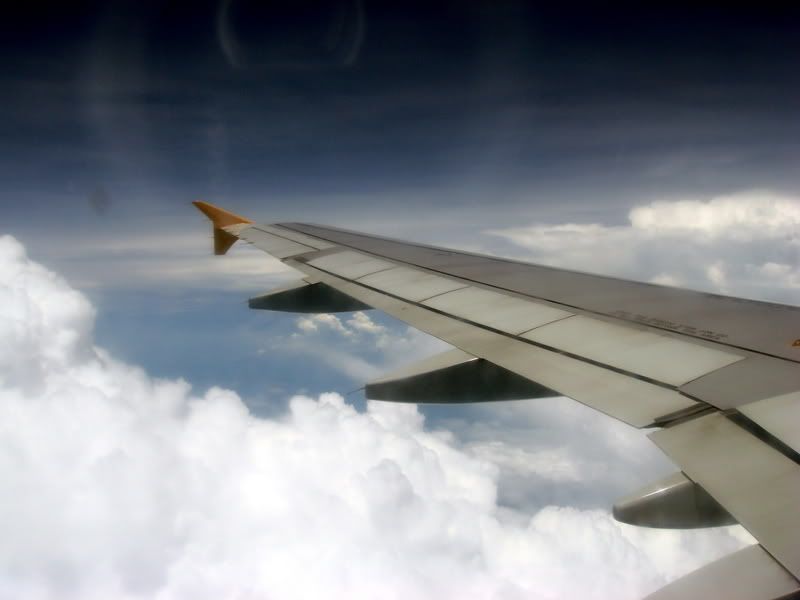 En route to SGN
The flight itself was uneventful. There was a BOB service, so we got a can of diet coke and some snacks. After a quick flight spent reading the travel guide to Vietnam, the flight was soon coming to an end with our descent into HCMC.
Part of the Mekong Delta?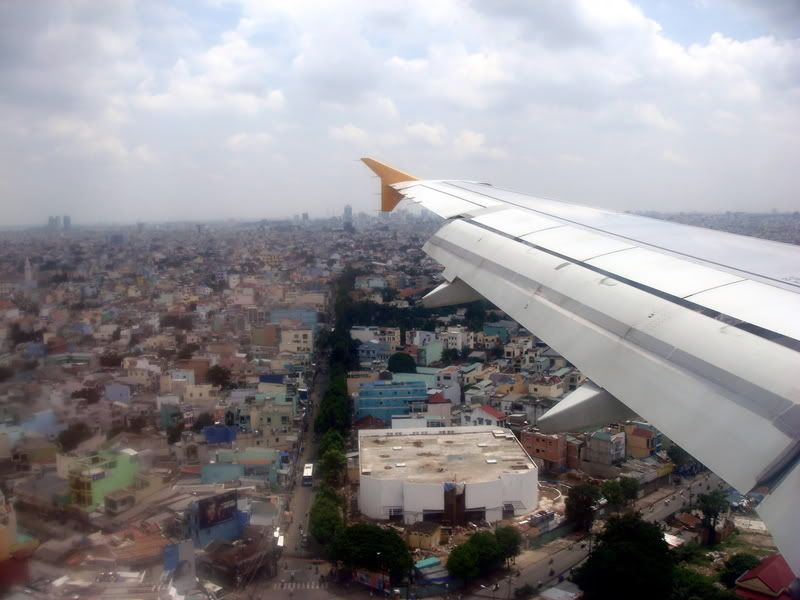 Moments from touchdown at SGN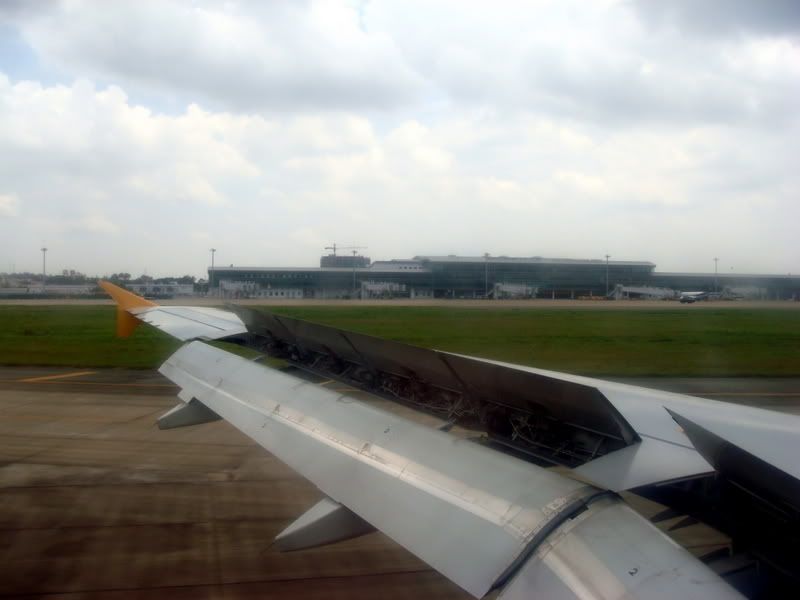 SGN's new international terminal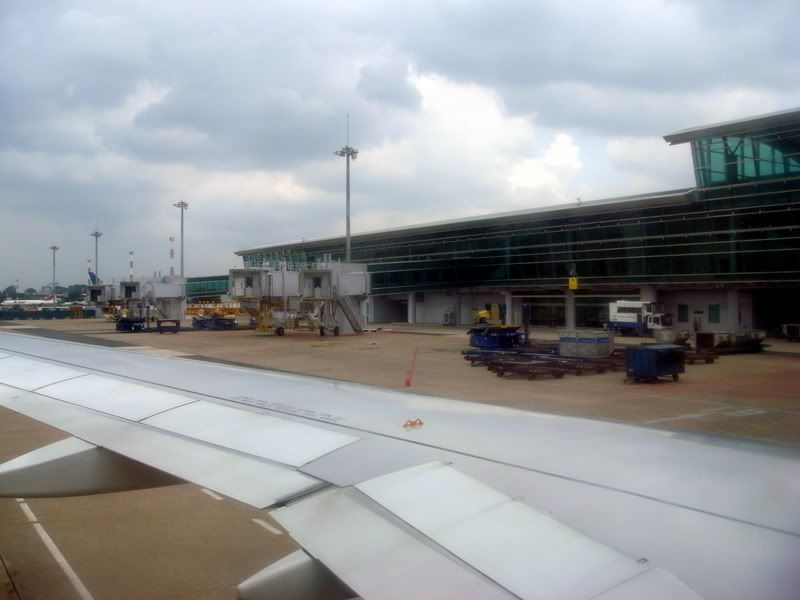 Arriving at the gate
After an uneventful flight, we disembarked into a sparkling new terminal. I believe it's been in use for no more than a month. After a brisk stop at immigration, we collected our bags and took a cab into the city.
Here are some pics of Vietnam: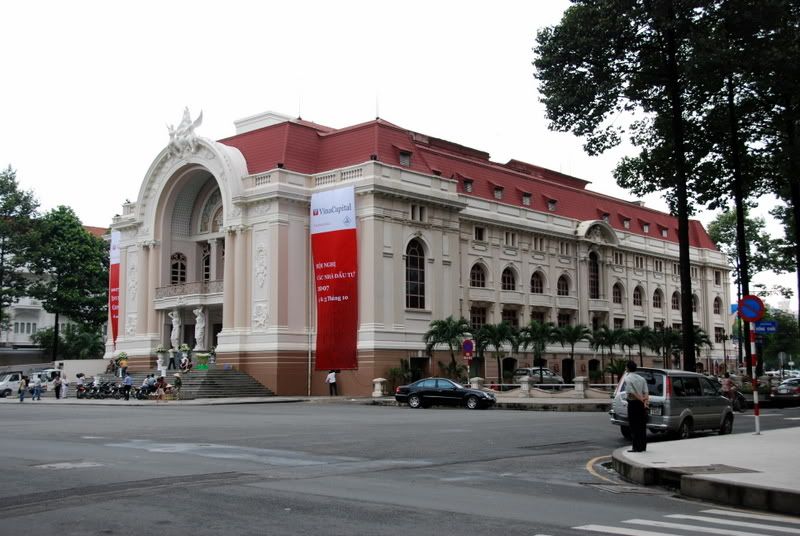 HCMC Opera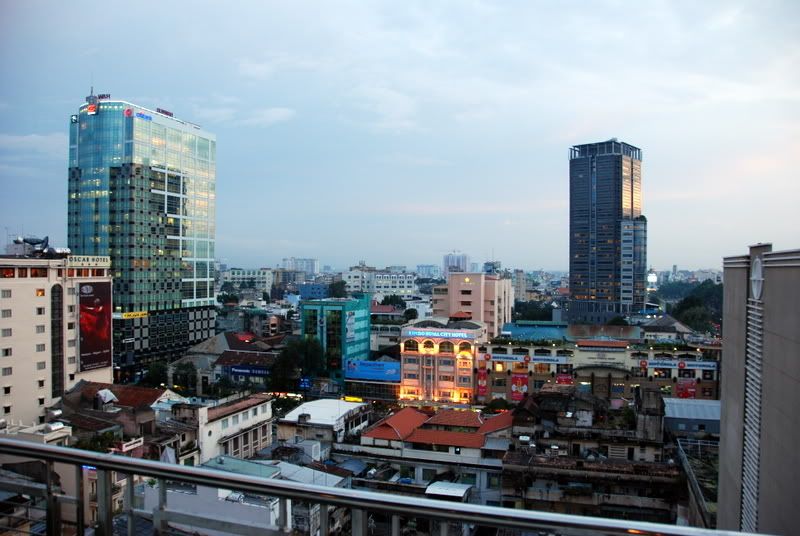 The view from the Saigon Saigon bar at the Caravelle Hotel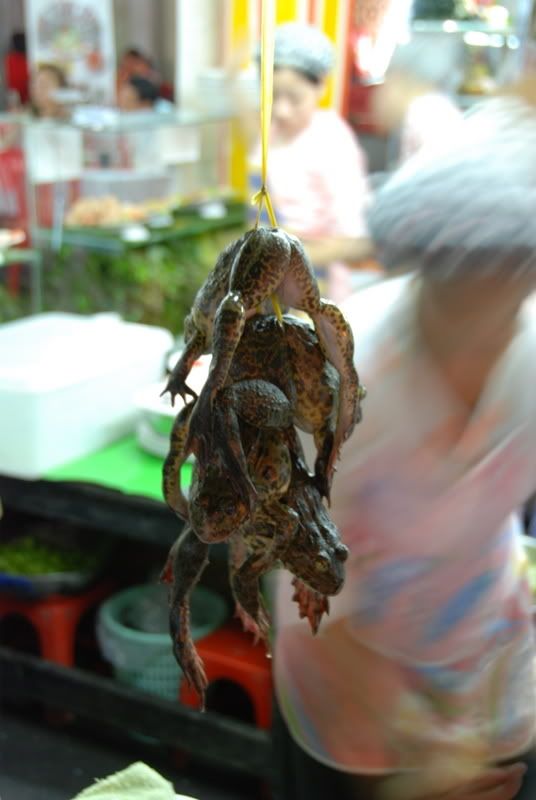 Tasty ech (frogs)!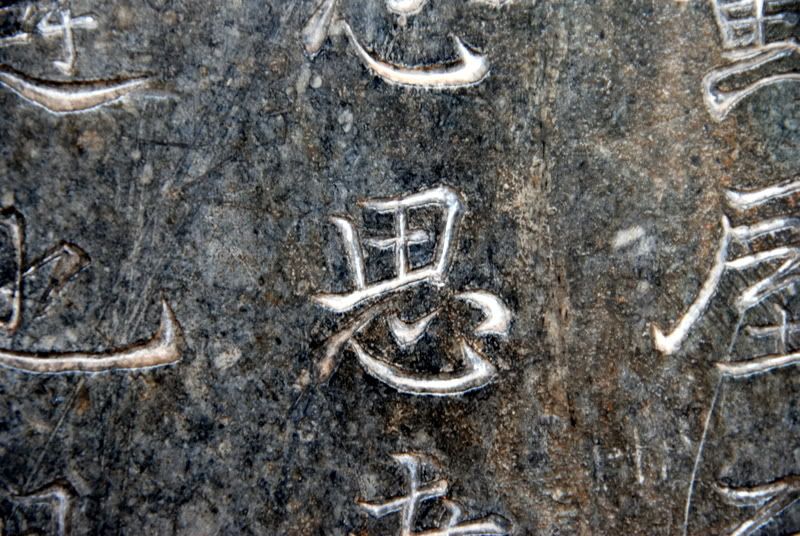 The first character of my Chinese Given name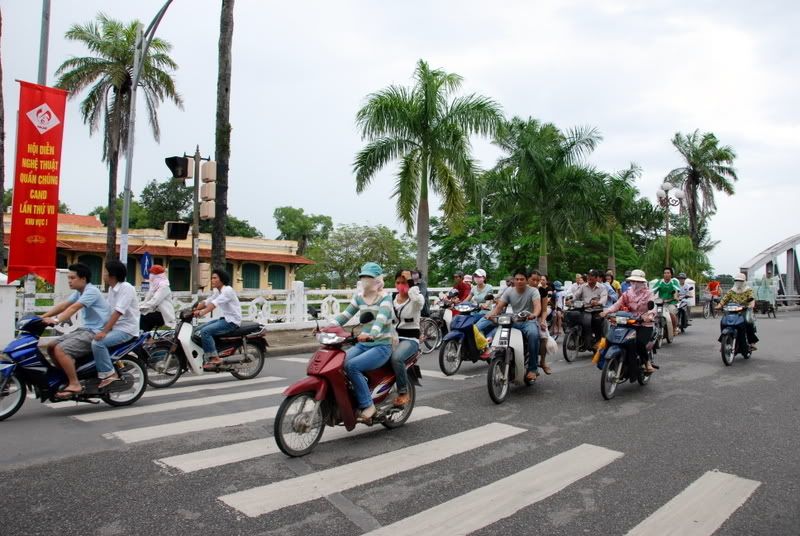 Vietnam is Honda 50 land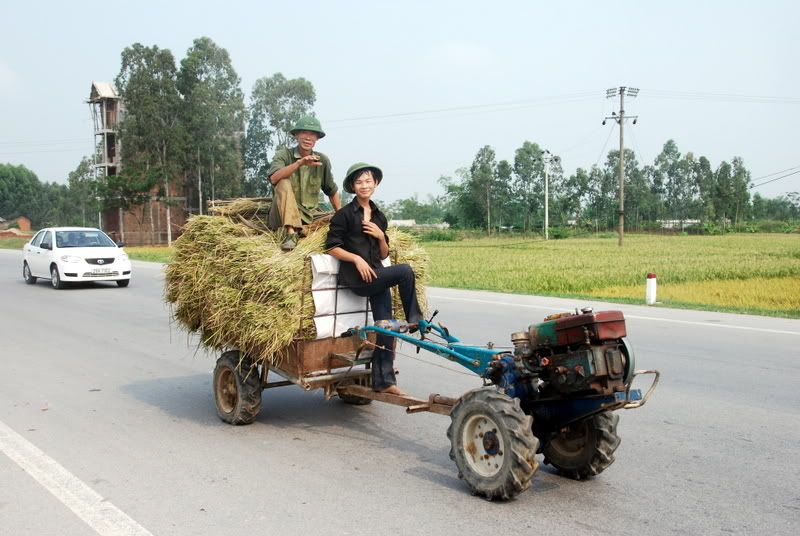 On the road from Hanoi to Ha Long Bay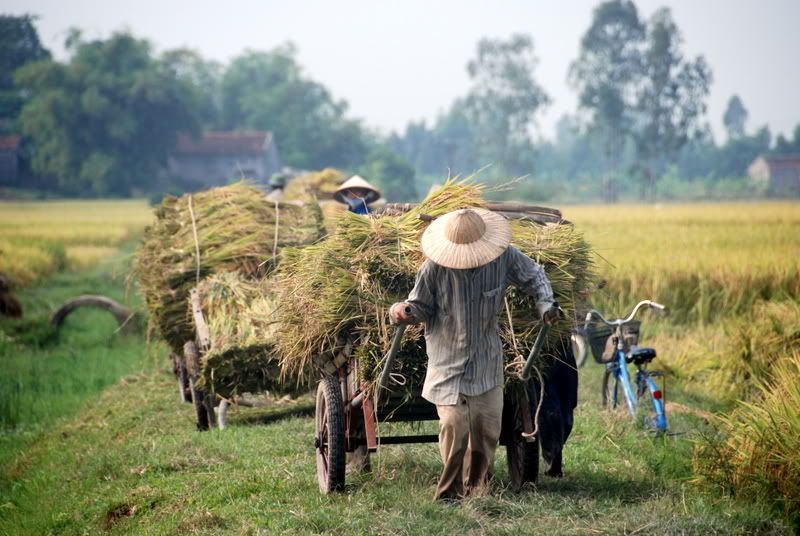 Workers in the rice fields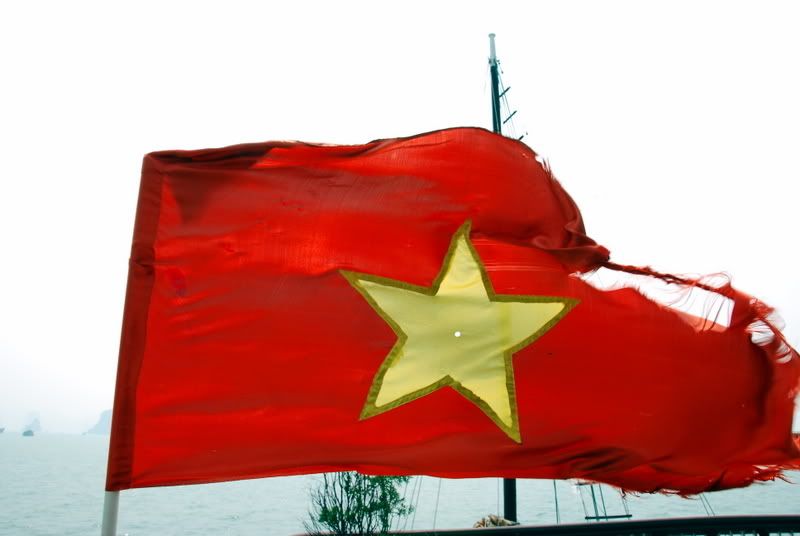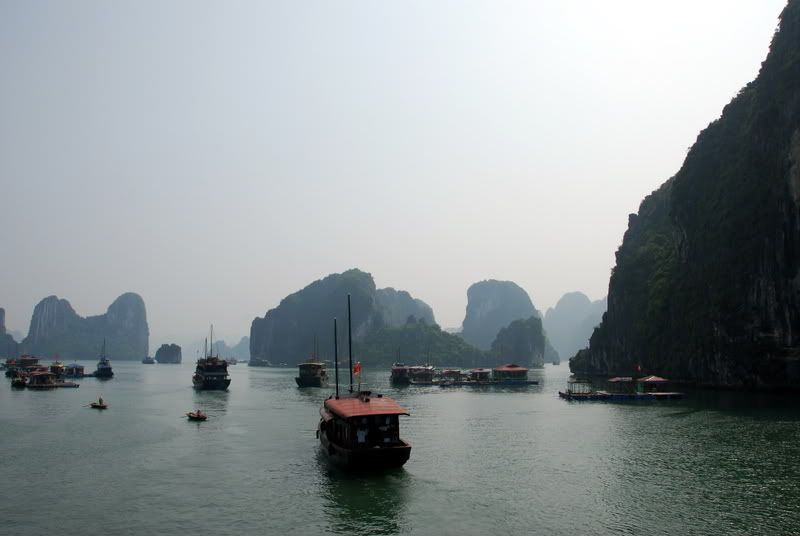 Magnificent Ha Long Bay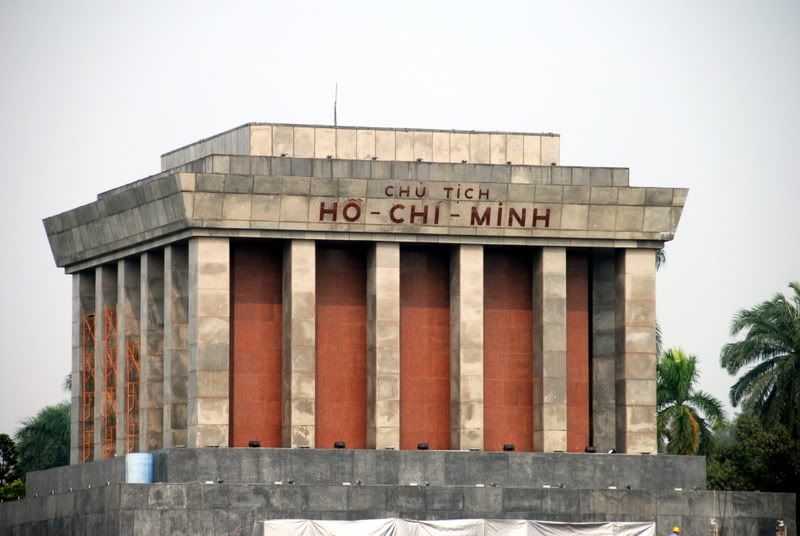 HCM Mausoleum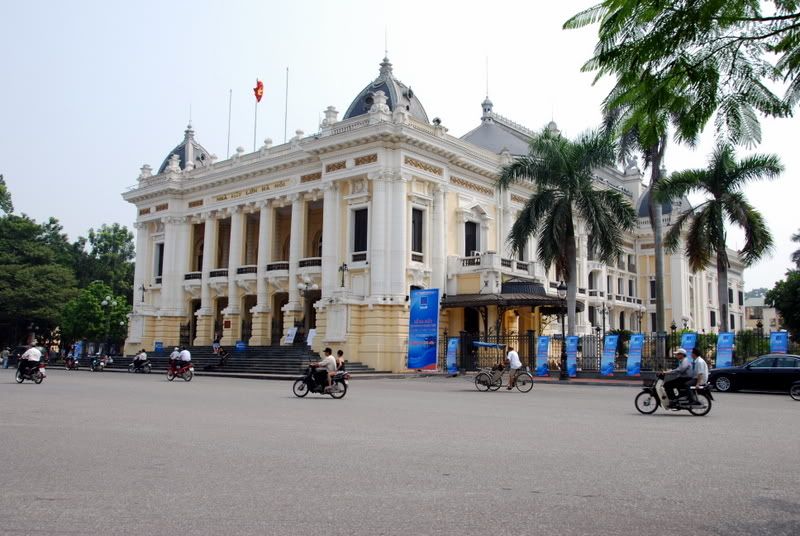 Hanoi Opera House
We spent about one day in HCMC, two days in Hue in central Vietnam, two days in Hanoi, and one day trip in Ha Long bay. After these fantastic 6 days in Vietnam, it was time to go back to the grind in Singapore.
In Hanoi, we stayed at the Sofitel Plaza, self-proclaimed Hanoi's most scenic hotel (erm... not quite) and also Hanoi's tallest building (23 floors - possibly). I do not recommend anyone stay at this hotel. Whether by accident or on purpose, I was charged USD1,500 for two nights, whereas the closing balance was USD611. I was and still am infuriated about this, but so far I seem to have managed to get back all my money. This nearly made us miss our fight back, but again, I do not recommend anyone staying at this hotel.
Airline:
Singapore Airlines (SQ)
Flight:
SQ 175
Sector:
HAN-SIN
Dep:
1:35PM
Arr:
5:45PM
We drove over 30kms to get to HAN and when we got there, a computer glitch met us at the SQ Raffles class counter. However, the staff were quick to give out hand written boarding cards. I asked for the agents for the possibility of a free upgrade (being PPS Clubber, I felt entitled to one
&nbsp
, but they said I would have to pay for it, so I declined. I also asked for a third invitation to the lounge, but they were stern in their response that only one other person could go in with the PPS Club member. I gave the invites to my family and wandered around the airport to take some pics.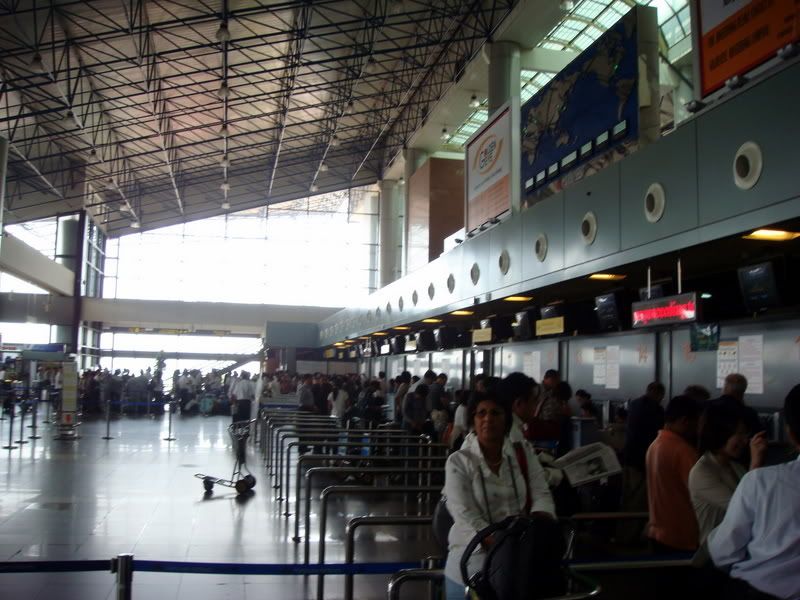 HAN check in area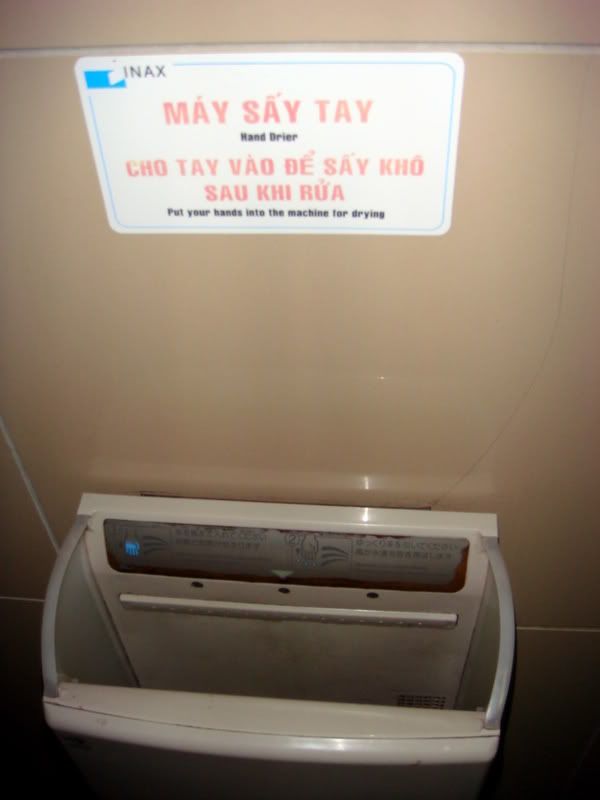 Cool hand dryer machine. Just dip your hands (and they may be chopped off?)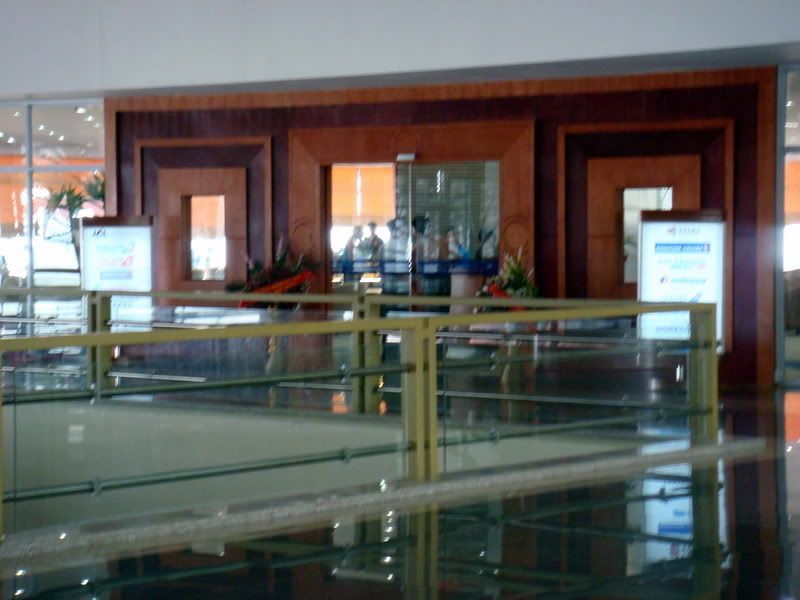 Airport lounge. This is used by all airlines operating into HAN except for VN and CX, which have a sepparate lounge
SU IL86 (or 96? I cannot tell the difference)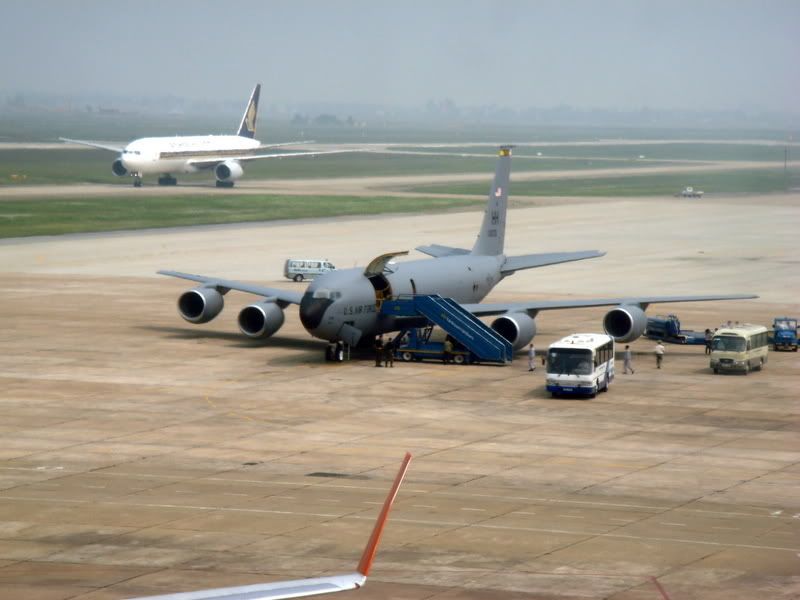 USAF 707 with SQ 772 just arriving from SIN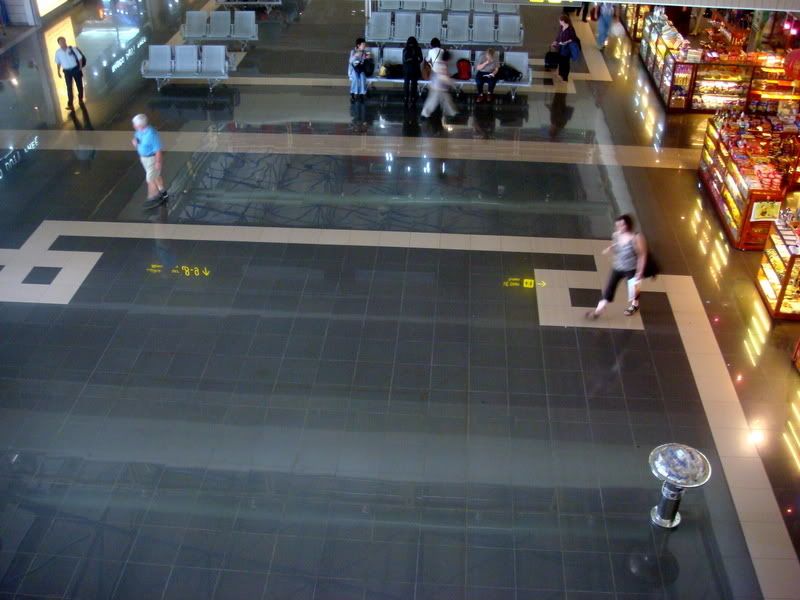 Duty free area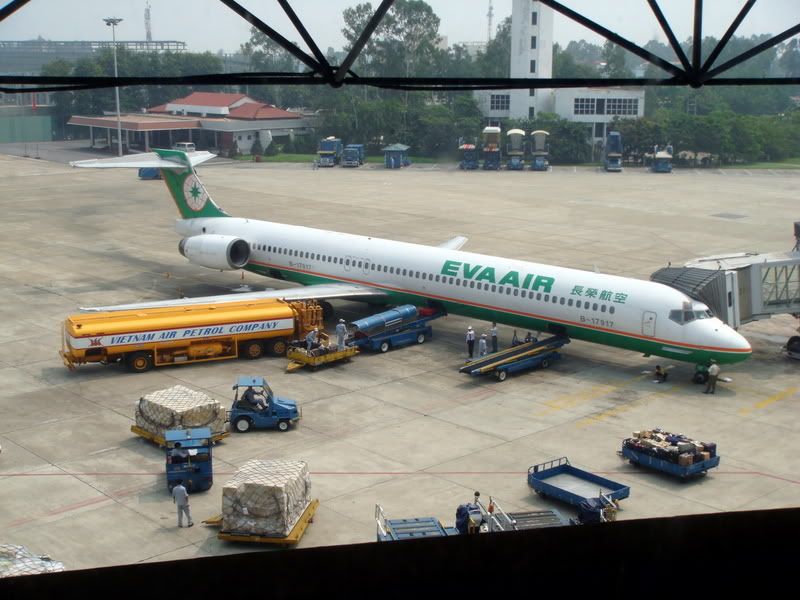 BR MD-90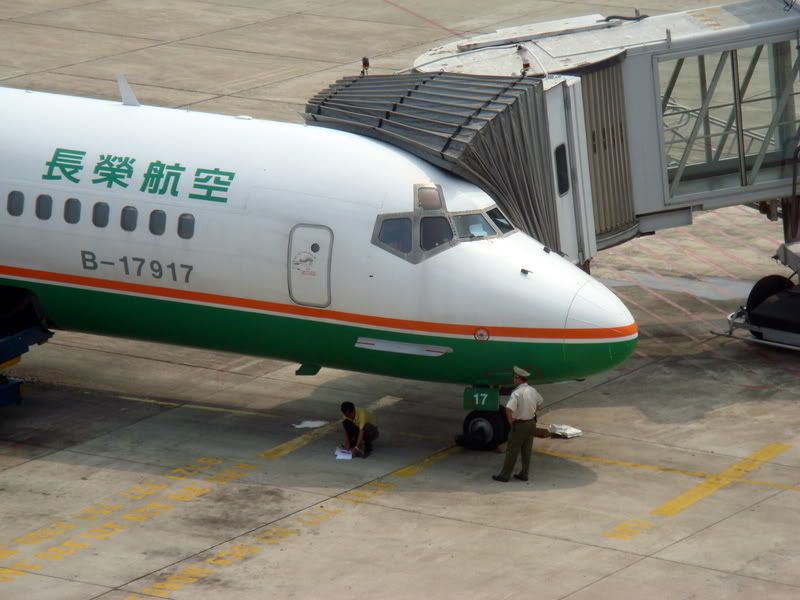 A Vietnamese guard keeping close watch over the worker, a job that seems quite popular in Vietnam!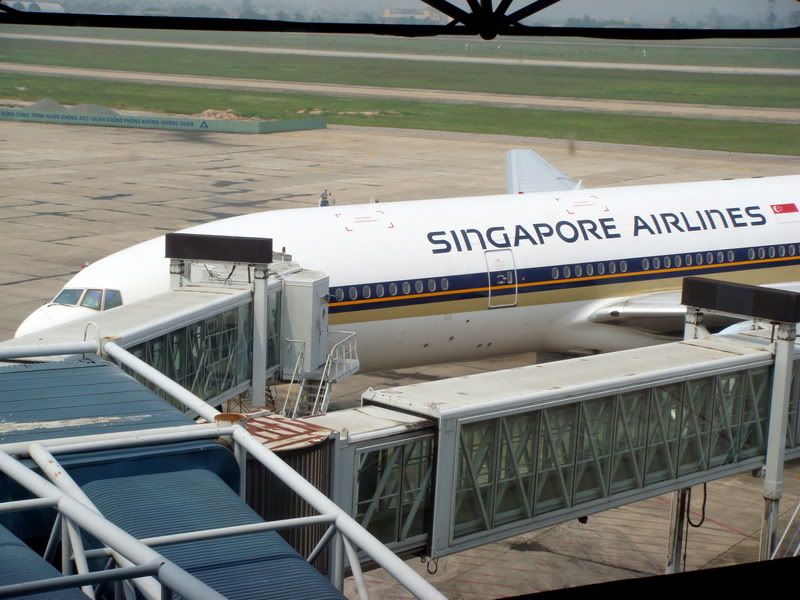 SQ 772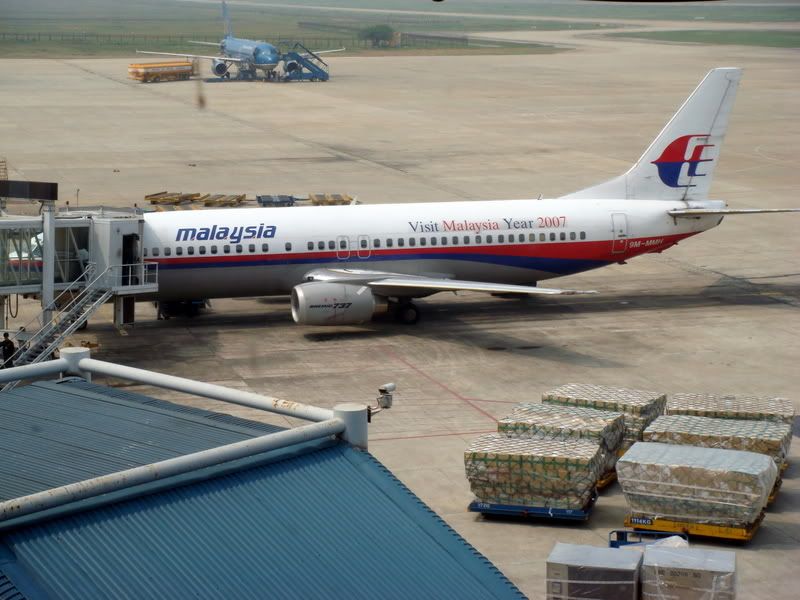 Archrival MH tries to fight with a measly 734
After meeting with my family again an hour after they went to the lounge, we went to the gate area, where boarding had already commenced.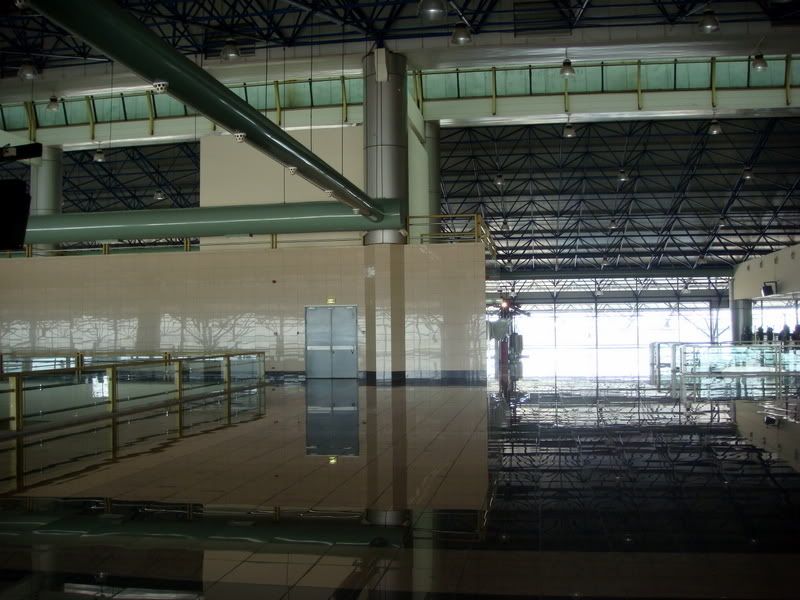 The eerily empty area of the HAN terminal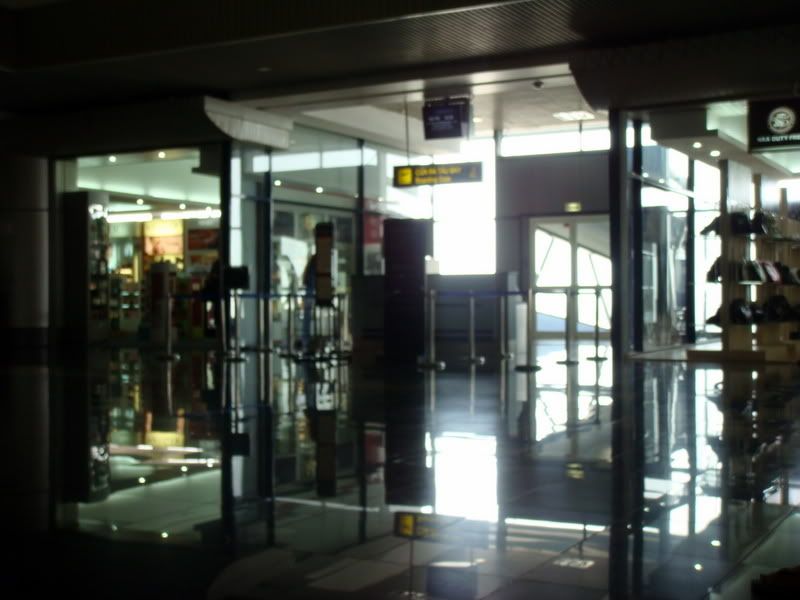 Gate for our flight
The three of us boarded through the premium line, and were kindly greeted by the SQ girls. We made our way all the way to the back, to row 53 seats A, B, and C. SQ have three different hieriarchical levels for their female (and I guess male too) F/A's: The ones wearing the Red/Purple dress are the regular F/A's, superseeded by those wearing the Green one, superseeded by the chief purser wearing the Red dress.
The beautiful Malay girl in green welcomed us to our seat and offered us blankets as well as newspapers and magazines.
Thai Air Asia viewed from seat 53A
The load on this flight was about 30%, so the cabin felt very empty, but quite airy. Boarding was done very quickly because of this, and we were on our way on time.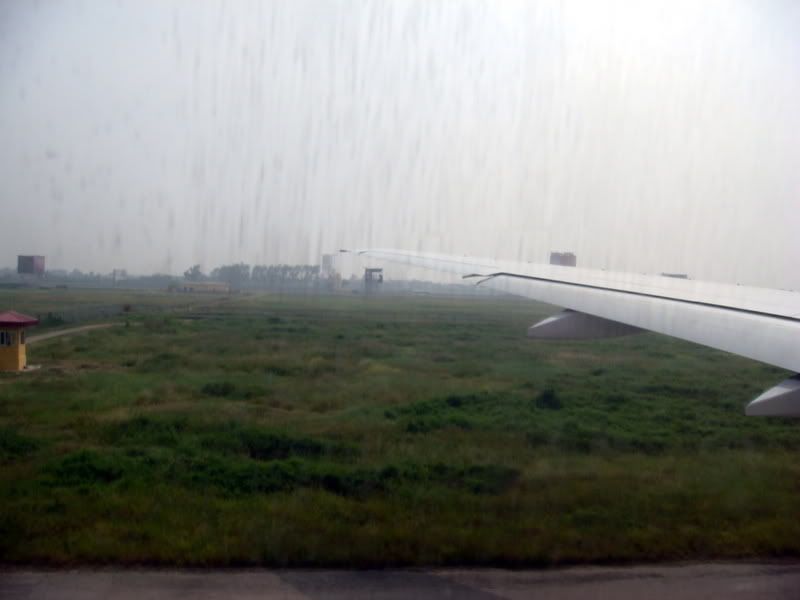 Taxiing to the active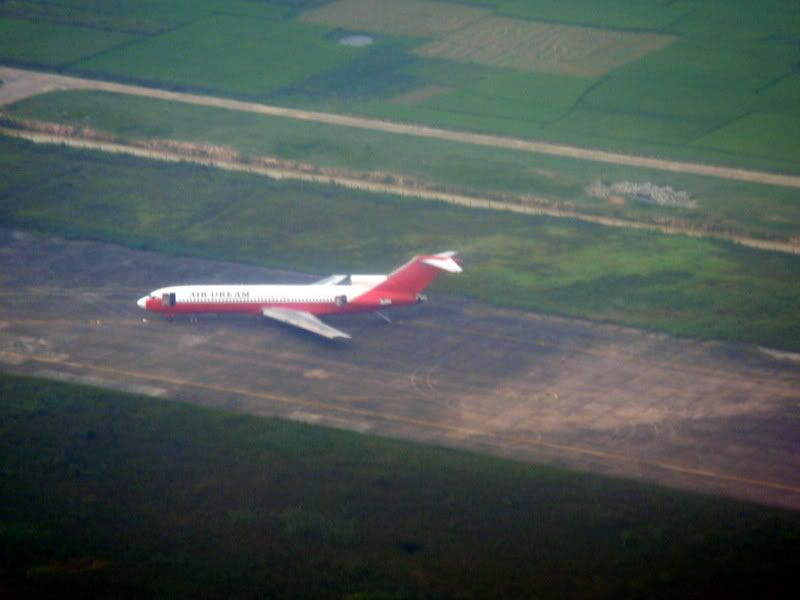 Air Decan 727 next to the active runway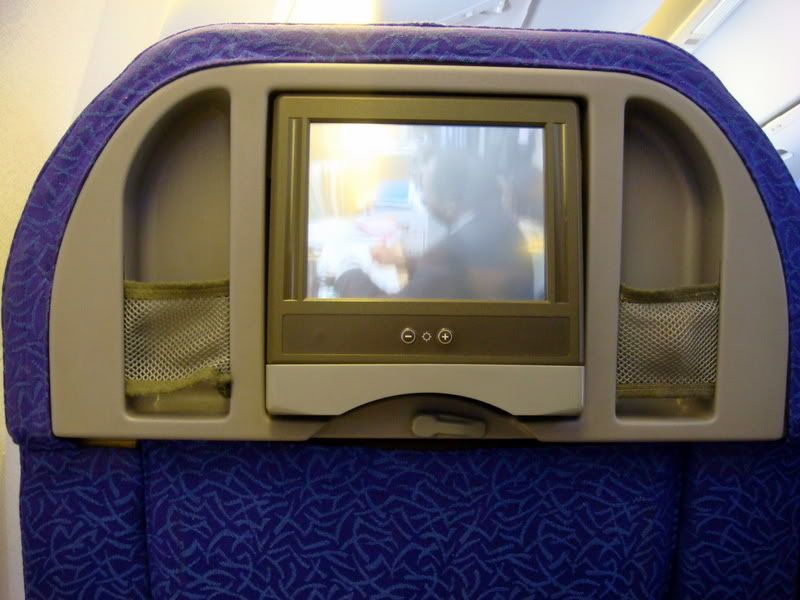 Watching The Office USA on Krisworld
To my surprise, this a/c had the non-regional business class seats, also known as the Spacebeds, which was unsual on such a short flight within SE Asia. However, this plane must've otherwise be sitting on the ground at SIN waiting for its next flight. I noticed several copies of Kris Flyer magazine and KrisShop in Japanese, so I reckon it is used for the longer Intra-Asia routes, such as those to Japan.
Soon after take off, the chief purser (dressed in Red) came over to my seat to personally welcome me on board and to offer her assistance should anything be wrong. She chatted with us for a while and asked us about our holiday in Vietnam. I assumed this was given my Kris Flyer status, which was a very nice touch by her.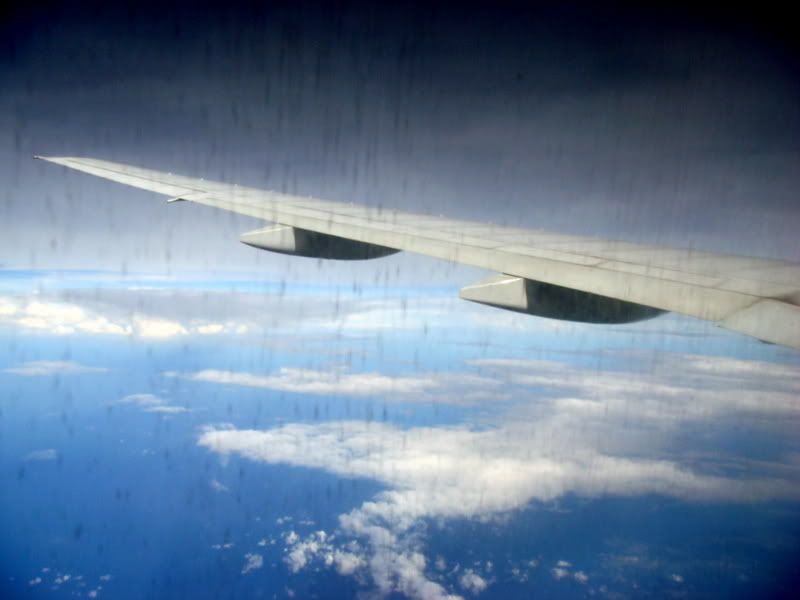 On our way back to SIN-city
The F/A in green came by and offered us a choice of water, OJ, or white wine, plus anything else we wanted. My two family members opted for the wine and I went for a Tiger beer. Menus were distributed along with hot linen towels. The three of us chose the Thai pork
Amazing meal (even for Economy) on this short flight
My mom was particularly amazed by the service and the food, and she said that save for the Economy seats, this was even better than AA's Business or First Class product (she flies them almost exclusively). My response: See? That's why I try to only fly SQ.
Close to the end of our flight, we did a quick 360 just off Johor State, in Malaysia, before coming in from the North to land on Rwy 20L at SIN.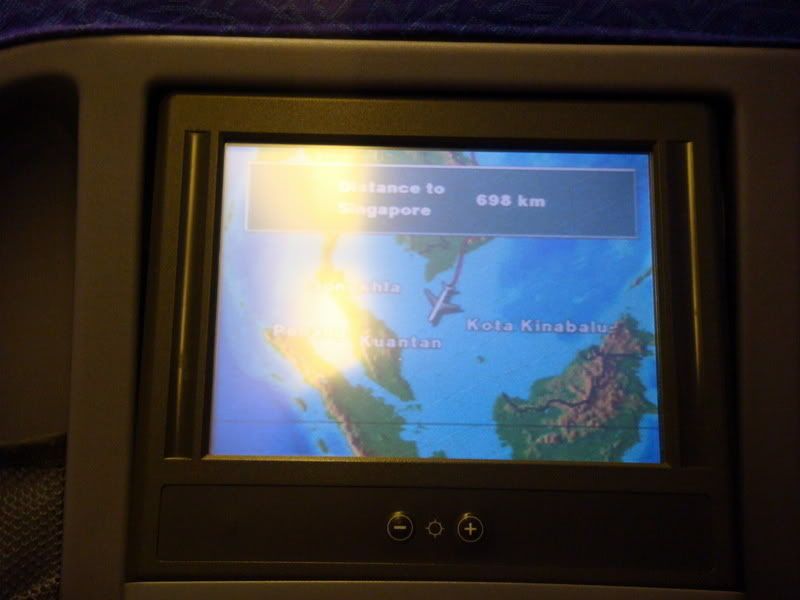 Approaching the Malay penninsula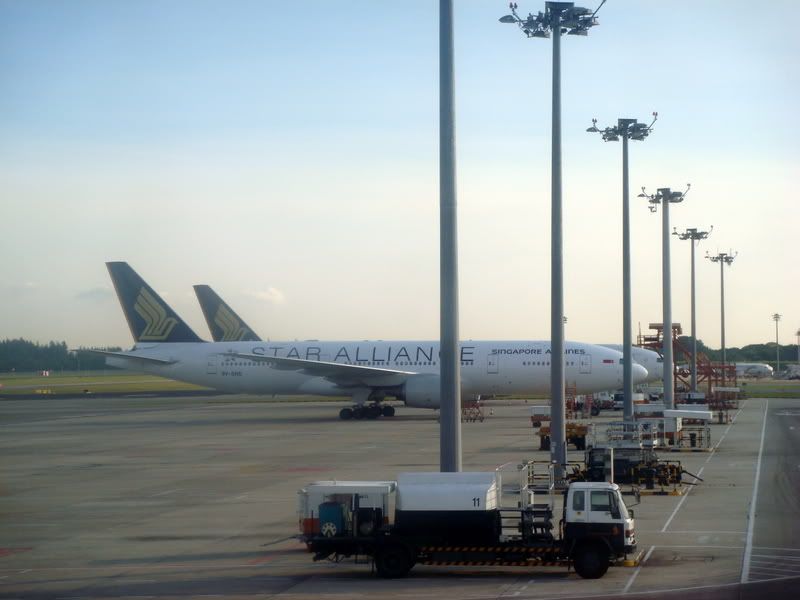 Taxiing to gate F60
Another great flight with SQ and my first one in Economy on their 772 (second time in Economy overall - still "A Great Way to Fly!").
Part II will focus on the trips intra-Vietnam we took on VN from SGN to HUI and from HUI to HAN. I will write that one up tomorrow.
Hope you enjoyed and please leave a comment for future reports
Coming up next week we take Silk Air, the little SQ that could, to the land of the Khmer. Stay tuned.
Cheers
Coal