BACKGROUND
Having been inspired by some of the recent trip reports from Japan, I planned to spend almost a week in Japan in September, meeting up with a friend in Tokyo, and we would then fly from Tokyo Haneda to Osaka (Itami) with ANA (773), from Hiroshima to Sapporo with JAL (MD90) and from Sapporo back to Haneda with JAL (772).
This trip report is for the Hiroshima – Sapporo sector, perhaps the most memorable because it was my first flight on a MD90 and with JAL from and to airports that I'd never visited before.
Japan's airports are amazing. There is simply no other word to describe the facilities available to those who love aviation. Thank you Japan!
Date: Fri 21 Sept 2007
Route: Hiroshima (HIJ) to Sapporo (CTS), Japan
Airline: Japan Airlines JL 3401
Aircraft: MD90 – JA8063
Flight time: 1:40
The day of our flight dawned hot and hazy. Hiroshima International Airport (HIJ) is some distance from the city centre. However, there is an efficient and frequent (air conditioned!) bus service that operates to the airport and it's inexpensive.
Within 45 mins, we had arrived at the modern and spacious terminal. Some interior shots of the terminal follow. Signs are clearly marked and there is a nice selection of shops and eateries landside.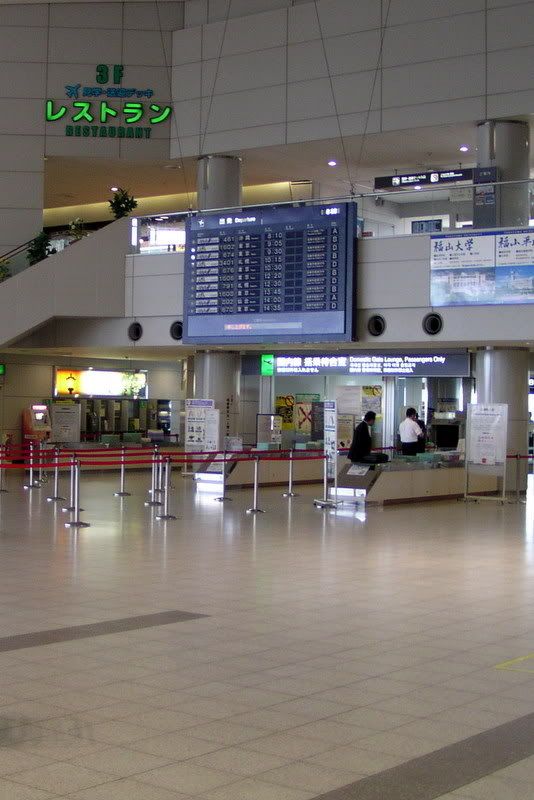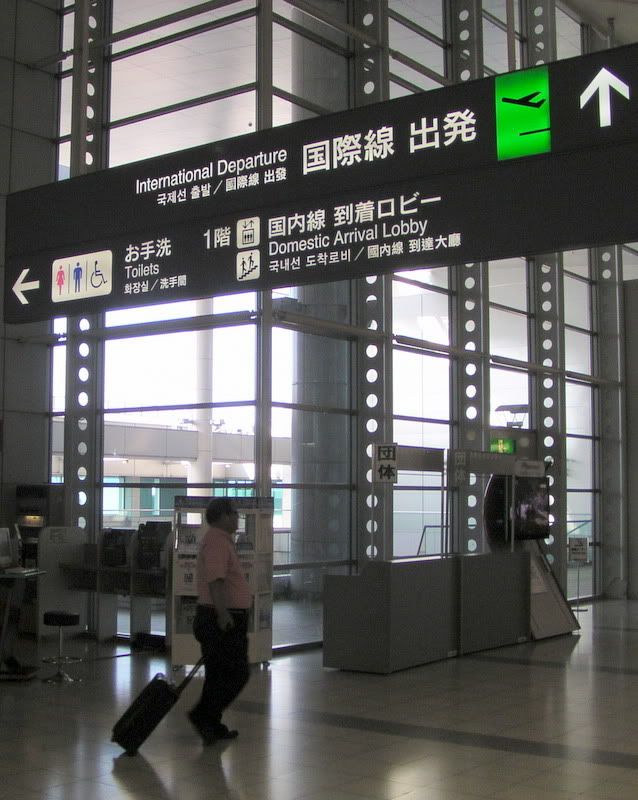 The departures board showed most flights were domestic with Tokyo Haneda being the primary destination. Our flight to Sapporo was perhaps the only non Tokyo flight on JAL that day.
There are limited international flights from Hiroshima, mostly to Korea, China and Taiwan.
There was no queue at check in for our flight JL3401 although we did encounter some strange looks when the lovely JAL check in agents worked out that we were flying to Haneda via Sapporo. "Surely these Westerners must be mad" they were thinking? "We have several non stop flights to Haneda from here….why are you going via Sapporo"? I can only imagine what they were thinking.
Needless to say, we felt that they had never seen this before because it required several JAL check in staff to work out how to generate a baggage tag that said HND via CTS (although our tag actually ended up reading HND via SPK). Can any of our Japanese friends explain why New Chitose Airport in Sapporo seems to have two codes – CTS and SPK? At one point on the flight, I had a terrible premonition that we were going to end up landing at another airport in Sapporo (ie Okadama perhaps?!!)
By the time my boarding passes had been issued, a gaggle of check in staff were admiring the baggage label making me somewhat self conscious but otherwise, it was all fine. Lots of smiles later and we were done. With our boarding passes in hand (window seats for both sectors), we proceeded to the observation deck.
Like the other airports in Japan we had already visited, Hiroshima (HIJ) had a large and open observation deck giving a great view of the proceedings. Having said that, the airport was fairly quiet in comparison to the busy airports of Tokyo and Osaka that we'd just visited. The airport is surrounded by lots of hills which gives it a very picturesque outlook.
A long view of the observation deck with a China Eastern A320 and China Airlines 737-800 being prepared for their next flights.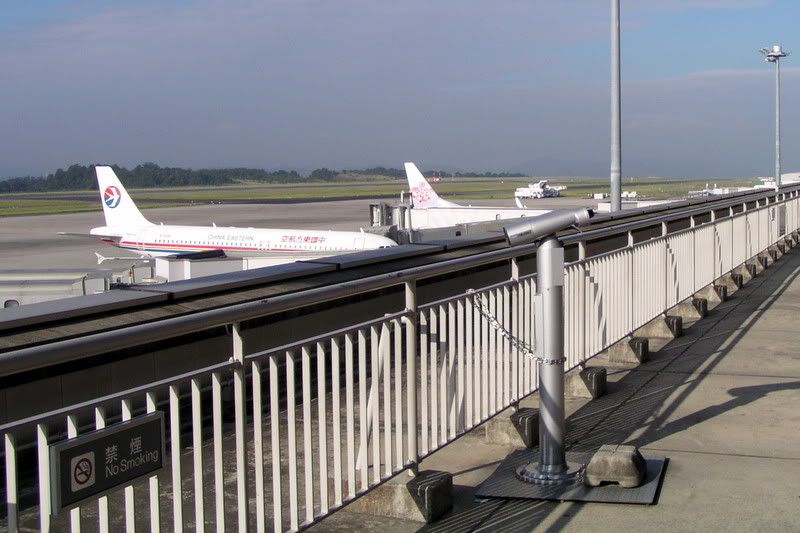 Close up of B-6106 being prepared for her return flight to China.
Soon after we arrived, there were a couple of arrivals/departures to/from Tokyo. The China Eastern A320 departed, and I was greeted with my first sighting of a Bangkok Airways (Siem Reap Air) A320, which had been christened, "Samui".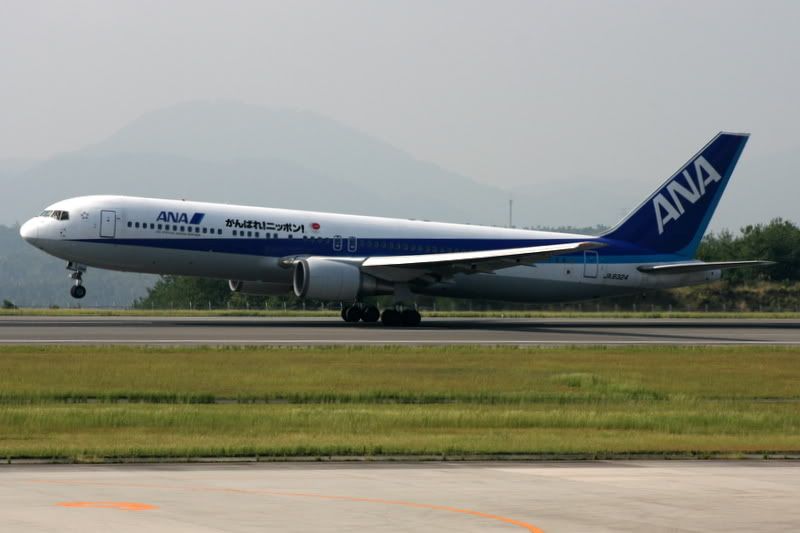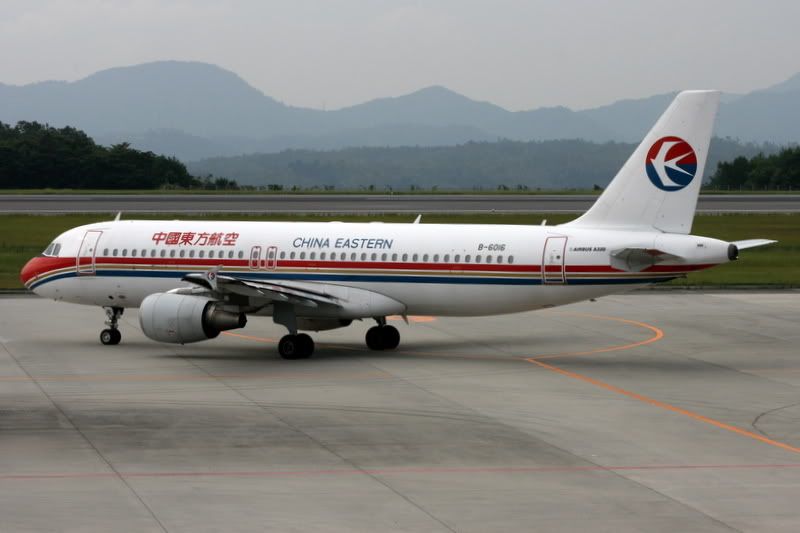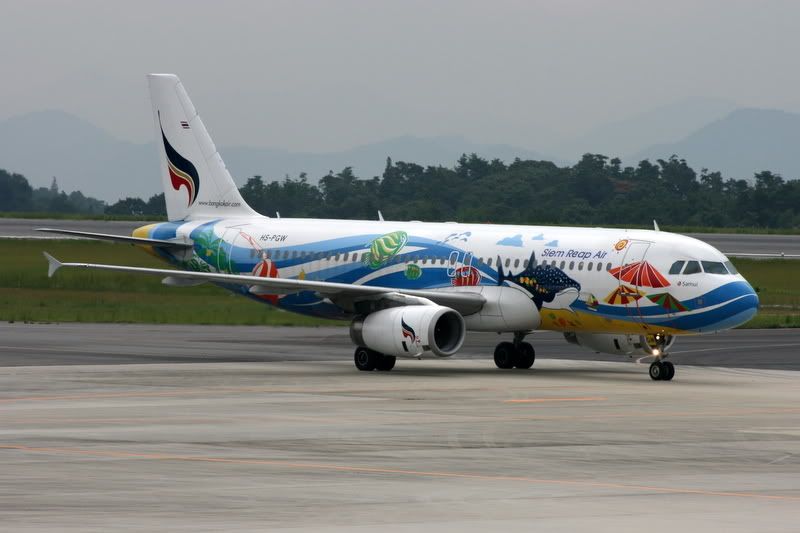 After a couple of hours on the deck (it was extremely hot), our JAL MD90 arrived. Here she is rolling out and taxiing to the terminal.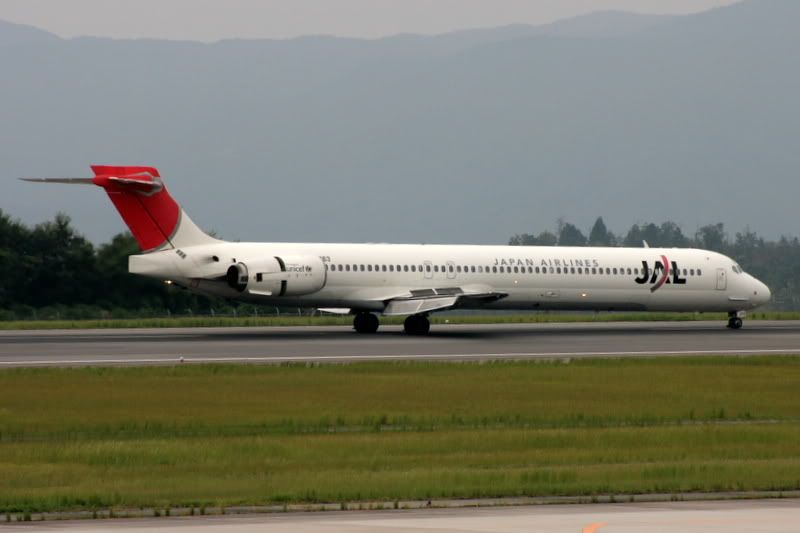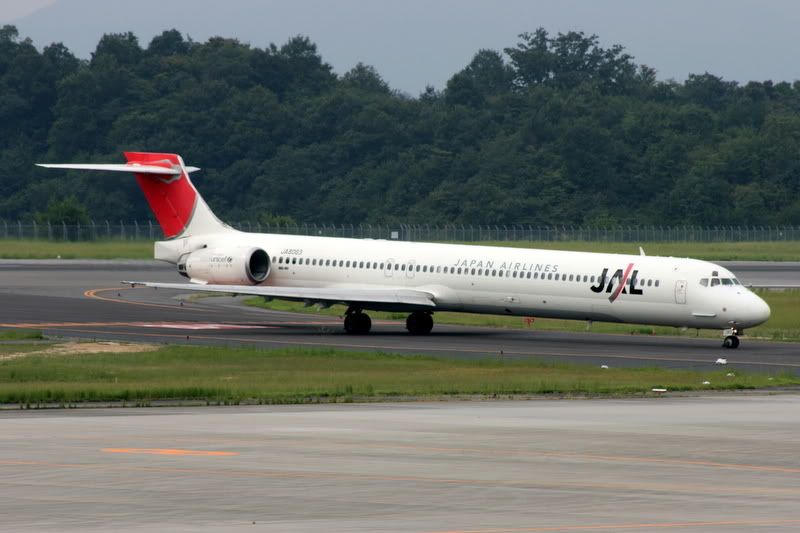 We left the deck and proceeded through security, which took next to no time at all. The gate area was spacious enough, with more shops and opportunities to buy food. It wasn't long before we were ready to board.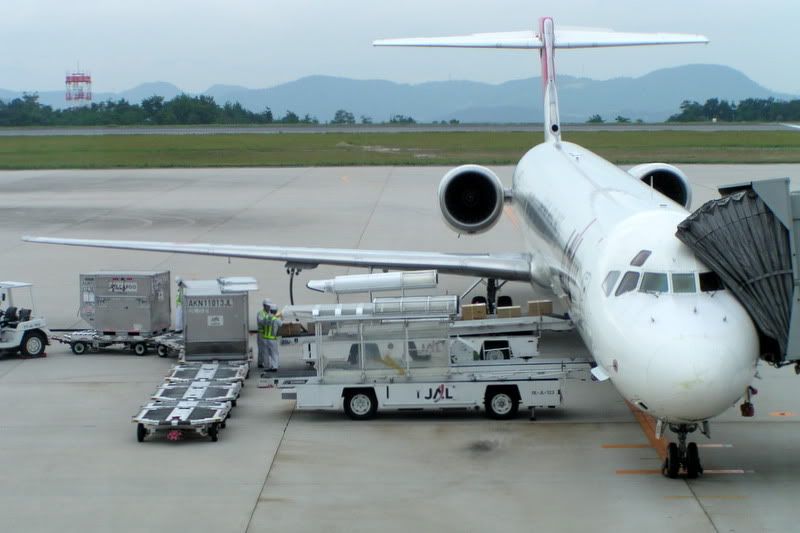 A boarding call was made in Japanese and English and I was so excited to be flying on my first MD90. Practically bounding down the jetway, we were the first two passengers to board and were greeted with warm smiles from the all female JAL cabin crew.
This was the view from my window seat. JAL MD90s have very strange row numbering. There were a couple of rows of business class seating but the first row of economy was Row 13! Economy was a 2 – 3 configuration. The seats were extremely spacious and comfortable for the 1 hour 40 min ride up through the western portion of Honshu and into Hokkaido. The cabin was immaculate, the windows were large and I had a good view of the leading edge of the port wing.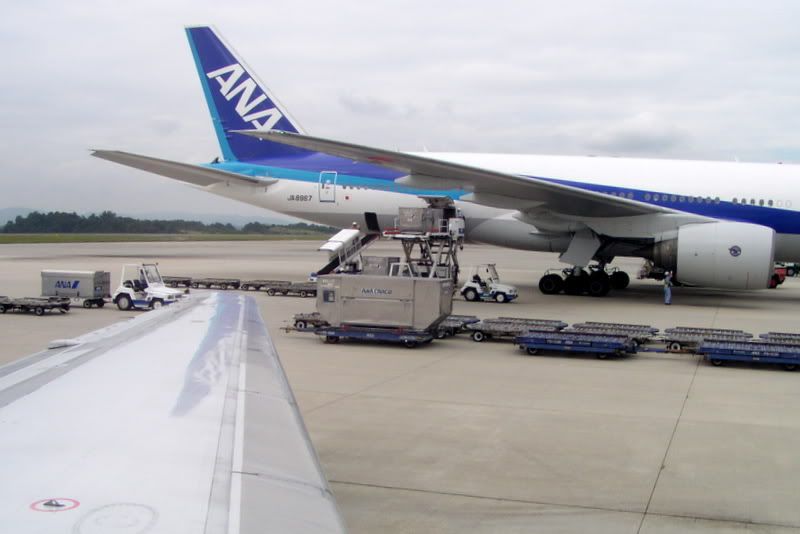 Our flight today was full. Not a spare seat anywhere. I had a middle aged Japanese lady next to me who seemed to be surprised to see a Westerner as her seat mate. She proceeded to ensure that she had her packed lunch readily accessible for consumption after take off, but otherwise hardly moved throughout the flight.
During pushback, the second ANA flight from Tokyo that we'd seen that morning had just arrived.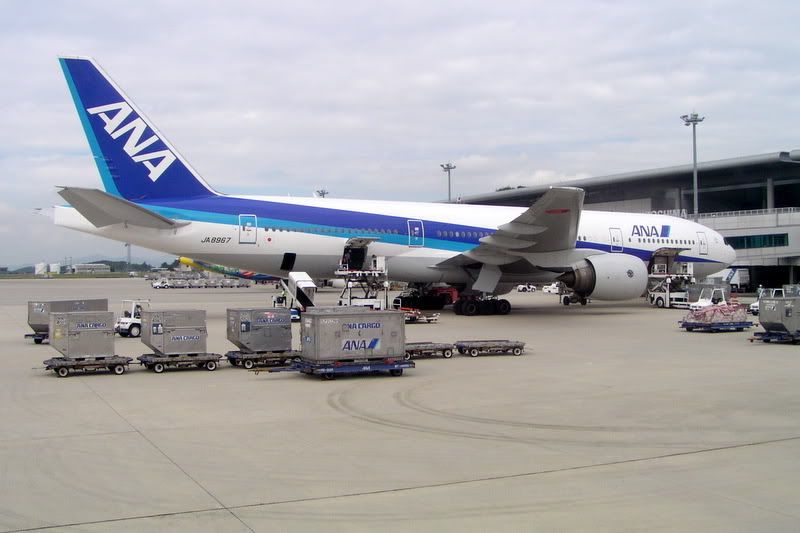 Our taxi to the single runway was short and before long, we'd started our take off roll. It was extremely quiet. Good bye Hiroshima and thank you for a great visit.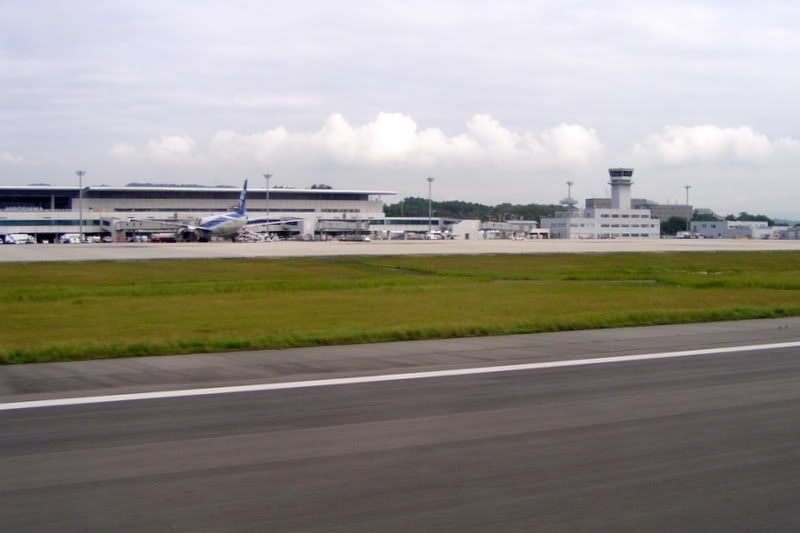 It's really clear how mountainous the terrain is around the airport on these departure shots.
Our climb out was steep and powerful and we were on our way.
What follows are some pics taken enroute as we headed initially toward Wakasa Bay and then over Toyama Bay in central Honshu. The captain did come on the PA and give us some technical information, in both Japanese and English which was very helpful and informative.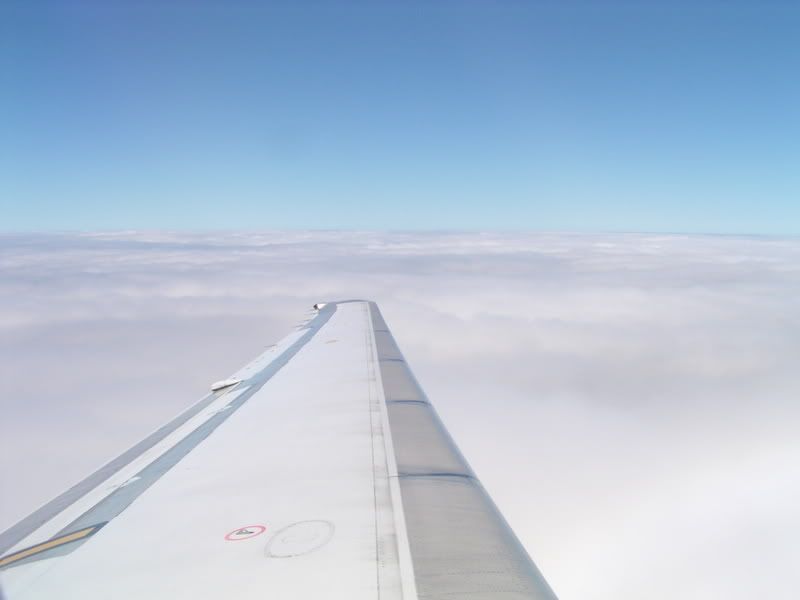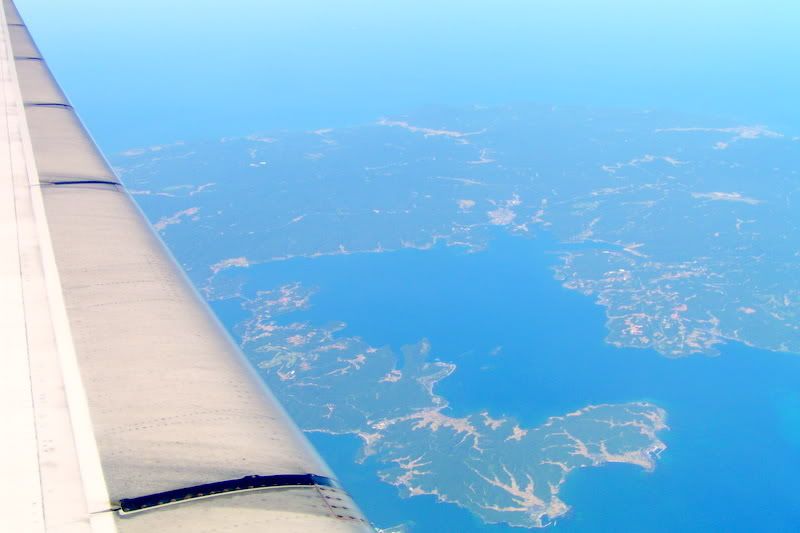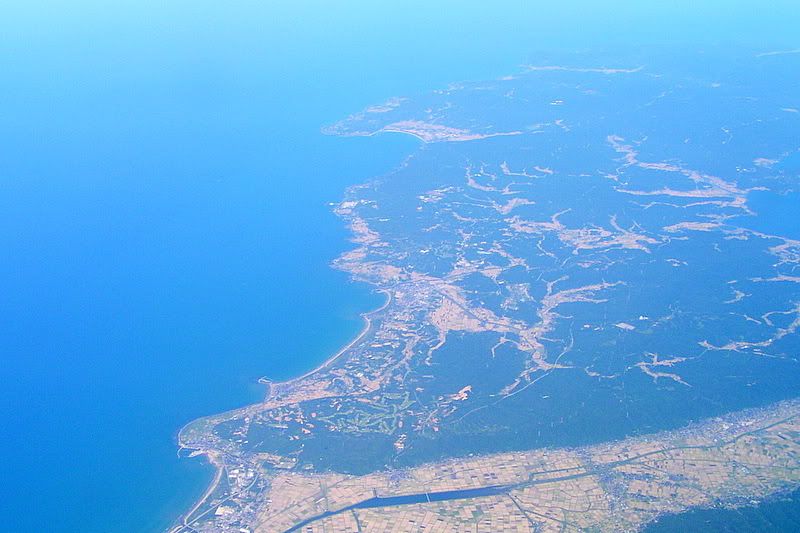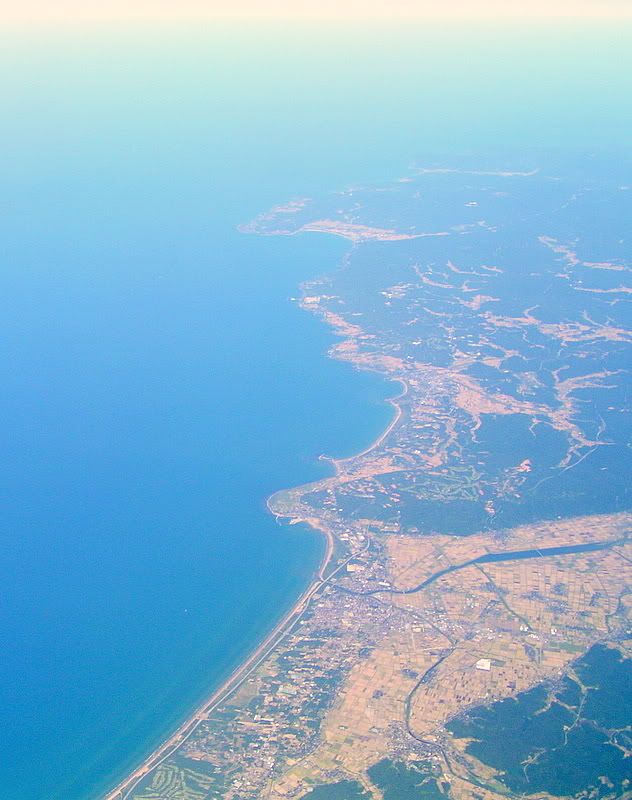 Inflight service was short but sweet. Absolutely no food was served on this flight at all, even though it was 1 hour 40 mins long. Cabin crew served drinks only and I had an apple juice. My seatmate, clearly having done this flight before, proceeded to eat her gourmet luncheon of sandwiches and other assorted snacks from the comfort of her seat!!! One of the cabin crew later came down to give me a copy of a daily English language newspaper, which was a nice touch. Unfortunately, the news was largely US-based, and whilst I enjoy reading about what's happening in the US, it's nice to know what else is going on in other parts of the English speaking (and non English speaking) world.
After next to no time, we were flying to the east of the city of Hakodate, on the southern portion of the island of Hokkaido, which you can see in the distance from this pic.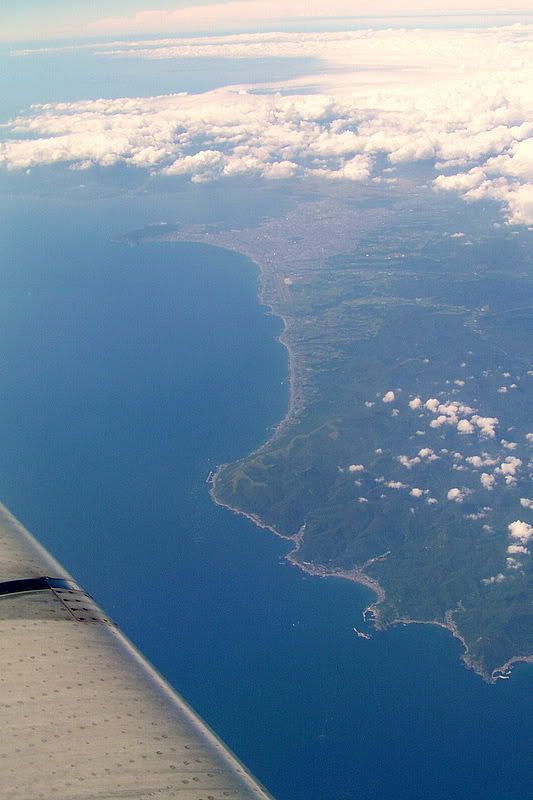 A few minutes after passing Hakodate, we commenced our descent toward Sapporo and this pic shows us at the point of crossing the Hokkaido coastline during the descent.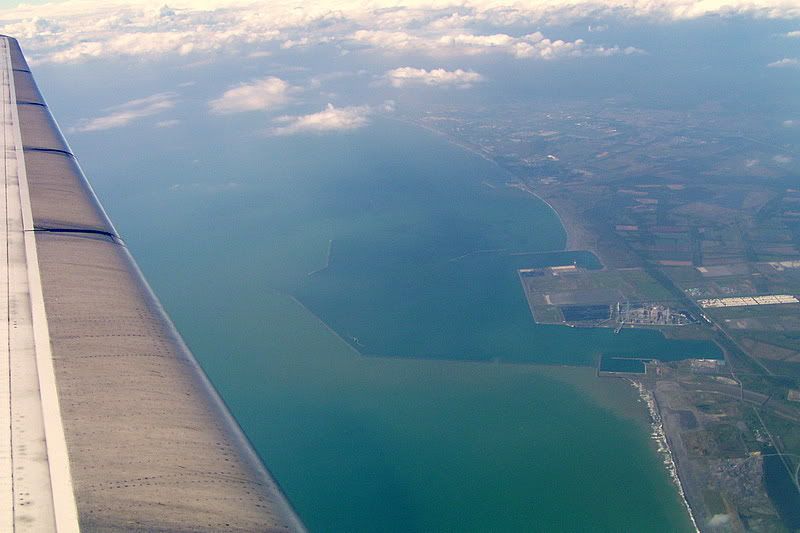 I was sad that the flight was coming to an end. The weather had been magnificent and the flight very smooth.
The approach into CTS was obviously unfamiliar (not having flown to this airport before). We seemed to fly inland for some distance before turning back toward the airport. We then made some sharp turns before lining up for the runway (and passing a nice golf course enroute!).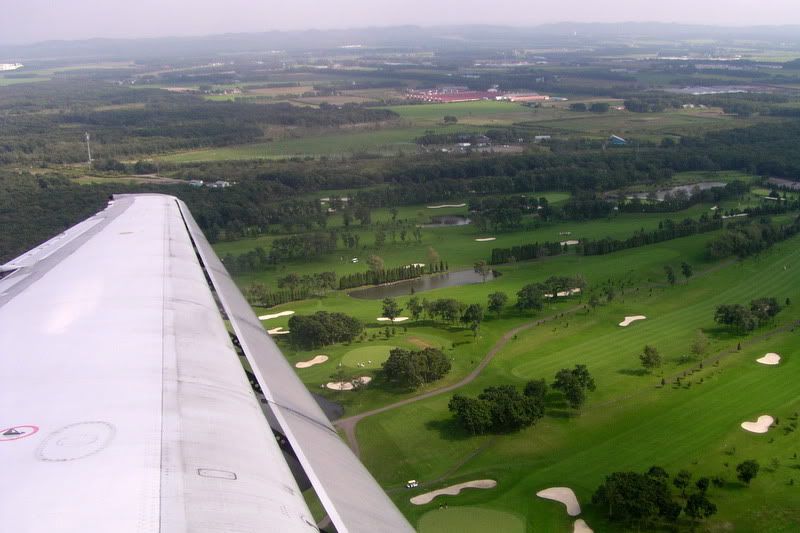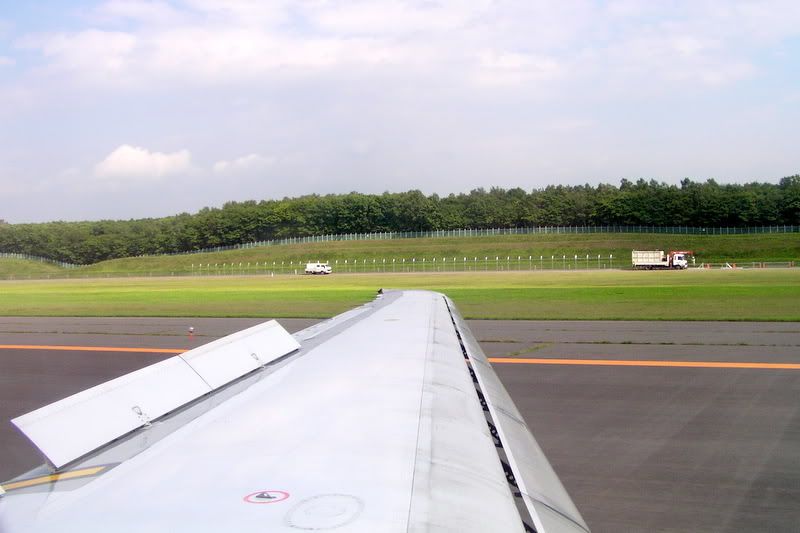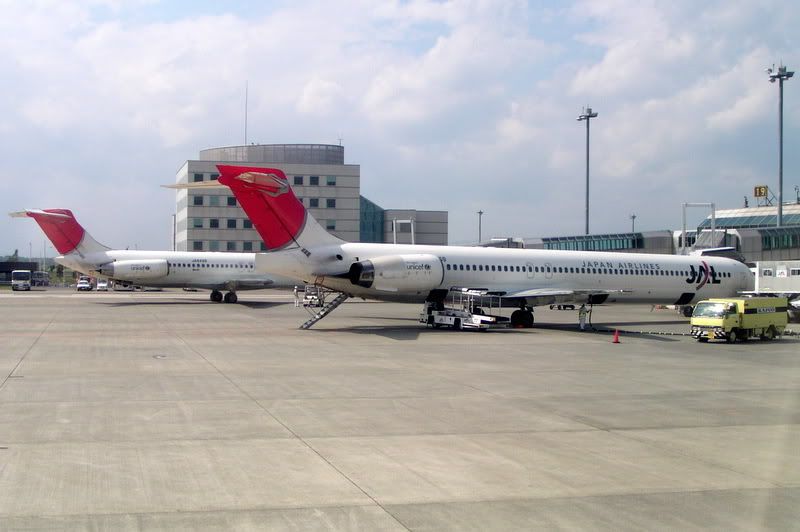 JA8063 landed smoothly and taxied to the gate. We joined a couple of other JL MDs. This brought my first (and perhaps last?) MD90 ride to an end. We spent almost 5 hours on the observation deck at CTS and it was a constant stream of traffic – mostly Japanese, but with a couple of Korean and Taiwan flights as well. Again, the facilities here were excellent.
We also had both of the JSDF 747-400s on training flights with one of the aircraft doing touch and go's.
I really enjoyed flying with JAL. The two domestic flights I took with them were amazing, even though no food was served on either sector (the same went for ANA). I'd definitely fly with JAL again and hope to get back to Japan again for more aviation. I can highly recommend it. I'd also recommend visiting the city of Hiroshima. It's fabulously interesting, attractive and the people were very friendly.
Thanks for reading. Any comments/questions welcome.