Hello Everyone,
On 03 Oct, my two older sisters and one of my nieces (they flew in from the West Coast) met in ATL to travel to London. It was a familiar trip for my oldest sister and I, as we go often...and the farthest my other sister and niece had ever flown.
DL Flight #12, 767-400
Departure: 5:35pm
Seat: 30G - starboard side exit row
Check-in went smoothly at the self check in and security was pretty quick. I really like the open and modern look of the Delta Check in area @ ATL. After a 5,000 ft walk to the E Concourse, I met up with my sisters and niece. We proceeded to our gate and awaited boarding. The gate agents kept us informed about our delayed boarding and were very friendly. Boarding went very quickly, as the plane was not much more than half full. We were in 30 D,E,F,G, which provided us with plenty of leg room!
A few DL planes as we proceeded to the runway:
Take off:
In-flight:
- We were given decent amenity packs - eye mask, headphones, toothbrush/toothpaste, earplugs and hand lotion. Not a bad improvement!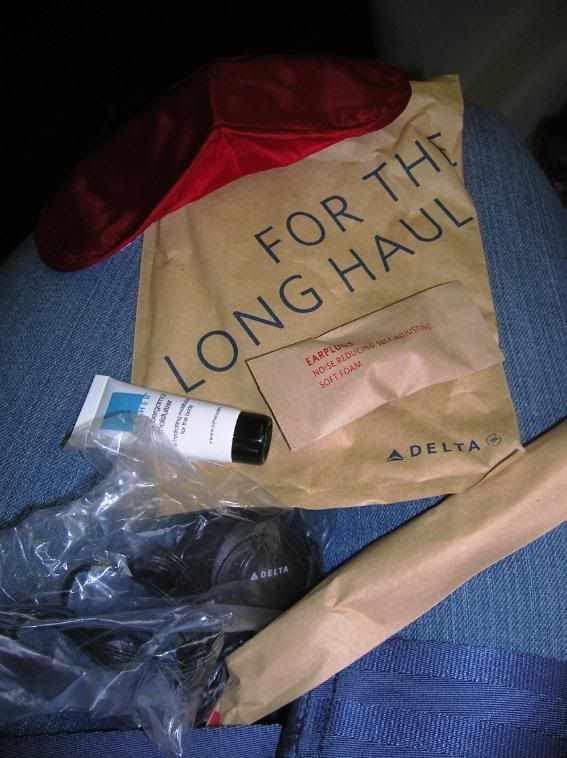 - IFE was the new touch screen personal video monitors. The system worked well. There were many new movies (having come from Afghanistan last week, most were new to me at least!), a decent variety of music and games. I used the personal playlist feature to save batteries on my iPod.
- Drink service was frequent and I never felt as if I was lacking something to drink.
- The food was okay. I had the pasta with a cream sauce, which I did not particularly like...nothing against the food, but I do not like white sauces on pasta. My sisters really liked their chicken though. There was also salad, bread and a cookie for dessert. Breakfast was a croissant, banana and Nature Valley granola bar.
The flight staff were very friendly and always willing to provide anything we needed.
We landed early (640am or so) and proceeded to customs. The queue was pretty long and it took 45-60 minutes to get to the desk and proceed to baggage.
I was pleased with this flight and I felt that DL had really stepped up their int'l service in coach vice the last time I flew to LGW in the coach cabin. Service and IFE were excellent. The slimline leather seats were comfortable, but it seemed that the recline in the exit row may have been slightly limited; I'm willing to sacrifice some recline for legroom though.
Cheers!