I took this trip back in June but have been too lazy to do a TR. As a
matter of fact, I've taken the same trip on OZ since but I promised a
lot of people I'd do a TR on SQ and so here it is. I've done TR's
SFO-NRT-MNL and back on both NW and JL but this SQ trip was my most
favorite although it added a good 12 hours to the trip.
The trip was SFO-ICN-SIN-MNL. The SFO-ICN-SIN route was operated on
the new SQ 77W (777-300ER) and the SIN-MNL leg was operated on a 773
(777-300).
Driving to SFO at around 11 AM since my flight was at 2:15PM
Jacobin777's favorite NW pee wee boarding for NRT.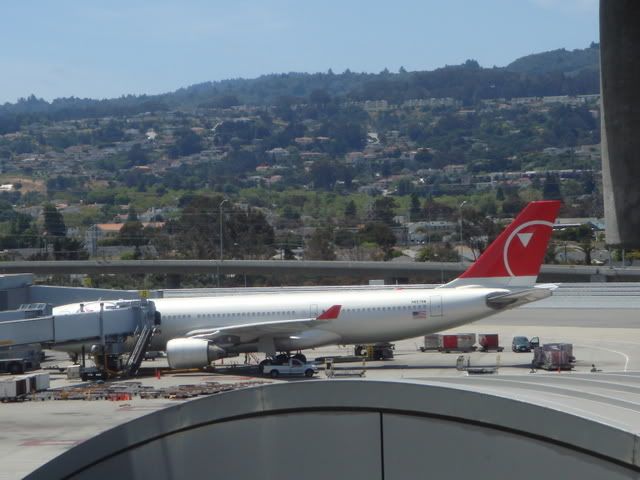 QF 744 parked at a remote area before the flight down under later in the day.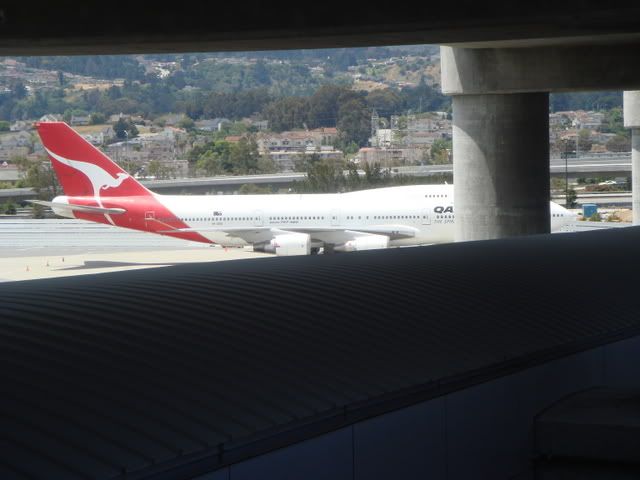 The great San Francisco International Terminal. I love this airport.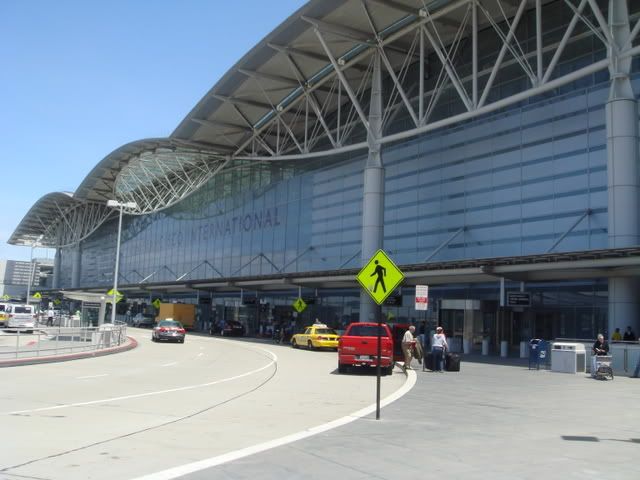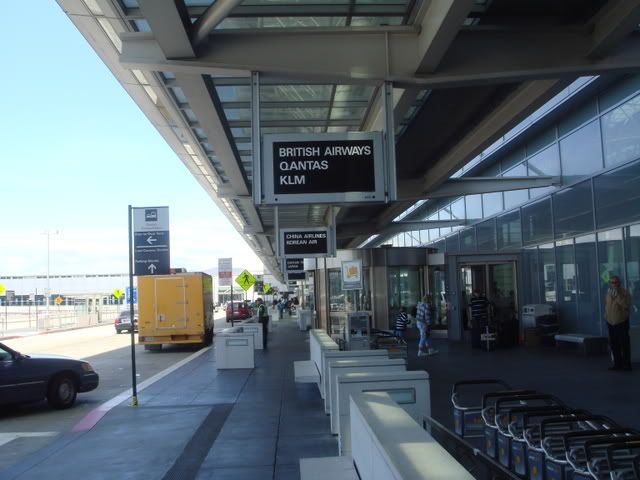 There was nobody in the business class check so checking in literally
took me less than 5 minutes. No pun intended but I seriously thought I
was in the wrong check in line because the economy check in was so
long with 90% of the people on it of the Indian decent. I thought it
was a flight to BLR maybe.
I went outside after checking in and sat there for a while looking at
this couple making out for a good half hour. It was like the guy was
never coming back to the Red, White and the Blue because I am not
kidding, they kissed and hugged for at least a half hour and the lady
kept getting hustled by the cops to move her car but they eventually
left her alone…lol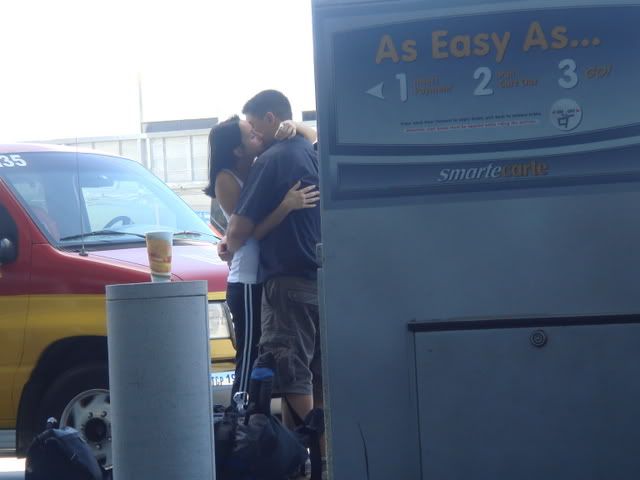 I went n chilled outside for a little while, had a beer at one of the
restaurants and then went through security. The line was kinda long
because there are quite a number of afternoon departures at the time.
There's a good Mexican restaurant inside the secured area and I
decided to have a good bite of Mexican food since I knew it would be
months before I find Mexican food anywhere. The little things you take
for granted…
I still had sometime before boarding so I went to the SQ lounge which
was quite disappointing compared to the other lounges in SFO. BA
lounge is my favorite and there's no comparison to the SQ lounge. Ooh
well, I had another Heineken and started walking towards the gate
while taking pictures. Here are a few: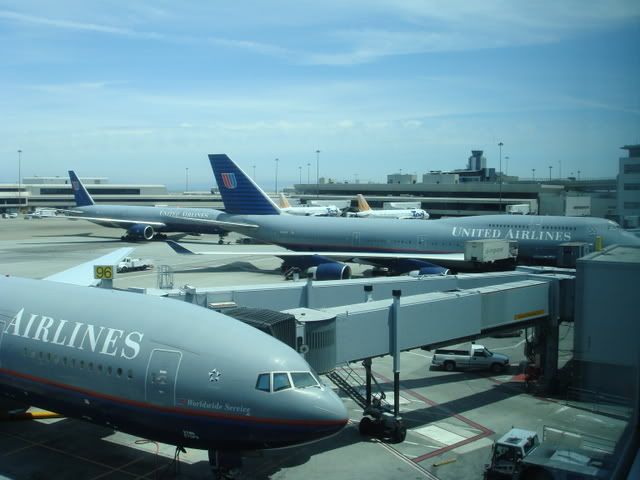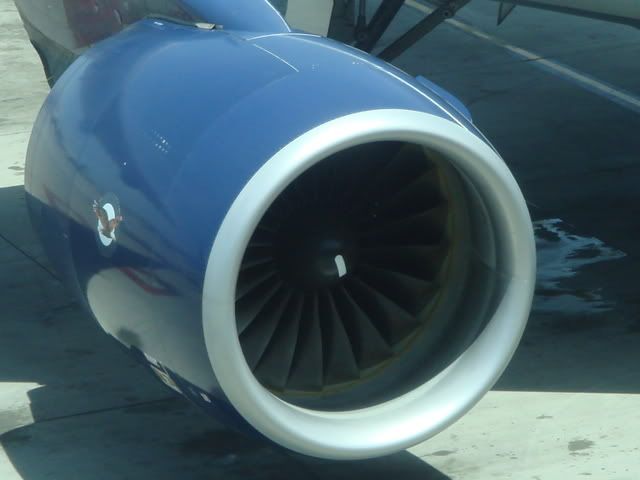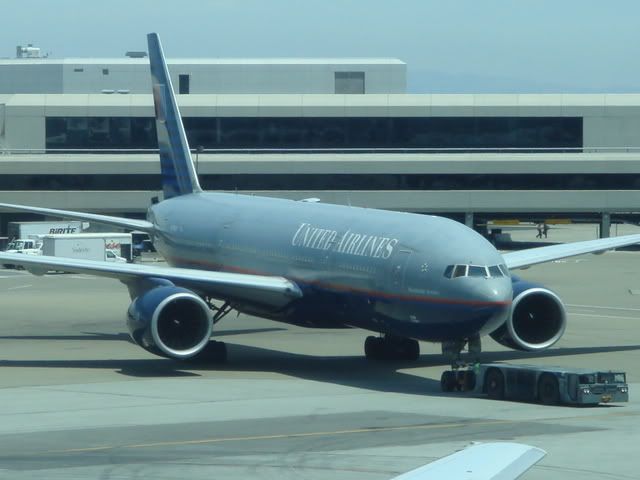 Here's my ride to SIN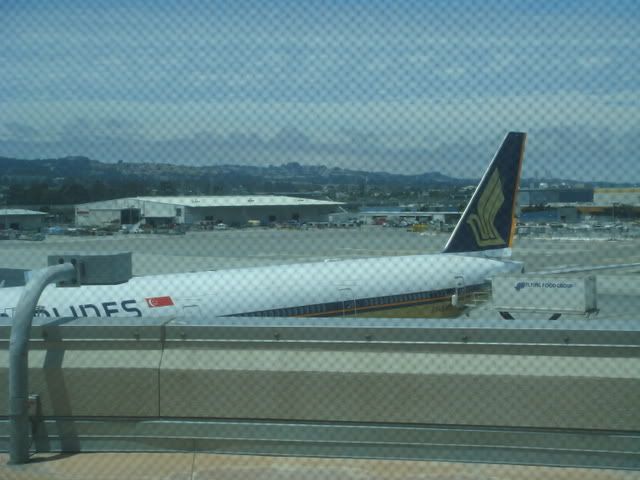 A lot of UA 777 that day.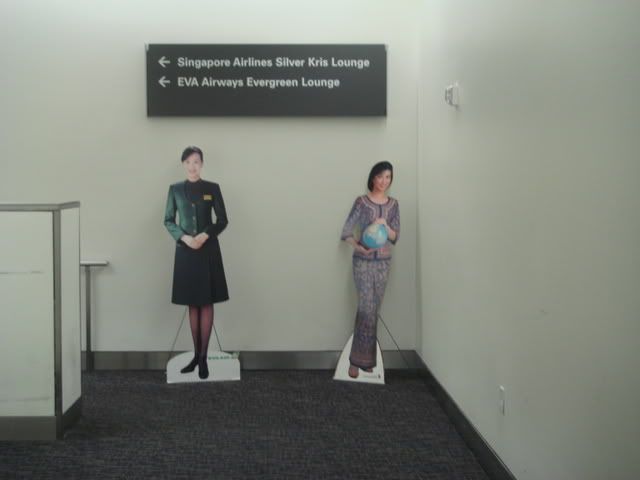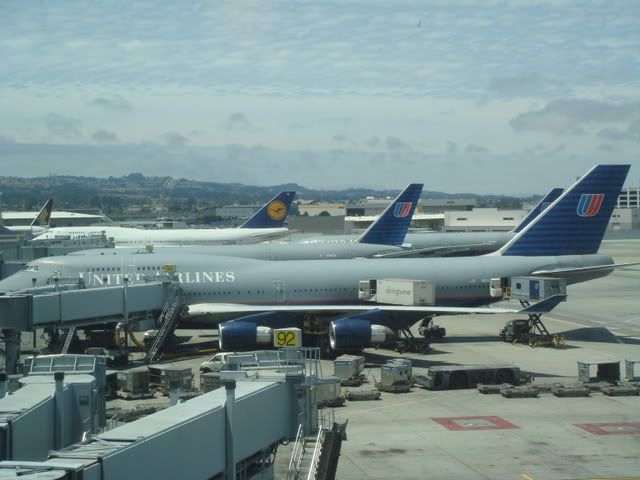 Where would you like TED to take you today?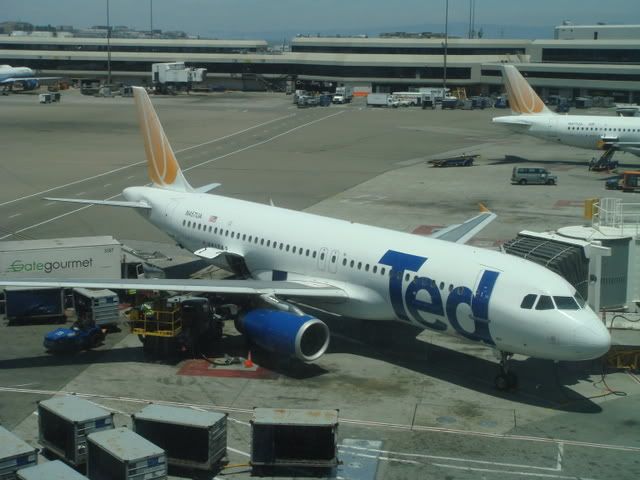 SQ lounge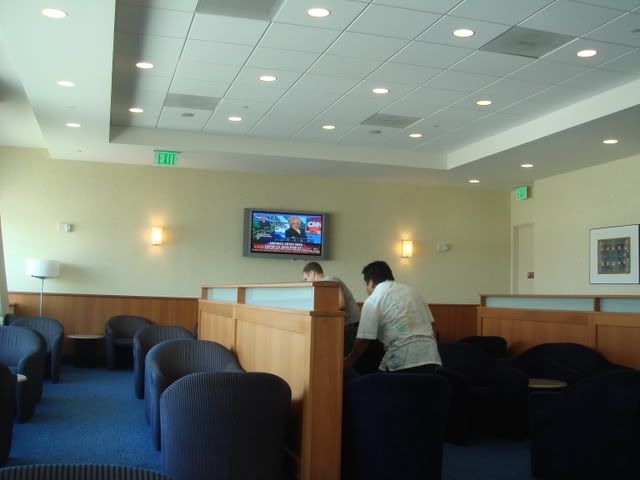 Nice-looking aircraft 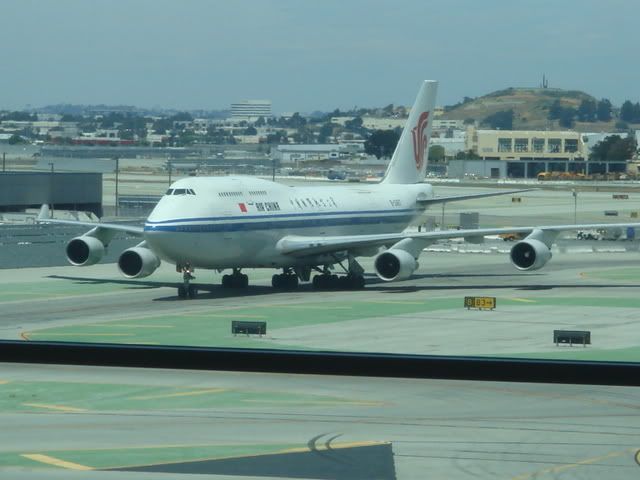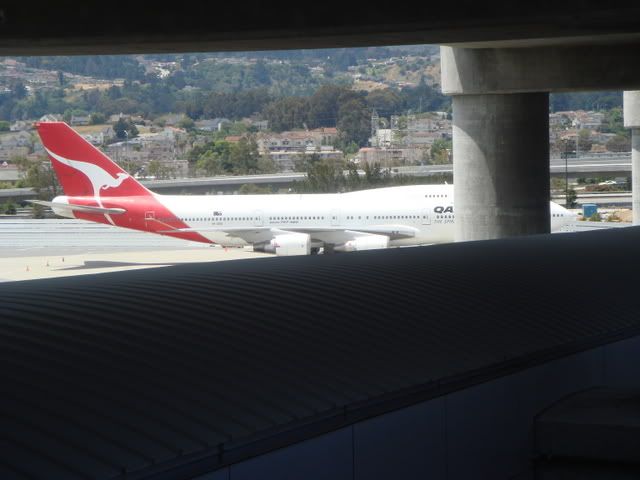 Boarding was a breeze and this being my first time on SQ, I just
wanted to see the Singapore girls and I wasn't disappointed when I
walked into the aircraft. The little, cute lady walked me to my seat
and took my jacket. The first thing that I noticed is how HUGE the
seats were. Considering I was going to spend the next 19 hours on one
of them, I couldn't complain.
I got a glass of Faux-J but remembered the TR by Mr. Door5right so I
downed the Faux-J and asked for the 'fizzle' as he calls it. This is
Mr. Door5right's name for Champagne and although I don't necessarily
care much for it, this was some good stuff and I knew I'd be drinking
more of this throughout this long trip. Interesting thing I noticed is
that the 1st class seats are almost the same as the J class seats,
especially the size. They look a little bit more comfy but that's
about it.
Here are a couple of pictures that I took after boarding.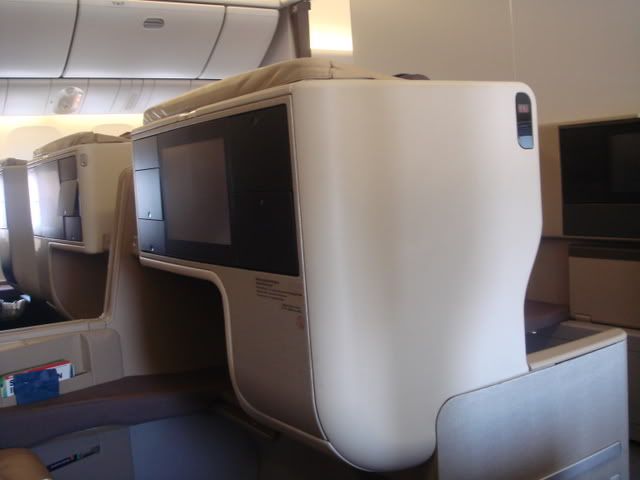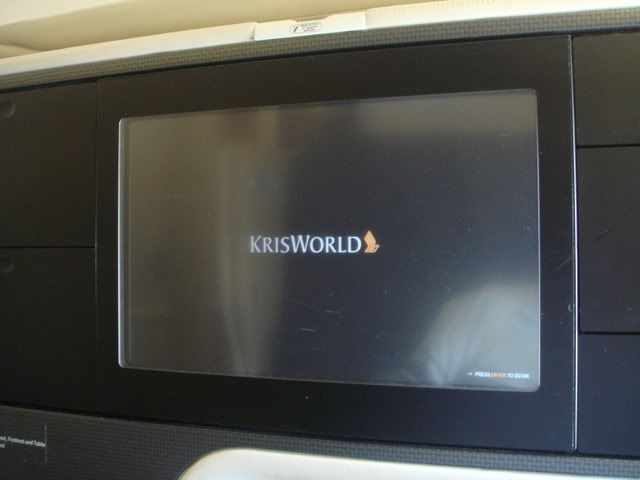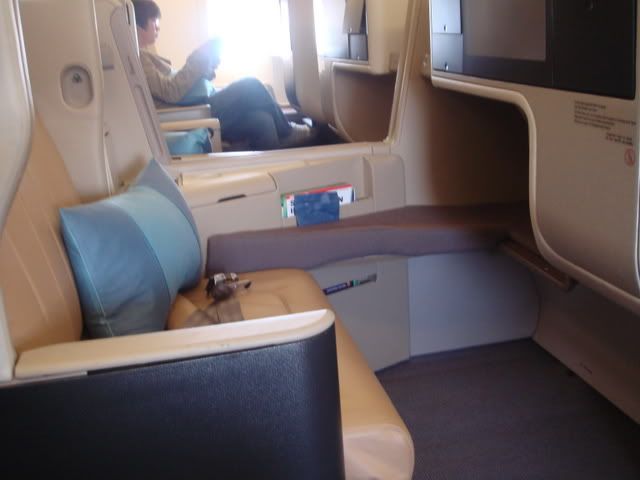 Seat controls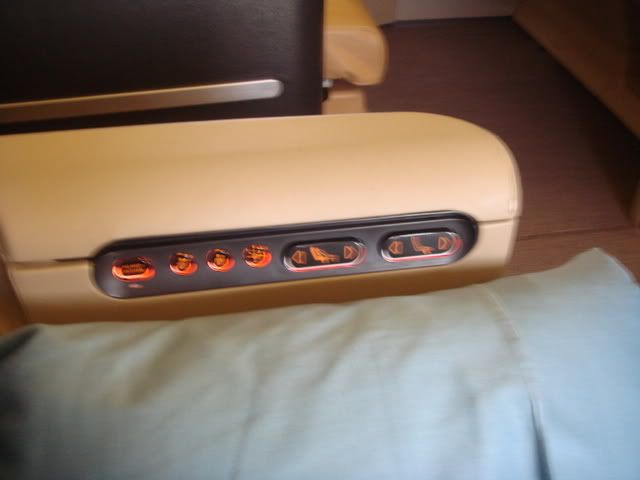 Lots of leg room
Air China B744 at the gate right after arrival.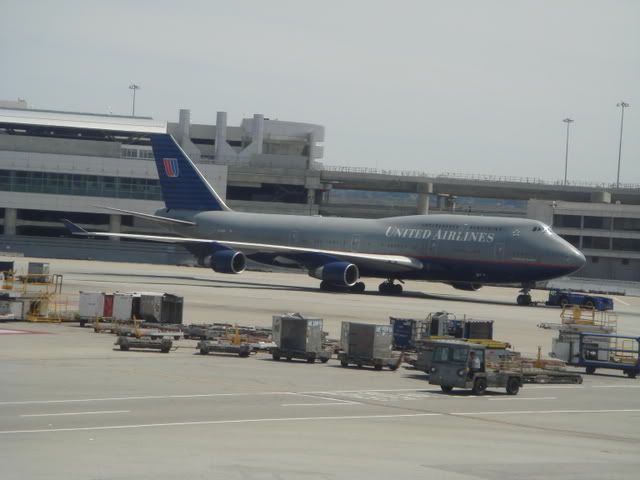 The British have arrived. VS 744 was close behind this baby but I
couldn't get a picture of it. BA and VS always seem to following each
other especially at SFO.
J class was pretty empty. We taxied to the end of the runway and off
we took. It's amazing how quiet the 77W is during rotation and on
climb out. Here are a few pics I took right after takeoff.
VA A320 that was parked at SFO forever.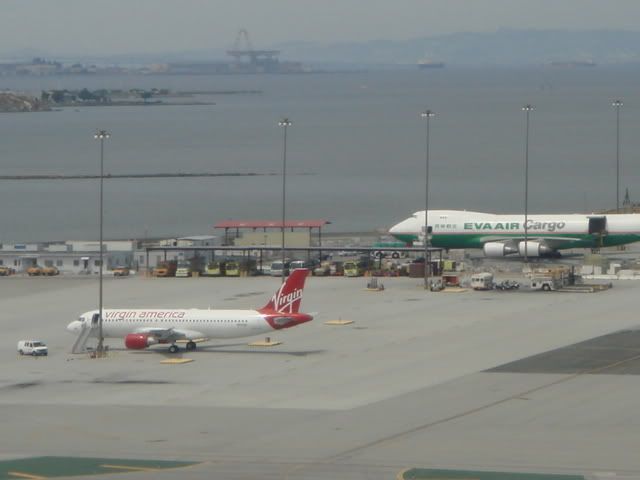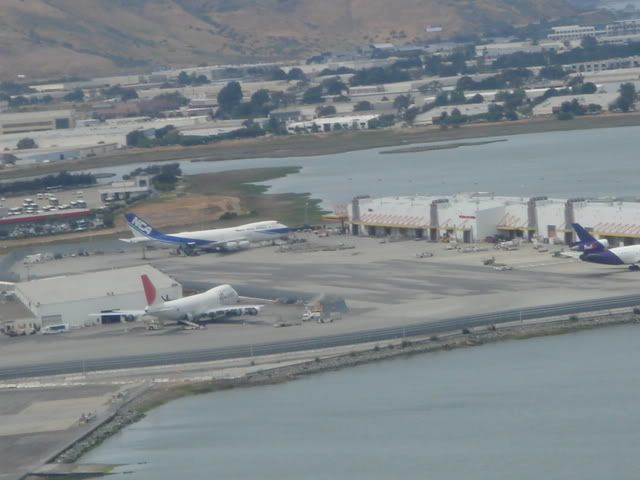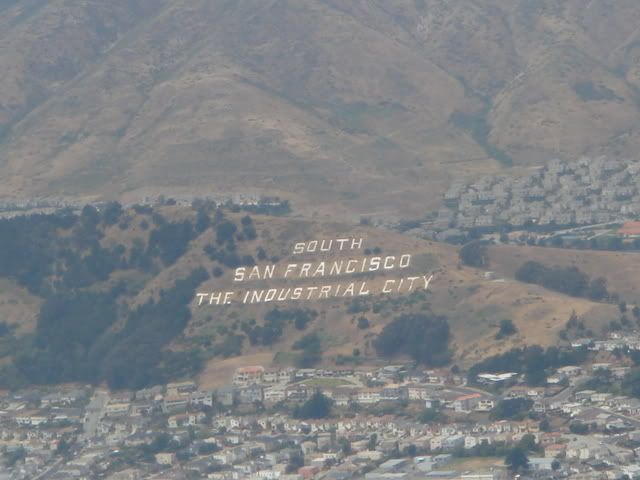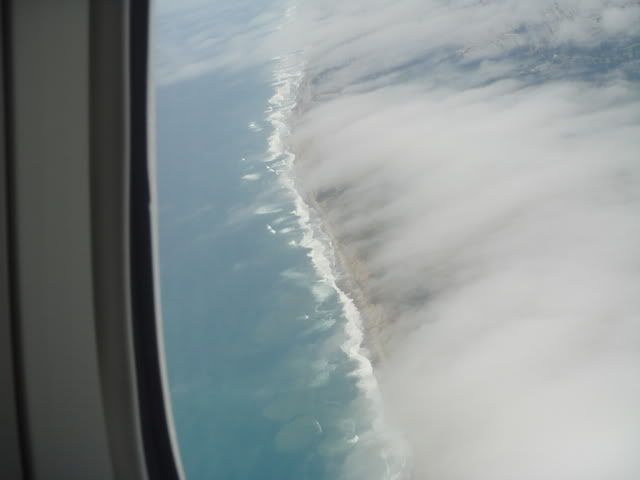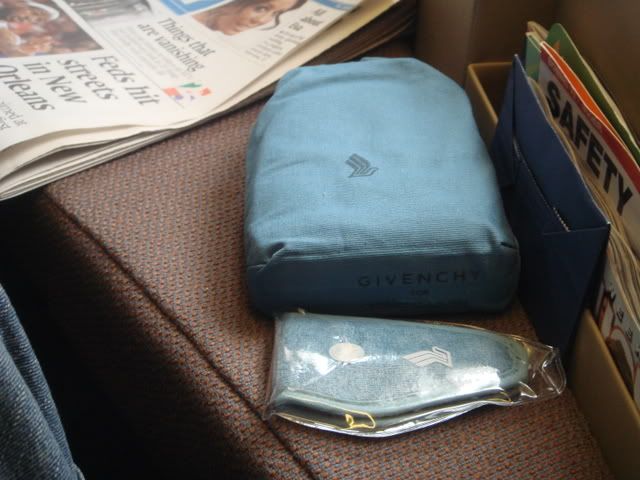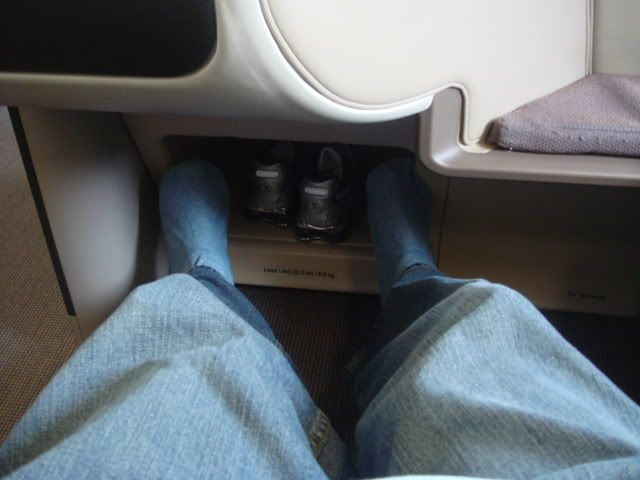 If you notice, the control says 10:18 hours to SEL, not ICN which I
thought was kind of weird since this was a new aircraft that has never
been to SEL. In any case, it took us more than 12 hours to ICN so the
timer went all the way to 0 minutes to SEL but we were 2 hours away at
the time. Ooh well!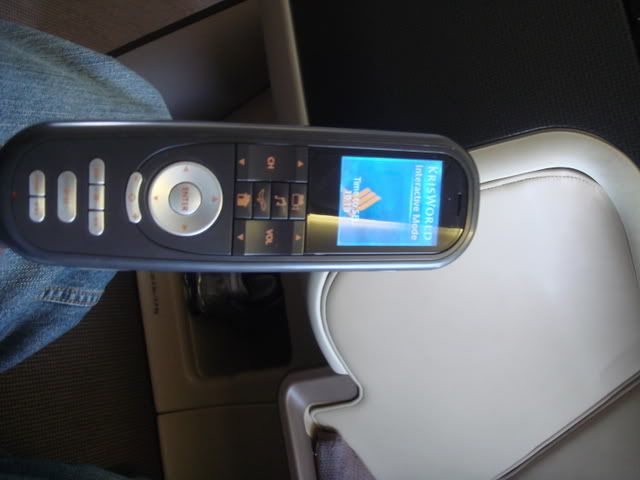 SQ already had a picture of the A380 on the Flight path demo.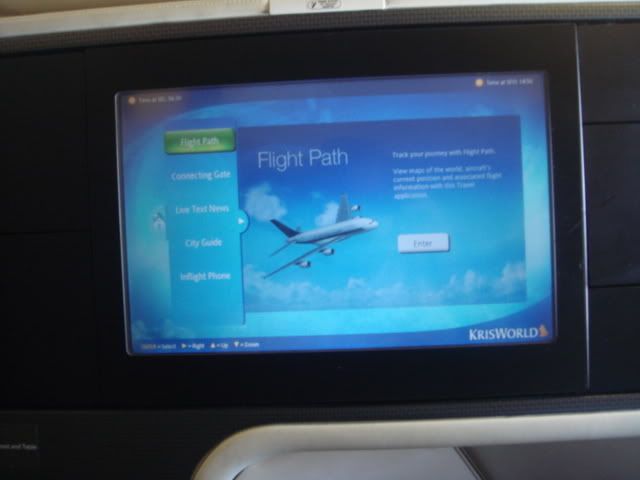 I like how this image shows you where the sun is in relation to the
aircraft. We were literally following it flying West.
This wasn't quite right.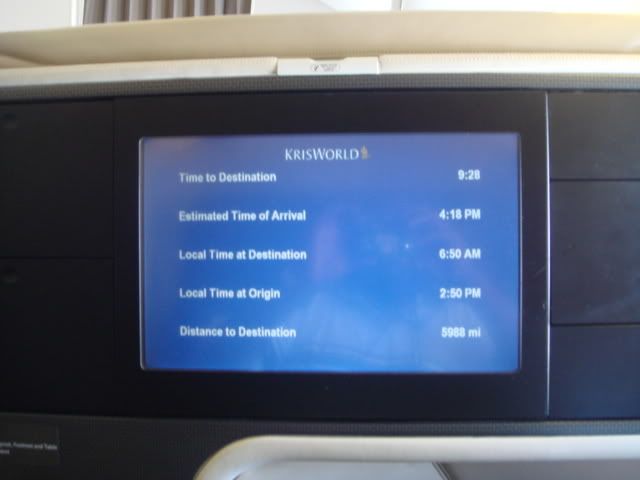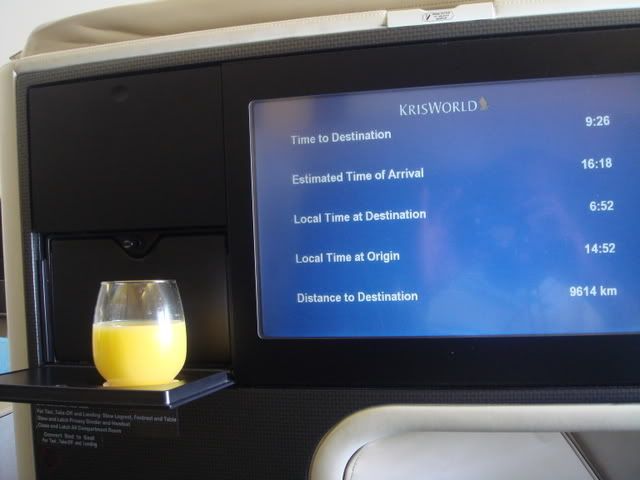 The skewers were actually pretty good although I cannot remember what
kind of meat it was. Didn't care for the dip though, kinda too sweet.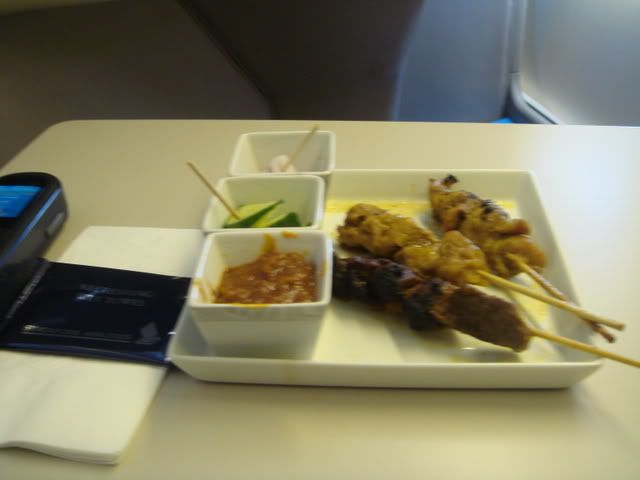 The setting was great wit metal folks, knives and spoons.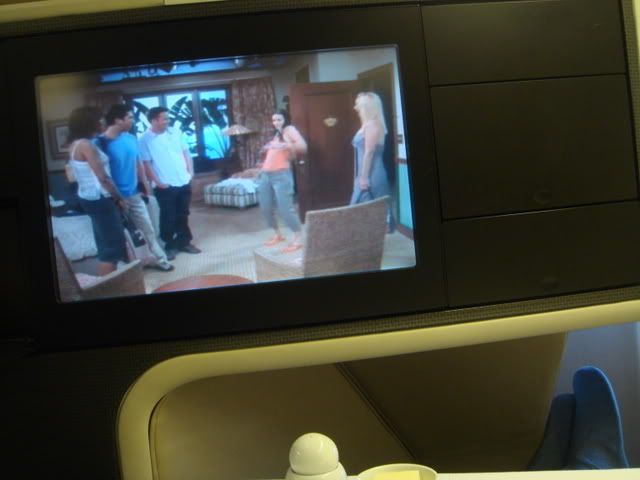 The food was decent but I gotta say I prefer OZ's food because they do
have the same dish as this but better tasting.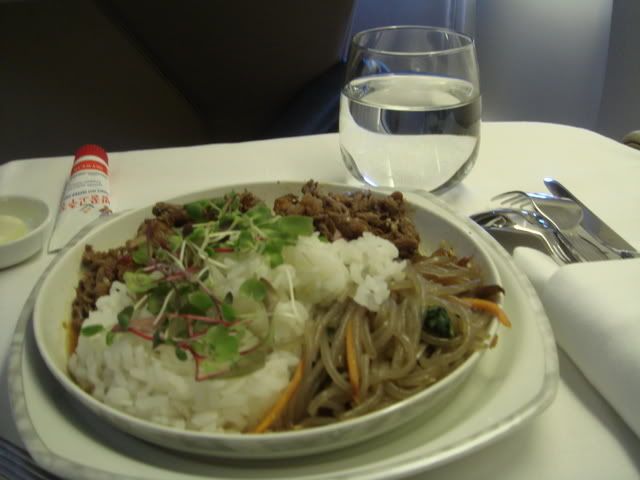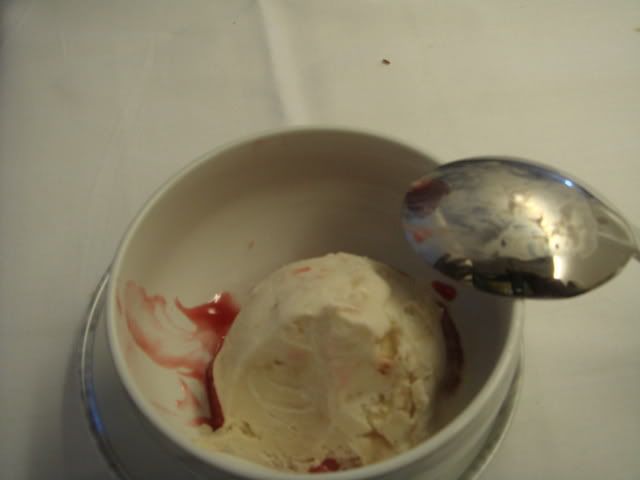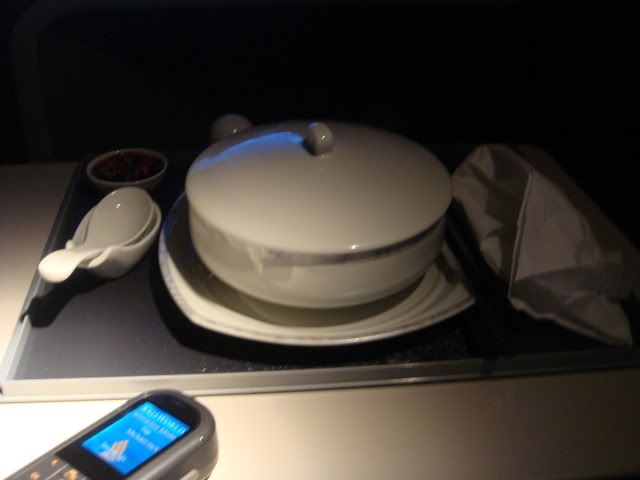 All in all, the meal was decent but I wasn't very hungry though
because of the Mexican food I had eaten earlier.
A few pictures I took in the lavatory.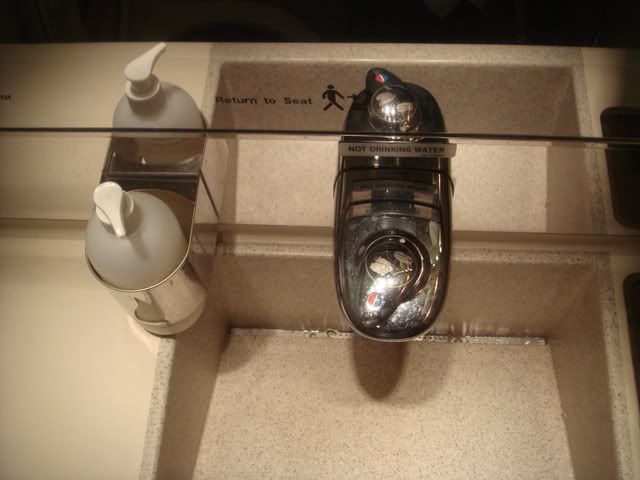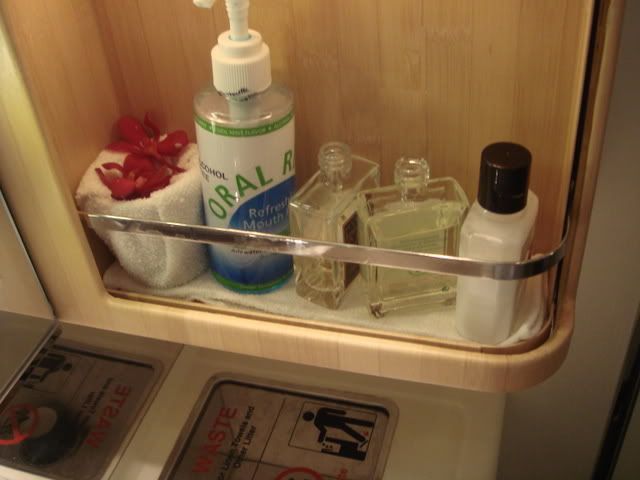 I got back to my seat and decided to take a nap. I couldn't figure out
how to 'convert' the seat into a bed because I missed the video they
had shown earlier on 'The New Business Class'. The friendly, gorgeous
FA saw me struggling and came over to help me out. Here are the
results.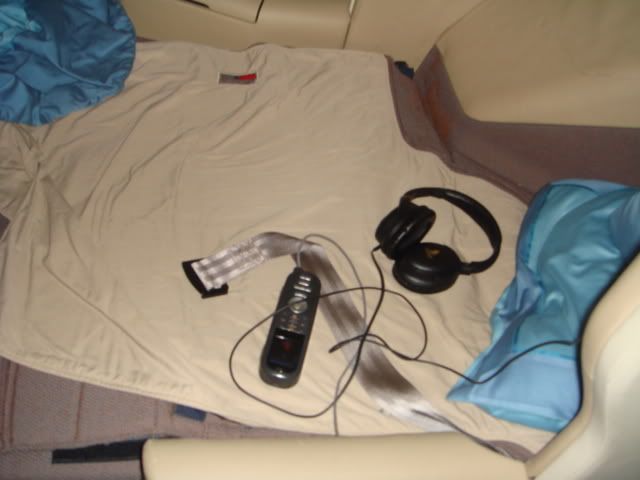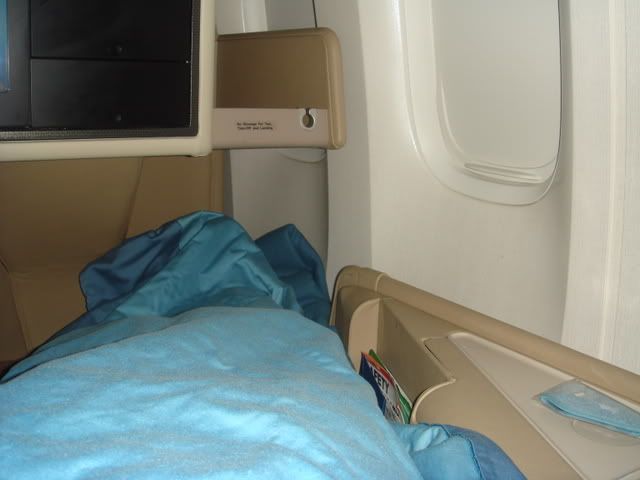 A picture of the seat in front of mine
My IFE went bust and froze up on me. I called the FA and she had to
reboot it which took a good 10 minutes before it was back up.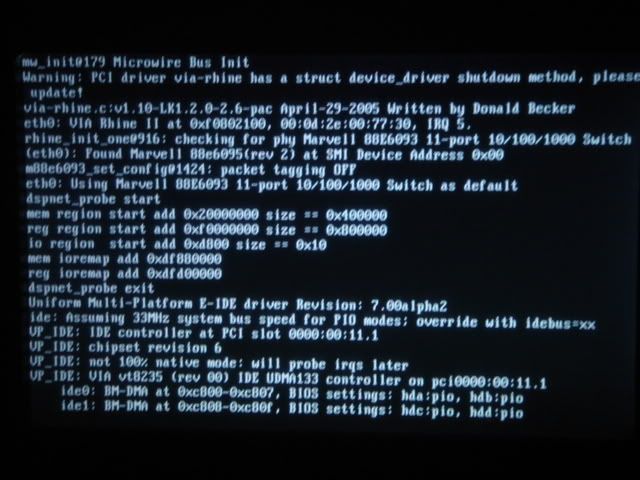 Snoozed for a while and by the time I woke up, we were almost there.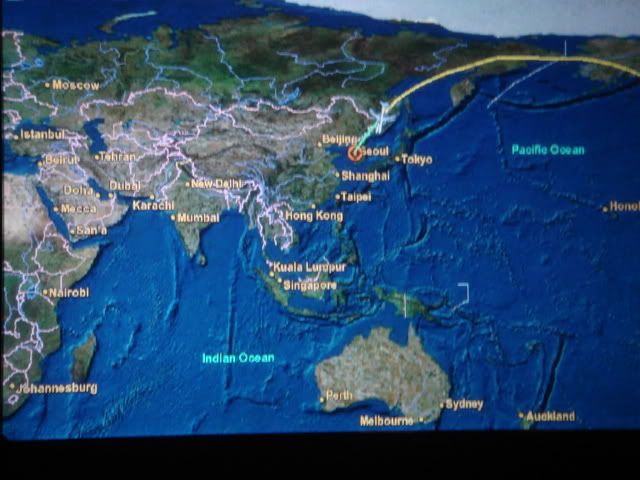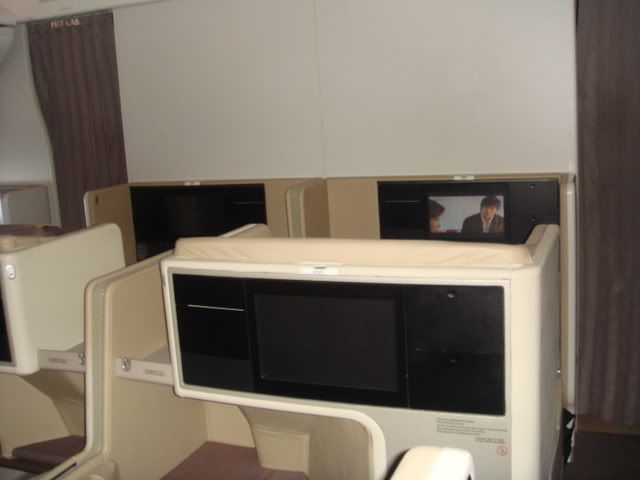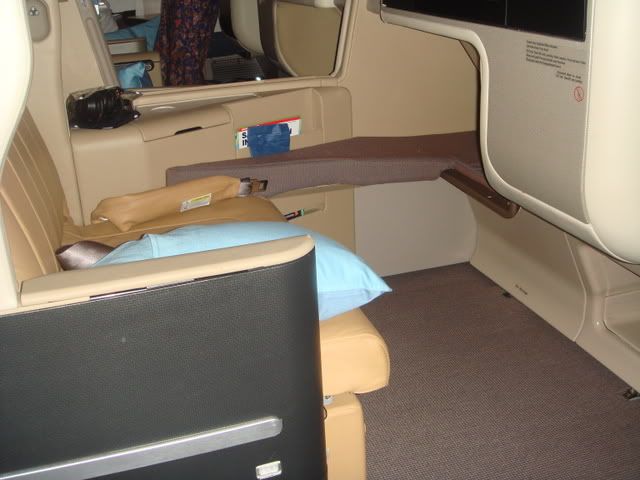 I don't know what meal this was but evidently they served us more food.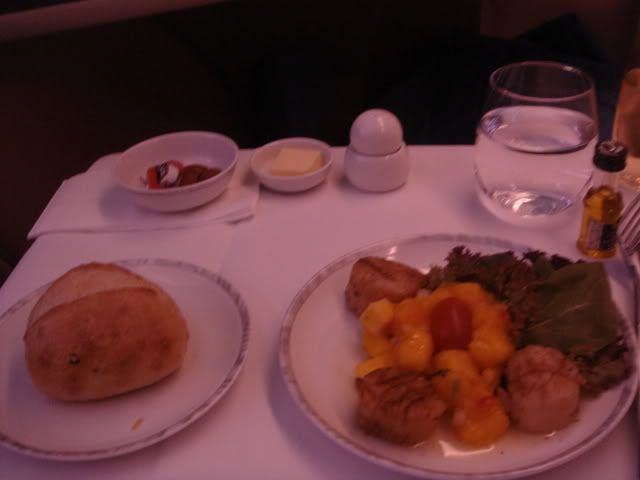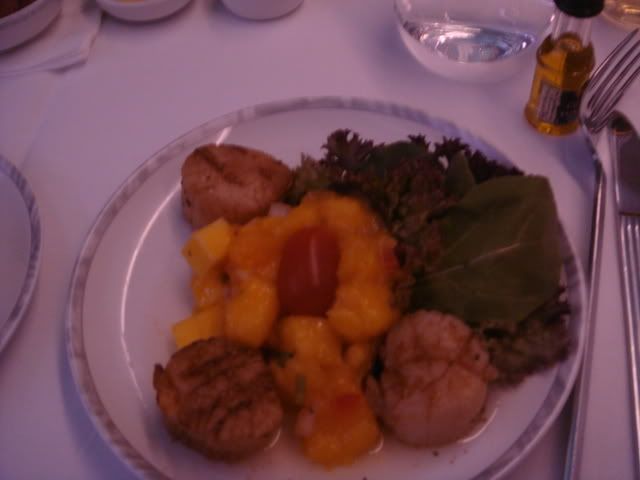 The sun was proving to be faster than us.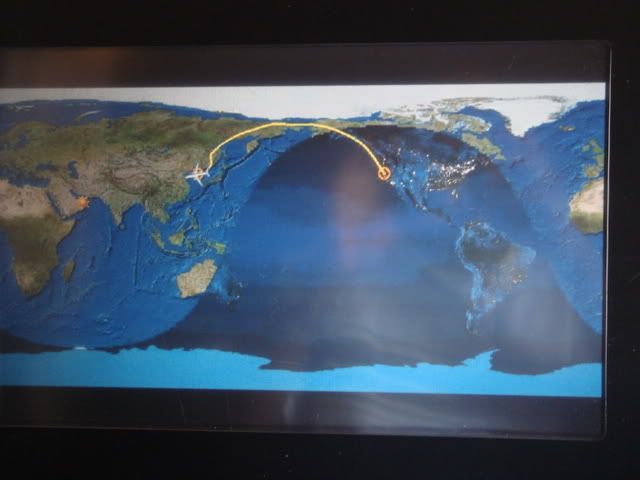 Time to destination was showing at 0:00 for a good two hours.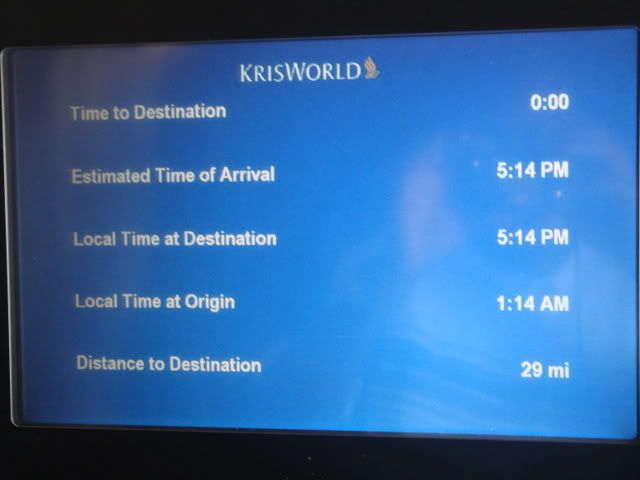 All in all, it was a good flight to ICN and I slept half of the 12
hours it took us to get there. A relief pilot came over and sat in the
empty seat next to me during meals. He checked out the IFE for a
couple of hours before going back to either the cockpit of the bunk
beds.
Great shots of the HUGE engine and the wing on approach to ICN.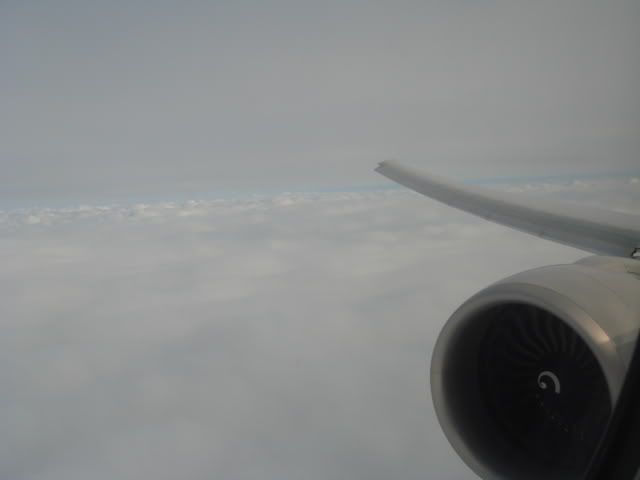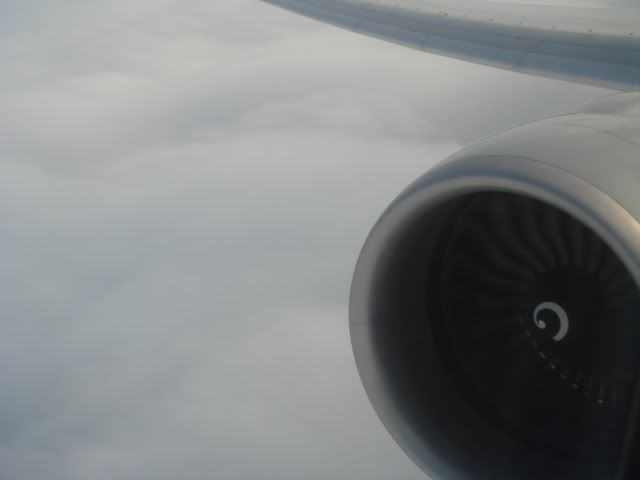 Finally landing at ICN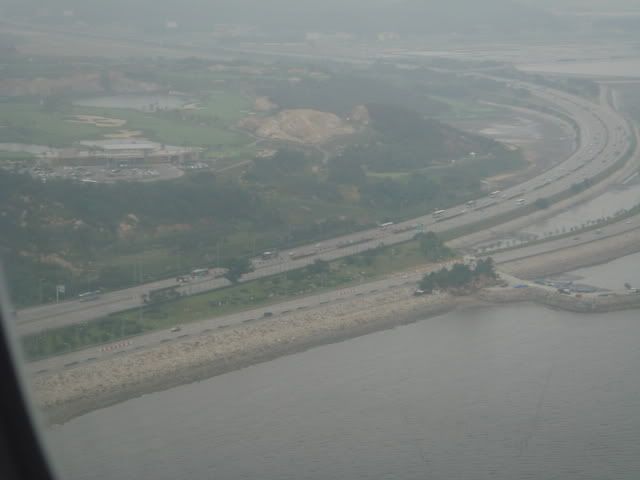 ¾'s of the planes in ICN are KE's shouting blue aircraft.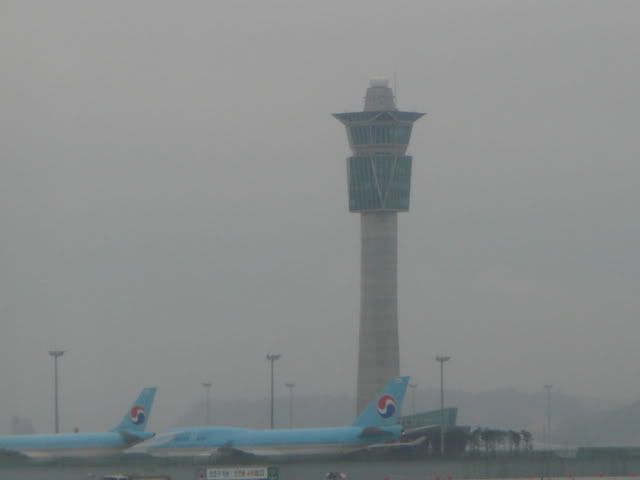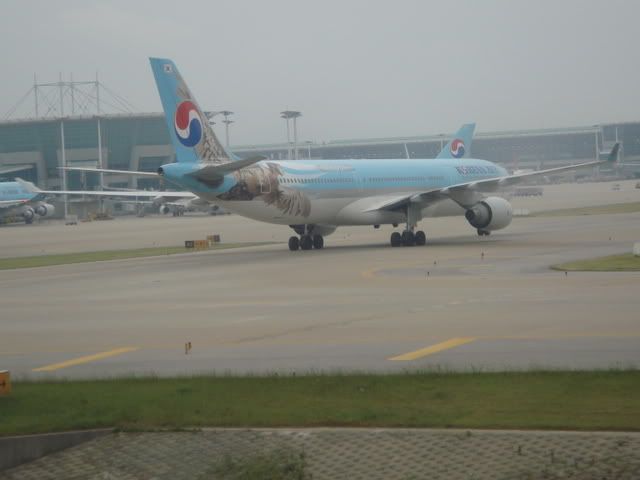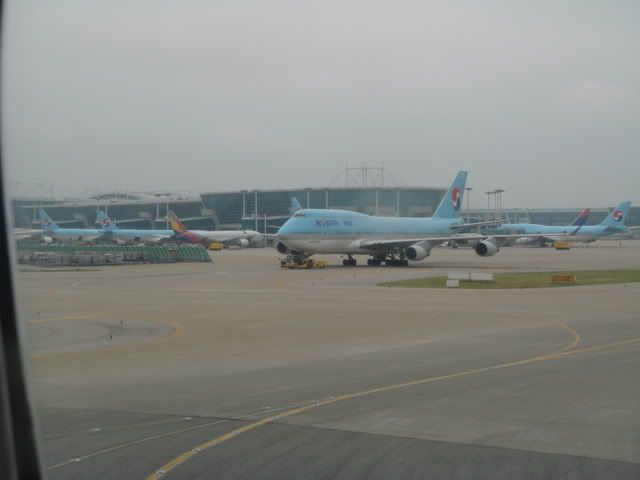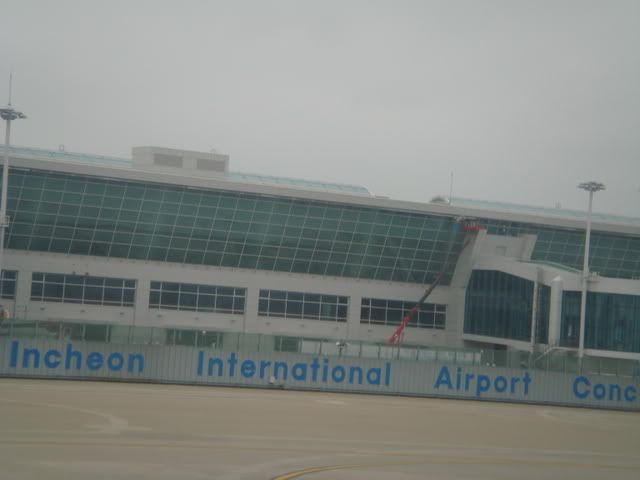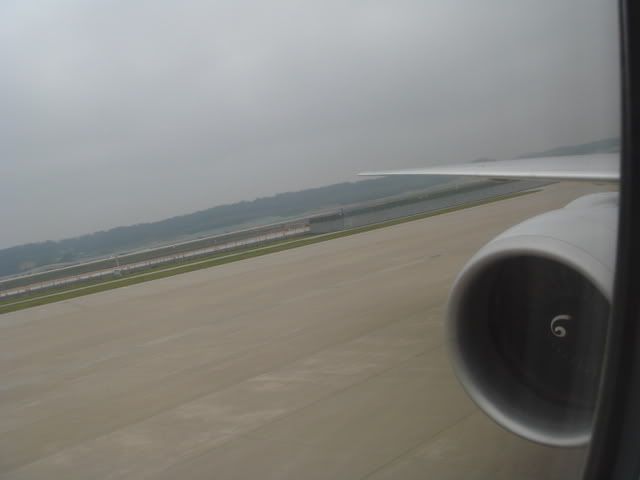 We got to the gate but it was still occupied by the other SQ 77W on
its way to SFO where we just came from. These planes always meet here
one headed to either direction.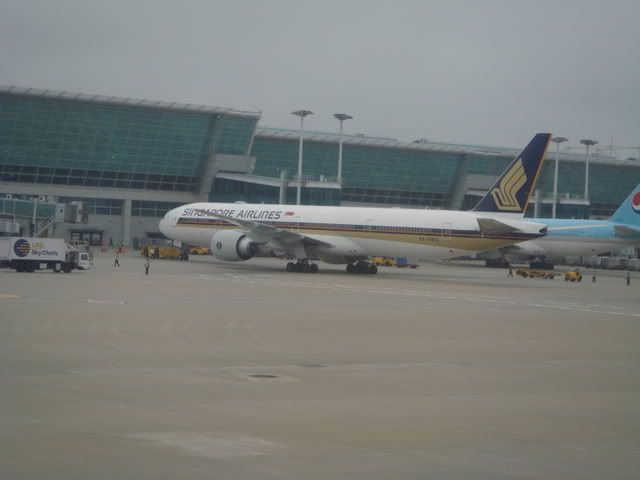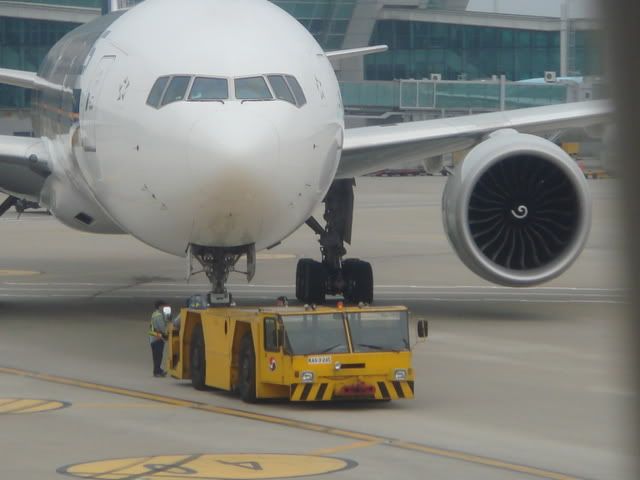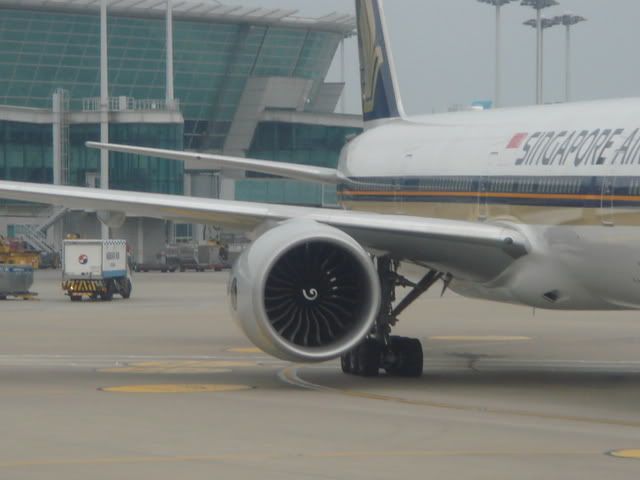 EK's A340
We deplaned with our belongings and for those of us continuing to SIN,
we got a yellow sticker printed 'SQ Transfer' on it and proceeded to
the security line. This is the part I don't get because why would they
have you go through security again if you just deplaned and getting
back on the plane in less than an hour. Ooh well, I see this in many
airports so no big deal after security, I headed to the lounge for a
smoke which I needed real bad. I love SQ's lounge at ICN, I even use
it when flying other carriers.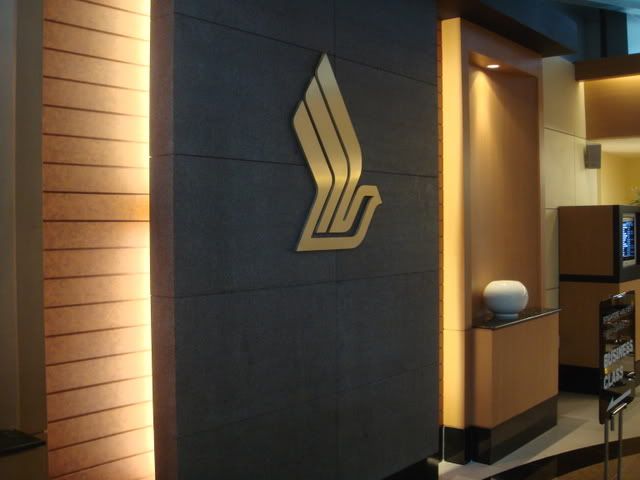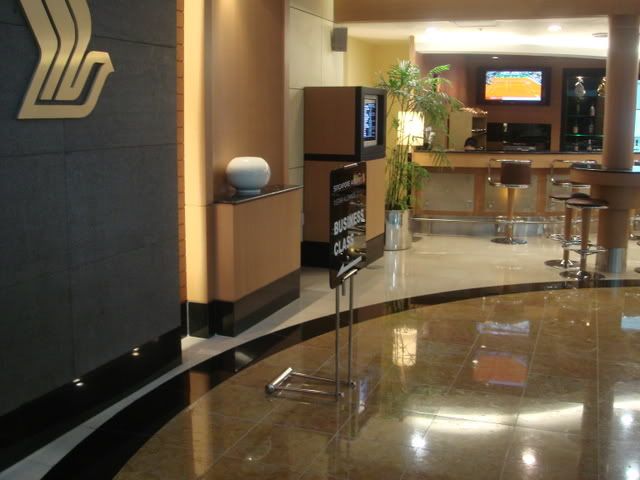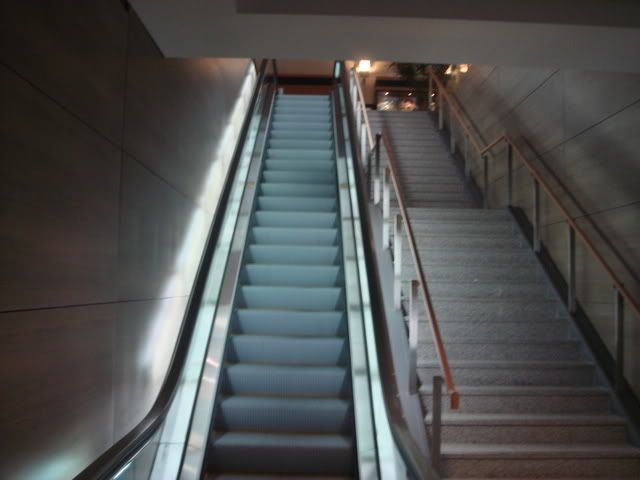 Lay over at ICN was an hour and before I knew it, it was boarding time
again so I headed to the gate. Here are a few more pics of our ride;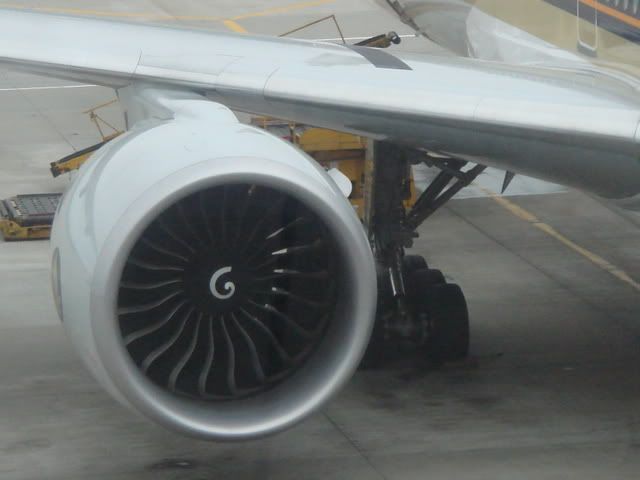 Boarding once again was painless and I headed to my 'old' seat that I
sat on for 12 hours earlier except it had new amenities e.g. blanket,
magazines and all.
Not sure what's up with the thick seat belt.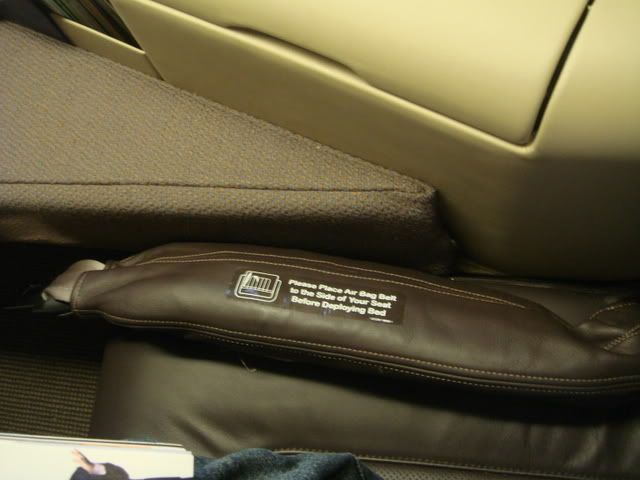 Here are the menus;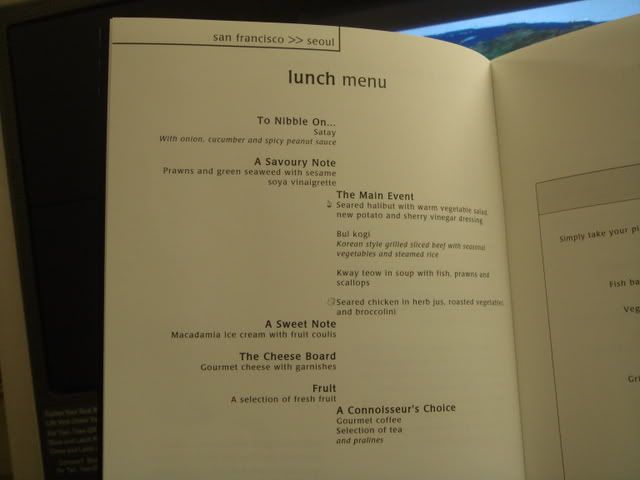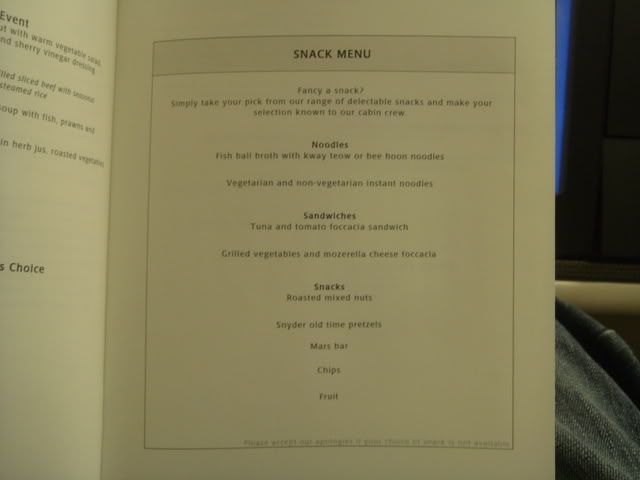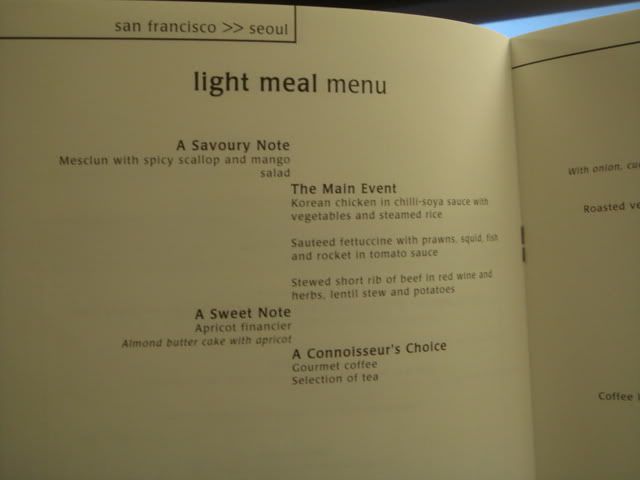 It was about a 7 hour flight to SIN and by now I just wanted to get to
SIN then MNL. It's funny how I look forward to these trips but after a
few hours on the plane, I want out.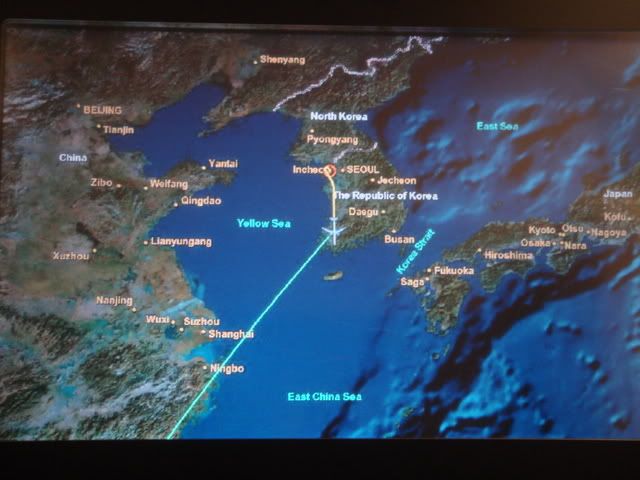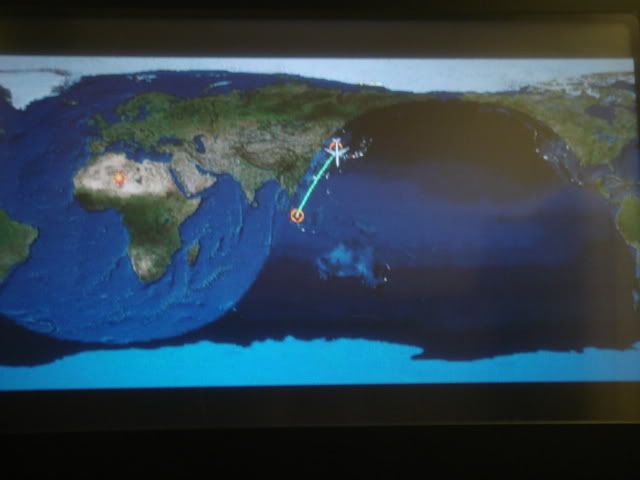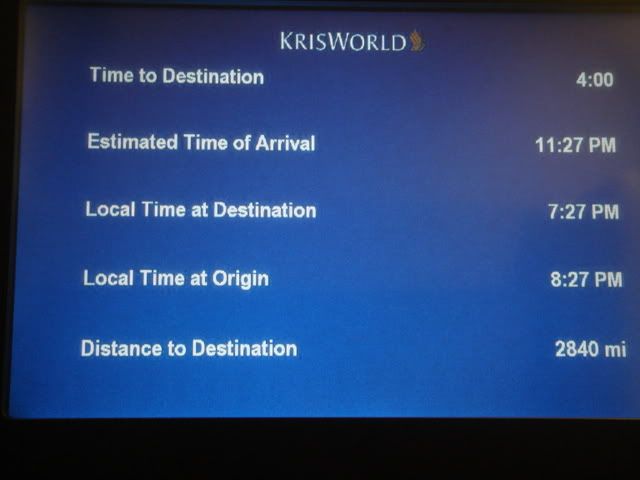 Food was okay and I had dinner then went to sleep.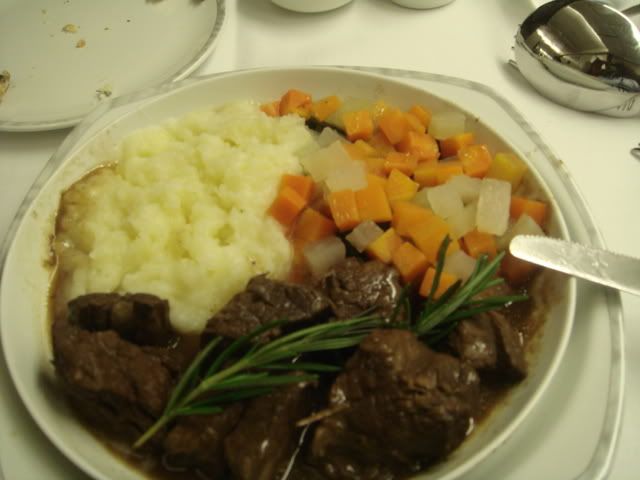 I woke up when they turned on the lights right before landing. I was
kind of excited because this was my first time in SIN although it was
1 AM and I wasn't even getting out of the airport.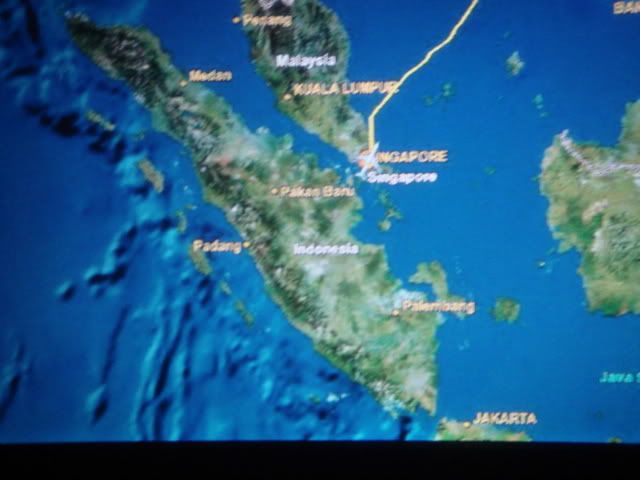 We finally landed and deplaned and all I wanted was to take a shower.
I knew SQ's lounges had showers so I couldn't wait. SIN lived up to
its hype per like they say, it is the best airport in the word
followed closely by ICN.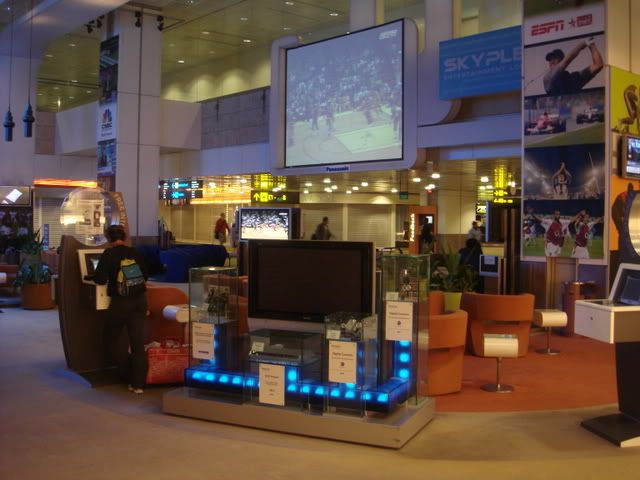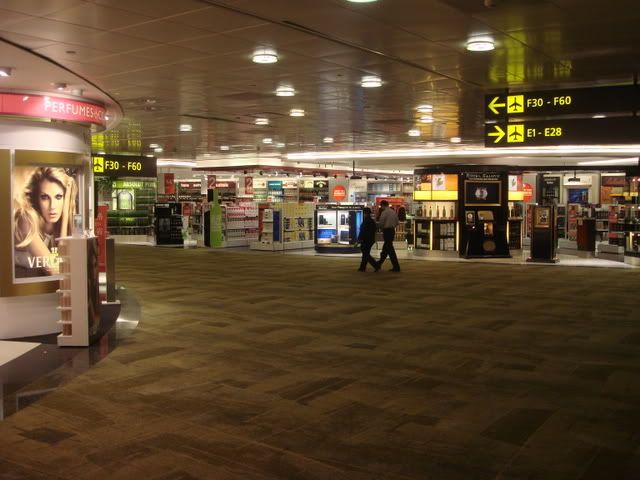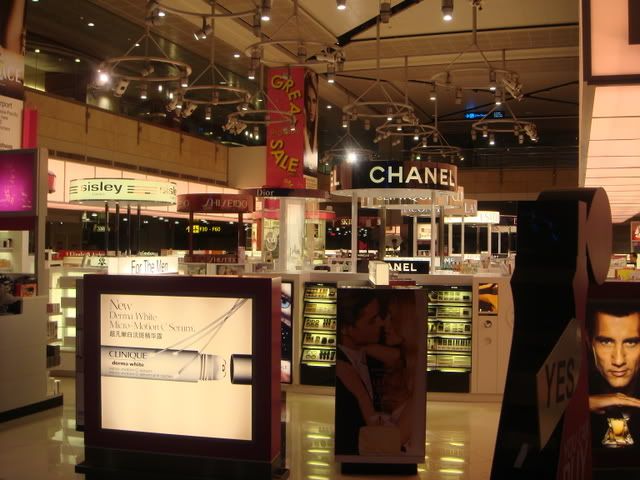 I finally found the lounge.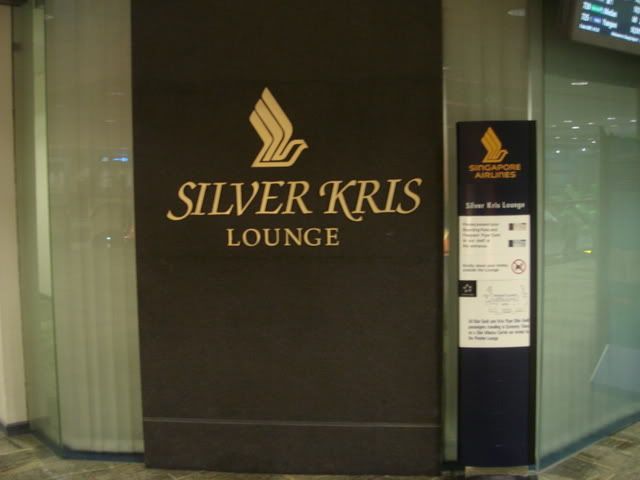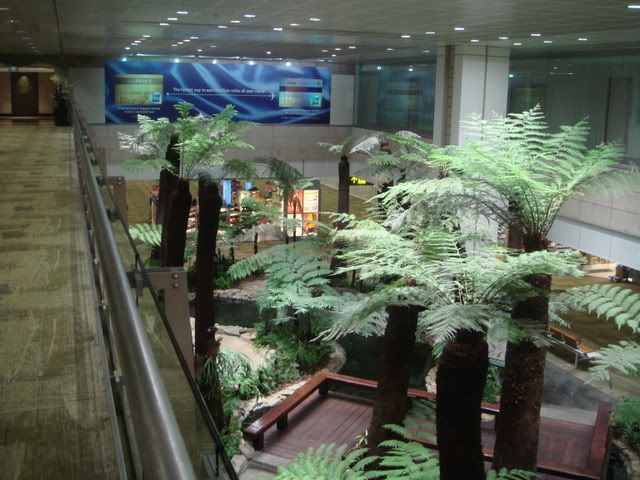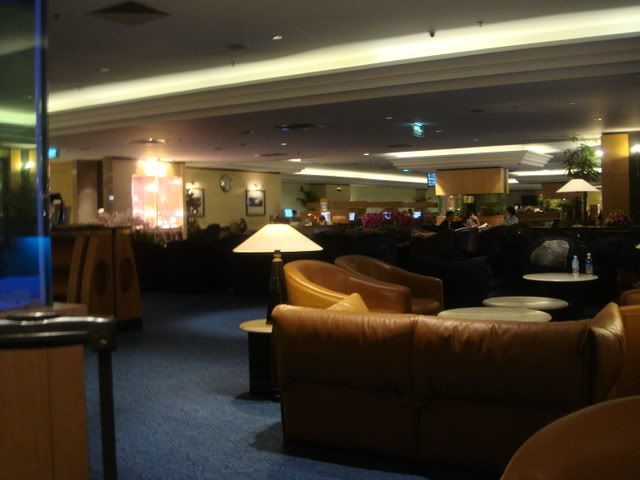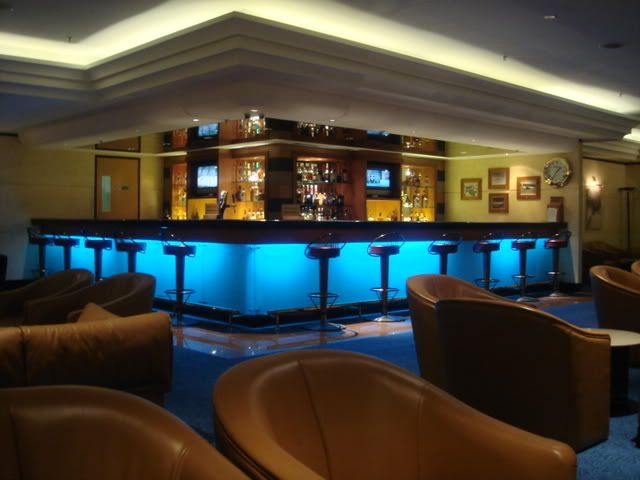 The showers are awesome and I went straight to one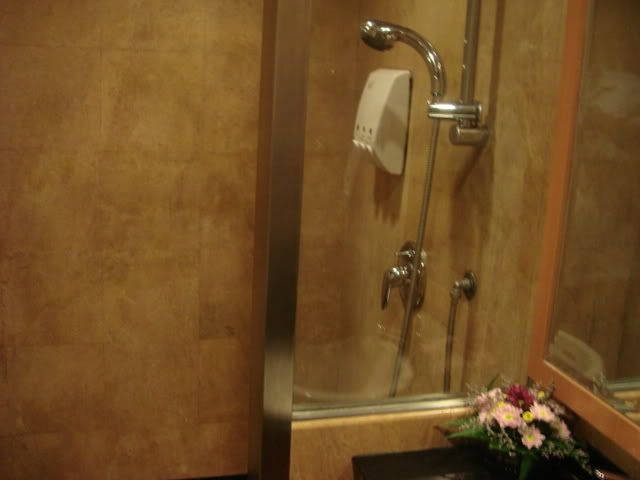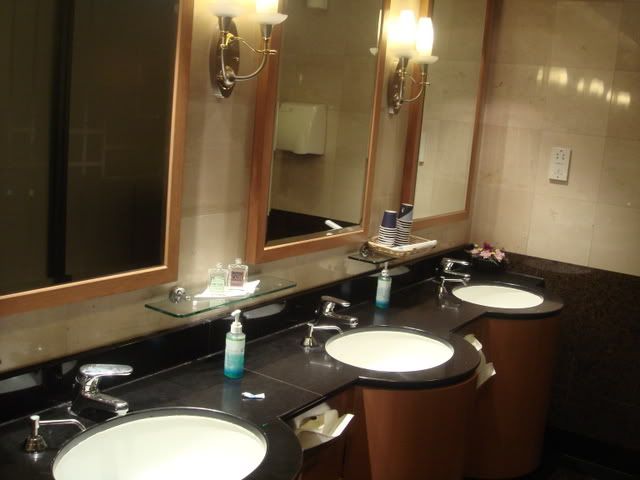 After the shower, I went straight to the bar because my flight to MNL
wasn't until 9:00 that morning. I had a good 7 hours to kill. I
contemplated getting out of the airport but I didn't think I'd be able
to see much at 2:00 AM so I decided against it. I did promise myself
to be back soon which actually happened about 3 weeks after this trip.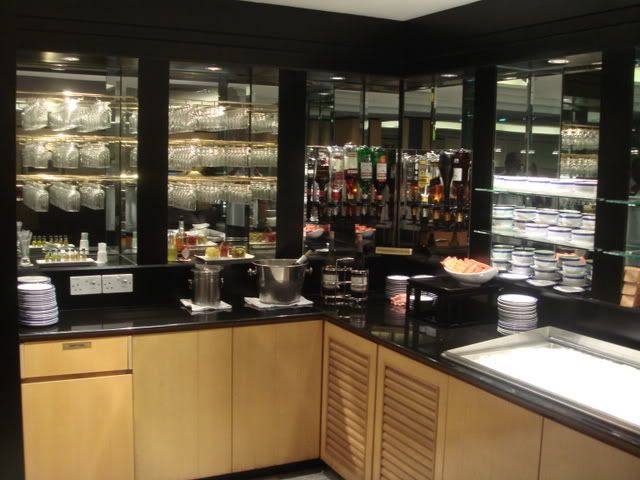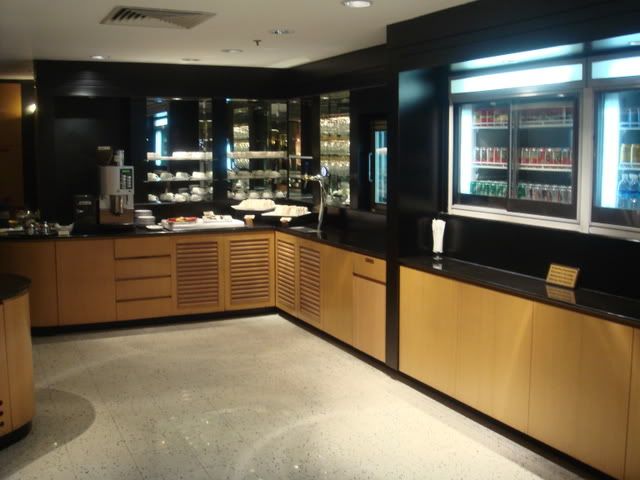 I logged on and did some work for a few hours and then just tried to
kill time. 7 hours in a lounge is a long time. Around 6 AM, it started
getting busy and at around 8 AM, you could not find a seat anywhere. A
lot of SQ arrivals are in the early morning which explains it.
At around 8:15AM, I started walking to the gate because I had no idea
how far away it was and it wasn't that far after all. Here's a shot of
our 773 that would take us to MNL and some other SQ heavies: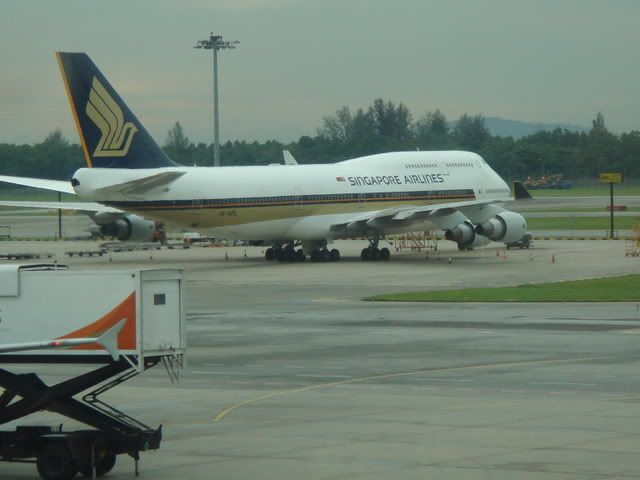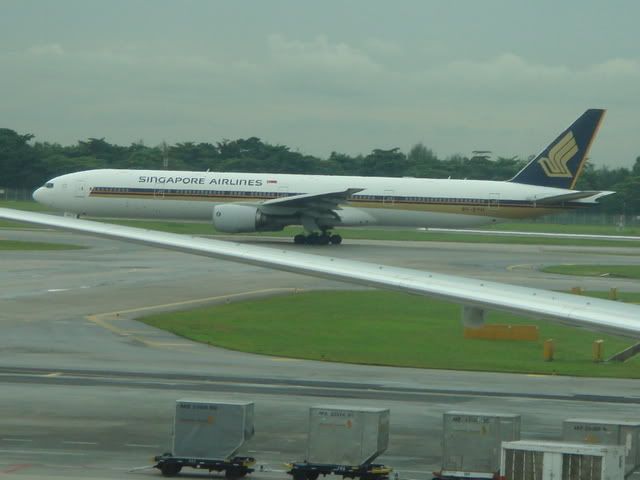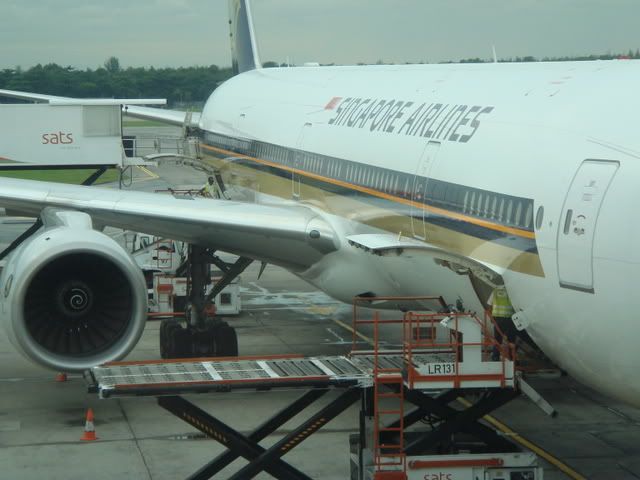 Boarding was uneventful again and it didn't take long to get to my seat.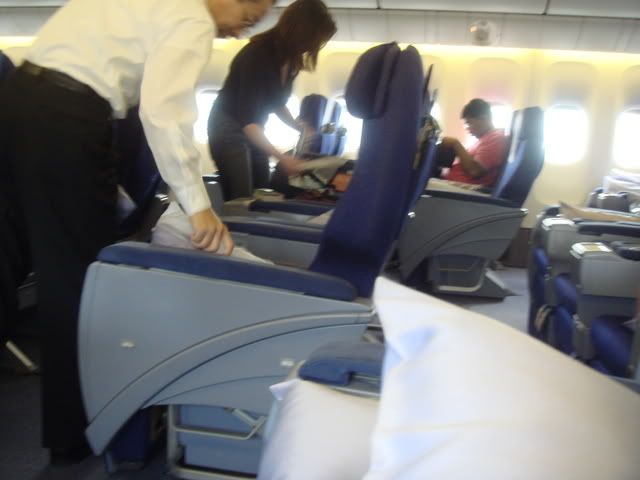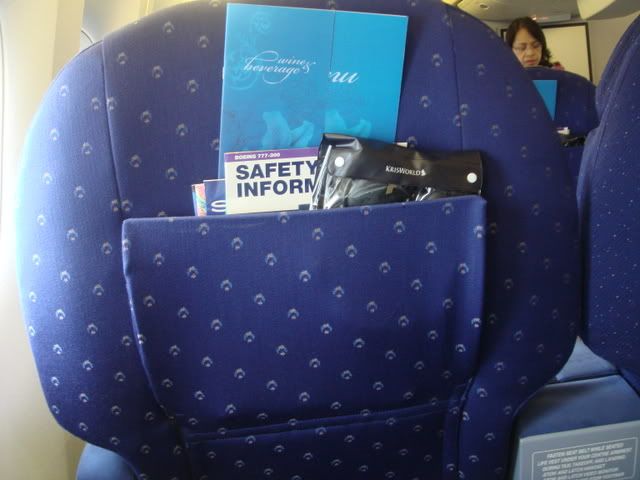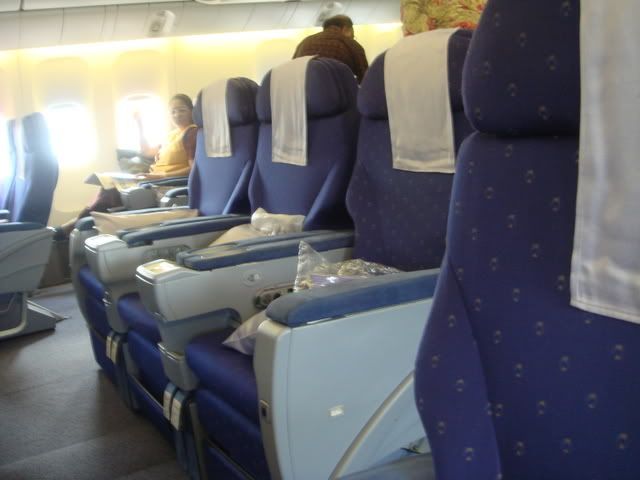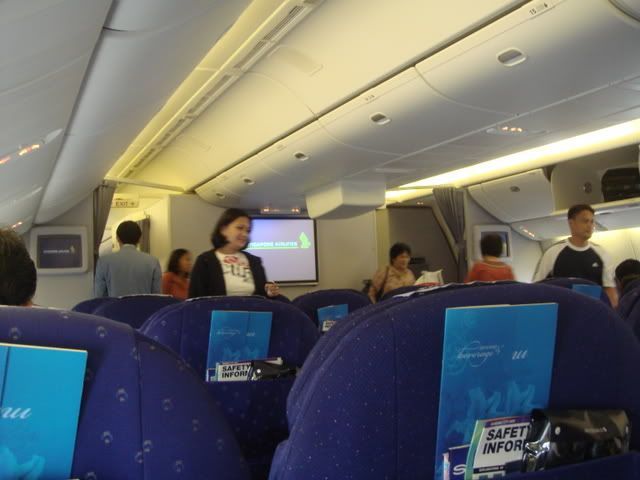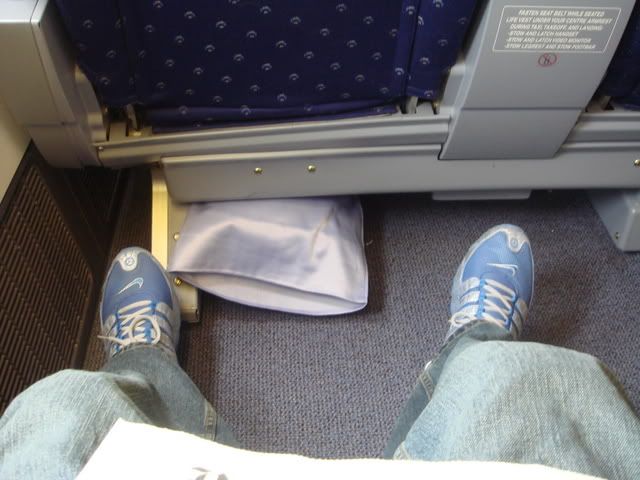 Newsflash, The engines on the 773 are HUGE!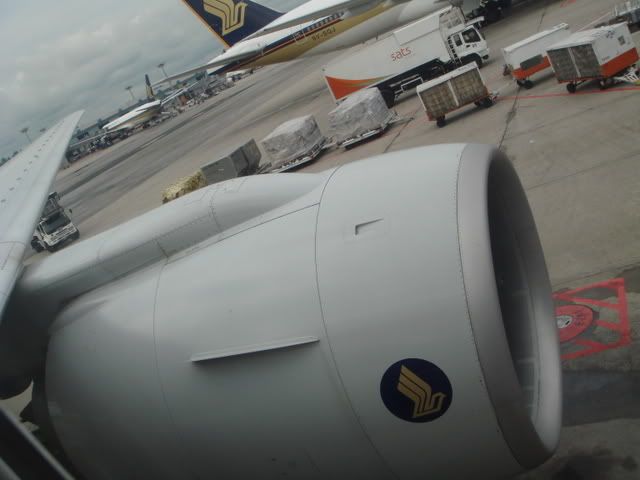 We pushed back and started taxing to the runway.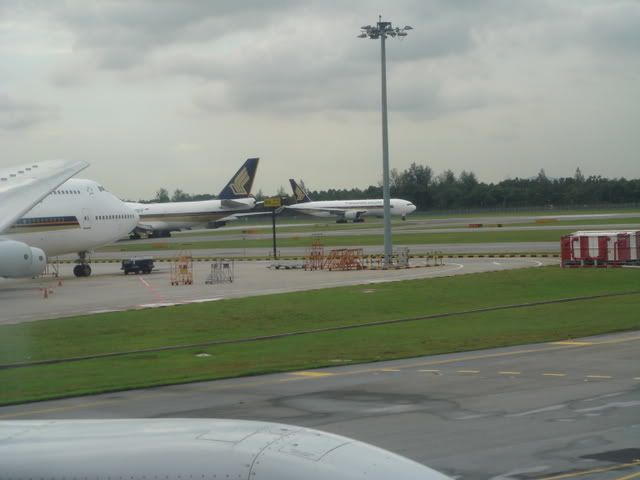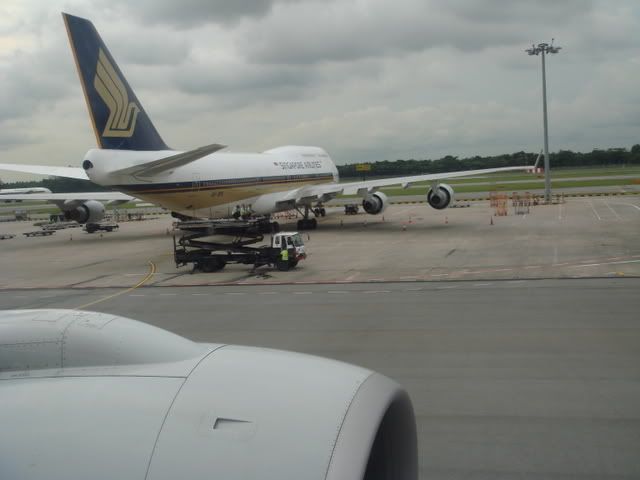 I knew I'd be seeing a whole lot of these where I was going. This bird
was headed to MNL and I wondered if we would get there before her
which I am sure we did although she took off a good 10 minutes before
us.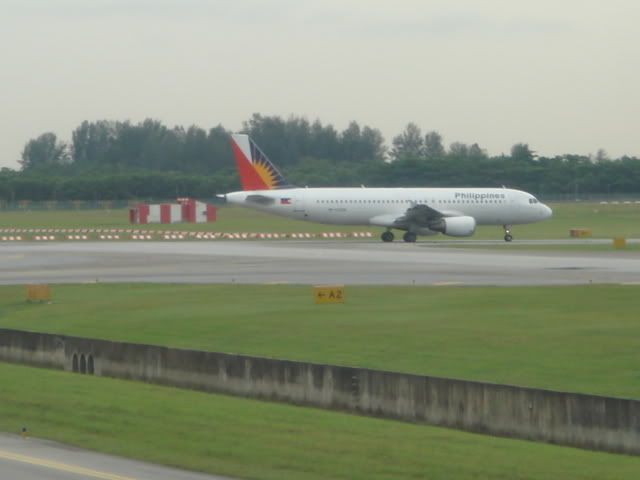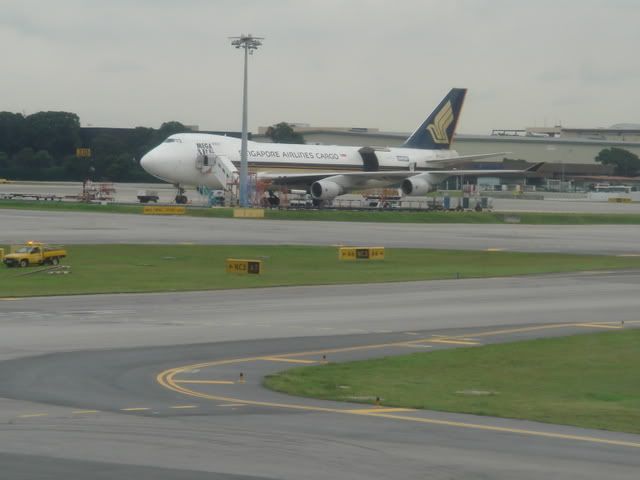 Interesting aircraft.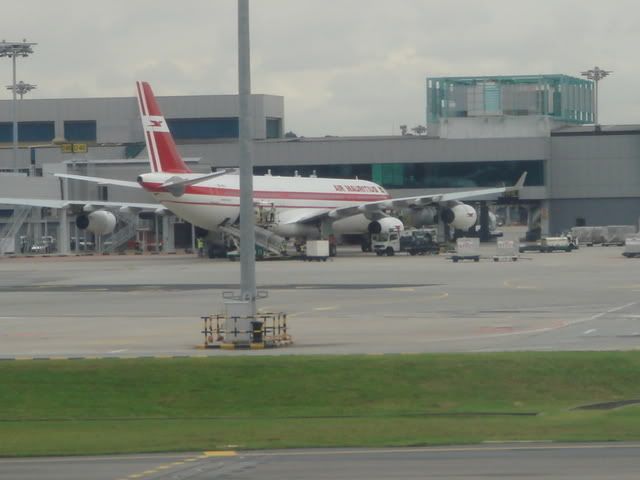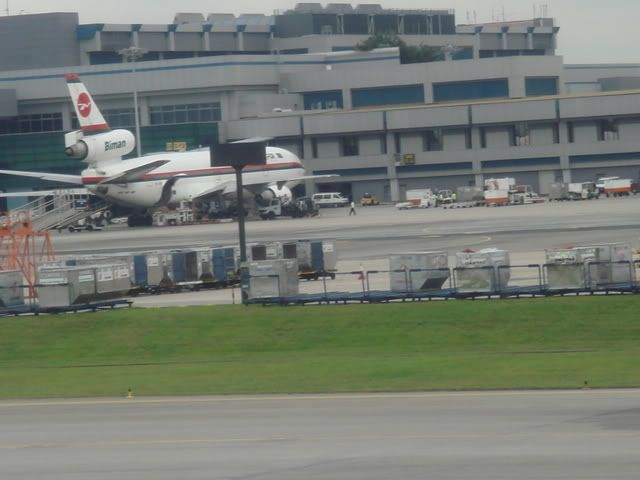 After a short takeoff roll, we lifted up and off we went. Some neat
shots after lift off.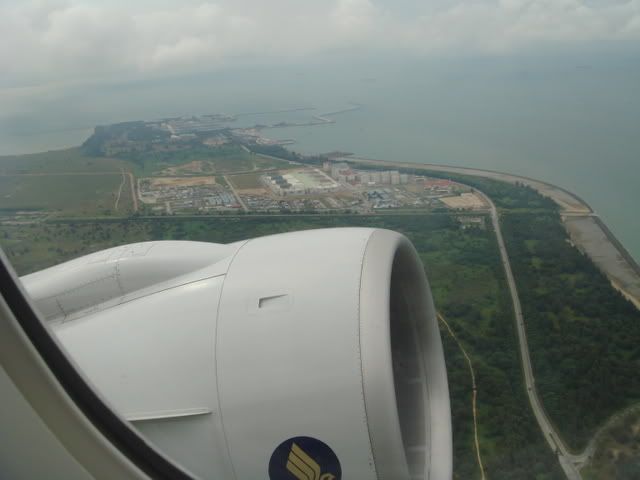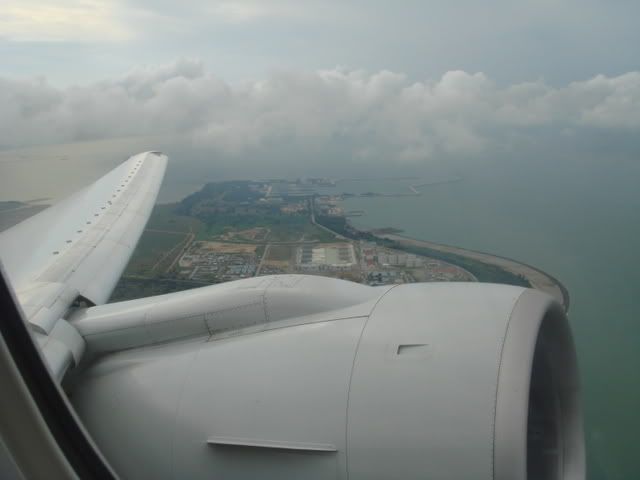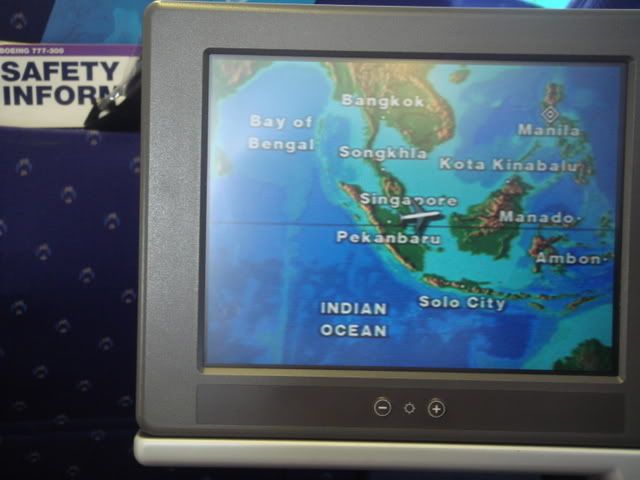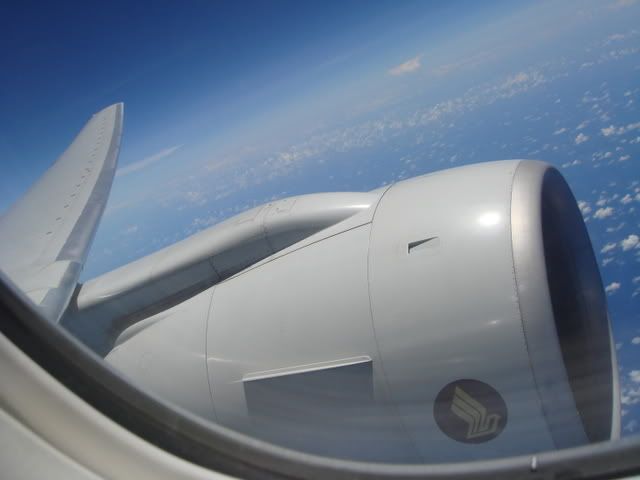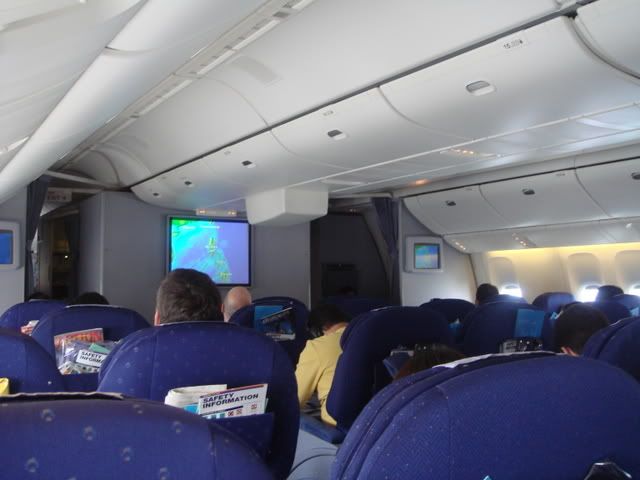 I fell asleep after the meal which I can't remember what it was but I
do remember it was good. I woke up a few minutes before landing and
took a few more pictures, Manila style.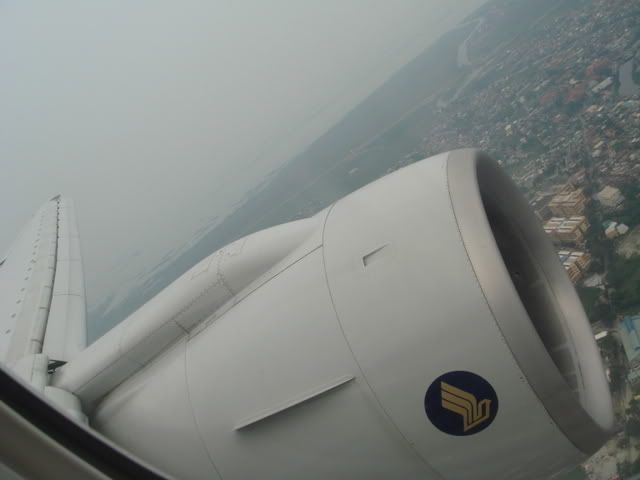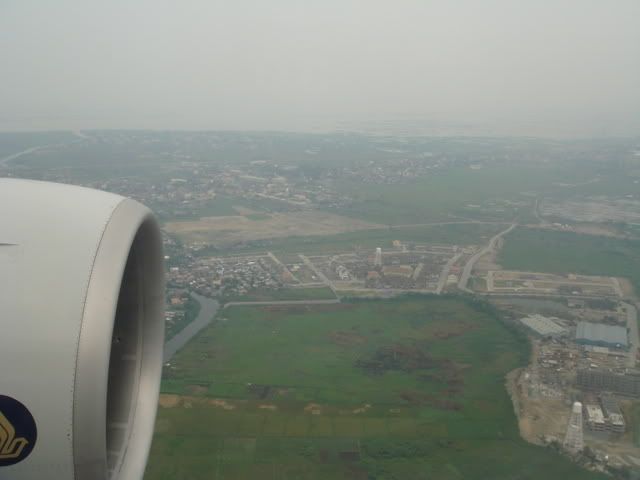 Hazy Manila
We touched down and the reverse thrusters we on. On a serious note,
you just cannot fathom how big this engine is until you're sitting
next to it. All along I kept wondering how the hell they keep that
thing on. From now on, I am buying my super glue from Boeing if it
works on this thing.
Right after landing, a pleasant surprise of an aircraft I've never
seen before. I wonder what the heck she was doing in MNL. It's a
'repulic of Iran' B707.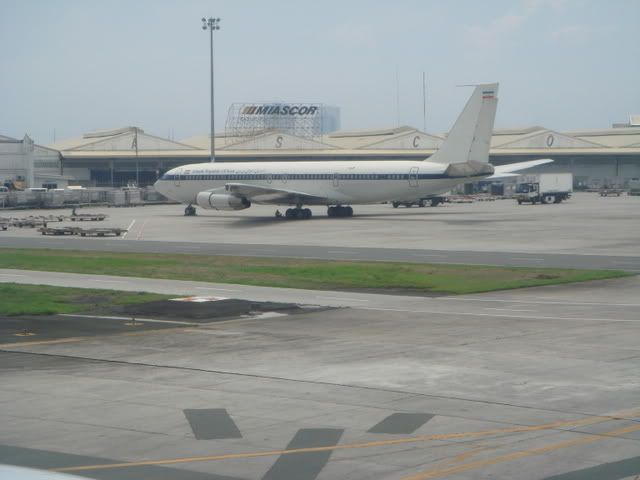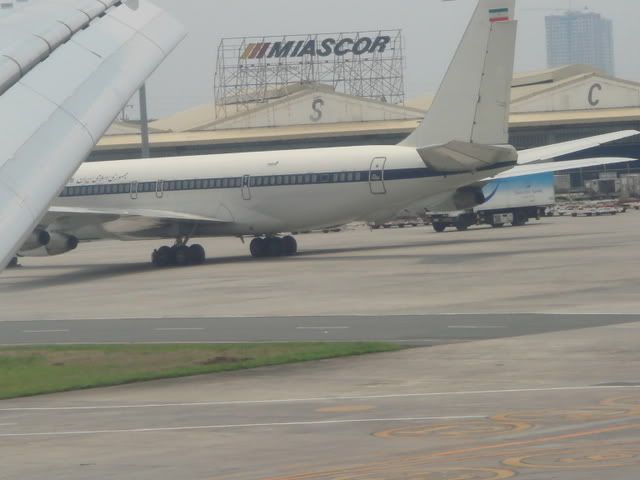 Some interesting mixture of aircraft and airlines in MNL.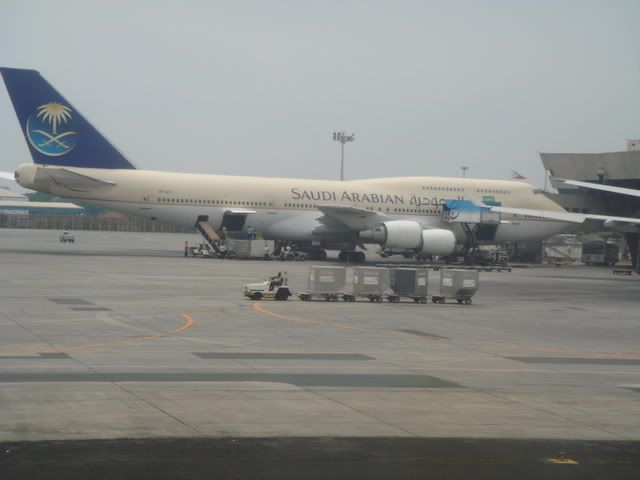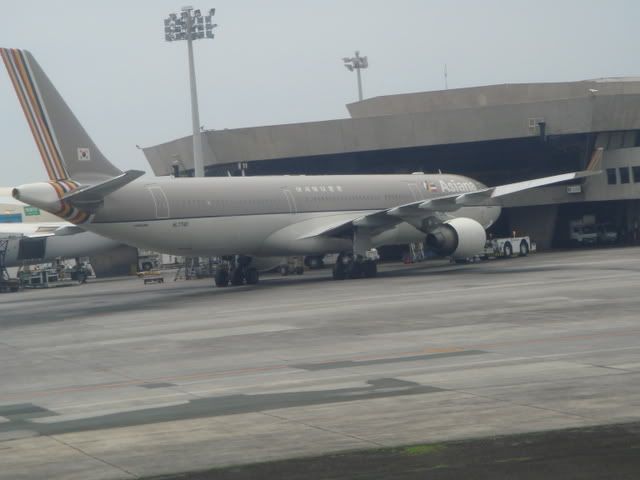 This has to be one of the most beautiful aircraft I've ever seen but I
still think their A345 looks better, right Jacobin!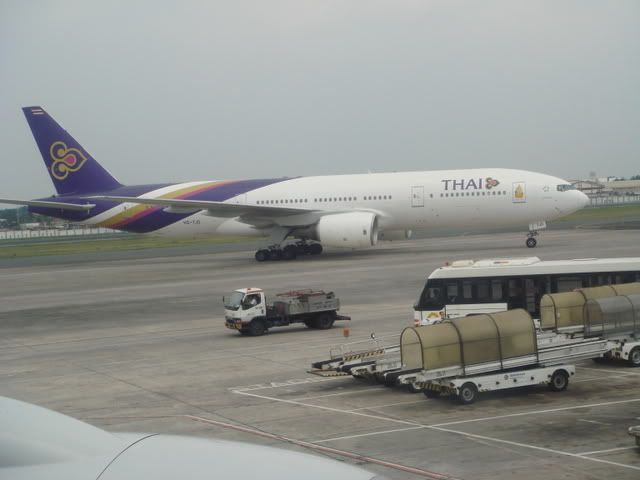 NAIA
Finally, I was in MNL and happy to be back. I've worked/lived here
since August 2006 and out of all the 20+ countries I've visited, this
is by far my favorite. Everybody is so nice and to be honest, I was
home (California) for two weeks and I missed coming back out here.
Things don't quite work as smooth as they do back home but who cares,
that's what makes it fun.
We deplaned and since we were the first afternoon arrival, there was
no line in immigration if you can believe that for those of you who've
been to MNL. I was the very first person to get to the immigration
officer and she stamped my passport in less than 30 seconds and I was
on my way to retrieve my baggage.
Looking back at immigration lines which were now a mess due to the SQ
and TG arrivals at the same time. Your worst nightmare in MNL is
arriving around 11PM local time which see's about 7 heavies (2 NW
747's, CX 744, OZ, KE 744, JL 742, TG, SQ to name a few) then having
to go through immigration. It once took me 2 hours.
Luckily, my bag was one of the first ones out so I was out of the
airport in about 10 minutes after deplaning. I got into the sweet
hotel ride and was on my way.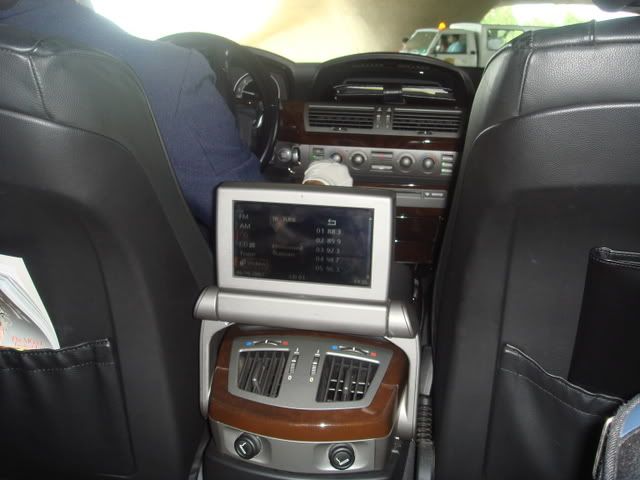 After seeing the infamous Jeepney, I knew I was in Manila.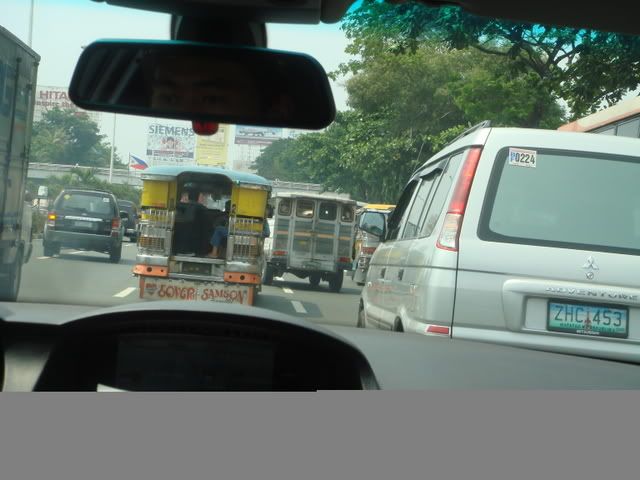 All in all, it was a great trip although like I mentioned earlier, I'd
have saved myself a good 14 hours at least if I took any other
airline. I got to fly them again on my way home 3 weeks after my
arrival in MNL since I had to go home on a family emergency. It was
pretty much the same thing heading home except I decided to get out of
the airport in SIN since I got there at 9 PM and the SFO departure
wasn't until 9:15 the next morning. I booked myself into the Hyatt on
Orchard street and I never got my wake up call thus ended up missing
the flight. Worked out ok coz I got to stay an extra day in SIN and
hang out with an ex-girlfriend who now lives there. Since then, I've
been back there twice
. After going back home, I flew OZ
SFO-ICN-MNL and I gotta say I love OZ almost as much as I do SQ.
I am flying them again in December on my way home for X-mas and back.
Looking forward to the WIDE seat and the gorgeous FA's again. I get to experience how it is being Zvezda with all his SQ experiences. LOL.
Sorry for the memory gaps, I guess that's why it's a good idea to do a
TR right after the trip and not to wait 4 months. Hope you guys
enjoyed the read.
Cheers,
Mike