Four in One!: STR-CDG-EMA-DUB-FRA
Hello, dear readers,
well, after five months biz travel only, it was immediate time to fly for fun once again.
All detail´s booked around two weeks ahead to the trip.
1.
Tuesday, 09.10.2007
STR (Stuttgart-Echterdingen) - CDG (Paris-Charles de Gaulle)
Duration: 1 hour
4U 2400 operated by Germanwings A-319 D-AKNS in special T-mobile colours.
Scheduled: 06.30 // 07.45
Actual: 06.45 // 07.45
Gate: 325
Seat: 25A
Loadfactor: Around 50%
Fare: 46,19 EUR
History:
20.07.2000: Delivered to US Airways
07.09.2005: In service for Germanwings
Flight no. 28 on the A319 and the first on this machine.
As easy as it was to reach the airport ontime, as far I dislike these early morning departures.
The wheather was ok, cold and clear, lucky, no fog today.
4U offers online check in, I´ve experienced it for the first time and I will say, it was no problem,
sequence no. 3, that means I´ve secured the first boarding group.
Parked at P2, nowadays the cheapest opinion at STR, 5.30 am in T1, no time to wait at security and no problems,
so at the gate, ground level in T3, at around 5.40 am. No action these early morning time, so nothing else to do than sit and wait.
The agents arrived ontime at the gate, the bus also and perfectly ontime all pax with sequences 1 to 30 called for boarding.
A quick hop on the bus, a short drive to the plane and a surprise, the first time for me on the T-mobile machine.
Boarding only by the front stairs today according to the light load.
Three FA´s today, two friendly girls and one bored guy.
The captain welcomed us during boarding. He told us that a small technical problem needs to be fixed during the next ten minutes,
but he expected nevertheless an ontime arrival at CDG.
It seems the cockpit crew was from Germany.
The plane fitted with the bright grey leather seats, clean, good looking.
Some minutes later we´re ready to go from runway 07 and after a right turn to SXB we reached 24.000 feet cruising altitude.
No special service today. The FO was later on the speakers with some more informations, but it seems not that really enthusiastic.
Arrival on runway 27R at a slightly foggy CDG airport. We´re on the "right" side, so not that long to taxi.
CDG: Gabon Airlines and Europe Airpost: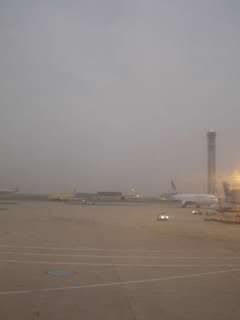 Deboarding by a finger at T1.
D-AKNS at CDG: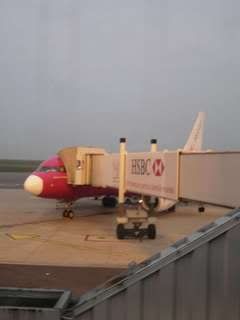 2.)
Tuesday, 09.10.2007
CDG (Paris-Charles de Gaulle) - EMA (Nottingham-East Midlands)
Duration: 1 hour
WW 5252 operated by BMIBaby B-737-500 G-BVZG
Scheduled: 09.45 // 10.05
Actual: 09.55 // 09.55
Gate: 31
Seat: 12A
Loadfactor: Around 90 %
Fare: 58,42 EUR
History:
11.09.1991: Delivered to Linjeflyg
01.01.1993: In service for SAS
12.04.1995: Further to British Midland Airways
01.02.2001: In service for BMI
21.12.2002: And finally for BMIBaby
Flight no. 22 on the B735 and the first on this machine.
After lot´s of AF flights at T2 this was the first time ever for me at T1.
I felt like I was pushed by a time machine back to the sixties, small walkways, glass stairways, not that easy for the first orientation.
That whole thing reminded me, dont know really why, into a trashy german sci-fi series called "Raumschiff Orion/Spaceship Orion"!.
OK, boarding for BMIBaby was downstairs. Sorry, forgot to say that online-check-in was only possible for flights departing from the UK,
so the standard check in for me. Two counters open, only a african couple at one counter, a real friendly asian guy checked me in,
secured me one of the last window seats with sequence no. 50 and than I was ready for another ride through the stairways to my boarding satellite.
There is security at every entrance, it opened as I arrvied, no time to wait, no other flight earlier than mine.
Nice metall parked around, good to follow the activites there.
Some heavies at my satellite:
Concorde departure!:
Some Republique Francaise: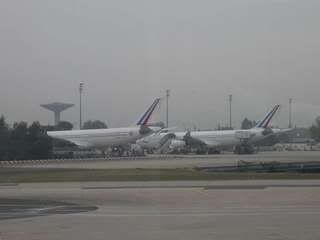 And finally my Baby arrived: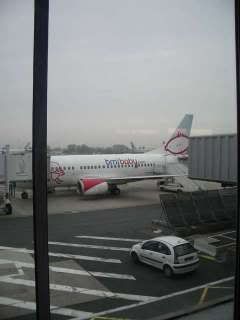 The plane arrived ontime and boarding was called soon thereafter.
Three FA´s on this service, one male, one female business friendly and a much more attentive girl as the third FA.
The captain welcomed us on the ground in a friendly way, it seems the flightdeck was from the UK today.
The machine itself shows its age clearly, dark blue oldfashioned, comfortable recaro seats, well used interior.
All markers in swedish also.
Departure from runway 27L, no time to wait there, no route info, flight level 26.000 ft according to the FO inflight.
He also prepares us for the "not that really nice" wheather at EMA.
In fact, we approached and nothing was seen at all, till short before a hard and heavy arrival on runway 27.
Baby deboarding at EMA: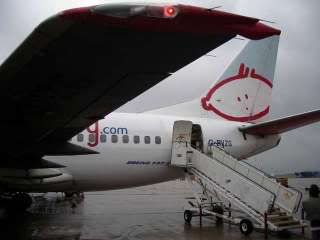 Not that heavy rain, but for sure enough to deboard a plane by bus and further to the next queue outside the arrivals area
after all the pax from a short before arrived First Choice B763 from Cancun.
3.)
Tuesday, 09.10.2007
EMA (Nottingham-East Midlands) - DUB (Dublin)
Duration: 45 minutes
FR 539 operated by Ryanair B737-800 EI-DHA
Scheduled: 12.35 // 13.35
Actual: 13.20 // 14.05
Gate: 1
Seat: 26F
Loadfactor: Around 80 %
Fare: 30,48 EUR
History:
02.02.2005: Delivered to FR
Flight no. 31 on the B738 and the first on this machine.
That was my first time there at EMA and I was not that really positive impressed.
The arrivals area was not indoor connected with departures. Also no roofed way outdoor, that means another run through the rain to
the other part of the building.
Check in was done online for check´n go, so no queuing for this flight, sequence no. 1, the evening before.
No time to wait at security, no problems, all gates on the ground level, only a BK upstairs beneath some other restaurants.
Good views to the whole apron and the runway. Two Baby 733´s still parked at EMA, not in service this time.
My Baby ready for Jersey: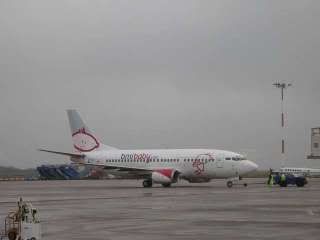 The rain level goes up and down, the usual UK system, gates only announced 30 minutes prior to departure, shop and relax was the info on the board.
Three FR departues nearly the same time, mine will be the first, according to the timetable.
But the first arrival goes to Pisa, the second to Limoges and mine was delayed to 1 pm.
Soon after the 738 arrived boarding started while the rain level rises up.
Arrival EI-DHA: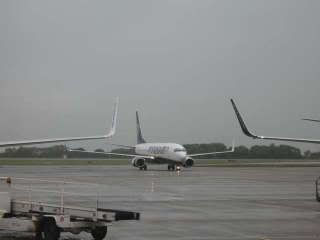 Rainy boarding at EMA:
Five FA´s, three female, two male on this service, not unfriendly at all.
It seems the male captain was from Ireland, the female F0 was from Italy. A welcome on the ground from the flightdeck.
Departure from runway 27, no info about route or flightlevel. The captain apologized later for the delay, he sounds stressed.
Crossing the Irish sea: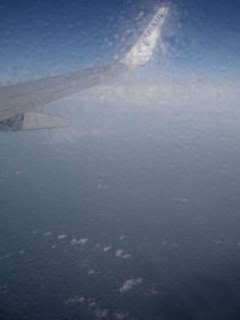 The machine fitted with the dark blue leather seats, clean so far.
Arrival on DUB´s runway 28 in much more better wheather conditions, sunny and windy.
And arrived at DUB:
4.)
Tuesday, 09.10.2007
DUB (Dublin) - FRA (Frankfurt-Rhein-Main)
Duration: 1 hour, 45 minutes
EI 656 operated by AerLingus A320 EI-CVB
Scheduled: 16.05 // 19.00
Actual: 16.15 // 19.00
Gate: 9
Seat: 5A
Loadfactor: Around 70 %
Fare: 38,49 EUR
History:
08.02.2001: Delivered to EI
Flight no. 33 on the A320 and the first on this machine.
I was in DUB for several times, but not during the last years, so it was interesting what´s going on there.
Online check-in was no problem on EI´s website, sequence no. 1 once again. A rather long way to go from the entrance to the terminal building´s main area.
Gate 9 was announced for the service to FRA, after the late arrival I´ve had a bit more than two hours to go for the next flight.
There was no security on the way to my next gate, I found a sunny place with a comfortable seat, so I decided to stay airside and enjoyed the sun.
Some thunderstorm clouds approached, but planes in and out so my flight was announced as ontime.
I remember another departure from this gate area to BHX on EI some years ago, I had to stay overnight sponsored by EI at BHX while BA to STR was departed
ontime and EI was late.
My machine arrvied and after a short tunraround it was time to leave DUB once again.
Taxi EI-CVB:
EI-CVB at DUB:
Parked: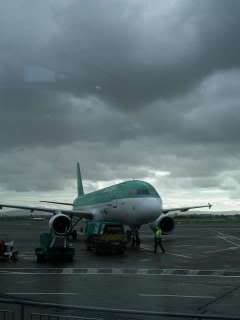 And ready for boarding: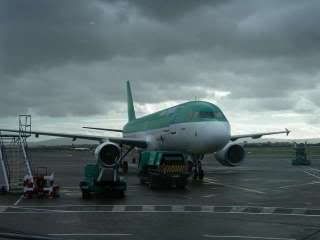 Two female, two male FA´s on this service, all friendly. The machine fitted with comfy dark, grey leather seats, clean, good legroom, not bad.
A friendly welcome from the flightdeck during boarding, the crew was from Ireland.
Departure from runway 28 in direction Liverpool, Manchester and Amsterdam, some 30 minutes till we levelled out at 37.000 ft.
Cruiseflight: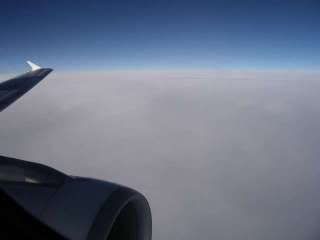 Heavy traffic on this route: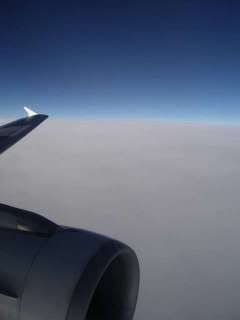 Detailed informations inflight. No special service.
Some shakers while we reached the continent, nevertheless a calm flight.
Arrival on FRA´s runway 25L ontime, heavy brakes and taxi to the apron in front off T2. We had to wait till a AB A320 was pushed back from our stand,
by bus to the terminal, passport control today as announced on the bus.
I enjoyed some minutes more international atmosphere there at FRA and further to the train station by the skyline.
I was a bit scared about my last leg today, from FRA to STR on the ICE highspeedtrain while there is some strike action from the train drivers,
but lucky, no strike today. EUR 29.-- from airport to airport, not bad that Deutsche Bahn special fare.
So, time for my opinion/rating now:
1.) Aer Lingus: The best impression on this trip, no problem to call EI my no.1.
2.) BMIBaby: The service was ontime, the fare was ok, the plane was old-fashioned and that one female FA was top-notch, my no.2.
3.) Germanwings: Not that bad, but also nothing special, my no.3.
4.) Is there something lost?. Oh, sorry: Ryanair: As far as it fit´s in my schedule ok, but no way to go, if there is another acceptable possibility.
Comments welcome,
Markus (FLIEGER67)