In September, 2006, I was voluntarily bumped off an oversold Com Air flight from CVG to MSP. In exchange for waiting two hours for a Pinnacle flight to MSP, ComAir gave me a $200 Delta voucher, valid for one year. I decided to use it toward a Minneapolis - Medford, Oregon ticket, so I could visit Crater Lake National Park.
I was unable to book travel using the voucher on Delta.com, so I had to call Delta reservations to confirm my trip. My reservations agent had a distinct foreign accent, and I had to struggle a little bit to communicate with him. However, he was a nice person with a good sense of humour. He asked me if Minnesota is as cold as everyone says, and laughed heartily when I said "for four months a year, it's so cold you can't tell the difference between men and women, because everyone wears so many layers of clothing that you can't see the womens' breasts". After making my reservation, I had to drive out to MSP to hand in my voucher. My airfare was $575, so I had to pay an additional $375 for my ticket.
Saturday 1 Sep 2007
Sky West flight DL* 4019
MSP-SLC
Canadair RJ 900
N817SK
Seat 12A
Scheduled: 8:20-10:15
Actual: 8:20-9:50
Traffic was surprisingly heavy for a Saturday morning, but I still arrived at MSP early enough to save $2 / day by parking in the Humphrey deck. After taking the shuttle bus from the Humphrey to the Lindbergh terminal, I made the very long walk from the security checkpoint at the C / G concourse connector to my gate at the end of the E concourse. There were not just one, but two aircraft in special schemes at the E concourse, USAirways' Star Alliance A319 and American's retro 737, so I stopped to photograph both aircraft on my way to E 13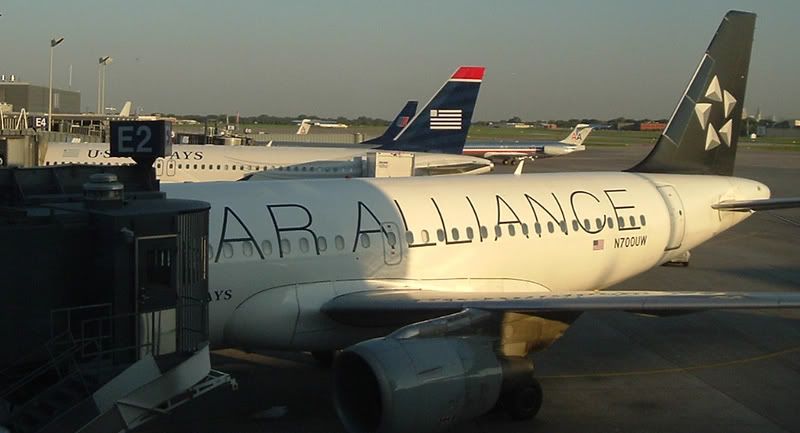 The USAirways Star Alliance A319
The AA Retro 737
My CRJ is on the right
Boarding went quickly enough that the flight attendants were able to close the door a few minutes ahead of the scheduled 8:20 AM. The flight was nearly full, but I was lucky enough to have an exit row window, with the aisle seat next to me empty. After waiting about five minutes for two other aircraft at the tip of the E concourse, an ATL bound DL MD-80 and the MIA bound retro AA 737, to push back, we were under way.
Waiting for pushback at MSP
Runway 12R / 30L at MSP is closed for reconstruction, so MSP was using a very unusual runway configuration: landings on rarely used Runway 22, takeoffs on 12L, and Runway 17 switching between landings and takeoffs depending on traffic flow. After holding briefly for an aircraft to land on 22, we had only a brief taxi to 12L; we were cleared for takeoff as soon as we got there.
After takeoff, I had a nice view of the Wakota Bridge, with downtown St. Paul in the distance, before we made our turn southwest for SLC.
Unlike other airlines, DL still provides snacks. I was offered a choice of biscotti, a granola bar, and / or peanut butter crackers, and had the granola bar and the crackers. I was on the sunny side of the aircraft, and the full sunlight and hazy clouds made it hard to see anything until we reached the Rockies.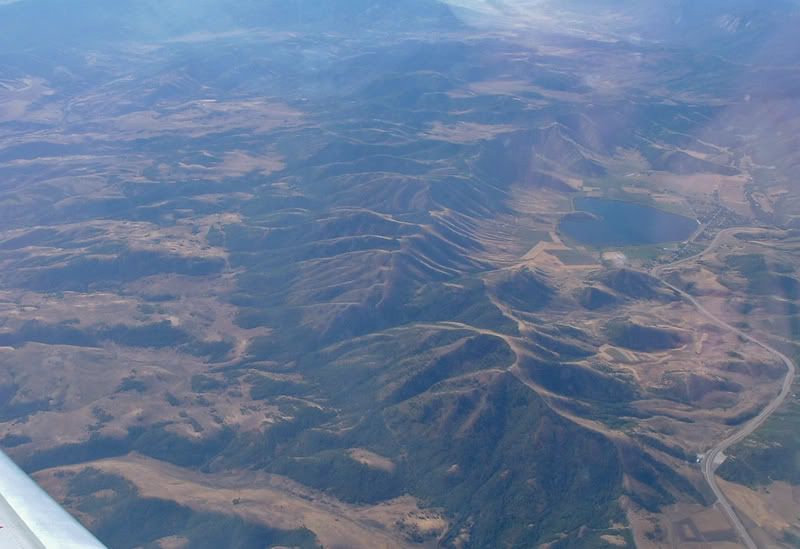 Crossing the Rockies over Wyoming
We began our descent while we were still over the mountains. After clearing the mountains, we headed almost due south toward SLC.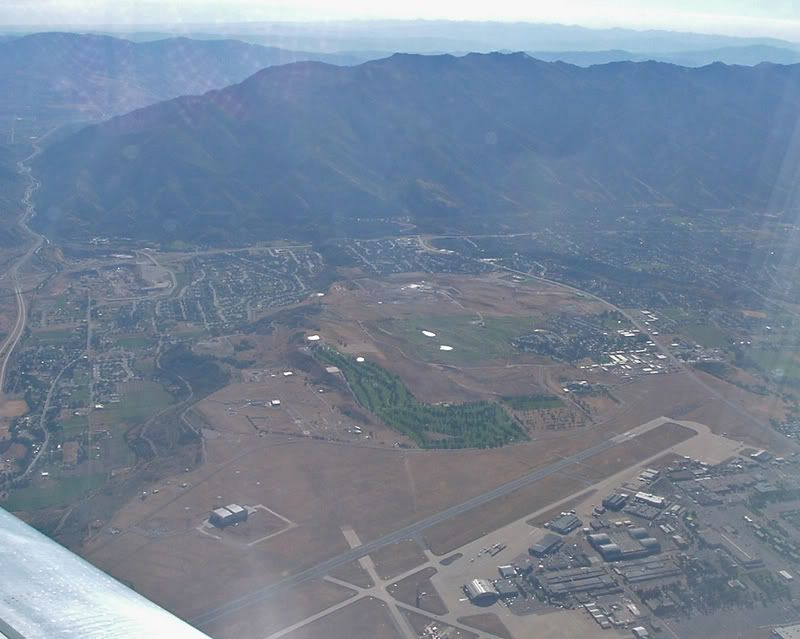 Hill Air Force Base, Utah
Winds were out of the south, so we made almost a straight in approach to SLC's Runway 16L. We landed at 9:40 AM, an amazing 35 minutes ahead of schedule. Unsurprisingly, our gate (B2) was still occupied, so we had to wait about five minutes for it to become available.
Waiting for our gate at SLC
After deplaning, I went to Big Blue Burrito on the B concourse for lunch. I was disappointed to see that my Big Blue Burrito was made on a flour tortilla instead of a blue corn tortilla, but it was still very tasty. After lunch, I walked over to the E concourse, to wait for my flight to Medford.
The B Concourse at SLC, with the CRJ I flew in on in the foreground.
An ex-Song 757 at the C concourse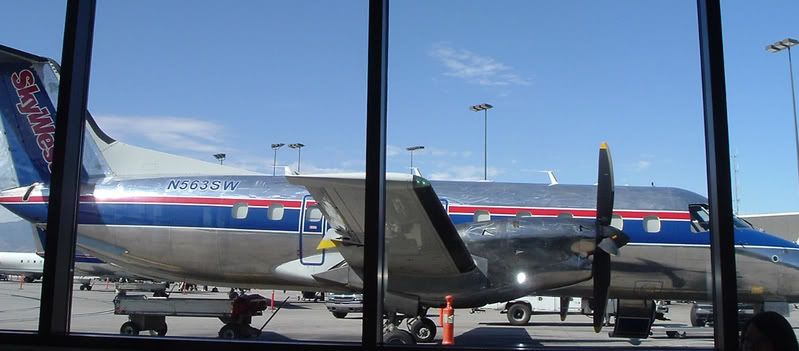 Waiting for my next flight (not this aircraft) at the E concourse.
Saturday 1 Sep 2007
Sky West flight DL* 3053
SLC-MFR
Canadair RJ 200
N?????
Seat 8A
Scheduled: 12:20-13:03
Actual: 12:20-12:50
Like many regional aircraft concourses, SLC's E Concourse has a common hold room for all gates, with passengers walking to their aircraft when their flight is called. I was the first passenger through door E75, and made the long walk to position 39 at the tip of the E concourse several minutes faster than anyone else. I had to wait about five minutes before the flight attendants were ready for boarding. As with my earlier flight, I was assigned an exit row window, although the seat didn't seem to have any more legroom than the other rows.
The door was closed right on time, and we had only a brief taxi to Runway 34L. We were cleared for takeoff as soon as we got to the end of the runway. After takeoff, we had a nice view of the Great Salt Lake, before entering high clouds near the lake's northwest end.
The Great Salt Lake!
Snack choices were the same as on my earlier flight, and I had the same items as before. We began our descent over the Cascades, with Mount Shasta looming on the horizon. We cleared the mountains near Ashland, making a right turn for a straight in approach to Medford's Runway 32. After landing, we had a quick taxi to MFR's only jetway, pulling in about ten minutes ahead of schedule.
A Sky West / United Express Brasilia inbound from SFO landed right behind us from SFO, and apparently the SFO passengers were able to deplane faster than me. By the time I reached the National Car Rental counter inside the terminal, there were four customers in line. Even though I'm an Emerald Aisle member, and could have cut in front of everyone else, I chose to just wait in line about twenty minutes until it was my turn. The sole agent on duty thanked me for my patience, and gave me the keys to a Cadillac STS instead of the Chevrolet Impala I'd reserved.
Medford is beginning to build a new terminal, at the same site as the existing terminal. The first part of the project, moving the parking lots further from the terminal so the "land" side of the new terminal can be built where the old parking lots were, has been completed, so I had a five minute walk in 90 degree heat to the new rental car lot.
Even though this is an aviation forum, I've decided to include two non-aviation photos.
After picking up my car, I drove to Oregon Caves National Monument about 1 1/2 hours from Medford. Most people think caves have nothing but stalactites and stalagmites, but Oregon Caves has dozens of different rock formations, from soft calcite "moon milk" that can be used as an anti biotic, to pinhead size "cave popcorn" created from the residue of moisture evaporating inside the cave. These formations were my favorite:
On Sunday, I spent all day at Crater Lake National Park, which is about an hour east of Medford. Crater Lake was formed when Mount Mazama erupted violently 7,700 years ago. The eruption caused the mountain's cone to collapse into a bowl six miles wide. Subsequent volcanic ability made the bowl nearly water tight. Once the bowl's floor was sealed, snow melt turned the bowl into a lake nearly 2,000 feet deep.
Crater Lake, with Wizard Island on the left.
My vacation over, I drove back to Medford Airport on Monday to fly home.
I was originally booked on a 1:20 PM DL* flight to SLC. When I checked in, I asked the agent if she needed any volunteers. She said my flight was oversold by two, and she would probably need my seat. She told me she would check me in for the flight I was originally booked on, but protect me on UA* to Portland, connecting to UA PDX-ORD-MSP, then I would find out at the gate one way or another. About half an hour before my DL* flight was due to leave, I asked the gate agent if she would need my seat. She said "definitely".
Delta Connection and United Express are handled by the same group of Sky West employees at Medford, and the two airlines have side by side podiums, so the same agent was able to give me my $400 voucher, then slide two feet to the right to log into United's computer and print my new boarding passes.
My new flight wouldn't leave for another hour, so even though switching from DL* to UA* made me a selectee, I decided to leave security to explore the terminal for a few minutes. As mentioned earlier, Medford is planning to replace their existing terminal with a much larger facility that will comply with the latest TSA directives, and will have enough space to handle more airlines. Although I'd be surprised if any airlines other than DL*, UA*, Horizon, US* and Allegiant add service, there's no question additional ticket counter and waiting room space is badly needed; the existing hold room can barely accomodate one CRJ's worth of passengers.
The UA* ticket counter at Medford
The land side of Medford's terminal.
After taking these pictures, I went back through security, to wait for my flight to PDX.
Monday 3 Sep 2007
Sky West flight UA* 5749
MFR-PDX
Embraer Brasilia
N566SW
Seat 1C
Scheduled: 14:25-15:25
Actual: 14:35-15:25
I began to grow a little concerned around 14:00, when my inbound aircraft hadn't arrived, because I had just a 30 minute connection at PDX. My inbound aircraft finally arrived at 14:10, just 15 minutes before my flight was due to depart. However, Sky West was able to turn the aircraft around quickly, and the door was closed just 10 minutes late.
Walking to the plane at Medford.
Taxiing to Runway 32. This is MFR's only jetway.
We were cleared for takeoff as soon as we got to the runway. After takeoff, we headed due north between the Coast Range and the Cascades. I had a breathtaking view of the scenery I'd driven through the previous day on the way to Crater Lake. We were not high enough for me to see the lake, but I could easily see the mountains around the edge of the lake. We continued north past the "Three Sisters", three 10,000 foot high mountains in central Oregon, and Mount Jefferson, before beginning our descent just past Salem.
Throughout the descent, I was able to enjoy a beautiful view of Mount Hood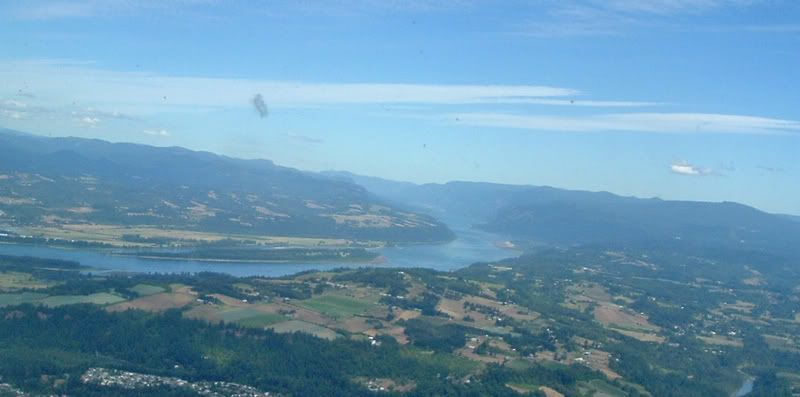 Turning to intercept the extended centerline to PDX's Runway 29R, near the Columbia River Gorge
On final approach, with Mout St Helens on the horizon.
After landing, we had just a brief taxi to gate E7; we'd made up the delay enroute, and pulled in on time at 15:25.
At the gate at PDX, with the A319 I'll be taking on my next flight nearby
After deplaning, I went upstairs, then made the short walk to gate E3, where my flight to ORD was already boarding.
Monday, 3 Sep 2007
United flight UA 366
PDX-ORD
A319
N822UA
Seat 14F
Scheduled: 15:55-21:45
Actual: 15:55-21:35
UA 366 was nearly full, but I was lucky enough to have the middle seat next to me empty. We pushed back on time, and had just a brief taxi to Runway 29R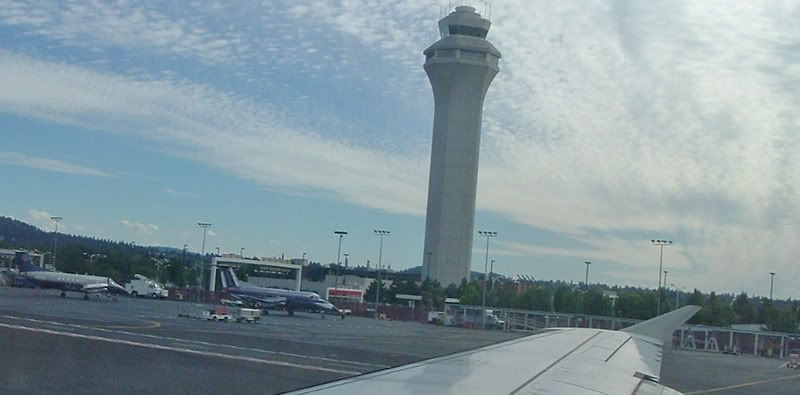 Taxiing out at PDX, with the Brasilia I arrived on (on the right) already beginning its next flight
After takeoff, we made a hard left turn. I was on the sunny side of the aircraft, and the full sun above and hazy clouds below meant I couldn't see very much en route. I could have watched the movie "Surf's Up", but although it looked like a cute movie, I never like watching movies on airplanes because of the poor audio quality and frequent interruptions, so I chose to just read and listen to Channel 9 instead.
I hadn't had time to buy dinner at PDX, and I was concerned all the restaurants at ORD would be closed by the time I got there, so I decided to spend $5 for United's "Right Bite" snack box, which included a can of Lemon & Pepper seasoned tuna, baked pita chips, a jar of hummus, a slice of gouda cheese, and a small Toblerone bar. The food was reasonably tasty, and probably healthier than anything I could have bought at either airport.
We passed through Minneapolis Center air space while en route. I was on the wrong side of the airplane to see the Twin Cities, but my dad (who was tracking the flight) said we passed about 150 miles south of home, so I probably couldn't have seen anything. We began our descent near Janesville, Wisconsin. As we neared ORD, an American Airlines jet behind us said he was picking up an emergency locator transmitter. ORD approach said a general aviation aircraft had crashed earlier in the day. Our landing was on Runway 10. After landing, we taxiied past the international terminal, before crossing the bridge over the entrance / exit roadway, to UA's terminal. We pulled into gate C11 about ten minutes early. As I was deplaning, I asked the flight crew about the crash. They said, thankfully, nobody had been injured. After walking through the almost deserted satellite terminal and disco tunnel, I reached gate B4, and was relieved to see the aircraft for my next flight was already at the gate.
Monday 3 Sep 2007
United flight UA 463
ORD-MSP
737-522
N905UA
Seat 5A
Scheduled: 22:30-23:50
Actual: 22:30-23:40
ORD is very quiet at 10:30 PM, and we only had to wait for an Air France 747-400F and a UA* Embraer 170, before it was our turn for an intersection takeoff on Runway 32L. After takeoff, we turned northeast toward Lake Michigan, and followed the shoreline of the lake almost to Milwaukee before turning northwest for home, a more circtuitous routing than the normal route via Madison. The flight attendants barely had time for a drink service, before we began our approach to MSP. We would be landing out of the west, but we were fortunate enough to get the shortest downwind leg I've ever experienced at MSP. After being routed just north of downtown St Paul and downtown Minneapolis, we made a hard left turn and followed Lyndale Avenue past Lake of the Isles and Lake Calhoun, before intercepting the extended centerline for 12L near the southeast corner of Lake Harriet. As with every other flight of the trip, we were at the gate a little early.
I was expecting to have to wait a long time at this hour of the night for a bus to the Humphrey Terminal parking deck, but the bus pulled out less than five minutes after I got to the bus stop, and I was in my car before midnight.
Despite spending an extra hour at MFR, having to make two connections instead of one, and flying 700 miles longer, I arrived in MSP just 3 1/2 hours later than I'd have arrived if I hadn't volunteered - definitely worth it for $400!