October 12, 2007
Northwest Airlines Flight 138
Douglas DC-9-50 (N676MC)
Depart: Grand Forks International Airport, 5:17am
Gate: 1, Runway 17R
Seat: 11A
Load Factor: 50%
Cruising Altitude: FL330
Arrive: Minneapolis-St. Paul International Airport, 5:54am
Gate: G15, Runway 12L
View Large
View Medium


Photo © Chris Starnes
Feeling a little homesick here @ the University of North Dakota, my mother decided to buy me a ticket home for the weekend! Who hoo! Only catch, all that was available on the way back was first class. Sweet! This would be the first time I have ever rode F class. However, heading to SEA, needed to fly cattle class which I was OK with.
I arrived at GFK 45 minutes before departure with boarding pass printed. I handed my box that I was checking to the TSA, and got through security fairly quickly. Boarding began at around 4:40am, and the plane was all loaded up by 4:50am. They backed the gate away, and we flew to runway 17R, but alas, a long wait for an IFR clearance. MSP has been backed up quite a bit these days with the closure of runway 12R/30L for construction. After about 20-25 minutes of waiting for our clearance, we rocketed into the North Dakota morning towards MSP.
It was a calm, clear morning, and I could see stars the whole way through the flight. F/As came through the cabin with a beverage service, and I read the Northwest Magazine about Seattle' own Apolo Ohno. We began our descent quickly into the Twin Cities, and we spun around a few times for spacing. Finally, we were cleared for landing, but the Airbus in front of us was taking way too long on the runway (the F/O told me), so gear up, left turn to 040, and a 360 for spacing. Soon thereafter, we touched down on runway 12L and began the long taxi to the G concourse.
We docked at G15, and I was really interested in seeing the DC9 cockpit. I had seen an MD80 one, but it is not quite the same. So I identified myself as a pilot to the flight attendant, and asked if I could get a few shots of the cockpit. She asked the captain, who said yes, so I stumbled into the cockpit as he stumbled out. The very kind F/O asked me to sit down and told me everything he was doing. Told me about the Airbus on the runway, and all the different gauges on the DC9. It was kind of cool watching the fuel gauges (digital) climb as they refueled for a quick turnaround to ORD. The F/O told me he had been flying the DC9 for "much longer than you've been alive" and that eventually he just started viewing it as a job. I didn't ask him whether they would retire them soon though.
However, the plane had a pretty quick turn around, and I didn't want to take up any more time. I thanked the F/O, and the captain on the way out, and proceeded down the G concourse to F14.
Pictures/Videos!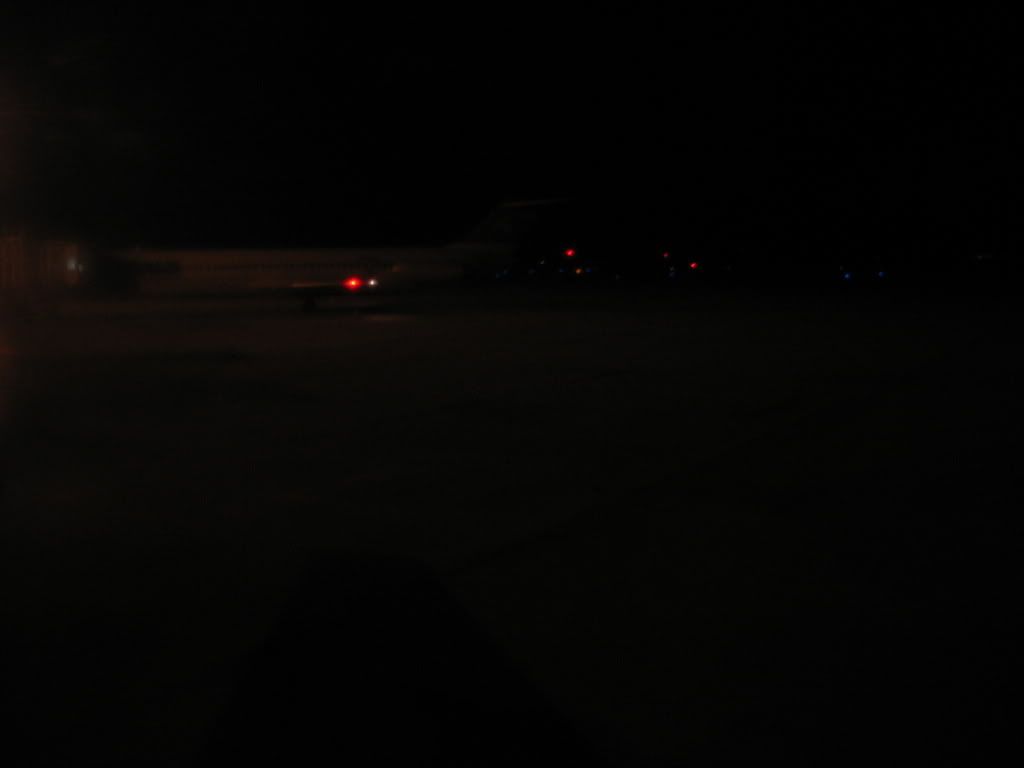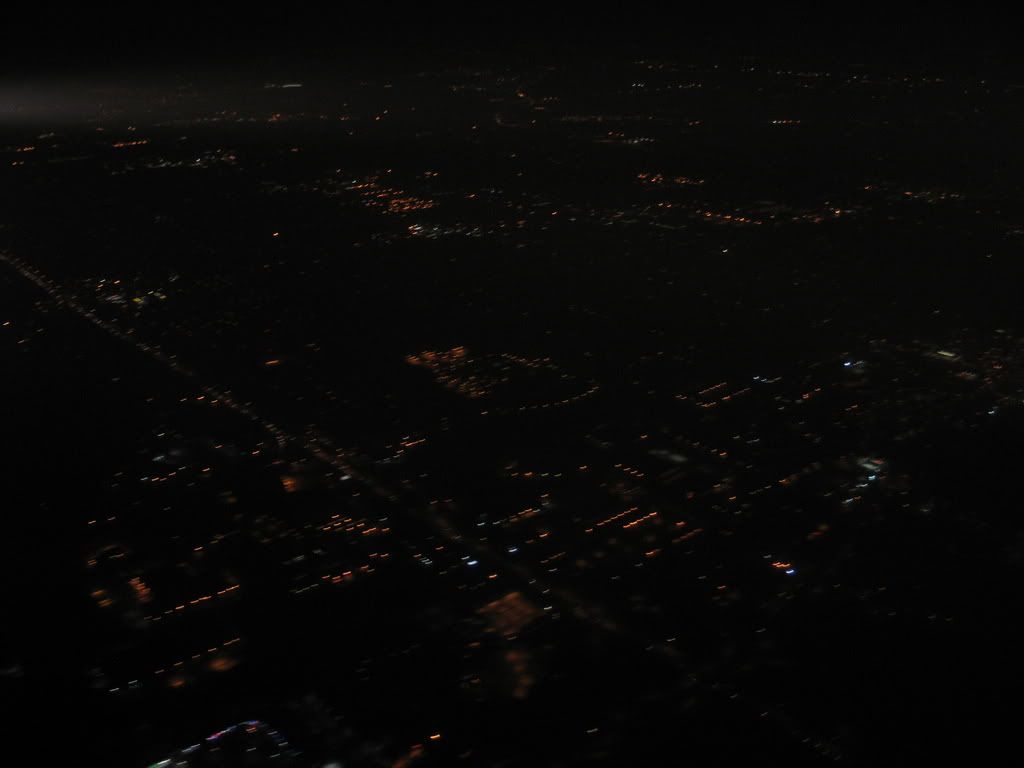 DC9 Cockpit Shots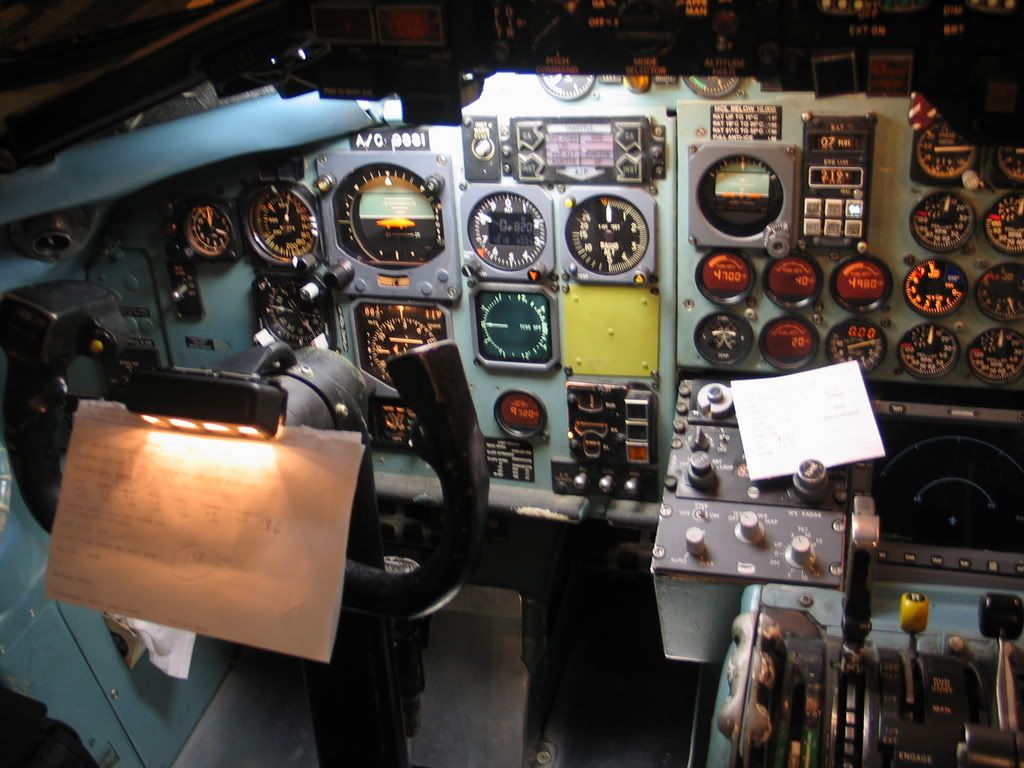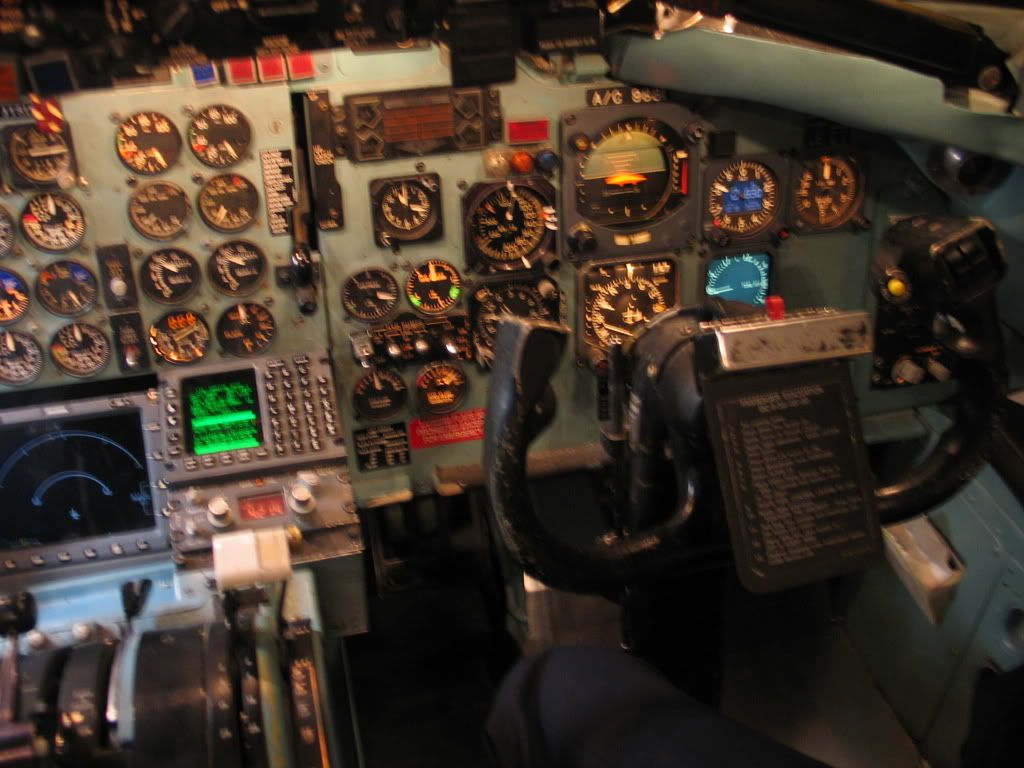 Northwest Airlines Flight 155
Boeing 757-300 (#1-N589NW, #2-N/A)
Depart: Minneapolis St. Paul International Airport, 9:14am
Gate: #1-F14, #2-F13, Runway 35
Seat: 25A
Load Factor: 97%
Cruising Altitude: FL380
Arrive: Seattle International Airport, 10:30am
Gate: S7, Runway 34C
View Large
View Medium


Photo © Helmut Bierbaum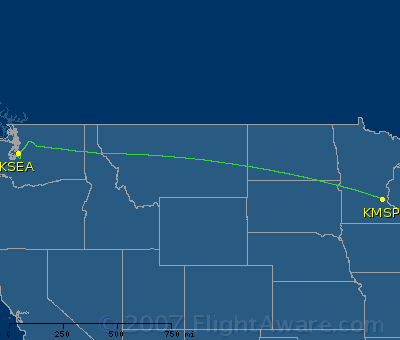 It was a very nice change not having to run full sprint through MSP (if you read my previous trip reports, you will know what I am talking about). I arrived at F14 in plenty of time, seeing a beautiful B753 waiting. Also, a B742 was parked next to it. Boarding was announced, and I waited until they were "boarding all rows" until I went up to the podium. As the lady took my boarding pass and let me on, I heard something to the effect of "no more boarding" which I thought was kind of weird. I settled into my seat, with only about 50% of the people on board. This was weird, I thought, the SEA flights are almost always 100% load.
Well, 7:20am came and went, and much to my chagrin I had another delay getting home (this is a horrible trend going on). The captain came on and said there was a problem with the "spoiler computer" and that the gut feeling was it would be about 20 minutes before we would get going. Well unfortunately, the captain's gut was incorrect, and he came back on saying it would now be a 9:00am maintainence check. So we unloaded and returned to the terminal. Before we left, the captain said "don't want to get your hopes up but there is a small chance we could get a replacement ship."
Sure enough, as soon as we deplaned, NWA personnel directed us to F13, where another B753 had just pulled in. As soon as they could turn that plane around, it would be our new ship to SEA. Turning around a B753 is no easy task, but NWA employees did great, and soon enough, they were loading us up onto our second 753 of the day. We finally pushed around 9:05am, and taxied on out to the relatively new runway 35. We rocketed out of there and headed towards SEA. I pulled out my laptop and watched "The Lakehouse," which wasn't bad. Beverages were offered, and snacks could be purchased. Soon though, we began our descent, only to be put into holding because our flow time was about 90-100 minutes earlier. It was an incredibly foggy day in SEA, and we landed to the north. Nice view of the Sound and the Olympic mountains. They are finally paving the third runway, and it looks to be coming along nicely. There is a lot of construction going on between A, B and the S concourses. We deplaned and I headed to baggage claim to meet my mother.
Pictures/Videos!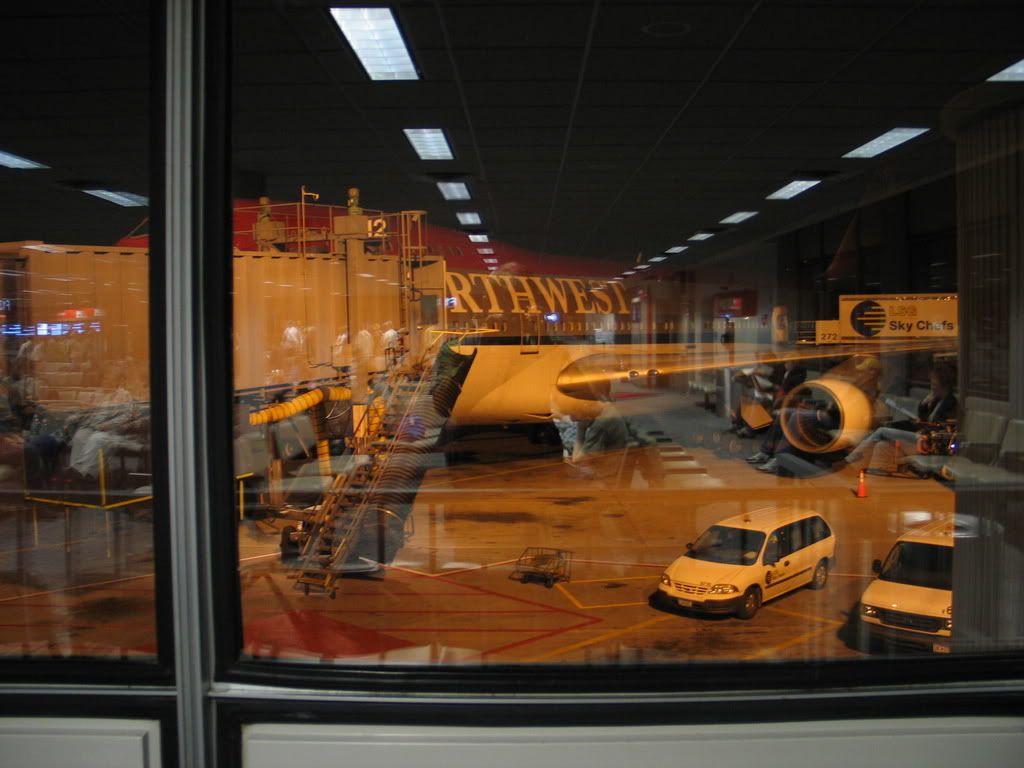 Not sure what this one is doing, a charter of some kind?
Engine of 589, it would never leave the ground with me on it.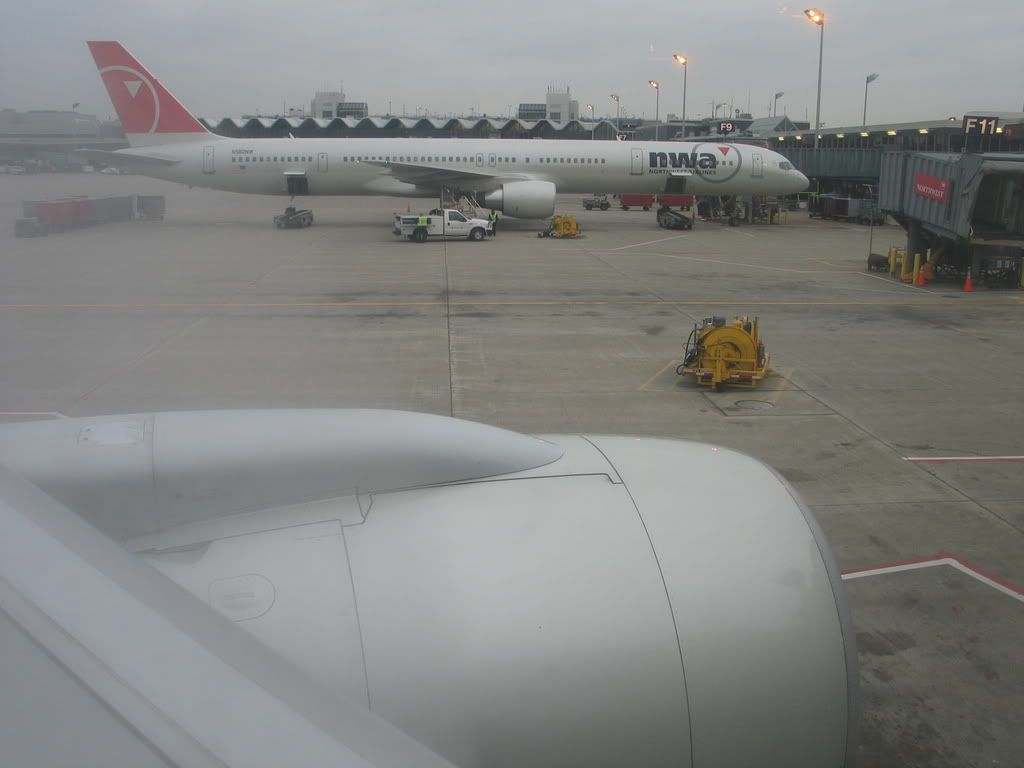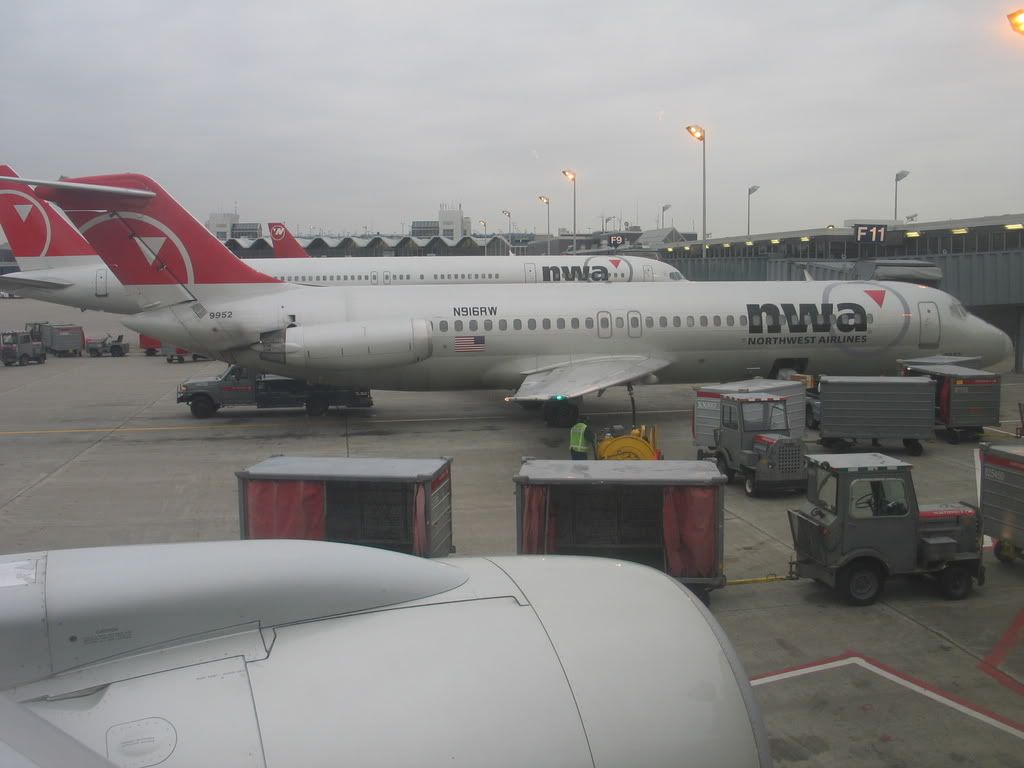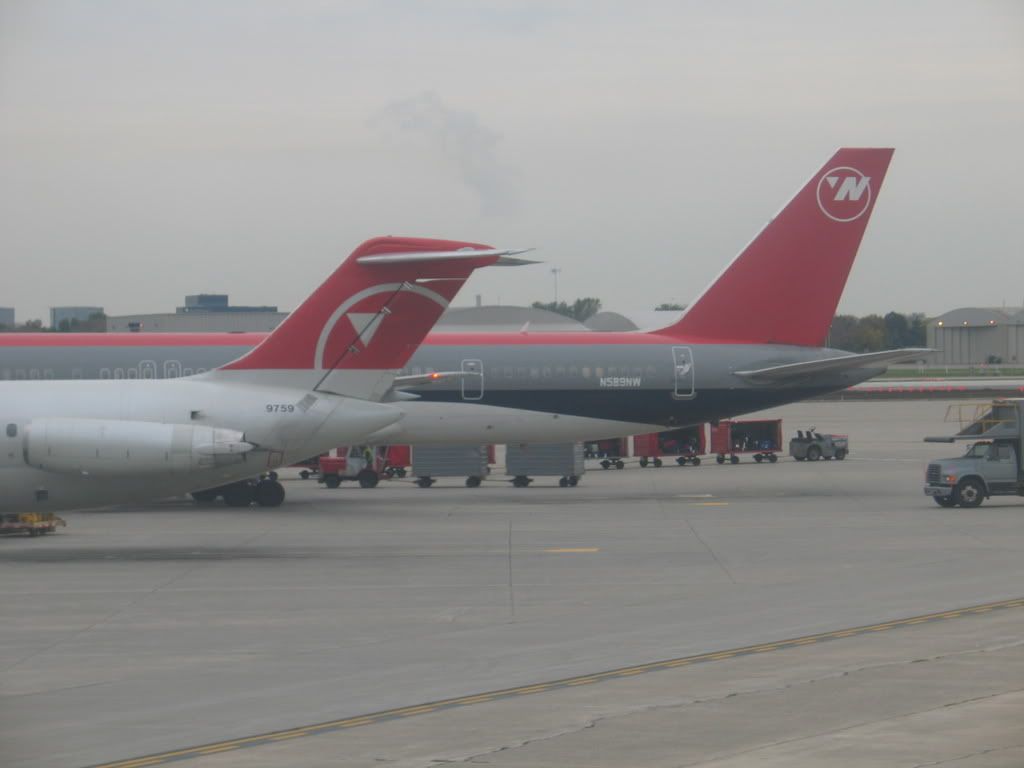 Ship 589
Classics at the Humphrey Terminal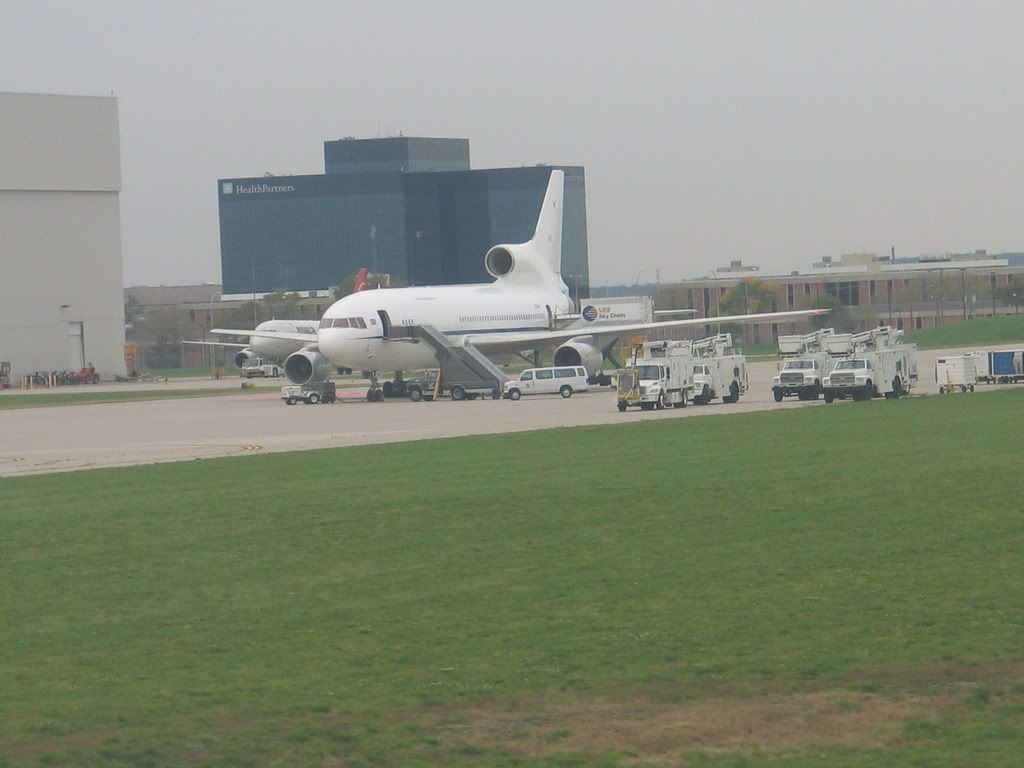 Another classic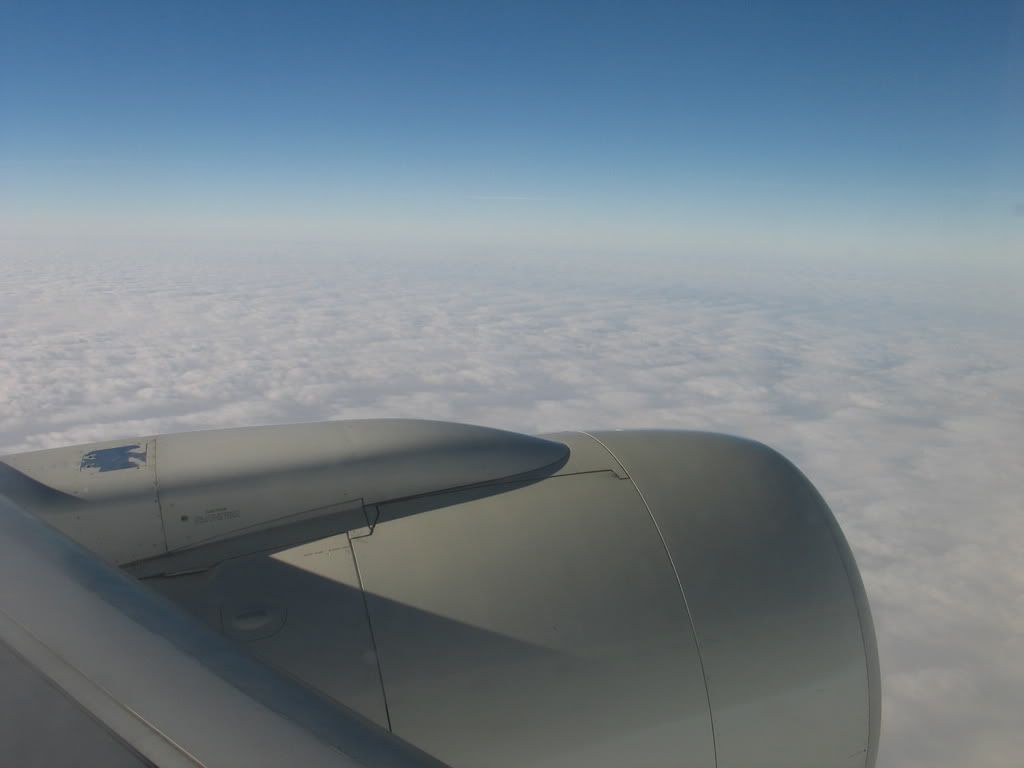 Another plane (it looked like an Alaska 737-800) passing opposite direction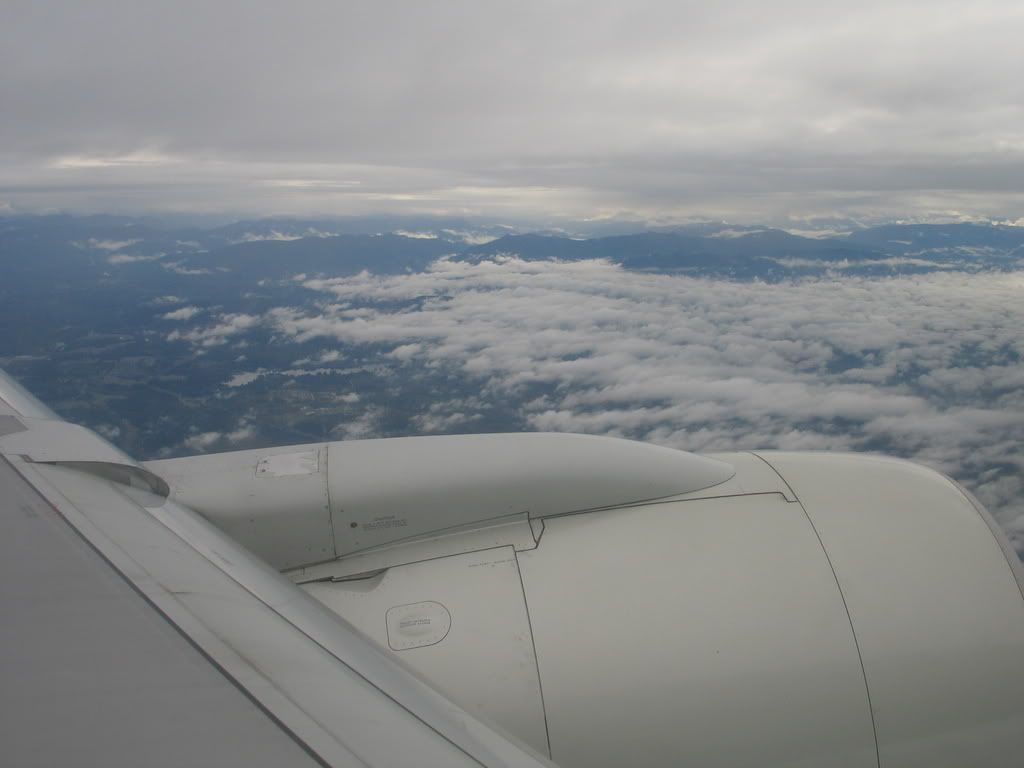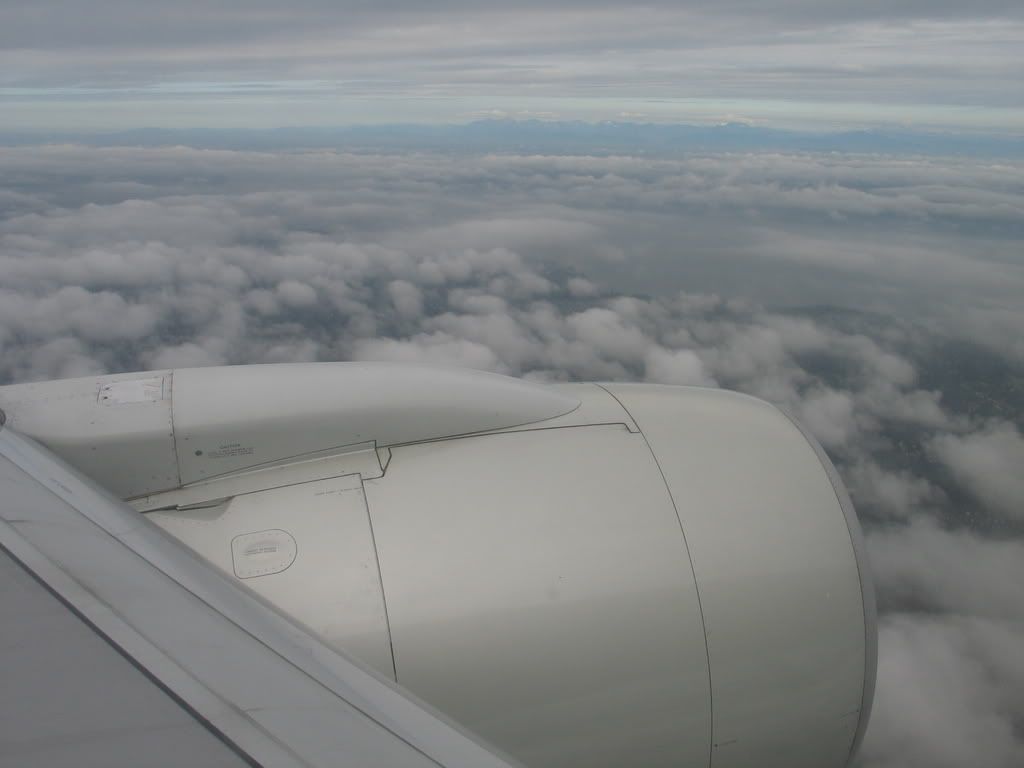 Note the Hawaii tail on the Alaska B738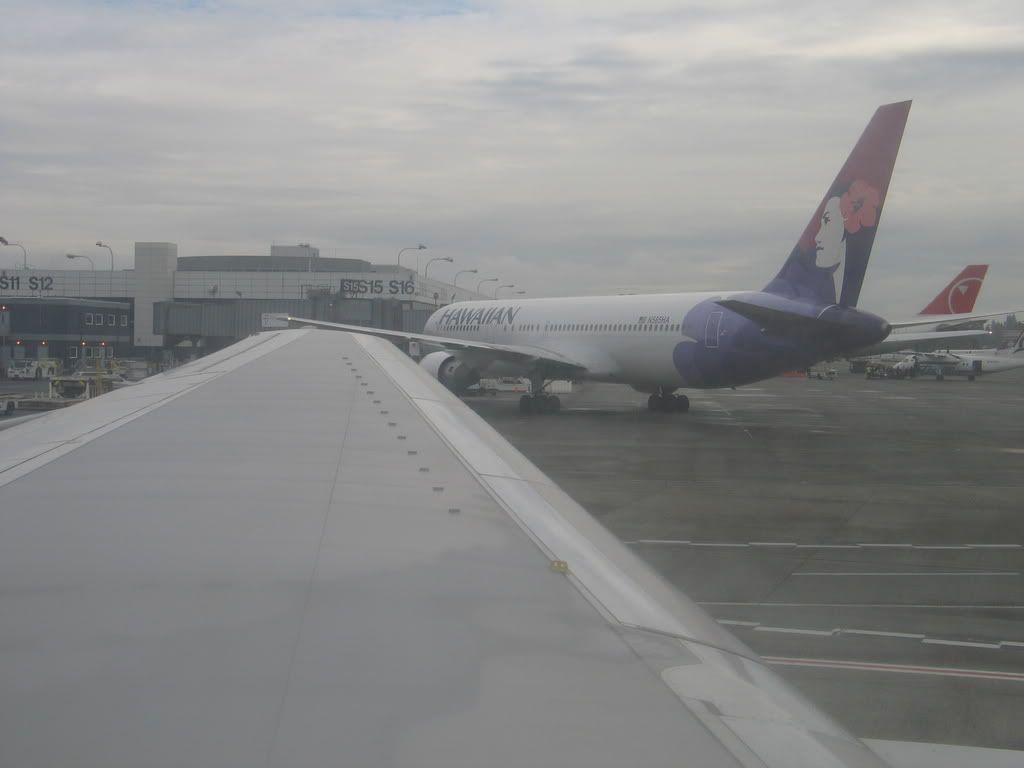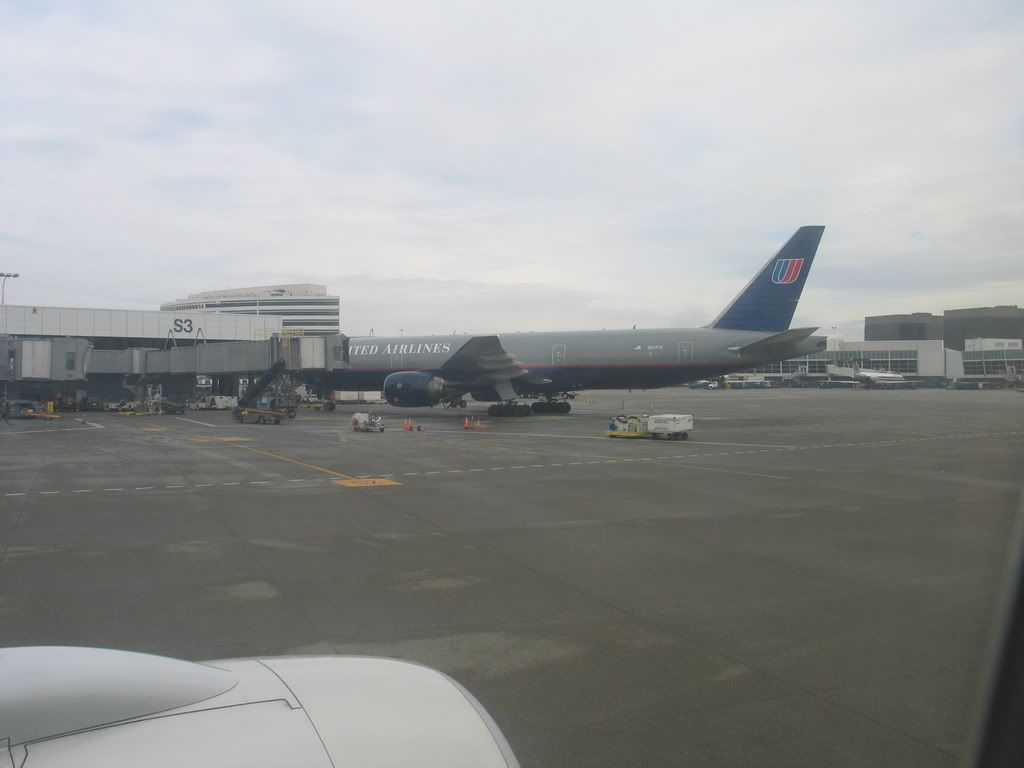 Heavies at the S Satellite.
(Continued below)