As the weather had been so dismal all summer in the UK and I hadn't had a holiday yet, I decided to take a cruise from Tower Bridge, London, all the way to Barbados. I have been on lots of transatlantic crossings by sea and I have always enjoyed them so much.
Going on a cruise is not everyone's cup of tea, and the larger ships that seem to dwarf every port that they visit are my idea of hell. There are smaller ships around, and Silversea cruises offer a really excellent product, albeit at a premium price.
As I live in the West End of London, what is easier than taking a 15 minute cab ride to get on a ship that will take me all the way to Barbados? No Heathrow and no hassle.
When Silversea ships come to London, they moor next to HMS Belfast in the very heart of the City. The ship left at 7pm and we enjoyed the spectacle of Tower Bridge opening for us on our journey of just under 4,000 miles to Barbados.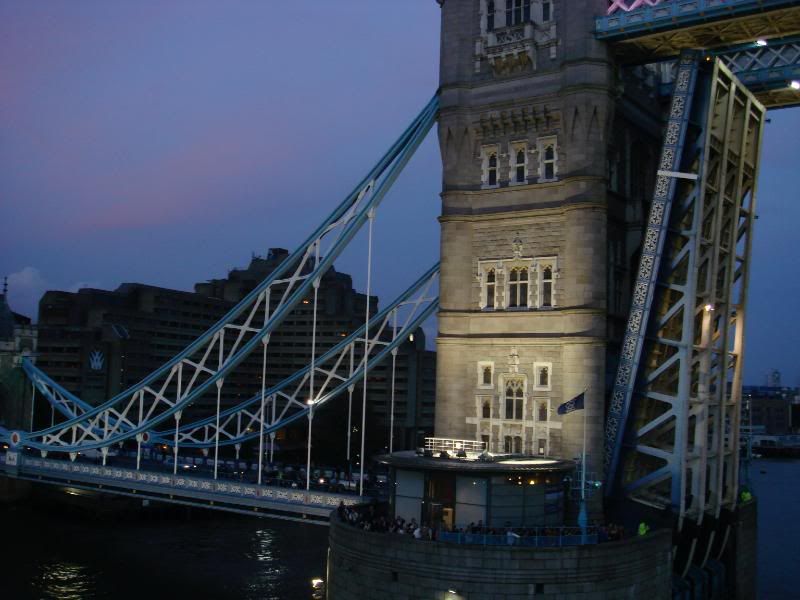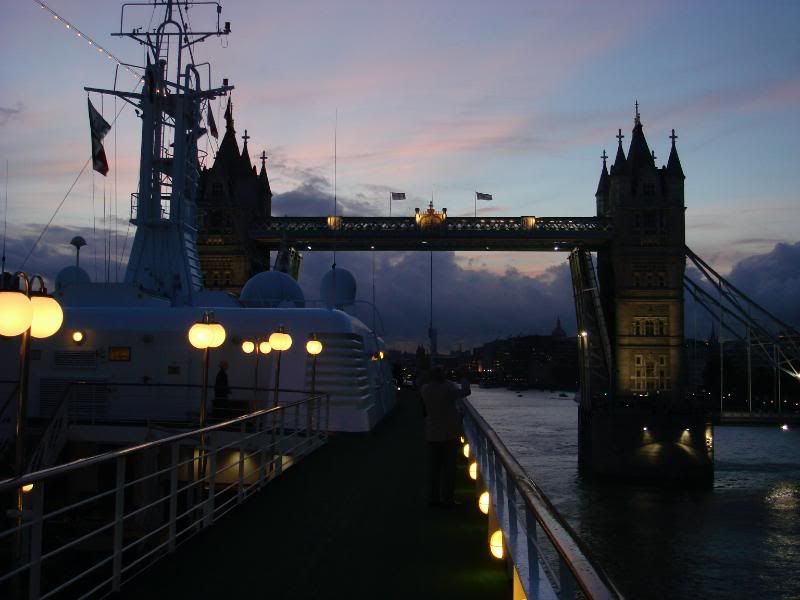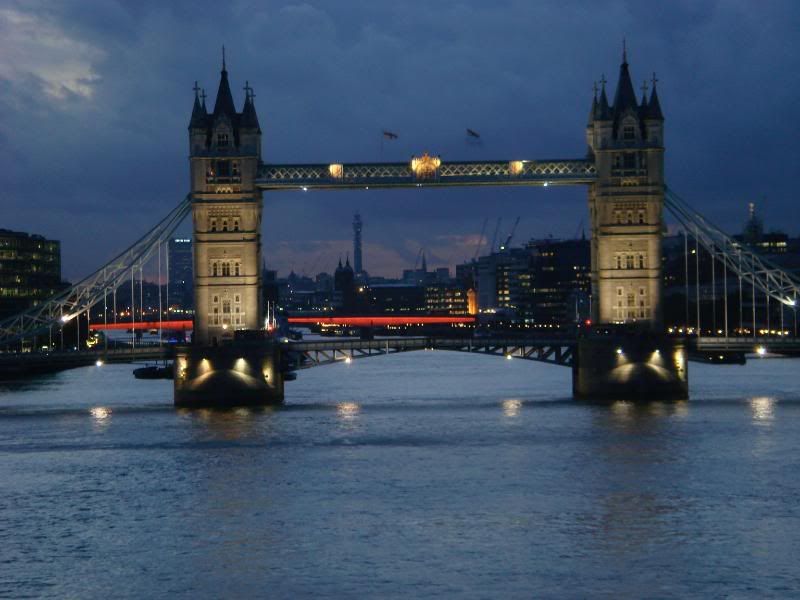 The Silver Wind would call at Vigo, Lisbon, Funchal, Gran Canaria, Sao Vicente (Cape Verde) en route to Barbados.
Lisbon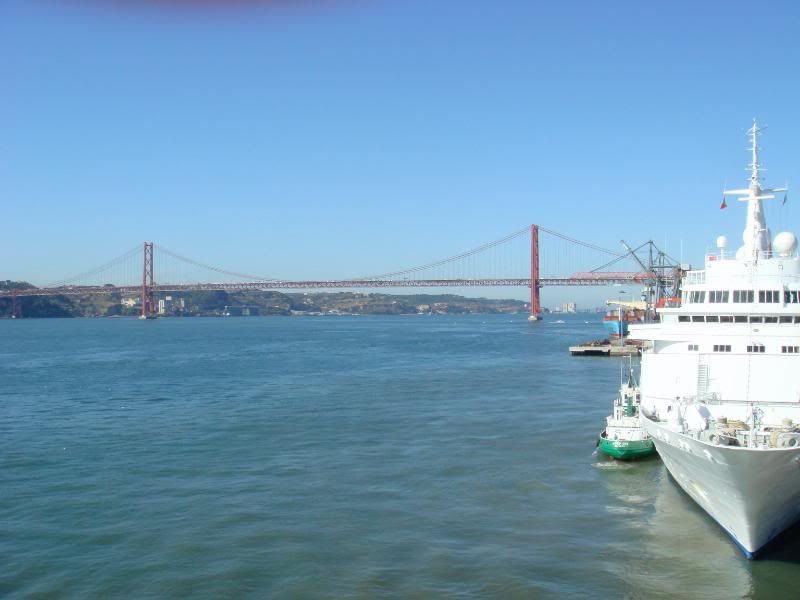 Las Palmas de Gran Canaria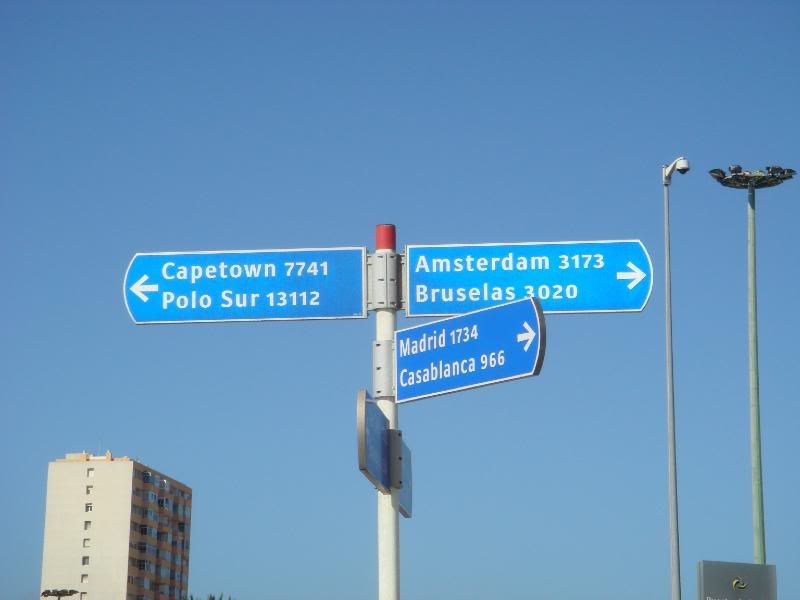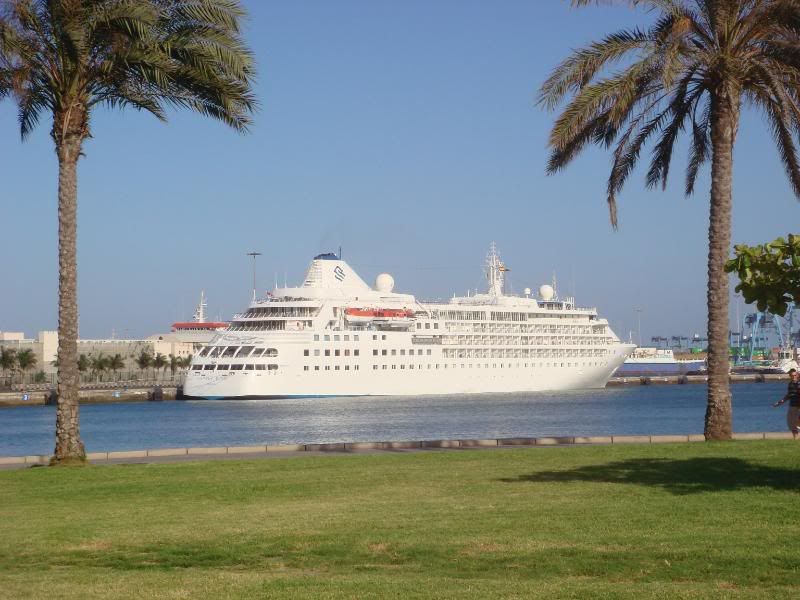 Sao Vicente, Cape Verde Islands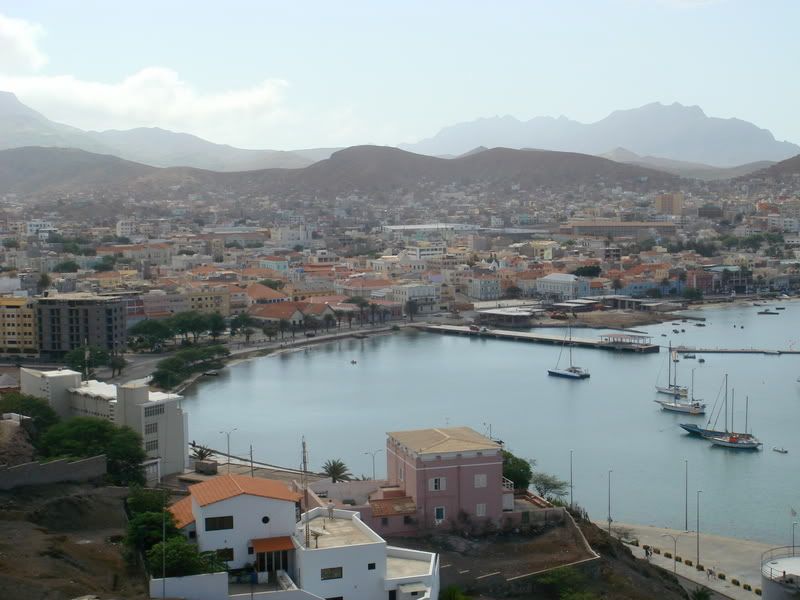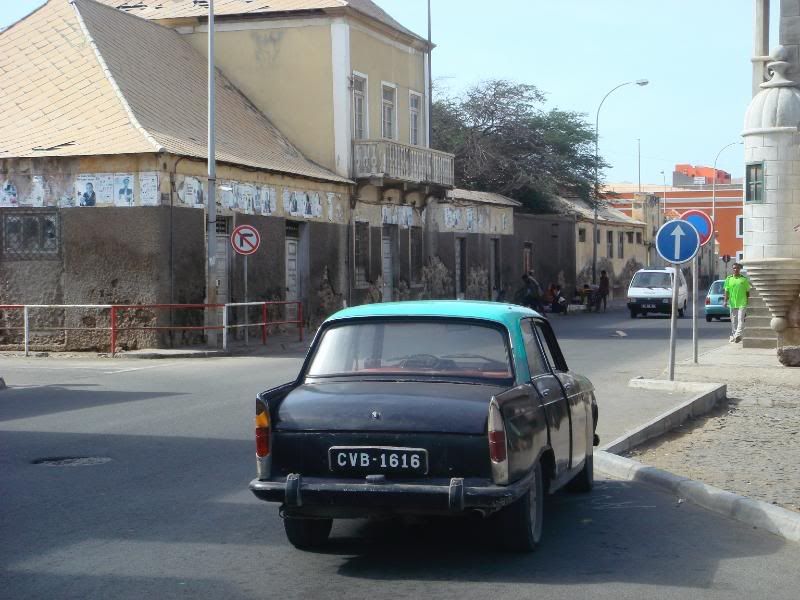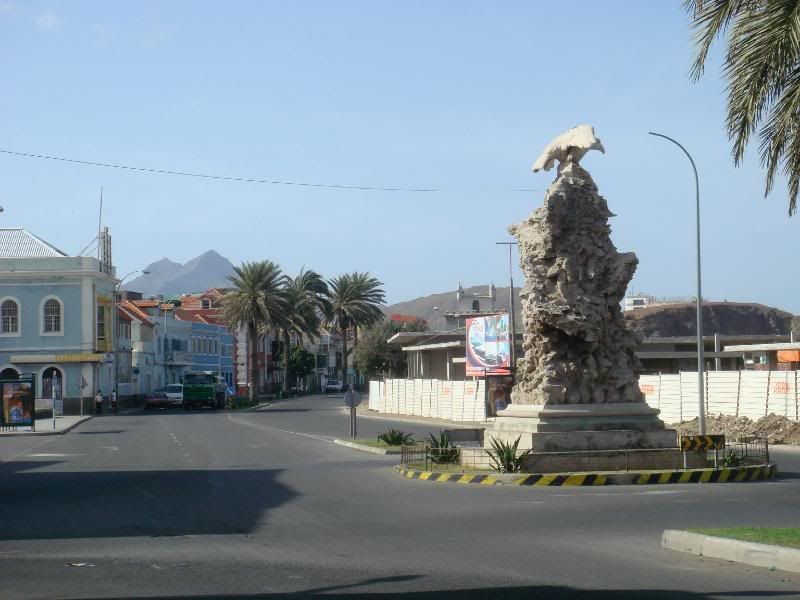 Our last sight of land for 5 days, leaving Cape Verde to cross the Atlantic to Barbados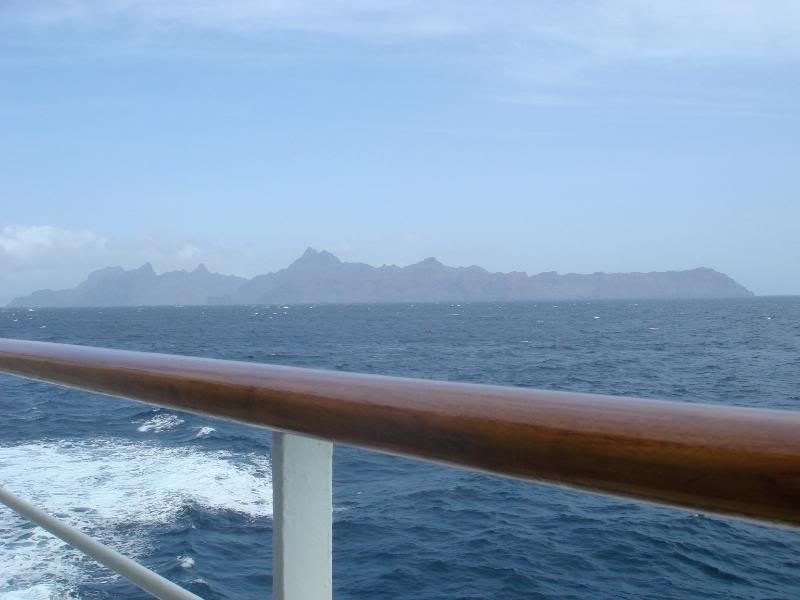 When we were crossing the Atlantic we saw lots of flying fish. One morning I woke up to find that one had landed on my balcony. I am not sure if someone ate this fish, but they do taste nice.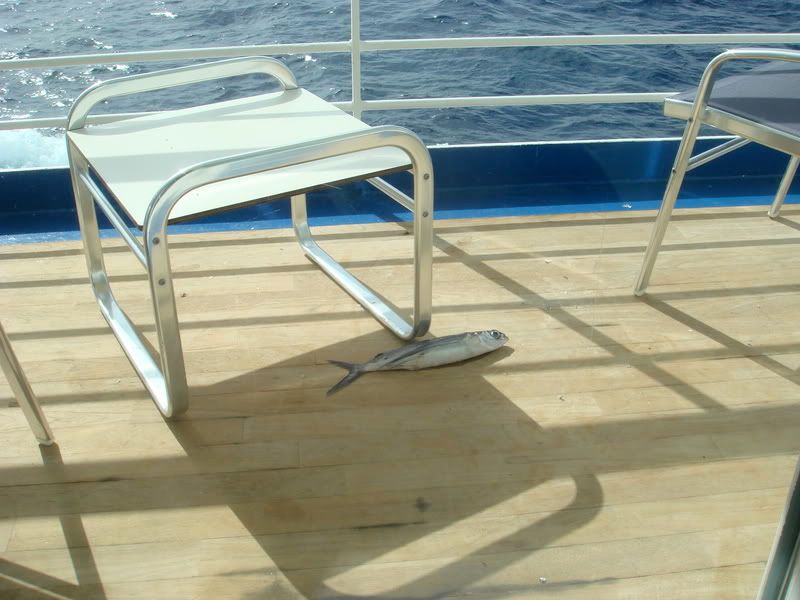 The cruise lasted for 2 weeks until we arrived in Barbados, where I spent a few days before flying home.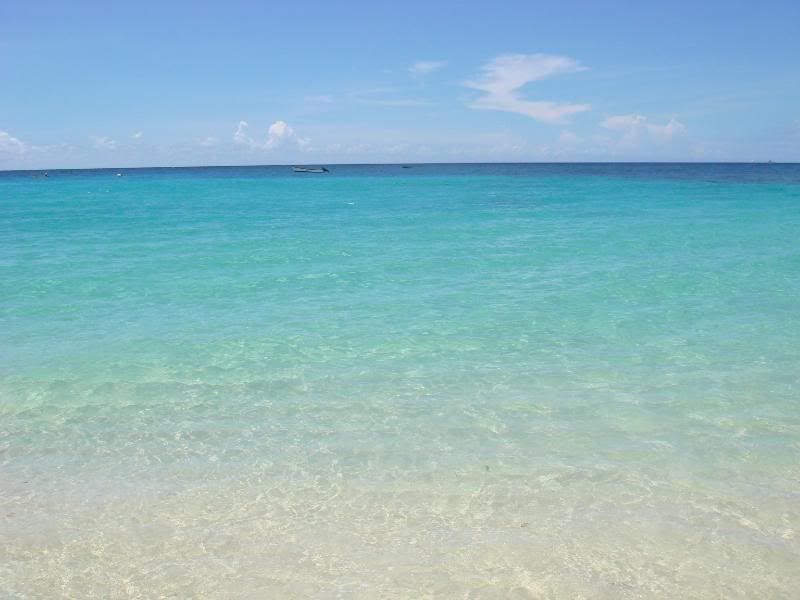 Ok, finally we get to the aviation part of the trip report…

9th October BA2154 BGI- LGW
Departs Bridgetown 16.40
Arrives London Gatwick 05.45
Boeing 777-200
First Class- Seat 1K
I checked in online the day before at the hotel and chose 1K. I like this seat as it offers a lot of privacy and I find that the noise/ light from the galley and toilet is not too bad.
I had arranged a car from the hotel to Grantley Adams airport. British Airways First passengers can bypass the airport terminal completely and use the private jet centre to check in. This is very convenient and offers a very personalised and hassle free service.
Jet Centre at Barbados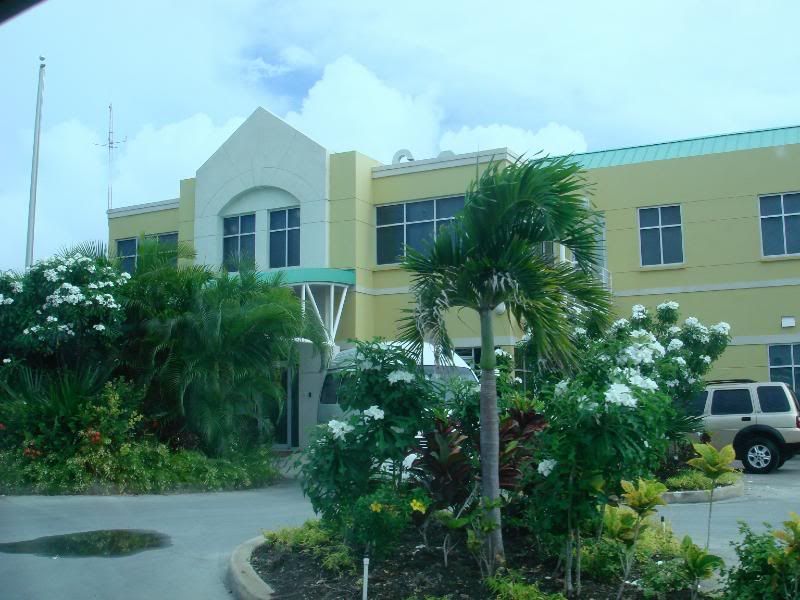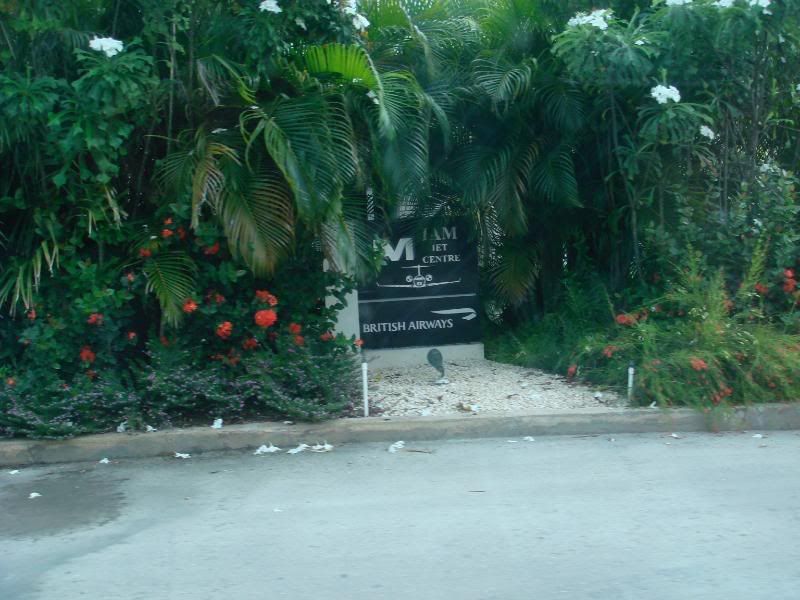 Upon entering the Jet Centre, my bags were whisked away from me. My boarding card was waiting for me and I was first passenger to arrive for today's flight. The staff take great care to give excellent service, addressing the passengers by name, and the security check is very efficient, allowing for maximum time in the lounge upstairs. I remembered some of the staff from my previous visits and we spent some time chatting.
The lounge is very spacious for the maximum First cabin load of passengers, and offers good views of the apron.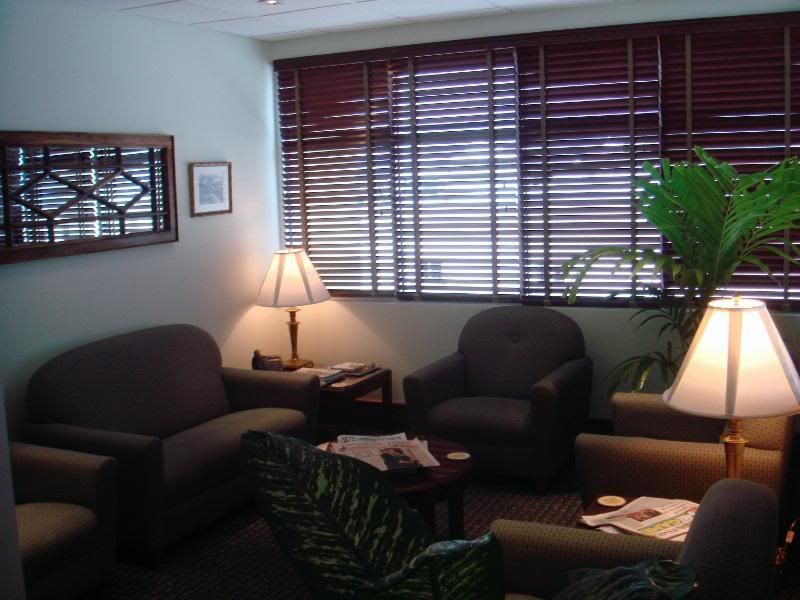 Snacks were nothing to write home about, although some excellent sandwiches were served later.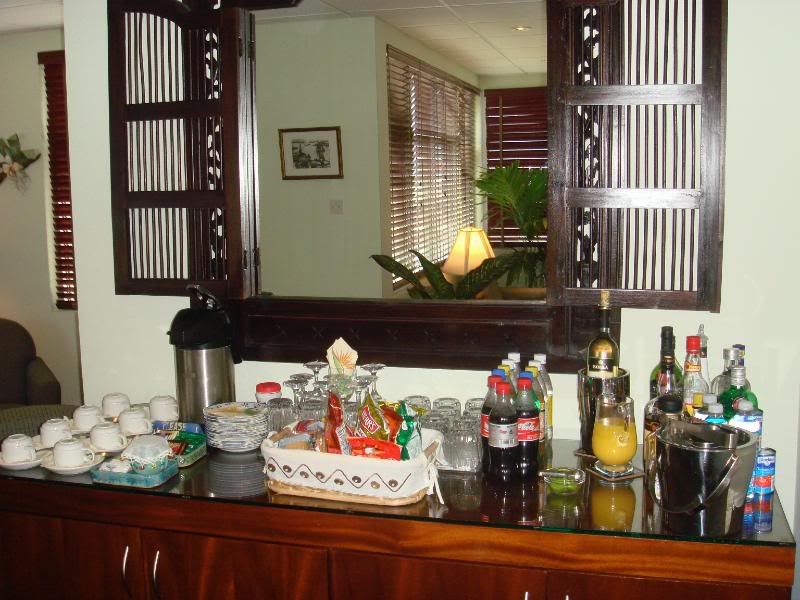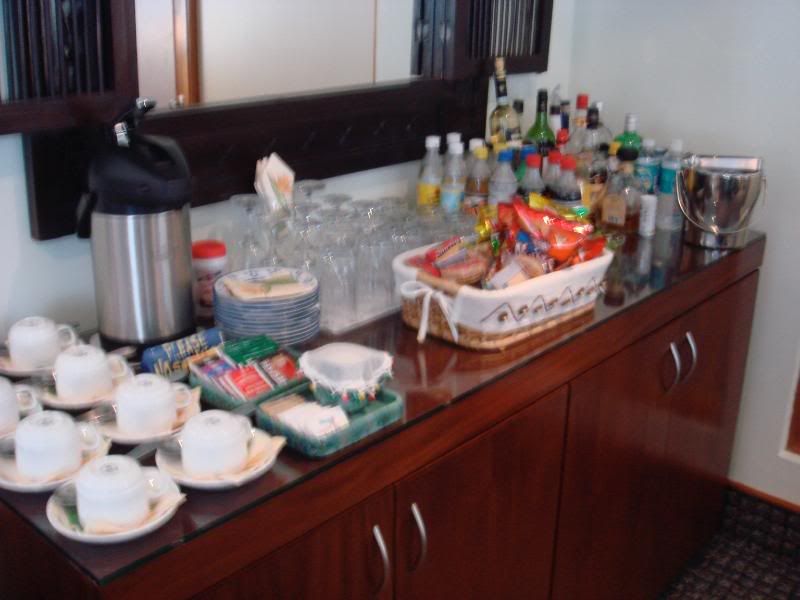 Virgin, Caribbean Star, Air Canada and American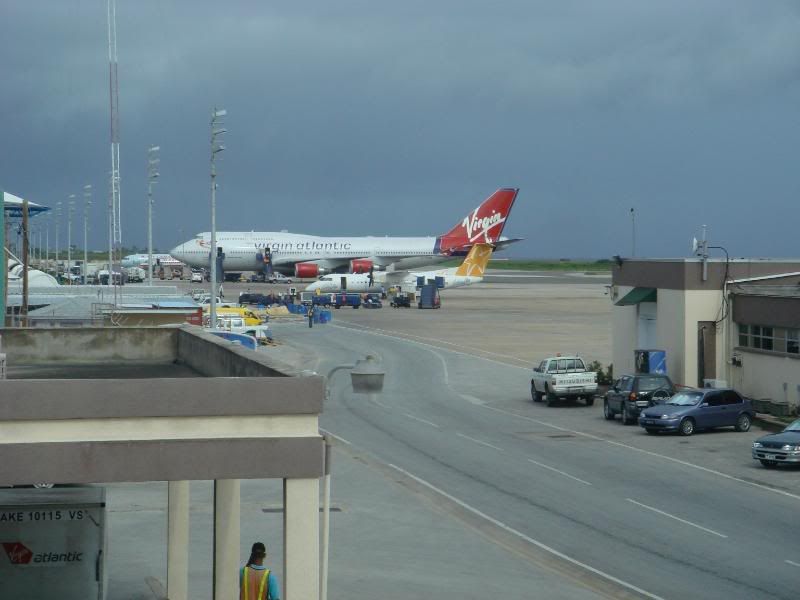 Our incoming BA flight from Gatwick arrives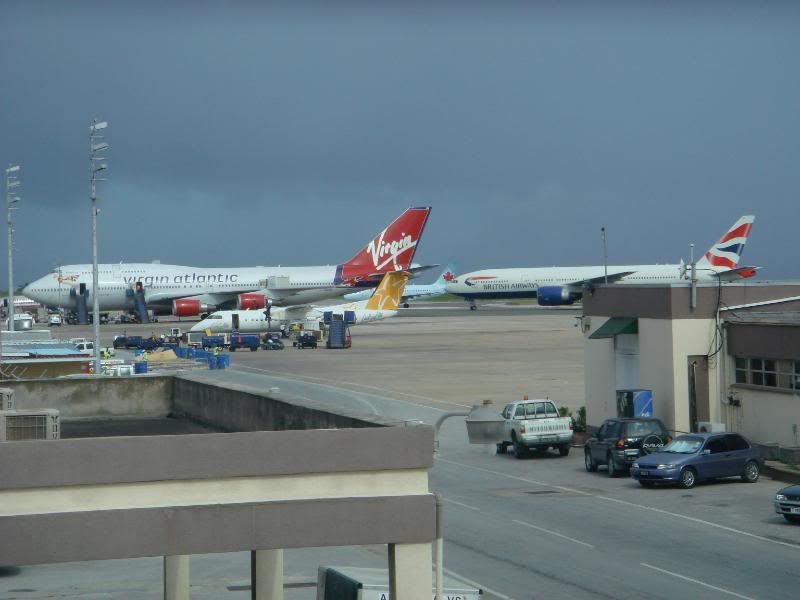 Soon joined by a Caribbean Airlines 738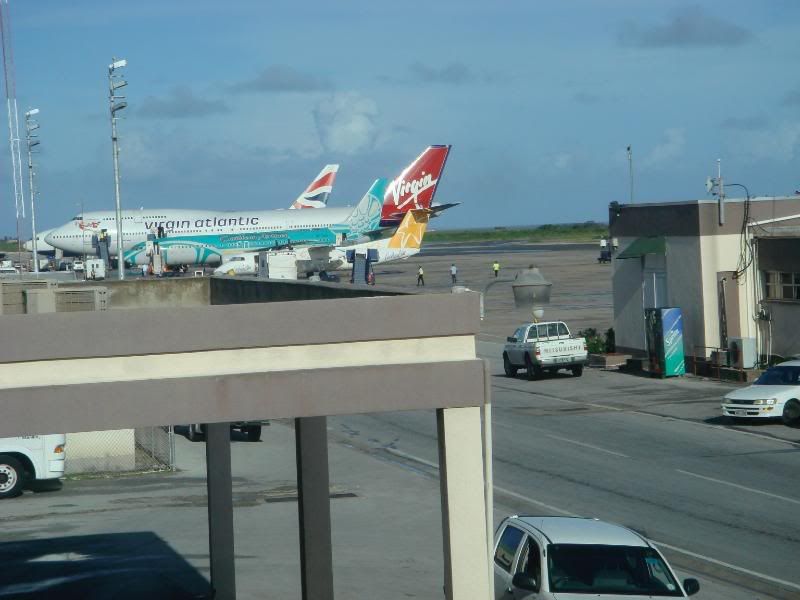 I think that it is a real shame that Beewee rebranded into Caribbean Airlines. The new branding was rather hastily applied to the steel drum livery of Beewee.
After a while 4 other passengers arrived at the lounge. Has anyone else noticed the transformation which perfectly normal people seem to undergo upon entering an airline lounge? Suddenly people come over all very posh and develop a sudden interest in the Financial Times. Does this just happen in Barbados, I wonder?
If passengers want to go duty free shopping in the main terminal, they can be bussed there and back to the jet centre. I didn't bother this time, but some of my fellow passengers did.
At around 16.15 we were called for boarding. We went through customs and immigration at the Jet Centre and board a minibus to be taken to the plane steps.
DHL 727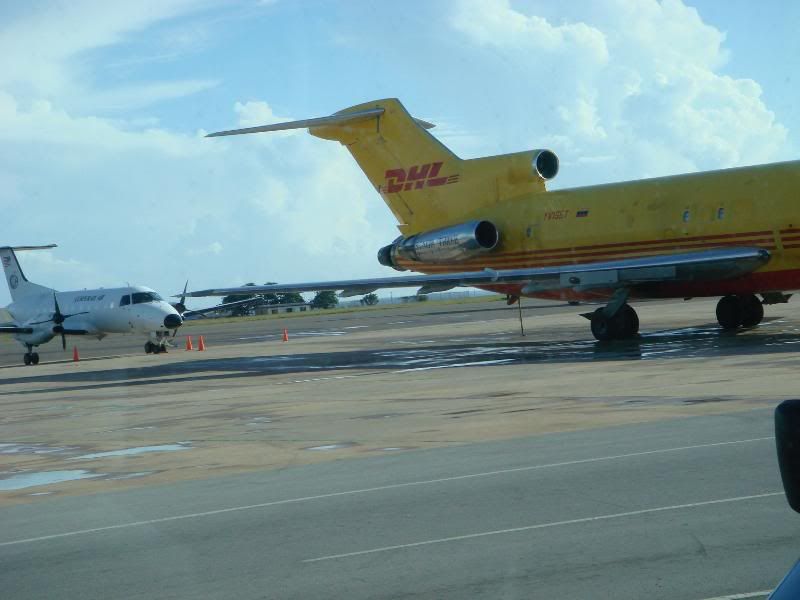 So far the process was hassle free. As there were only 6 of us on the bus, I wondered if there would be a light load in First, especially as this is not peak season for the Caribbean in the UK.
I always get a kick out of boarding via steps!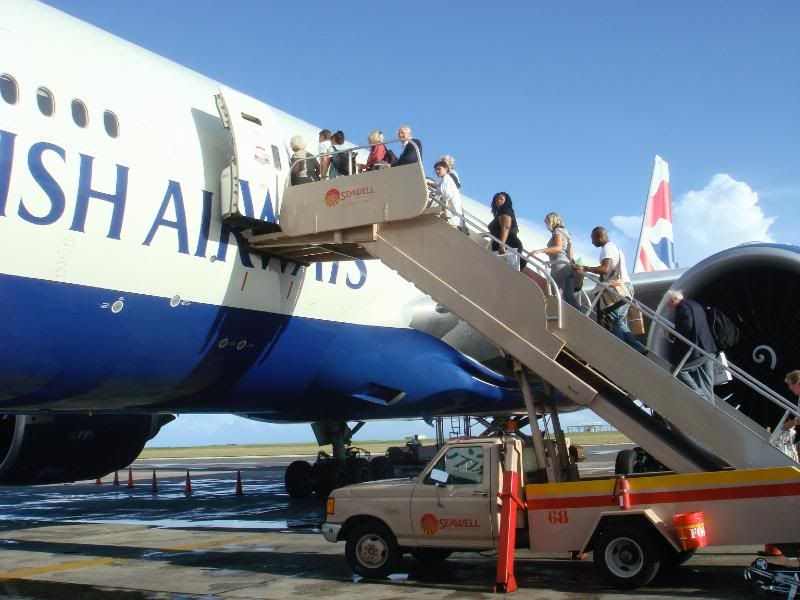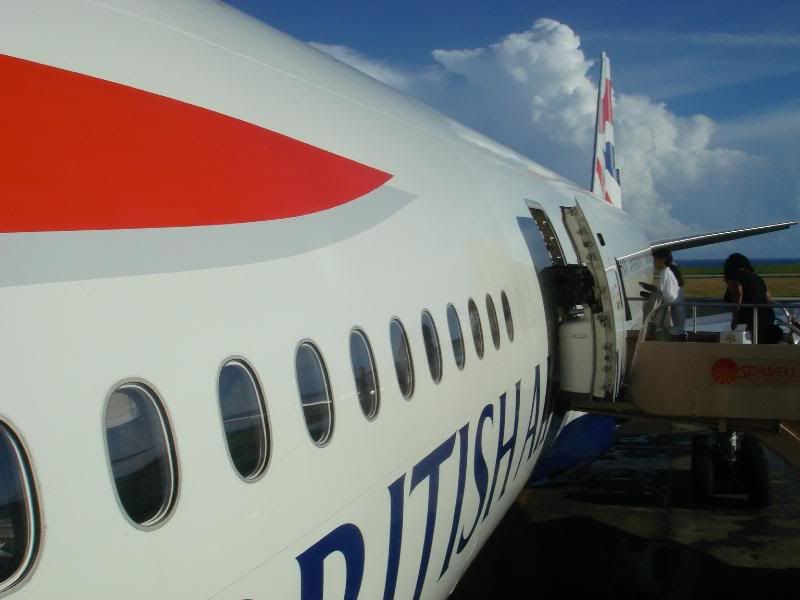 When I entered the cabin, I realised that the upgrade fairy had been working her magic once more, as the First cabin was entirely full. This seems to happen a lot on the Barbados route. I was greeted by a rather stressed out flight attendant who apologised for not being able to show me to my seat, but she had to stay at the door for security reasons.
I settled into my seat. The First cabin still looks good on BA, although the forthcoming revamp is much needed. I then decided to sit with my travelling companion to enjoy some pre-flight champagne.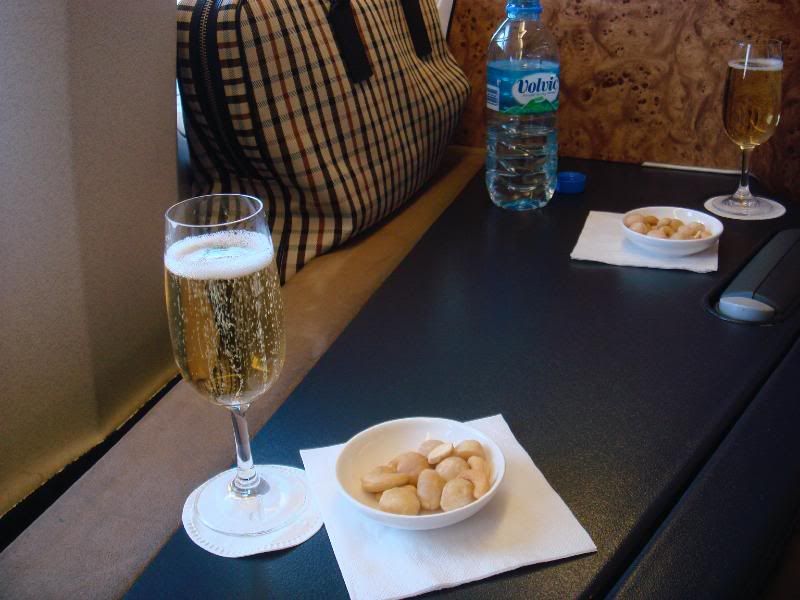 Soon washbags and sleep suits were handed out, along with a list of dvd's to watch on personal players that were also given out during the flight.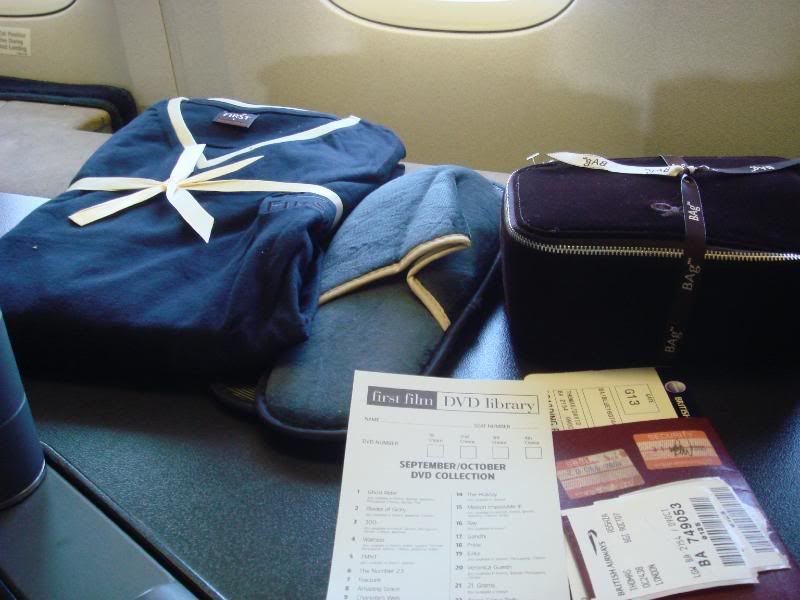 I think that the quality of the washbag has really gone down recently. Now all you get is the usual eyeshade and socks with a toothbrush and 2 small bottles of Kiehl's products. There used to be all sorts of goodies in the BA bags, but this is obviously the result of cost cutting.
We were also given the Menu and the Wine List for this evening. I do enjoy having a pre-flight champagne and poring over the menu!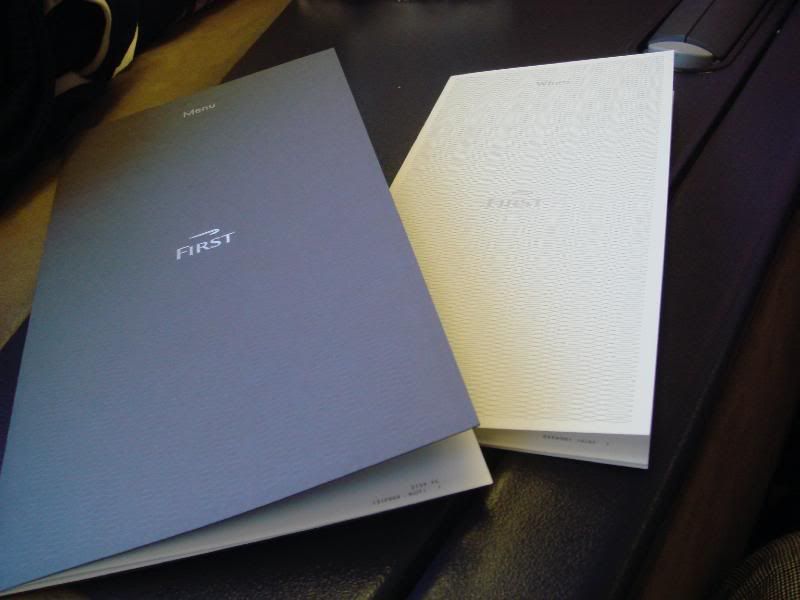 I returned to my seat for the safety briefing and soon we were pushing back past the VS 744 which would shortly follow us to Gatwick.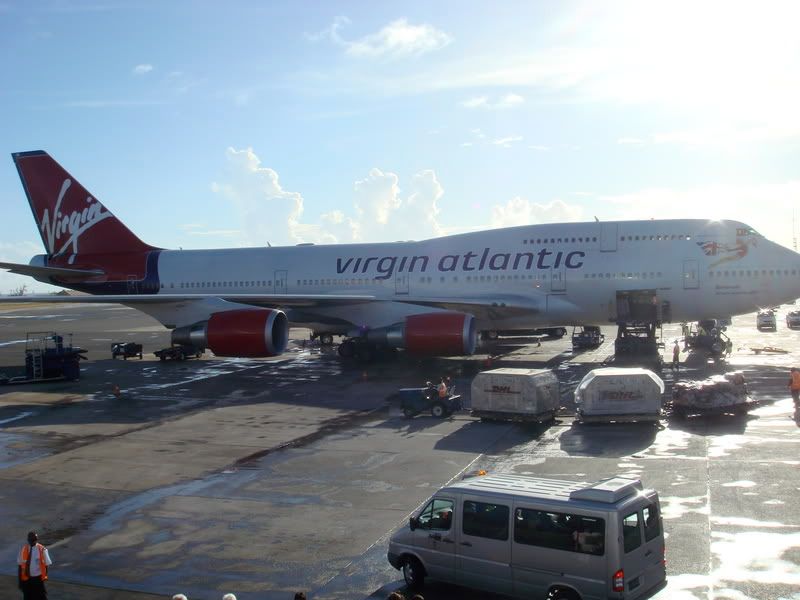 We made the usual powerful take off to the north east, leaving Barbados behind very quickly. We would next make landfall over south west Ireland. I have never taken a flight that leaves so early from Barbados (except for Concorde), so it was quite a novelty to enjoy daylight for the first 45 minutes or so of the trip.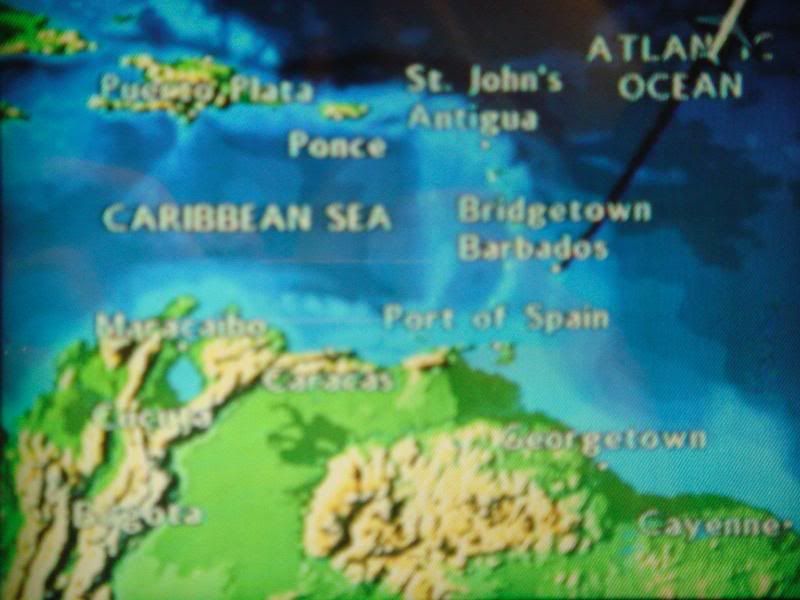 The Cabin Manager came around to introduce herself to the passengers. At this point I noticed that few people had decided to make up the bed and sleep. As this is a relatively short transatlantic flight and we left Barbados in the afternoon, I find it very hard to sleep on this flight.
Aperitifs were offered with some delicious canapés.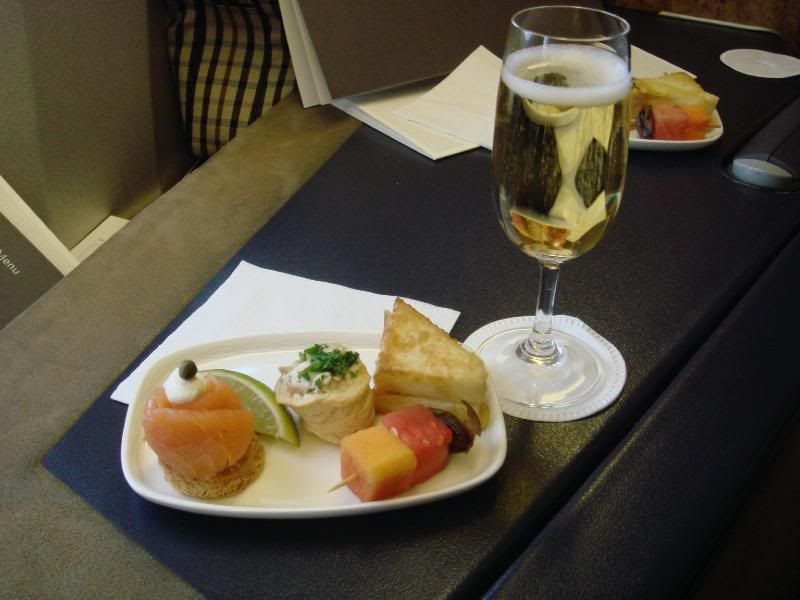 Then it was time to take dinner orders. I find that the quality of the food and menu choices have improved of late and being in the first row, all of my choices were available.
Tomato and Fennel Soup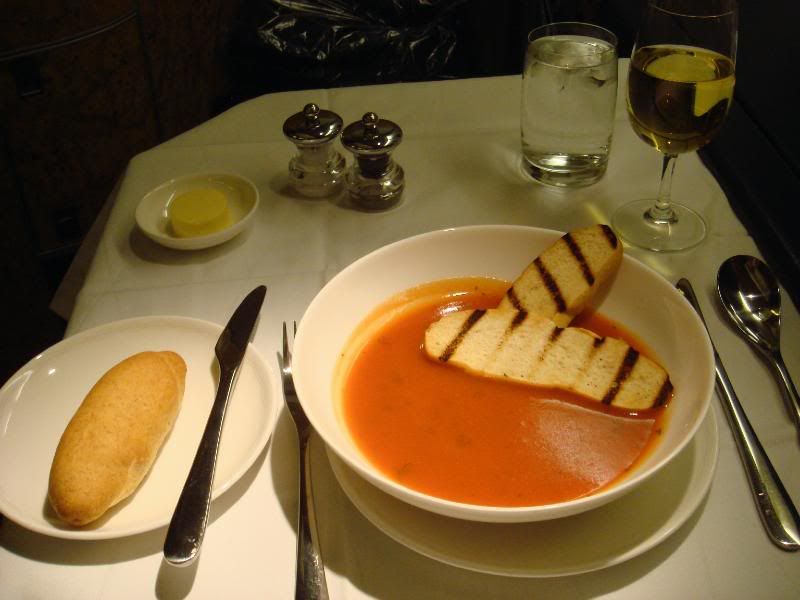 This was really good, and nicely presented, washed down with an excellent Mersault. On this flight all of the wines and champagne were really really cold. There is nothing worse than room temperature white wine or champagne on a flight.
Chicken and Leek Pie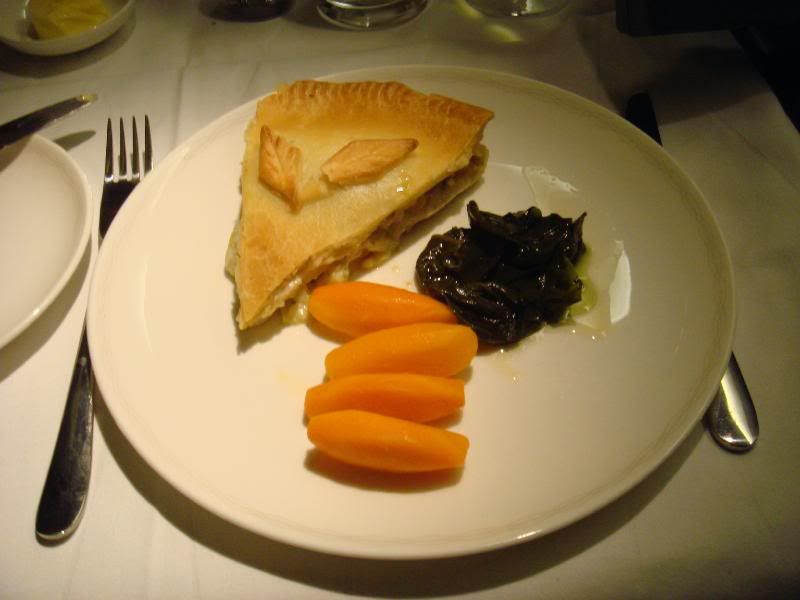 This was also excellent- but I was surprised that this was the "wellness" option!
I find that a choice of 2 desserts is quite limited in First, but I opted for the Lemon Meringue pie, which did not disappoint.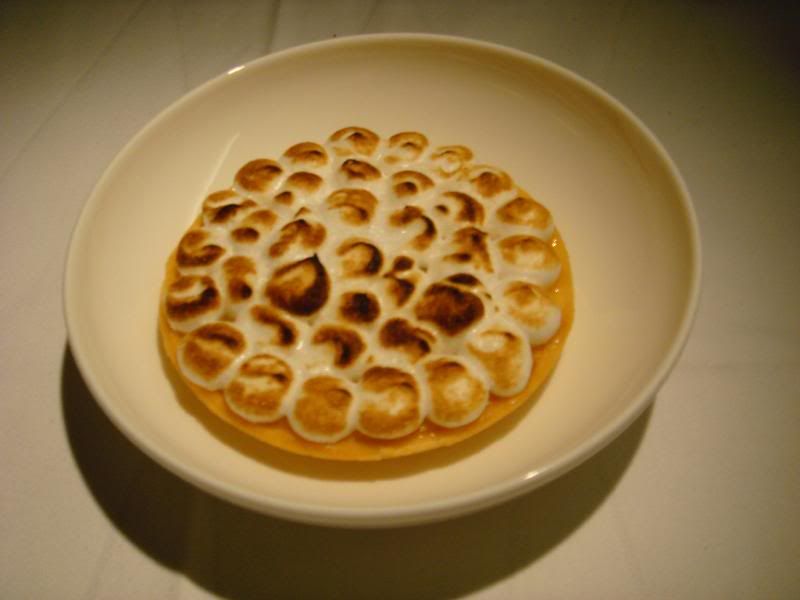 Now a few words about the service. Of course it is lovely to be able to fly First Class, and who is complaining! But the service was rather erratic. Other airlines manage to make First class passengers feel that they are experiencing exclusivity and luxury. The BA product does not achieve this, unfortunately.
Wines were not topped up and I had to ask for a refill. In First on other airlines this would simply not happen. Also the IFE can only be described as lamentable. From the outdated tiny screen, to the awkward personal dvd player, it is simply fourth rate. The first dvd player I was given did not work. The flight attendant even suggested that I use my MacBook to play a dvd!
The selection of channels is poor. It is bad enough that there is no on demand, but the selection of films and programming is very uninspiring. This is especially annoying when I know that I am not going to sleep. At one point I ended up watching "Location, Location, Location"! However the audio channels were quite good and the noise cancelling headphones make for good listening quality.
Personal dvd player and coffee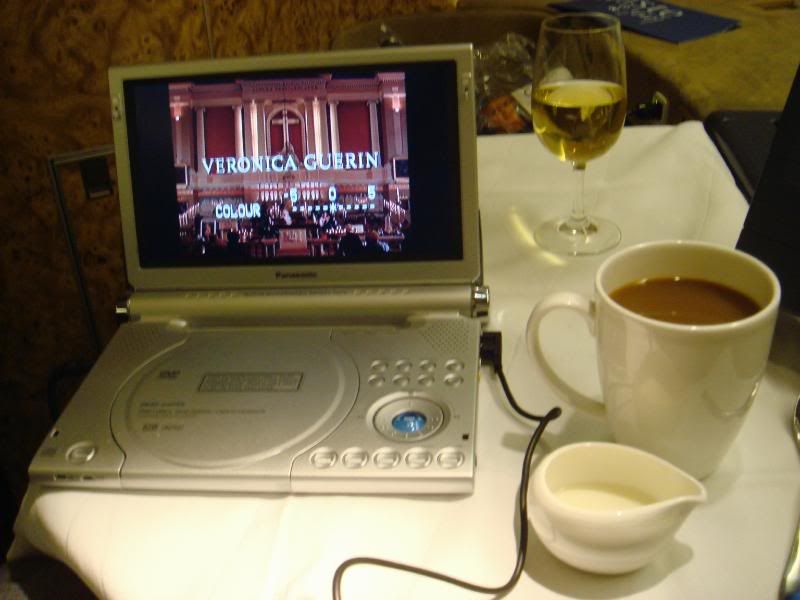 I settled down to watch a film and enjoy a coffee. The first mug that I was given had a massive chip in it, so I asked for a fresh one. Again, I find gaps in service standards. What has happened to the chocolates that are served with coffee? I wasn't offered any. Nor was I offered a dessert wine. On Swiss these are offered as normal.
When the meal service was over the lights were dimmed and the crew literally disappeared until breakfast. There was no attempt to hand out water and I even had to ask for a bottle of water.
Now a few words about the seat. When BA introduced the First suite, it was a ground-breaking product. Now it is showing its age and there is going to be a revamp. But as the flight attendant admitted, it won't be appearing on flights out of Gatwick for many years. I find the seat uncomfortable in most positions and it is certainly not so good for sleeping when compared to the Virgin Upper Class suite. Having said that, I wasn't going to sleep anyway.
The flight passed quickly enough and as we were over western Ireland, the lights came on, denoting the start of the breakfast service. As I mentioned earlier, the food has improved in BA First and this also extends to the breakfast, which has often seemed like something of an afterthought in the past.
Pancakes with caramelised bananas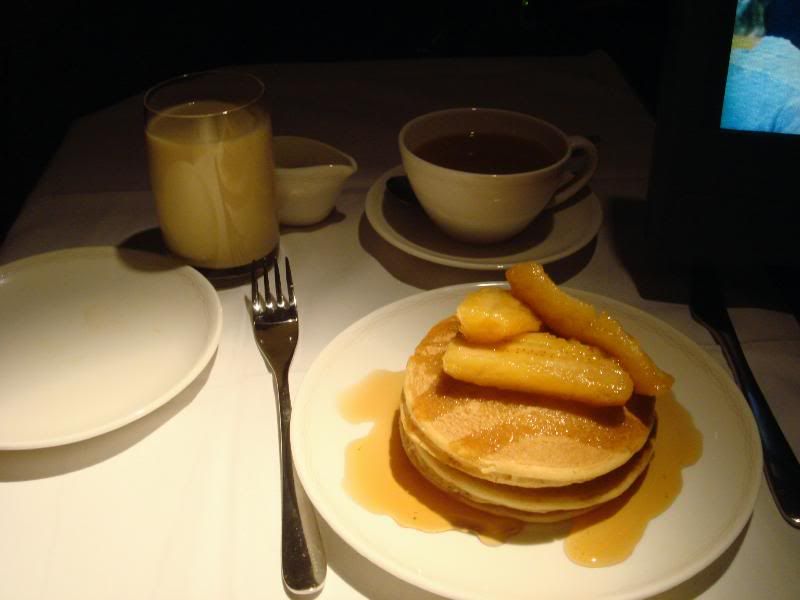 These were really excellent. I also had the smoothie, which was very good.
It was still dark as we flew over Devon on our easterly track into Gatwick. I could see towns such as Exeter and Southampton, still asleep down below.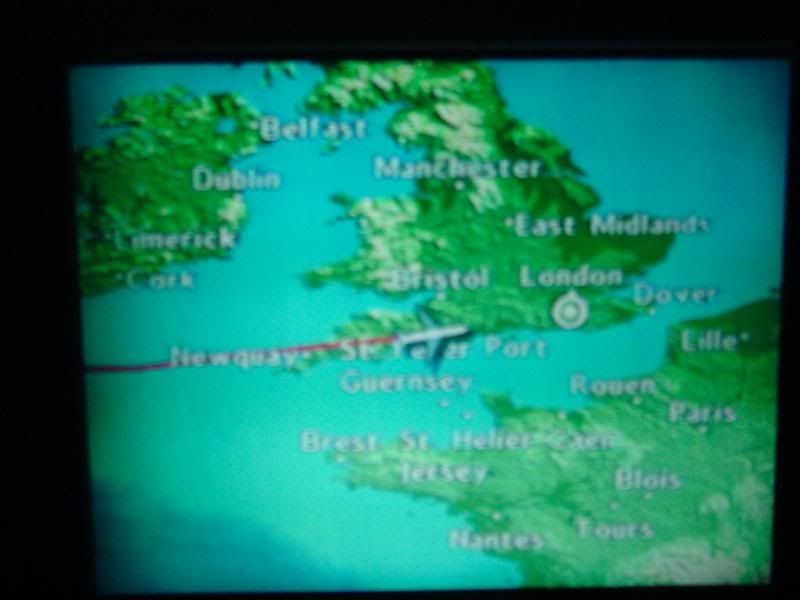 The crew prepared the cabin for landing, and gave out details of the Arrivals lounge at the Sofitel, available to First passengers. I have never used this as I tend to want to get home and just go straight to bed.
We had a smooth landing in the dark at Gatwick at 05.32 and soon we arrived on stand. I said goodbye to the crew and made the bleary-eyed trek to immigration and baggage reclaim. For once, First bags actually came off first. Then my holiday was over!
All in all it was a good flight. BA got me back on time and in comfort. There are some inconsistencies in service standards, and to be honest BA's first class product does not compare with major Asian carriers, or European carriers such as Swiss. But these are minor gripes. It seemed like the crew were also unfamiliar with service standards in First. Is this because the European and long haul fleets have merged at Gatwick?
Thanks for reading my trip report, and any questions or comments are welcome as usual.