DUBLIN - PARIS (CDG)
01/10/07
EI 520
Dep. 07:00
Seat 22E (Y)
A321-200 EI-CPF
It was an early start for me on this trip around the Middle East, with a stopover in Paris for a night on the way. I love Paris for the variety of shopping, dining etc, it's also a really pleasant airport to connect in rather than the hassle of Heathrow. I grabbed a taxi near my apartment in town and the trip to the airport was pretty quick at that hour of the morning, got dropped off on the departures ramp, nearly got run over by a car, seriously, someone is going to be run over here some day, it's a really badly designed and very dangerous area since they removed the separators between lanes.
Check in was quick, I had quite a few bags, and me and my traveling companion headed through security, again, was reasonably quick, down to the C Pier where we discovered we had a hour left before the flight was boarding. Headed over to the green bar near the entrance to the C pier and had a pint, start of a good trip!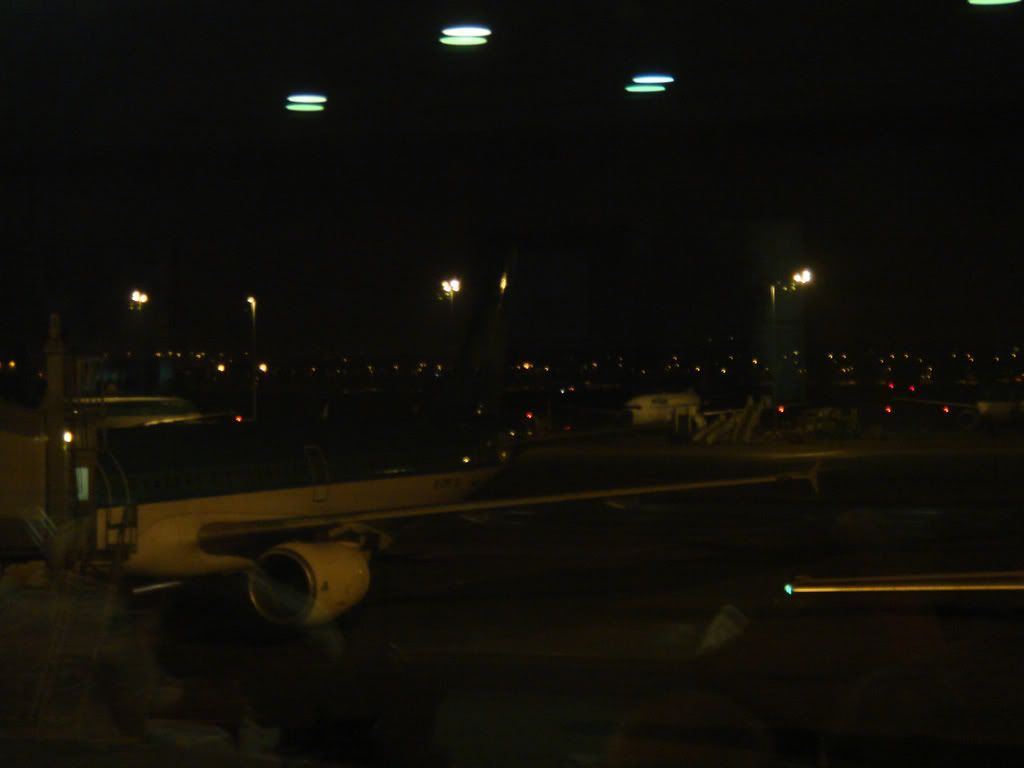 Our Airbus parked at the C Pier
Strolled back down and boarded the A321. Strange it was an A321 because it was only half full; anyway there was lots of space.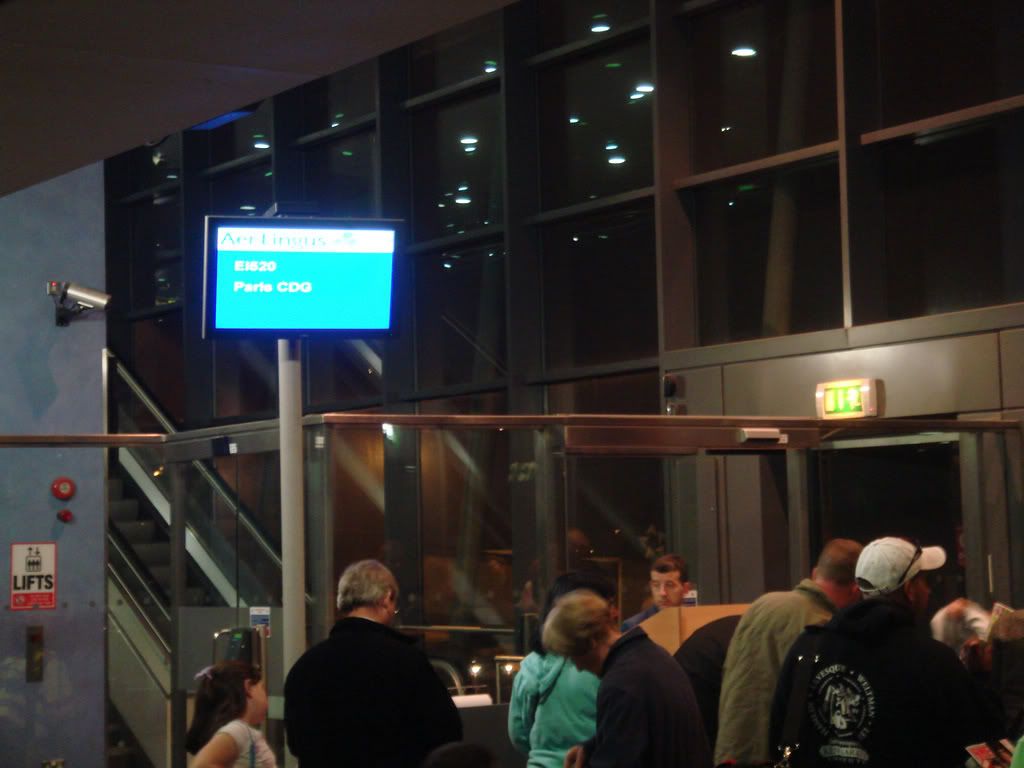 Boarding
On board
Takeoff from runway 28 was smooth and soon we were in the cruise. Something I've noticed with Aer Lingus, why is the fasten seat belt sign kept on for so long into the cruise? It's something that I've noticed, especially on European flights, even when there is no turbulence. Anyway, the inflight service had started and I decided to have the Irish breakfast with coffee and juice for €8 since I was hungry. Very tasty as always and when finished I took a little nap until we were descending into a cloudy CDG, when is not cloudy there?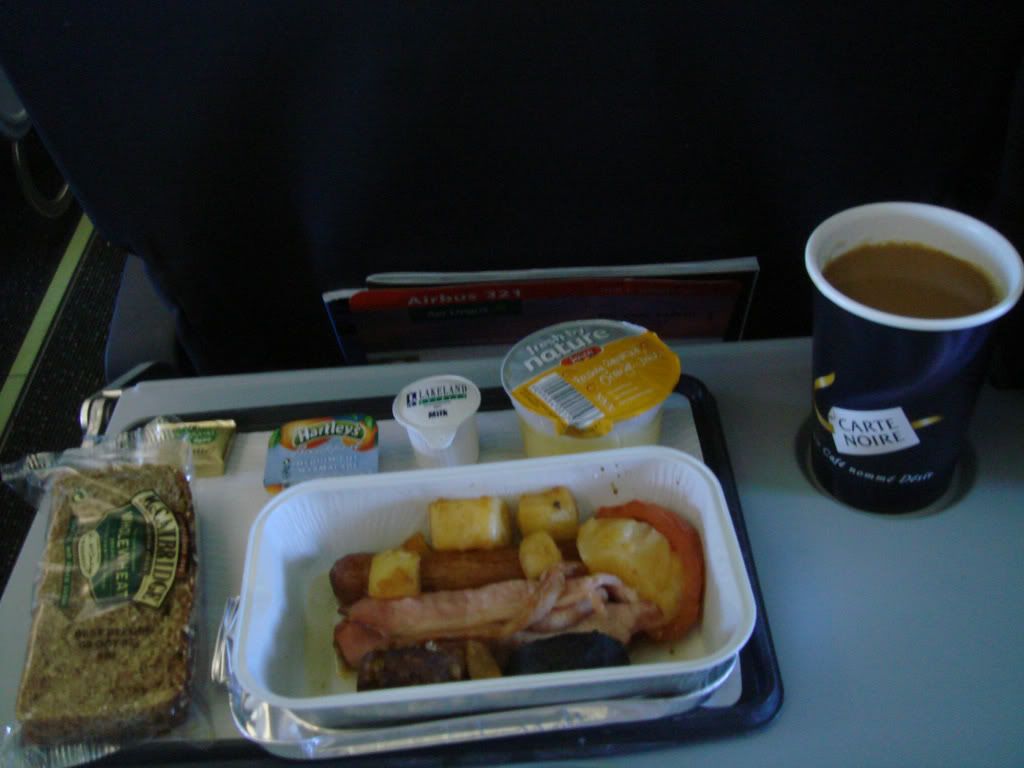 Irish Breakfast
Arrived on time and after quite a long taxi around CDG 1 and its various satellites parked next to a company A320 from Cork I presume. Bags came out relatively quickly, we shared the baggage carrousel with a BMI baby flight from East Midlands I think and there was another one from somewhere else. Overall a good flight with EI, standard stuff, crew seemed friendlier than usual which was nice, especially so early in the day. Took the new CDGVAL train over to T2 and headed to my hotel for the night which was to be the Sheraton, promising great views over terminal 2.
Sheraton Roissy CDG
I checked in but they didn't have a room available yet, no problem since I was heading downtown for a few hours anyway, I was able to leave my bags there in the meantime.
Shopping and dining completed, I took the RER back to the airport, by this stage I was so tired, having only had a few hours sleep the night before, I must say having the hotel in the terminal saves so much time rather than hopping on shuttle busses to go to someplace in the middle of nowhere (eg. Radisson CDG).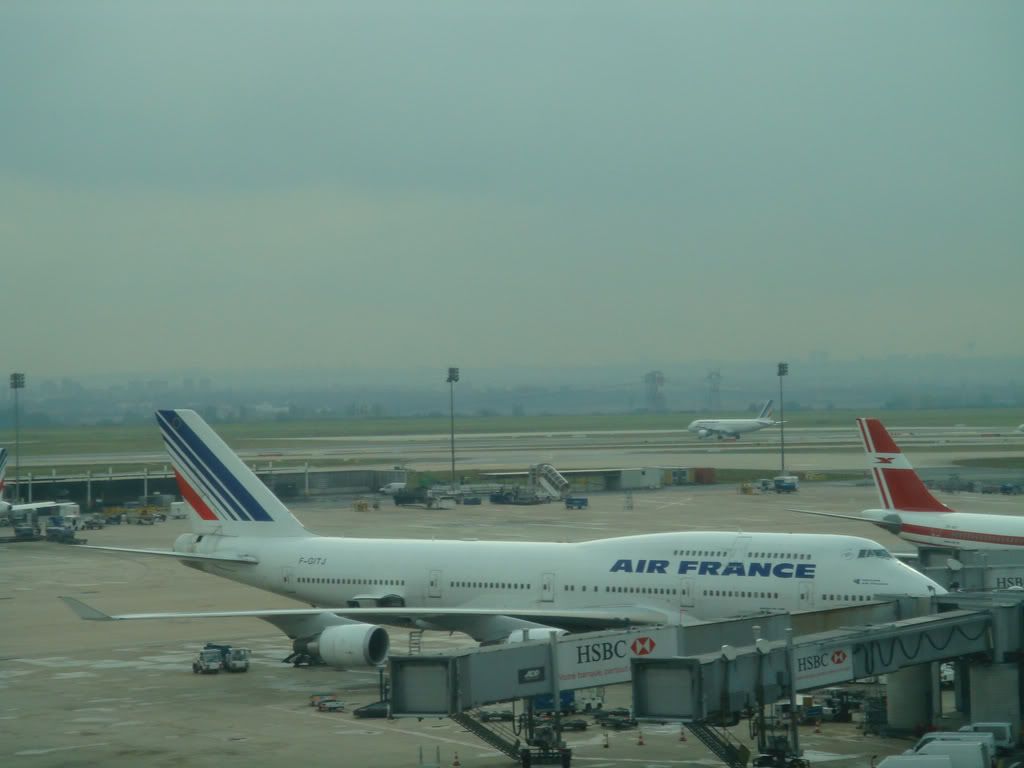 Room with a view…
PARIS (CDG) – DAMASCUS
02/10/07
AF510
Dep. 13.20
Seat 12D (Y)
A320-200 F-GKXF
After a good nights sleep (and some spotting in between) it was time for breakfast, I grabbed a croissant and juice from the Paul boulangerie outside the door of the Sheraton above the train station and had it in my room, by then it was almost time to check in. When I woke up I noticed how foggy it was outside, I was worried about delays/cancellations etc so I wandered over to the new terminal 2E 'hi-security' and located the check in for Air France, or so I thought. The man manning the entrance to the area asked my destination, and then looked shocked, no, he said, I had to go to another area, fair enough, I walked down to area 7 and the lady their with her electronic palm-pilot thing, checked my name and saw that, yes, I could check in for 'Damas'.
The only other flight being checked in here was for Amman. There were a few agents checking people in, and I didn't have to wait long, there was some American family arguing about excess baggage in front of me, but it was a quick process. I decided to have a quick coffee before going through security and had a look at the shops, not really much, just a Relay and mini-supermarket. It turned out the flight would be delayed by 40 minutes, late arrival of inbound aircraft, I wasn't in a hurry.
Interior Terminal 2E
Air France/KLM Check in area
Security was certainly tight. I was asked for my passport 3 times before entering the x-ray luggage area, very strange. Anyway, I forgot to take out a bottle of sprite from the day before so I lost that, no big deal. The walk down to the remote boarding area was quite long, but I was satisfied when I found the duty free  I picked up a few bottles of nice white wine and took a seat at the little café and indulged in a pre-flight aperitif watching the flight to Seattle board from the gate opposite. They made so many final boarding calls, and when they closed the flight a number of people came running. One couple got really annoyed when the gate agent told them it was too late, the woman was pointing to a bus nearby saying 'but you have a bus, why can't you take us to the plane'. I was smiling away, I'm sure they would have been re-booked.
Soon it was our turn to board, the agent handed me my boarding stub and wished me 'bon voyage'. The bus trip to the aircraft took about 8 minutes.
Our airbus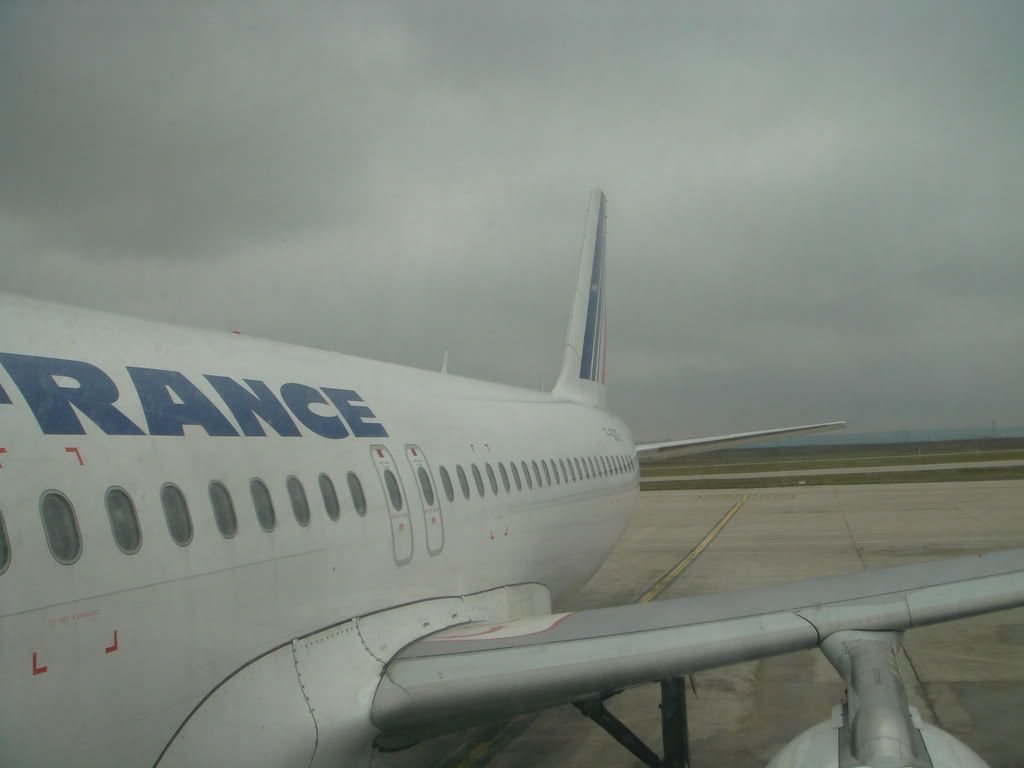 I took my seat in the roomy A320, surprised there was only 1 row of Tempo Challenge, it looked quite odd to have the curtains so close to each other, I wouldn't really want to sit there. Business had a good few passengers, the middle seat was free with the little table down, and I noticed they also got the long haul amenity kits.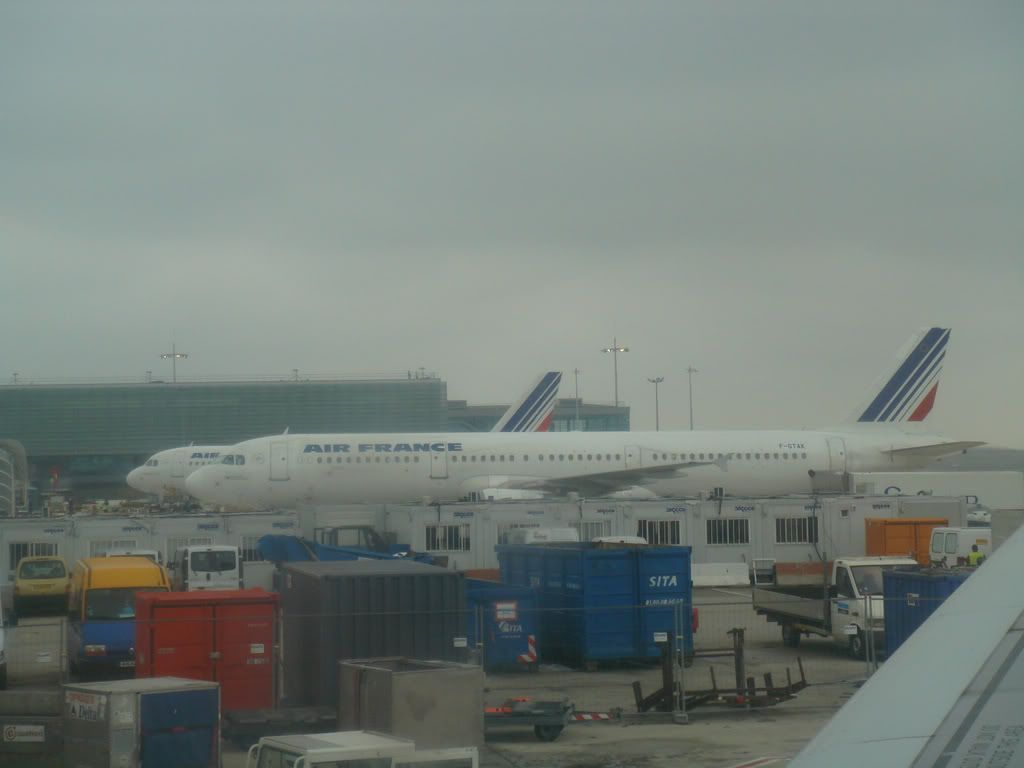 Before pushback
I had an emergency row all to myself, except for one other woman so I moved back and had the 3 seats free. It was really comfortable I have to say, and later on I discovered I could pull the little table down in the middle seat, so I could at least pretend I was in business for a while
.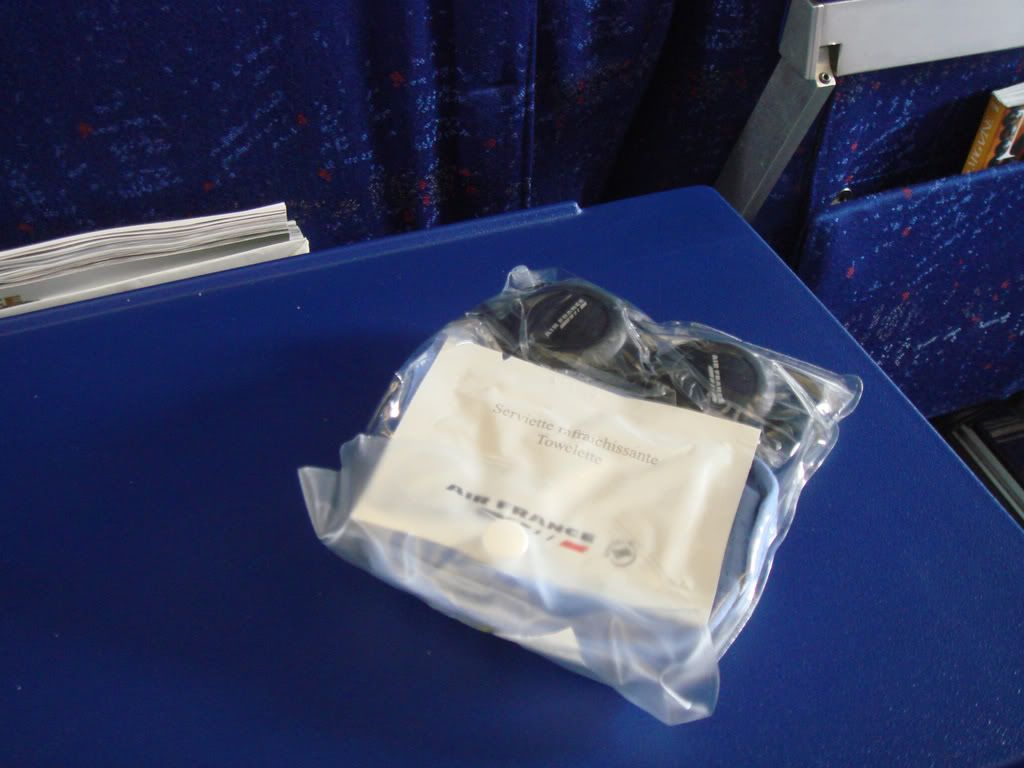 Comfort pack
The captain announced that we were delayed a little further, more air traffic stuff arising from the bad weather in Paris this morning. Not long after we pushed back and taxied for a quick take off into the cloudy sky. Flight time to Damascus would be 4h 20m.
After take off the flight attendants distributed the mini comfort packs AF offer Tempo passengers on long-haul flights, I had the same on a flight from Beirut last year on the 777. Following this, the menus were distributed. I like this touch, I wish BA and KLM would bring back menus in economy.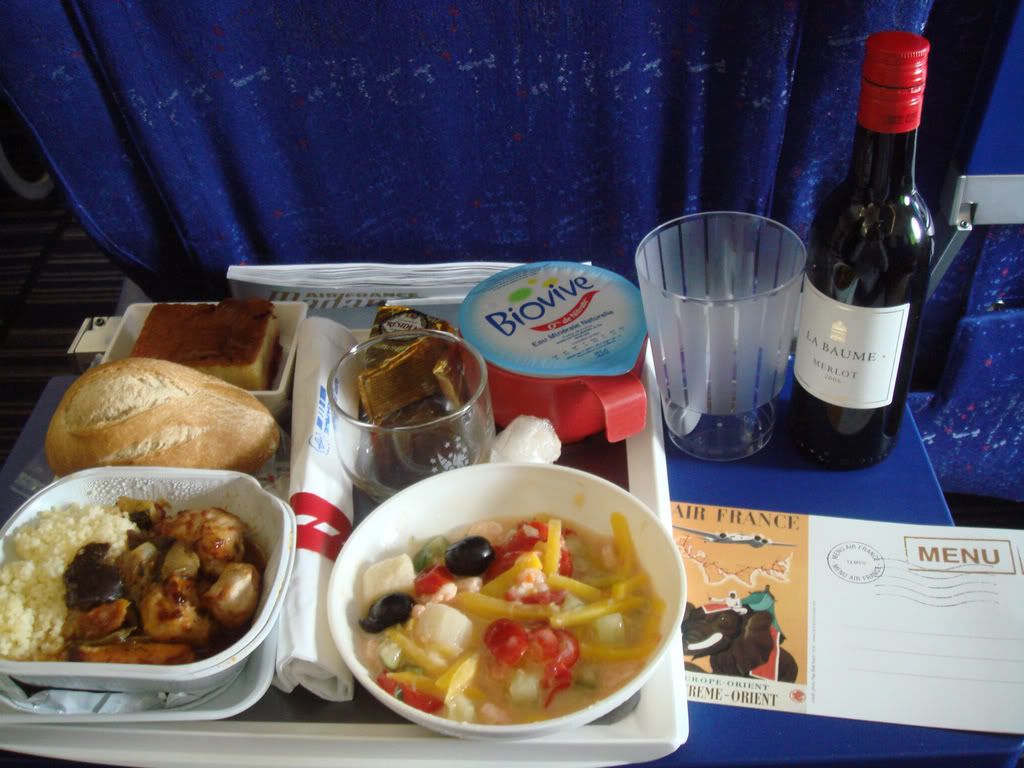 Meal
The meal was delicious, chicken and salad and a nice little desert complimented by some lovely red wine and crusty bread. The fa came around twice with bread, it was delicious with the president camembert cheese they offer.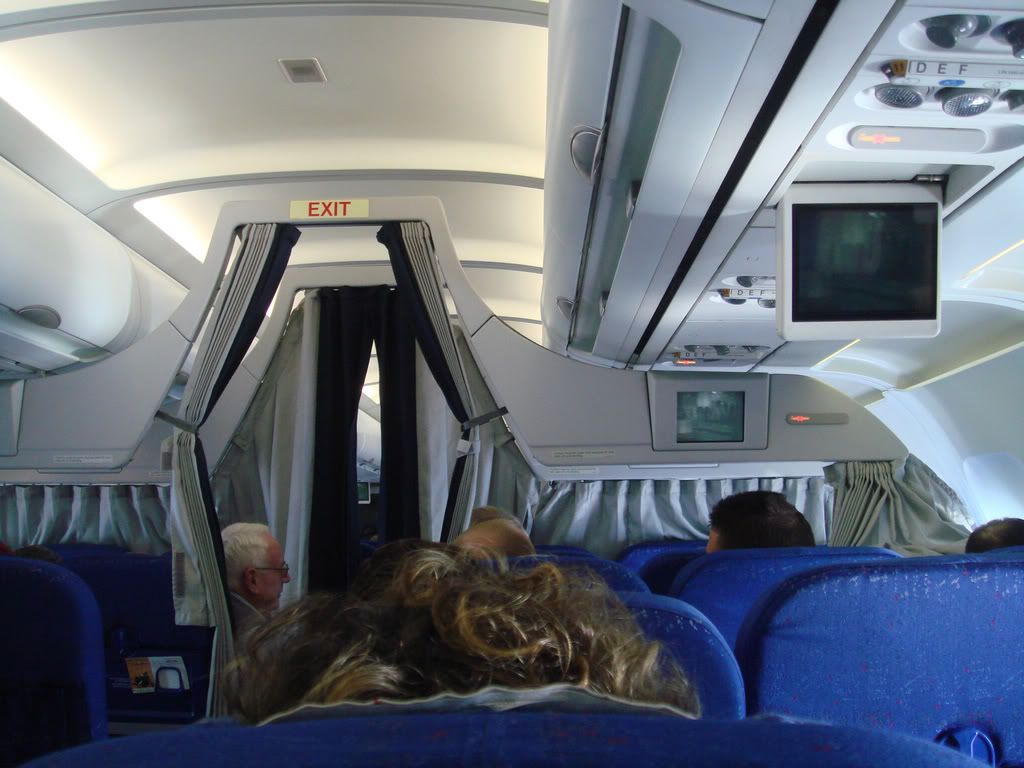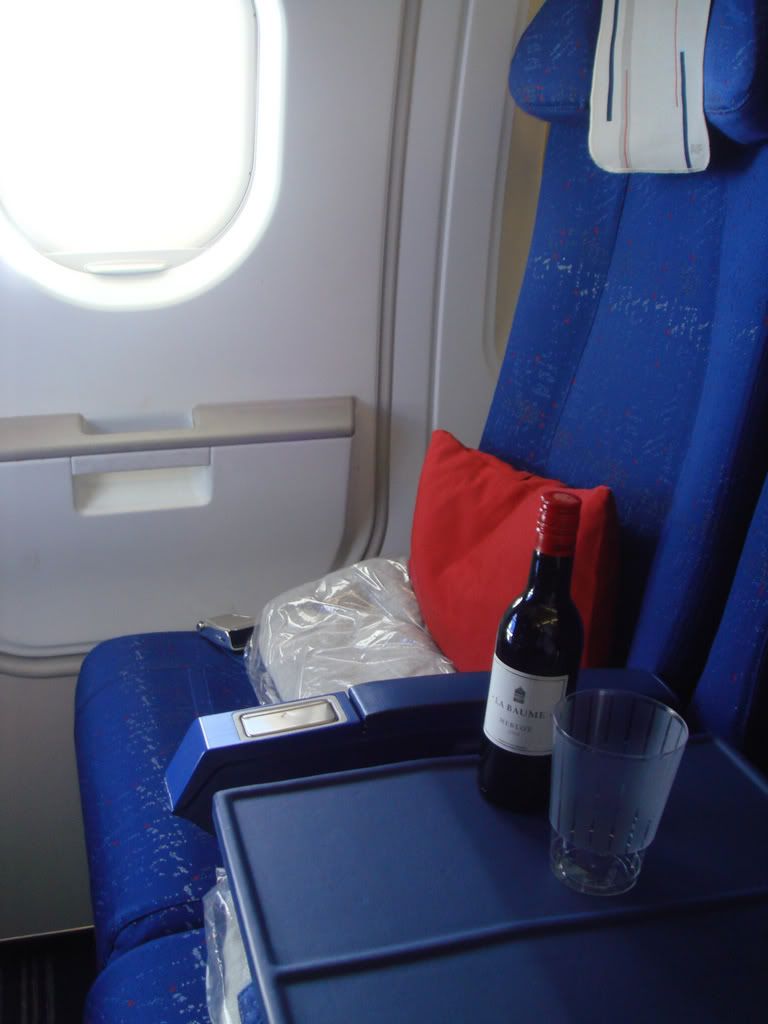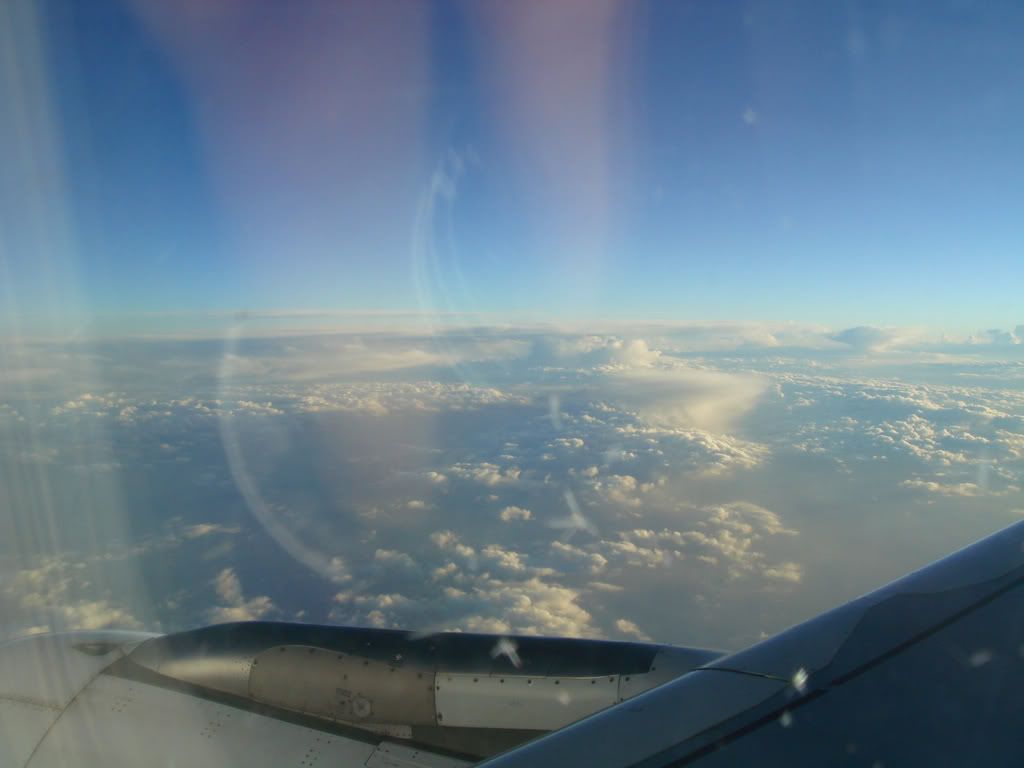 Following the meal and tea/coffee service I settled into the main cabin inflight entertainment program, which featured news and features. I must admit I love the AF safety video, the music seems really sleazy and the flight attendants prancing around the terminal like models, lol.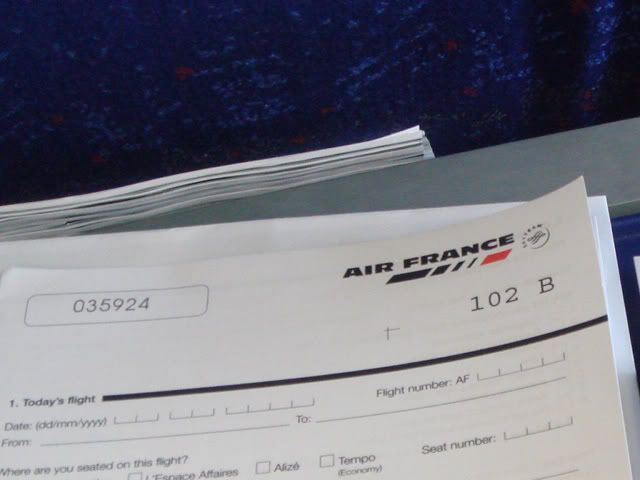 Air France Inflight Survey
A while later landing cards were distributed along with surveys to some passengers with a hertz pen, lucky me I got one and it was really thorough, asked a lot of questions, good way to pass the time.
About an hour out of Damascus drinks were served, I opted again for a red wine. The fa was really nice and professional and she complimented me on how young I looked, which I thought was weird because I'm far from young. Anyway, we had a good laugh about it.
Before the decent into Damascus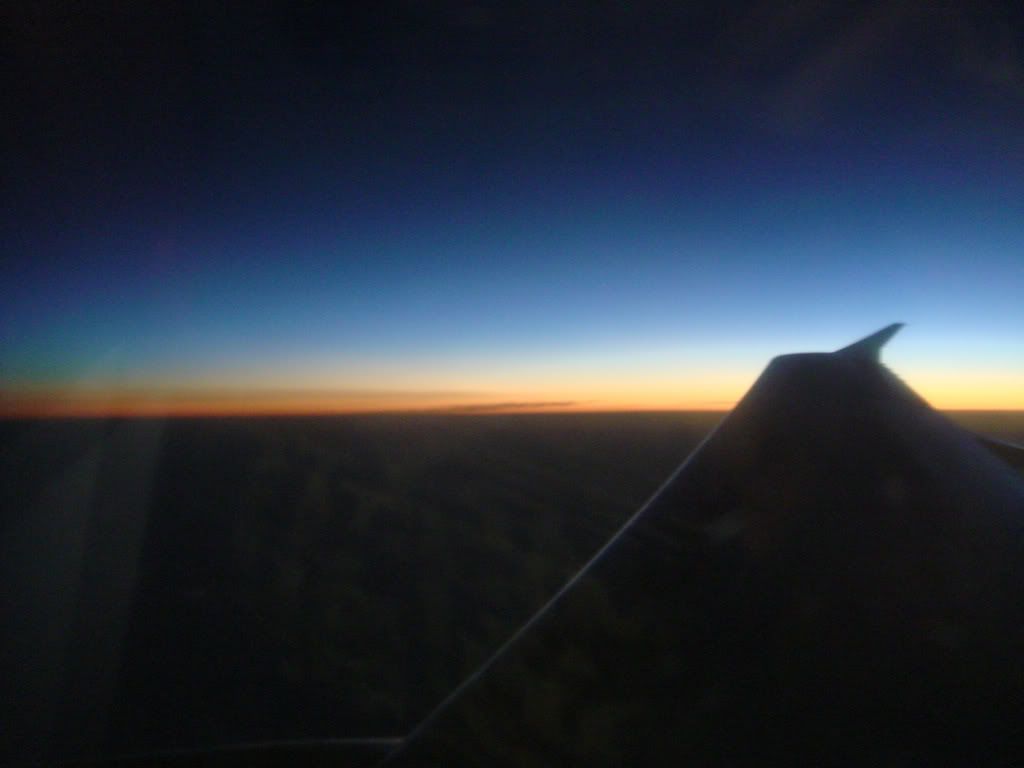 The road to Damascus?
Inflight Entertainment shutdown
Soon we were banking and turning before the lights of Damascus appeared we were on approach. We landed about an hour late in total and there wasn't much ramp activity except for a few Syrian A320's and a 727. Immigration took a while and the bags were waiting beside the carrousel when we finally got through. Took a reasonably priced taxi to my hotel for the next 2 nights, the Sheraton Damascus.
Air France are fast becoming my airline of choice, I really find their service excellent in economy, I've tried Business with them once intra Europe and it was good too, but connecting at CDG is definitely a pleasant experience. I didn't expect this mid-haul A320 flight to be as good as other bigger aircraft I've flown with them, but they really had all the little touches to make it seem like a long haul flight.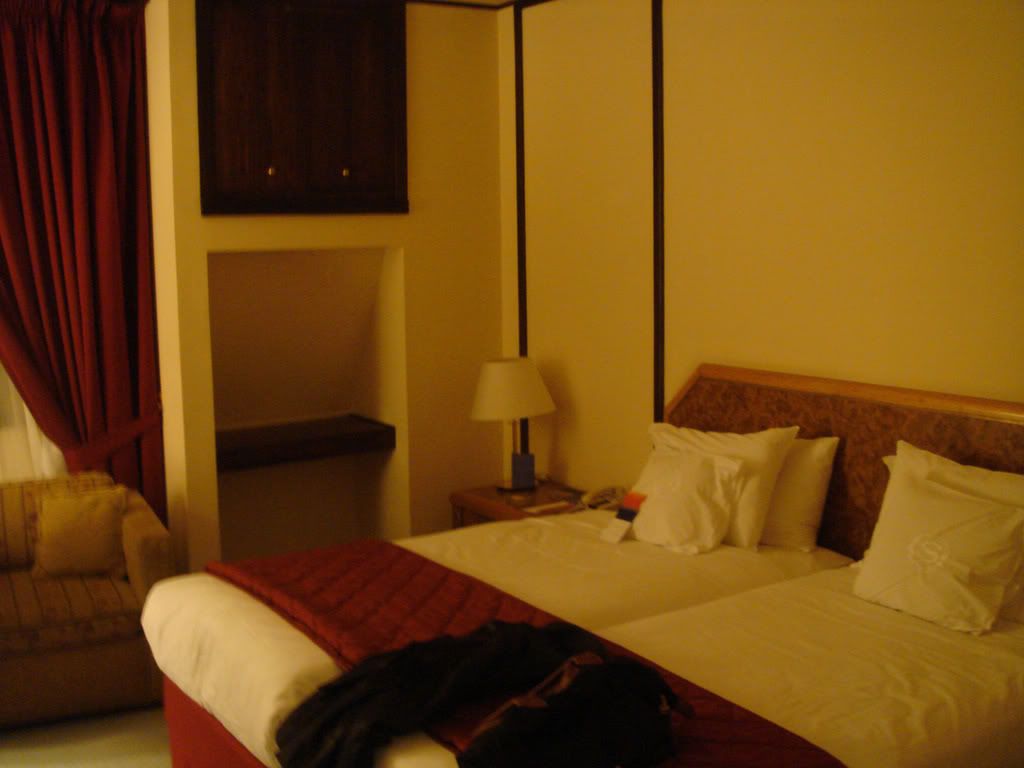 Sheraton Damascus
Pool Area
DAMASCUS – ALEPPO
04/10/07
RB114
Dep. 18:00
Seat 1C (C)
A320-200 YK-AKA
After 2 great, if a little quiet days and nights (being Ramadan) in Damascus, it was time to head north to Aleppo, the worlds oldest continuiously inhabited city, also known as Helab. I had booked the tickets through Syrianair's website a few weeks before, it seemed very functional, but when I got to the end of the reservation process, it simply gave be a booking reference number and told me to pay at a Syrianair office. Odd I though, but ok, the fare was very reasonable. In Damascus I went to the office where, I waited for ages, then finally the clerk issued the booking and told me to proceed to the cashier, where, the sum differed from my printout. I quiered it and it turns out they made the reservation for 3 people, me, my traveling companion and me again. Very strange. I also was perplexed when he asked me to pay in Syrian pounds, I pointed out the large 'Visa' sign behind him but he didn't say anything, finally he said it was because it was a domestic flight. Fair enough. Hardly hassle free, but I had my tickets.
I headed out to the airport early to sus the place out since I'd be flying in a few days to Tehran via Dubai from here… it was really busy. First there was a queue to go through baggage screening where they also checked your passport. The departures area was packed with Hadj pilgrims in their robes, and a nice security guy beckoned me to go to his screening area at the side, rather than wait at the back of the scrum. Once inside the check-in area I went up to the Syrian Air 'Business Class' line, with a big sign over it. There were a few people in line, when I got to the agent she took my printed invoice (this was the ticket) and looked perplexed. She asked if I was flying Syrian Air, I said yes, then she told me this was Emirates check-in. How odd, but Syrian Air handle all airlines at Damascus so she told me check in for Syrian Air was over at another area. So, I waited a bit longer until the check-in counter for my flight opened and was given boarding cards and I enquired about the lounge, which the agent told me was upstairs in the departures area.
Went through passport control, had a debate with two immigration officers as to weather my passport should be stamped or not since I was flying domestically, in the end not, although both informed me differently. Took the escalator up to the departures floor and saw the cute little entrance to the Syrian Air Business Class lounge.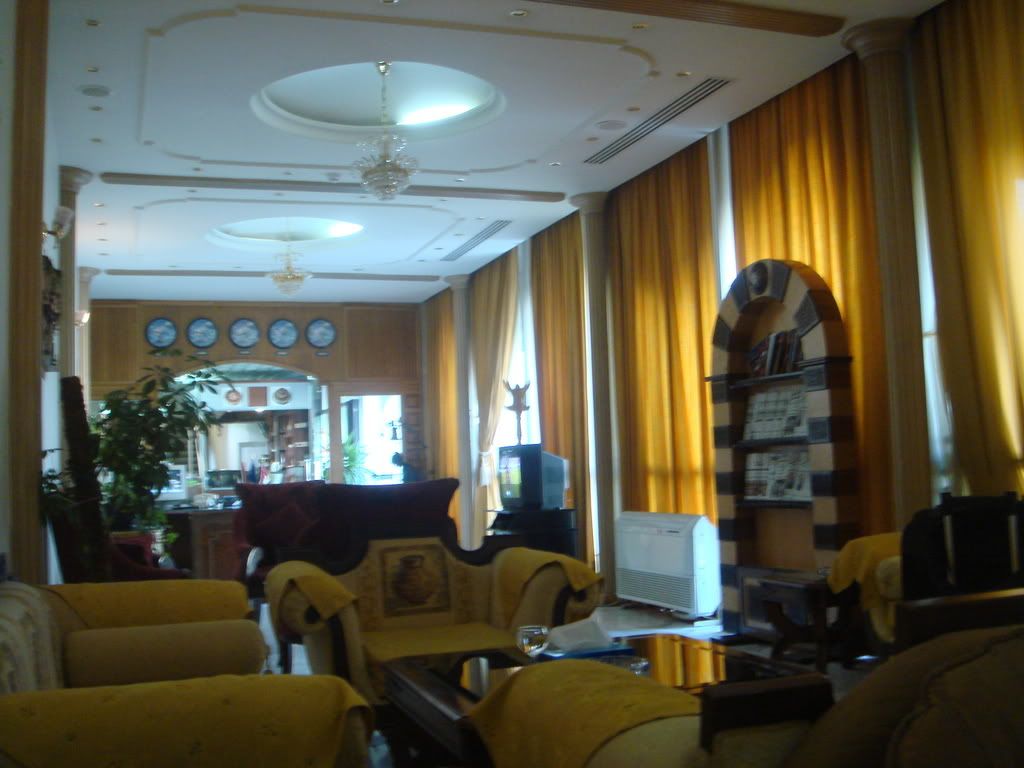 The man at the desk took my boarding cards, invited me to take a seat and asked me what I would like to drink. Surveying the options which included Frexilet Cava, I opted for a cold beer. I got a nice mini-pint glass of Bavaria or something like that, and it was refreshing.
There was just one other passenger in the small lounge, he was also on the same flight to Aleppo. I helped myself from the buffet to some baklava and dates (delicious).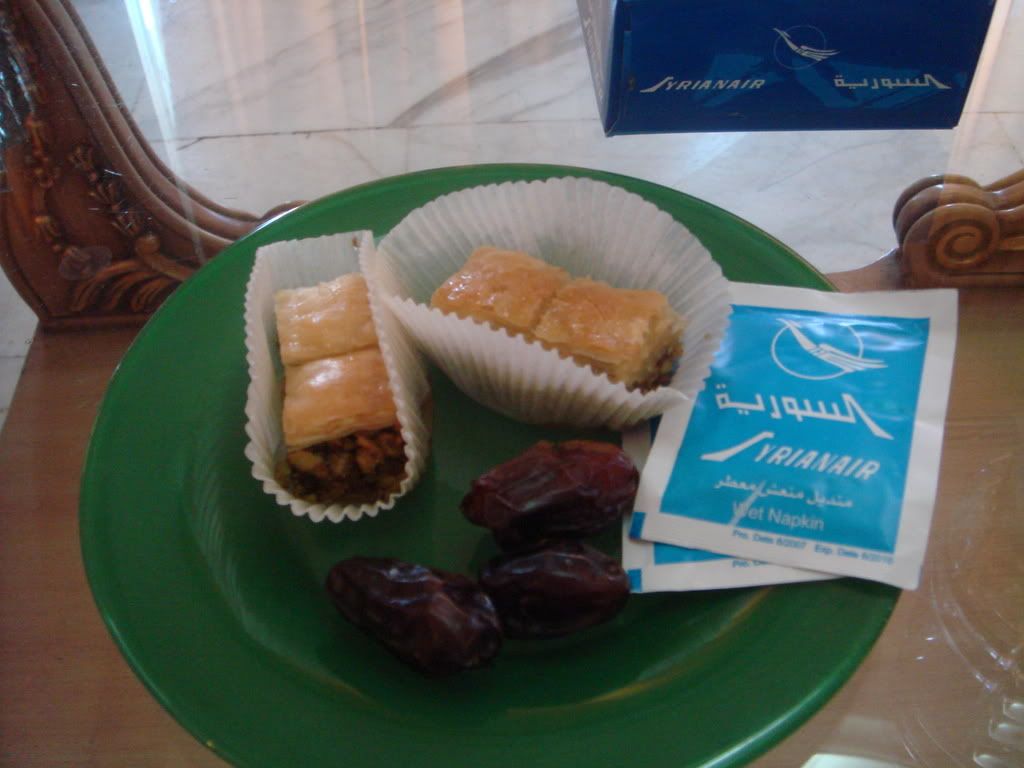 Soon it was time to head downstairs to the hard-stand boarding area, where we would be bussed to our aircraft.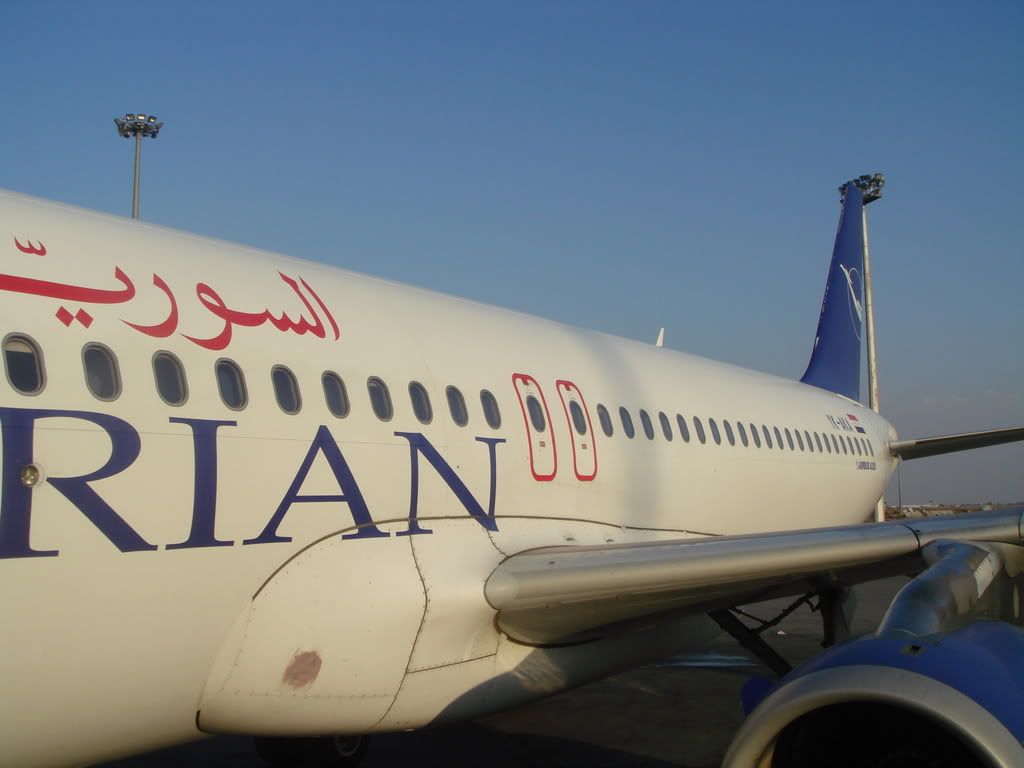 Once onboard I was welcomed by a steward and a female fa, I took my seat in 1C, with my traveling companion across the aisle from me. There were 2 more bus loads of passengers to come and in the meantime the fa offered me a glass of juice. Business was only 2 rows on the aircraft and from what I could see there were only 2 other passengers, the other seat being occupied by another captain. There were no inflight magazines  only Arabic newspapers. The middle seat had one of those small little tables that keeps it free. Other than that we waited for a while and I thought it was funny because the crew kept the flight logs and information sheets in the magazine rack on the bulkhead. There wasn't much activity at the airport, just an Emirates A330-200 pushed back for Dubai.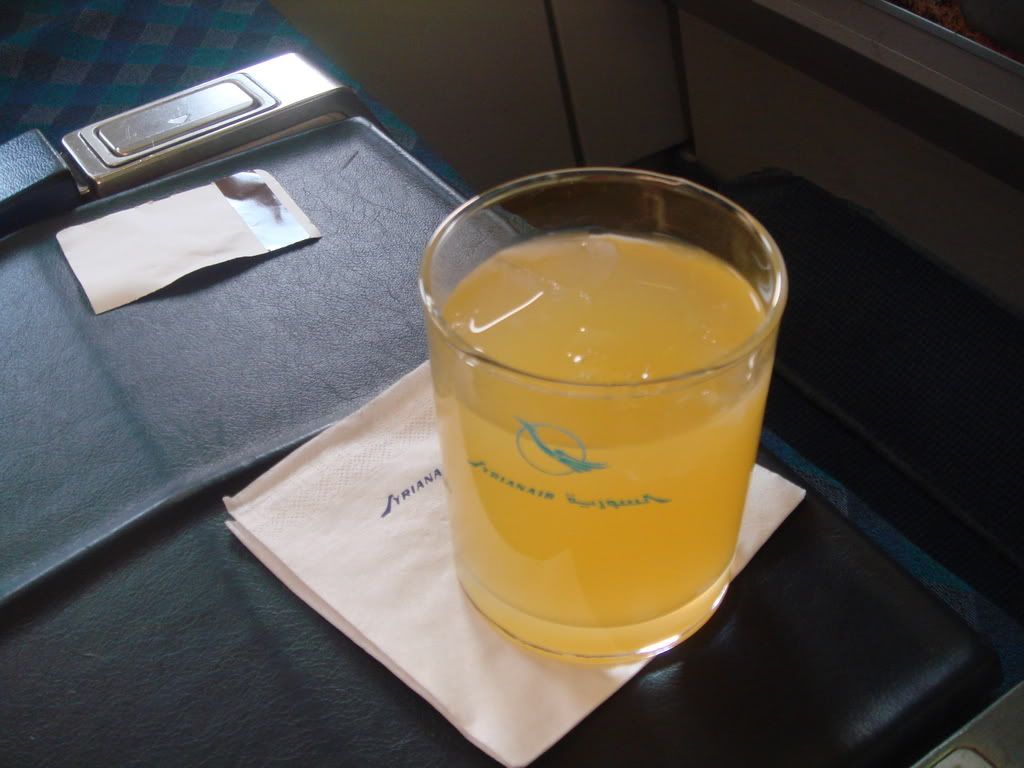 Soon we were on our way and after a quick taxi flew out and banked over the outskirts of Damascus. Our flight time was announced at 40 minutes. The seatbelt sign was quickly turned off and the fa came round and asked me what I would like to drink. I didn't know what they had (booze) so I asked her, turns out they had a choice of juices/soft drinks so I asked for a 7 Up and she asked weather I wanted diet or regular, so I had diet. It was served with a lovely little queen cake  on a nice Syrian Air plate.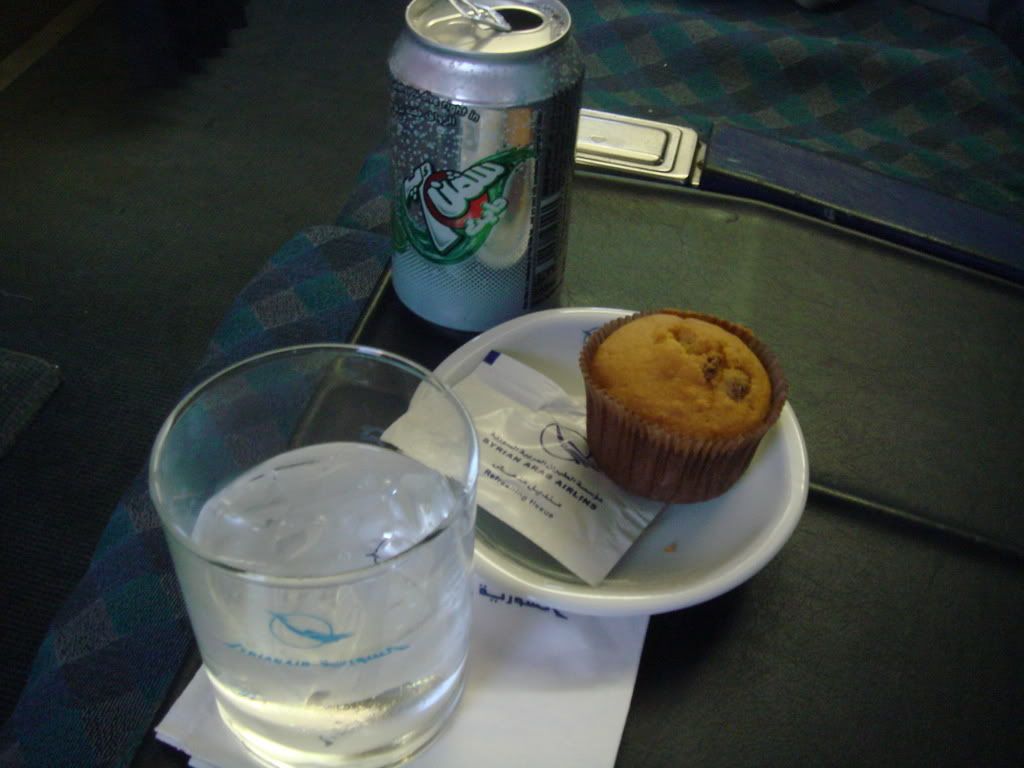 Notice the really cool bulkhead designs featuring the famous Syrian landmarks, Citadel of Bosra and Palmyra.
Day becomes night
After the fa cleared up I could hear the buzzzsawww engines decrease and we started our decent. Landing in pitch black around 10mins ahead of schedule was quite good I thought, and we deplaned using an airbride at the terminal. There didn't seem to be much activity around the airport, ours being the only flight. Our bags were amoung the first to appear on the carousel and I noticed my friend's bag had a red Syrian Air 'First Class' tag attached to it which mine didn't
.
Spent a great few days in Aleppo at the lovely new Sheraton where I was pleased to get an upgrade to a club level room thanks to my spg status
.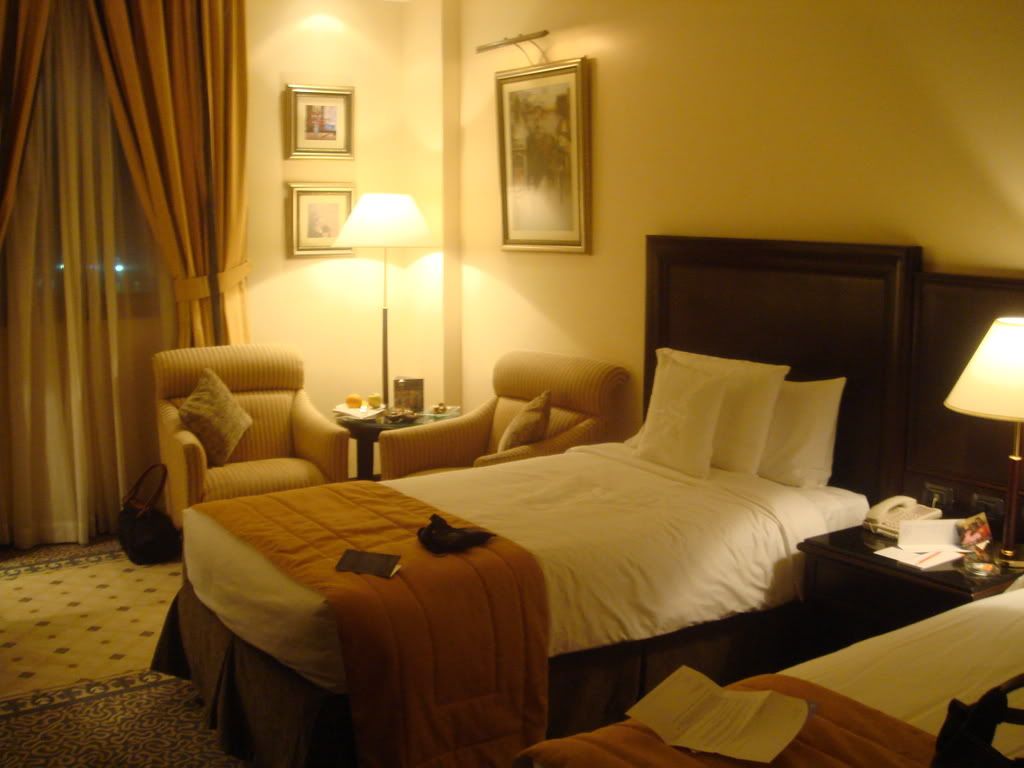 Sheraton Aleppo
ALEPPO – DAMASCUS
06/10/07
RB 436
Dep. 18:15
Seat 5E (Y)
A320-200 YK-AKB
It was time to go to Tehran, which would involve an overnight in Damascus at the Sheraton again and a transfer in Dubai since we were flying with Emirates.
I had a late check out from the hotel at 4pm (although I could have stayed until 9), so I grabbed a taxi to take us to the airport. Arrived with lots of time to spare and proceeded through to the check-in area where 2 counters were open handling our flight. There didn't seem to be any other activity. I did notice a ticket counter for British Airways (BMED) but I think their flight leaves early in the morning.
The line for check in was quite long, with a group of Turkish traders in front of me. Eventually I got to the counter and was checked in. Shortly afterwards I went through passport control and upstairs to the main departures area. I browsed around the duty free for a while, the prices were very cheap indeed, especially for cigarettes and alcohol.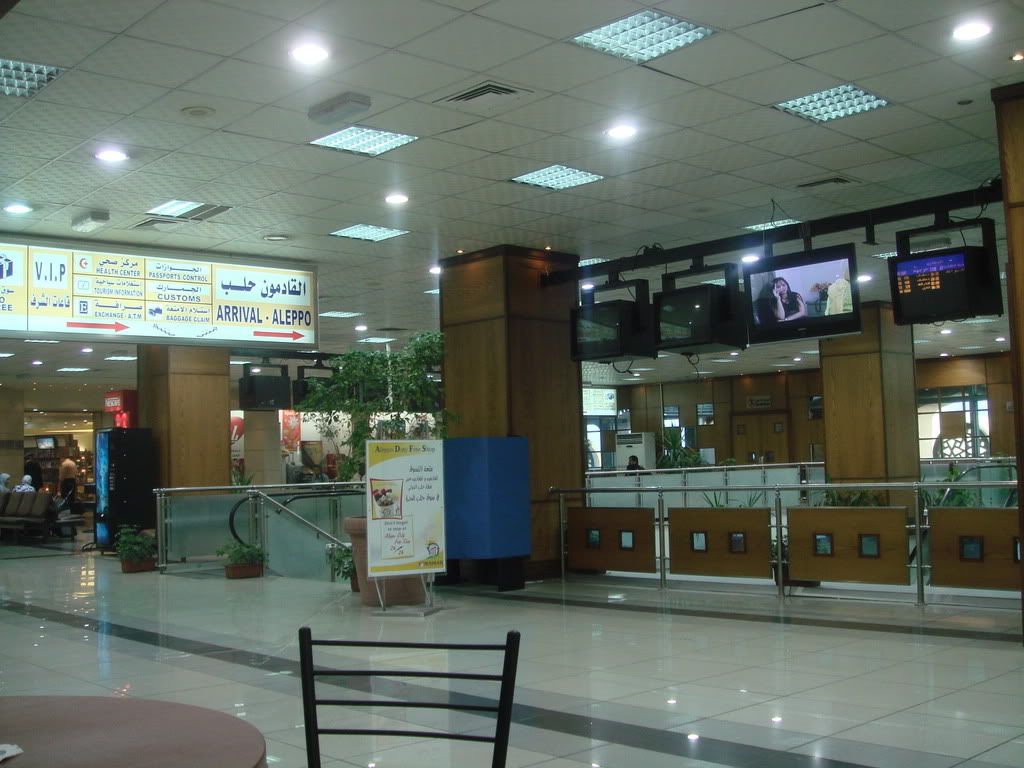 Departures area
The flight wasn't boarding for another while so I took a seat at the little café and ordered a vodka and 7Up. The boarding gate was right next to me and soon a crowd seem to amass and boarding was called. After another drink when the que had died down a bit I went through security and took a seat, only there was no plane. About 20 minutes later a plane did land and taxi on stand. The flight turned out to be late in arriving from wherever. In total we were about 45 minutes late.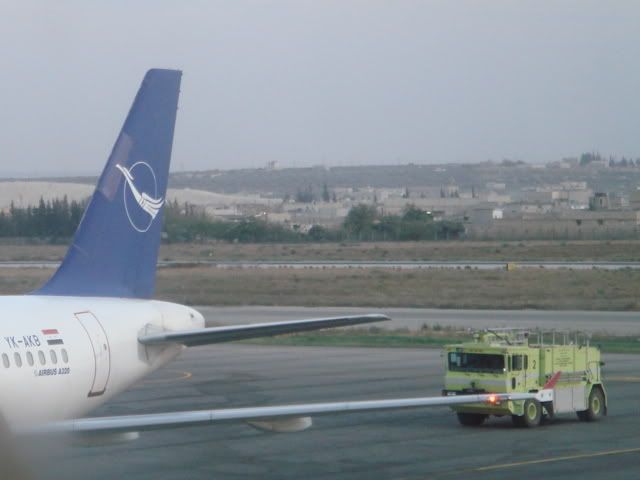 Our aircraft
On board I went to my assigned seat to see it occupied, but the fa just told me to sit somewhere else, indicating a free aisle seat just behind the curtain, so I sat there next to two rather large german ladies. I guessed the flight had come from Germany since there were a load of german newspapers stuffed into my seatpocket. The seats in economy were really comfortable and there was lots of legroom, quite different to the usual A320. Something I noticed about this aircraft was that unlike the previous flight, it didn't have the colourful bulkhead images.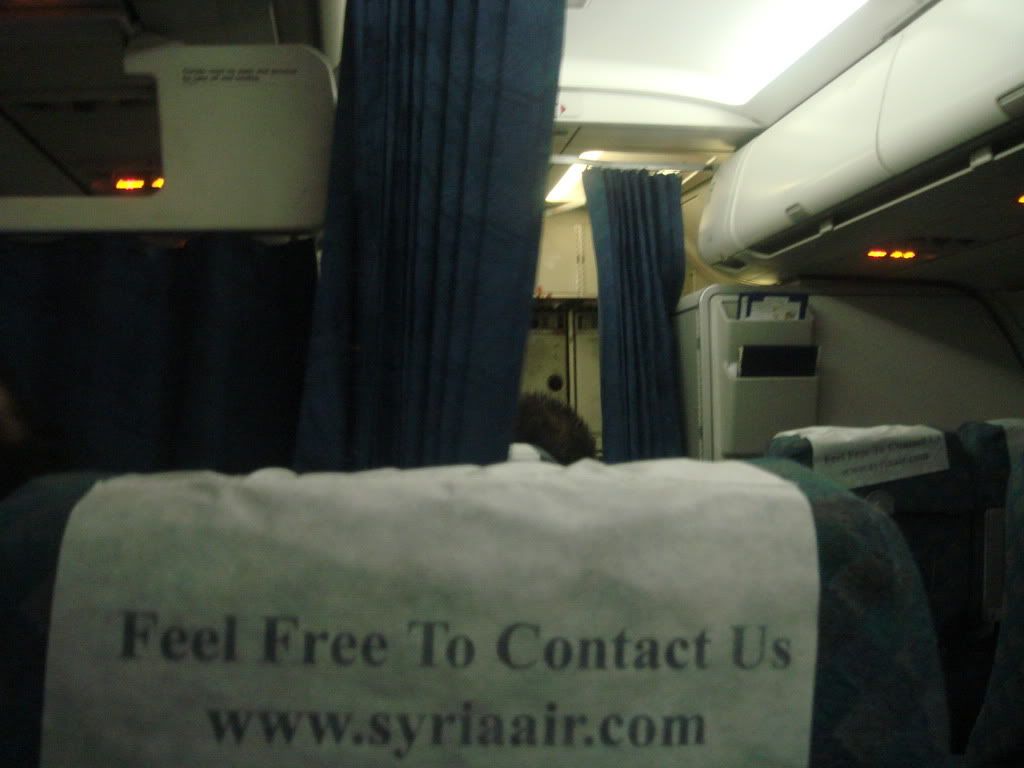 The by now notorious Syrian Air cake
Take off was quick and soon the inflight service began, yes, you guessed it, a soft drink and a little cake again. The drinks trolley was quite amusing, it really was a trolley in the literal sense of the word. I opted for a 7Up, which was poured from the can.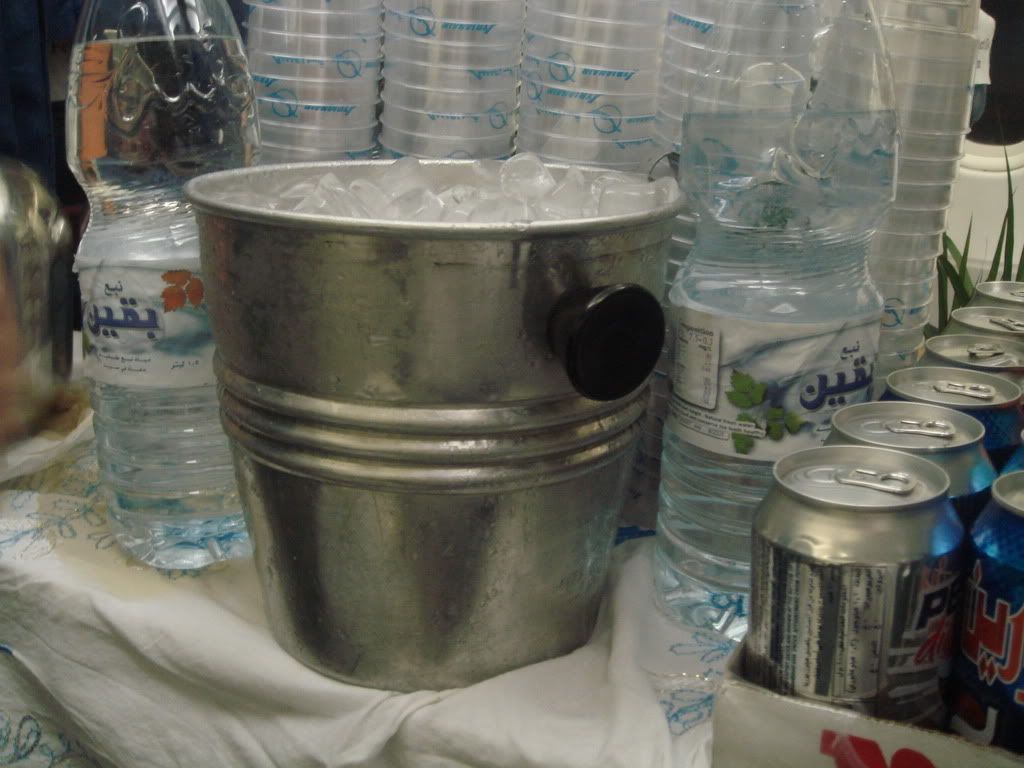 Decent and arrival were fairly standard, we taxied in past a few other Syrianair aircraft and their 747SP. We deplaned via airbridge this time and I rushed through passport control not having to clear immigration. Then I waited for the bags which were almost last to arrive.
All in all I can't fault Syrianair. Domestically they are great, the only issue being the ticketing. I look forward to flying them again in the future.
Next Report DAM/DXB/THR/AMS/DUB