Hello there and thanks for choosing to read this trip report.
Im sorry if the pics take a while to load.
Omega holidays were offering a trip to spend a day with Mytravel, looking at their operations, training centre,talks and presentations from pilots and other crew, a 55min flight including a go around at Liverpool with full commentary from the flight deck and ATC, buffet lunch and a trip to the Mytravel hanger at manchester. The price for this day was £159.
The user ThomasCook did a fantastic review earlier in the year, which made me book it. And i doubt my review can match his.
Before i start may i thank all the staff, from the ground crew to the directors and managers for this fantastic day i was very fortunate to go on. You all worked very hard to make it enjoyable, and your professional attitude made you all shine.
Onto the report.
Prior to the day, an leaflet was sent, documenting the events for the day and an approximate time. We were all split into colour coded groups, and some groups did the hangar in the morning and alteon centre in the afternoon and the others did the reverse. I was in the 'Green' group and did the alteon centre in the morning.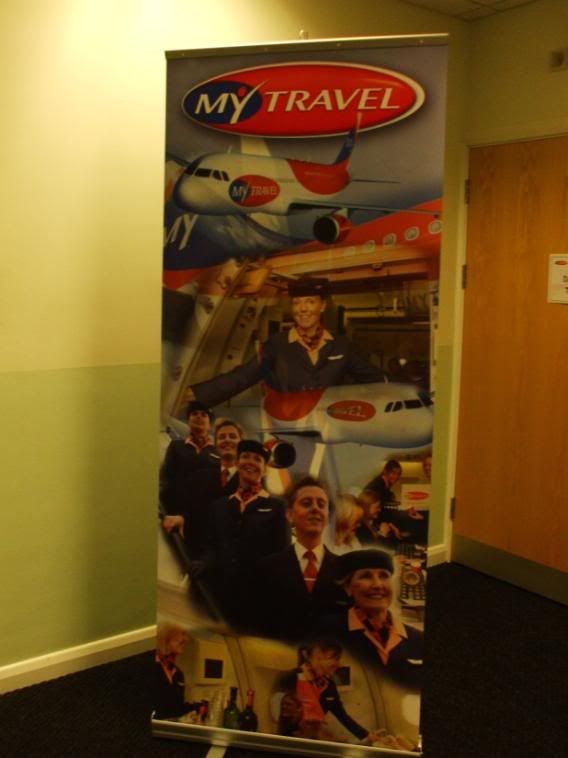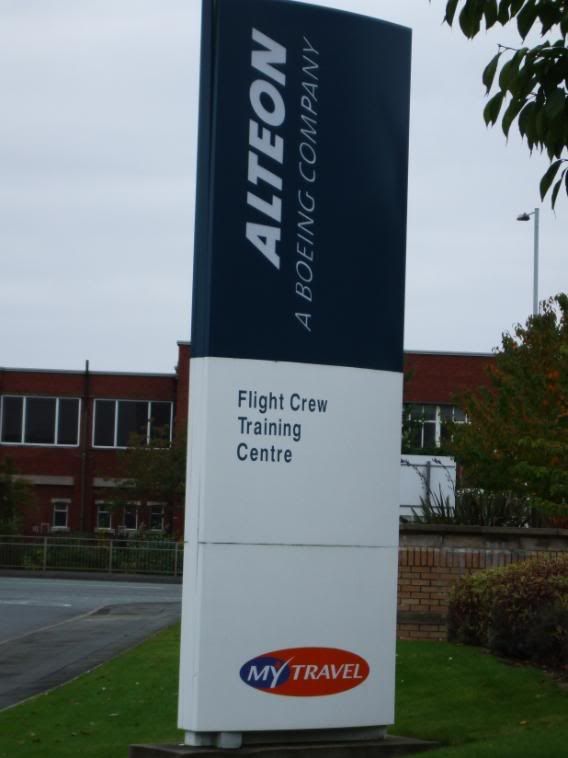 As soon as i arrived i was directed to go to 'check in' where i was presented with a pack containing some flight plans, welcome letter and a questionairre. Also included was a keyring, pen and alteon sticker. A very nice touch.
I proceeded to the classroom where we were to gather, which was showing the ITVV Airtours A330 MAN-SFB video on the projector screen.
Soon enough, a lady came in and gave some information on mytravels background and we were invited to ask any questions we had at any point.
After this we then moved into another classroom and had a talk on fire safety, and volunteers were picked to fight some fires outside.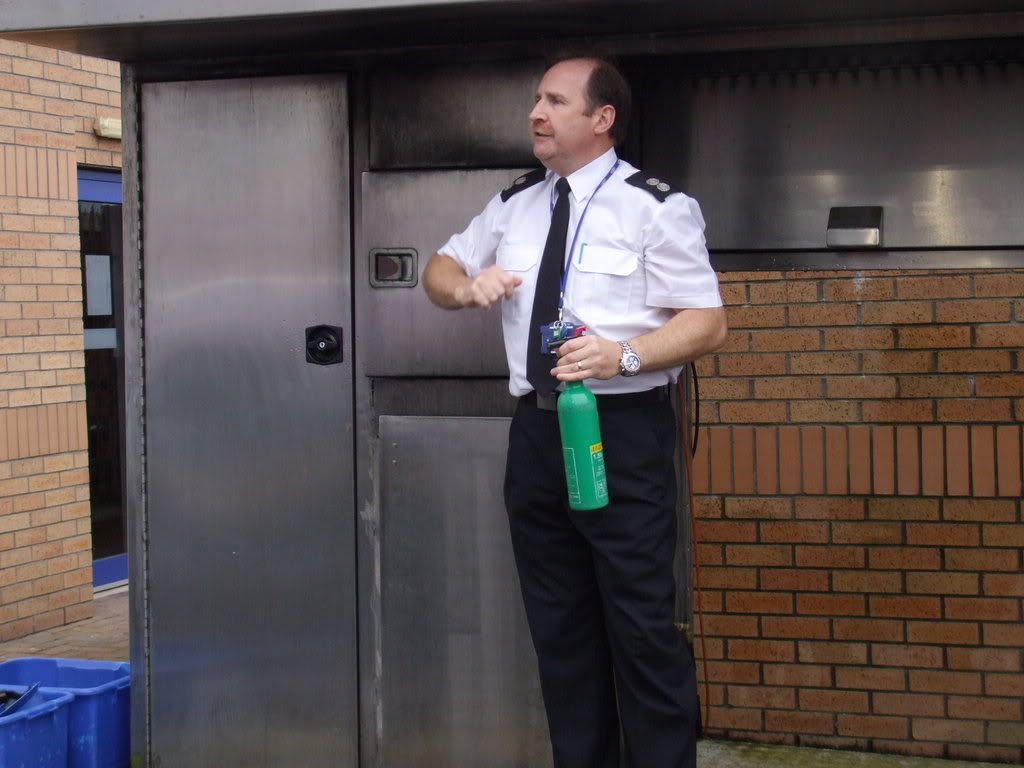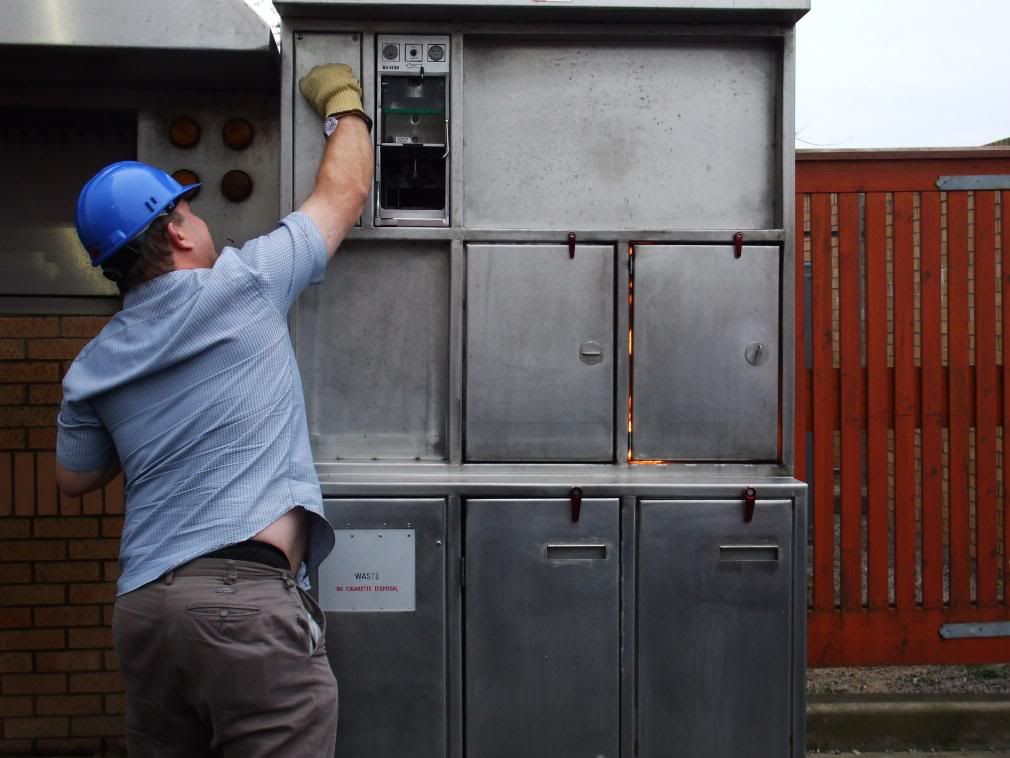 Soon enough this was over and it was time to visit the physical training hall. This contains a 757 Cabin with a 757 and A320 door which they filled with a little smoke to simulate what it would be like in an emergency Also an A330 evacuation slide (Sadly we couldnt have a go on this due to 'health and safety'. Very upset, id have even signed a disclaimer!!! Also was a little 767 type cabin where a cabin crew trainer showed us how to operate the door, both automatically and manually.
Here are some pics from inside the training hall.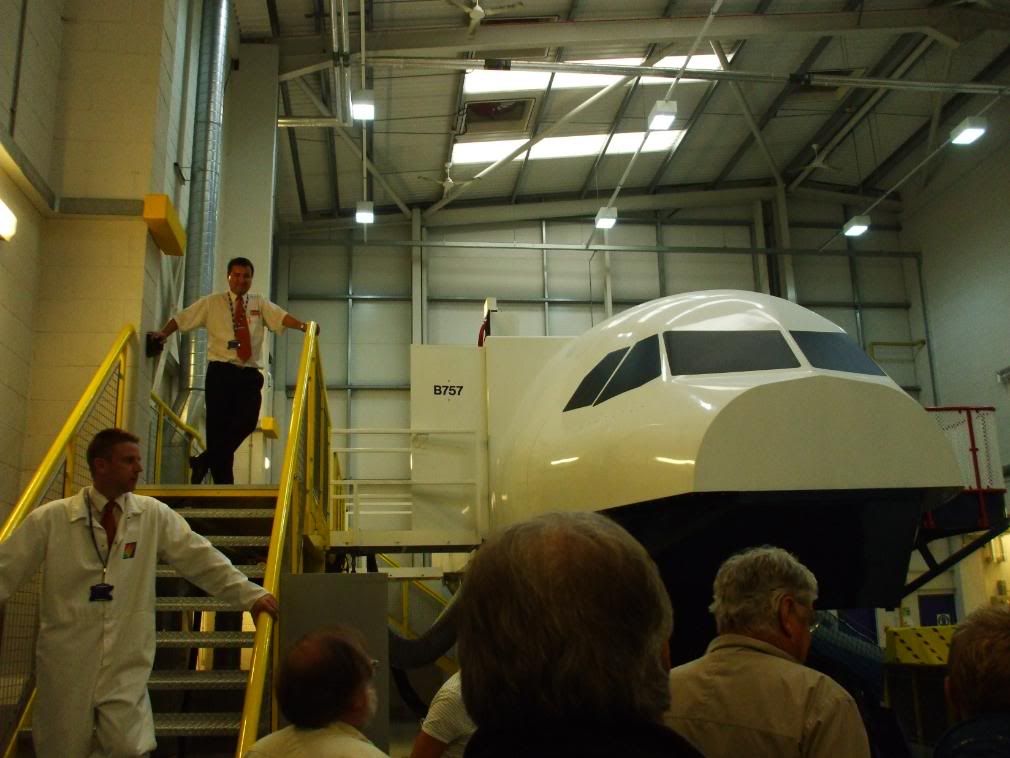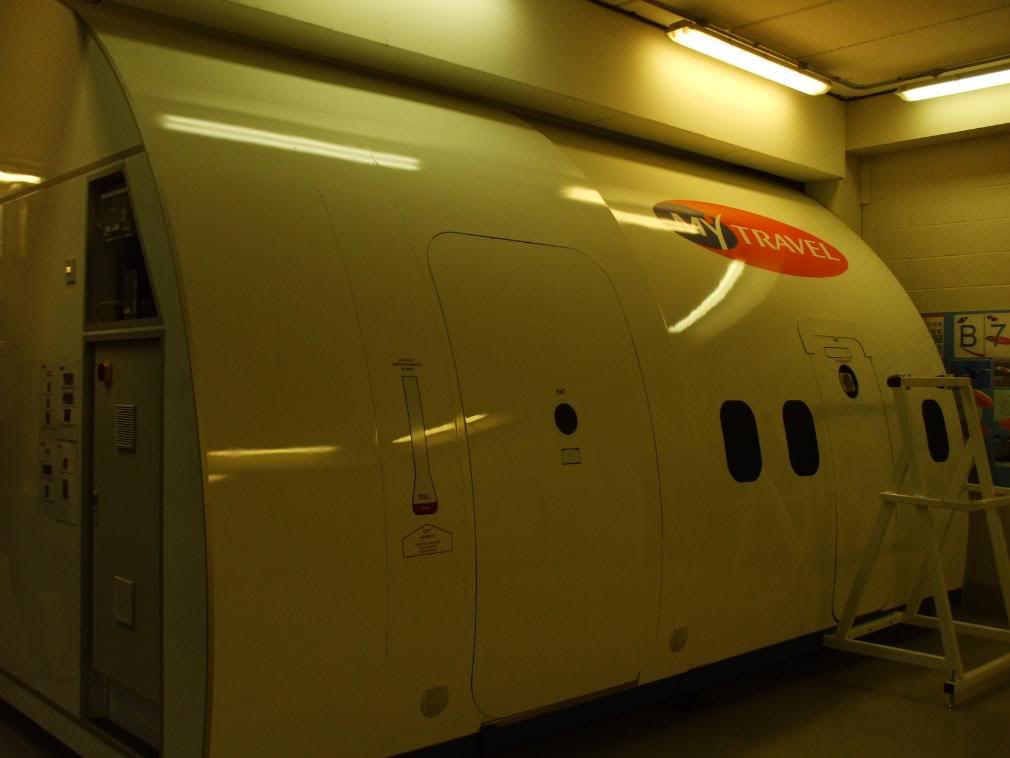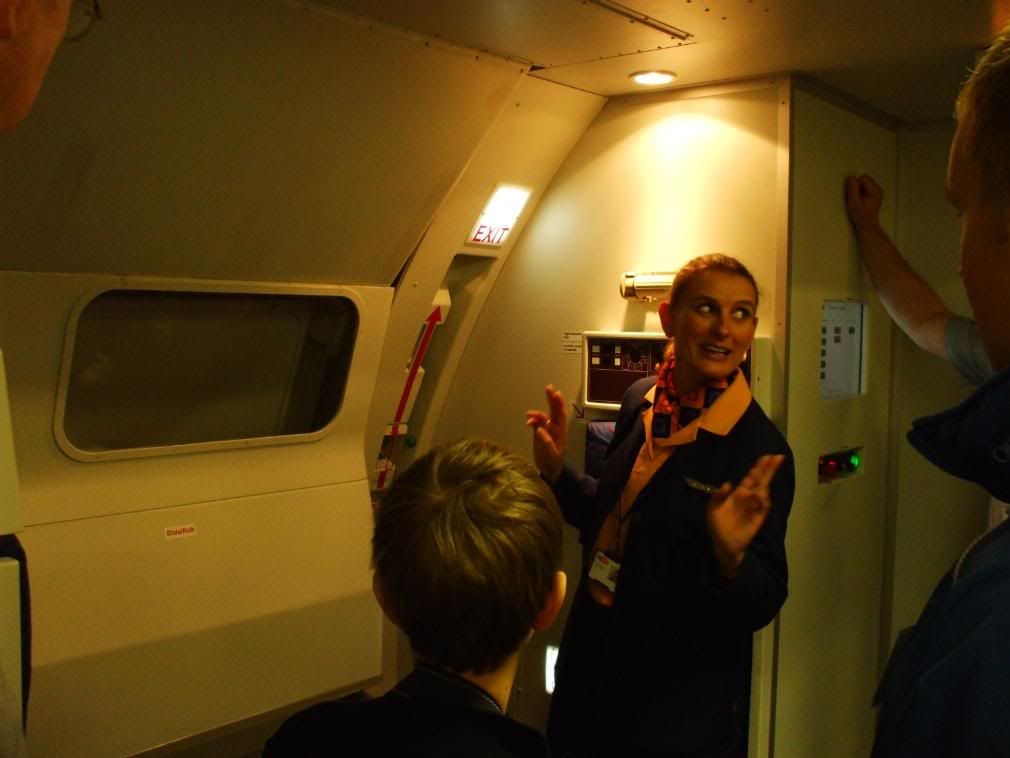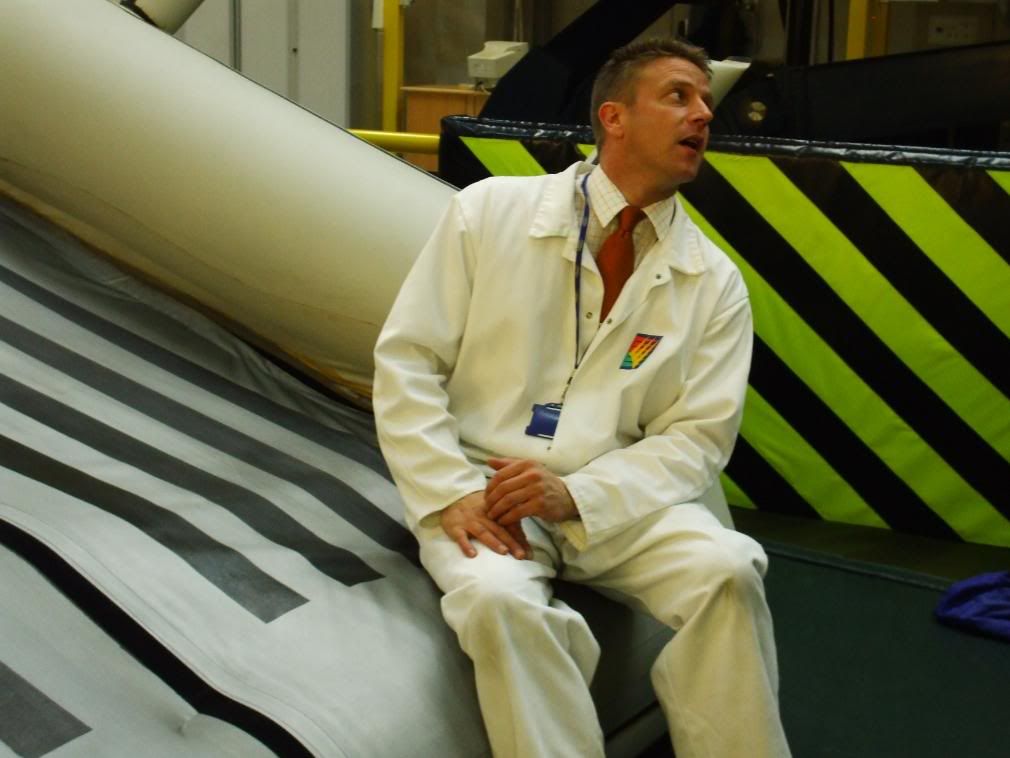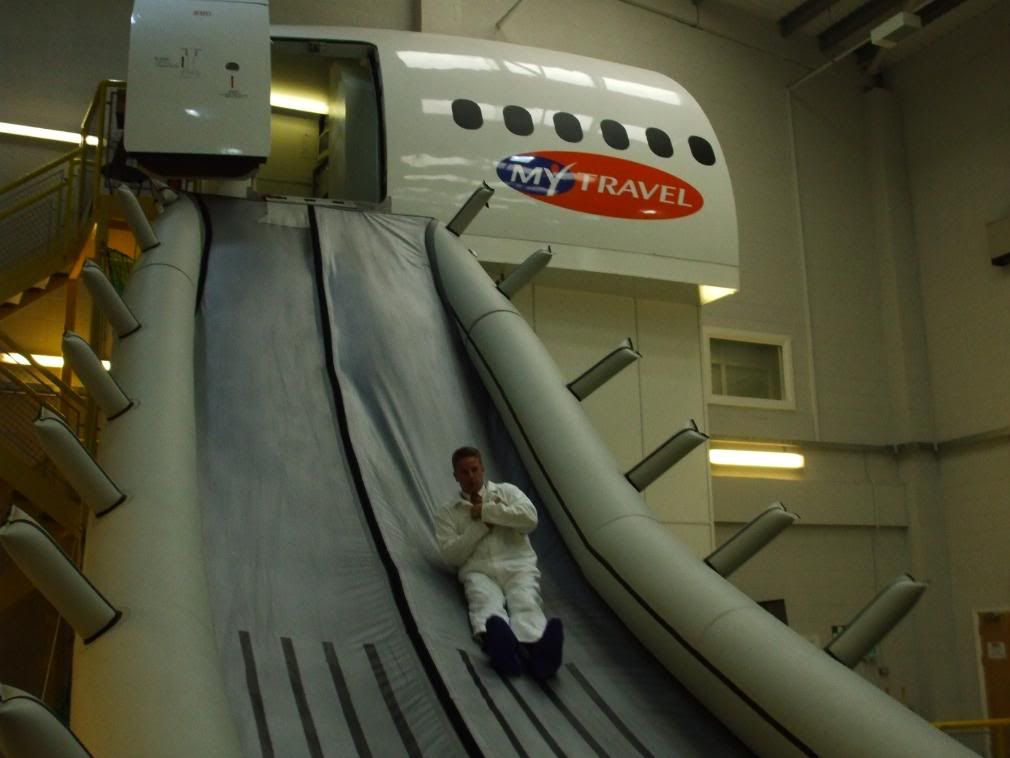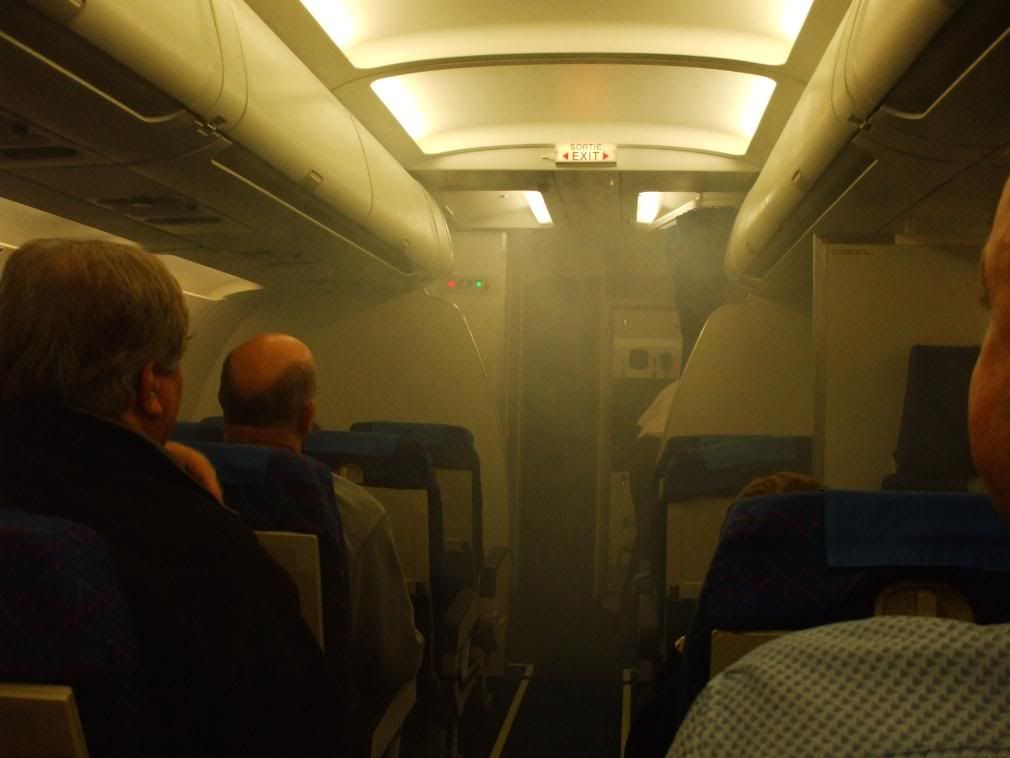 After this, it was time for lunch. Not really a whole lot to choose from which was quite disappointing really.
Also they had a souvenir table, where models and other items were available for purchase.
After we all had a brief chat, it was time to be ushered for boarding of the coaches to take us to manchester terminal 1.
It was about a 15min ride, and as we had our boarding passes already we bombarded fast track security. It did look quite funny on the information screens as MYT7317 To Manchester. Quite a lot of people were pointing with confused looks on their faces. We made our way to gate 23, and were advised not to stop at duty free or any shops as they wanted to get us on ASAP.
Our aircraft today was G-DHJH Airbus A321. Every seat was taken, im not suprised! I also noticed some MYT staff sitting at the back.
14th Oct
G-DHJH
A321
Gate 23 Departure
Stand 14 Arrival
Departure: Manchester MAN/EGCC
Destination: Manchester MAN/EGCC
Blocks off SCHD: 13:45
Fuel load: 7.8 tonnes
Load Factor: 100%
Callsign: Kestrel7317
Flight Number: MYT 7317
Seat: 31A (Yay window seat
)
As i was one of the last to board, the captain informed us the cabin crew were having to do a headcount as apparently we were 6 people down. This turned out to be incorrect and we were all aboard.
We pushed back whilst listening to the safety demo, and had full commentary.
We had 3 flight deck crew, one captain was providing the commentary from the jumpseat. He told us that the 'barking sound' common on the airbus fleet were the hydraulics testing themselves, as well as running through all the checklists prior to our departure.
ATC was fed through when we lined up on runway 23R, and i heard they had no details on us so we had to wait a little bit before we could take off. When full power was applied he advised us the engines were burning 4 tonnes of fuel per hour and V1 was around 140kts as i remember. Cruising altitude today was 5,000ft and involved heading on the WAL SID out of manchester.
After a very short time, we started the descent into Liverpool. As we hit 200ft, power was applied and we climbed straight ahead before turning right, to an altitude of 7,000ft and had a peak above the clouds at the sun (it was a typical manchester cloudy day on the ground).
We cruised for a while, then started the descent back into manchester to land on runway 23R. ILS was intercepted and we made a perfect touchdown followed by an exit on the high speed taxiway.
Applause followed, followed by a comment from the captain saying how it was 'much appreciated up at the front'
Pulled up onto stand 14, where coaches were waiting to take us to the arrivals area and also allowed for some picture time. 3 Mytravel engineering trucks came to greet us, and i exchanged a conversation with Captain Rob Burgess. Many thanks to you, i know my questions seemed never ending!
I managed to grab a few pics, before making my way on the coach and saying goodbye to Juliet Hotel as she got ready for her flight to Faro.
Some pics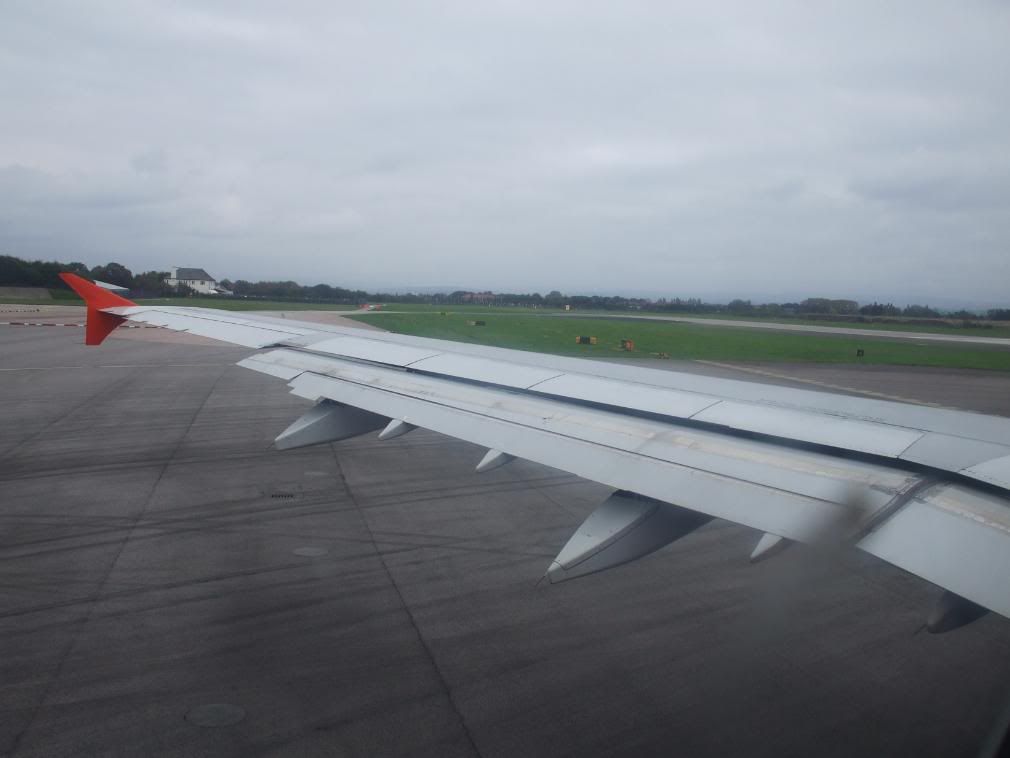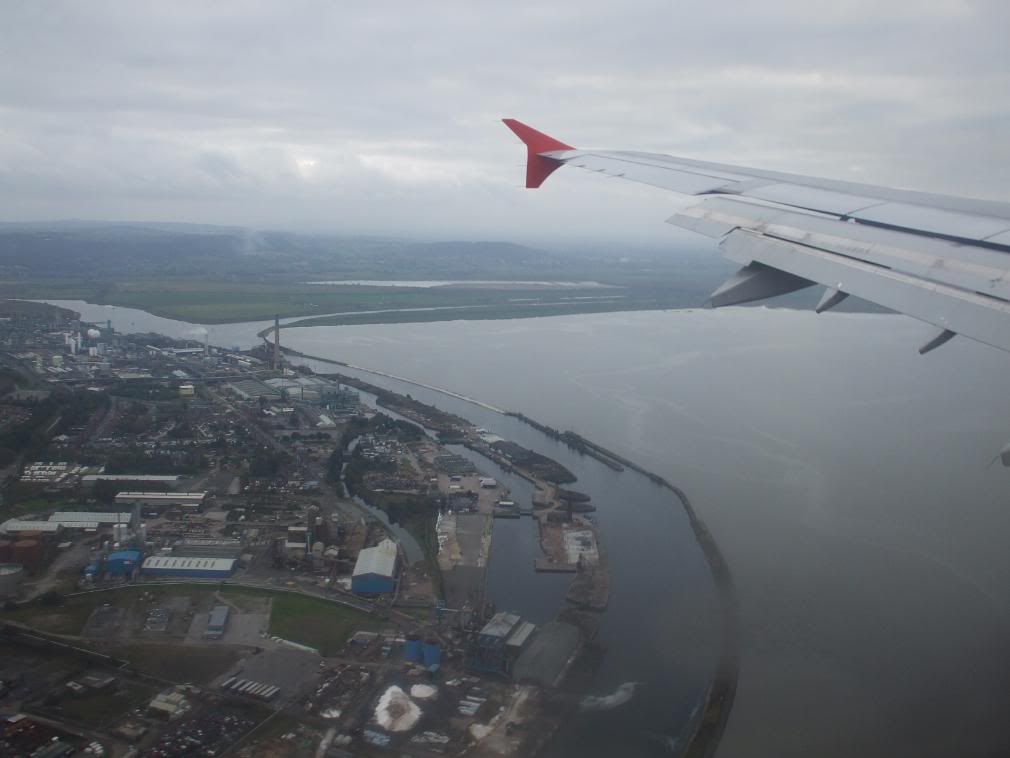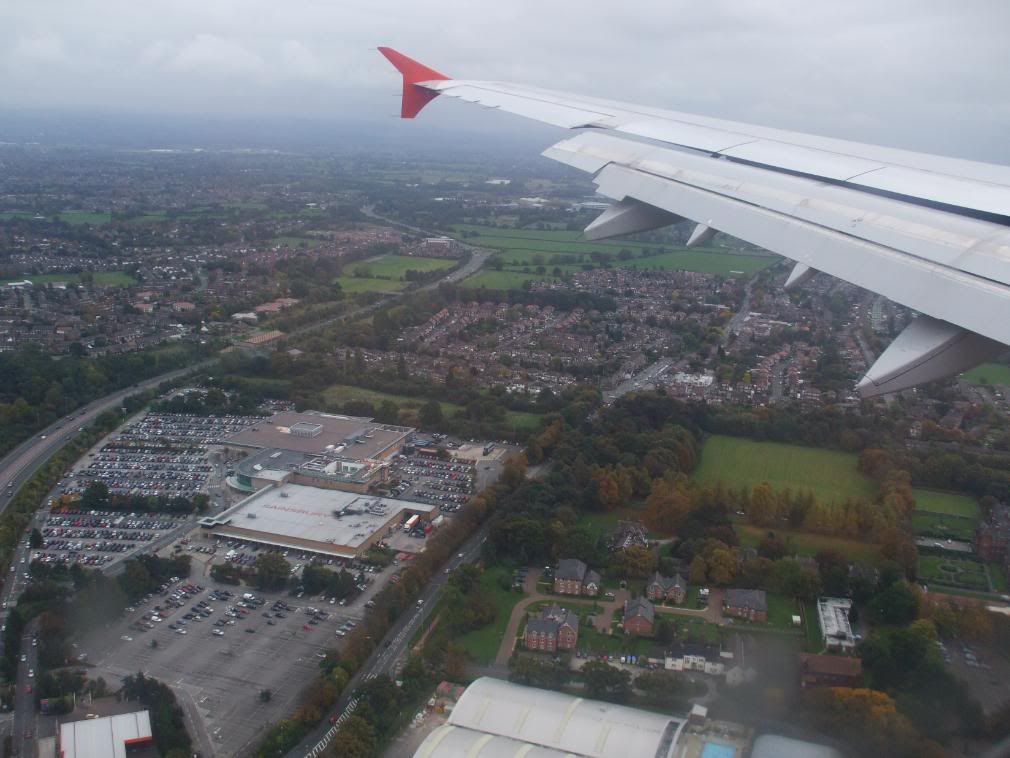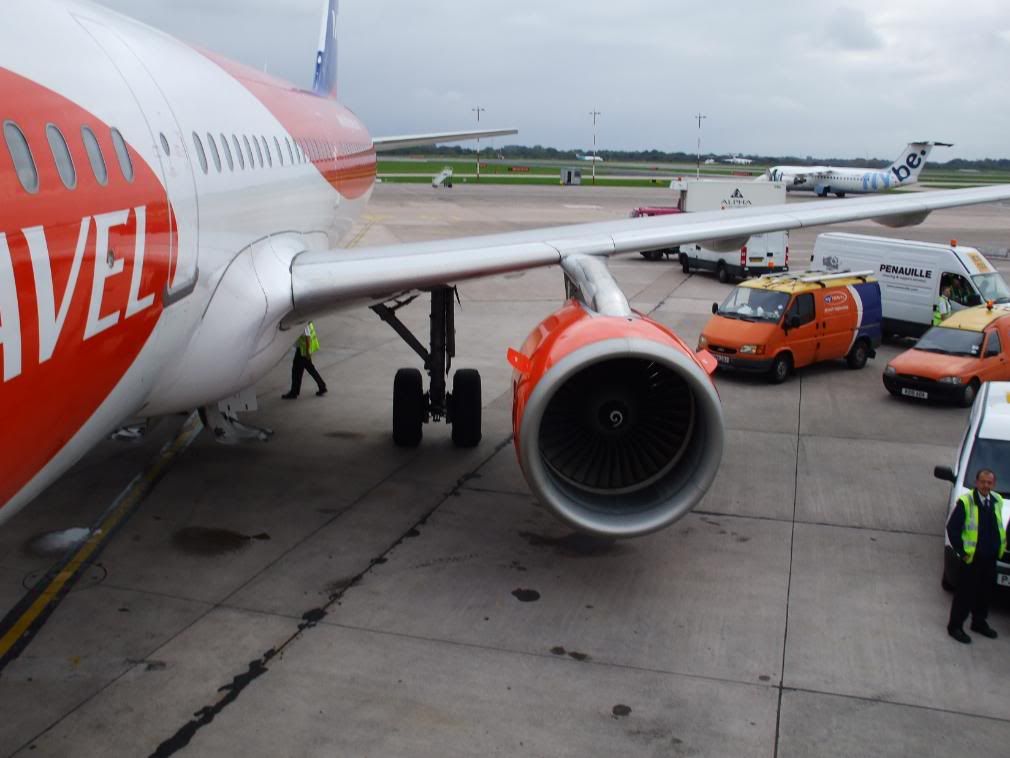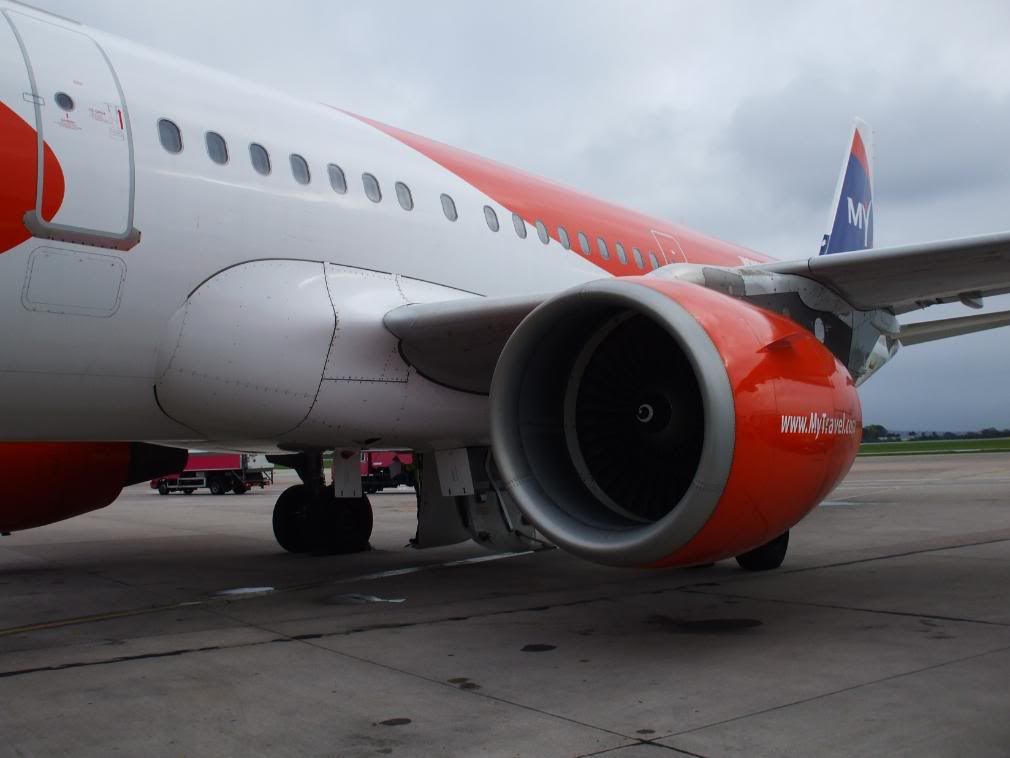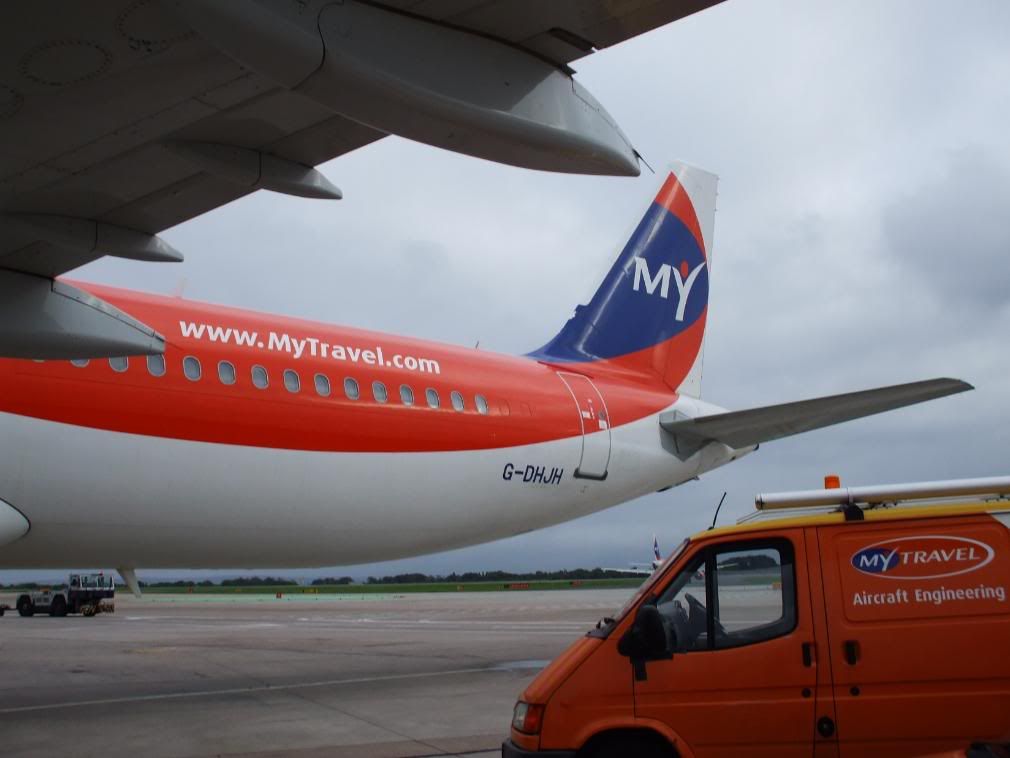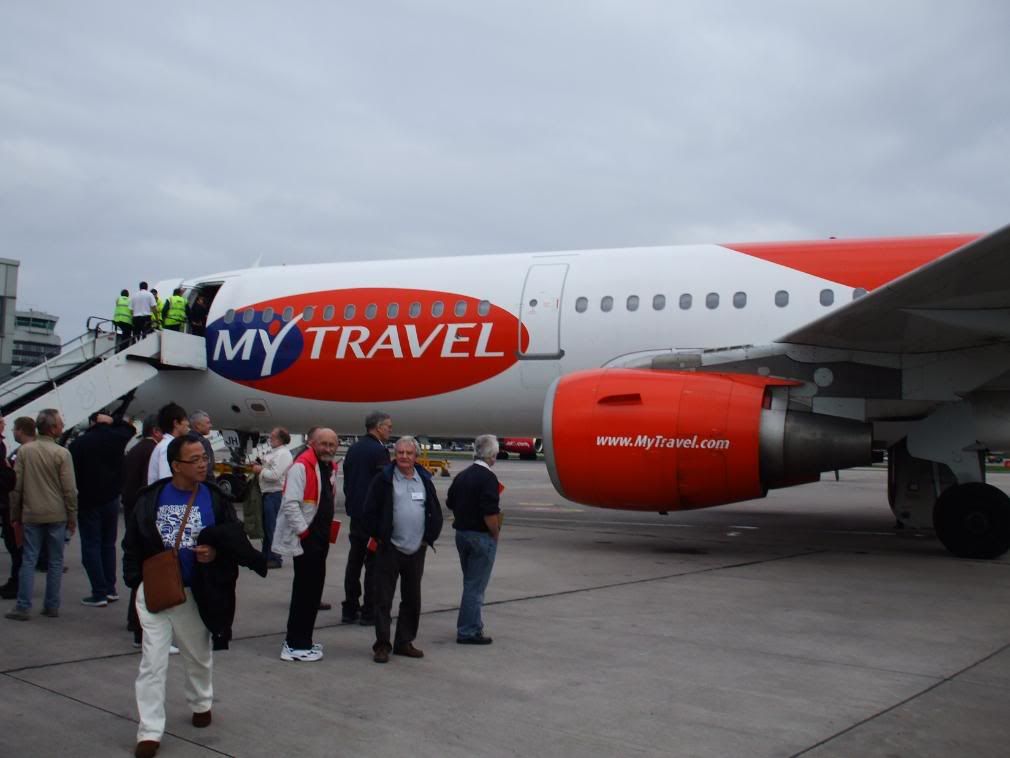 Back to the coaches and next on the agenda was the mytravel/thomas cook hanger and the operations department.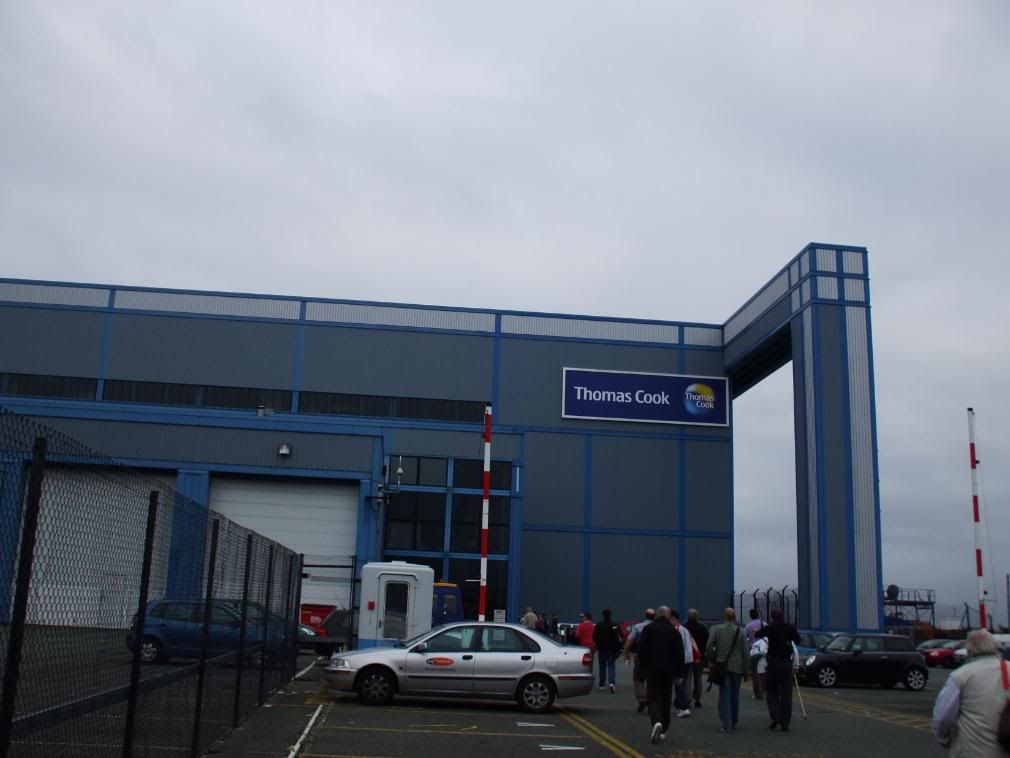 We had a short talk with the operations duty manager, before being split up into groups again. I first went to the operations rooms and was told all about how the department works. Very interesting. This was followed by a talk about 'Crewing'
We then went back to have a talk about flight planning which was very interesting as well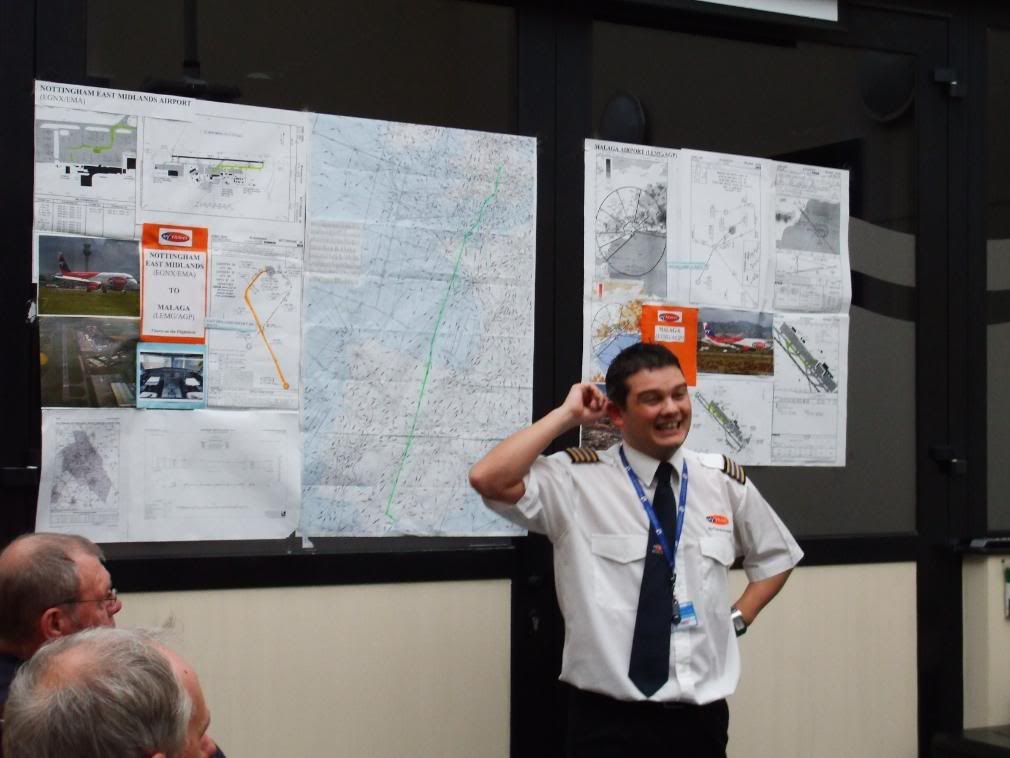 After this it was the part i was waiting for. The hangar!!
We had a talk on engineering and different types of engines. G-DAJC was in apparently having a 'Leg seal' as a preventative measure and the engineers were hard at work. On display was a CFM engine and also an RB211.
The engineering talk was very long winded, but interesting. However he was nearly done and one of the cabin crew hosting told us the coaches were waiting to take us back to Cheadle. We did have time to get some photos though before making the final journey back.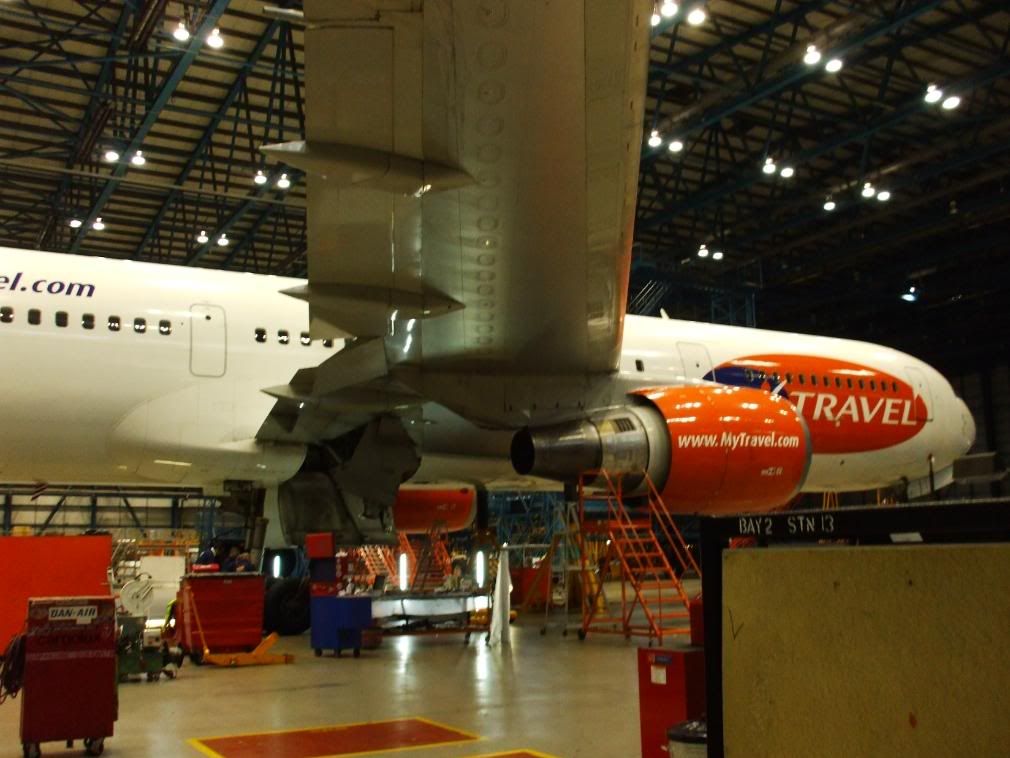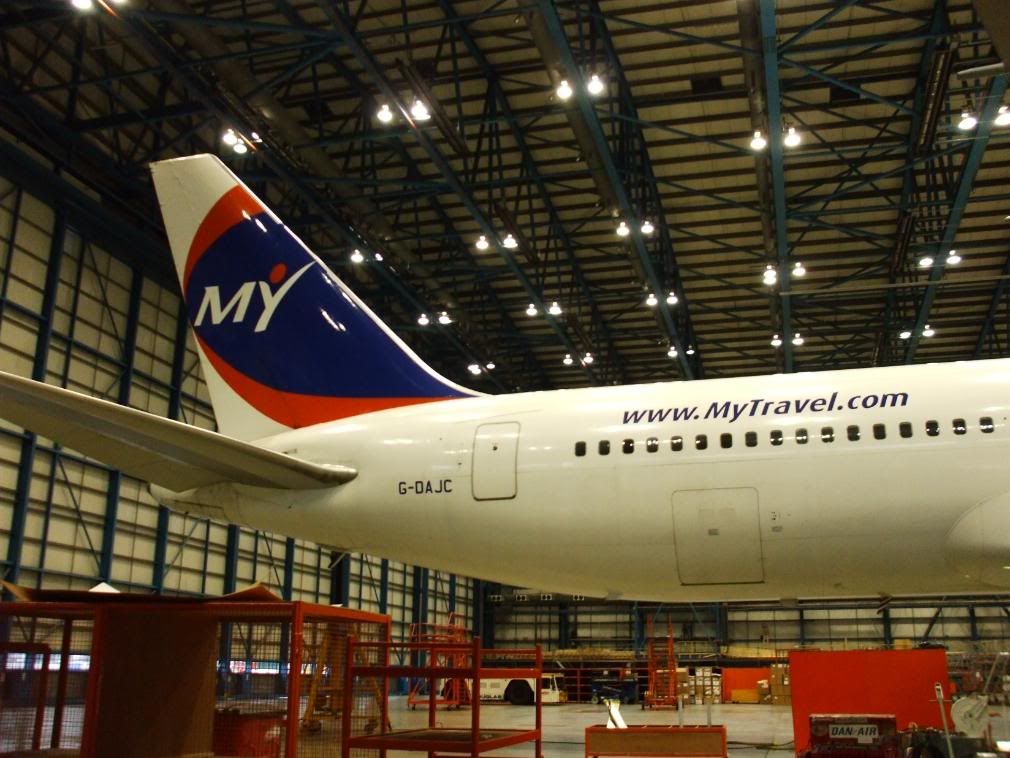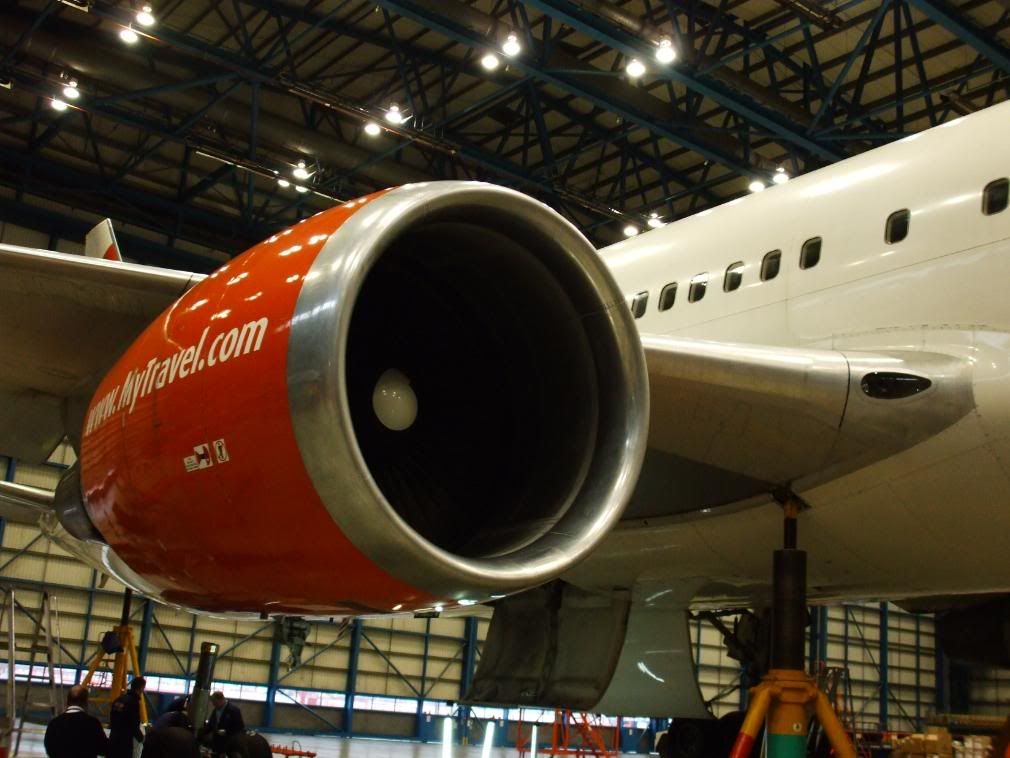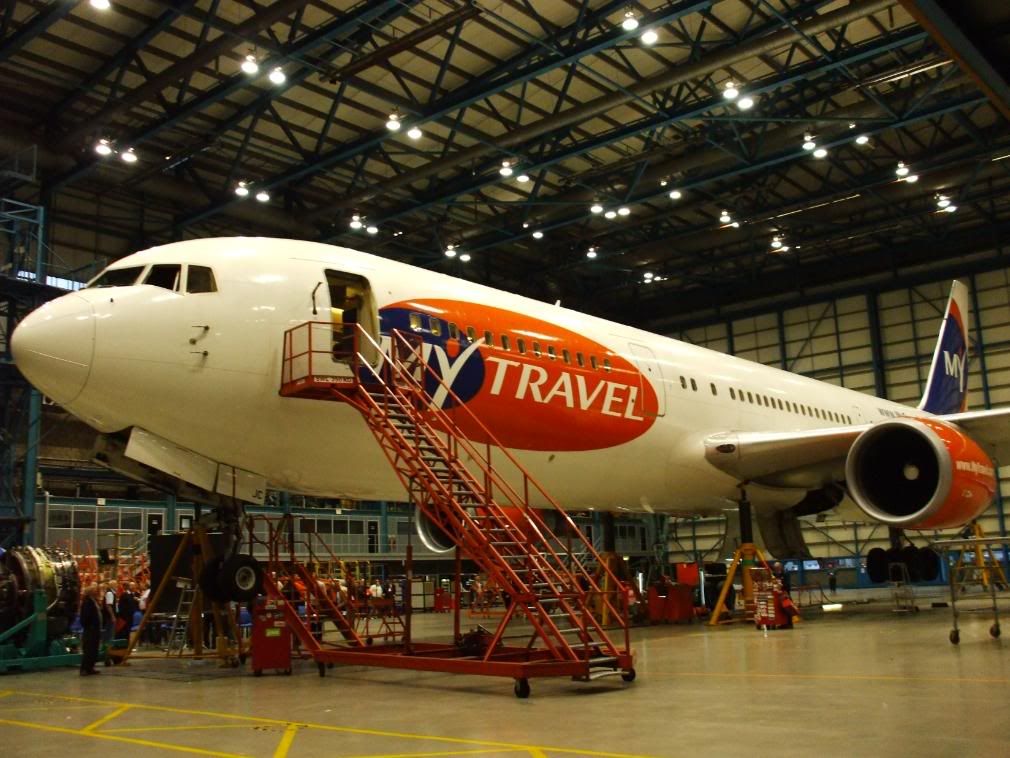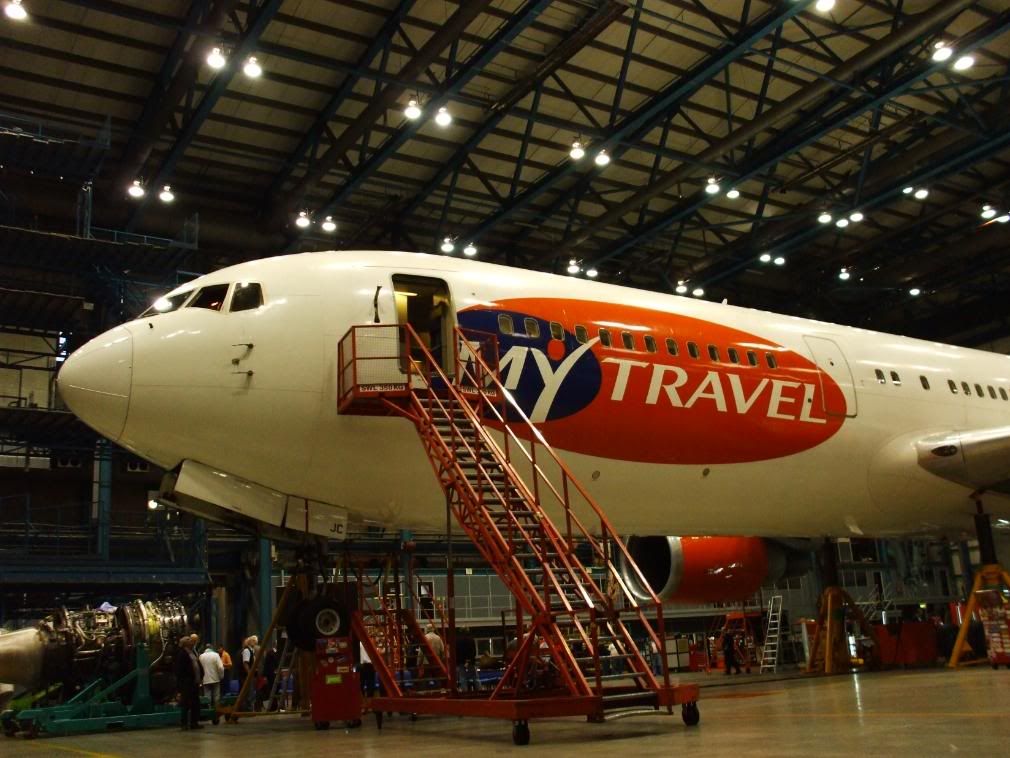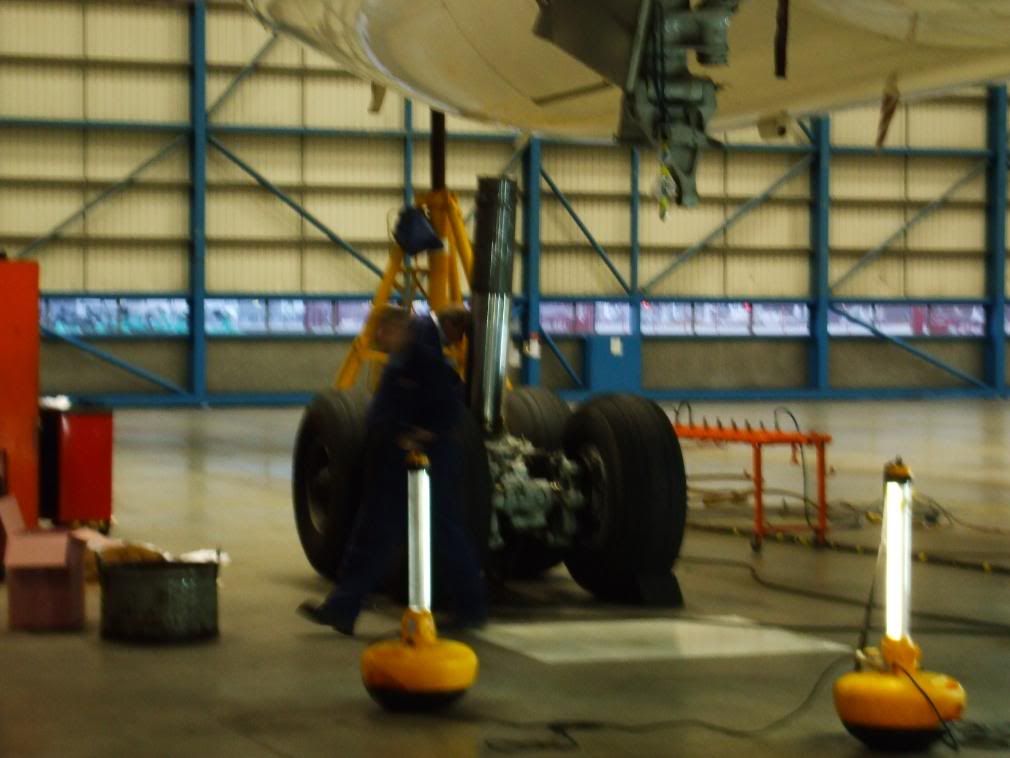 I left cheadle at 18:40 after a very tiring day, and was very sad it all had to come to an end as i enjoyed it so much. I can recommend this to anyone! Even a couple had even flew in from Alaska to be here for it!.
Again i pass on my gratitude to all the cabin crew who acted as hosts, the pilots including Rob Burgess and John Tennison-Collins, and all the other staff who made this day happen. I can only hope there are more days like this. You were so professional and very helpful at all times of the day no matter what the question or query.
My thanks is with you all.
Thanks for reading, comments welcome!