STN-CGN-STN with 4U
Before I start, just a quick introduction from me - I've been browsing the forums for some time now without a username, and have read some great trip reports here. Now, having been inspired by them, I finally decided to pluck up the courage, push that "join us" button and dive straight in at the deep end with a trip report as my first post.
My parents and I booked a short trip to Cologne in Germany for my birthday. The cost was about £80 each inc. taxes etc., so pretty good value IMO, considering we only booked about 5 weeks in advance.
We arrived at the long stay car park at STN just before 6, to be greeted by a massive queue of people stretching from the bus stop back to about half way down the car park. I think there must have been a backlog, maybe from a bus not turning up? We waited patiently in the queue for about 15 minutes before a bus turned up. We all crammed in and off we went to the terminal. We were accompanied all the way to the terminal by an extremely irritating beeping noise, presumably caused by someone leaning against the stop button.
We arrived at the terminal with the horrendous beeping noise still ringing in our ears and made our way to the checkin desk for Germanwings, in area A. There were two desks open, both for our flight to Cologne, and another to Stuttgart. We queued for about 25 minutes and checked in. We then learnt that the conveyor belt was being repaired and had to trek to the other side of the terminal with our bags, to the excess baggage drop.
By now, the time was nearly 7, so we went straight to a really long queue for security, which took about another 20 minutes to clear. Once we got through, we decided that we didn't have much time and so made our way to gate 1 via the people mover/monorail, without doing any shopping. Not to worry - the shops at Stansted aren't really that great.
I took a few pics at the gate - not all that great, but here they are, apologies for the reflections and quality:
The gate area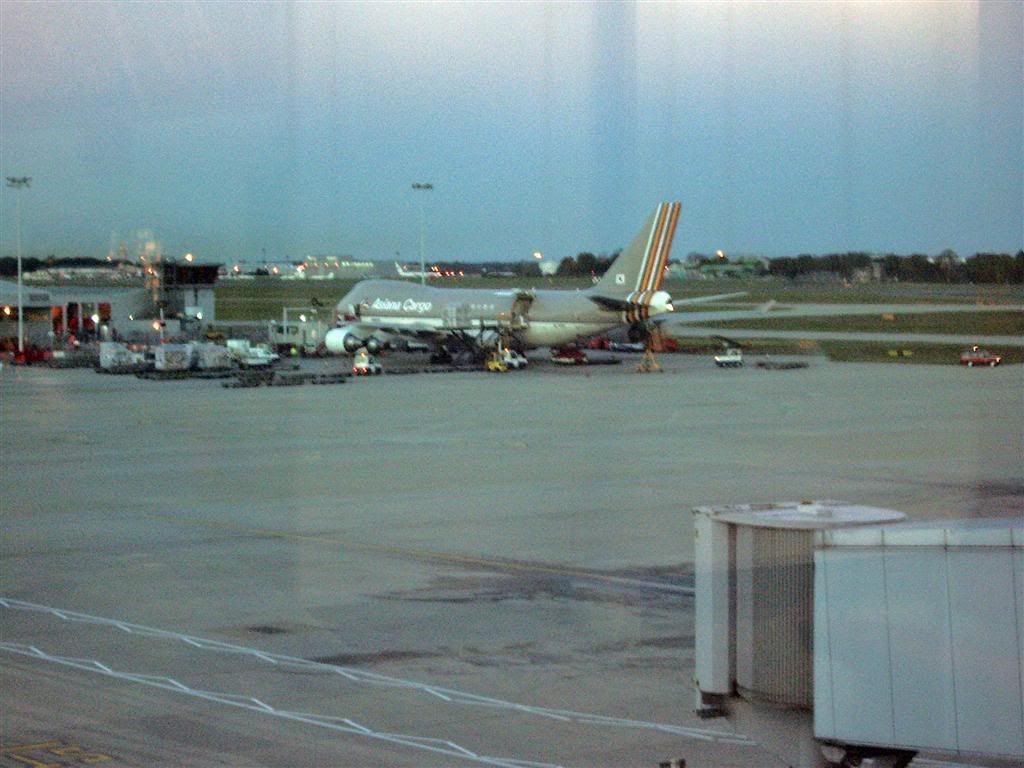 Asiana Cargo 747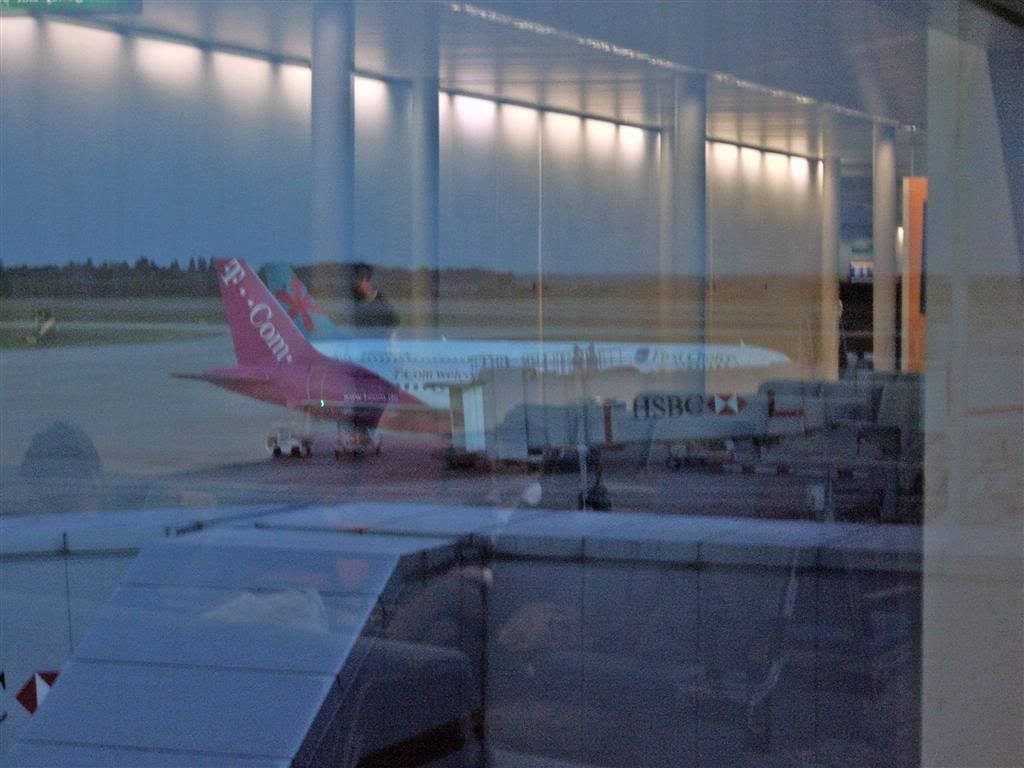 Germanwings A319 T-Mobile logojet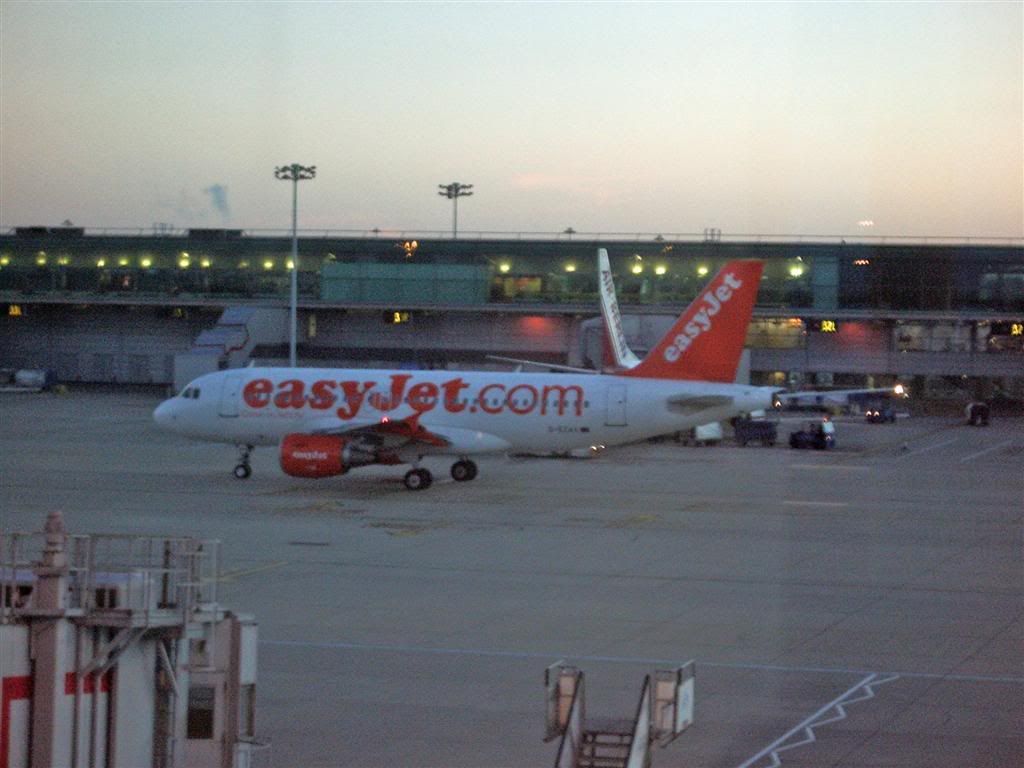 easyJet A319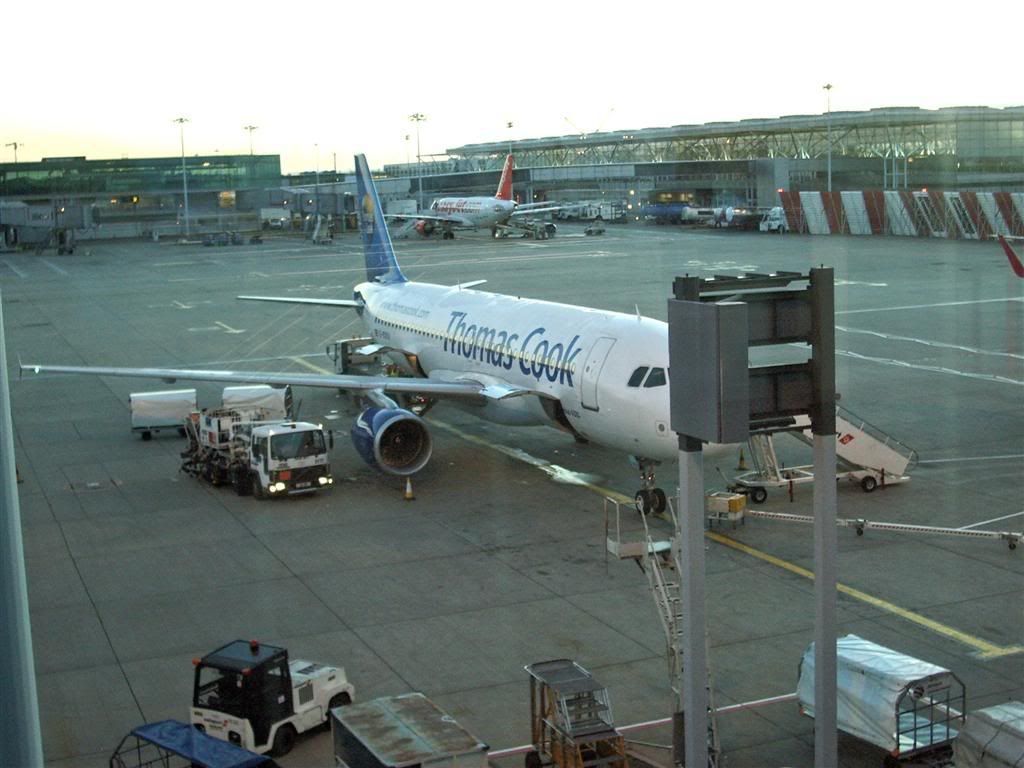 Thomas Cook A320
Saturday 20th October
From: London Stansted (STN/EGSS) 08:05
To: Cologne/Bonn (CGN/EDKK) 10:15
Flight: 4U 331
Aircraft: Airbus A319-132 D-AGWB
Gate: 1
Seat: 24A
Load: 100%
Boarding was called at about 7.40. There appeared to be not that many people at the gate, and boarding was quick and easy. Our aircraft was D-AGWB, delivered new to Germanwings in July 2006. We entered the plane via the rear set of steps - I always like to do this as everyone seems to get on at the front, so it leaves the back of the plane clear and you can get a seat pretty quick.
Despite what seemed to be a quiet gate, the plane filled up and we ended up with a 100% load as far as I could see - not a seat to spare. The captain welcomed us on board and informed us that we were still waiting for a few passengers, caught up in the "labyrinth of the airport", as he put it. The captain was a really witty guy, who clearly enjoyed his job - he made the flight much more enjoyable.
We were next to this Norwegian 733
View of the cabin during boarding
We eventually pushed back about 10 minutes behind schedule and taxied quickly to the runway, after being shown the safety demo.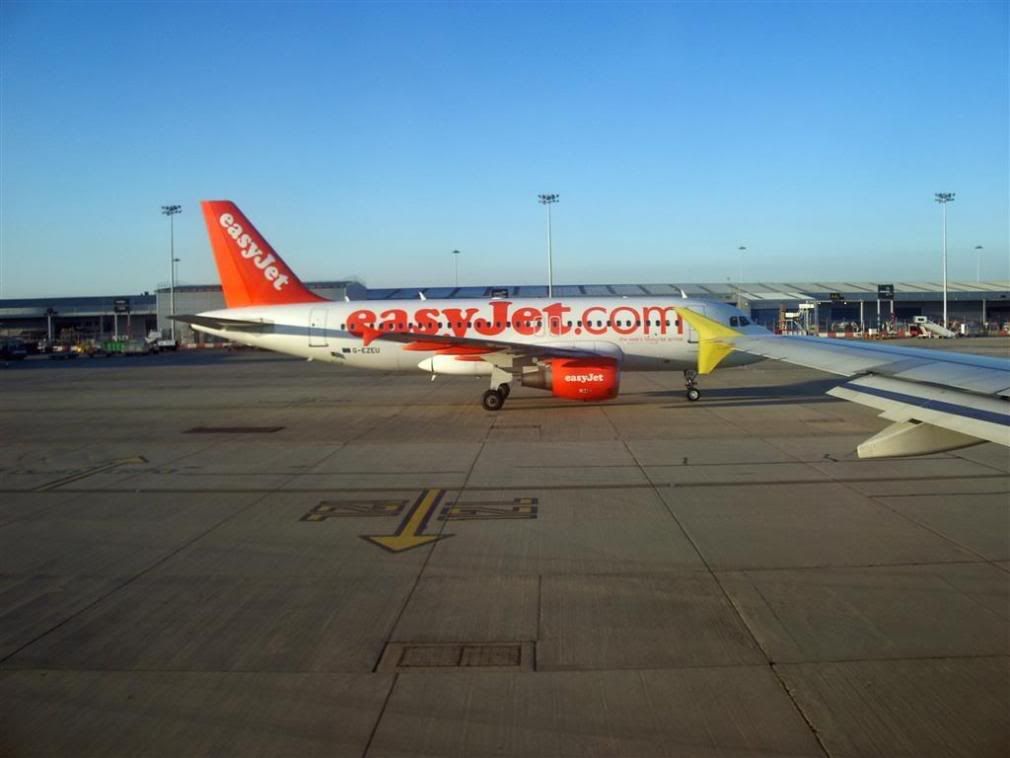 We pushed back parallel to this EZY A319 and were allowed to taxi ahead of it.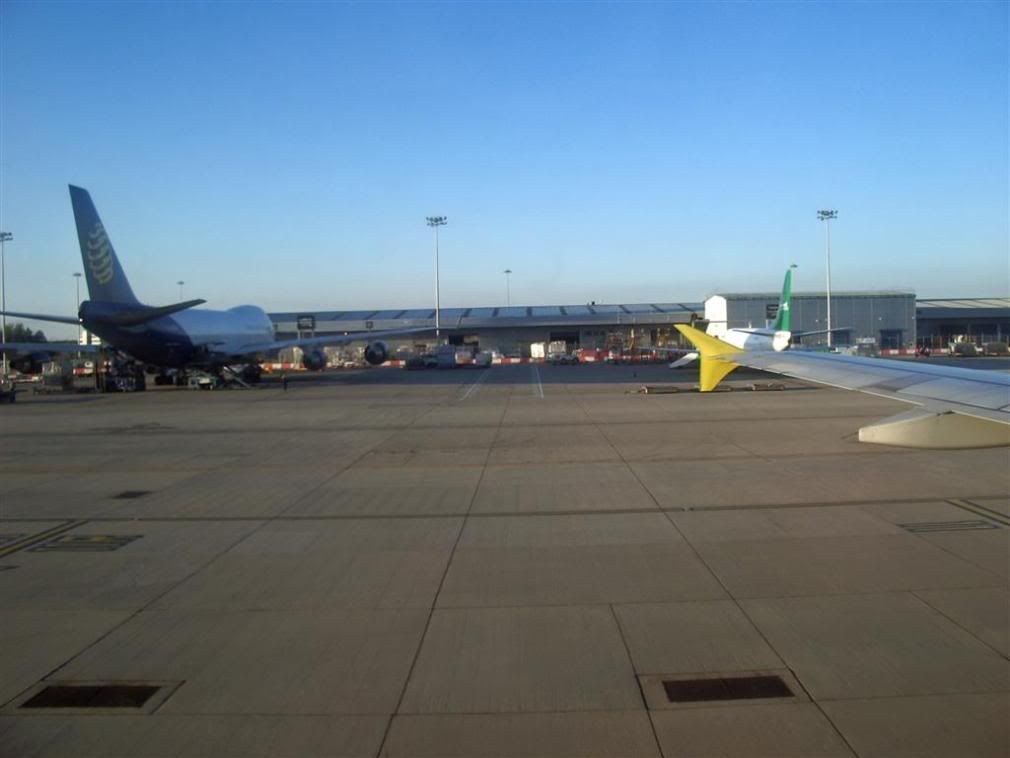 Passing a Global Supply Systems 747, and a Channel Express 737
Taxied quickly to the runway and lined up at an intersection, in front of this Flyglobespan 738
We took off on runway 5 and made a turn to the right. We flew out over Felixstowe, and got a great view of the port, but I unfortunately missed the photo
.
Is this Ostend?
BRU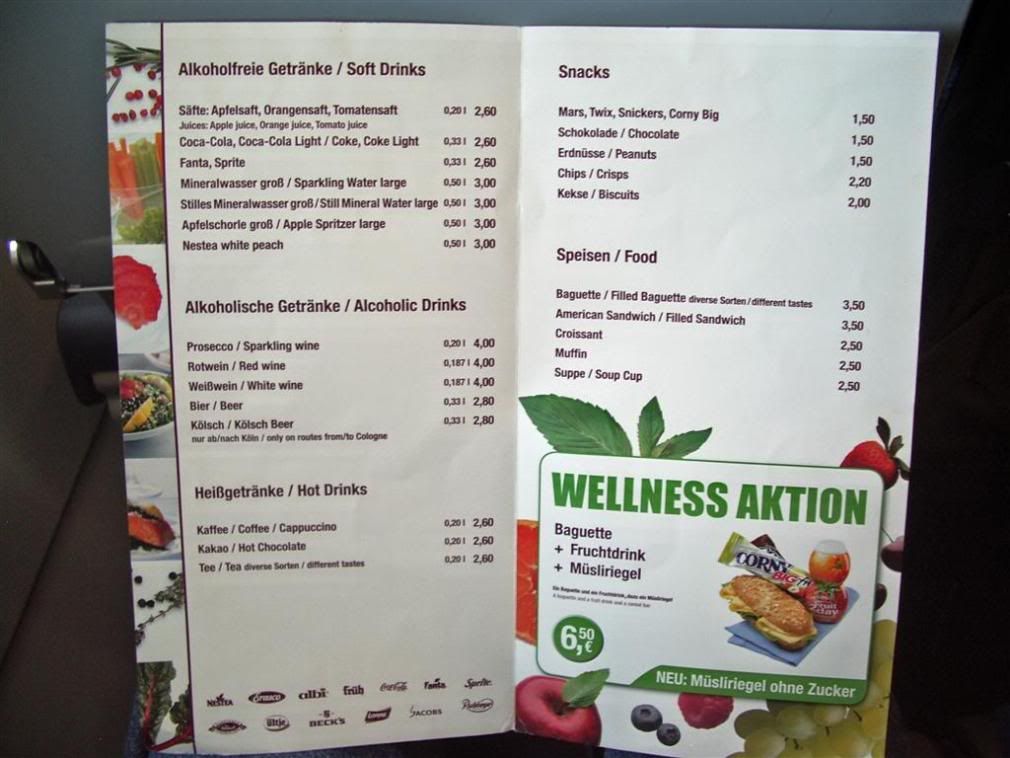 A pic of the menu
The cabin crew came round with the trolley, but I decided not to buy anything this time. The remainder of the flight passed really quickly, and within no time we were on approach, flying in over the Rhine and made a speedy touchdown on runway 7. I noticed that all the other planes were using 14L - is using runway 7 unusual?
The Rhine on approach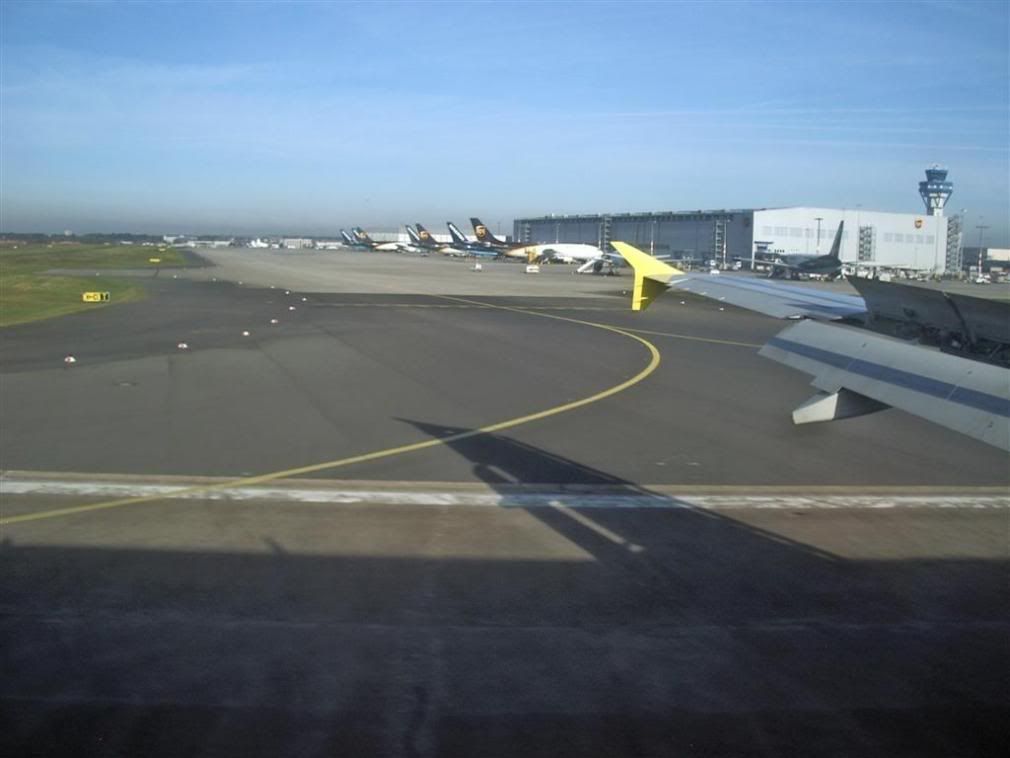 Back on terra firma
View of the cargo planes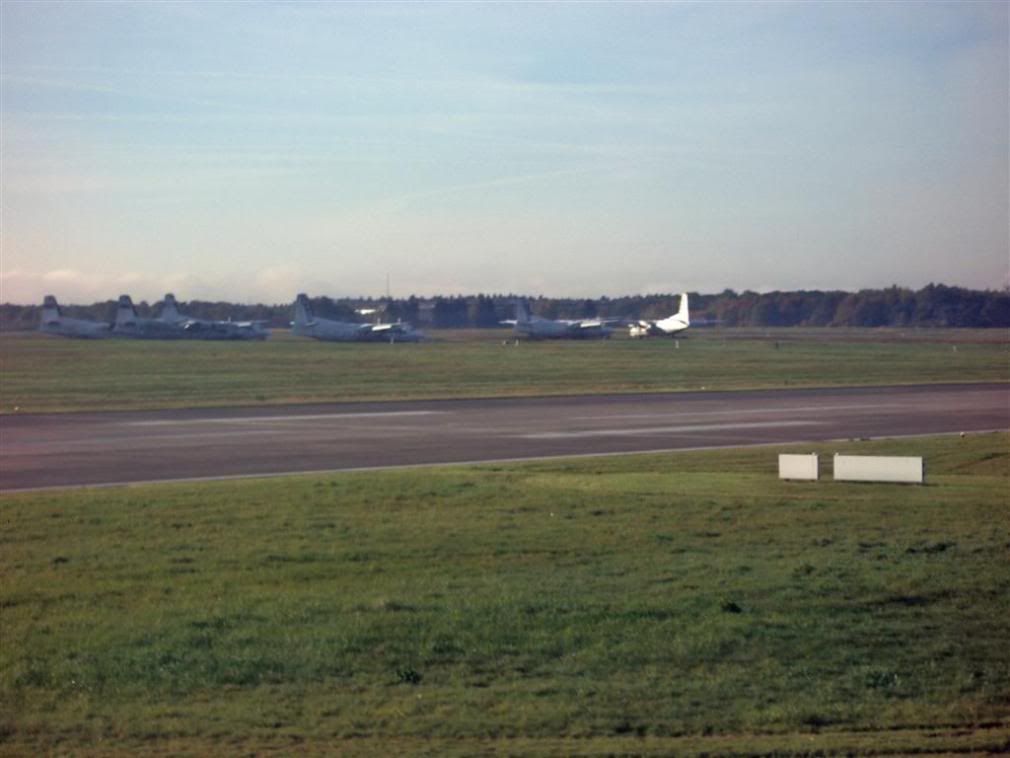 Anybody know what all these derelict planes are doing here?
We taxied quickly to our parking position, and arrived on stand about 10 minutes late. We disembarked via the rear stairs and had a short bus ride to passport control and a small baggage reclaim area. We got our bags quickly and then made our way to the railway station of the airport, which seemed a very long walk. We took the S-Bahn into Köln, where we stayed for the next two nights.
Return journey
After a good stay in a chilly Köln, we took the S-Bahn back to the airport, arriving at about 5.30 and went on an even longer walk to the Germanwings checkin in area B. When we got there, the checkin was not yet open and so we had to wait about 20 minutes until it opened. Unfortunately, the self service machines were only available for passengers with just hand baggage. During this time, the checkin staff seemed to faff around in an attempt to check us in at other desks, but managed only to confuse us. We just waited and stayed where we were, and ended up first in the queue for the desk.
After checkin, we went to the viewing terrace and I managed to get a few snaps:
The viewing terrace
Cargo planes
Tuifly 738
XL Airways Germany 738
Because the views weren't that great, we decided to go through security. The queue was pretty short, although it took a while to get through as the security guys were quite thorough - they searched my bag and searched me. With nothing better do, we proceeded to the gate. We were surprised to find ourselves going down a flight of stairs to a passport control area - the non-Schengen area. Once through passport control, we went into our gate area - a small hall with 3 bus gates.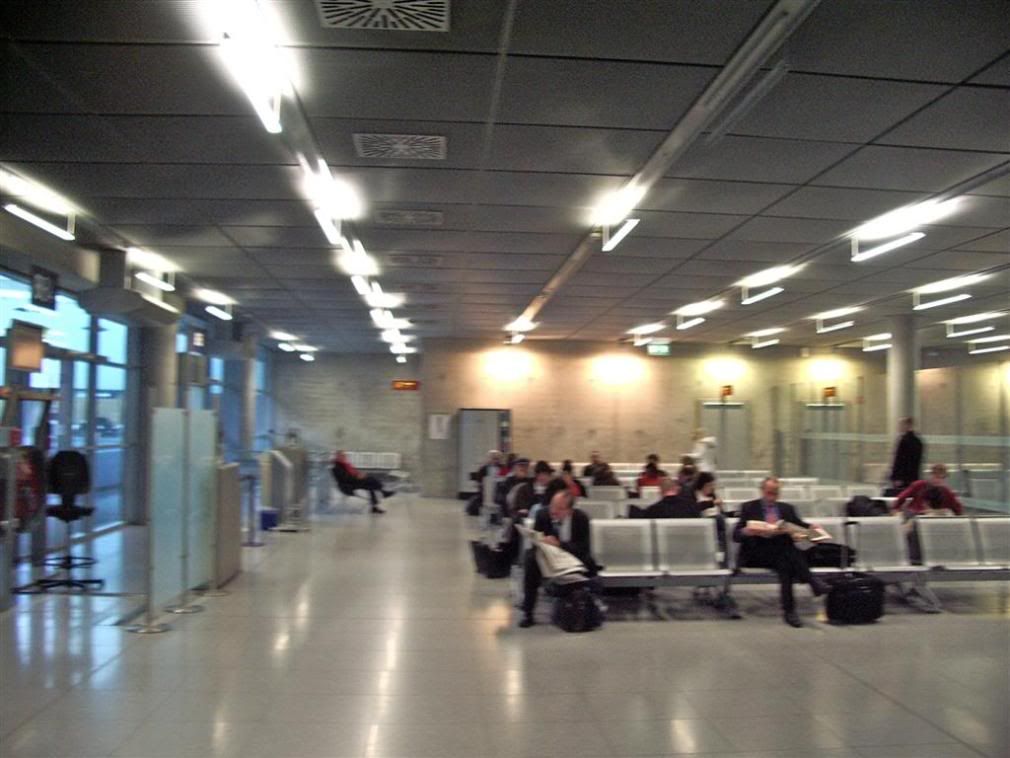 The gate area
In the gate area, there was our flight, plus Germanwings flights to Zürich and Budapest.
We waited for about an hour in the gate area, until eventually they called boarding for our flight at about 7pm. By this time, the Budapest and Zürich flights had already boarded.
Monday 22nd October
From: Cologne/Bonn (CGN/EDKK) 19:15
To: London Stansted (STN/EGSS) 19:25
Flight: 4U 338
Aircraft: Airbus A319-112 D-AKNH
Gate: B82
Seat: 14F
Load: ~60%
The area seemed crowded, but we all fitted onto one bus and we were taken to our plane - D-AKNH. We were one of the last on the plane, and so had to settle for seats just next to the wing - 14F. The load today was only about 60%. Sorry for the lack of photos - the whole flight was in the dark so no real opportunities.
The captain welcomed us on board, and we pushed back just a couple of minutes late, taxied to runway 14L, with the lights dimmed, and made a pretty unimpressive takeoff. Is there a difference in the engines? - The outbound flight, with IAE engines had a more powerful takeoff, whereas the return journey had CFM engines, or was this takeoff just derated?
The flight passed quickly and was largely uneventful. This time, I bought a sandwich and a hot chocolate which I thought were tasty, and fairly good value - €6 in total. Certainly much better than Ryanair.
We flew pretty much the same route as on the outbound and made an ontime arrival into STN, on runway 23 this time. Heavy braking and reverse thrust was applied before turning off the runway and taxiing to the gate.
We took the people mover back to the terminal, and waited in a surprisingly short queue for passport control and continued to baggage reclaim. We had to wait ages - about 30 mins - for our bags, before proceeding back to the bus for the long stay car park at about 8.15. I got home at about 9pm.
Overall, I think Germanwings are a professional airline who do a good job for good value. Can't think of any complaints really, apart from checkin at CGN being a bit messy, and the gate area being a bit substandard, but I think that is the airport's fault, not 4U's. I don't think 4U do much to distance themselves from carriers like EZY, although I thought the cabin crew were a bit more pleasant and professional than EZY. Certainly a mile better than FR though, and I would definitely fly them again.
Thanks for reading - I hope you have enjoyed it. Comments and suggestions are much appreciated, but please bear in mind that this is my first post, and first trip report
.