Hi,
Here my, by some people, long awaited report about my experience on 2 Dutch charter airlinecompanies; Arkefly – TUI airlines and transavia.com .
I booked these holidays somewhere in spring, when a large Dutch department store was giving 5% discount on package deals for holiday. So, book a week holiday including flights and hotel (halfboard in our case) and get the discount at the end of the bill! Nice gesture, and easy money to save in this way. We choose a 4-star aparthotel and resort at Tenerife, one of the Canary Islands, and were able to choose our own flights.
Outbound we opted for a afternoon departure on Arkefly in Comfort Class. Homebound we took a transavia.com all-economy flight, with late night departure out of Tenerife. In this way, we were able to enjoy our holidays until the end
The travel agency which was located in the department store called me at work about one week before our departure, informing me that the tickets were ready for pickup at their location. I did so that same afternoon. Everything was arranged in good order, names and accommodation were correctly printed on the tickets and vouchers, nothing to complain about!
Okay, enough about preparations, because it's mainly about flying of course.
Arkefly does not offer online check-in in advance, so we had to call early at the airport. From leaving our house, we reached the airport in a convenient 20 minutes by bus and train. Check-in was open in terminal 3, desk 32. Also self-service check-in machines were available. We used these, to be able to choose our own seats from the map.
When the machine was reading my passport, our reservation popped up and we gave ok to proceed. Then we saw already pre-assigned seats, no. 21A and C. In principle that was good enough, but I don't know why, but I decided to change these into 20A and C. Later, we will find out why this was the best choice I made that day
We dropped our baggage at the dedicated Comfort Class desk, our 2 bags were tagged by the kind staff of Menzies Aviation, in charge for the handling of Arkefly at AMS. She directed us to gate D64 for boarding. Security check was done easily, no queus at all, probably because the morning rush was over already.
After a quick coffee at the Starbucks, we walked over to our gate. 2 Arkefly Boeing 767's were parked next to eachother.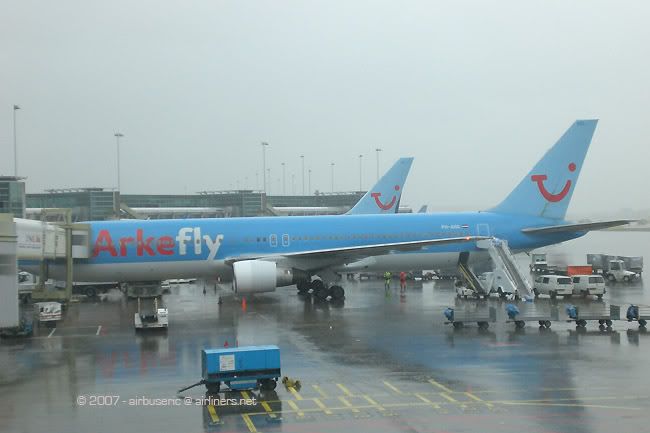 2 ArkeFly Boeing 767-300's parked next to eachother
Our plane was served after her previous flight originating from Natal in Brazil. Good to see that everything was done in time. In the meantime we were able to do pre-boarding to speed things up, and little later we got on board. Here we noticed that row 19 and row 21 have no windows on either lefthand and righthand sides
As we ticked off seats at row 20 by ourselves, we were lucky of course!

PH-AHY close-up, just before boarding at gate D64
AMS-TFS
Flight No.:
TFL111
Date:
10SEP07
STD:
1200
ATD:
1210
STA:
1540
ATA:
1536
A/C:
Boeing 767-300(ER)
Reg No.:
PH-AHY
Seat:
20A – Comfort Class
My 1st ride on a Boeing 767
, and the first on this machine of course. After so many flights another new type to add to my log. I was quite happy with it to be honest
View Large
View Medium


Photo © Tim de Groot - AirTeamImages
The cabin in Comfort Class looked pretty good. Wide darkblue leather seats in a 2-3-2 layout. Cabin maybe filled 70% in Comfort. Quite some seats empty. Highseason was over. In front was also 2 rows Business Class, having a 50% load on the 12 seats in 2-2-2 setting. Separation by a curtain only from the Comfort Class.
Behind Comfort Class, which is until row 22, a lavatory-block was located, with Economy class in the rear, having a 3-3-3 layout. This cabin looked almost completely full. Seating total is 272 on the 767's operated by Arkefly, in 3-class layout.
Our Comfort Class seats were having a seatpitch of 33''/84cm.

Cabin in Comfort Class, 2 – 3 – 2 layout with blue leather seats and 33'' pitch
The captain announced a little delay on departure due to some things not ready, probably some baby-buggies to be loaded in the baggage hold on the lowerdeck. Our flights was packed with those little 'crying' children, young enough to go on holidays in September, and no need yet to show up at the nursery school. The sounds in the cabin were not really attracting during the flight. Mostly crying infants, yelling parents, running little children, parents trying to catch them etc. Good to have some GB's of MP3's loaded into my cellphone to listen to during the flight…
Startup was done by use of the jetstarter, because the APU (Auxiliary Power Unit) was not working. Soon enough we were ready to taxi to runway 36L, the far 'Polderbaan', although when passing by runway 18C-36C, our flight got permission to take runway 36C for takeoff. We entered the runway from the left entrance, which is quite unusual as far as I know. A brief announcement from the flightdeck mentioning about the broken APU and that everything was fine with the aircraft etc. A little bit strange announcement, not worrying me, but it did so to other passengers I think.
Takeoff was powerful and after entering the skies we sharply turned right to clear space for runway 36L departures, which was in service simultaneously. We turned over the city of Amsterdam and Amstelveen towards southern directions.
Video on takeoff. Takeoff-roll starts after about 50 seconds
About 40 minutes inflight, crew announced their first food and beverage service. Except for business class passengers, everybody has to buy the food and drinks on board. Prices quite normal, not really high level and on par with many other carriers. Good selection, also interesting 'combo' deals, a drink and a snack for a slightly discounted price. We both took the 'Poffertjes-Combo'(Little pancakes-combo) which included a chilled chocolate drink. Total price 10 Euro's for both. The pancakes were served hot and came with a apple-cinnamon sauce. Taste was pretty good to be honest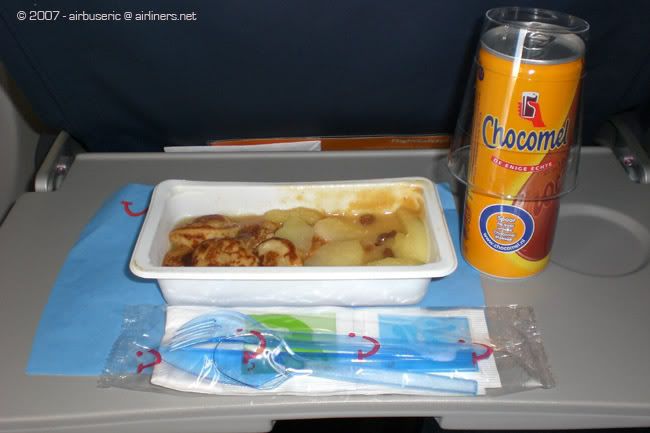 The 'Poffertjes-Combo' meal, price EUR 5.00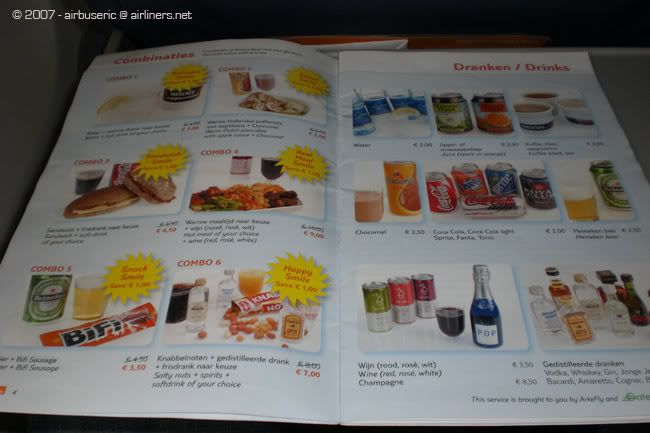 The ''Arkeflyer'' menu booklet
During the rest of the flight, some short movies, comedy's and cartoons were playing on the videoscreens, all located above the aisles. During the time in between these programs the flight-map was playing. Our route was roughly; Amsterdam – Paris – Nantes – Gulf Biskay – Lisbon – Tenerife .
Cruising altitude at 37,000 feet and outside temperature –55°C.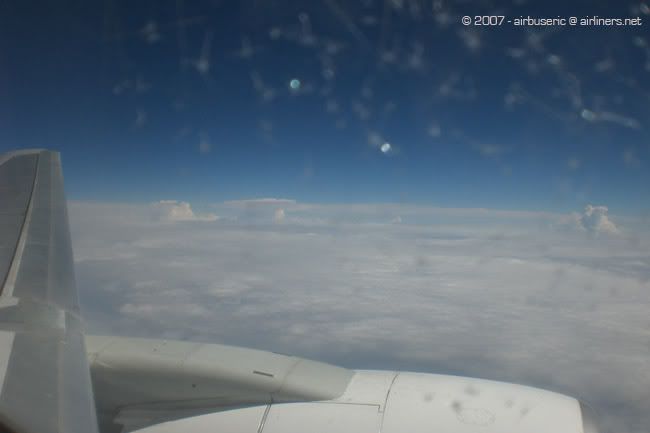 Normal flight conditions at high-level. Soaring above the clouds!
No further drinkservice during the flight. To purchase 2 hot cappucino's, I had to visit the rear galley. Price 2 Euro each. Nice touch: 2 free candybars. But, I had to walk back to upfront through the aisle myself, with those 2 hot cups. I really felt myself a flight attendant
. Who knows,.. maybe in the future
Rest of the flight left uneventful. Until 25 minutes to landing when the crew handed out some sweets and candy. Nice touch again. During decent into Tenerife we had some great views to Mount Teide and the island. On final approach it got cloudy (overcast) and most views were gone. Touchdown at runway 8 about 10 minutes ahead of our schedule. Well done by Arkefly! Some minutes later we were on chocks at gate 8. Deplane using a finger-gate, long walk to the baggage reclaim area.
Other airliners on the ground at this time were an AB A320, FUA 738, 2x IWB A320, 1x UX 738. Traffic was low.

PH-AHY parked at Tenerife-South Airport, after our arrival
Baggage came on the belt after 20 minutes, our bags pretty quick. No damage, nothing lost. All OK! So: good start of this holiday. Our transfer bus was already waiting outside and brought us to Los Cristianos village within 30 minutes. In the hotel (4**** Paradise Park Resort) we were upgraded from our booked room to a 2 room apartment with poolview and seaview. We were really happy with this little extra space for a week
.
------
Okay, one week holidays were over sooner then expected. We visited many places on the island including El Teide National Park, Playa de las Teresitas and more. But also some days were spent near one of the 4 pools at our hotel.
After having a pizza for dinner on the last day, we waited in the lobby for our transfer bus back to the airport. Slightly delayed it arrived at the hotel, and of course we also arrived a bit later the scheduled at the airport. Always a pity, as the queues were already long at all 3 desks (desk 18/19/20) which were allocated on our flight.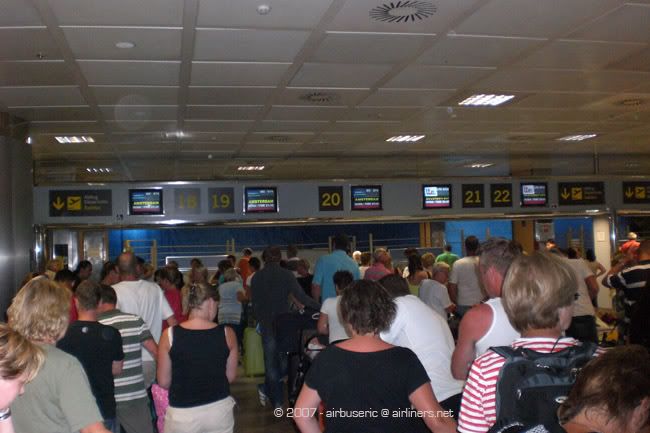 The usual crowd upon check-in
We checked in and got the last row in the cabin (on request) because usually all (crying) children will be seated more in front. It helped out, once in the cabin we didn't hear anything annoying
On the other hand, the departure screen in the lounge mentioned 30 minutes delay for our flight. We hoped for the best.

Quiet terminal building at Tenerife-South Airport
The airport was quiet. Not much traffic, only a A320 service to Bucharest on LTE and later a BA A320 to Manchester. More flights were scheduled at less human times to Madid and Warsaw, with departures around 3.00am!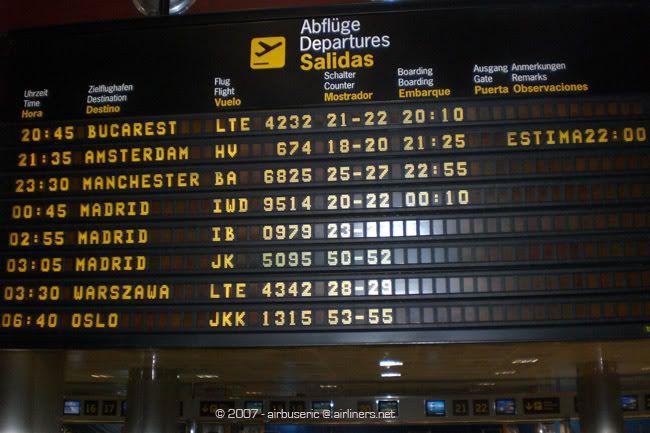 Departure Information mentioning a foreseen delay on departure for our flight
The departure lounge after security is nice, large and clean windows viewing towards the apron. Good views on the little traffic. Also our aircraft was seen arriving from Groningen and Eindhoven. For the ones interested in it. This Transavia.com aircraft was operating a 'W-pattern' that day: AMS-TFS-GRQ/EIN-TFS-AMS.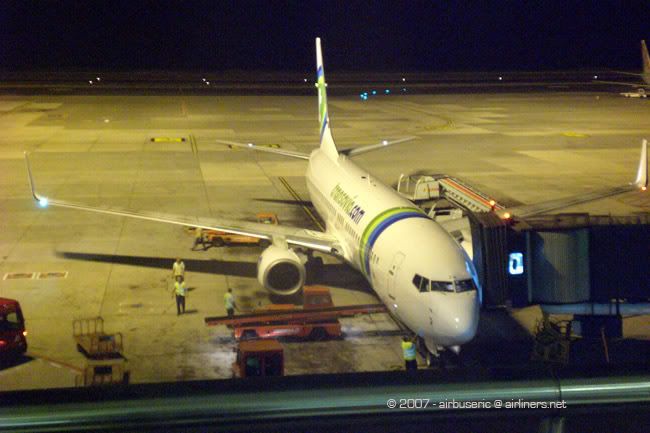 Our aircraft being served prior to our boarding
After buying a large bottle of Baileys in the taxfree zone, we were able to board at gate 16. There was no invitation for priority boarding for parents with children or elderly people.
TFS-AMS
Flight No.:
HV674
Date:
17SEP07
STD:
2135
ATD:
2158
STA:
0255
ATA:
0306
A/C:
Boeing 737-800/WL
Reg No.:
PH-HZM
Seat:
31F – Economy Class
My 28th ride on a Boeing 737-800, and the first on this machine. This aircraft was previously leased out to KLM for a few years. It was winglet-fitted in early 2007 once it returned to HV.
Boarding took some time, everybody struggling with the handluggage. Overhead bins completely filled up. My eyes were a bit shocked by the lime-green fabric on the seats which comes in different designs. Headrest covers with commercials by a large Dutch supermarket chain. Typical lowcost structure. Also interesting to see 3 complete rows blocked off for 'crew rest area'. Probably the cabin crew was exchanging during the day operating this W-pattern which I explained above.
But as soon as the doors closed, we got our pushback. Time to go home. Safety instructions done on the dropdown screens in the cabin. Everything loud and clear. After a long roll down on runway 08, we got airborne and entered the nightly skies. Soon after takoff, the island of Gran Canaria was visible on the right side.
Soon after seatbelt sign was switched off, commercial from the 'Jumbo' supermarket came on the screens and took about 5 minutes. A 'Jumbo'-flyer was located in my seatpocket, and included a voucher for a free apple-cake in one of their shops.
Cabin crew handed out FLYers, a booklet with the menu and prices on the food and beverages on board. Yes, also on this airline: nothing is for free! And… the prices on HV were slightly higher then on ArkeFly, the carrier which was used on the outbound flight. Coffee/Tea/Softdrinks EUR 2.50 each, can of Heineken beer for 3 Euro's, sandwiches start from 4 Euro's each etc. Real moneymakers for Transavia for sure. Especially on these longer flights! Cabin crew also announced the use of the lavatories: row 1 to 10 use the single front lavatory, row 11 up to 31 have to use the 2 rear toilets, including the joke of the day: left side for men, right side for ladies only.
We only took 2 cups of caffeine to stay awake, but it didn't really help. I closed my eyes for the majority of this flight. Music playing through my earphones, head resting on the sidepanel of the cabin. Legs completely cramped and blocked by the seat in front of me. You will understand… this was not really my best flight, and remembered me to a Economy flight on MP.
On the other hand, I flew HV last year in row 4, also a B737-800, and I think the seatpitch in front rows is better?! This might be possible (I know other carriers have same differences), but not sure…
Decend into AMS was quite bumpy. Lots of clouds around above the Netherlands, and during landing at runway 36C (interesting approach, you won't get this runway often at AMS) even a heavy rainstorm. We were one of the last arrivals in the night, next ones to be the KL longhaul flights from Africa, the US and Asia.
Luggage came surprisingly quick and it turned out to be ok. No damage, nothing lost. No customs check at AMS this time, no random suitcase checks.
And finally our booked taxi (at discounted price) for a quick drive home didn't show up. Calling the company only resulted in voice-mail… Therefore we had to take the normal taxi. 15 minutes later, and 40 Euro's less in the wallet, we arrived back home.
To conclude; ArkeFly is really my airline of choice nowadays when it comes to holiday travel out of my country. They offer a the best product when comparing with HV and MP. I really like to spend some more money to be assured with a Comfort Class seat.
With MP stopping end of November 2007 on European short-haul flights (their A320's will be returned to the lessor), I see ArkeFly expanding in next year. Their first brandnew B737-800WL (msn 35100) will be delivered shortly, and 5 more are on order. Also the B787-8 will enter with this airline to replace the B767-300ER.
HV's service level is quite low, although the company profile is attracting me. They make good money, the atmosphere on board is always nice (young crews) and a fresh and sparkling interiour. Seatpitch is really bad though, prices on the food/beverage service a bit too high.
Note: ArkeFly will rename their Business Class product to a new name "Star Class" from November 1, 2007.
Sorry for the low amount of pics on HV. I was tired and light conditions weren't the best. Although I hoped you liked reading it. Comments, questions etc. more then welcome and I'll appreciate your replies !
Cheers,
Eric