Outbound
This couldn't have been a better year to abandon airline alliances. With airlines becoming more stingy with their miles and alliance benefits ever more superficial, my only new year's resolution this year was to stop chasing oneworld or Star status, and go for value instead. I haven't reached the stage of cutting up my frequent flyer cards yet (after all, some still give me lounge access...) but throwing caution to the wind, I find myself on all manner of new, wierd and wonderful carriers, and loving it.
A trip to London from Kuala Lumpur last month gave me the sort of opportunity which never would have materialised a year ago. Having been salivating over the pics and trip reports of Etihad's premium classes right here on a.net, I knew the only way to see if the reality matched the hype was to try it out myself. The fact that Etihad, as a relative newcomer to KUL, charges a fair bit less than some of my usual airlines made it a doubly attractive proposition.
Four sectors in close succession on three different aircraft types offer a decent sampling of the product to determine if "the national airline of the United Arab Emirates" (as Etihad so deliberately bills itself) is a long term commitment or merely another on the "flown that one" list.
This trip report is not a blow-by-blow account of the flights - there are already a number of excellent detailed reports on Etihad in this forum - but I thought some might appreciate the pics (mostly cabin shots) taken inflight. Unfortunately, you may also have to contend with quirky, random comments from me along the way - for this, I apologise in advance - but thankfully, they can quite easily be circumvented
Etihad Airways Flight EY 411
Kuala Lumpur-Abu Dhabi
21 Sept 2007
Dep 1521 Arr 1748 (on time)
B777-300ER Registered A6-ETD
One of the things I like most about KLIA is the clear, unobstructed view of one's plane from the gate area. This clean and shiny triple seven is almost ready to go after a relatively short 75min turnaround.
Etihad calls it the Pearl Zone - or Business Class with flat-bed seats. At the forefont of J class seating, this clever layout gives direct aisle access to every passenger without the need for anyone to be sitting at an awkward angle, or flying backwards. Aces in my book. Why don't more airlines adopt this type of configuration?
I settle in to 11K, the window seat in the last row of the J cabin for the 6h15min flight. Despite one blocked-out window here, I still have 3 others to choose from, so there's no reason to complain. Apart from possibly BA, I can't think of many other Business Classes that give one passenger almost 4 windows at a stretch... sheer indulgence!
This is my window(s) seat - or, is it really an aisle seat? You can truly have your cake and eat it on Eithad.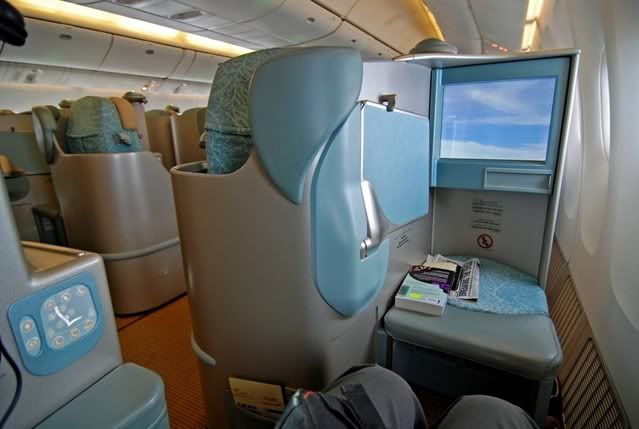 The emptyish flight - about half of the 28 J-class seats filled and no more than 50 pax in Y - makes sure we push back ahead of schedule and are soon on our way. The inflight service can be described as adequate - apart from a friendly f/a from Indonesia, it isn't especially attentive or warm. Not bad of course (it's J class after all), but just not CX or SQ. If your expectations aren't too high, then you'll be okay.
Although I love the configuration and the seats have a killer massage function, there are some little design features that bug me. Like the distance of the fixed PTV from my seat which makes reading anything on the screen difficult - or maybe it's just me needing new glasses? Some might consider the seat a little on the narrow side, and wonder why there's no surface on which to place a drink except precariously on the armrest. But all that is trivial compared with the big picture - lying flat out with a view like this...
About two hours into the flight, we are overhead India's Nicobar Islands in the Bay of Bengal. Quite a stunning sight from 33,000ft.
The meal is almost over now. But if you want to indulge, you should go all the way
We land at a quiet late afternoon in Abu Dhabi and dock at gate 1. My connecting flight to Heathrow is not for another 9 hours so the airline offers me an hotel room in town. Immigration is fast and painless, and I am in a limo (also provided compliments of Etihad) speeding out of the airport just 10 minutes after touch down.
A hot shower, a decent buffet dinner and three solid hours of shut-eye makes my short stay at the Abu Dhabi Millenium Hotel a very civilised affair indeed. Boy, I can get used to this type of 'flight connection'...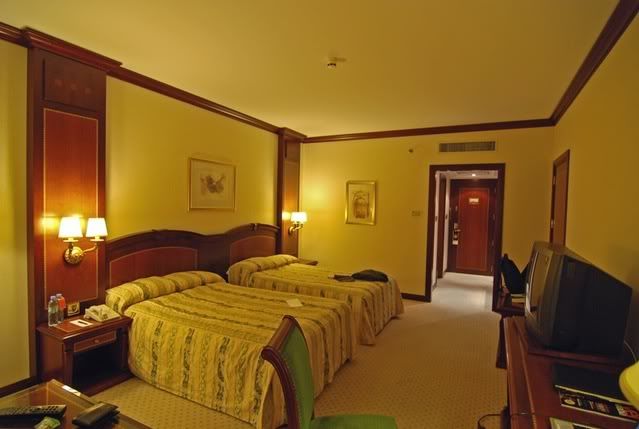 My midnight wake-up call is followed by another five minutes later telling me the driver is downstairs waiting to whisk me to the next flight. Before I know it, I am back at the airport - strangely refreshed at this ungodly hour - ready to continue my journey to London. Immigration is, again, a breeze.
I nearly miss the Eithad Premium Lounge, located as it is around an obscure bend from immigration, but when I reach it, I wonder if I would have been better off missing it completely. It is crowded and cramped, and feels like a bus station with a buffet spread. I find a seat (at the edge of a table, better than some who had to sit on the floor) to savour live boarding calls from ground staff as they cut through the Louis Vuitton throng shouting "Beirut! Beirut!" Anyone for Beirut?"... "New York! Last call now for New York!"... and so on. It is rather entertaining for me to watch, but I doubt if many of the other passengers share the same twisted sense of humour to feel the same way! Between 1.30 and 3 am is peak departure time for Eithad with flights going east, west and south, and the lounge just isn't designed to accommodate so many - plain and simple.
I leave the lounge before they start shouting "London!" and meander slowly through the maze of blue/green tiles that is Abu Dhabi airport. At the epicentre, I sit and gaze in amazement at what must surely have been inspired from the mothership from some distant galaxy. Nobody can accuse Abu Dhabi of lacking in originality.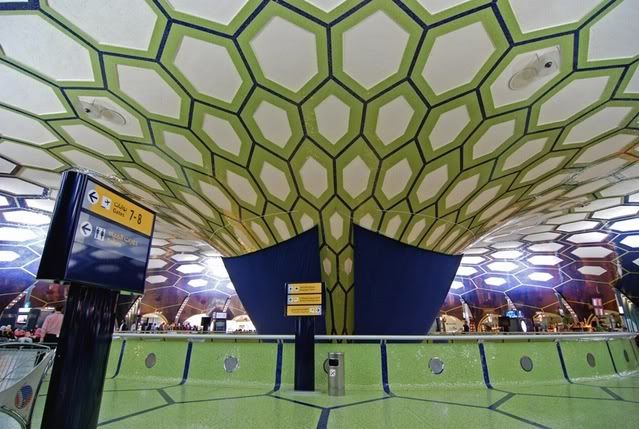 Etihad Airways Flight EY 011
Abu Dhabi-London Heathrow
22 Sept 2007
Dep 0305 Arr 0723 (on time)
A340-600 Registered A6-EHF
Diamond Zone is the name Etihad gives its first class cabin. The gate boarding is chaotic but once on board, I am escorted to my seat 3A, and then basically left all alone - no cabin crew in sight - for the next 10 minutes. If I were an ordinary (and thus reasonably demanding) F class pax, I'd be fuming; but luckily for Etihad, this is a wierd passenger who likes to sneak in a few pictures of the cabin when the crew isn't looking, so I'm over the moon. Thanks to what real F class connoisseurs must regard as an appalling lapse in service, you and I get these pics here.
Better still is the way Etihad keeps the whole cabin so well lit that even the flash on the camera doesn't pop up. Again, excellent for photography and absolutely no complaints from me, but this is nearly 3 am for goodness sake. Most airlines I have been on keep a much more subtle mood for late night flights, especially in their premium cabins, somehow making the experience a lot "classier".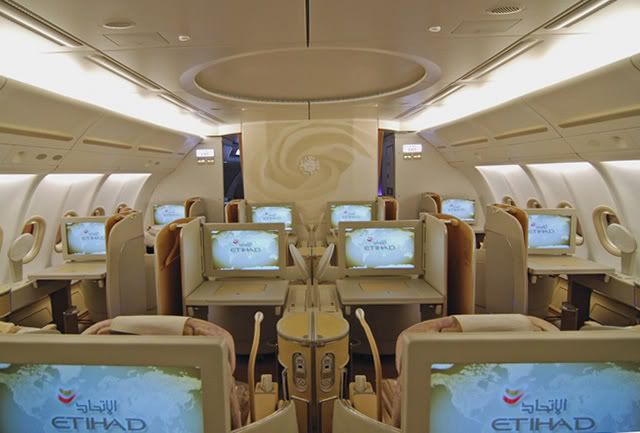 The case of the missing crew is partially solved when I realise that the Diamond Zone on the A340-600 doesn't have its own galley. The space most airlines reserve for the front galley is taken up by a "lounge" - a nice touch, but at the expense of service quality in my opinion. Any service item - a drink, or your hot meal, for instance - has to travel all the way from the galley at door no. 2, past the Pearl Zone business cabin to reach you. And when there's only one cabin crew member serving the entire cabin, and he's busy in the galley, it seems like it's just you and the pilots on board.
A Scottish lad, whose name I now cannot recall, eventually comes round, hurriedly dispensing the usual welcome drinks, obligatory arabic coffee, menus (selections almost indistinguishable from J class) and toilet kits (Aigner, for those who care about these things) that are identical to those in J Class. He is friendly in an informal way, as a mate might ask; "so, what'll it be for breakfast then?" It's definitely not BA, and even if I don't mind the casual approach, it just doesn't quite feel like First Class. When no pyjamas are offered, this passenger is left with the feeling that apart from the larger seat and roomier surroundings, the Diamond Zone is really nothing more than a Pearl Zone for fatter, taller people.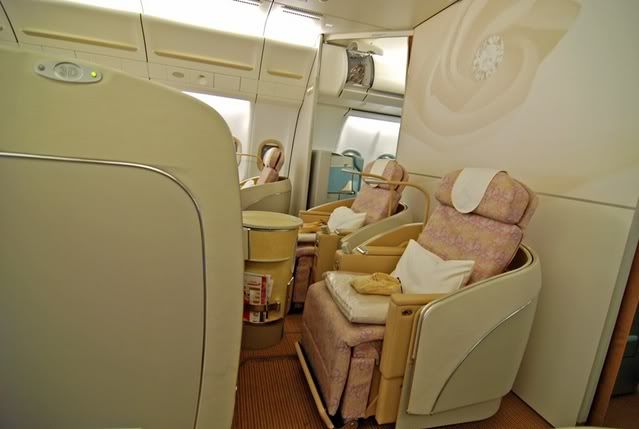 When it's already the wee hours and service leaves much to be desired, the best thing to do is sleep - which is the big plus here. It's rather comfy, and I manage more than 4 hours of shut eye. I wake up once to go for a pee in the middle of the flight, but that too can be rewarding: the night sky is simply stunning then!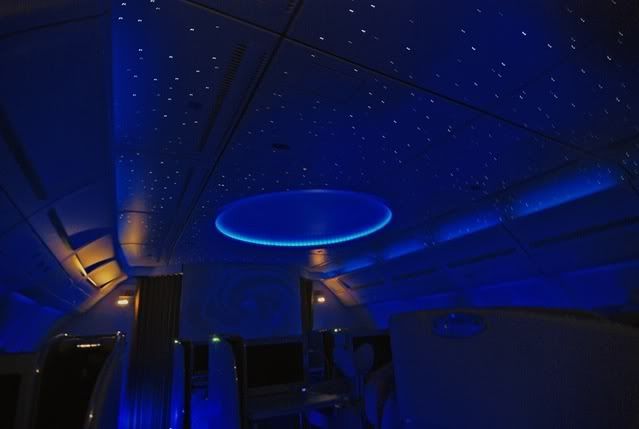 I cannot remember when I slept so soundly that I needed to be woken up by the crew. My table is already set and breakfast is on the way. I don't get to travel long haul First that often, but the "breakfast in bed" thing is one of its most rewarding pleasures. We are over a still sleeping Europe and have another 90 minutes to go, but the cabin is already glaringly lit up.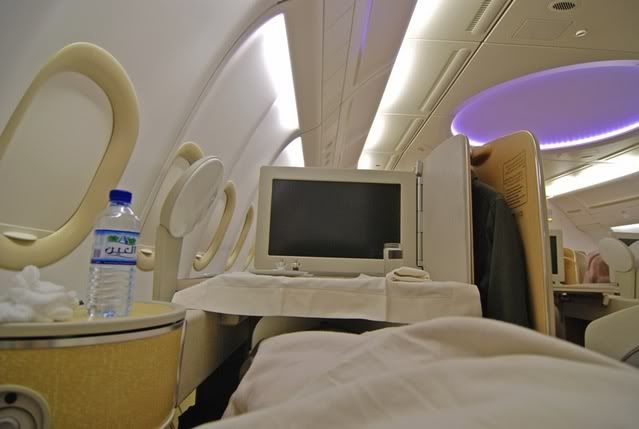 After breakfast, I lie back and try to get back to sleep in the remaining minutes before we reach Heathrow but that proves impossible with this light - looks like Etihad just wants me to get my camera out and take another picture.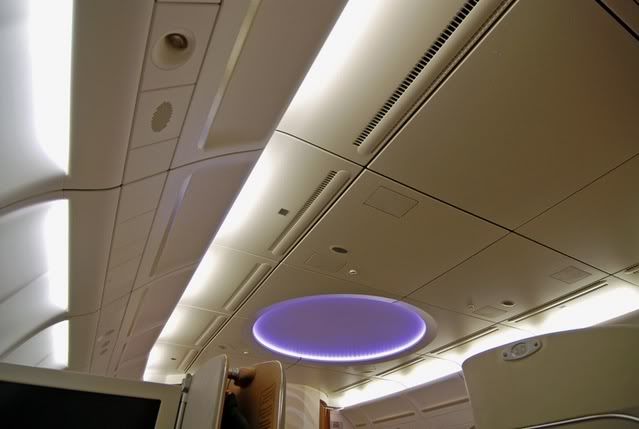 Heading back
A few unseasonably warm days in London pass by quickly and expensively. Etihad's contracted limo driver apologises profusely for being 10 minutes late due to the "even more hellish than usual" traffic, but delivers me with plenty of time to spare to the building site that is Heathrow Terminal 3. The ground experience at LHR is forgetable, at best, so let's skip it shall we?
Etihad Airways Flight EY 012
London Heathrow-Abu Dhabi
25 Sept 2007
Dep 1318 Arr 2308 (on time)
A330-200 Registered A6-EYK
The aircraft is towed late to the stand and we push back a couple minutes late, but make up time along the way.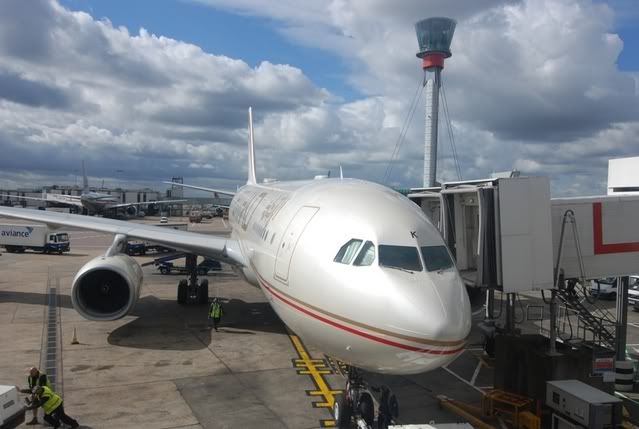 The Diamond Zone on the A330-200 looks identical to that of the A340-600, only shorter with 10 instead of 12 seats. I am seated at the front window seat 1K and here's my view looking back.
The cabin seems immaculate and the crew is generally courteous. But like on outbound flight, the software fails the hardware cheapening the whole experience. Dirty rubbish is stuffed into a side storage compartment making it look like a dustbin. The amenities (like toilet kit and menu choices) are again indistinguishable from those in J. And the lapses in service experienced on the outbound is evident here too, despite the more practical galley location on the A330, behind the F cabin. When there are only 4 passengers in Diamond Zone, there's really no excuse not to remember their names, or take an order from one and serve it to another. (My fellow pax from 2K orders ice cream mid-flight, which I get to enjoy...)
The service isn't bad, per se, and I really hate to be picky, but if F class is a barometer of how good an airline can be, then Etihad is clearly not among the top. It may just be the little things but isn't that what first class is all about? This is totally subjective of course, but I get the feeling of indifference among the crew. On all three flights I have flown so far, almost everybody seems to be just "going through the motions" and no one putting their heart in it. I suspect management has a role to play in this.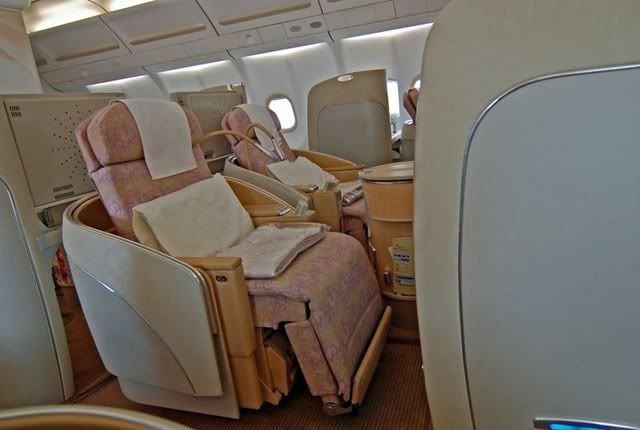 After lunch, the bright lights policy finally succumbs to mood lighting, which is rather nice and varied on Etihad.
A word of advice on the choice of seats in Diamond Zone: avoid row 1 window seats A and K. While the rest of the cabin enjoys starlit calm, these seats located ahead of the rest seem to be designed for insomniacs who enjoy the glare of a mega bright flourescent strip. The curtain keeps the light out somewhat, but every couple of minutes, it seems, a cabin crew member decides I have had enough sleep and pass through leaving the curtain half drawn. After the third time of getting up to draw the curtains myself, I finally give up the notion that I'll ever get a nap and watch a movie instead. Ah, how I miss the service on CX...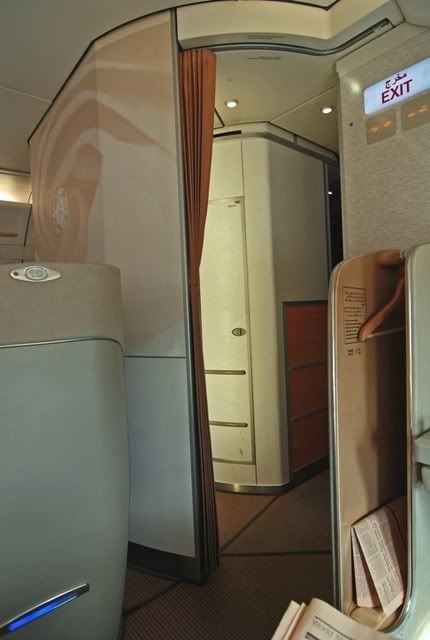 Ahead of my seat is the Diamond Zone lounge. Quite a nice affair, reminiscent of the grand old days of flying. On this flight however, it becomes a crew gathering area. I catch it here in its "quieter" moments.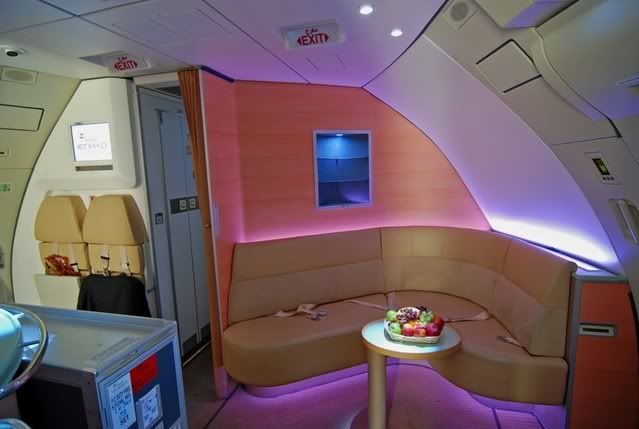 On arrival at Abu Dhabi, I take advantage of the free limo service into Dubai, some 130km away. After a full day's work, I am back in an Eithad limo at midnight bound for Abu Dhabi airport - incredibly we take just 55 minutes - and I survive to tell the tale.
Etihad's premium lounges are as crowded as ever and I am glad to be heading home. I board the same plane that took me here a week ago.
Etihad Airways Flight EY 418
Abu Dhabi-Kuala Lumpur
27 Sept 2007
Dep 0304 Arr 1408
B777-300ER Registered A6-ETD
Pearl Zone is less than half full and I am seated mid cabin at 7A. Here's the view ahead of me.
And this is what it looks like across the cabin and behind me.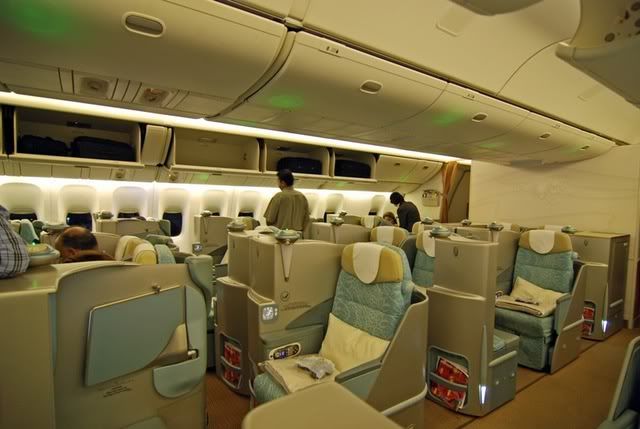 A rather substantial late night snack is served after take off - probably to cater to Muslim passengers who may want to fast for the remainder of the flight during this month of Ramadhan. With 3 pillows loaned from empty seats around me, I am suitably comfy in my little cacoon and don't wake until close to Kuala Lumpur.
A last pic before bed - the reflections of the green "seat upright" light on the overhead panels add a subliminal dimension to the experience.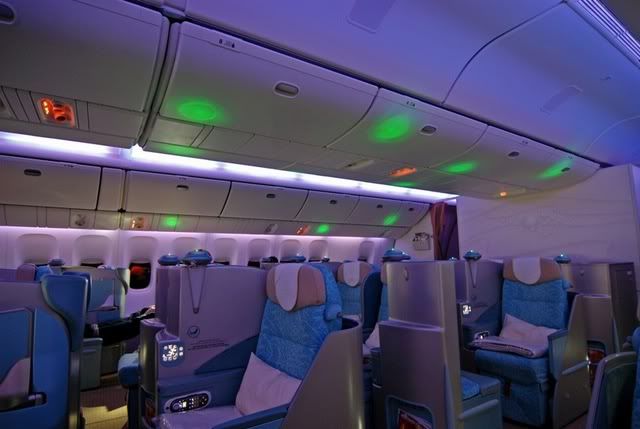 So how does Etihad stack up?
Here's a quick, biased rundown:
Comfort
- Tops. In Pearl Zone (J class), an innovative configuration and comfortable flat bed can't be beat. In Diamond Zone, a nothing special F class seat is nevertheless also comfy.
Inflight Service
- Not really up there among the best and a major weakness of an otherwise decent product. Although there were exceptions, most of the crew seemed to be just doing a job, nothing more. One could even say some of the crew couldn't care less - and this was in the premium classes! Among Mid East carriers, I would rank Emirates and Qatar higher.
Meals and Inflight Entertainment
- Okay, but not exceptional. Diamond Zone meals were almost identical those in Pearl Zone. The IFE was AVOD but I was bored with the movie and TV choices... maybe it was just a bad month.
Ground Service
- Great, I loved the limo transfers; they were booked ahead of time and all went without a hitch.
Repeat custom?
- Absolutely. Service isn't up to mark, of course, but the flat beds more than make up for it. The combination J and F fare to London from KUL on Etihad is still substantially cheaper than a plain old sloping Business seat on MH for instance, so there's really no contest.
Some final images:
Like something from the war of the worlds in Pearl Zone.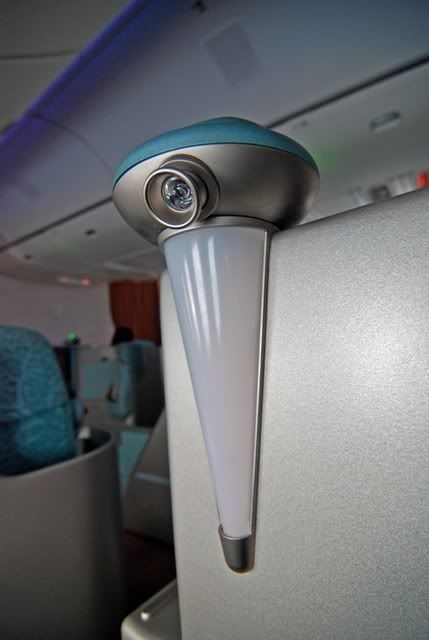 If you are bored with the IFE, you can plug in your own DVD player.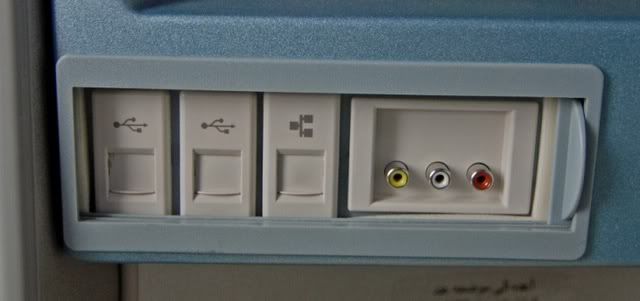 And I really love this one...