Date: 17 October 2007
Route: Washington (IAD) %u2013 Vienna (VIE)
Distance: 4464mi/
Flight: OS 94
Flight Time: 8:00h
Dep. Time: 18:05
Aircraft: Boeing 777-200/ER
Registration: OE-LPD
Dep. Gate: D 30
Seat: 17K
I arrived in the afternoon from Los Angeles on UA 946 and had been told by Austrian staff over the phone that I would have to go to their counter to check before I could go to the gate. My flight had arrived early and I was at the Austrian check in counter about three hours before departure and there was a very short wait of about two minutes before I was checked in. Since I was traveling standby, I was given a DM card to get thru security and was told that I would get my seat assigned at the gate. The guy also told me that the flight was open and that I should have no problem getting on.
I went thru the employee checking and met some old co-workers my way the gate. I was very pleased to see OE-LPD at the gate since that's the only 777 purposely built for Austrian, the other three having been built for Lauda Air. I flew on OE-LPA with Lauda in February 1998 Kuala Lumpur to Sydney and it was a very nice flight.
I checked at the gate twice before they gave my boarding pass and I was happy that I got a window seat and forward in the cabin. Boarding was supposed to start about 55 minutes before departure, 10 minutes earlier than on a UA international flight. First a call for Business class was called and about five minutes boarding for Economy Class and it was done by row numbers, higher row numbers first. I was in the last batch to board. When I got on board I noticed that my window seat was mostly windowless, just a wall with the actual window missing. I could see a little bit forward thru that window and a little bit behind me as well but this was very disappointing.
I was seat next to an older American couple and also noticed that there were very few empty seat on the flight. I thought there would be 50 or more open seat this late in the season but there were probably less than 10 open seats on the whole aircraft. Most passengers were either older Americans traveling with a tour group or East Europeans going back to visit family, very few Austrians on the flight.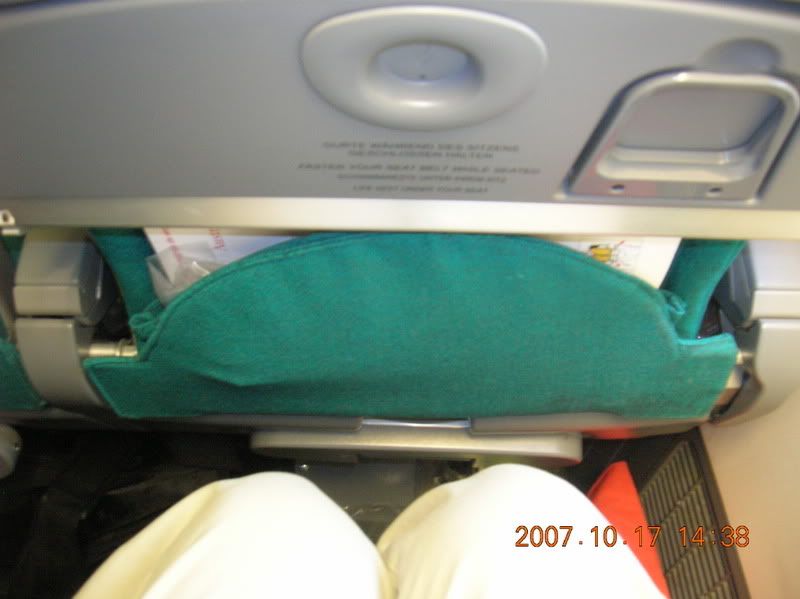 The seat was comfortable and legroom was okay although the box for the in flight entertainment system took up a lot of space. There was also a leg rest along with the winged head rest and the video screen was very large; larger than UA and AF for comparison. There were pillows and blankets at every seat along with a headset, same type as on Air Canada, the type where you hang it over the ear. Push back was a few minutes late but we would make up that lost time in flight and I was in no hurry. The safety video was played and it was very funny. It was done like a cartoon with a guy checking out a single mom and her child with his tie getting stuck in the tray table etc. Very good!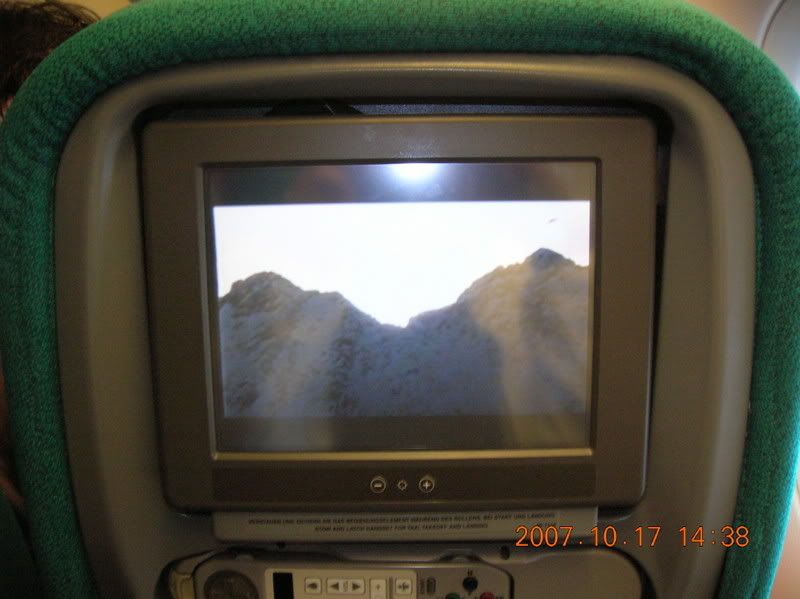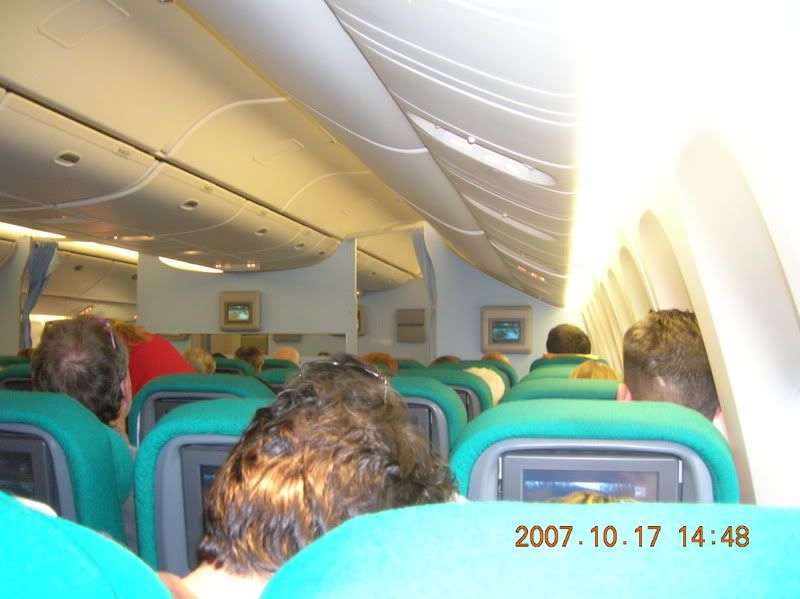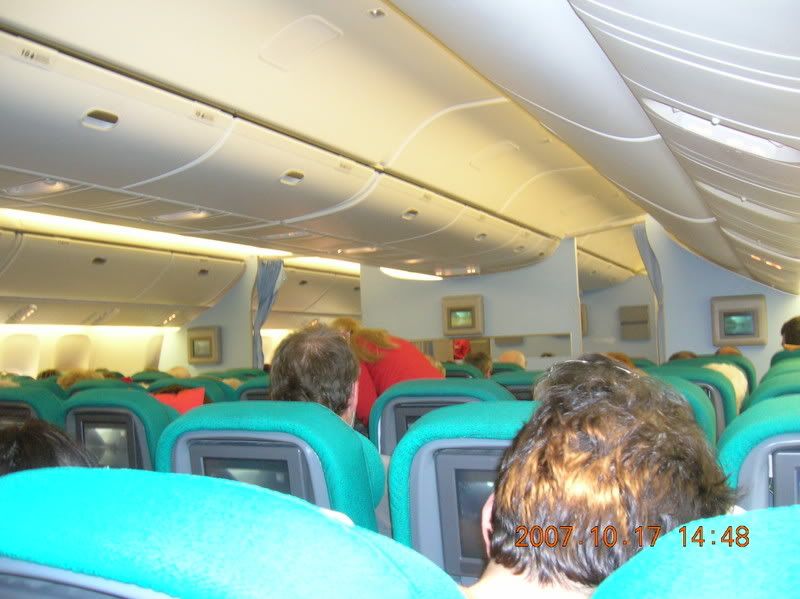 Take off was short and it was great to feel the power of those GE90 engines. Soon after take off, a beverage service started which included a snack mix.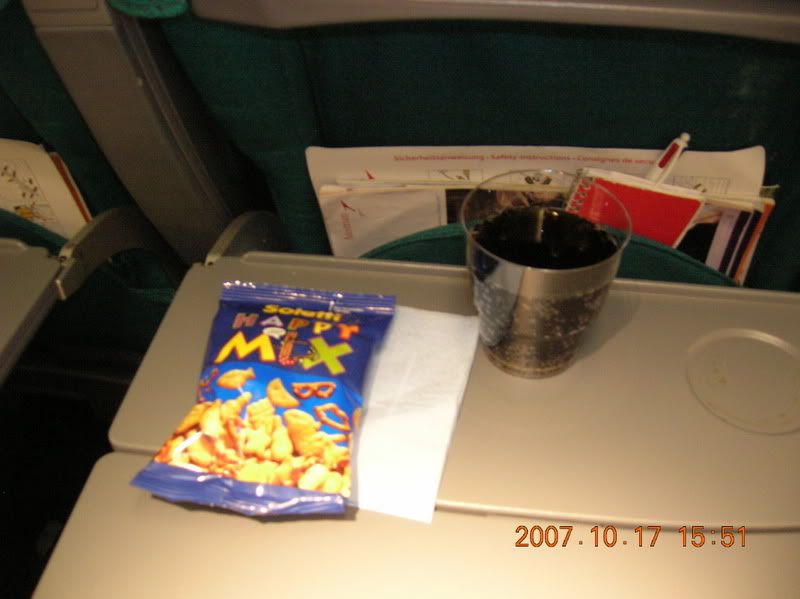 Shortly there after, the entertainment system was turned on and I started to watch my first movie, Irina Palm which was a British movie and it was good. Soon after the trash had been collected, dinner was served and there were two choices; Thai chicken curry or grilled salmon. I had the Thai chicken curry which also came with salade Nicoise and profiteroles as desert. The food was very good and the portions were slightly larger than normal. I asked for a can of coke and the flight attendant gave it to me. I had a Bailey's after the dinner which is great to sip on.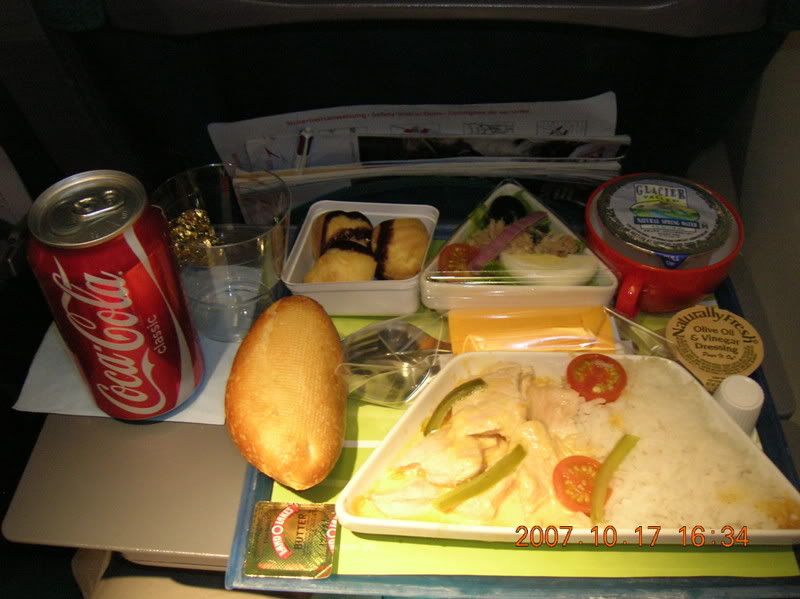 Other entertainment options included videogames and gambling but I did't try eirher, I watched another film instead, Georgia Rule which was a nice film. The Airshow map was on as well and there were also bird's eye view and nose view cameras. A lot of people went to sleep after dinner but I stayed up. The flight attendants were friendly and efficient and came back every hour offering drinks to keep us from getting too dehydrated. They offered mostly water but also apple and orange juice. Very nice!
Towels were giving out in the morning right before breakfast was served about 90 minutes before arrival. Breakfast was an assortment of cold cut ham and cheese along with yoghurt and a muffin.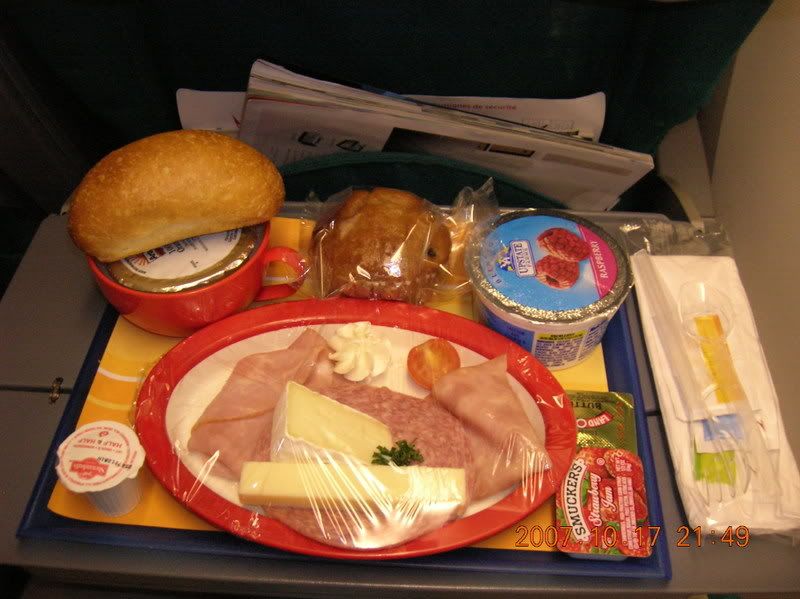 One I took note of during the flight was that the overhead bins in the center section of the aircraft were about 25 % longer than the overhead bins on the side. I have never noticed that before and may be a feature on newer 777s, this aircraft having been delivered in Feb07.
Routing was a normal Transatlantic routing from Washington over Boston over New Foundland, Northern Ireland, Birmingham, straight over Amsterdam past Dresden, east of Prague before turning south for descent and later landing at Vienna.
All in All, a very nice experience with Austrian and it reminded me a lot of my experience with Lauda Air from Feb98. Austrian in 2007 had the same entertainment system as Lauda had in 1998; not sure if that says more great things about Lauda in 1998 or less good things about Austrian in 2007%.......
This is the 38th 777 carriers' 777 I have flown on and three more coming up in a few weeks....
The777Man