Sunday 23 September 2007
EVA Air BR2197
Tokyo Narita to Taiwan Taoyuan International Airport
B-16306 (332)
Seat: 25K
Flight time: 3hrs 20mins
Background
This is a continuation of flights that I took in September 2007 following a short trip to Japan and Hong Kong. I've recently completed a trip report which has been posted on a.net for one of the Japanese internal flights we took from Hiroshima to Sapporo on JAL (MD90).
Our time in Japan had come to an end. Sadly, it was time to return home to the UK. The previous day was glorious, having spent a number of hours at each observation deck at Narita Airport. I've attached a few pics taken on that day, including ANA's brand new Business Jet B737-700.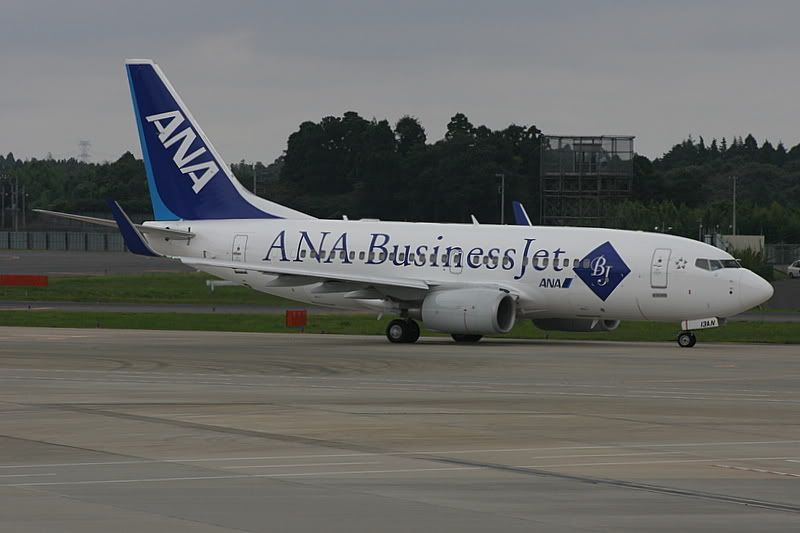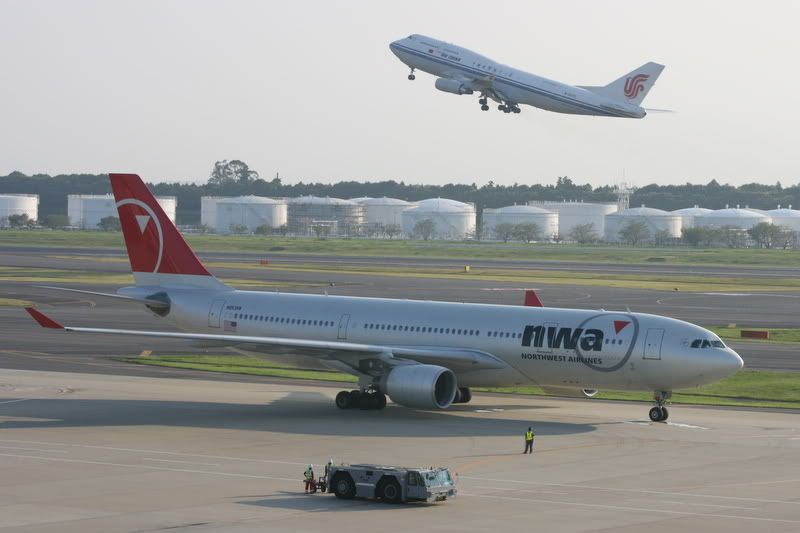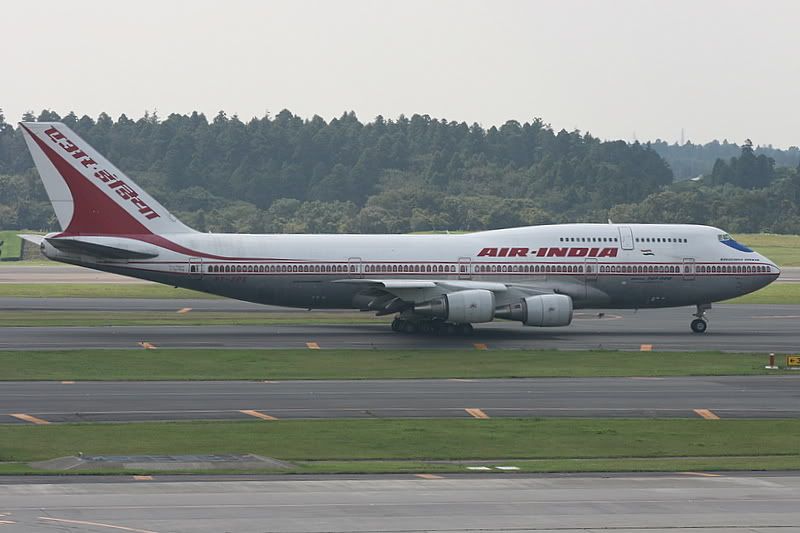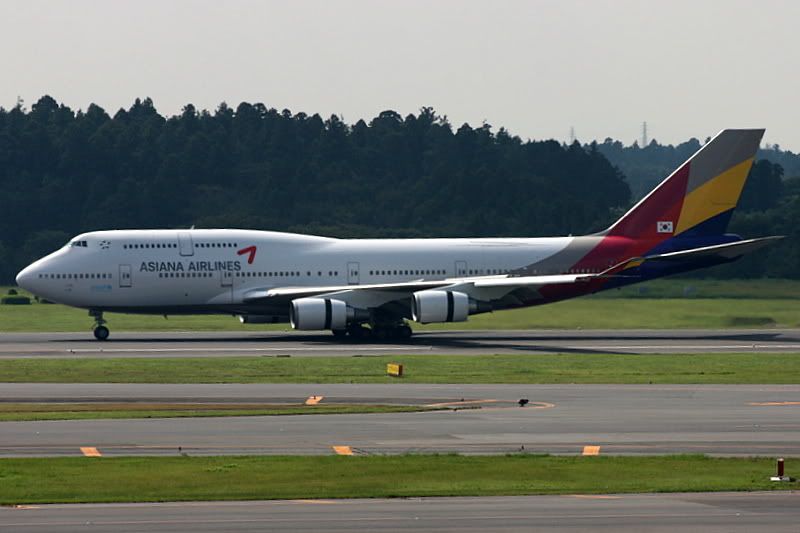 I'd flown from London to Hong Kong, then spent a few days there before going to Japan. EVA Air offered a competitive fare on the Hong Kong – Japan route which meant a short stopover in Taipei. I'd not been to Taipei for nearly 12 years (having lived there for just short of year as a language exchange student) so it would be nice to see what had changed at CKS Airport. I sound discovered quite a few changes, including the name of the airport there which had recently been changed from Chiang Kai Shek International to Taiwan Taoyuan International Airport (after the region of Taiwan where the airport is located).
Sunday 23 Sept dawned overcast but very humid and hot (as it had been for most of our visit). BR2197 was not due to depart until 1415 so we spent the morning on the observation decks (again) to get our final dose of the wonderful facilities that exist at Japan's airports.
At Terminal One, I had no problem checking in through to Hong Kong (on BR857) and after a short wait for the group in front of me, I had my boarding pass. Seat 25K was mine. Having explored the landside of Terminal One extensively, I went through to airside and spent the last hour or so watching aircraft landing and just generally wandering around. Everything was well signposted and spotless – just like all of the other Japanese airports we'd visited over the past 7 days.
Arranging myself on a seat with a view of my gate, it wasn't long before my aircraft taxied in (having arrived from Taipei). I was a little relieved to see that it was not the same 'Hello Kitty' Jet that brought me to Tokyo the week before!!
Here she is, B-16306, arriving from Taipei.
Here's the view from seat 25K on that day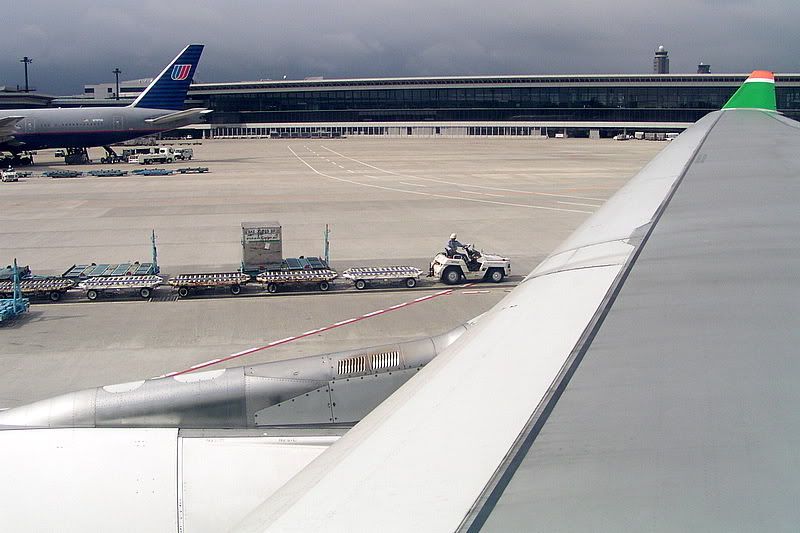 We were soon on our way, and taxied out to Narita's shorter (and newer) runway and with little delay, we lifted off after a powerful take off. Farewell Japan!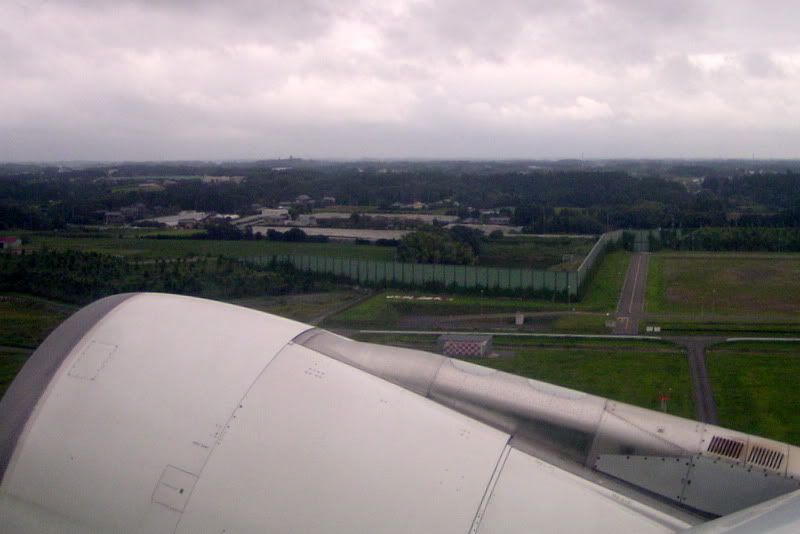 The flight itself was uneventful. I continued to watch the entertaining Japanese movie that I had not finished watching on the inbound flight (about local Japanese women in the 1960s in a coal mining district of Japan who were offered the chance to train to become Hawaiian hula dancers in anticipation of a new Hawaiian centre that was to be built near the town. I'd read this was actually a true story – and the movie, I think is called "Hula Dancers" in English.)
Service aboard EVA Air was excellent. Lunch was served on today's flight with a follow up drinks service. The flight attendants all did a great job and I came away (from having done 4 flights with EVA Air) with favourable impressions.
Just over two and half hours later, we started our descent into Taipei. The weather was cloudy so there was little to see until we got closer to the airport.
Some approach shots as we got closer to TPE. The urban sprawl of Taipei City can be seen clearly in the distance. Great cloud formations for our arrival this afternoon!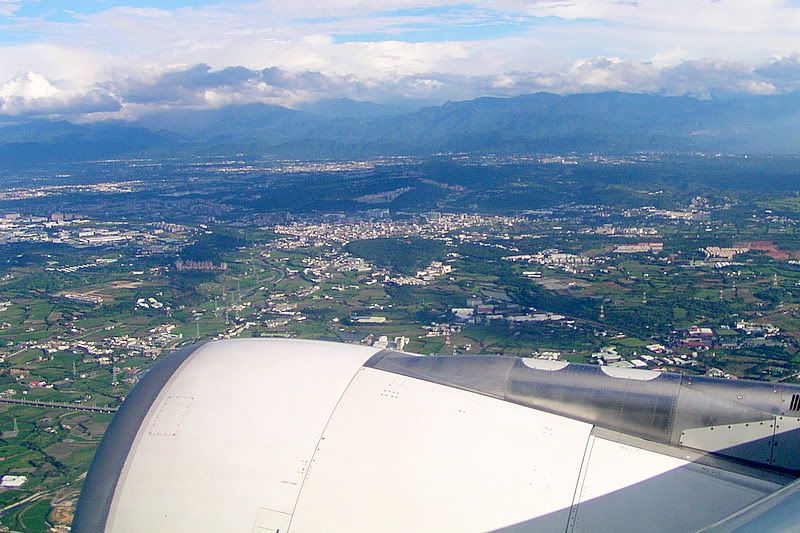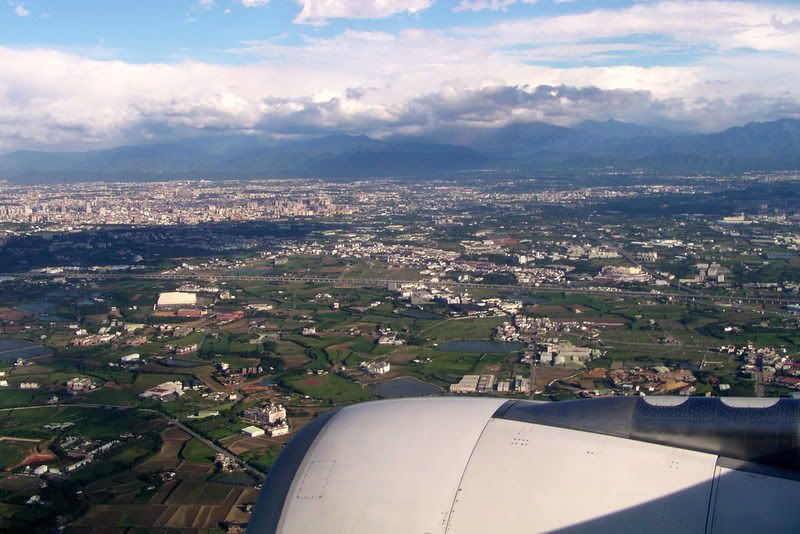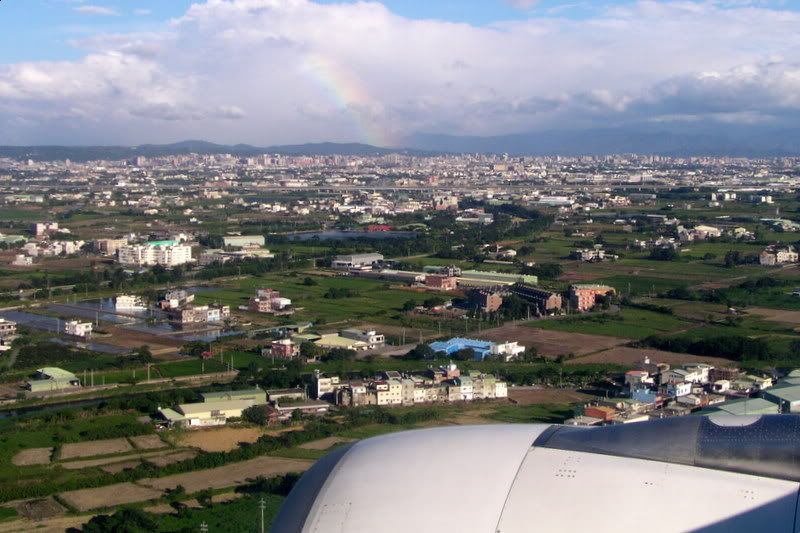 A smooth landing followed and these were the scenes during our taxi to the gate, including two Air Macau flights.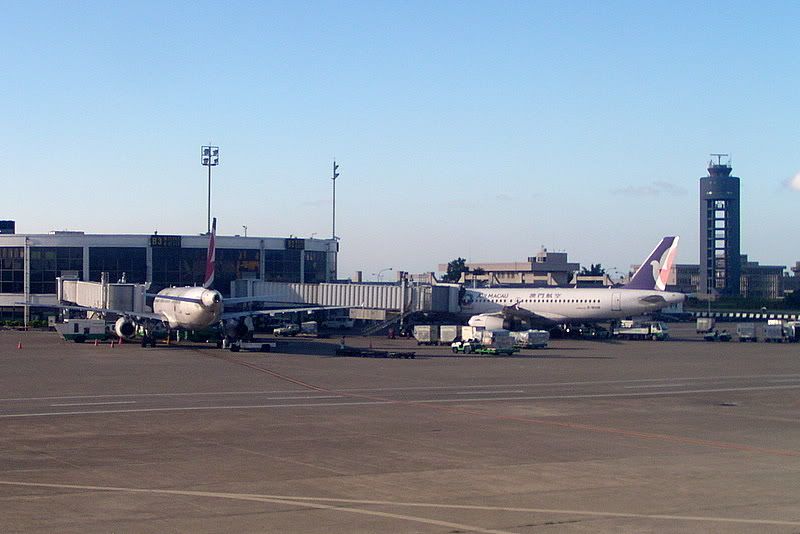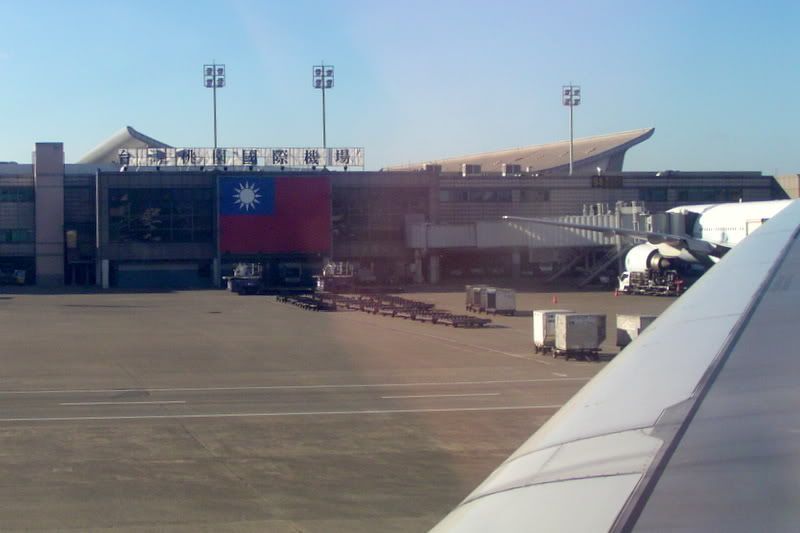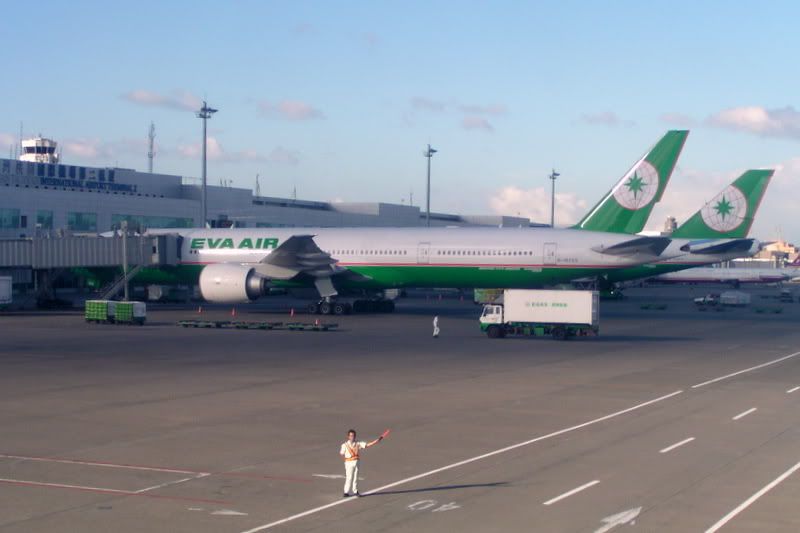 We parked next to two company aircraft being readied for their next international services.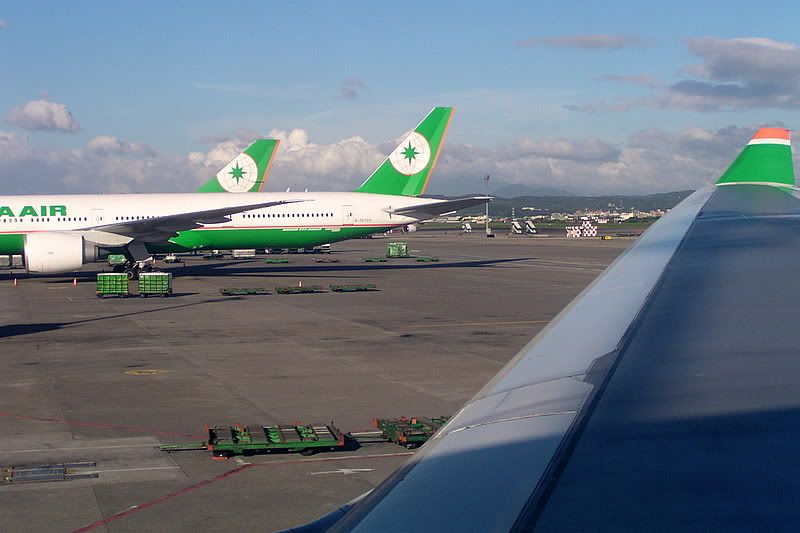 B-16306 resting at her gate after arriving from Tokyo. This aircraft went on to operate my onward flight to Hong Kong as BR857. I really enjoyed my flights with EVA Air. They were all on time, the service on the ground and in the air was great. I would certainly fly with them again. The A330 is one of my favourite aircraft - in fact, it IS my favourite aircraft to fly in.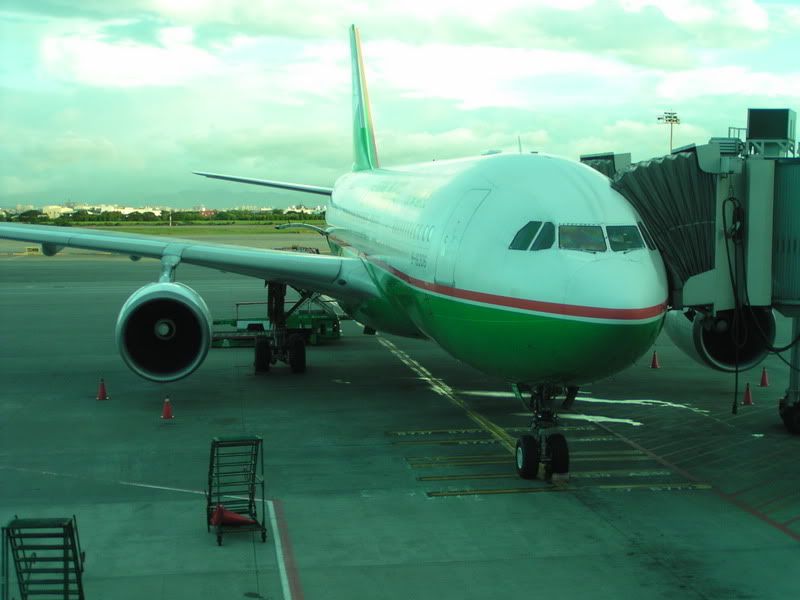 I could not resist whilst in transit to take a few more pics. Here's a short selection from TPE that afternoon.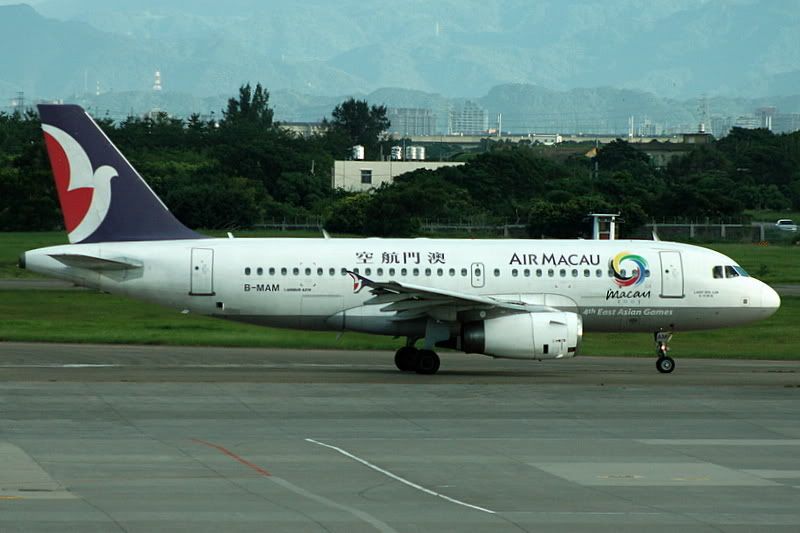 The "locals"
This was a rare one for me - Angkor Airways (presumably leased from F.A.T of Taiwan)
Thanks for reading. Any comments are most welcome.