Since the weather has been terrible here in Phuket, I thought about putting together another trip report that is long overdue. This report will cover the SYD-PPT-SYD part of my trip in March, report about BA First can be found here:
BA FIRST: BKK-SYD-BKK On BA009/010
(by
Lufthansa747
May 14 2007 in Trip Reports)
30 March 2007
Sydney Kingsford Smith (SYD/YSSY) – Papeete Faaa (PPT/NTAA)
Air Tahiti Nui TN/THT 004
Airbus A340-313X
F-OJGF "Mangereva"
0905 – 1955-1 (On Time)
Poerava First, Seat 1K



Distance 3806mi
Fare: AAdvantage Award
25th flight on A340-300, first on this one
I was originally not supposed to stay in Sydney at all, but Air Tahiti Nui's constant changing of the schedules forced the overnight. A year earlier I had to cancel my trip because of their schedule changes. Thanks to quite some drinking the night before, I somehow missed the wakeup call of my phone, and was in a hurry to get to the airport. No problems at the end, check-in was in full swing 1h before departure and for sure didn't close for another 20 minutes at least.
I was given my pre-assigned window seat 1K and a lounge invitation. The latter was for the Qantas Club Business, I questioned this but it appears all TN premium pax use this instead of F lounge for F pax. Unacceptable, even more so considering this flight is a codeshare with Qantas. Anyway, I was in a hurry to get to the gate, so just gulped down a glass of sparkling wine at the said QF Club.
Priority boarding was well enforced, and I was soon sitting in my F seat 1K. There is just one row of first, arranged 2-2-2, and the seats on this aircraft were the same as old Air France L'Espace Premiere I believe. They go fully flat but are obviously behind competition offering various suites, ranging from BA's rather tight squeeze to SQ's newly unveiled A380 Singapore Suites.
Pre-departure drinks were served – I chose just water at this point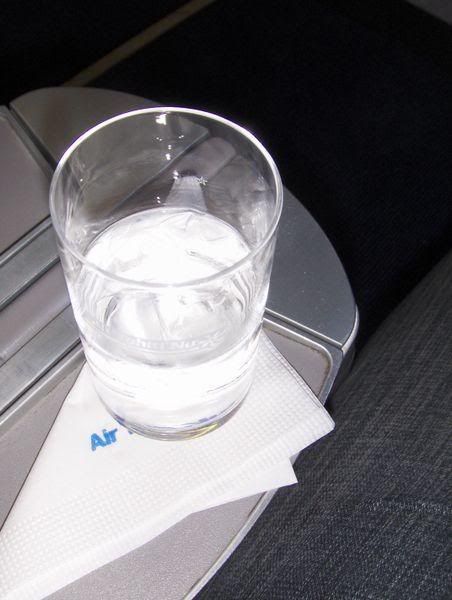 Menus and amenity kits were handed out as well. The menu was nicely presented in a tropically themed book, unfortunately I forgot to take a picture. I did keep the paper inserts, and will post them once I get home next month and unpack all the 20 pieces of luggage… Amenity kit was a nicely designed blue bag, containing a lot of items including a nice pen and hair brush.
Poerava First amenity kit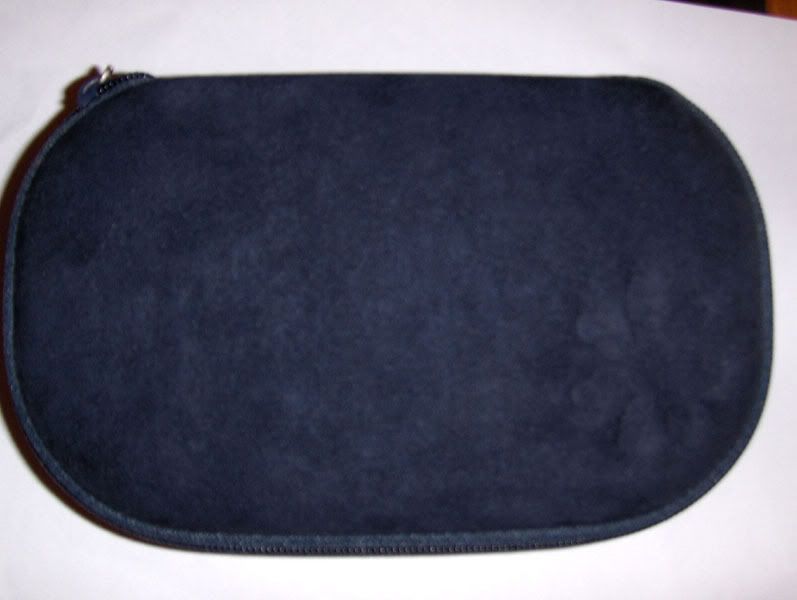 Contents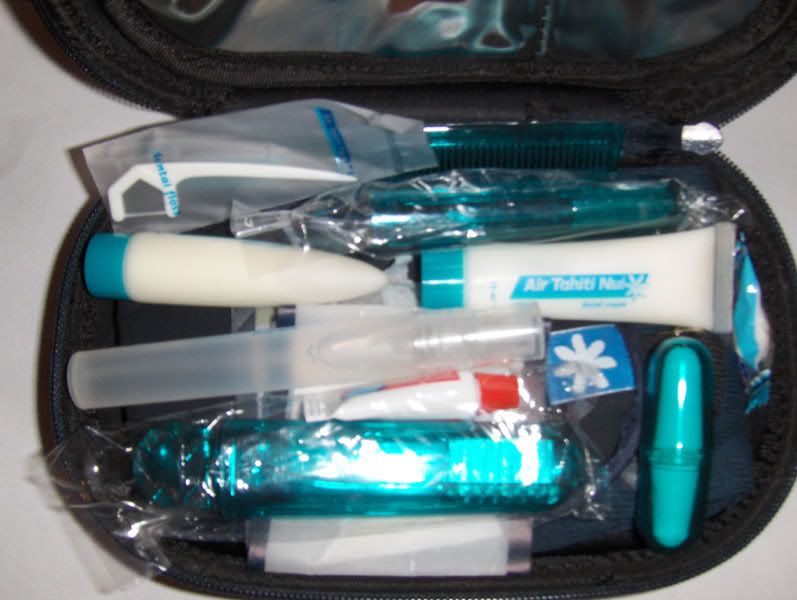 The flight was packed in all classes, however the seat next to me remained empty until the doors closed. It was then taken by someone claiming to be a major shareholder of TN, and his next comment was that the flights are too full so his wife has to stay in C. Hmmm, shouldn't full flights be a good thing from a shareholder's point of view? Had some interesting chat with him later about TN and Tahiti.
View of the front bulkhead/bar counter just as doors were about to close
Pushing back more or less on time with VH-QPE next to us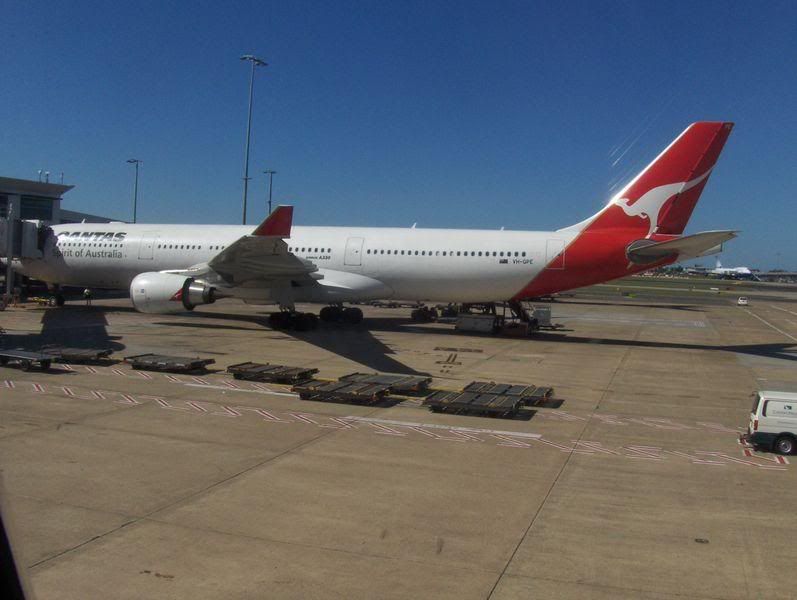 Asian Star Alliance heavies – HS-TGL of Thai and two jumbos of SQ
A Norfolkair classic B737-200
Virgin A340-600 waiting for her return to Heathrow via Hong Kong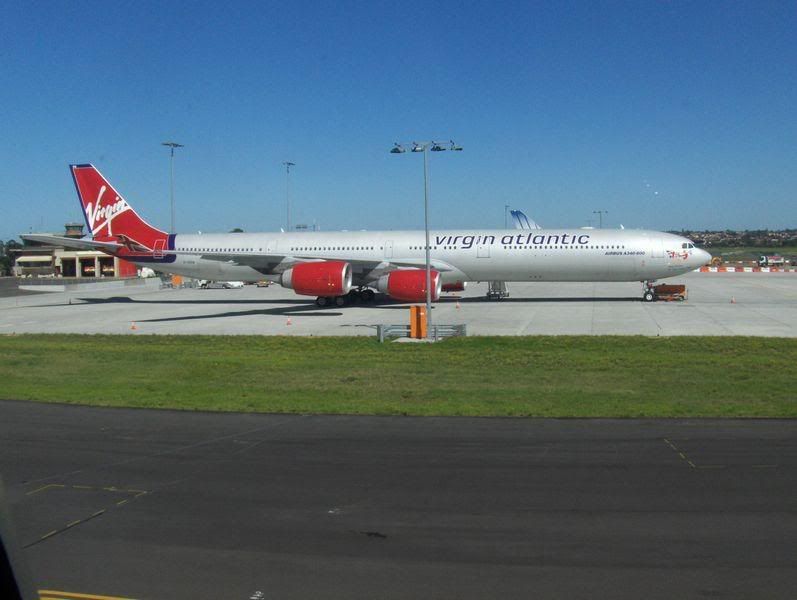 Passing the highway on our way to 34L for takeoff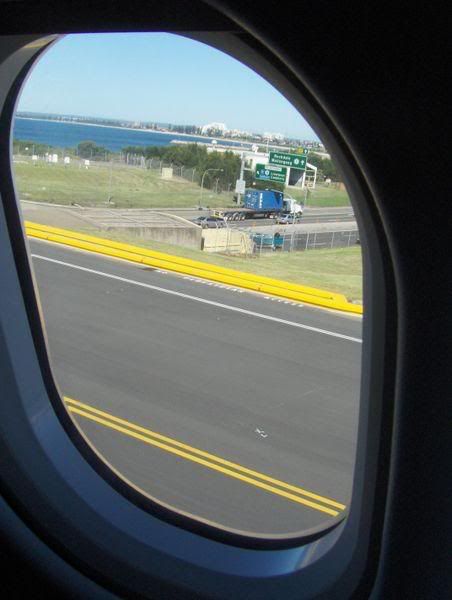 The usual lazy A340-300 takeoff followed, and obviously it was very quiet in First. QF domestic terminal seen on takeoff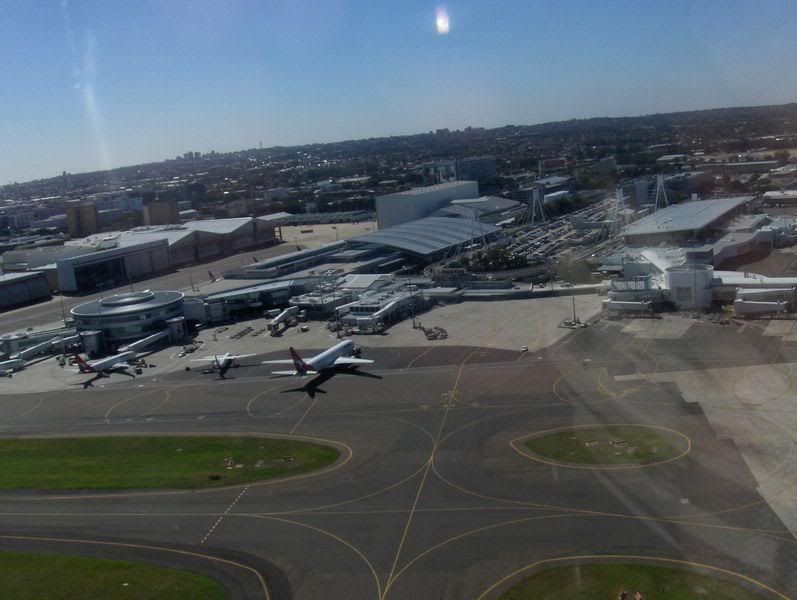 It was a nice morning for flying, and some nice views of the city could be had from my side of the aircraft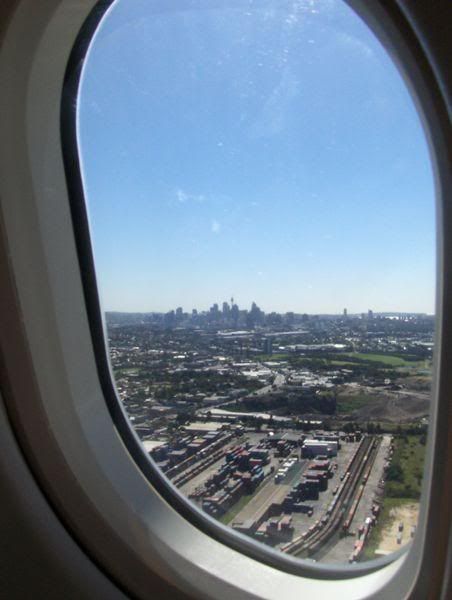 Despite the early departure time, this flight thankfully serves a full lunch instead of breakfast. Eating a rubbery omelette is such a waste in a premium cabin. Unfortunately I don't have the menu here with me, but it will be posted once I get back to Finland as I said above.
Meal service started with canapés. Unfortunately the champagne is regular Moet&Chandon NV, in my opinion First should have something better.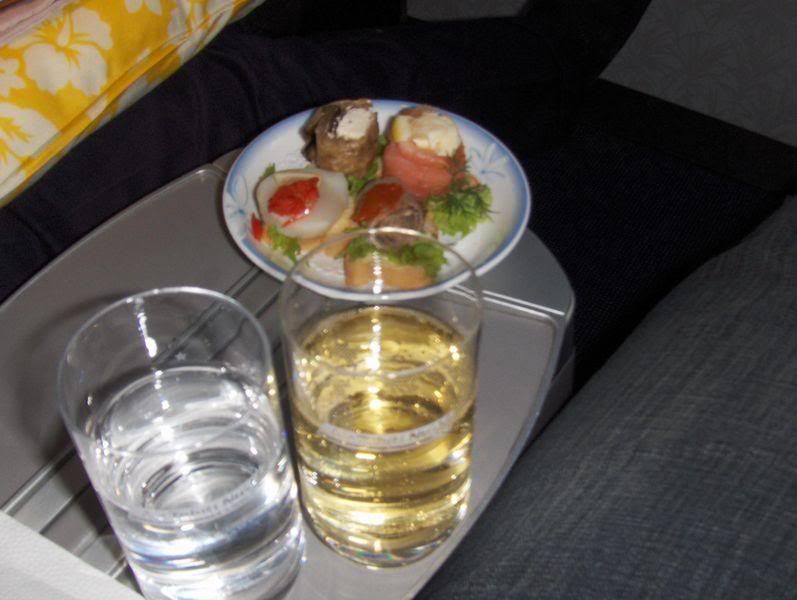 Bar setup at the bulkhead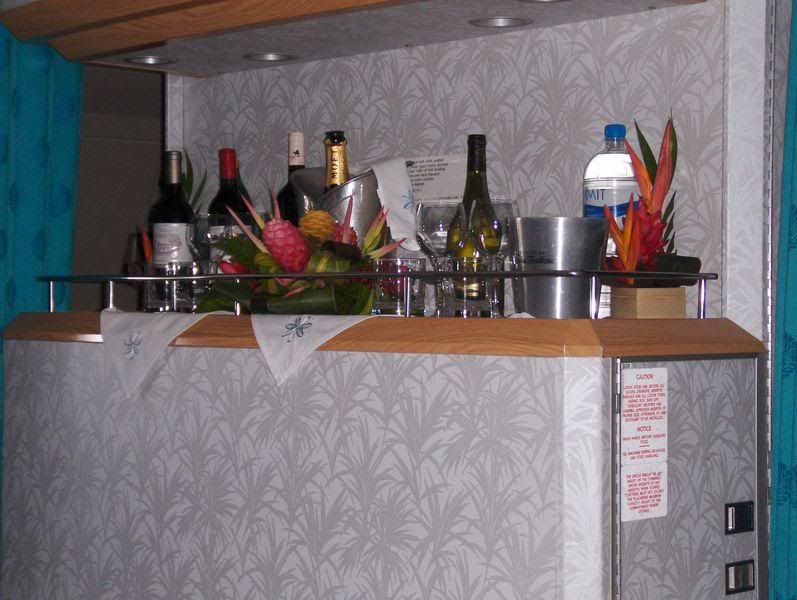 Classy table setup
First course – caviar.
Followed by a nice salmon appetizer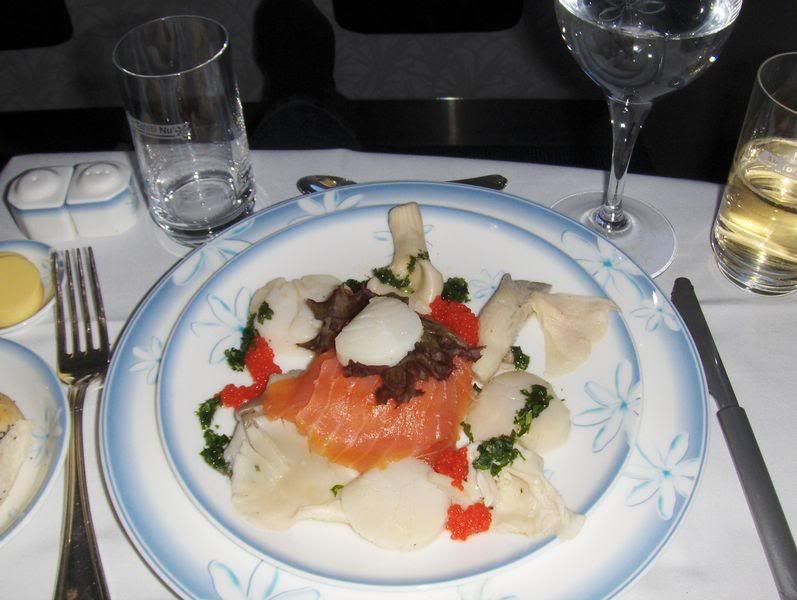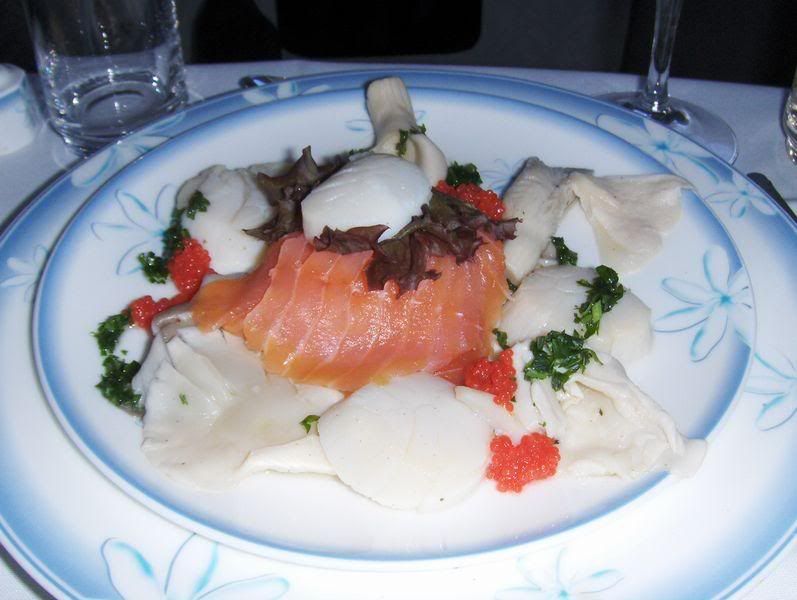 Main course – you can choose the main and then choose side dishes instead of just pre-plated mains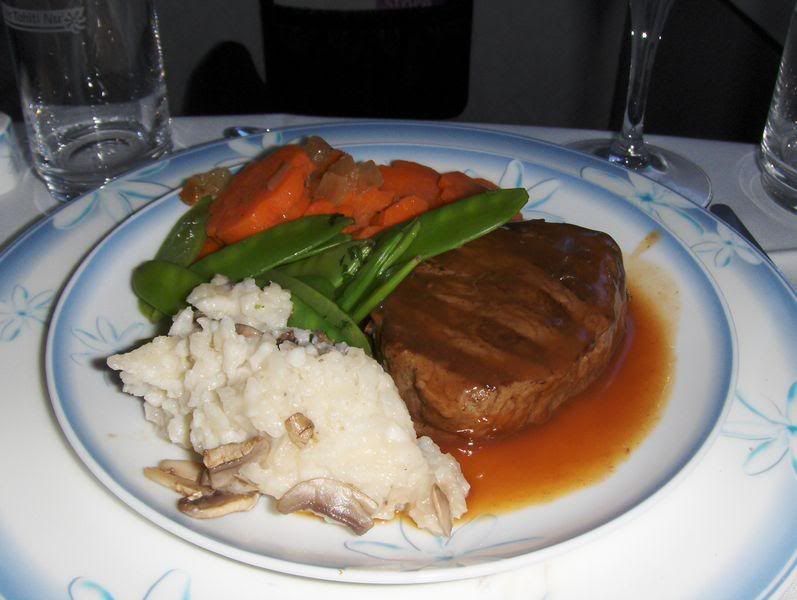 Cheese is of course a must on a French carrier
Fresh fruit and dessert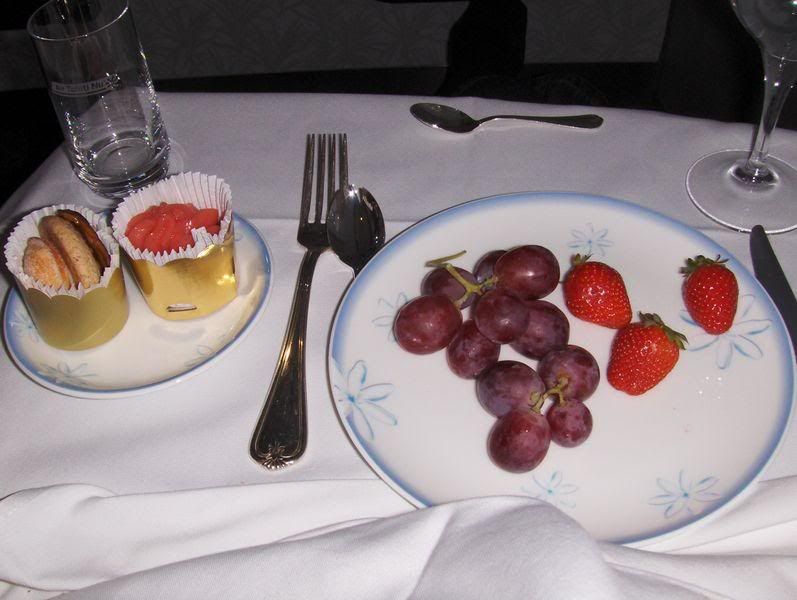 The meal was excellent and so was the presentation. Caviar is something I like very much, and it's nice to see TN has kept it as part of their first class service unlike BA for example. Service was good if a bit slow due to the full F cabin.
I was exhausted at this point after little sleep the night before, so the seat went flat and I slept well until we started our descent into Papeete Faaa airport. No pyjamas were handed out, not sure if the crew forgot or they don't hand them out on daylight flights.
We landed on time, and I breezed through the EU citizens lane in a matter of seconds. It was raining heavily, so the trip across the parking lot and road to the Tahiti Airport Motel was a different story… Airliners.netter AF Cabin Crew recommended this place as a cheap and clean facility and it indeed was.
I was originally supposed to have three days in Tahiti, but the schedule changes meant just one night in PPT, thus I chose to go for the airport motel. It's more or less brand new, the rooms are very clean and comfortable enough. There is (expensive) wireless in the rooms, otherwise the place has very limited facilities. I paid around 100 EUR for the night, a good deal for Tahiti. Would like to visit for a longer time, as I didn't see much of Tahiti this time.
Views from the hotel
31 March 2007
Papeete Faaa (PPT/NTAA) – Sydney Kingsford Smith (SYD/YSSY)
Air Tahiti Nui TN/THT 003
Airbus A340-313X
F-OSUN "Moorea"
0215 – 0705+1 (On Time)
Poerava First, Seat 1D



Distance 3806mi
Fare: AAdvantage Award
26th flight on A340-300, first on this one
The PPT-SYD sector departs in the middle of the night, thus one is forced to pay for another night at a hotel if you don't want to hang out somewhere without a room. I chose to pay half day for a 6pm check-out, and spend the rest of the night at the airport.
Faaa Airport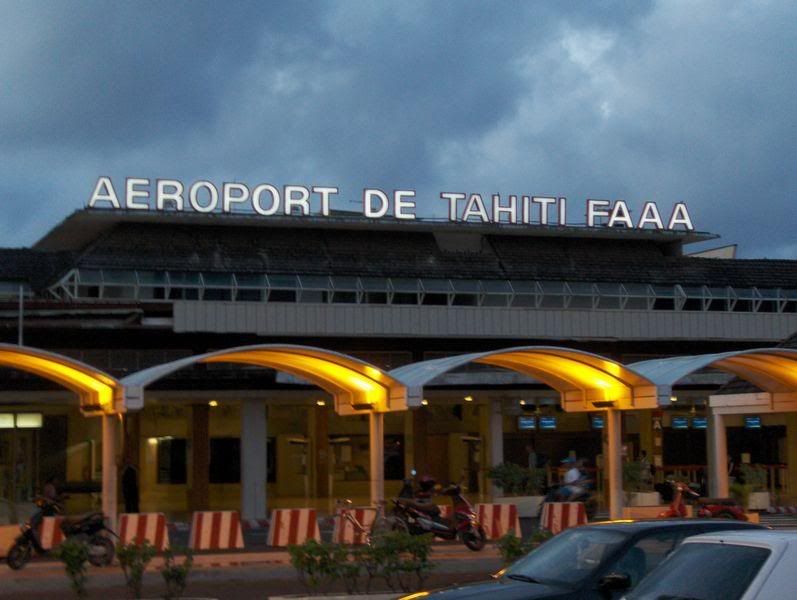 Check-in for TN 3, I remember it opened 3 hours before departure only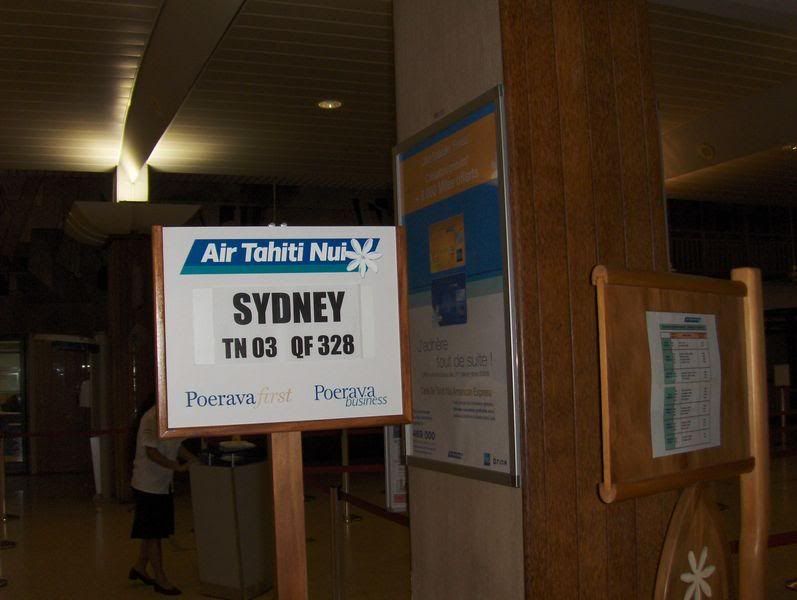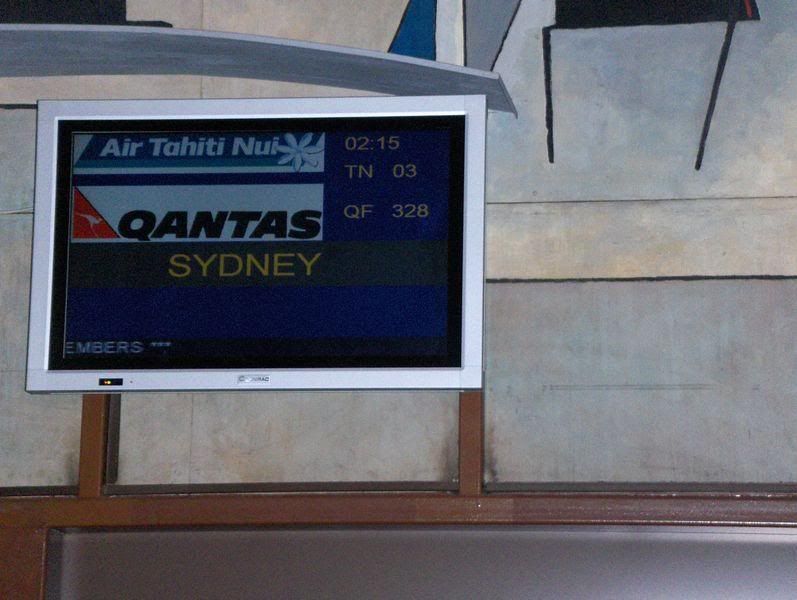 Boarding pass and lounge invitation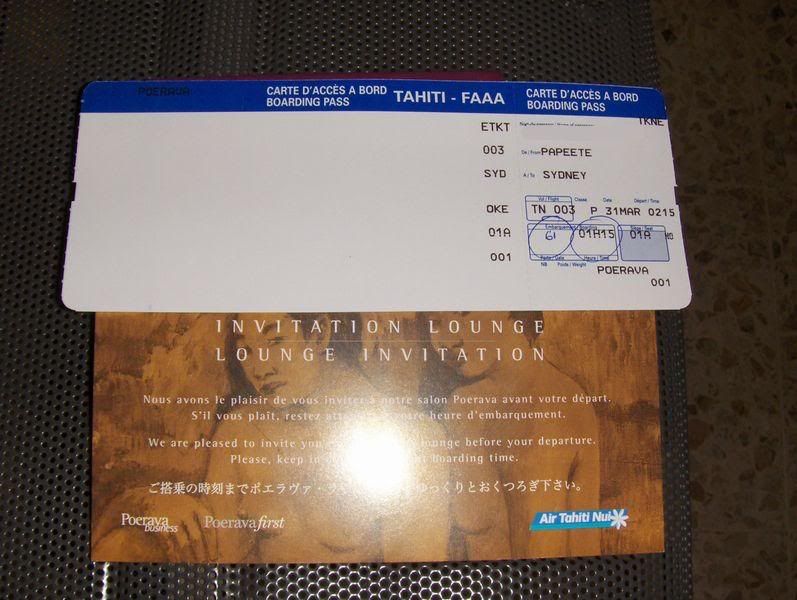 Security was fast and I was in the lounge in no time at all. There is just one common lounge I believe, used by all carriers serving PPT.
Entrance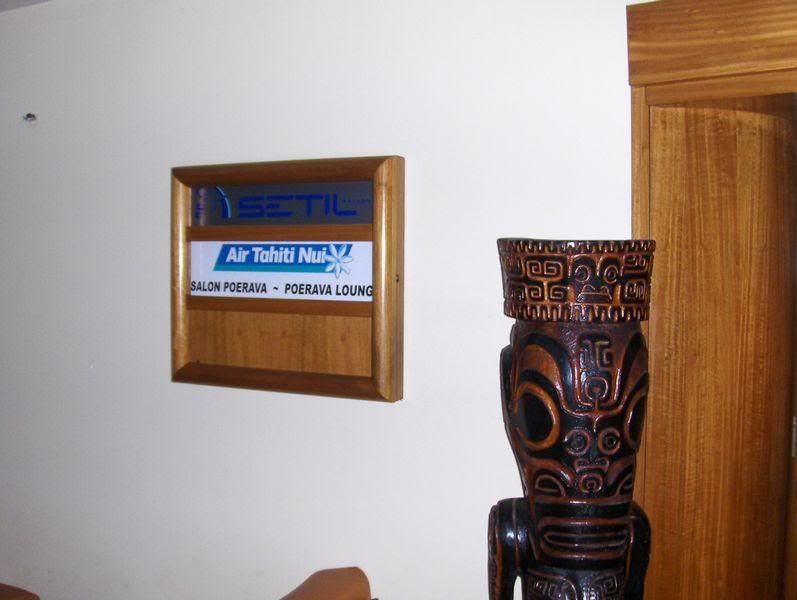 The snack selection was utterly poor, however drinks were ok, including of course the local beer Hinano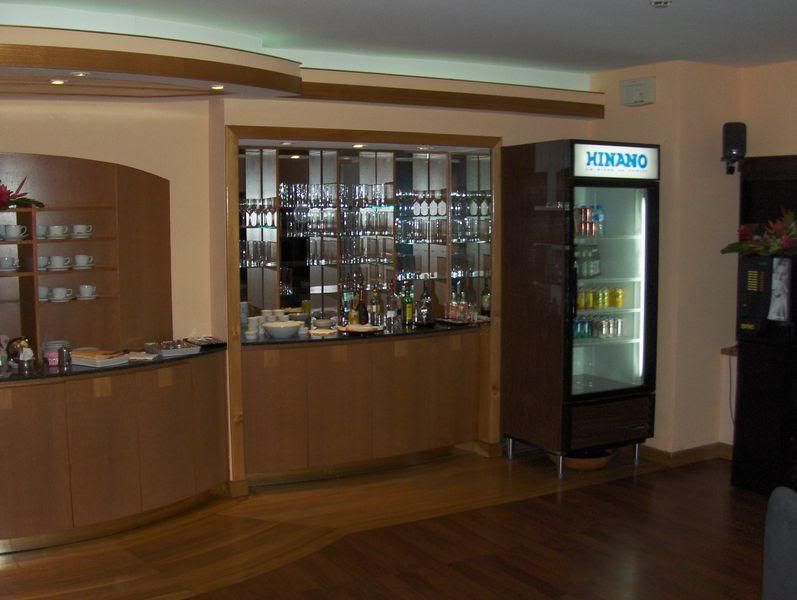 A poor picture of F-OSUN waiting outside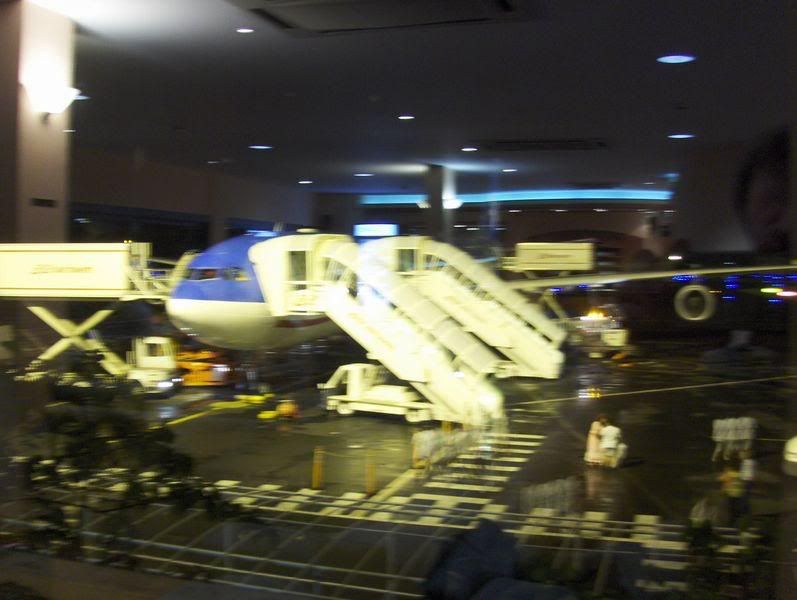 Boarding was from gate 61 tonight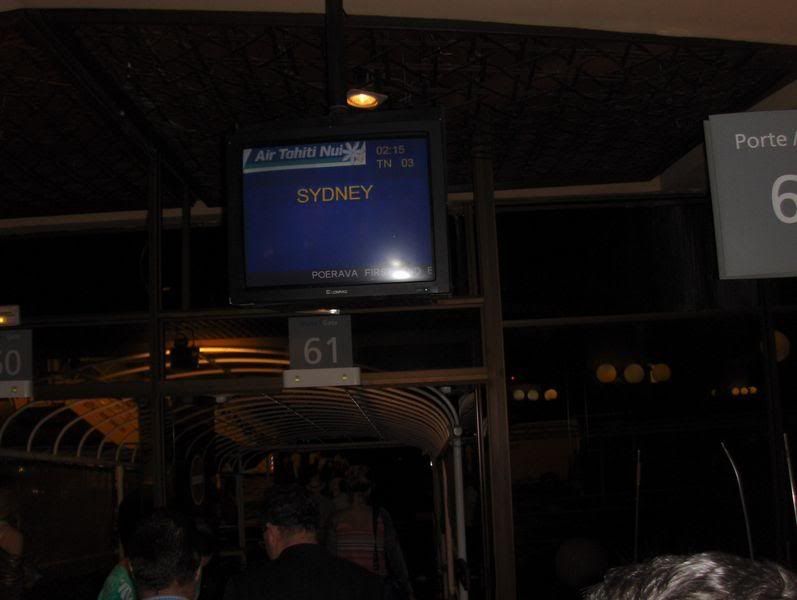 F-OSUN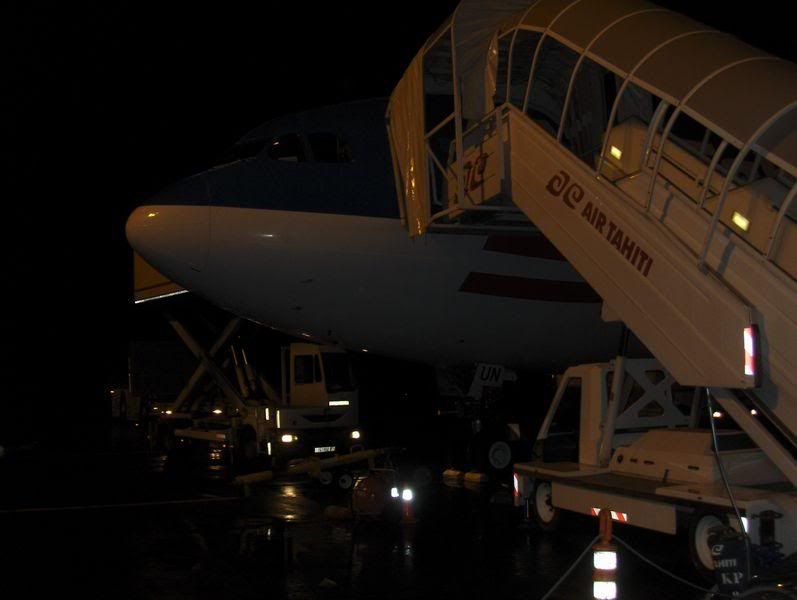 Pre-departure champagne – it wasn't Moet but the C-class variety instead. Nicolas Feuillatte NV iirc, but not sure.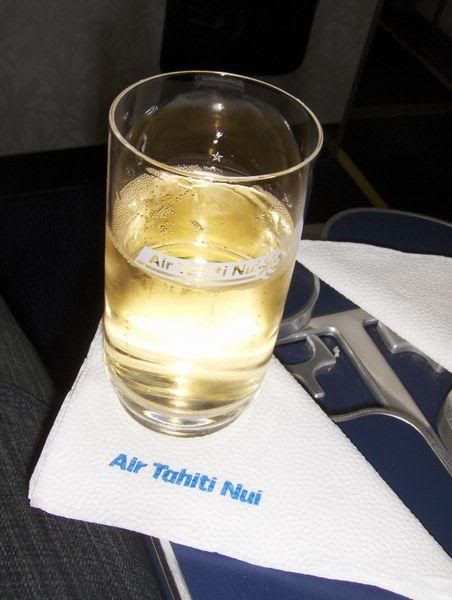 The seats on this aircraft were different, pretty close to those found on Emirates B777-300ER in business, although these go fully flat. The load was just 4/6 tonight, so as soon as the doors closed, I grabbed the pair of middle seats for myself. Menus, amenity kits and pyjamas were handed out before pushback. The pyjamas are very classy, nicer than on most carriers. Having said that, the not so fancy BA ones are large and comfy, something I can't say about the TN or CX pyjamas. The hot towels of course made their rounds whenever appropriate, I seem to forget to mention them these days…
We were pushed back on time, and took off without delay obviously as PPT isn't exactly as busy as JFK's European departure bank.
Some airshow views. TN has non-AVOD basic PTVs, I don't really bother using them for anything but airshow these days.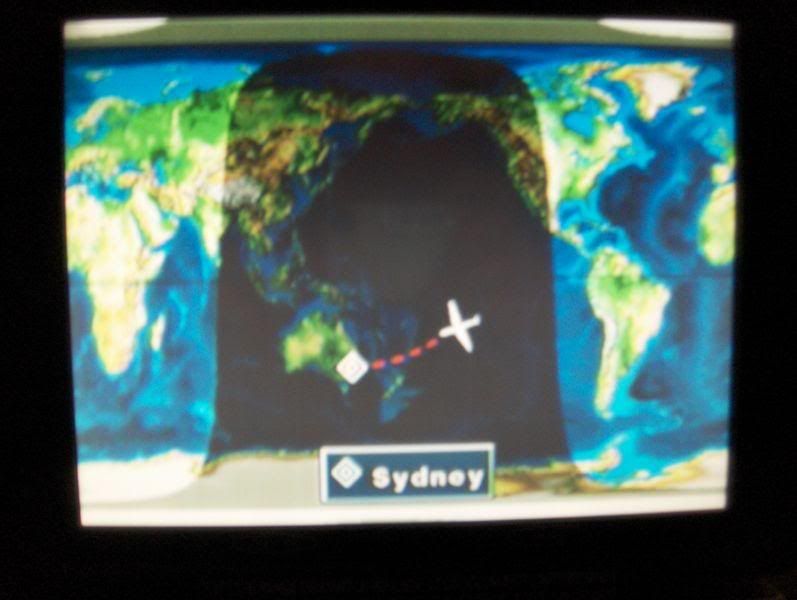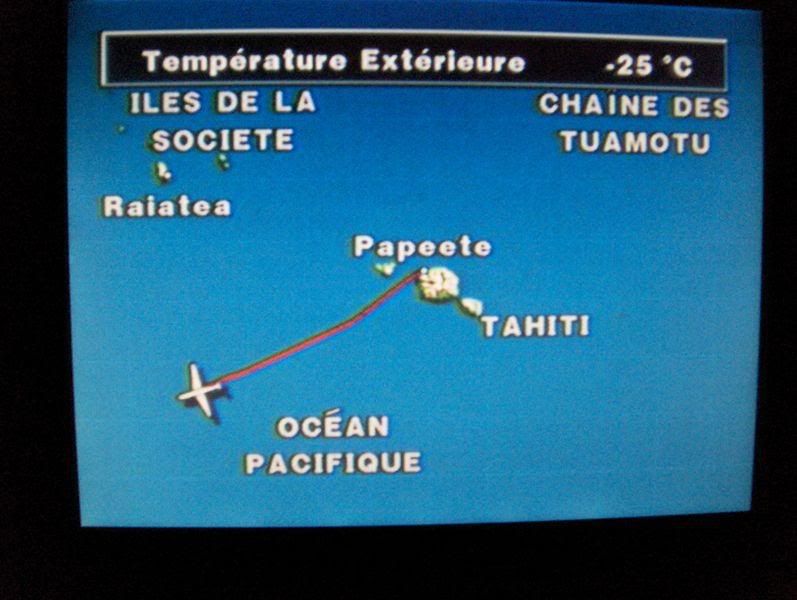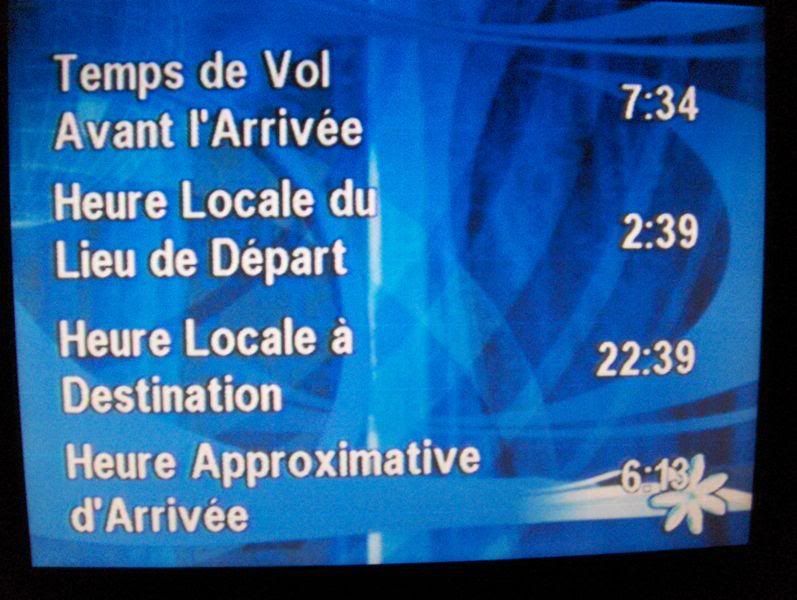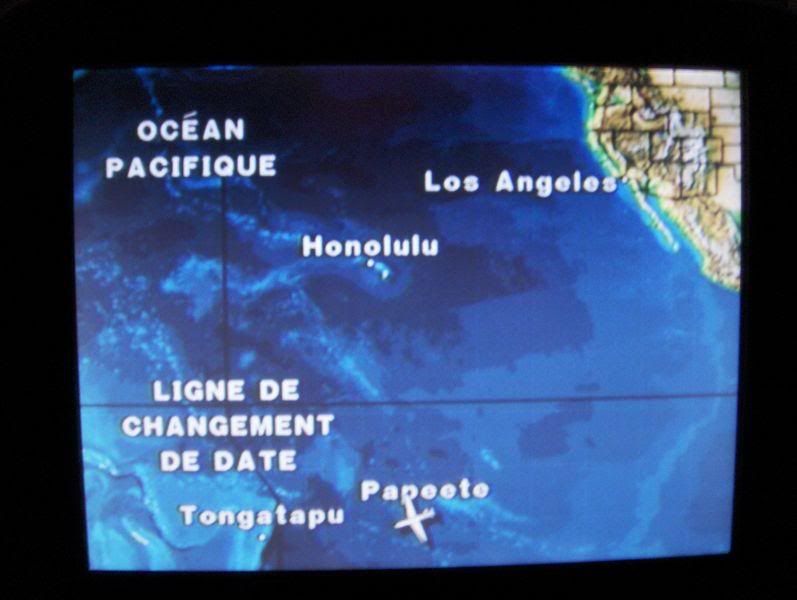 Tonight's flight was scheduled to have a cold snack as well as a full breakfast. Service was very attentive by the sole flight attendant in F, and she suggested I have both cold snacks if I feel hungry.
My Moet, nobody else drank it on this flight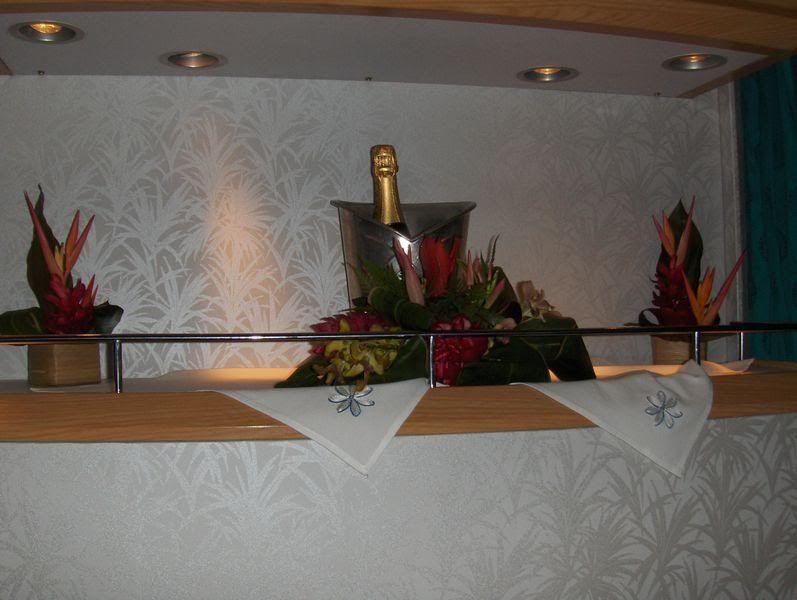 Cold snack table setup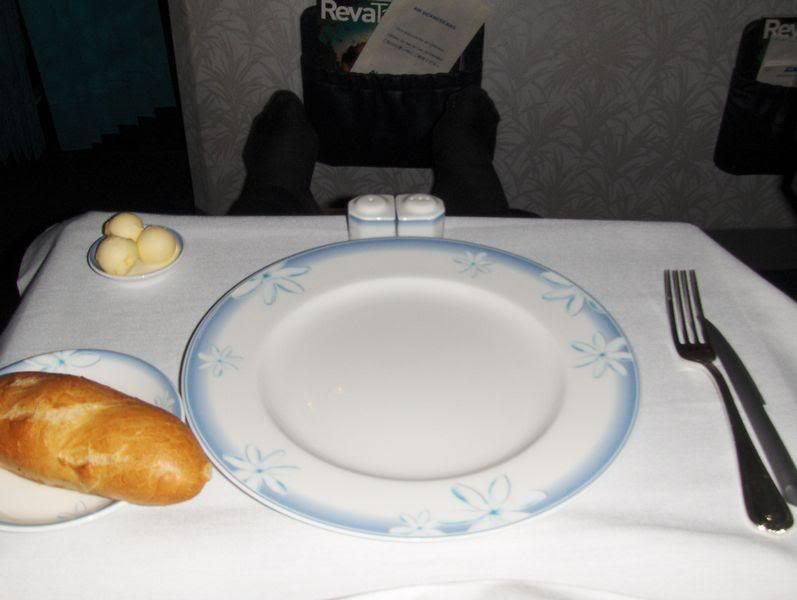 Japanese style snack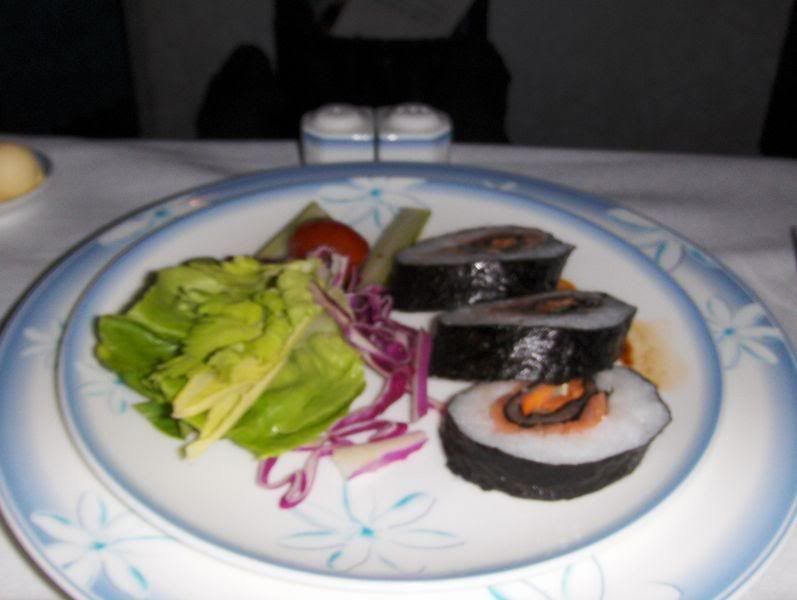 The other one – lamb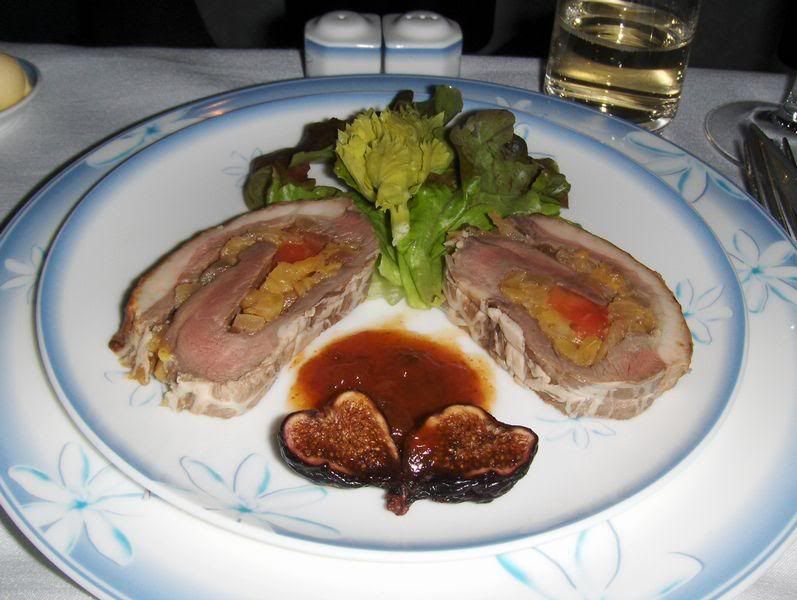 Cheese
Fruit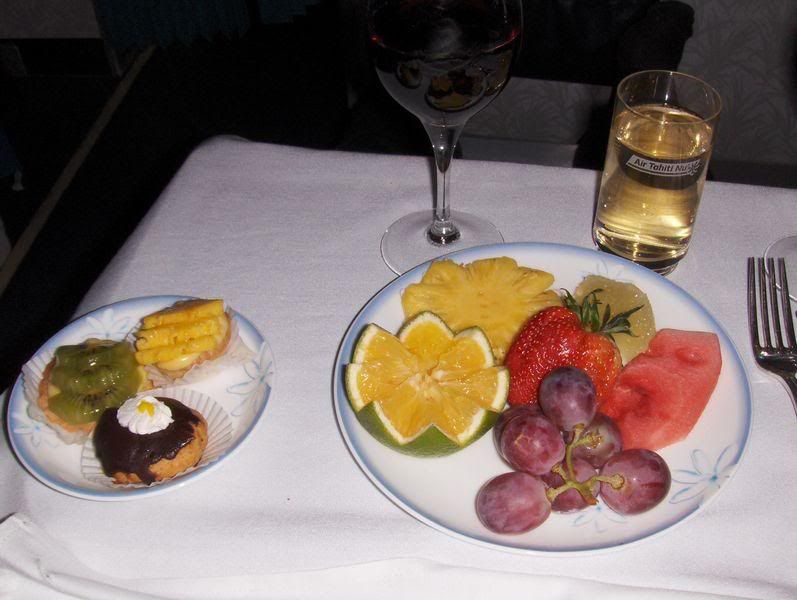 I slept a little after the meal, although the flight is too short for a proper rest if you want to enjoy the service.
More airshow views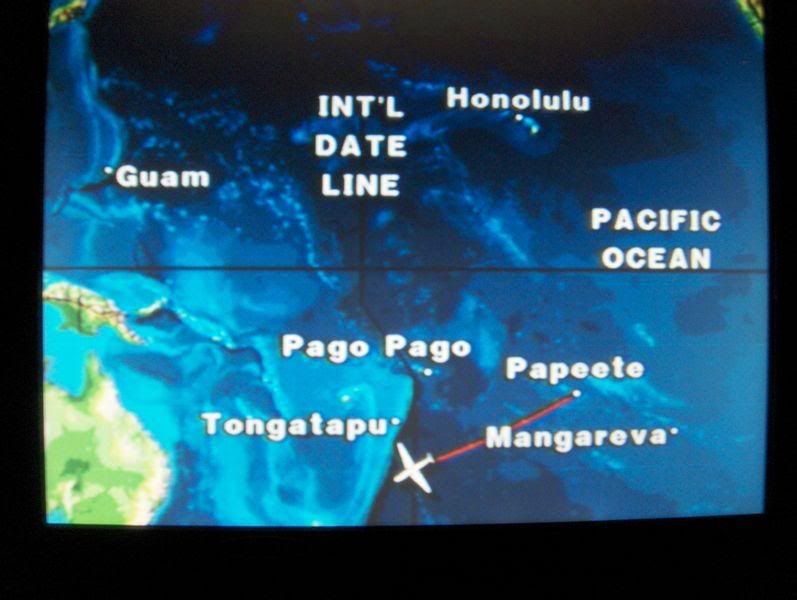 Breakfast was served about an hour out of Sydney.
Fruit, yoghurt, toast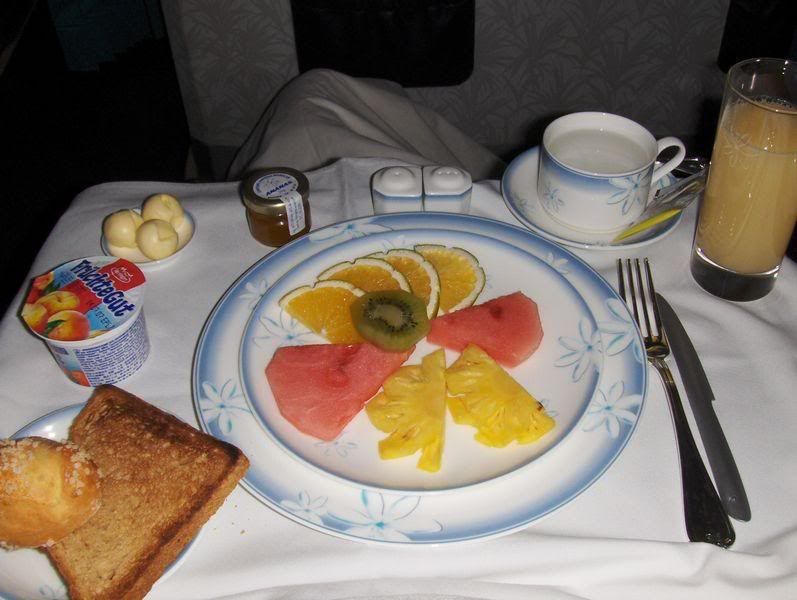 And the hot part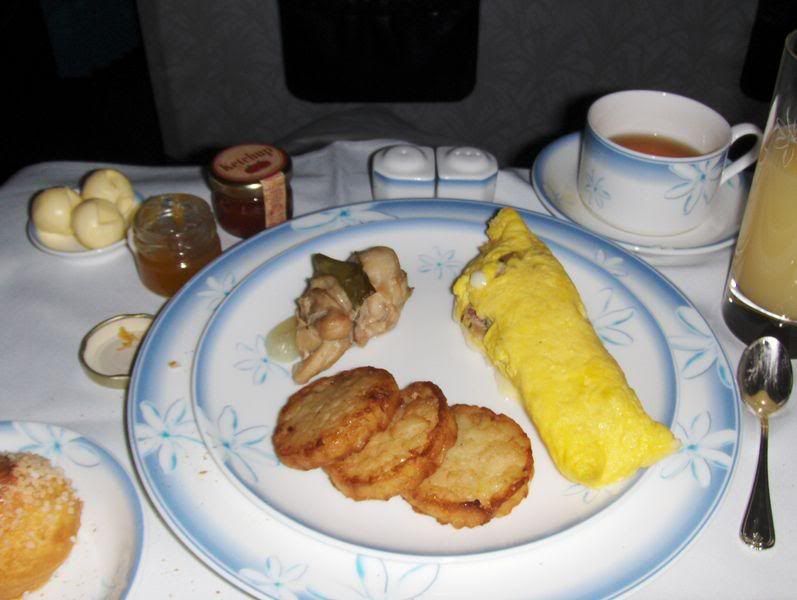 We landed at Sydney Kingsford Smith a few minutes early, and I made my way directly to the temporary Qantas Club First lounge. No issues with entry although I wasn't checked in, they just told me to come and pick up the BA boarding pass at the front desk once check-in opens.
I didn't really know what to expect from Air Tahiti Nui. Clearly it's a more leisure-oriented airline than your typical BA or SQ. However, the first class was very nice in my opinion. Food and food presentation were just great and the caviar was a nice touch. Service was overall good, no complaints. The seats and IFE are obviously not up to par however.
Hope you enjoyed.