British Airways have a promotion on their LGW services where by you can upgrade to Club Europe for EUR75/GBP59 One way after buying a normal ticket. I have not flown BA Club Europe for a long time due to my affiliation to Star Alliance. It was the Irish October Bank Holiday weekend so I decided to take a day trip to LGW.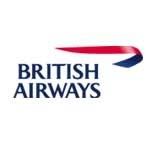 FLIGHT : BA 8081
DATE: 29/OCT/2007
TIME: 0815
A/C: BOEING 737-436 ( DELIVERY DATE 01/DEC/1992 )
REG: G-DOCS
CLASS: CLUB EUROPE
SEAT: 3A
I got to Dublin Airport at 0530am and proceeded to the BA SSK .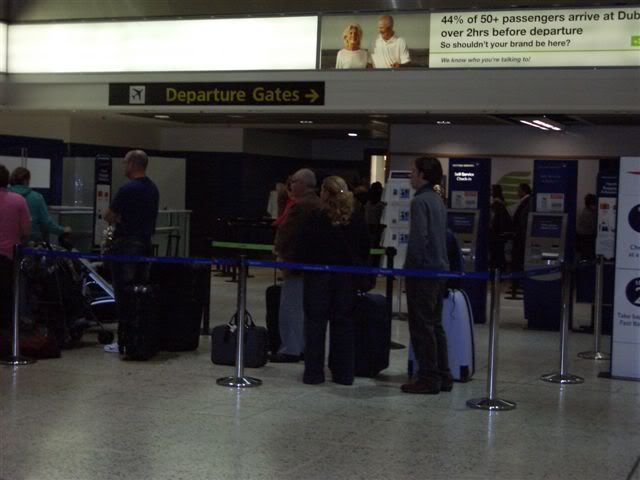 I put my BA Exec card into the machine and to my surprise got this message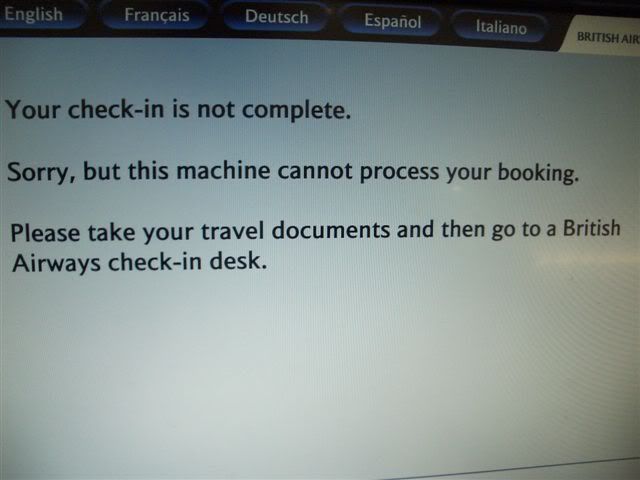 I tried again just using my booking Reference and still got the same message so I went to the Business Class check in desk.
There was no one there and only one Economy desk was open with a few people queuing up. I saw a Aviance Rep a few desks down so I went and asked her if there was someone for the Business class desk. She walked to the Economy class desk and the girl said she would take me after she had finished checking her current passenger in. So I waited a few minutes and then she called me forward.
I handed over my passport and booking reference and told her I was having problems with the SSK. She looked into the computer and said ''Oh yes you have a seat but the wrong code is in , you have a Q instead of a K in our systems'' Whatever that meant !!! She said she had to call the ticket desk but this was ringing out . She asked me to stand aside and that she would try the desk again in a few minutes. She then proceeded to check in another economy class passenger. By this time I was a bit annoyed even though the girl was quite nice. This was not a way to treat Business class passengers by leaving them standing and no dedicated staff member at Business class check in !!!
After 5 minutes she called the desk again and got a girl who said that BA had not upgraded my ticket properly and I had to go to the ticket desk. So I took my passport back and went over to the ticket desk. When I got there the girl printed off a confirmation and sent me back to the check in again. I had to wait again for a few minutes then the check in agent gave me a boarding card!!! To be honest it was a waste of 20 minutes and at 530am I am not in the best mood.
Que for security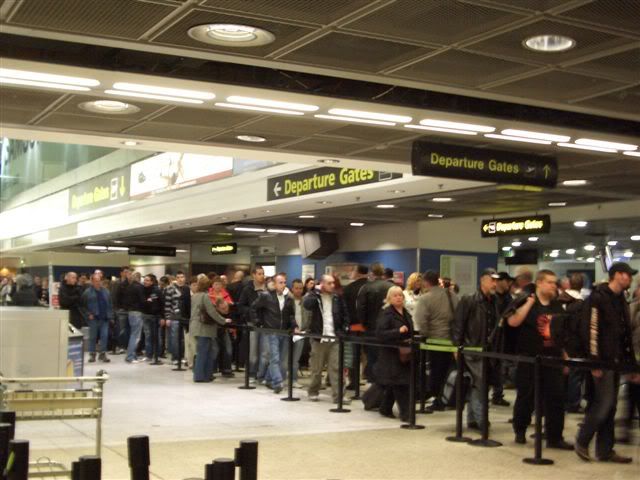 I decided to use the ''Fast Track'' Business class facility, as I walked over to the area I passed the Aer Lingus check in for the new SFO flights.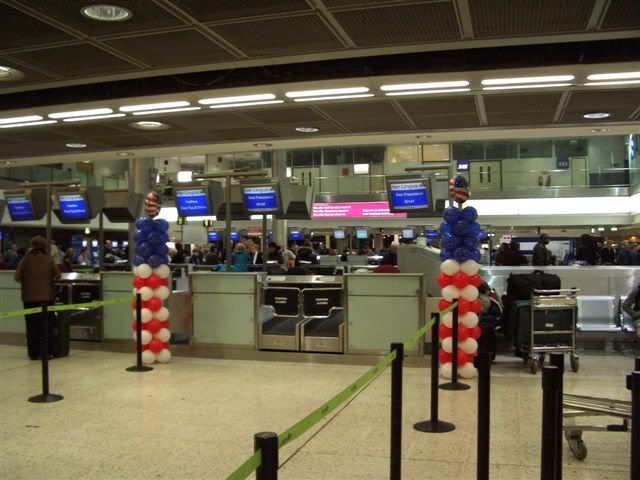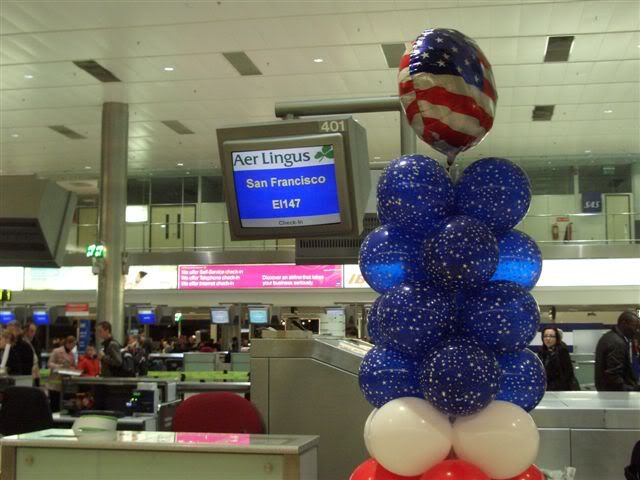 I got through security control in less than 5 minutes. I'm so glad I didn't have to que in the normal area as it was 30 minutes to clear!!! After security I wanted to see what the new Pier D looked like as I had heard it was opened the previous day . When I arrived the area was roped off and it was closed. I managed to slip past the barrier and take 1 photo. I could not go any further as it was not permitted. Some workmen were around .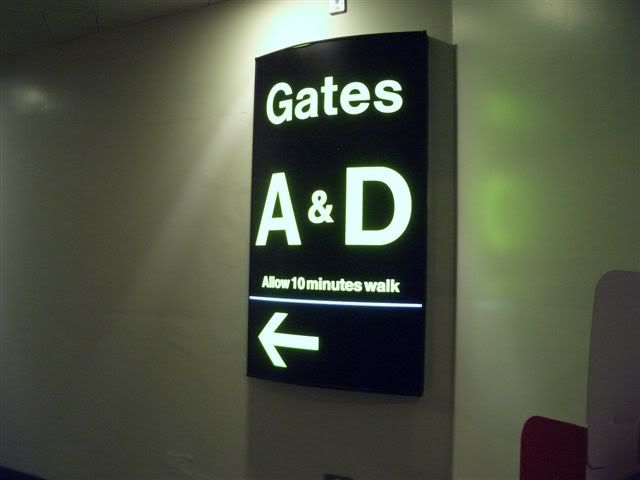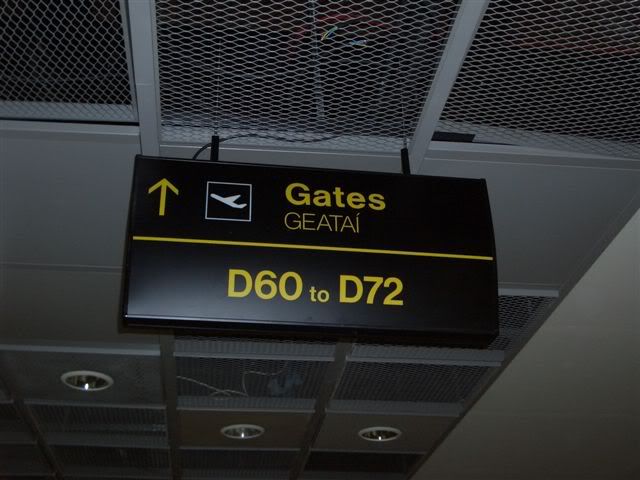 I then decided to go to the ''Anna Livia'' lounge that BA use for their Club Europe passengers.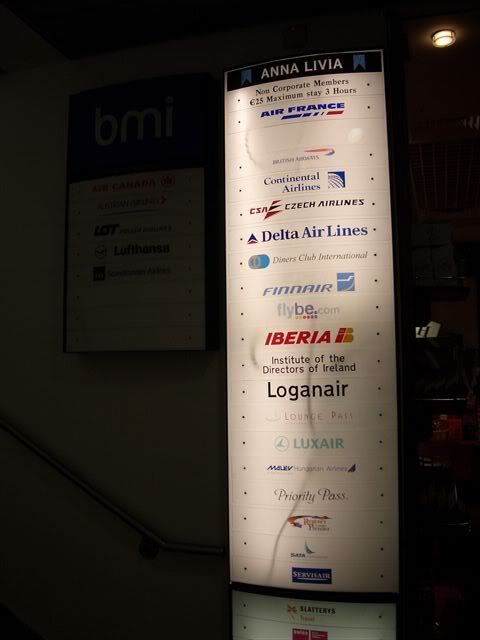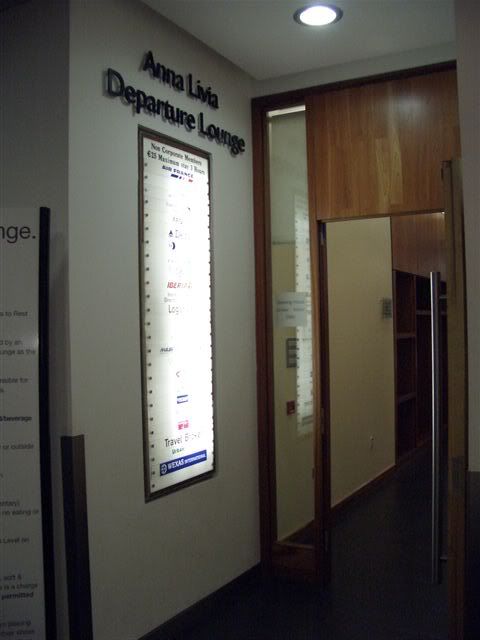 As you walk up the stairs there is a window out onto the runway ::
By chance my aircraft was landing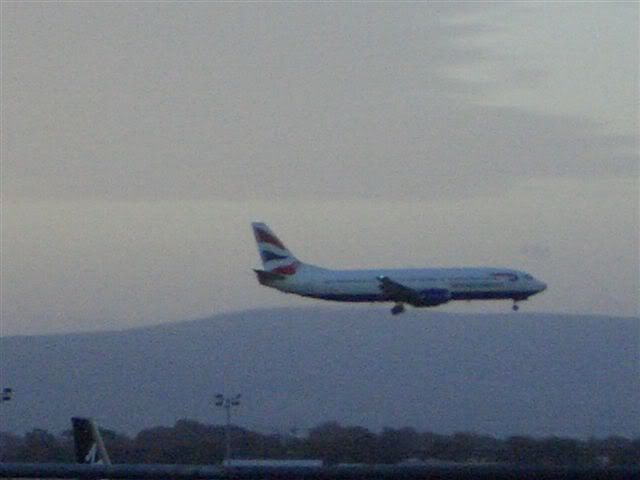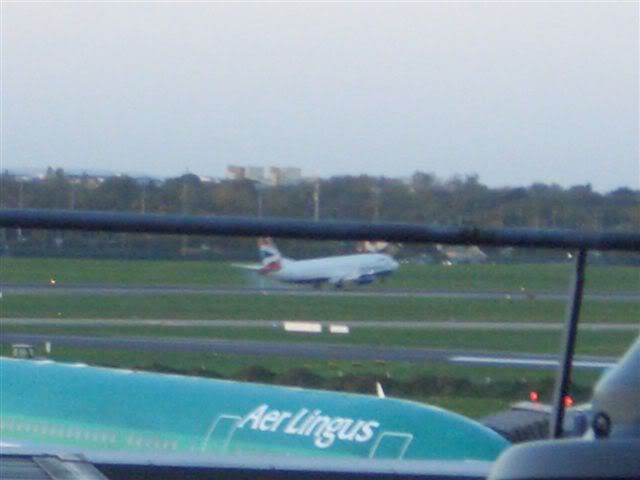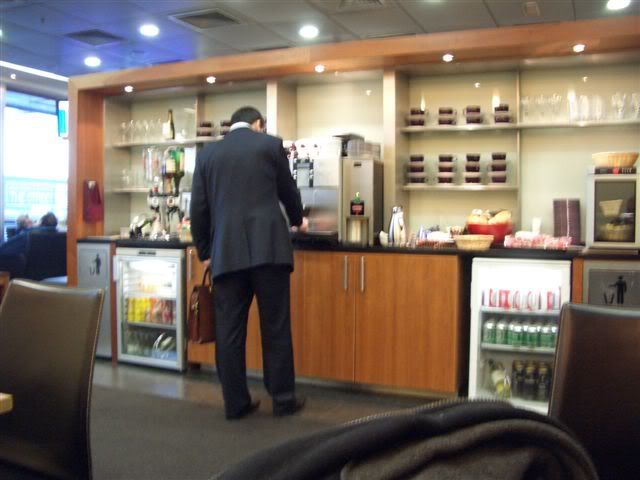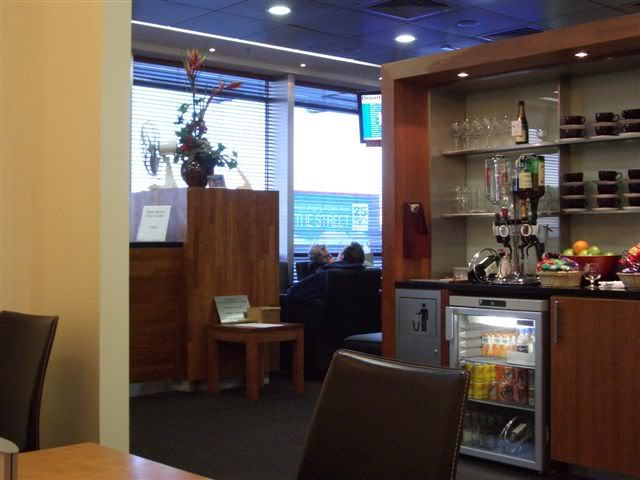 They have upgraded the lounge with new seats and it is a big improvement. After a few snacks and a well needed coffee I proceeded to have a walk to Pier C where a Etihad flight was due to depart. As I walked down I saw the crew heading to the flight .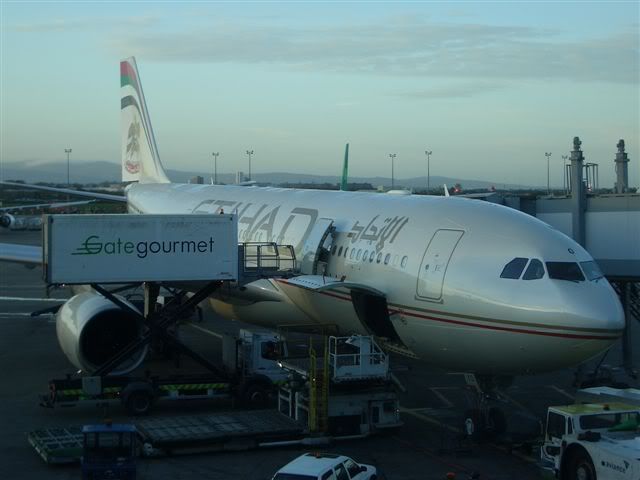 I then saw my plane at the B gates .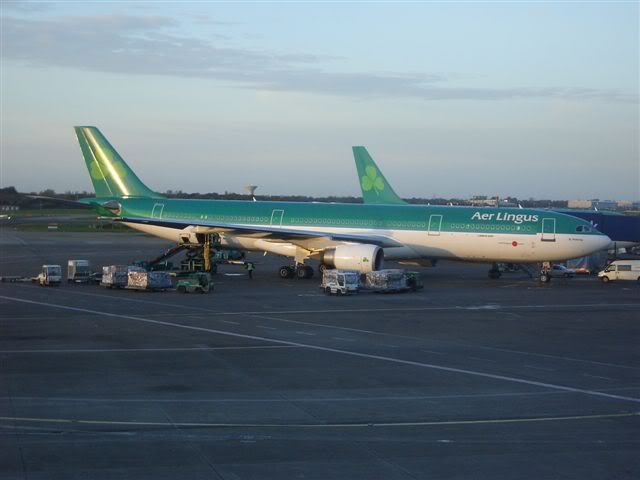 Soon after I walked over to gate B21 to board the flight.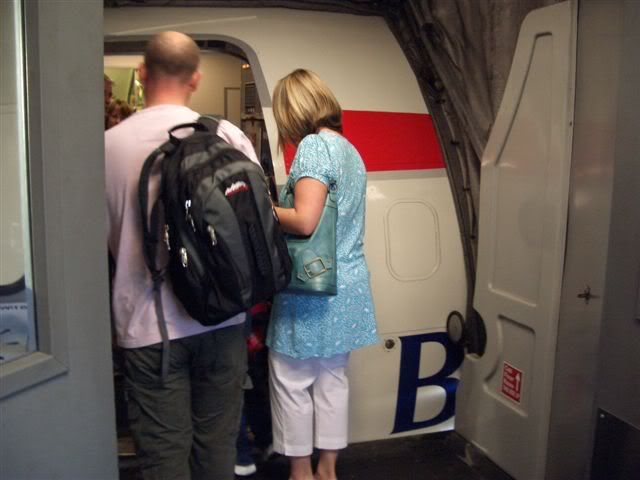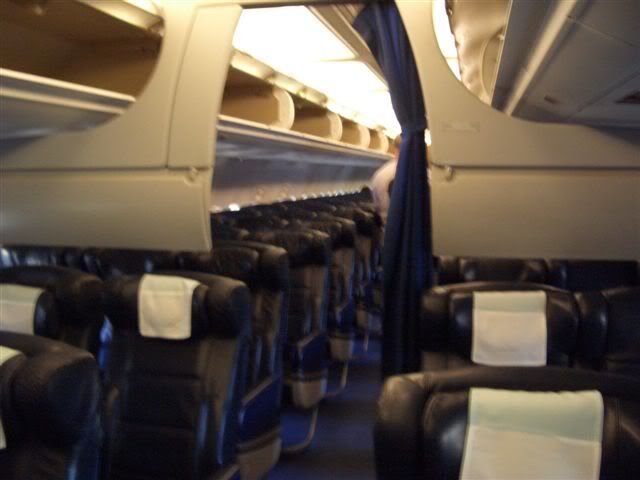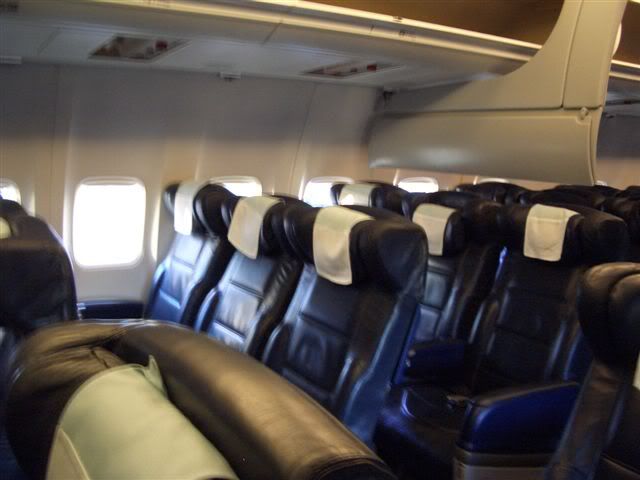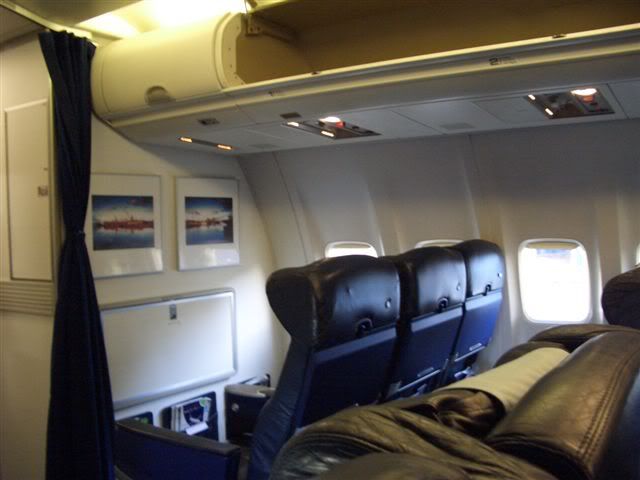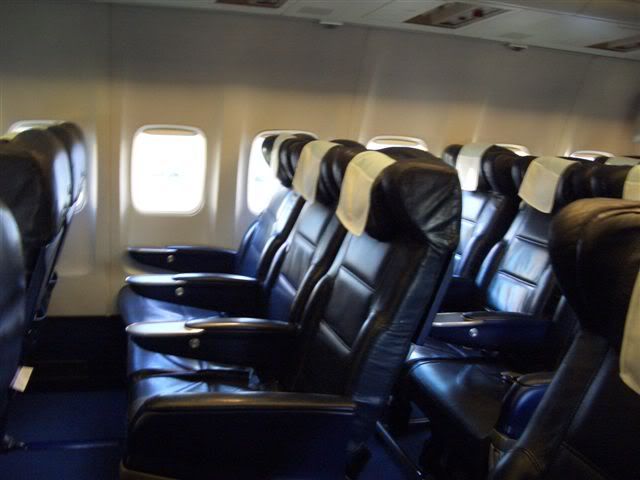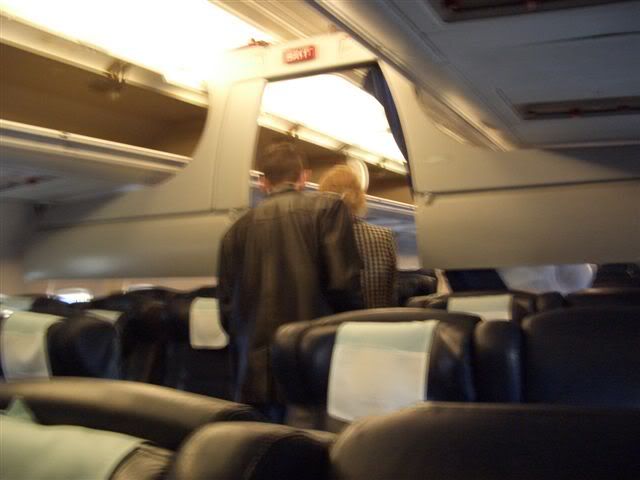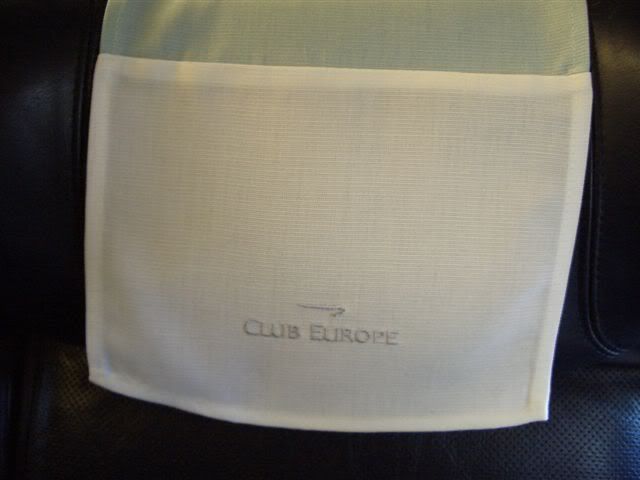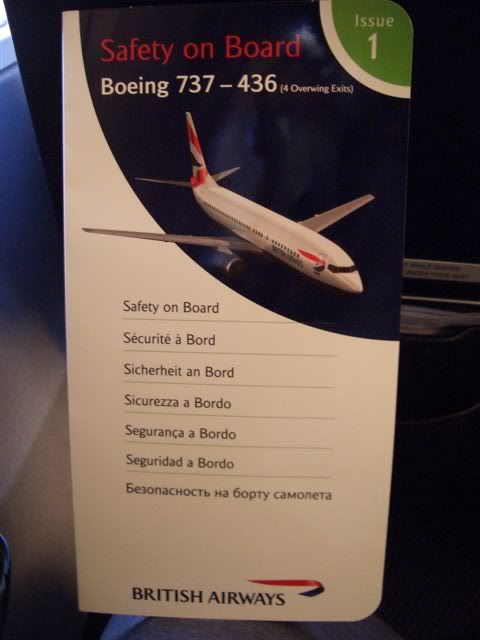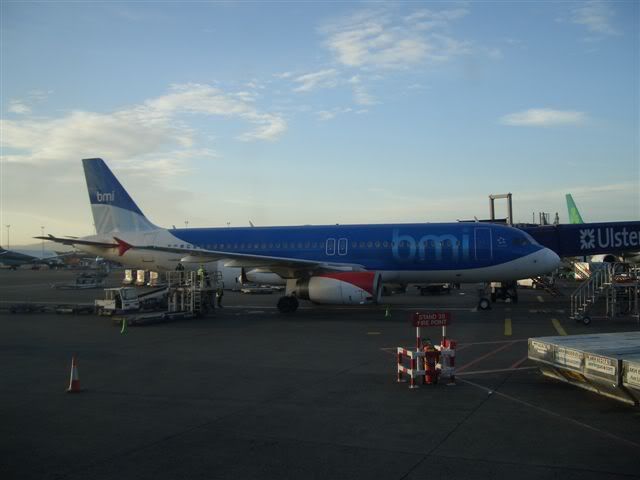 One thing I was a bit disappointed at was this dirty seat:::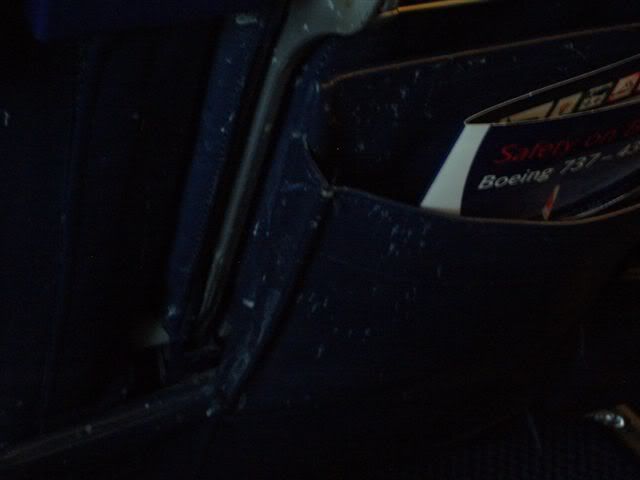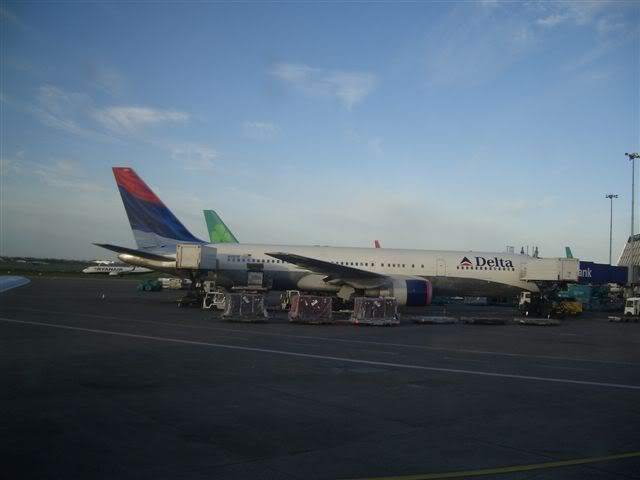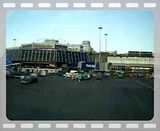 After take off we were served Breakfast. I have to say it was one of the best I have had on plane.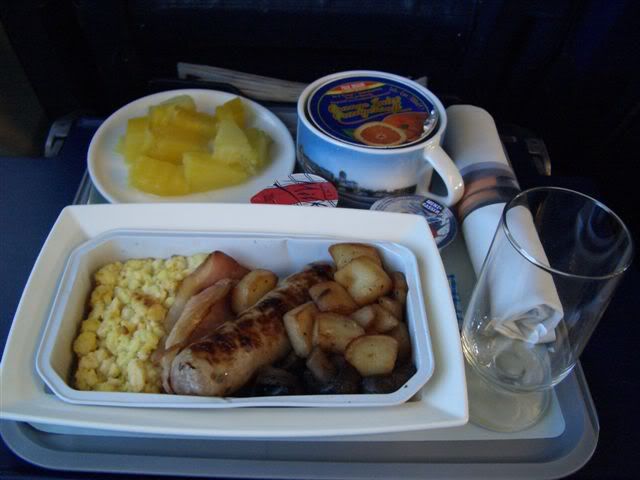 I always love the BA Royal Daulton Cups !!!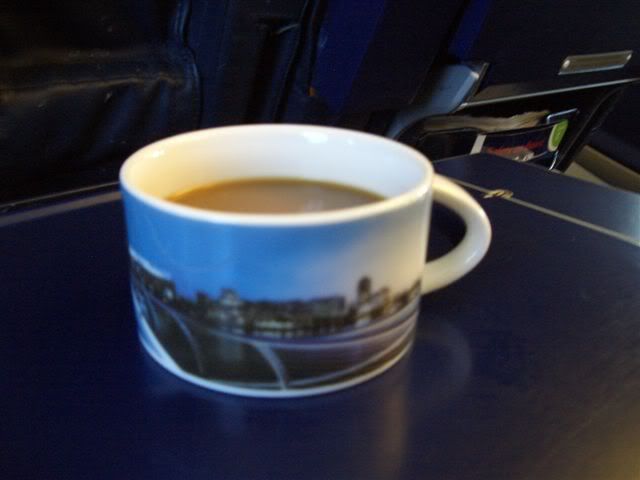 After that I asked the Stewardess if BA still served Champagne!! She replied '' Of course Sir I will get it for you right away ''
She was so friendly and nice. She was LGW based crew and her name was Sue, the kind of lady you would turn to for comfort when you were a little kid and your knee was grazed!!! She had a very caring nature .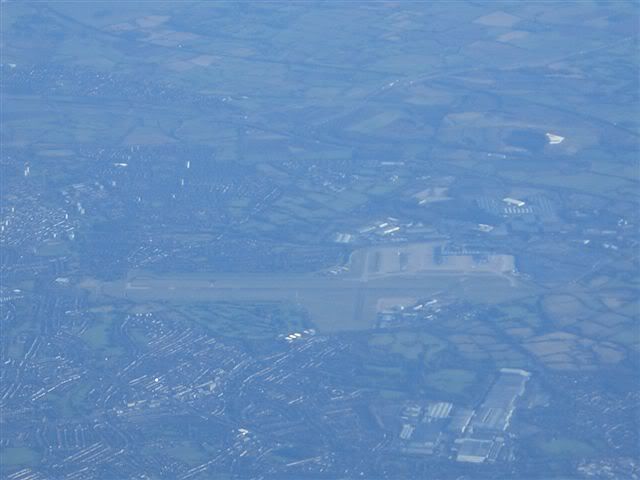 We flew in over Brighton and you could see the famous Pier then we flew parallel to LGW
Aerial view of LGW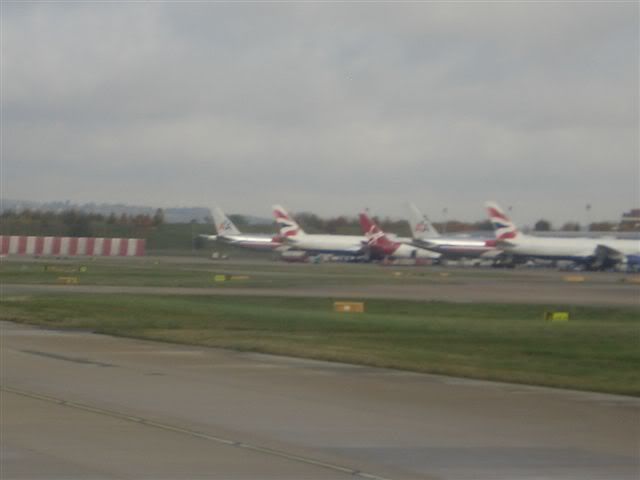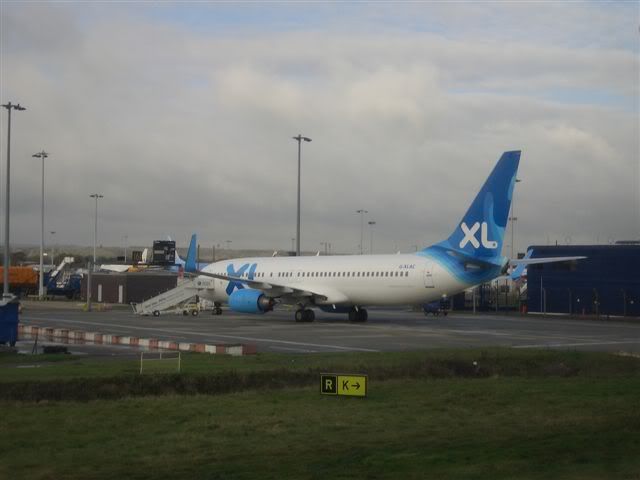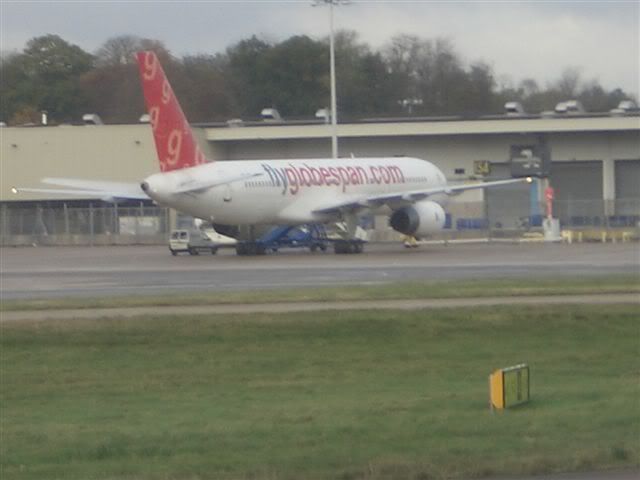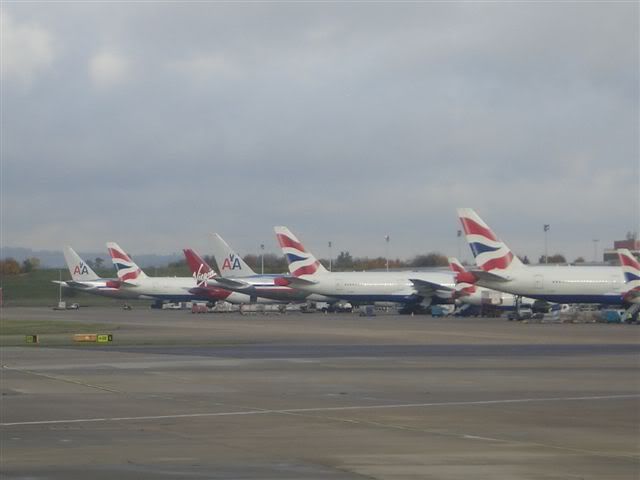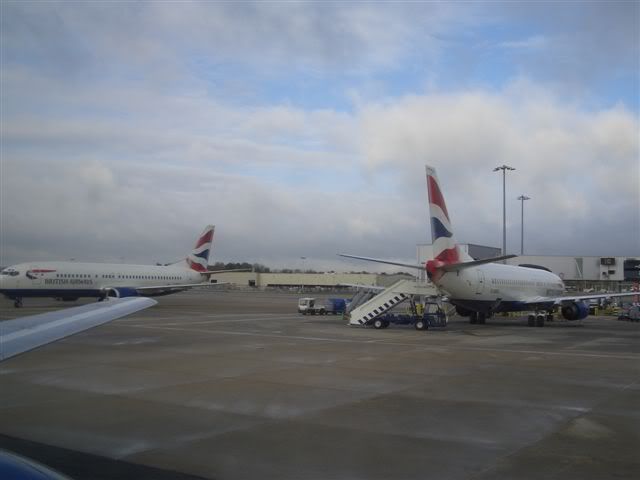 Whilst we were waiting to disembark I asked if I could take a photo of the plaque and the stewardess said yes and pushed the cockpit door over as she said I could not photo the cockpit. She was very nice about it and I guess that is the BA rules.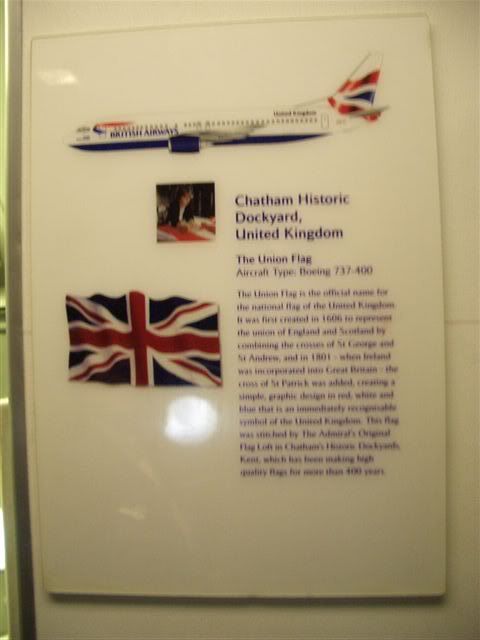 I asked her where she was off to next and she said Newquay in Cornwall!!! I asked her if the route was busy to which she replied '' No not really , we are lucky to get 50% full and I dont think it will be long before they axe it '' I said was it only being flown to keep slots to which she said ''yes maybe thats it''.
After thanking her for such a great service we were bused to the North Terminal. I had a walk around the departures area ::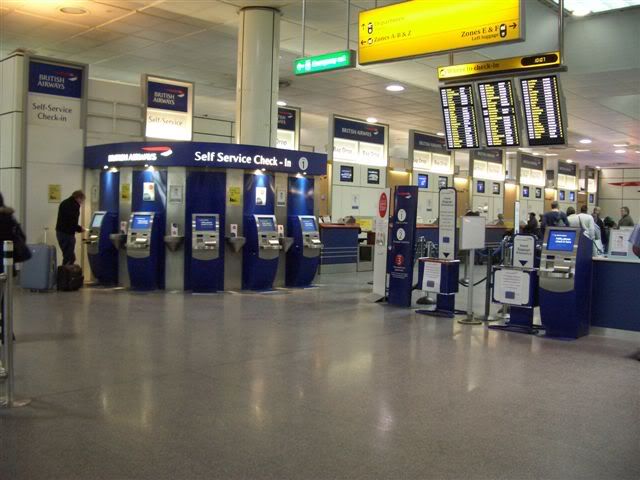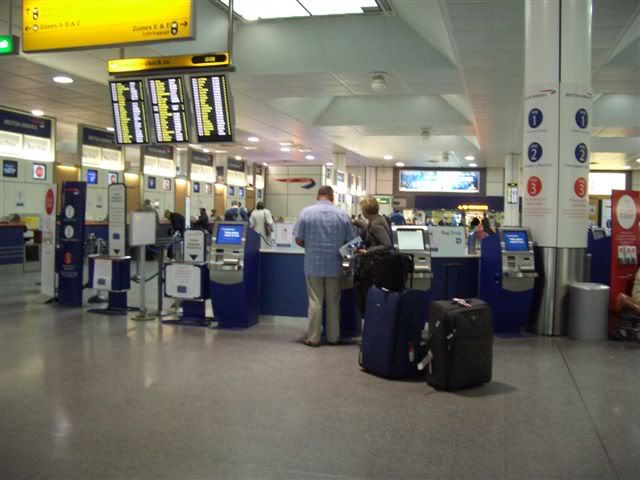 Then I took the Monorail over to the South Terminal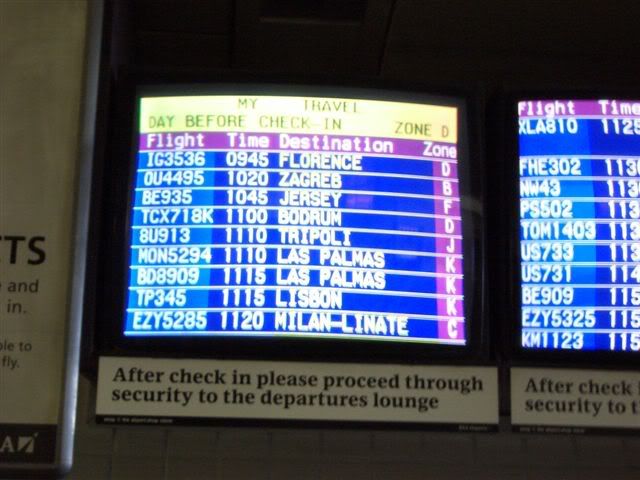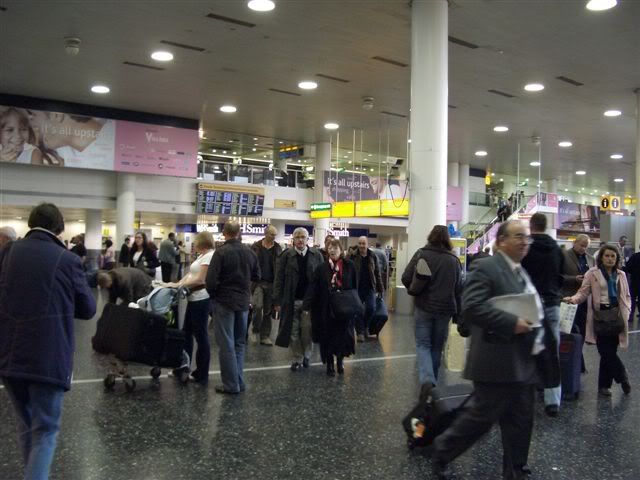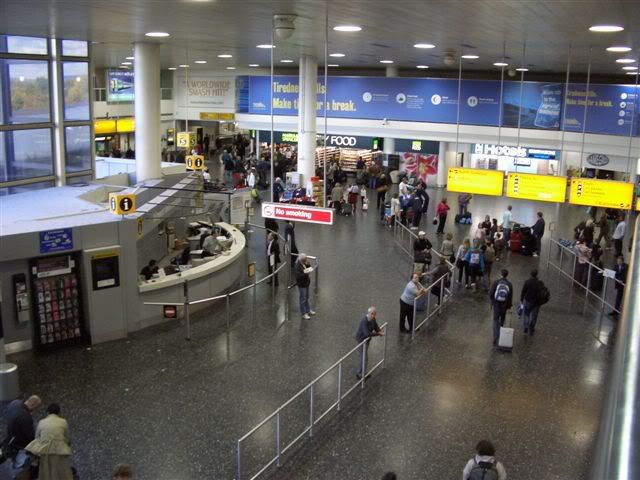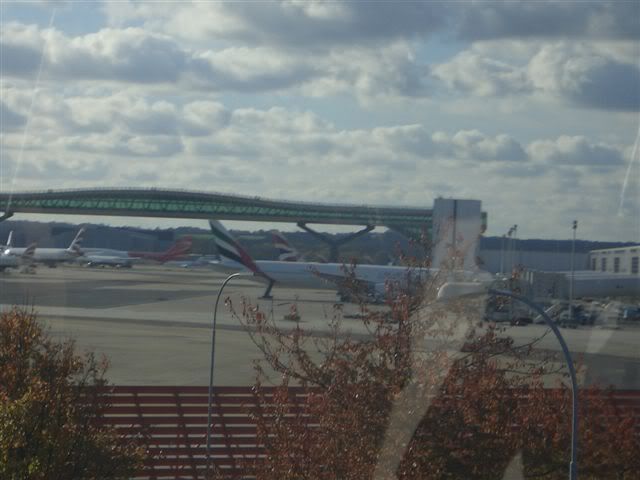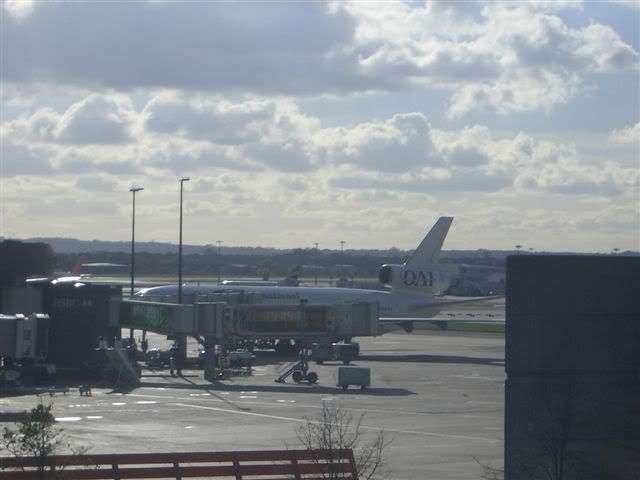 After killing a few hours shopping and watching the planes I went back to the North Terminal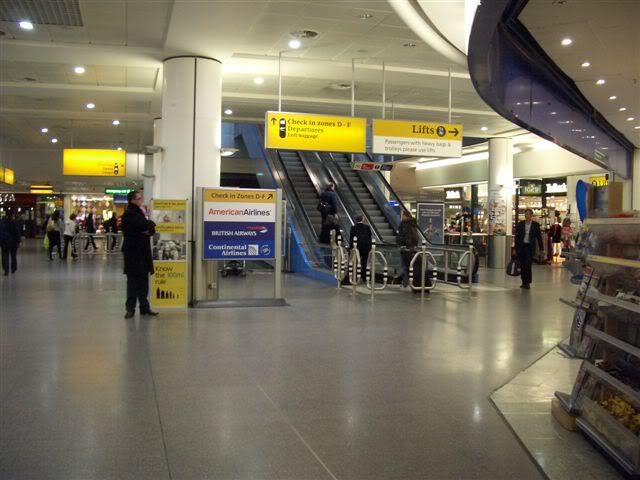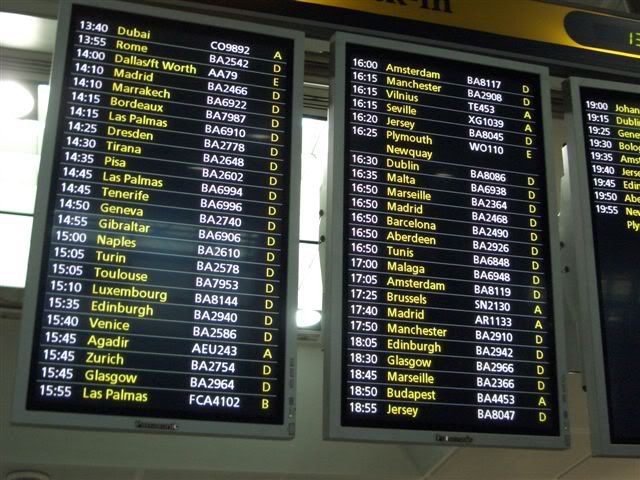 After passing through security which only took a few minutes I looked at the shops.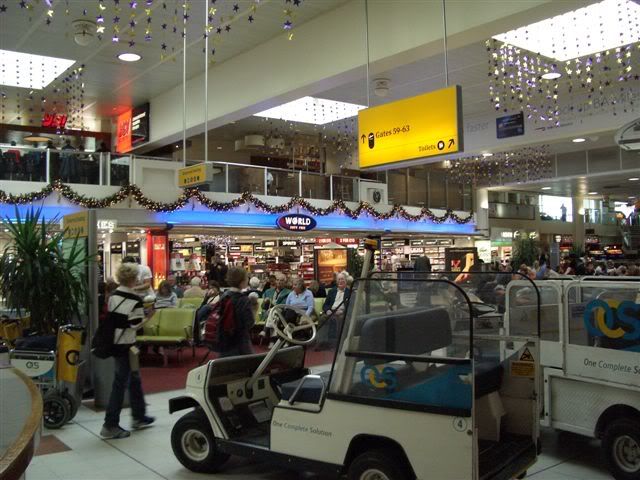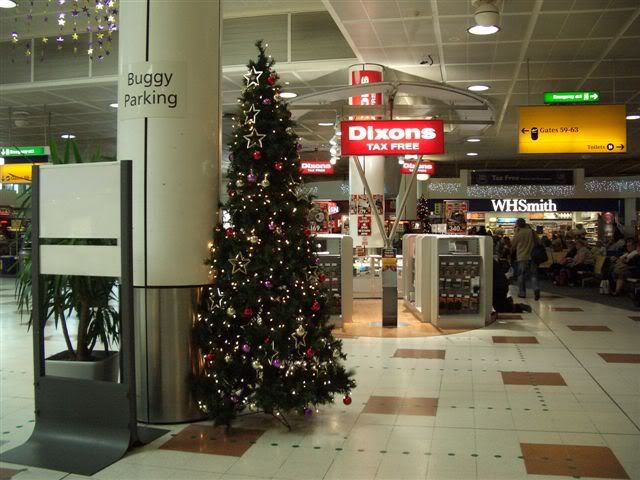 My favourite store !!!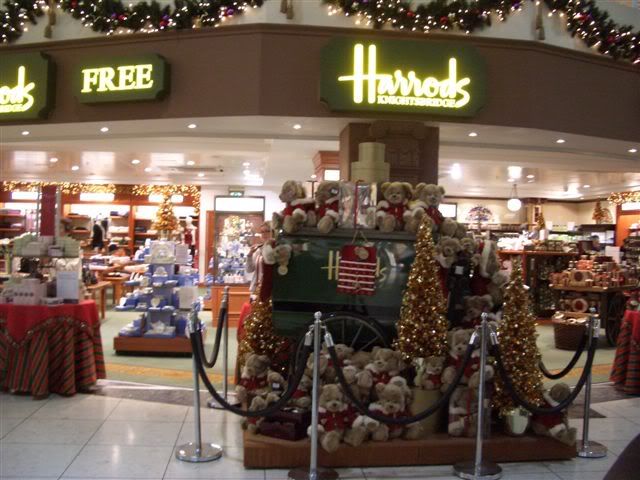 Then it was time to hit the famous ''Terraces Lounge''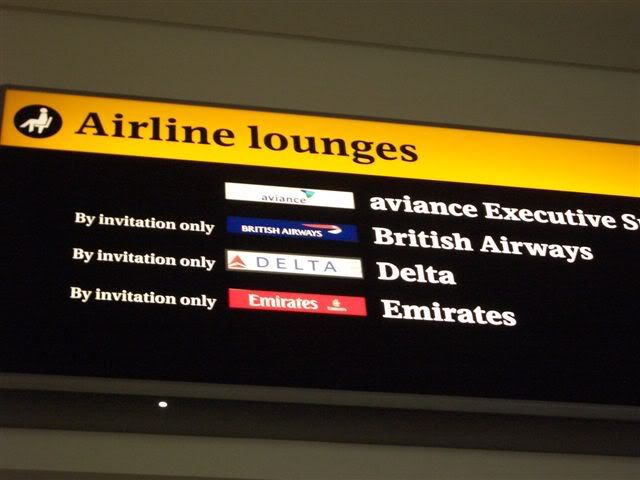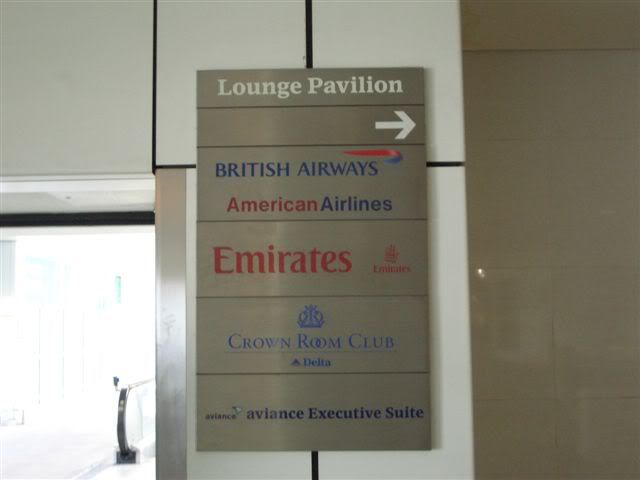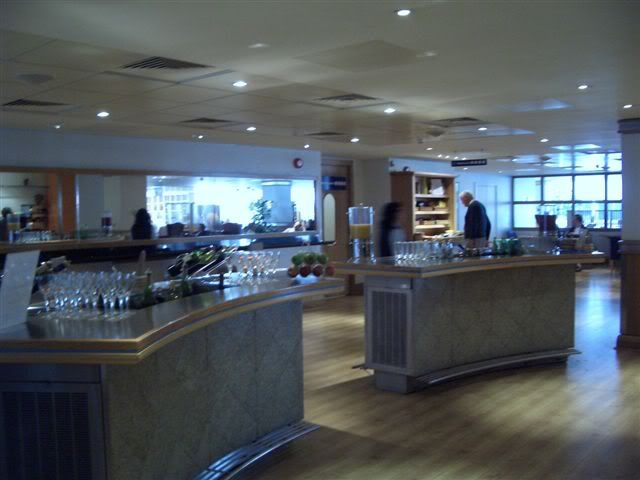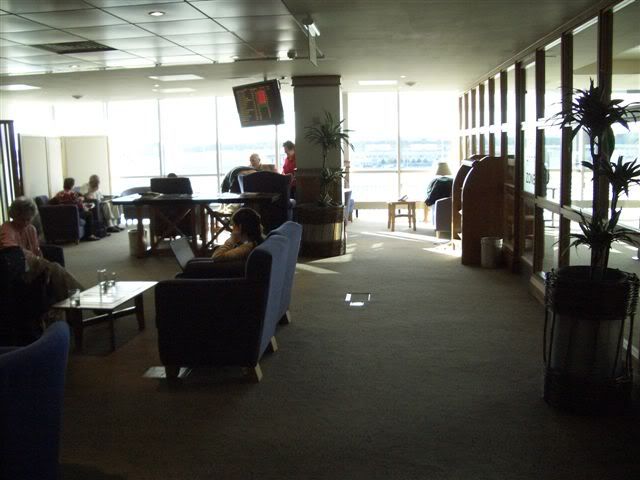 There was a really good selection of food and drinks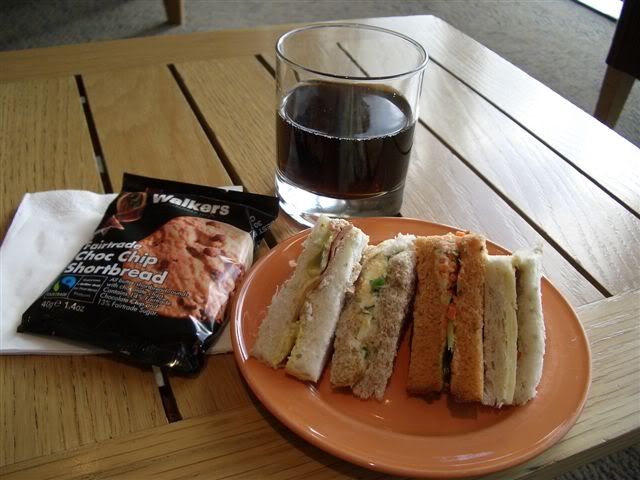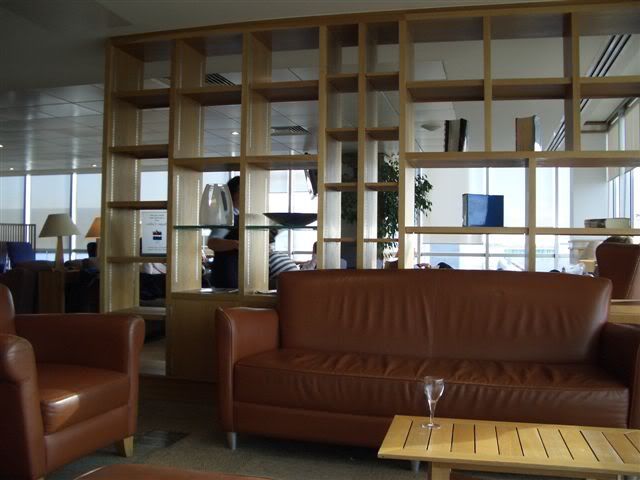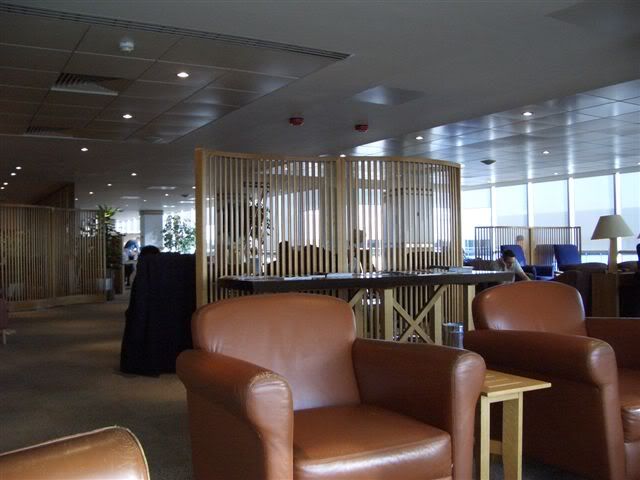 A good view of the runway also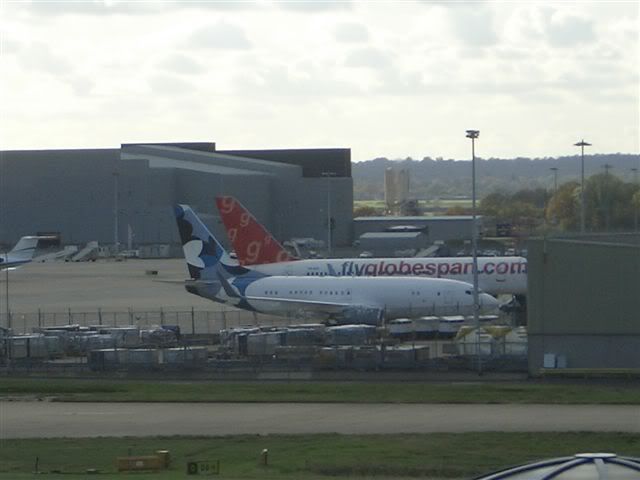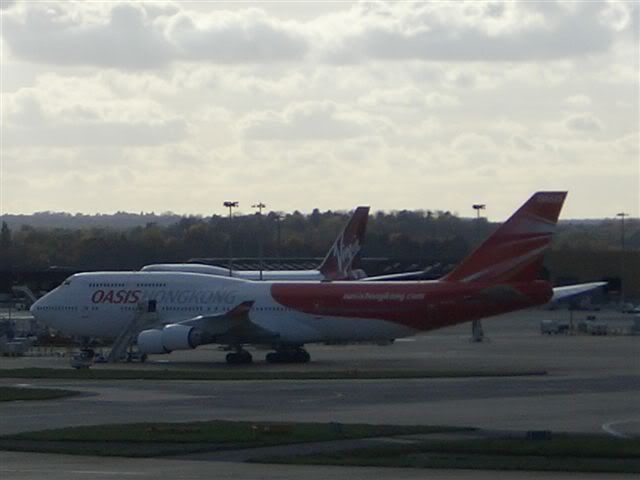 The lounge is divided into two floors so I went upstairs to check out the rest of it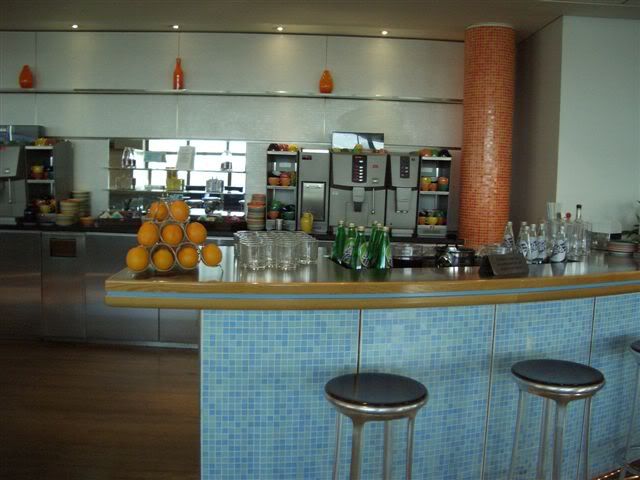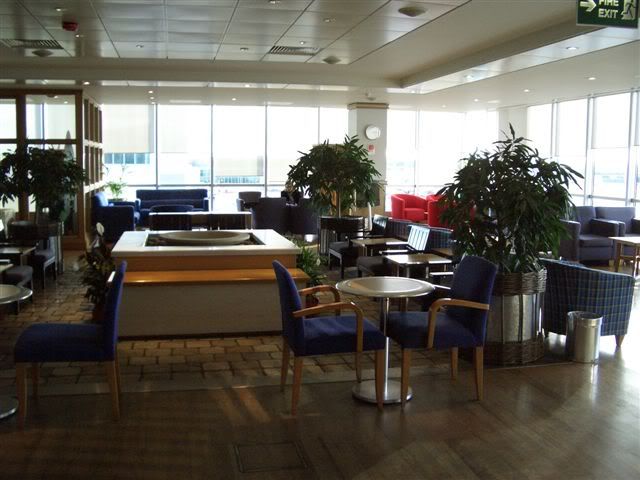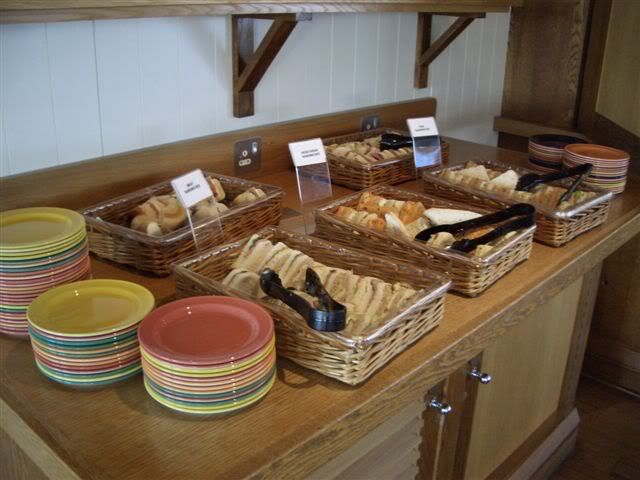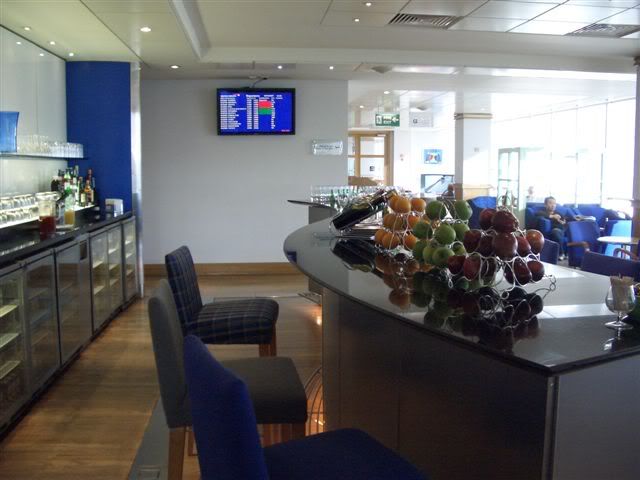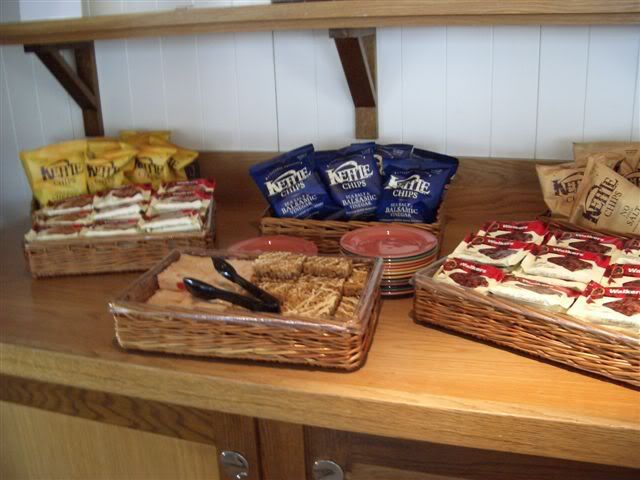 I looked at the board and noticed my flight was delayed. I didn't care as it meant more time in this lovely lounge .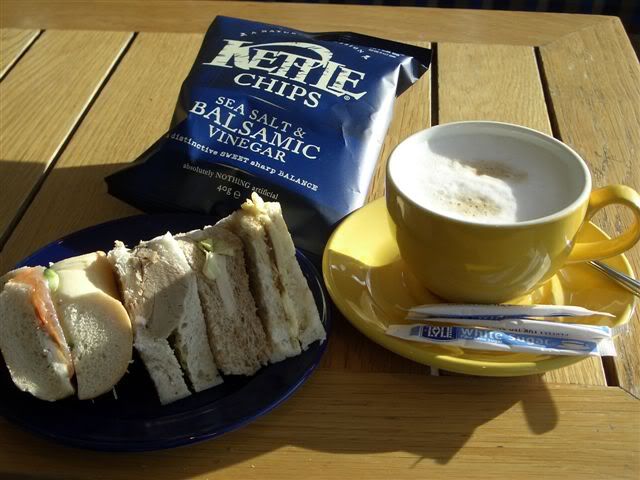 BA have shower facilities so I took the opportunity to freshen up since I had been up very early. All the products are by Elemis Spa products which are some of the best you can buy!!!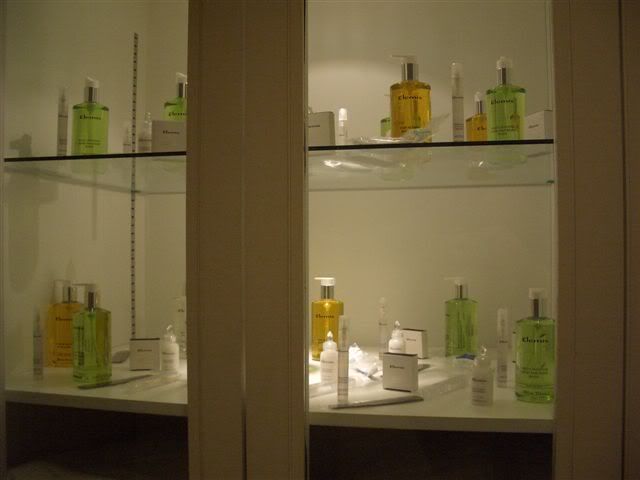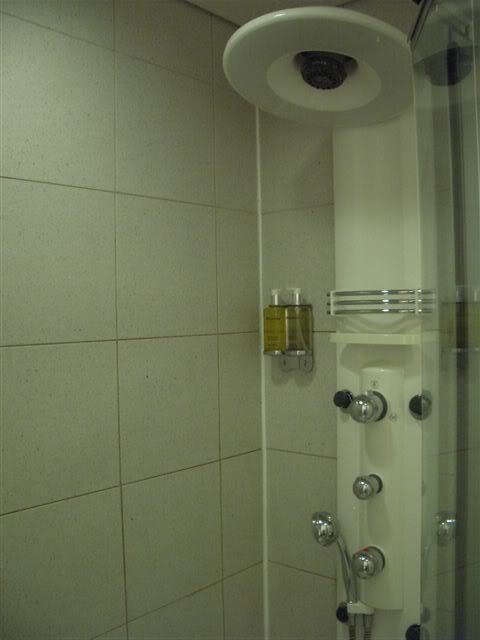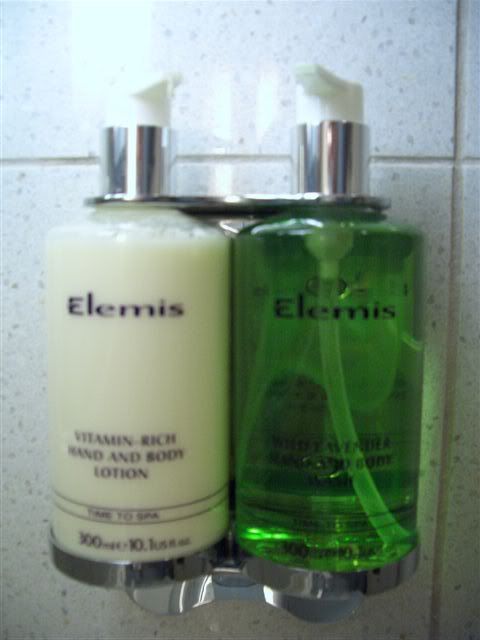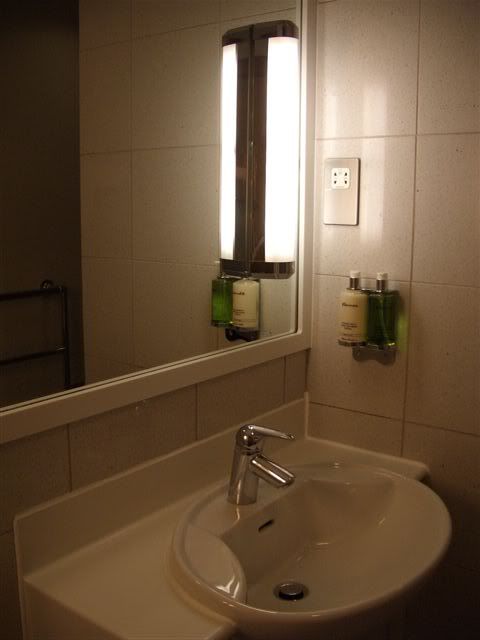 After a amazing power shower and all those nice smelling Elemis products I went to see what was on the tarmac, and have a nice glass of wine and read the paper.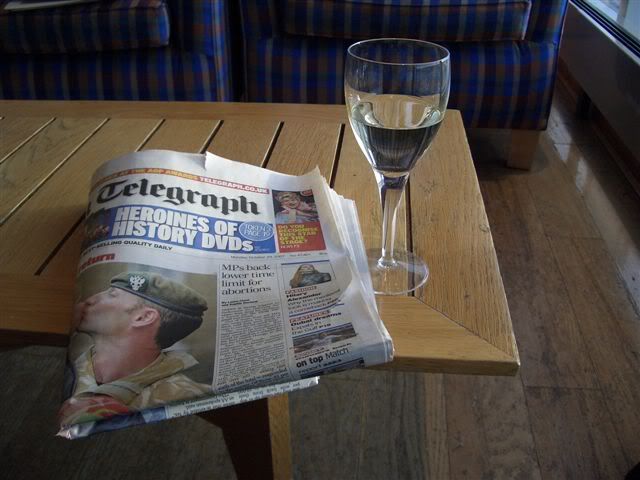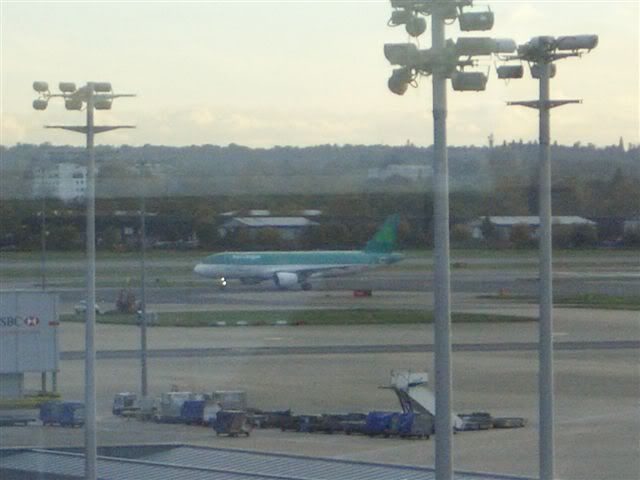 Always nice to see Olympic !!!!
My first time seeing a E Jet of Flybe .....
After all of that it was time to go to the boarding gate 55G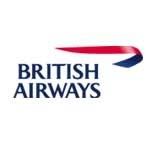 FLIGHT : BA 8086
DATE: 29/OCT/2007
TIME: 1630
A/C: BOEING 737-59D ( DELIVERY DATE 28/FEB/2000 )
REG: G-GFFD
CLASS: CLUB EUROPE
SEAT: 2A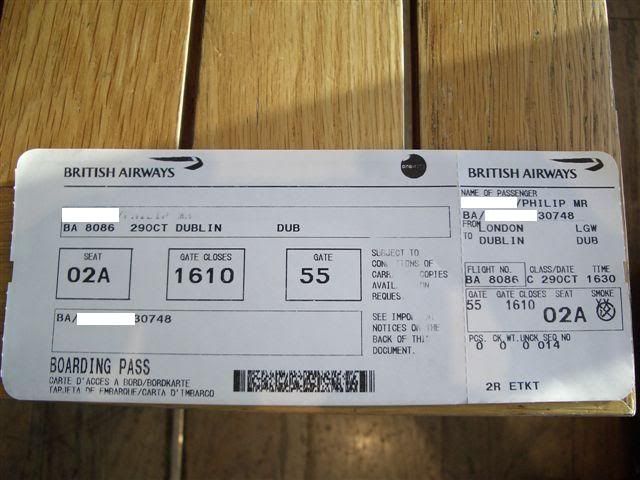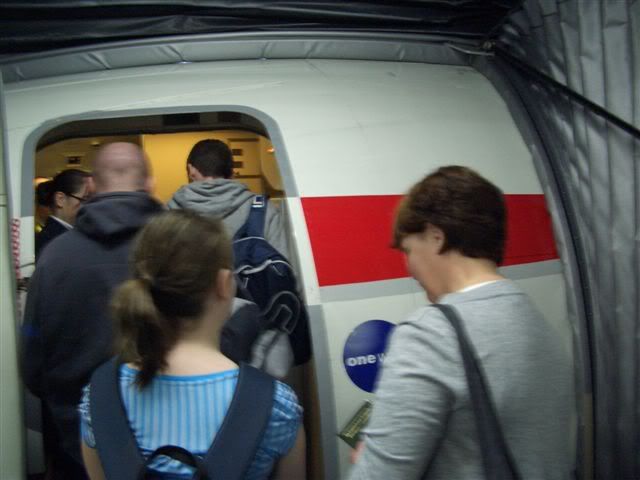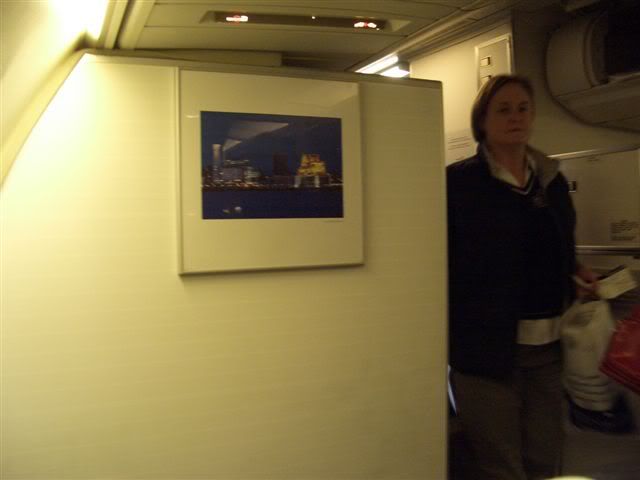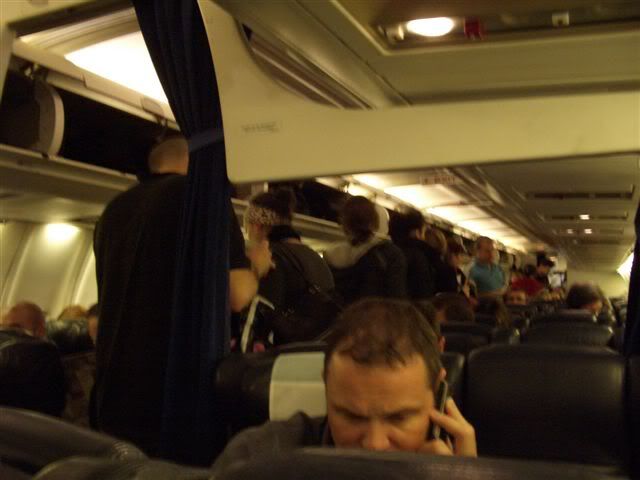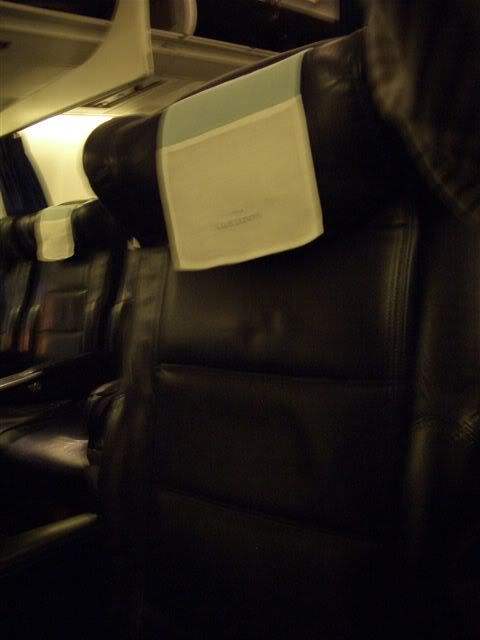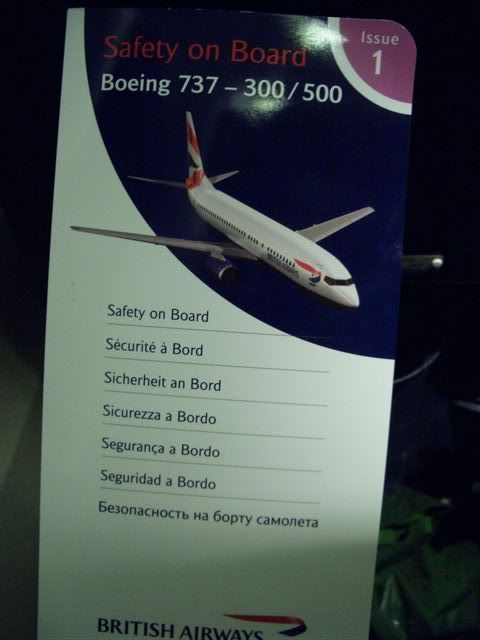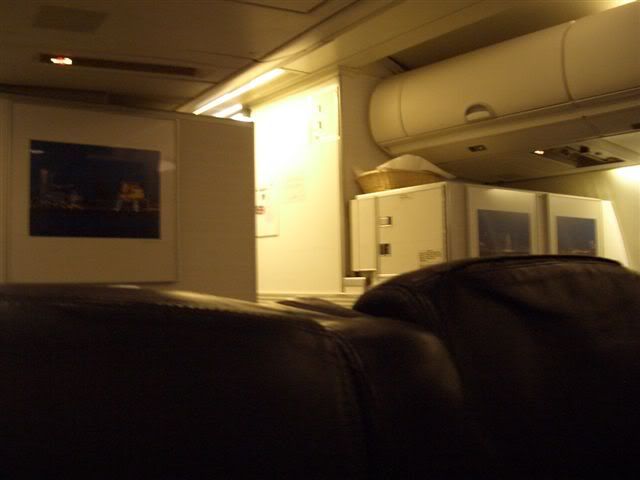 After take off the meal was served. I was expecting something hot but we got a cold platter instead. Still it was very fresh and tasty.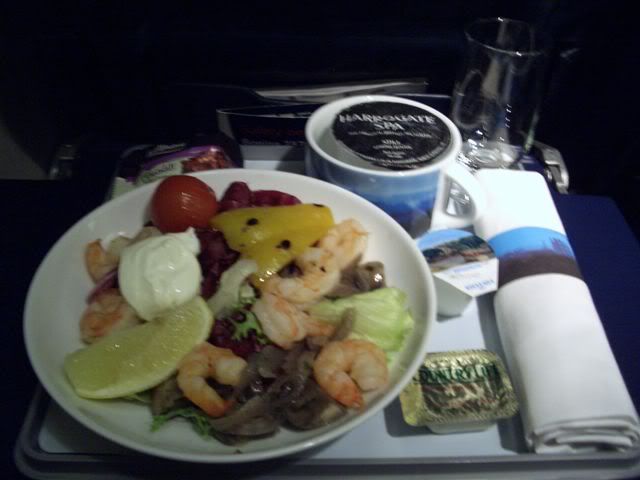 I then just sat back and relaxed for the remainder of the flight .
Back home again!!!!
So thats it folks. I hope you enjoyed this report. I have to say I loved BA and the service was excellent. They need to maybe pay more attention to their Business class passengers at the check in area in Dublin but that was the only thing that let them down a bit. The cabin crew were very nice and professional and the seats very comfortable. I would definately choose BA again to LGW and other routes also.