Hi all,
this is my second trip report on A.net. Photos are not always the best quality but hopefully they will be sufficient for this purpose. And of course, any feedback or comments are welcome!
So let's get started. The decision of making this trip was made quite hurriedly in last May, when Finnair had a supercheap offer for flights from Helsinki to Delhi, roundtrip costing 299€. The offer was promoted for only one weekend, so there wasn't really any time to consider, and finally the fact that the offer was extended trough the fall vacation week in October made us buy the tickets. So that was the beginning of a family vacation in India, a country where none of us had ever been before.
The flying part of the trip - important to me - would consist of two flights on Finnair's MD-11s. Delhi is a quite new destination for AY, the flights were started on 30th October 2006. DEL is a part of the expansion in Asia, and recently especially in India, the Delhi flights are already daily (started 3x week) and a new service was launched to BOM, which is at the moment 5x weekly. The MD-11s are still the backbone of AY's long-haul fleet, with 7 examples in service. AY also has three A340-300s in its long-haul fleet. The Airbuses, two of which were delivered this summer factory fresh to Finnair have modern cabins with PTVs etc, but the MD-11s haven't got and won't get this cabin upgrade as they're being replaced with new A343s and A333s from 2009. The last MD-11 flight in Finnair's colours will take place in fall 2010. So these flights might have been, though hopefully not, my last flights in the old and sturdy tri-holer.
On the day of the departure we arrived at the airport quite late, an hour before departure, which is usual when travelling with my family.
However, it didn't cause any problems as there were virtually no queues to check-in desks or security control. At this time of the day (1pm) HEL is still relatively quiet, and the fact that it was Sunday reduced the amount of passengers even more. after security it was time to head for the non-schengen area, and through passport control. Passengers on our flight were asked to go to gate early, which indicated that there would be no delay in departure.
Early afternoon long-hauls to DEL and JFK departing on time.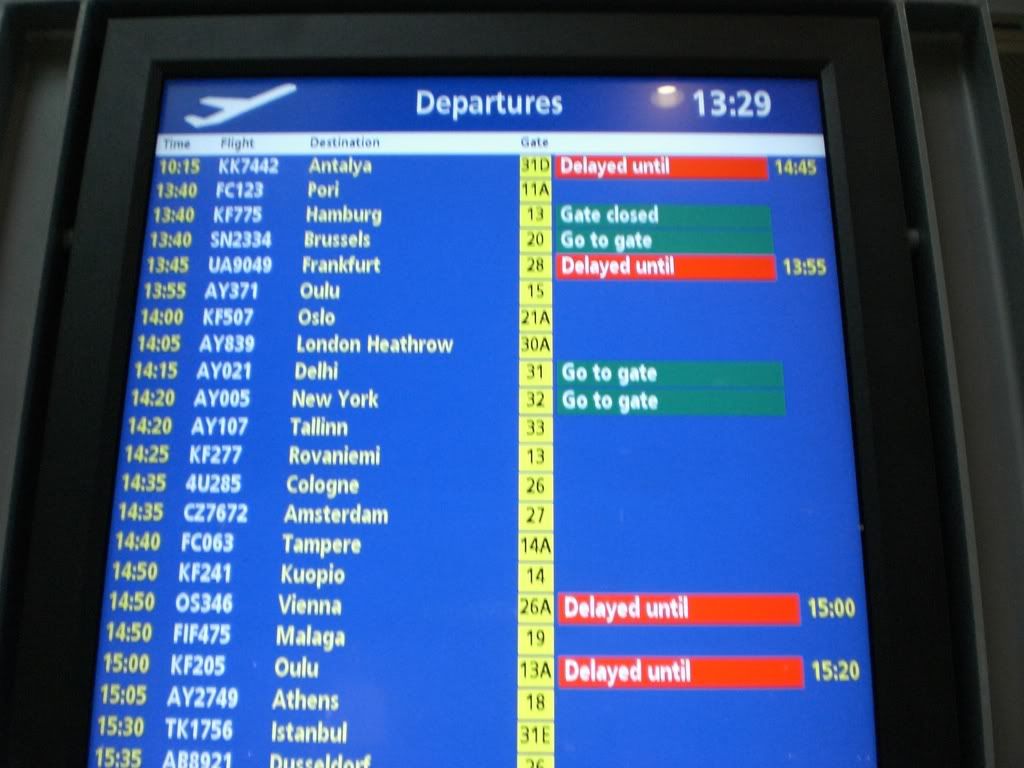 Date: 14th October 2007
Airline: Finnair
Route: Helsinki (HEL, EFHK) - Delhi (DEL, VIDP)
Flight number: AY021
Aircraft type: Boeing/McDonnell Douglas MD-11
Registration: OH-LGE
Scheduled departure: 14:15
Actual pushback time: 14:16
Takeoff: 14:27
Scheduled Arrival: 23:25
Actual Landing: 23:45
Planned flight time: 6h 40min
Actual flight time: 6h 48min
Seat: 29L
OH-LGE ready at gate 31 for a flight to Delhi.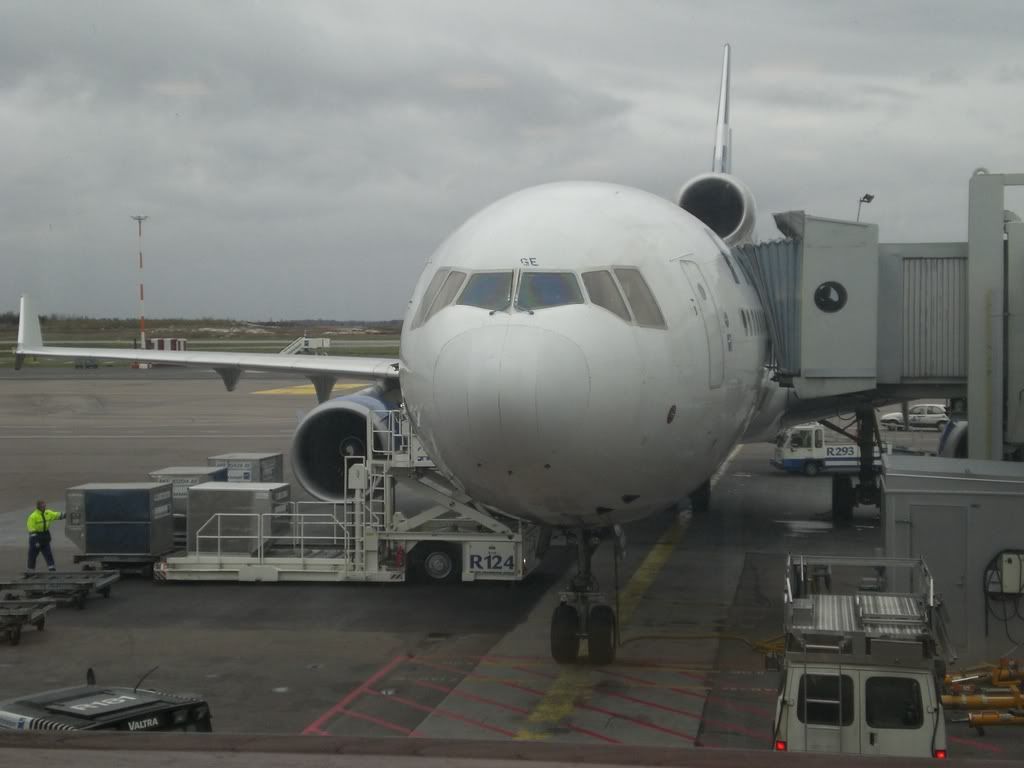 Boarding was started half an hour before departure. I still can't understand the reason why all people seem to have a tremendous hurry to board the aircraft, even the ones with a place to sit at the gate stand up and join the long boarding queue. And the same thing goes for exiting the aircraft after arrival at the gate. Why does everybody have to stand up immediately and block the aisles?
Anyways, we boarded our aircraft and took our seats. I had reserved us seats from the 9-abreast front section of AY's MD-11 economy class cabin already when booking the flight (the rear section is 10-abreast). The rear section is often criticized for being a bit cramped, but at least this front section had enough space for me.
Legroom - OK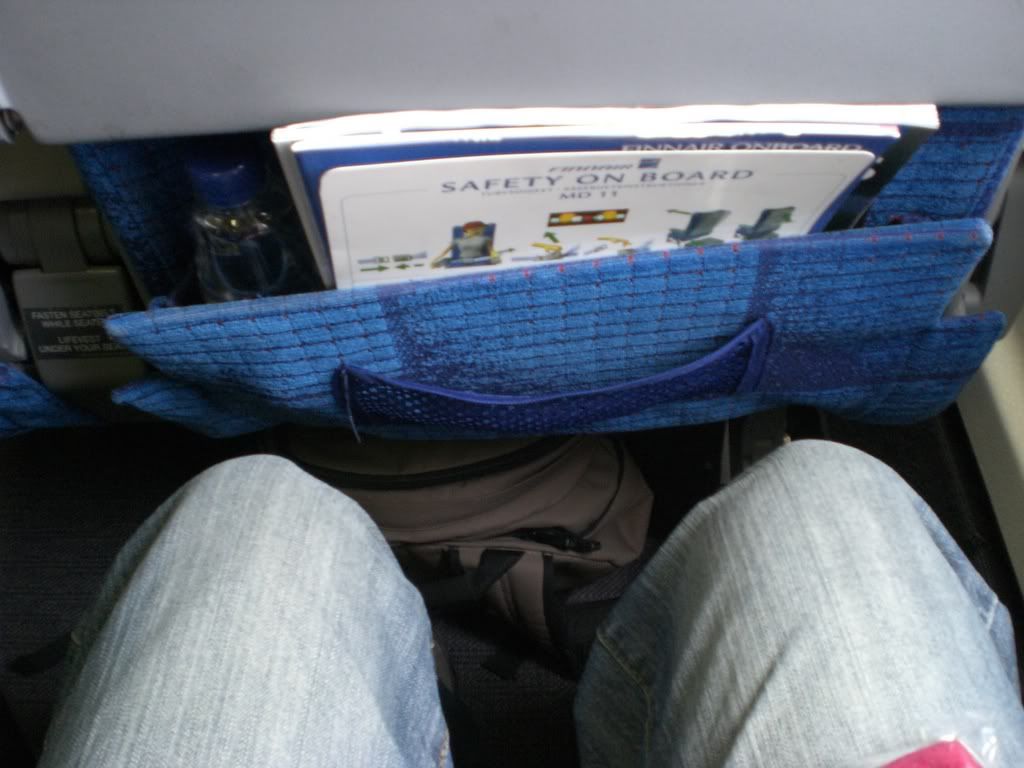 On long-haul flights Finnair has a bottle of water in the seat pocket ready for you already when boarding.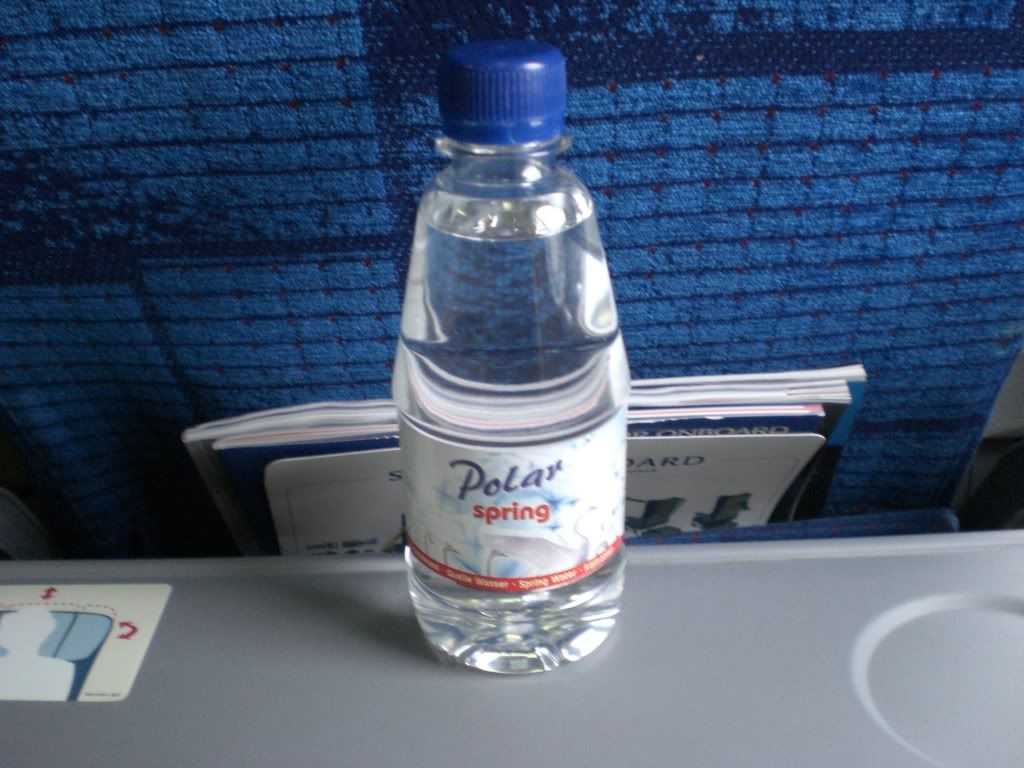 Boarding was completed early and we pushed back on our way only one minute behind schedule.
Santa was flying to JFK "aboard" OH-LGG for the third time this fall.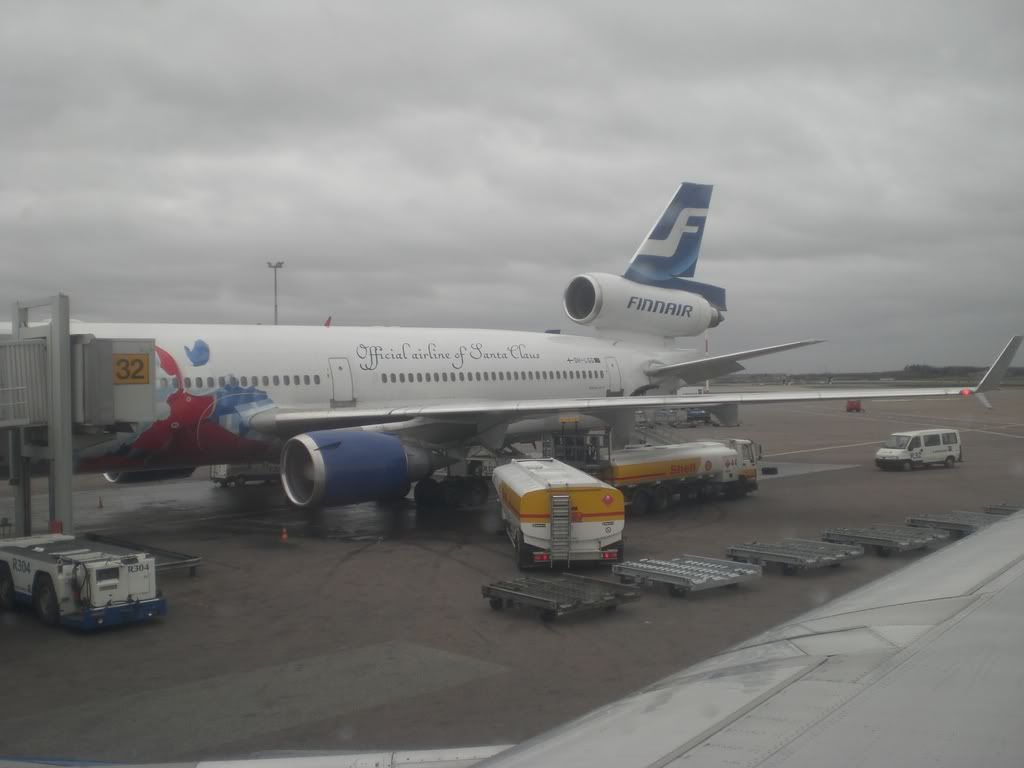 MD-11's GE CF6 engine as seen from my seat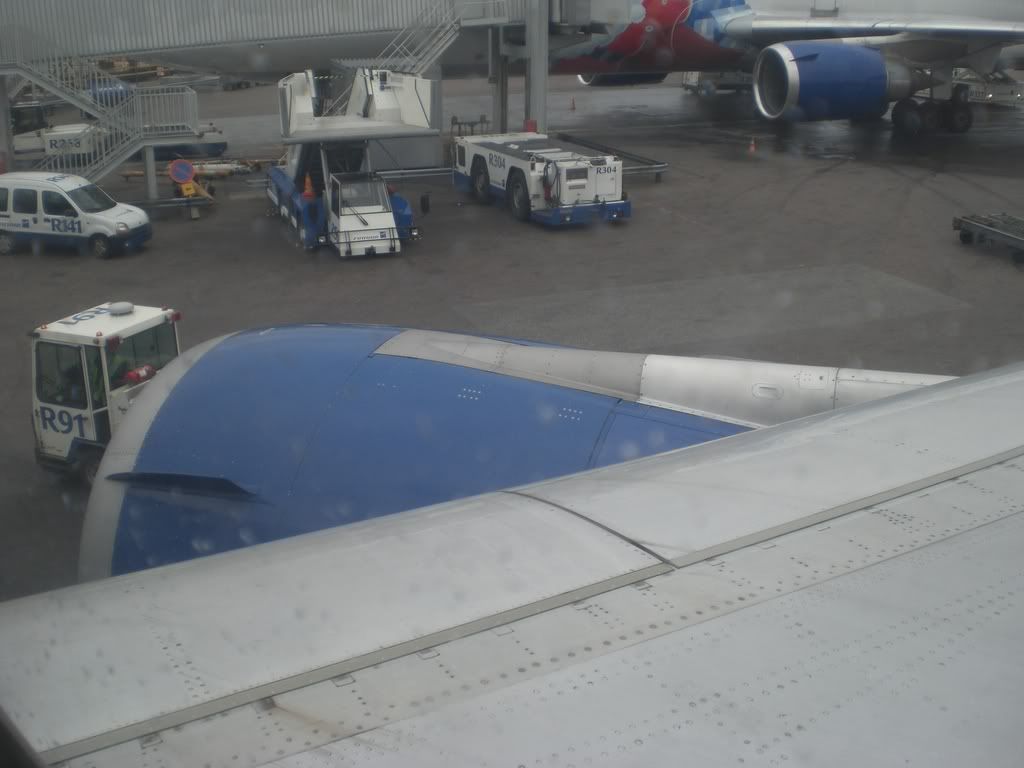 It was raining during pushback, note the temporary superlong jetbridge of gate 33 during construction work.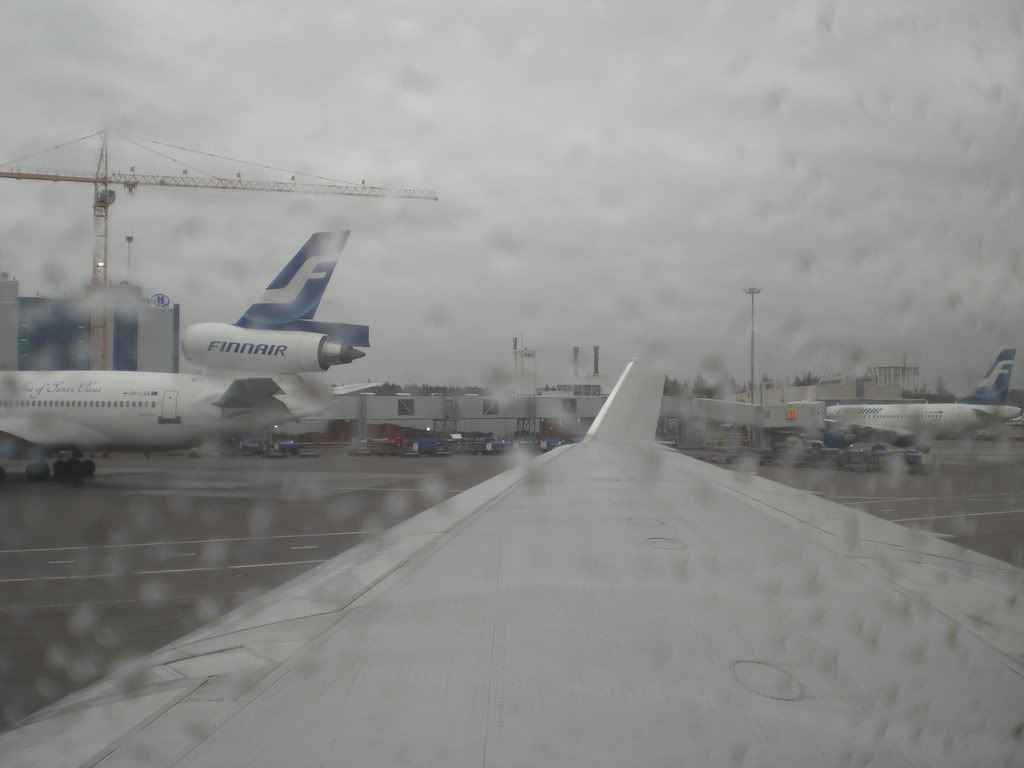 This is how empty HEL can be on Sunday just before rush hour!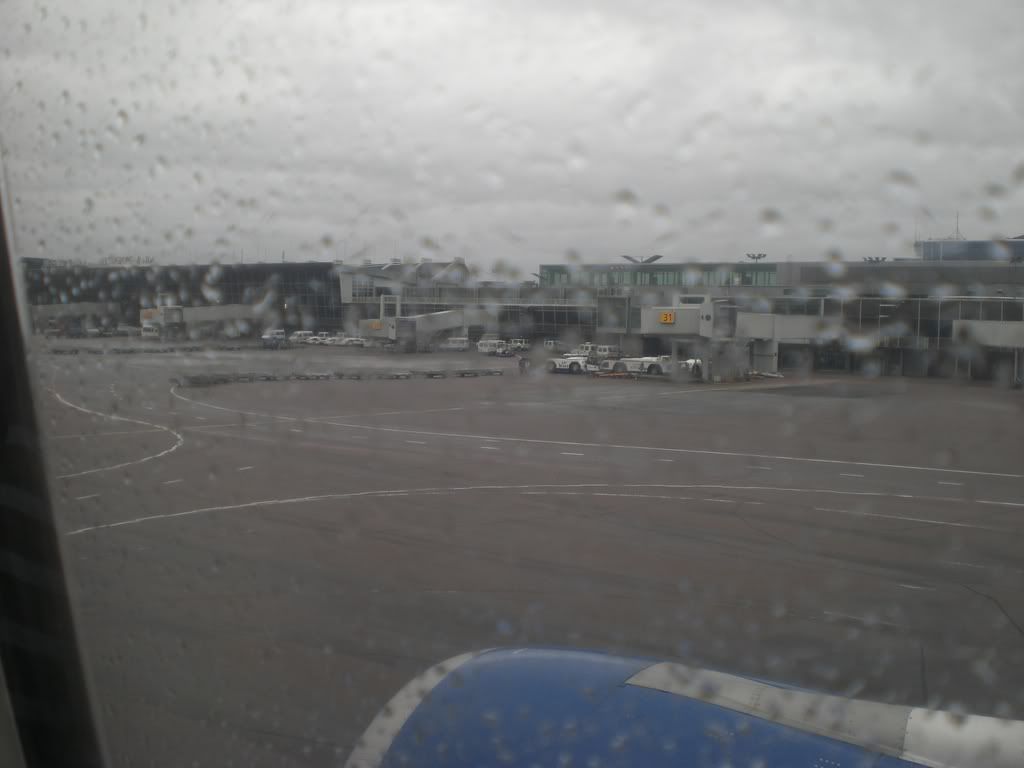 We taxied to runway 22R and took off about 10 minutes behind schedule.
After takeoff we remained quite long covered by the clouds, but eventually saw the sunshine.
But as so often, unfortunately no ground!
Food service was started quickly after takeoff, which consisted of these lovely small crackers and a drink service.
Well nah, Finnair isn't an American carrier, so we did get food also.
(No offence intended.
&nbsp
There was a choice of a meat or a vegetarian meal, and I chose the meat option. This is lamb (in a sauce which started with an R) with rice, cucumber salad, apple pie and bread.
After that the flight went on smoothly. Two movies were shown, the animation "Meet the Robinsons" and a Bollywood movie "Fool 'N' Final". Cruise altitude was FL360. Because of clouds there weren't much to see from the window, other than various stages of sunset.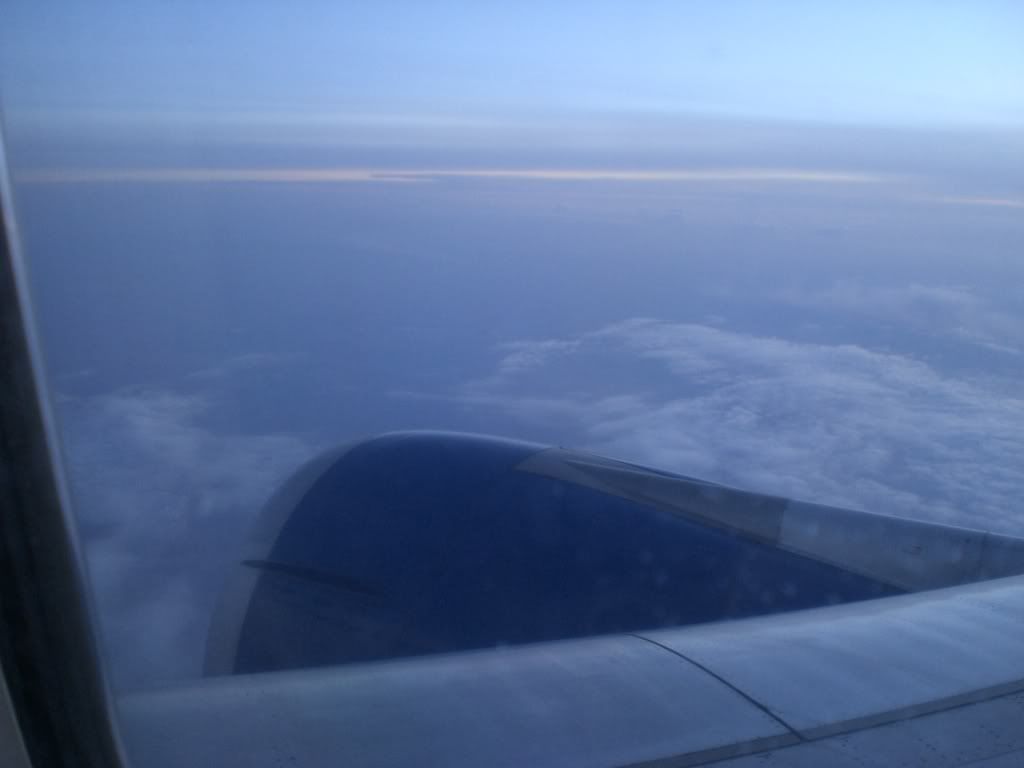 It's freezing outside!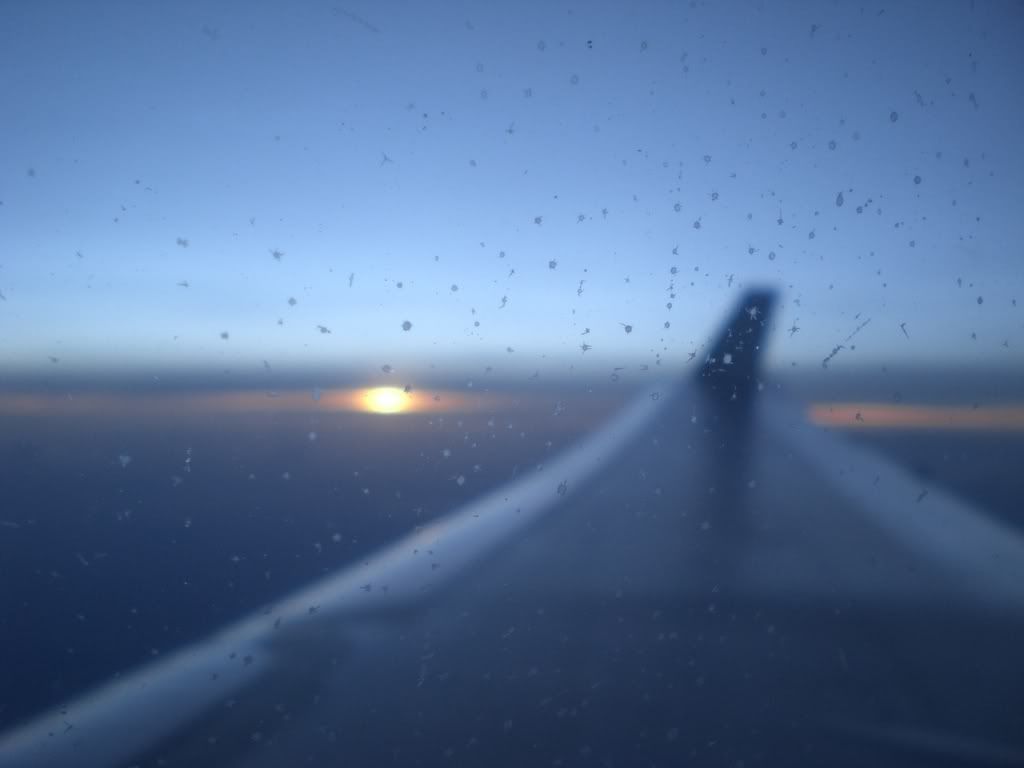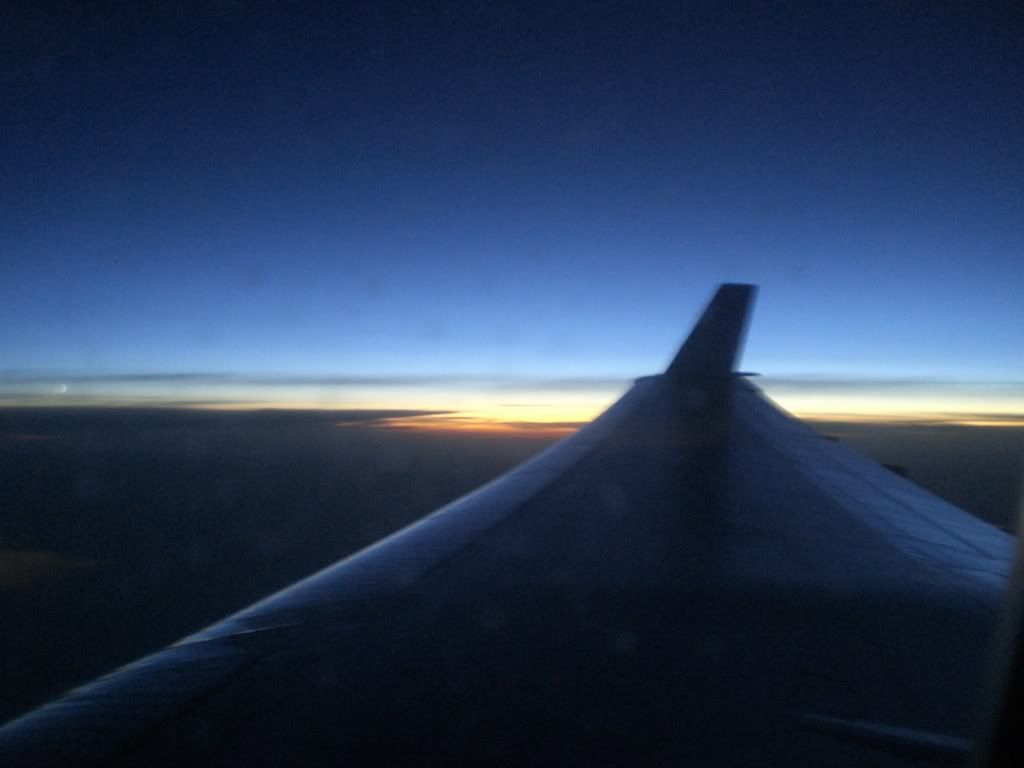 After sunset there was really no point taking pictures (or landing videos), so the only illustration of the rest of the flight is this sandwich, which was served about one and half hours before landing.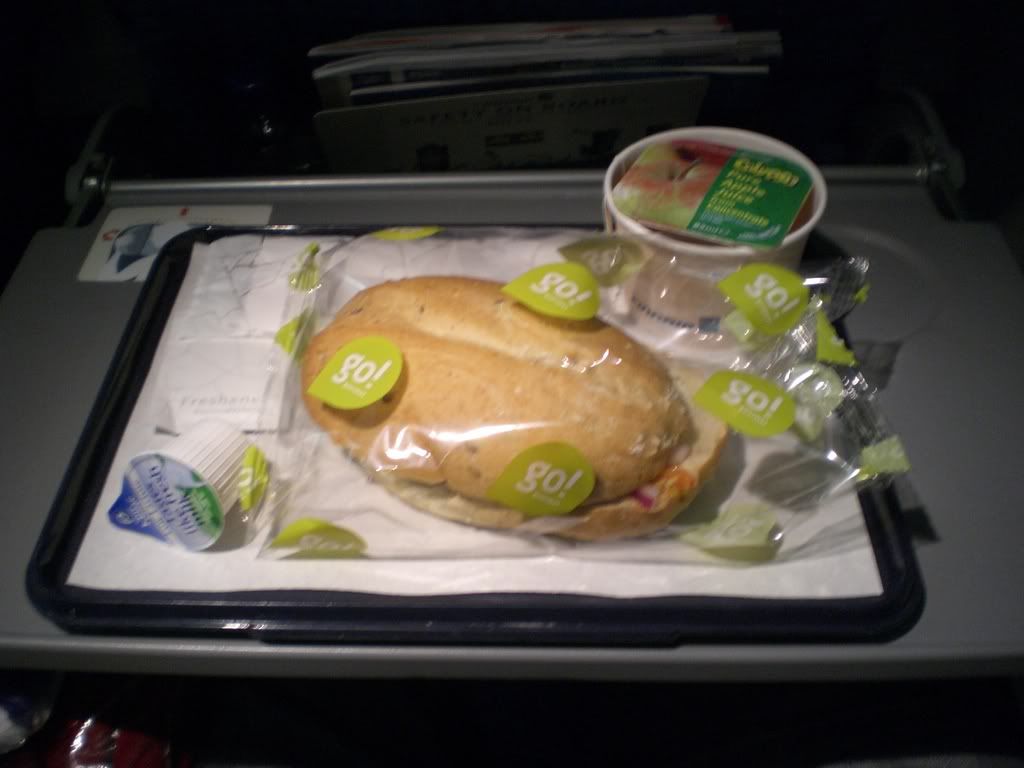 Delhi had some heavy traffic that night so we had to do two circles in a holding pattern, and landing was made from a totally opposite direction than which would have been fastest for our route, we landed on runway 28. Eventually it caused us to be 20 minutes late on arrival. We headed for immigration and baggage claim, where our baggage was already waiting!
So now we were in India, and Delhi's smog was the first thing we noticed. We could smell some of it already in the airplane after landing. But it didn't really bother me that much. We had booked a guided tour for our whole journey, and we would be travelling by the tour operator's private car. So we had to search for our driver from the seemingly endless line of people in the arrivals hall, all with a sign with a different name in it. Eventually we found him and we could get on our way to explore the country. Our routing would be Delhi-Jaipur-Ranthambore-Agra-Delhi, all journeys done by the car. It was a great way to see what India is truly like. I was also glad that I had mentally prepared myself enough for the culture shock, so I could enjoy the trip from the very beginning. Just some photos from India though:
A street in Old Delhi near our hotel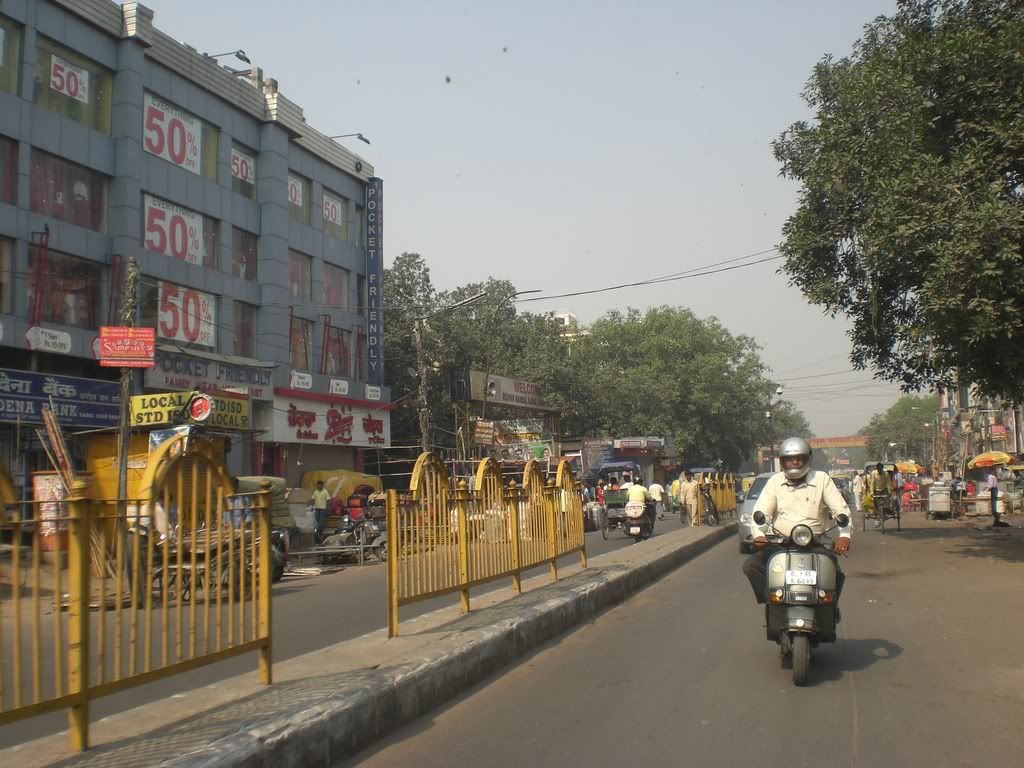 Some ministries in New Delhi
And the presidential palace
Amber Fort near Jaipur, maharajah's old palace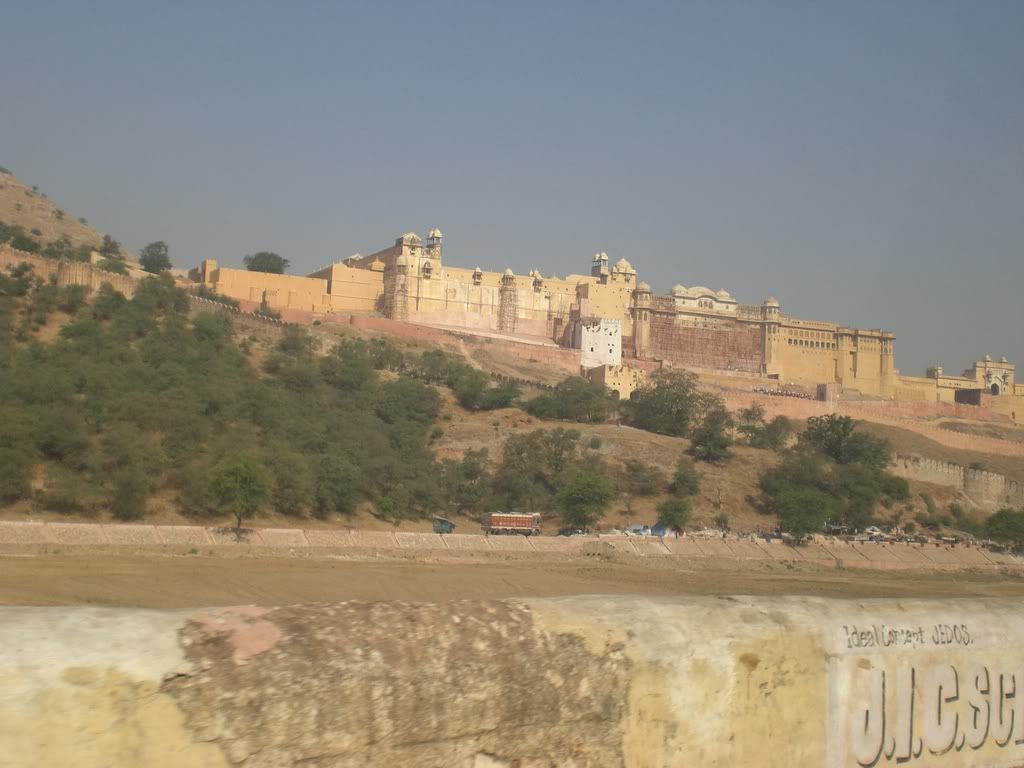 Jaipur's City palace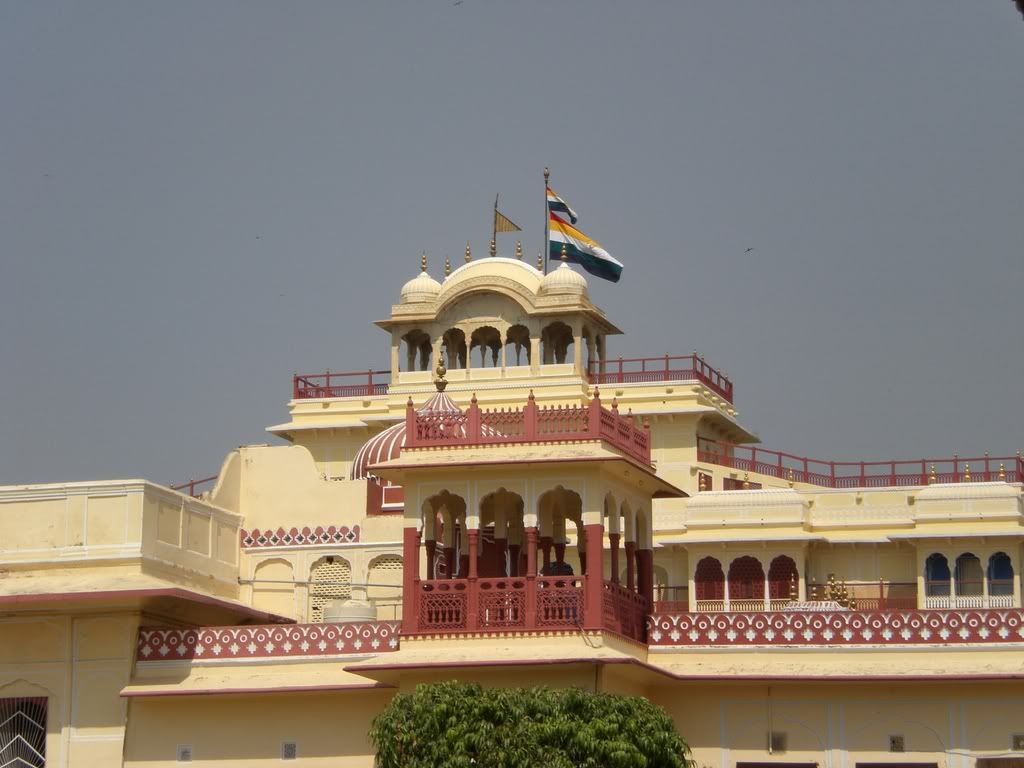 Ranthambore National park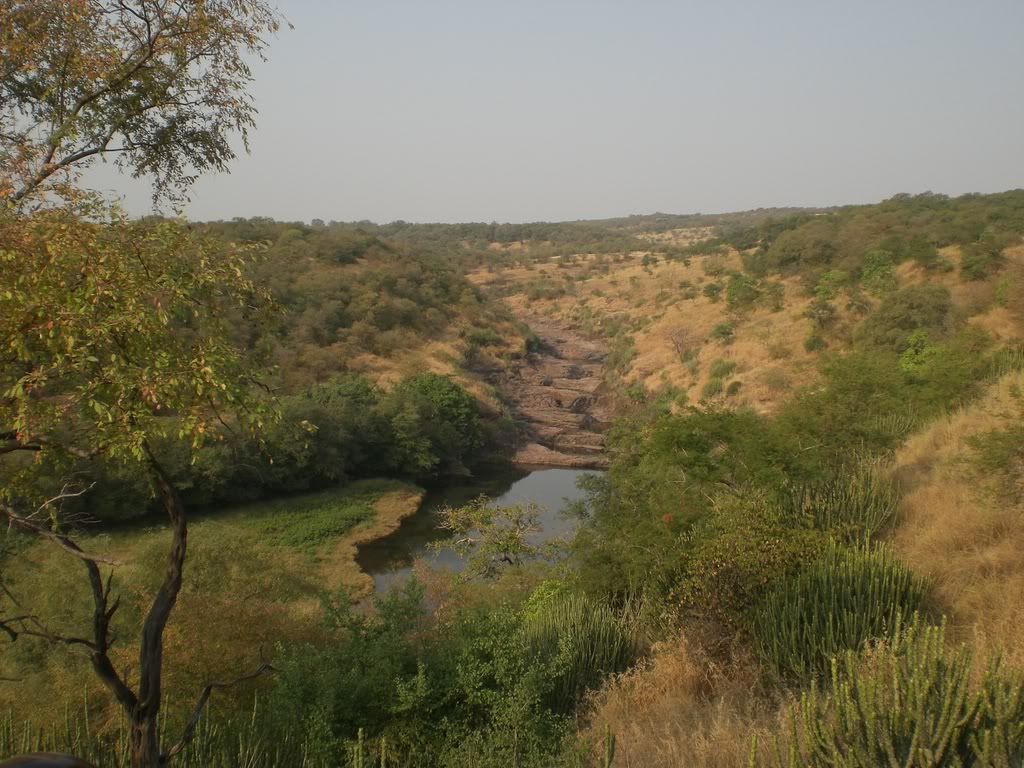 Agra Fort
And the Taj Mahal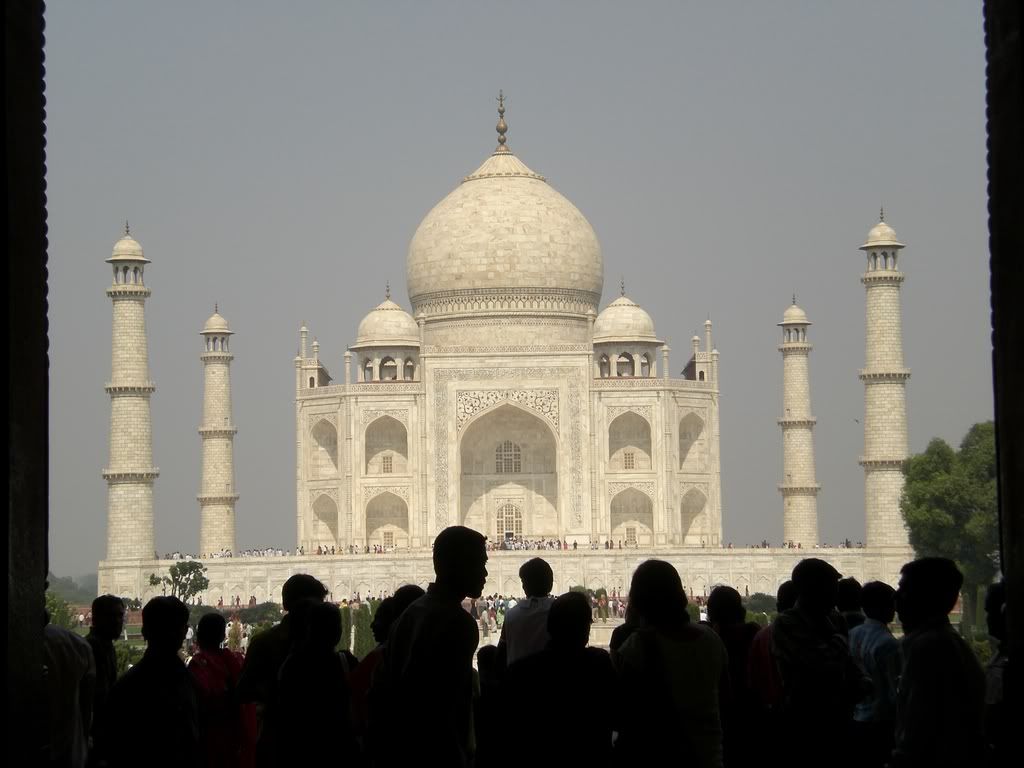 Delhi Fort
And then it was time to head home, after a week in India.
Date: 22nd October 2007
Airline: Finnair
Route: Delhi (DEL, VIDP) - Helsinki (HEL, EFHK)
Flight number: AY022
Aircraft type: Boeing/McDonnell Douglas MD-11
Registration: OH-LGE, again
Scheduled departure: 03:15
Actual pushback time: 03:25
Takeoff: 03:35
Scheduled Arrival: 08:15
Actual Landing: 08:00
Planned flight time: 7h 30min
Actual flight time: 6h 55min
Seat: 29L
Our flight would leave at 3am on the 22nd, so our driver dropped us at the airport at about 9pm on the 21st and we said him farewell. We had thought there would be enough things to do at the airport, maybe sit in some restaurant or shop, and I had thought of trying to find a good place to plane spot. Well, it soon became quite obvious that no, you just can't do that in Delhi. It already seemed strange that there were queues to the terminal and by the entrances there were some security personnel checking passengers' tickets. When it was our turn, we were denied entering the terminal. We were told that only passengers who had less than four hours before their flight was scheduled to depart could enter the terminal and we were directed to a waiting area on the opposite side of the road. Well OK, we had about two hours to spend there and there would probably be a restaurant or something.
When we got to the entrance we noticed that there was an entrance fee of 30 Indian rupees per person. Well, that wasn't much (about 0,6€ or 1$) but it was still strange. And that fee gives you three hours to sit and wait there. Only reason I can think of is that the fee and time limit is meant to keep the homeless away. When we got in, I noticed a man arguing with some member of staff at an opposite entrance ( I assume) whether he could go to the restaurant and come back with the same ticket to the waiting area that he had already paid for or not. And the guidance to the restaurant was through the chargeable waiting hall!
Oh well...
So, we sat in front of a TV and spent the two hours looking at a program called "Cricket controversies" or reading aviation magazines.
Eventually the program wasn't that interesting, but the news had some worth though.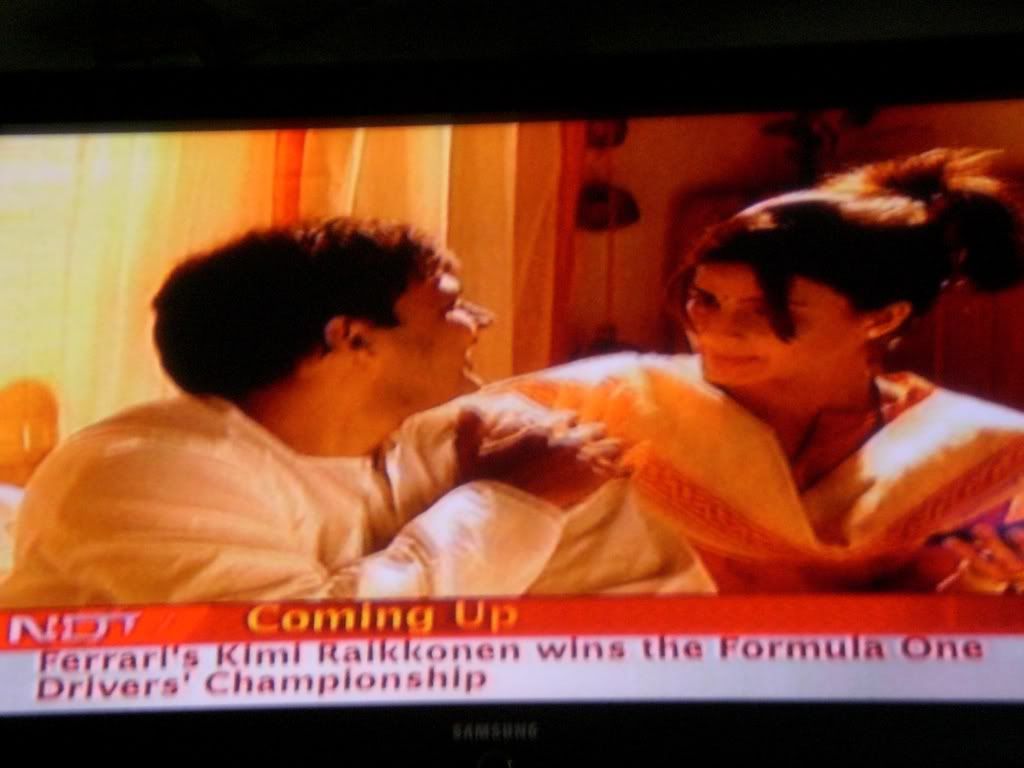 Encouraged by this important piece of news (and more importantly at the right time) we made our second attempt at entering the terminal, which was this time successful, and proceeded to the check-in counters. That also was a mistake, because apparently we should have gotten our to-be-checked-in baggage screened before joining the check-in queue. Well, luckily someone told us that early enough so that we could have them screened without having to lose our position in the queue (and that someone wasn't the person behind us
). The check-in process lasted somewhat longer than usually but we didn't encounter any problems. After that we wondered a bit where to go, because the whole place seemed to be under construction work, but we soon found that out and headed towards passport control. What was interesting in that process was that we got our boarding passes stamped too.
So then we were finally in the area where we could do shopping or eat, but the area was very small, considering that this was the international airport of the capital of the world's second most populated country. To illustrate this I have two photos taken at the exactly same place (in a hurry because I didn't like the idea of taking photographs carefully in the place which was full of security personnel, whose attitude towards airport photography I did not know).
The other side....
....and the other side.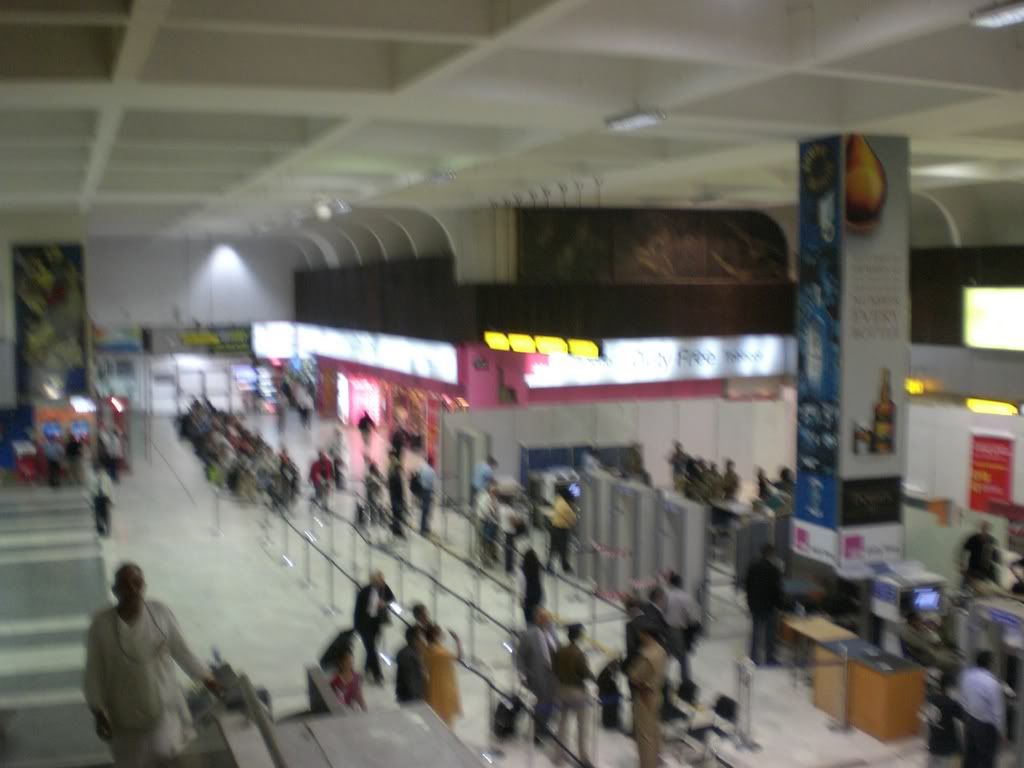 While waiting for our flight to depart another problem arised. Apparently at the security check (which was right in front of the gate area) the personnel wouldn't let people through if all their hand luggage didn't have a Finnair-tag on them. Huh. Well, we weren't given any Finnair-tags to put on our carry-on luggage at the check-in and it seemed that nobody else was either. So there we were unable to go through the security, with some staff constantly hurrying us to go there.
The only solution was to wait for some Finnair personnel to come and hand out the tags (which eventually happened). In the meantime I gathered some attention due to my t-shirt; I was dressed in my dark blue official Finnair t-shirt which I wear always when flying, so I got some hopeful looks whether I was the member of Finnair's staff to come hand out the tags.
Well, on the negative side I had to explain some people that I wasn't officially a staff member, but on the positive side those people were some young and pretty girls, who seemed to like my uniform.
Before boarding we still had to go through some hassle, because the security check procedures were quite complicated. First our boarding passes were checked. Then we were divided to two different lines, one for men and one for women. Then we went through the metal detector, and even though the detector remained silent everybody had to go through a "manual" check also. Then our boarding passes were checked and stamped again. Then they were stamped again. (My description might really be inaccurate because it seemed they were checked and stamped all the time.) Then we had to wait in the gate area for a relatively short time before boarding. In the boarding queue there was again a person who checked that all our carry-on luggage had Finnair tags on them and after that our boarding passes were checked by Finnair personnel, and then by some security personnel and then again by Finnair personnel, I really don't remember but it was crazy. But eventually we got onboard!
Boarding was completed again quite early, but we had to wait for our pushback clearance some 10 minutes, during which I had time to observe arrivals at gates next to ours.
I really shouldn't take photos during nighttime, but here's an ET B763, a MU A332 and an EK B773.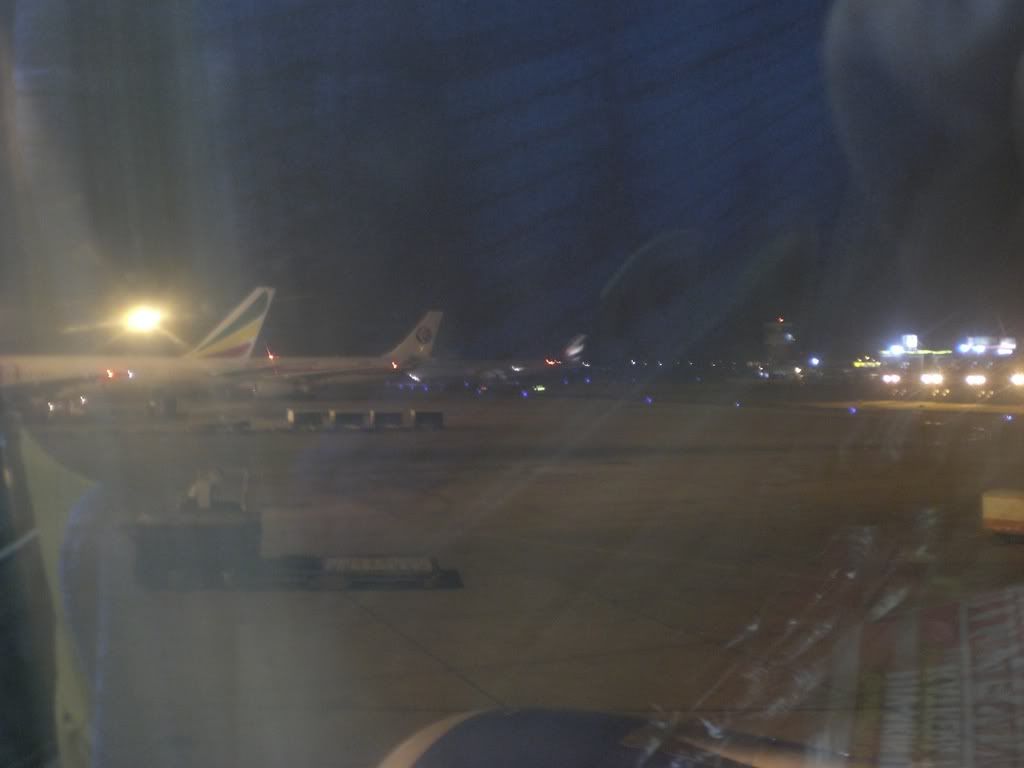 So, our pushback was ten minutes behind schedule and takeoff another 10 minutes later from runway 10. We did a nice right-hand turn for our route to Helsinki, during which it was nice to watch the night lights of Southwestern Delhi.
Soon after takeoff a snack was served in the form of this sandwich, yoghurt and Kitkat.
The cabin lights were dimmed after that and at least 90% of passengers on the flight were asleep for that part of the flight. Movies shown on this return leg were "Ocean's 13" and a Bollywood movie "MP3 - Mera Pehla Pehla Pyaar". Cruise altitude was FL350. The route from Helsinki to Delhi (and back) goes trough Estonia, Western Russia, Kazakhstan, Uzbekistan, Afghanistan and Pakistan.
A blue moment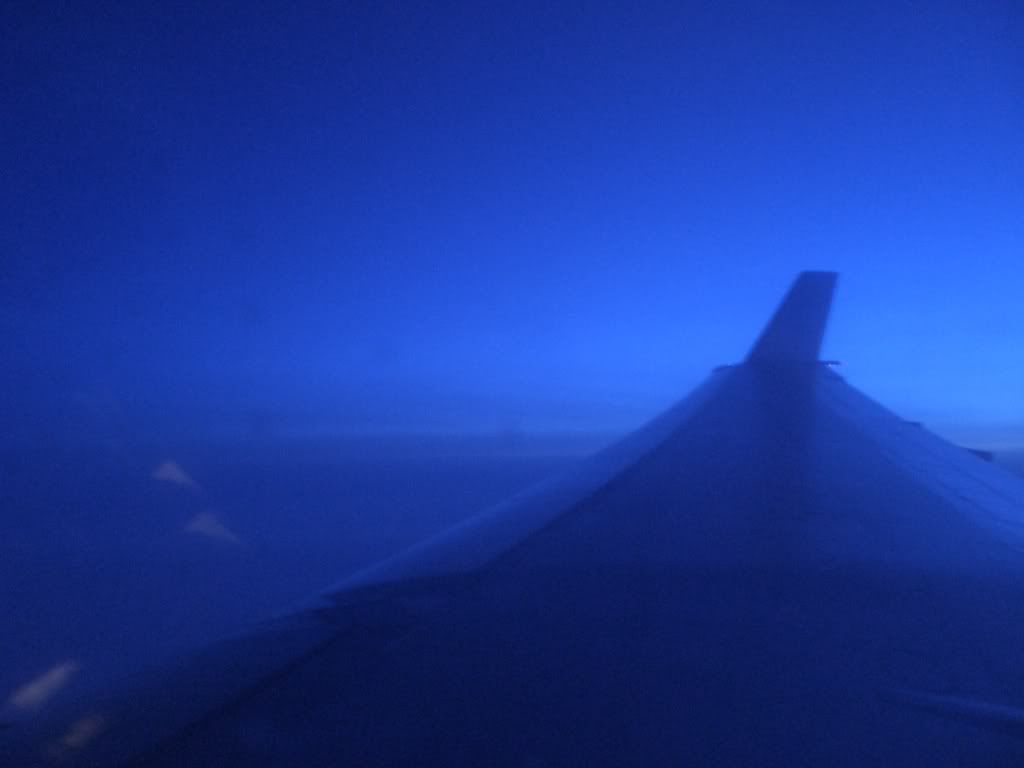 Sunrise was long and nice to watch, as much as I could, because cabin crew wanted the window shades to be shut for the people to get better some sleep.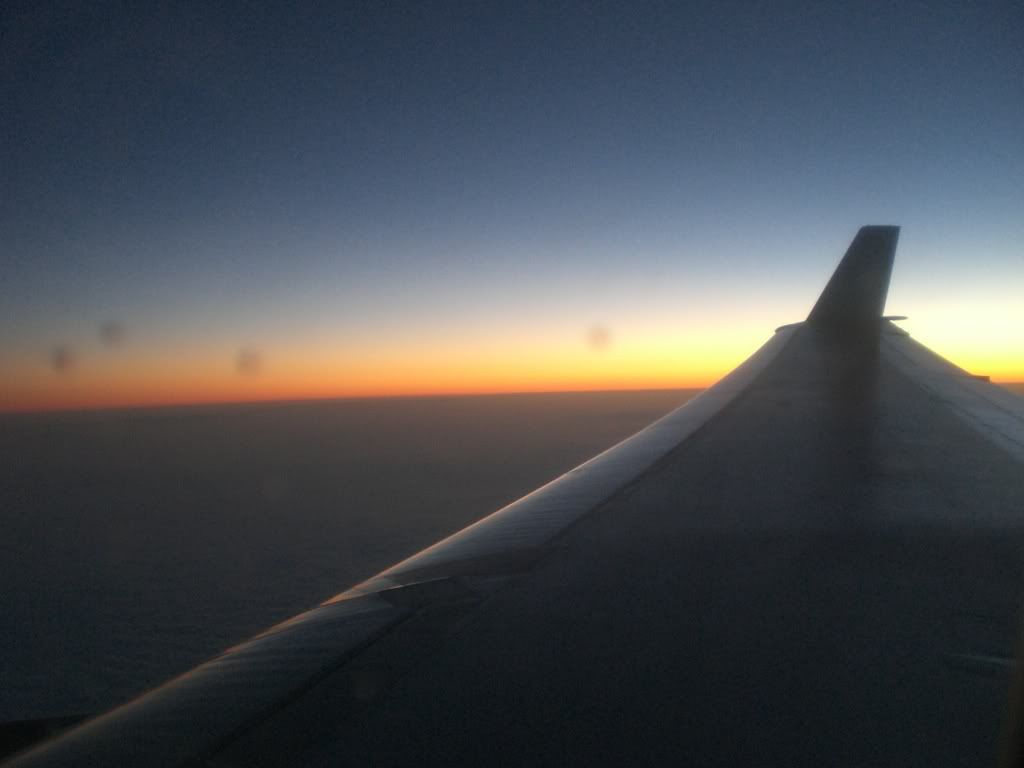 Breakfast was served two hours before landing. Again there was a choice of a meat and a vegetarian meal.
And I support meat
Sausages with mashed egg and potatoes, fruits, yoghurt, a pastry, bread and mango juice.
Descending over the Gulf of Finland
And then we lined up for an approach and landing to runway 22L, 15 minutes ahead of schedule.
We arrived at gate 31 - the same gate we departed from, and in the same aircraft! OH-LGE is the youngest MD-11 in Finnair's fleet, it was delivered in 1998 for Citybird. So it's not so old after all!
Arrived at gate 31, Airbuses getting ready for flights to Europe.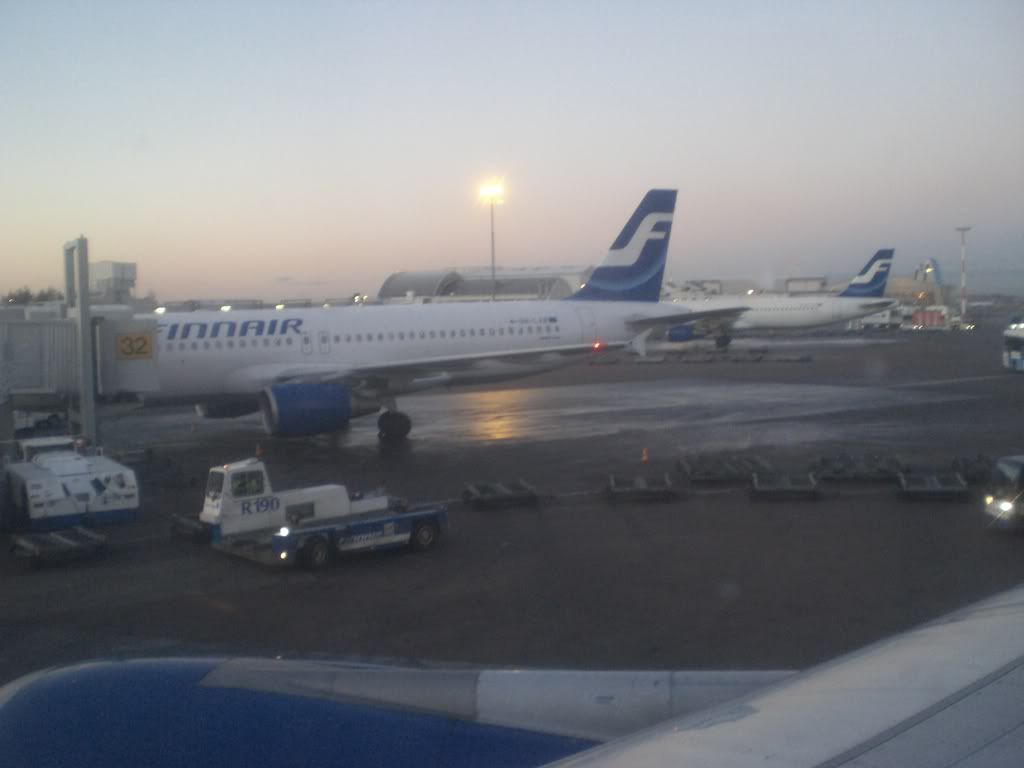 In Helsinki there were no queues for immigration or anything, and even the bags arrived quite early at the belt. A good trip in India's hot +33C temperatures was over and it was time to get used to again in Finland's +0C.
So all in all... Finnair provided the standard service as always. Flights were on time and most of all, cheap.
Looks like the Finns are going to benefit from AY's growth in Asia in the form of cheap tickets to fill up seats for new destinations or somewhere where the demand isn't that strong. And India is a nice place to visit, if you are aware of the fact that it will be very different from a Western society and travel with an open mind.
Thanks for reading and I hope that you enjoyed this report!