On my way to Sydney and SQ380
Trip Report – Part 1
I dedicate the full trip report to my long time friend Malle Dailland Magi, the Star of United Airlines.
24 October 2007
I left the shores of Monte Carlo and my beautiful sea view about mid-morning.
I took the bus from Monaco taking me to the central bus station in Nice. Then on to city Bus #52 to the airport. There was not much traffic so it was an easy bus ride through the city all the way to the airport.
http://www.nice.aeroport.fr/include/default.asp?
When I arrived at Terminal 1 the Lufthansa check-in counter was opened. They had several flights. I did not check any bags.
With my boarding pass the agent handed me an invitation to one of the lounges, the one known as "Salon Shengen" situated near Gates "A". This is because I had a continuing flight in F class in Frankfurt. Lounge invitations are only for passengers flying International First Class or to Lufthansa Honorary Circle members.
I went upstairs to Departures and through passport control and security check. It is the same paranoia scene in Nice as in any other major airport in the world. Nice is not a shoe carnival airport, we only get liquids carnival, body patting and bags searching.
We are all suspicious so the airport security agents check every bit of what we have. My bags were admitted without belt recheck. Lucky enough my diecast Concorde model went through!
I was early so I went to the Business lounge until boarding announcement.
Flight LH 4139 to Frankfurt - Gate A34 Seat 3 F Business Class - Departure time 2.30 PM
At 2.35 PM a 25 minutes delay was announced... We did not get on board the plane until 3.30.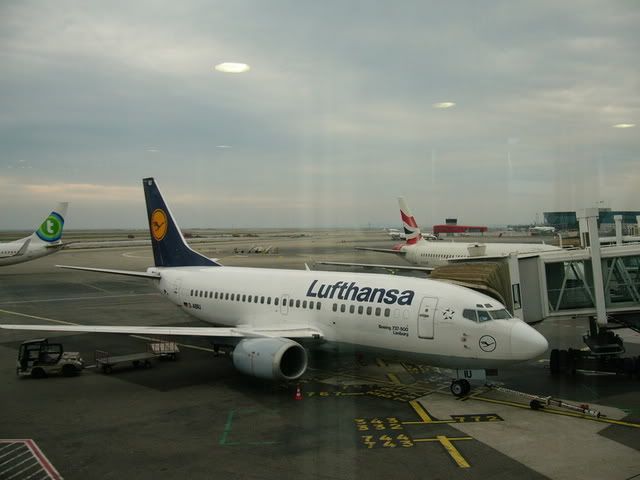 Take off was very fast followed by a sharp right turn. It was very windy. At take off we could see the waves, windsurfers and sail boats. Weather totally overcast. Planned flight time 1h30min. No sign of turbulence. Aircraft was a B-737-300. A total of 7 passengers in the C cabin with lots more in economy.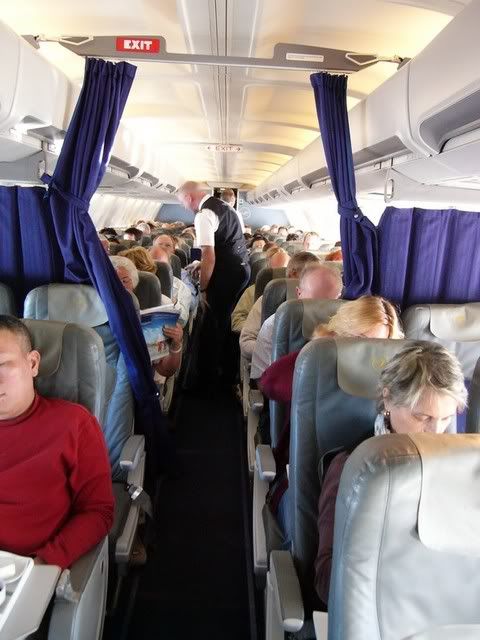 http://www.seatmaestro.com/airplanes...ng-737-300-733/seats-comments.html
Food and drinks were served without delay. The lunch platter had smoked salmon, tomato, avocado mousse, a bread roll, cheese and a croissant. With the meal, I had apple juice and coffee.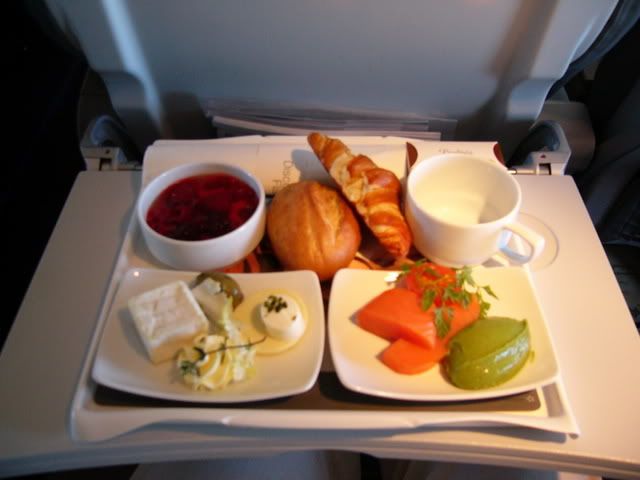 From Nice we went towards Genova, Milano, a beautiful view of the Swiss Alps, Zurich, Stuttgart and on to Frankfurt. Flight attendants came to pick up the trays and glasses. Weather totally overcast. The FA announced the connecting flights with gate numbers on the PA system. This flight had a code share with SK Scandinavian. The aircraft made a right turn before going down through the clouds.Then another right turn and we were above the clouds. No turbulence. Looks like we were put on hold. We heard the wheels. Then the announcement "cabin attendants prepare for landing". The descent into Frankfurt was very foggy. This seemed like a long and rather boring flight. We finally touched down in Frankfurt . 5.10 PM view on Lufthansa Technik! All the passengers applauded. We taxied to Terminal A and parked at Gate A 10.
This trip report will be done in several parts. I will post Part 2 as soon as it will be ready.
I will ask you to be patient as there is more to come...
Life is not only about flying.
We also have to tend to our daily lives.