On the way to Sydney and SQ380
Trip Report – Part 2
Frankfurt Airport
After leaving the aircraft that brought me in from Nice I walked toward the exit sign. Frankfurt airport is gigantic. This is one of the world's most important airports. It can be very confusing going from one terminal to the other. You really have to look where you are going. It is very easy to go to the wrong place while trying to get from one terminal to the other.
http://www.airportcity-frankfurt.com.../rubrik/9/9682.airport_city_en.htm
I had everything with me and did not have to go to baggage claim so I went through passport control. It was fast as I am a EU passport holder. I felt free and happy as I knew I was on my way to one of the world's most wonderful airport facilities: the Lufhansa First Class Terminal. I had spent time there before and I love the place. I could make it my home. I kept walking through this huge airport looking where I was going until I got to the right place.
In the large hallway of Terminal 1A I looked for the Lufthansa First Class check-in area.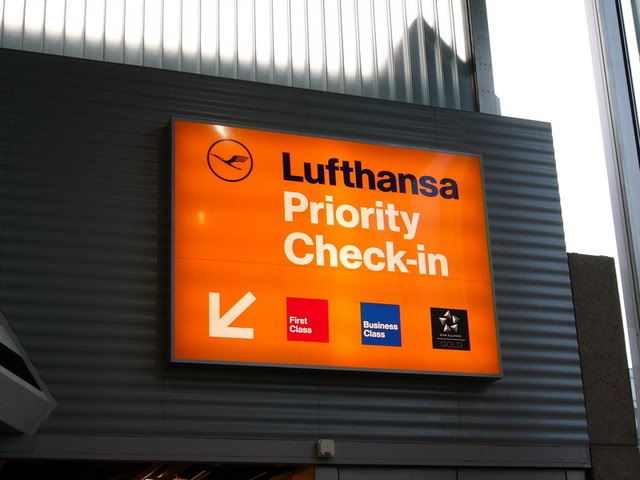 This is a separate place. There is a desk with two employees. There was a man and a woman. I waited in line for my turn until they had finished with the previous passengers. There is a comfortable seating area attached to it where passengers can rest or prepare their travel documents.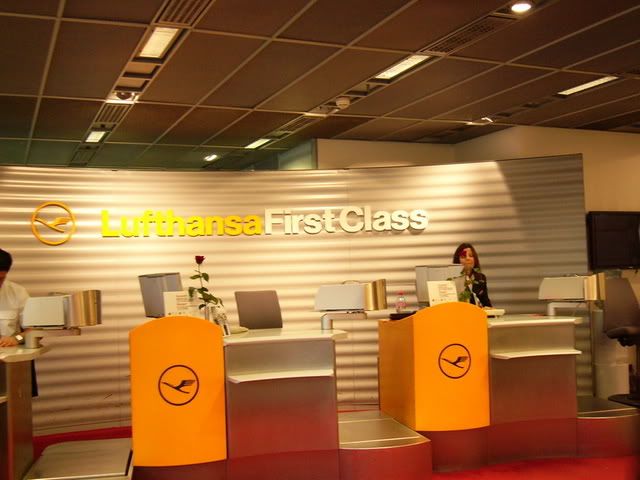 The agent was very nice. There was a problem with her computer so she had to reboot the system and then everything went back to normal. She asked me for my ticket and passport. I told her I wanted to go to the First Class Terminal to wait for my flight to Singapore as I had reserved several hours to enjoy this most wondrous lounge. She handed me my boarding pass for the next flight in a silver colour First Class sleeve and made a phone call.
Before I knew it my limo driver was there to take me to the FCT, a charming young woman and quite an efficient driver.
She dropped me off at the FCT after driving around the airport. The FCT building is nowhere within walking distance.
Lufthansa First Class Terminal (FCT)
I love FCT! This is THE place to wait for a flight!
Before entering the proper lounge area, I had to go through security check. The process was quite easy: no waiting line! The staff was very nice and again very efficient. I decided to go back outside to take a few pictures while one of the staff was watching my belongings. I hurried as it was cold.
I went back inside the building and through security.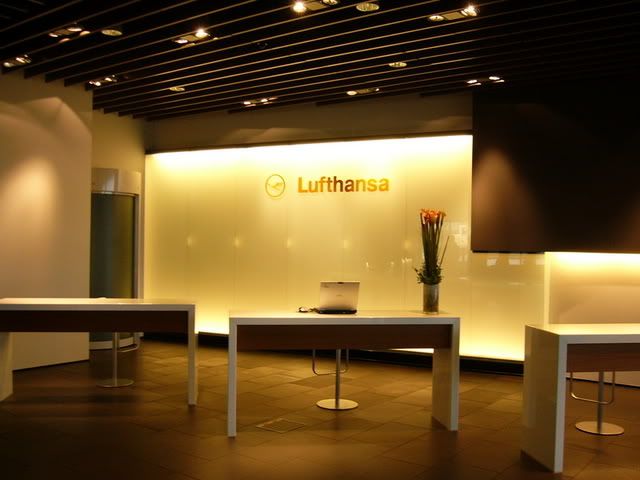 I was escorted by my own personal attendant. She took my passport and my boarding pass. A personal assistant is at the passenger's disposal throughout his entire stay.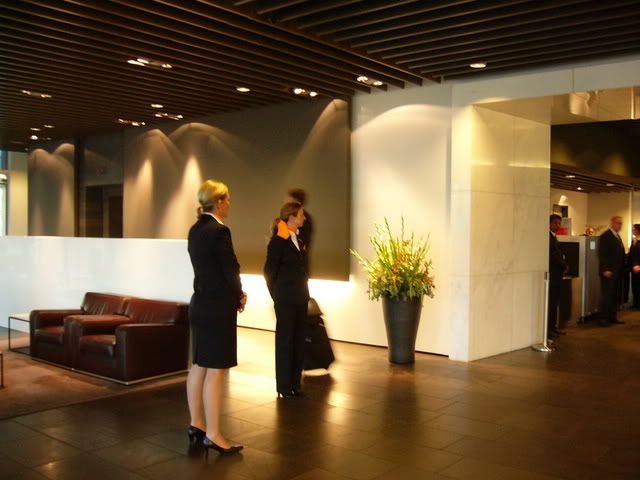 Once I was in the lounge area, I went directly to the shower and bath facilities and registered whith the lady in charge. I was asked to write my name and flight number on a list. Beautiful restrooms, the most luxurious shower-facilities that will provide the much-needed refreshment before or after a long journey.
Slippers and bath robe
Amenities by Etro
Shower
Bath towel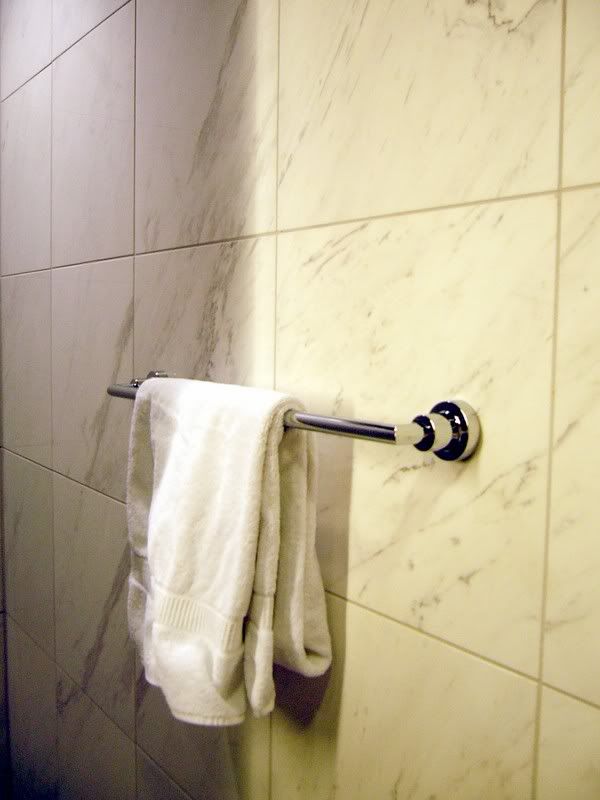 Full bath
Wash basin
Coat hangers and sitting area with floor to ceiling mirrors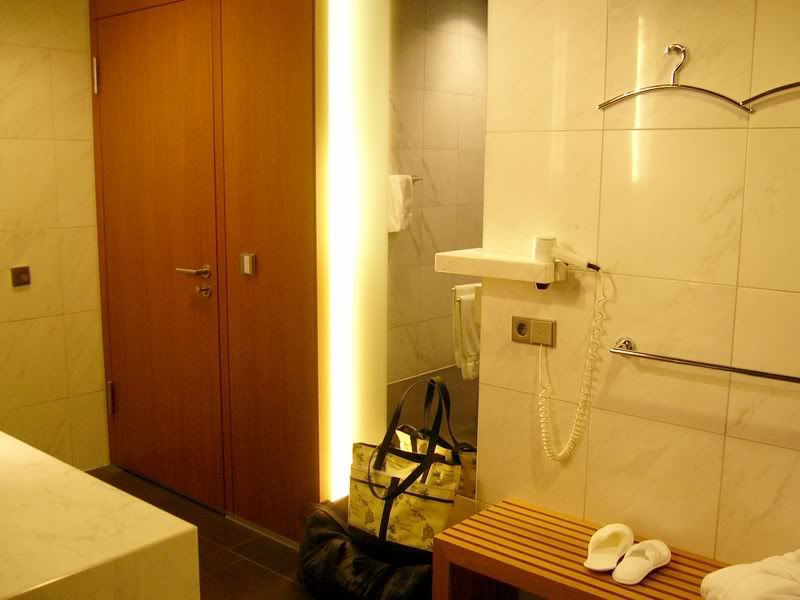 When I had finished my bath I was feeling much better and relaxed so I went back to the lounge.
I was starting to feel hungry so I went to the dining area.
I decided to taste some of the specials that they had for the month of October.
Moroccan chicken curry with white rice, couscous with a mix of jasmine flowers and sea bass with jasmine blossoms. I did not take a large portion but everything I had on my plate was absolutely delicious. For drink I chose sparkling water.
Then I went to see about having some dessert. I got tempted by a Crème Brulée. It had a delicate flavor of lemon and a crispy top. This Crème Brulée was truly delicious.
The FCT lounge got busier with all the night flights coming up.
The pictures will give you a good indication on the facilities: first Impression on arrival, reception, security screening, bathroom with amenities, sitting areas,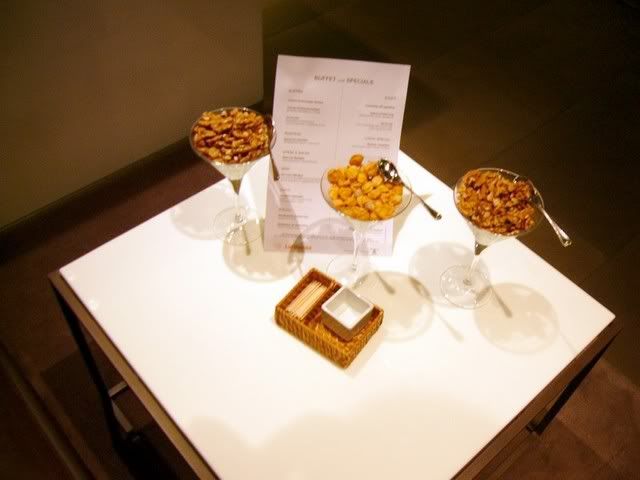 the restaurant area, tables set up, the lavish self serving buffet with a wonderful array of food, the ham cutting machine,
the Bar with enormous selection, a very professional bartender, 13 different beers, 70 choices of whisky and fine champagne,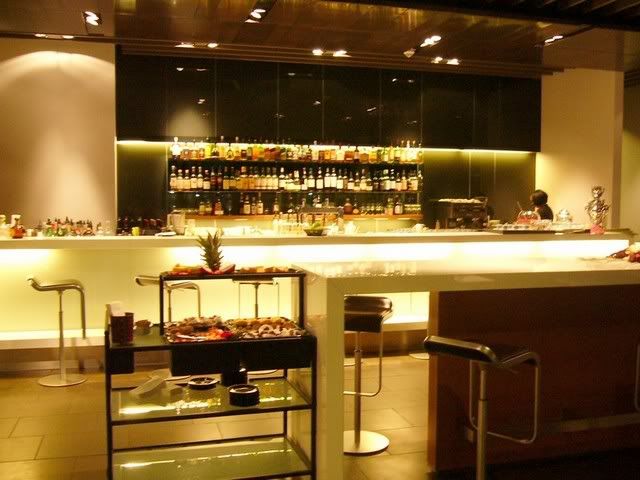 the Cigar Lounge with its own Bar,
a Duty Free shop,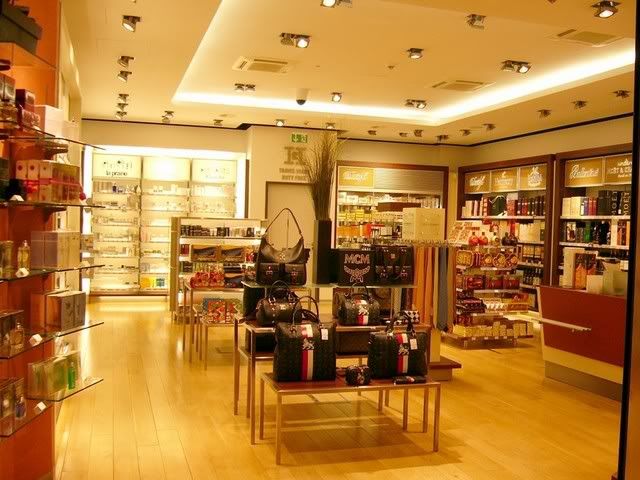 the huge selection of magazines and newspapers, WLAN (free 1/2 hour sessions), fax, payphones, laptops for rent (free), 4 office-rooms where you can close doors and work in privacy, huge plasma screens for tv, B&O stereo with plenty CDs in the smoking room, DVDs for rent (free) and last but not least the transfers by private limousine.
Boarding is unlike that of any terminal: it is done via a chauffeured Mercedes S-Class or Porsche Cayenne that will elegantly whisk guests plane-side.
The Frankfurt FCT is an experience by itself. The First Class lounges can be used as both departures and arrivals lounges for passengers travelling with Luthansa First Class. A truly wonderful place away from the hustle and bustle of Frankfurt airport. A whole report could be written for it alone.
Link to a First Class Terminal Lounge video:
http://www.youtube.com/watch?v=aRPqNs7cRO8
Then came the time when my personal attendant came to let me know it was time to go and board the flight. It was about 9.30 PM.
She took me to a passport and boarding pass control area downstairs and then my Italian driver came. He told me he is working this job while studying Event Planning in a school in Frankfurt.
I got out of the car at the foot of the big 747-400.
I just had a couple of minutes left on the ground to take pictures. The driver then helped me up the stairs and inside the aircraft.
I showed my boarding pass at the door and was directed towards the stairs up to the First Class cabin. The driver took my bag all the way upstairs. I thanked him for his help and said goodbye after which a stewardess led me to my seat.
http://www.seatguru.com/airlines/Luf...nsa/Lufthansa_Boeing_747-400_D.php
My seat number was 81K a bulkhead window seat, right side, first row.
Without delay, the stewardess brought me a ladies amenity kit, a pyjama and a pouch with socks and slippers. A few minutes later, one of the cockpit crew made an announcement over the PA system. There was a problem with the navigation equipment, a computer needed extra check-ups and we would be leaving 10 minutes late.
The aircraft was completely booked up. The First Class cabin was full. We patiently waited until a new annoucement was made about one hour later. The data was entered in the computer successfully but they still needed to do some testing on the ground. This would take about 10 more minutes. The 10 minutes lasted more like half an hour and we were still waiting. They finally fixed the bug and we were to leave Frankfurt an hour and a half later than the scheduled departure time.
The purser made a new announcement. Flying time to Singapore will be 11 hours and 30 minutes. This would get us in Singapore at 11.30 PM instead of 10.00 PM. We are finally up in the air after a long wait. We are finally up in the air. We have a full cabin and this is a very noisy aircraft. I found it rather surprising to hear that Lufthansa has no Premium Economy seating on any of their aircrafts.
Service announcements are made about meals and movies. Menus and wine lists were handed to us. The stewardess came around with hot towels each on a white plate. These were wonderful, thick, fat, very hot wet towels just the way I like them. After the towels were picked up, the stewardess brought me an appetizer, goat cheese mousse with a slight touch of strawberry sauce.
She asked me what I wanted to drink. It was time for a glass of champagne. With the champagne, I was asked if I would fill in a survey which I accepted. Then I was asked for my choice of meal.
Dinner service started soon thereafter.
Dreamer's delight
Cold Gourmet Plate
Salmon and char as a filet and Tureen, Herb Crème Fraiche and Antipasti
Or
Hot Specialty
Bleu de Gex, Murol and medium-aged Gouda
Fresh fruit
Menu
Choice of Hors d'Oeuvres
Caviar with the traditional garnishes
Hot-smoked duck breast, Apple and Rosemary Purée with stuffed Vanilla Plum
Grilled eggplant and tomato terrine with parsley and balsamico
Chilled Lobster Terrine with exotic fruit sauce and tamarind
Salad
Curly endive, Radicchio, Lollo Rosso and Lamb's lettuce with cucumber, carrots and walnuts
Macadamia Nut or Potato dressing
Choice of Main Courses
Loin of Lamb, peppers, beans and a zucchini, mint purée.
Cheese ravioli with harvest corn sauce and oyster mushrooms, carrots, Brussels sprouts and Langres potato purée
Filet of Halibut in black truffled Dashi stock, with hearts of palm, silver onions, Shiitake mushrooms and baby Bok Choy.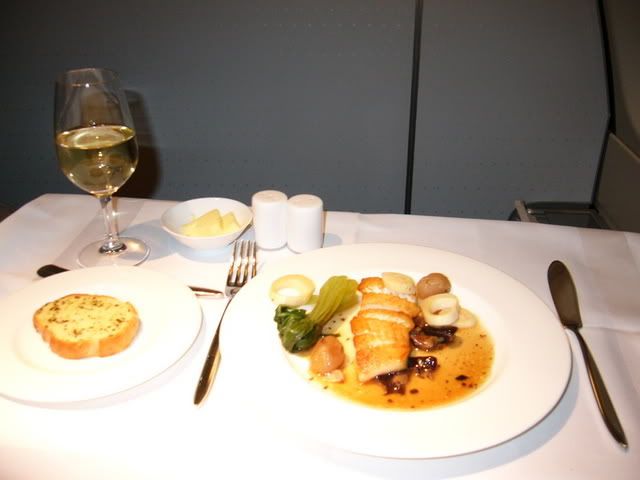 Selection of Cheese and Dessert
Bleu de Gex, Murol, medium-matured Gouda, Brillat Savarin, St Nectaire served with plums, cherry tomatoes and celery
Jelly of Grapefruit and Elderflower sorbet
Milk chocolate dome served with Espresso sauce, mint and blackcurrants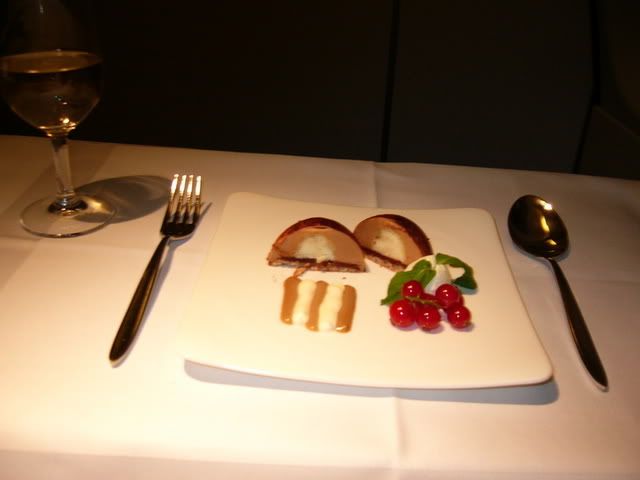 Specialty dessert wines
Champagnes
« D » de Devaux Brut, Champagne Veuve Devaux
« Rare » Champagne Piper-Heidsieck
It would take me too much time to rewrite the Monthly Proposal, Apéritif, White wines, Red wines, Spirits, Liqueurs and Port.
This B-744 is a really noisy aircraft. Even with a First Class seat that folds down flat into a bed I always have trouble sleeping on a plane. I did not sleep much, maybe 4 hours at the most out of the 11+ hours flying time which reminded me that once we landed in Singapore I would have to catch another night long haul flight to Sydney to meet the A380 to be on the return inaugural flight.
About two hours before landing a steward brought me a hot towel, placed on a white plate, another wonderful steaming hot wet towel just the way I like them. They picked up the hot towels. Then I turned around and noticed a glass of orange juice was waiting for me on the left side of my seat. One of the stewardesses brought me the breakfast menu even though this did not feel like breakfast time.
Breakfast
Cold and hot specialties
Freshly squeezed Orange Juice
Natural yogurt, yogurt with fresh fruits, corn flakes and milk
Smoked salmon, fine salmon strudel, Parma ham, smoked turkey breast, German salami,
Yogurt cheese, Cream cheese with chives, Rahmberg cheese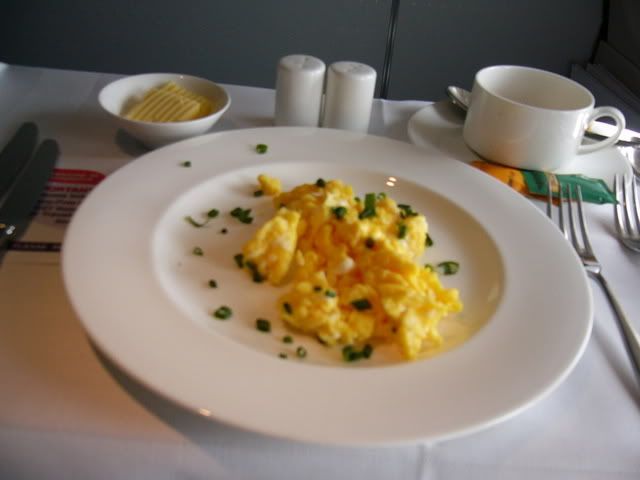 Scrambled eggs freshly prepared upon your request with bacon and chives
I had my menus sent to be signed by the cockpit crew. It seemed like I was the only one in the cabin not sleeping. I could hear a man snoring in the seat behind me. Although all the shades were pulled down, it was full daylight outside for many hours.
The map on the monitor was out of order due to the computer problem before take off so I had no idea where we were or flying speed or altitude. Landing time should be 50 minutes late. I could not see much of anything out the windows as it was all cloudy. At some point later I recognized the Irrawady river and Burma and I thought of all the troubles that were taking place in this absolutely fabulous land. Then we went through some fairly heavy turbulence. I could not see anything out the window. Everything was white.
The cockpit crew announced we were 30 minutes from landing in Singapore with turbulence on descent.
Ground temperature 31 degrees centigrades, thank you for choosing us. Another announcement about the seatbelts and electronic equipment was made by the Purser.
Overall this turned out to be a very nice flight with good food, pleasant cabin crew and a nice seat neighbor. One more annoucement came for the passengers going to Jakarta. More turbulence, the aircraft making a left turn preparing for descent, going down along the coast and inland over industrial areas into the airport. We heard the brakes and flew over Changi beach and golf course. Smooth landing and taxi to Gate E5.
Singapore Changi Airport
Now that I was in the terminal, there was no idle time.
I rushed upstairs to the Silver Kris Lounge to pick up my boarding pass for the next flight to Sydney and then through passport control as I had to meet my young Singaporean friend Aaron Yan and his friend Eugene Yeo, both bright young students and future pilots
I knew they were down there waiting outside the luggage belts area and my flight arrived late. I was rushed and we did not have much time to talk.
I had to rush back to the Singapore Airlines check-in counter to check my travel bag to Sydney. I said goodbye to Aaron and Eugene at the immigration point. Then I went back upstairs to Silver Kris Lounge and had a quick shower.
I needed to have something to eat so I picked two pieces of coffee mocha pastry and made a cup of tea before going to the gate to board the next flight.
This ends Part 2 of my Trip Report
On the way to Sydney and SQ380
Part 3 to come in the next couple of days...
[Edited 2007-11-06 14:11:26]