Background Info:
As part of my research for pilot training I looked into going to the US to do a degree and get my licences at the same time. I had decided that if I was going to study in the US, I'd go to UND. So when I had the opportunity to go to the Aerospace Camp I couldn't resist. It would give me a chance to see the college, have some flight lessons and get to know new people. Flying to GFK involved a complicated routing as the prices were ridiculously expensive, the cheapest being a combination of US and NW. My routing was DUB-PHL-MSP-GFK-MSP-PHL-DUB.
Flight #1:
Flight No: US723
Date: 17th June 2007
Aircraft Type: Boeing 757-200
Departure Time: 11:10
Arrival Time: 13:50
Seat Number: 11C
Distance: 3260 miles
I arrived at DUB at around 8am and none of the US desks were open. I was excited but knew I'd have a very long day ahead of me, arriving into GFK at 22:47 around 20 hours later! When I checked in I was informed I'd have to check-in again in PHL as US and NW don't have an onward connection agreement. Once I was checked in and said my goodbyes it was time to go through security where the queue was very short. I was disappointed to learn that immigration would take place in PHL as US Airways depart from the A gates in DUB.
A special edition Futura aircraft at the A pier and my ride to PHL in the background:
Boarding commenced at around 10:55 about 15 mins later than advised. I was surprised to see that there were security personnel that questioned every passenger again before we boarded the aircraft. I had not experienced this on my last trans-Atlantic EI flight from DUB last year. Once I boarded I was greeted by very friendly staff and was surprised to see that the aircraft had the new leather seats:
Doors were closed at around 11:20. We had a short taxi to the runway in DUB and soon we were off. It was my first time in a B757 and I really did notice the steep climb that I have heard other people talk about. I purchased a headset for $5 which I was surprised they they charged for. The movie was not my personal preference "Music and Lyrics" with Hugh Grant but it was watchable.
The food was passed around during the movie. I thought the portion was small for a transatlantic flight as I had big meals on EI and NW in the last 12 months. The rest of the flight was uneventful. A small snack was served prior to landing. I didn't take many photos in-flight as I was worried if someone would say anything
Just a random photo take out the window of the aircraft as the couple beside me went to the loo!
Somewhere over Canada I think:
We descended over Boston, New York and then out over Atlantic City NJ. Then the Delaware River came into sight and we soon touched down slightly early at 13:20 in an extremely warm day in PHL.
Flight #2:
PHL-MSP
Flight No: NW183
Aircraft type: Boeing 757-200
Departure Time: 17:46
Arrival Time: 19:47
Seat No: 19A
Distance: 977 Miles
When I came out of the lovely A-West terminal I had to proceed to the E concourse which I can only describe (as the Irish would say) "A Kip" or a dump as many would say. It was very shabby and un-airconditioned. The NW gate agent was very friendly and remarked how early I was to check in for the flight. Lucky I was early though, the security queue took over 40mins.
Whilst waiting I had time to do a bit of spotting. There was a very strong Southwest presence at PHL: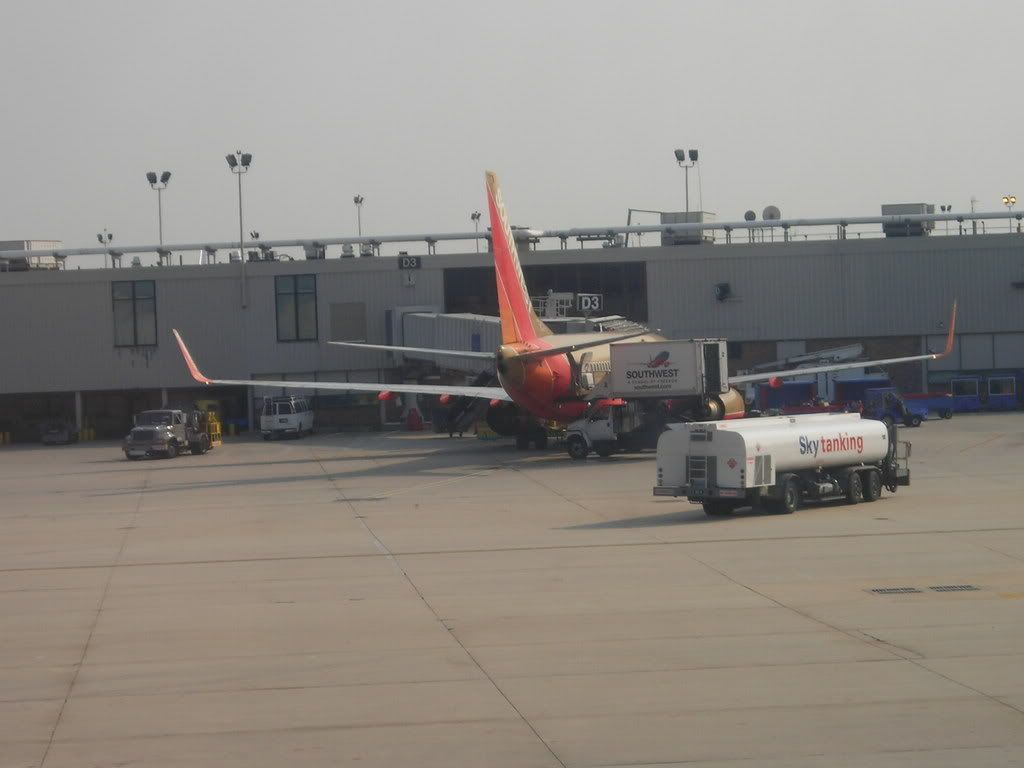 Gate Area in PHL Concourse E: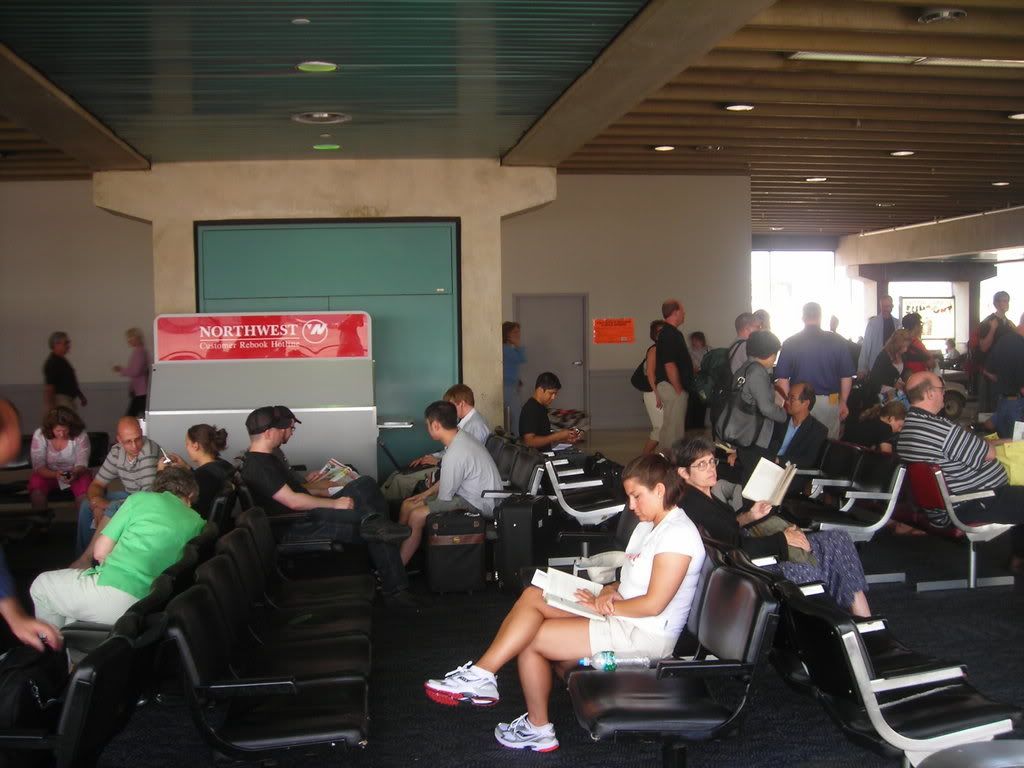 Boarding commenced on time and soon we were pushed back and ready to go. Unfortunately we were 11th in line for departure and had quite a wait. The captain informed us that we would make up time on the route. The flight was quite uneventful. I slept for a while as by this stage I was quite tired. Once we took off a drinks service commenced. I got a Mountain Dew, my favourite drink ever that is unfortunately not available over here. It always takes a while for the FA to understand me because I don't say "Dooo"!!! (More about that in Part 2 on return trip!) This is one thing I love about domestic travel in the US. A drinks service still takes place...compared to the likes of EI or FR. Despite the queue to take off the flight arrived over 20mins early.
Flight #3:
MSP-GFK
Flight Number: NW867
Dept Time: 21:40
Arrival Time: 22:47
Aircraft: Douglas DC-9
Distance: 284 miles
I was coming to my end of travelling for the day and was I glad!! I was absolutely exhausted and all of the campers had arrived at the camp by 5pm that day so I missed all the introductions. This was going to be my first flight on a DC-9. I was quite apprehensive as there was a storm forecast and it was unknown whether we would be able to land in GFK. There was a gate change and after a bit of spotting boarding commenced: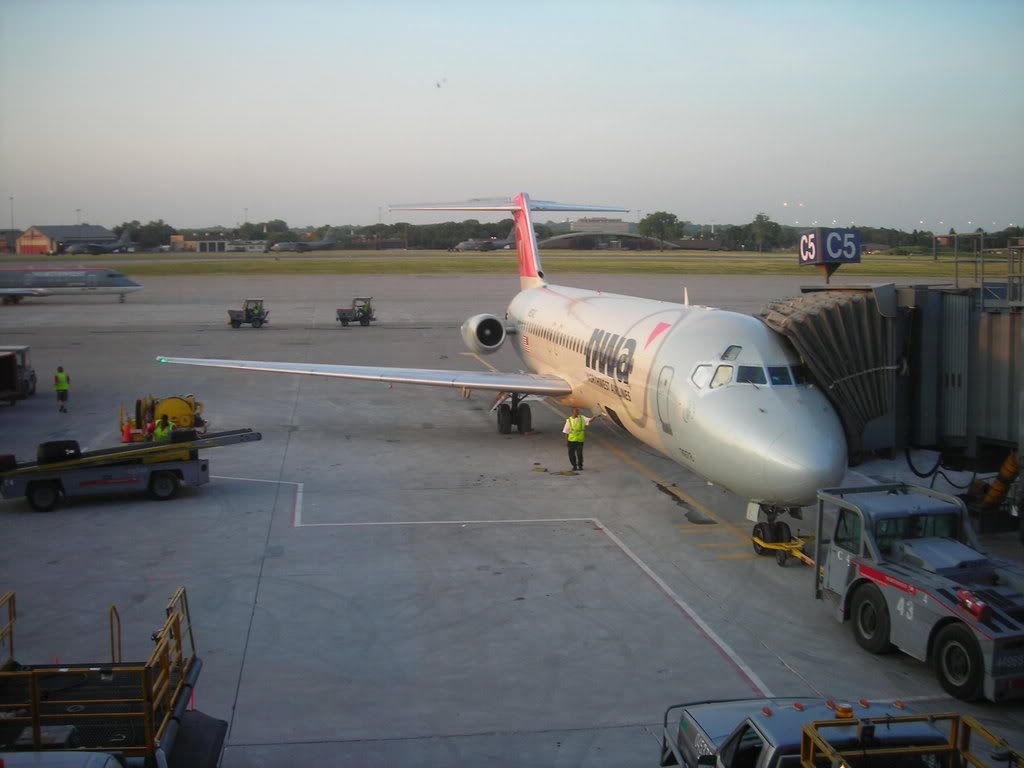 My ride to GFK:
Boarding commenced and we were soon buckled up and ready to go. The flight would only be approximately 50mins once we were airborne. We had one stewardess today who was very friendly (I never let anyone say anything bad about NW FA's as I have found them to be the most friendly and I've had my fair share of NW flights). We departed on time and the captain informed us to expect a lot of turbulence. The FA came around and when she noticed the accent she asked where I was from and she told me that her parents were Irish (She had red hair!). I just got water this time. There was a spectacular lightning display as we descended over Grand Forks and came into land, the bumpiest flight I've ever experienced (But enjoyable also!!!).
We reached the gate and engines were shut down. Unfortunately after all my luck of the day, my bags were not there when I arrived. I was informed they were on the following flight which was due to arrive about 40mins later so I waited around with the camp supervisor. Just when I thought I was going to get them, I was informed that the flight had been diverted back to MSP as the Saab 340 was unable to land. I was given a voucher and told I'd get my bags the next morning (Which I did. In fact the flight returned to GFK at around 2am that morning).
I went on to enjoy an amazing week of flying and aviation fun. The campus at UND really is amazing but the trip made me realise just how far from home it is. The staff were very friendly (I was spoiled as I was the "Irish kid") and they went out of their way to help me. My flight instructor Jacob was the best and he really showed me everything. (In fact for the amount of flying hours it was probably cheaper to do that course than pay the equivalent over in Ireland). Here are some of my photos from during the week. I'll post the return trip later:
Aerospace Buildings at UND:
Me at the controls: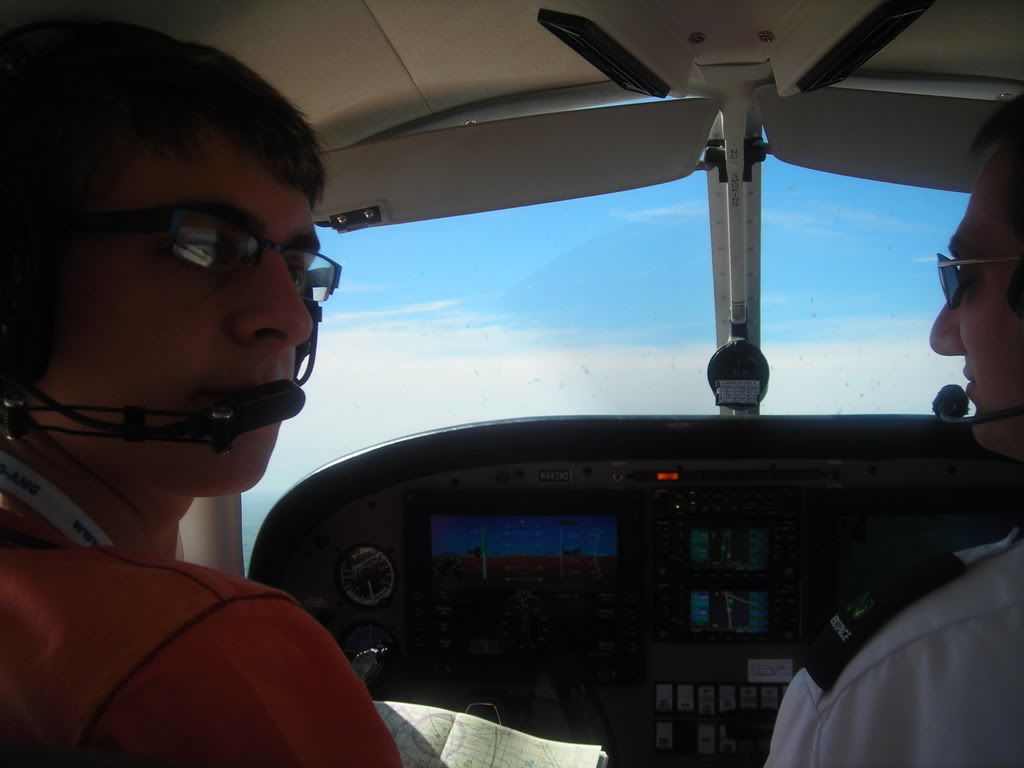 Tarmac:
Coming back after X-Country Flight:
I appreciate all comments as this is my first trip report. Thanks for reading!