Note: I am averse to writing trip reports and the last one I wrote was years and years ago. However, seeing as I took the A380, I have taken it upon myself to enlighten all of you with my experience. This shall be my last trip report before I emerge back into retirement.
I also apologise profusely for some images taken with my old and shaky camera. All I can say is I did try. Really.
==============================================================================
I had initially wanted to be on the inaugural charity A380 flight to Sydney on October 25. However, as a number of nights saw me getting rudely out-bidded on ebay at US$1800 for a one-way ticket to Sydney, I resigned to the fact that my philanthropy did not quite extend that far. Even as I tried to tell myself to "think of the children", I convinced myself that it was quite masochistic to pay in excess of US$2000 to sit in a tiny seat (and be further insulted with a certificate congratulating me for making it on the tiny seat) – and still fork out yet another A$900 to pay my way back home. Nevertheless, I was still sore at missing out on the event, seeing as no larger plane will ever be built, and also the fact that Paypal had cruelly deducted US$50 from my security deposit, even though I did not win any bid for the first flight.
Thus, 2 Fridays ago, I booked myself on the SQ221 to Sydney on 7 November, with the return SQ220 on 12 November, to enable me to make the trip without actually using up actual days of leave. A seat selection was made for 77H – Upper deck (both ways)
7 November 2007
After knocking off work at about 7.15pm (and having checked in my bags about 11 hours earlier before I arrived at work) I went to the Silver Kris Lounge for some dinner and a shower. The Silver Kris Lounge is unfortunately one of SIA's weak points, though even passengers in its famous "Suites" class (A Class Beyond First) are invited to use the First Class section of the lounge, I would struggle to place the lounge in a class beyond very ordinary. The small buffet selection of food was mediocre, with fried rice and some sort of fish, and Lotus Root soup. However, a slight redeeming factor was the Korean food selection at the food preparation station, specially catered by Crystal Jade. (No idea that this famous Singaporean food chain had Korean food). The quality of food, though pre-prepared was significantly better than the main buffet spread. Ben and Jerry's ice cream was also stocked in the freezer, and it was the first time all year I had seen the freezer filled with ice cream, for I did think they had disappeared in the name of "exclusivity".
No more Dom Perignon at the bar, of course. SIA did advise previously that Dom was removed from the Lounge, and reserved only for inflight First Class service to create a "more exclusive inflight experience". I suppose using the same logic, the SKLs should just be shut completely and all the pax should be sent to the airport's restaurants, which would definitely make for a more magical inflight experience. And were the stained carpets and worn sofa seats in the lounge also deliberately put there to ensure that the superlative inflight experience was suitably distinguished?
I took 2 very quick shots of the lounge – I'm sorry I did not take pictures of each and every dish on display as I was not prepared to be ushered straight to the mental asylum.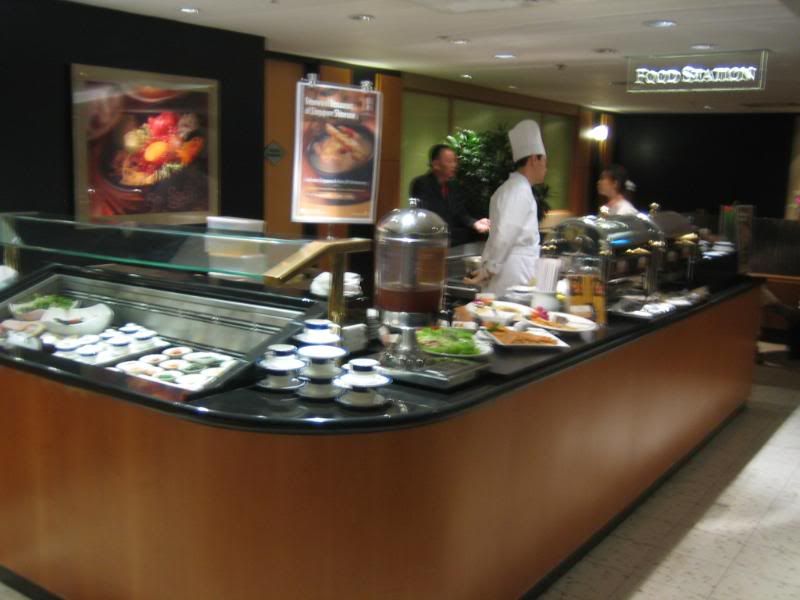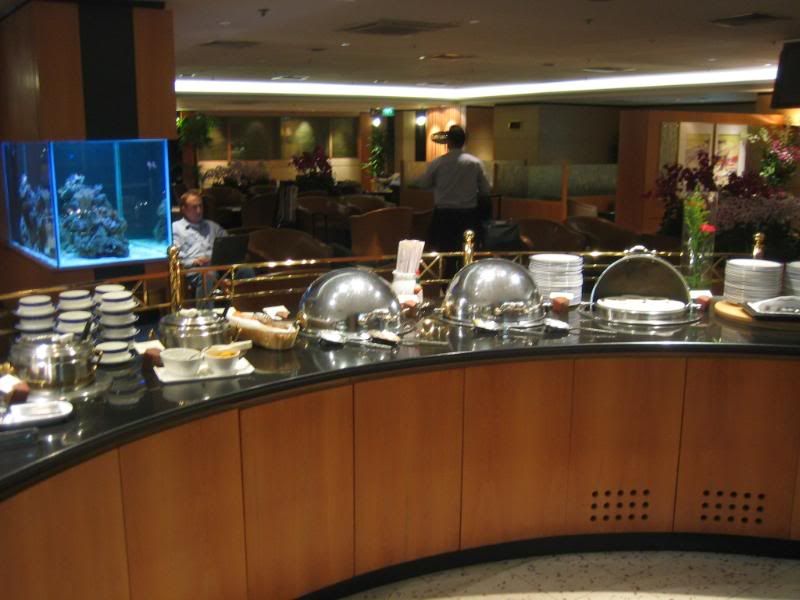 Anyhow, feeling rather satisfied with the Ben & Jerry's Cookie Dough, I wandered round the shops, bought some local cookies for my friends in Sydney, then headed off to F31 at 8.18pm for the 8.30 departure. Took a quick but rather unclear picture of 9V-SKA: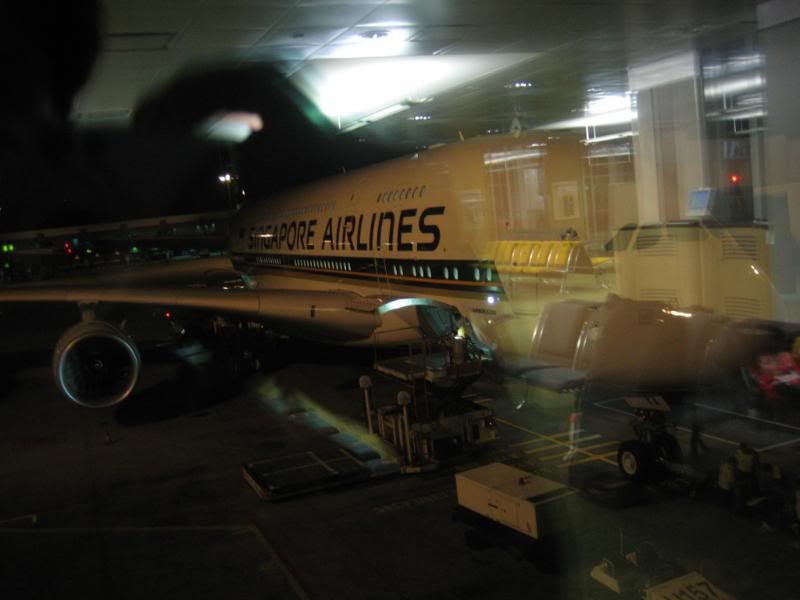 Singapore Airlines Seat Plan at the boarding gate: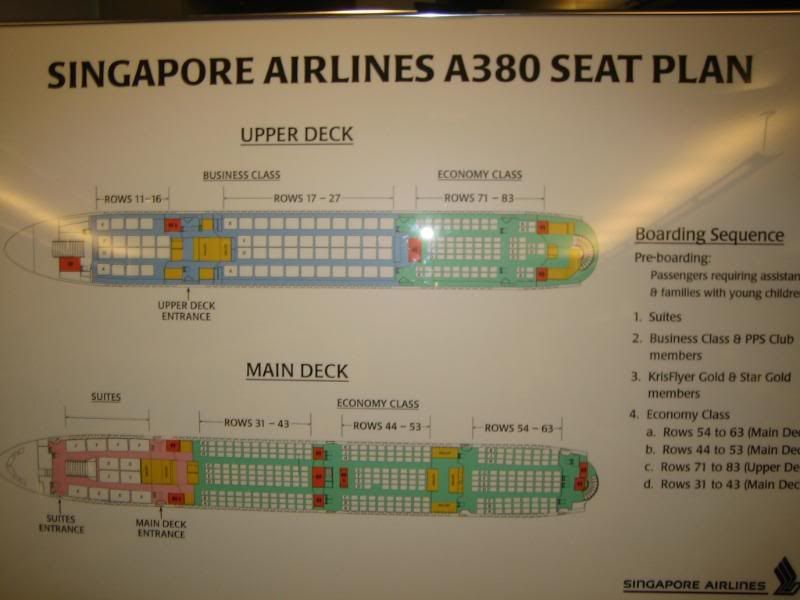 Commemorative SIA-Changi Airport poster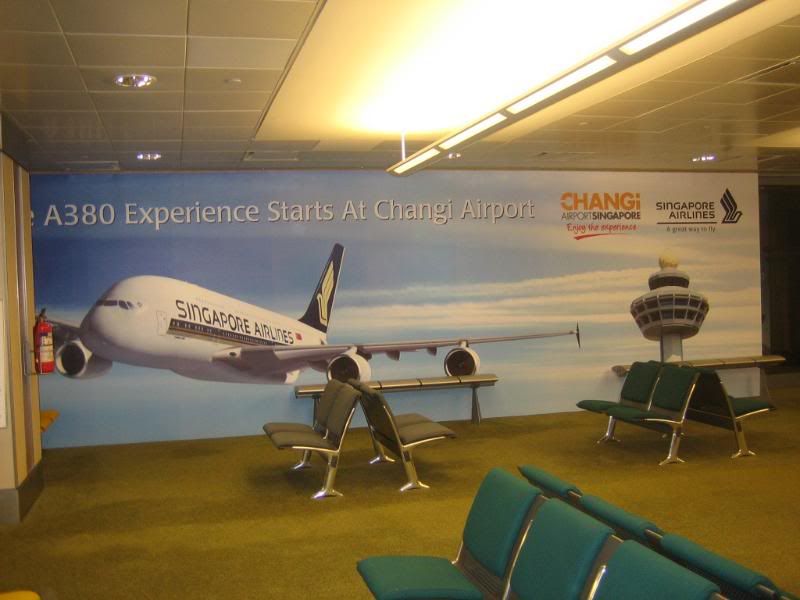 There are 2 aerobridges at the lower deck and 1 for the upper deck. Let us do the sums:
Boeing 747-400: 1 Aerobridge for First and Business Class (12+ 50 pax)
1 Aerobridge for Economy Class (313 pax)
Airbus A380: 1 Aerobridge for Suites – Lower Deck (12 pax)
1 Aerobridge for Economy Lower Deck: (311 px)
1 Aerobridge for Upper Deck (Business 60 + Economy 88 = 148 pax)
Which brings to mind the question: Why do the 12 Suites pax need 1 specially dedicated aerobridge? Is this most suitable for passenger flow? Alas, I am not the airport flow management expert, so I suppose I should not be quick to pass judgement should I.
I found it a rather interesting experience going to the upper-deck aerobridge and taking an aerobridge that had an upward-sloping gradient.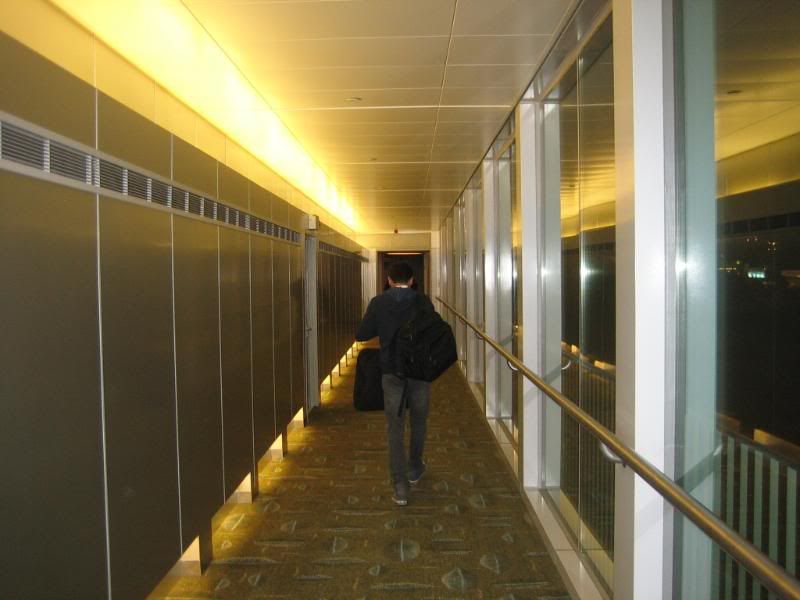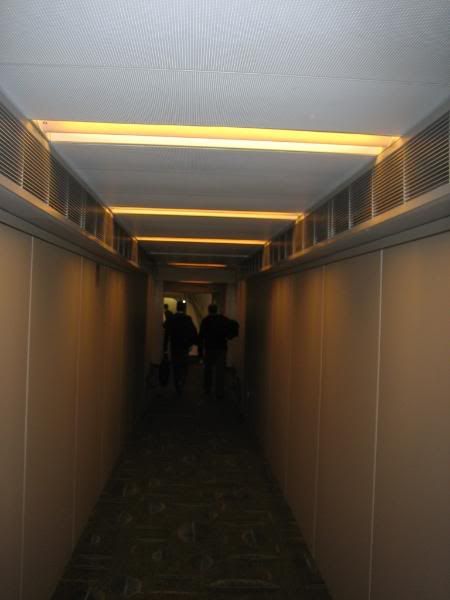 As I walked up the aerobridge, naturally the tension arose. I was about to enter the Airbus A380 for the first time. And as the stewardess at the door took my boarding pass and said "Welcome aboard Mr Docpepz", it was a moment that was to change my life forever. Or was it?
My first impressions of the plane: There are 2 aisles, and the Business Class section that I had to walk through before reaching the economy section looked like a 777-300ER business class section. I desperately started looking for signs that I was not on yet another normal commercial aircraft. However, I did feel like I was on a A330 or a 777 really Headed my way down the completely-full Business Class section into the economy section and sat at 77H.
The anti climax was unbearable. Somehow, I still felt like I was on an A330. I did not feel like I was on the largest plane on earth at all and frantically looked around for signs that I was on THE A380. But then again, what was I foolishly expecting? That by entering the A380 I would enter Nirvana?
The cabin crew were excellent - All the stewardesses were very well dolled up (as per usual – not unique to the A380) and they had perfect deportment. While sometimes they tend to behave like headless chickens running around in a panic, the entire crew operation on SQ221 seemed to work like clockwork, and was beautifully orchestrated. It was definitely a perfectly choreographed performance that far exceeded any of the movie selections on Krisworld
So I eased myself comfortably into my seat and nodded at the Australian gentleman seated next to me, half expecting him to say "I used to be a woman before I stepped on this aircraft" but alas that was not to be. Turned around and saw the top of the spiral staircase leading to the lower deck. Ah – that one sign I was on the A380! I breathed a sigh of relief. It may look like an A330, but the A330 certainly does not have a spiral staircase at the back. I was starting to be convinced that the money forked out for the air ticket was indeed money well spent.
Captain Singh welcomed us aboard the "brand new A380" and advised of a flight time of 7 hours. Pushback was 6 minutes late at 2036, and the safety video was played.
The leading stewardess making the inflight announcements did so with the famously nasal Singapore girl announcement accent, with intonation and inflexions much akin to a nervous 16 year old girl taking her O Level English oral examinations. Among other things she asked us to keep our "SIT belts" securely fastened.
I saw another gentleman across the aisle in a "First to Fly the A380" T shirt taking photos of everything on the aircraft so I was pleasantly reassured that I was comparatively sane. Looking out of the window, I spotted the quintessentially Airbus winglets, so yes, another sign that I was on this spanking new commercial aircraft. (Money well spent! And do NOT forget the spiral staircase!)
We taxied from Terminal 2 across the bridge of the expressway leading to the airport and of to Runway 1. It took about 25 minutes and at 9pm we were on our takeoff roll.
Now, I didn't quite realize we were on the takeoff roll because the taxi was so long. It was only when I looked out of the window to spot the winglets that I did notice we were actually taking off. The A380 is so amazingly quiet in that regard, which is a major plus point for the plane. (second only to the spiral staircase and the winglets, of course)
So we rotated and headed straight northwest into the cloudless Singapore night. Here are some shots of the flight path: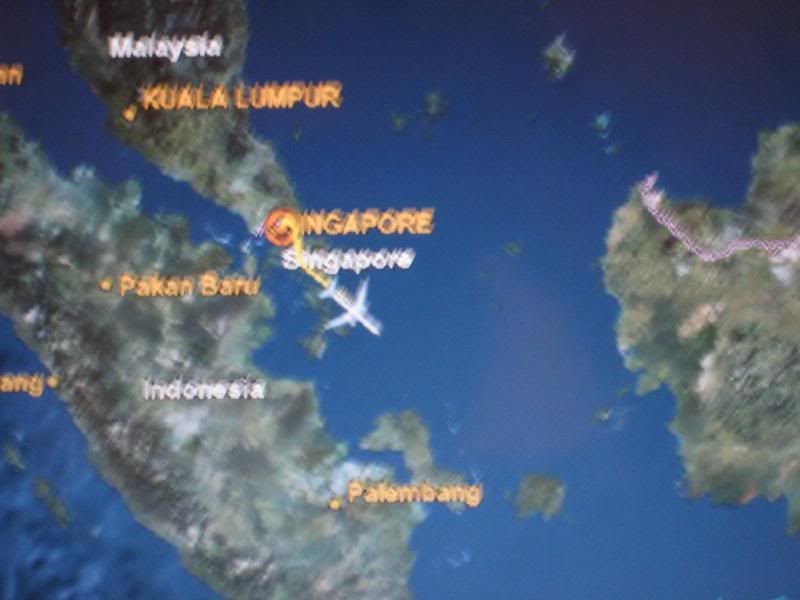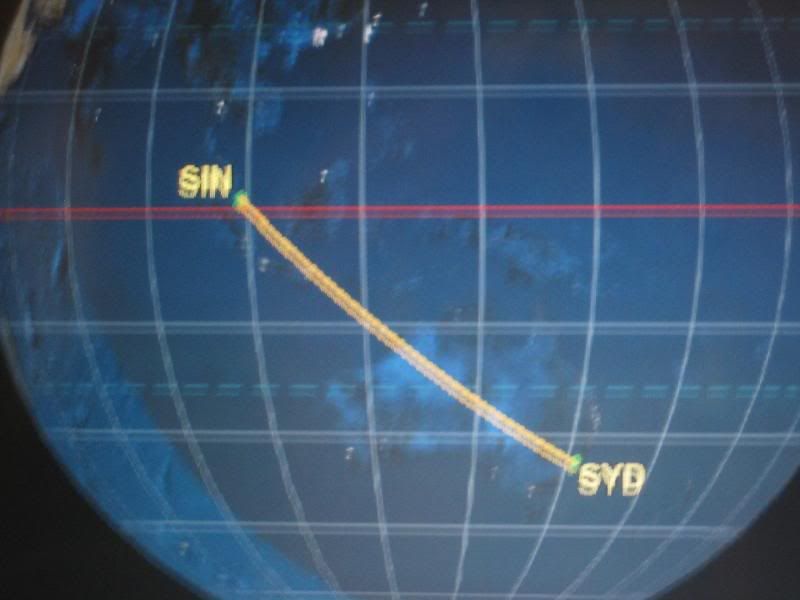 The new Krisworld is definitely a big plus. With over 1000 entertainment choices, including 200 movies (though only about 2 were worth watching for the month of November – the other 198 were really not worth watching) the interface is very well thought of, and most importantly, there is no lag from the controls. Unlike the old Matsuhshita entertainment system found on the 747s which have a response time of about 30 minutes, the new ex2 system found on the A380 and 77Ws are fantastic in that regard.
I started to watch the show "881" by Royston Tan – a Singaporean produced show that was almost entirely in Hokkien. Many friends had told me how funny it was, but as I don't speak any Hokkien, I suppose I didn't appreciate it as much as someone who did. It was also the first time in my life I had finished an entire movie in Hokkien, which is definitely befitting of my first flight on the A380 – Almost as good as the plane itself
Bar service soon started with some peanuts and I opted for an orange juice:
I decided to take a quick walk down the spiral staircase into the lower deck, which was undoubtedly the most eventful moment of the trip.
Shots of the spiral staircase:
Shots of the lower deck: Looks just like a 747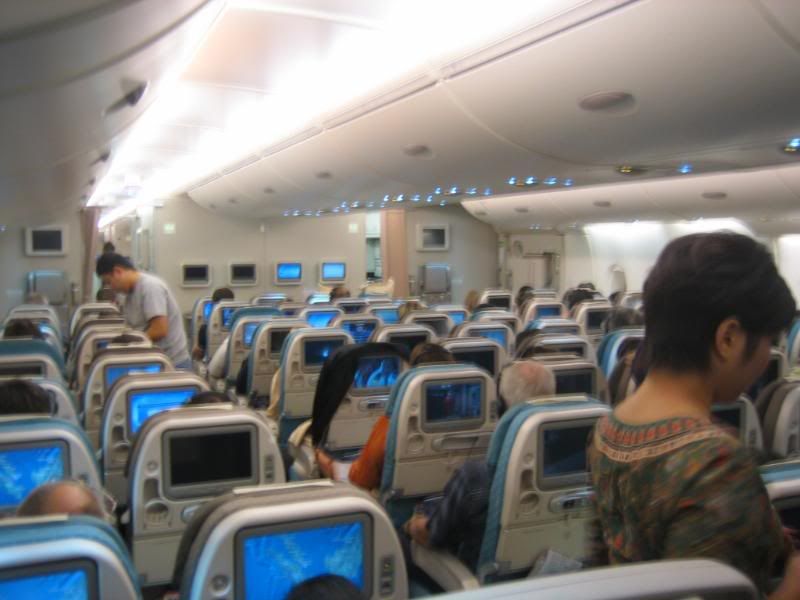 The new economy seat definitely feels wider than the 747 seats and is way more sturdy. There are many thoughtful features including:
1) Tables that fold out from above the seat pocket, rather than directly down from the seat back in front of you. This ensures that when the person in front of you reclines, your dinner does not get splashed into your face
2) Mirrors on the table. Not that I care but I'm sure the ladies would.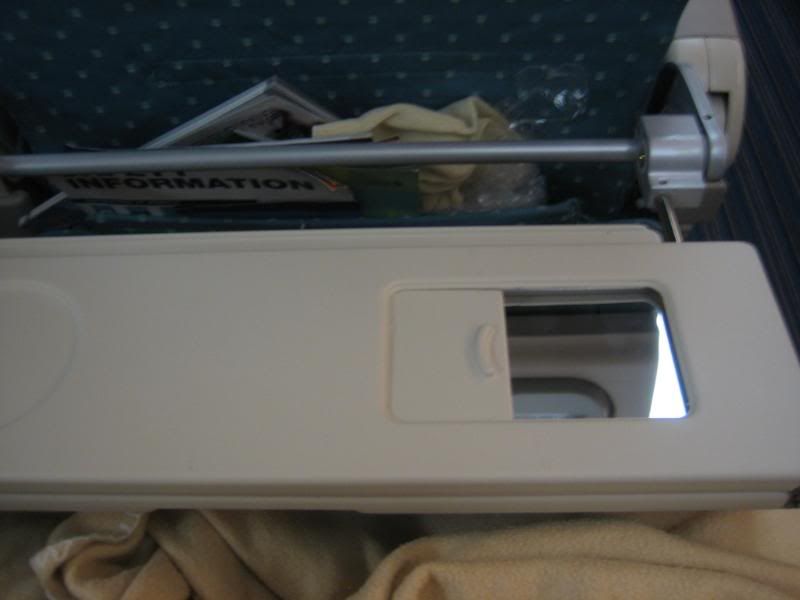 3) Hooks for you to hang your shopping or whatever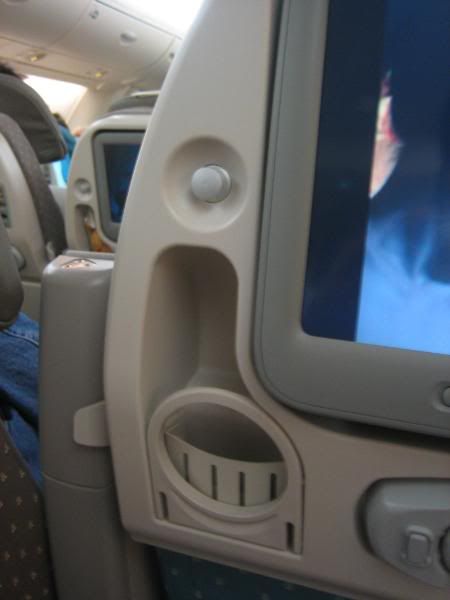 4) A Spectacle case
5) A USB port –Though I'm unsure if this is actually a good function. It would be horrendous if you had a nasty boss who made you work during the flight and you couldn't use the excuse that your laptop had no battery or was not working
6) Huge IFE screens. Also, unlike the 747, when the person in front of you reclines, the screen does not end up on your chest.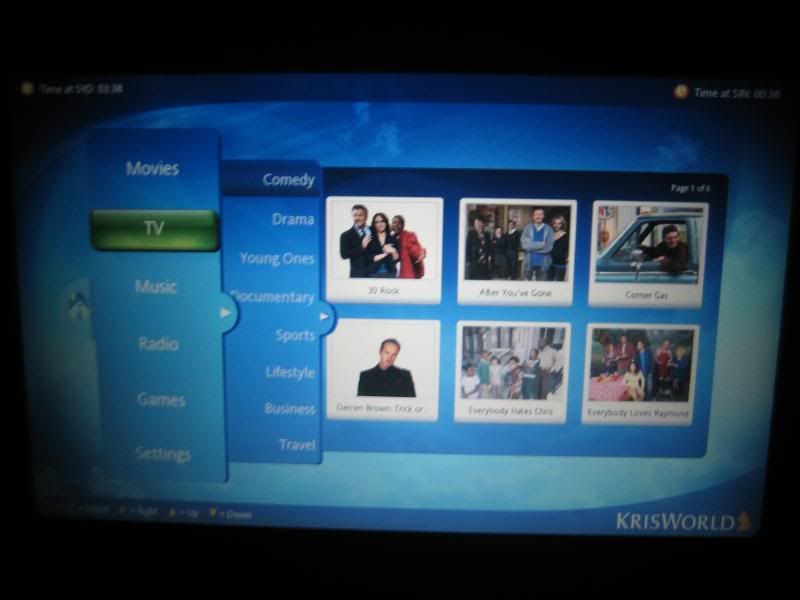 7) Krisworld lets you know how long more you have with the flight when you pause the movie: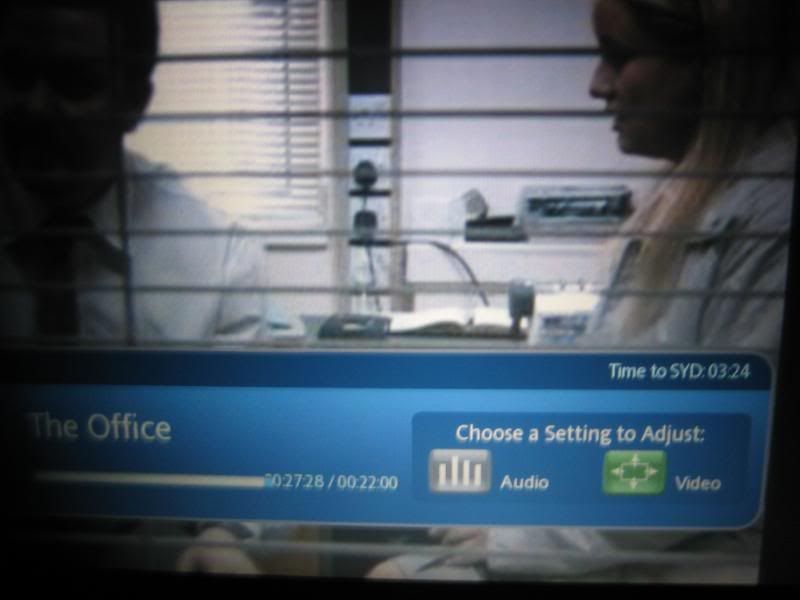 Definitely full marks for the seat and entertainment system. Oh one thing to note is that the entertainment screens for the bulkhead seats of economy are located way above, as shown in the photo below: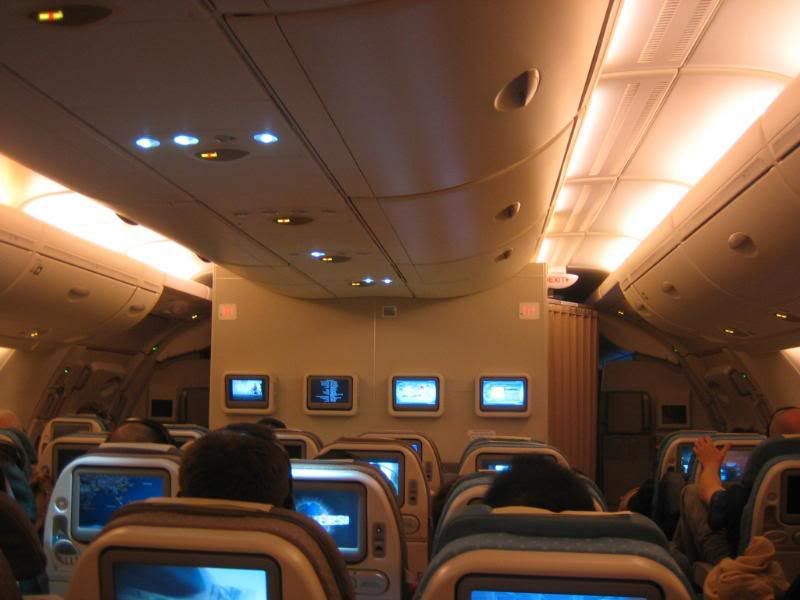 I wouldn't quite want the entire cabin to know what I was watching?
Dinner this evening was a choice of beef or fish. Unlike its Business Class menus, SIA's economy class menus are not in French and are instead stated in plain and simple English. Here are some shots: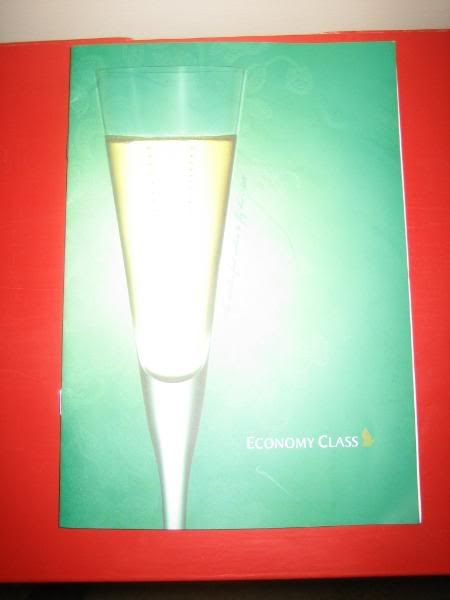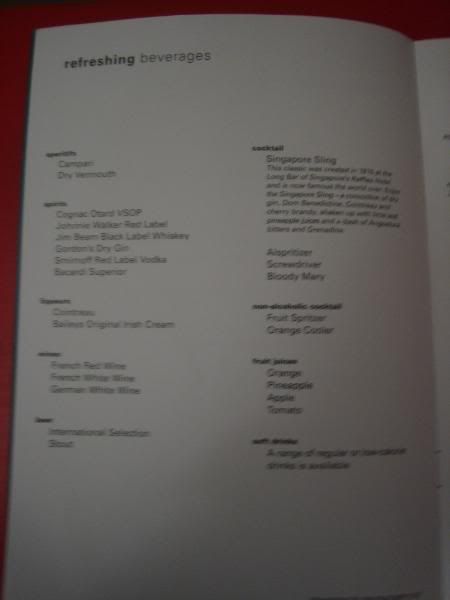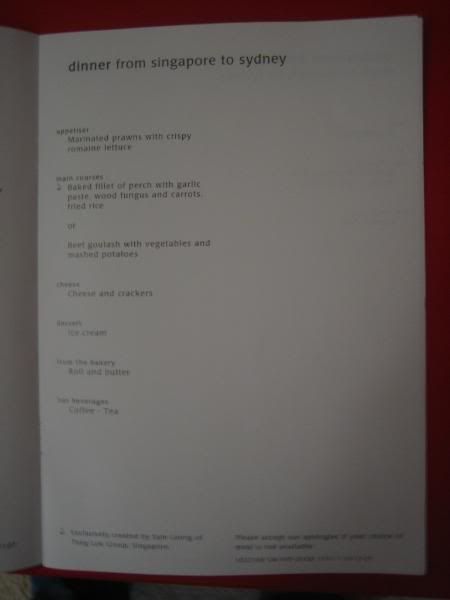 The fish was a specially prepared dish by Sam Leong from the Tung Luk Group. It always baffles me as to why any self-respecting chef would want his name associated with airline food. And SIA does regularly play with fire, creating menus that require subtle flavours, which typically does not work well 35 000 feet in the air. Where Qantas usually has very boring choices of curries and casseroles (which are extremely tiny and can be finished in 2.5 mouthfuls), they're more often than not fairly alright, since curry usually drowns out what usually is poor quality meat in economy class. Further, it takes a considerable amount of effort to try and make a bad casserole. (I'm proud to list that as one of my achievements)
With SQ, however, the elaborate meals prepared by its culinary panel are either completely inedible, or, as in the case of this evening's flight, out of this world. The fish was fresh and of very good quality, as was the rice, which had a smooth, fragrant, ginger (and some other spice) flavour to it. Incidentally, this is the best airline meal I've ever had in economy class. The second best economy class airline meal I had was on SQ320 to London last year, which was a duck dish also prepared by Sam Leong. Accompanying the main dish was a prawn salad, a bread roll, and cheddar cheese and crackers. Three cheers for Sam Leong.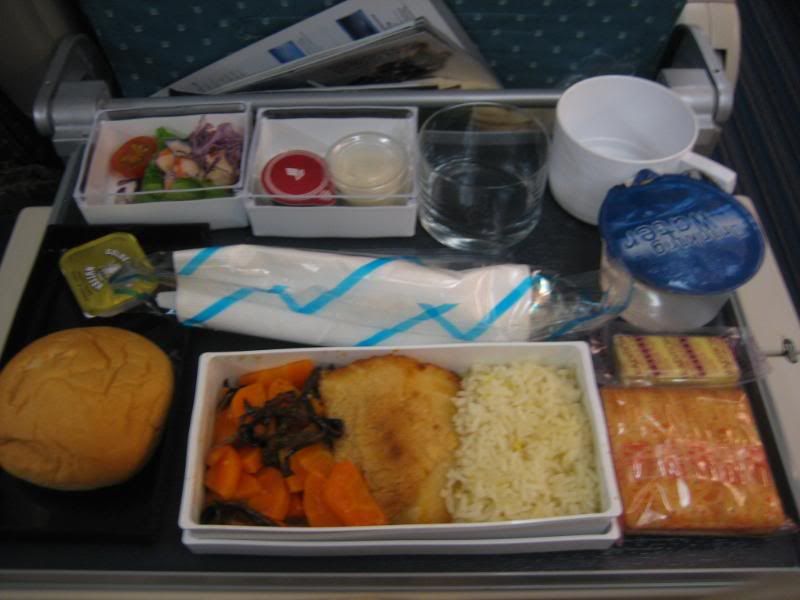 Magnum ice cream was served later. I sure do remember the days where Haagan Dazs and Movenpick ice cream was served in economy class on SIA. Nevertheless, I'm sure they were removed to ensure that the Business Class experience was made more exclusive.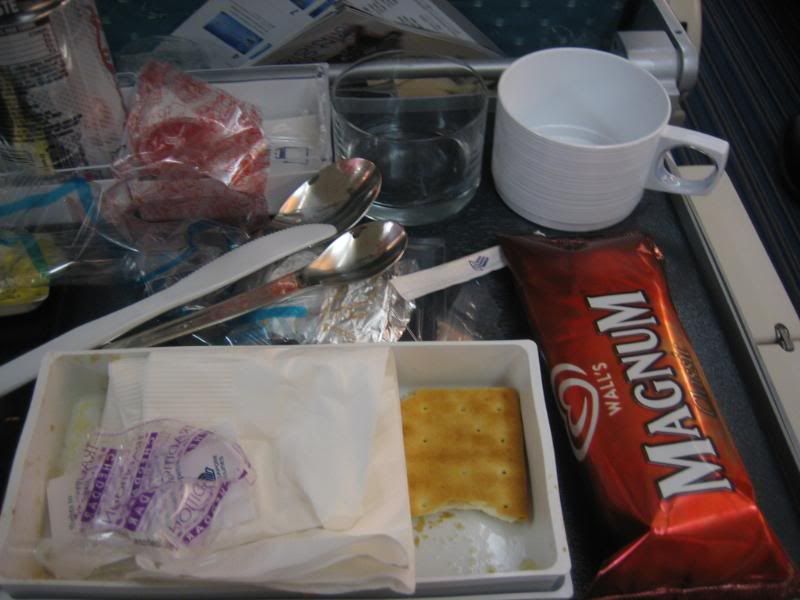 By the time all the meal trays were collected, there were only 4 hours left of the flight. I made another walk past the 8 people queueing for the upper deck lavatories, down the spiral staircase into the lower deck. I noticed that the 4 lavatories there were empty, and as I passed the queue at the upper deck on the way to my seat, I informed the pax queuing that the lower deck toilets were empty. Strangely enough, all 8 of them made their way down, leaving 2 empty lavatories on the upper deck. Nevertheless, I felt quite pleased seeing as I wouldn't be unable to shuttle my fellow passengers in between decks (and through a spiral staircase no less!) on any other aircraft – Surely that's good enough reason to be satisfied with he A380?
Even though the cabin lights were completely dim, the cabin was still quite bright from:
1) The entertainment screens
2) The light at the bottom of the screens that many pax were using, as shown below: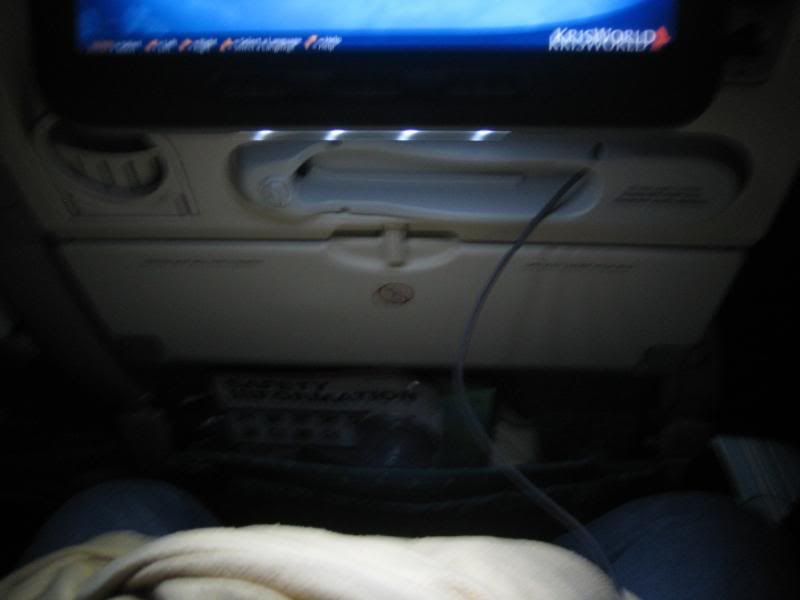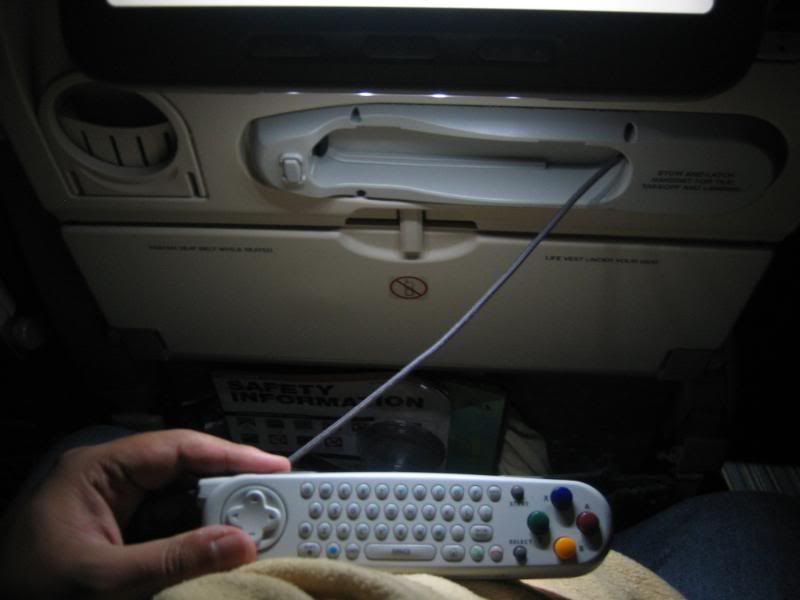 Do note the tiny little keypad on the console. I guess once you got used to it you could churn out 20 page reports for your clients on board.
I dozed off to sleep for a while, (yes, the plane was really quiet) and barely 2 hours later, the mood lighting came on.I am a big fan of the mood lighting that is found on the A340-500s and the A380s. Not sure if the 77Ws have them – but they sure do ease the transition from darkness to light.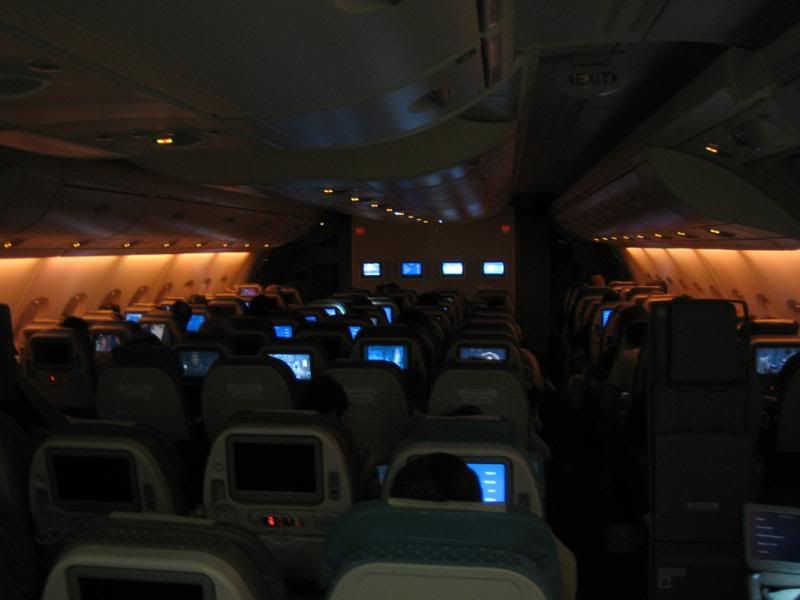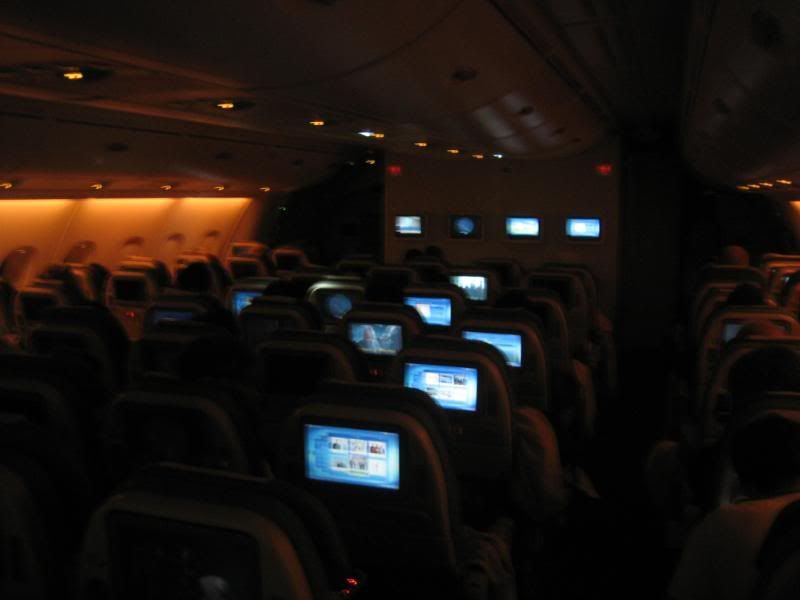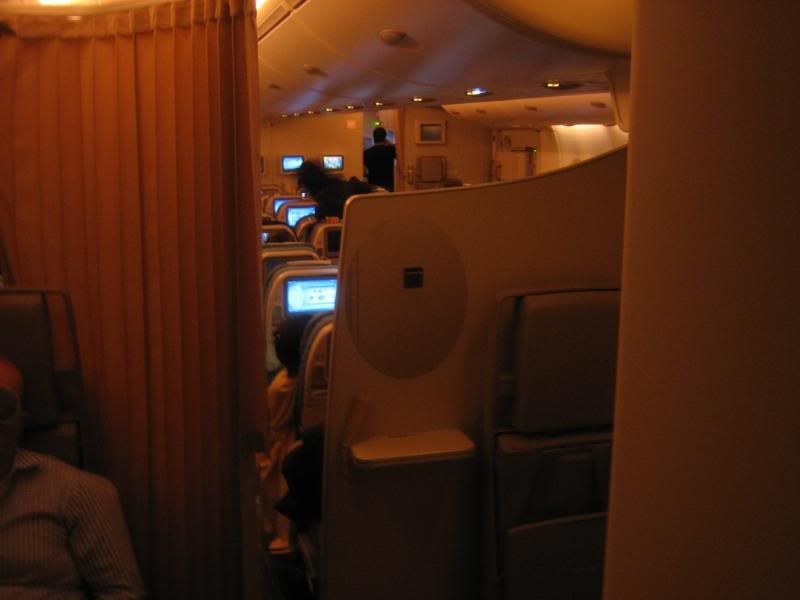 The cabin crew sprang into action with hot towels, acting as if dinner was served hours before and pax had been asleep for hours. A light continental breakfast was served, with the menu and meal as pictured below: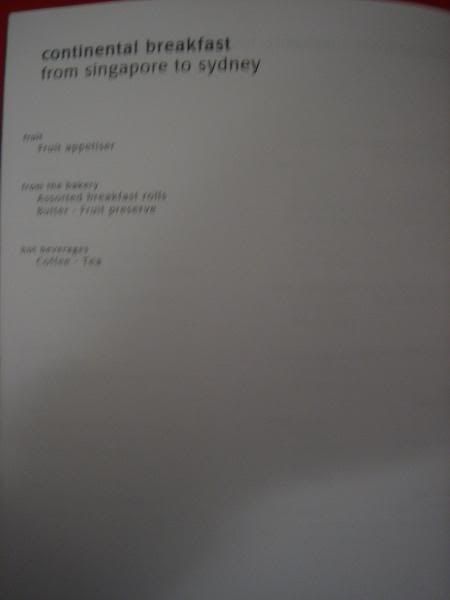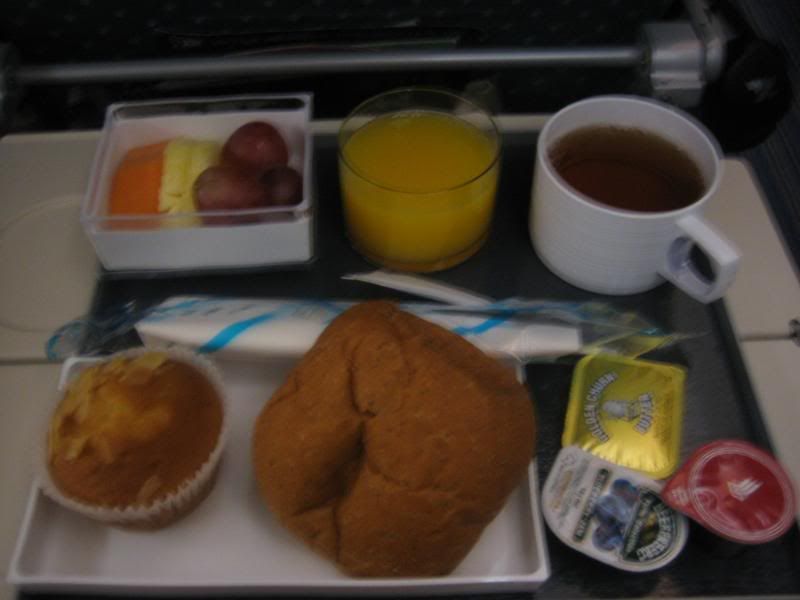 I take issue with SIA claiming to serve "an assortment of breakfast rolls" when there is just ONE breakfast ROLL and one banana muffin. Nevertheless, it was barely 2am Singapore time and it was just 2 hours after I finished dinner, so I wasn't all that hungry anyway.
Halfway through breakfast, somewhere at the northeastern tip of South Australia, just after NT and before NSW, daylight started to break. Here are some shots of the massive wing (Do pay special attention to the winglets):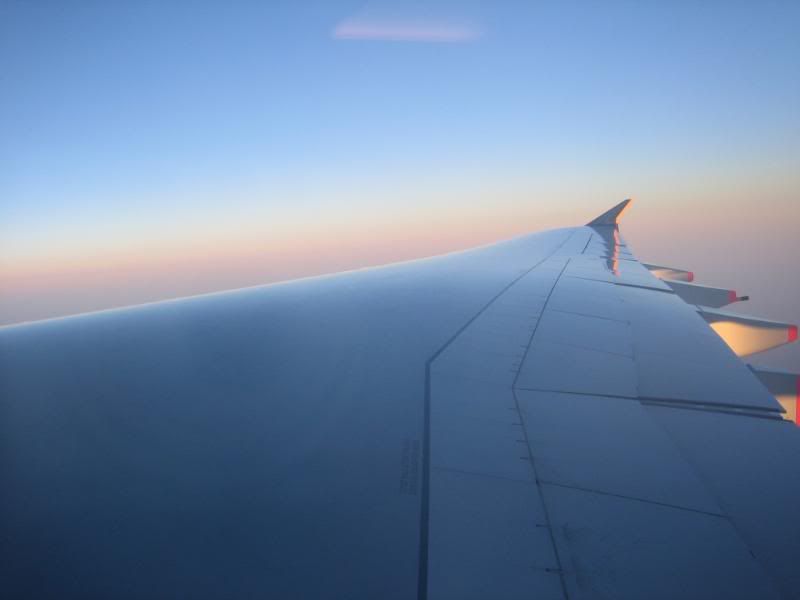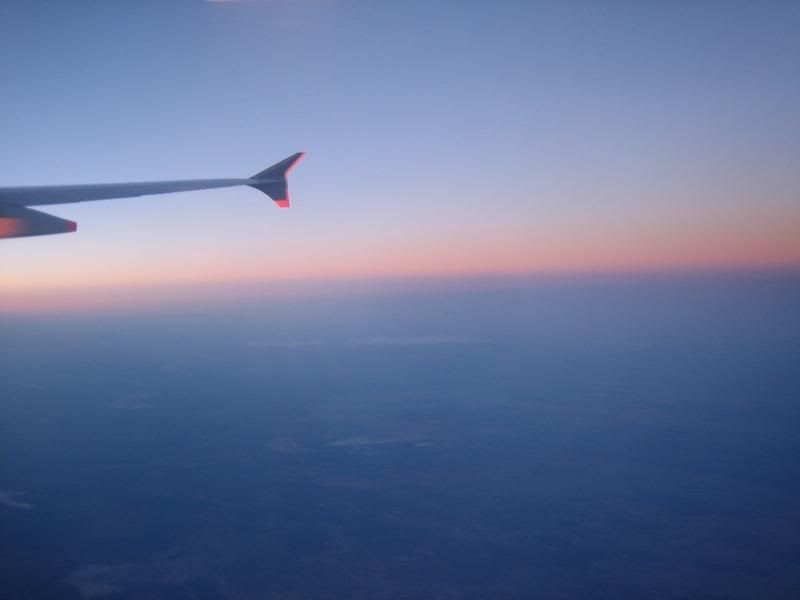 At 6.30am Sydney time (3.30am Singapore time), The First Officer came on to say we were 30mins out of Sydney and asked the cabin crew to prepare the aircraft for arrival. Some shots of the flight path: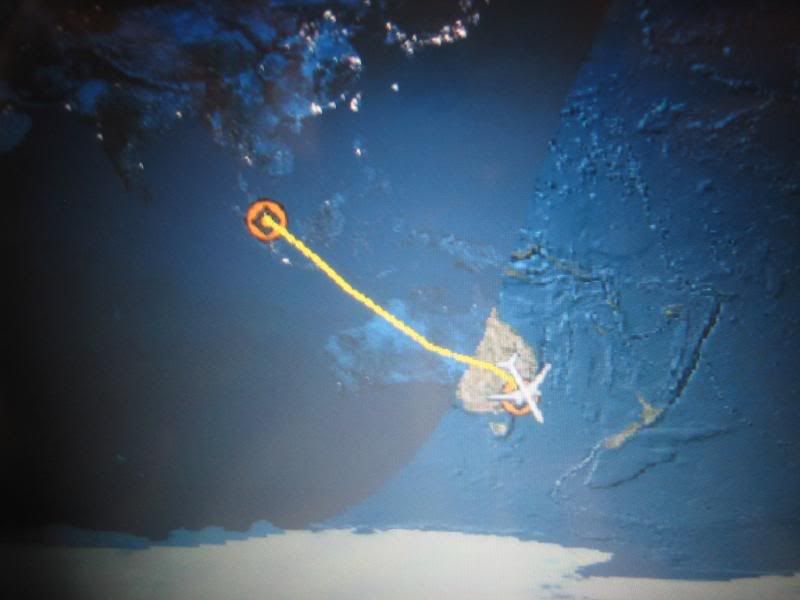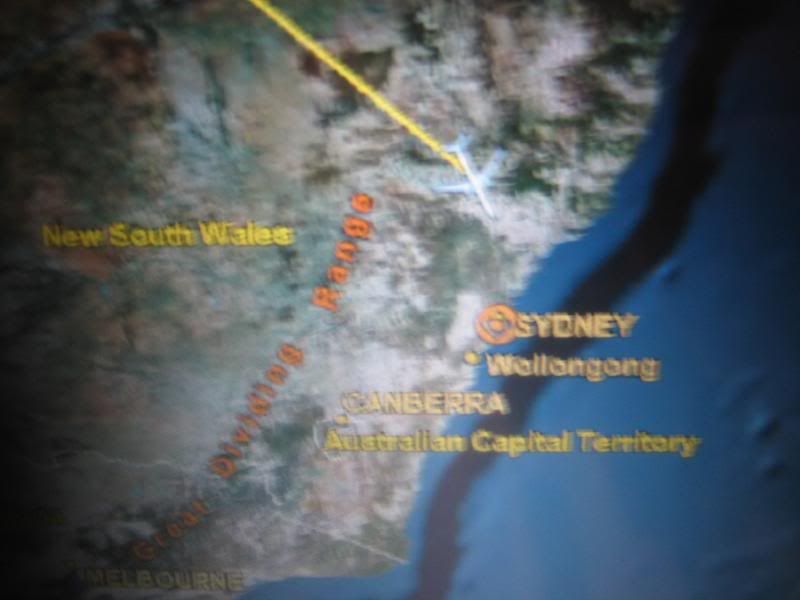 We headed right past the Sydney CBD and the eastern suburbs, and made a very smooth landing at Sydney's Macquarie Bank International Airport on the dot at 7am Australian Eastern Daylight Time. 10 minutes later, we were at Gate 57, which is as of now the only A380-ready gate in Sydney? (I stand corrected)
Being stuck at the very end of the aircraft, it was a good 15 minutes before we could disembark. Said goodbye to the excellent crew and headed out into the terminal.
The queue for immigration was very long, and when it was my turn, I said good morning to the immigration officer but she was too busy chewing her gum to return the courtesy of my greeting. She then opened my passport and stamped it so hard and handed it back to me. I thanked her – but she was of course too busy chewing her gum to return me the greeting.
My bag was on the carousel by the time I got there, and I headed towards the quarantine queue, which, like every other Australian airport, is a joke. Obviously any planning for queue management in Macquarie Bank International Airport, like with every other international airport in Australia, came as an afterthought. In fact, it does seem that any sort of planning in any Australian airport comes as a casual afterthought.
I did notice a sign
"You may be filmed as part of a television programme. If you do not wish to be filmed, please let our crew know" Directly next to that sign was "No photography or video recording is allowed". Obviously the top-class show "Border Security" preying on unsuspecting Chinese tourists trying to justify bringing dead tigers into the country? Anyway this is the deal with Australian customs – Try taking in bombs, weapons or drugs (Drug mules are one of Australia's largest exports, after iron ore and coal – Move over BHP Billiton) and they wouldn't bat an eyelid – but try taking in that apple you were given on the aircraft and you'd be a serious threat to national security.
Anyway, a customs official was walking round checking everyone's disembarkation card, and he saw it fit to refer me to one of his colleagues, who led me aside to a little quiet corner.
First, she asked me in broken English "You fill this up? You understand?" (complete with hand gestures)
"Yes I did, and you may speak to me normally, I can perfectly understand what you're saying"
"Why are you only in Australia for 4 days?"
"Because I had a long weekend in Singapore and did not wish to take much leave"
"What kind of accommodation do you live in Singapore? Do you live in a house? Does it have a garden? A backyard? Or do you live in a high rise? No? I thought everyone in Singapore lived in high rise? Do you live with your family? How much did your ticket cost? It seems like a lot of money to pay for a 4 day visit. Did your parents pay for your ticket? Do you earn a lot of money? Where do you work? Do they pay you a lot of money, because they sure do for you to be able to afford this ticket. I see you studied in Australia before. Why did you return to Singapore? Are you sure you are not in Australia now to find employment?"
"Please open your suitcase". Did as I was told. "Your suitcase is very messy. Did you pack it in a rush? Why did you pack it in a rush? Did you pack it yourself"
To put it very mildly, I found her very, very patronizing and rude. It really was not any of her business how much I earned, or what kind of accommodation I lived in, or how I managed to afford the air ticket? I let her on a secret – that I actually have some savings?
Shock Horror. Surely these savage Asians couldn't possibly earn enough to have a decent standard of living like we do in Australia?
She also rummaged through my wallet, took out all my credit cards, bank cards, identity card, driving licence etc, then asked me to put them all back myself.
I strongly recommend that Australian Immigration officials be sent to the "Sawasdee Project", conducted by Thailand's Suan Dusit Rajabhat University's Human Capital Development Centre, which aims to teach commissioned and non-commissioned police how best to conduct themselves when greeting visitors. Attendees have raved about the programme. An example:
''The trainer tells us how to dress, stand, sit, keep our hair in place, smile and greet visitors as well as make a wai and say sawasdee to them when they use the airport so they will be impressed with our reception and our country,'' says immigration worker Vasinee Kaewpraphai.
Australian immigration officials could surely do with a wai, say sawasdee and keep their hair, in place, smile and greet visitors like me well, so that I would leave impressed with their reception and their country.
I walked out, and noted that there were so many more retail/food outlets than when I was there last about a year ago. I won't be surprised if all walkways in the airport are turned into aisles between shop shelves within the next 2 years. Of course, parking is $12 for 15 minutes, the 5-station, 10-minute train ride into the city costs nearly A$14 and just about everything to do with Sydney Airport is just a criminal rip-off. Anyhow, managed to capture the following shots of aircraft in the departure level: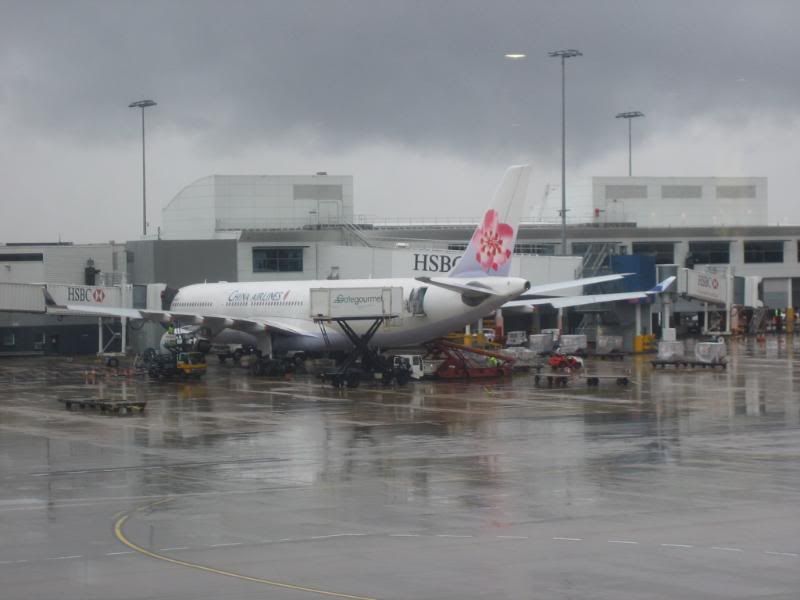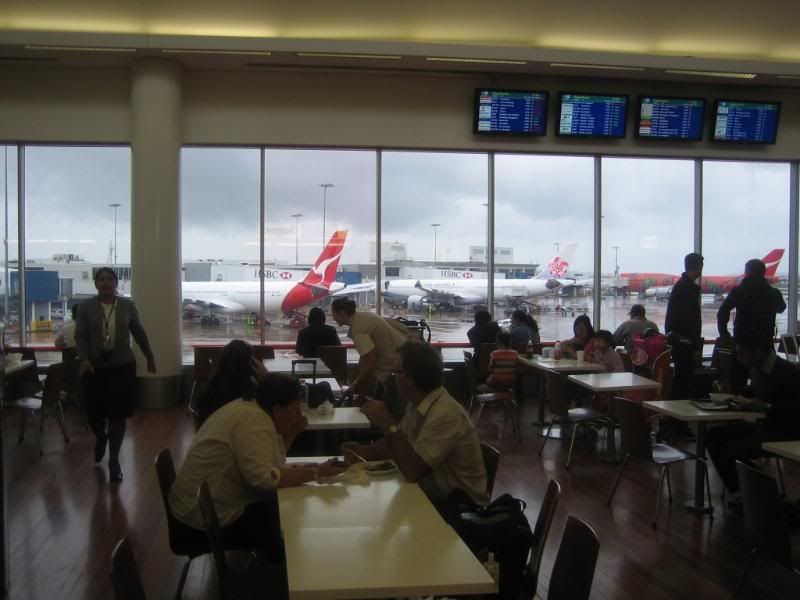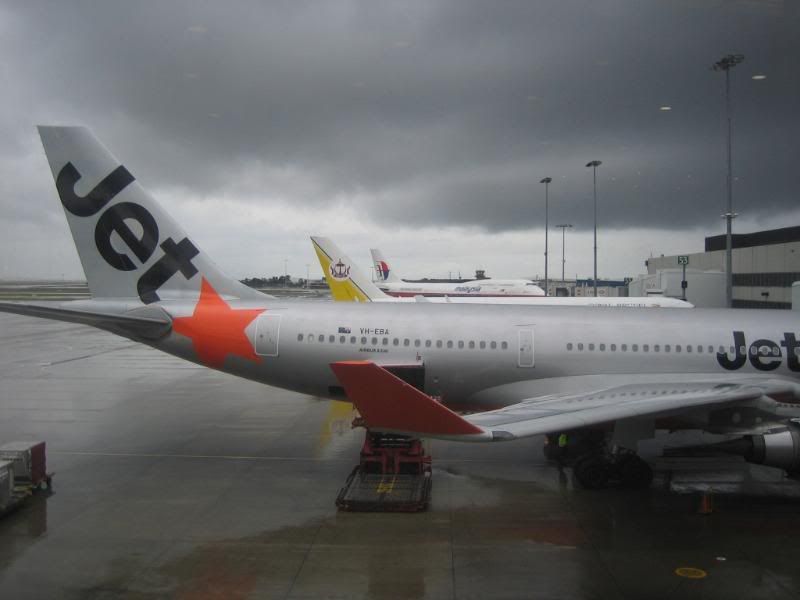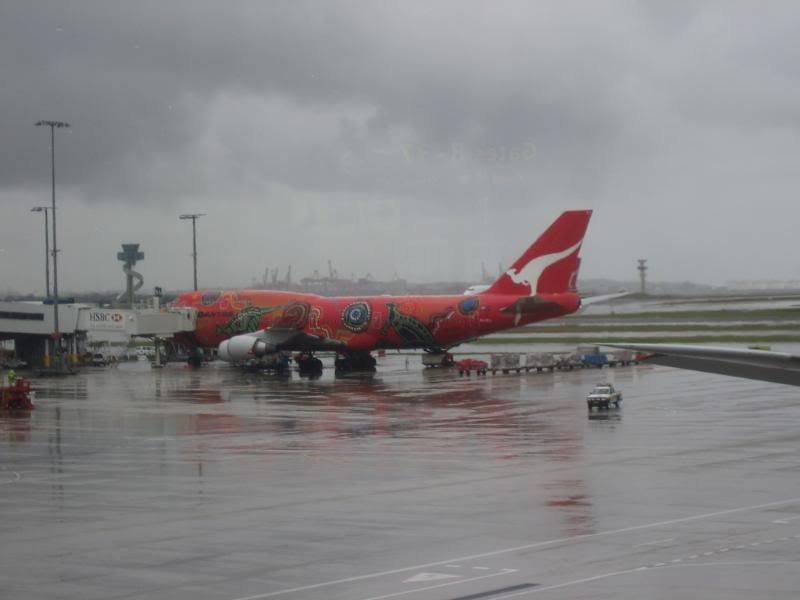 Thoughts of the trip:
1)The aircraft seats are very well designed for Y class, with many thoughtful features.
2) The cabin service was out of this world, and better than many business class trips I have taken with SQ in the past (when I was lucky enough to be upgraded or used frequent flyer points – No Miss Australian Immigration Official I do not earn THAT much yet)
3) Dinner was fantastic - An excellent creation by Sam Leong that was very well executed through (and despite?) the instruments of mass-catering
4) The aircraft itself is very quiet, which I think is its biggest plus-point from a passenger perspective.
5) The services of Suan Dusit Rajabhat University are desperately needed to train Australian immigration officials
6) And yes – The wonders of the spiral staircase