"Ladies and gentlemen, welcome to history."
Media savvy AirAsia boss Tony Fernandes doesn't ever pass up a soundbite opportunity. On a flight that's crawling with media, it's a captive audience, and he knows it. Cynical old me will say that's just Tony playing the Richard Branson-wannabe, but the aviation enthusiast in me shouts:
bloody hell, it is history!
I am aboard an otherwise unremarkable 13-year old leased Airbus A330-300, which had previously served with Aer Lingus and Air Algerie, among others. Today, however, it sports the unmistakably brash red and white livery of AirAsia – but with an added "X", an airline is born. Today, the first ever commercial flight of AirAsia X – the world's newest long haul low cost carrier – takes off for Gold Coast in Queensland, Australia.
That's reason enough to go, but when the historic flight down under also presents the added opportunity of returning via the A380 (albeit not on the inaugural, but still within the first week of "routine" operations), is there
really
any better way to spend a weekend?
Inaugural AirAsia X flight
AirAsia X
A330-300 registered 9M-XAA "Semangat Sir Freddie"
Friday 2 November 2007
Flight D7 2702
Kuala Lumpur-Gold Coast, Queensland
Dep 2205 Arrv 0805 next day (arrives 25 mins late)
In keeping with the budget theme of this flight, I brave the Friday evening traffic jams and jump into an AirAsia bus that costs me 9 ringgit (less than US$3) for the 70 kilometers from town. Squeaky suspension aside, it is a decent ride that puts me to sleep for most of the 90 minute journey.
If you've been to KLIA but not to the airport's LCCT or Low Cost Carrier Terminal, then you're in for a shock. While KLIA's main terminal is an aesthetically pleasing (but hey, let's face it, it's a big white elephant) airport, the LCCT that's home to AirAsia has all the charm of a refrigerated warehouse.
But today's a happy day, so just shut up Airpearl we don't want to hear any more of your complaints, and let's check-in…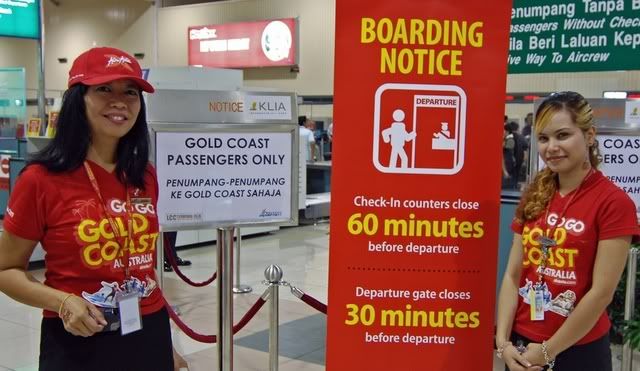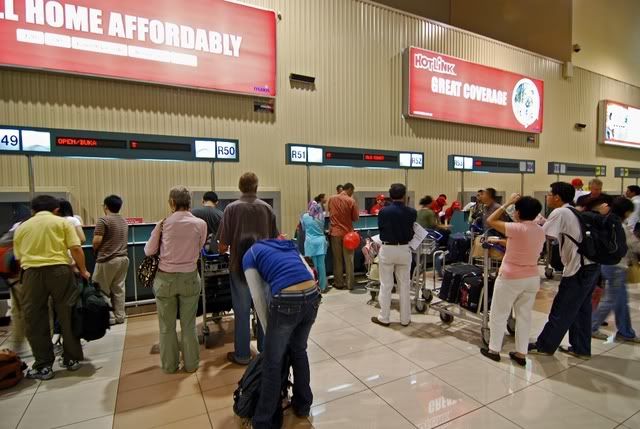 I get my allotted exit seat 31A (which I pay an additional 100 ringgit [US$30] for), collect a tacky stick-on tattoo as the only souvenir of this historic flight (what, not even a certificate?) and head for the departure lounge.
An area specially cordoned off for the Gold Coast flight is staffed by a motley crew of anxious looking security staff trying to keep order in the midst of Bugs Bunny, Sylvester and others earning their keep on the Warner Brothers payroll, while lots of kids (and even more excitable adults) make sure they do. The man of the hour Tony Fernandes breezes through looking flustered, but amid the mayhem, hardly anyone gives him a second glance.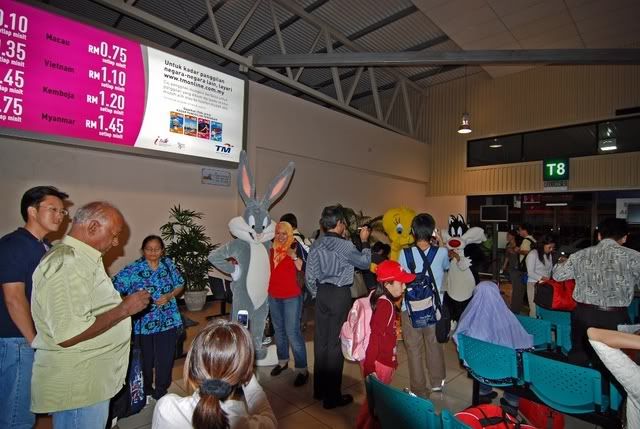 Soon we are boarding, walking the 100 meters or so towards the largest plane on a tarmac of A320s. No aerobridges at the LCCT. Photography is forbidden on the tarmac, but all it needs is one flash photographer to start before the rest follow suit and decide here's a good place for an over-exposed cheesy pose. I just love moments like these, and feign ignorance as I safely click away while airport security scurry around trying in vain to stop the paparazzi.
There's a scrum of sorts at the bottom of the stairs. When there are rolling cameras, AirAsia staff wishing you bon voyage, and the CEO himself shaking your hand as you board, you know this isn't just any flight.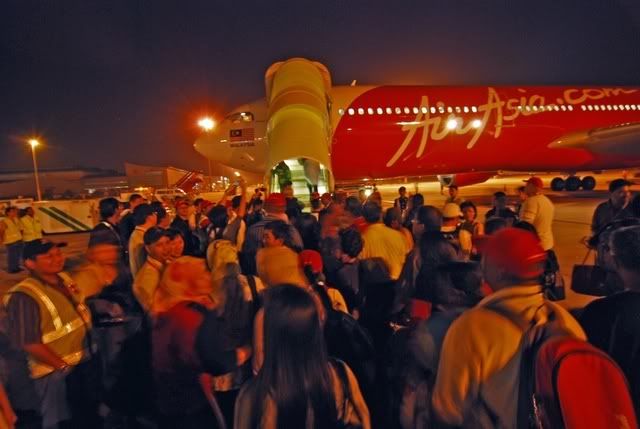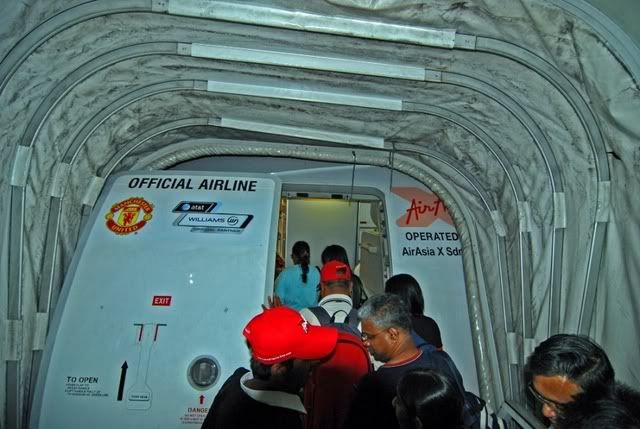 Entering door 1L, you first walk through the XL Class cabin with its leather Business Class-type seating…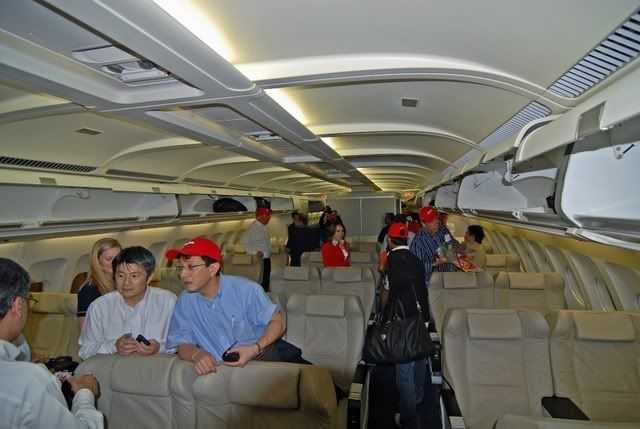 Then you walk through the first steerage cabin, grabbing the opportunity to catch the cabin before it fills up…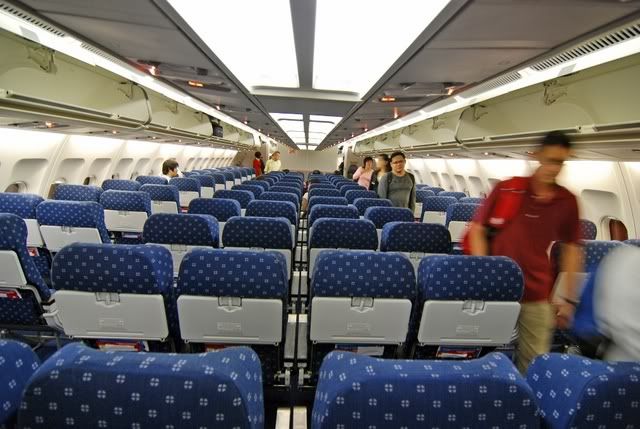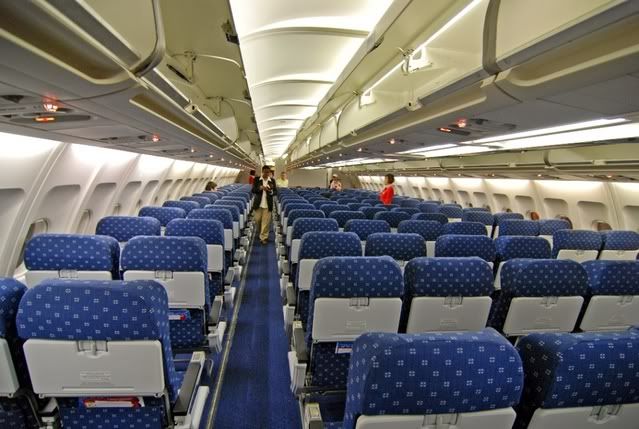 Finally, the back cabin that's starting to fill up…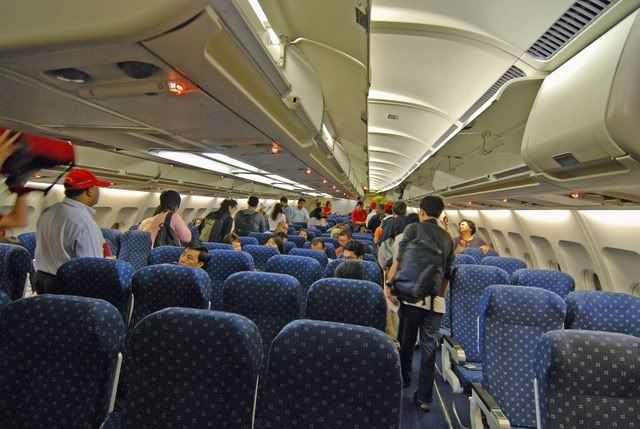 The media circus continues on board as passengers look for their seats. I am not surprised when a couple of familiar faces turn out to be former colleagues on assignment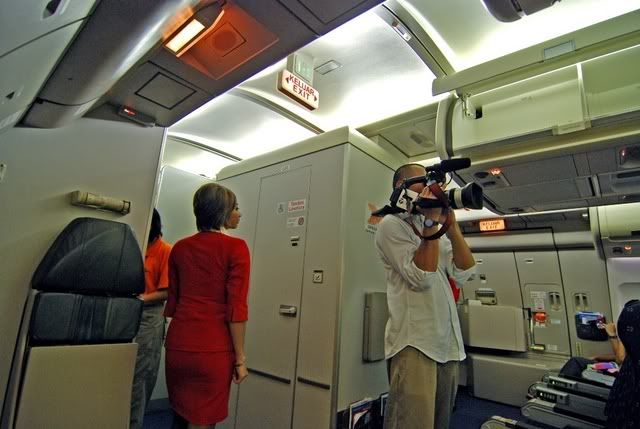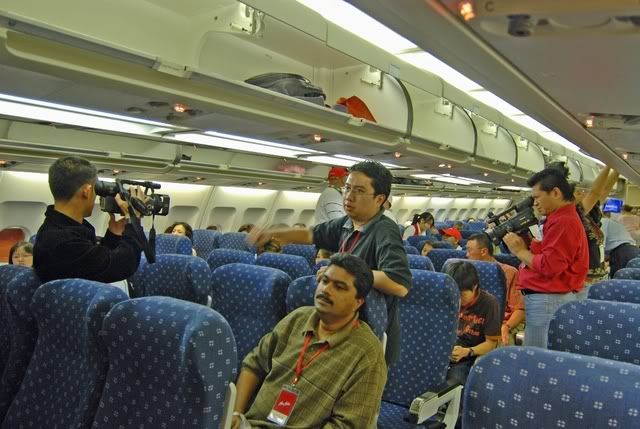 We are 25 minutes behind schedule, as the crew check and re-check head counts. Tony Fernandes welcomes us to "history", wishes us good night, and then leaves. The flight is over 90% sold – not surprising considering some tickets (like mine) went for 50 ringgit (US$15) before taxes and optional surcharges. Still, I get an empty seat next to me.
A.net member 9MMAR – the most conscientious Malaysian contributor to these forums, by far – is also on the flight, and moves over to join me. We talk planes until almost sunrise when we're somewhere past Darwin. Or so I estimate, because there are no moving maps to tell us where we are. Feeling momentarily disoriented, I can't remember the last time I was on a long haul aircraft that wasn't equipped with even one projection or TV screen. In-flight entertainment is what you make it on this flight: most passengers, left with no choice, just snooze.
I wait over 2 hours for dinner, which arrives after midnight. The hassled crews grapple with an unfamiliar system of pre-order meal lists that really needs a major sorting out. This is the spicy Asian meal that costs 20 ringgit (US$6) if pre-ordered, and 25% more if paid for on board. The presentation is downright awful, but the taste isn't bad at all.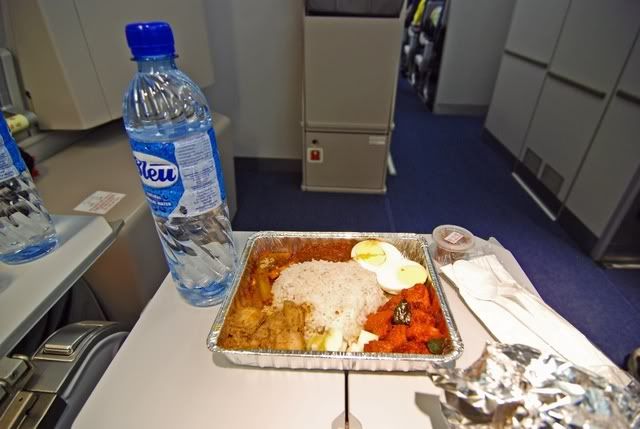 Inflight service on AirAsia X is much like that on AirAsia, except with first day kinks yet to be ironed. I expect some special inaugural events or goodies but am disappointed: silly me, this is no frills, remember? The same AirAsia girls in tight red mini skirts sell food and souvenirs, and clear up after you with large black bin bags. And when not doing that, they don gloves to clean the toilets. On this 8-hour overnight to Gold Coast, the girls work extremely hard: I don't see them sit at all until strapped tight for landing. It can't have been easy, and my hat's off to them.
The XL cabin in snooze mode as we near Gold Coast.
Before long, the morning sun is streaming in. I had slept probably an hour in all, but feel strangely energized as if possessed by some historic first-flight demon. Outside, gorgeous bits of Queensland I'd never get to visit cruise by. In this picture, you almost expect the airline to be Swiss, don't you?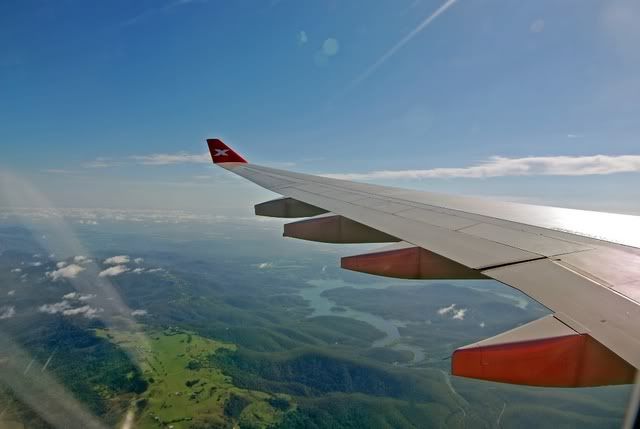 Finally, the Gold Coast! Making a turn over the Pacific before finals.
After we land, dozens of waving spotters at the airport perimeter greet us with their cameras. We taxi the short distance to the official welcoming ceremony. I spot a number of local TV crews on the ground already recording our arrival for posterity.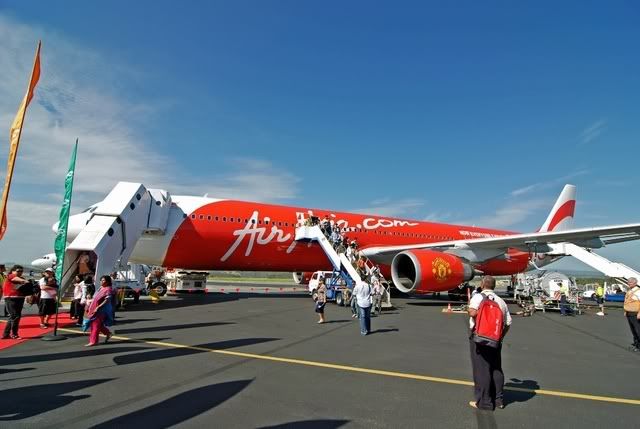 The red carpet welcome, but only for those who use the front steps.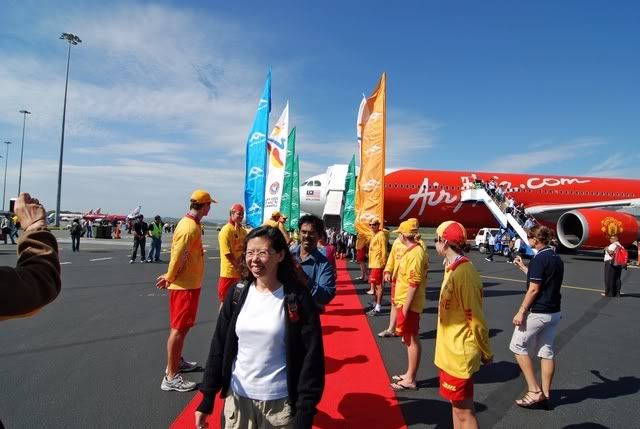 Appropriately, guys and gals from the local surf rescue and beach patrol form the welcoming committee. Small, compact but nice Gold Coast Airport is, after all, just across the road from where they work.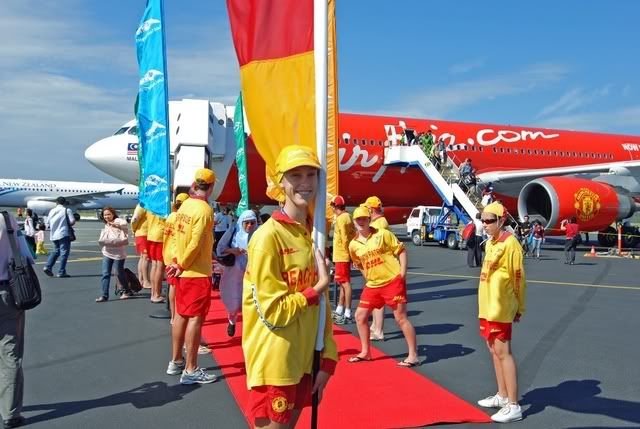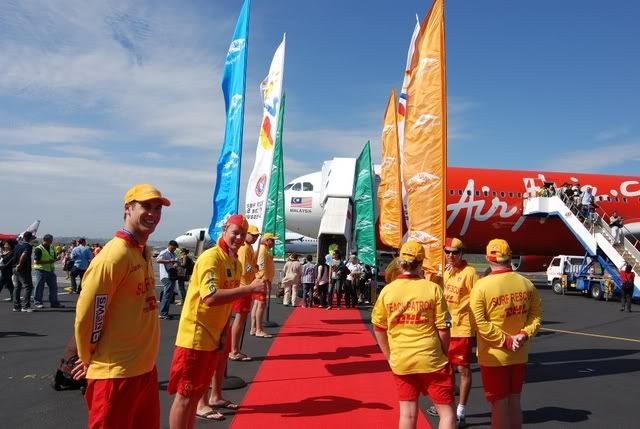 It's the end of an historic flight, and start of a holiday for many of the families on it. That's what matters most to those at the baggage carrousel today: the flight is but a means to end, and not – like for me – an end in itself. For many, it's their first visit to Australia, and the first time they're on a widebody aircraft. For some, I'm sure, it's their first flight. I imagine how exciting that must be, and think how many kids will have been so inspired that today officially becomes the start of a lifetime's obsession with aviation. Ok, I'll just have to say it: now everyone can fly
lah.
I bid farewell and happy vacations to 9MMAR, my media friends moan that they're back at work with a press conference scheduled as they disembark, while I am starting to feel delirious after a whole night without sleep.
Copious amounts of long blacks later, I stumble aboard a Jetstar A320. The flight – short, pleasant and uneventful – gets me into Sydney, where tomorrow is not just another day.
The A380 on a "routine" flight
Singapore Airlines
A380-800 registered 9V-SKA
Sunday 4 November 2007
Flight SQ 220
Sydney-Singapore
Dep 0855 Arrv 1435 (arrives 50 mins late)
Several myths about the A380 are shattered immediately at Sydney Airport.
Myth Number 1: check-in queues will be intolerable.
Reality: I arrive some 140 minutes before departure, and just breeze through. Singapore Airlines allocates no less than 3 desks for economy class internet check-in passengers alone. (And a further 6 desks for those who haven't pre-checked). As my boarding pass is printed, I ask the predictable question to reconfirm that the full flight today still is the 380.
"Oh yes," says my batik-attired check-in agent, "I'd be in trouble if it wasn't!" Nice to see SQ staff taking it so personally.
I give the A380 seat map on display at the lobby a cursory glance. I already know where I'll be seated: my boarding pass has the words "UPPER DECK" prominently printed, and an orange SQ logo sticker as further identification that this one will be boarding the super jumbo from the upstairs. I may only be flying economy class but this day is already feeling very special indeed.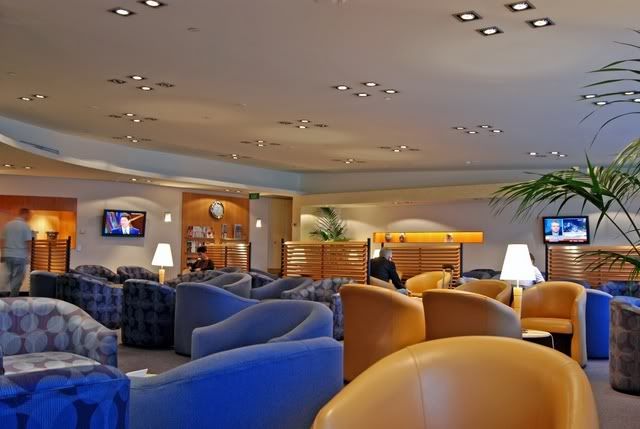 My UA *G card grants me access to SQ's Silver Kris Lounge, and I'm there in time to witness the giant beast dock at gate 57. Having always missed it during its tours around the world, this is the first time I am seeing the A380. The morning may be gloomy, and the pics may be of poor quality… but how can one not be excited over one's "first time"?
I make my way down early to the gate. Next door, boarding is already underway for an Emirates A340-500 bound for Christchurch: I imagine passengers there looking enviously in our direction. Time for another myth-buster:
Myth Number 2: boarding such a large plane will be crowded and chaotic.
Reality: Wow. What an amazingly smooth boarding process. The boarding area is staffed (some might say over-staffed) with proactive SQ ground personnel providing information and ushering us, like what you might expect at the lobby of a luxury hotel.
If the airline was going for classy, it has succeeded: you just
know
this is a premium airline you're flying. Passengers seated upstairs wait in a completely separate gate area from those downstairs, so there isn't a sense of the crowds one might expect to see on this huge plane. I wait for the lounge to fill up, but it never does. I opt not to join the Business Class/Star Gold priority boarding, but even economy class boarding is such a leisurely stroll (queue, what queue?) that it's like what you only see in promotional videos: not at all as expected. I say it again: Wow.
I have to qualify the glowing assessment above by saying again that I am seated in the smallish 88-seat upper deck economy class cabin and board using the upper deck door. Talking to passengers on the main deck later, I discover they had a less breezy boarding experience, even if they claim it wasn't any worse than other aircraft.
If you are reading this trip report, chances are you've read most – if not all – of the inaugural A380 TRs on this forum. I shall spare you from reading descriptions of the cabin and seats which are quite adequately covered by others. But I will show you some pics, and add my comments in areas that make this now "routine" flight special.
This is the upper deck economy class cabin, generally configured 2-4-2. It is quiet, clubby, feels roomy and is very, very nice. You can almost smell the new plane, can't you?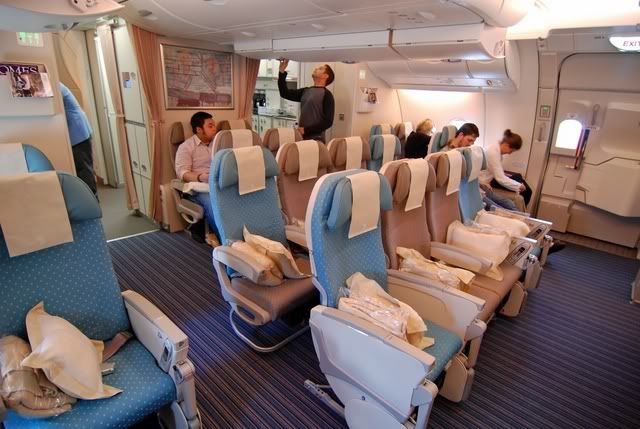 Row 80 is the one to take for legroom. But only if you don't mind others using the same space as a cross-aisle.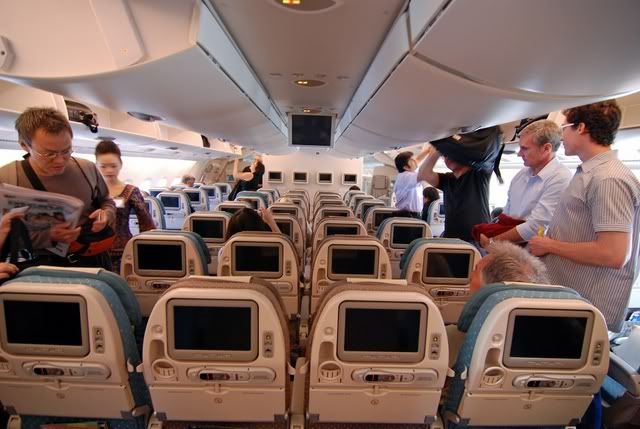 I settle into my allotted seat 78K. Window seats on the upper deck have the advantage of a side bin for hand baggage. I find them slightly smaller and narrower than those found on the B747-400 upper deck, but still, the extra storage, surface area (when closed) and shoulder room make these seats highly desirable.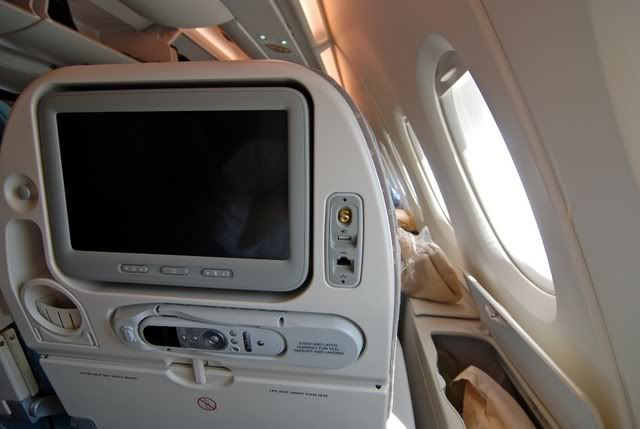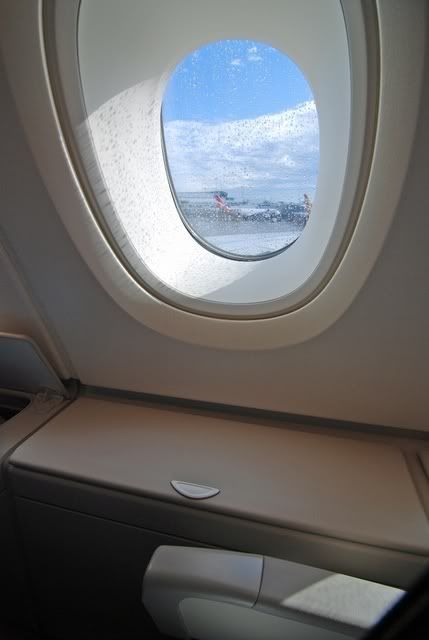 There are good-sized overhead bins, even here upstairs.
We push back almost on time, despite a short 2-hour turnaround. What commentators say is true: the A380
is
noticeably quieter. Seated upstairs, I hear only a feint whisper of the Trents, that's all. Even during the take-off run, I have a normal conversation with my neighbor – about how quiet it is – and can even eavesdrop on the people across the aisle talking about the same thing. The weather has cleared up significantly as we climb out of Sydney.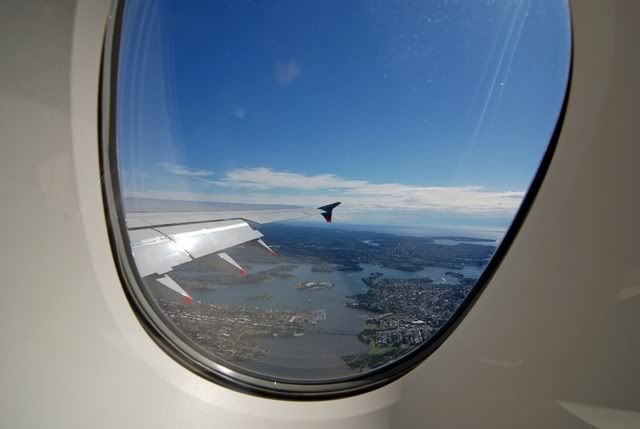 We make slow progress across Australia. Flight time to Singapore of 7 hours 55 minutes eventually exceeds eight, and we arrive a good 50 minutes behind schedule, which captain blames on the long taxi in Sydney (not true!) Despite a decent tail wind, we seem to be struggling here.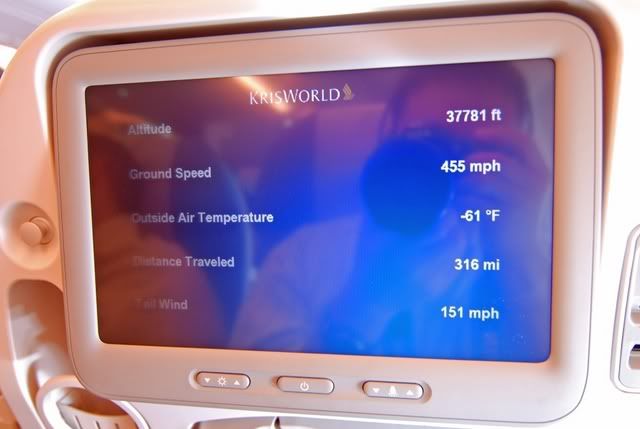 And now for the third myth-buster:
Myth Number 3: there are bound to be inflight service lapses on a new plane, even for SQ.
Reality: Cliché it may be, but the Singapore Girls really deliver. I look hard for lapses and even the cynic in me can find none. Fact is, the faultless service (both ground and on board) combined with the brand new aircraft make this easily the finest SQ flight I have been on. If this is the new flagship for SQ, it's truly got the service to match. Three crew members serve the upper deck economy class cabin in such a gracious and unflustered manner that it beats service on many airlines' business classes. The ease with which everything just "happens" makes it feel like they've been flying the A380 for ages.
But I make a surprising behind-the-scenes discovery later. Talking to a stewardess after landing with her "service façade" off, this Singapore Girl tells me how much she dislikes the A380 and dreads her next flight on it. This is only her second flight on the super jumbo, but the larger cabins, new service details, unfamiliar galley and storage locations mean that "we have to work like shit." If so, I have renewed respect for the professionalism of the SQ crew on this flight for showing none of this on board.
Two hot meals (breakfast, and lunch – shown here) are served on this flight. They are unexceptional but come on nice new trays.
Other nice touches come in the form of a vanity mirror like you find in your car…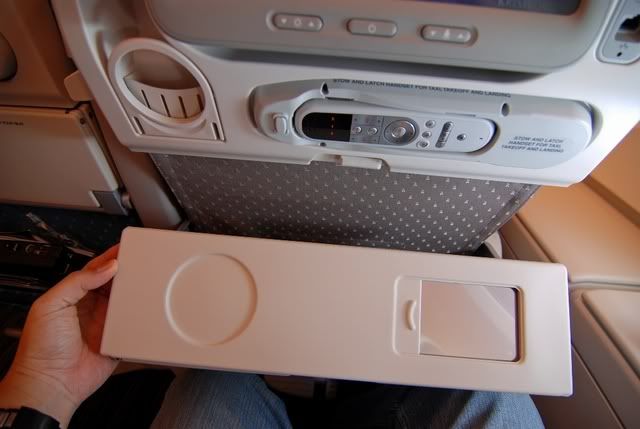 … a snazzy reading light beneath your PTV…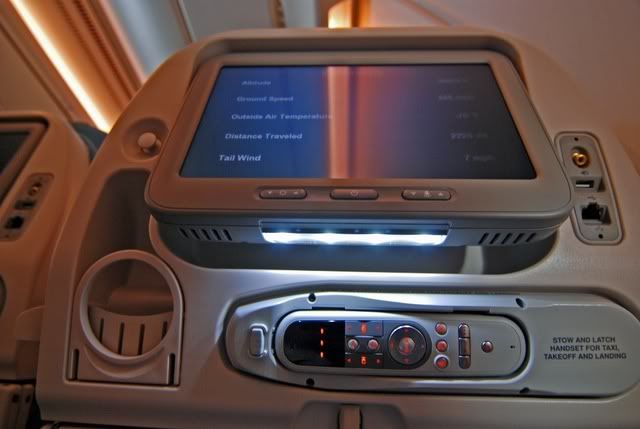 … and well appointed, muzak-playing washrooms that just make you want to press the flush twice (and a first, Airpearl bringing his camera into the toilet with him).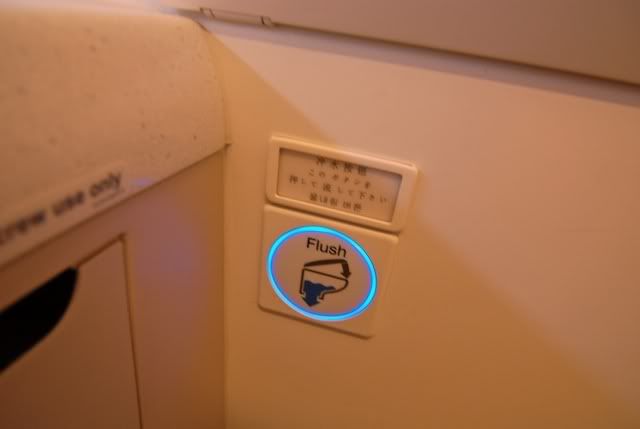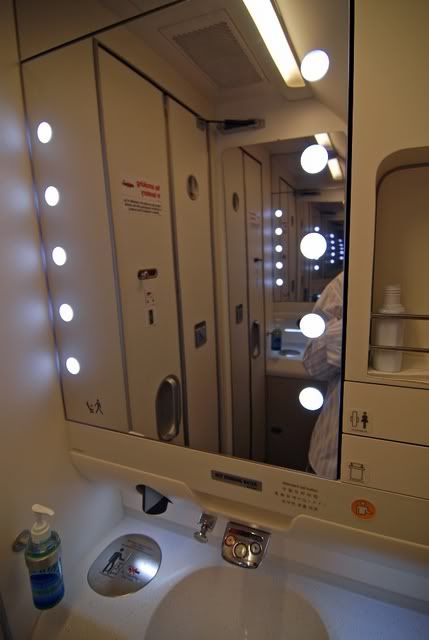 It's time to wander around the plane. The back of the upper deck leads to one of the "must visit" features of this plane.
The spiral staircase at the back of this bus is part of the "package" that makes flying exciting again. I am not the only one exploring this plane like a kid with a new toy on Christmas morning. You do not forget your first flight on a B747, and you will not forget your first A380 experience either.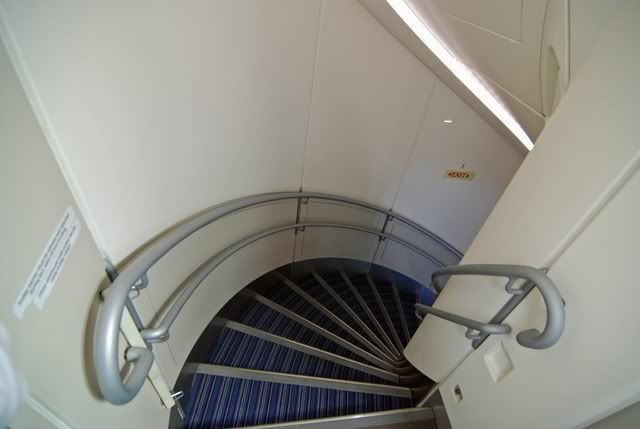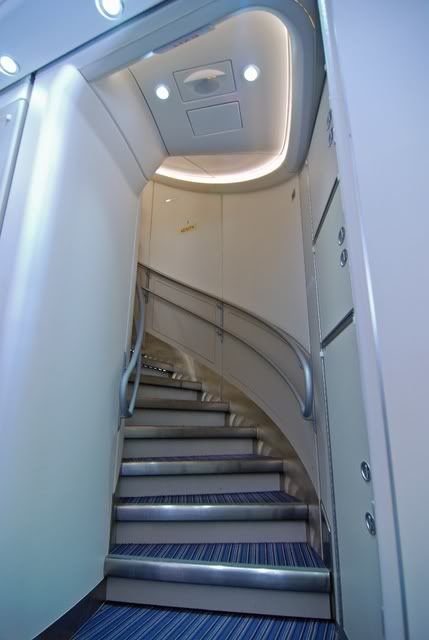 When you get to the bottom of the stairs, you see the last of three economy class cabins on the main deck. I like the space here that's the nearest thing to "mingling" room on board – very rare on any aircraft these days.
The main deck cabins configured 3-4-3 are noticeably busier, and noisier too with babies and children. We've long finished our meals on the upper deck, but the last meal trays are still being collected from the downstairs aft economy cabin.
Move forward one cabin, and the carpet changes color to match the seats. This is the smallest of the three main deck cabins.
Go past the toilet complex and you'll reach the front Y class cabin. But no entry beyond this point: it's those out-of-this-world Suites behind the curtains.
I enjoy my tour, but it's still nice to come back to the upper deck where the cabin has an air of exclusivity not found downstairs. Before this flight, I imagined this to be the nicest of the economy cabins. Now, I am sure.
Is it just me or doesn't this look remarkably like the cross section of a B787?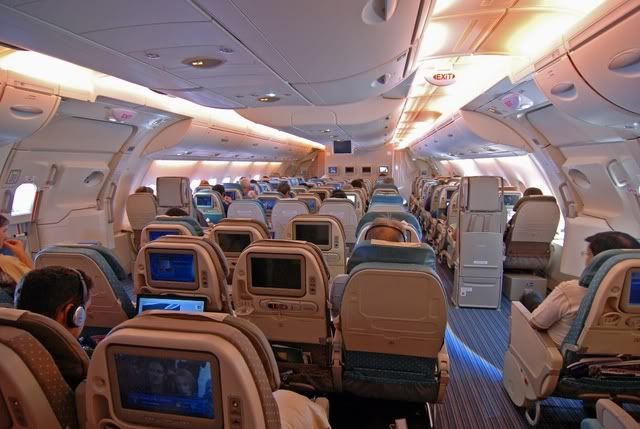 All too soon – is it eight hours already? – we're descending into Changi, hardly vibrating and noiseless as we break through the rain-bearing clouds. Someone on the flight deck would surely say she handles like a dream as we so effortlessly glide in. But alas we land heavy, with a thud that makes you want to shout "Ouch!" even on the upper deck. We dock at gate F31 fifty minutes late, with dozens of on-lookers at the terminal catching our arrival on camera and video.
The last passengers prepare to disembark from the upper deck. No one's in a great hurry to leave though.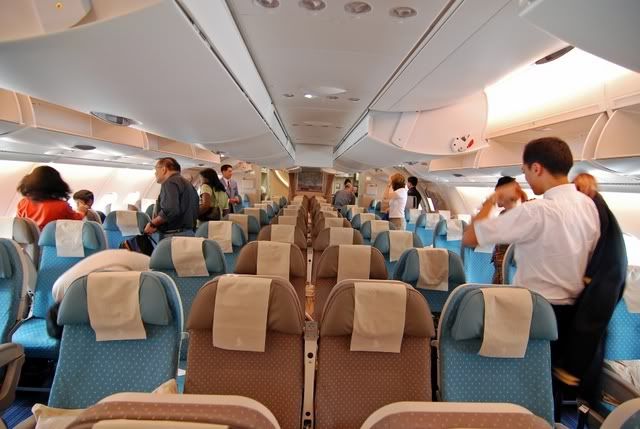 You walk through Business Class on your way out. It's a looong cabin.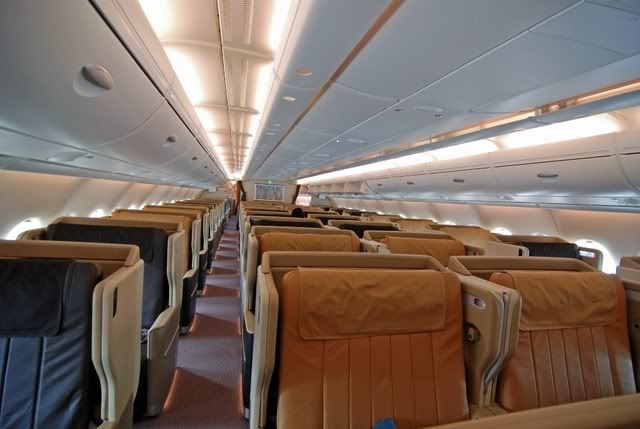 A Singapore Girl's job is never done. Clearing headphones and menus in Business Class after the passengers have long gone.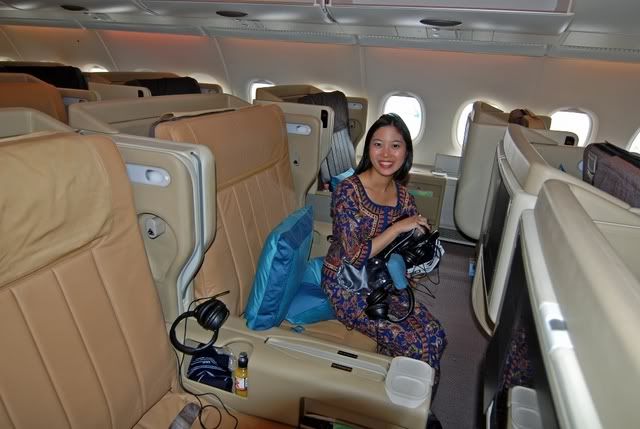 A last photo as I leave the upper deck. It has been a grand experience, SKA. Thank you for making it so special.
The A380 experience gate at Changi.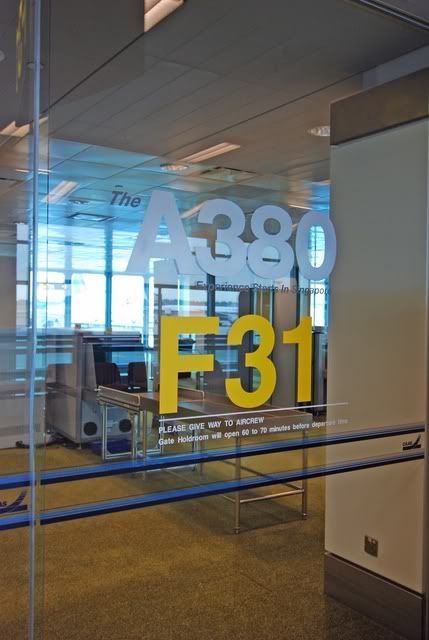 9V-SKA, the world's only commercially flying A380, at her gate. She'll delight a lot more passengers yet.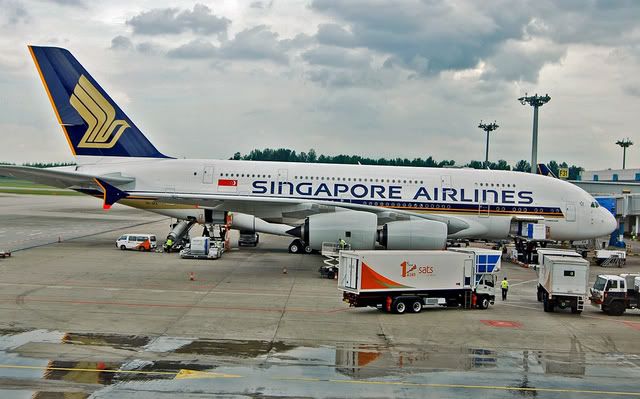 Due to the delay, I have 20 minutes to catch my connecting flight to KLIA – and miraculously, not only do I make the flight, but my checked luggage does too! It really
is
my day.
Last Words
It is a weekend of contrasts – no frills long haul one way, and a premium product on the world's largest plane on the return. But perhaps there are more similarities than differences between them. In their own ways, both AirAsia and Singapore Airlines are innovators that know their markets well, but are risking not a little in the pioneering directions they're taking.
It's clear that AirAsia X and the like are new threats on the long haul market, and while some legacy carriers have gone down market to meet them, SQ is responding by clearly trading up, distancing itself from even its closest regional rivals like Cathay. It's evident from this flight that even economy class on SQ is not like the others any more: it's almost in a different league altogether.
Whether or not SQ's gamble will pay off remains to be seen, while AirAsia X's largely untested long haul strategy could still yet fail. But I hope they both succeed: they deserve to. Whatever happens though, these are truly exciting times indeed.
[Edited 2007-11-13 08:13:20]
[Edited 2007-11-13 08:15:32]
[Edited 2007-11-13 08:17:29]