Date: 8 November 2007
Route: New York (JFK) %u2013 Mumbai (BOM)
Distance: 7799mi
Flight: AI 140
Flight Time: 13:43h
Dep. Time: 21:30
Aircraft: Boeing 777-200/LR
Registration: VT-ALB
Dep. Gate: A 4 (T4)
Seat: 26H
I arrived from Washington around 13:00 and did some spotting mostly at Terminal 1 before heading to Terminal 4 to check in with Air India. I got there at about 16:25 and was told that check in for AI 140 would be open in about five minutes. All the signs were with the new AI logo and separate counters for the two flights (the other being a flight to LHR, DEL and ATQ). The people collecting passport information also tagged the carry on with tags saying Nonstop.
The line for check in was short but the agents at the front had to deal with issues for the other flight so it took about 30 minutes to check in. The agent gave me a choice of seats which is always nice when flying stand by and I got a window seat. I went thru security and headed to the gate right way. I did some spotting from the end of the concourse by gate A6. Even though it was dark I was able to get some interesting numbers like EuroFly 332 and Emirates 77W.
Boarding started already at 20:00, about 90 minutes before departure (!!) which is very early. Most airlines board not more than 45-60 minutes before departure and I decided to board early. There were not many people on board and boarding even after boarding was completed at about 21:10. Even though the door closed at about 21:15, we sat and waited for push back until departure time.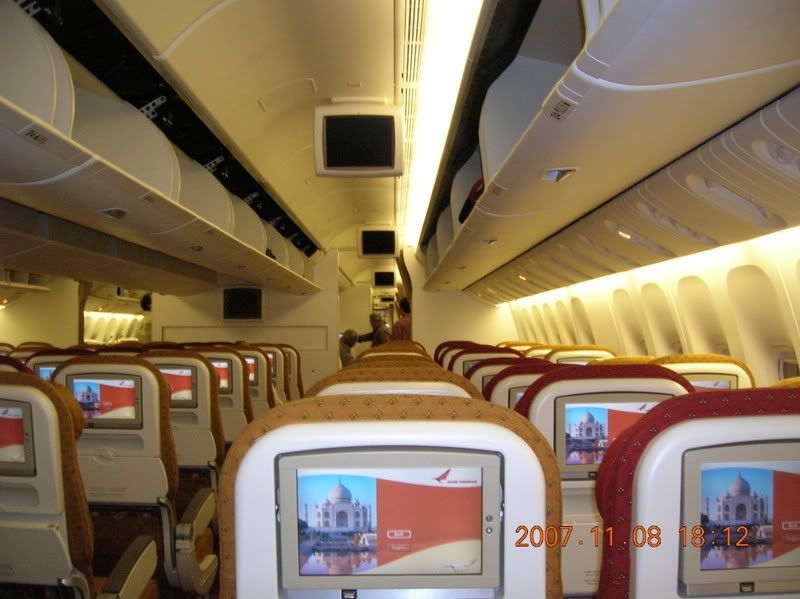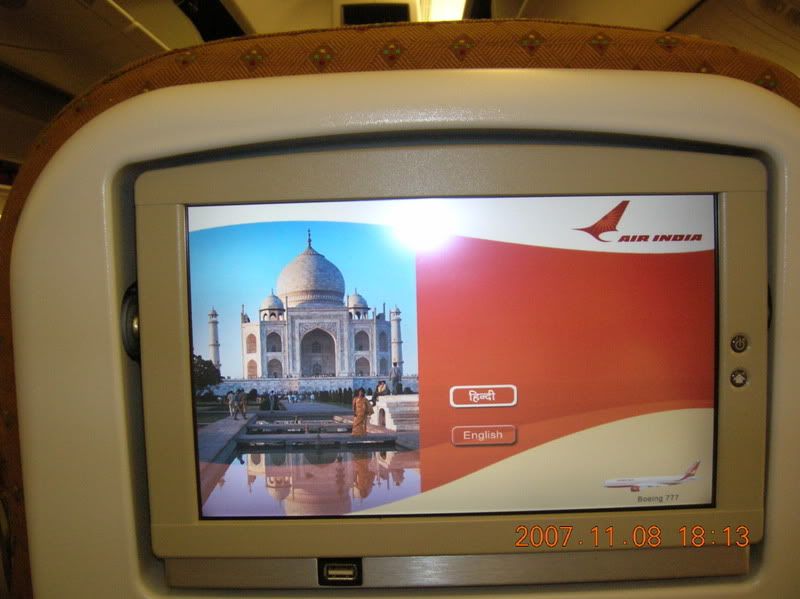 The aircraft was very nice; nice legroom with foot rest, seat was comfortable. The PTV screen was large. There was also a bag at with a water bottle at every seat. The flight attendants distributed amenity kits containing socks, shades, ear plugs and mouth wash. Later, a small flashlight was passed out as well to each passenger as an extra amenity. A bit odd but nice to have when the plane would be darkened most of the flight and not to many lights so that people can sleep. Menus were also handed out and a drink service started as well before we pushed back. I had three seats for myself and there were sadly not more than 40-50 people in Economy class on this flight. Very nice for me with three seats for myself which meant I could get some nice sleep later. The safety demonstration was done by the flight attendants in person; not on a video.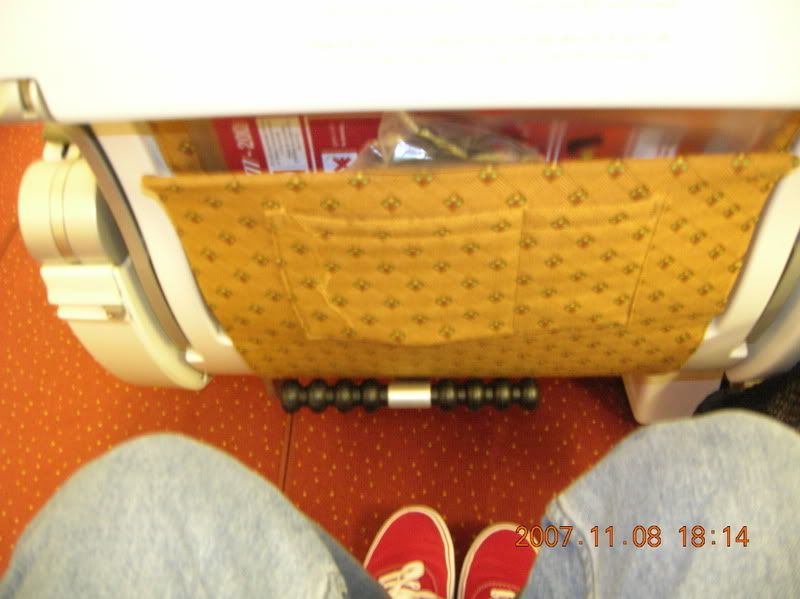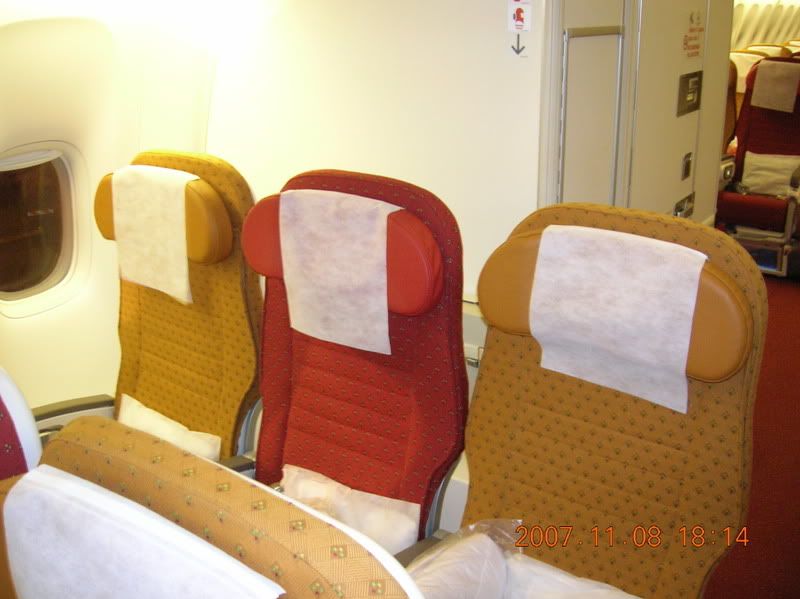 There were still a lot of departures at JFK at time of night so we did not take off until 22:15. While taxing the flight attendants gave us a cold refreshing towel; most airlines give a hot towel but nice nonetheless. The outside forward camera were also on at this time which was nice. The flight attendants were mostly young and were beautiful, not the old women that I heard are so common on AI. They were very friendly and had nice saris on in different colors. Very nice.
Take off was very powerful with the engines of the -300/ER but only the length of a -200. Our light load helped as well and we were soon in the air. The airshow map only showed metric scale and were a 9300m in 20 minutes after take off. Dinner was served 30 minutes after take off with the drinks offered after the meal, not during. I had Hydrabadi Gosht Korma (succulent pieces of lamb cooked in spicy gravy served with Navratan Pulao) which also came with a salad, rice, yoghurt, paratha and papad. For desert Semiya Malai (vermicelli cooked in a sweetened milk and garnished with nuts) and tea. The dinner was excellent; perfect spicy and very nice bread, a bit sweeter than a regular bun. Mood lightning was on shortly after dinner.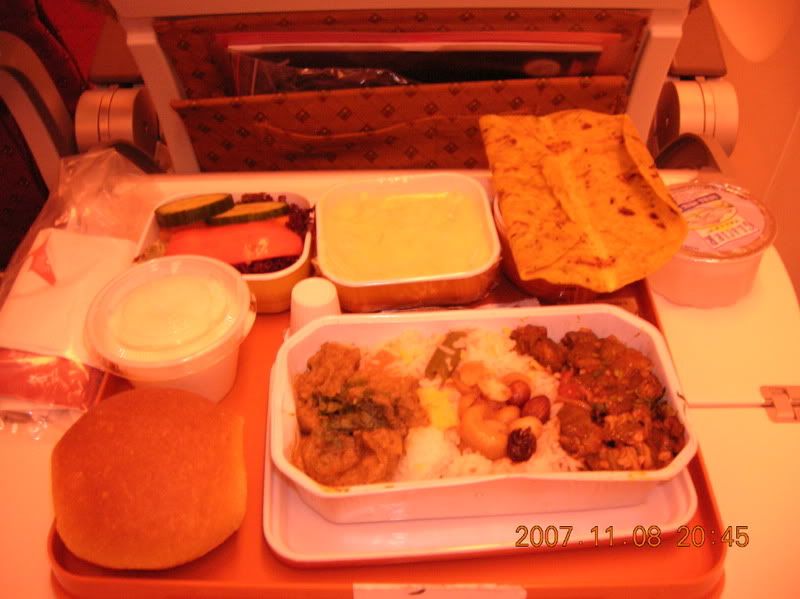 I started to watch explore the entertainment options and they were many. The headsets were great; what you get in C or F on other airlines, great sound. I watched A Good Year, Catch & Release before I decided to sleep. Air India has a separate entertainment magazine entitled Non-stop entertainment and they showcase very well the different movies, TV programs, music and games. The system has AVOD (Audio Video On Demand) and was okay to operate but could be a bit more user friendly. Audio selection was lacking a bit in my opinion but they do have a lot of Indian music but I don't really care for that since I'm not Indian.
I slept for about four-five hours before I woke up and watched Casablanca with Humphrey Bogart and Ingrid Bergman, one of my favorite movies. It's nice that some airlines offer classic movies as well as the newer ones. Soon after there was time for breakfeast and which came with fruit juice, oven fresh breads and fresh fruit. Very nice. We had made it to 11300m at this time.
I slept some more and about 90 minutes before arrival lunch was served and I had Roast Sliced Leg of Lamb with Red Wine and Mushroom sauce. I was so hungry that I forgot to take a picture before I ate...It came with roast potatoes, yoghurt and papad as well as a fruit tartlet for desert. This lunch was almost better than the dinner and again the drink service was about ten minutes before the meal but with water offered during the meal.
Service was excellent and at one time during the flight, a middle aged Indian man shouted to the purser: This is excellent service!! This is really excellent service!! I couldn't agree more.
The flight attendants came around several times during the flight offering water which was nice. We circled Mumbai for about 15 minutes due to traffic and later saw fireworks just before we touched down, this due to the Devali (??) holiday. Cabin was sprayed before arrival. We had a smooth landing and a quick taxi to the gate.
Routing was over Boston, south of Iceland, London, Amsterdam, Budapest, Timisoara, Constanza, Trabzon, north of Tehran, Zahedi, Karachi straight to Mumbai.
The777Man