Date: 10 November 2007
Route: London (LHR) – Nairobi (NBO)
Distance: 4243mi
Flight: KQ 101
Flight Time: 7:37h
Dep. Time: 18:49
Aircraft: Boeing 777-200/ER
Registration: 5Y-KQT
Dep. Gate: 404
Seat: 29J
I made my way to Terminal 4 as soon as I arrived from BOM on 9W (see separate trip report). I had purchased a ticket online but was told I had to pick up a paper ticket in person at the counter at LHR so I went directly to the transfer desk for Kenya Airways and is handled by KLM. The guy there told me it was too early and to be back at about 13:00. I did a lot of spotting and eventually got my boarding pass at around 15:00, about four hours before the flight. The ticket would actually be given to me at boarding time. I did some more spotting before heading to the gate about 90 minutes before departure.
Boarding started at about 40 minutes before departure but it didn't seem very crowded and was fairly orderly. The flight was little over half full about 65 % or so with only a few center seats open. I had a person next to me but the aisle seat was open. Even when the door had closed, I had ask the guy to move to the aisle to give us both more space….
All signs were in English and Swahili. The seat was comfortable and had nice legroom. The screen was a bit small but about the same as Air France or British Airways. The seat pocket was much larger than normal which was nice. We pushed back about ten minutes early and had a short taxi for departure. During taxi the safety video played and it was an animation and it was a bit different. Fireworks could also be seen here and there while taxing, I guess a lot of Indians live near Heathrow (celebrating Devali) ? I also noted that most passengers on the flight were not from Africa but mostly British and Americans.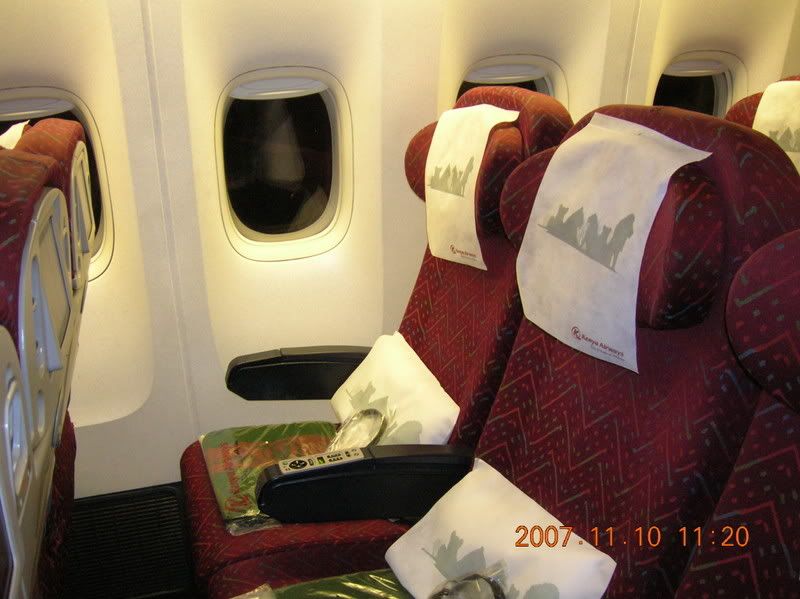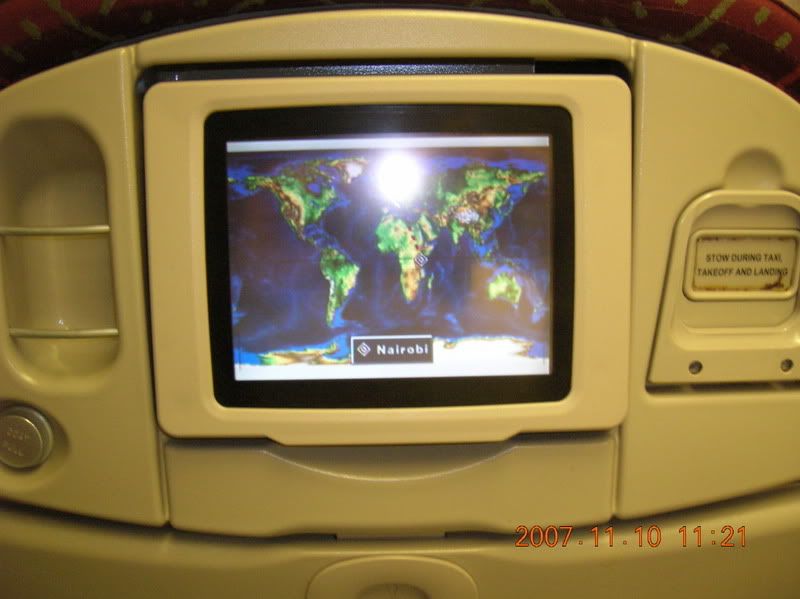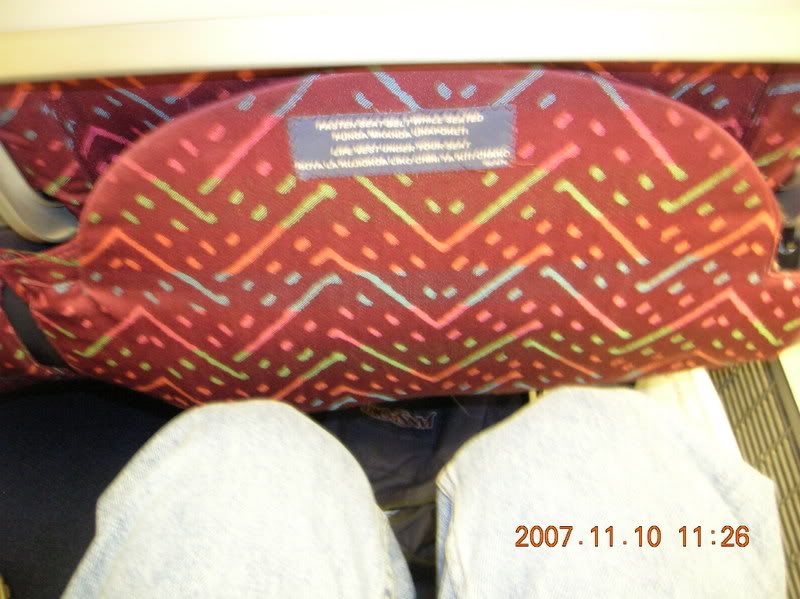 Take off was to the west and a drink service started about 30 minutes after take off. Most off the flight attendants were male and were very easy going. Their uniforms were okay and had some African color combinations in them. I tried a Kenyan beer called Tusker and asked for Coca Cola and got two small bottles to go with the mixed nuts. No menus were given out but shortly thereafter, dinner was served and I had lamb curry with steamed rice and it was very, very good.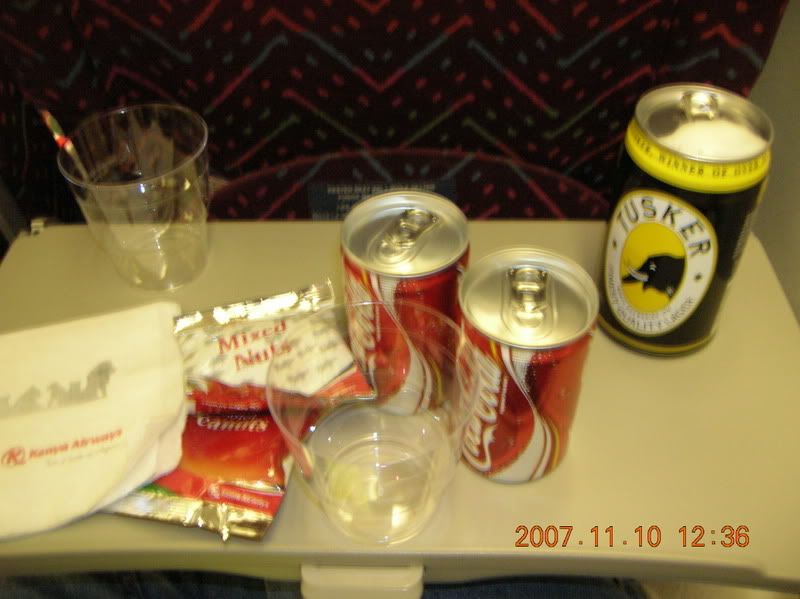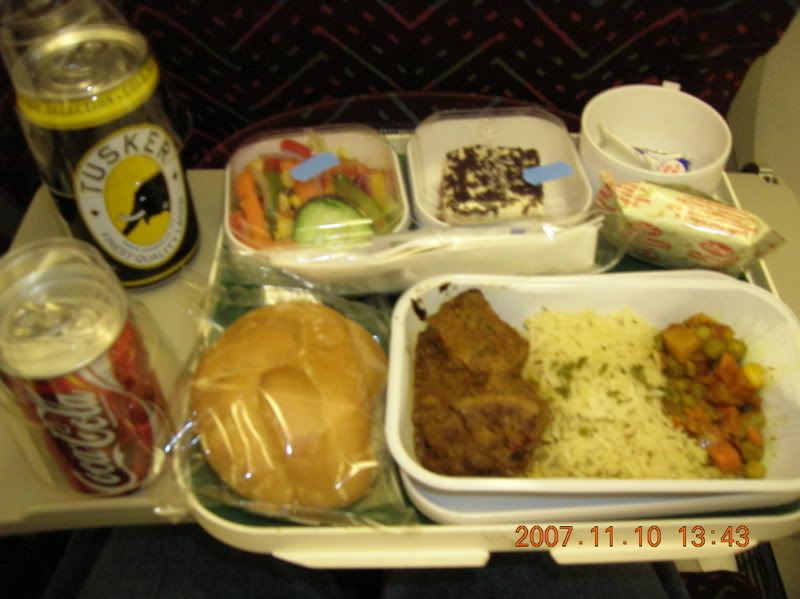 The inflight entertainment options were a bit limited and not AVOD. There were ten channels and the movies started every ten minutes and you could request to be reminded when the movie started next. Very nice feature! There was an Airshow map but no videogames or outside camera. There was no remote control and all controls for the system was in the armrest. Very simple but okay. Lights were not dimmed for at least an hour or so after dinner even though most people were trying to sleep. Lights were dimmed eventually but no mood lightning; just dimmed lights.
I watched The Contract with Morgan Freeman and after that decided to get some sleep. The pillows were very thin and having to sleep upright made it difficult to sleep but I still managed get about 90 minutes of shut eye.
Breakfast was served about 90 minutes before arrival and I was a bit hungry so I managed to finish most of it before I took the picure….The tea was way too strong and not great. It also took a long time, 30 minutes or more before the flight attendants had collected the trays which was a bit too long in my opinion.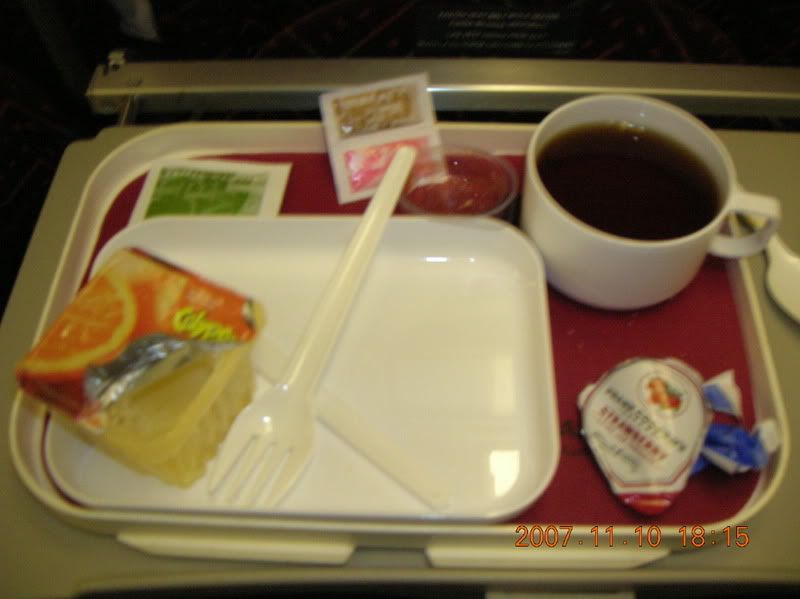 We eventually made it up to 37 000 feet and descent started only about 20 minutes before arrival. Ir had rained in the morning before our arrival it was only about 60 F outside, probably because of the high altitude. Also to note that even though the terminal had jet bridges, we parked right next to one but deplaned thru stairs and walked a few feet to go up stairs in to the terminal. I noticed later in the day that this was a common practice for the Kenya Airways flights but Virgin Atlantic and British Airways used the jet bridges. Only on KQ flight (from AMS) used jet bridge and only to deplane. For departure at the same gate later, stairs were again used….
To sum it up, it was a nice flight and the flight attendants were nice and offered nice service.
That completes my 777 flying for now. I have flown on all 41 carriers' 777s that have had them in scheduled service. I hope to fly on QR 77W in about two weeks from now. After that I will take a break with 777 flying for about two years. Next year I will focus on getting my website together again.
Trip report will follow from the QR 77W trip as well.
The777Man