Hi,
Someday in early July I was planning this trip behind my computer at the office. I have access to various reservation systems with most flight schedules mentioned, so that makes life a lot easier. Our goal: to fly as much as possible flights, on various aircraft types and carriers, but with enough time in between for the transfers and/or photography. A good friend and flying-mate was traveling with me this day and together we agreed to book 4 flights on 4 different carriers. Transfer times were sufficient enough too.
Times flies, and the day has come to make my kind of yearly European tour! I woke up at a human 06.45 am to have myself some breakfast and to get my stuff together. I'm lucky to live that close to the airport, no rush at all for me. I took my bicycle to the nearby trainstation to catch the 08.04am service straight to Schiphol Airport. It was in the middle of the rushhour, no seats available, and I had to take position somewhere in the aisle between many others!
At the airport I met with my friend who was traveling almost 2 hours by car to reach the airport. Also he had to deal with the morning rushhour, but on the road. And when there is traffic jamming, you can't drive… that's what he experienced  
. Anyway we were ontime, and we had no hurries to reach a checkin counter. First flight was on easyJet, and we did online checkin the day before. This service is free of charge with easyJet and you will be put into boarding group A (note: this is not priority boarding!).
Boarding gate was said to be H2, but due to inbound delay of our aircraft it was changed to H4. We weren't really happy with this delay, because the transfer time at the next airport was getting shorter. Reason of the late inbound arrival was the weather condition at AMS. Visibility was pretty poor, some light rainshowers and a bit foggy. Several flights were affected that morning.

Information screens for H-gate departing flights
Almost 30 minutes late when our aircraft reached the parking position. Preboarding was done, and as most people use online checkin nowadays, the dedicated area for boarding group A was a bit too small for 'everybody'! After a short while, we were allowed to board the aircraft. People with children and the passengers who paid for priority boarding were first.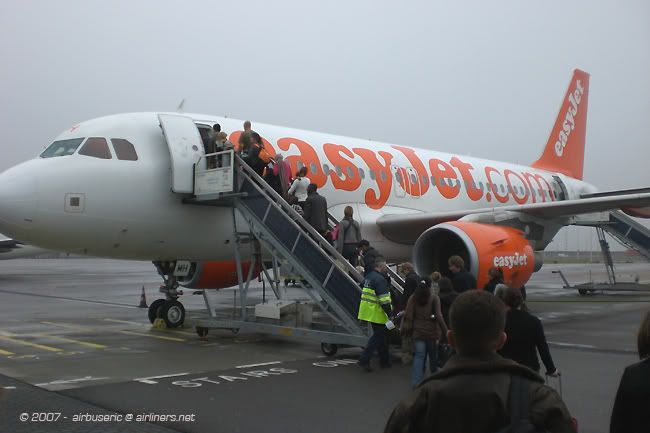 easyJet boarding using normal stairs. Weather not really good this morning!
We boarded at the front door, to secure a seat upfront. This would enable us to get off rather quickly on arrival.
AMS-STN
Flight No.:
EZY3002
Date:
29OCT07
STD:
0930
ATD:
0957
STA:
0935
ATA:
1002
A/C:
Airbus A319
Reg No.:
G-EZMH
Seat:
08B – Economy Class
My 17th ride on the Airbus A319, and the first on this machine wearing the current British registration. But in previous trips I've flown this aircraft twice before wearing registration HB-JZD. A bit of disappointment for me  
.
View Large
View Medium


Photo © Daniel Nicholson
No problems to get a window seat, I offered it to my friend. I seated in the middle one and the row was filled with another passenger next to me. Load: nearly full on this flight.
We got pushback after a Delta Airlines B767 heading back for the US cleared the taxiway.
We were speeding a bit on the taxiway, probably to win some minutes on the delayed schedule, but it didn't make sense as we had 5 aircraft in front for takeoff. It really took ages, and we didn't feel comfortable with more delay at all! Finally after a heavy NWA A330 we got clearance and were airborne at 10:16am using runway 24.
Not much too see below us. Clouds only. According information from the flightdeck we climbed to cruising level at 20,000ft.
Flight crew was 1 male captain and 1 female copilot, the cabin was served by 2 females and 1 male. All in the new (?) easyJet uniforms, which let them look even better. The new uniforms also look more professional, although I never had problems with the previous styling.
Immediately after seatbelt sign was off, crew started selling food and beverage. But we got into some serious turbulence over the Northsea, so they only served until row 3 from the cart. Seatbelt sign was on again, and they only served drinks (although no hot drinks) on request.
The remaining of this short flight was uneventful, and soon we started approach into Stansted. We were already 'ready to run' when we touched the concrete of runway 23 at 09:55am (local UK time). I noticed some interesting traffic around: 3 MaxJet B767-200's, 2 EOS B757-200's as well a MP MD-11F. The rest was usual British and Irish load of 'Low fare airlines' 
.
Disembarkation using stairs, we were at gate 14. From this moment, not much too tell, we were running like crazy towards immigration. We had 18 minutes to go until checkin closes for the next flight. Lucky enough no queue for immigration. This helped a lot.
We hurried towards the checkin area for our next leg, 2 female agents behind chatting with eachother. No other passengers, so we were served promptly. 'You're one of the last passengers on this flight' she said. We were really happy at this stage, and got our boarding passes! About 45 minutes for our departure now.
About Stansted: the airport is sometimes ok, but mostly a very unorganised and hell of an airport. Too many passengers, not knowing how to travel. Typical British security measures, long queues, mostly unfriendly staff. Same for today. We queued for security which took ages!! A elderly woman in a wheelchair was helped in between, which also took a while. Finally also my turn, of course the detector found some metal, so also I was getting the manual check. Then you think you're ready and start running again to the gate, but of course the British still don't trust people and let you take off shoes for another x-ray check. This went pretty quickly, but it's very inconvenient.
We looked at our boarding pass and found our gate to be gate 6, meaning the use of the terminal-train at Stansted. Of course we missed this one by a minute, so had to wait for the next. Anyway, won't bother you more, we were called for our flight through the airports intercom system. But, we made it finally.
Our aircraft was boarding already when we arrived at the gate. Gate agents were very kind. We apologized for our late show-up caused by security. They both said that it's a really annoying thing at Stansted nowadays. But, we made it. They were happy for us! 

Airbus A319, D-AKNG, parked on the tarmac
We boarding using the rear stairs, after making some pictures on the apron. A Maxjet 767 in uncommon white livery was parked next to us. Our aircraft was one of the 'early birds' for this airline, and I was sure I flew this machine before. Another disappointment. Once on board we got a friendly welcome from a female cabin attendant.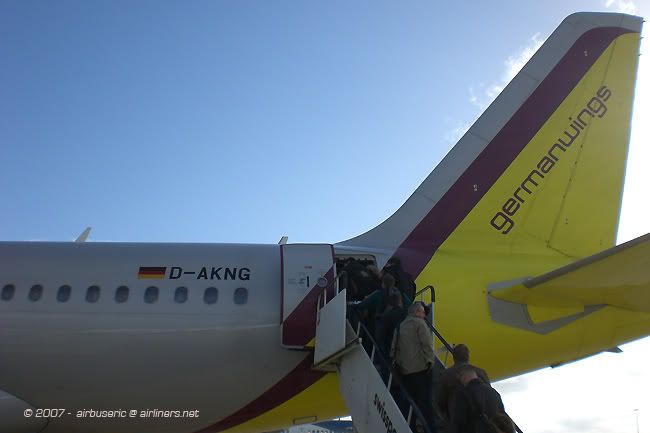 Picture made upon boarding of D-AKNG, using rear stairs
We found 2 rows (12 & 14) completely empty and we both took a window seat. Note: row 13 wasn't used on board of this aircraft.
STN-CGN
Flight No.:
4U 335
Date:
29OCT07
STD:
1100
ATD:
1103
STA:
1320
ATA:
1308
A/C:
Airbus A319
Reg No.:
D-AKNG
Seat:
14A – Economy Class
This was my 18th ride on a Airbus A319 and the second time on this exact same aircraft.
View Large
View Medium


Photo © Enrico Pierobon SpotIT
Doors closed almost immediately after our boarding, stairs were removed. Load on this flight maybe around 60%. As far as I know flight 335 is new to the Germanwings schedule in this winterseason. Maybe the departure time is less convenient for travellers on business, hence this load.
Pushback view minutes late, taxiing behind the MP MD-11F. Waiting for an easyJet A319 and Ryanair B73H arrival. The MD-11 was airborne quickly, probably not at full load and maybe going to her homebase at AMS. We followed and were airborne at 1115am.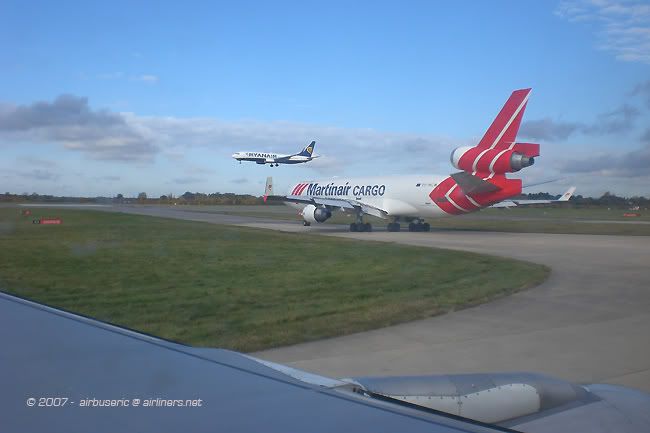 Bigbird in front: Martinair MD-11F & arriving Ryanair 737!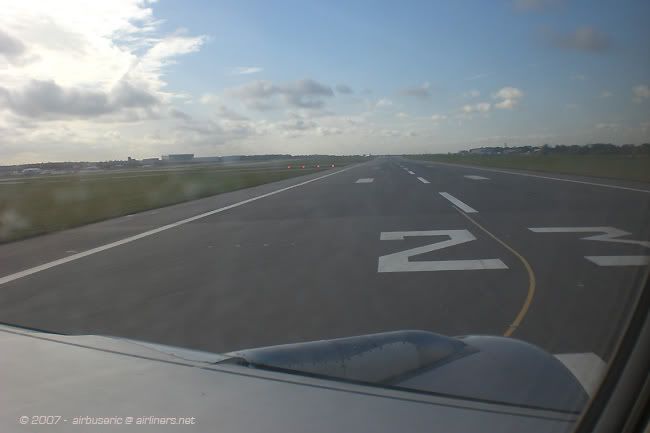 Entering runway 23 at Stansted
Some sharp left turns after takeoff brought us over Southend (airport visible) and further over the Northsea and southern part of The Netherlands. Again some turbulence enroute, but less severe and crew didn't stop serving.

Southend visible below, including the airport. Nice scenery for sure!
I got my first caffeine of the day, meaning a 'Happy Coffee' combo including a large muffin (or croissant if you want). I enjoyed the cappuccino a lot, and was even able to get a free refill at a later moment during the flight! This is a addition I didn't found before on other carriers. Really nice, and making the price of EUR 4.50 really attractive!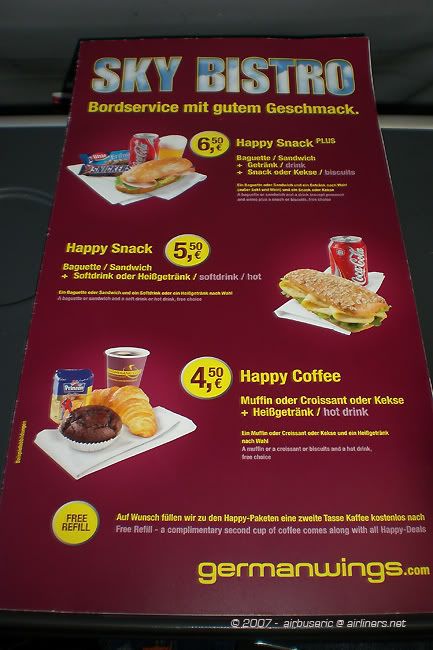 Inflight menu on Germanwings

Cappucino with a large muffin, refill included. Price: EUR 4.50
In the seatpocket you'll find a safety card and disposal bag, an inflight magazine, menubooklet and the German magazine 'Focus'. Seats are with comfortable grey leather, armrests are larger size then usual (so not reason to 'armfight' with your neighbour). Traytables showing a lot of advertisements.
Flight calm, cloudy below. Some arrival info from the flightdeck. Expected rain in Cologne on arrival.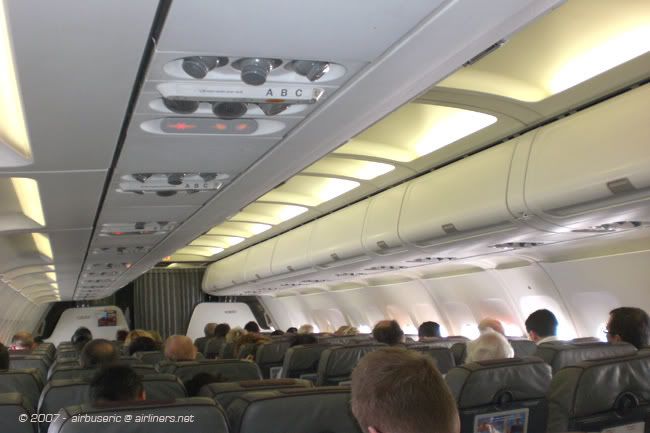 Inside the cabin of D-AKNG with Germanwings
I finished my cappuccino refill when we were already on final approach. Crew did not really check for the necessary safety regulations for landing. Some rubbish around, some traytables still down. Maybe the approach came quicker then what they expected.
We used runway 14L and indeed the crew was right. Heavy rainfall. Other traffic around were a few more Germanwings A319's, a Styrian Spirit CRJ-700 with German registration (doing testflights) and on the apron various cargohaulers were parked (UPS MD11's, Mearsk 767F's, DHL 757's).
Parking at the terminal, gate C2, but use of stairs and bussing to the terminal. Not really attractive in those weather conditions.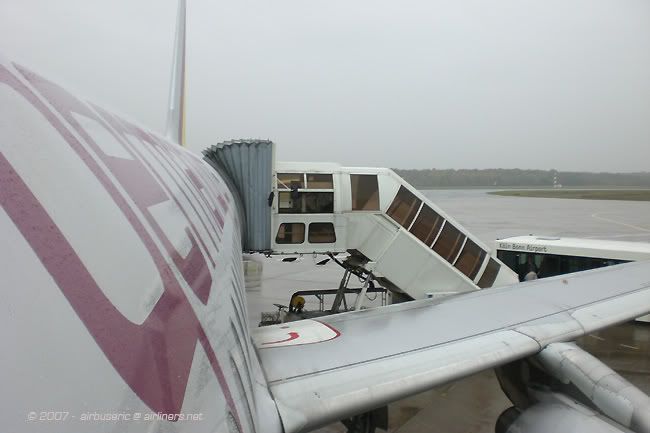 Disembarkation at Cologne, using stairs
CGN is a nice but quiet airport to spend some time. 4U flights are handled at the old terminal building. A newer terminal is used by several other airline companies (e.g. AB, X3). The roof on the old building features a observation deck, and even provides realtime flight information about departing and approaching aircraft. On the other hand; traffic is slow on weekdays. I've heard especially the Sundays are nice with many cargo airliners flying around. It was still rain but nevertheless I took some pictures.
For our next flight, on TUIfly.com, we tried check-in by use of the self-service computers which were located in the new terminal. In the beginning everythings was working, but after we got the 'you're checked in' message we didn't get the boarding pass  
. We decided to try our luck at the counter. We explained the situation and according the agent we weren't checked in yet, despite the message on the computer  
 . Strange,… but we got our yellow boarding passes. We both had our pre-booked window seat, which costs EUR 4.99 per seat upon booking.

Trying to check-in by ourselves…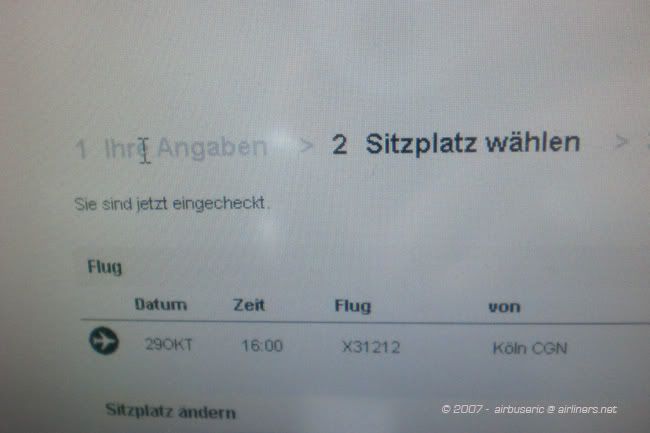 YES! We are checked in,… but: no boarding pass!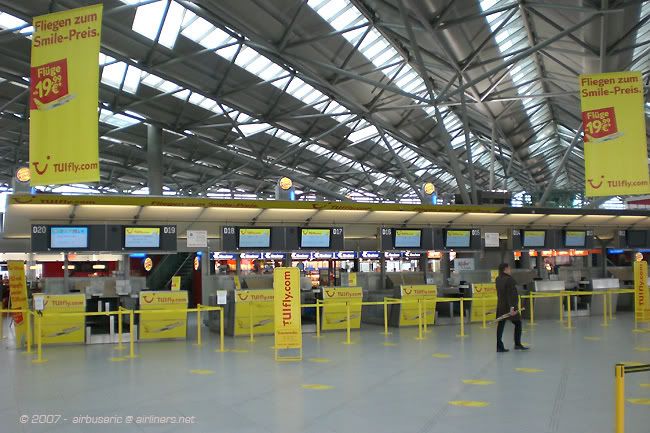 Finally we had to use one of these yellow desks
After this process we went upstairs again for some more photography at the viewing gallery. We also noted a TUIfly aircraft on the gate all afternoon already. Later we noticed that it would be our plane.
40 minutes before departure we went through security. I was checked another time again, had to open my bag for a small double check. But, the staff was nice to me, so then I don't have problems with these people.
Our aircraft was the one parked at the gate, so no delay to expect. It wasn't painted in the yellow colours, but still wearing the TUI blue and even with old Hapag Lloyd titles on the fuselage.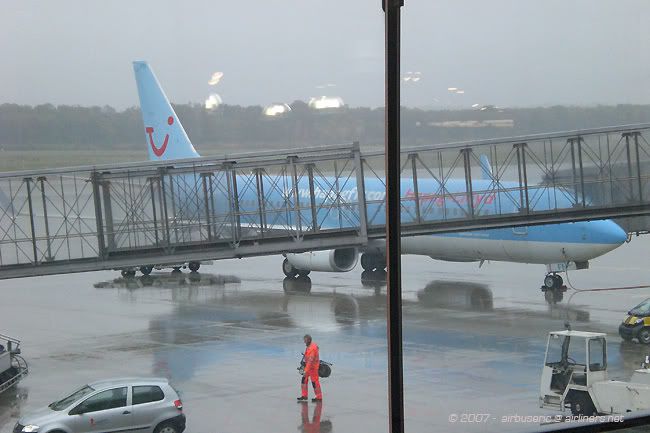 D-AHFN, a B737-800(WL) waiting for the flight to Berlin
Boarding started at 15:35hrs. I noticed a nicely coloured interiour, with Recaro seating. No seatpocket, but all stuff located in the upper part of the seat in front. This gives some additional legroom. On the other hand, I found the seats less comfortable then the older generations of aircraft seats, so I wouldn't be happy to fly to e.g. the Canary Islands in such a seat. Boarding finished at 15:48hrs when doors closed. Load just over 50 percent maybe. Lot's of seats vacant everywhere!

Colourful and nice design seating, but rather uncomfortable
CGN-TXL
Flight No.:
X3 1212
Date:
29OCT07
STD:
1600
ATD:
1550
STA:
1705
ATA:
1648
A/C:
Boeing 737-800(WL)
Reg No.:
D-AHFN
Seat:
20F – Economy Class
This was my 29th time to experience a Boeing 737-800. First time on this machine, also first experience on TUIfly.com
View Large
View Medium


Photo © Christoph Meyer
We had a very early departure. Well done! Safety demo was done manually. Taxiing to runway 14L again. Rolling takeoff in heavy rain, as you will notice on the video. Climbing was a bit slow for my personal feelings, and it took some time before we came above the clouds.
I really wanted to see the yellow TUI winglets during cruise, today they were blue instead but still very nice to look at! The winglets give the –700 and –800's a real good look to my opinion, and I prefer them above any single-aisle Airbus.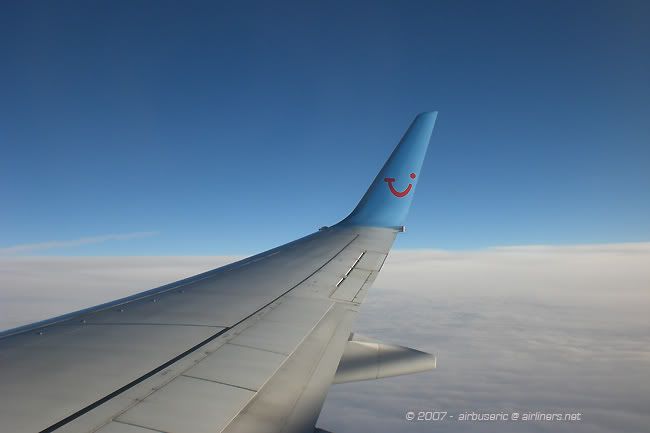 Beautiful winglet on this 737! It really fits the sky…
During the flight drinks and food were offered, but I didn't take anything. In the menu I noticed also here the additional free refill for coffee or tea products. It this something for the German lowcost companies? I'm pretty sure FR won't do that 
Drop-down screens above the seats were showing the aircrafts position in 3D format, and switching to flight information in between.

Inside the cabin on TUIfly's D-AHFN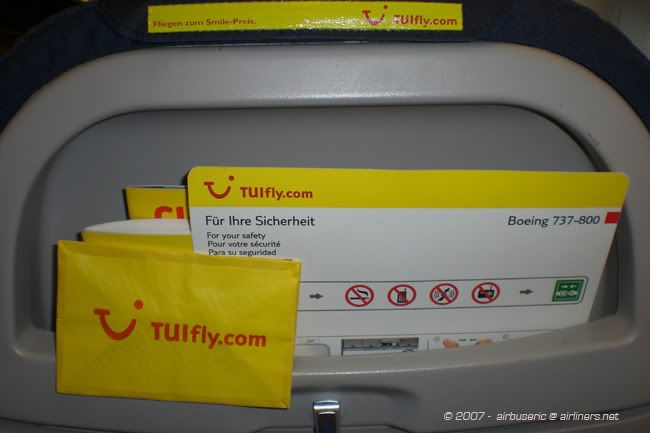 Inside the headpanel of the seat in front of you. Classic seatpockets are gone.
Closer to Berlin we came into the (highlevel)clouds again and views got less. Outside came also the darkness of the night. During approach some candy was handed out, something I also experienced on ArkyFly Airlines, also part of the TUI Group.
We landed finally at runway 26R at 16:43hrs, way before schedule. We parked in front of the terminal building but were bussed to the arrival hall.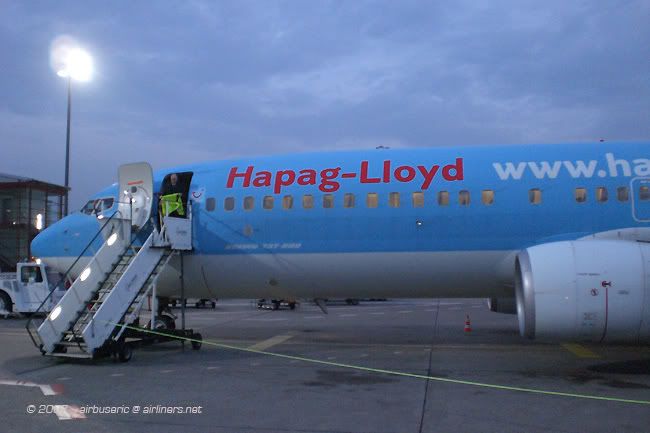 Bye bye D-AHFN… first mission on TUIfly completed !
At TXL, we had to spend some time at Starbucks before we met with a friend from Berlin. After we met him, we went for a typical Berliner Currywurst with fries and some beers. After some chatting we went for checkin for our last flight. Our last flight was on transavia.com, and they allocate seats at checkin. Of course we wanted a window at least. And we got it! After this was done, we got one more drink in the bar.
TXL airport is a bit outdated now, small waiting areas and inconvenient airport structure. It's not my favourite airport at all, but ok it still serves the needs. Security was without problems here when we entered gate A14. Boarding was announced at 21:15hrs.
We were happy to see the aircraft. It was the only B737 without winglets in the transavia fleet. This particular aircraft is planned to return to the lessor before end of 2007. During boarding we were greeted by 2 crew members. Doors closed at 21:33hrs.
TXL-AMS
Flight No.:
HV 6876
Date:
29OCT07
STD:
2140
ATD:
2134
STA:
2255
ATA:
2245
A/C:
Boeing 737-700
Reg No.:
PH-XRA
Seat:
04A – Economy Class
This became my 6th ride on the Boeing 737-700 series and first on this particular aircraft.
View Large
View Medium


Photo © Stal Guillaume
After our pushback, the safety demonstration was done on drop-down panels, in Dutch language, with English subtitles. No German language for backup. Maybe you would expect German language on this route.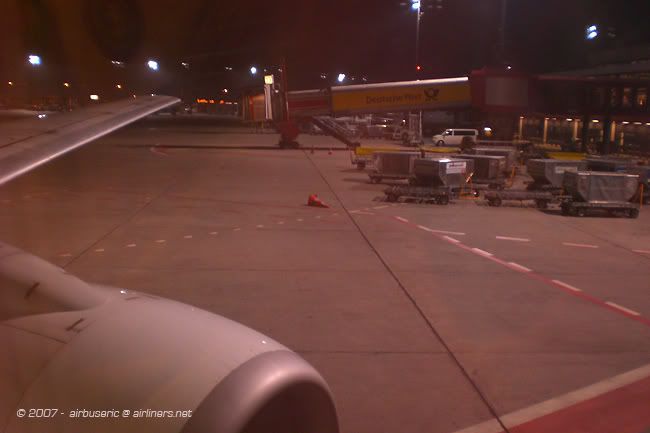 Prior to pushback on PH-XRA, a non-wingletted B737-700
The cabin was filled for about 75% and crew were 1 male purser and 2 female attendants in the cabin, the flightdeck was 50/50 (1 male captain, 1 female co-pilot).
As no other traffic was around (TXL is a bit quiet after 2100hrs, with only a QR A300 and XQ B73H departure) we were cleared for a takeoff on runway 26L. We got quickly airborne. On the left side the lights of the city of Berlin were visible. I really should go back someday to enjoy the city (instead of the airport).
As soon as the plane levelled, the crew handed out the so called 'FLYers', mentioning all prices for the A la Carte service. On HV, you've to pay for everything. Prices are a bit higher then what you'll find on other carriers. For this short flight I didn't need anything.
During the flight short comedies were shown, like 'Joey'. Also some Warner Bros cartoon came across the screen. I did my best to stay awake, and noticed smilies in the fabric of the seats. It's the first time that I noticed this, after having on HV numerous times before.

Colourful interiour @ transavia.com

"Smilies watching you"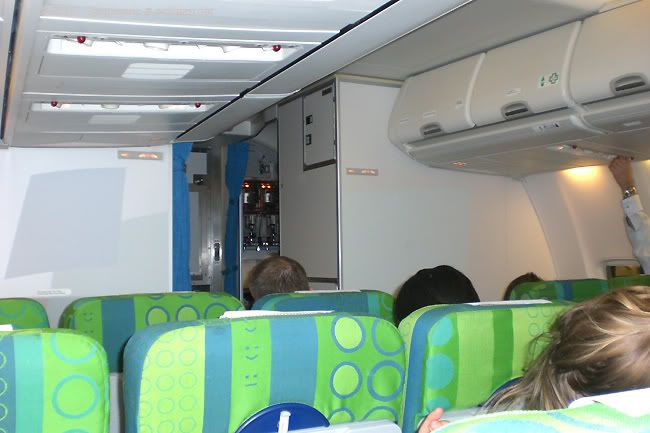 PH-XRA cabinview looking forward. A good looking a well maintained cabin.
The female co-pilot informed us about the flightrouting, and weather for AMS. Also they estimated runway 06 for landing, which turned out to be correct information.
We touched the concrete of rwy 06 at 22:39hrs, ahead of schedule. Taxiing was done pretty fast and we arrived at gate C12. Prompty we stopped and waited,… and waited. Then information came through the cabin that no staff was available for docking. Finally we waited about 5 minutes and blocked in officially at 22:45hrs. Upon disembarking we got a kind 'goodbye' of the crew.
So, these are another 4 flights to my log  
. What can I say;
EZY didn't surprise me. Despite the delay, not caused by them, more caused by the weather at AMS, and probably departure slot at STN for the inbound flight. Flight short, nice crews. The new uniforms surprised me, they look much more professional now. A bit overreacted when dealing with the turbulence. I was able to drink a coffee, but they didn't serve me. Ok, safety first. No probs. Seatpitch standard and ok. Fare was very good.
4U was doing good. Nice wide leather seats. Seatpitch less then on EZY, probably caused by the type of seats used. Service with a smile. Good to find a free refill on hot drinks. This is new for me on lowcost airlines, but a nice touch. Prices of food are affordable. Departure on time, arrival ahead of schedule. Well done! Ticket fare was moderate, but still good.
X3 was nice to fly with. New carrier for me. Seat allocation on checkin. I quietly hoped for a yellow 737-800W, I got the blue one. No probs. Will fly them again  
. Seats not comfortable, but legroom is good. I like the interiour of the cabin. Crew professional looking and very friendly. Prices of food seems on par with 4U. Good to see the flightmap on screens. I like to know where we're flying. Cheap fare. Early departure and arrival. That's what I like!
HV. Fare prices pretty high usually. Seats allocated on checkin. Prices of food are higher then on other carriers. Service is friendly, young crews. Cabin interiour in fresh lime/green colours. Very nice. Seatpitch is worse then on the other 3 carriers. Interesting aircraft for me this time. Operation on schedule this flight. No probs to fly them again.
This trip, X3 is my personal best closely followed by 4U. HV will be third, because EZY was too standard this time.
I hoped you liked it. Comments and replies are always more then welcome  
Cheers,
Eric
[Edited 2007-11-18 10:29:10]
[Edited 2007-11-18 10:33:43]