I have recently returned from 3 wonderful weeks in Australia. Myself and My wife spent our time on the East Coast visiting Sydney, Melbourne and Brisbane.
the 3 weeks just flew by and we had a great time.
Anyway, my routing to get to SYD from DUB was BD from DUB-LHR then VS from LHR via HKG then on to SYD.
In DUB we checked in at the BMI counter and we were given all our boarding cards through to SYD. This was a nice touch as it meant when we transferred from T1 to T3 we did not have to go to the ticket desk. However, when we arrived in HKG, because our boarding card was a BD one we had to get it changed to a VS one. Not major issue but a bit inconvenient.
I did take a good number of photos, however I will say this:
I did not get any VS pictures due to our flight to SYD was a night one and lights were put out fairly quickly after meal time. Also, it was made quite clear by cabin crew and what could and could not be used.
Given it was my first time to OZ, I was not sure of the attitude to taking pictures on board so I refrained (well did get one or two). However, whilst at the airports, I did take plenty of pics.
We flew in PE with VS and have to say I like the product. The leather seats and dedicated crew do make a difference. The only thing I do not like is that the arm rest do not retract and do to a certain degree limit some of the potential seat width. Given the fact were were doing LHR-SYD in one go, it made a real difference being in PE.
A flyglobespan plane 5 hours late into DUB.
a href="http://photobucket.com" target="_blank">
Our BD A320 to take us to LHR
In total we travelled for nearly 30 hours door to door to get to SYD.
I have to say I found Sydney an wonderful place and we really enjoyed ourselves. People were so friendly and relax.
As part of our trip, we headed up to the hunter valley to do some old style aviation
What a way to see the area. Our balloon was four time the size of our partner.
Travelling at 6 knots and about 2,000ft, the balloon flight was unbelievable.
A few days later, we headed down to Melbourne to go to the Melbourne Cup (For those who don't know, this a horse race and it is one of the richest in the world. Over 100,000 people attended the Melbourne Cup)
I was looking forward to this as it was my first time to fly on Virgin Blue.
The flight was about 1hr 10mins long. We flew on a 737-700. I have never flown on a 700 before and I must admit I was pleasantly surprise. There was ample room and the seat was comfortable.
I did like the quirky attitude of the crew on this flight and they tried to make the whole flying experience really enjoyable.
DJ gate at SYD
Our 737 taking us to MEL
We really enjoyed our time in Melbourne and the overall experience of the Melbourne Cup is something we will always remember.
We stayed for 3 days and then headed back up to SYD on DJ. Again, excellent crew. This time we flew on a 737-800. For some reason, it felt more cramped than the 700 and reminded of FR. However, flight was good with 100% LF and crew were attentive. Hear are some pics from MEL
Singapore and Malaysian (777 and a 747)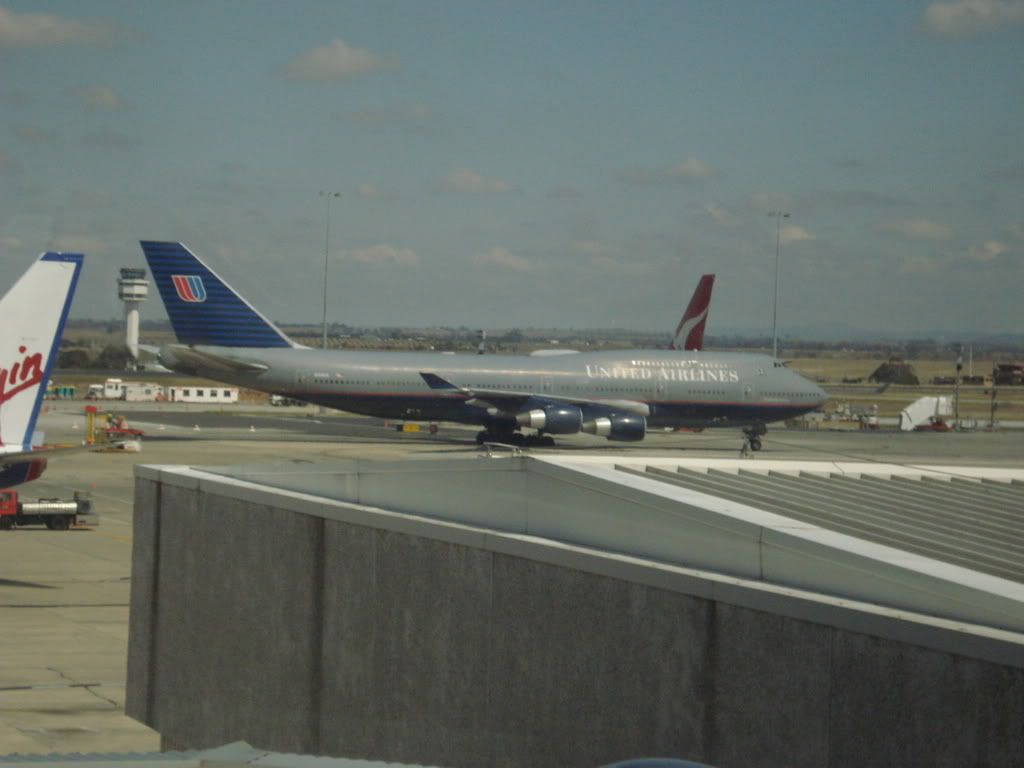 UA. I assume this 747 is heading to LAX??
We then headed back to Sydney for a few days before we headed off to Fraser Island. Getting there we would be travelling on JQ on an A320.
I was really excited about this and it was not because we were flying with JQ. It was because we had a 7.30am flight from SYD and I knew I would have an opportunity to see the giant that is the A380.
We headed down to Gate 59 in T2 of SYD were you can observe the runways. 20 mins ahead of schedule the A380 came into SYD. My wife was wondering why I was all giddy then she realised. She too could not get ouver the shear size of the plane. The landing looked really smooth and gracious.
A380. Apologises but the zoom on the camera is not great.
We were then brought down to earth by getting on our A320 bound for HVE. I was hoping to get a few more snaps of the A380, however we took off on the runway furthest away from the international terminal.
Rex, a regional airline I think just operates around south east Australia
Fraser Island is an amazing place and is really an eco island. All the plant and animal life was spectacular. We only spent 2 days there before heading on to Brisbane.
We flew to BNE from HVE direct. It is only a 40 min flight and this gave us an chance to fly on a dash 8. Again another first for us and also a first to fly QF. HVE is a very small airport with only 2 aircraft stands and about 5-6 flights a day. It is rather quaint and had everything you need.
One very stange thing I found. We did not have to go through any security. Whilst the security area was there, it never opened. Given this day and age I was very surprised.
Our Dash 8, has a max pax load of 32 and was 95% full. The flight was nice, however we took off at dusk and landed at night so again no pics.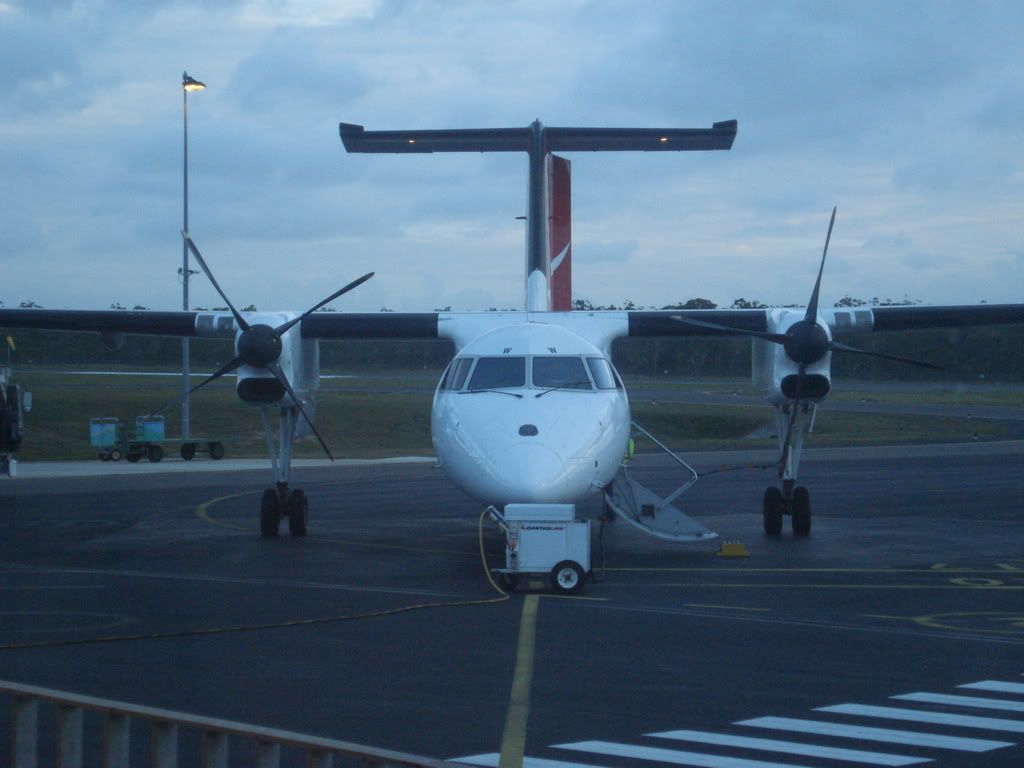 Our Dash 8 being prepared to bring us to BNE.
Brisbane is a small city but easy to get around. We spend 3 days there and 2 of them we went down to the gold coast. We were like a couple of 12 year olds at Dreamworld and Wet n Wild (Theme and water parks).
We flew back to SYD with QF on a 737.
Our 737 being serviced for the shuttle back to SYD
A few QF's around the domestic terminal in BNE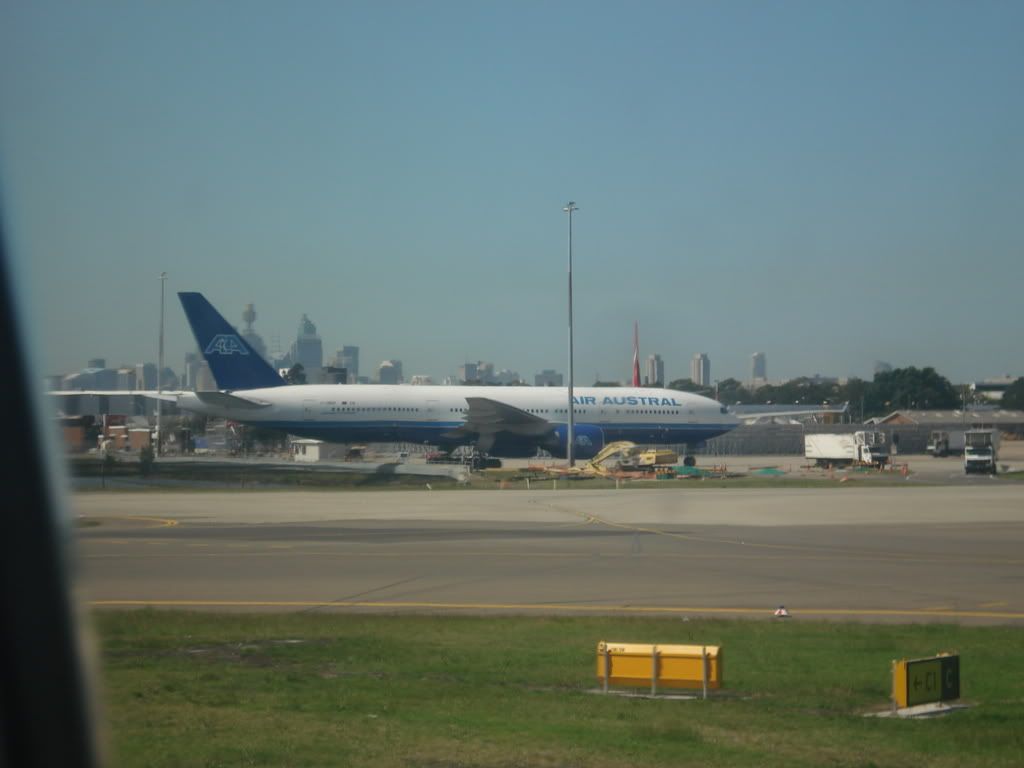 Air Austral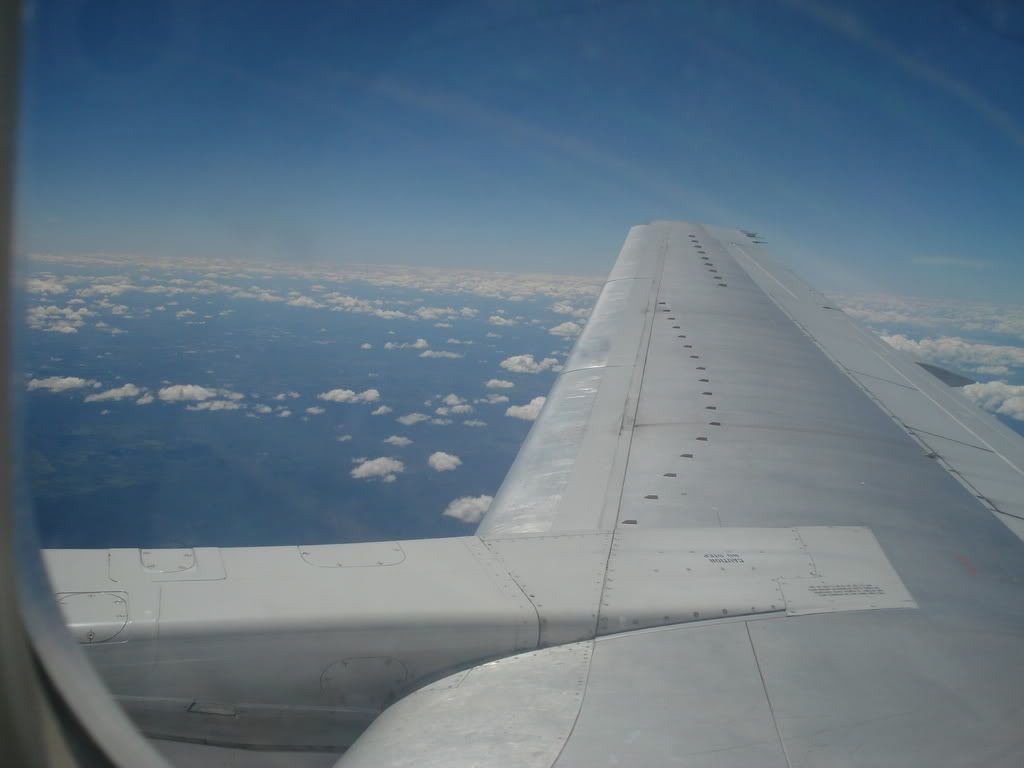 in flight
After another couple of days in Sydney, it was time to leave and head back home.
We flew back with VS and this time we were in economy. Have to say, I did not enjoy the return flight home at all. The economy seats on VS's A346's are not comfortable and you could only get limited sleep on.
We returned home to DUB via LHR with BD tired and exhausted from VS flight. Whilst I think Vs are good in PE, there seating in Y is not great and any future long haul flights, I will be trying another airline.
Just a few more comments to make on VS and the other airlines I flew with.
1. VS's food choices are becoming quite poor. It felt like I was flying with EI when on all the legs we were offered Beef or chicken or the vegetarian option. They need to update there meals.
2. VS provide ear plugs in PE and not in Y. It cannot be that expensive to provide them in Y. They do make a huge difference in my opinion if you want to sleep.
3. DJ was a fun airline and if I am back in OZ again I would have no hesitation flying them again.
4. JQ seem like a good airline and growing fast. With 787's they will be a real force.
5. Flying QF reminded me a legacy carriers in Europe. Free meals and drinks and all the bells and whistles that go with a national carrier.
Anyway, once again apologises no interior pics, however, I will be happy to answer any questions you may have.
Thanks
JWMD123