One Last DC10: BHX-AMS-MSP-DTW-AMS-BHX with KLM and Northwest Airlines
The idea of flying once more on the DC-10 had been with me for a long time; my only two flights thus far on this beautiful aircraft had been with a holiday charter, in a rather ropey DC10-15, it was my aim to fly the -30 series. In 2004 I had been cheated by fate; I was all set to fly PLH-NQY-LGW-MSP-LGA-DTW-LGW-PLH with sectors on the NW DC10 and a couple of DC9s for good measure. Parental permission at just turned 18 to fly to New York on my own for a few days was most welcome, however illness intervened when I was struck down by the worst bout of flu I have ever received. With a raging temperature approaching 103, there was no way that I could stand up, let alone look after myself on such a long trip. The worst part was that on the morning I should have departed, I could see from my house the very flight which I was due to have been on, cruising smoothly across the pale winter sky – 'I
should
have been on that' I thought bitterly.
So, in the late summer of 2006 I was often to be caught browsing the fares, thinking about giving it another go – but discounting it due to the cost. Now, I'm adventurous, but whilst there was another option apart from flying with Bangladesh Biman, I thought it was worth a shot. After much debate and just a few weeks left before the very last flight took off for the US from Schipol, I let my whimsical nature get the better of me, dug deep into my pocket, (well, student loan actually) and booked one last trip on the DC-10.
Now, a passion for travelling fairly frequently to far off places and maintaining my position on a fairly tough degree course isn't the easiest, or as some might say the most sensible of things to do, so it normally means that I have to have an 'official' reason for visiting wherever I am going. As luck would have it I pulled a trump on this trip; just a few weeks before I left we had been given a lecture by Martha Schwartz, an internationally renowned Landscape Architect and, one of her most talked about designs; a public space in front of the new courthouse, was located in none other than Minneapolis. Studio days were Monday, Tuesday and Thursday, meaning that if all went to plan, I could get the whole trip done without missing any time off anyway!
Friday 27th October 2006
Travel or no travel, I still needed to get coursework done for the following week, so I spent most of the previous night up drawing sections for a design, finally grabbing a couple of hours sleep before my alarm clock signalled rudely that it was time to rise and head for the airport. After my last failed attempt there was no way that I was going to let anything get in the way of this opportunity, so left with plenty of time to spare. I took a combination of public transport through Birmingham, arriving at the airport to collect my boarding passes at just gone 8am. Being early meant that the terminal was refreshingly quiet; no queue for the business class check in desk, which I made use of thanks to my Flying Blue status and, only a couple of people in line for the other desks. The agent seemed a little surprised that the DC10 was still in the system and flying, securing me a window seat on the right hand side – something which a 'technical problem' had prevented me from doing online. No luggage to check; as it was just a weekend break I was making do with hand luggage only – had enough room in my rucksack for a couple of changes of clothes and my camera, so that was all which really matters!
With the prospect of an unnaturally long day ahead and, after so little sleep, I needed a dose of coffee and some chocolate for energy, so after passing through security I made a bee-line for the nearest café, then slumped down into a chair overlooking the apron and T1 to watch the planes.
BHX-AMS
Carrier: KLM Royal Dutch Airlines
Flight: KL1424
Aircraft: B737-400
Registration: PH-BTG
Date of First Flight: 5th April 1994
Estimated Departure Time: 11:15
Actual Departure Time: 11:12
Estimated Arrival Time: 13:35
Actual Arrival Time: 13:04
Total Flying Time: 52 minutes
The flight had arrived into Birmingham well ahead of schedule and correspondingly boarding was announced a good deal earlier than usual. The aircraft was once again a 737-400, I always hope for the -800 or the -900 series which occasionally crop up form time to time, but no luck in that respect today. The crew and ground staff were on top form and, in no time at all, we were pushed back and heading for Runway 33, pausing for a moment to let one of FlyBe's many DHC8-400s clear, before lining up and powering down the runway in a typically enjoyable -400 series take off. Unfortunately I was still not awake enough to have noticed that the camera was still set to a shutter speed of 2500/s for some reason, so hence things came out a little dark until I corrected my error shortly after departure.
The patchwork quilt that was England below us, punctured by the occasional airbase or conurbation, slowly gave way to the North Sea and with it an announcement from the Captain that the descent into Schipol would begin shortly. Today the Netherlands appeared to be masked by a heavy grey cloud which buffeted the aircraft a good deal as the plane dipped down into it, although momentarily revealing a beautiful view of the Dutch coastline below;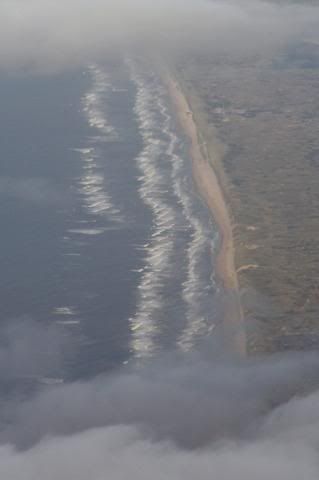 AMS must have been rather busy, as we were held in a pattern for quite a while, before banking over the city and lining up with Runway 27, touching heavily down and applying reverse. I prefer this approach; not only does it mean you don't have to taxi all the way in from the Polderbaan, but in addition you fly over the Se Bos park which is a great place to go for a walk and relax in, not to mention a useful precedent for many of my studies.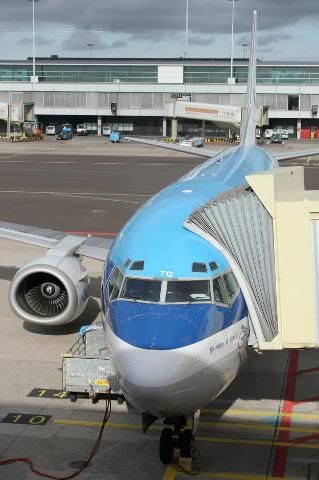 By the time we'd docked at the gate there was only just over an hour before boarding for the next flight would commence, so I decided not to visit the viewing deck on this occasion, instead taking plenty of pictures of the two NW DC10s present from within the terminal – one of which I would soon be flying on.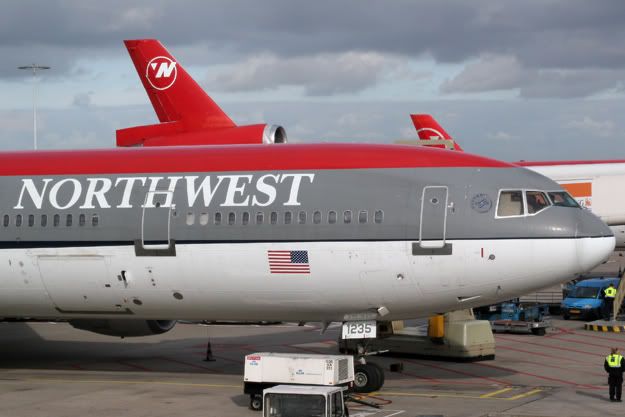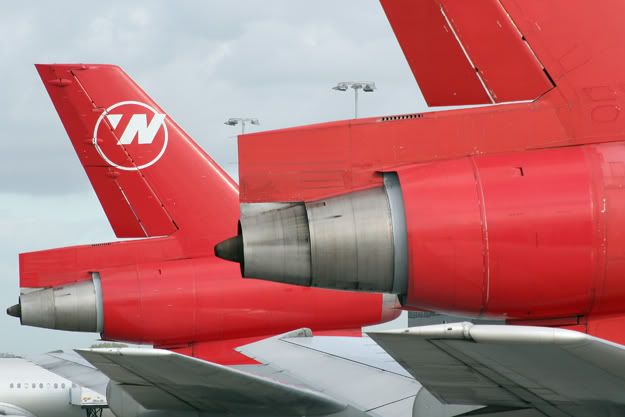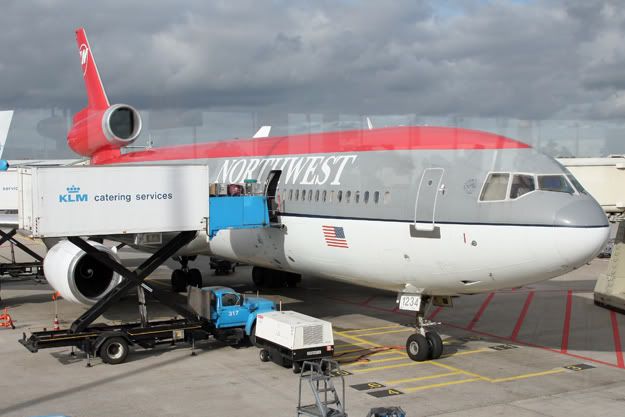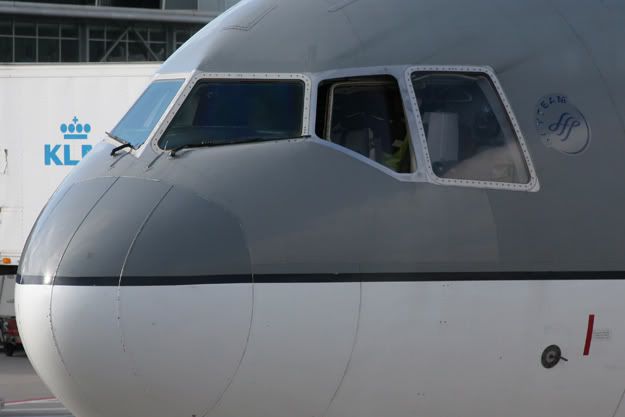 The boarding process began with a thorough interrogation by what I think (IIRC) was an external security firm, contracted by Northwest to question and scan passengers again before boarding. No problems here, although they were at first suspicious of my reasons for such a short trip, however my assurances that I was just an enthusiast were taken kindly – no doubt I was not the only person to fly for this reason in the last few weeks of NW's DC10 operation. Once more I was able to make use of my FB card for priority boarding. 'At last' I thought, as I turned to stroll down the air bridge – finally I was about to fly on the DC10-30.
AMS-MSP
Carrier: Northwest Airlines
Flight: NW55 (KL6055)
Aircraft: McDonald Douglas DC10-30
Registration: N234NW
Date of First Flight: 24th December 1974
Estimated Departure Time: 15:35
Actual Departure Time: 15:51
Estimated Arrival Time: 17:35
Actual Arrival Time: 17:20
Total Flying Time: 8 hours 29 minutes
A friendly greeting was given at the door by crew members, who directed me to my seat in front of the right wing. Turning to walk down the cabin it was evident that this Douglas was no spring chicken; the appearance of the cabin in general wore the tell tale signs of a long and uneasy life in service – but I wasn't here to be impressed by the delicacies of modern (or not so) cabin design, I was here for the aircraft itself.
The flight was 100% full, overbooked I seem to remember, and boarding took a little longer than scheduled to complete – perhaps due in part to final goodbyes from some of the crew, for whom this was their last flight out of AMS before moving to pastures new. Soon though the nose was grasped and hoisted into the air by the tug, signalling that my journey was about to commence. Luckily traffic was light, so after a brisk taxi to the start of Runway 24 we were lined up and ready to roll. The three mighty engines behind and beside me sighed and began to spool up, filling the cabin with an aggravated mechanical roar, something alone which to me justified the trip in an instance. With a slight jolt the brakes were released and the plane surged forwards, eagerly eating up the runway before pitching back after around 45 seconds and creeping steadily into the sky. The canals and roads turned slowly into lines barely distinguishable, whilst the first clouds whipped past the window.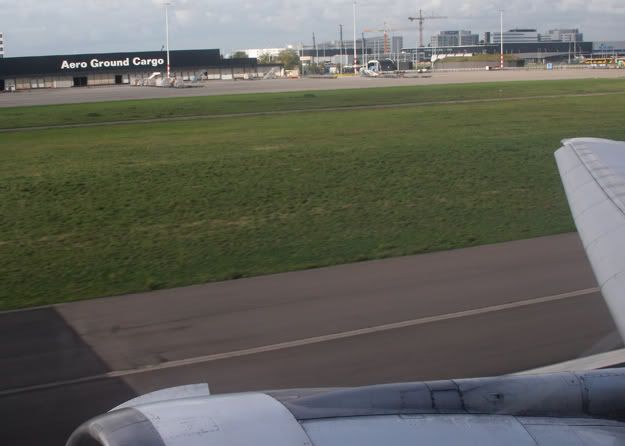 Once more the Dutch coastline passed below, this time as we climbed out over the North Sea in the opposite direction, destination America, as an inbound KLM 747 passes by.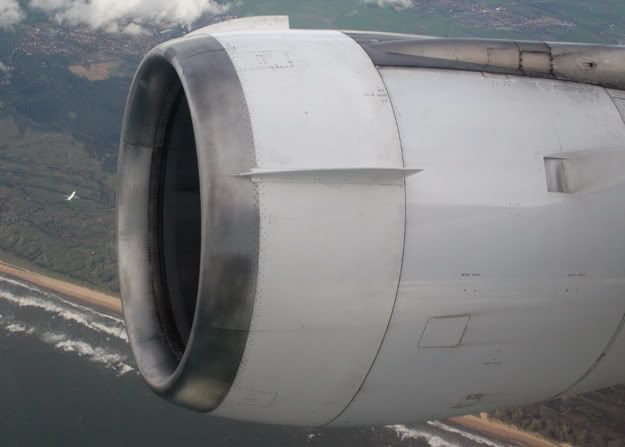 Not long after settling at cruise the cabin attendants brought through the first service. You constantly seem to hear the majority of American carriers being slated for their poor quality of service, so considering that I was flying NW for the first time I really had no idea of what to expect, so I insured that I kept an open mind… certainly no complaints from the snack though; a tasty bag of pretzels and some orange juice.
For at least the first hour of the flight I was drawn by a slightly strange compulsion to stare continuously out of the window at the engine and, beyond to the wispy clouds and North Atlantic far below. It's such an unnatural yet surreally beautiful sight, when you're up in the sky, removed from the issues and cares of the world below – flying being my own little way of escaping the depression of normality and other issues. My attention was rapidly brought back by the smell of the dinner service commencing – and it certainly smelt good. I chose the 'Pangang chicken' option and to wash it down the wonderful combination of red wine and a coffee – gambling on the fact that because red wine normally sends me to sleep, the coffee would counteract this…well, there's logic there somewhere. Not only did the food smell good, it tasted good too and there was plenty of it;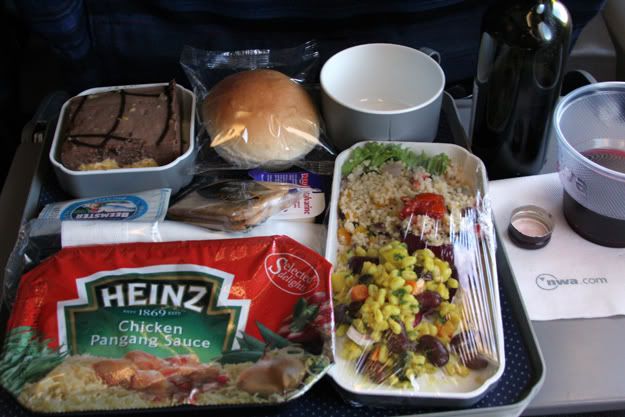 I'd grown tired of staring at pretty much nothing out of the window, I felt sure that the engine wasn't going anywhere soon and that I could look at it again later, so settled back in my seat to watch the first movie – Disney/Pixar's
'Cars'
. Going to the cinema is something I hardly ever do, so it was nice to catch up with one of the films which I had actually wanted to see but just never got around to. The drop down screen onto which the film was projected brought back long forgotten memories of my last DC10 flights as a young child; excitedly watching the map showing our aircraft drawing closer to the island of Menorca. After the film there was very little else to do; the next screening didn't really appeal to me and I was travelling light so therefore didn't bring a book, after a quick flick through the magazine, I elected to relax and enjoy doing nothing by staring back out of the window, listening to a few relaxing songs on my MP3 player – taking the occasional picture of the dramatic scenery.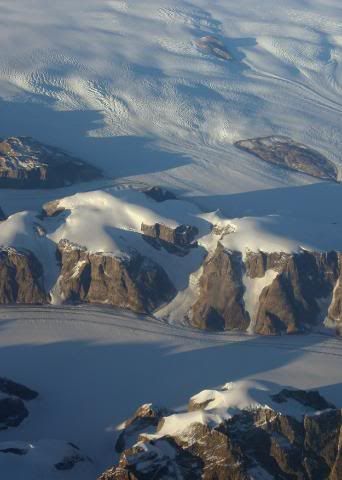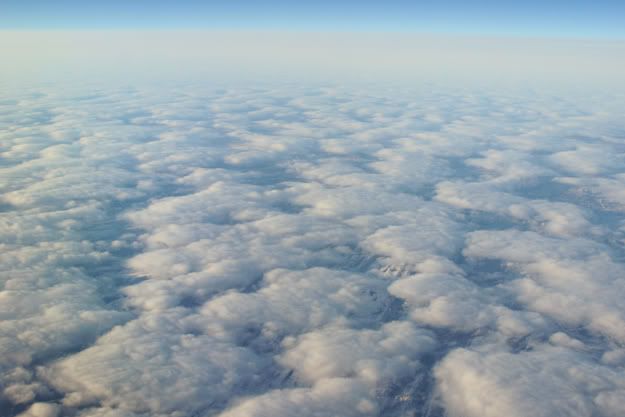 After Greenland had passed serenely below, my legs decided to remind me that they were still attached by cramping, which was a good excuse to take a walk around the cabin and collect a few photographic mementos of the flight. I don't normally go much further than the odd cabin shot, but as I was very unlikely to ever do this again, I took a few more pictures that usual.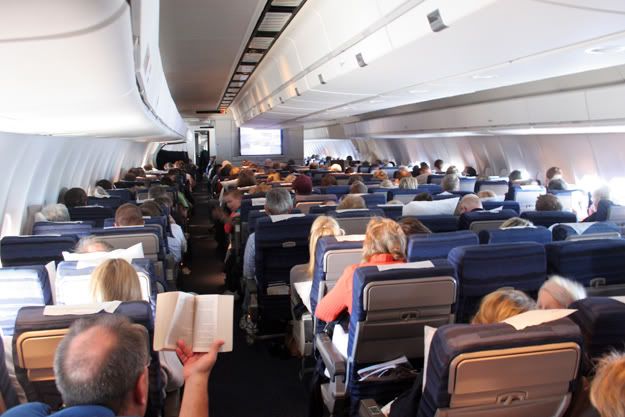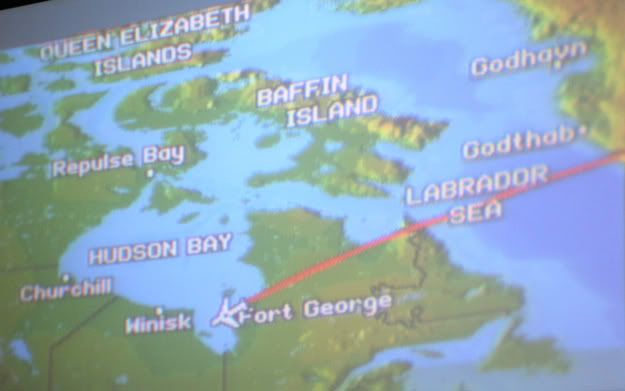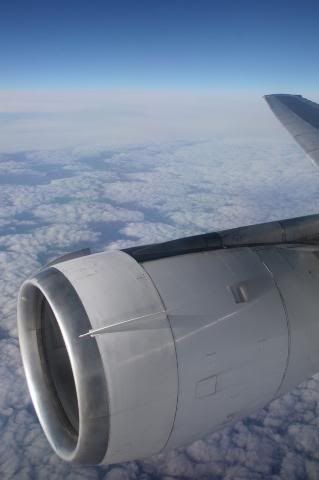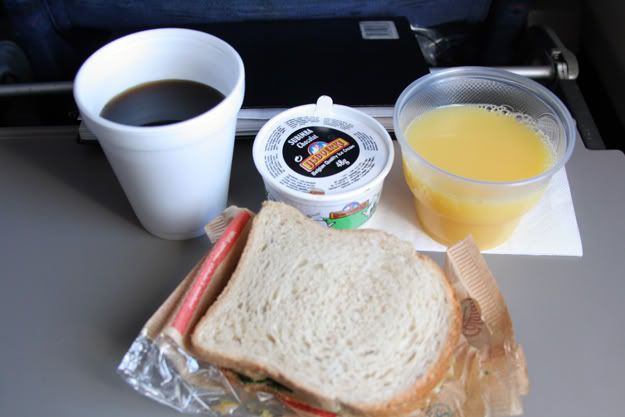 With about an hour and a half left to run another meal service was carried out, once more presenting a tasty snack in the form of a warm pannini/toasted sandwich, ice cream and a drink. Ah yes, here then was that reoccurring dilemma so often initiated by one of the airline industries oddest of habits; do I eat the ice cream and let the sandwich go cold, or, do I eat the sandwich first and whilst doing so, let the ice cream melt? Decisions, decisions indeed! Nevertheless, both were very nice and, by time I had finished a good deal more of Canada had slipped past below. Towards the end of the flight our cruise was 10,400m, which, with a little slip in volume from the engines, we gradually descended from over Minnesota.
The sky was already turning a light gold in the West; the sun dipping to meet the horizon as we ourselves banked and made several turns towards the airport, before lining up with runway 30L some way ahead. A rumble from below me signified that the gear had been lowered, whilst I continued to gaze out of the window, admiring parts of America passing underneath in the golden light which I had never before seen. Objects on the ground slowly grew larger and more distinguishable until the threshold appeared below, followed by a smooth landing which brought to a close what I anticipate to have been my last ever flight on the DC10.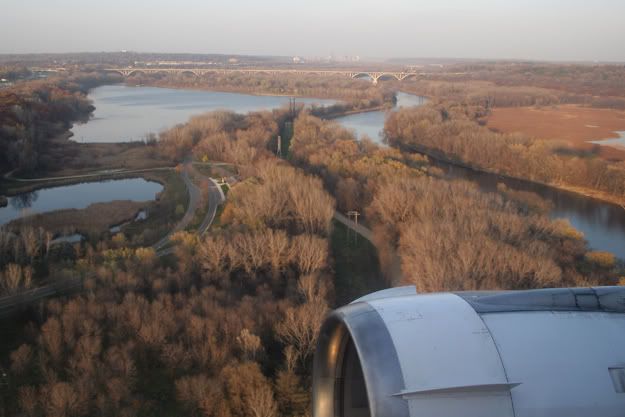 The atmosphere within the cabin changed the moment we pulled off the runway and the announcement was made that we had arrived – just in case anybody had somehow failed to notice this fact. For those not returning home, the purpose of their trip had yet to even begin; looking around at the fellow passengers each wore a different expression on their face which masked a variety of thoughts, yet one thing was for sure - each and every person was now focussed on leaving the aircraft as quickly as they could. I though was in no such rush, preferring instead to savour the experience as long as possible. Once just about everybody else had desembarqued I tentatively asked the crew if it was possible to take a few pictures of the cabin and perhaps to see the cockpit, considering the still fairly recent security scares regarding Transatlantic flights, I was unsure of the reception such a request would receive. However, they were most happy to oblige, so I snapped away before saying hello to the guys 'up front', who had flown me from Europe. I was quite interested to hear of their plans for the future, now that the final retirement of the DC10 from Northwest's fleet was just a few months away. It's pushing my memory, but as far as I can remember the Second Officer was progressing to another position within NW, the Captain was converting and stepping up to fly the B747-400 and the First Officer was heading onwards to work for Net Jets. Kindly they let me take some pictures, before I stepped off and headed for immigration/border control.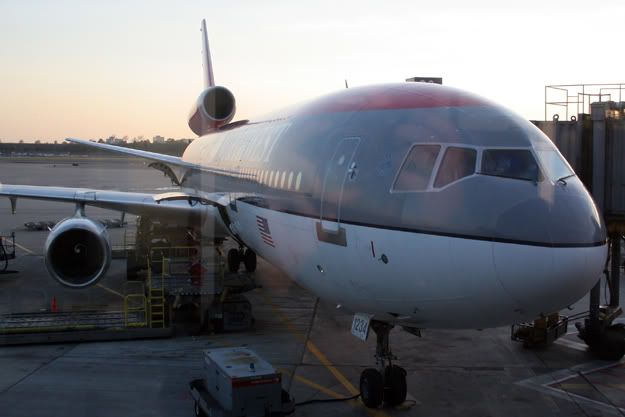 Everything that day had gone perfectly, so I should have known it to be too true. I was last in line for immigration control having stayed behind onboard, but conscious of saving time, I had carefully filled out all relevant sections on my landing card before we'd even touched down, double and triple checking everything. The lady to whom I was directed though seemed suspicious of me from the outset, issuing a series of surprisingly blunt questions about my trip and it's purpose, who I was and just why I had come to America only for a weekend. Obviously not wishing to lie, or even bend the truth, I cordially explained the reason for the trip - regarding my desire to fly on a particular aircraft, adding in that I had chosen to stay on in Minneapolis in order both make the trip more worthwhile and to see a famous design, which I felt would benefit my studies.
'Ah, so if you're a student how can you afford it?' – now I would not normally be worried by such a question, but the tone of her voice was not in the least bit forgiving. My explanation was honest to the core – I work wherever possible, keep living costs right down and stretch my student loan as far as it will possibly go… Still though, I was met with a deepening frown and further blunt questions. I had suitable cash for my stay, albeit the majority in GBP to exchange and, a hotel pre-booked and already paid for. The room reservation and a confirmation of my return travel were both in my diary, which I produced on request and opened at the relevant page to take out the documents. Unfortunately, the last time I had opened it up was to write in the registration of the DC10 on which I had just flown into my log that I keep at the back; the paper I printed with the reservations on had fallen out onto may lap, so quite normally after writing in the aircraft details, I had replaced them on the open page and closed the diary again on them to keep safe. But oh dear, this meant that when I extracted the reservations, the lady noticed my log… 'What's this?' came the sharp question, which I knew to be inevitable the moment I myself had realised which page it was opened up onto. The presence of my hotel reservation was seemingly no longer of any importance; 'I don't believe you, you're not a student – who are you?' To be fair, I can understand a modicum of suspicion at seeing this, the AMS-MSP sector had been the 107th flight I had chalked up just for that year – indeed, conveniently listed were my entire travels, locations, dates, times and registrations.
I could do nothing but repeat the information I had given her previously (one can't help telling the truth!), so she gathered the documents, including my diary and my passport, and disappeared to talk with her colleagues and superiors. By now I was the only person left, having been so for quite a while – and was getting rather worried; I love flying, but I didn't really want to be sent straight back across the pond again! After a good deal of conferring with some of the other officers, she returned. Evidently they had not taken it so seriously, as she said I would be allowed to enter, but that
she
still didn't think I was who I said I was… oh well! So, after almost half an hour of considering the merits (not) of deportation, I was finally in possession of another US entry stamp. I don't 'do' angry, bitter or resentful in these situations; it's feel always better to stay calm and I don't see the point in making other people's jobs difficult, but I have to say it wasn't quite the welcome I had been expecting and is still something which I can vividly remember, even after a year. Nevertheless, I was now 'in' and decided promptly to just accept it as a life experience and concentrate on enjoying the rest of my trip.
Making sure I had everything, it was time to leave. No luggage to collect, so I headed straight out to the hotel busses, and phoned for the relevant shuttle to pick me up. When booking accommodation I had been pleasantly surprised at the affordability of it all, the Hilton Garden Inn being especially so. Yes, there were a couple of cheaper options, but I seem to remember these did not have a free shuttle bus, something which I have learnt normally saves you a considerable amount in taxi fares, let alone hassle! I was glad to see my bed that evening and was astounded at the size and amenities in the room; a far, far, cry from what a similar price had afforded me in New York the previous January, and leaps ahead of any 'budget' UK hotel I have ever stayed in. Similarly, the appearance of room service that evening with a selection of extremely nice, if unhealthy, nibbles rounded the day off nicely!
Minneapolis itself was a really nice city and the people I met very friendly, if eerily deserted in the centre during the weekend, but this was good in a way as it was peaceful. Saturday was indeed bright, sunny and quite warm, so I spent the day walking around the river area, before locating the square in front of the Minneapolis Courthouse, designed by Martha Schwartz, which I had wanted to see. This was actually the only real disappointment in my trip, the description given during her lecture was not overly fitting or accurate; firstly I felt the paving plan was strongly dominated by a vernacular geometry associated too closely and far too literally with the buildings appearance. The 'mounds', designed to represent Minnesota's rolling countryside were not as big or prevalent as they could have been either, in order to generate maximum impact. Still though, I shouldn't digress, it was useful to have seen it and decided for myself, with my own eyes. Perhaps anyone else who has visited could share their opinions?
A few pictures from the city;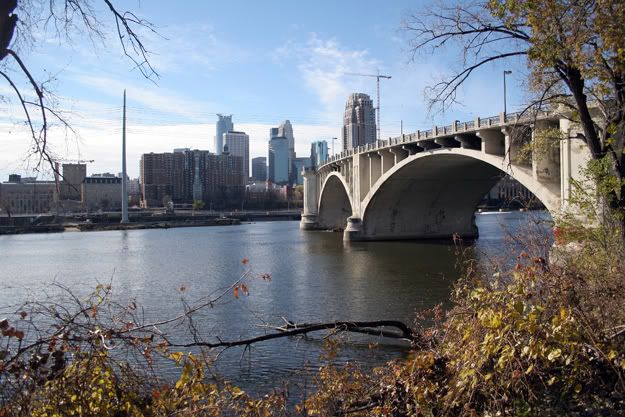 Sunday 29th October
It was though literally a flying visit, so come Sunday morning I took the shuttle back to MSP and attempted to check in for my flight home – only there was a problem! According to the system, I had never actually left Amsterdam, hence my return reservation had automatically been cancelled. Thankfully the agent was most understanding and could see that I was definitely present with a boarding stub for the flight concerned, so issued me with a new reservation which I was most appreciative of… after all the hassle getting in I didn't really want more troubles leaving again! I'd arrived at the airport early because I wanted to have a look around the terminal and catch a bite of lunch, my previous trips to America had all been routed through JFK, so I was looking forwards to seeing a few of Northwest's infamous DC9's.
Selecting which flight to take between MSP and DTW was a surprisingly difficult operation; did I choose a B752, a B753, the A320 series or one of the DC9s? It was quite a close call between the DC9 and 757-300, but in the end I went for the latter – leaving myself an excuse to come back one day and fly the 9s… I have a feeling they will be around for a while to come!
The aircraft arrived on stand a little late, although boarding process took less time than I expected considering the size of the 'long pencil' - the length of this aircraft really is incredible. Not only was this my first time on the -300 series, it was my first internal commercial flight within the US and, it wasn't long before the tug motioned the aircraft backwards to enable our taxi towards runway 12L to begin.
MSP-DTW
Carrier: Northwest Airlines
Flight: NW756 (KL6756)
Aircraft: Boeing B757-300
Registration: N58?NW
Date of First Flight: Unknown
Estimated Departure Time: 15:10
Actual Departure Time: 15:34
Estimated Arrival Time: 17:55
Actual Arrival Time: 17:43
Total Flying Time: 1 hour 9 minutes
Take off was brisk – despite being much larger, the 300 seemed just as sporty as its smaller relation; rotating into a steep climb as we powered away from the ground.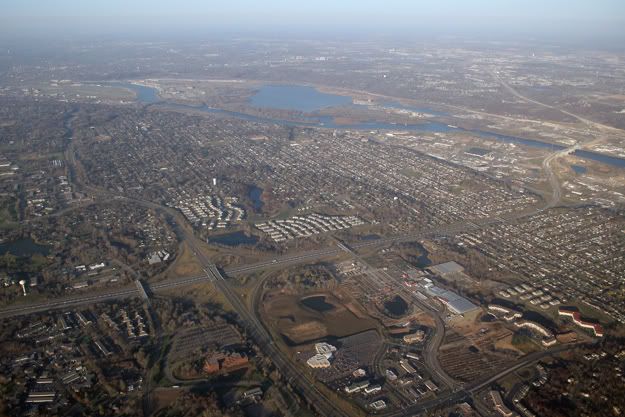 Minneapolis and then St Paul both receded into the distance behind as we headed east towards Detroit. The sky was clear, if a little hazy, so I spent much of the flight peering down at the ground – fascinated in part by the strange arrangement of the fields.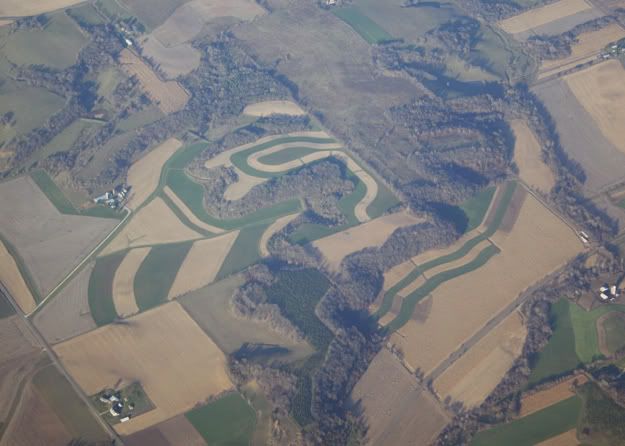 Again, I was unsure of just what level of service to expect onboard, although once more I was pleasantly surprised; a light snack and drinks service commenced after about half an hour into the flight, I forget what the snack was, but asked for a sprite to drink and was given a whole 330ml can, which was a first – normally it's those tiny cans which disappear in a couple of mouthfuls! I had a quick flick through the magazine, but resettled my gaze out of the window. The seat was much more comfortable than the DC10's had been, feeling like it had more padding for your back, I didn't try out the reline though; as on such a shot flight I didn't feel there was any point inconveniencing the person behind me.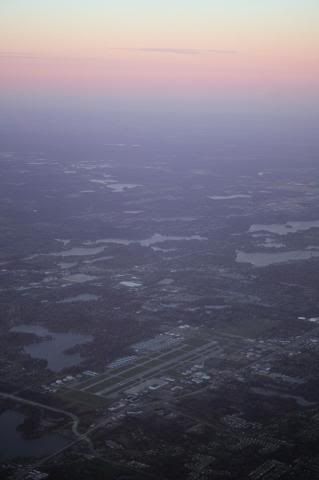 The sky began to darken above and turn a deep pink as we tracked a course high above Lake Michigan, then another half an hour or so later an announcement by the captain signalled the start of our descent towards Detroit. Soon the city was spread out below, appearing like a geometric carpet stretching in the distance towards the shore of Lake St Clare. After approaching in parallel to a company A319, we touched down smoothly on runway 22R almost a quarter of an hour ahead of schedule. Annoyingly, I completely forgot to take the registration of this aircraft, I usually take a picture of it just in case, but on this occasion the shot was too dark and grainy to pick it up.
There wasn't much time until my next flight back to Europe left, just enough in fact to have wander around the duty free and make a few purchases, before dashing back for boarding. I had to wait for ages for the items which I had purchased to be delivered to the gate – so long in fact that by the time they arrived I was one of the last passengers to board!
Back in MSP, the check in agent who reactivated my reservation had informed me that I'd been reallocated to an exit row window seat, as an apology for the problem. As I wasn't at all bothered by my reservation going walkabouts I felt that this was a very kind gesture – indeed once onboard the A330 it was amazing just how much extra legroom there was! The only slight damper was that I didn't have a window, but to be honest as it was already dark this didn't really bother me. Once fuelled and fully boarded we pushed back; I'd been on the A333 before, but only with Aer Lingus on the very short DUB-SNN route, so this was my first long flight on the aircraft. If I'm remembering correctly we taxied towards 22L, however, a special announcement from the cockpit informed us that we'd have to wait a while to burn off excess fuel. This surprised me a little; hardly an economic or environmentally sensible option – so I presume such a measure was used because the aircraft was above its MTOW. Both engines powered up for about four or five minutes, before falling silent and another announcement revealed that we were indeed now ready to depart.
DTW-AMS
Carrier: Northwest Airlines
Flight: NW54 (KL6054)
Aircraft: Airbus A330-323X
Registration: N807NW
Date of First Flight: 1st March 2004
Seat: 29A
Estimated Departure Time: 19:10
Actual Departure Time: 19:20
Estimated Arrival Time: 09:00 (Monday)
Actual Arrival Time: 08:30
Total Flying Time: 7 hours 10 minutes
Lining up with the runway there was a slight pause, then came a thunderous roar from the two engines as they pulled the aircraft forwards, reaching up into the night sky after around forty seconds of bouncing along the tarmac. The combination of no window and it being dark meant that I didn't bother taking and pictures, chatting instead to the stewardess seated opposite and my seatmate to the right – it was a while ago, but I seem to remember he was heading to a conference somewhere in Europe and was continuing on from AMS with KLM. Once the crew had been released I opened up the IFE screen and had a look through the selections; an impressive range of music and videos to keep me busy. There were, as with the outbound flight, several which I'd been meaning to buy or rent for a while, so I pretty much decided to discount getting any sleep and just watch movies all night instead! Fairly soon a highly appetising began to emanate from the galley to my right, as the meal service was prepared and heated, leaving me to eagerly anticipate the welcome delivery of my meal a short while later; I'd grabbed a Burger King (my god American portions are huge!) back in MSP but didn't have time for anything in DTW so was feeling rather peckish.
After the meal service had been cleared away I reclined back into my very comfortable seat, took my shoes off and stretched out. I could now just catch a glimpse of the night sky out of the window behind me, which from time to time I glanced expectantly at, hoping perhaps for a glimpse of the northern lights, but to no avail. Throughout the night there were further drinks services, during which the stewardesses kept me updated with a suitable supply of wine and water, this certainly beats going to the cinema to watch films, I thought! Eventually the dark of night began to give way to light in the east, revealing the large wing stretching out from the fuselage, baring the aircraft aloft on its journey through the sky. On both transatlantic flights the weather had been very kind which, save a couple of minor instances, produced barely so much as a ripple of turbulence.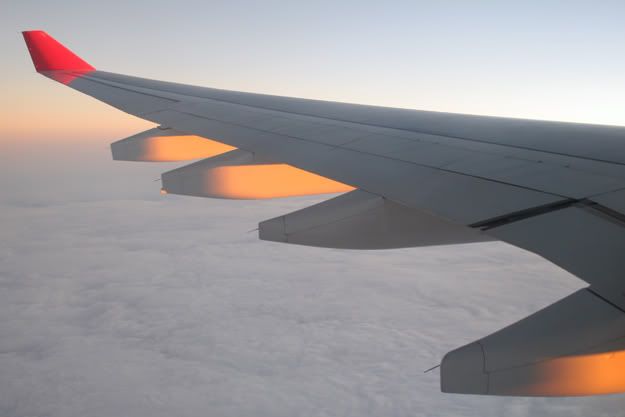 A light breakfast service was offered just over an hour before landing which was nothing special, but tasted nice enough, and shortly afterwards the spoilers raised on the wing to indicate that the descent into Amsterdam was beginning. Returning the seat to its upright position for landing denied me any further views outside, although I grabbed the odd peak through the tiny exit window to view progress down through the layers of thick grey cloud, touching down lightly at exactly half past eight, some half an hour before we were due on stand.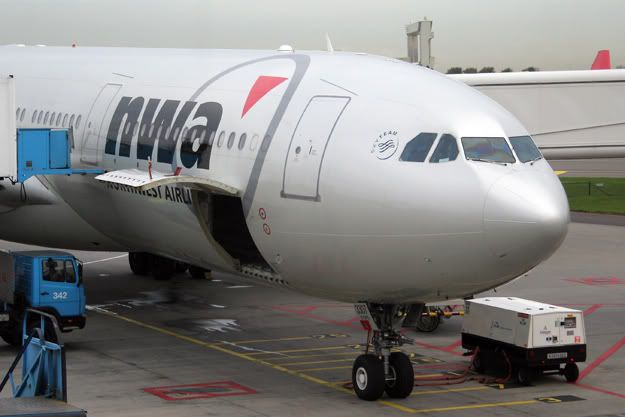 Upon leaving the aircraft I caught a quick shot of the nose; didn't want to miss the registration again, then proceeded to find out where my next flight to Birmingham was departing from. Once up and moving again I began to regret consuming quite the amount of red wine which I had, or more to the point, a small pneumatic drill inside my head was now reminding me of the amplified affect alcohol has at altitude. As expected, my connection to Birmingham was leaving from pier D, so I decided to head directly to the gate. The aircraft, a B737-800 was already present, so the boarding process began as soon as the crew were ready to accept passengers, most of whom were already waiting – normally most of KLMs flights to BHX are packed due to the amount of connecting traffic, but this morning's flight was only about two thirds full.
Monday 30th October
AMS-BHX
Carrier: KLM Royal Dutch Airlines
Flight: KL1423
Aircraft: Boeing B737-8K2
Registration: PH-BXH
Date of First Flight: 28th July 2000
Estimated Departure Time: 09:50
Actual Departure Time: 10:07
Estimated Arrival Time: 10:05
Actual Arrival Time: 10:12
Total Flying Time: 1 hour 5 minutes
Pushback was delayed slightly whilst the flight was held for some late connecting pax, but then we were promptly closed up, pushed back and headed for runway 24 – if I'm remembering correctly, that is. By now I was feeling quite sleepy, so took relatively little notice of the takeoff, admiring more once airborne the affect caused by sunlight casting through a thin morning mist which was shrouding the landscape below.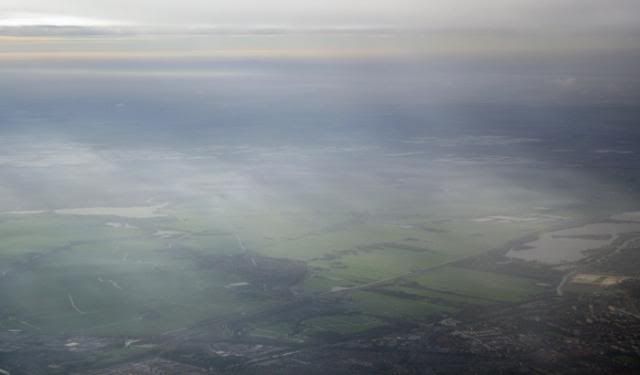 After climbing to cruise, the crew busied themselves with the snack service issued to economy passengers on European flights; normally this comprises of a large roll and a carton of pretend orange juice - a chemically orangey liquid which I never find either overly nice or that it tastes like orange juice, but it is at least thirst quenching. Today though there was only a small round roll in the package, along with a pastry and the juice carton.
The flight routed over London before banking to the right, starting to descend towards BHX over Oxfordshire and Warwickshire. The midlands were blanketed by a thick layer of grey cloud spewing rain onto the ground below, which as the aircraft dipped down into them caused a few bumps, before falling through the base and in turn revealing Leamington Spa, a town I know well where much of my family live. Touchdown a few minutes later was heavy, rolling out with much reverse thrust and then taxing back to the terminal, arriving on stand a little over ten minutes late. Although I was supposed to be now heading into University, I decided that my day would be far more productive if I just went home, where most of my work was anyway, so I caught the train from International (NEC/Airport) back to Hampstead, via Birmingham New Street, and walked back to my flat.
So, there ended another crazy long weekend of travelling – which of course begs the question was it all worth it? Yes, in a word! Aside of flying the DC10; pandering to my love of trijets, it was a really relaxing weekend away; I thrive off travel, although to most it's only a means to an end, to me the journey is quite often as interesting as the destination itself. I was very impressed by Northwest Airlines; especially their product on the A330; the service was excellent, the seats and legroom comfortable (from appearances in other rows) and flights punctual – although I'd like to fly a few more of the US Legacy carriers, I certainly would not hesitate to fly on NW metal again.
Hopefully you have enjoyed reading this report, any questions then please go ahead - it would also be very much appreciated if anybody happens to know the registration of the MSP-DTW flight. There's a few other reports from interesting trips which I am working on, but being a third year Uni student, I don't get a lot of time off to spend either writing trip reports or editing pictures. As it is, I've done this as some 'relaxation' after completing a 15,000 word report on my current project!
More pictures are available via the following link;
http://www.globetrotter2006.photos.gb.net/c1116186.html
Thanks for reading,
Dan