Feedback always appreciated.
Trip Report: 024
Flight Category: J-ILR (See Report End)
Date: 09-Aug-07
SDT/SAT/Delay: 1900/0845/07:45hrs
Flight:
Delta Air Lines DL 118
, 3635 miles
Routing: JFK-CDG
Aircraft: 767
Seat: Business ("Business Elite"), 1A
I > Background:
Ok, I am back! After taking a sabbatical from trip reports for 5 months, here is the first installation from a series of trip reports. Mid-August to mid-November 2007 saw the craziest of my travel plans. 69 flights totalling 175,028 kms on 35 airlines, visiting 49 airports in 34 countries in all 6 continents. And, here is the best part ... all of them were part of a 4month break from life ... pure vacation, and pure food for the mind, body, and soul. Together, they mounted to 21/2 round-the-worlds that was truly insane. As usual, all long haul flights were on Business or First Class; short haul was on Economy Class.
As I have tried for A.Net audience in the past, several of the reports will be firsts on A.Net. These include either first time airline coverages, routes, airports, flights, or countries. This first report is on Delta Air Lines (DL) JFK-CDG. The reason for the trip was to connect to AF for JNB.
II > Pre-Flight:
a) Before Airport:
Unlike many other A.Netters, I decided to do a piecemeal reservation stringing on several round trips, one-ways, and open jaws. Booking for the CO/DL/AF combo was done using a reliable travel agent here in Caracas. They found a pretty neat deal for CCS-IAH-EWR/JFK-CDG-JNB with the CO segments in Y. Immediately after purchase, my DL segments showed up on the EXCELLENT Delta website at
www.delta.com,
and I was able to chose my seat for the particular flight. Moreover, I really liked the ability to go and change my seat anytime I wanted ... very cool especially since I had not booked the ticket online. Of course, I was in J, so the exact seat did not matter as much.
b) At Airport:
After 3 excellent nights in New York with lots of "action", I took the LIRR/Airtrain combo to JFK. Delta uses Terminals 2 and 3 at JFK ... with Business Elite (BE) passengers having a dedicated check-in terminal at T2 ... this is particularly useful if you have your chauffeur drop you ... not as useful if you are taking the Airtrain in. Perhaps because I had arrived at a pretty early hour (to spot), the BE terminal was empty. Check-in was very smooth - though the agent had to check-in with a colleague to see if a full paying BE passenger could use the BE lounge (very bizarre!). Well, just to put things in context ... so as not to be a butt of A.Net jokes on why I asked for lounge usage ... my actual question was whether the BE lounge had a shower ... and she responded that she did not know if I had BE lounge access! Anyways, she was sweet (and inexperienced), and boarding passes in hand, I went through security to the rather dull Terminal 2. Seriously Delta ... do something about this. Given the rather depressing T2, I went to the equally depressing entrance to the BE lounge (see picture).
The BE lounge is nothing special. After spending some time lounging around (no pun intended), I checked my email (WHY WHY WHY is internet access not free in Los Estados Unidos lounges) and then began to go back to the terminal to spot.
Boarding was announced an hour before departure ...and I went up to the GA to move to the bulkhead 1A. There was a bunch of non-revenue boarding passes (A.Netters, what are they called? There is some special term that I cannot remember - NSA? RSA?) and when I mentioned the same, the lead FA who was standing there asked me how I knew there were non-revs. I answered I just knew the codes well ... and of course, my training on A.Net. Anyways, boarding was by zones and I waited until everyone had boarded to take my place.
On board, I was greeted by the lead FA (who had asked me the question) and of course she made the customary remark about my Liechtenstein passport  
. Now here is the depressing part ... load in J was 95% ... I had the only empty seat next to me ... (the reason I switched) ... and ... 80% of J cabin was non-revs on stand-by travel. NOT GOOD FOR DELTA AT ALL on a supposedly high demand business route.
Airport - External:
(JFKs Terminal 2, Business Elite entrance)
Check-In:
(Empty Check-In Counters of the Business Elite and Medallion/Domestic First Area)
Airport - Internal:
(Post Security)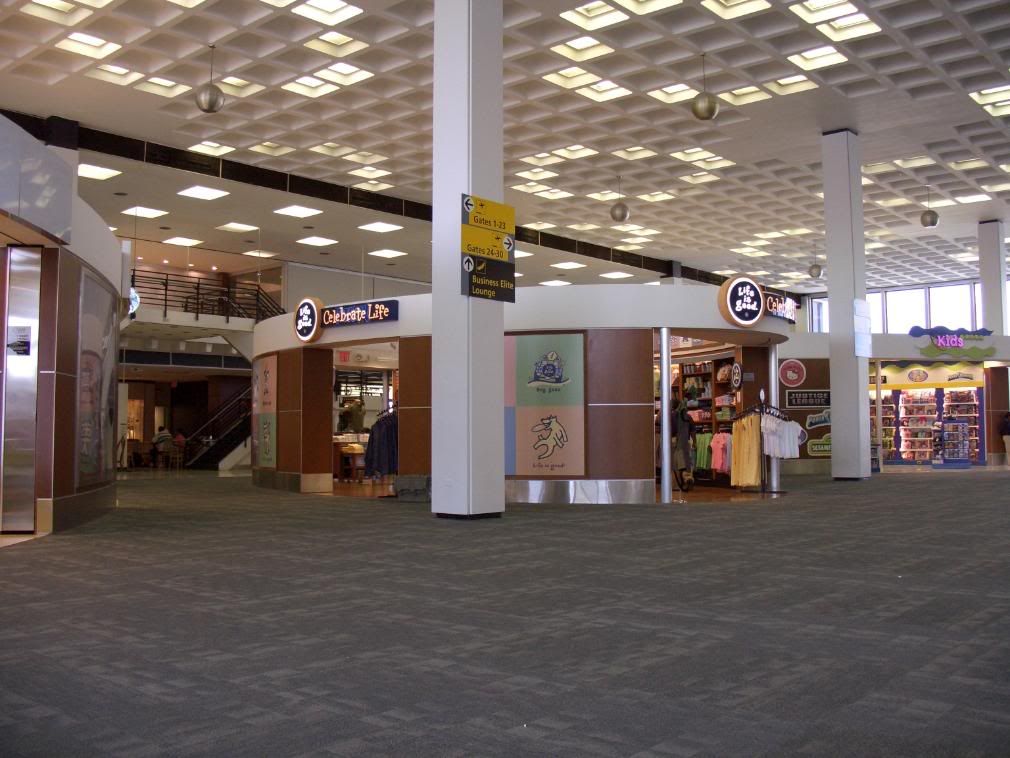 Scenes of the tarmac:
(Big, beautiful, LH 744)
(TG 345 nonstop arriving from BKK)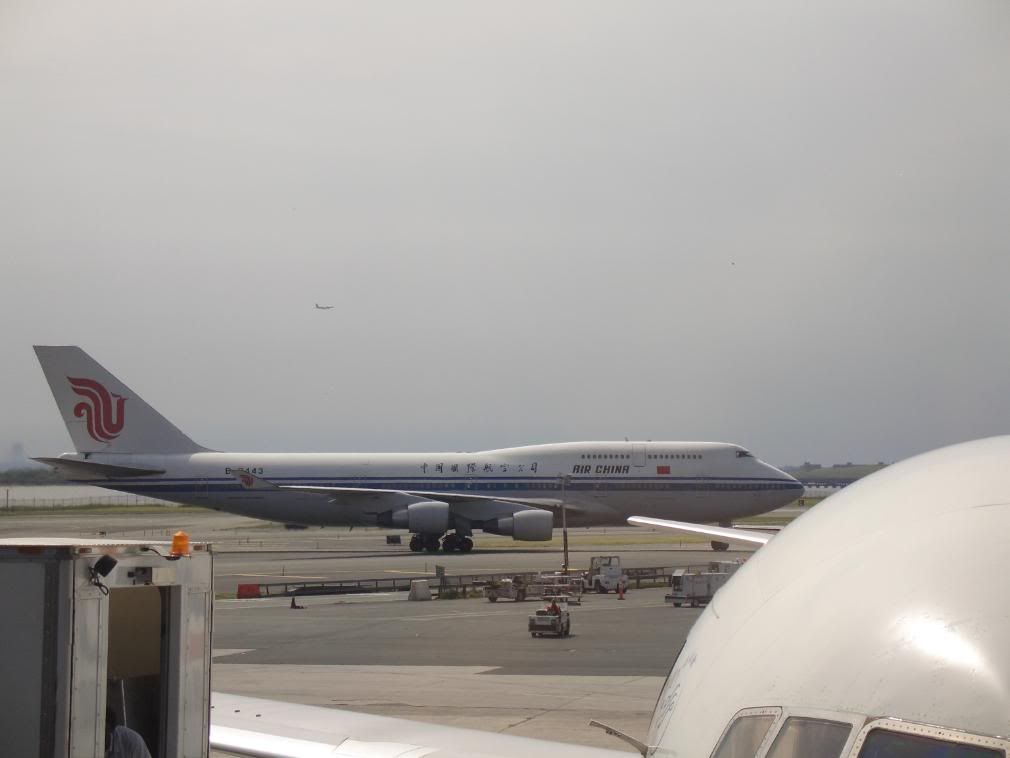 Lounge (Delta/Business Elite)
Very poor lounge for Business Elite product ... though, I was fortunate to get in ... hehe, read above. Limited food options, and NO FREE INTERNET. Got very crowded when the bank of international departures came close. Liked the shower though. And, what is up with this lame entrance? Not classy!
(Entrance)
(Yes, computers ... but gotta pay TMo)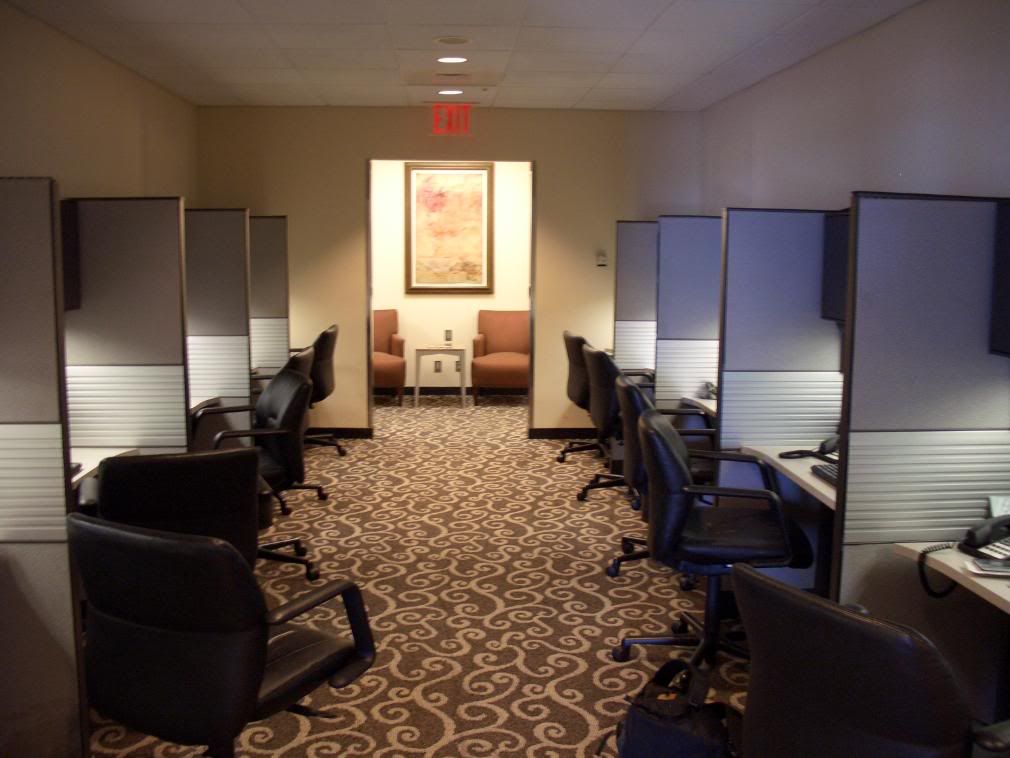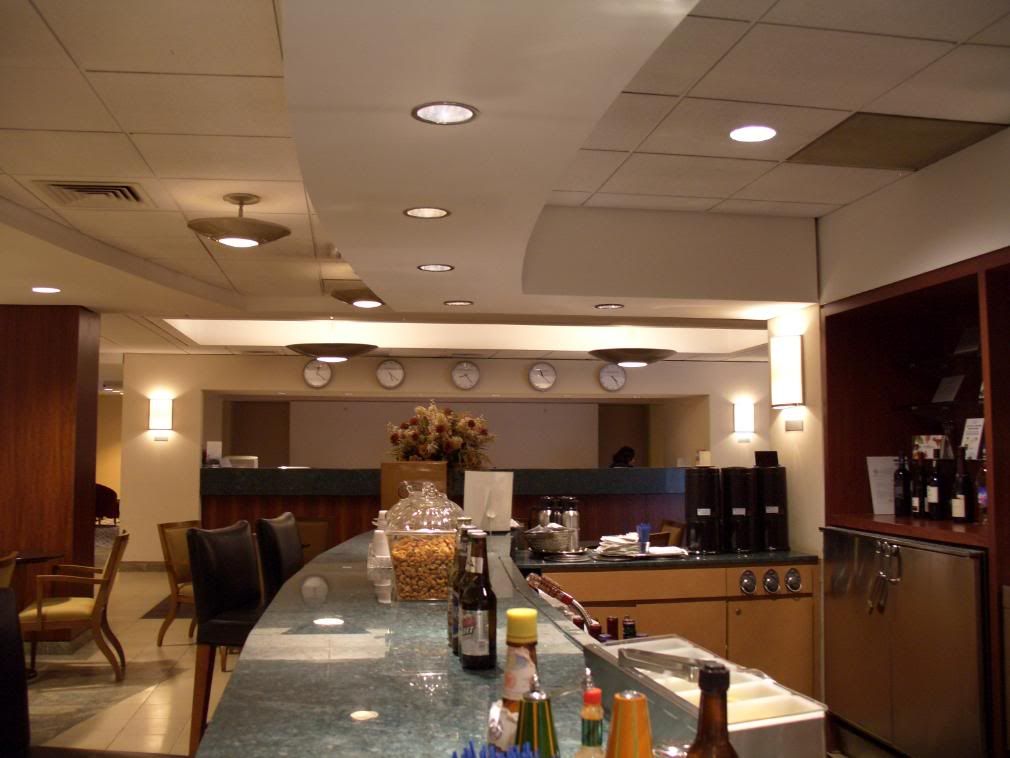 (Random Food I had during my time ... at least drinks were free ... unlike the shame called UAL!)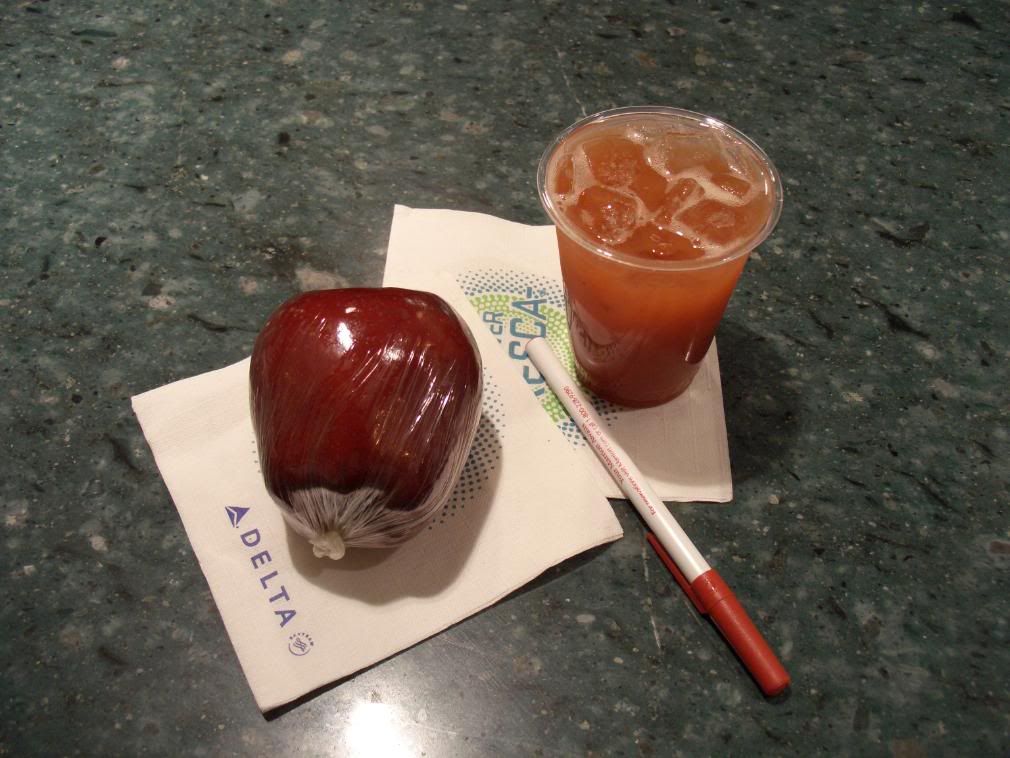 Boarding:


III> In-Flight:

a) Service Schedule + Impressions:
Pre-takeoff included a bottle of water and the menu left at every seat. Drinks were also offered just prior to pushback. After take-off, amenity kits and noise canceling headphones were distributed. This was followed by a meal and drink service. Prior to landing, there was a breakfast service. I did like the small touches such as the order for food first coming to full J passengers (and thankfully non-revs last), the amenity kit (especially when so many airlines are cutting back on these), and the personal welcome and farewell by the lead FA. More on her later. Of course, being an American airline, DL did not have any other J goodies ... like deck of cards, etc.

b) Aircraft + Seats:
The BE product onboard DL is sort of very 90s plush leather. Although the seats were not lie-flat or true-flat, and had minimal legroom, I did enjoy the 160 degree recline. The 767 did look tired though ... especially in Y. Ok, and those fake-wood bathrooms need to go. They look good, but get so dirty so fast!

Aircraft:


Views from Aircraft: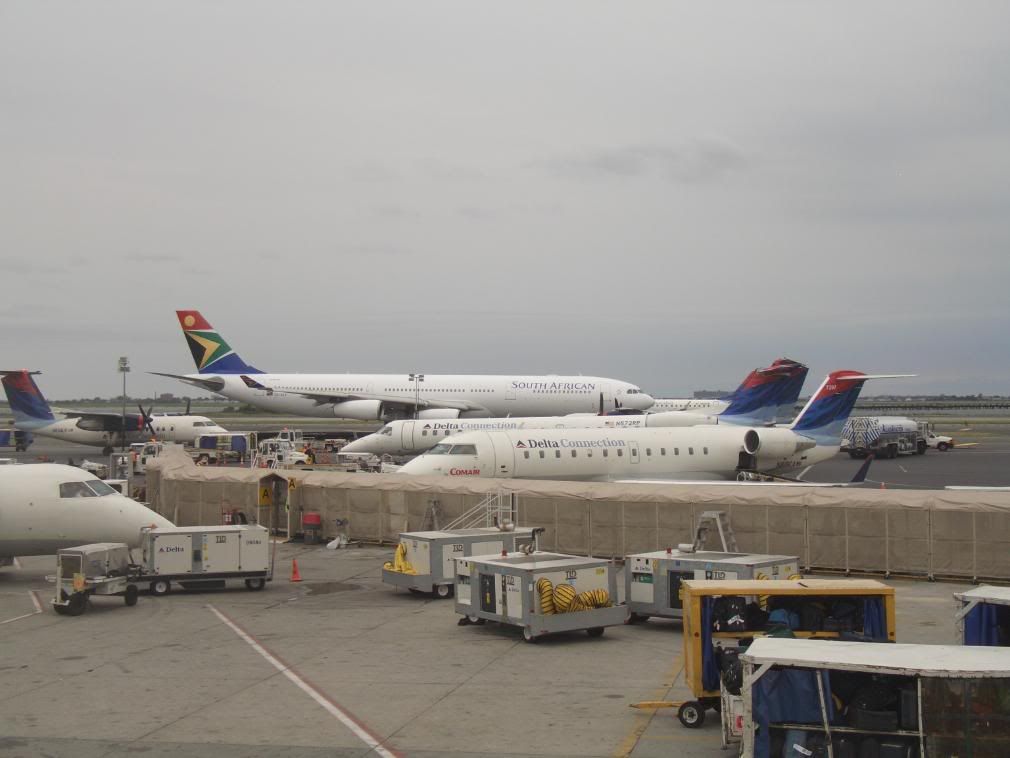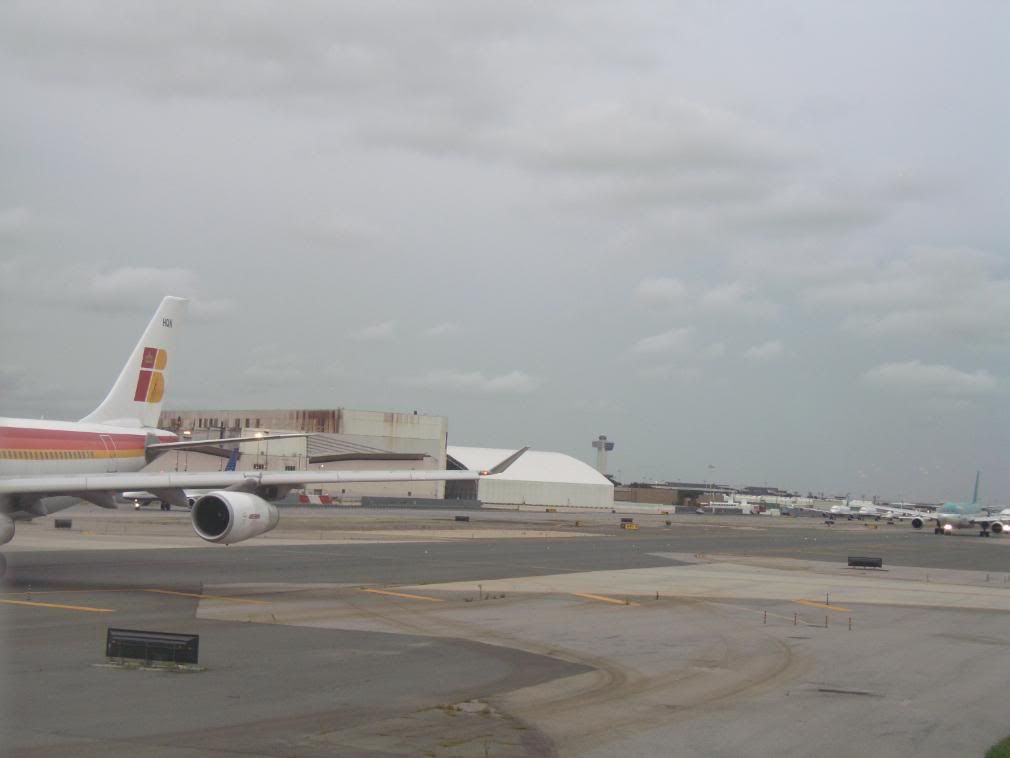 Seat Leg-Room:
Seat Recline + Angle View:
Cabin:


c) Meal + Beverage:

Deltas meal service is designed by "celebrity chef" Michelle Bernstein and options are presented in a menu book prior to take-off (see picture). Service began soon after take off, and the menu was *roughly* as follows:

TIDBITS: Warmed Mixed Nuts (served with my favorite Delta cocktail)
APPETIZER: Lemon Chicken and Shrimp Cocktail
STARTERS: Mesclun Salad Mix and Romaine Lettuce with Tomato, Cucumber and Radish. Balsamic Vinaigrette.
MAINS: Herb-crusted Loin of Lamb enhanced by Garlic Herb Sauce :: Grilled fillet of turbot with rice :: Cheese Tortellini with Sun-dried Tomato Cream Sauce
FRUIT AND CHEESE: Sliced, fresh seasonal Fruit. Assorted fine Cheeses with Crackers and Grapes
DESSERT: Delta's Breyers All Natural Vanilla Ice Cream (my very favorite kind!) Sundae with Chocolate Sauce, Whipped Cream and chopped Nuts, served with a Pirouline Cookie

Food on board DL was definitely good. Better than recent experiences on SQ-J for example! Even though options were lacking, I was impressed with the quality of all the courses, and especially delighted at my main (I chose fish). Of course, I LOVED THE ICE CREAM SUNDAE!

Besides dinner, the other main meal was breakfast. I dont remember all the choices ... but I believe there was a choice of omelet or fresh fruits and cereal. Given my new found binge to be healthy, I chose the later. One thing I wish DL did was to have some snacks out in the J cabin ... I definitely had a mid-night craving ... though, it was not strong enough to call for the FA.

In terms of beverages, DL does not really having anything spectacular. The regular cohort of non-alcoholic beverages, some average wine and beer, sub-standard champage (Lallier NV Brut?), and then the usual culprits for hard liquor. I do like their "signature drinks" such as the Mile High Mojito. Oh, and they could do with a better collection of tea on board!

(Pre-take off water, seat controls, menu card)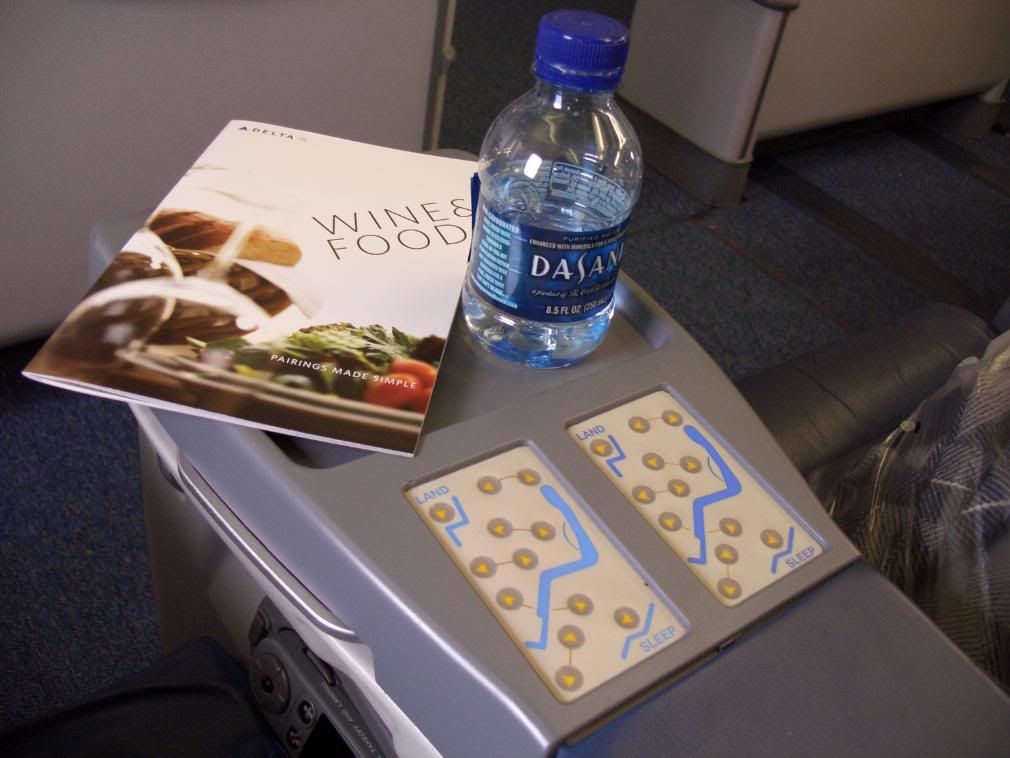 (Tidbits: Warm Nuts)



(Appetizer)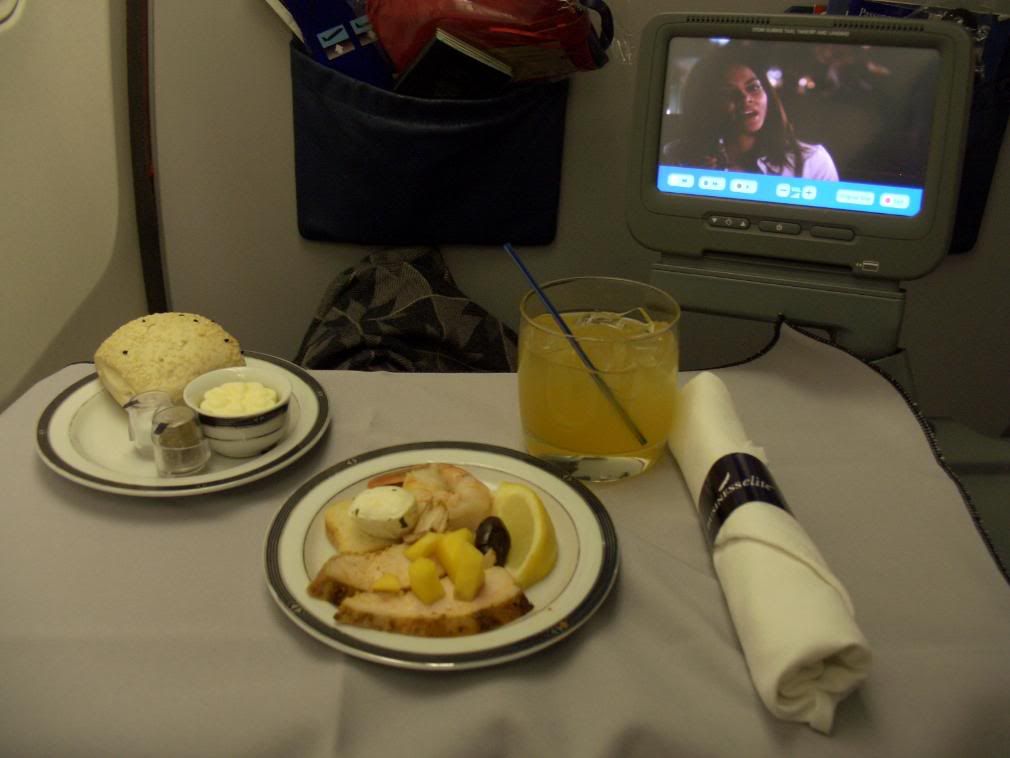 (Starter)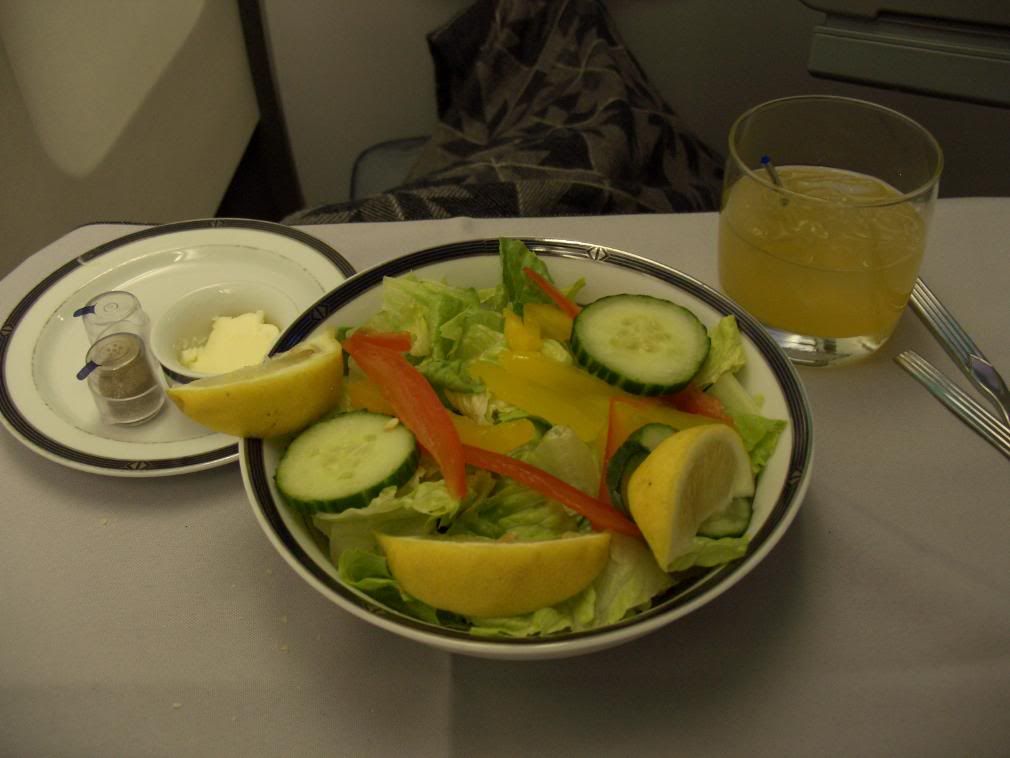 (Main: I had the excellent Fish ... succulent, warm, and cooked just right – is this really a U.S. carrier?!!)



(Dessert: The Piece Du Resistance)



(Breakfast: Being Healthy)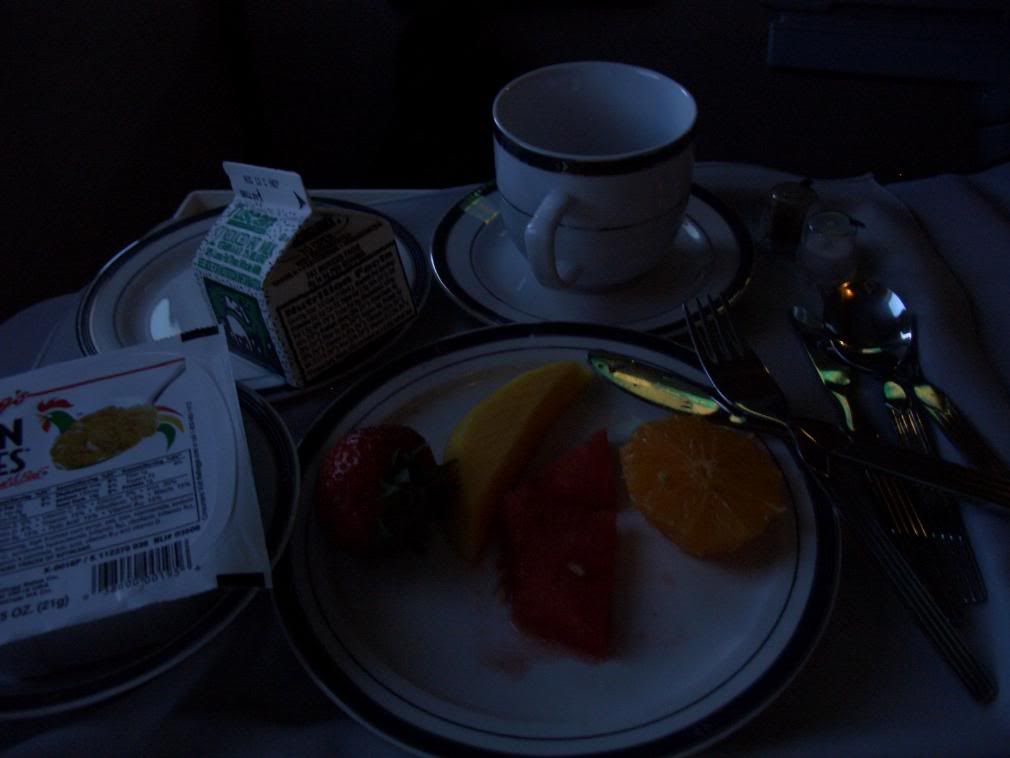 d) Inflight Entertainment:
Deltas new "DELTA ON DEMAND" IFE is good .. but nothing spectacular. Primarily, because the screens are tiny for current J class trend-setters ... and I think its a noteworthy comparison because DL clearly is aspiring to be a premium carrier. Anyways, DOD has around 25 movies, 10 games, around 15 TV shows, and there is always HBO. Customizable DL Tunes is great, and of course, noise-canceling head sets are ALWAYS appreciated.

(IFE: Touch screen)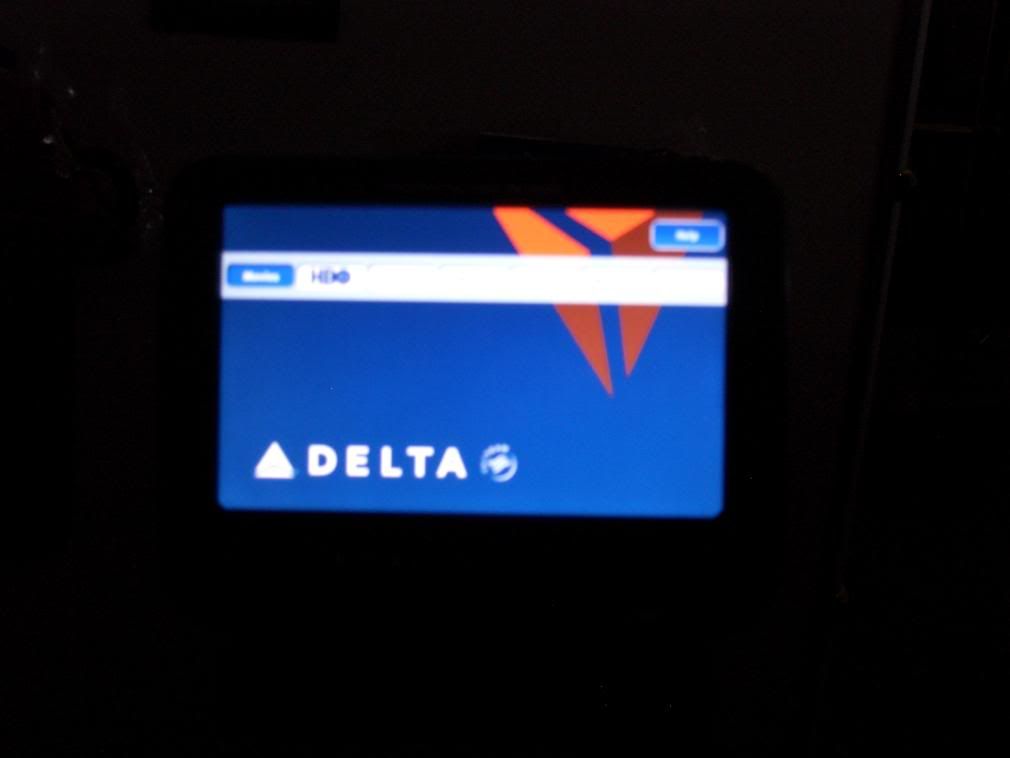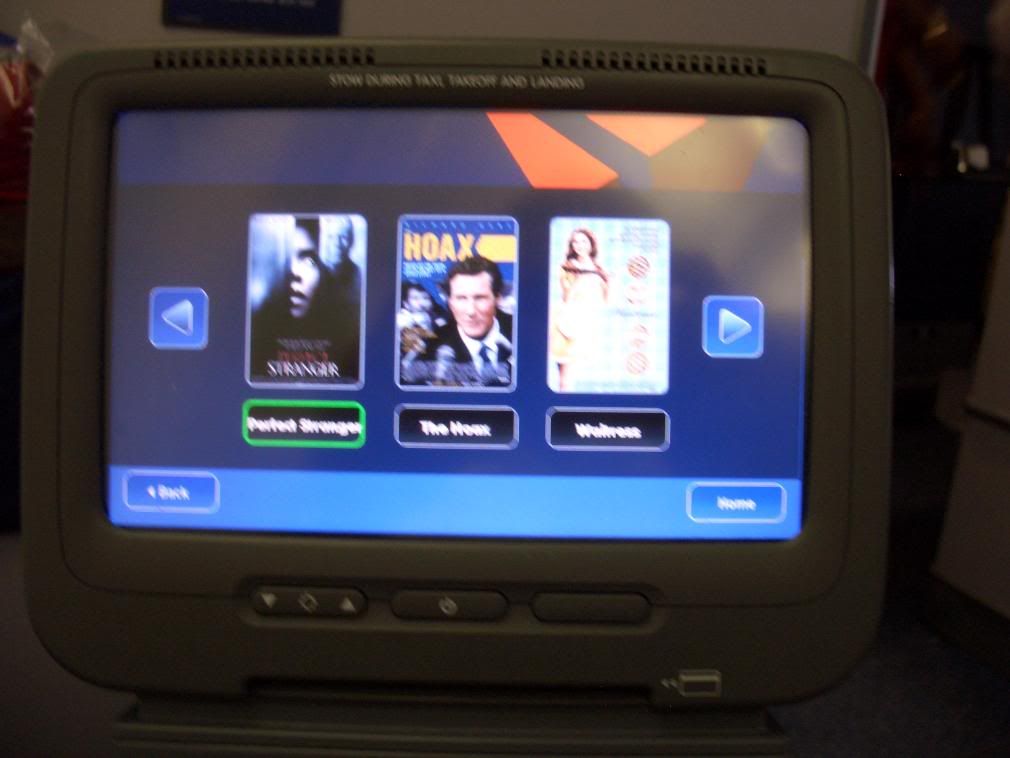 (In-flight magazines, Boarding Passes, etc.)



e) Crew:

Absolutely outstanding! I was thoroughly impressed by the natural warmth of the DL crew on this flight. Led by an energetic lead FA, they were constantly checking on passengers and meeting all the requests. I especially enjoyed my conversation with the lead FA who shared the new optimism at the airline, her vision for the future, and of course where she wanted DL to fly next. I was actually very impressed with her understanding of the airline business ... something that MANY FAs sorely lack. During the flight, she would check up on me using my name, and would often come and see if I needed anything else. Prior to landing, she came to thank me for my continued loyalty ... and at disembarkation, we gave each other a warm hug ... sort of like what friends give when one is leaving! One thing though ... many of the FAs lacked polish. It was their natural warmth that made a difference ... but they definitely need to be better groomed in appearance and service. Instead of enhancing the product, they appeared sloppy while presenting food (someone needs to send management a note on how to put linen and pour a drink), drinks, movie headphones, and looked uneasy in their uniform. For some weird reason, they looked extremely jittery.

IV> Post-Flight:

Of course, much to my chagrin (and after so many times, why should I still be surprised), my flight was remotely docked at CDG. Ground ops continue to be horrible as it took 35 minutes for the gate to be opened ... 50 minutes to reach the terminal. Needless to say, many missed their connection and I prayed for them knowing the horrors of having to deal with CDG/AF ground support!

(Scenes from the tarmac at CDG)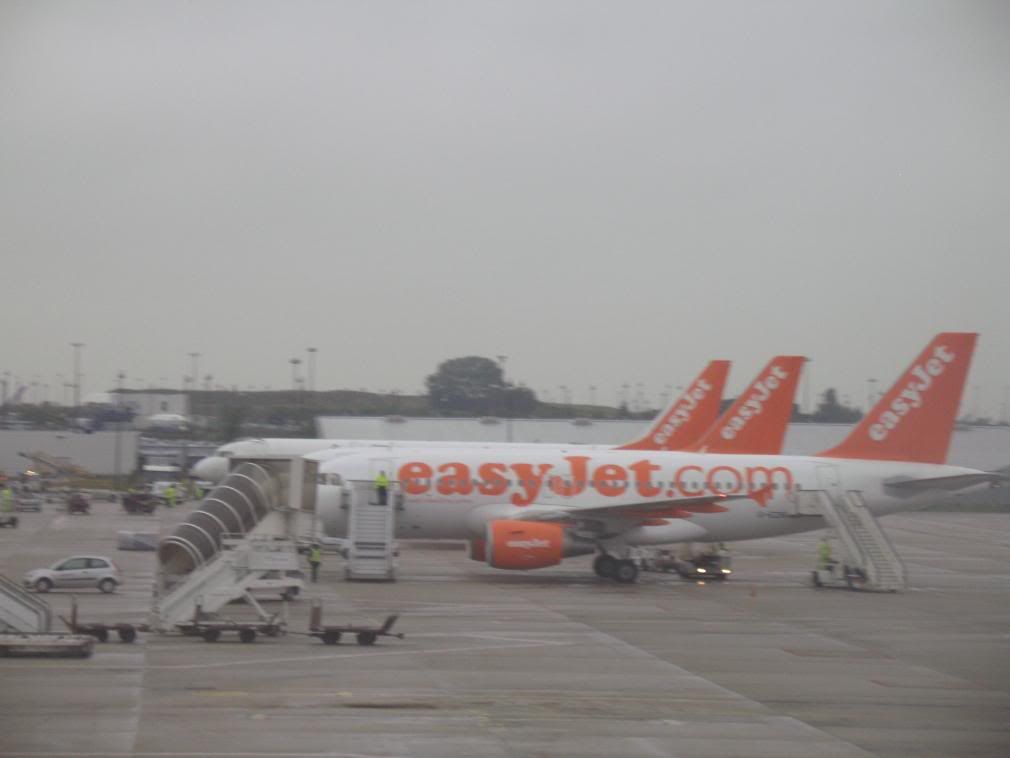 (


(Aah … that beautiful uneconomical bird)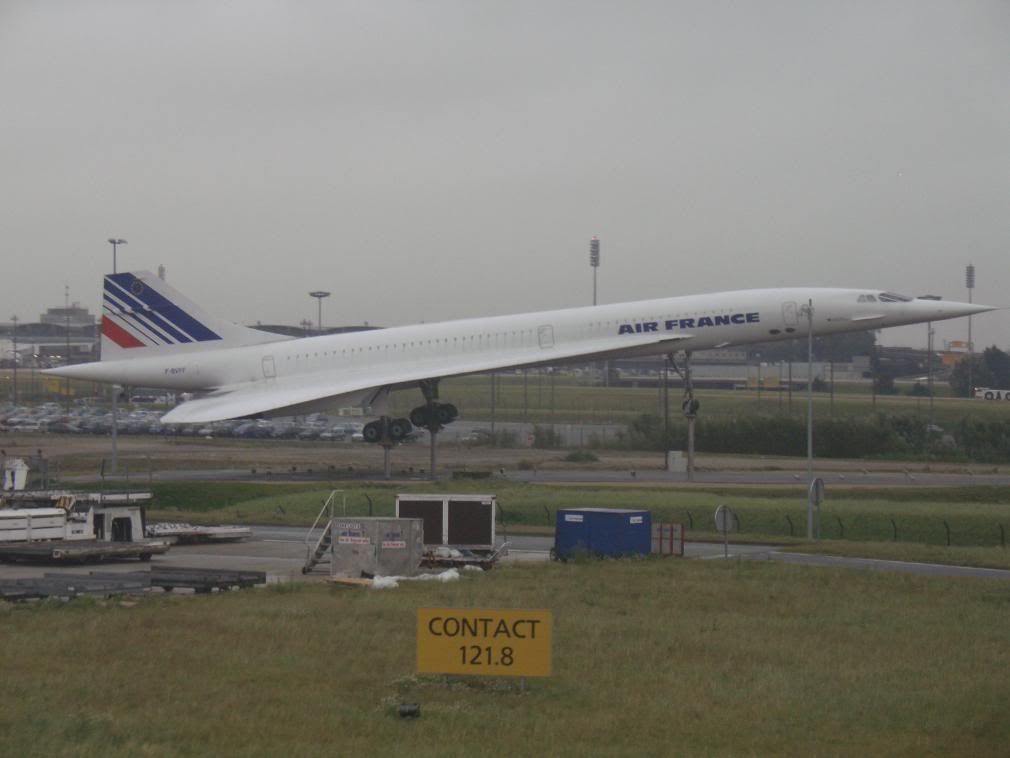 (Air Mad, an airline on one of top fly list)



(Parked next to AF. This is the DL crew bus I think)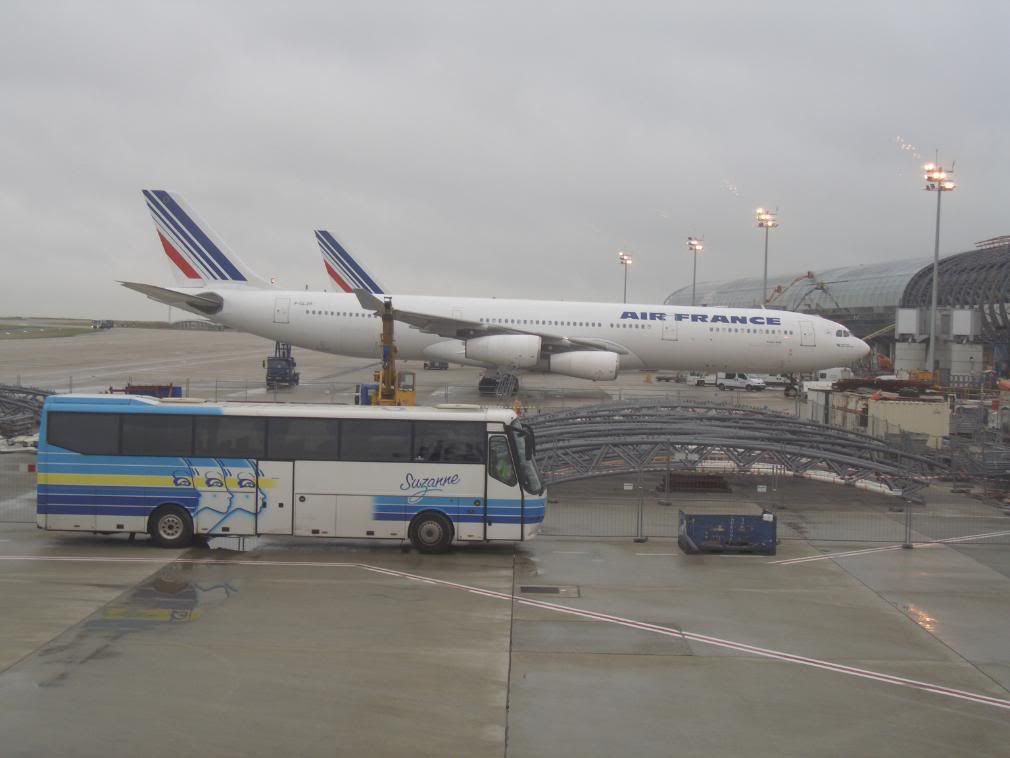 V> Impressions + Scores:

In my humble opinion, Delta has the best overall product for an American airline flying intercontinental today. I say this DESPITE their old style J seats. More than anything, an airline is made up by their people. Of course, they lacked refinement ... but DL service had heart. And this for me, is a more important quality than a lie-flat seat ... ok, more important at least within the context of a 8 hour flight ... after that, the seat is important. Upsides included JFK dedicate check-in, new IFE choices, food, and of course crew. Downside includes all of JFK, aircraft, and seating. I most enthusiastically endorse the new Delta, and (here comes a shocker) actually PREFER this level of service over (say) my recent experiences on famed Singapore Airlines.

Reservation: 10.0
Check-In: 7.0
Lounge: 6.0
Boarding: 8.0
Seat: 7.5
Aircraft Overall Ambience: 7.0
IFE: 8.0
Crew Service: 9.5 (SECOND BEST)
Food: 7.5
Beverages: 7.5
Amenity Kits + Others Freebies: 8.0
Disembarkation: 6.0
On-Time Record: 10.0
OVERALL IMPRESSION: 7.85*
(Pre-flight average of all-reviews: 6.34)
Highest Score YET for J product reviewed :: Second Highest Ever ... after IT's IXA-GAU ... see below

(Scores are based on comparison with other airlines in THAT class of service - No comparison of Y vs. F for example)

VI> Other Trip Reports:

1/ Avianca: BOG-LIM: 07/06/06: 7.09pts: Y-IMR
2/ Air Tran: EWR-MDW: 08/02/06: 6.73pts: Y-DMR
3/ West Jet: YYC-YVR: 09/05/06: 7.14pts: Y-DMR
4/ Air Canada: YYZ-YVR: 09/02/06: 5.92pts: Y-DLR
5/ Air Canada: ALB-YYZ: 09/01/06: 5.88pts: Y-ISR
6/ Singapore Airlines: EWR-SIN: 09/20/06: 7.81pts: J-ILR
7/ Adam Air: SIN-CGK: 09/22/06: 6.04: Y-ISR
8/ Valuair: CGK-SIN: 09/22/06: 5.04: Y-ISR
9/ Spice Jet: CCU-DEL: 09/25/06: 6.67: Y-DMR
10/ Indian: DEL-CCU: 09/26/06: 7.25: Y-DMR
11/ Air Sahara: CCU-BOM: 09/28/06: 4.42: Y-DMR
12/ Air Deccan: IXZ-CCU: 10/07/06: 5.75: Y-DMR
13/ Alliance: CCU-IXA: 10/08/06: 7.54: Y-DSR
14/ Kingfisher: IXA-GAU: 10/08/06: 8.21: Y-DSR
15/ Indigo: GAU-CCU: 10/08/06: 6.54: Y-DSR
16/ Singapore Airlines: CCU-SIN: 10/11/06: 5.88: J-IMR
17/ Air Canada: ICN-YYZ: 10/12/06: 7.13: J-ILR
18/ Delta AirLines: SEA-JFK: 11/24/06: 7.17: F-DLR
19/ USA 3000: PUJ-BDL: 01/06/07: 5.96: Y-IMR
20/ Viva Aerobus: CUN-JFK: 02/20/07: 4.58: Y-DSR
21/ Jet Blue: CUN-JFK: 02/20/07: 5.96: Y-IMR
22/ SAS Norge/Braathens: OSL-AES: 05/26/07: 5.75: Y-DSR
23/ [http://www.airliners.net/discussions/trip_reports/read.main/103654/]TAP AIR PORTUGAL: OSL-LIS: 05/29/07: 5.46: Y-IMR [/url]


(Note on Codes: Y - Economy, J - Business, F - First :: I/D - International/Domestic :: SR/MR/LR - Short/Medium/Long Haul :: I have designed these codes so people dont believe my scores are comparing apples and oranges)

VII> Other Pictures:

(Business Elite Amenity Kit: Attractive Red with useful things like pen and earplugs)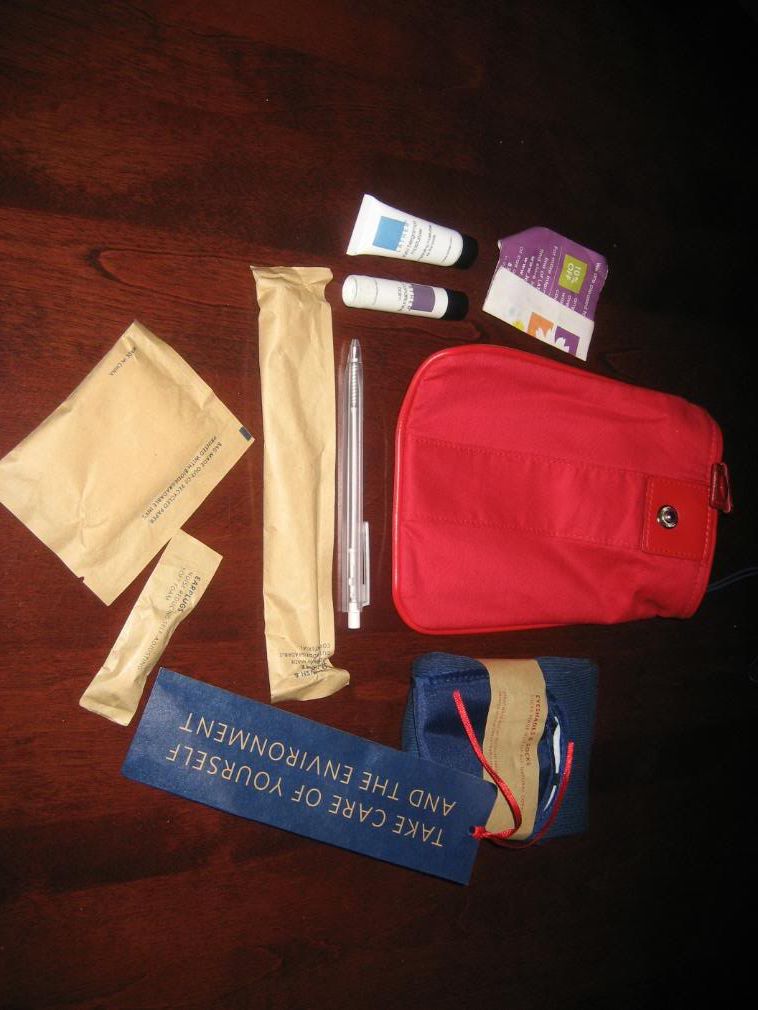 [Edited 2007-11-20 20:07:54]