Feedback always appreciated.
Trip Report: 025
Flight Category: J-ILR (See Report End)
Date: 10-Aug-07
SDT/SAT/Delay: 1015/2050/09:35 hrs (Delayed 01:00)
Flight:
Air France AF 994
, 5410 miles
Routing: JFK-CDG
Aircraft: 77W
Seat: Business ("Le Espace Affaires"), 8A
I > Background:
Ok, I am back! After taking a sabbatical from trip reports for 5 months, here is the first installation from a series of trip reports. Mid-August to mid-November 2007 saw the craziest of my travel plans. 69 flights totalling 175,028 kms on 35 airlines, visiting 49 airports in 34 countries in all 6 continents. And, here is the best part ...all of them were part of a 4month break from life ... pure vacation, and pure food for the mind, body, and soul. Together, they mounted to 21/2 round-the-worlds that was truly insane. As usual, all long haul flights were on Business or First Class; short haul was on Economy Class.
As I have tried for A.Net audience in the past, several of the reports will be firsts on A.Net. These include either first time airline coverages, routes, airports, flights, or countries. This report on Air France´s (AF) CDG-JNB will be the first for the daytime AF flight. Air France introduced this second daily nonstop flight to JNB earlier in the year, and my travel agent thought it would work as a good connection from JFK´s DL flight. Since I had not flown AF´s 77W, I welcomed the opportunity ... though, I was not looking forward to transitting via my least favorite airport in the world ... CDG. The reason for the trip was to visit a friend in Jo'Burg.
II > Pre-Flight:
a) Before Airport:
Unlike many other A.Netters, I decided to do a piecemeal reservation stringing on several round trips, one-ways, and open jaws. Booking for the CO/DL/AF combo was done using a reliable travel agent here in Caracas. They found a pretty neat deal for CCS-IAH-EWR/JFK-CDG-JNB with the CO segments in Y. To chose my seat assignment, I called AF and was promptly assigned the requested seat at the back of the J class cabin ... seat 8A. I was not impressed by the fact that this could not be done on Air France website at
www.airfrance.com.
b) At Airport:
Unfortunately, CDG still remains my least favorite airport. I arrived from an excellent Delta flight and as I expected, we were remotely docked to a far off stand. While the bus trip to the terminal was long, it was not as bad as a few months back when we docked near the cargo hold, the driver got lost, and I missed my connection. Arrival into terminal 2E should have been fairly straightforward as the initial flight monitor said I was also departing from 2E. However, a second flight monitor at connections said I was departing from 2F ... so I took the bus to 2F only to be told that the gate had changed back to 2E ... so another bus, another security check by super rude agents ... and then I was back inside terminal 2E. I needed to check my email ... but the lounge with the internet was closed, and the second lounge did not have internet access. Now it got interesting ... a young black woman was deep in sleep in one of the couch-chairs with her leg up on the table. One of the lounge attendants rudely woke her up and told her that she could not put her leg up, and directed her to one of the cubicle spaces with a reclining chair to sleep. The poor dazed girl did so immediately ... now comes the worst part ... the lounge attendant (in French) went on to chat with another agent on the state of world affairs when "black imbecils are allowed entry"! WTF! Given my usual sensitivity to such racist behavior, I politely asked for her name and have already dispatched a letter to CDG management. Not that I expect my letter to change this kind of completely unacceptable attitude.
Boarding was from the very far gate E65. I thought I was the last one to board as the gate area was deserted and final boarding calls were being made. Later on, we waited for an hour as AF waited for several passengers from the connecting MAD flight.
Upon boarding, an attendant greeted me and took me to my seat. She was surprised that I had no coats to hang, and I was surprised that the load was only 10%! What was interesting and sad was that an old woman (80 years+) in front J was trying to put her small bag up. Since she was short, she was having a hard time reaching for the bin. The 2 AF FAs (haha, thats ironically a palindrome I just realized) just stood there watching her! I went and helped and couldnt fondly remember the IC agent on a flight I reviewed (
LINK
). Anyways, back to the loads ... seriously, it was 10% ... the entire back of the Business cabin from rows 6 to 10 was empty! There was no one in First Class, and Economy load was a more respectable 70%. It will be interesting to see how this second frequency does for AF. Frankly, I was surprised as I had expected this flight to be a good connection for the bunch of flights from the Americas and Europe.
Airport - External:
NONE
Check-In:
NONE
Airport - Internal:
(Departure Board: Was trying to show that flight displayed 2F, but terminal of actual departure was 2E.)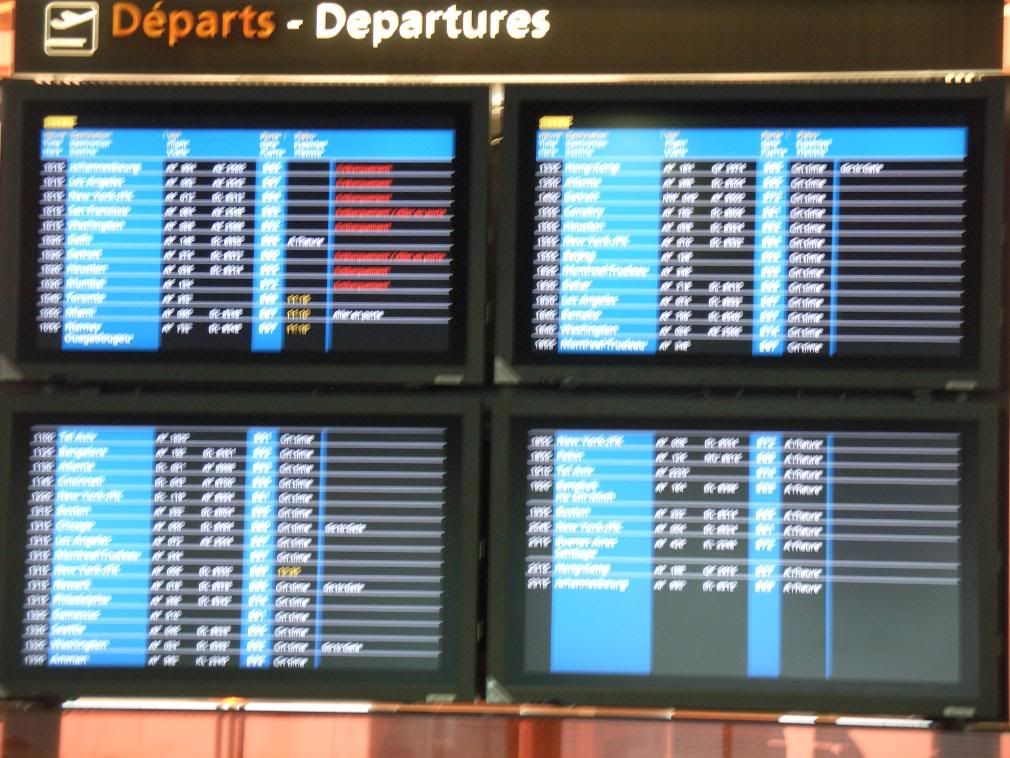 Scenes of the tarmac:
NONE
Lounge (Air France)
Not impressive at all. Read what happened with the usual racist AF personnel at CDG. Pretty disgusting. No internet, and the closure of the other lounge made it worse.
(Settling down with a cafe and a Spanish newspaper)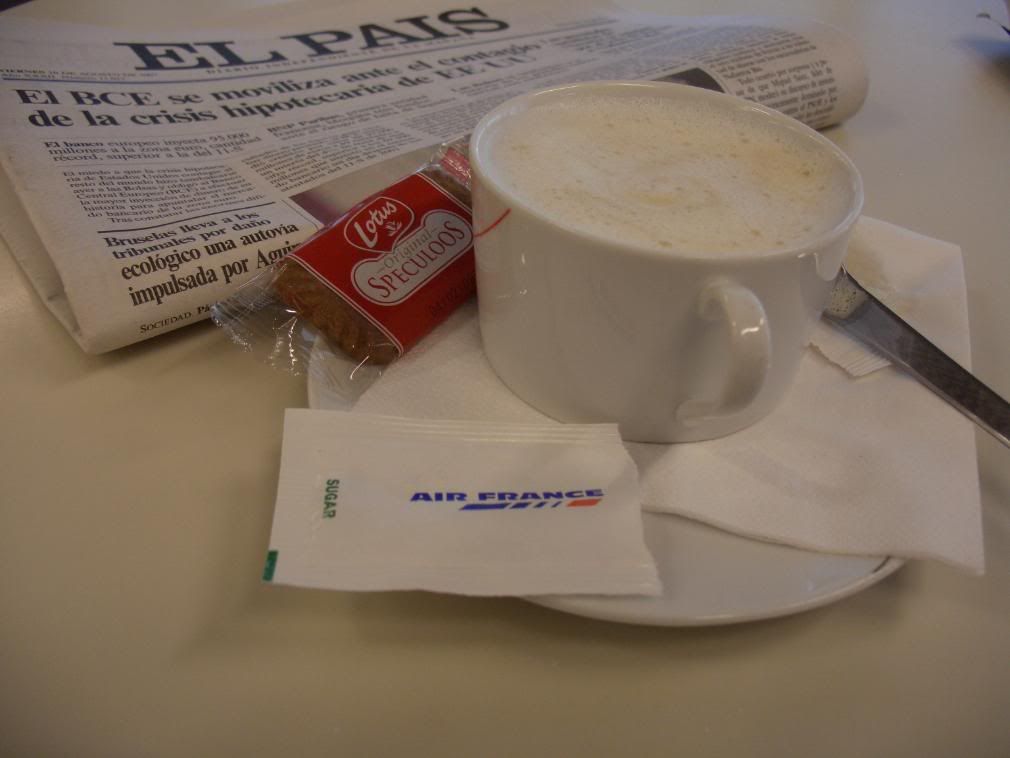 Boarding:
(Nice terminal 2E boarding area. Plenty of space)
(Boarding door. No queues as I was one of the last to board)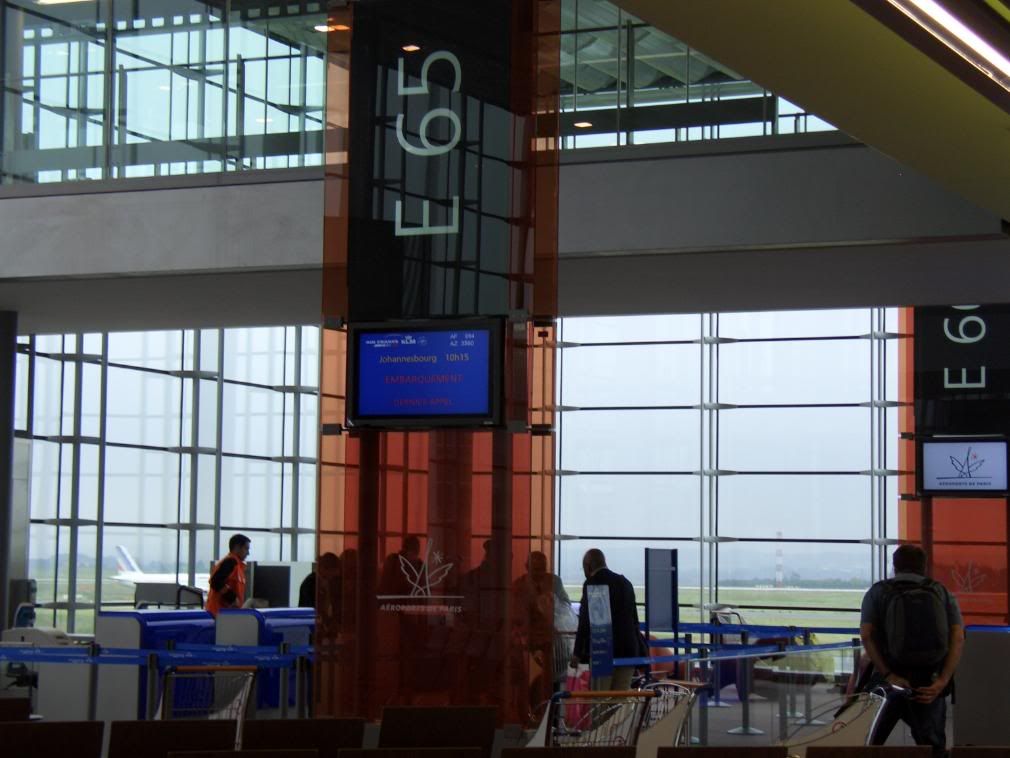 III> In-Flight:
a) Service Schedule + Impressions:
At the gate, champagne or orange juice was served. After take-off, cold towels, and then an assortment of drinks and biscuit was served. Lunch was served 2.5 hours into the flight. Finally, dinner was served about 1.5 hours prior to arrival at JNB. Amenity kits were waiting in front of the seat; and, I must say, were really nice! I love the shoe bag they include. Very useful!
b) Aircraft + Seats:
The Boeing 777-300ER is an amazing aircraft, and I can never really lose amazement at the huge engines. I was not a fan of AF´s business class seats by any means. The 176 degrees lie flat was thoroughly uncomfortable, and with AF´s layout, I felt extremely cramped. I shudder to think how horrible it would be to have paid a full J fare and be on those seats on a full flight ... do they really have to be 2-3-2 seating?! Ok, so let us deconstruct the seat a bit more ... in an upright position, the seat is fine. However, the moment you begin to recline, it becomes extremely tight. On several occasions, my leg would just get stuck ... and I am NOT tall by any means. Finally, as mentioned, the seat is uncomfortable in the sleep position. I mean, I do like some lie-flat seats ... like SQ old Raffles, but AF seemed definitely pre-historic.
Aircraft:
NONE
Views from Aircraft:
Seat Leg-Room: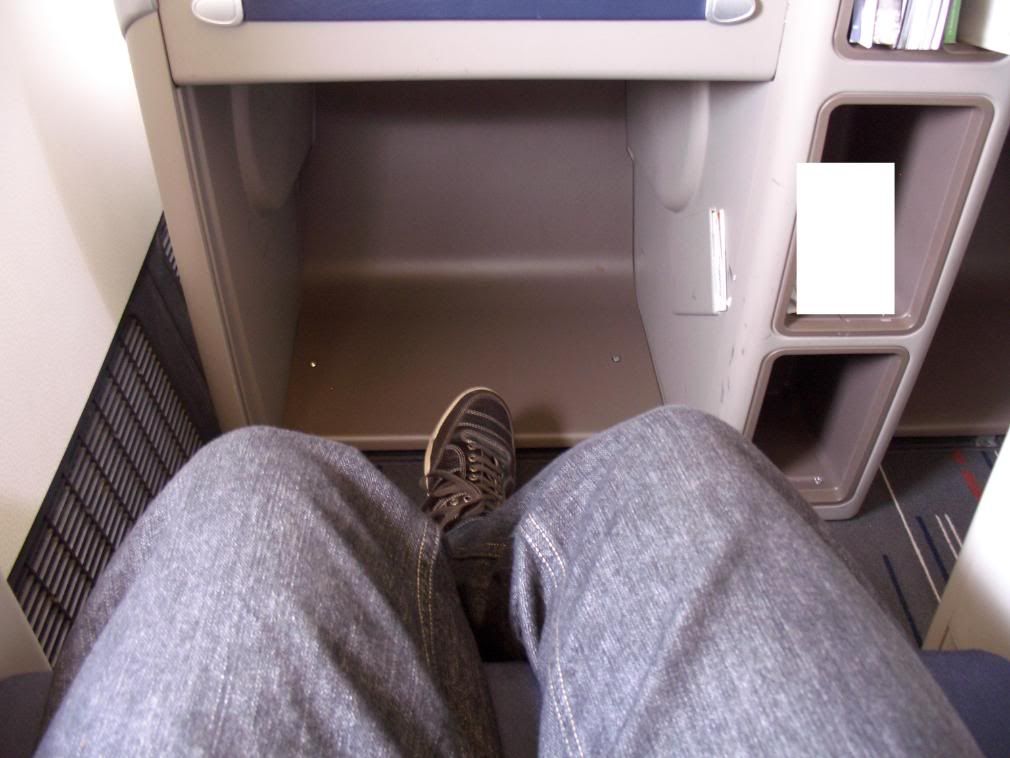 Seat Recline + Angle View: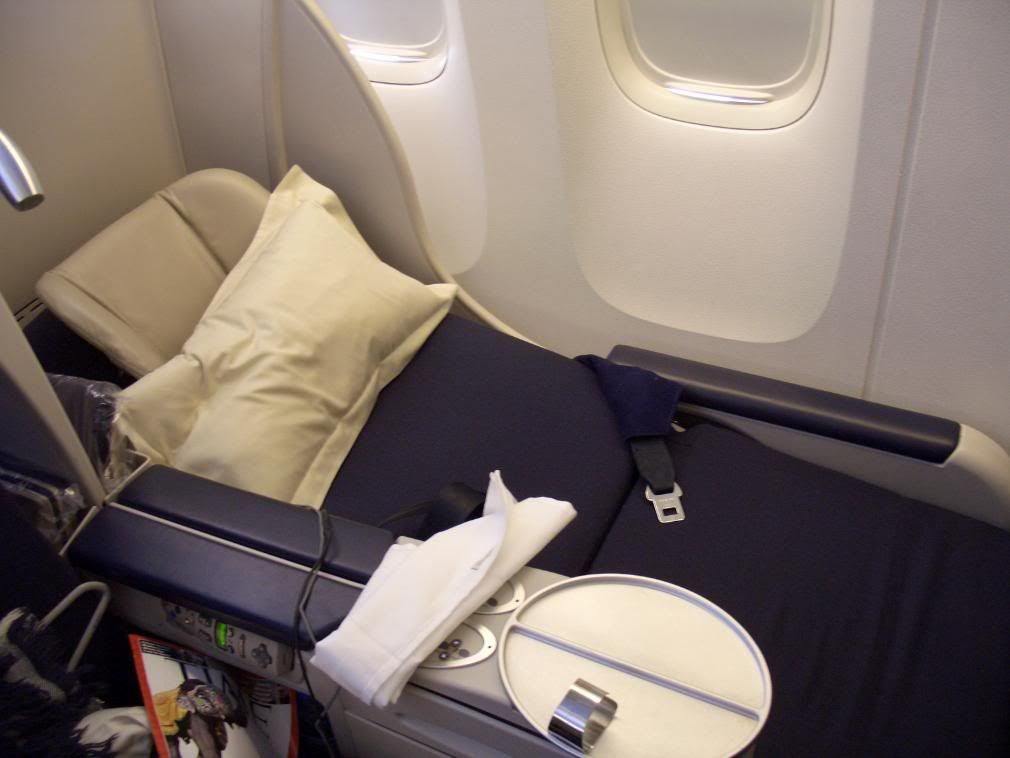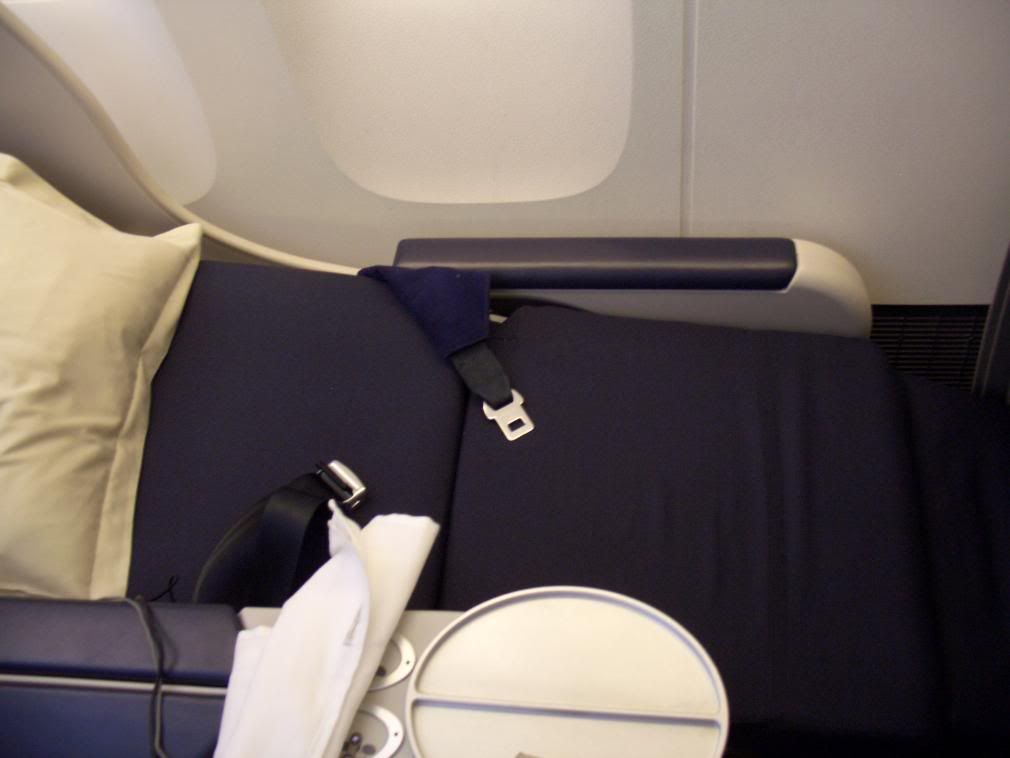 (Various positions when your feet just get stuck)
(And the uncomfortable semi-recline position)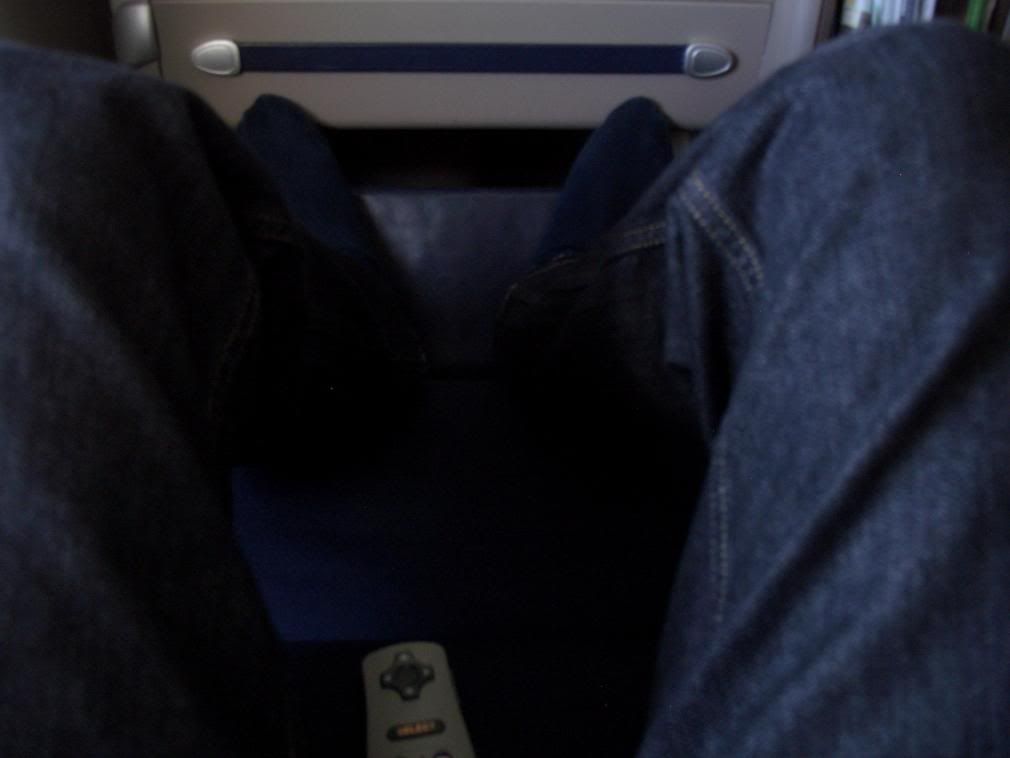 (Side view. See how cramped the cabin is)
(Front of seat)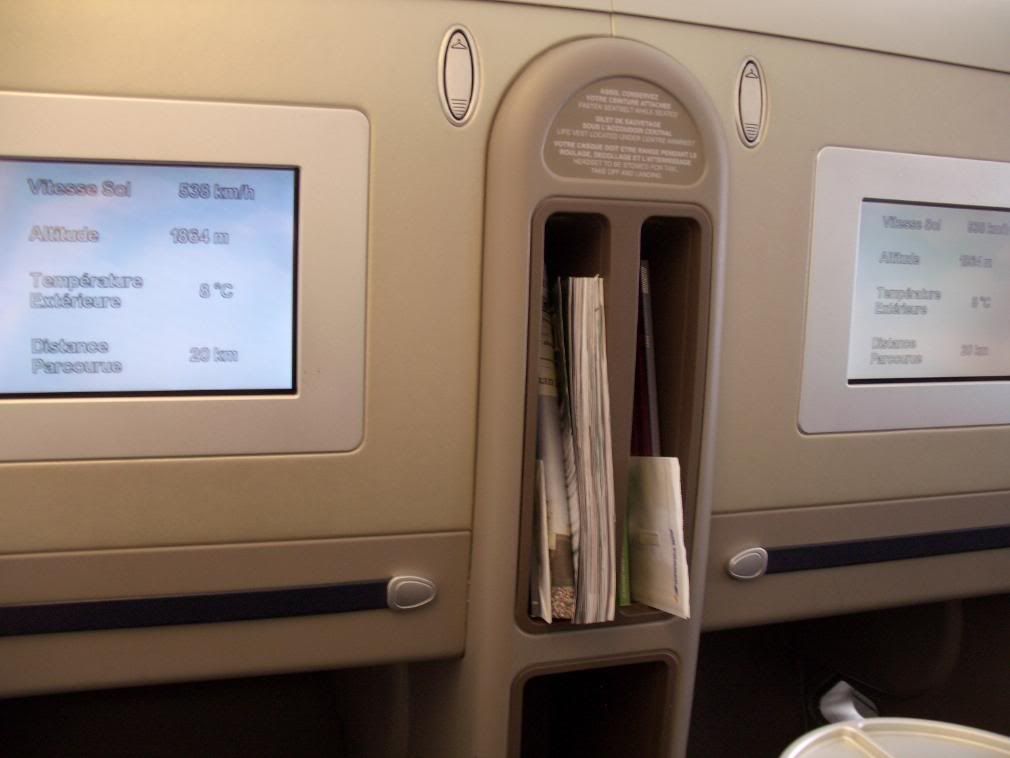 (Seat Controls and arm)
Cabin:
(Very empty rear J cabin)
c) Meal + Beverage:
Air France has 2 meal service on this flight. A "traditional service" which is sort of a brunch, and then a pre-arrival meal service" (dinner). Service began soon after take off with beverages and some really tasty beverages. The menu card read as follows:
For my lunch, I chose the absolutely decadent and delicious foie gras as my Hors d' Oeuvre. Unfortunately, the meal service went downhill from there. The fillet of cod had ZERO flavour. It was as if someone went and caught a fish and just put it with some rice. Moreover, the fish was burnt on one side ... I think you can see from the picture. I skipped the cheese and the dessert in order to maintain my very toned body ... hehe. I must say though, the dessert tray looked absolutely delicious. Given the 2 FAs were serving from the trolley, I decided against taking a picture.
Ok, here is where things get worse. So I was starving by the time dinner came (and I had made several runs to the galley where an assortment of self-help drinks and foods were on offer) and was looking forward to my Moroccon styled chicken (see menu). Here is how the conversation went:
FA: "Monseiur, what would you like for Dinner?"
ME: "Madame, I would love the Moroccon styled chicken."
FA: "Of course" (Searches for it)."
FA: "I am sorry Monseiur. We are out of the chicken."
ME: "That is too bad. I was really looking forward to it. What do you have?"
FA: "Let me see. Oh I am sorry Monseiur, we have no meals left for you."
WTF! I mean. This is the most incredible thing I have EVER heard while traveling in J or F. Ok, how the hell can you run out of your ENTIRE J class catering option? How the hell can the FA NOT KNOW this? How the hell does she actually come all the way, and after looking, suddenly figure out there is nothing to eat? How the hell does this happen on a flight with 10% load?! And the worst is she made NO apologies. Nothing. It was like ... a matter of fact, and thats it. Here I was paying a pretty decent sum of money and being told there is nothing to eat! Oh, and there is NO Hors d' Oeuvres left as well?!! WTF! So Madame continued giving me a blank stare and did nothing. She just stood there confused. So anyways (given my hunger, and controlling my anger), I requested her for the food options from the Y cabin or the crew meal or something. Something clicked in her ditzy head, and she said, "Of course Monseiur!"
Anyways, as I pondered the incident, I began to laugh at how incredibly sad the whole thing was. But the final act in the saga was not done yet ... she brought me 2 meals (see picture, shrink wrapped) ... which I do admit were tasty ...¦ but in the final act, she gave me utensils which were ALL nasty. I mean, USED utensils. When was the last time you flew a premium product (or Y product for that matter) and got USED utensils. See my picture. And again, NO apologies or expression of horror when I pointed this out.
Anyways, I was done with this flight. It was just horrible!
(El Menu: Not that it made a difference)
(Welcome Champagne: Pretty good!)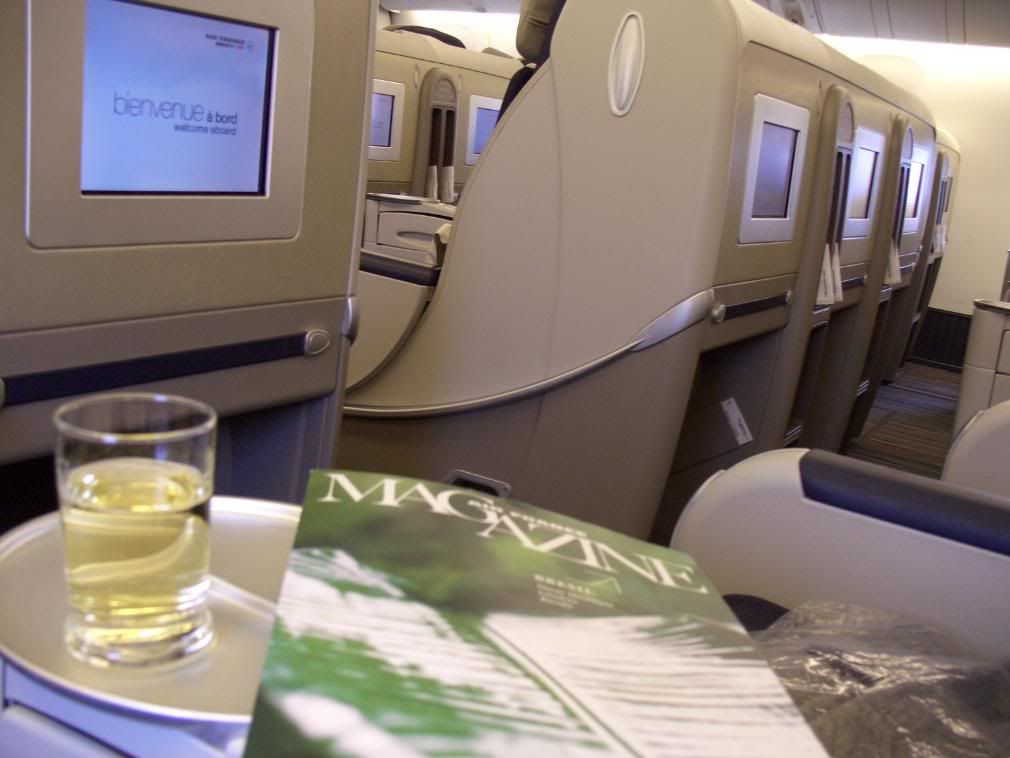 (Some snacks)
(Hors d' Oeuvre: excellent foei gras)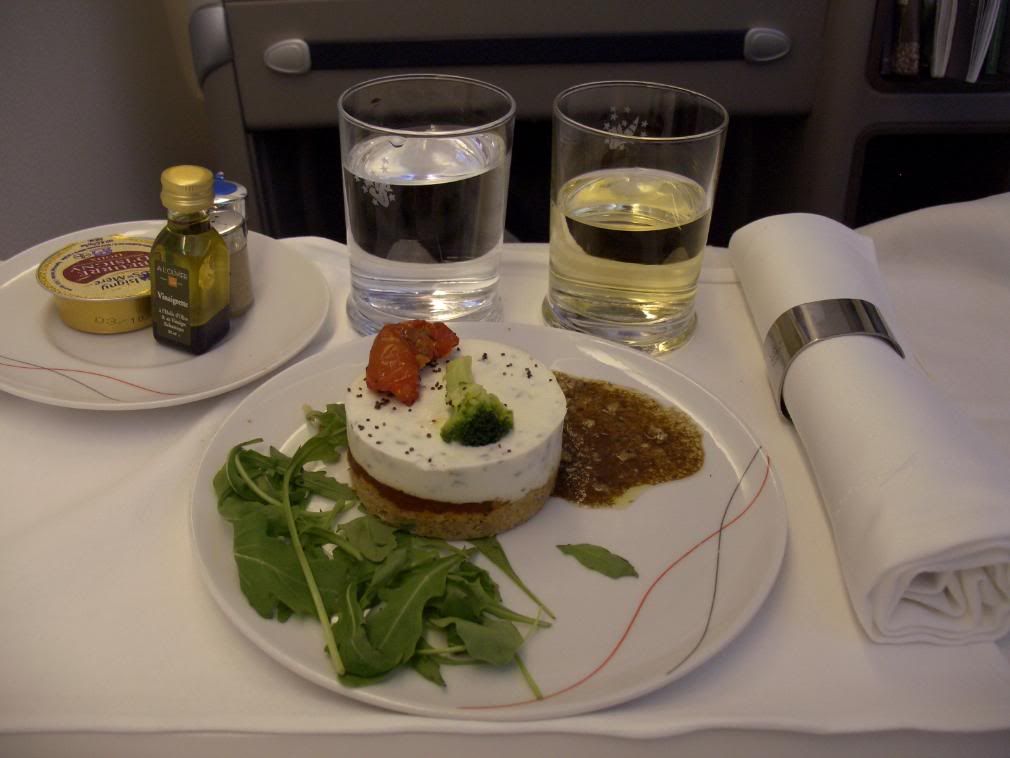 (Main: Poor cod)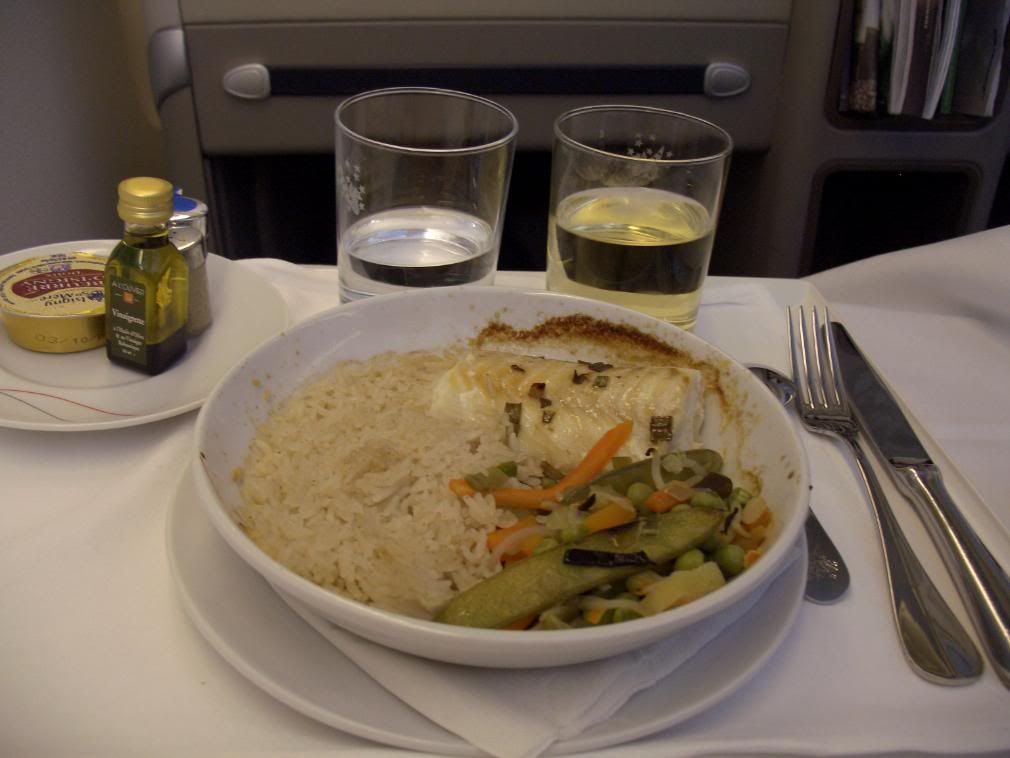 (Tea)
(Drink into the flight)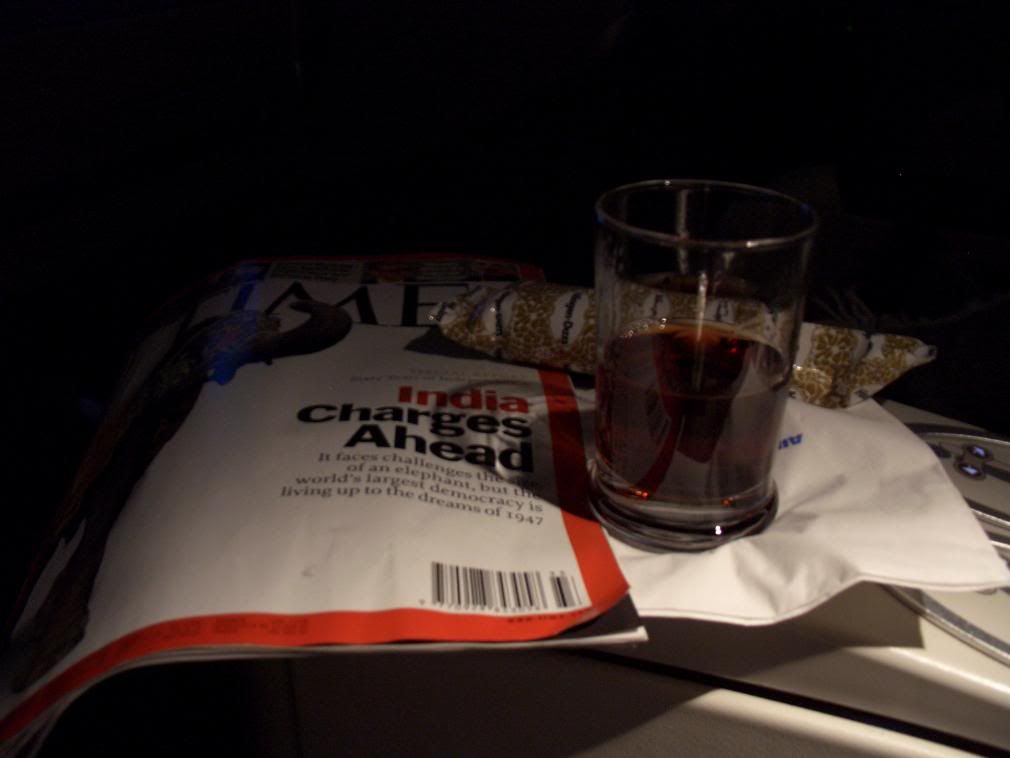 (Bar at the back with food and drinks: Pretty good collection)
(Drink and News)
(Oh No, where is my food?: J class food missing!)
(And that nasty utensil)
d) Inflight Entertainment:
Air France has an average IFE. The screens are average, and the selection of movies are also average. However, they were NOT AVOD and the entire section called "WORLD CINEMA" had no films in it. I forget how many total films there were ... around 10 I believe. Mostly crappy ... and complemented by a crappy "noise canceling" head set. AFs inflight magazine though was pretty good, and there was a HUGE selection of international newspaper and newsmagazines. Surprisingly, lots of English reading materials ... which is weird given AFs natural anti-English stance.
(IFE: Poor headset)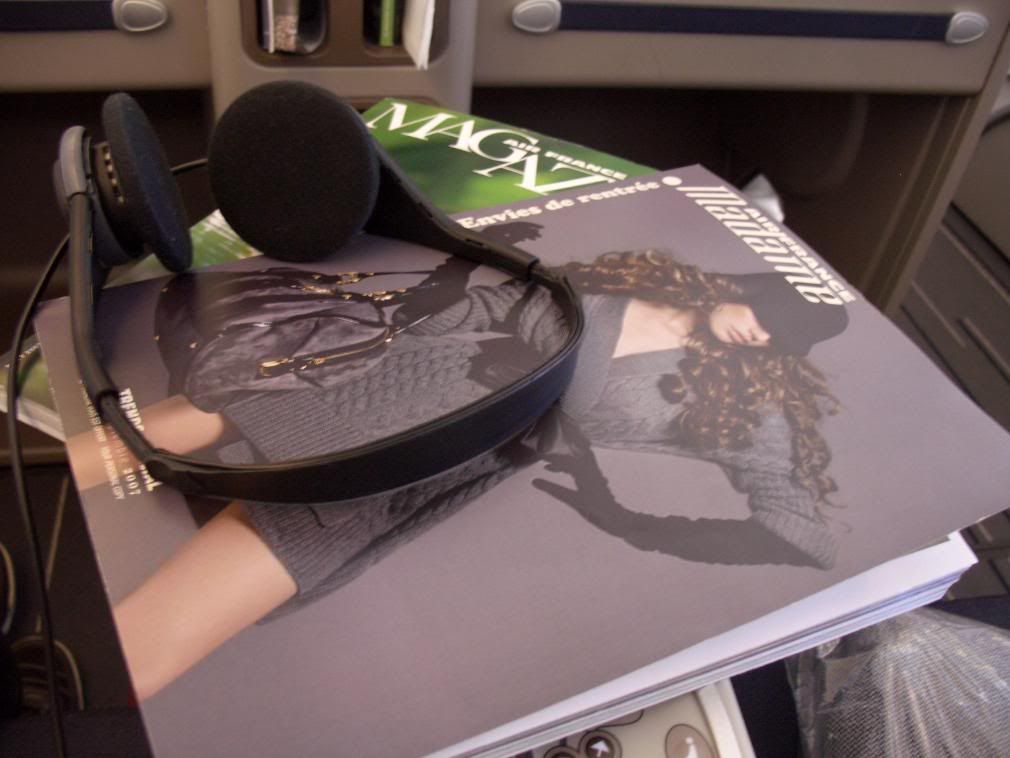 (IFE)
(Moving Maps: Only just over northern Africa)
(It's a LONG flight)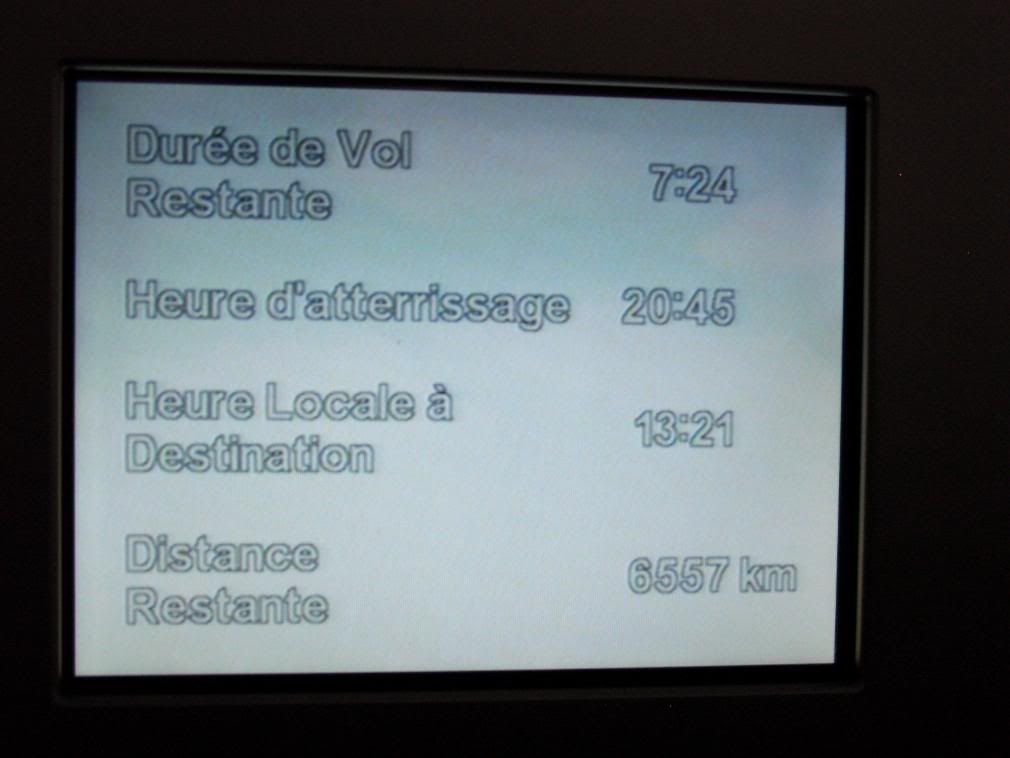 (In-flight magazines, Boarding Passes, etc.)
e) Crew:
Absolutely unequivocally one of the worst crews I have ever had. Starting from the fact that they never helped the poor woman, the FAs seemed to be doing the few passengers a favour. Service came with absolutely zero smile and no eye contact, and was done with the impression that it was jail-time for the FAs. Besides the famous meal incident, I was amused that AF probably has the only J class crew that places the hot towel on the seat handle, and not on the passengers stretched out hand. Oh, and what the hell do they do on a flight with 10% load? I NEVER saw them between service runs. EVER. No water runs. Nothing. Though, upon ringing the attendant button, I did get a FA in 8 minutes. That is I think my best ever with AF J!
IV> Post-Flight:
JNB arrival was pretty smooth. All I wanted to do was get off the damn flight. I had enough of AF. JNB customs was fast … waiting for bags took forever.
(JNB Airport Arrivals)
V> Impressions + Scores:
Do I really have to spell out what my overall impression was
? I think A.Netters are smart to figure this one out. From the horrific lounge incident, to the poor CDG ops, to the crew performance, to the abysmal food (oh wait, there was NONE), to the poor IFE, to the cramped 2x3x2 seating, there really was NOTHING that I could say in support of AF. I have flown them enough ... and each time, I have been constantly disappointed. I spent a lot of money on this ticket, and it is clear that AF does not value my business. Next time on CDG-JNB, I am going to try Afriqiyah or Timbuktu Air. At least, I am not going to get some pretentious service. Absolutely recommend against AF when given a choice.
Reservation: 6.0
Check-In: N/A
Lounge: 1.0 (WORST EVER)
Boarding: 8.0
Seat: 6.0
Aircraft Overall Ambience: 5.0
IFE: 6.0
Crew Service: 1.0 (WORST EVER)
Food: 1.0 (WORST EVER)
Beverages: 8.0
Amenity Kits + Others Freebies: 9.0 (BEST EVER)
Disembarkation: 7.0
On-Time Record: 6.0
OVERALL IMPRESSION: 5.33*
(Pre-flight average of all-reviews: 6.34)
Lowest Score YET for J product reviewed
(Scores are based on comparison with other airlines in THAT class of service - No comparison of Y vs. F for example)
VI> Other Trip Reports:
1/
Avianca: BOG-LIM: 07/06/06: 7.09pts: Y-IMR
2/
Air Tran: EWR-MDW: 08/02/06: 6.73pts: Y-DMR
3/
West Jet: YYC-YVR: 09/05/06: 7.14pts: Y-DMR
4/
Air Canada: YYZ-YVR: 09/02/06: 5.92pts: Y-DLR
5/
Air Canada: ALB-YYZ: 09/01/06: 5.88pts: Y-ISR
6/
Singapore Airlines: EWR-SIN: 09/20/06: 7.81pts: J-ILR
7/
Adam Air: SIN-CGK: 09/22/06: 6.04: Y-ISR
8/
Valuair: CGK-SIN: 09/22/06: 5.04: Y-ISR
9/
Spice Jet: CCU-DEL: 09/25/06: 6.67: Y-DMR
10/
Indian: DEL-CCU: 09/26/06: 7.25: Y-DMR
11/
Air Sahara: CCU-BOM: 09/28/06: 4.42: Y-DMR
12/
Air Deccan: IXZ-CCU: 10/07/06: 5.75: Y-DMR
13/
Alliance: CCU-IXA: 10/08/06: 7.54: Y-DSR
14/
Kingfisher: IXA-GAU: 10/08/06: 8.21: Y-DSR
15/
Indigo: GAU-CCU: 10/08/06: 6.54: Y-DSR
16/
Singapore Airlines: CCU-SIN: 10/11/06: 5.88: J-IMR
17/
Air Canada: ICN-YYZ: 10/12/06: 7.13: J-ILR
18/
Delta AirLines: SEA-JFK: 11/24/06: 7.17: F-DLR
19/
USA 3000: PUJ-BDL: 01/06/07: 5.96: Y-IMR
20/
Viva Aerobus: CUN-JFK: 02/20/07: 4.58: Y-DSR
21/
Jet Blue: CUN-JFK: 02/20/07: 5.96: Y-IMR
22/
SAS Norge/Braathens: OSL-AES: 05/26/07: 5.75: Y-DSR
23/
TAP Air Portugal: OSL-LIS: 05/29/07: 5.46: Y-IMR
24/
Delta AirLines: JFK-CDG: 08/09/07: 7.85: J-ILR
(Note on Codes: Y - Economy, J - Business, F - First :: I/D - International/Domestic :: SR/MR/LR - Short/Medium/Long Haul :: I have designed these codes so people dont believe my scores are comparing apples and oranges)
VII> Other Pictures:
(Awesome useful amenity kit)
(Enroute)