Feedback always appreciated.
Trip Report: 026
Flight Category: Y-ISR (See Report End)
Date: 13-Aug-07
SDT/SAT/Delay: 0840/0940/01:00 hrs
Flight:
LAM Mozambique TM 300
, 269 miles
Routing: JNB-MPM
Aircraft: 732
Seat: Economy, 10F
I > Background:
Ok, I am back! After taking a sabbatical from trip reports for 5 months, here is the first installation from a series of trip reports. Mid-August to mid-November 2007 saw the craziest of my travel plans. 69 flights totalling 175,028 kms on 35 airlines, visiting 49 airports in 34 countries in all 6 continents. And, here is the best part ... all of them were part of a 4month break from life ... pure vacation, and pure food for the mind, body, and soul. Together, they mounted to 21/2 round-the-worlds that was truly insane. As usual, all long haul flights were on Business or First Class; short haul was on Economy Class.
As I have tried for A.Net audience in the past, several of the reports will be firsts on A.Net. These include either first time airline coverages, routes, airports, flights, or countries. This report on LAM´s (TM) JNB-MPM will be the first for the segment, and the first to feature both LAM and the country of Mozambique according to preliminary search on A.Net. The reason for the trip was because I was dying to go to Mozambique. I always felt it was "my kinda country", and of course it did not disappoint. I had an amazing time. Maputo is now my 2nd favourite African capital city (after Asmara), and Mozambique is my favourite African country. The charms of the city, and the beautiful beaches were accentuated by some of the friendliest smiles I have ever got. Who would tell that the country suffered so much? Some pictures have been included at the end of this TR.
II > Pre-Flight:
a) Before Airport:
LAM is the national airline of Mozambique and it utilizes an eclectic fleet of aircrafts to connect Mozambique with the neighbouring countries. It used to fly to LIS and other European cities; however, lack of suitable aircrafts and mismanagement by politically appointed management has led to abandoning of several obvious profit making routes.
I tried to book online using
www.lam.co.mz.
However, every attempt failed. For some reason, you can do domestic bookings online, but not international ones. Not impressive given how much LAM touts their e-ticketing and website facilities.
Since I was in Venezuela, the only way to book a ticket was to find a South African travel agent who was willing to issue paper tickets and then send them to a hotel address in Johannesburg. All together, very complicated for an airline listed on GDS. Of course, forget actually seeing the itinerary and choosing/changing seats online.
b) At Airport:
I find that JNB becomes a much pleasant experience once you have cleared immigration and security. The outside of the airport looks fairly dismal, and the check-in counters are pretty old school with huge CRT displays. TM uses the check-in bay 86-87 which are at the far end of the terminal. Check-in was quick and one of the outsourced airport agents gave me my boarding card and agreed to my exit seat request ... surprising given that it was so late during the boarding process.
A quick café post security and immigration gave me a few minutes of spotting before heading to the gate for immediate boarding. I find spotting in JNB to be fascinating. Upon boarding, I was greeted by a friendly TM cabin crew. Even though the 732 was showing its age, it was well kept. I managed to find some Arabic markings which showed the origins of the aircraft ... any idea where this bird came from? Y class load was around 30%.
Airport - External:
(JNB and the O.R. Tambo International - note the really sloppy sign)
Check-In: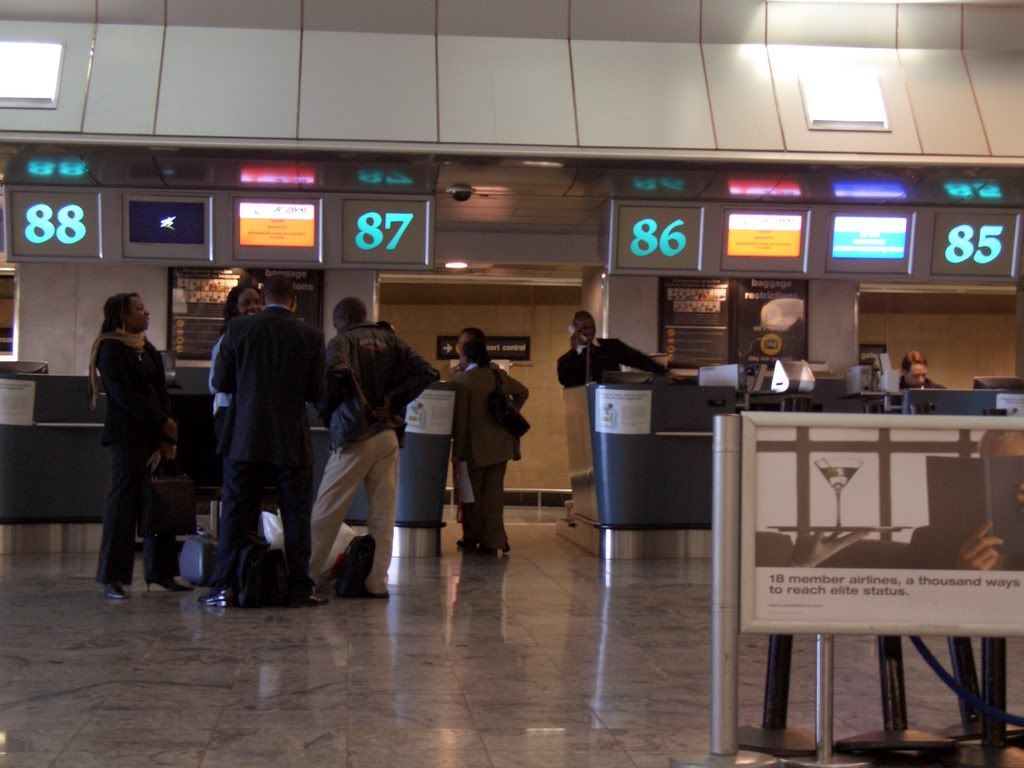 Airport - Internal:
(Pre-security)
(Departure board: I love departure boards!)
(Post-security and immigration)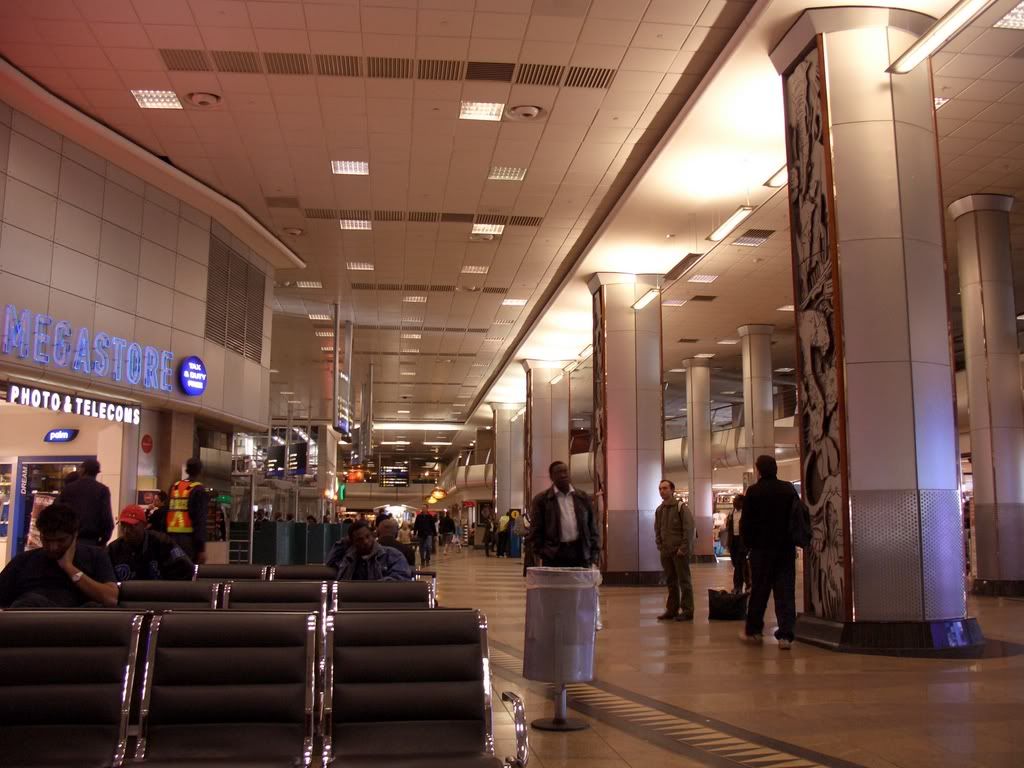 (Walk to the gate: love the revamp)
Scenes of the tarmac:
(An eclectic mix of carriers)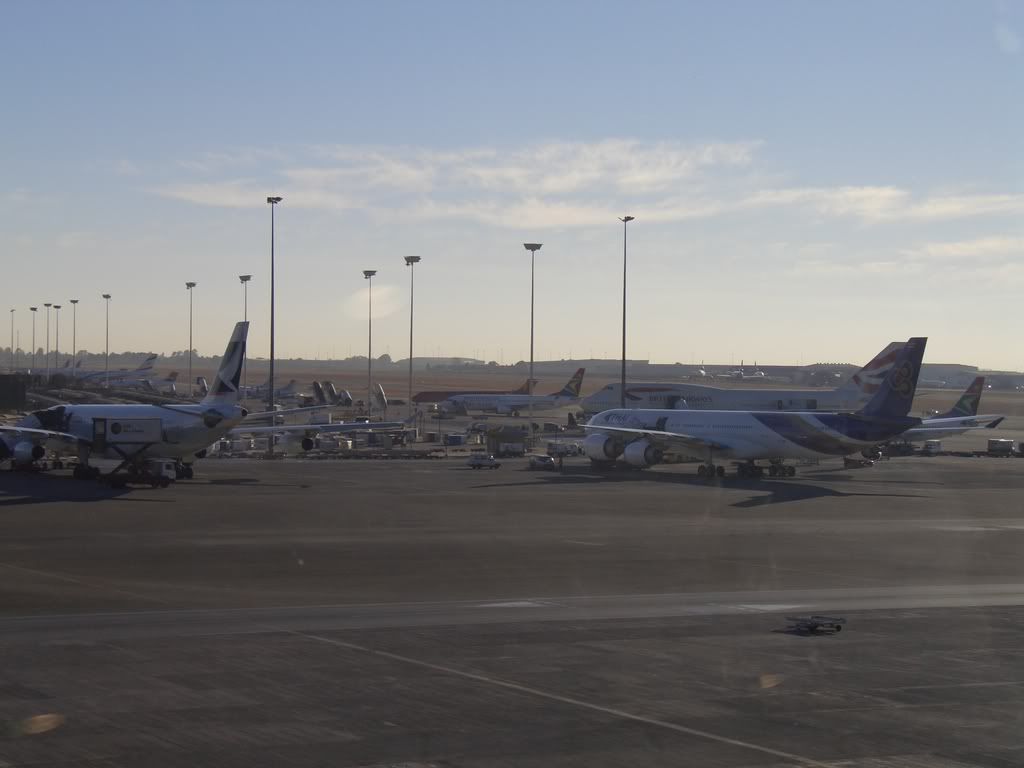 (Carrying the hopes of the Rainbow Nation)
(Note the Zambian 732: Does anyone have an idea of what their logo signifies?)
Lounge
N/A
Boarding:
NONE
III> In-Flight:
a) Service Schedule Impressions:
A Box snack/breakfast service only.
b) Aircraft + Seats:
The cloth based seats on the 732 were OK. Nothing to write home about with decent pitch and recline. I was fortunate to have the exit row seat, but there is a photo of a regular row which shows the averageness of the seat and its dimensions. Interestingly, I found this 732 to be significantly more cramped than the ALLIANCE AIR bird
(LINK)
I had taken last year.
Aircraft: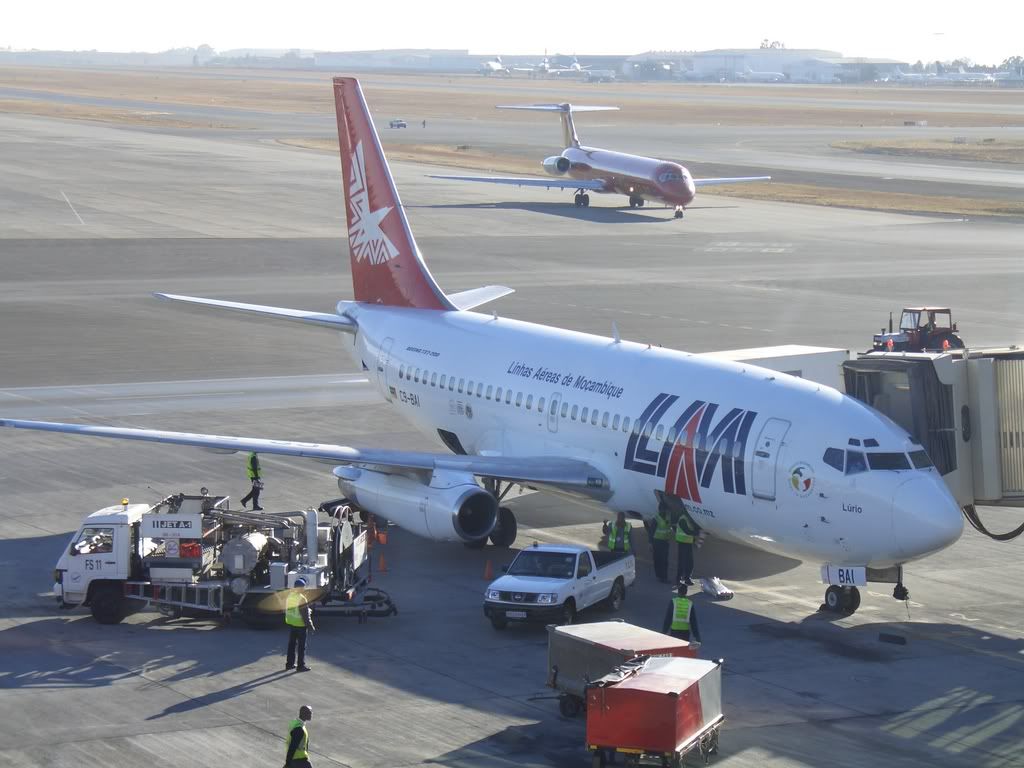 Views from Aircraft:
(Interesting assortment of parked aircrafts include an IL76, a 707, and a 727: Any idea whose they are?)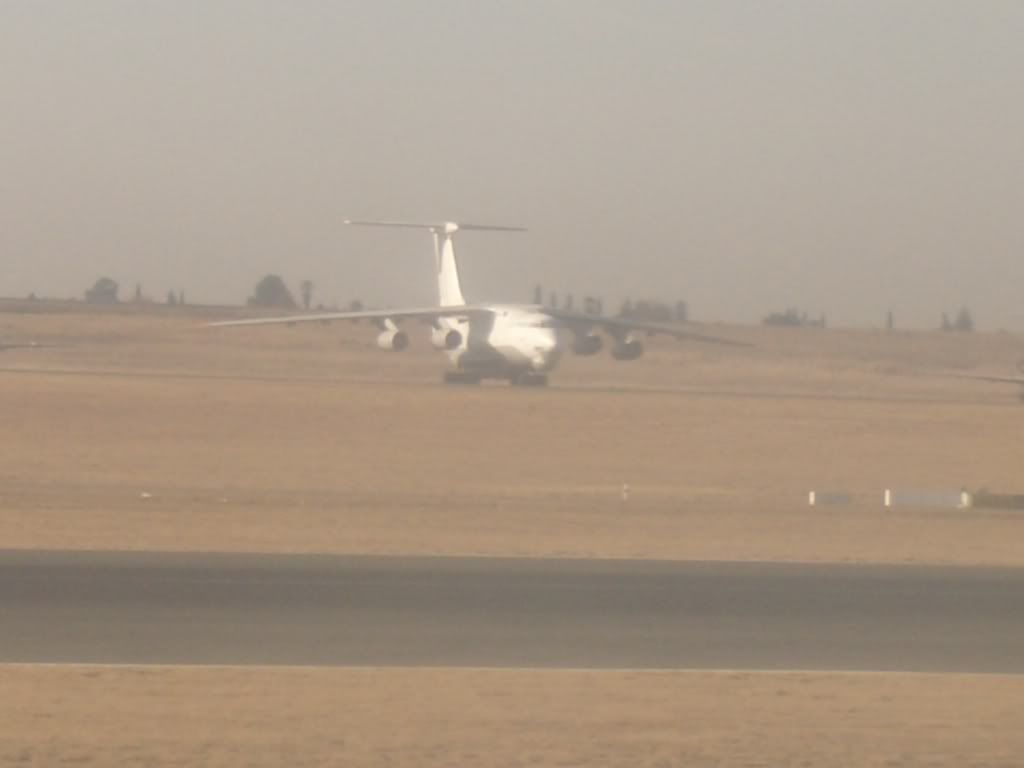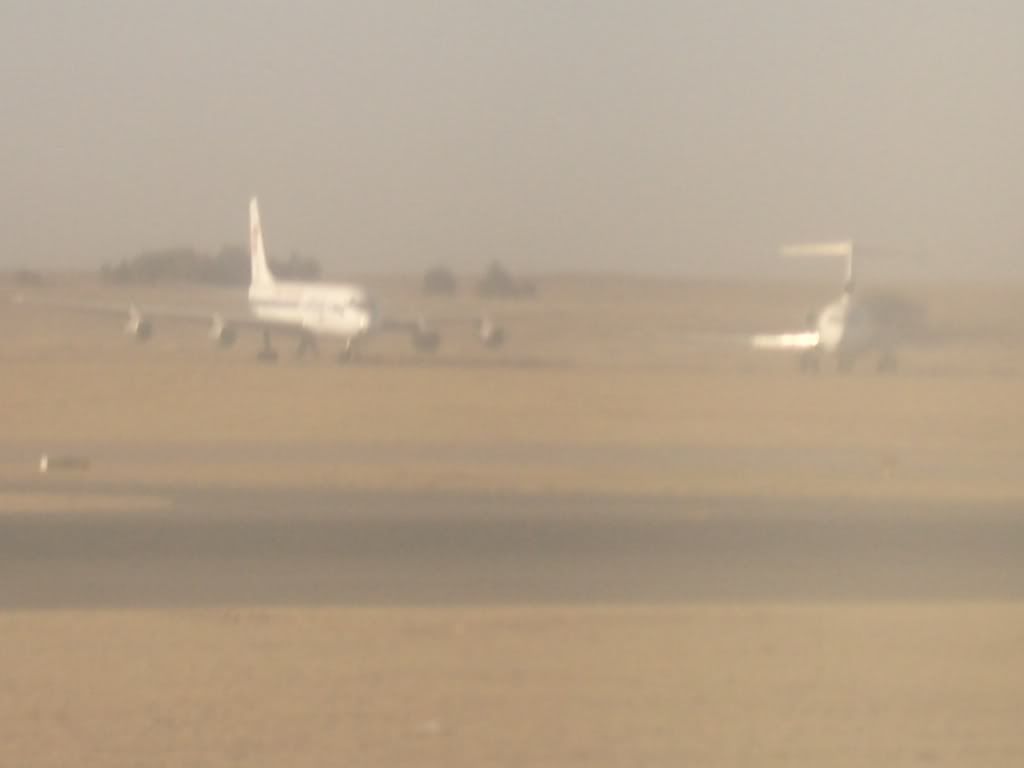 Seat Leg-Room:
(Always comfortable 732 exit row seat)
(More standard cramped regular row)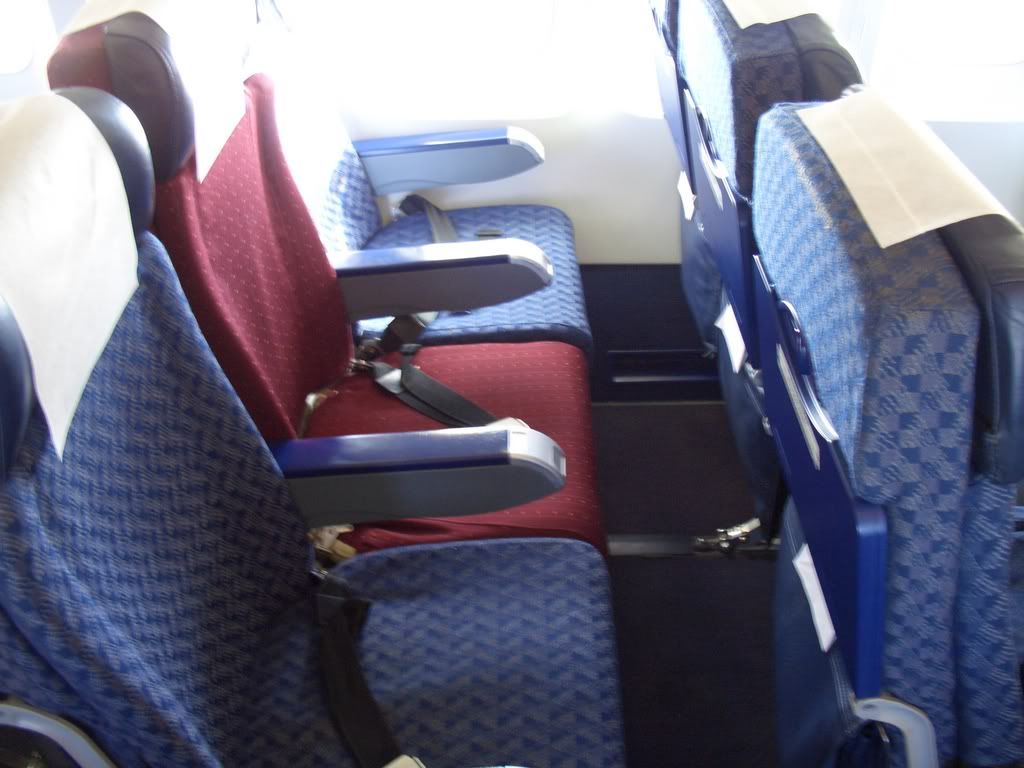 Seat Recline Angle View:
Cabin: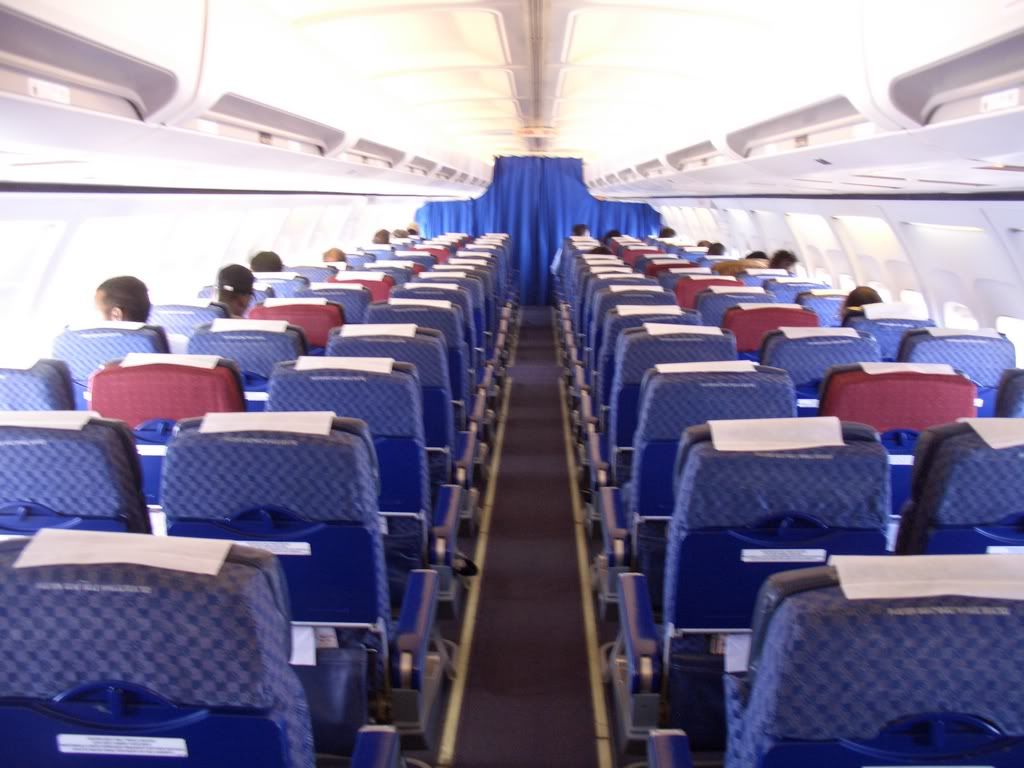 (Gotta love the nostalgia)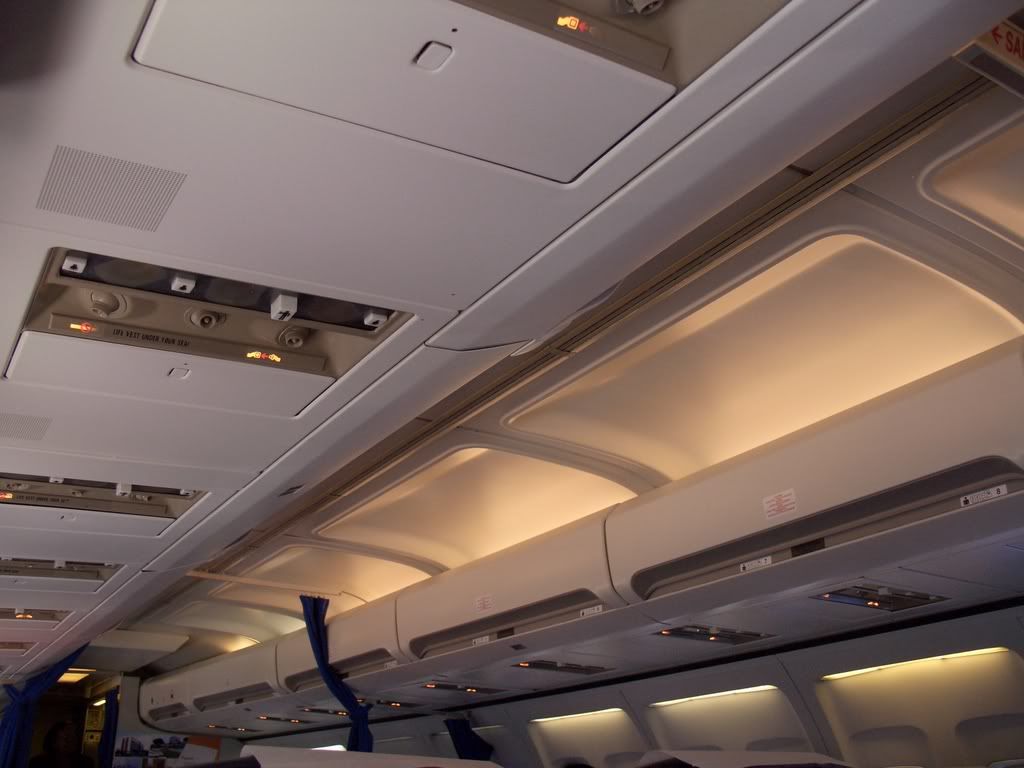 (Showing its pedigree and age)
c) Meal + Beverage:
Breakfast service immediately after take off was a croissant looking sandwich with ham, some juice, and tea and café. Again, nothing to write home about. I did appreciate the gesture on this short flight though.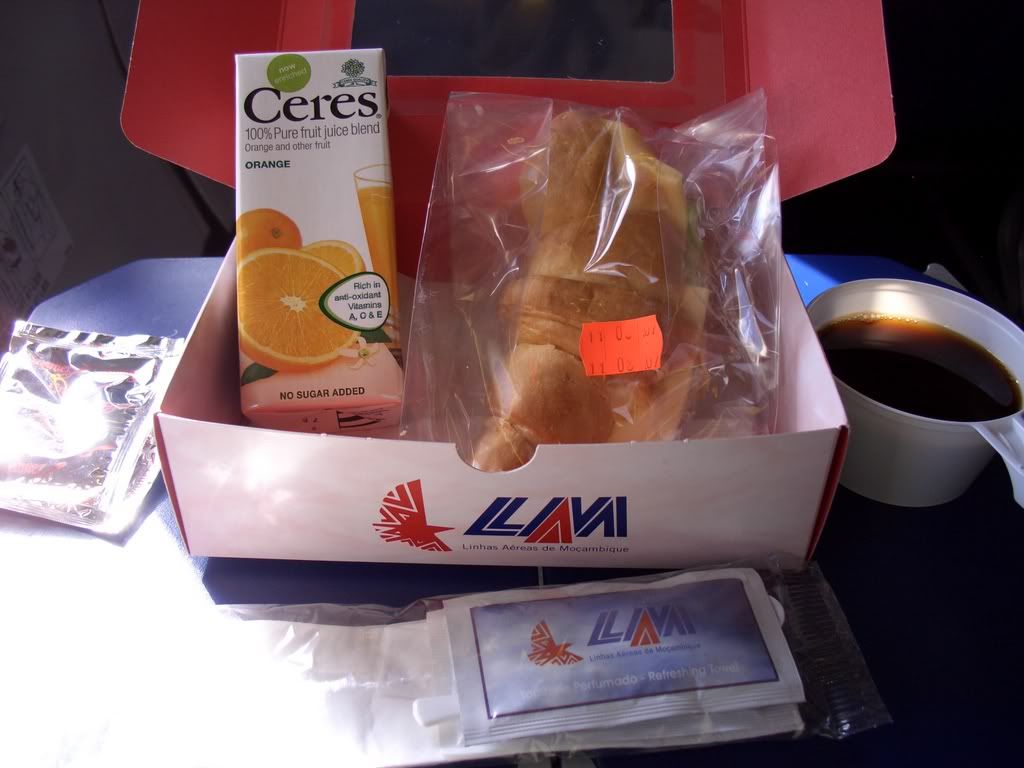 d) Inflight Entertainment:
Only inflight magazine was available during the flight.
(In-flight magazines, Boarding Passes, etc.)
e) Crew:
Cabin crew were above average during the flight. They did their alloted task with smiles and then disappeared to the back of the aircraft.
IV> Post-Flight:
It took forever for bags to arrive at Maputo airport. I was confused why this was the case as it was the only flight on the ground. Visa on Arrival (VOA) took forever to happen
(MPM Airport Exterior - no jet bridges)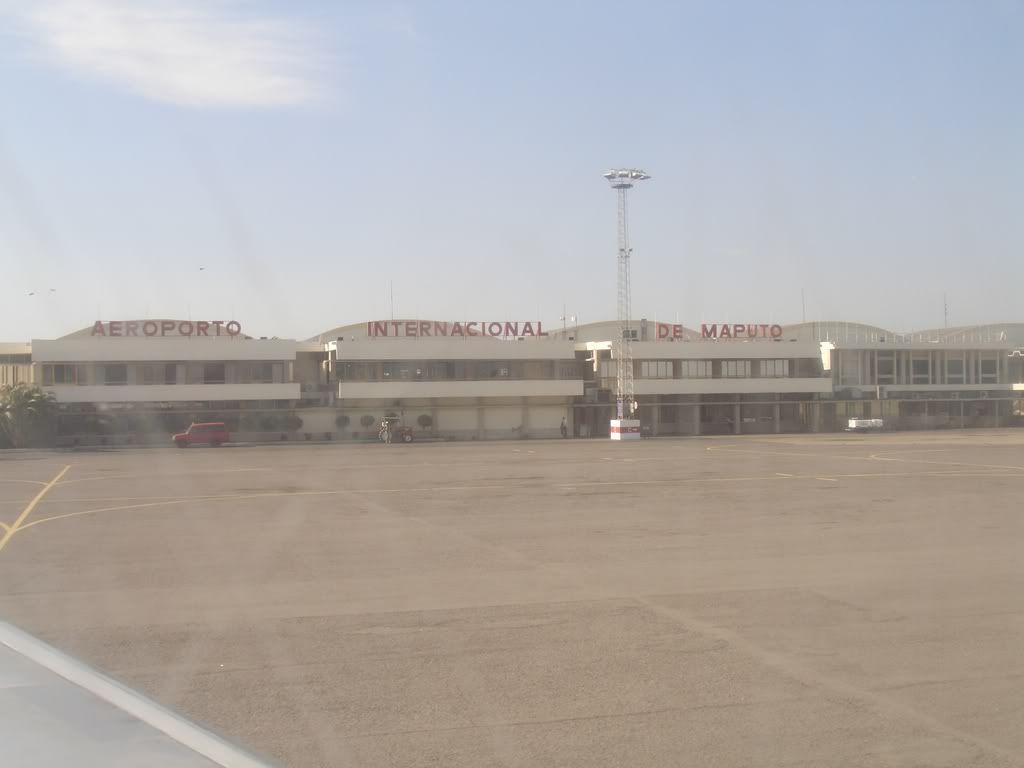 (MPM Airport Terminal)
V> Impressions Scores:
LAM is a decent airline that provided a clean, comfortable, on-time service. However, they will not be winning any accolades anytime soon. As Mozambique continues to grow, LAM has a real chance to be a positive image of the country. Working on an efficient website would be the first step. Would recommend flying with them for sure in the future for short legs
Reservation: 3.0
Check-In: 7.0
Lounge: N/A
Boarding: 7.0
Seat: 6.0
Aircraft Overall Ambience: 5.0
IFE: 5.0
Crew Service: 6.0
Food: 6.0
Beverages: 5.0
Amenity Kits Others Freebies: 5.0
Disembarkation: 7.0
On-Time Record: 6.0
OVERALL IMPRESSION: 5.67
(Pre-flight average of all-reviews: 6.36)
(Scores are based on comparison with other airlines in THAT class of service %u2013 No comparison of Y vs. F for example)
VI> Other Trip Reports:
1/
Avianca: BOG-LIM: 07/06/06: 7.09pts: Y-IMR
2/
Air Tran: EWR-MDW: 08/02/06: 6.73pts: Y-DMR
3/
West Jet: YYC-YVR: 09/05/06: 7.14pts: Y-DMR
4/
Air Canada: YYZ-YVR: 09/02/06: 5.92pts: Y-DLR
5/
Air Canada: ALB-YYZ: 09/01/06: 5.88pts: Y-ISR
6/
Singapore Airlines: EWR-SIN: 09/20/06: 7.81pts: J-ILR
7/
Adam Air: SIN-CGK: 09/22/06: 6.04: Y-ISR
8/
Valuair: CGK-SIN: 09/22/06: 5.04: Y-ISR
9/
Spice Jet: CCU-DEL: 09/25/06: 6.67: Y-DMR
10/
Indian: DEL-CCU: 09/26/06: 7.25: Y-DMR
11/
Air Sahara: CCU-BOM: 09/28/06: 4.42: Y-DMR
12/
Air Deccan: IXZ-CCU: 10/07/06: 5.75: Y-DMR
13/
Alliance: CCU-IXA: 10/08/06: 7.54: Y-DSR
14/
Kingfisher: IXA-GAU: 10/08/06: 8.21: Y-DSR
15/
Indigo: GAU-CCU: 10/08/06: 6.54: Y-DSR
16/
Singapore Airlines: CCU-SIN: 10/11/06: 5.88: J-IMR
17/
Air Canada: ICN-YYZ: 10/12/06: 7.13: J-ILR
18/
Delta AirLines: SEA-JFK: 11/24/06: 7.17: F-DLR
19/
USA 3000: PUJ-BDL: 01/06/07: 5.96: Y-IMR
20/
Viva Aerobus: CUN-JFK: 02/20/07: 4.58: Y-DSR
21/
Jet Blue: CUN-JFK: 02/20/07: 5.96: Y-IMR
22/
SAS Norge/Braathens: OSL-AES: 05/26/07: 5.75: Y-DSR
23/
TAP Air Portugal: OSL-LIS: 05/29/07: 5.46: Y-IMR
24/
Delta Airlines: JFK-CDG: 08/09/07: 7.85: J-ILR
25/
Air France: CDG-JNB: 08/10/07: 5.33: J-ILR
(Note on Codes: Y - Economy, J - Business, F - First :: I/D - International/Domestic :: SR/MR/LR - Short/Medium/Long Haul :: I have designed these codes so people dont believe my scores are comparing apples with oranges)
VII> Other Pictures:
It has now become customary to share some images of the place I went to, and some other related aviation pictures. Hope everyone enjoys!
(Maputo Charm)
(A roadside bar "my kinda style" and a super friendly bartender. Actually, all people I met had these awesome smiles)
(Smiling kids in the town of Inhambane)
(Tofu Beach)
(Kid near Tanzanian border town)
[Edited 2007-11-21 11:21:07]