Feedback always appreciated.
Trip Report: 029
Flight Category: Y-ISR (See Report End)
Date: 19-Aug-07
SDT/SAT/Delay: 0800/0840/01:45 hrs (Delayed 01:30)
Flight:
Kenya Airways KQ 470
, 544 miles
Routing: NBO-BJM
Aircraft: 733
Seat: Economy, 10A
I > Background:
Ok, I am back! After taking a sabbatical from trip reports for 5 months, here is the first installation from a series of trip reports. Mid-August to mid-November 2007 saw the craziest of my travel plans. 69 flights totalling 175,028 kms on 35 airlines, visiting 49 airports in 34 countries in all 6 continents. And, here is the best part … all of them were part of a 4month break from life … pure vacation, and pure food for the mind, body, and soul. Together, they mounted to 21/2 round-the-worlds that was truly insane. As usual, all long haul flights were on Business or First Class; short haul was on Economy Class.
As I have tried for A.Net audience in the past, several of the reports will be firsts on A.Net. These include either first time airline coverages, routes, airports, flights, or countries.
This report on Kenya Airways´ (KQ) NBO-BJM will be the first for the segment, and the first to feature reporting from the East Central African country of Burundi. The reason for the trip was to explore some of the countries in Africa I had not been to. Please note that the quality of pictures are poor. For those of you who have been to this land locked African country, you can appreciate how daunting security agents/police/informal secret service can be, and how they hate photography. I got caught once … but told them I was fixing my camera. Close call.
II > Pre-Flight:
a) Before Airport:
Kenya Airways is the lifeline (along with ET) providing valuable connectivity to small African countries. They have an excellent hub operaton at NBO (though, JKIA itself is dingy), and the NBO-BJM flight is a good revenue earner for the airline. KQ uses older B733 as this is not a prestigious route.
Booking was done online using Kenya Airways online website at
www.kenya-airways.com.
It was rather simple process. However, for some reason e-ticketing was not available, and I was advised to go to the airport to pick up my paper ticket. They were some glitches as KQ had recently migrated to Amadeus resulting in 2 PNRs. My biggest gripe with the online system was its inability to choose/modify seats. However, you can do the same 60 days prior to departure by calling HQ in NBO. Of course, I did the same and blocked the glorious 10A exit seat with no seat in front of me for the segment.
b) At Airport:
JKIA is a total disaster. KQ has completely outgrown its hub, and the agony at check-in was exaggerated when my prime exit row seat was somehow never logged and thus apparently given away. Knowing how things (apparently) work in Africa, a brandishing of my business card and stern words ensured that the älready assigned seat 10A magically re-appeared back! Not impressed. Things should not be this corrupt and complicated. Anyways, post obtaining my boarding pass, I went through very lax security to be in probably the most claustrophobic terminal in the world … narrow hallways with impressive shops housed within a bus terminal. I used to fly through JKIA in the 1980s and my memory was that the shops were not there … making the terminal spacious … and now it was just a nightmare and narrow!
Boarding was from gate 4. Those familiar with JKIA will know that this is the "remote gate". Several flights leave out of gate 4 … you go down the stairs and walk to a bunch of parked (usually) KQ flights. At this particular time, there were lots of confusion as flights to FIH, JRO, DAR, JNB, and BJM were all supposed to leave from G4; yet signs were only indicating a subset of flights boarding; and annoucements were being made for a whole different subset of flights. Of course, tons of chaos ensured, and final push back after several rounds of manifest checks happened 01:30 behind schedule.
Upon boarding, I was greeted by a friendly KQ flight crew. The 733 looked good, but was not cleaned properly as evident from strewn garbage below seat 8A. Y class load was around 80%; J class at 60%.
Airport - External:
(JKIA Nairobi. Very 1970s)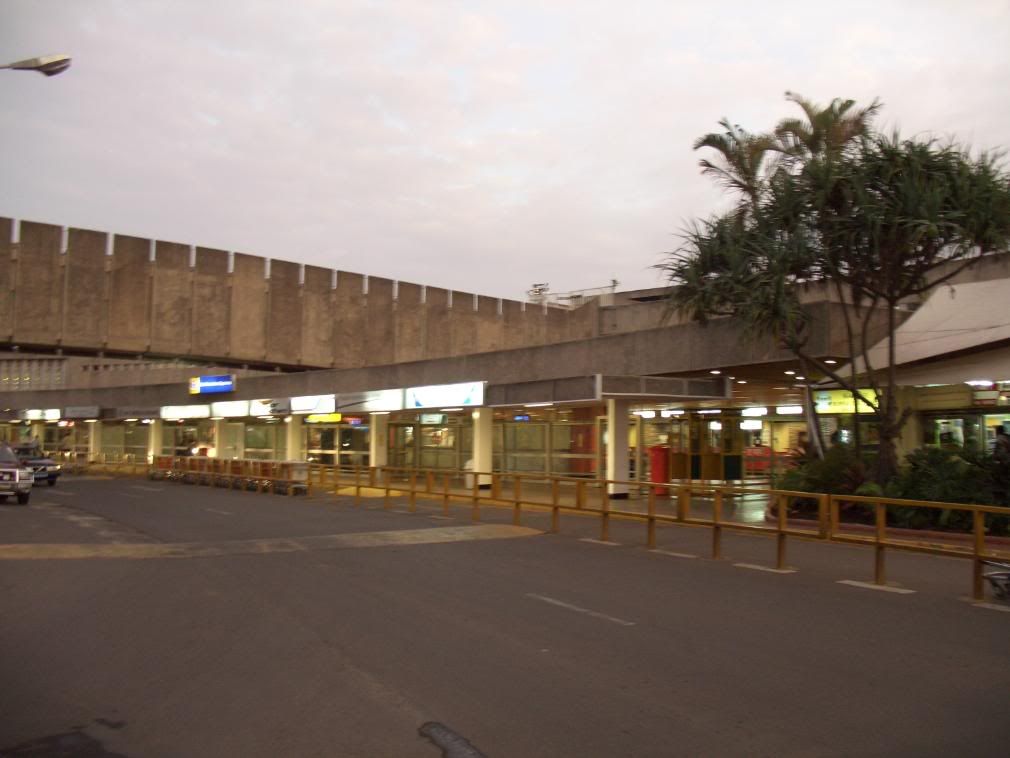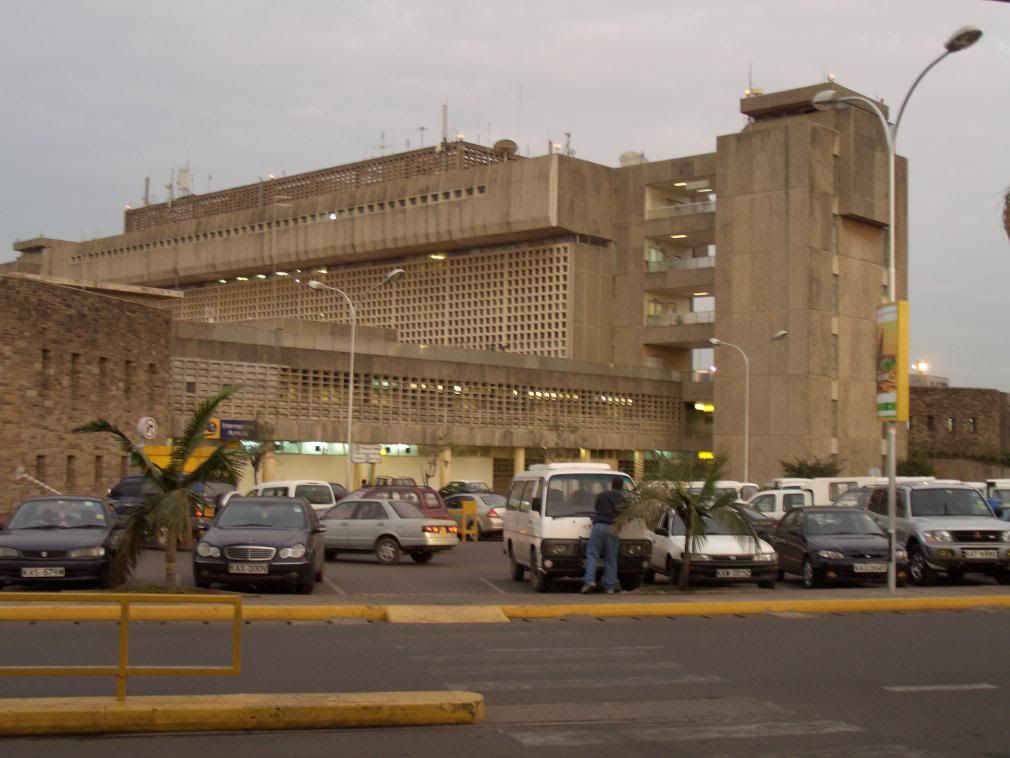 Check-In:
Airport - Internal:
(Entire security area, Unit 2 – KQ Terminal)
(Post-security departure board)
(Post-security gate areas. All these shops have been added in the past 10-15 years … thus you can notice how NARROW the hallways have become. These hallways had very few shops when I lived there 20 years back as a young boy)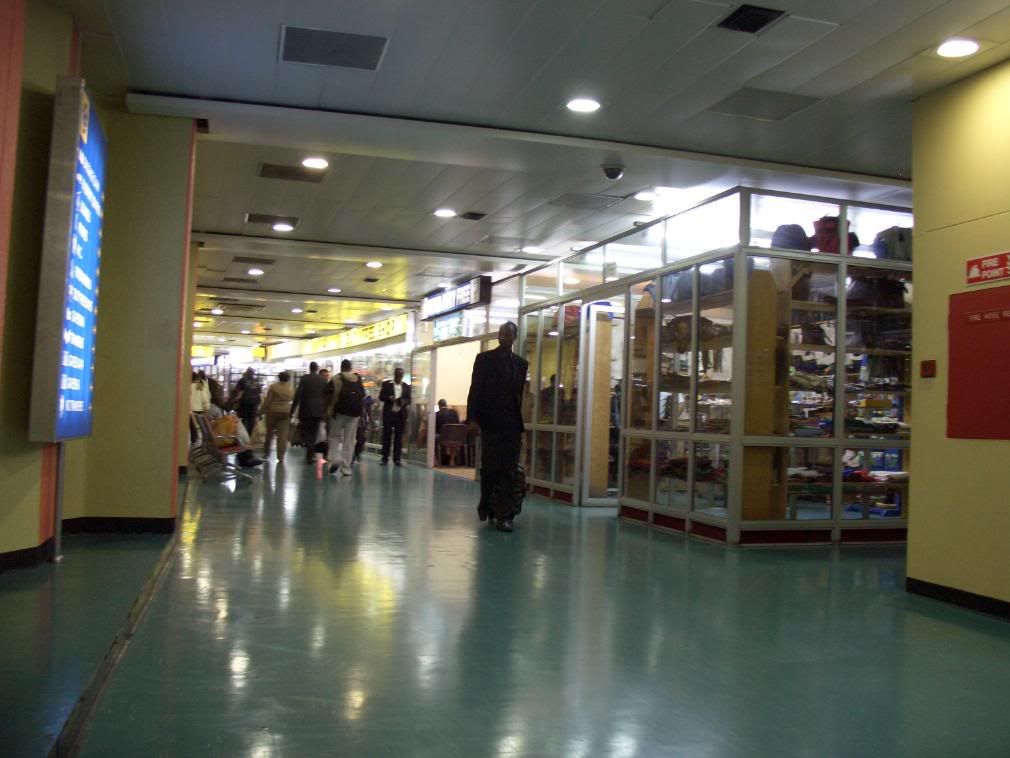 (I LOVE this airport architecture. I personally feel in the "need" to modernize, many new airports around the world are becoming totally soulless. Sort of like cars. Generic.)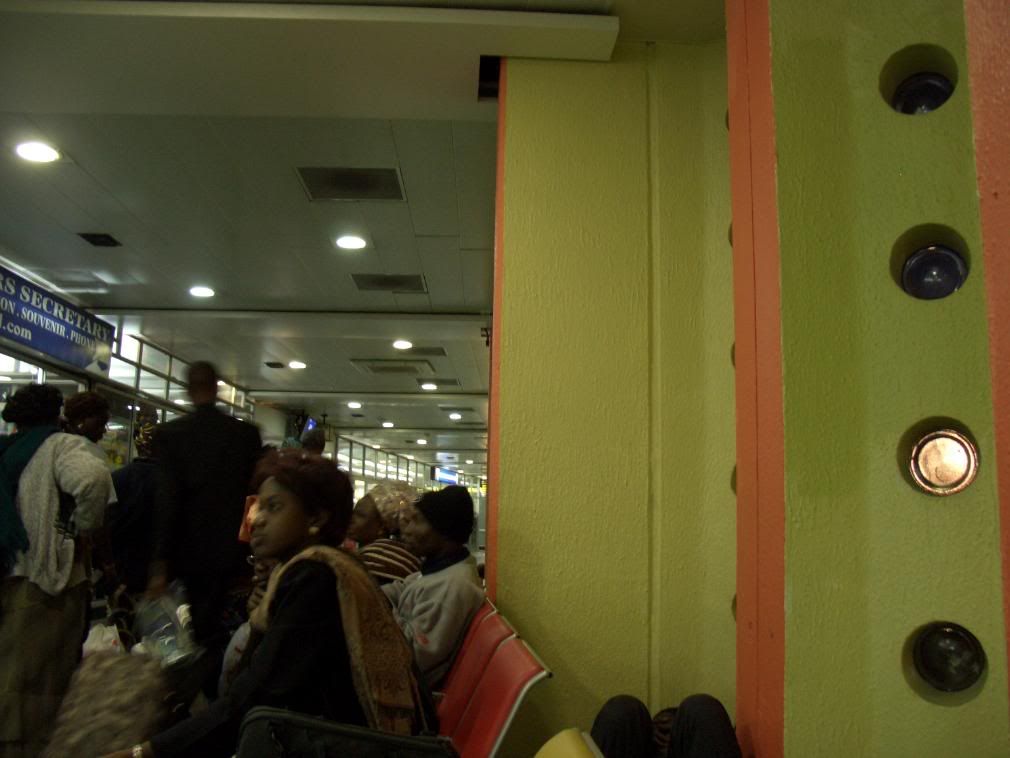 Scenes of the tarmac:
(VS bound for LHR)
(Parked Kenyan lines)
(Defunct East African and their sole DC9)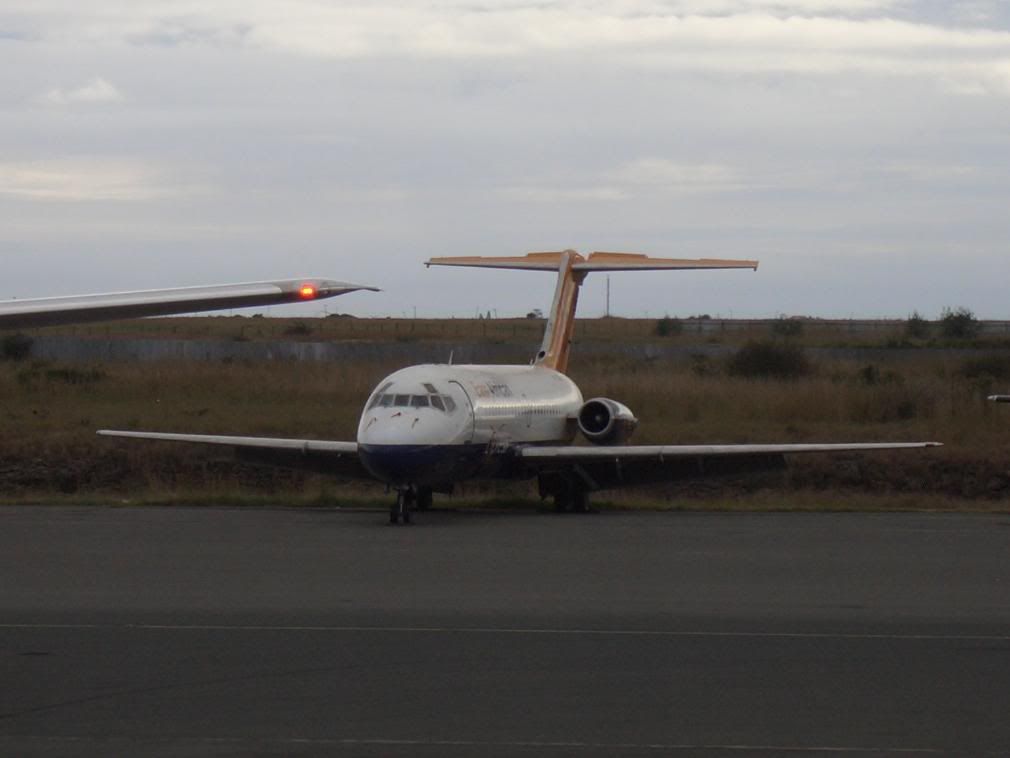 Lounge
NONE
Boarding:
NONE
III> In-Flight:
a) Service Schedule + Impressions:
Cold towels post take-off (much needed), a breakfast service 30 mins into the flight, and duty-free sales after breakfast cleared.
b) Aircraft + Seats:
Even though there was litter below some seats, the overall 733 looked clean and the bathrooms were also in good shape. Even though seat pitch outside exit row was industry average, the aircraft looked remarkable spacious. The seats themselves were comfortable cloth. Recline was definitely class-leading. Perhaps you can get a sense of the generous recline from the picture.
Aircraft: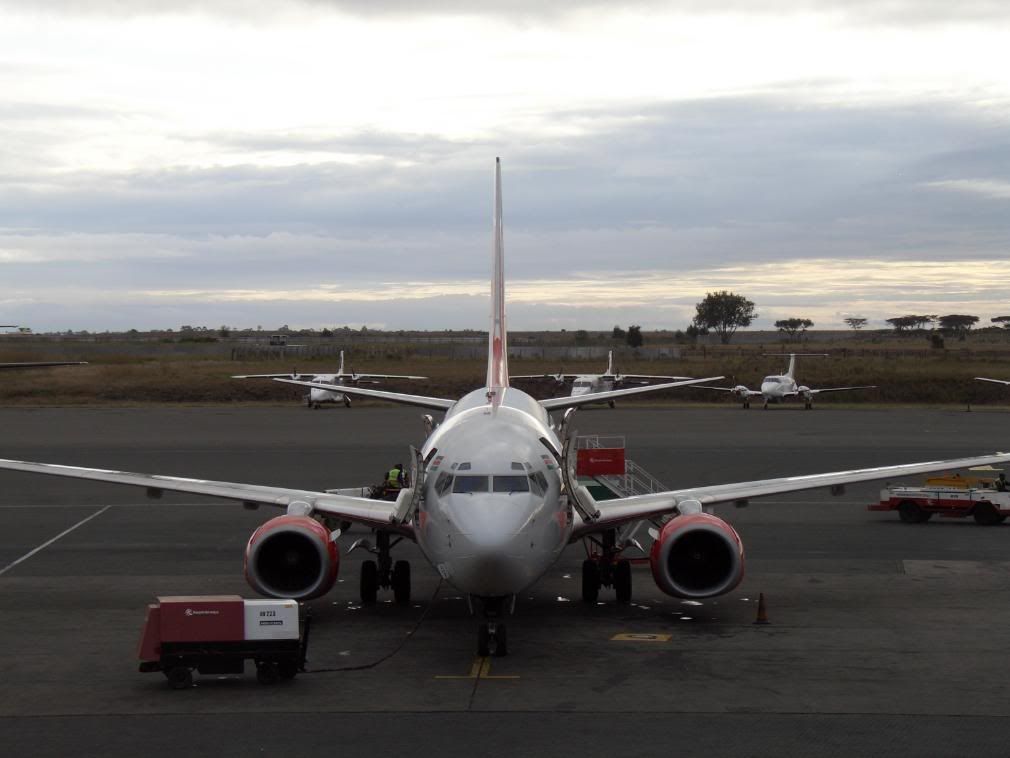 Views from Aircraft:
(Many of the 733s do the morning bank of flights taking transit passengers to various parts of East and South East Africa)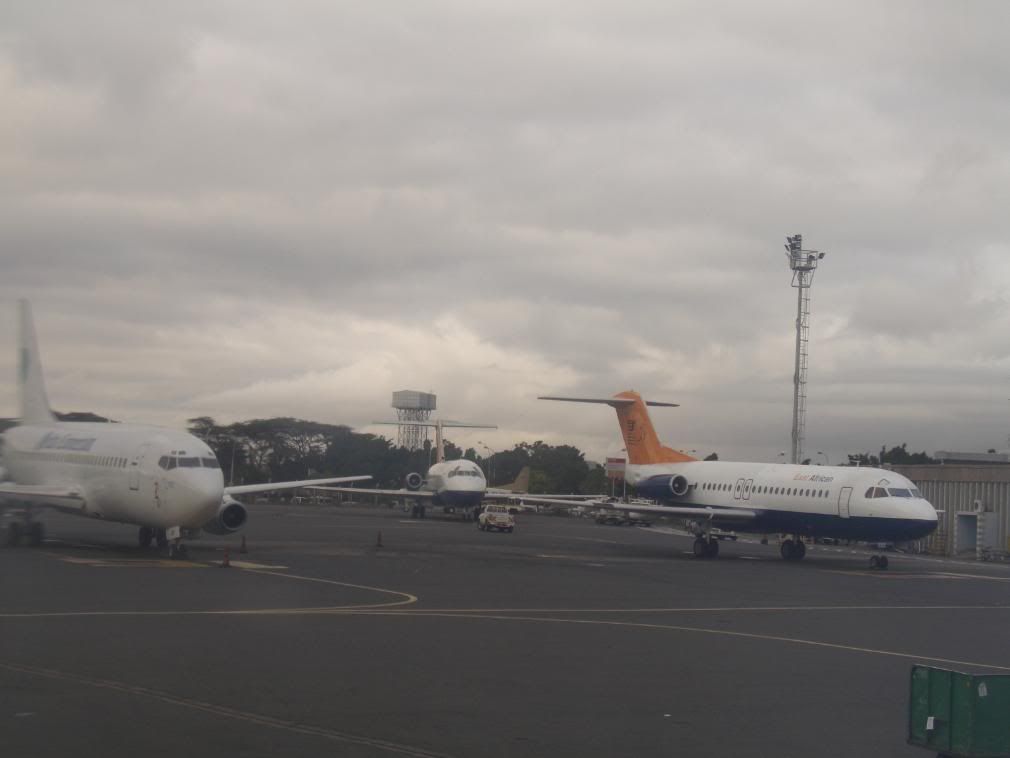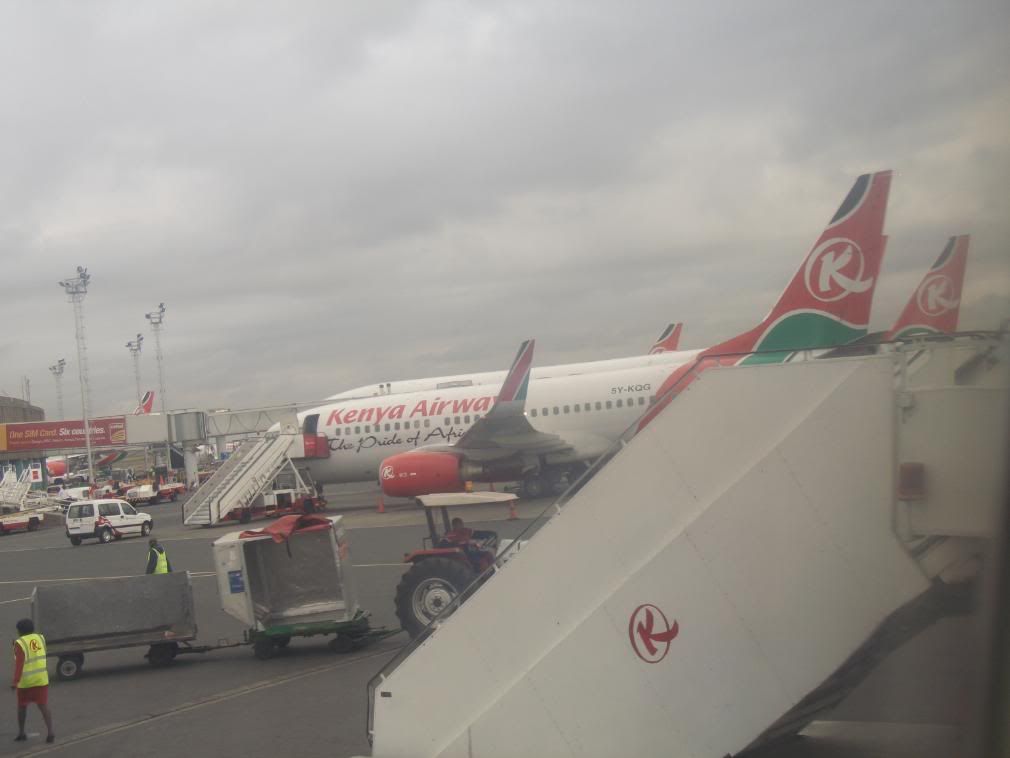 (Precision Air to Dar)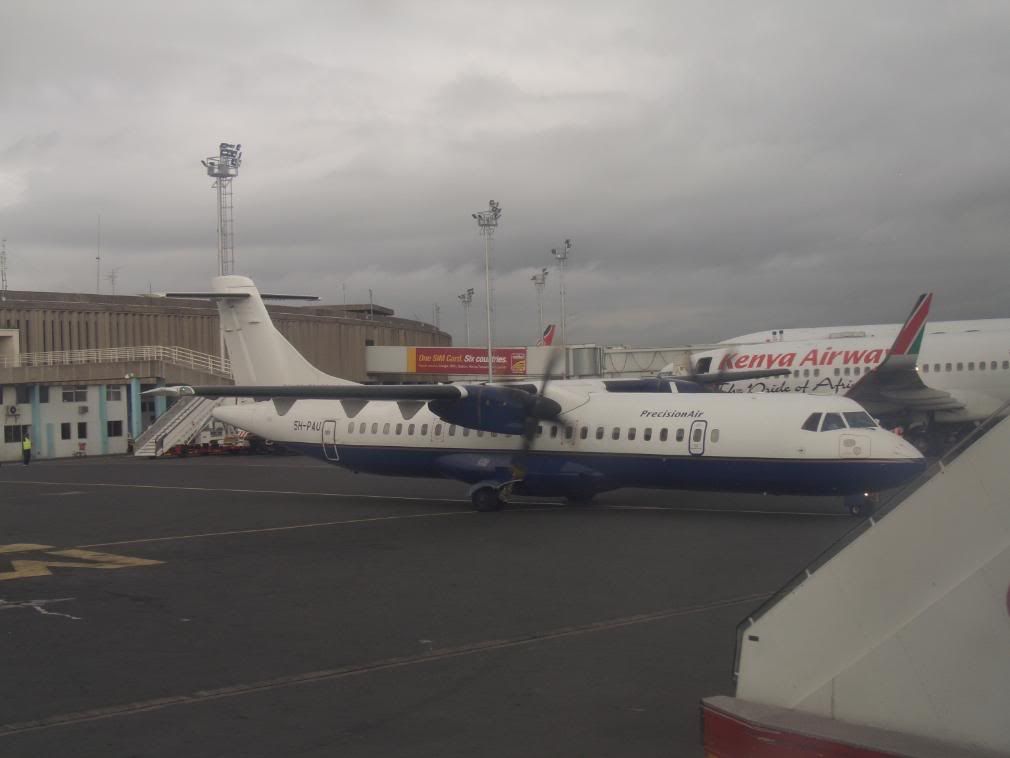 (Fly 540 to MYD and continuing to LAU)
(Martinair Cargo)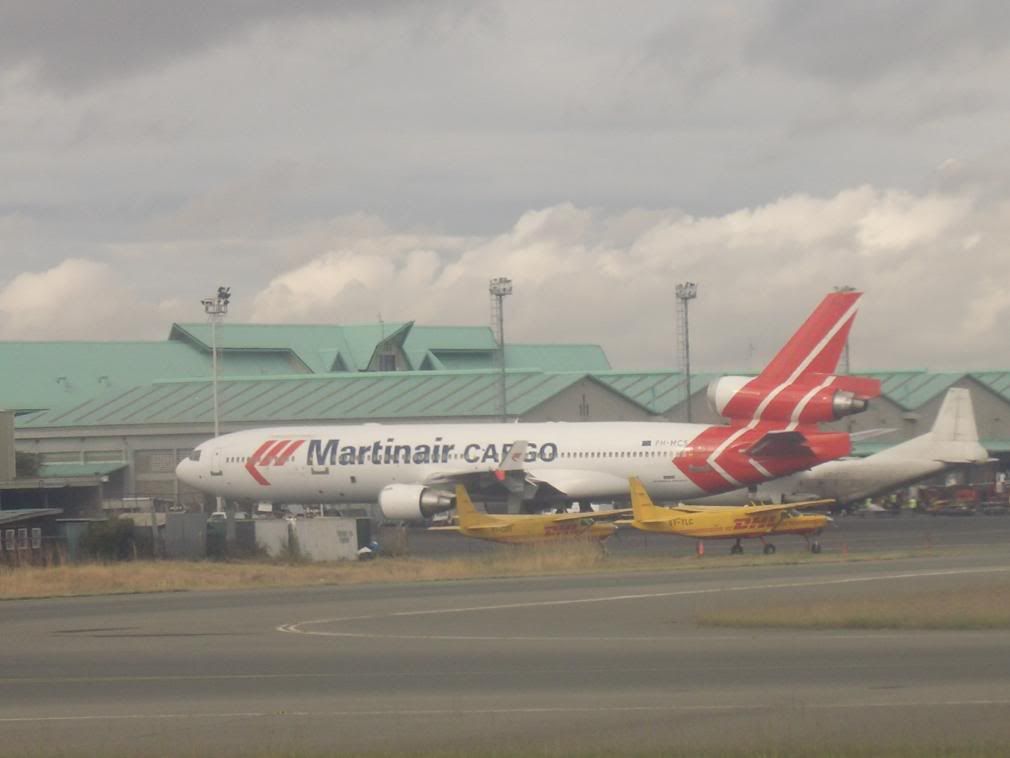 Seat Leg-Room:
(Comfortable exit row – I LOVE these seats on 732, 733, 734, and 735)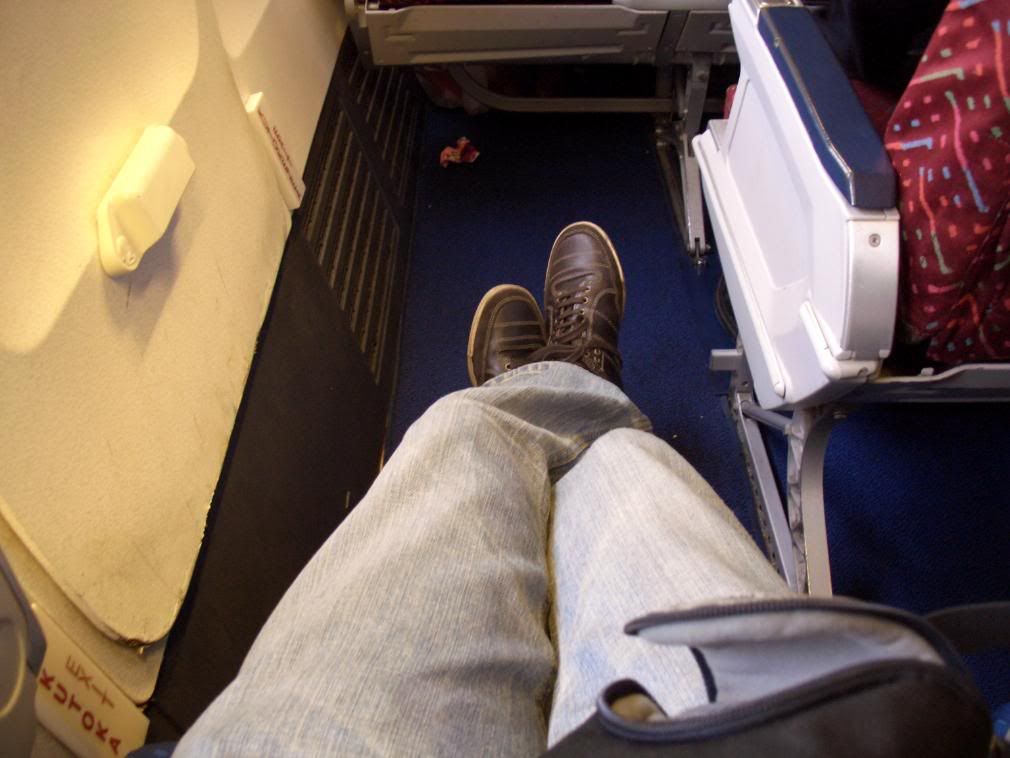 (Regular Seating Row)
Seat Recline + Angle View:
(Very generous recline)
Cabin: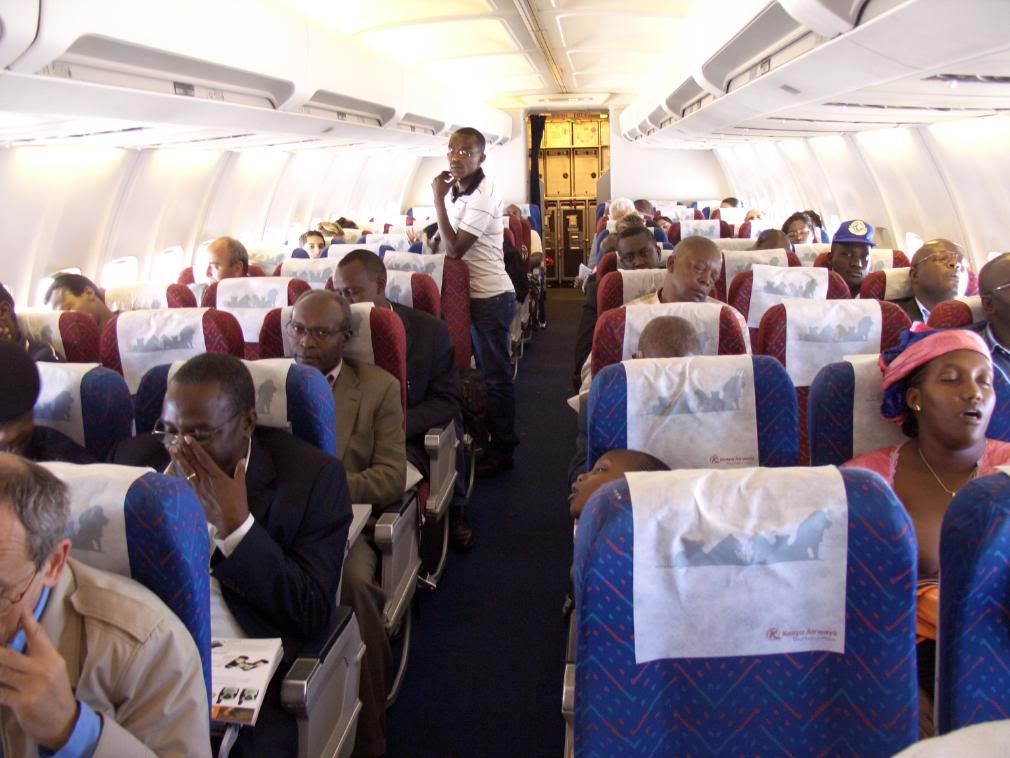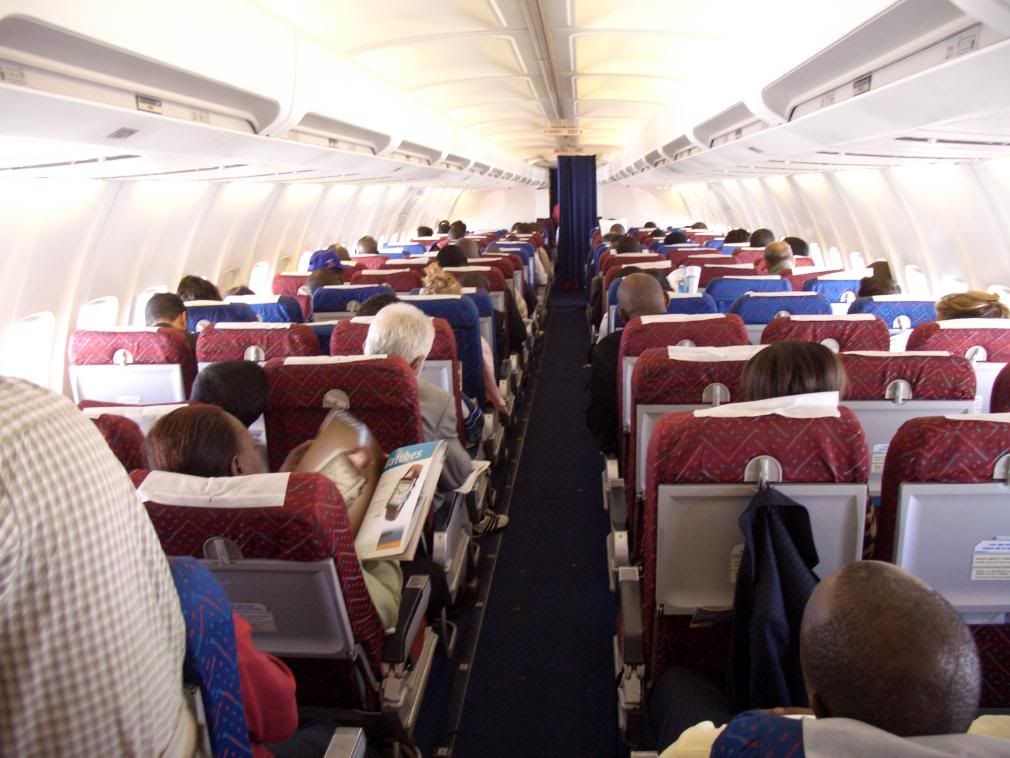 c) Meal + Beverage:
Breakfast service was introduced 30mins into departure and included an option between sausage and omelette. I wondered what the vegetarians on-board would eat if they had not pre-ordered their meals. While I did appreciate the breakfast service, the quantity was extremely small, and the beans were sweet and soggy. After breakfast, several runs of coffee, tea, and water was done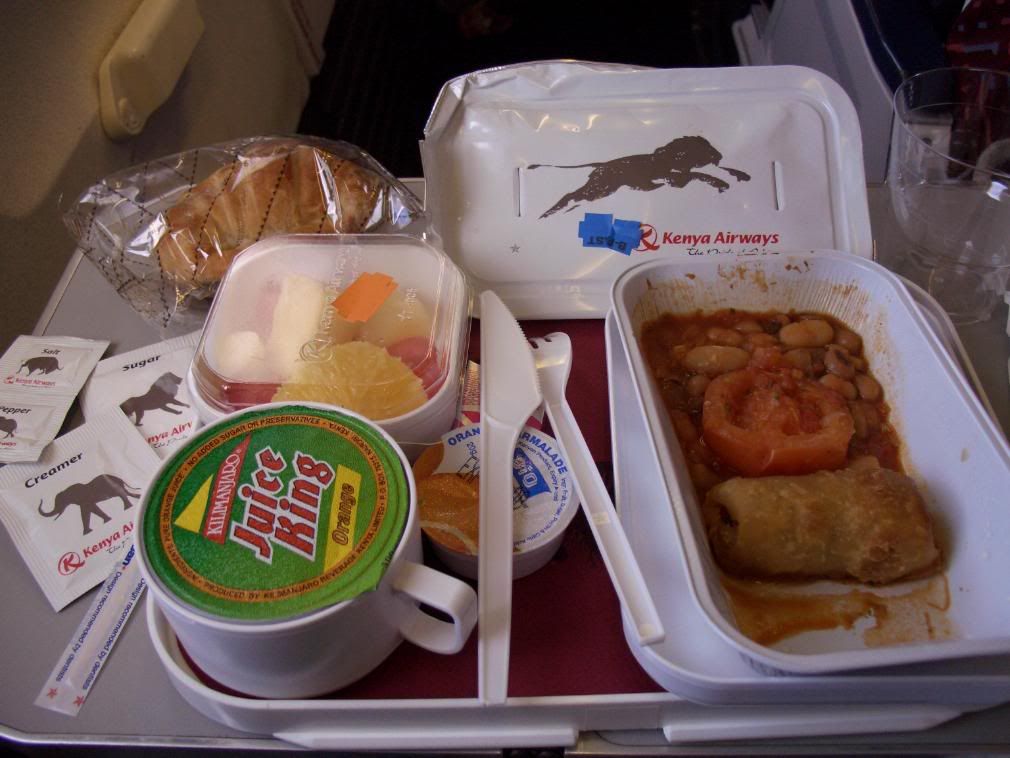 d) Inflight Entertainment:
Only inflight magazine was available during the flight. To be honest, MSAFIRI is an excellent read … even overlooking the Kenya propaganda.
(In-flight magazines, Boarding Passes, etc.)
e) Crew:
Cabin crew were really good during the flight. They had genuine smiles during the flight and were prompt and courteous. They took pride in their jobs, and this was most evident during the safety demo, and during the exit row briefing which was definitely not brief! Upon finding out that I was an airline consultant, several of the crew came by to chat, and talk about their impending Skyteam status.
IV> Post-Flight:
Bujumbura is a weird airport with surreal architecture straight out from the CONEHEAD movie or something. I risked my life (little drama queen) to take the pictures. Hope y´all like them. There are no air bridges and the airport receives very minimal flights. There was a long line for visa on arrivals (VOA), and according to the guy at the VOA counter, I was "definitely the first Liechtenstein passport holder in all of Burundian history". After VOA issued, bag pick up was immediate, and then it was Xrayed and I was in Burundi.
(My first Caravelle sighting! – Air Burundi)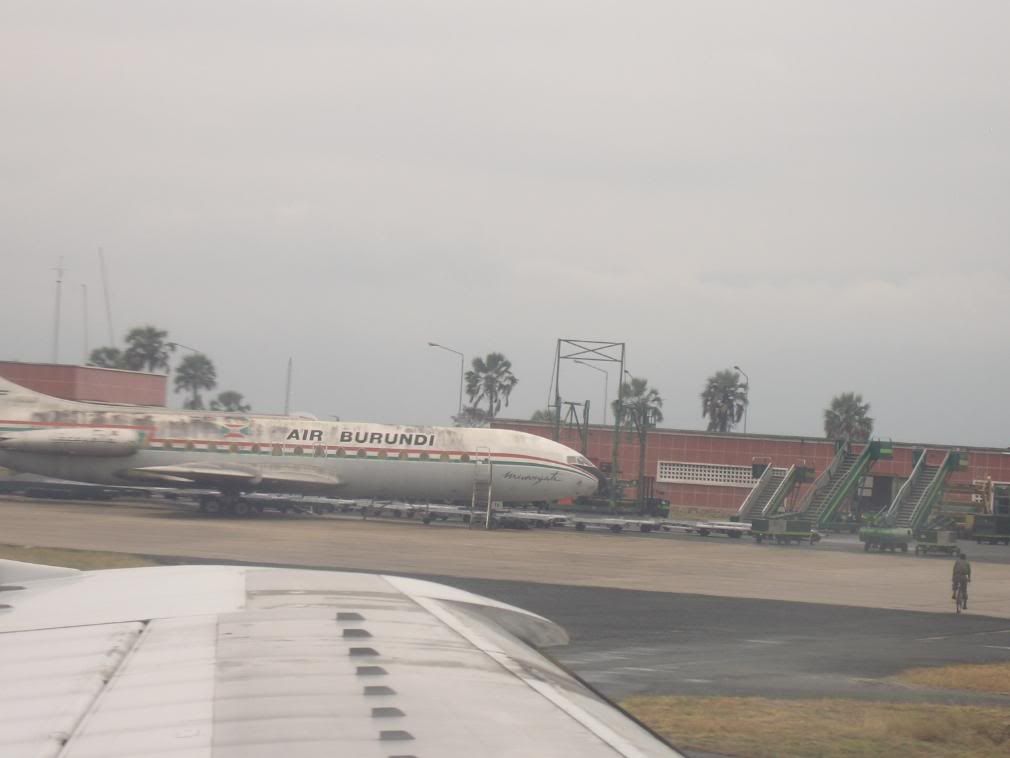 (Now, that's a COOL airport)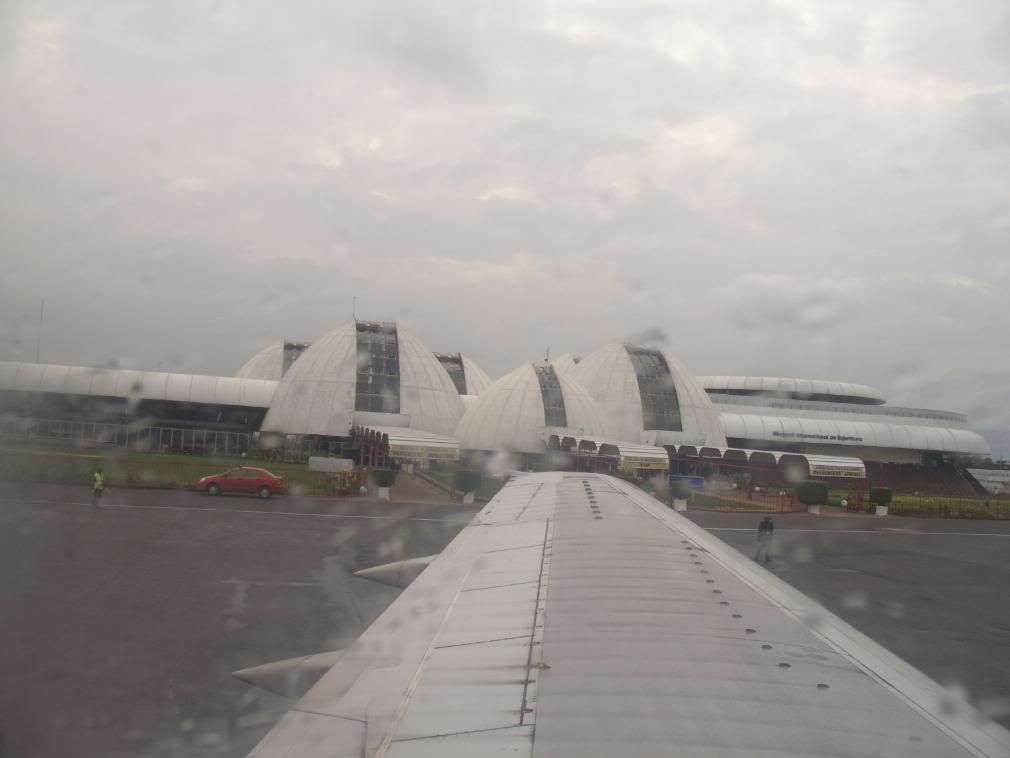 (Picture from outside trying to avoid security)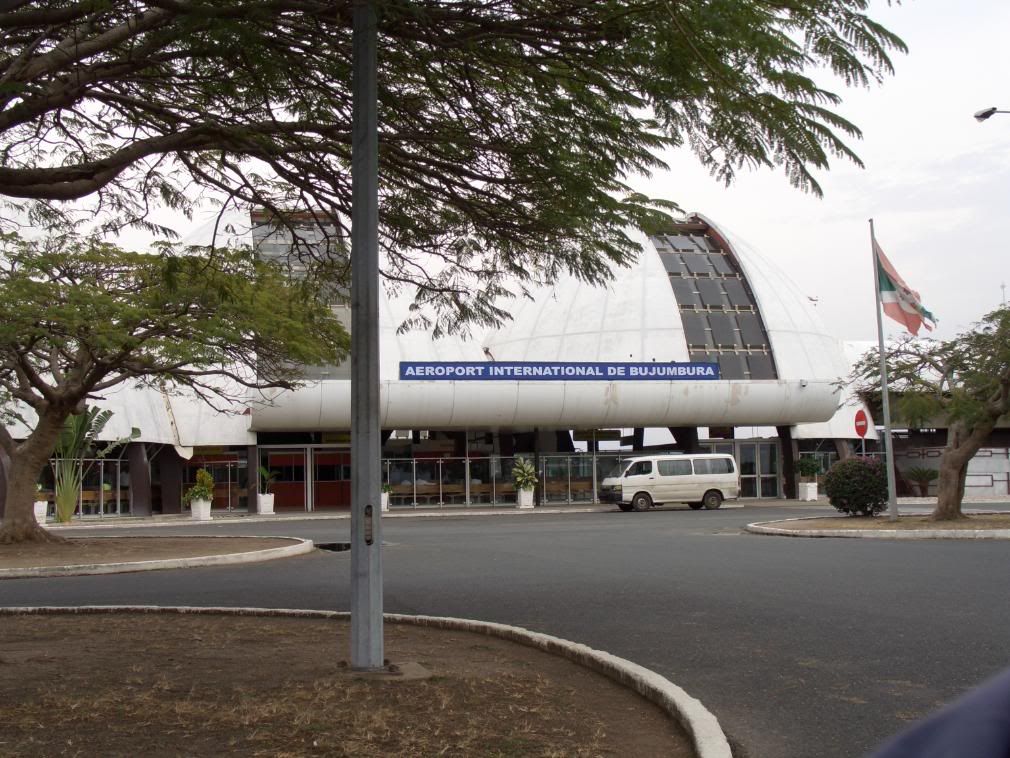 V> Impressions + Scores:
Kenya Airways provides a vital lik to many cities in the region. On the positives, they had an excellent schedule complemented by great crew. On the average was their meal service and IFE (I could live without audio-video on short flights). Negatives included JKIA check-in and boarding. I would definitely recommend them unless any other airline can provide a comparable product on the same routing. This being Africa, I would be surprised …
Reservation: 7.0
Check-In: 4.0
Lounge: N/A
Boarding: 5.0
Seat: 8.0
Aircraft Overall Ambience: 7.0
IFE: 5.0
Crew Service: 8.5
Food: 6.0
Beverages: 6.0
Amenity Kits + Others Freebies: 5.0
Disembarkation: 7.0
On-Time Record: 5.5
OVERALL IMPRESSION: 6.17
(Pre-flight average of all-reviews: 6.32)
(Scores are based on comparison with other airlines in THAT class of service – No comparison of Y vs. F for example)
VI> Other Trip Reports:
1/
Avianca: BOG-LIM: 07/06/06: 7.09pts: Y-IMR
2/
Air Tran: EWR-MDW: 08/02/06: 6.73pts: Y-DMR
3/
West Jet: YYC-YVR: 09/05/06: 7.14pts: Y-DMR
4/
Air Canada: YYZ-YVR: 09/02/06: 5.92pts: Y-DLR
5/
Air Canada: ALB-YYZ: 09/01/06: 5.88pts: Y-ISR
6/
Singapore Airlines: EWR-SIN: 09/20/06: 7.81pts: J-ILR
7/
Adam Air: SIN-CGK: 09/22/06: 6.04: Y-ISR
8/
Valuair: CGK-SIN: 09/22/06: 5.04: Y-ISR
9/
Spice Jet: CCU-DEL: 09/25/06: 6.67: Y-DMR
10/
Indian: DEL-CCU: 09/26/06: 7.25: Y-DMR
11/
Air Sahara: CCU-BOM: 09/28/06: 4.42: Y-DMR
12/
Air Deccan: IXZ-CCU: 10/07/06: 5.75: Y-DMR
13/
Alliance: CCU-IXA: 10/08/06: 7.54: Y-DSR
14/
Kingfisher: IXA-GAU: 10/08/06: 8.21: Y-DSR
15/
Indigo: GAU-CCU: 10/08/06: 6.54: Y-DSR
16/
Singapore Airlines: CCU-SIN: 10/11/06: 5.88: J-IMR
17/
Air Canada: ICN-YYZ: 10/12/06: 7.13: J-ILR
18/
Delta AirLines: SEA-JFK: 11/24/06: 7.17: F-DLR
19/
USA 3000: PUJ-BDL: 01/06/07: 5.96: Y-IMR
20/
Viva Aerobus: CUN-JFK: 02/20/07: 4.58: Y-DSR
21/
Jet Blue: CUN-JFK: 02/20/07: 5.96: Y-IMR
22/
SAS Norge/Braathens: OSL-AES: 05/26/07: 5.75: Y-DSR
23/
TAP Air Portugal: OSL-LIS: 05/29/07: 5.46: Y-IMR
24/
Delta Airlines: JFK-CDG: 08/09/07: 7.85: J-ILR
25/
Air France: CDG-JNB: 08/10/07: 5.33: J-ILR
26/
LAM Mozambique: JNB-MPM: 08/13/07: 5.67: Y-ISR
26/
Transairways Mozambique: INH-MPM: 08/17/07: 6.08: Y-DSR
27/
Air Link Swaziland: MTS-JNB: 08/18/07: 6.17: Y-ISR
(Note on Codes: Y – Economy, J – Business, F – First :: I/D – International/Domestic :: SR/MR/LR – Short/Medium/Long Haul :: I have designed these codes so people don't believe my scores are comparing apples with oranges)
VII> Other Pictures:
It has now become customary to share some images of the place I went to, and some other related aviation pictures. Hope everyone enjoys!
(Craziness of downtown Bujumbura, capital city)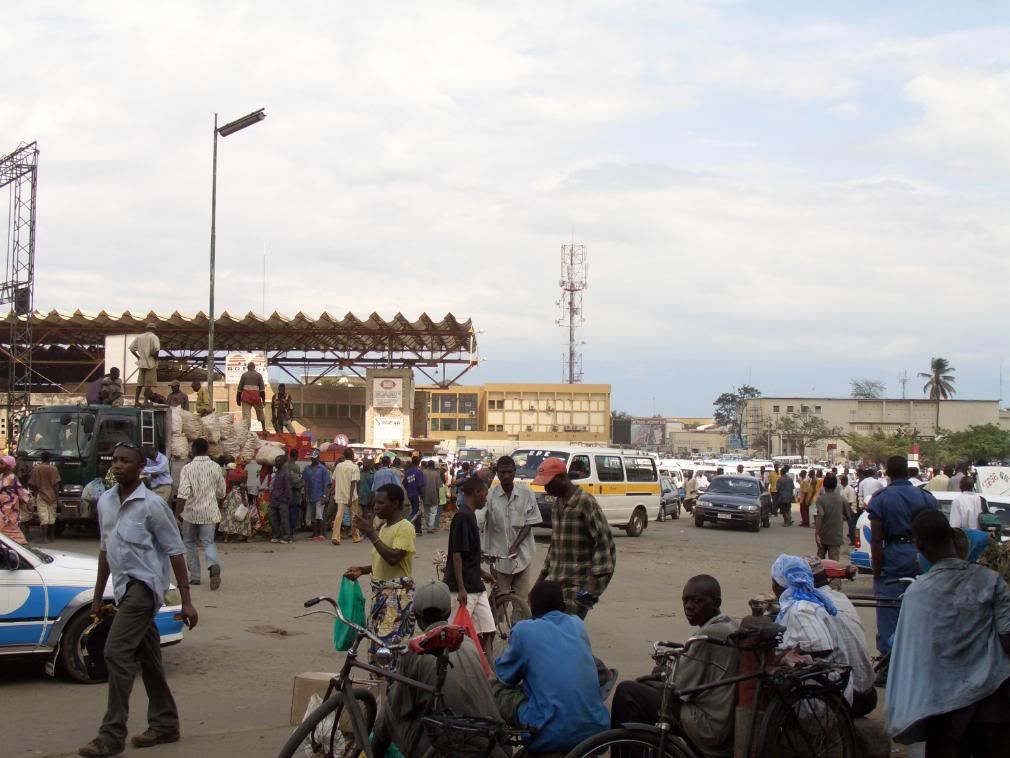 (Main church – lets all go with AK47s – I was trying VERY hard to take this without them seeing me take a picture – would not have been good)
(Love this picture. Local bar)
(One of the BEST inland beaches I have been to! Near Buj at Lake Tangyanika)