Hi,
Well this is my first trip report, so please not too much flaming thanks.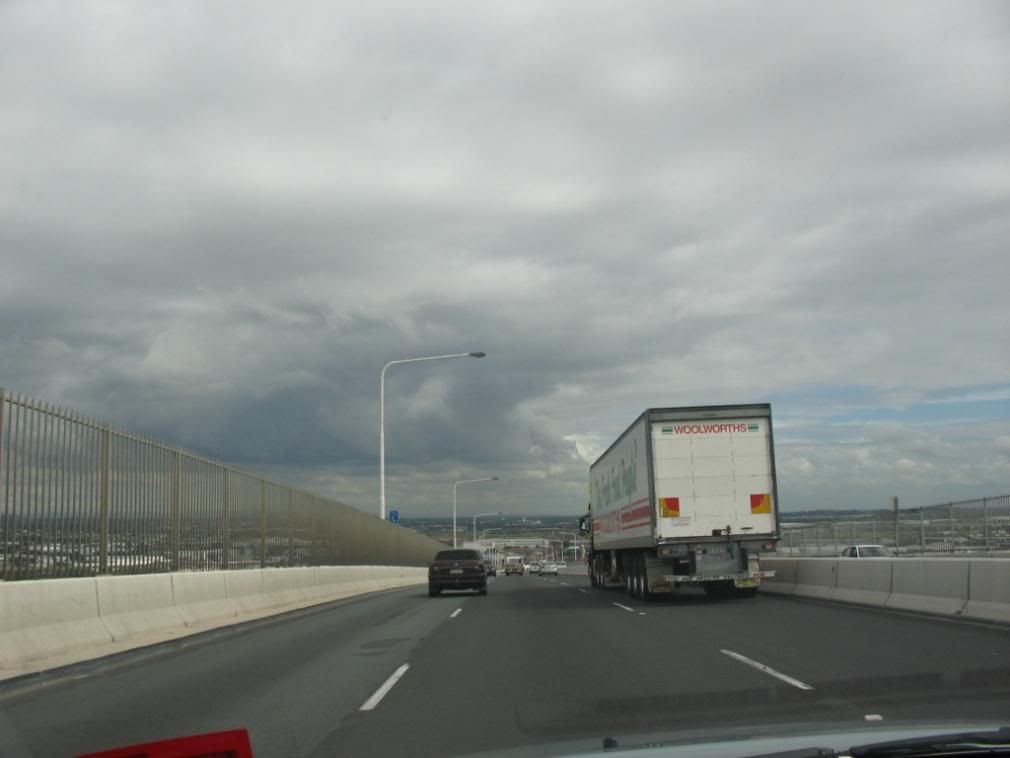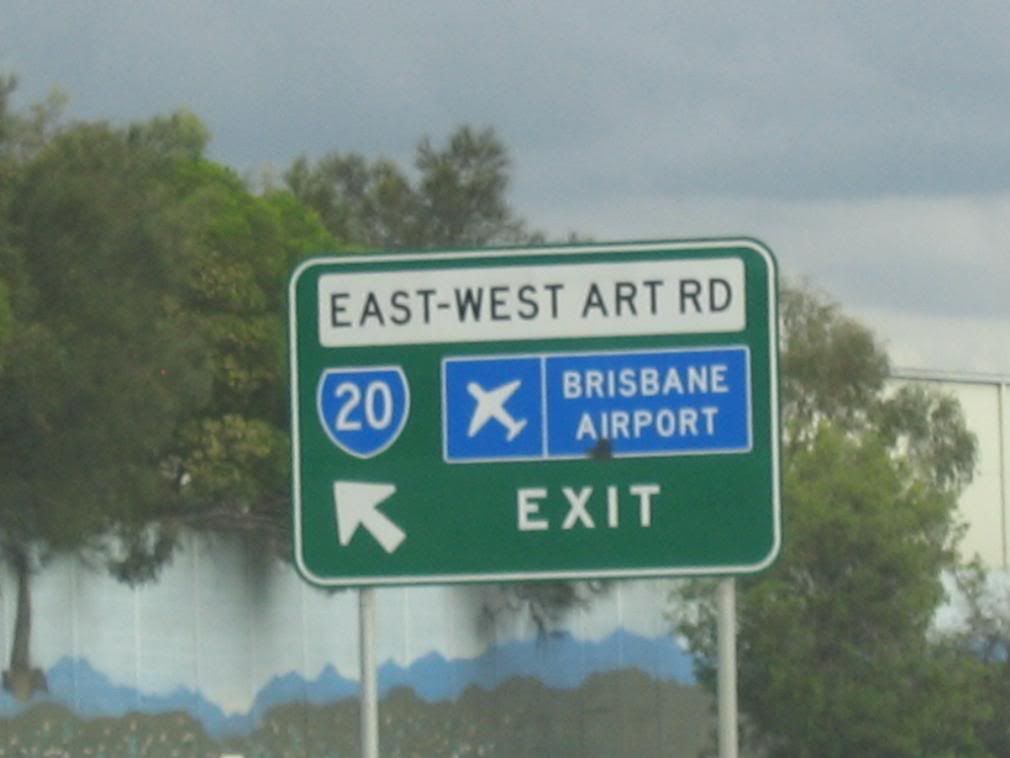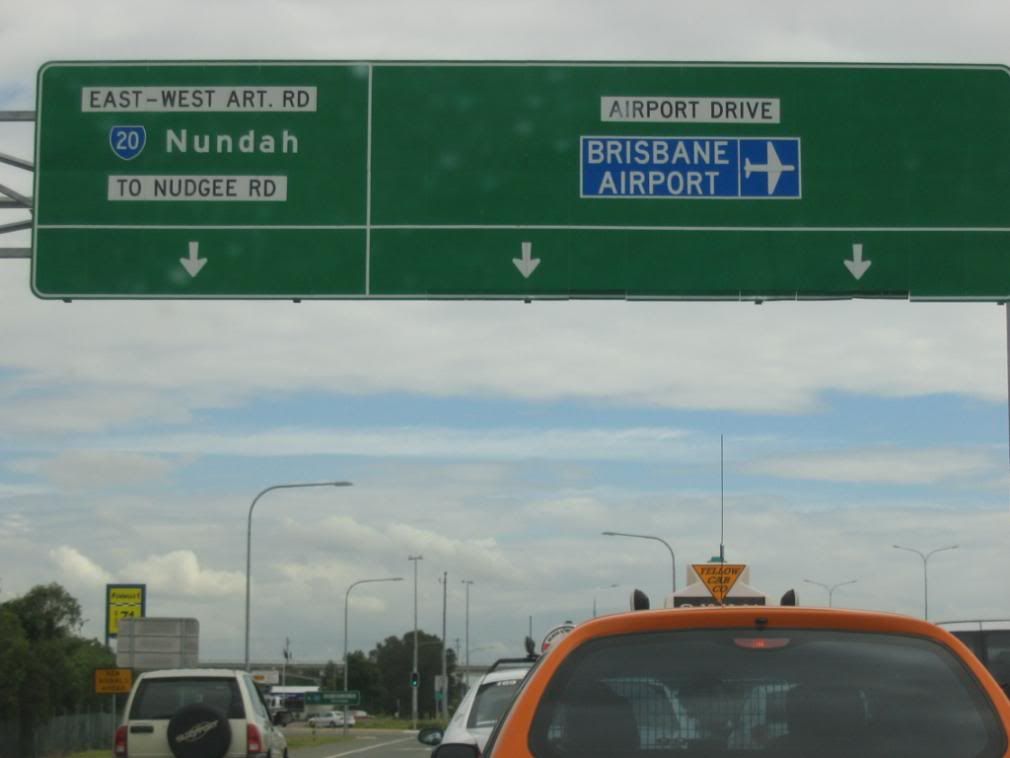 On my way to Brisbane airport I got on the gateway bridge to cross the Brisbane river.
Flight number 1:
Origin: BNE
Destination: SYD
ETD: 10:15
ETA: 12:45
Flight time: 1:30
Airline: Qantas, QF
Aircraft: Boeing 767-336/ER
Load: 99%
I arrived at Brisbane domestic airport at around 8:50am to give me some time to check in and get to my flight. The waiting line for checking in was huge. Then i saw there was another small line for International connecting passengers. There was only only one check in person in the check in desk for that line, but the line was short so it went pretty fast. My bags were checked in the whole way through so that was not a problem, but i had to get my BA boarding passes for my flights to LHR and TLV. I thought i would get my boarding passes in BNE for all the flights.
Parked JQ A320 with special gold coast titans livery
Another JQ A320 parked at a gate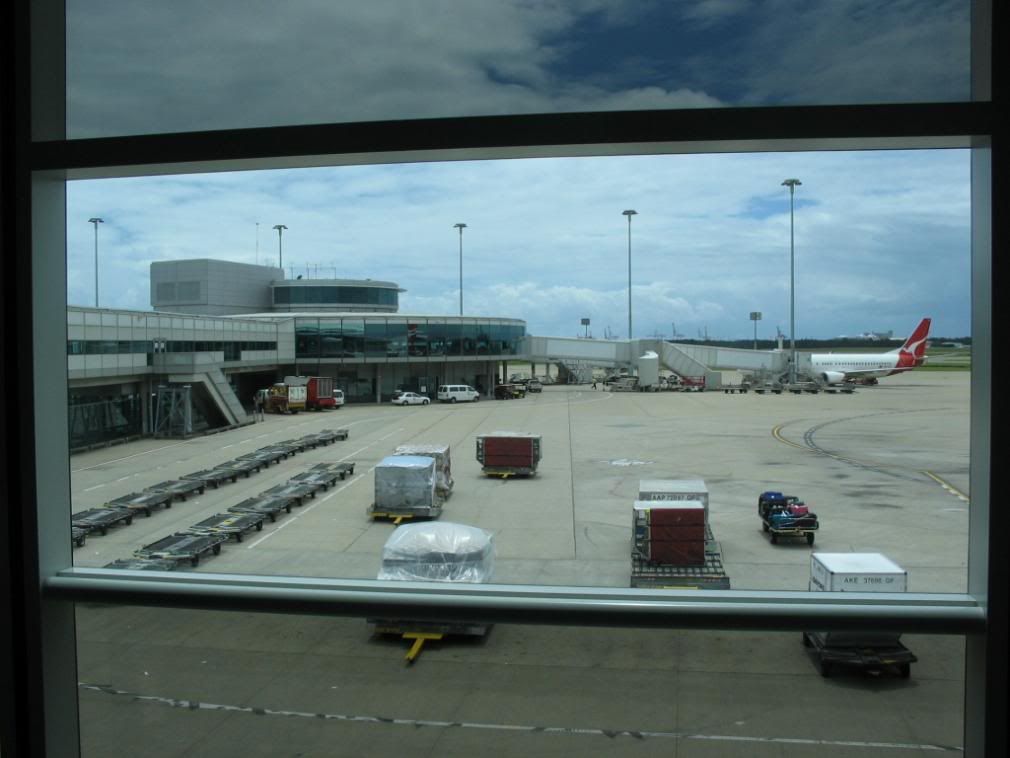 QF Terminal Area with a 737 hiding behind the gate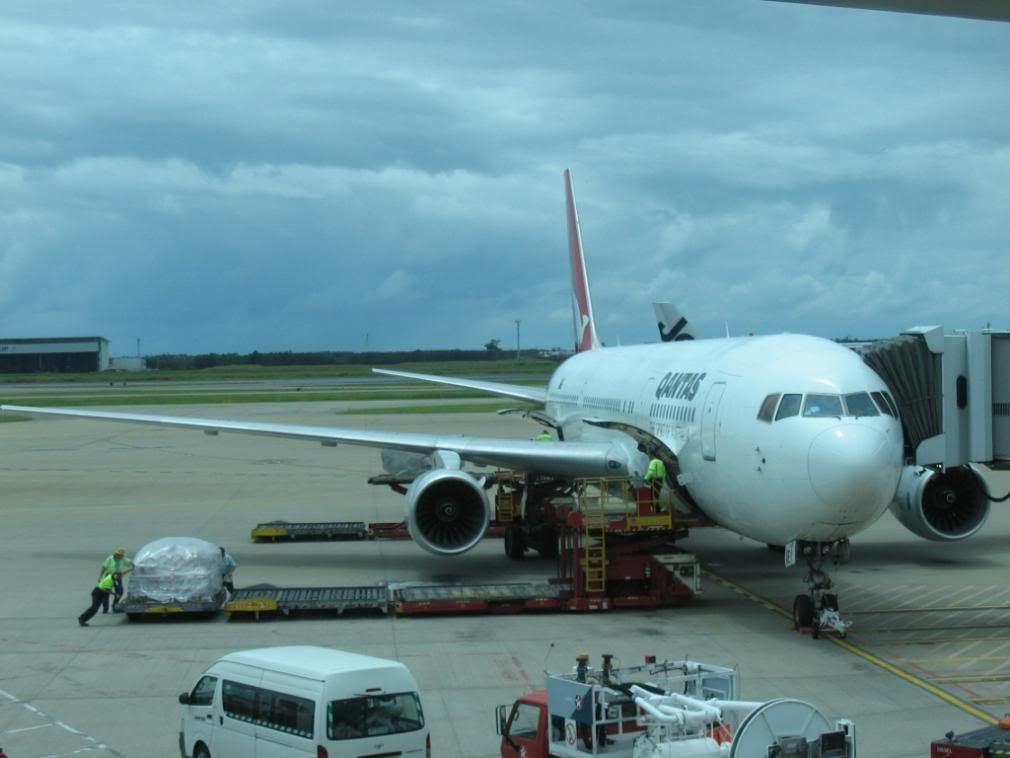 My ride, 767-336/ER
The flight was delayed for about 15 minutes. The plane took around 10 minutes to fill up as a 767-300/ER is quite big. The flight was almost completely full in Y, i had the only spare seat next to me.
Interior of the QF 767-300/ER
Legroom wasn't bad considering i am only 5"6'.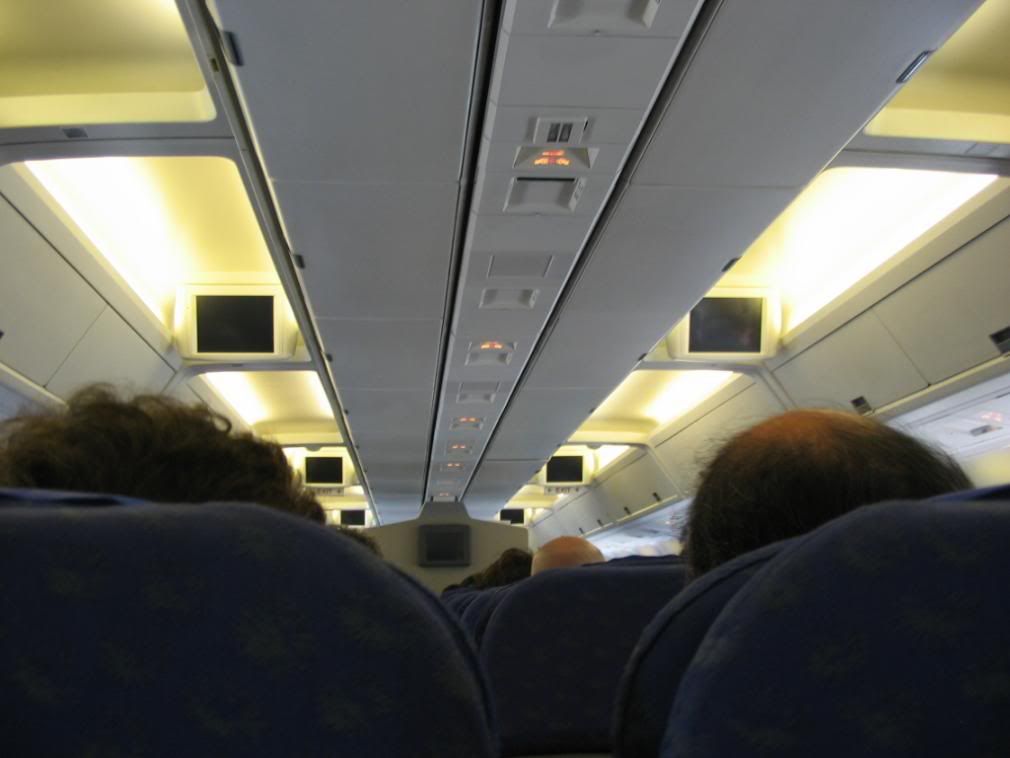 The food for the flight was a small refreshment consisting of, a pecan and fig cookie which was pretty good and a drink of your choice. Better than in the US were you get almost nothing on most flights, depending who you fly with of course.
Flight number 2:
Origin: SYD
Destination: HKG
ETD: 15:00
ETA: 21:30
Flight time: 9:15
Airline: Qantas, QF
Aircraft: Airbus A330-300
Load: 100% in Y around 70% in J
I arrived at Sydney and i had to catch the bus to the international terminal opposite to gate 2 in the domestic terminal. The lady scanned my boarding pass and i went down the escalator and waited for the bus. The bus ride took around 5-10 minutes and i saw a fair few aircraft during the ride. Including this one: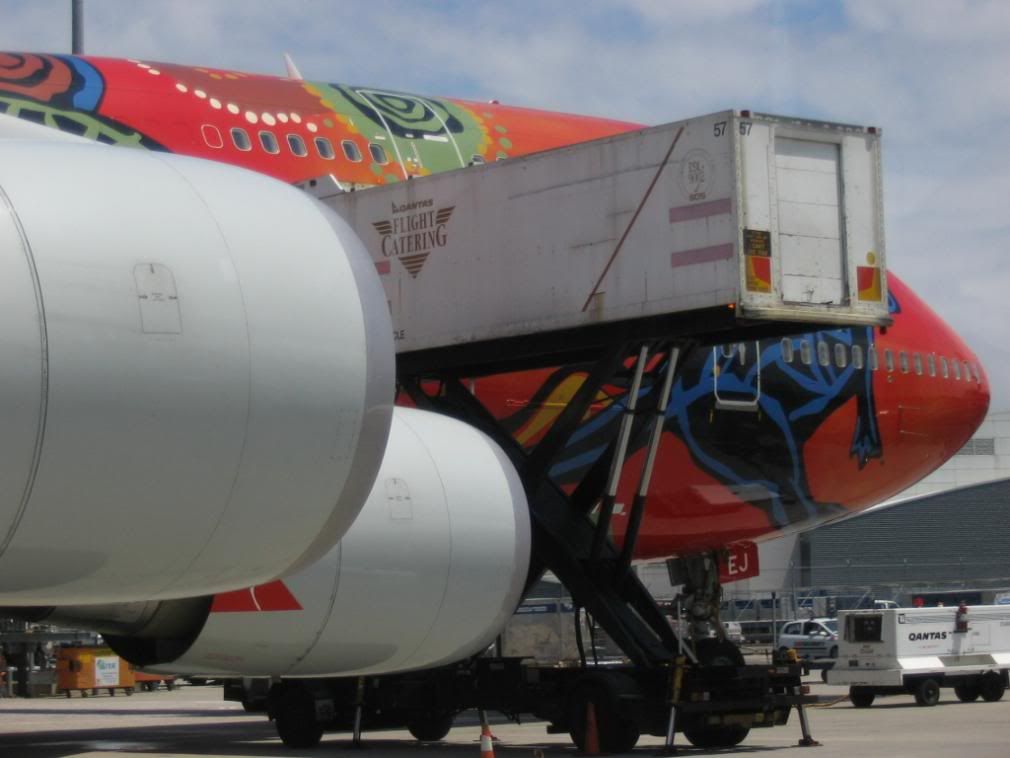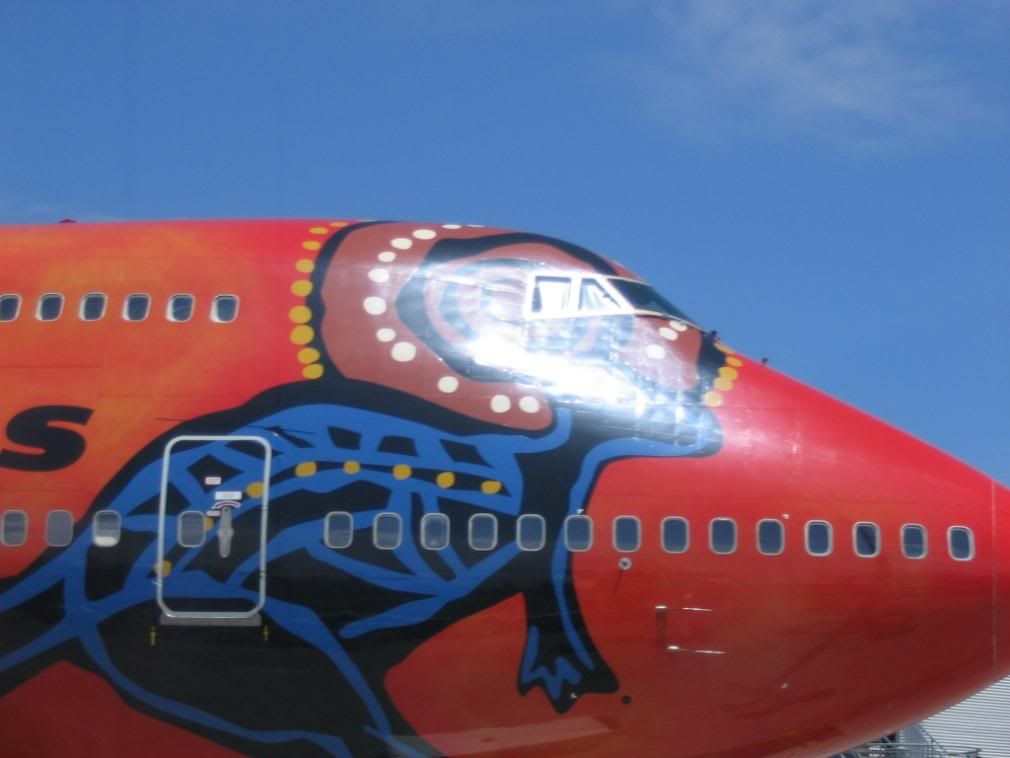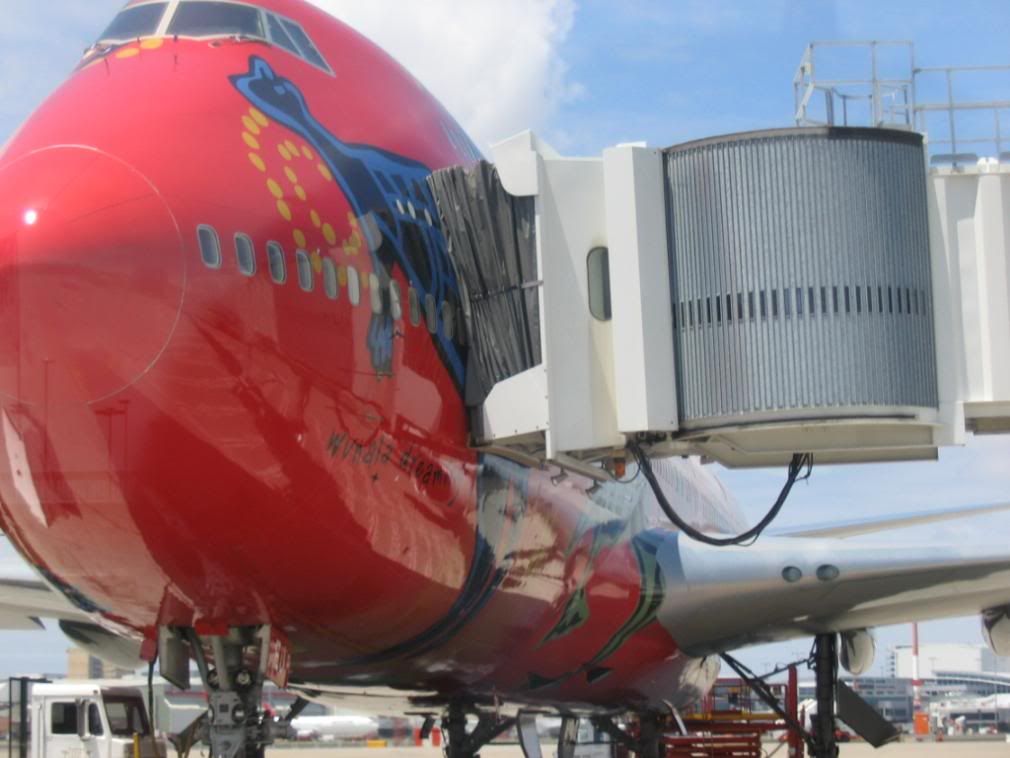 Sorry for the bad pictures, the bus was moving.
I went to the BA service desk to collect my boarding passes for my two other flights but the guy told me that i can't get them here because i'm not connecting to a flight from SYD. The guy told me that i had to collect the boarding passes in the BA transfer desk in the transit area in HKG. After i finished talking to the guy at the service desk, i went through the departing passengers door and through immigration, filled my green form out and went through security finally entering the departure lounge of the international terminal.
I walked around the QF area and went plane spotting, i didn't see too many planes around at the time.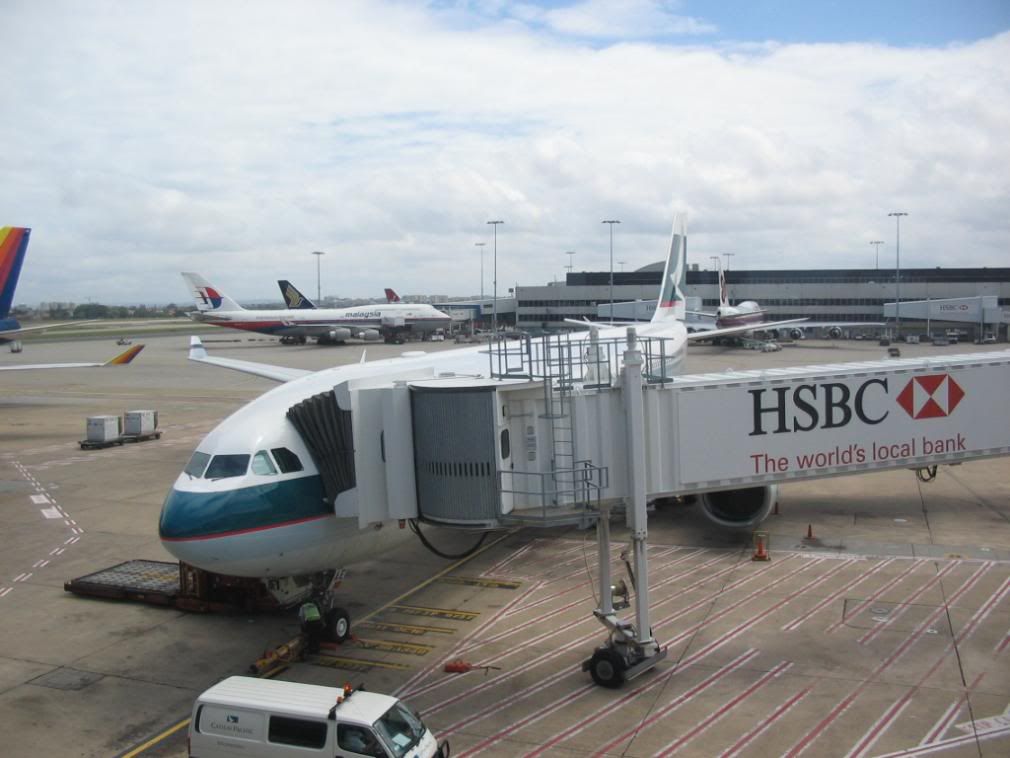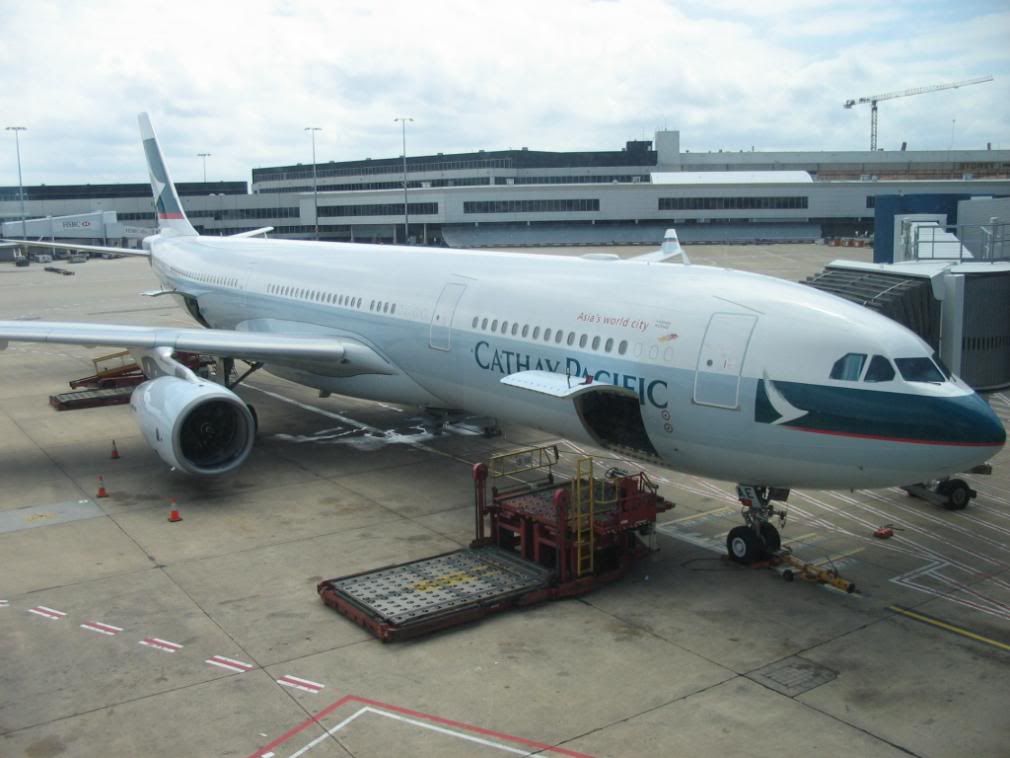 CX A330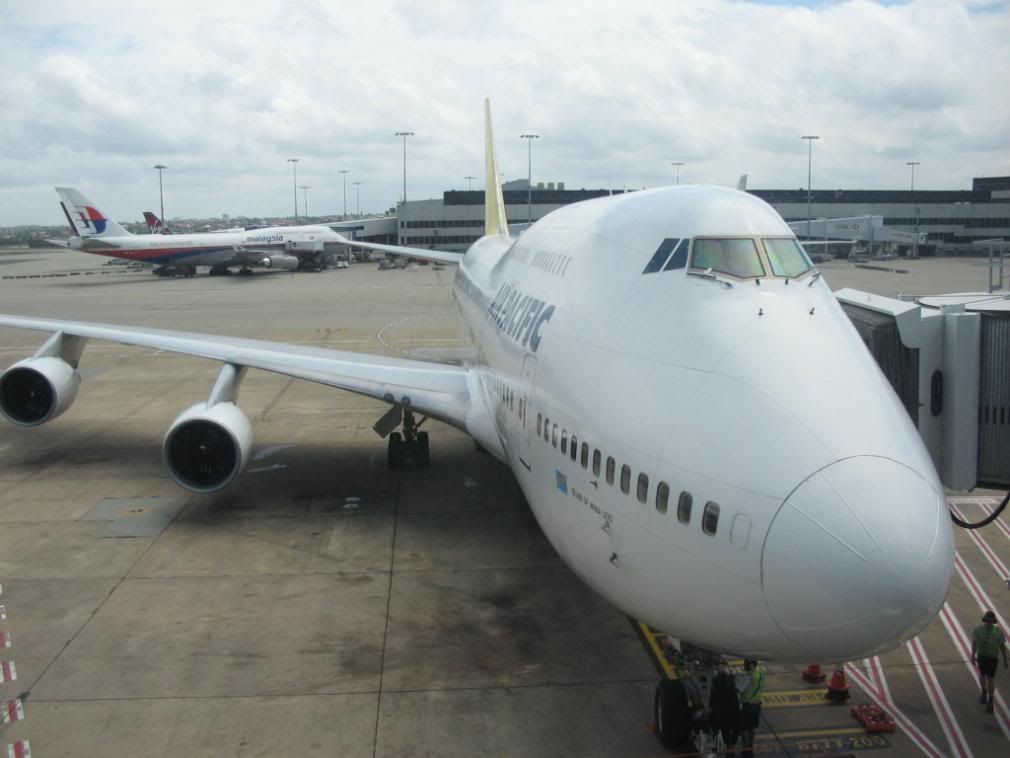 Air Pacific 747-400
BA 747-400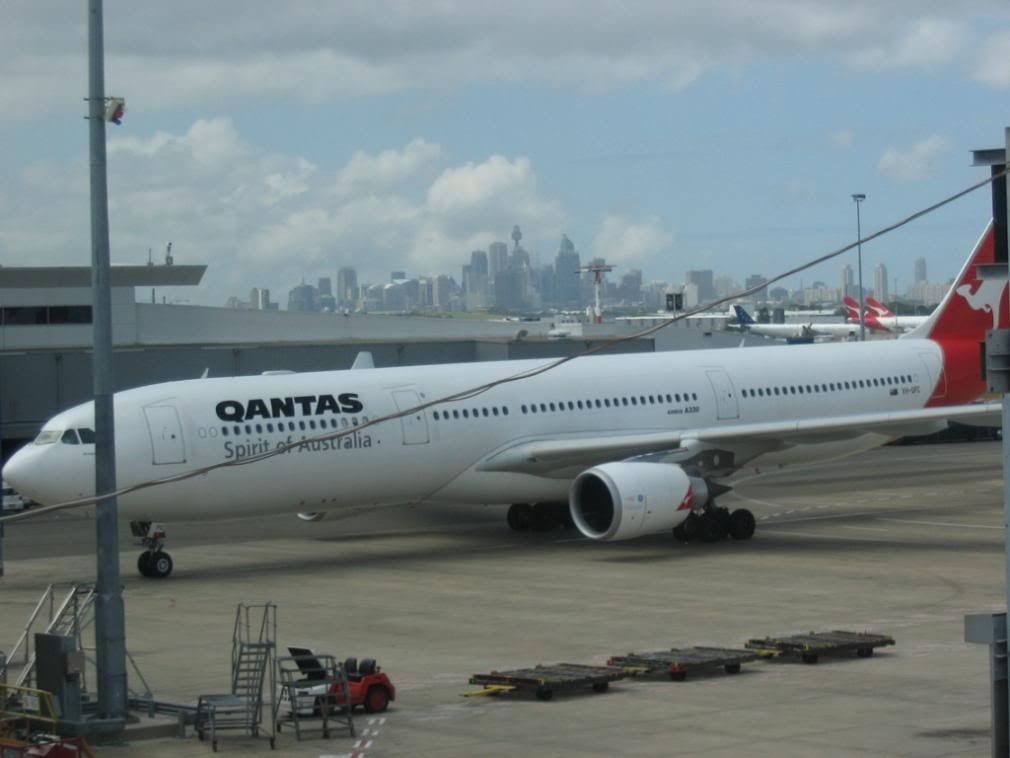 QF A330-200 Entering the gate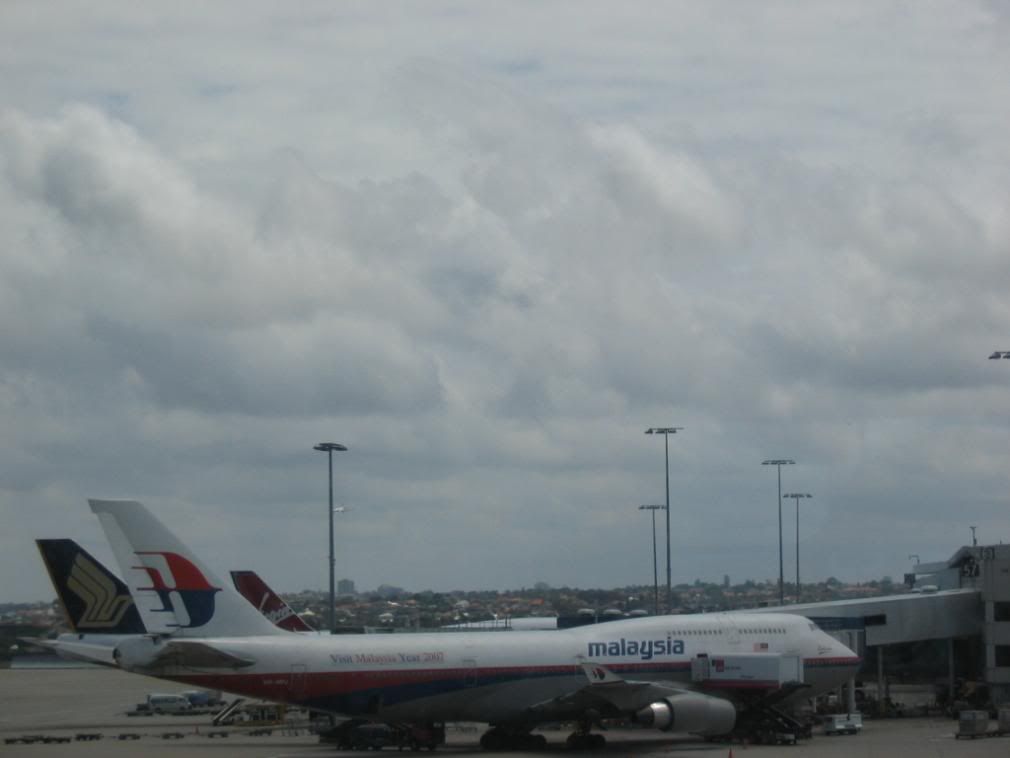 MH and SQ 747-400's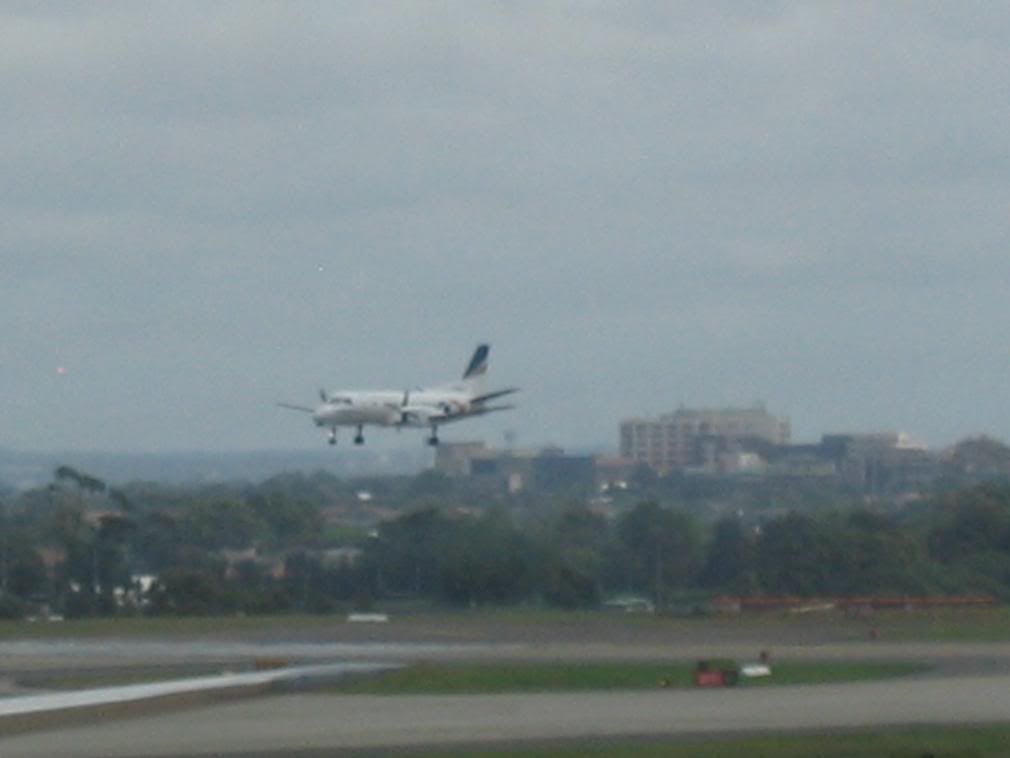 Saab 340 landing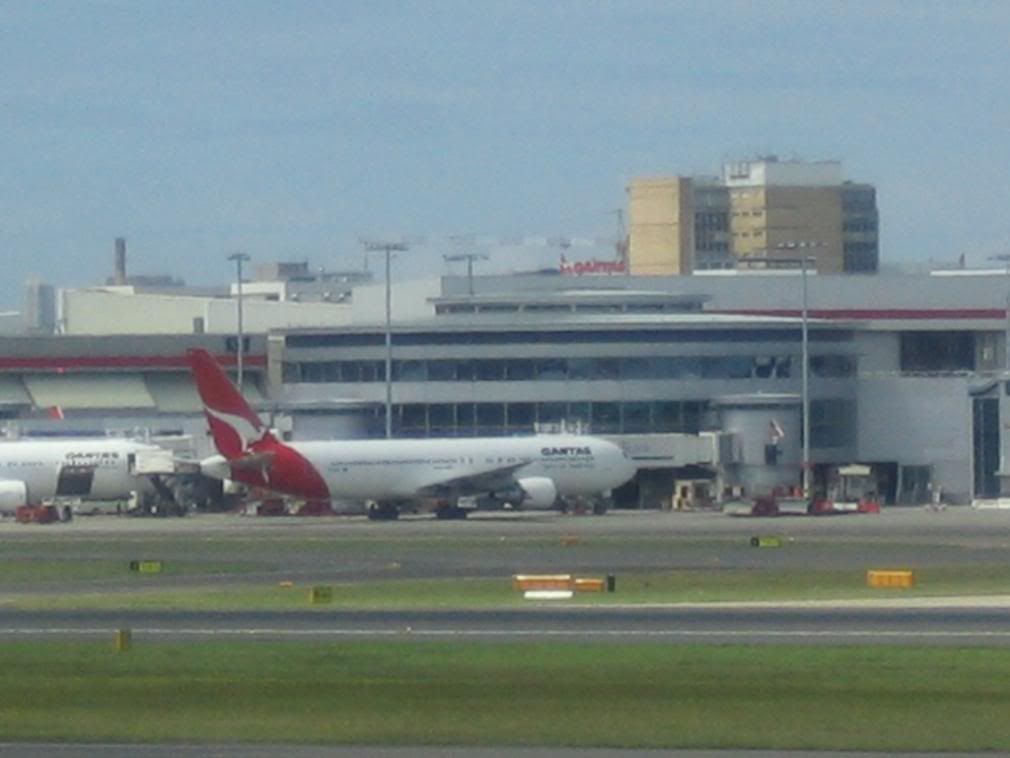 My 767-336/ER from my previous flight from BNE to SYD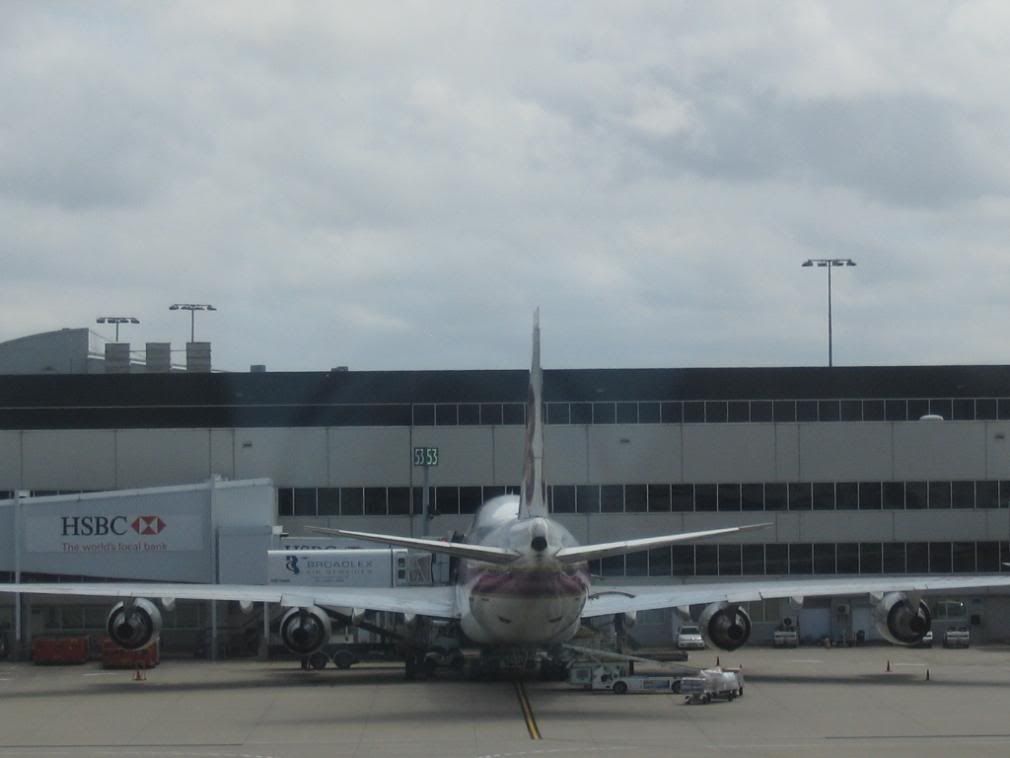 TG 747-400 in the gate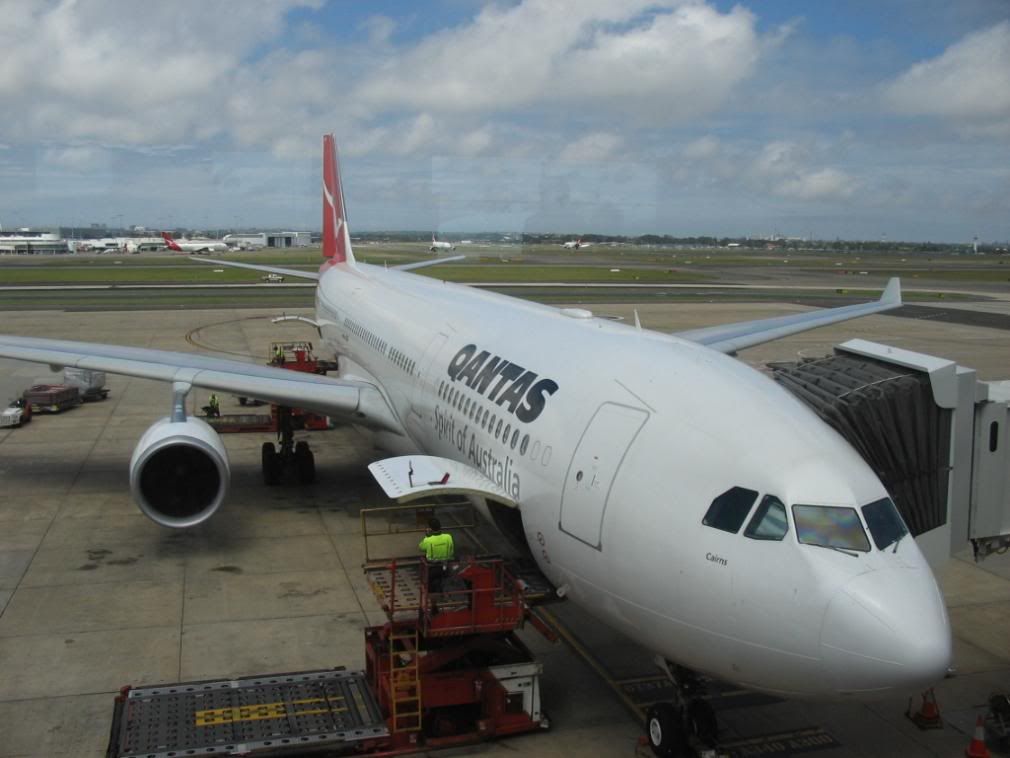 My bird, QF A330-300... at gate 18
Boarding took approximately 20mins until everybody got on. I got in the plane and was in seat 30A, window seat on a daytime flight at last. But a Chinese women asked me to swap my seat with her seat which was 31B because she wanted to sit next to her husband who watched the movie Hair Spray about 4 times in a row. There was a rather small guy sitting next to me so i didn't have any room problem.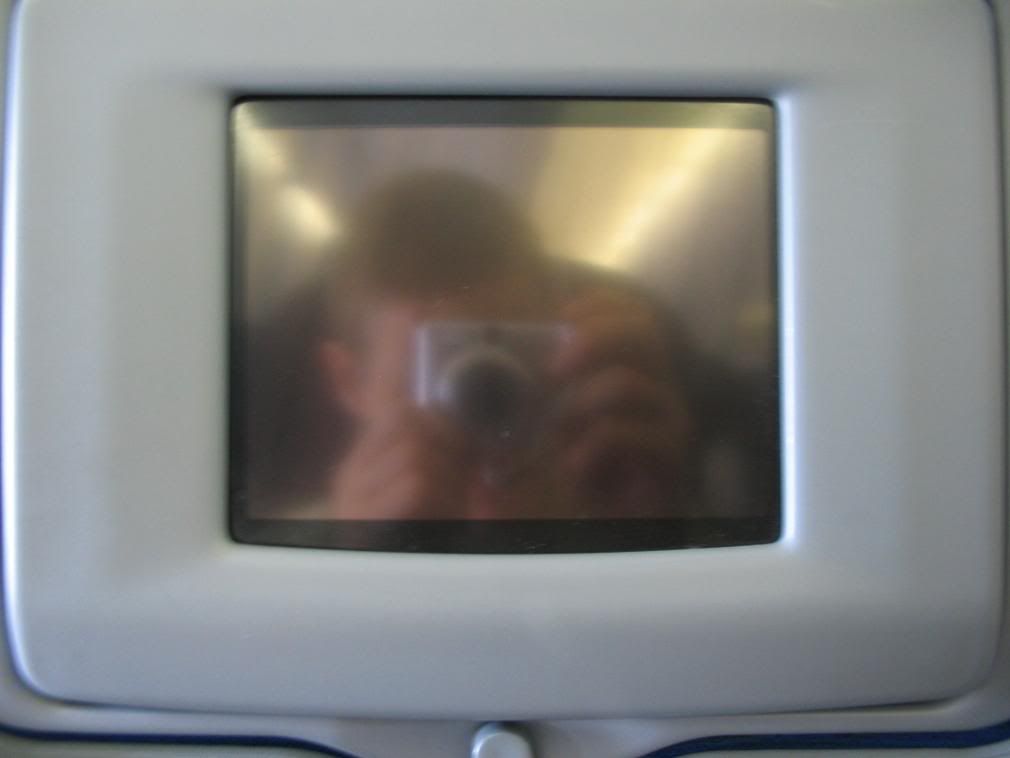 PTV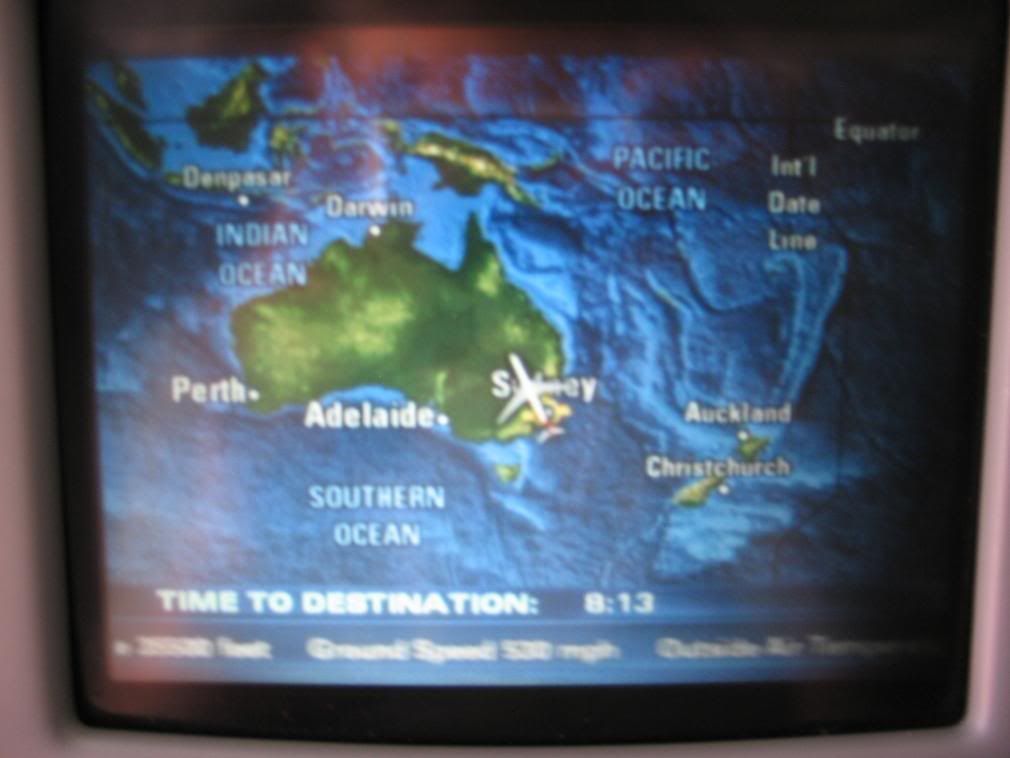 They had a special PTV map which i never saw before. It was better then the classic one and also had this cool 3D view of the plane and the location its flying above.
Interior of the A330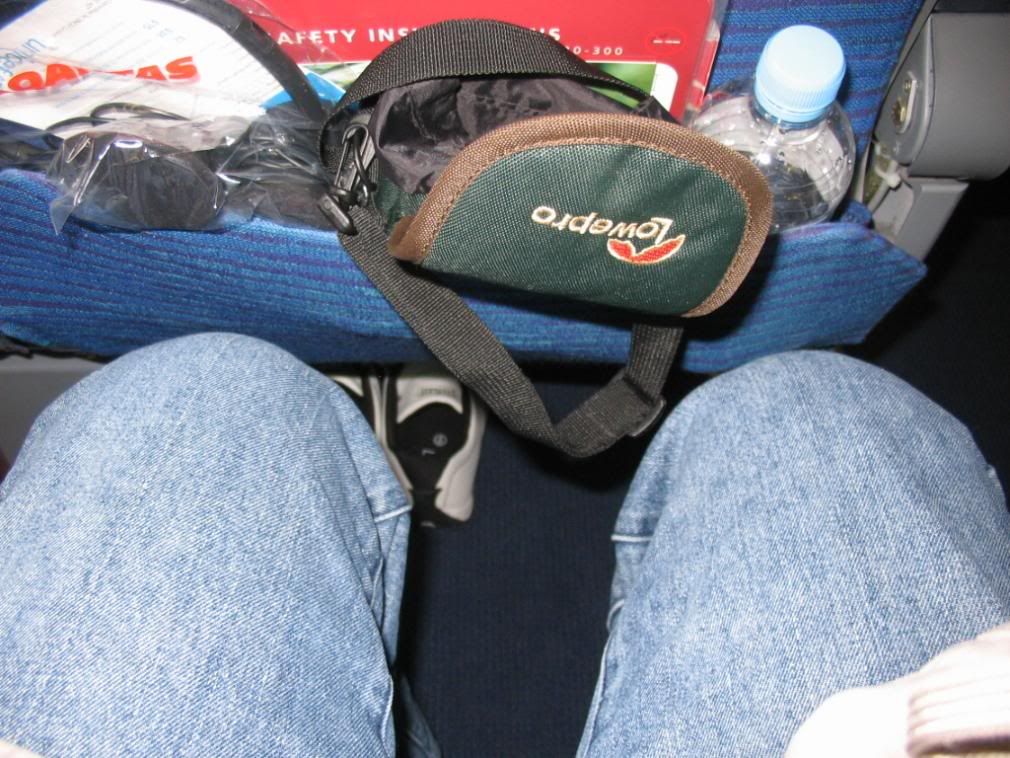 Leg room, I think it had a bit more legroom than the 767 too close to tell though.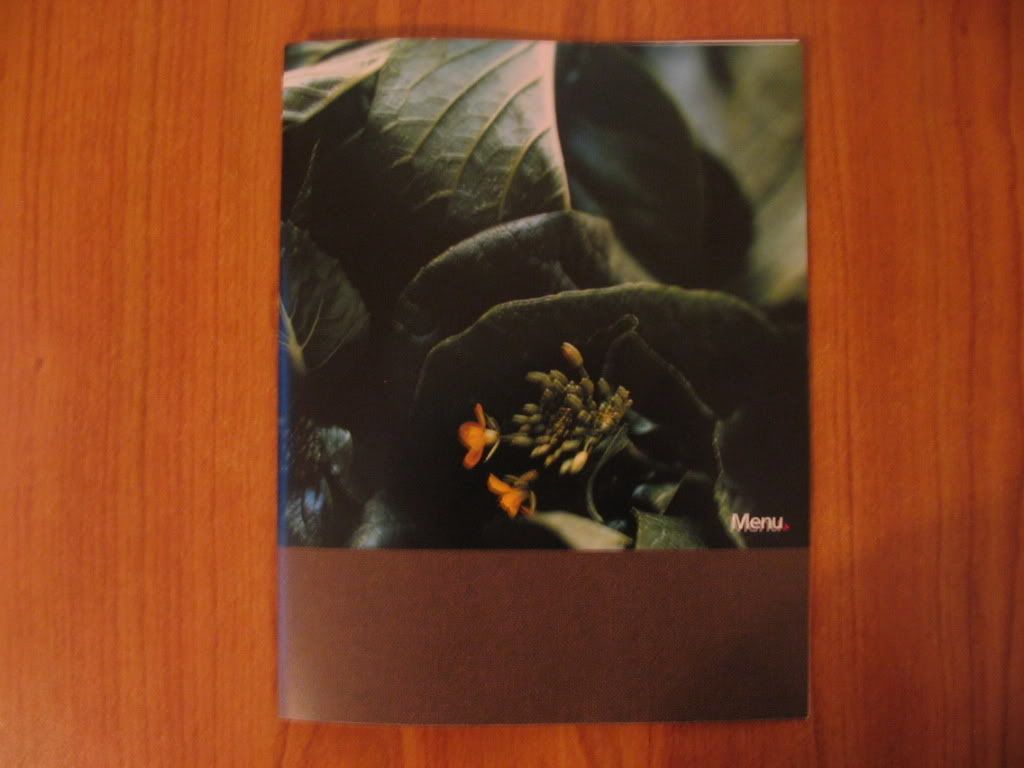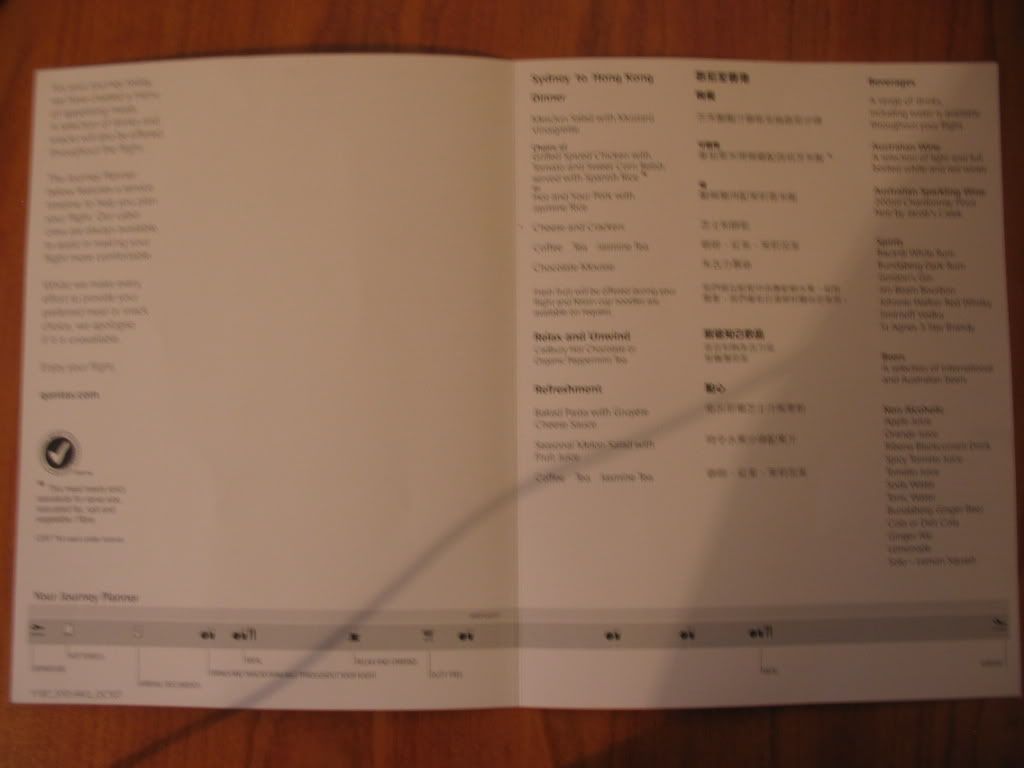 Food served on the flight was Lunch and Dinner. Lunch consisted of a choice of Grilled spiced chicken with tomato and sweet corn relish served with Spanish rice, but they didn't have Spanish rice so served it with Mash potato. Or Hot and sour pork with jasmine rice, which i chose. It was quite delicious but nothing special. Mesclun salad with Mustard vinaigrette, cheese and crakcers, coffee or tea or jasmine tea and chocolate mousse were the side dishes. Dinner consisted of baked pasta with Gruyere cheese sause and season melopn salad with fruit juice and your choice of coffee, tea or jasmine tea. Sorry no food pics, i was too scared people would give me weird looks.
Overall it was a quick and enjoyable flight and did not feel like 9 hours and 15 minutes althought it was probably shortrr
Flight number 3:
Origin: HKG
Destination: LHR
ETD: 01:10
ETA: 06:20
Flight time: 13:10
Airline: British Airways, BA
Aircraft: Airbus A330-300
Load: 60% in Y around 50% in J, don't know about C
I arrived at Hong Kong and followed the transit signs throughout the airport. I then reached a BA transfer desk in the transit area and the guy at the desk gave me the boarding passes for my next two flights with BA. After a passed through security i walked throughout the airport went plane spotting. Unfortunately and it was too dark to take any pictures. Instead of plane spotting i went up to the top floor and got my self some dinner.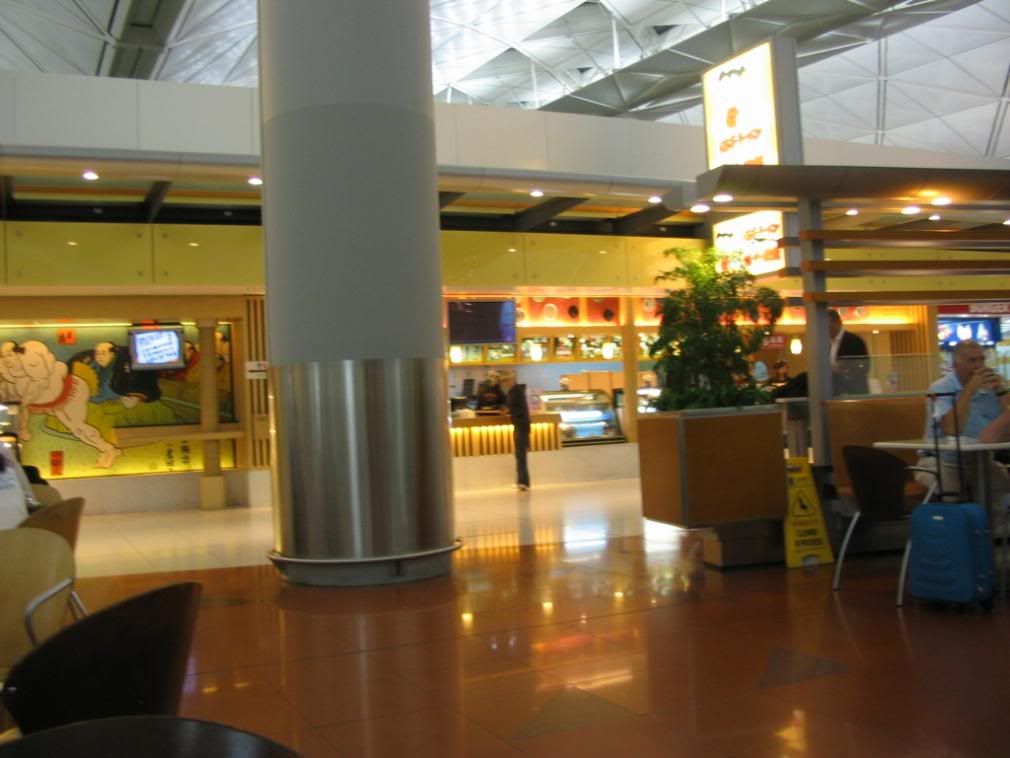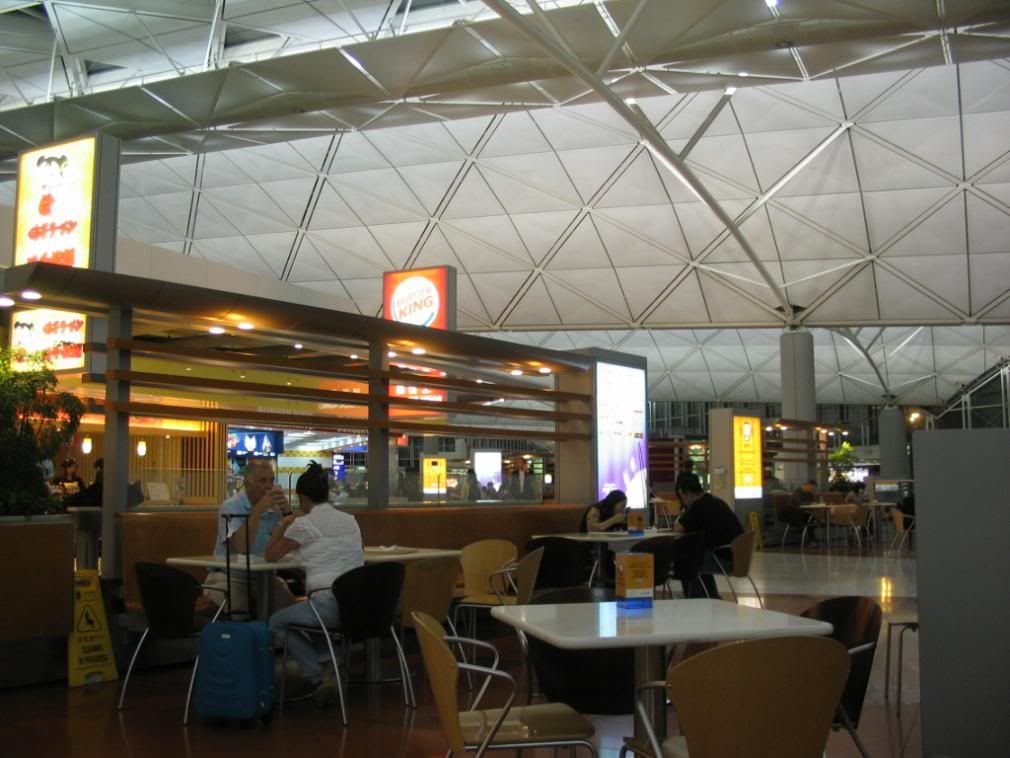 Food court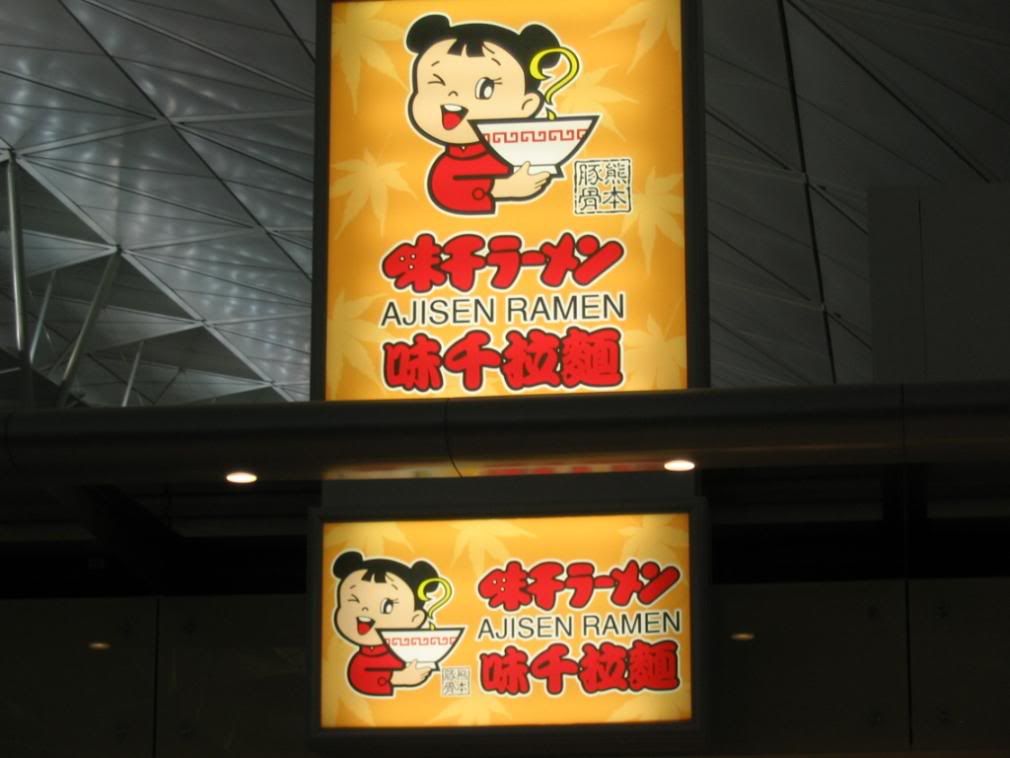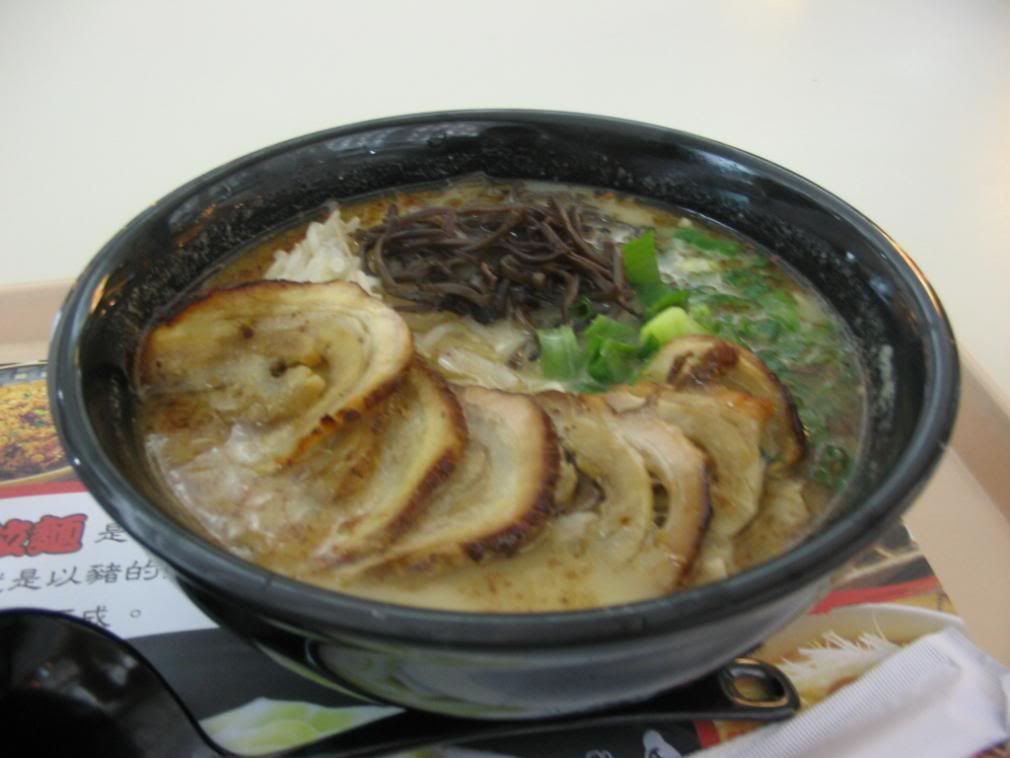 BBQ Pork Ramen... mmmmmmmmmmmmmmmmmmmmmm... one of the best Asian noodle soups i have ever had.
View of the departure lounge from the food court
After i finished eating, i walked around and took a few pictures and then waited for my flight started boarding at around 00:30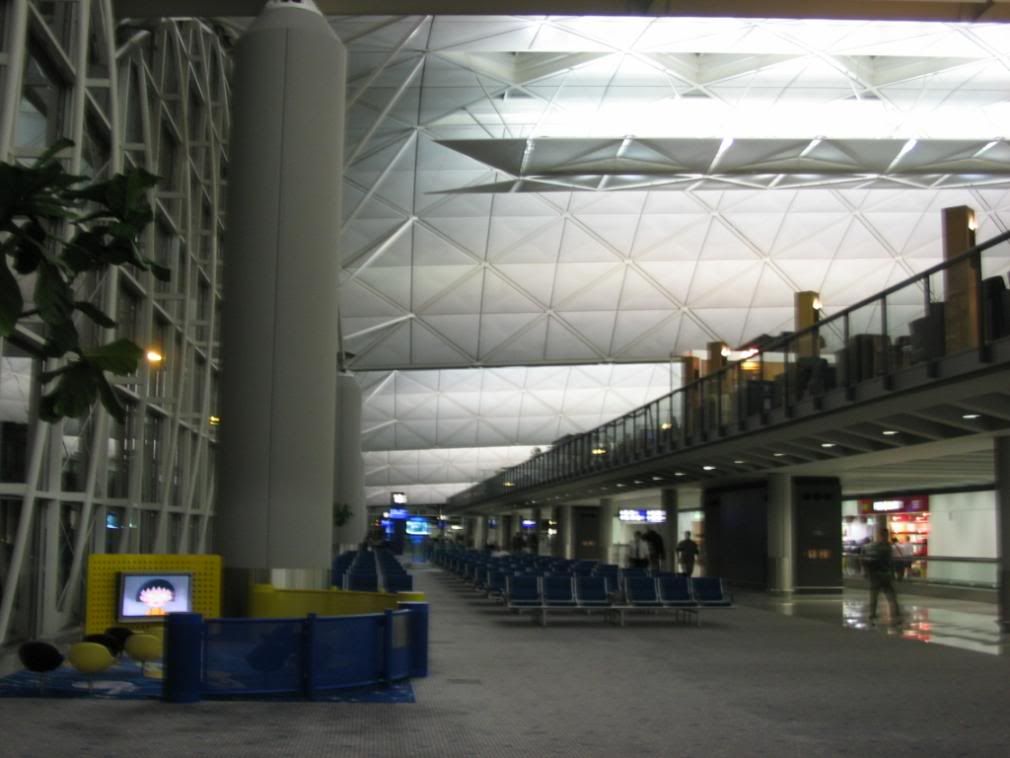 HKG departure lounge area gates 15-19
OS 747-400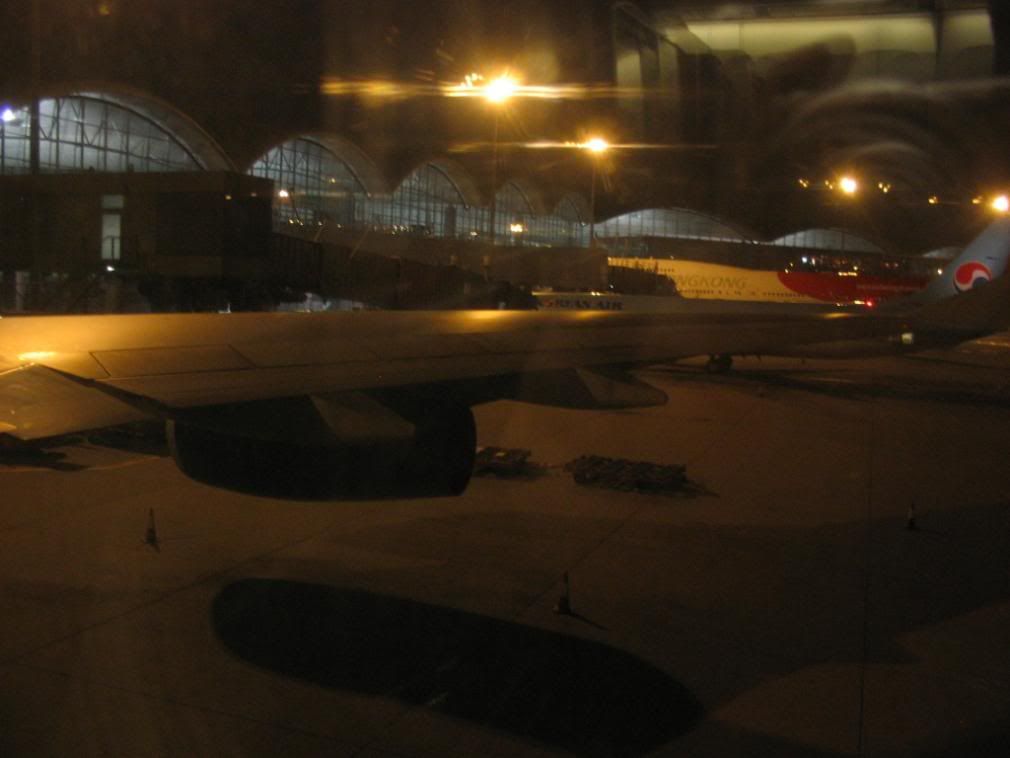 Wing of my aircraft BA 747-400. You can see the tail of a Korean Air 737-800 heading to Seoul and an OS 747-400 in the background.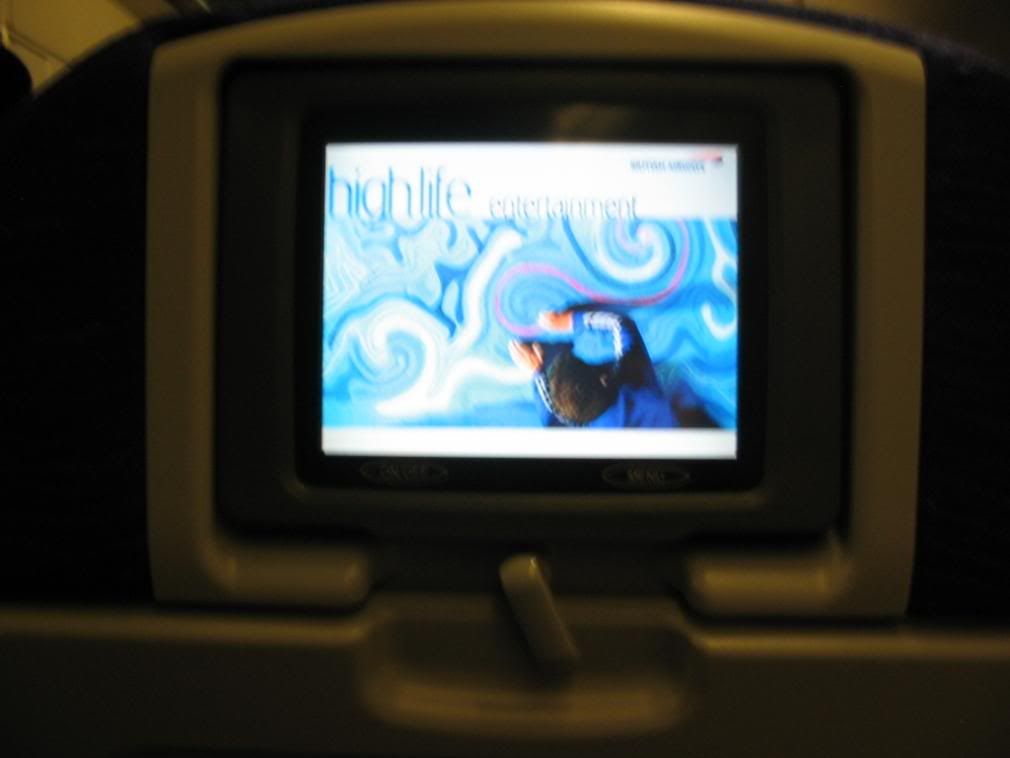 Touchscreen PTV, without AVOD
Legroom
Two meals were served during this flight, dinner and breakfast. Dinner was chicken or beef with some rice and sauce and breakfast was an ommellete with a tomato, sausage and two pieces of bacon
Breakfast, i took the picture when no one was looking. Hahahahaha!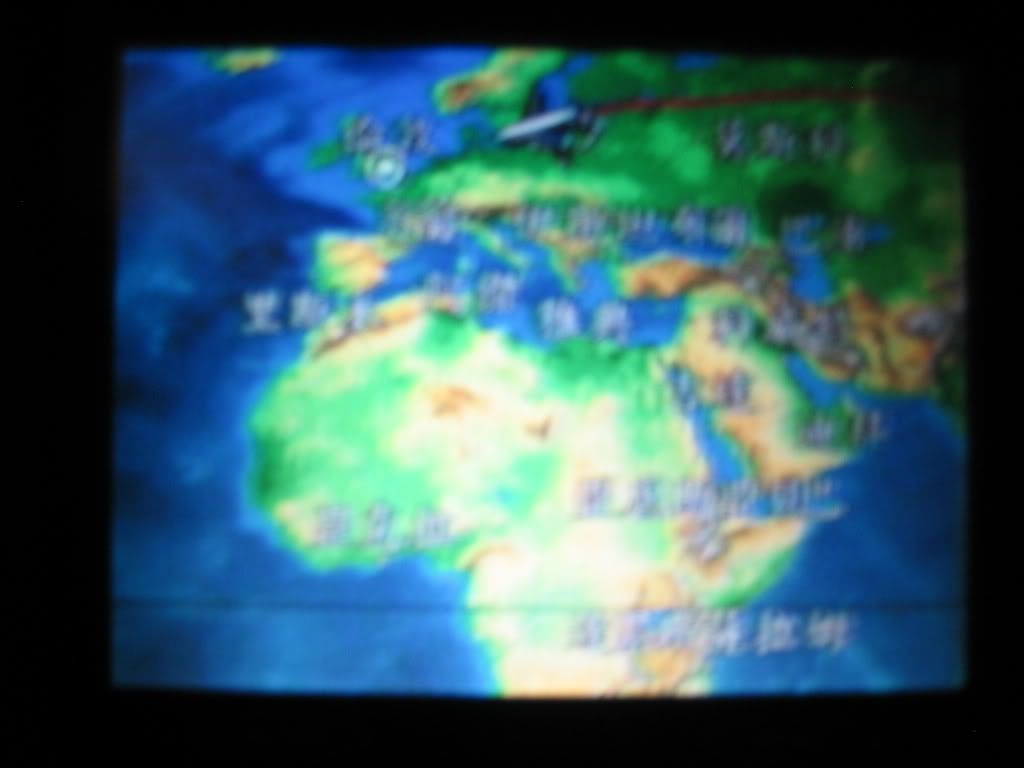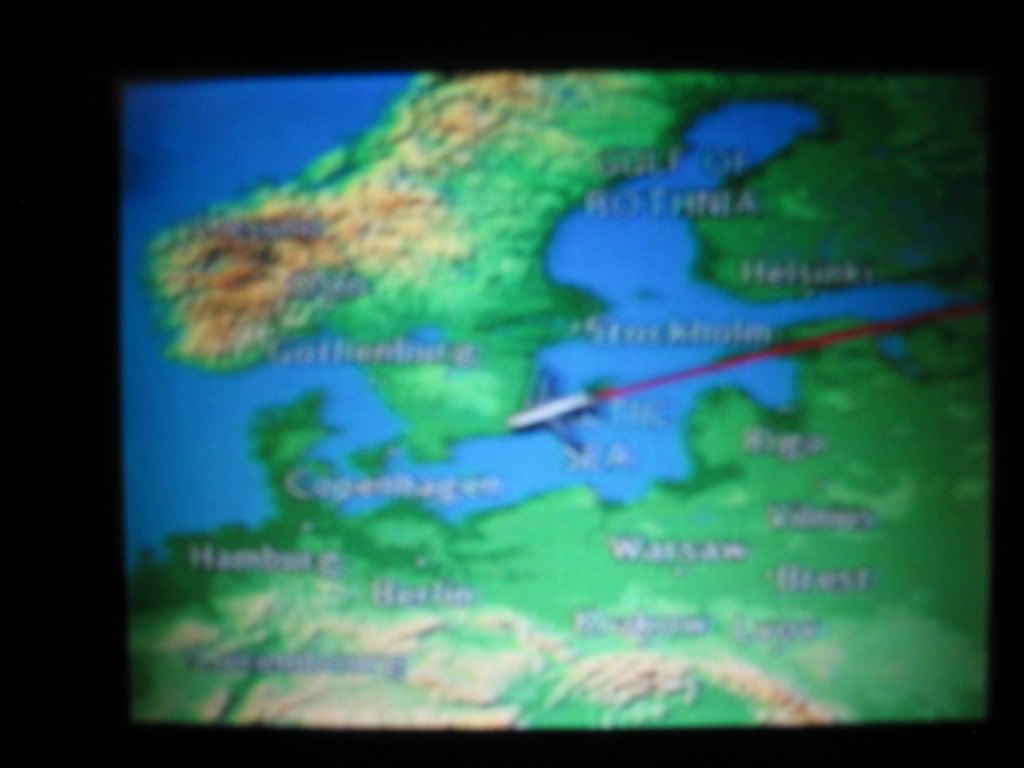 Pictures of the in flight map.
The weather was foggy and cloudy in London whats new. We had to do two circles in the air before we could land.
Flight number 4:
Origin: LHR
Destination: TLV
ETD: 08:30
ETA: 14:30
Flight time: 4:10
Airline: British Airways, BA
Aircraft: Boeing 777-200ER
Load: 100%
I arrived at London on a foggy and cloudy day with some bad visibility. I arrived at terminal 1 and had to catch my TLV flight at terminal 4. I followed the flight connection signs and reached the security screening area, there was a very small line therefore i passed security in around 2 minutes and went on to catch the bus to terminal 4. I arrived at terminal 4 departure lounge and walked around and went plane spotting.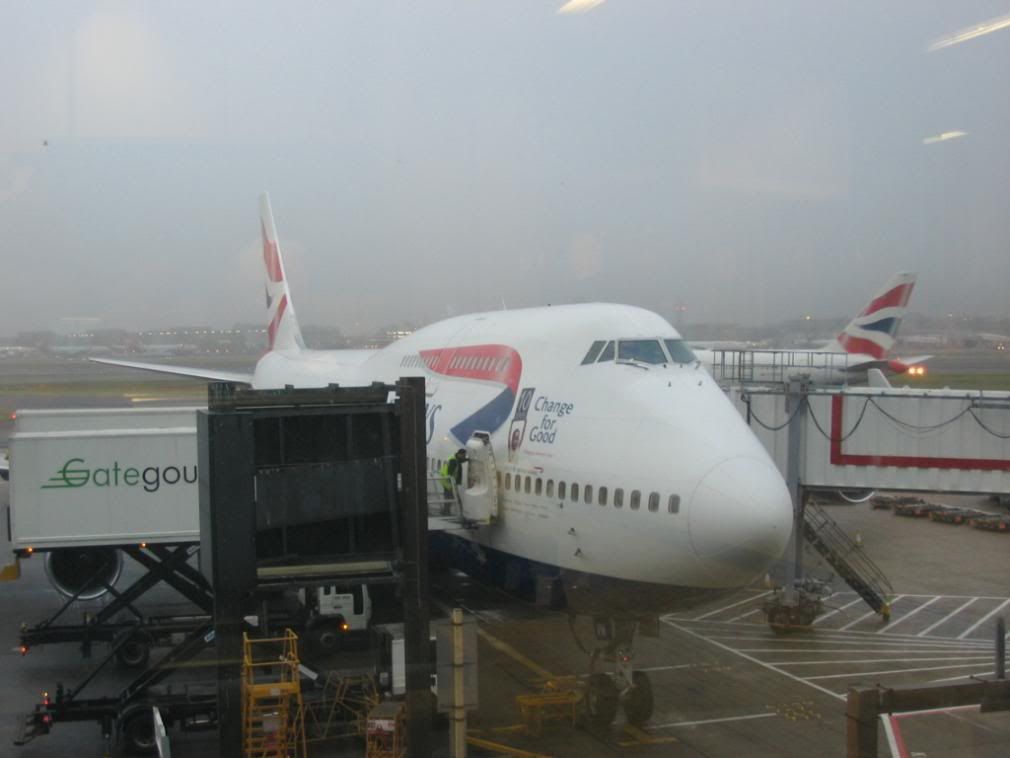 BA 747-400
BA A319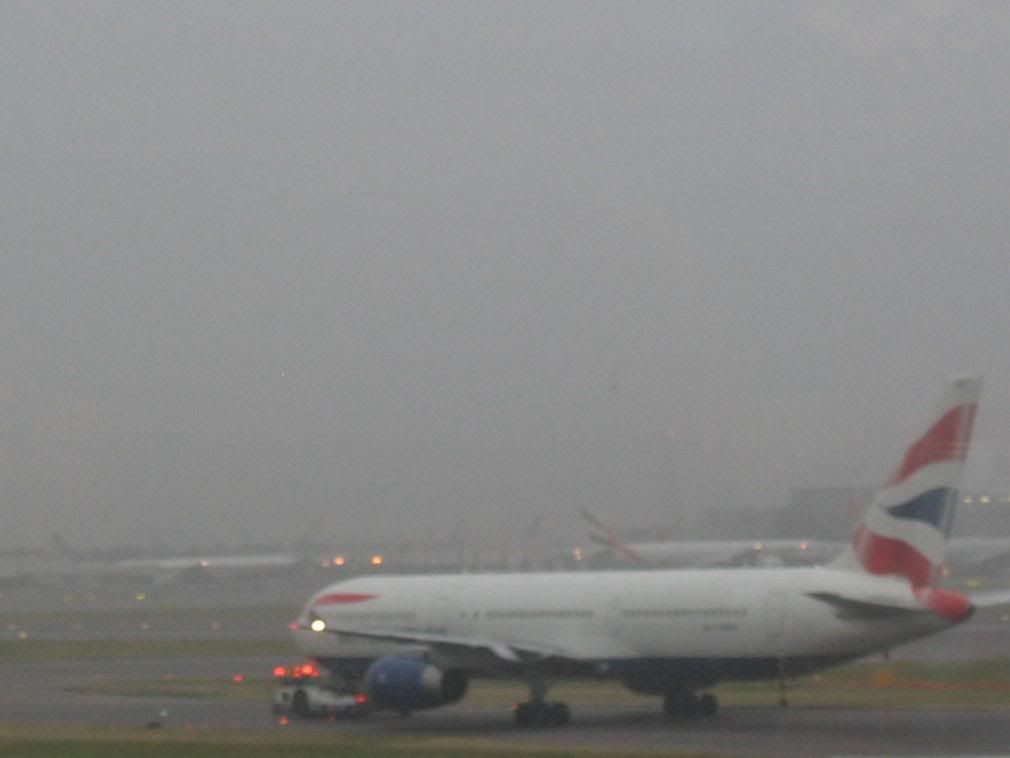 BA 767-300/ER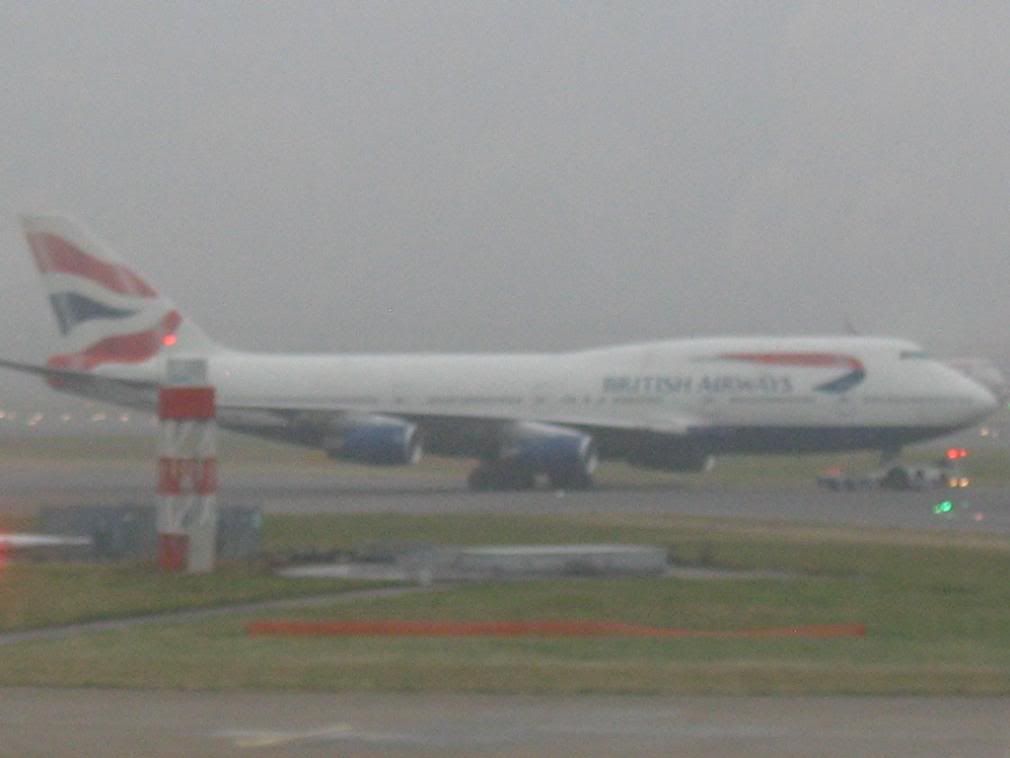 BA 747-400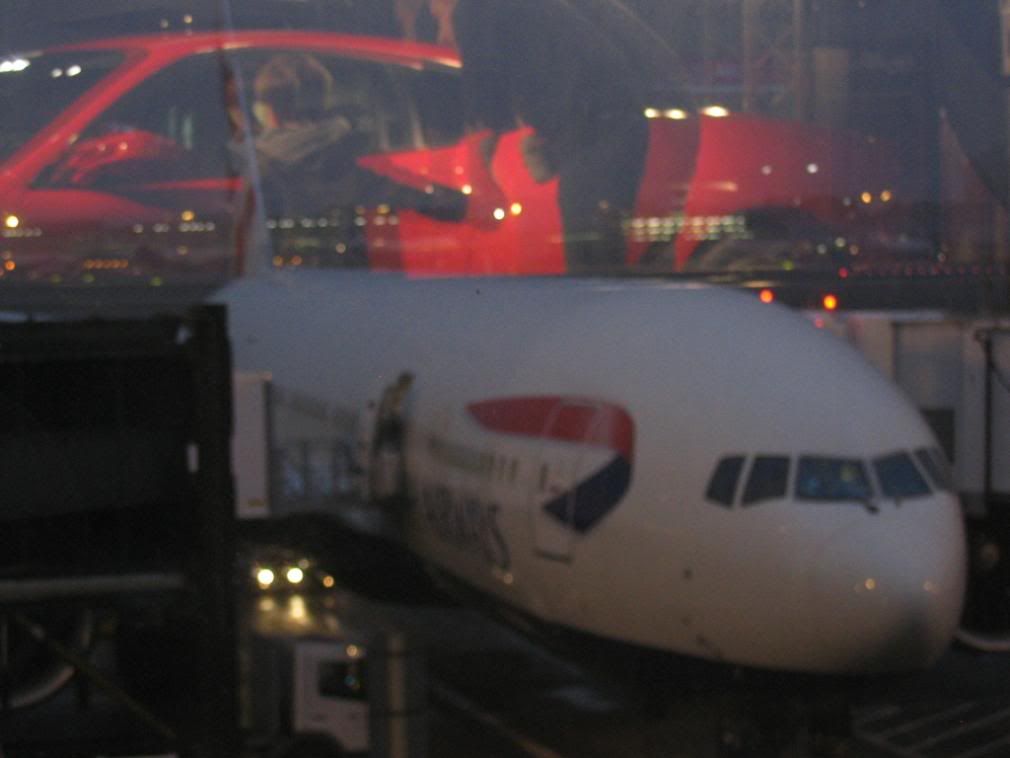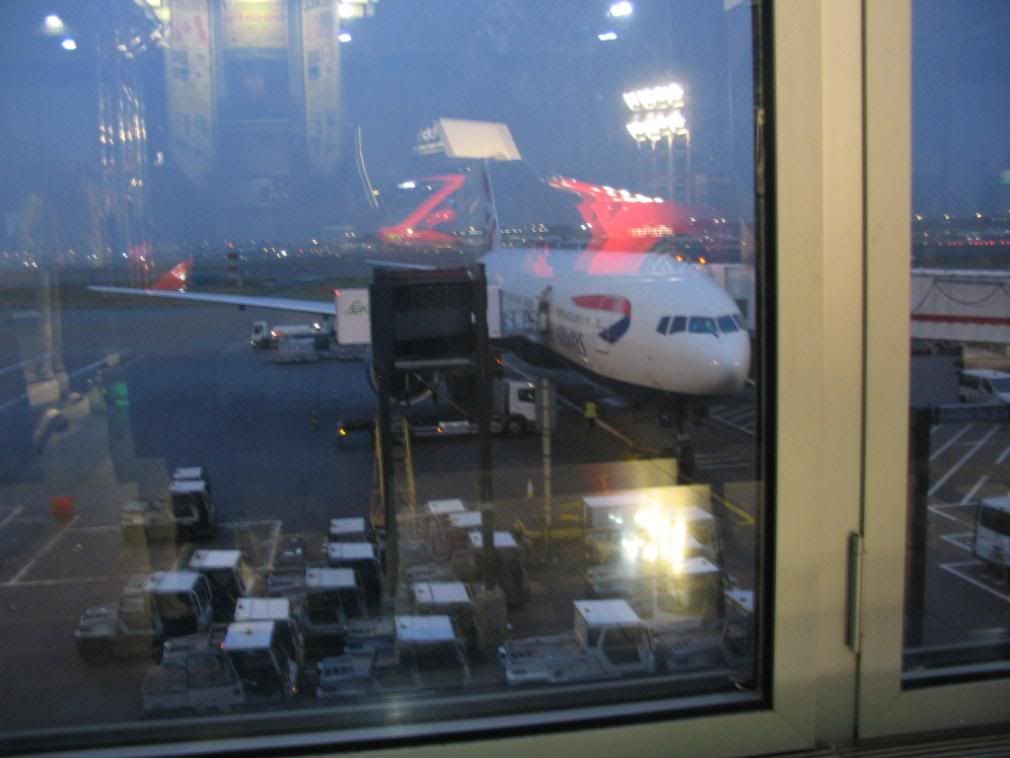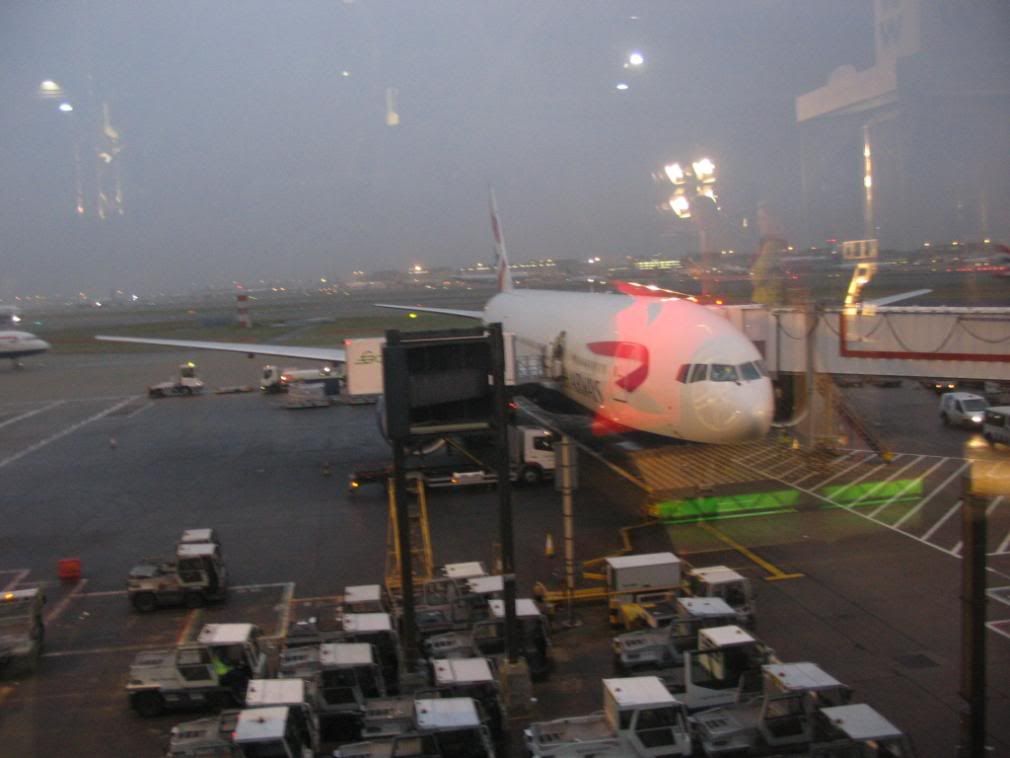 My ride, BA 777-200ER
I sat down and relaxed in my seat.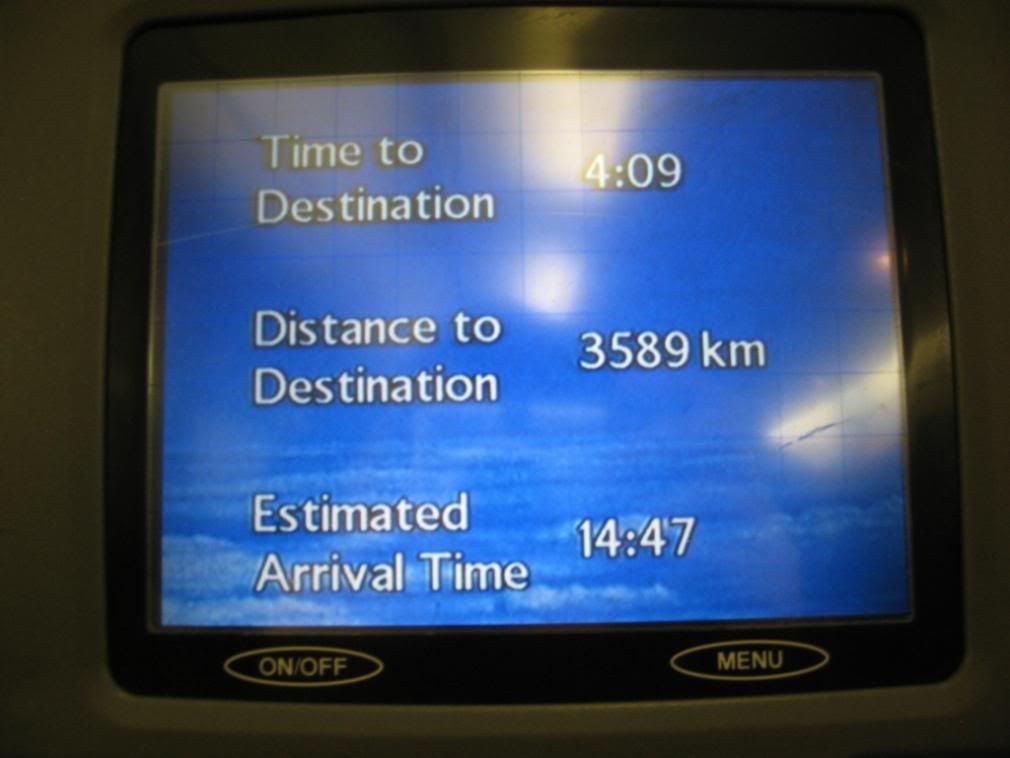 PTV moving map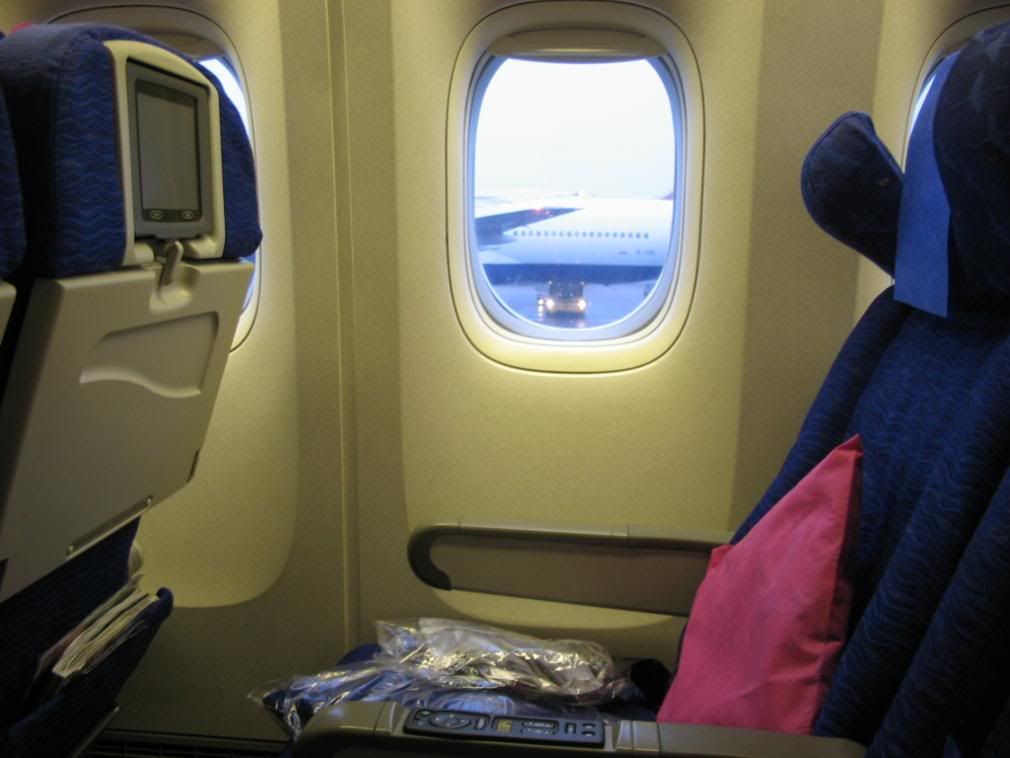 My row. 32. My seat 32H.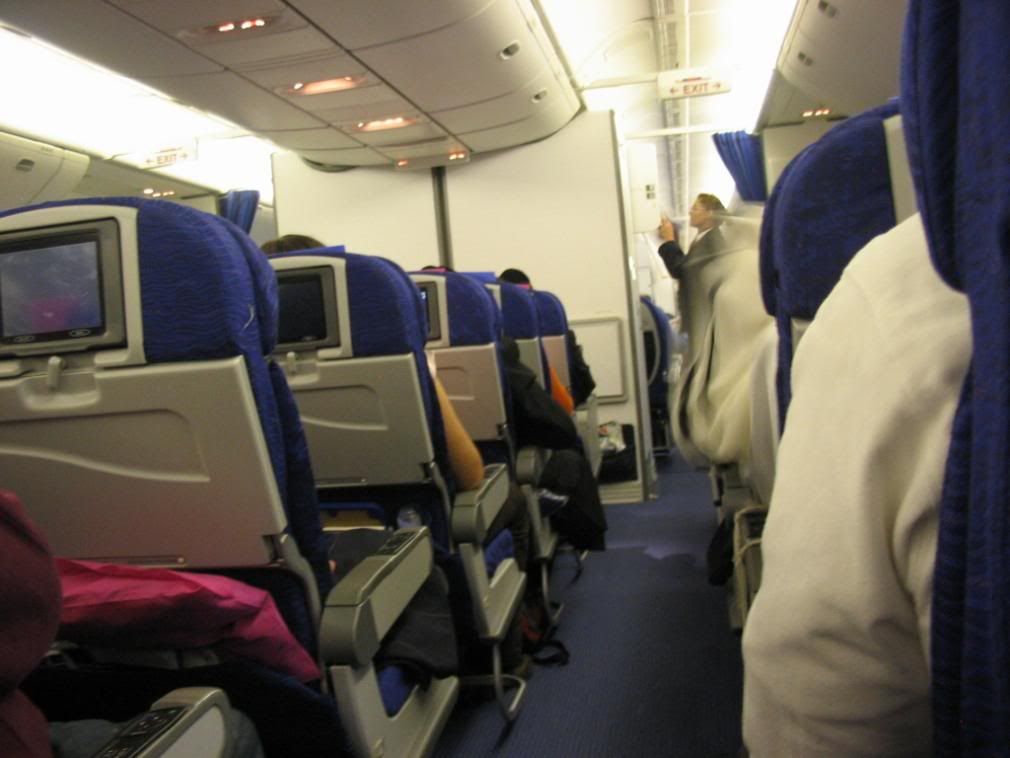 Interior
I arrived at TLV. A women gave me a random security check and asked to see my Israeli passport. After i collected my bags from carousel 6 which took around 20 minutes, i cleared customs because i had nothing to declare and then exited to the arrival area. Where i waited for my brother to come and pick me up. There was a very big traffic jam on the way to Ben Gurion International Airport in Tel Aviv and they got stuck, therefore i had to wait one hour and fifteen minutes for the aircraft.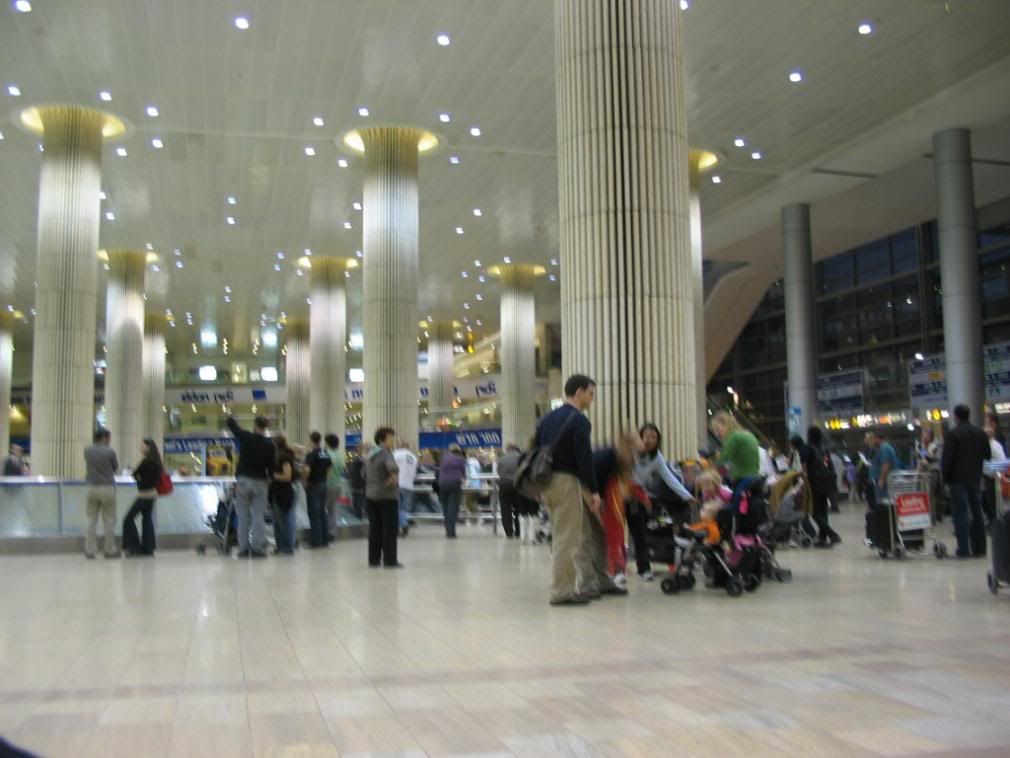 TLV Arrivals area
Overall i can't say too much except that all the flights were good, they passed really quick and were very enjoyable the service from both BA and QF is certainly exceptional.
Thanks for reading my trip report.
Any feedback or comments greatly appreciated.
Thanks, Inbar.
[Edited 2007-11-29 05:51:29]