This series of trip reports will cover the rest of my stay in Asia, and the flights I took in September/October/November. Namely BKK-MNL-OZC//CEB-DVO-CEB-MNL-CEB-KLO-MNL-CGK-UPG-CGK-SUB-CGK-SUB-AMI-DPS-KUL-BKK-USM-HKT-BKK//DMK-HKT-DMK//BKK-CGK-SIN-MNL-DXB-HAM-FRA-HEL-FRA-HAM-DXB-MNL-BKK-KUL-CRK//MNL-CEB-SIN-KUL-BKK-DXB-FRA-HEL. Alas, a lot of writing so these will be posted in several instalments. First three parts can be found at:
Farewell Bangkok: BKK-MNL-OZC On 5J/2P (47 Pics)
(by
Lufthansa747
Sep 24 2007 in Trip Reports)
Philippine Island Hopping: CEB-DVO-CEB 2P 737-200
(by
Lufthansa747
Sep 25 2007 in Trip Reports)
The Great Asian Adventure 2007: Part 1 PAL J Class
(by
Lufthansa747
Nov 28 2007 in Trip Reports)
This part covers CEB-KLO-MNL-CGK on Cebu Pacific Air as well as Boracay. As you can see below, the flights were rather cheap...
28 September 2007
Mactan Cebu International (CEB/RPVM) – Kalibo Airport (KLO/RPVK)
Cebu Pacific Air 5J/CEB 418
Airbus A319-111
RP-C3192
1305-1355 – On Time
Economy Class, Seat 16F




Fare: EUR 18.60
18th A319-100 flight, 2nd on RP-C3192
There isn't much competition on Cebu-Boracay, this 5J flight as well as a daily Asian Spirit prop to Caticlan (MPH). Since Asian Spirit cost almost 3x the price, the choice was easy even though 5J is not one of my favourite airlines. Starting sometime in 2008, Cebu Pacific will start nonstop CEB-MPH flights with their new ATR72-500s. I expect that and 8x daily MNL-MPH to effectively kill Asian Spirit.
Quite some packing since we stayed almost two weeks in Cebu, but we managed to get out of the Marriott on time, and the taxi arrived at Cebu Mactan's domestic entrance at around 1145am.There were a couple of people in front of us, but we got checked in reasonably fast nevertheless. Bags were 3kg overweight, but nobody made any fuss about that. More about baggage later...
Boarding pass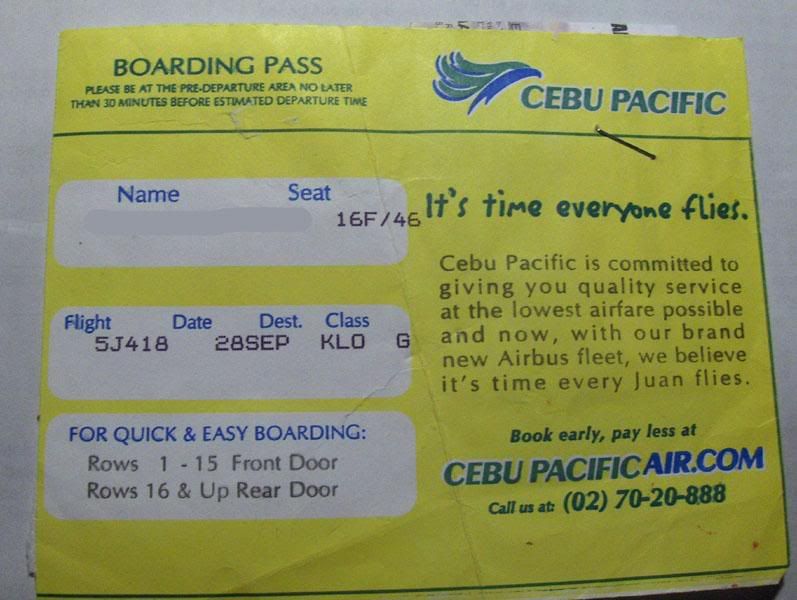 We quickly paid the P200 per person departure tax and went through the strip search and onto gate 5 waiting lounge. While PAL always uses gate 4, it seems 5J usually always uses gate 5. The seating is reasonable and the airconditioning working, so no complaints, although I'd rather guzzle Carlsberg in the PAL Mabuhay Lounge.
Gate display – our flight and a SEAir flight to Siargao
An A319 docked at gate 5 at around 1pm, I believe it arrived from Davao. We boarded as soon as the inbound pax got off, and only pushed back some 10minutes late which I consider more than on time for Cebu Pacific...
Boarding underway, many Koreans onboard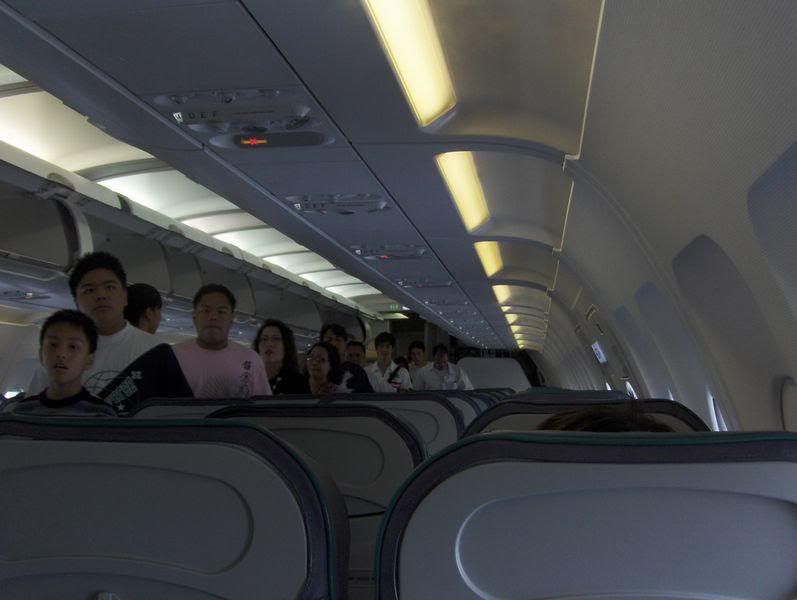 Wingshot at gate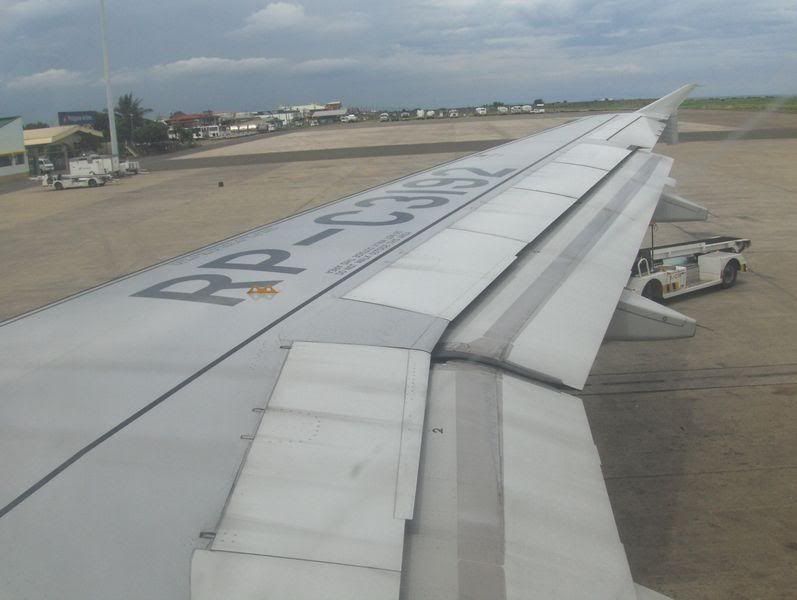 We were pushed back some minutes late as mentioned earlier, and the usual manual safety demo followed. I honestly can't stand it, they basically repeat "civil aviation regulations require us to do this" and that "removal of the life vest is a criminal offence". Most of the 5J F/As look as if they really don't enjoy their jobs.
Took off without delay from 22 since CEB was more or less deserted this time of day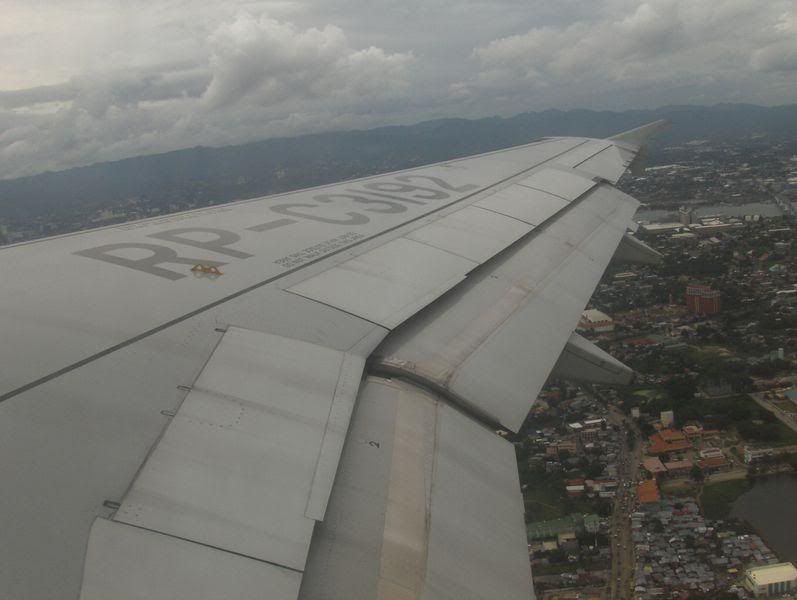 Views of Cebu City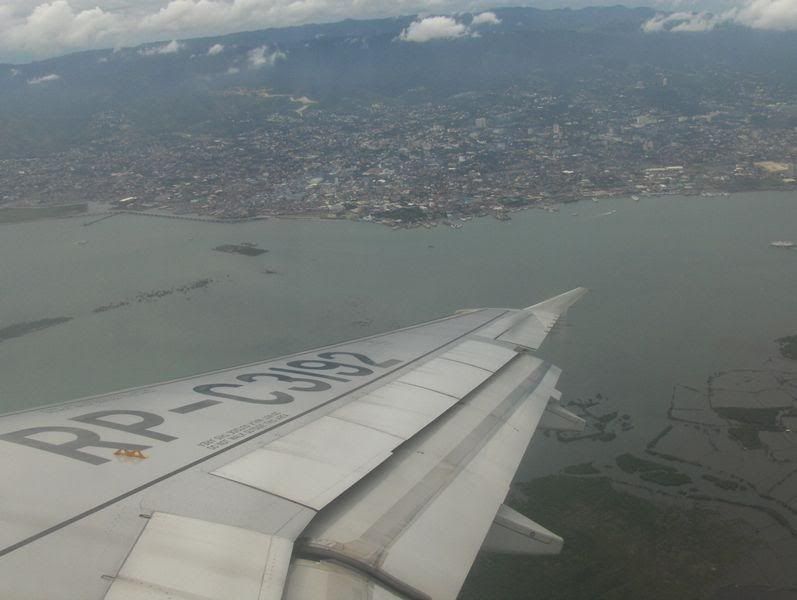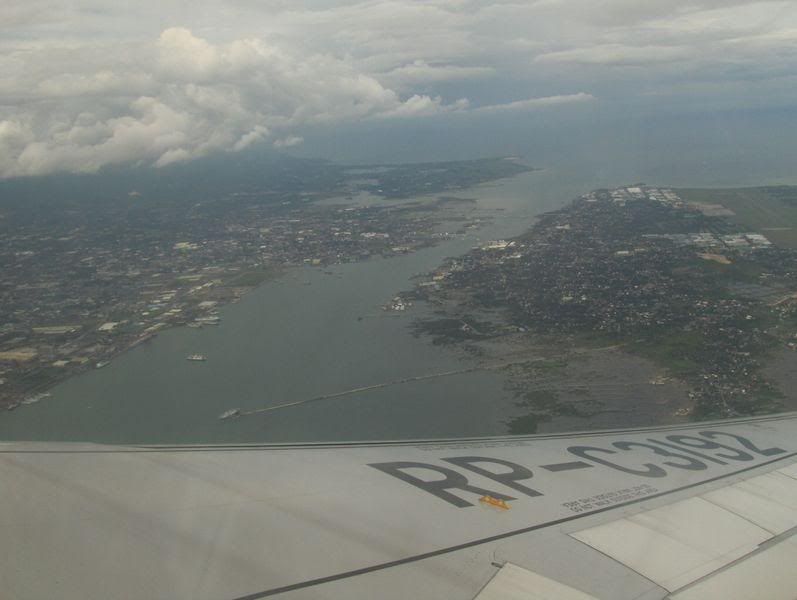 Mactan Island and the airport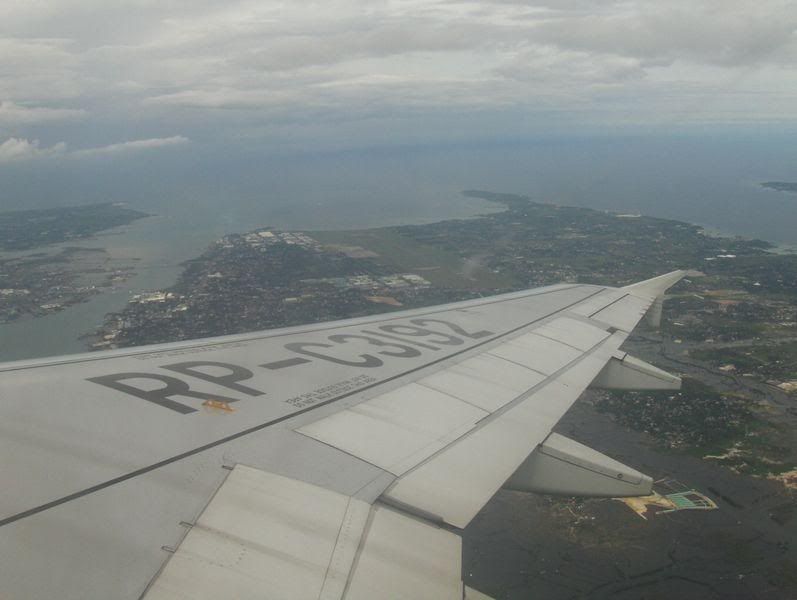 Legroom varies on the A319s of Cebu Pacific. Row 1 is great and so are the exit rows. Standard legroom is tight but bearable. However, the DEF side from row 2 until the exits has horrible pitch I have found. Must be less than 29".
We were aft of the exit row, so bearable but tight pitch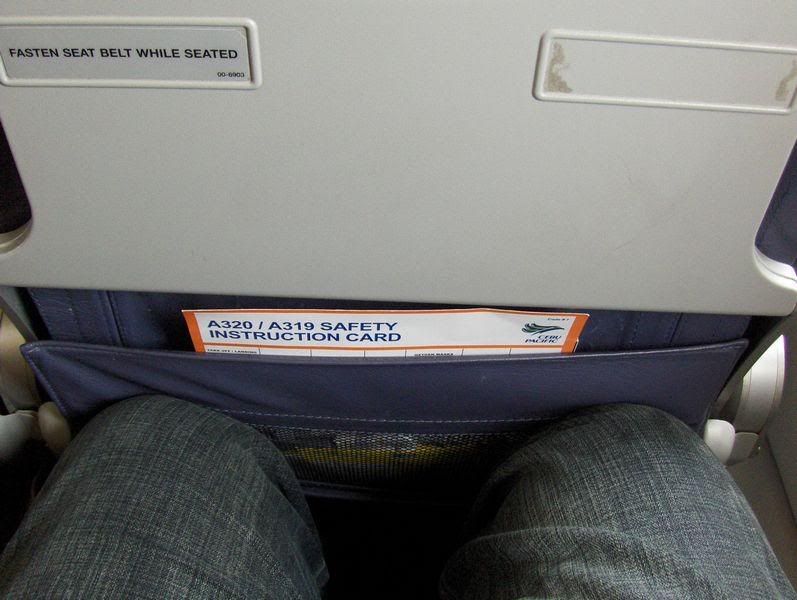 Reaching cruising altitude, flight time 35 minutes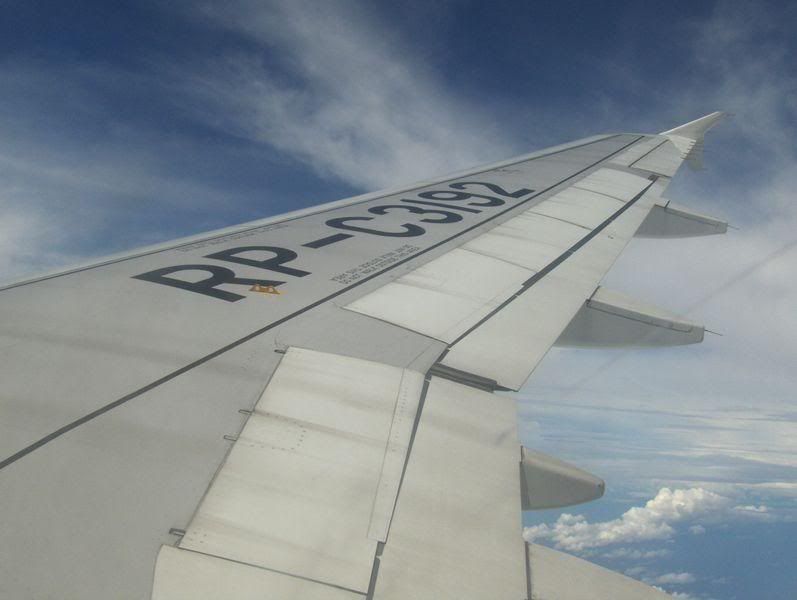 Cabin view. No service whatsoever, F/As didn't even bother getting out of their seats.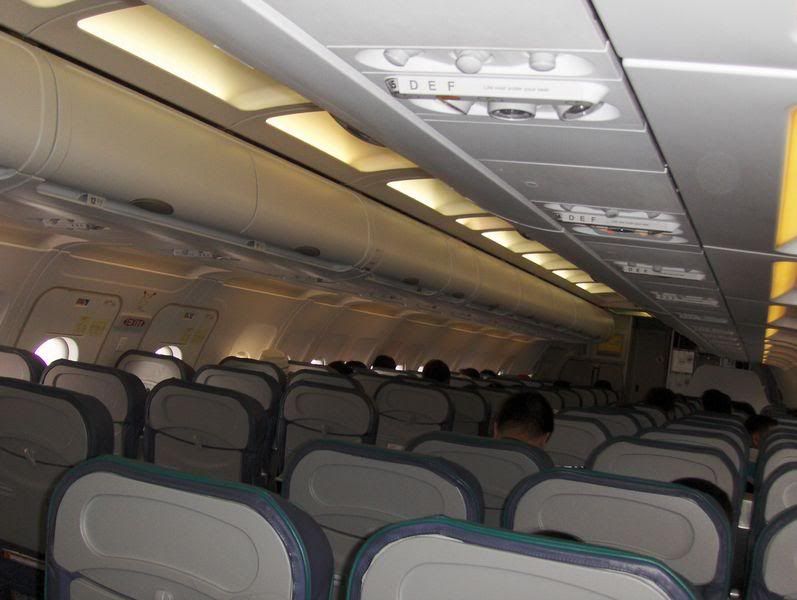 In a matter of minutes, we were already on descent into Kalibo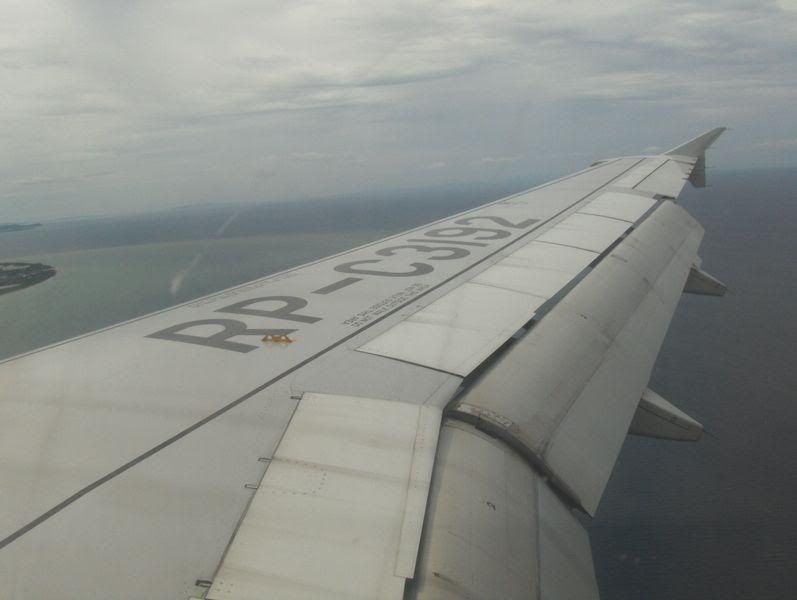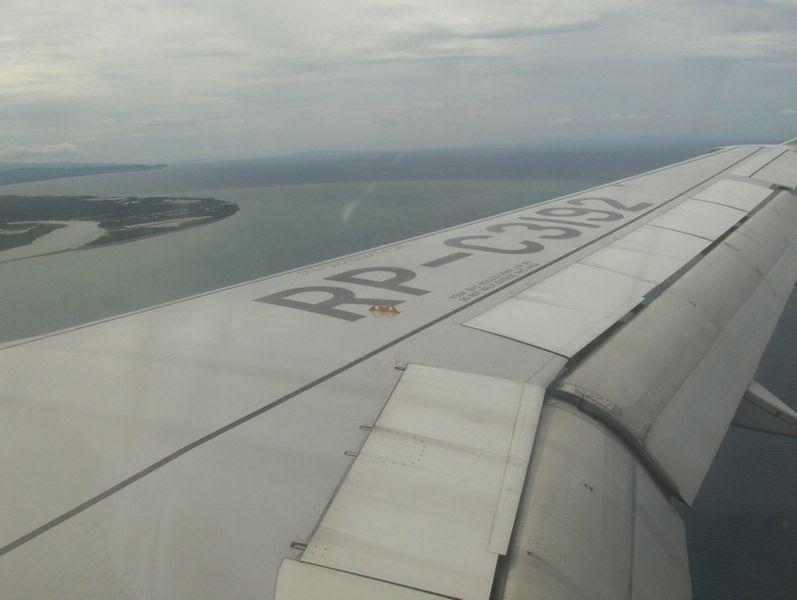 Final approach into KLO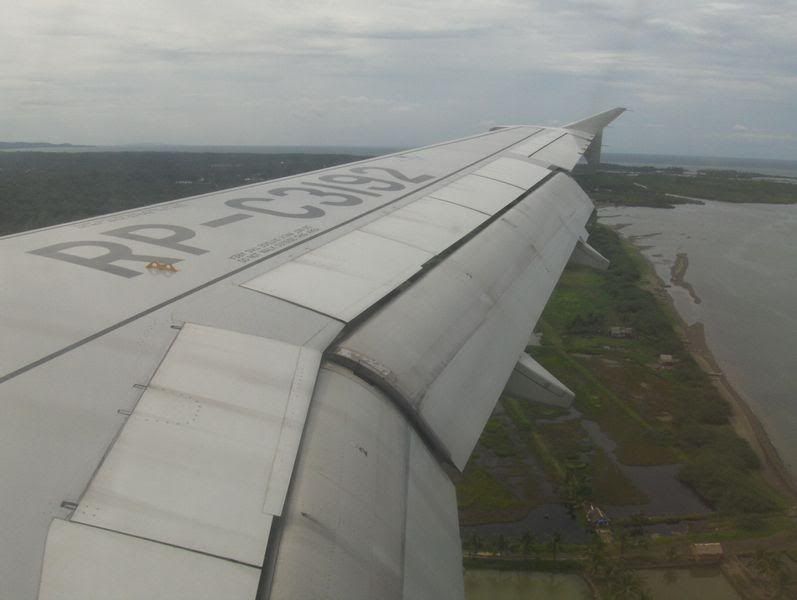 Touchdown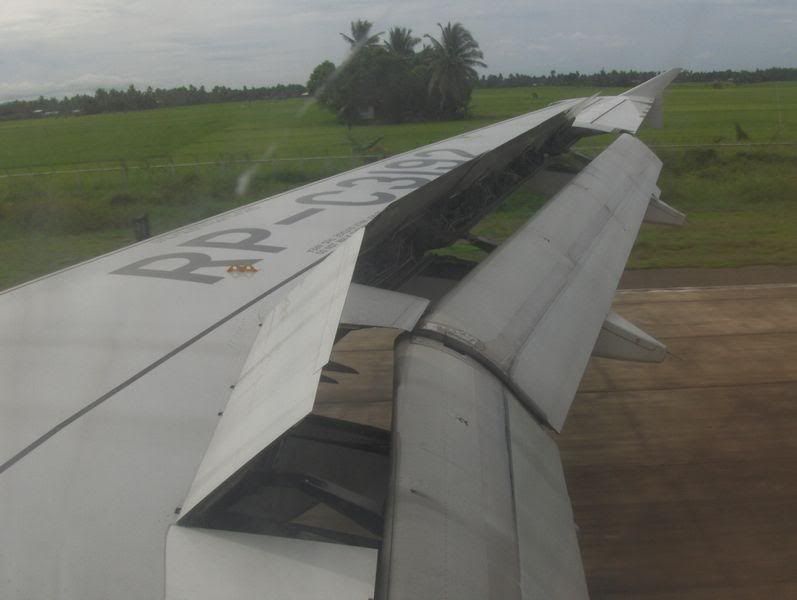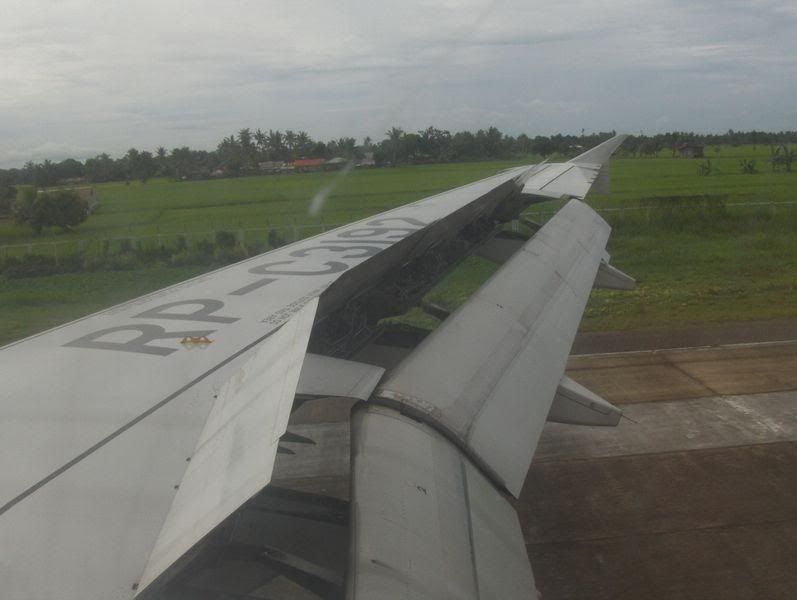 Tired looking runway in the middle of the countryside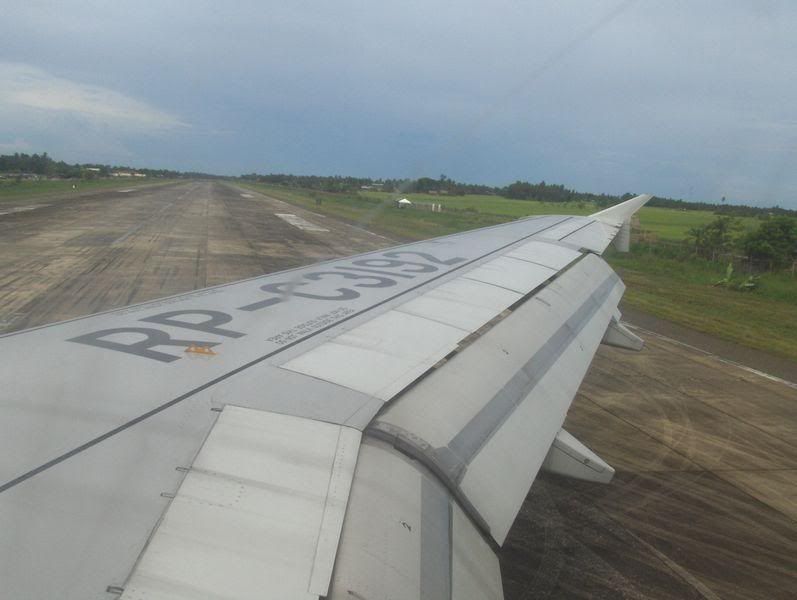 Kalibo Tower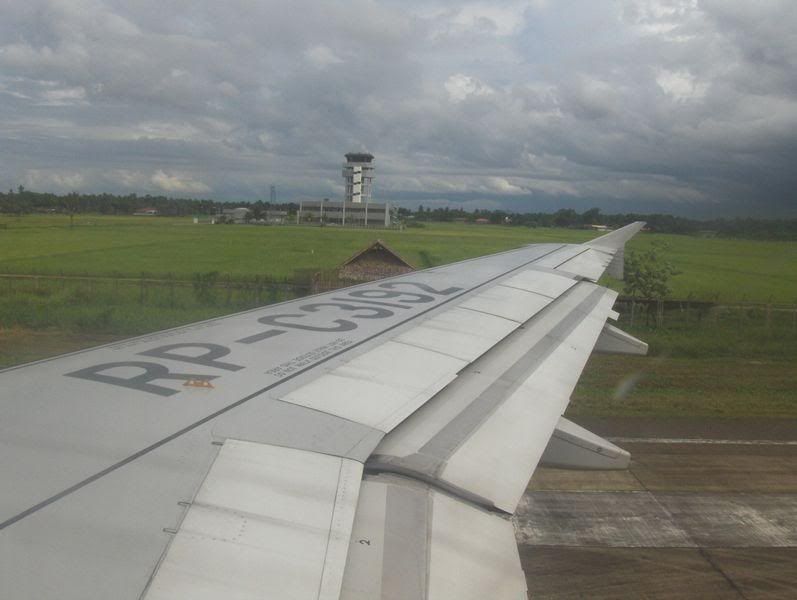 The hut...err I mean terminal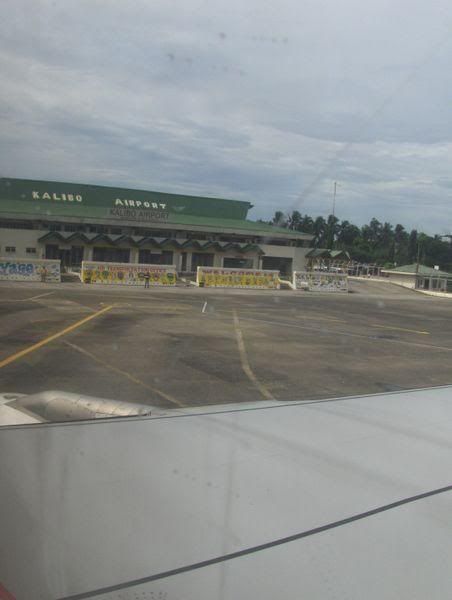 Cabin shots, deplaning from rear door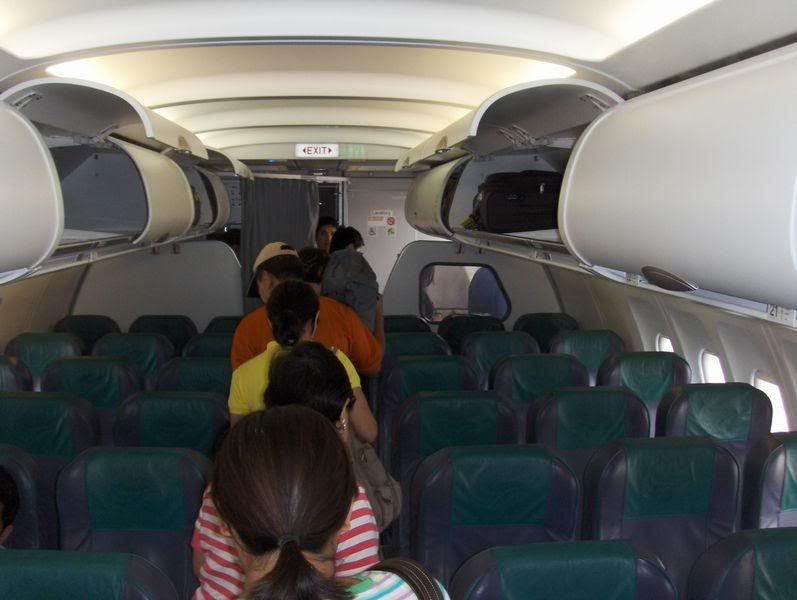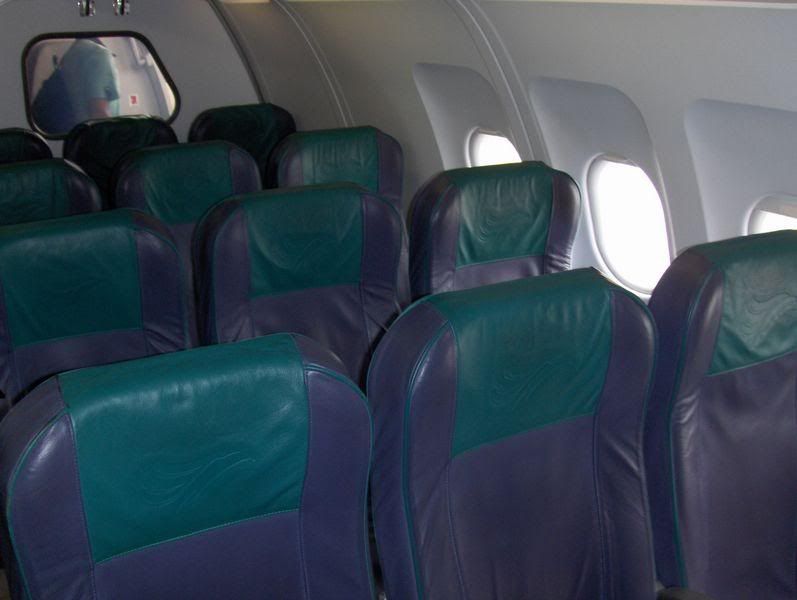 Tail
Boracay-bound tourists walking to the hut and shooting lots of pics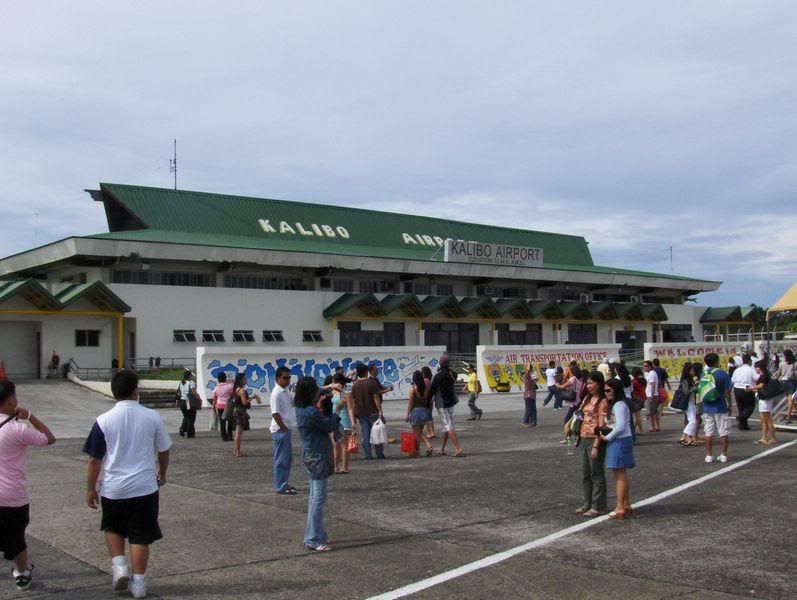 Aircraft at KLO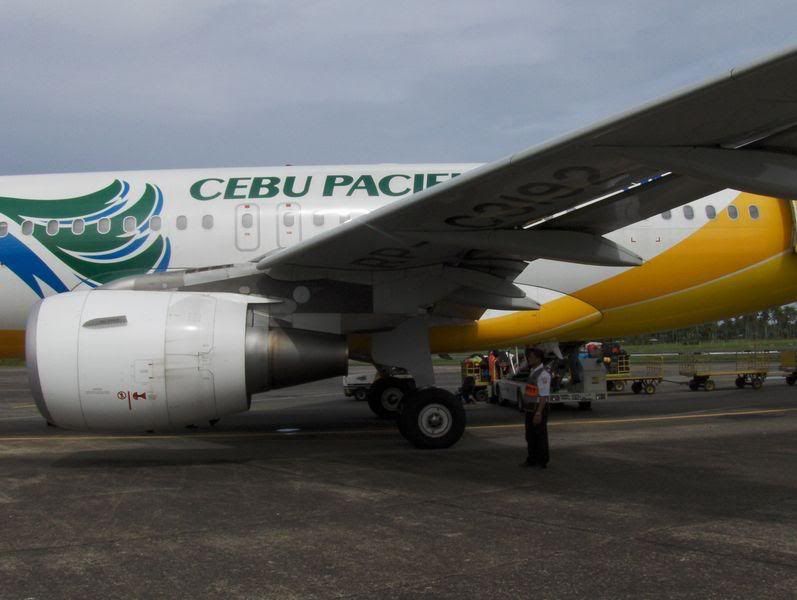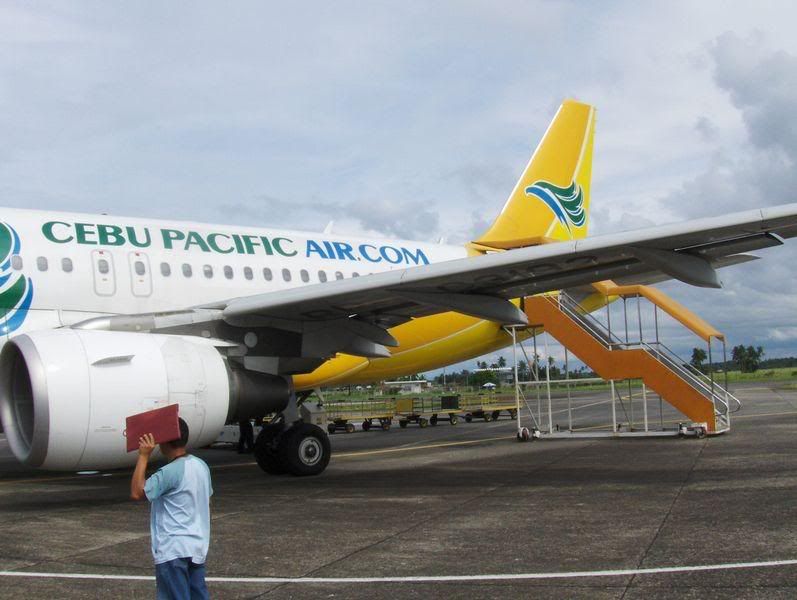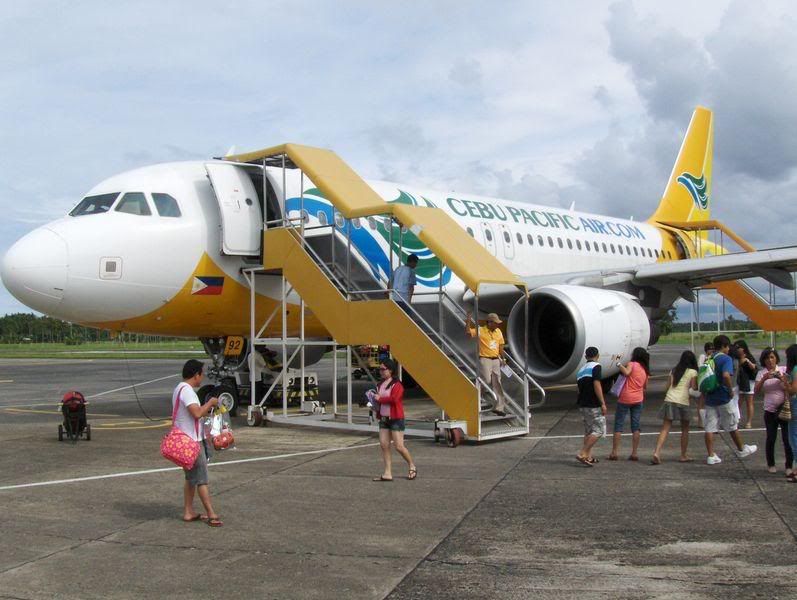 Terminal building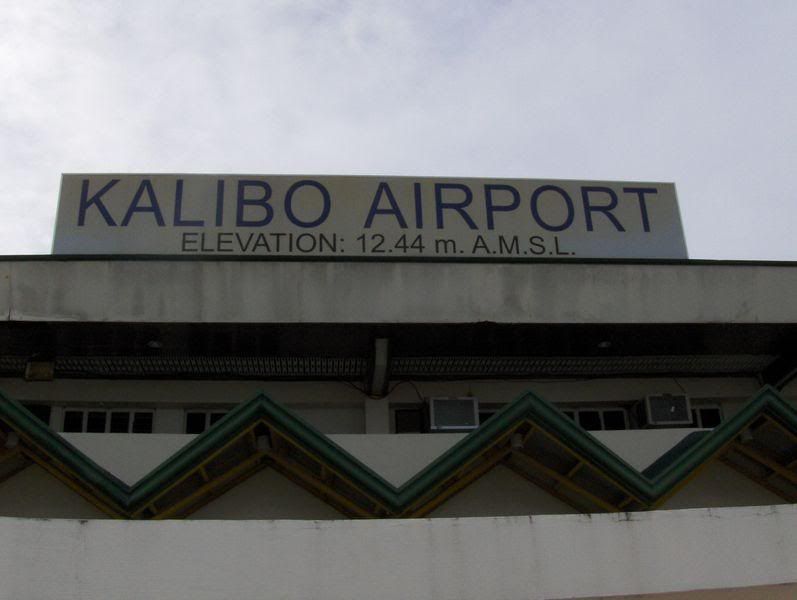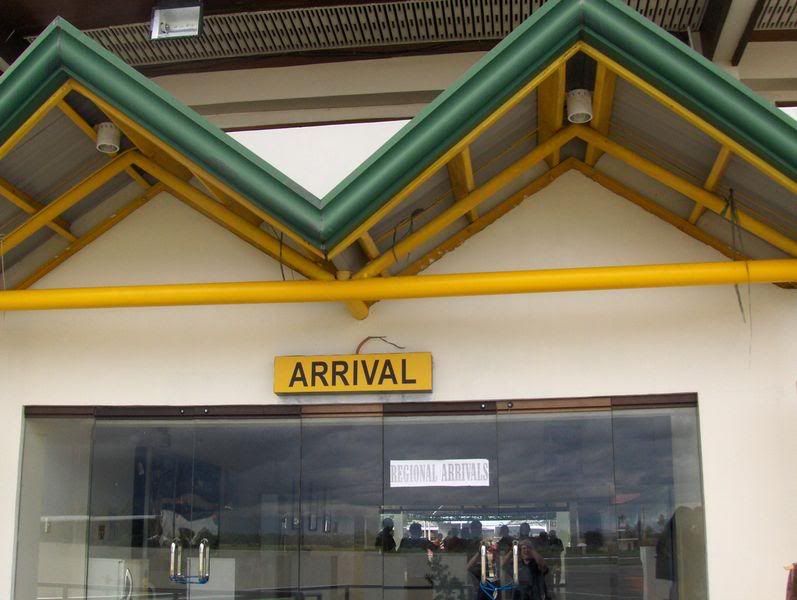 Although the flight was far from full, the tiny baggage claim area was more or less a zoo... We took a van to Caticlan and boat to Boracay for about P200 per person. Mind you the vans in this country are awful, I have seen over 20 seats in a 9-seater. My legs were badly hurting although the trip to Caticlan was just over an hour.
Caticlan Jetty Port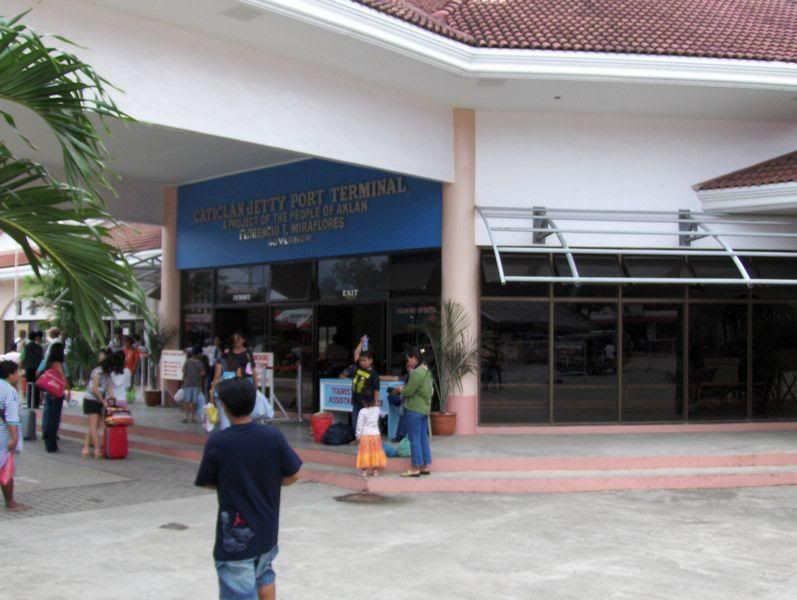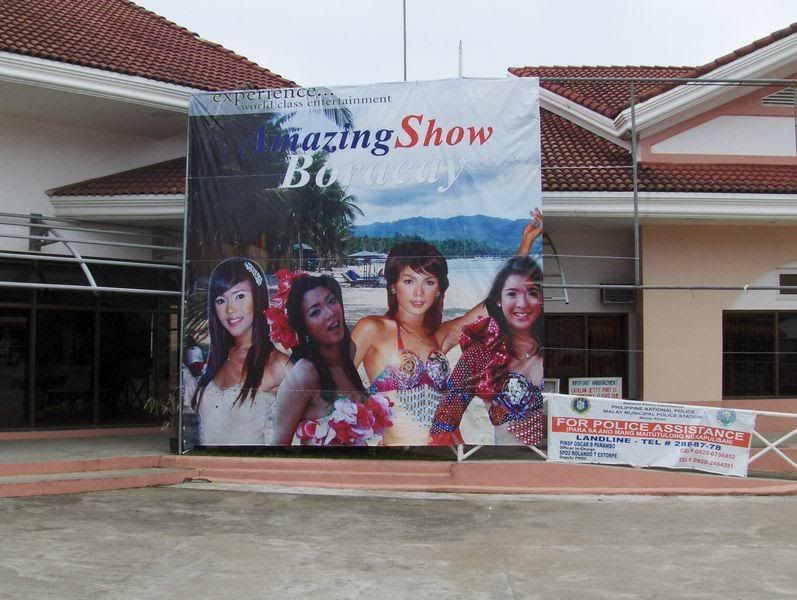 I pretty much lost it completely here... The ticket was supposed to include everything, but of course it doesn't... Pay environmental fee here, continue over there for terminal fee... A couple of pesos were collected at each point, but terribly inconvenient with all the luggage. Icing the cake, all bags were hand searched...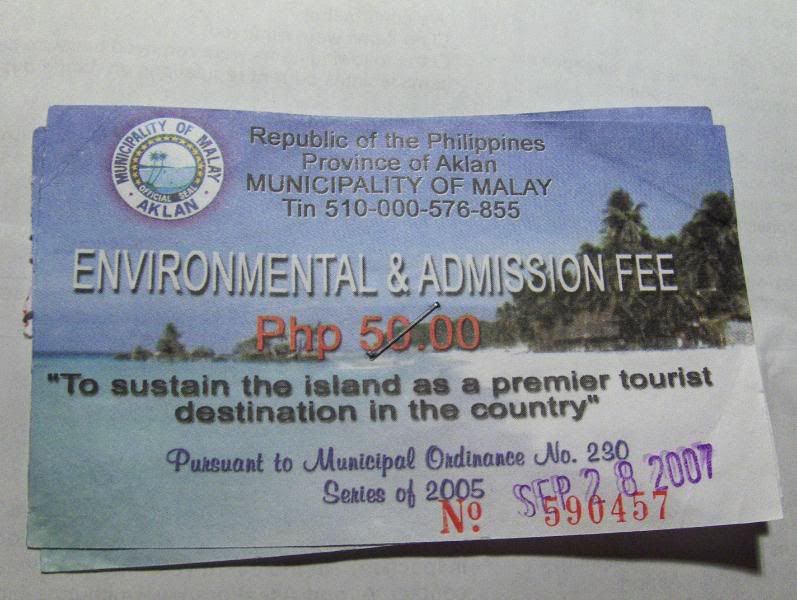 The boat to Boracay... It stayed afloat is all I can say about these.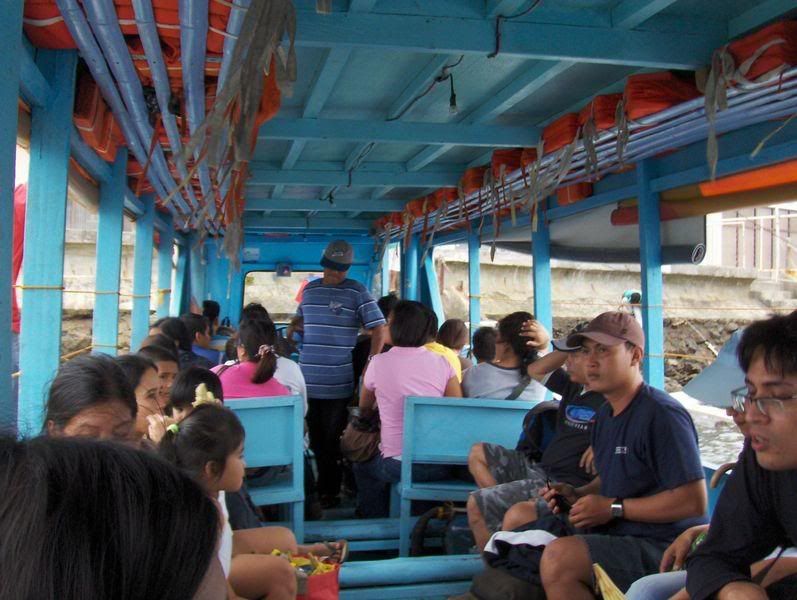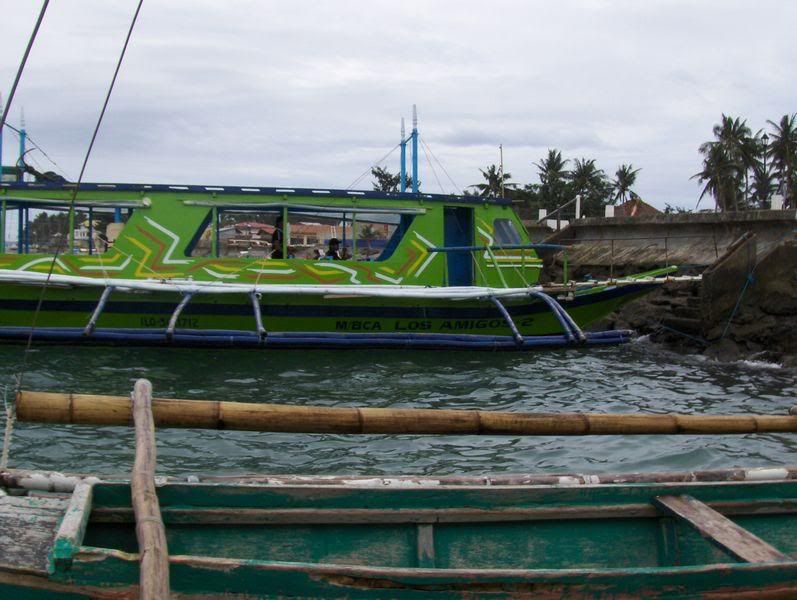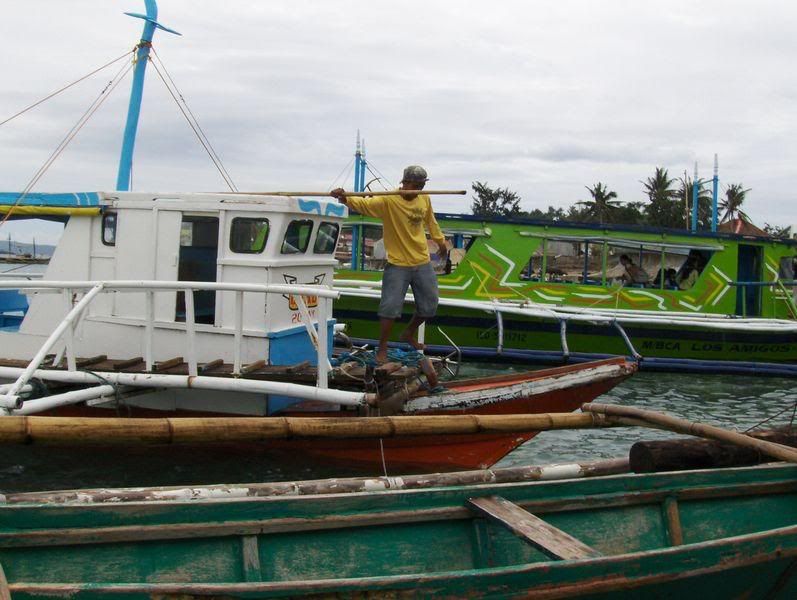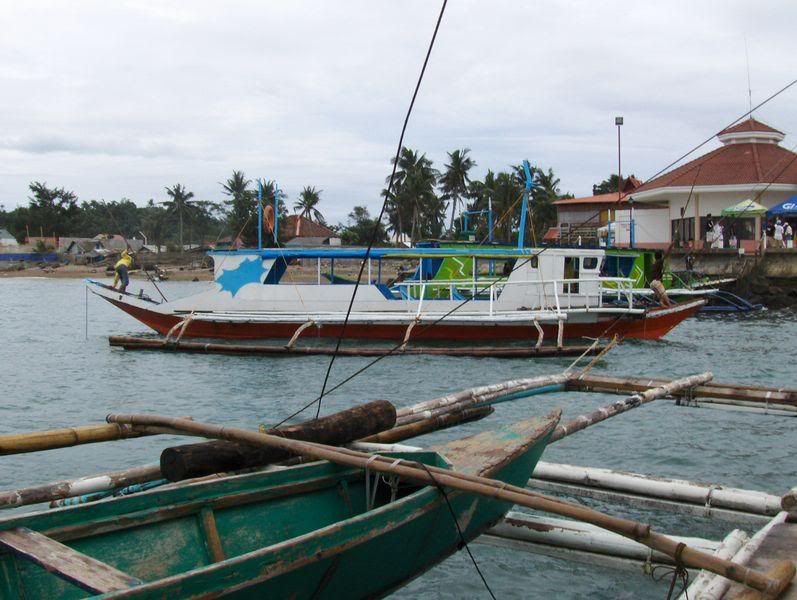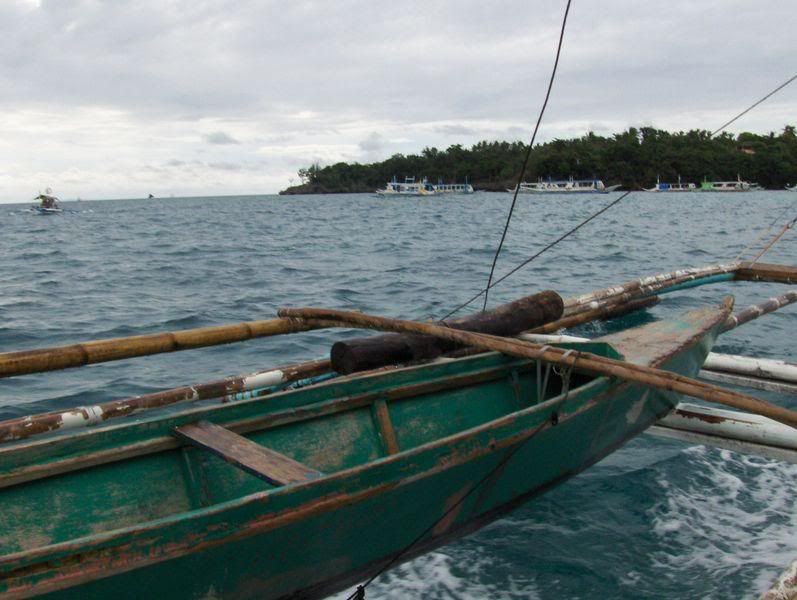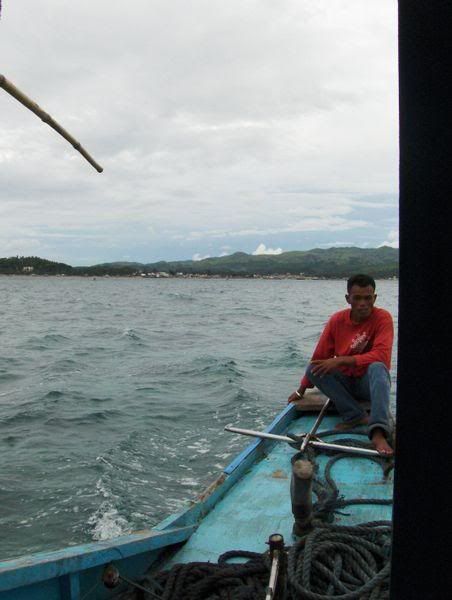 Took a trike to the Microtel Inn & Suites where we were staying. It was far from the boat stations, and did not match any of my expectations. It had good reviews online, although these must be all written by low-end backpackers. While the room was decent, the location was bad, the swimming pool a complete joke, and the small cafe/restaurant not impressive either.
Weather was pretty rainy and windy, so nut much swimming at all. Overall I didn't really care for Boracay, way too underdeveloped for my liking. It's probably what Koh Samui etc were 10+ years ago. Also, the boat transfer is very inconvenient with luggage, especially as the roads were flooded and we had to return from some other station, involving getting to the damn boat 20m away from the shore... Overall a big disappointment.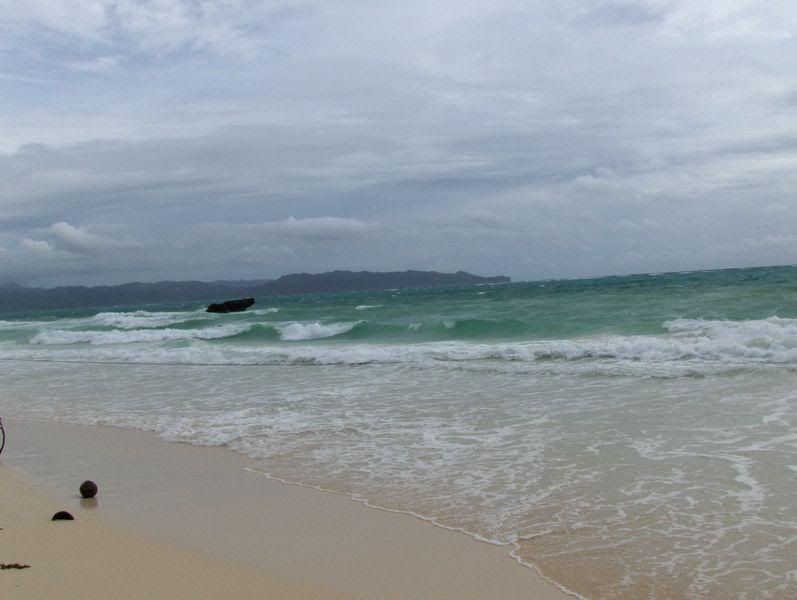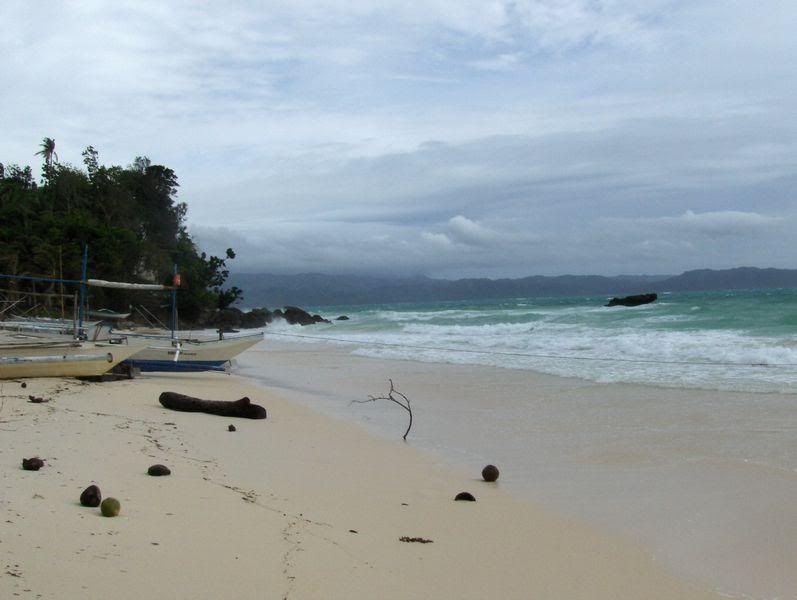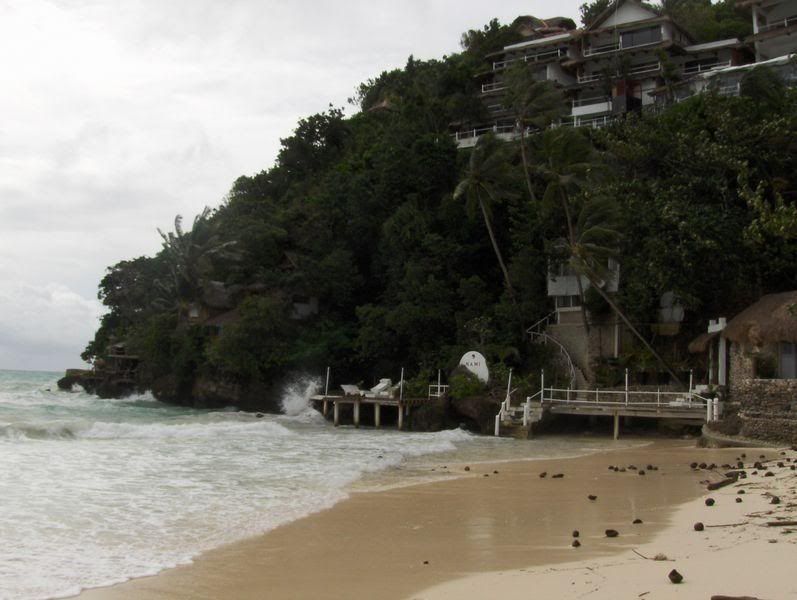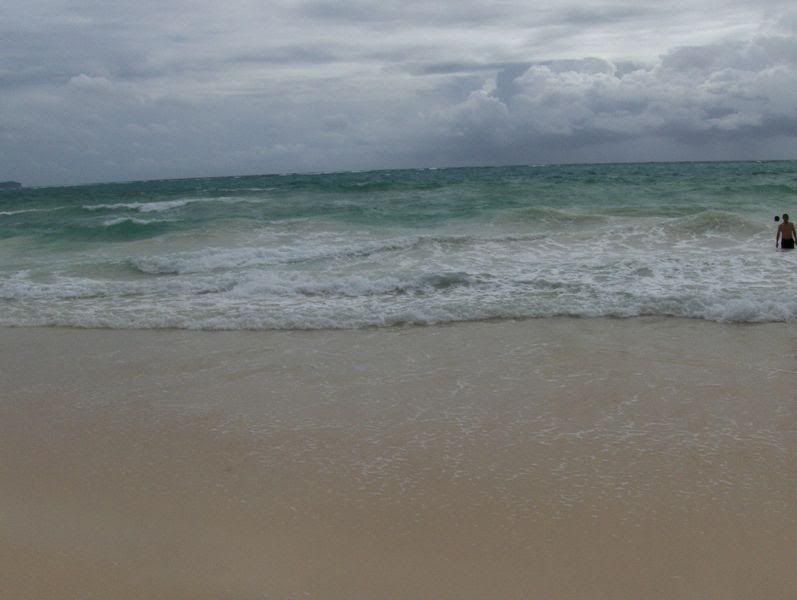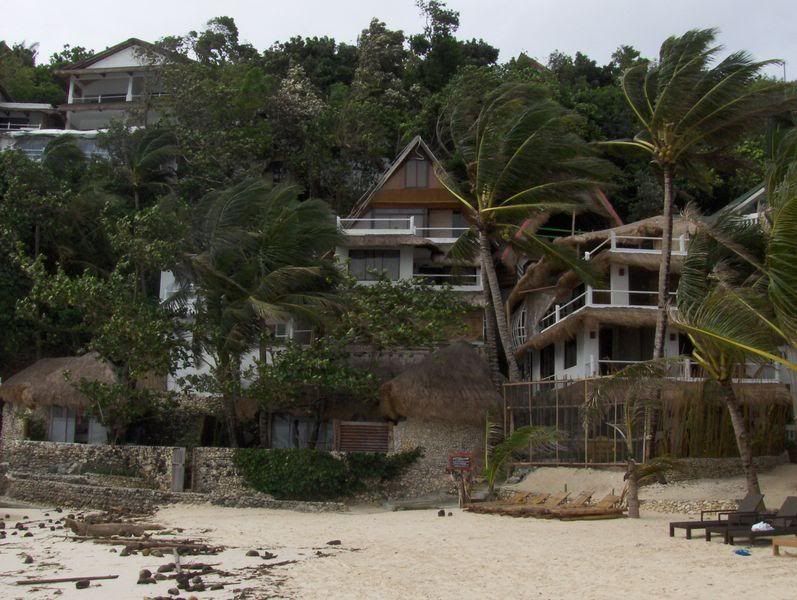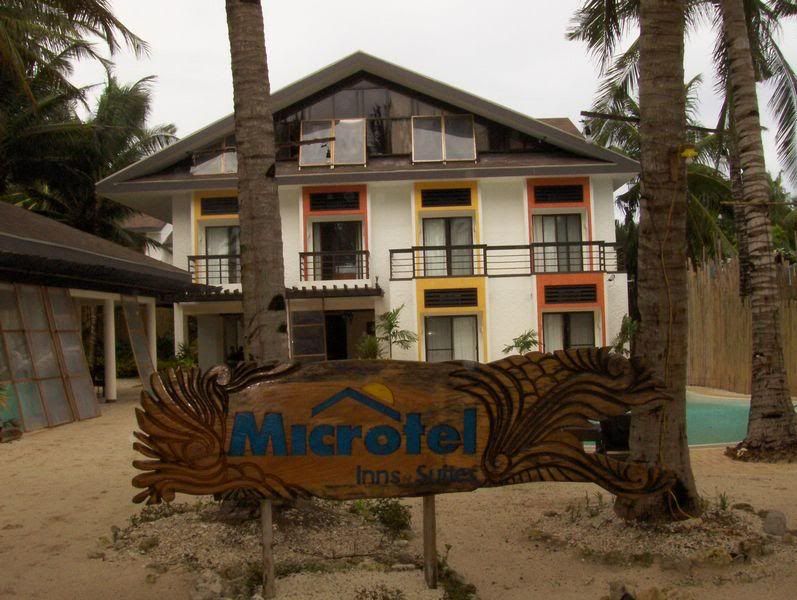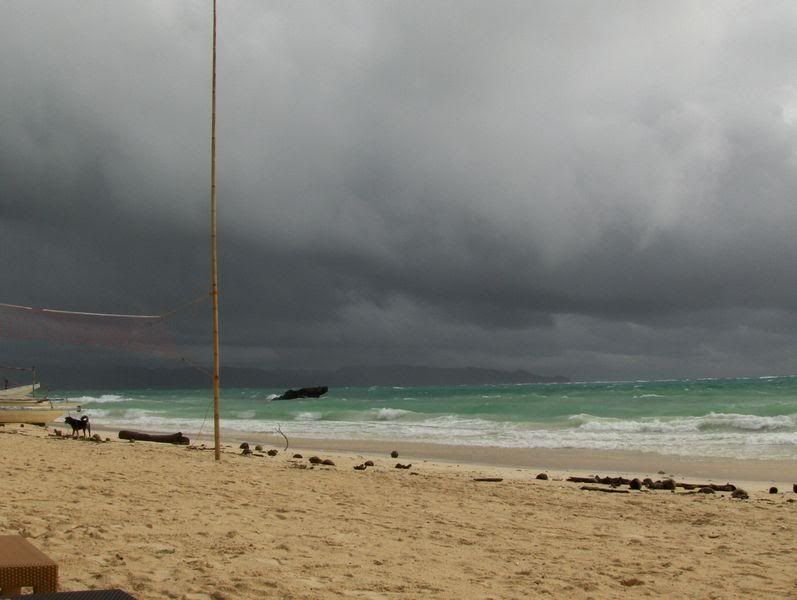 How about these two brands?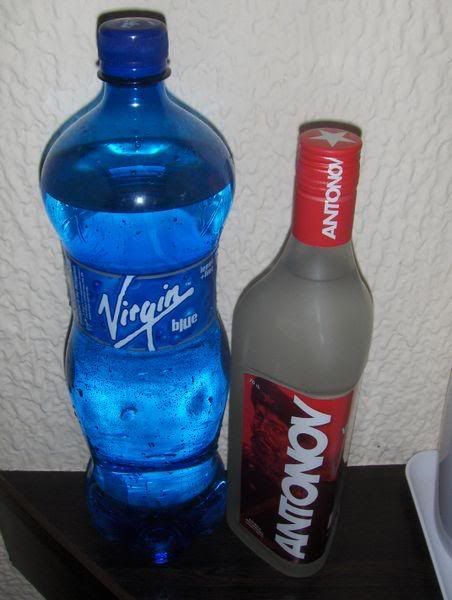 01 October 2007
Kalibo Airport (KLO/RPVK) – Manila Ninoy Aquino International (MNL/RPLL)
Cebu Pacific Air 5J/CEB 342
Airbus A319-111
RP-C3191
1200-1255 – On Time
Economy Class, Seat 1F (Bulkhead)


View Large
View Medium


Photo © Adrian Thompson
Fare: EUR 24.30
19th A319-100 flight, 1st on RP-C3191
Took a van back from Caticlan to KLO, and we arrived at about 10.30 for the noon departure. I thought the arrivals area was bad, but the departures is the worst I have seen. The airport really deserves to be called a hut... One screening machine, they opened a couple of our bags, they have no clue about updated regulations etc. Idiots forced me to check all liquids despite the fact that the Philippine authorities have relaxed the rules-obviously unheard of in Kalibo. That resulted in Bvlgari flavour Pringles in the checked bag...
Check-in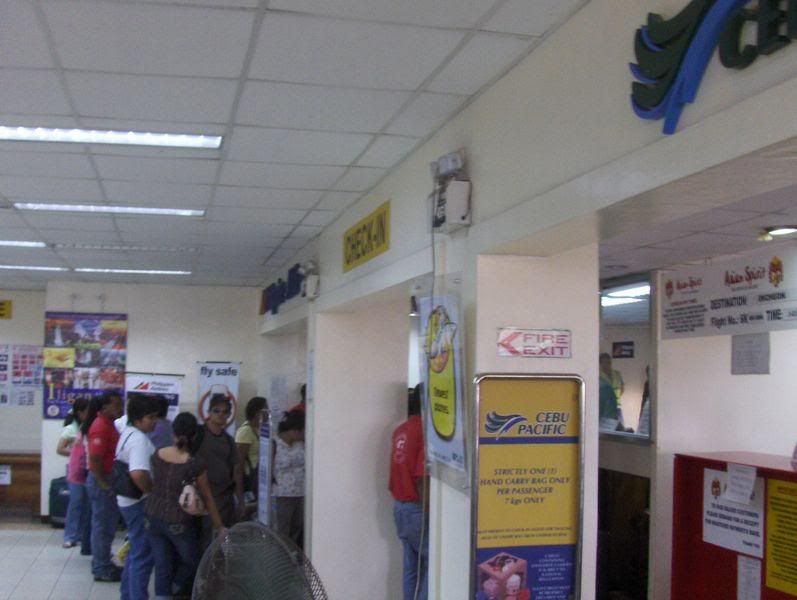 At check-in I lost it again the agent promptly informed that our bags are 3kg overweight. For 3 pax, that's 1kg per person... Told her that's completely unreasonable and ridiculous, but she insisted on excess charges. So, I paid her $2 and got a receipt. Now, I realize there should be excess baggage charges if I bring 30kg instead of 20kg, but 1kg per person, that is a complete joke. Well, I reminded myself the flight was cheap and it's my choice to fly on these monkey airlines like Cebu pacific and Air Asia.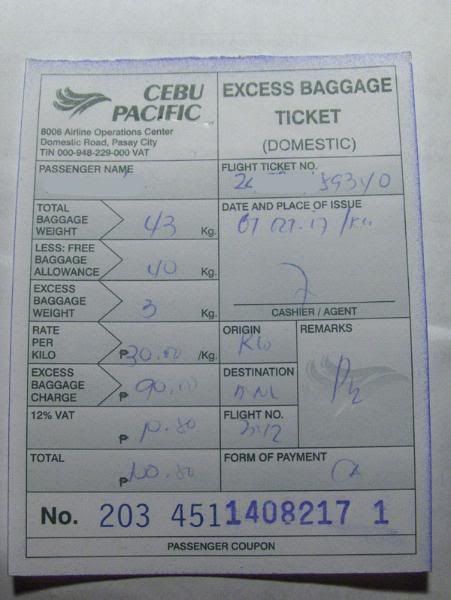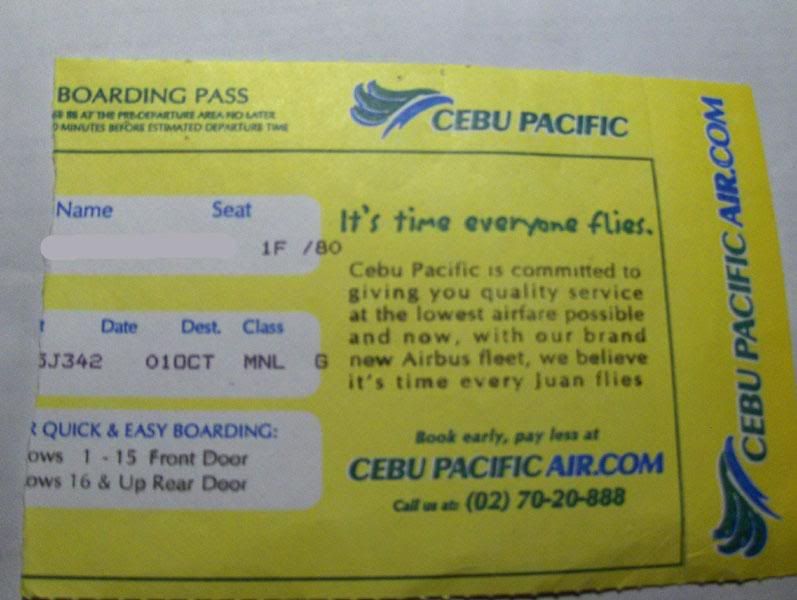 The departure room was in line with the hut, small, cramped, inadequate airconditioning. Undoubtedly the worst airport I've been to, I guess that was reflected in the P20 instead of P200 terminal fee.
PAL A320 to Manila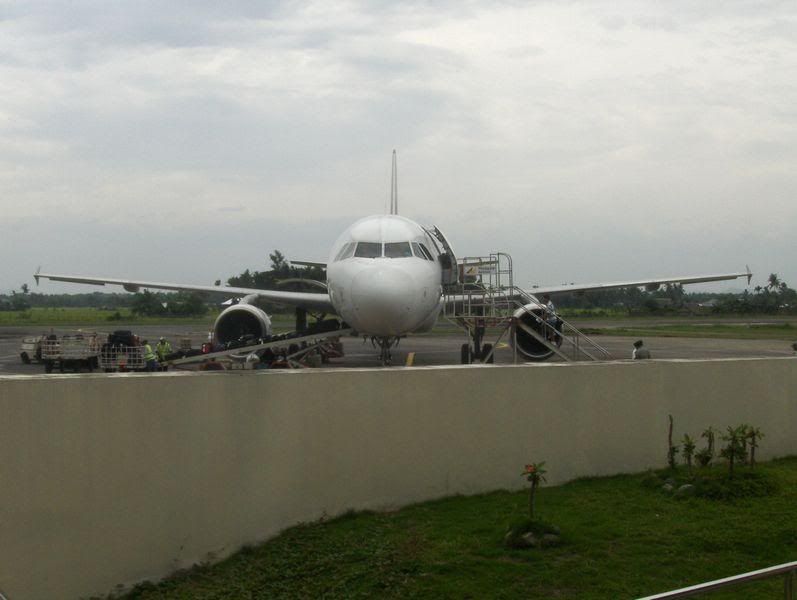 Our A319, arrived early from Manila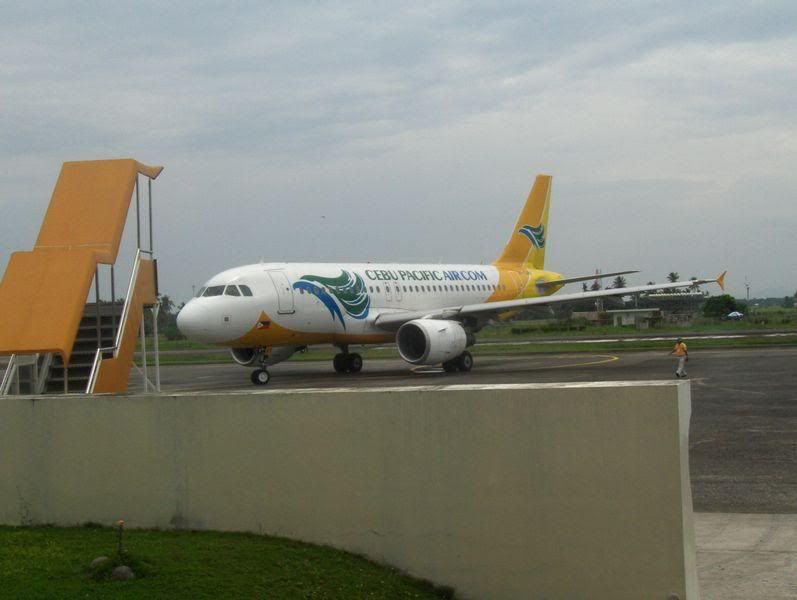 Boarding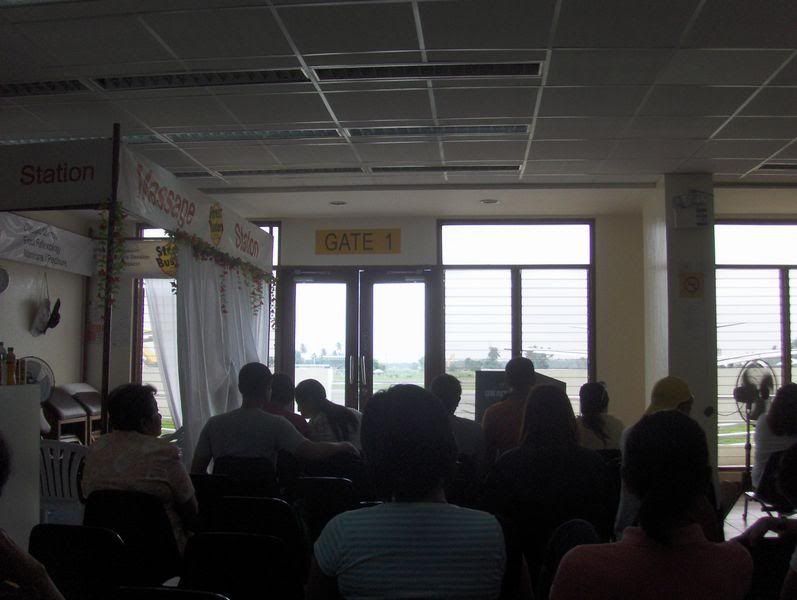 Our A319 and Asian Spirit MD80 that just arrived from Incheon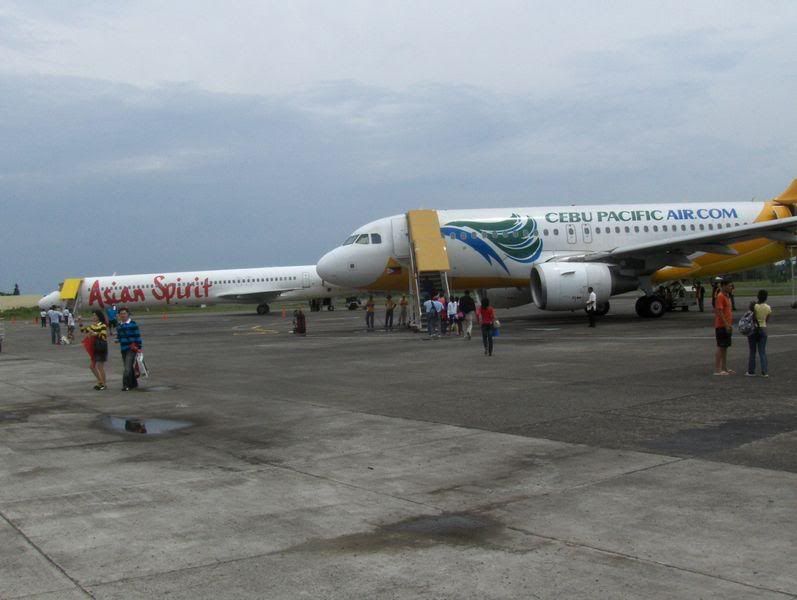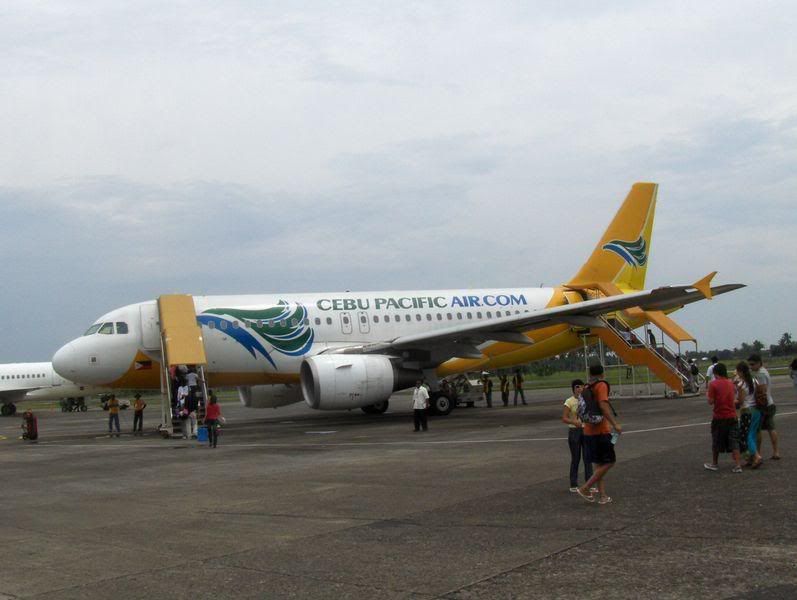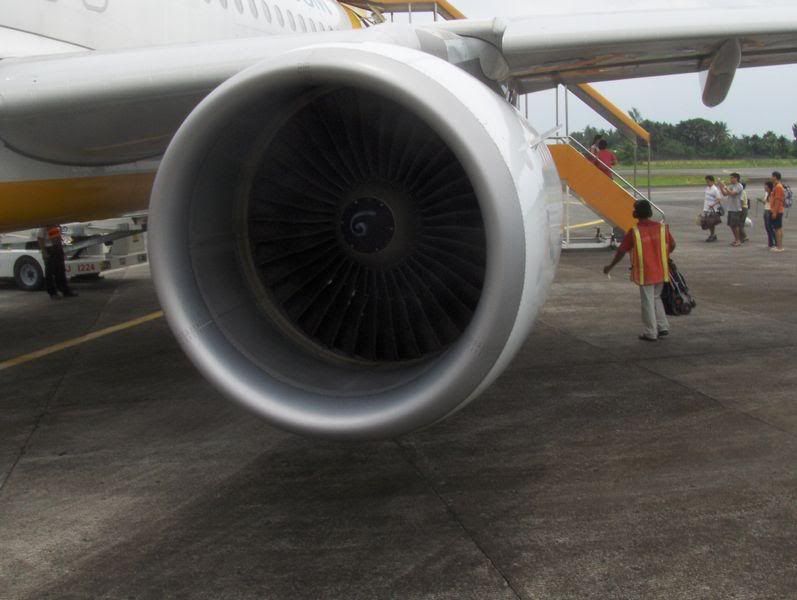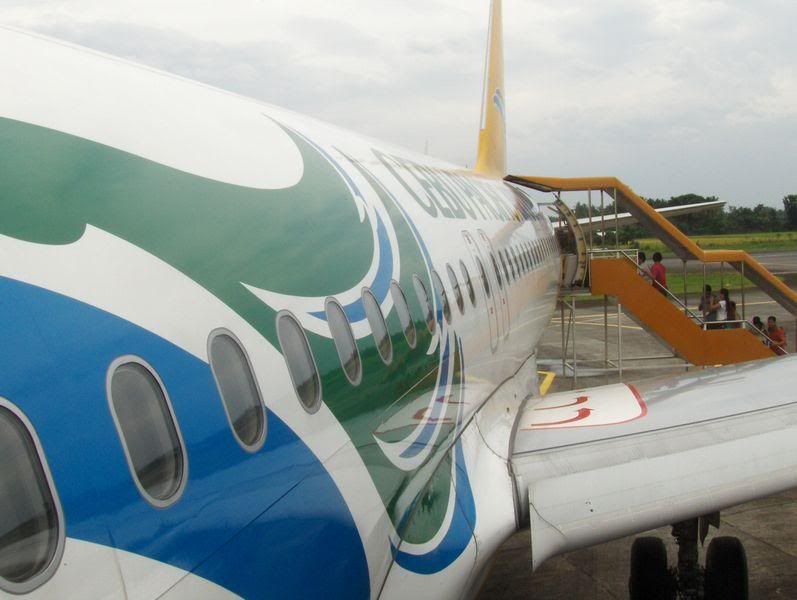 6K again. Good to see them expanding as I believe their Dash7/BAe146 service to MPH won't stand a chance against 5J ATR72-500 and 2P Dash 8-Q300s next year.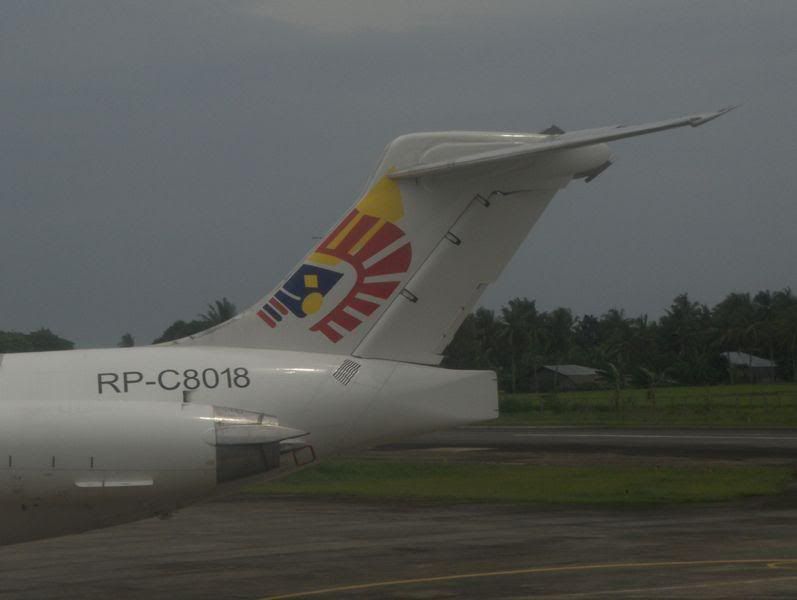 RP-C3191 wing+cargo door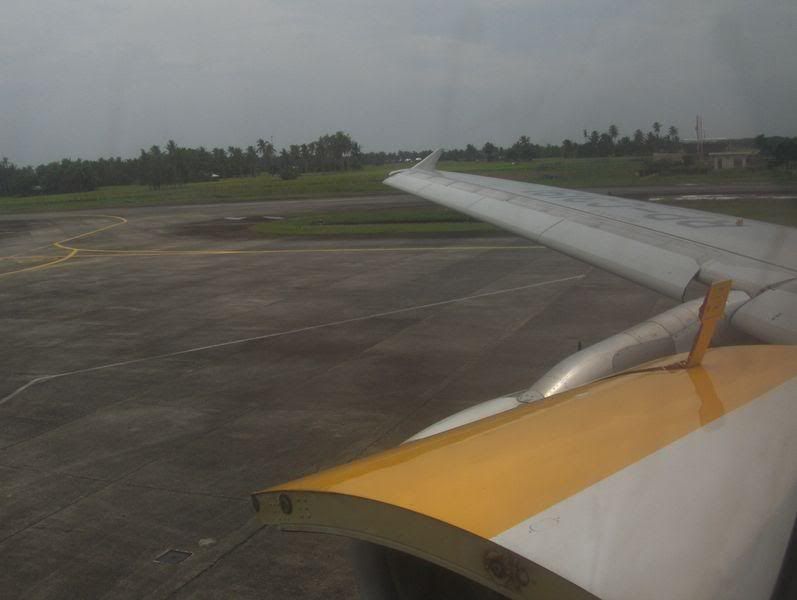 We departed (no pushback here) a few minutes early and taxied to runway 23 for takeoff. Of course after one more reminder not to steal the lifevest...
On takeoff from Kalibo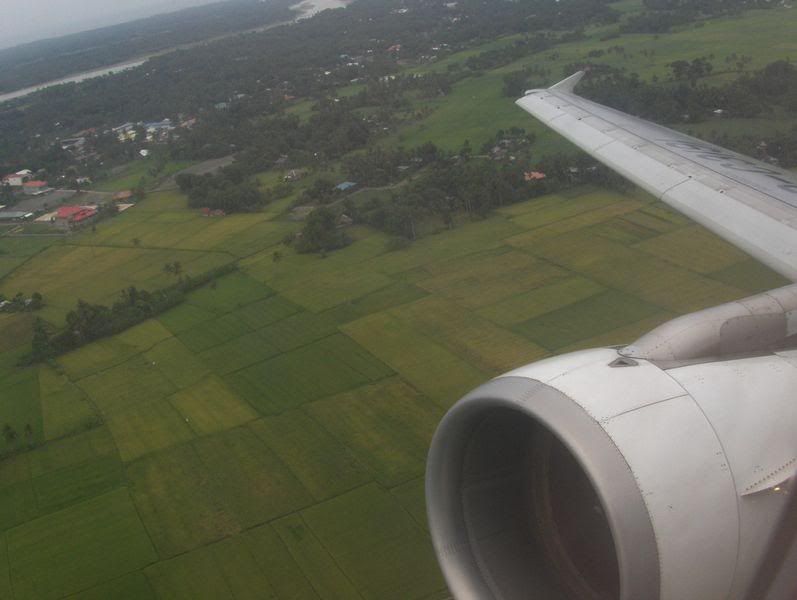 Excellent legroom in 1F
Once again, no service whatsoever on this 45-minute flight. The load was decent, although we had 3 seats for ourselves. In no time we were approaching MNL, but it was cloudy and rainy so I opted for no pictures during the descent.
A company A319 taxiing at MNL
Parked next to a YS-11 of 6K. I don't think these fly out of MNL though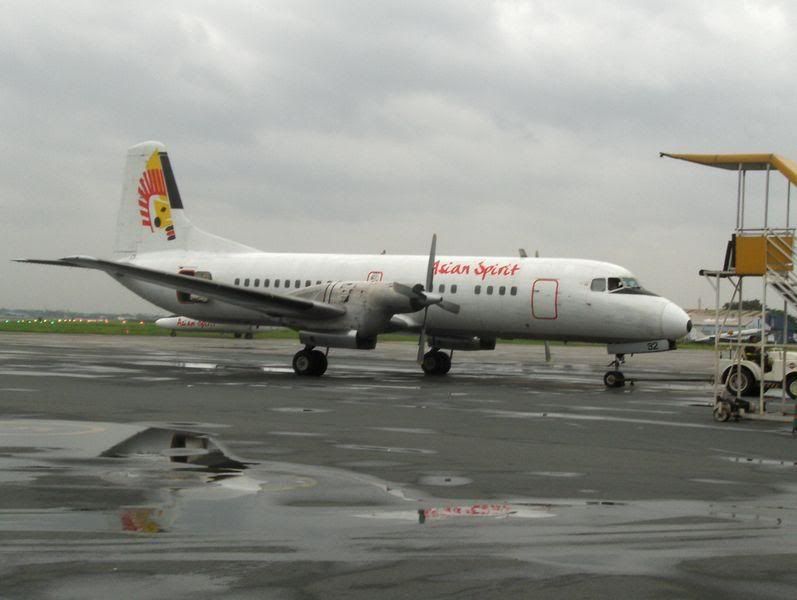 RP-C3191 at MNL Domestic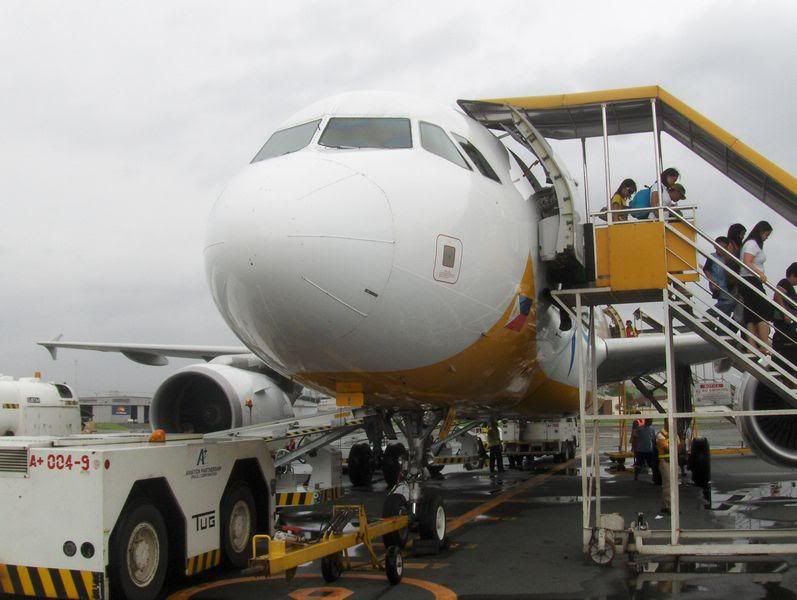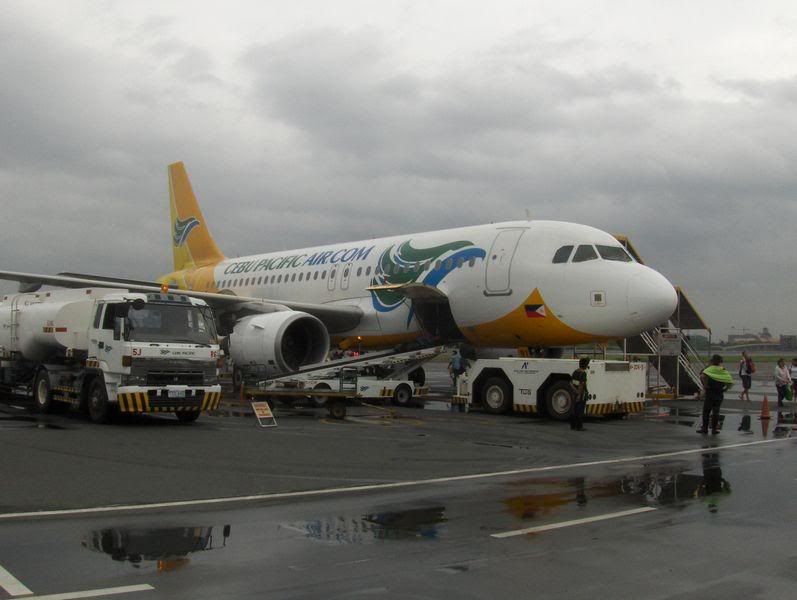 Baggage claim at the horrible domestic terminal
01 October 2007
Manila Ninoy Aquino International (MNL/RPLL) – Jakarta Soekarno Hatta (CGK/WIII)
Cebu Pacific Air 5J/CEB 759
Airbus A319-111
RP-C3192
2055-2345 – On Time
Economy Class, Seat 3F




Fare: EUR 40.90
20th A319-100 flight, 3rd on RP-C3192
I don't want any short connections with 5J due to frequent delays, so we had quite some time to spend in Manila. Met my wife's sister at the airport and we headed to SM Mall of Asia for some food. This mall is huge, including an ice-skating rink inside. Still, looking at the construction going on at SM City North EDSA, the Mall of Asia won't stand a chance when that's all finished.
We went back to the airport at around 6pm, and after paying the travel tax, headed to the 5J checkin that had just opened. I absolutely can's stand the idea of this travel tax for Filipino citizens (or Indonesian fiscal tax for residents if you will), it seems common in these banana republics to slap a fine for people that can afford to travel instead of trying to collect proper income taxes etc... Just plain ridiculous.
5J check-in was a complete zoo, MNL is one place where status or F/J ticket help enormously
This time I didn't have to fight with the agents about visas and onward tickets, and again the 3kg overweight was no issue.
Immigration was relatively quick, and we headed directly to the old and tired Club Manila lounge. $10 for access is a bargain, the food is awful but at least they have some alcohol there. And best of all, you avoid the awful gate areas of MNL T1.
Club Manila Lounge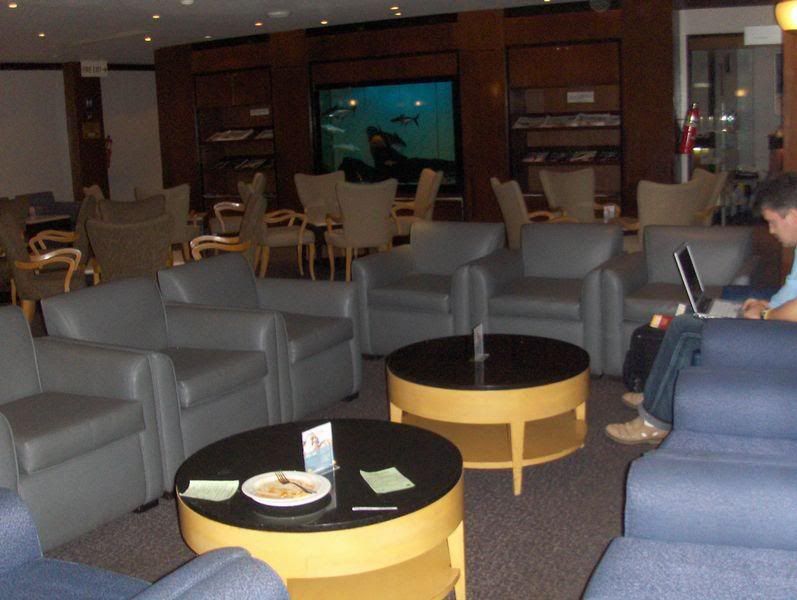 Thankfully the flight was more or less on time today, the CGK flight seems prone to delays every time something goes wrong with the overstretched 5J ops.
Awfully tight legroom in 3F as mentioned earlier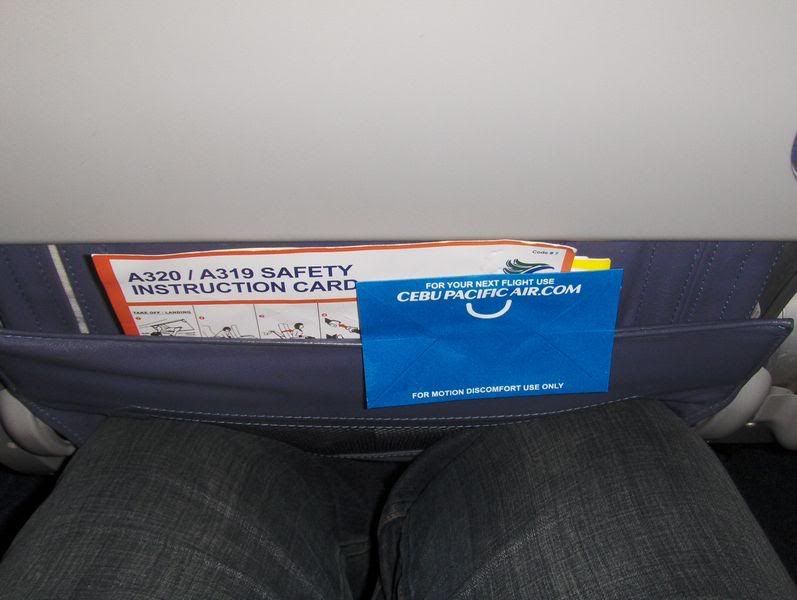 We pushed back a few minutes late, and another reminder not to steal the lifevest followed... No delay in departure, flight time around 3h30minutes tonight. And let le tell you that's way too long in the super tight seats. I had a couple of San Miguels for P100 each, although the F/As seemed once again less than interested serving them. No pictures since the flight was in dark from takeoff till landing.
We landed on time at Soekarno Hatta, but some delay in immigration since I was one of the few pax needing a Visa on Arrival onboard this flight. Being midnight and Ramadan, the officer couldn't care less and simply stamped my wife's passport without entering anything into the computer... Amazing.
My friend in Jakarta had arranged the Golden Bird transfer into the hotel – very convenient and recommended in the middle of the night in Jakarta.
Conclusion- you get what you pay for which isn't much. But at least 5J was on time this time...
Next part:
CGK-UPG KI 734
UPG-CGK XN 732
CGK-SUB SJ 732
SUB-CGK KI 733
CGK-SUB KI 734
Hope you enjoyed!