Feedback always appreciated.
Trip Report: 030
Flight Category: Y-ISR (See Report End)
Date: 25-Aug-07
SDT/SAT/Delay: 1400/1620/01:20 hrs
Flight:
Rwanda Air Express WB 107
, 471 miles
Routing: KGL-NBO
Aircraft: 733
Seat: Economy, 10F
I > Background:
Ok, I am back! After taking a sabbatical from trip reports for 5 months, here is the first installation from a series of trip reports. Mid-August to mid-November 2007 saw the craziest of my travel plans. 69 flights totalling 175,028 kms on 35 airlines, visiting 49 airports in 34 countries in all 6 continents. And, here is the best part ... all of them were part of a 4month break from life ... pure vacation, and pure food for the mind, body, and soul. Together, they mounted to 21/2 round-the-worlds that was truly insane. As usual, all long haul flights were on Business or First Class; short haul was on Economy Class.
As I have tried for A.Net audience in the past, several of the reports will be firsts on A.Net. These include either first time airline coverages, routes, airports, flights, or countries.
This report on Rwanda Air Express´ (WB) KGL-NBO will be the first for the segment, the first to feature reporting from the East Central African country of Rwanda, and the first for Rwanda Air Express ... at least, thats what preliminary searches indicate. The reason for the trip was to visit my friend who is the director of a certain international development bank. Please note that the quality of the pictures are poor. For those of you who have been to this land locked African country, you can appreciate how daunting security agents/police/informal secret service can be, and how they hate photography.
II > Pre-Flight:
a) Before Airport:
Rwanda Air Express is a relatively new airline that has been creating ripples amongst the established airlines (read: KQ) in the region by successful managing a decent operation in the face of ever-present operational adversity. They have slowly expanded and now fly to a around a dozen cities ... from EBB to JNB. They have this partnership with KQ, and is actively seeking more alliances. WB used to have M82s, but not use 733s on their operations.
Although they maintain a website, online bookings cannot be done. So I ventured to a travel agency in Kigali (EXCELLENT one called SATGURU) and had paper tickets issued. Interestingly, they were on KQ stock. Seat selections could not be done either through the agent, or by just going to the WB office. I love the feeling of going to airline offices, and miss it so much!
b) At Airport:
Thanks to my buddy's diplomatic status, we managed to park in the "VIP" lot and head straight to the terminal. It felt very 1970s French chic ... sort of like a calmer and smaller version of CDG 1. You go through security, scan your bags, and then line up to check-in. Check-in was very chaotic with 6 lines and 3 counters, and no apparent system of who went to what counter, or in what order. There was a women who was directing traffic ... and making a huge mess of it. So pointless. Thankfully, once I reached the counter, the woman was very quick and surprisingly (45 mins prior to departure) was able to give me my ideal exit row seat ... readers of my TRs would know how much I LOVE exit row in the older 737s. Anyways, I was super excited about the hand written boarding card, the old style baggage tag with individual destination codes (they should bring it back!), and finally a KQ luggage tag?! What is up with that? They have a partnership ... but it seems KQ runs WB! Anyways, after obtaining my boarding pass, I went with my friend for a quick buffet Rwandan lunch with panoramic views of the tarmac, and them with 30mins rushed to Immigration. After immigration you stay in this lounge, and then are called to board the bus which takes you to identify your checked bag which is then put in the hold.
Upon finally boarding, I was greeted by a surly WB flight crew. The 733 looked good, and was in top condition. Y class load was around 85%; J class at 10%.
Airport - External:
(Kigali Airport. Very 1970s)
Check-In:
Airport - Internal:
Scenes of the tarmac:
(Any idea whose 707 this is? Cheatline makes me think Sudan Airways?)
Lounge
NONE
Boarding:
NONE
III> In-Flight:
a) Service Schedule + Impressions:
Meals and beverage service 20 minutes into the flight.
b) Aircraft + Seats:
The seats were clean and well padded ... actually pretty comfortable. Bathrooms were in great shape. Recline was below industry standards. Of course, E-row seat pitch was perfect ... a little on the cramped side on the regular rows.
Aircraft:
Views from Aircraft:
Seat Leg-Room:
(Comfortable exit row – I LOVE these seats on 732, 733, 734, and 735)
(Regular Seating Row)
Seat Recline + Angle View:
Cabin:
c) Meal + Beverage:
The meal service was all about doubles ... for some reason, I was given 2 glasses of water ... and my box came with 2 nasty cheese sandwiches. Oh, the cake was absolutely horrid. Interestingly, beverage service consisted of only tea or cafe. I did appreciate the gesture of the "meal" though when airlines elsewhere have cut back.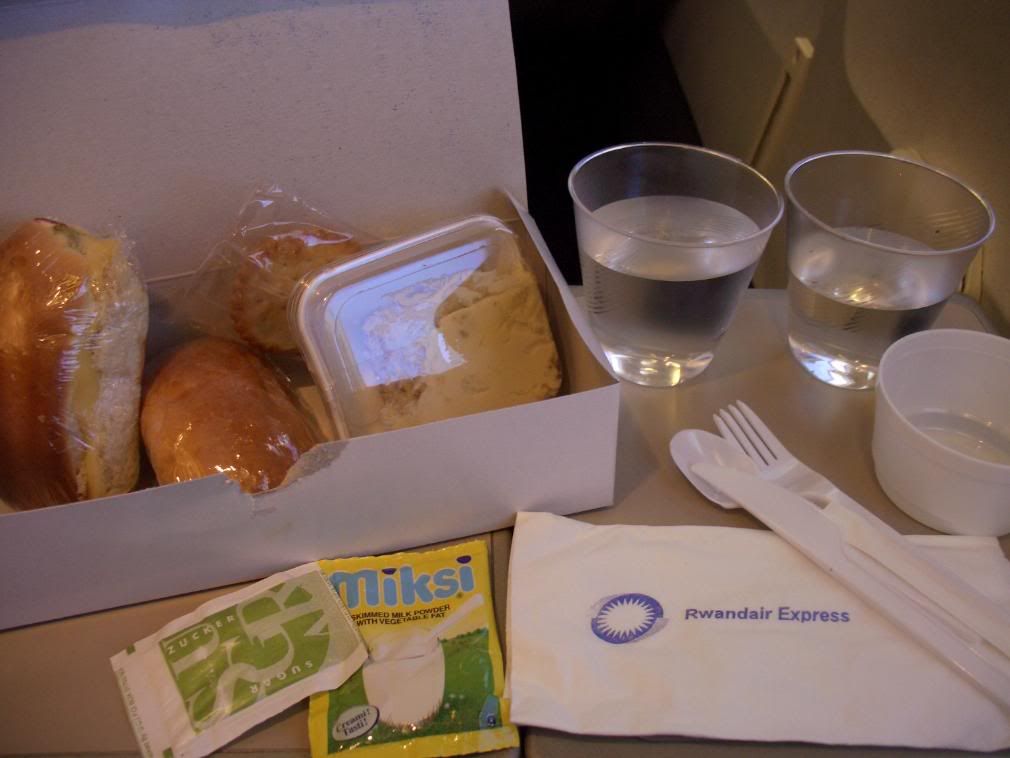 d) Inflight Entertainment:
Only inflight magazine was available during the flight;although, Ikaze did make for an excellent read.
(In-flight magazines, Boarding Passes, etc. - note the Air Zimbabwe timetable I was able to snag from the travel agent in KGL. YAY. Small victories ... hehe.)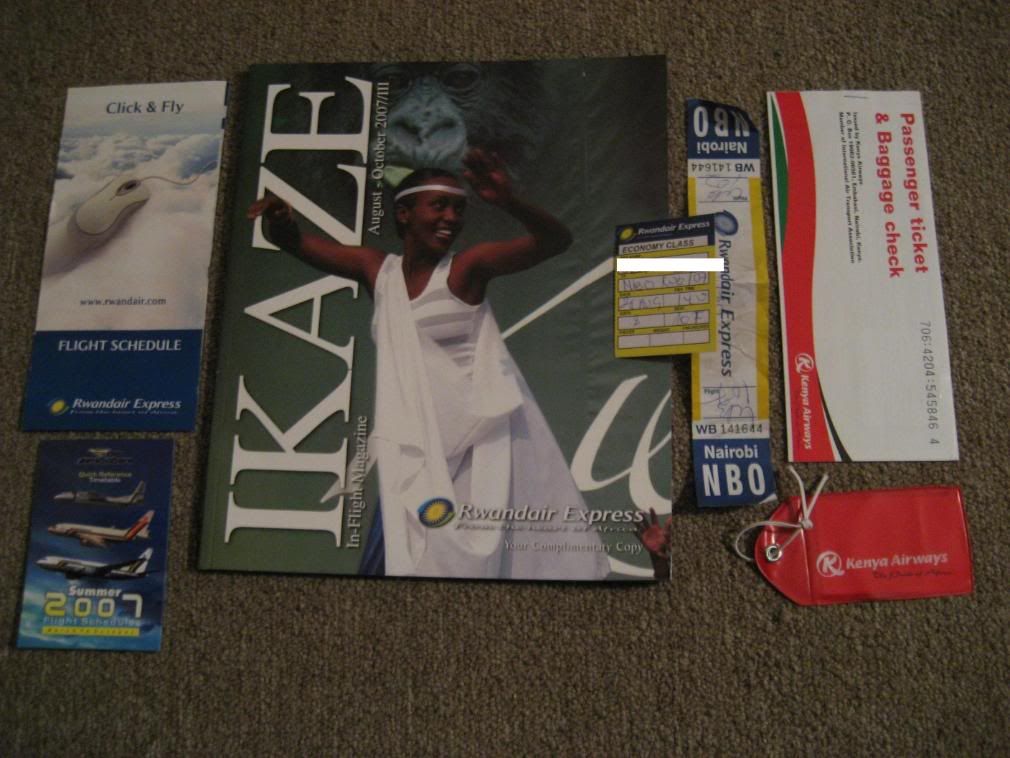 e) Crew:
I seem to have got a very grumpy group of crew on this flight. It was more reminiscent of the type of service you receive on LH/SK Y ... curt and professional, but delivered not with smile or warmth. They served the meals, collected the trays, and quickly disappeared into the galleys. No smile on embarkation or disembarkation.
IV> Post-Flight:
JKIA is JKIA. Immigration cleared fast ... bag delivery took forever. As I wanted for my cab, I was amused at a bunch of Greek tourists who were confused to why there were no animals near the airport and were complaining to the guide  
.
(Parked next to EK at NBO)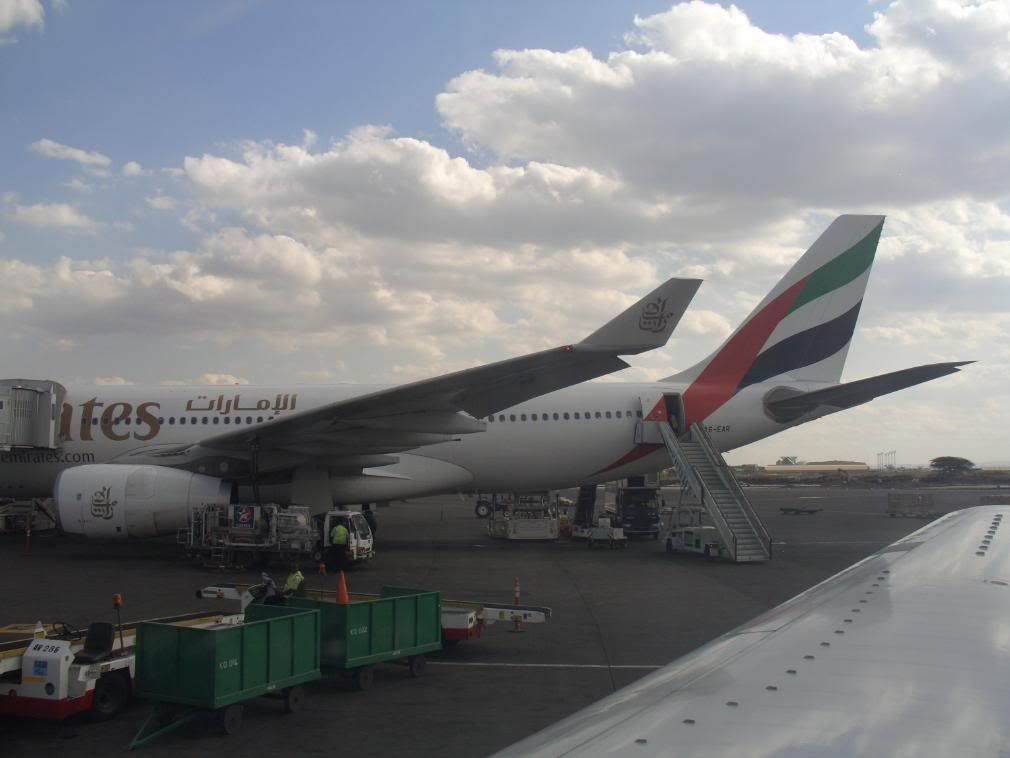 V> Impressions + Scores:
Rwanda Air Express is a BLAH carrier. It got me from point A to B without much of an hassle. I appreciated the gesture of a meal service ... though, it could have been better. And of course, a warm smiling cabin crew would have lifted it from a BLAH to a respectable airline. Of course, I recommend this airline ... but would look at others when given a choice.
Reservation: 5.0
Check-In: 3.0
Lounge: N/A
Boarding: 7.0
Seat: 7.0
Aircraft Overall Ambience: 7.0
IFE: 5.0
Crew Service: 5.0
Food: 5.5
Beverages: 4.0
Amenity Kits + Others Freebies: 5.0
Disembarkation: 8.0
On-Time Record: 10.0
OVERALL IMPRESSION: 5.96
(Pre-flight average of all-reviews: 6.32)
(Scores are based on comparison with other airlines in THAT class of service ... No comparison of Y vs. F for example)
VI> Other Trip Reports:
1/
Avianca: BOG-LIM: 07/06/06: 7.09pts: Y-IMR
2/
Air Tran: EWR-MDW: 08/02/06: 6.73pts: Y-DMR
3/
West Jet: YYC-YVR: 09/05/06: 7.14pts: Y-DMR
4/
Air Canada: YYZ-YVR: 09/02/06: 5.92pts: Y-DLR
5/
Air Canada: ALB-YYZ: 09/01/06: 5.88pts: Y-ISR
6/
Singapore Airlines: EWR-SIN: 09/20/06: 7.81pts: J-ILR
7/
Adam Air: SIN-CGK: 09/22/06: 6.04: Y-ISR
8/
Valuair: CGK-SIN: 09/22/06: 5.04: Y-ISR
9/
Spice Jet: CCU-DEL: 09/25/06: 6.67: Y-DMR
10/
Indian: DEL-CCU: 09/26/06: 7.25: Y-DMR
11/
Air Sahara: CCU-BOM: 09/28/06: 4.42: Y-DMR
12/
Air Deccan: IXZ-CCU: 10/07/06: 5.75: Y-DMR
13/
Alliance: CCU-IXA: 10/08/06: 7.54: Y-DSR
14/
Kingfisher: IXA-GAU: 10/08/06: 8.21: Y-DSR
15/
Indigo: GAU-CCU: 10/08/06: 6.54: Y-DSR
16/
Singapore Airlines: CCU-SIN: 10/11/06: 5.88: J-IMR
17/
Air Canada: ICN-YYZ: 10/12/06: 7.13: J-ILR
18/
Delta AirLines: SEA-JFK: 11/24/06: 7.17: F-DLR
19/
USA 3000: PUJ-BDL: 01/06/07: 5.96: Y-IMR
20/
Viva Aerobus: CUN-JFK: 02/20/07: 4.58: Y-DSR
21/
Jet Blue: CUN-JFK: 02/20/07: 5.96: Y-IMR
22/
SAS Norge/Braathens: OSL-AES: 05/26/07: 5.75: Y-DSR
23/
TAP Air Portugal: OSL-LIS: 05/29/07: 5.46: Y-IMR
24/
Delta Airlines: JFK-CDG: 08/09/07: 7.85: J-ILR
25/
Air France: CDG-JNB: 08/10/07: 5.33: J-ILR
26/
LAM Mozambique: JNB-MPM: 08/13/07: 5.67: Y-ISR
27/
Transairways Mozambique: INH-MPM: 08/17/07: 6.08: Y-DSR
28/
Air Link Swaziland: MTS-JNB: 08/18/07: 6.17: Y-ISR
29/
Kenya Airways: NBO-BJM: 08/19/07: 6.17: Y-ISR
(Note on Codes: Y - Economy, J - Business, F - First :: I/D - International/Domestic :: SR/MR/LR -
Short/Medium/Long Haul :: I have designed these codes so people dont believe my scores are comparing apples with oranges)
VII> Other Pictures:
It has now become customary to share some images of the place I went to, and some other related aviation pictures. Hope everyone enjoys!
(The famous HOTEL DES MILLES COLLINES - where Hotel Rwanda is based - only for A.Net member SEMSEM)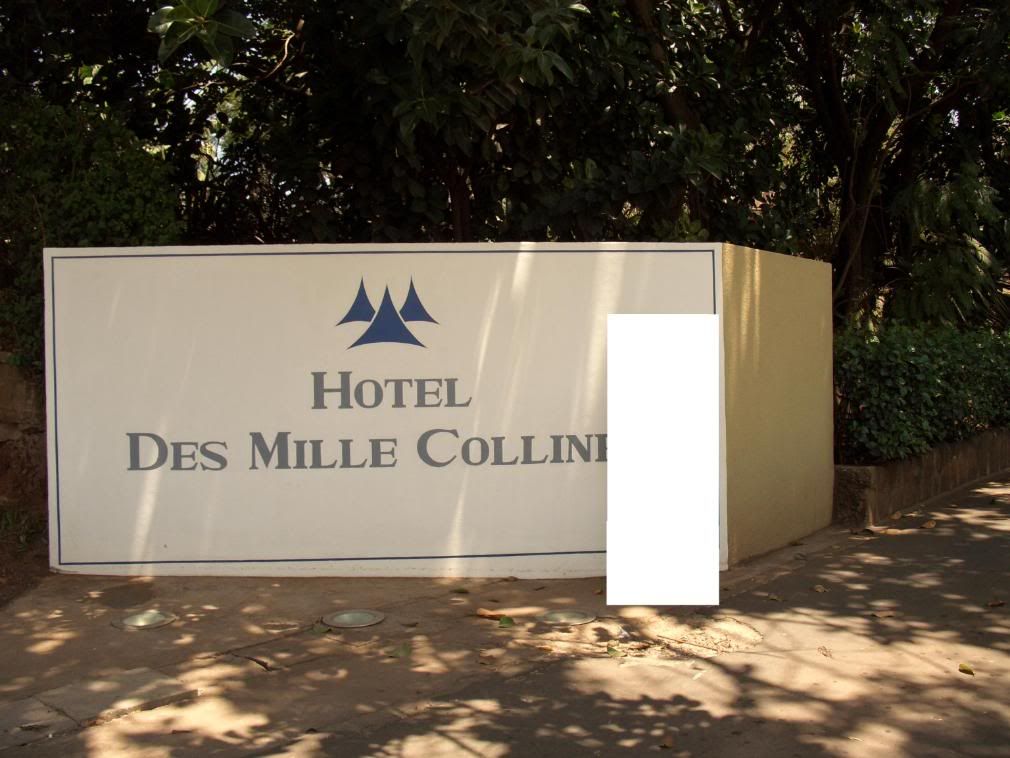 (Scenes of rural Rwanda)
[Edited 2007-11-29 22:19:24]