Hello everybody:
I've been off the radar forever--busy with school and settling in on a new life in the suburbs. Believe me, once you leave the city, you don't go back. This past summer, my life partner and I landed on this cute little house by accident. You see, I'm one of those people who believe that people spend their lives replicating more or less the same experience. Well, this house is a small piece of Parisian suburbs that reminds us of our Guadalajara, Mexico expat housing (I even got a satellite to receive Mexican channels). The house is perched on a hill with a view, and, on beautiful days, you actually see airplanes crisscrossing white streaks against the blue backdrop as they descend to land at Roissy, a.k.a. Charles de Gaulle. There is one descending now as we speak...AF A340...from Ciudad de México, I bet.
So, Thanksgiving was approaching and I haven't travelled since we moved out of Paris. AF/KL was doing a Web@wards promotion for CDG/AMS-IAD flights for ONLY 25,000 miles round-trip. I couldn't let that pass me by: DC's autumnal splendor and shop-'till-you-drop extravaganza on Black Friday at BestBuy in exchange for 25,000 miles? Who could say no?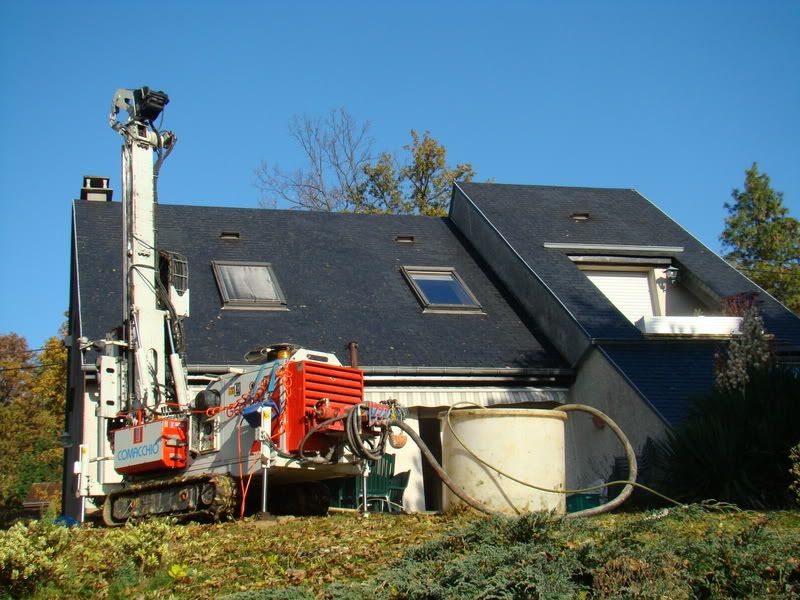 MAISON SWEET MAISON. Look at my bike...hehehe.
Happy Holidays Everyone.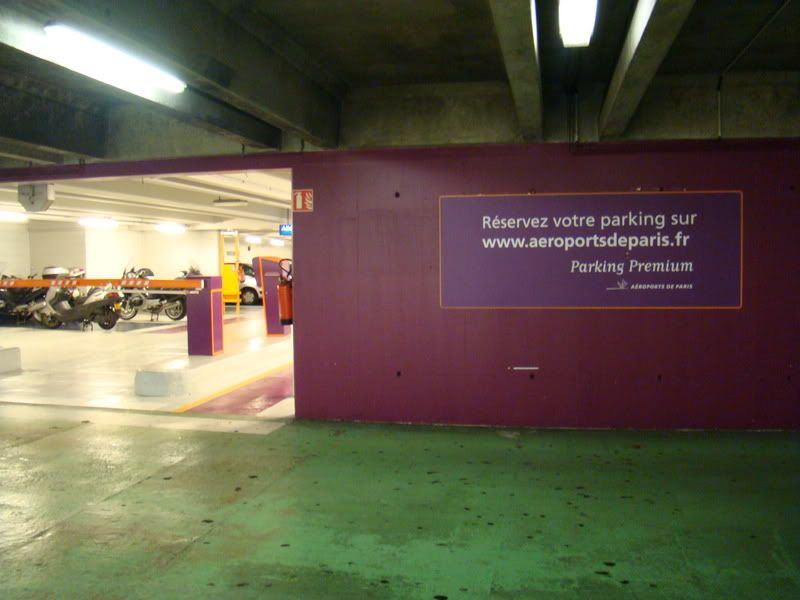 Aéroport de Paris, both at Roissy and Orly, now proposes reserveable parking spaces. You pay 12 Euros fee in addition to parking fee. The extra: you literally park underneath the terminal and just take the elevator up to check-in. With the country-wide strike in France, this 12 Euros fee was well worth it. This was a perfect option considering that my hubby flies back in that day so he could just drive back home.
Terminal 2F.
Self-service check-in.
Flight Info:
CDG-AMS
KL 1228
Boeing 737
21 Nov
9h00
Seat: don't remember.
AMS-IAD
KL 651
Airbus 330
21 Nov
13h20
Seat: 10A (window seat first row against the bulkhead)
Cocooning area at 2F
KLM B737 pilot waving at me. Oh, hi, so that was you at Folie's Tea Dance last Sunday?
---------------AT AMSTERDAM SCHIPHOL------------
As soon as I exited the gate in the Schengen area, there was this casino...I spent 10 Euros in 10 minute on them slut machines [sic].
Schiphol is a really nice airport. Who cares about size? After all you're here to change planes, not terminals. I really had a wonderful 4-hour layover at Schiphol. Don't forget to check out comfy seats hidden all over the airport. There is actually one Sushi bar manned by real Japanese.
The A330 beauty that will take me to DC.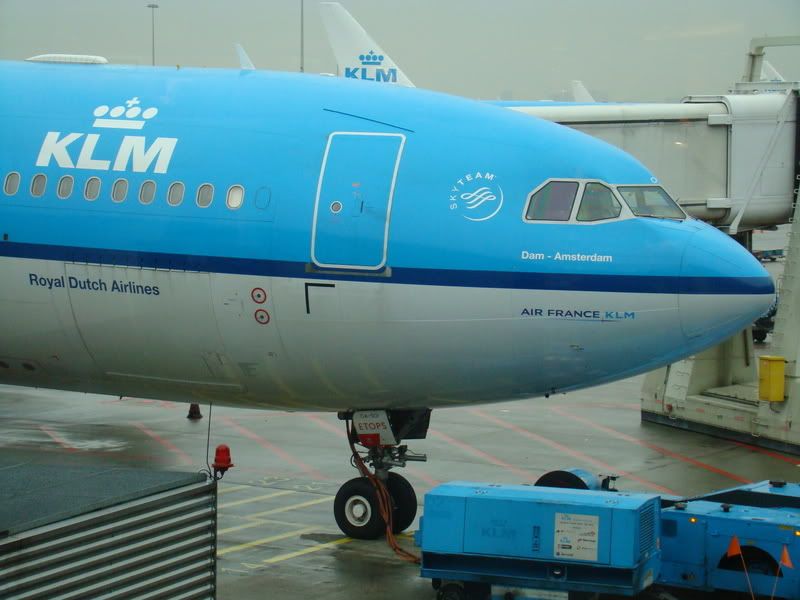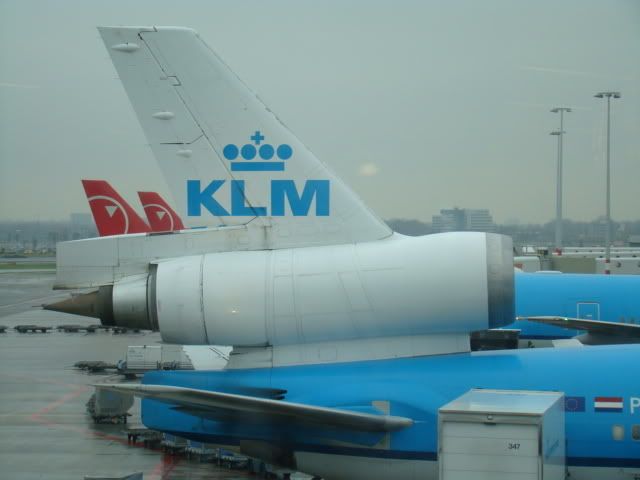 MD-11, how exotic....is MD11junkie around? This one is for you.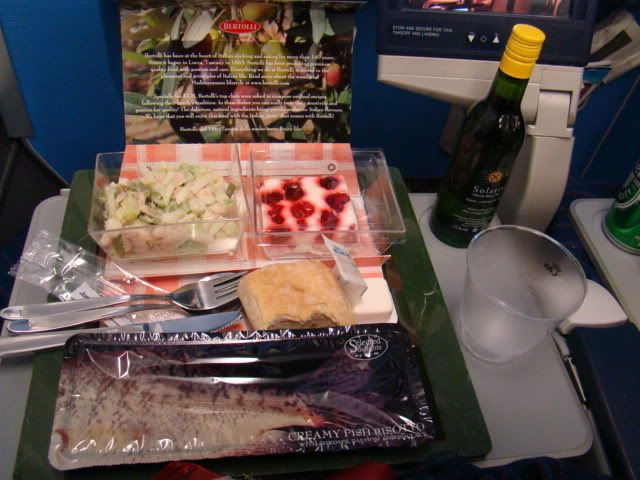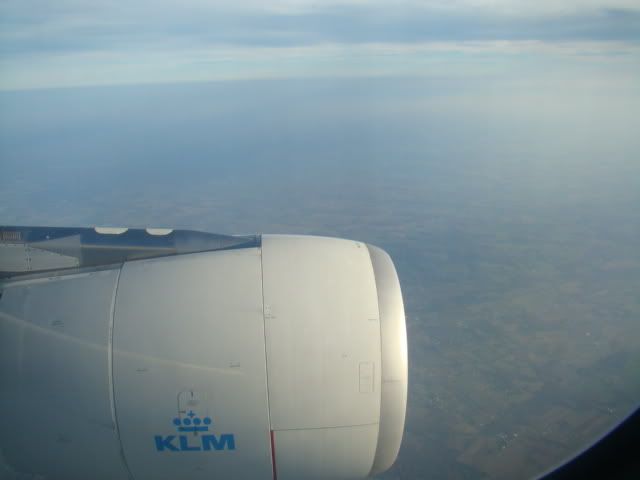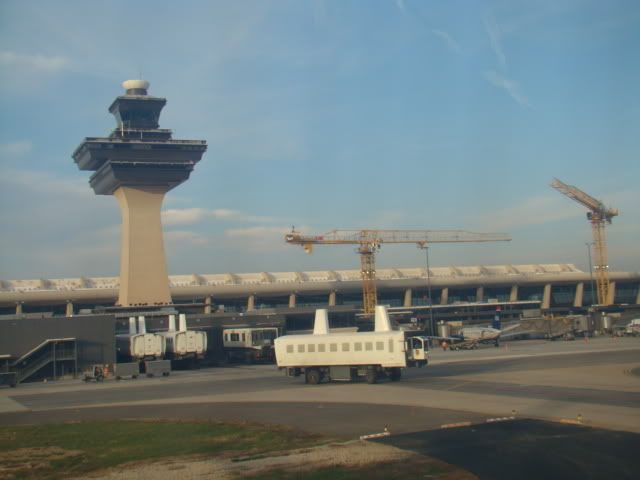 Landing at IAD. If you tink the control tower resembles a floating Chinese pagoda, then, well, you're right. It was meant to be that.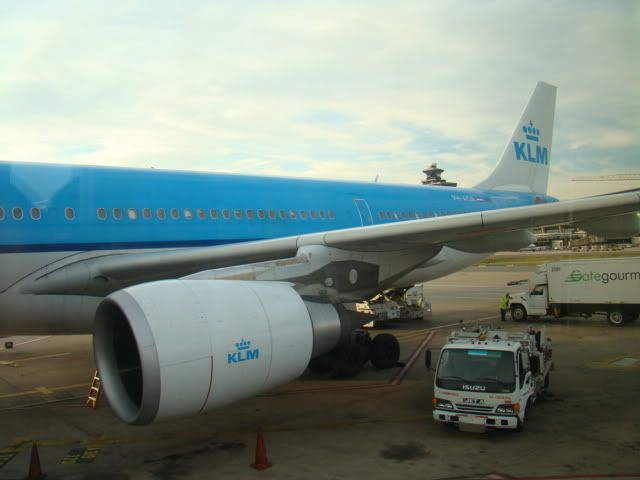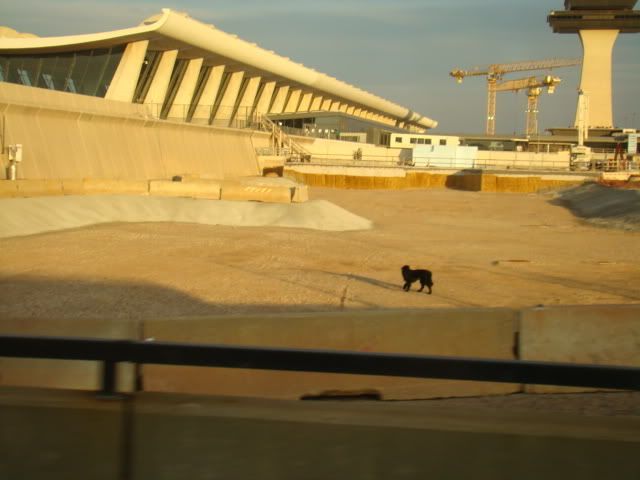 This dog's still here?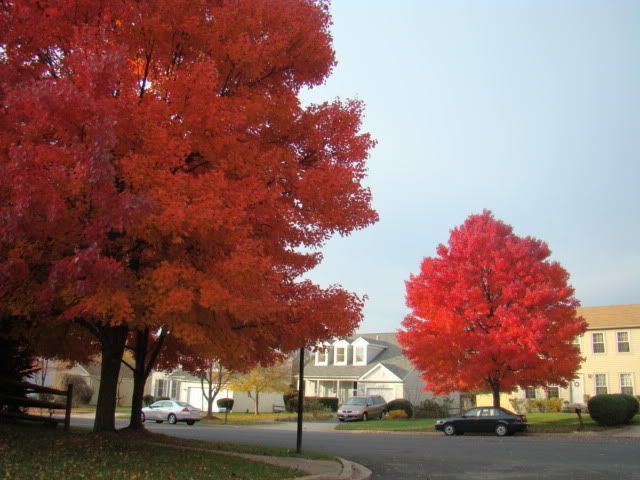 Wow.....isn't that beautiful?
This is where I worked on Thanksgiving Day...600 bucks at the end of the day. Not so bad.
*****************************
My BIG motto: Don't f-ck with people who handle your food (Flight Attendants included)!!!! HAHAHAHAHA
**************************************
Normandie Farm in Potomac, MD is the best French cuisine you can get in Montgomery County, MD. I invite DC-MD-VA a.netters to dine here once this holiday season.
I got off at 10PM, then headed to Virginia to watch my brother doing his Thai concert for Singha beer. Yeah...it was a blast.
AT 2AM I was just tired. But then Best Buy would hand out Black Friday vouchers at 3AM!!! I got back to MD and was standing in front of a Best Buy by 3. And when the door opened at 5, I just rushed in and hogged all the IPOD TOUCH, SHUFFLE, and NANO I could get to fill my empty bags and bring them over to France to sell them on E-bay. These things sell because Apple France sets their Ipod prices way too high. I'll only tell this to my fellow a.netters. If you cross the pond to the US: buy a bunch of Ipods and sell them back on Continental Europe. If you do it well, you can have the whole trip paid! If you get stopped by Customs, you just give them a guilt-inflicting look and say "It's Christmas, bro. My family's huge!"
Back at IAD in the evening for the IAD-CDG flight on AF 27. Seat....too tired to remember.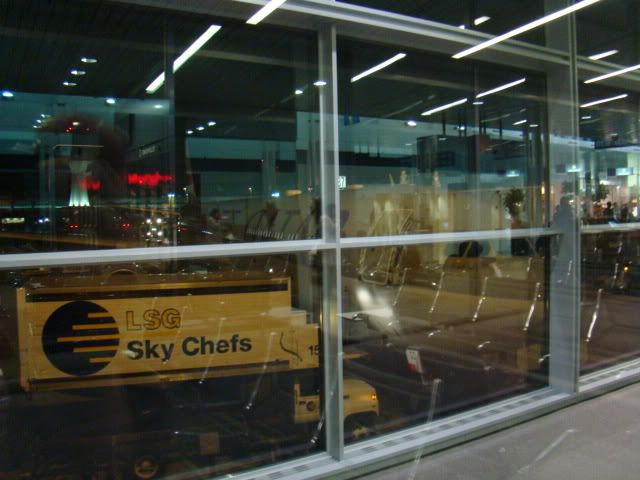 Oh look, Qatar newbie at IAD. When did this happen?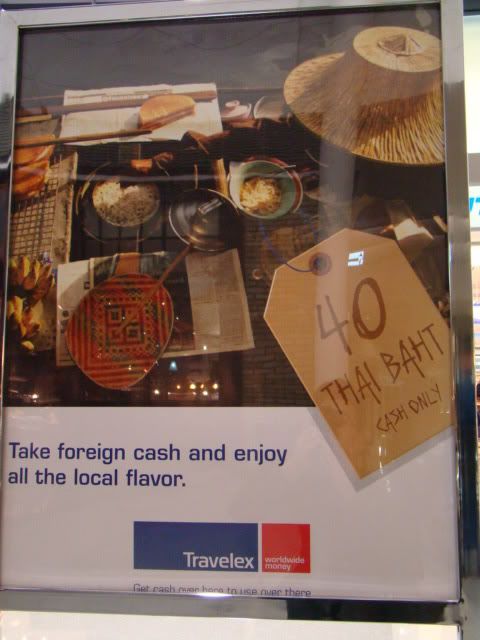 VS
CAN ANYONE CATCH what's wrong with the second one?
-
---------
------------
-----------------
----------------------
Since when did they use Euros in Argentina? The person who designed this ad must be one of those people who mix Taiwan with Thailand.
THE FLIGHT: I hate to admit but I'm starting to feel that Paris-US East Coast flights are becoming as trite as catching a bus. I never want that to happen to me. I want to be happy flying all the time.
One thing I really like about Air France is the footrest. It changes everything.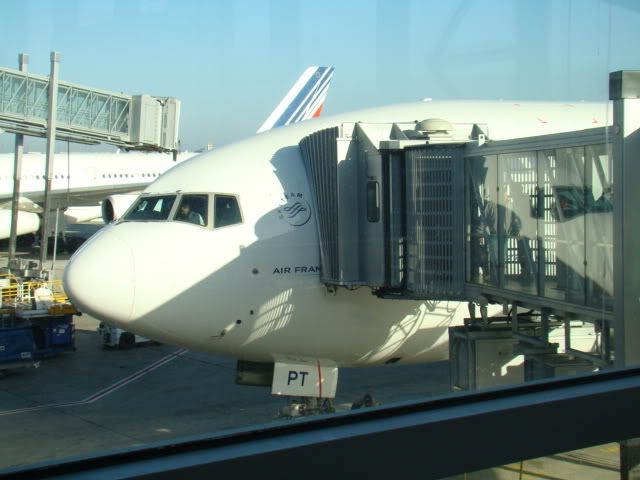 AF 777 that took me back to Paris.
TERMINAL 2E, finally functional and functioning! yeah! But somehow I miss those days when AF gave you 1000 bonus miles each time you flew out of 2E, to compensate for the inconvenience.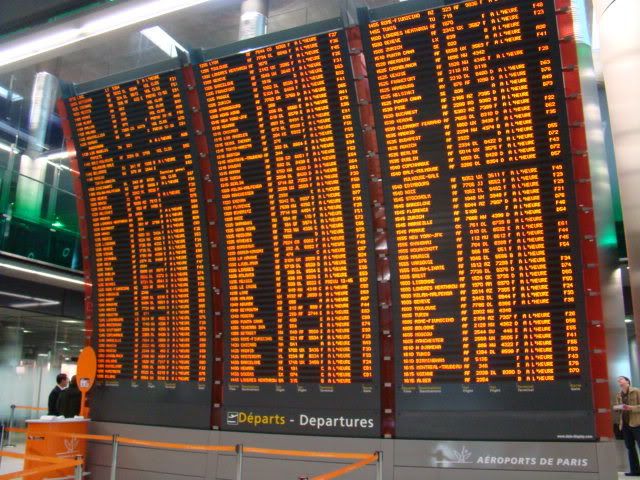 Cool...although not very legible.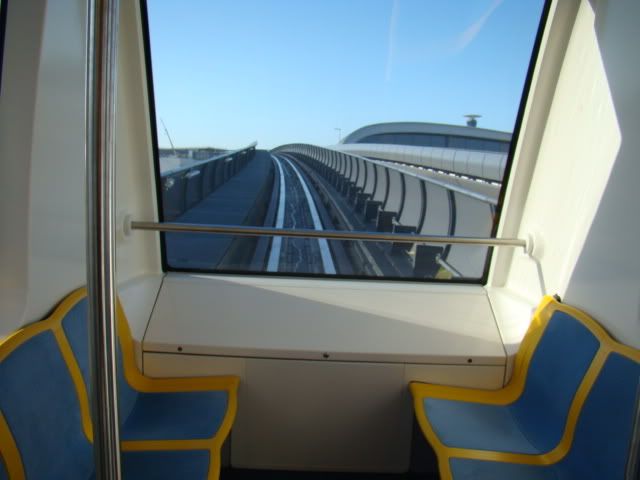 Magic Mountain ride. Woo hoo.
The rippling ceiling effect. Me like.
NEXT TRIP REPORT FOR MY GRADUATION...ONE HECK OF A TRIP.....DO NOT MISS
CDG-AMS-IAD on KL BIZ
JFK-BKK-JFK non-rev on TG to pick up granny in BKK.
----------GRADUATION AT PENN STATE----------
IAD-SFO-LAX on VX Virgin America
LAX-JFK Overnight flight on VX....with mood lighting and everything....the best discotheque in the sky
JFK-TPA-JFK on JetBlue
JFK-GVA-CDG on LX