Ladies and gentlemen,
welcome to another trip report of mine. This time it is divided in five parts as my whole trip has five flights in total. It is a 'around-the-world' tour in six days and includes following flights:
1.) Etihad Airways FRA - AUH
2.) Etihad Airways AUH - BKK
3.) Thai Airways Intl. BKK - HKG
4.) United Airlines HKG - LAX
5.) Lufthansa LAX - FRA
Except the short sector within BKK and HKG all flights were in Business Class.
I tried my best to include all the small details of any of the above mentioned flights. I also took some pictures which I also want to share with you . As some of you know I sometimes tend to get too much in detail, so I want to apologise for that now. I hope you will enjoy my reports and I appreciate all comments. I will start with the prehistory of this whole trip. It is rather long. If you don't care about that please feel free to skip it and go on reading with the report.
Prehistory:
In late October my chief asked me to contact him in his bureau. I was very nervous 'cause I really didn't know what the hell I did wrong. Afterwards it wasn't anything bad, it was simply a discussion about my remaining vacation days in 2007. At that time I requested to use them (10 days in total) at the end of the year, but he unfortunately had to change this to the end of November. He apologise for that, but as I made already some arrangements and plans at that time he was so kind to add two additional days.
So in late October I changed all my plans and asked my friends who have got some free-time for a longer trip. Except two none of them were available. The first days of November we three met each other and do some research which part of the world we wanted to discover. On a side-note as some of you know I'm working for the big-yellow airline in Germany so I'm entiteled to fly stand-by and allowed to take travel companions with me.
We took a big world map, tied up our eyes and darted on the map. Our first throws ended up in the Oceans or rather unattractive destinations. Sudan, Honduras, Afghanistan were some of these countries. As much as we like the adventure this was really too much of it.
Another way of finding out the destination: everybody wrote down his favourites and we would look which one we choose. In the end our top three was as follows: 1. Rio de Janeiro, 2. Capetown, 3. Hong Kong.
So we looked up for Rio. We got very good deals with the hotels and found out already some good locations. None the less we decided againgst Rio, because of the flights to getting there. As LH has no non-stop flight to GIG and taking travelpartners is not allowed on any airline the only possible carrier to get there from FRA was TP via LIS. The next day I looked up the loads for November and it showed almost full flights, so we dropped GIG out of our list.
Next city was CPT. Getting there was easier than to GIG, because two non-stop flights from FRA (LH and SA) and also two flights to JNB (also LH and SA) every day. We reserved our hotel, looked up for good locations and the thinks we are going to do and want to see.
The days past and Samo canceled his participance, because of late-minute changes of meetings and workshops. Now we are reduced to two. The days past again and unfortunately Nangi also had to cancel his attendance due to a good job-offer. Now I was alone with all this plans and so on...
Shortly before the intended departure day I also canceled all our reservations, because I didn't want to fly alone to CPT. I rather looked for an opportunity. I searched through the web, read a lot of trip reports, asked a lot of colleagues for some tips and ended up with above mentioned tour. The real aim was to visit Hong Kong. But some of you would ask me now 'ok Ori, we understand that you want to visit HKG, but why did you travelled around the world?'. I'll tell you! Because I'm a nerd.
To answer your questions regarding the choice of routing and airline just read my report. I'll tell you later why I chose this routing.
So this is the prehistory of this trip. Thanks for reading that part very carefully and until the end. It now gives you some alternative perspectives and background knowledge to understand some parts of the original report. I'll now go on with the very first part. Enjoy your read!
1.) Frankfurt (FRA / Rhein-Main Intl.) to Abu Dhabi (AUH / Nadia Intl.)
FLT: Etihad Airways EY 008
DTE: 24Nov 07
A/C: Airbus A330-243
REG: A6-EYL cn. 809
DEL: 01/2007
SEAT: 5H / Aisle / Pearl Zone (Business Class)
STD: 2210
OFF: 22:05 from POS: E09
ATD: 22:24 at RWY: 18
STA: 0710
ONB: 0739 to POS: B2
ATA: 0733 at RWY: 31
routing: FRA-MUC-BEG-IST-ADA-KWI-DOH-AUH
total distance: 3072 mi.
At first I want to excuse that I made only a few pictures on this segment.
The fact that I'm now flying alone gives me more options and even in Business Class. I always wanted to try out Etihad especially in their Pearl Zone, because I'm used to work for them before and a lot of friends of mine are currently working with them. Another point of my "wanted-to-do" list was to see BKK's new airport. So if we count 1 and 1 together we will chose Etihad all the way from FRA to BKK. This report covers the part of the first segment between FRA and AUH.
According to Great Circle Mapper and the route we have flown the total distance was 3060 mi and the total flight time (block) 6hrs43min.
I checked the loads for the evening flight two days before. It showed up three seats available in C/Cl., the day before only two. As I showed up at the airport for any reasons my friends already were informed of my arrival and they fortunately managed to block a seat in Pearl for me until the end . EY in FRA departs from Terminal 2. A very customer friendly and during night-time very calm terminal due to the limited amount of traffic in the evening. Only QF to SIN, BA to LHR, EK to DXB and sometimes some "leisure" airlines such as HLX, LT, AB. I like this terminal very much and prefer it over T1 at any time.
So at the check-in I still got my stand-by boarding pass, but I was informed of the blocked seat. Good to have friends.
My girlfried took me to the airport and we had a dinner after check-in and I also went to the Aviation shop in Terminal 1 (it is located in the arrival hall B and has a lot of good books about aviation and also stocks Herpa aircraft models). It was now time to get back to T2. We took the SkyLine, I said 'bye' and went through the security. The lines were very, very short, so I was through in no time. After a walk through the Duty Free shops I made my way to E9 which is the gate at the very end of the terminal. Nevertheless it is a walk of only 5-10 min. Not too long. As I arrived there they were still finishing the flight and gave me my seat: 5H - aisle seat, very first row. Today's aircraft was A6-EYL, one of the recently delivered 332 with Diamond, Pearl and Coral Zone in Etihad-style.
As I boarded the aircraft I was one of the last 'Guests' and they shortly closed the door after me. At this time we had more than 15min. for the scheduled departure time of 22.10hrs. I was welcomed by Frida, a very nice, attractive and attentive flightattentand. She is from Sweden and took care of us very well during the entire flight. She explained me the features of the seat and offered me a welcome drink. I selected the Champagne
A look throughout the whole Pearl Zone showed me a almost full flight. Only one seat available in this Zone. Seems to be a attractive flight for business travellers.
Five minutes ahead of schedule we left our position to taxi to the other end of the airport for a RWY18 departure. If you are familiar with FRA you'll know what I mean when I say 'from one end to the other'. Of course this took a while, also because of other taxi-traffic from T1. Finally we took-off into the dark and clear sky of Frankfurt with a direct South heading. It was a very smooth take-off, but I noticed that the PIC used almost the whole length of the runway. This was certainly the longest take-off run from runway 18 I ever experienced. Soon after we reached our cruising altidute of 31.000 ft. Announcements from the flight deck as well as from the cabin manager followed. The captain was from Germany (announcements in both German and English), I'm not sure about the 1st Officer, the cabin manager British, an international crew (12 cabin crew member if I'm not mistaken) and finally Frida from Sweden - this cute girl
The cabin lights went on again, hot towels and another drink (of course Champagne again for me) along with the menu card. Frida also asked me, if she should wake me up for the breakfast. I opt for the modern arabian mezze for starter and the arabian lamb tagine with vegetable couscous and green olives for the main meal. The alternative meals on this flight were "kumquat roasted duck, buttered cepes and shitake mushrooms", "creamy tomato and parmesan chesse risottom, wild forest mushrooms" and "king prawn szechwan, wild rice, carrots and broccoli". Although they took our choices very fast they started serving them long time after. Around 40-45 minutes and the half part of 'Simpsons - The Movie' we were served with the starters and refill of the glas. We waited long, but the starter was so delicous that it made it long-forgotten. Now everything went faster, because as I finished the starter they already served the entree (also a very delicous meal) and finally the dessert (cheesecake with some fruits) along with coffee, tea or liquers. All in all I enjoyed their meal service. It was very delicous and the presentation very well sophisticated.
As the movie ended and I gave up wanting to be a millionaire I made myself comfortable to take a nap. At this time we were almost two hours into the flight. I moved the seat into the lie-bed position, switched on the massage mode and went to cockaigne.
Beautiful Frida woke me up when it was still dark inside the cabin and outside the aircraft. It was a pleasure to be awaken by this Scandinavian girl (hope my girlfriend doesn't read this). Afterwards the mood-lighting did it's best, hot towels were served again, I freshened up in the lavatory and followed the sunrise outside.
I was a little bit disappointed of the breakfast as it wasn't so good as the meal the evening before. Nevertheless it was ok for a start into a new day. At this time we were somewhere over DOH and started our descent to AUH, but unfortunately ATC put us into holding for at least 20 minutes. According to the captain this was because of construction work of the runway in AUH until the late hours of the morning and still a lot of planes in the queue for landing. Sometimes it could get very boring to circle around for 20 minutes.
Btw. here a picture of the sunrise over AUH.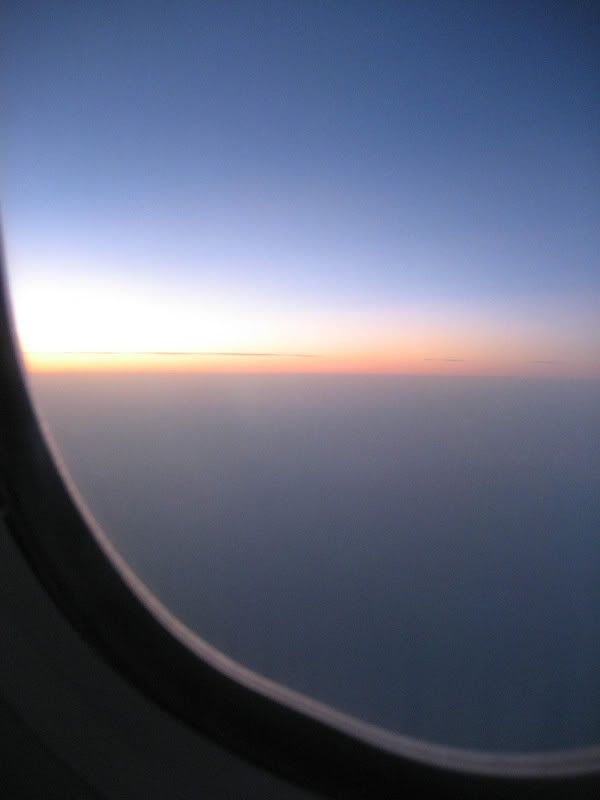 Finally we started our approach to AUH and landed exactly at 07.33 LT at runway 31. After a short taxi to position B2 we went onblock again with a delay of 29minutes. They didn't hold the Pearl Zone people to let the Diamond Zone disembark first so I was one of the first Guest to get off the plane. Sure I thanked Frida for her service and said bye-bye.
The first thing I did was to look up for the tranfer desk of EY to get a boarding pass for my connection flight to BKK.
Conclusion:
This was my first time experience with Etihad Airways and an one I was looking for a long time ago. I have really enjoyed flying with them and would recommend it to everybody at this stage of my travel. In many reports about EY I read that the quality of service is still inconsistent, but on this flight the whole cabin-crew were professional and attentive. For example the way how they present the meals (EY logo always facing me, cutlery in right position, refill in no-time) was very well and professional. At the airport of AUH as I waited for my connecting flight I had a discussion with another passanger of the same flight and he also had the same impressione eventhough he was in Coral Zone (Economy). The meals were tasty, the choice of wines adapted to the meals.
The inflight entertainement system don't get the best points (there are still better ones e.g. EK), but it is nevertheless a good one. A huge number of movies and tv series are available as well as inflight-info and games.
Nothing to say about the seat and the aircraft. The aircraft shiny new and the seat basicly comfortable. I had a good sleep in lie-bed position and the massage function with two or three modes (I'm not sure anymore) makes your travel more relaxing.
As I said before, I would recommend this airline at this stage. I had a great experience and a good start into my 6-day-travel-plan, but another flight with them to see if they're really that good or not.
Thank you for reading the report until the end. Hope you enyoyed it. A little feedback is always apreciated.
The second part is the flight from AUH to BKK, also in Pearl Zone, but this time with their Boeing 777-300ER. To read the second part please click here
RTW In 6days: FRA-AUH-BKK-HKG-LAX-FRA//Part 2//EY
(by
Stylo777
Dec 2 2007 in Trip Reports)
Regards Ori
[Edited 2007-12-02 09:32:27]