Hi again fellow a.nutter!
here is the second part of my 5-part-report around the world. This trip took me from Abu Dhabi to Bangkok with the 'National Airline of the United Arab Emirates - Etihad Airways'. Hope you will enjoy it and as always your valuable feedback are very welcome.
Part 2.) Abu Dhabi (AUH / Nadia Intl. Airport) to Bangkok (BKK / Suvarnabhumi Bangkok Intl. Airport)
FLT: Etihad Airways EY 408
DTE: 25Nov 07
A/C: Boeing B777-3FX(ER)
REG: A6-ETB cn. 3458 / ln. 543
DEL: 02/2006
SEAT: 11A / Window / Pearl Zone (Business Class)
STD: 0955
OFF: 1126 from POS: A1
ATD: 1138 at RWY: 31
STA: 1845
ONB: 2009 to POS: D6
ATA: 2002 at RWY: 01R
routing: AUH-MCT-KHI-CCU-RGN-BKK
total distance: 3177 mi.
As soon as I arrived from FRA and got into the terminal building, I went straight to the transfer desk of EY. Only one men infront of me so in no time it was my turn. The guy at the desk was very helpful and assigned my seat already eventhough I was travelling standby. I got 5A, he inserted my tag-numbers and finally printed my boarding pass. Very fast and efficient! Now it was time to explore the airport of AUH... hmmm... ok... let's see... for all of you who have been here already know that there is almost nothing to discover. An old construction, very small, too much passenger and only one bar. I heard a lot about this airport before, but didn't expect so much disappointment. But they are still building up the new terminal which raises the hopes of better times.
Normally I would have 2,5hrs between my two flights. After about 20 minutes I remarked on the terminal screens that our flight will be delayed for 80min. The new departure time was shown as 11:15. Far more disappointment, but nevertheless I have to live with that now. So I decided to catch some fresh air and went through immigration. Also no queues here so I was through within minutes. In the arrival hall I caught the newest addition to EY fleet A6-EYP.
Outside the terminal building.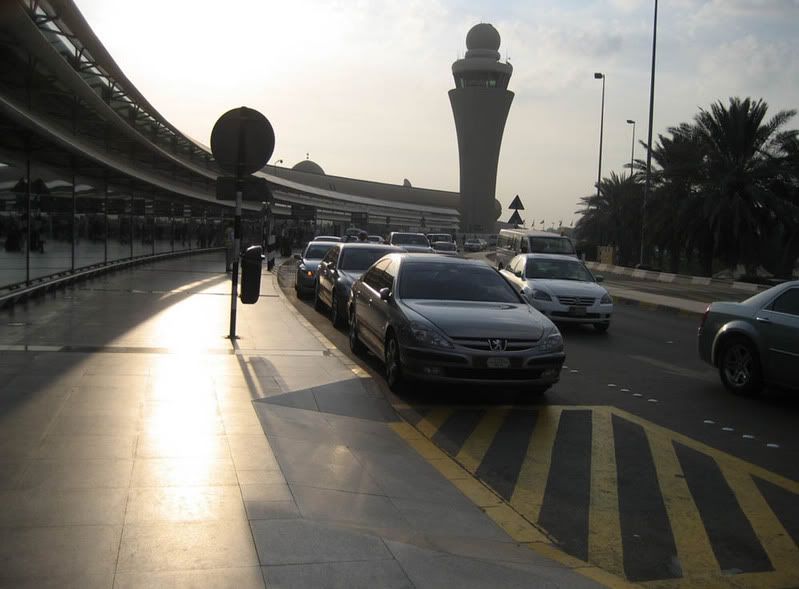 After one hour I went in again straight to the check-in counter of the BKK flight. I wanted to change my seat. The friendly woman at the desk did it and now I hold a boarding pass for the very last row in the Pearl Zone. I always prefer to have the cabin in the angle of my view. The new seat is 11A.
I went through security and passport control again in less than 10 minutes. No lines, no queues, no crowds, very pleasant.
Inside the terminal again I went to the Al Ghezian Lounge, but the woman at the entry didn't let me in. Al Ghezian Lounge is a partner lounge of AirPlus and I have an AirPlus credit card. She wasn't aware of that, but didn't let me enter either. Very stupid as this works in every partner lounge all over the world. I show my CC, pay the 15EUR and enjoy it. Really stupid of her. Anyways...
I had to kill my time and went to the duty-free shops, but didn't find any good deal. As the free-internet terminal were all occupied I bought me a sandwich and a coffee at the bar. To be honest this was the worst ever sandwich I ate, but the coffee was very tasty so I ordered another cup. The minutes past and Tango Bravo showed up at gate 09.
Inside the secured gate area it was getting fuller and fuller. It is a very small waiting lounge so almost no space to handle more than 250 passenger. Luckily they soon started boarding. Before getting on the plane I took a photo of -TB. I love these 77W's!!! By the way only one jetbridge for boarding.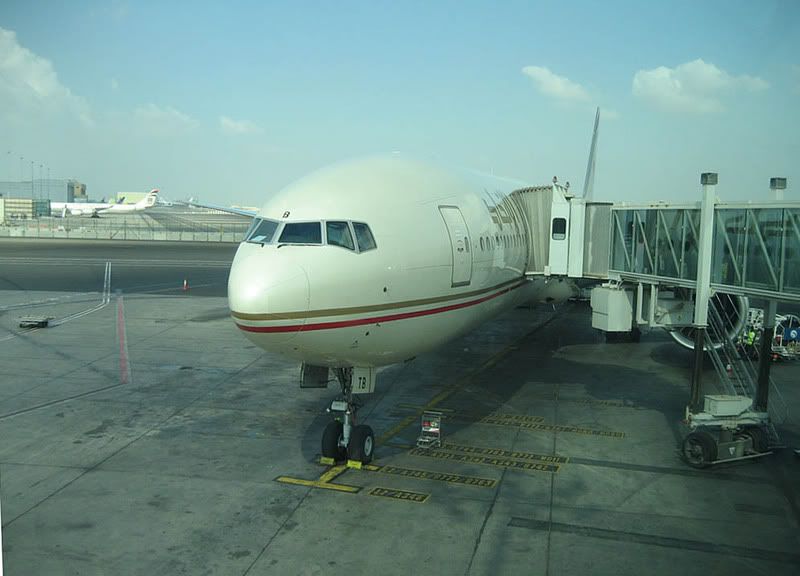 Inside the plane I was welcomed by the cabin manager, Lestor from India. I made myself comfortable in my 'suite' and awaited the end of boarding. Needless to say, I was also welcomed by one of the cabin crew with a welcome drink. This time I went for an orange juice as it was still too early for a Champagne.
At the new estimated departure time of 11:15 the door was closed, the bridge already undocked, but we were still standing at our position. The captain came on the PA and apologise for the delay. Very detailed he explained the reason for that: a computer break-down in RUH caused several delays including our inbound flight. After the last bag was loaded we soon went off the chocks and made our way towards runway 31 which you can see on this picture.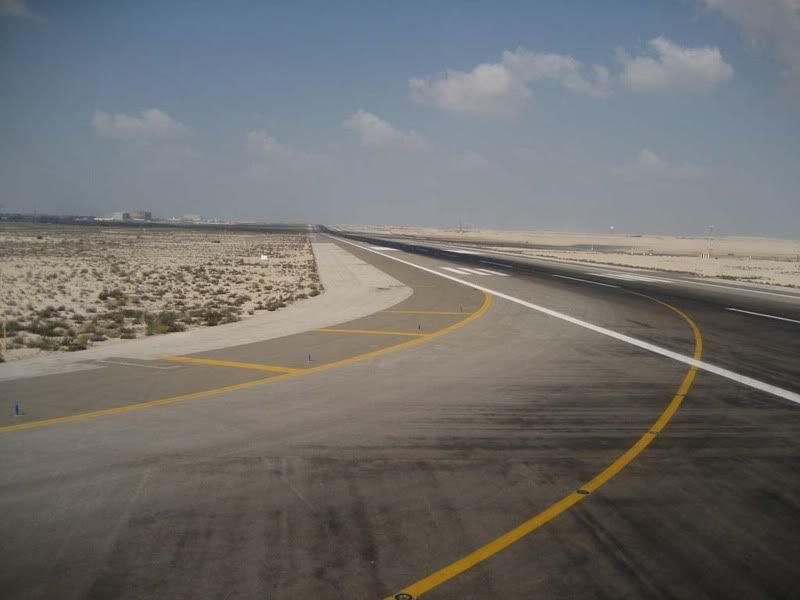 A powerful take-off (I love these GE90 engines), right turn over the coast line, another right turn towards AAN.
the airport of Al Ain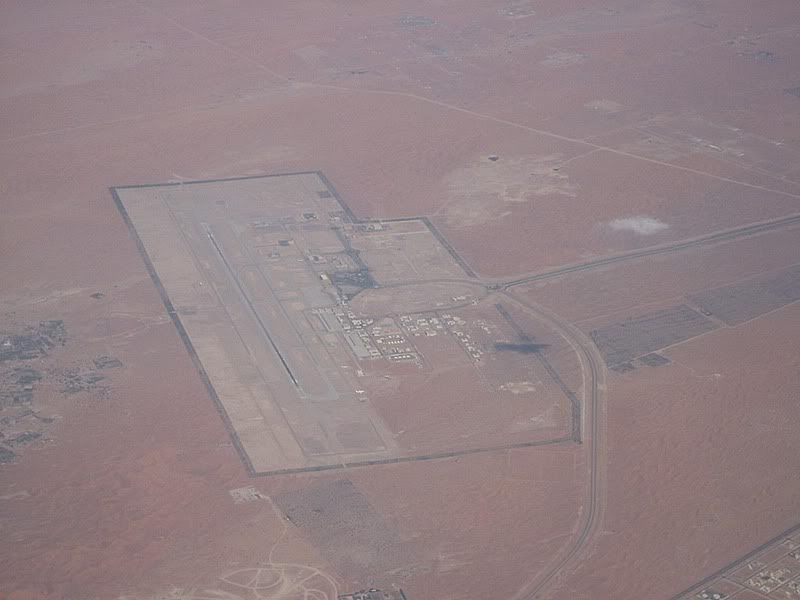 Slowly but surely we were climbing to our cruising altitude. After reaching it the seat-belt signs went off and the two dedicated cabin crew members started their preparations for the inflight-service.
Another drink was served along with a hot towels and the menu. The flight attendant was from Thailand and she was a very funny girl. For any reasons she made a lot of jokes which was indeed very funny, I enjoyed it.
I started with the "prawn with jelly safran mouse, tomato, basil and mozzarella", the alternative was the "modern arabian mezze" which I had already on the FRA-AUH flight the day before.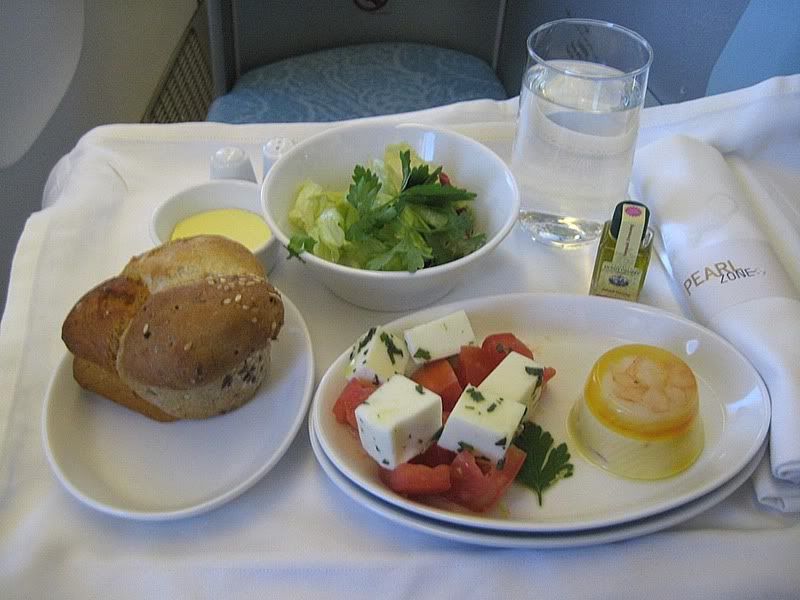 As nice as it looks like, I didn't like the prawn. Nevertheless the rest of the plate was very delicious and I looked forward to my main meal the "stir fried lemon ginger chicken, curry rice and asian vegetables". This was served shortly after the starter and here is the picture of it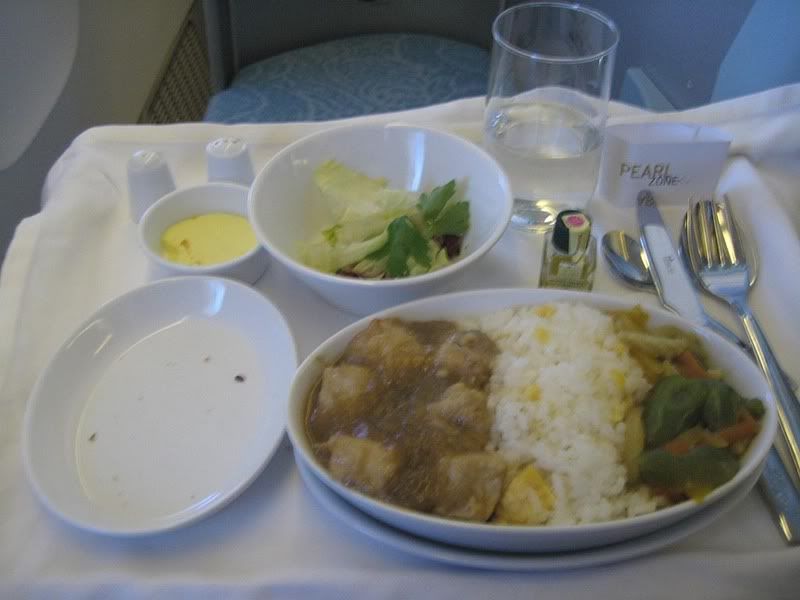 The end of the meal service was made by the best cheesecake I ever ate onboard an aircraft
After the service I freshened up, walked around the cabin, took a look inside the Coral Zone (almost full) and had a long chat with the cabin manager. He is like me an aviation nerd and described me all the details of the aircraft and his control panel to "tweak" the cabin
I was also allowed to dim the light in the Pearl Zone.
After that I went back again to my seat, took out my cam and took a picture of the cabin and finally made myself comfortable into my lie-bed seat. For any reasons I was tired and decided to take a nap. At this time it was already getting darker and darker outside as we were flying to the East. Here is the shot of the dark cabin somewhere over India.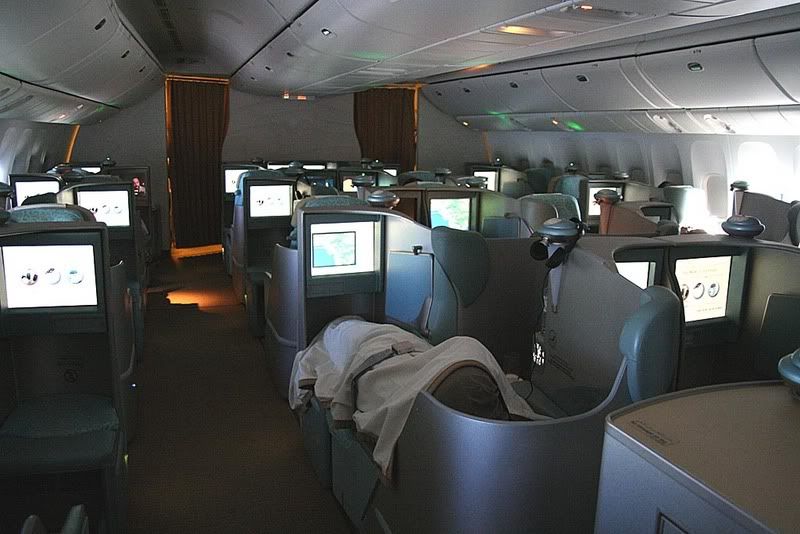 The intended short nap was a little bit longer and I woke up shortly before our approach to BKK as we already left our cruising altitude. Normally I would sleep even longer as the ear plugs, the eye-patchs, the bed and the massage function did their job very well.
We approached the airport from the West, passed it by, made a turn and landed 1h17min. delayed at the new airport of BKK. After a left turn, a short taxi and a right turn we finally went on the blocks at position D6 next to a Jetstar A332. The cabin crew hold the Coral Zone guests to let us Pearl Zone guest disembark first.
After a short walk I arrived at the empty immigration. A non-smiling and talking immigration officer stamped my passport and let me enter Thailand. Unfortunately we waited more than 20 minutes for our bags, but lucky enough I had a priority tag on it which saved me more minutes of wait.
I made my way straight to door number 4 at the arrival hall as the Novotel hotel-shuttle would depart from here. By the way, I didn't see too much of this airport at this moment, but what I already saw was amazing! A very beautiful, nice, clean and modern terminal building. This is for sure a top-notch airport!
My shuttle picked me up, after a short drive of 2 minutes
we arrived the airport hotel, another example of high-end excellence construction work. I added some pictures of the hotel in the end of this report.
Conclusion:
After the second flight with Etihad Airways my impressions have been affirmed. They are a excellent airline and they're on the right way to stay as a big player in the aviation world.
The quality of service was again very good and the cabin crew professional, but warm and hearty. Especially the cabin manager on this flight took very care of me and got into detail with my questions. The taste of the food again very delicious.
Again nothing to complain about the aircraft. This bird has exact the same interior as the A332 and even A345/A346 in their fleet. This is another thing I have to point out, because if look over to the immediate counterpart EK we won't see the same premium product throughout their fleet. EY obtained to avoid any discrepancy and sell the same product on any flight. As you know only one year ago they still had a mixed fleet with several interiors as they were short of aircraft and had to lease them.
If you ask me now, I would always recommend EY as I saw their premium product with my own eyes. I enjoyed my flights and it was a pleasure to be onboard. Eventhough I'm a non-revenue passenger I always felt myself as a guest. Good job EY and thank you very much!
A few words of the airports. As I said before, the airport of AUH really needs some improvements very fast otherwise the home-carrier won't be able to expand that fast as it would be. This is in my eyes a key-factor. The terminal is overcrowded and the waiting lounges to small to handle the mass of passengers (EY's 77W have a capacity of 378pax). Unlike AUH the new airport of BKK is really a big one. Nice and beautiful.
In the end I want to thank you to read the second part of my report very carefully. Please don't hesitate to make your comments either positive or negative.
Here are some pictures I took during my short one-day stay at BKK airport and Novotel Airport Hotel. Unfortunately the observation deck of the airport was closed.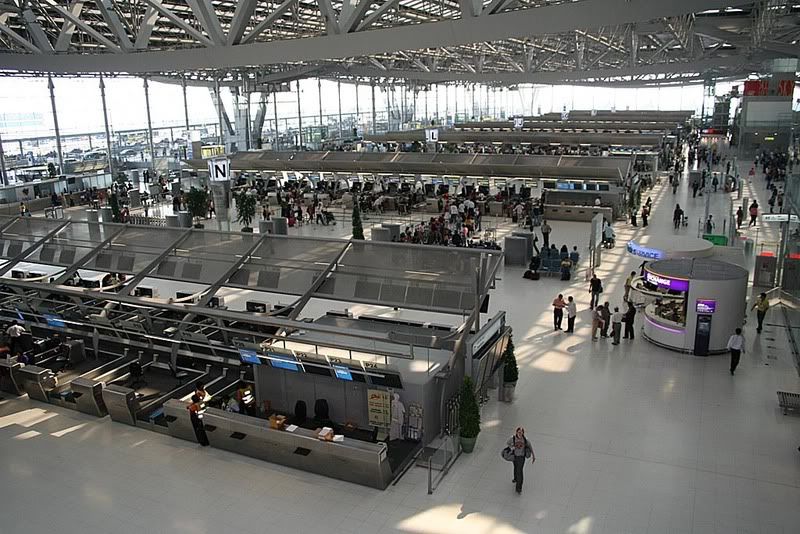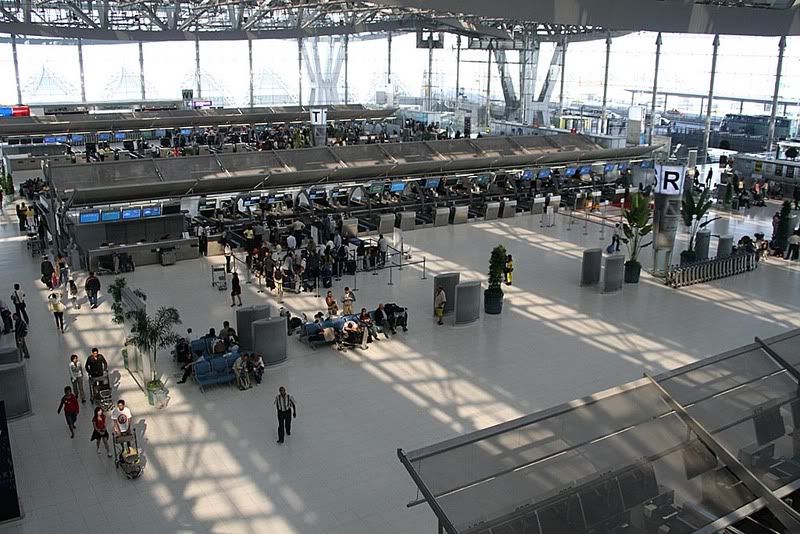 if I remember correct this is the highest tower in Asia, but please correct me if I'm wrong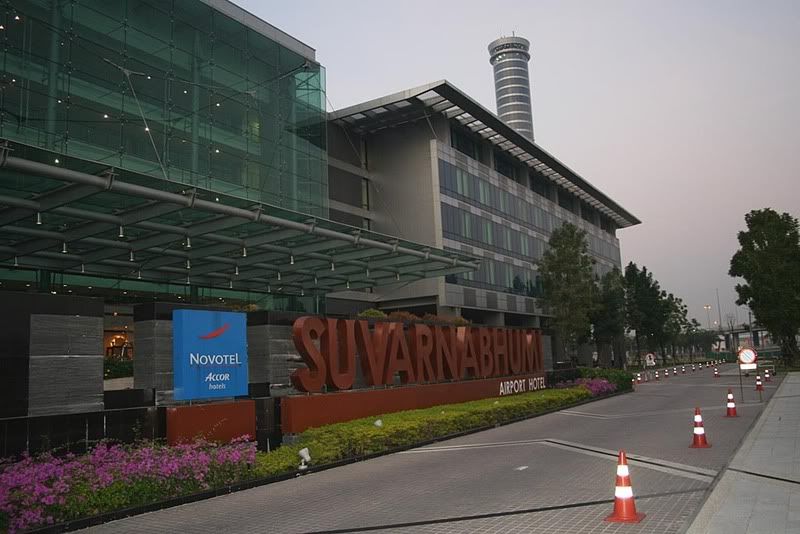 the hotel lobby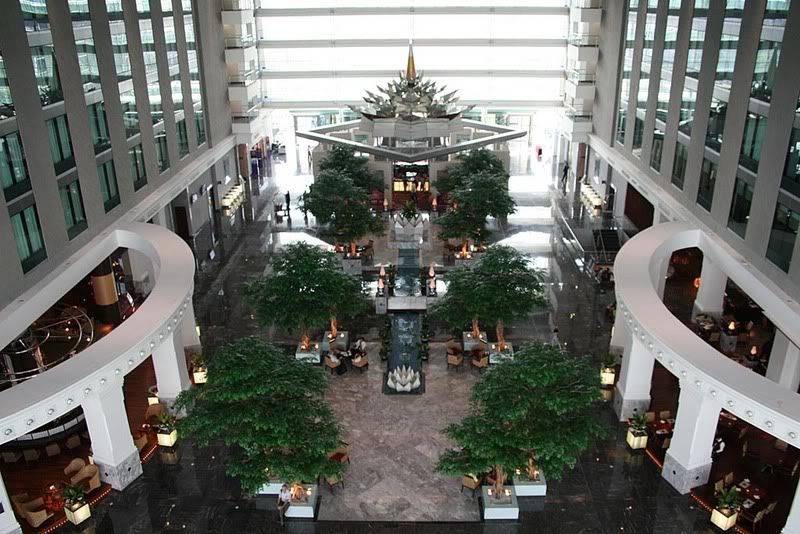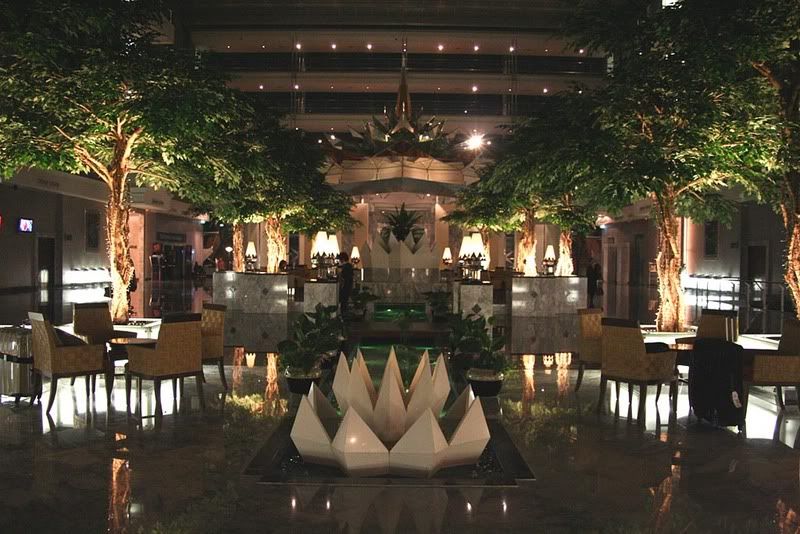 and finally my room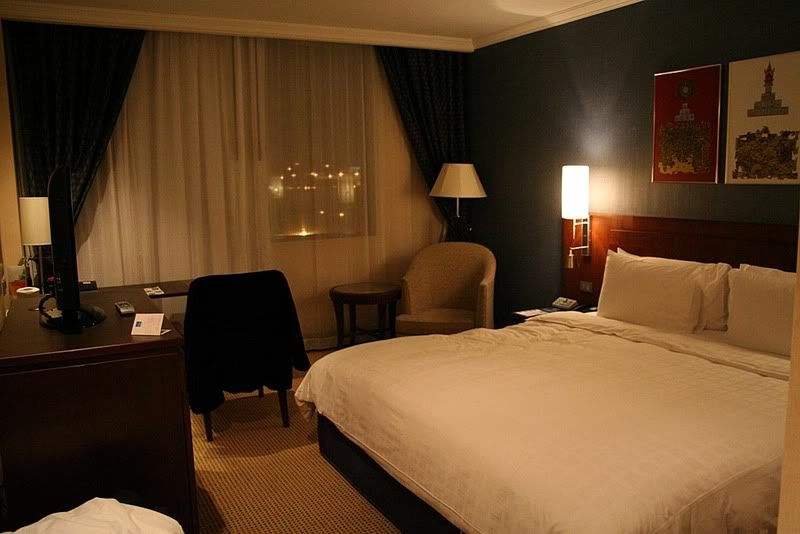 Regards Ori
[Edited 2007-12-02 09:44:14]