Feedback always appreciated.
Trip Report: 031
Flight Category: Y-DSR (See Report End)
Date: 31-Aug-07
SDT/SAT/Delay: 1420/1445/00:25 hrs (Delayed, 00:45)
Flight:
Fly 540 5H 411-A
, 87 miles
Routing: MYD-LAU
Aircraft: DH8
Seat: Economy, 4D
I > Background:
Ok, I am back! After taking a sabbatical from trip reports for 5 months, here is the first installation from a series of trip reports. Mid-August to mid-November 2007 saw the craziest of my travel plans. 69 flights totalling 175,028 kms on 35 airlines, visiting 49 airports in 34 countries in all 6 continents. And, here is the best part … all of them were part of a 4month break from life … pure vacation, and pure food for the mind, body, and soul. Together, they mounted to 21/2 round-the-worlds that was truly insane. As usual, all long haul flights were on Business or First Class; short haul was on Economy Class.
As I have tried for A.Net audience in the past, several of the reports will be firsts on A.Net. These include either first time airline coverages, routes, airports, flights, or countries.
This report on Fly 540 (5H) MYD-LAU will be the first for the segment, and the first to feature new budget Kenyan low cost carrier, Fly 540. At least, that's what preliminary searches indicate. The reason for the trip was to visit my enchanting UNESCO heritage town of Lamu on Kenya's "Swahili" coast; sort of the Kenyan Zanzibar with an intoxicating blend of African, Indian, and Omanese cultures – intermingling with expats – mostly from Mama Italia.
II > Pre-Flight:
a) Before Airport:
Most low-cost-carriers (LCC's) around the world are renowned for the ease of their ticketing facility; usually, a seamless e-ticket can be bought online lowering unit costs, and generating a better passenger experience. In my travels around the world, Fly 540 stands out as probably the worst such interface that I have encountered in all my travels with LCC's. Their website (www.fly540.com) apparently serves as a e-portal to book and buy tickets; however, this is actually not possible and there are no indications along the way that the "booking" you did was just that … a "booking". After your space is reserved, you are supposed to go to a Fly 540 ATO/FTO/CTO and get the actual ticketing done. Even better, if you do not do the same within 24 hours, your reservation is auto-cancelled. So basically, it renders ticketing useless for any passengers outside Kenya. Why even bother with online reservations anyways? Ok, it gets better (and more bureaucratic). After having "reserved" the ticket online, I took the email confirmation to the town office in the coastal town of Mombasa. Of course, at the office, they could not find the reservation! Went back to an internet café (cheaper), reserved it, and headed back to the office. More drama when they refused to first accept American Express (despite having a sign for it on the door), then imposed a 15% surcharge on my Visa (again, not mentioned anyways), and finally (icing on the cake), they decided to use an arbitrary exchange rate to convert the charge into USDs! Anyways, I was fuming! Uugh. Never again. Anyways, it will be interesting to see how they evolve – they currently fly from Nairobi to Mombasa, Malindi, Lamu, and Kisumu duplicating a route network of KQ, Air Kenya, and SafariLink. Oh, of course, there is no advanced seat selection.
b) At Airport:
In the tradition of other coastal airstrips across the world, Malindi airport is also a charming little shack. Check-in for Fly 540 is done through a make-shift desk, and in no time I had cleared security (a joke) and was waiting in the boarding gate/hold area. There was a strategically placed snack counter with prices that would make LHR and NRT seem a bargain. A bar of Kitkat costs USD 10.00. Oh, even worse … I actually bought the damn thing! Boarding was not announced – you sort of just knew it was your flight when an official looking guy walked to the boarding gate and everyone sort of just followed. The flight comes in from NBO and continues onto LAU. Interestingly, EVERY passenger disembarked at MYD, and a whole fresh group of passengers came onboard for the continuing flight to LAU. Weird that no one flew from NBO to LAU; especially given that KQ's flight follows the exact same routing. Upon finally boarding, I was greeted by 2 friendly 5H flight crew. The DH8 looked good, and was in top condition. Its Caribbean Star pedigree was evident everywhere. Y class load was around 60%.
Airport - External:
(Malindi "Airport")
Check-In: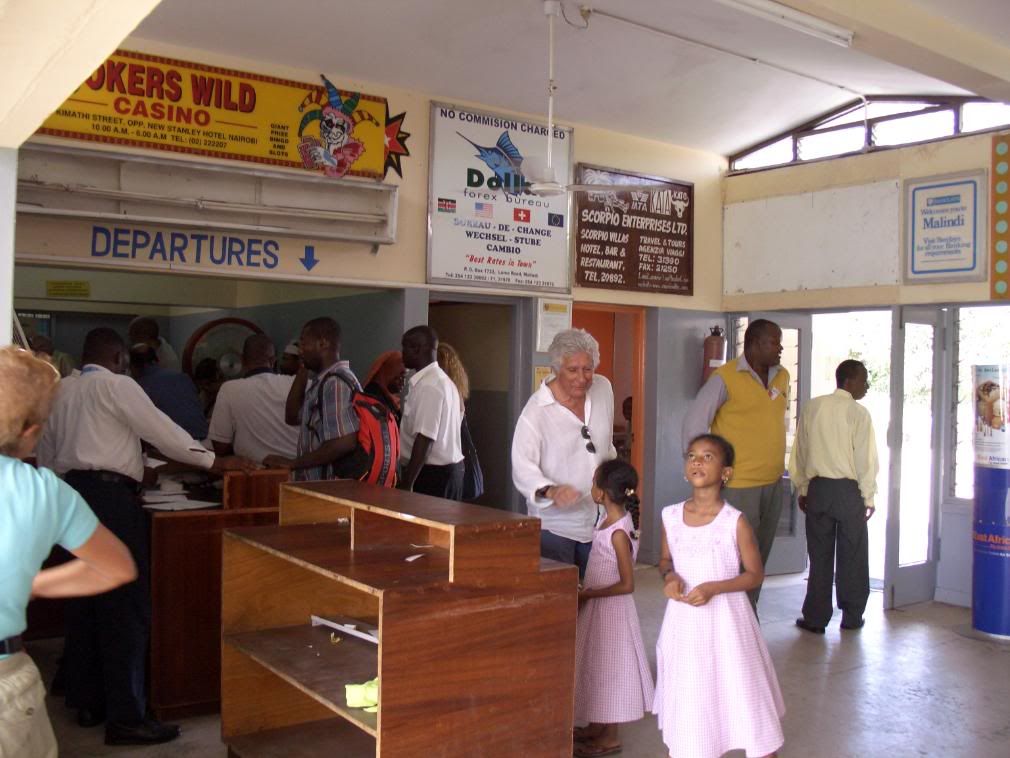 Airport - Internal: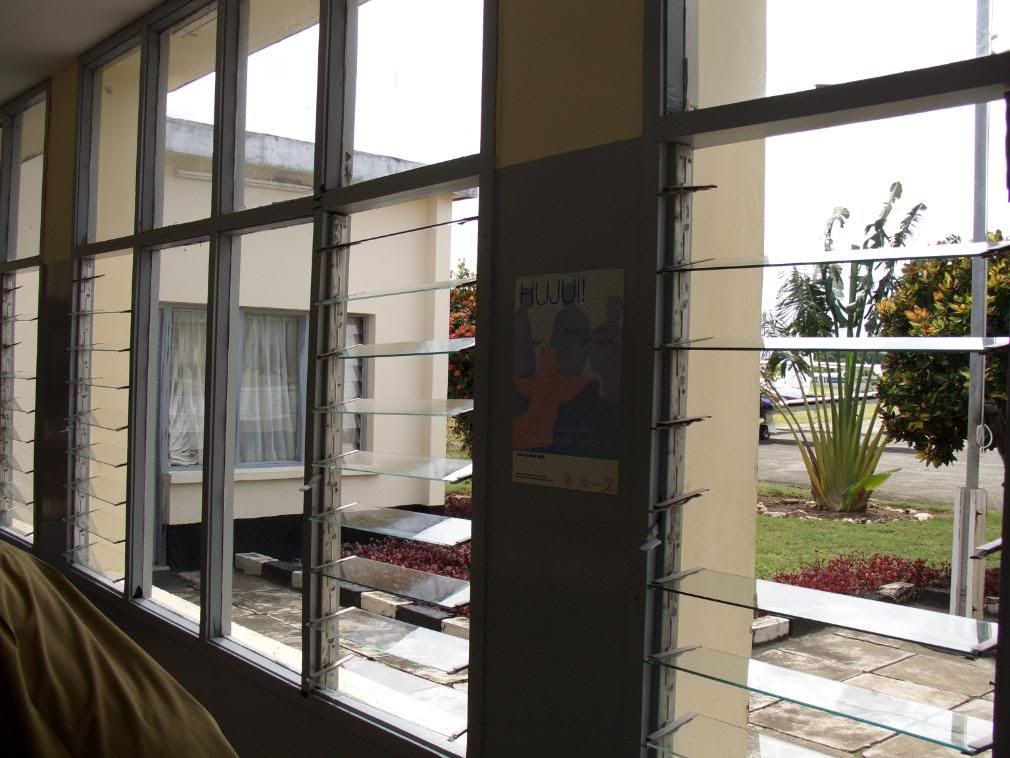 (Expensive Café)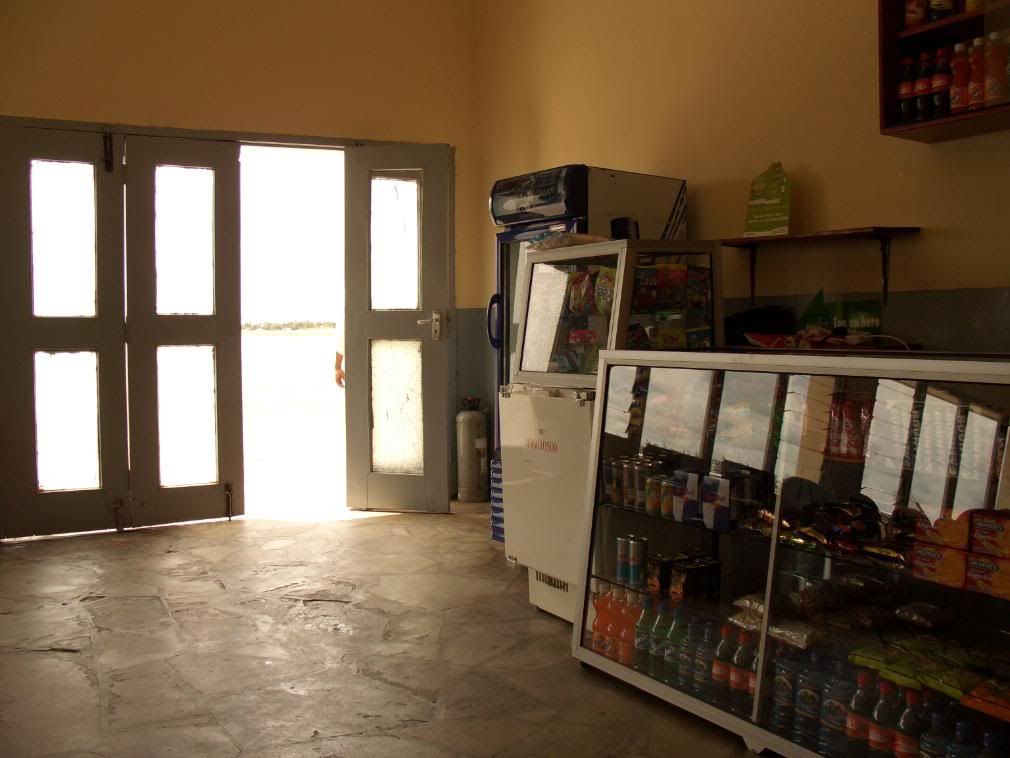 Scenes of the tarmac:
Lounge
NONE
Boarding:
NONE
III> In-Flight:
a) Service Schedule + Impressions:
No service.
b) Aircraft + Seats:
The seats were clean the well padded leather seats were super comfortable. Bathrooms were in great shape. The seats came with a pre-installed recline … see the pictures. There was no additional recline. Even non-exit row seating came with very generous legroom.
Aircraft: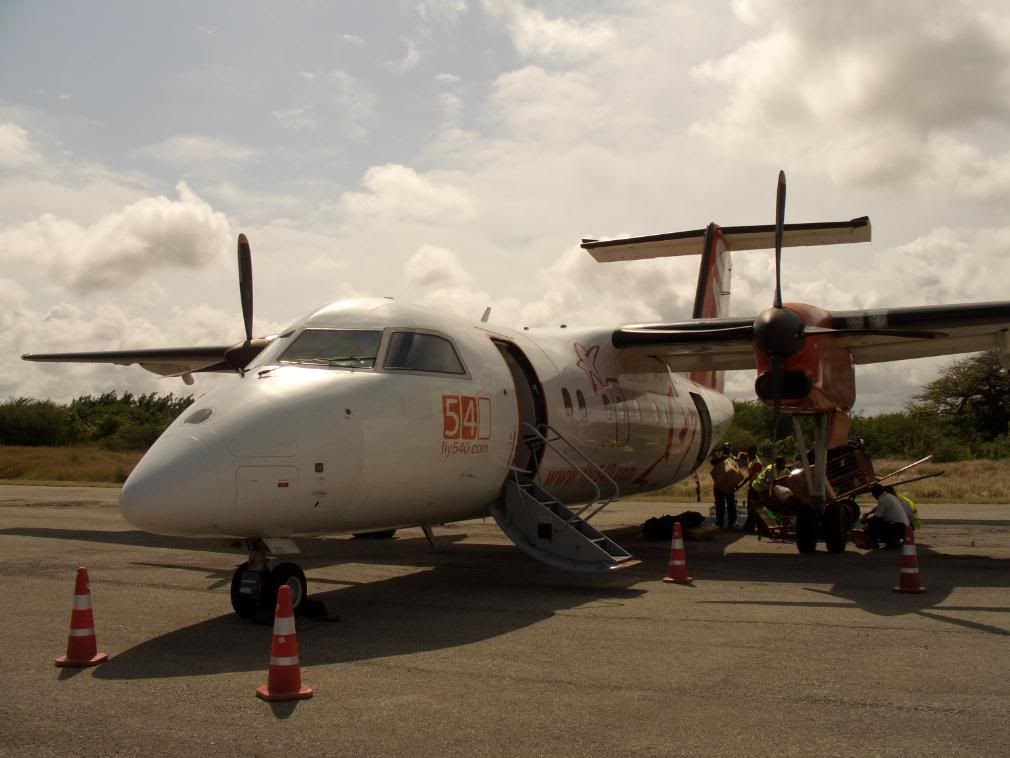 Views from Aircraft:
NONE
Seat Leg-Room: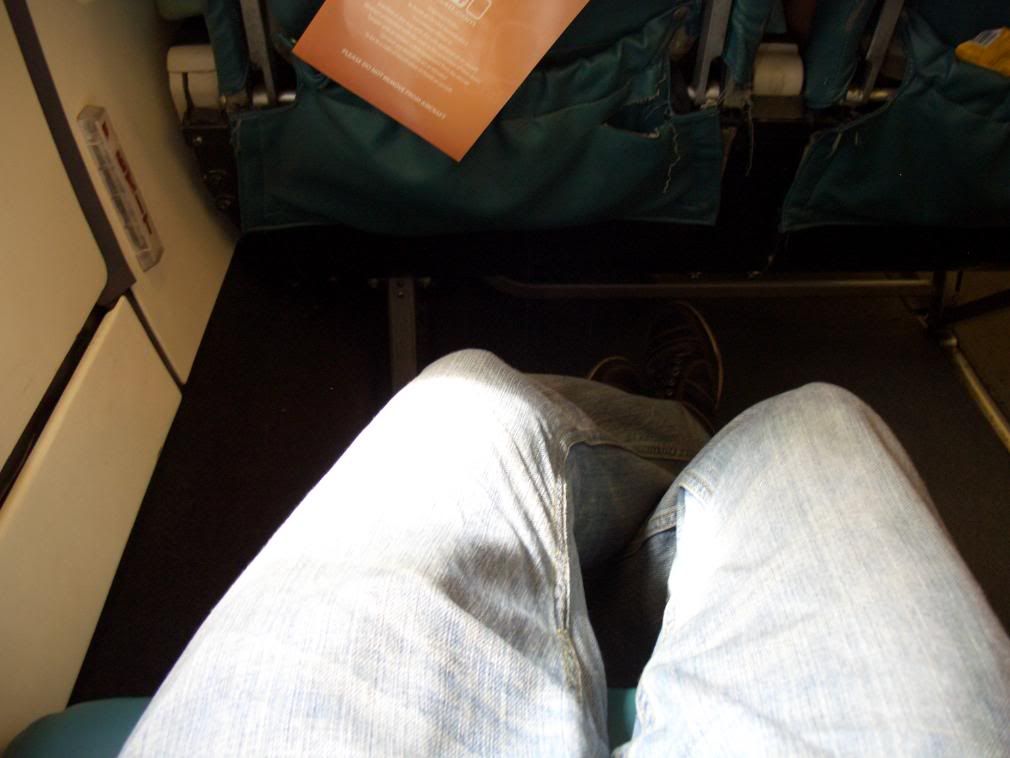 Seat Recline + Angle View: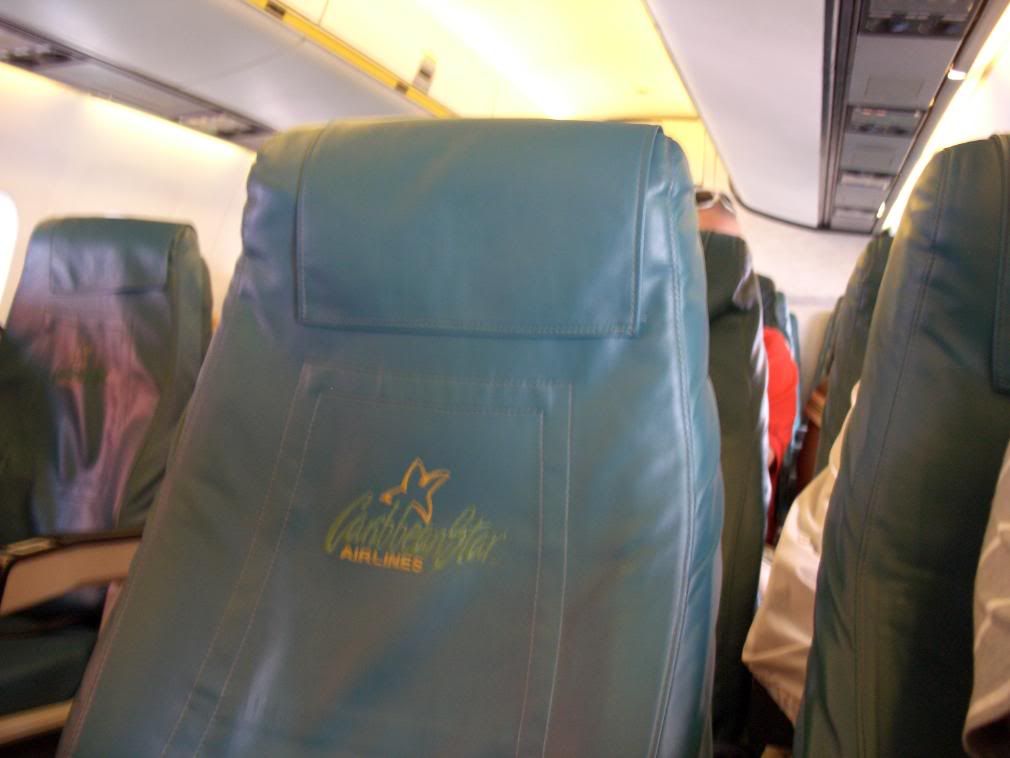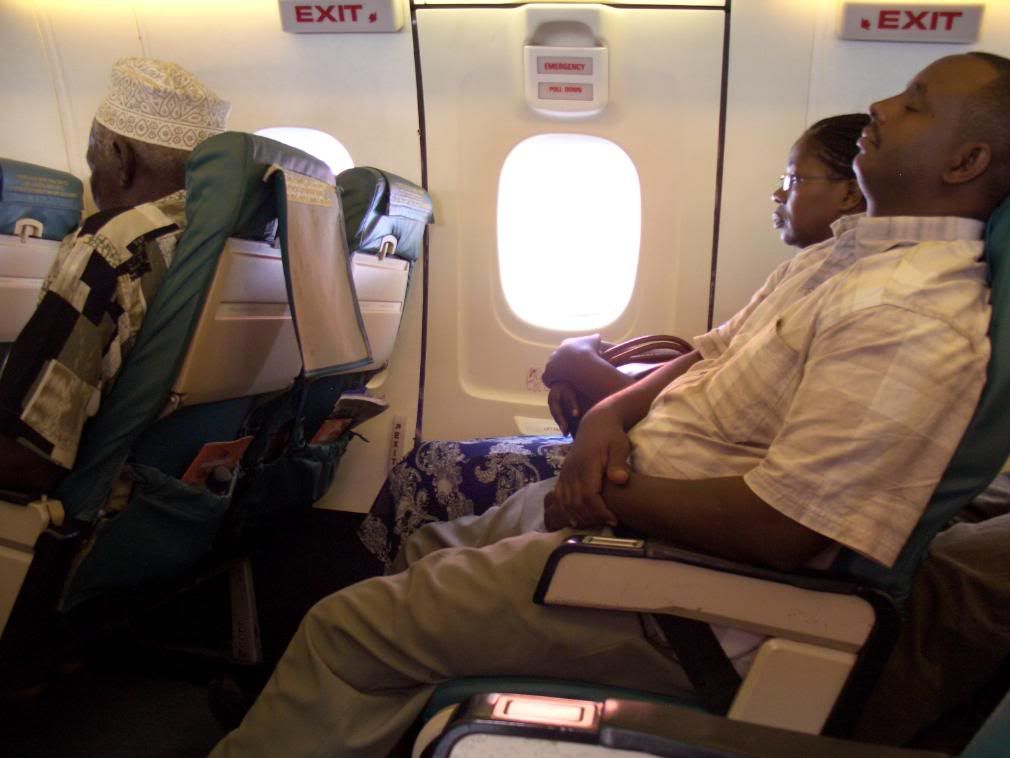 Cabin: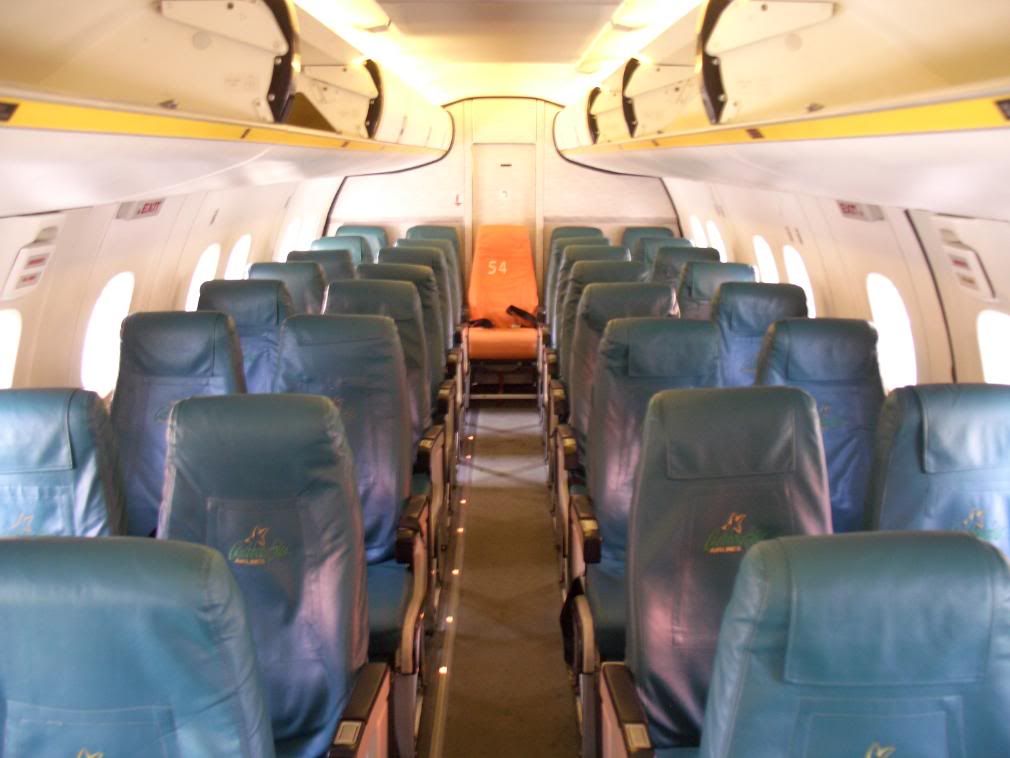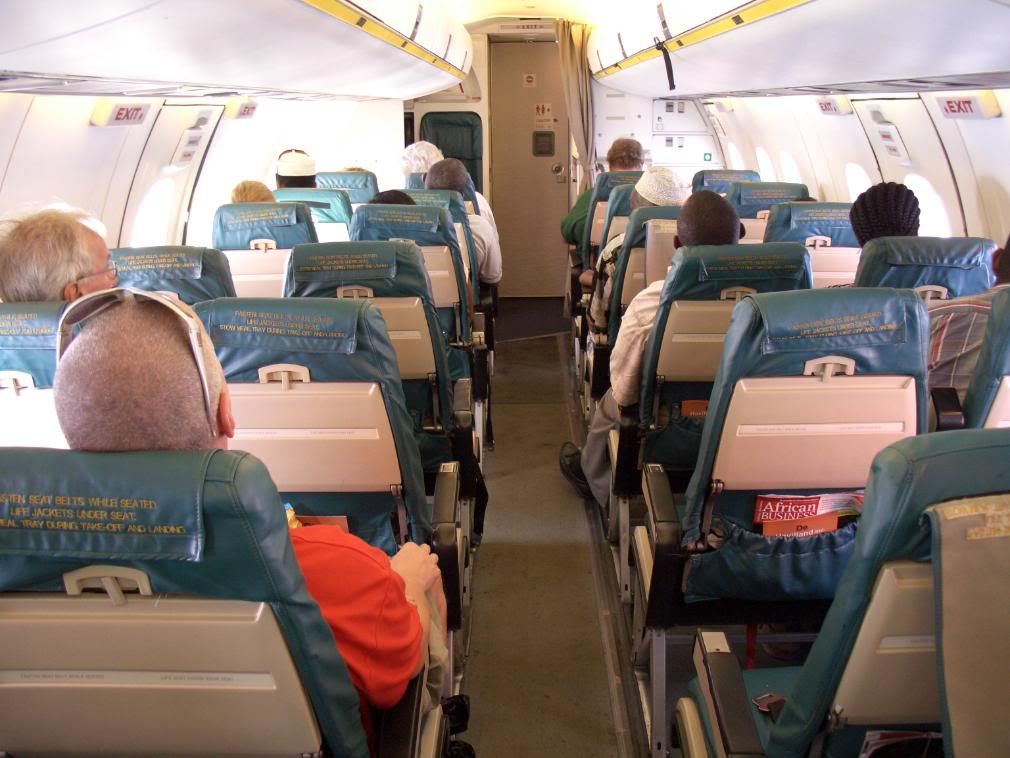 c) Meal + Beverage:
Absolutely nothing.
d) Inflight Entertainment:
Nothing.
(In-flight magazines, Boarding Passes, etc.)
(I LOVE hand-written boarding passes)
e) Crew:
The crew were friendly. I managed to chat with them briefly during the flight and they were excited at the prospects of 5H. Its hard to judge their performance, because they really had nothing to do except do security briefings. It was interesting that a LCC which does not serve anything onboard had 2 crew members on a DH8. Isn't it normal to have just 1 FA on these aircrafts?
IV> Post-Flight:
Lamu airport is also a shack. Well, 2 shacks to be precise. Baggage delivery is done through a hand-held cart from which you pick your luggage. I guess there is no real reason for more.
(Air Kenya at tarmac at LAU)
(LAU "Airport")
V> Impressions + Scores:
Short flight with low expectations. I wanted to share with A.Netters a Fly 540 flight rather than make a commentary. For the routing in question, 5H provided all one can ask for … clean, efficient, on-time service. However, their ticketing system left a VERY bad taste in my mouth and I will definitely pay a premium (usually USD 10-20 on KQ or Air Kenya) to avoid flying with them again.
Reservation: 1.0
Check-In: 6.0
Lounge: N/A
Boarding: 8.0
Seat: 7.0
Aircraft Overall Ambience: 7.0
IFE: 2.0
Crew Service: 6.0
Food: 1.0
Beverages: 1.0
Amenity Kits + Others Freebies: 5.0
Disembarkation: 7.0
On-Time Record: 7.0
OVERALL IMPRESSION: 5.96
(Pre-flight average of all-reviews: 6.23)
(Scores are based on comparison with other airlines in THAT class of service – No comparison of Y vs. F for example)
VI> Other Trip Reports:
1/
Avianca: BOG-LIM: 07/06/06: 7.09pts: Y-IMR
2/
Air Tran: EWR-MDW: 08/02/06: 6.73pts: Y-DMR
3/
West Jet: YYC-YVR: 09/05/06: 7.14pts: Y-DMR
4/
Air Canada: YYZ-YVR: 09/02/06: 5.92pts: Y-DLR
5/
Air Canada: ALB-YYZ: 09/01/06: 5.88pts: Y-ISR
6/
Singapore Airlines: EWR-SIN: 09/20/06: 7.81pts: J-ILR
7/
Adam Air: SIN-CGK: 09/22/06: 6.04: Y-ISR
8/
Valuair: CGK-SIN: 09/22/06: 5.04: Y-ISR
9/
Spice Jet: CCU-DEL: 09/25/06: 6.67: Y-DMR
10/
Indian: DEL-CCU: 09/26/06: 7.25: Y-DMR
11/
Air Sahara: CCU-BOM: 09/28/06: 4.42: Y-DMR
12/
Air Deccan: IXZ-CCU: 10/07/06: 5.75: Y-DMR
13/
Alliance: CCU-IXA: 10/08/06: 7.54: Y-DSR
14/
Kingfisher: IXA-GAU: 10/08/06: 8.21: Y-DSR
15/
Indigo: GAU-CCU: 10/08/06: 6.54: Y-DSR
16/
Singapore Airlines: CCU-SIN: 10/11/06: 5.88: J-IMR
17/
Air Canada: ICN-YYZ: 10/12/06: 7.13: J-ILR
18/
Delta AirLines: SEA-JFK: 11/24/06: 7.17: F-DLR
19/
USA 3000: PUJ-BDL: 01/06/07: 5.96: Y-IMR
20/
Viva Aerobus: CUN-JFK: 02/20/07: 4.58: Y-DSR
21/
Jet Blue: CUN-JFK: 02/20/07: 5.96: Y-IMR
22/
SAS Norge/Braathens: OSL-AES: 05/26/07: 5.75: Y-DSR
23/
TAP Air Portugal: OSL-LIS: 05/29/07: 5.46: Y-IMR
24/
Delta Airlines: JFK-CDG: 08/09/07: 7.85: J-ILR
25/
Air France: CDG-JNB: 08/10/07: 5.33: J-ILR
26/
LAM Mozambique: JNB-MPM: 08/13/07: 5.67: Y-ISR
27/
Transairways Mozambique: INH-MPM: 08/17/07: 6.08: Y-DSR
28/
Air Link Swaziland: MTS-JNB: 08/18/07: 6.17: Y-ISR
29/
Kenya Airways: NBO-BJM: 08/19/07: 6.17: Y-ISR
30/
Rwanda Air Express: KGL-NBO: 08/25/07: 5.96: Y-ISR
(Note on Codes: Y – Economy, J – Business, F – First :: I/D – International/Domestic :: SR/MR/LR – Short/Medium/Long Haul :: I have designed these codes so people don't believe my scores are comparing apples with oranges)
VII> Other Pictures:
It has now become customary to share some images of the place I went to, and some other related aviation pictures. Hope everyone enjoys!
(Coast line of Kenya as seen from the flight)
(Here are some pictures of Lamu, Kenya)