Hi again,
at first I want to apologise for the late upload of the 3rd, 4th and 5th part of this 'story' . Nevertheless here you go with the 3rd part of my little 'round the world tour. This is the shortest of the five flights and it is from Bangkok to Hongkong so it is a rather short report. Enjoy your read and please leave me a feedback in the end.
If you didn't read the first two parts you can catch this up here
RTW In 6days: FRA-AUH-BKK-HKG-LAX-FRA//Part 1//EY
(by
Stylo777
Dec 2 2007 in Trip Reports) (for part 1: FRA-AUH)
RTW In 6days: FRA-AUH-BKK-HKG-LAX-FRA//Part 2//EY
(by
Stylo777
Dec 2 2007 in Trip Reports) (for part 2: AUH-BKK)
3.) Bangkok (Suvarnabhumi Intl. Airport) to Hongkong (Intl. Airport - Chep Lap Kok)
FLT: Thai Airways International TG600
DTE: 27Nov 07
A/C: Boeing B747-4D7
REG: HS-TGH cn.24458 / ln.769
DEL: 02/1990
SEAT: 45B / Middle Seat / Economy Class
STD: 0800
OFF: 0802 from POS: D6
ATD: 0817 at RWY: 01L
STA: 1145
ONB: 1133 from POS: N59
ATA: 1127 at RWY: 07L
routing: BKK-KKC-HAK-HKG
total distance: 1069 mi.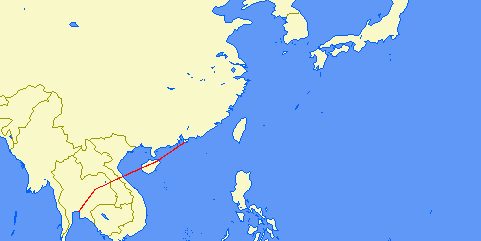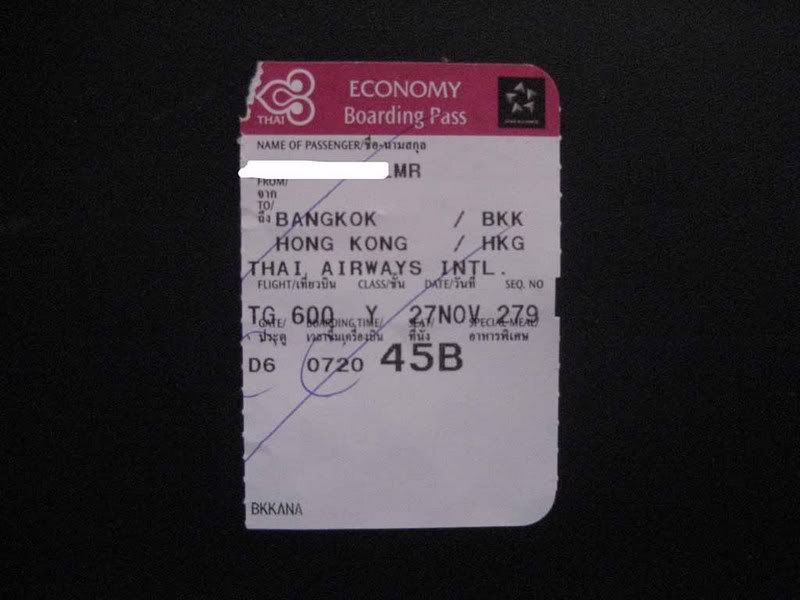 My time in Bangkok was over, it was now time to fly to Hongkong. During my stay of two nights and one whole day I wasn't in the need to visit the city of Bangkok. I'm sure just one day is too few for a city like Bangkok so I kept this visit back for another journey. I had a great time in my hotel directly at the airport (Novotel Suvarnabhumi). To my annoyance the two observation decks of the airport were closed. I really wanted to spend a lot of time here for spotting. This I also included into my plans, but unfortunately both decks were closed. Back at the hotel and the internet lounge I searched the net for outside spotting points, but didn't find any good information so I eventually skipt this project. Instead I spent the whole day at the hotel pool, in the sauna, whirlpool, fitness room and had a great Thai Massage of 120minutes.
The night before I checked again which flight I want to catch the next morning. As my ticket was valid for TG / CX / EK / CI almost every flight was covered. The earliest flight to HKG was the TG flight at 08:00h which I finally took. Actually this was my second decision. I wanted to get on the 08:25 flight of CX, because I have never flown on CX before and for any reasons an A346 for that morning was scheduled.
The next morning I woke up early, took a shower, made some last-minutes packing and checked-out at the hotel. After a fast breakfast in the restaurant the shuttle picked me up and drove us to the airport (which is only 500m beeline
). At the airport I went straight to check-in aisle M to the CX counters. No queues at all. I was very surprised, because it was something around 6.45am (2hrs to departure) and according to Amadeus availability I expected a full flight. Later I found out that this flight originates in KHI and that the big bunch of passengers were already onboard.
Arrived at the check-in aisle I went straight to the stand-by counter. I love these airport where airline staff gets their own counter for check-in as sometimes lining up in the whole eco queue could take a lot of time
The lady at the check-in asked me if I want to fly on the 8.25am flight or the later one at 10am as the earlier was completely sold out. I asked if there are any chances for me and how many stand-by's were already listed. Not the answer I wanted to hear from her so I took my ticket and passport back and went over to TG.
Luckily they also have a dedicated standby counter. Three other passenger were in front of me. For any reasons this took rather long and I waited almost 15min. The friendly guy at the check-in immediately found my listing for the 8am flight, put my passport data into the system and issued the boarding pass. When he wanted to hand me out the boarding pass he checked again my ticket and advised me to pay the 700THB departure tax first and come back again. I was aware of such a departure tax so I didn't spend all my THB's, but I didn't know that they increased the tax from 500 to 700 THB. Anyway I went to their ticket office and paid the tax. After going back to the counter I remarked that the time past very fast and only a few minutes remained for boarding. I picked up the boarding pass with my seat already assigned and went straight to the passport controls. For my misfortune a long queue and very slow working officers there. Finally I went through, a quick orientation and run to gate D6 which was also my arrival gate two days before with Etihad.
Bangkok is really a big airport as it was a rather long walk to get to the final security check for my flight. I liked the construction of the airport, because you're on the top level and the departure gates are one level below. I looked downstairs to my gate and saw that they didn't start boarding yet so I decided to make a last-minute shopping at the duty-free shop next to the security control. After spending all my remaining THB's in souvenirs I went through security and arrived at my boarding gate where they started boarding already. I asked the gate agent if it is possible to change my seat to a window or even an aisle, but she declined as the flight is full. Anyway...
this is what I mean with 'looking down to the gate'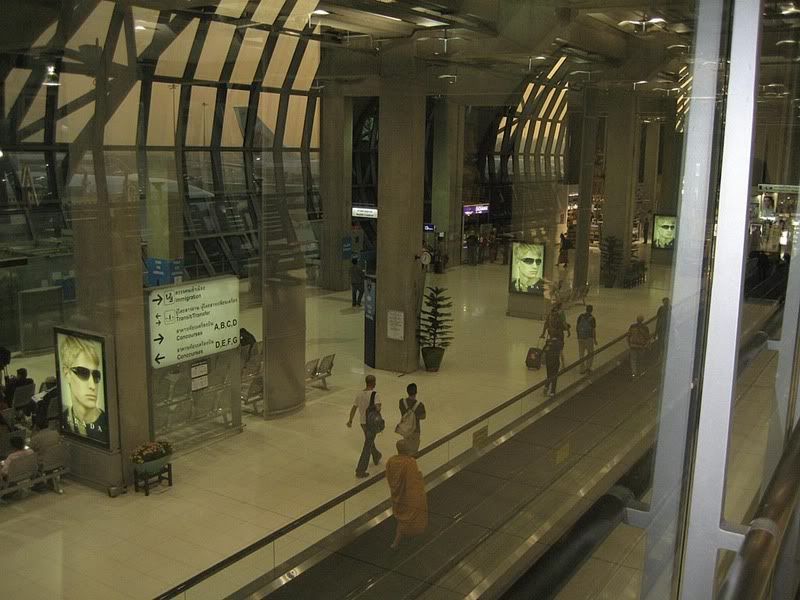 and here is the picture of 'Chaiprakran' which will take us to HKG today. the windows really need to be cleaned! still a lot of aircrafts flying around with old paint scheme...
here you can see A6-ETD, the sistership of A6-ETB which flew me in two days ago...
We were welcomed by two female flight attendants. Something I will never understand: why TG have such colourful seats abnormal arranged and also how much uniforms do their crews have as today all of them had different colours
I took my middleseat next to a Aussie and a business man from HK. Boarding was completed shortly before 8am and almost on time we left our position. I'm not quite sure, but I suppose that we taxied to runway 01L. A powerful take-off, right turn and we already disappeared in the clouds. At this time I I plugged on my iPod and listened to the newest house beats
As we climbed our cruising altitude of 37.000 ft the pilot welcomed us onboard. I was very impressed of his English skill which seemed to be learned in a English-spoken country. It was perfect and the pronunciation was like a Briton. At this time the cabin crew already started their preparations for the breakfast service. What really made me wonder was the age of the crew today. At home we always love to see this cute girls of Thai crews, but for any reasons it seems that all senior attendants of TG were on duty on our flight today.
First they served some drinks from the tray. You could choose between water, orange juice and another juice. After two rows they ran back, backfilled the tray and went on serving. Rather odd as cabin crews usually uses trolleys and go through the aisle. Nevertheless it was efficient and fast.
For breakfast you had the choice between fish, chicken and if I remember correct a pork meal. This was shortly after 8 o'clock in the morning and they served a breakfast like meal on other airlines. For us Europeans this is rather unusual and as I had a good breakfast already I only ate the yogurt and the fresh-fruits. During the breakfast service they refilled your cup twice and even offered coffee and tea. Please forgive me as I forget to take a picture of the meal.
One hour into the flight and somewhere over Vietnam and close to the South Chinese Sea they picked up the trays. At this time my neighbour stood up for the restroom which gave me the chance to take the only photo during the flight.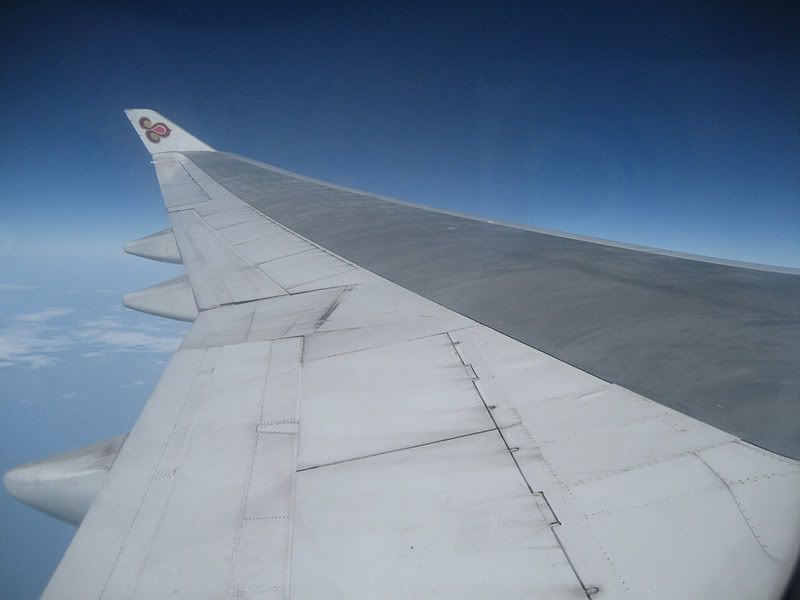 The rest of the flight was uneventful. I kept on listening to my iPod and enjoyed the leg room. Compared to other carriers TG really have a good legroom in economy class. Eventhough I was seated in the middle I never felt too much uncomfortable. Also the descent to HKG and the landing went uneventful. We touched the ground again at 11.27am local HK time and were onblock 12min. ahead of schedule. As I was seated in the middle I had no chance of taking photos of the traffic.
Outside the aircraft we followed the signs to immigration. First we had to walk a few meters and than took the airport train to get to immigration. I only know MAD were you have to catch a train first to get to immigration and baggage claim hall.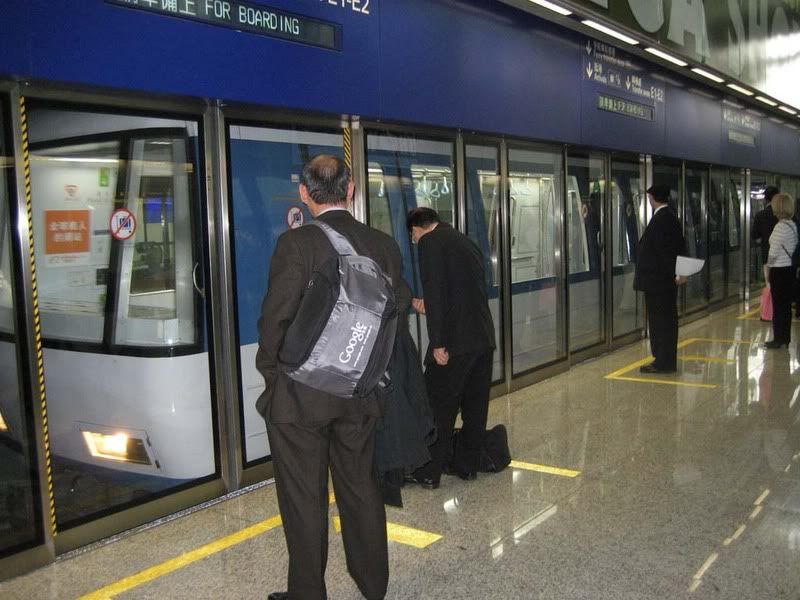 Unluckily another flight arrived before us as the lines at the passport control were extremely long. For sure this took more than 30minutes. I don't want to blame the officers here. They were working extremely fast, but the amount of arriving passenger was basically too much.
I claimed my bags, purchased a 'Octopus Card' and went straight to the baggage storage. The Octopus card is for the airport shuttle to HK downtown and also for the metro. At the baggage storage I left my suitcase and went to terminal 2. There I searched for the SkyPlaza and the Aviation museum. It is a great museum to spend your time between your flights and it is also the place where you can enter the viewing deck. I paid the fee of 20HKD and took the lift upstairs. Woooahaha...!!!! cooooooooooold and windy. On top of the HKIA tower normally you would have a great view of the whole operation. Due to low fog today over HK and 07-operations it was a bad location for spotting. Also my 200mm lens wouldn't allow me any sharp pictures so I spent only 20 minutes there and discovered the airport instead.
Chep Lap Kok is also a great airport like BKK and I think that the most beautiful and modern airport are actually located in Asia. HKG is another example of that work. I also contacted the ticket desk of United Airlines to make a listing.
Finally it was time to pick up my bag again and take the airport shuttle train to Central Hong Kong where I would spend the next days...
Conclusion:
I really wanted to try out CX on this part of my journey, but their flight was full so I went for TG instead. In the end it was also a positive experience and a good chance to fly the 'Queen of the Skies' on such a short flight, but this is very common in this part of the world
Both airports are of a great architecture, modern, clean and state-of-the-art. Something I really miss in Europe. In my eyes even the two most beautiful airports here MAD and MUC aren't that good as either BKK and HKG.
I said before that I loved the legroom and the comfortable seats. The inflight service was good and efficient. I am mainly pleased about the drink service which included three or four cups of your preferences. This is great in my eyes as sometime you only get a drink twice on a 10hrs. longhaul flight! The crew was rather bustling, but did their job very well.
What I didn't like are the colours of the interior and also the restrooms. They were very smelly and not that clean.
If you put all the factors together, from check-in to gate, from airport handling to aircraft, from crew to inflight service, all in all Thai Airways is a very good airline for short haul flights. I can not say this for longhaul flights as I have no experience with them so far. From what I saw they maintain the standard of their own and also from Star Alliance very well.
Thanks for reading my report until the end. Please do not hesitate to comment it.
see you at the next part...
Regards
Ori
[Edited 2007-12-05 17:44:05]