I have read many times on this website and others (yes there are other aviation websites out there) about how horrible US Airways is/has become. The following is my recent experience with US/HP as well as a short flight with 4U.
To start the story off with a story, my brother decided to study abroad in Germany and the rest of my family wanted to visit him while he was over there. At the time when all this travel planning was shaking out, I did not yet know what I wanted to do as far as college was concerned and thought that perhaps I might take my nominations to the US Air Force Academy (that story can be found
here
). That being said, I would not be able to travel over to Europe in the summer because of boot camp. And, since I wanted to visit my brother over there, I decided that I would travel over by myself for spring break while the rest of the family would go over in the middle of July. The plan was that if I ended up not being at boot camp, I would book tickets to go again in July. I will write the spring break report later.
Well, I decided not to go to the USAFA and had to book tickets for July. The routing that I had booked for the rest of my family was ORD-CLT-FRA;ZRH-PHL-ORD on US Airways. Now that was way back in November when I booked it, so in March, when I wanted to book myself, the price had gone up. After quite a bit of figuring, I found that I could go ORD-CLT-PHL-DUB;ZRH-PHL-ORD for cheaper than my parents original tickets. I would then catch a cheap flight on Aer Lingus or Ryanair from Dublin to somewhere in Germany or Switzerland and meet up with the rest of the family. I ended up with a cheap flight on Germanwings to CGN. With this itinerary, we could all be on the same first flight, and we could come back on the same flights, so it ended up not being too bad. I could have gone directly from ORD to PHL, but since it didn't cost any more and this is ANET, I took the double layover.
Cut to day of departure. Around this time, there were quiet a few reports detailing very negative experiences with US, so I went in preparing for the worst. OLCI at 5 in the morning proved to be most useful, as I was able to nab bulkhead seats for my first two flights and an exit row for the hop across the pond. I know a lot of people hate bulkhead, but then again a lot of people also hate DC9s and connecting flights (both of which I love). A quick zip down to ORD from MSN put us in terminal two in no time.
After a mandatory stop at the Berghoff, we were off.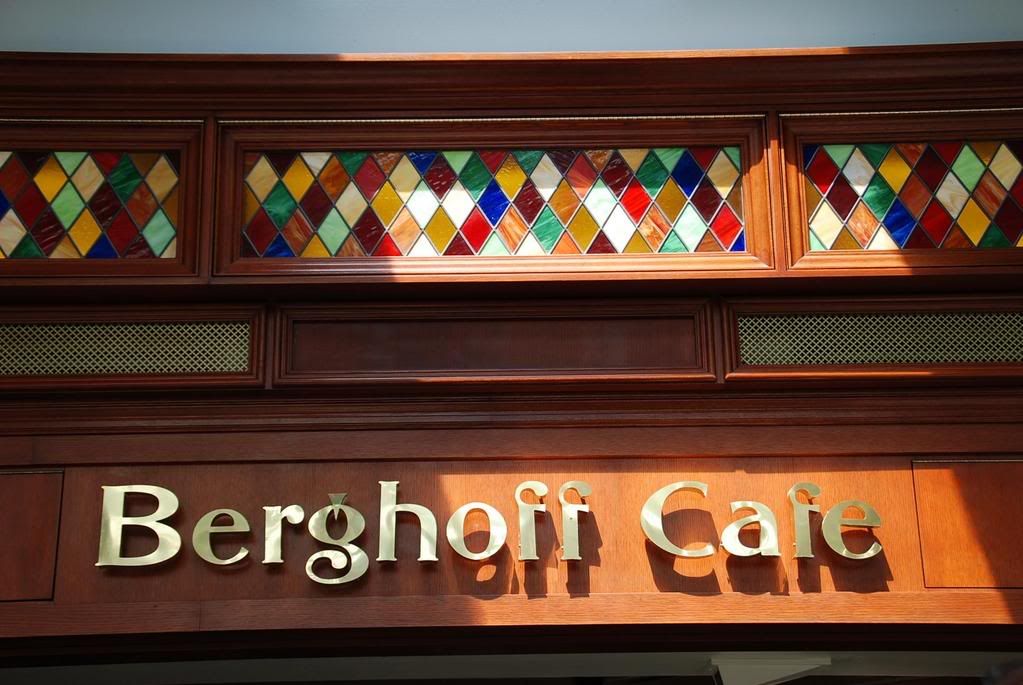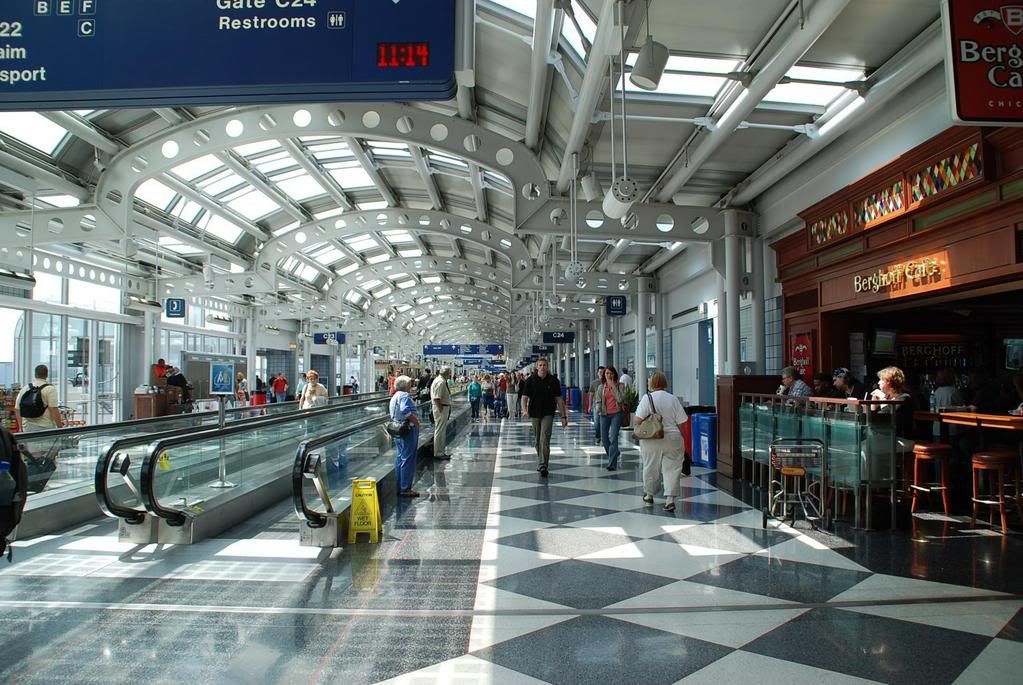 Flight 1
ORD-CLT
US 1872
Seat: 5F
737-000
We arrived at the gate to discover that the flight was delayed. I think it was because of a delayed aircraft, but passenger incompetence helped to lengthen the delay. There's not really all that much to say about the flight other than we dodged so nice looking towering cumulus clouds. The flight was very smooth and the flight attendants friendly personalities helped me to forget that the flight was even delayed.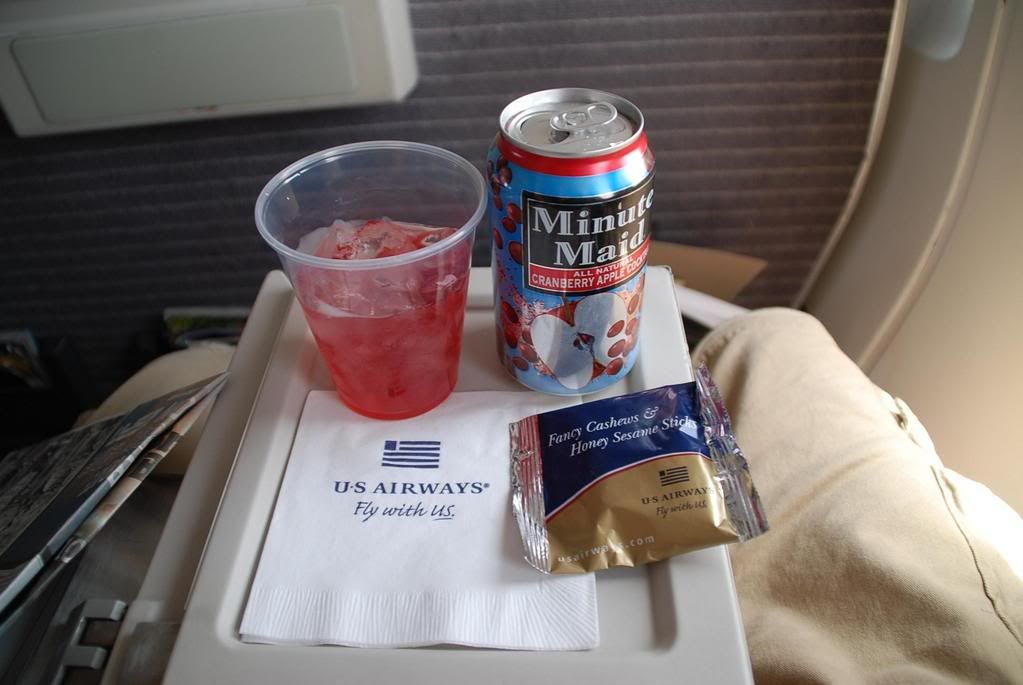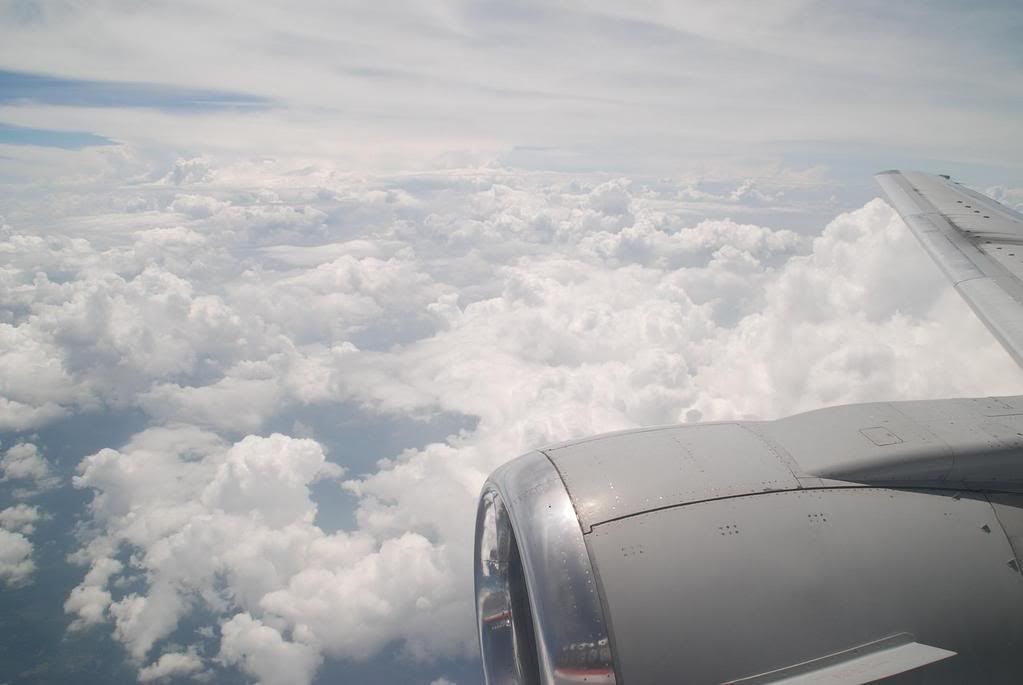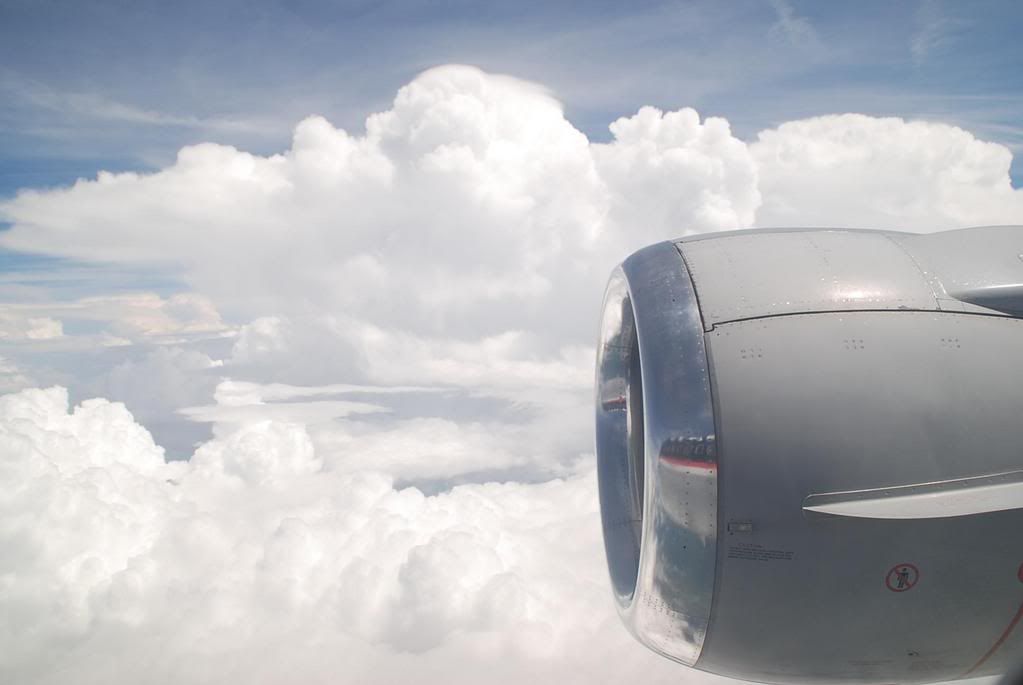 And soon enough, we arrived in a balmy Charlotte. My overall impression of the airport was very positive. The terminals were clean, albeit crowded, and all the staff were very friendly and polite. I saw the rest of my family off as they boarded an A330 bound for FRA and proceeded to wander around the airport. Shortly after their flight pushed back and took off, it began to rain. I didn't think much of it. I went to the gate for my flight up to PHL, and soon thereafter, boarded the plane. The plane was supposed to be a 757, but it was swapped to a 737. Oh well, my next flight was to be a 757 anyway.
Flight 2
CLT-PHL
US722
Type: 737
Seat: 5A
As I sat down and got situated, the rain really began to pick up.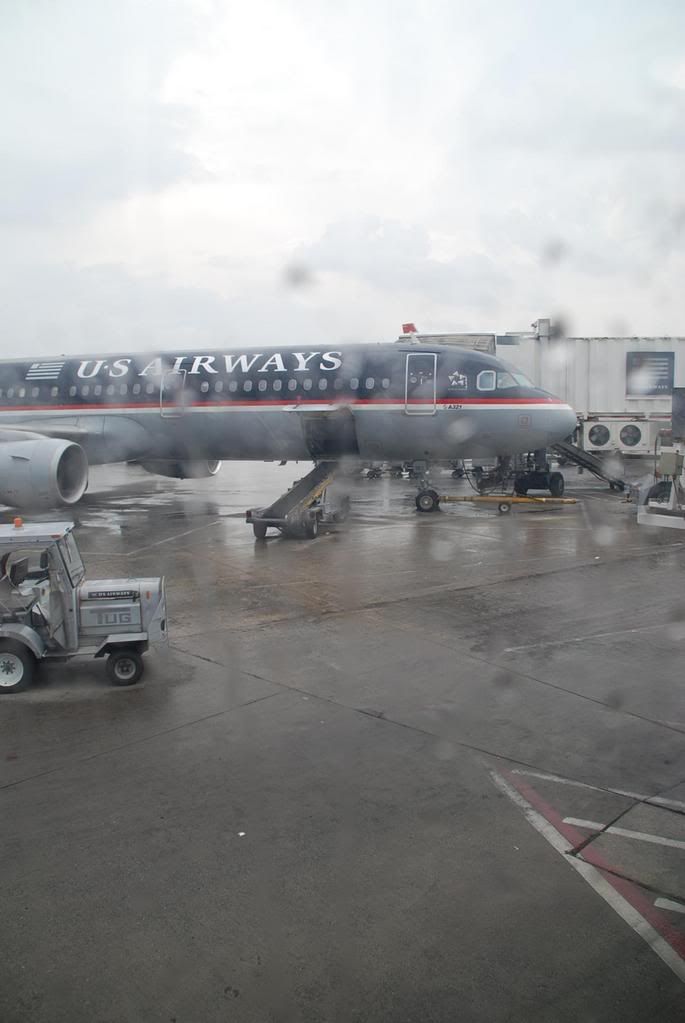 We pushed back slightly late and began to taxi. Just then, I saw a streak of lightning very near the airport. I knew we would be sitting on the taxi-way for a while. The captain came on and told us we would have to wait this one out. By this time, it was a full fledged thunderstorm.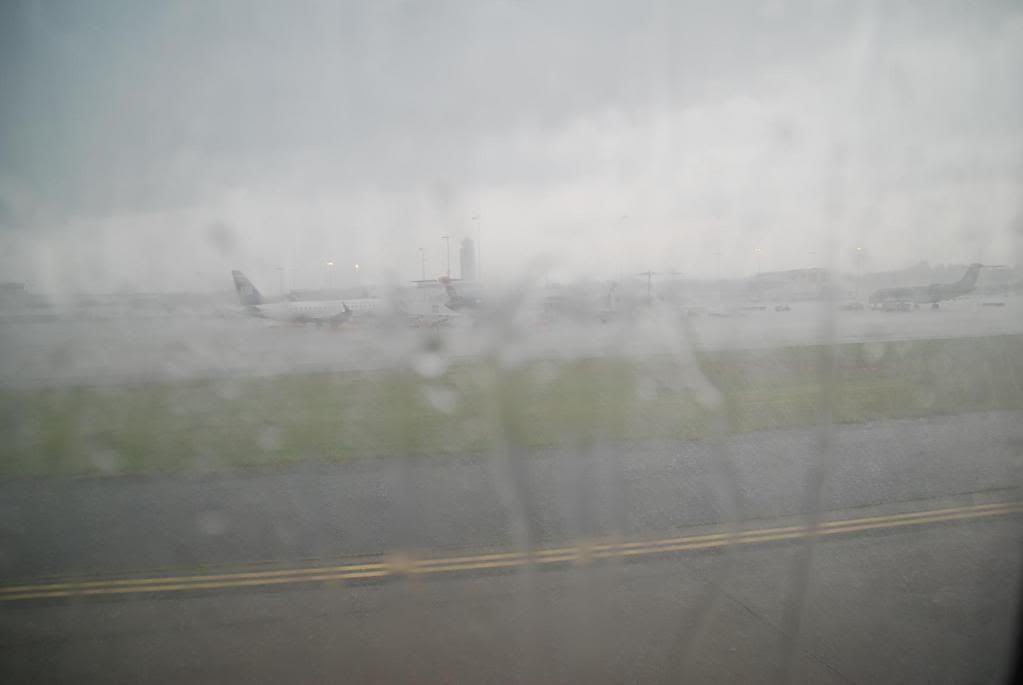 I kept checking my watch, as I was scheduled to have only a 45 minute layover in Philly. The time of guaranteed missing my flight came and left without our 737 budging an inch. I just hoped that PHL was getting a storm as well and that they would be equally delayed. With about 30 minutes until my next flight was supposed to leave, we spooled up our engines in CLT and took off into a stormy evening sky.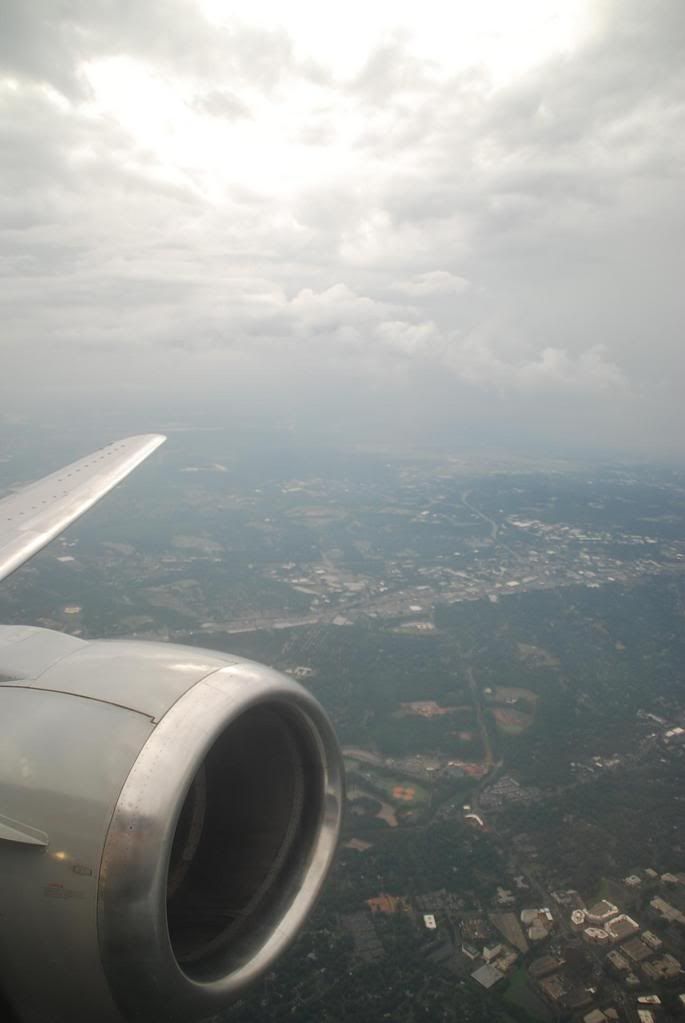 We got up to an altitude where there was a dark grey layer of clouds above us, and this picture does not even begin to illustrate how cool it looked.
I was in for a treat as far as scenery was concerned. Waiting through that thunderstorm was well worth it.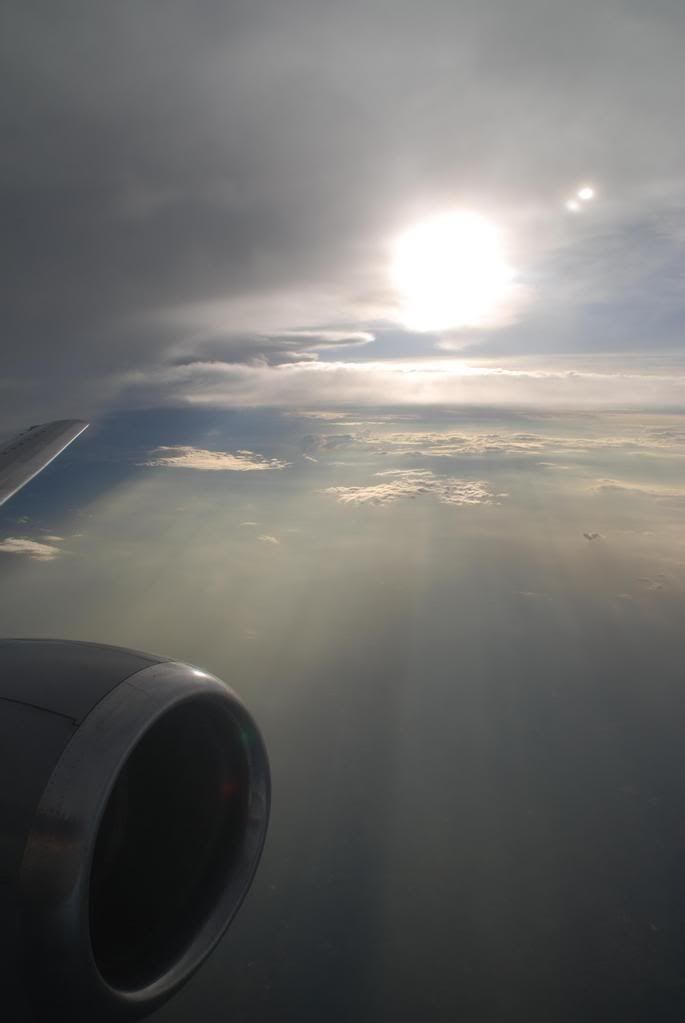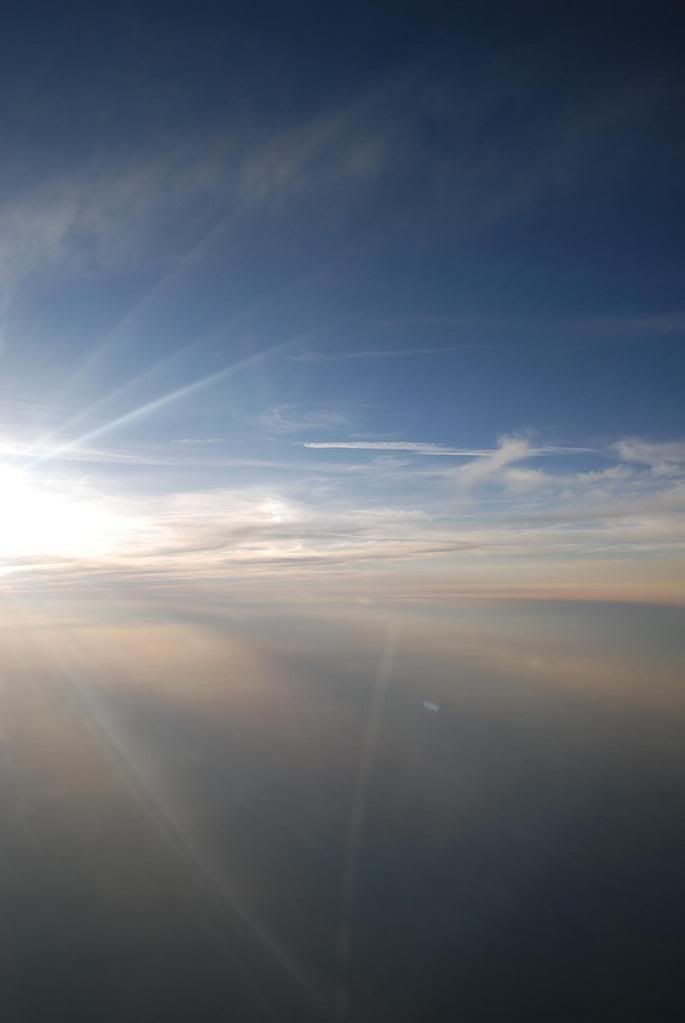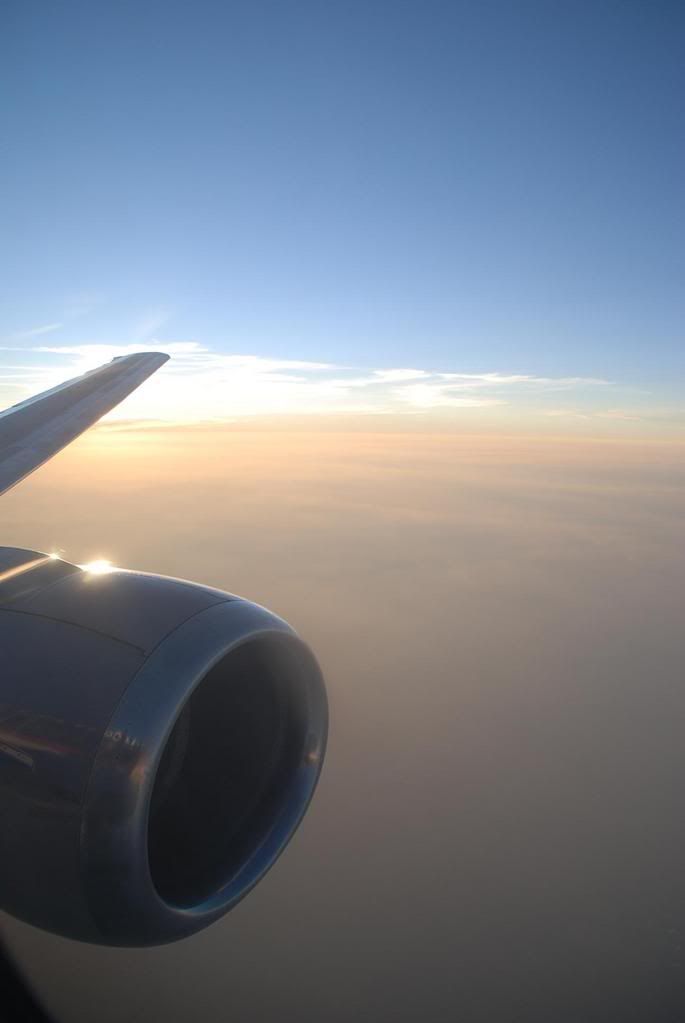 After enjoying God's creation from above, we descended down into PHL.
It was about this time that the guy sitting next to me started making really obvious throat clearing noises to indicate that he too would like to look out of the window. I realized that I was hogging both windows. The one next to me was all scratched, so I was leaning forward to the forward window.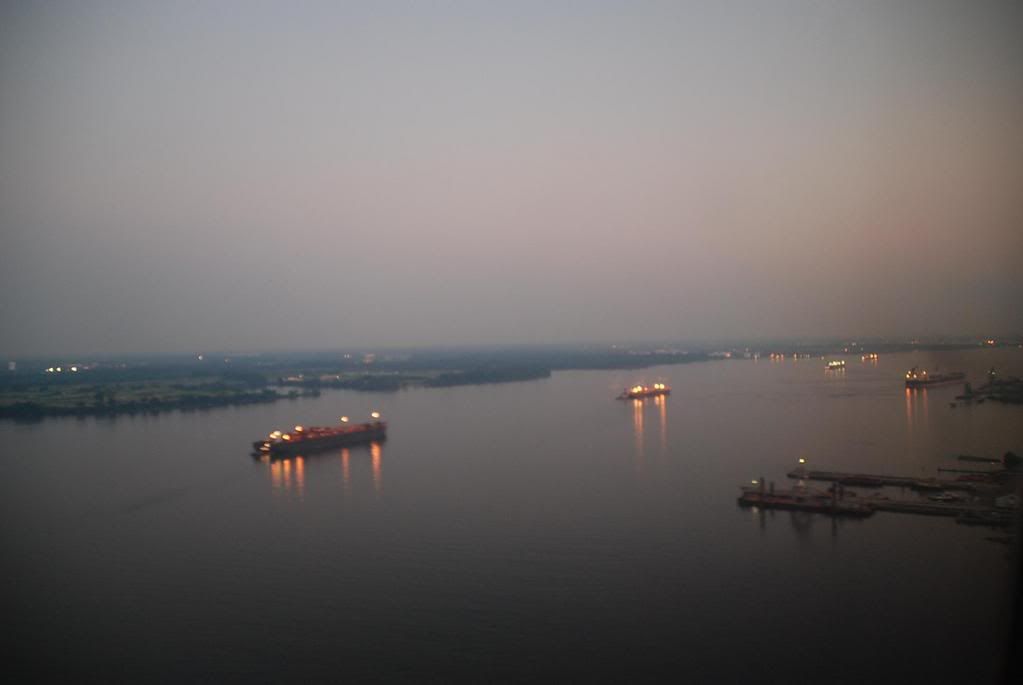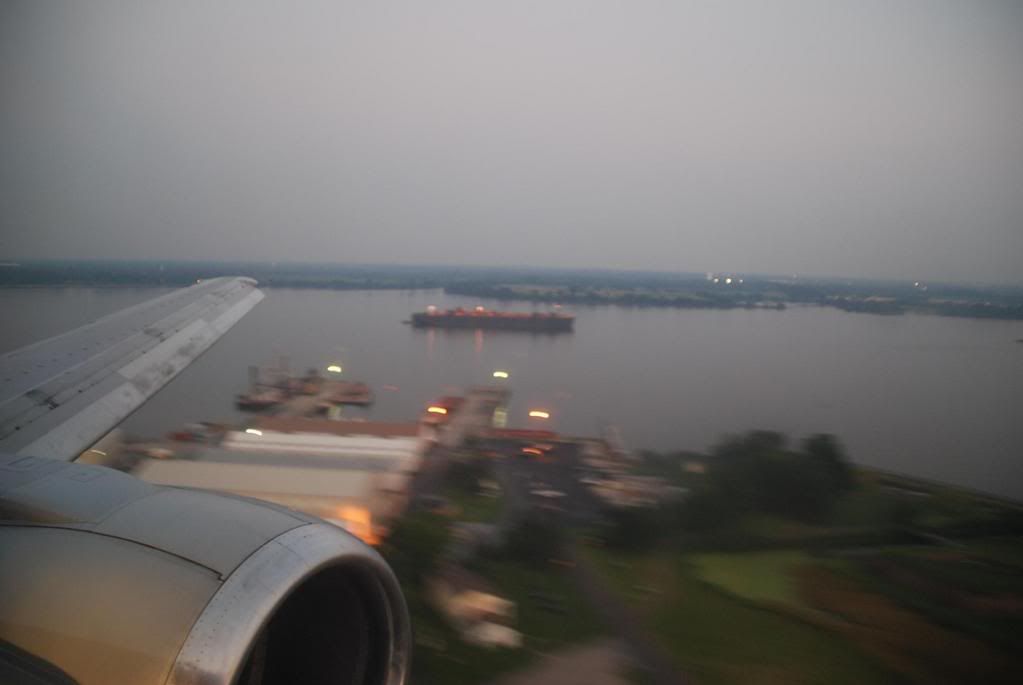 And pulled up to the international terminal; next to a Europe bound A330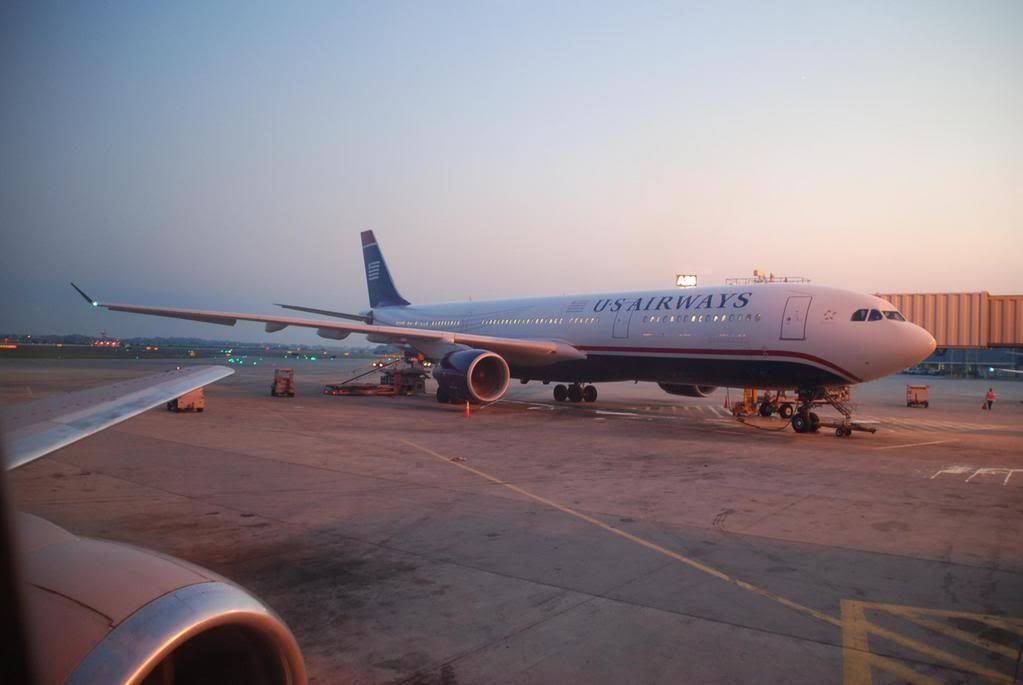 Needless to say, we got to the gate about 30 minutes after my flight to DUB was supposed to have left. Since we pulled up to the international terminal, I was thinking I wouldn't have to go far to see the screen that said I missed my flight. To my surprise, I saw that my flight was leaving out of the A East terminal from gate A3. When I got there, I was confused because the gate was decked out with AA decoration. The flight screen even had the AA logo scheme thing on it and was showing a picture of an MD80, but displaying the info for my flight to Dublin. It did not say if the flight had left yet or not, so I went up the counter and inquired. The GA informed me that the flight was delayed, and I could still make it on. In fact, they hadn't even boarded yet.
Flight 3
PHL-DUB
US722
Seat: 24A
Type: 752 (winglets)
We began boarding at around 10:30. The doors closed around 11, and we taxied out to the runway. We went position and hold. The engines roared to life and I was pushed back in my seat; that ever so wonderful feeling of a 757 takeoff. Then, just a quickly as it had started, it stopped. Thrust reversers were deployed and the captain slammed on the brakes. He exited on the next available taxiway and did a 180 back to the beginning of the runway—no announcement made! We got back to the beginning of the runway, and were cleared straight on for take off this time—no messing around with holding position. Once again, I was thrown back in my seat, and once again, he reversed the engines and stopped us. This time, as we pulled off of the runway, the captain made an announcement that the fuel had been loaded incorrectly and was throwing the balance of the plane off and that we would have to go back to the gate to get more fuel and even it out.
After rectifying the situation, we rocked off into, what was by that time (12 something), the very early morning sky. Supper was efficiently distributed and Blades of Glory was started. I opted to get as much sleep as possible. Here are some pictures from the flight and my incredible amount of leg room in row 24. I had three seats to myself, too bad the arm rests are fixed in position.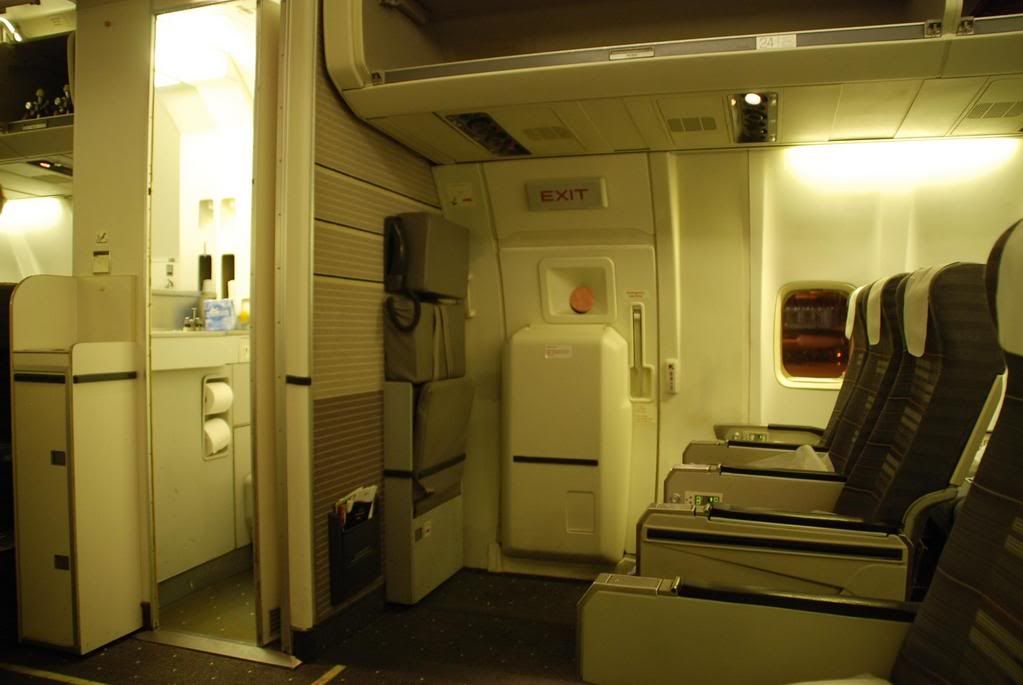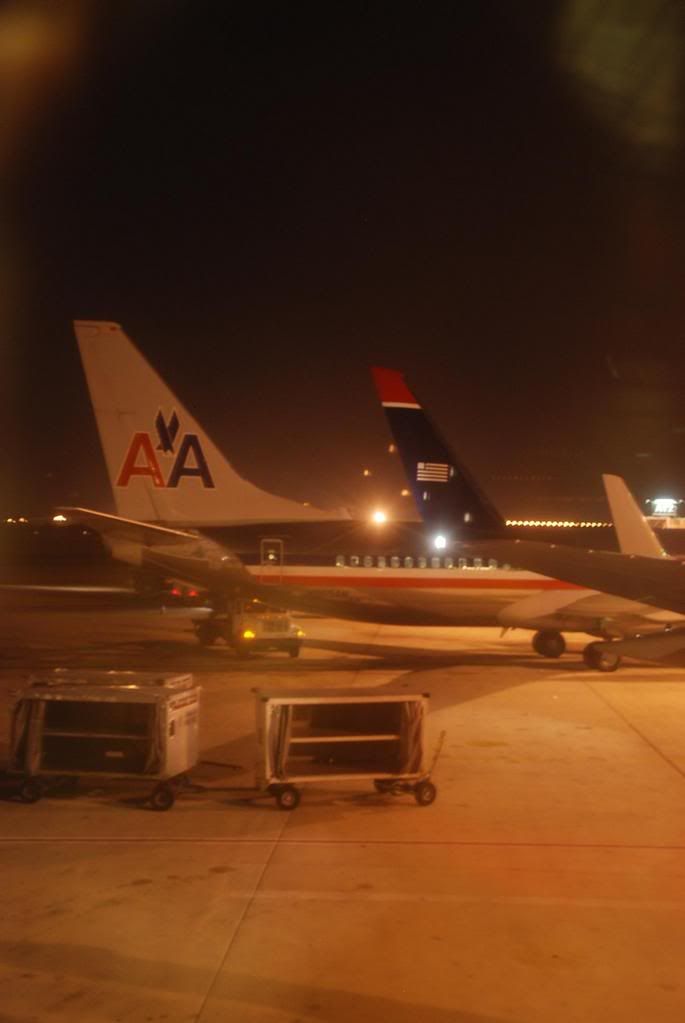 New York City at night is quite the sight, too bad it was so blurry/reflective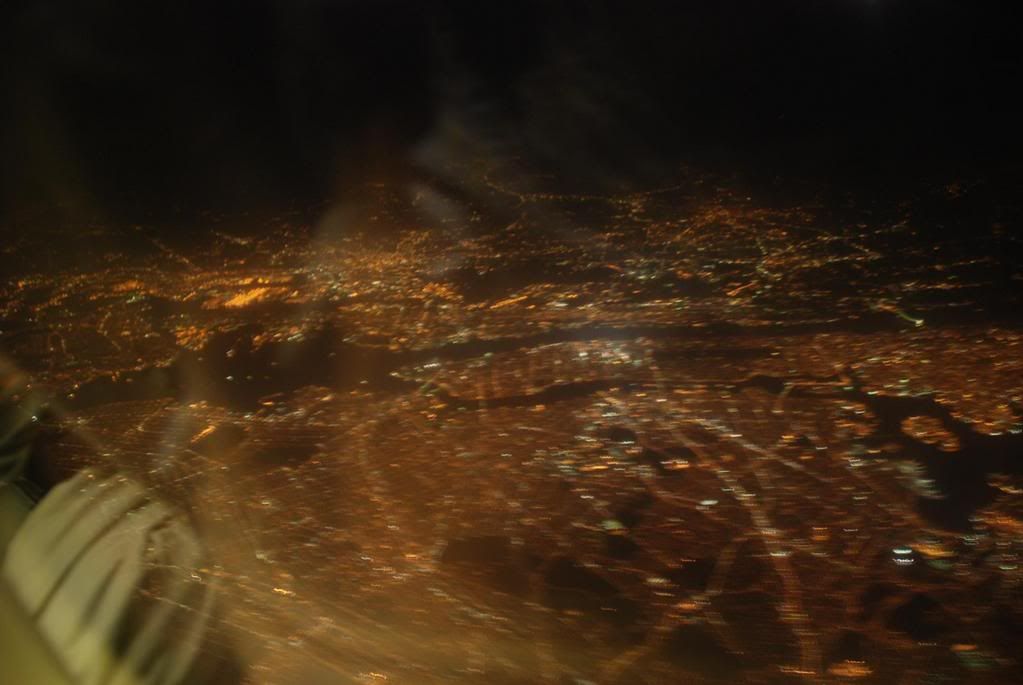 I awoke somewhere over the North Atlantic and couldn't stop staring at that beautiful winglet.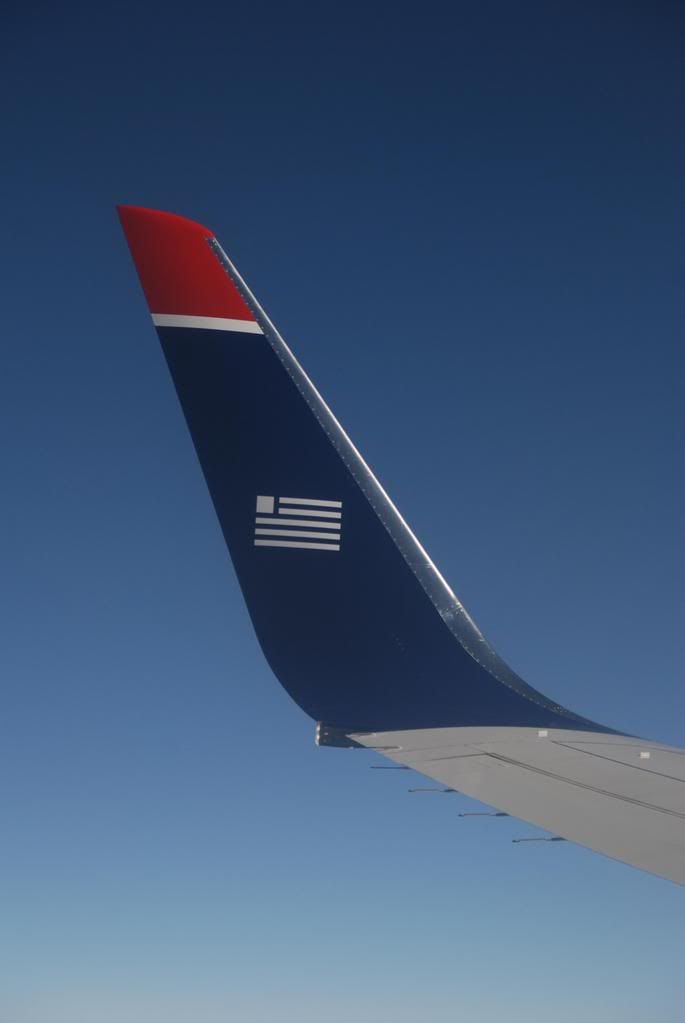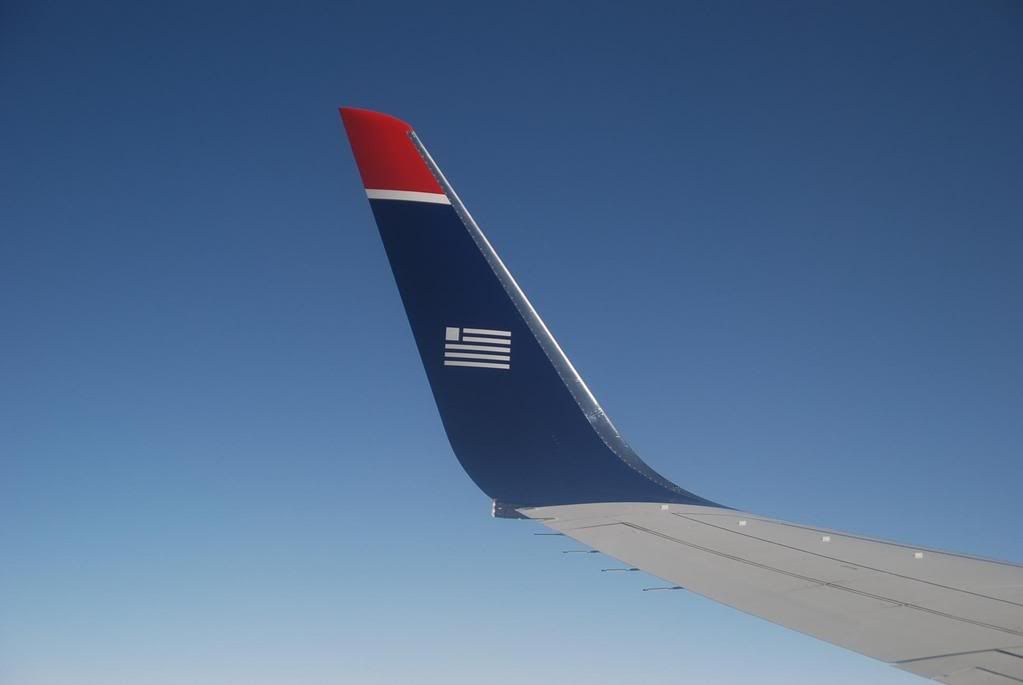 Shortly before we began our descent, "Breakfast" was served.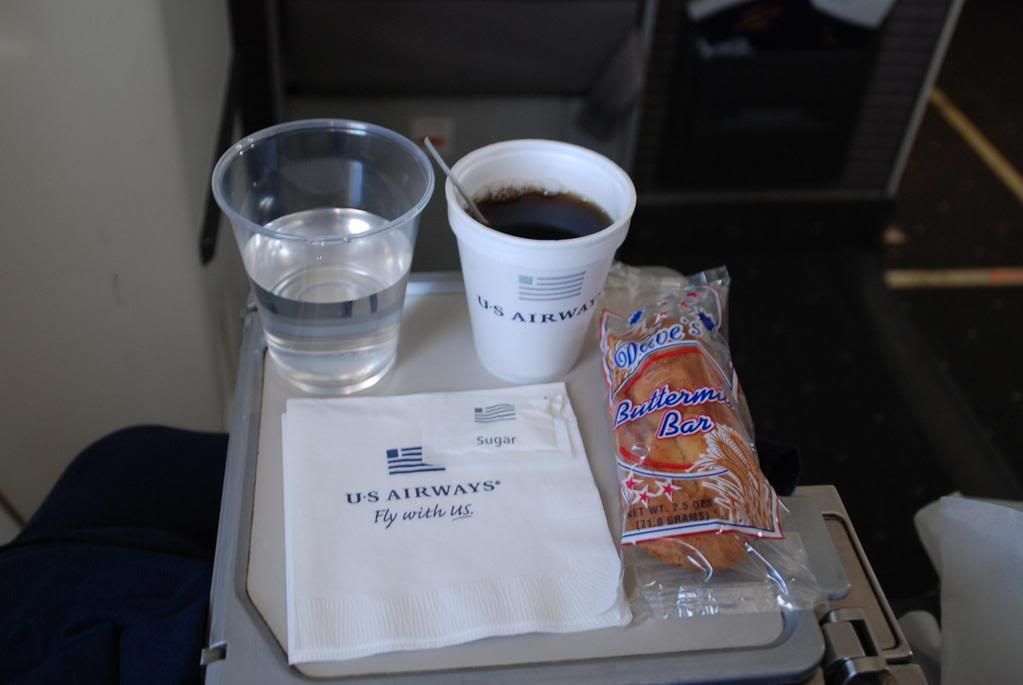 The reason I didn't have any pics from the take-off/climb-out or from the descent/landing was because one of the FAs sat in the jumpseat a few inches in front of me and he made it clear that I had to put my camera away. I tried to pretend like I didn't hear him and just put the case away and set the camera on the seat next to me, but he insisted.
Arrival in Dublin was beautiful and I wished I could have spent some time there. Arrival in Dublin was also 4 hours late. After running through immigration, I made my way up to the departure hall to check in for my Germanwings flight to CGN.
Upon arriving at the counter, I found that the flight was already closed. I went over to the service counter and talked to some lady with a radio who called "Robbie" to see if I could still get on the flight. "Robbie" determined that I was to be allowed to check in. I was handed a boarding pass and my luggage was taken from me. I was instructed to hurry to the gate as quickly as possible.
The gate area proved to be a chaotic mess. The plane had not yet arrived, but all 130 people were crowded around the podium in hopes of being the first one on the plane. I came to find out that Germanwings has open seating and it is on a "first shove to the front of the line, first serve basis." I know people call Southwest boarding a cattle call among other things, but those people have obviously not been in line with a bunch of eager Germans. Everyone was sticking their arm out as far as the could, holding their boarding pass, hoping that the gate agent would grab theirs. In all the time that I have spent in Europe (about three months), I have found that people rarely respect lines and shove their way to the front—I guess it's a culture thing.
Needless to say, my late arrival on the scene meant that I was one of the last three people to board. I was thinking, oh great, the only seats that will be left will be in the very back in the middle. To my extreme surprise, seat 1D was open. I figured I would not get a window, so I took what I could get. I remembered that Airbus windows are small, but I forgot that they were THAT small. I have noticed that with the A380 also, the windows are tiny.
Flight 3
DUB-CGN
4U 397
Seat: 1D
Type: 319
The flight was very smooth and I was very hungry, so I ordered one of their package deals. It was better than nothing.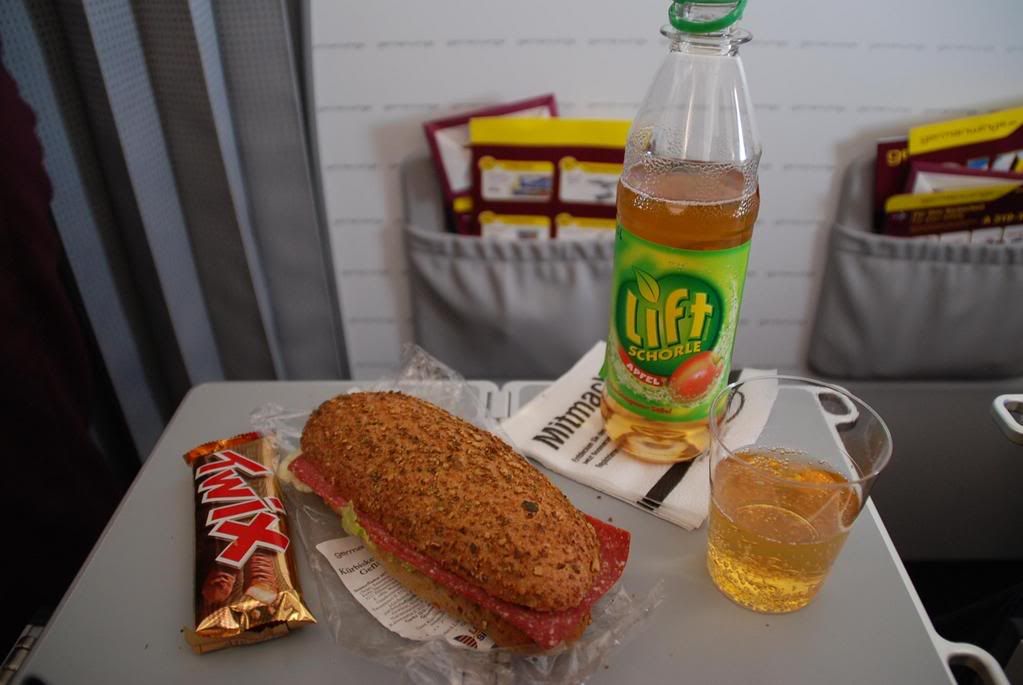 I have a ton of pictures from Germany and Switzerland, so I will post a few here.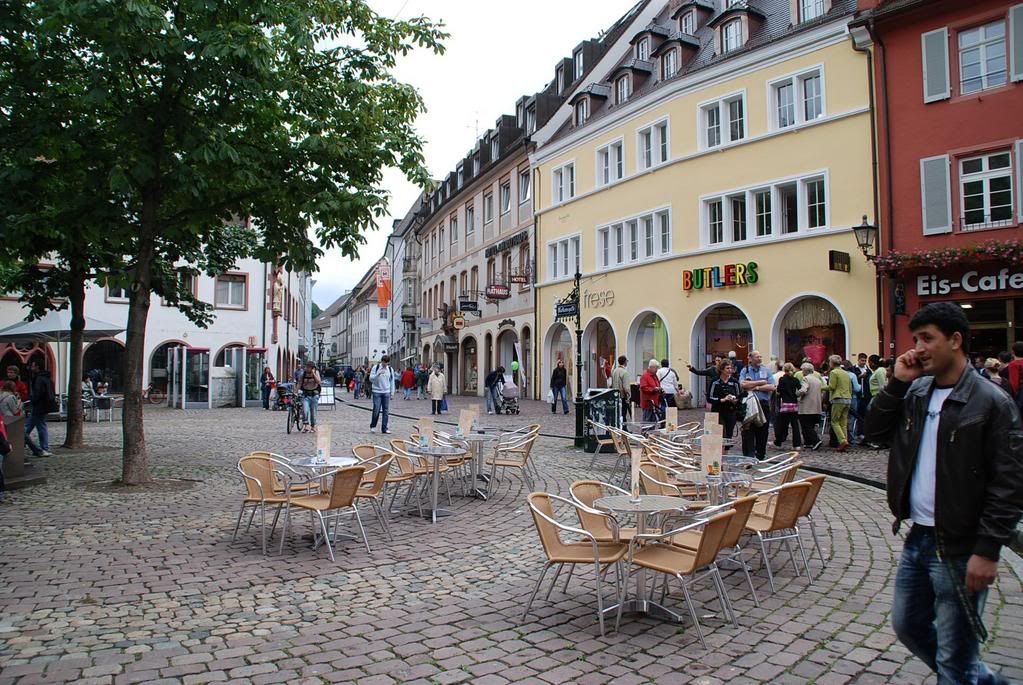 Freiburg is a sister city of Madison, so that was pretty cool to see the capitol.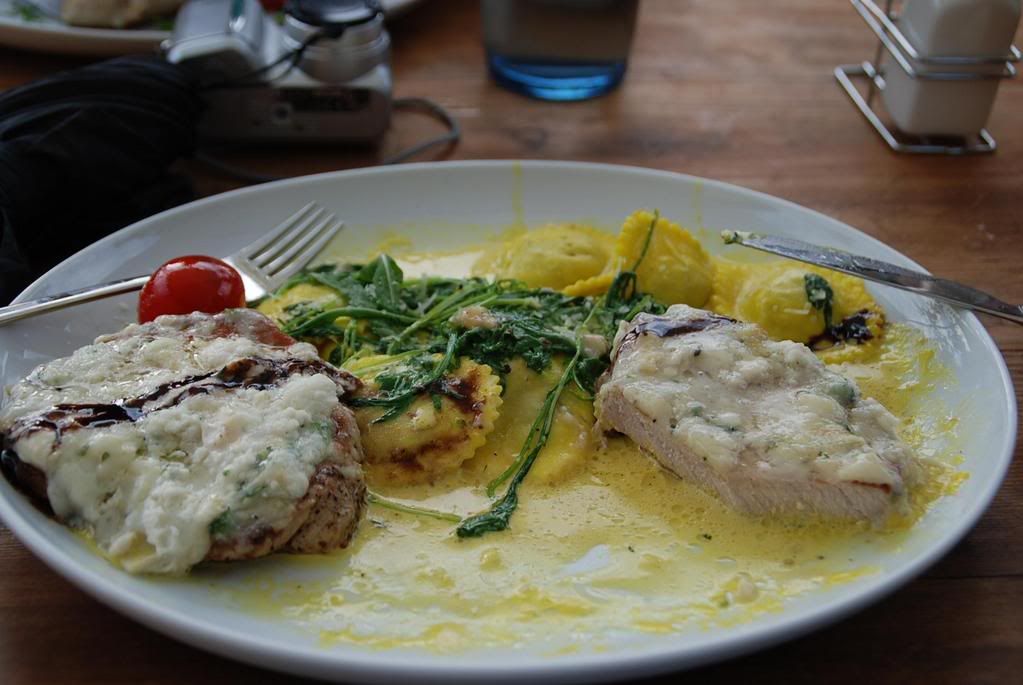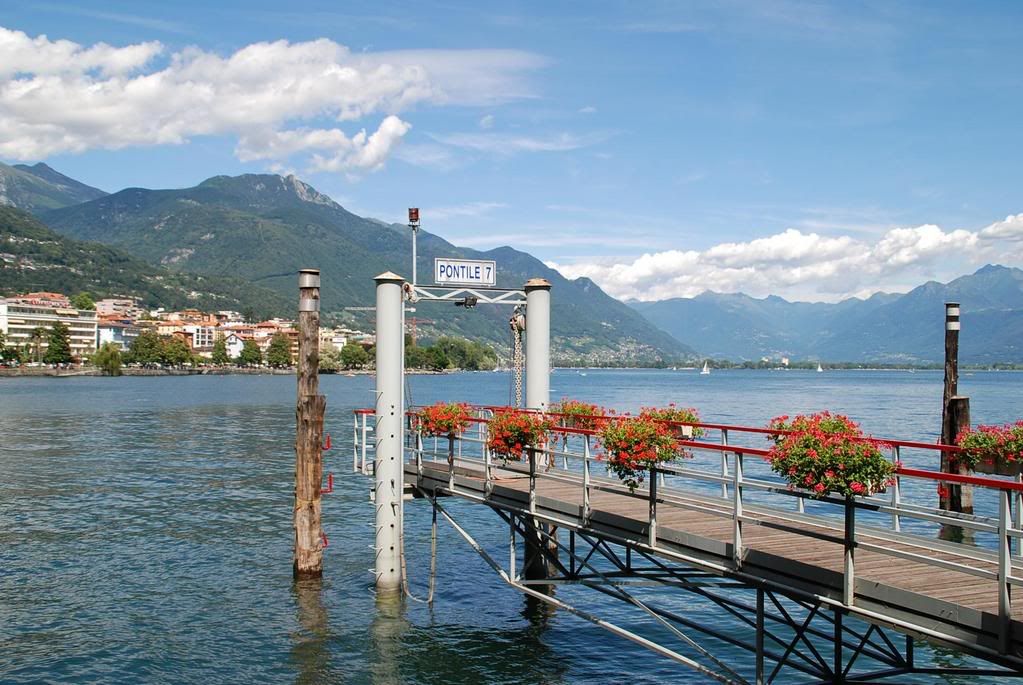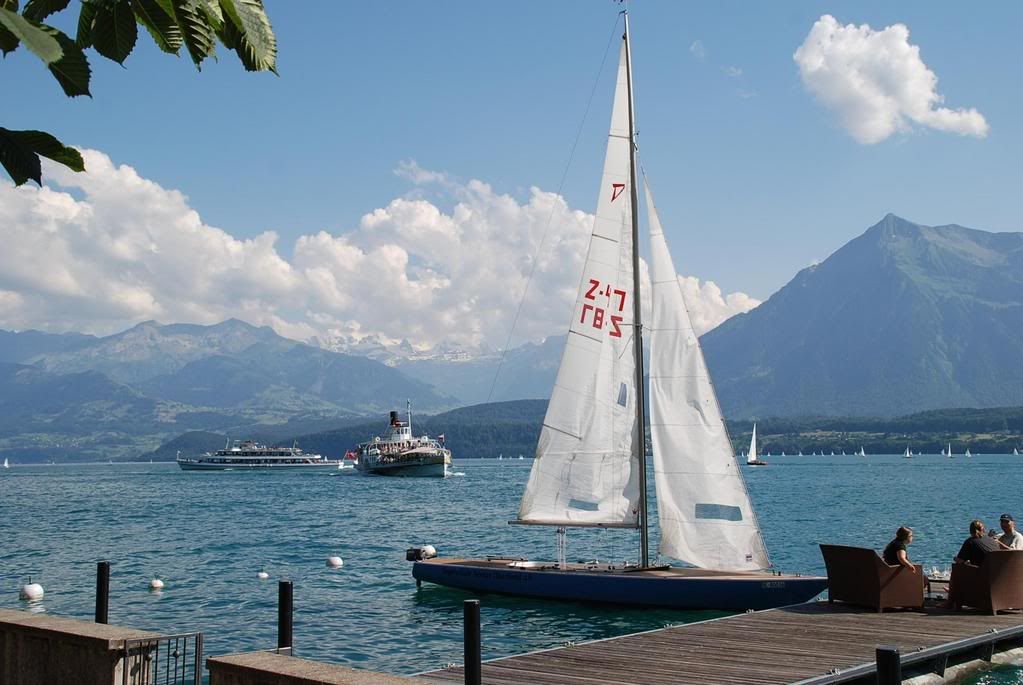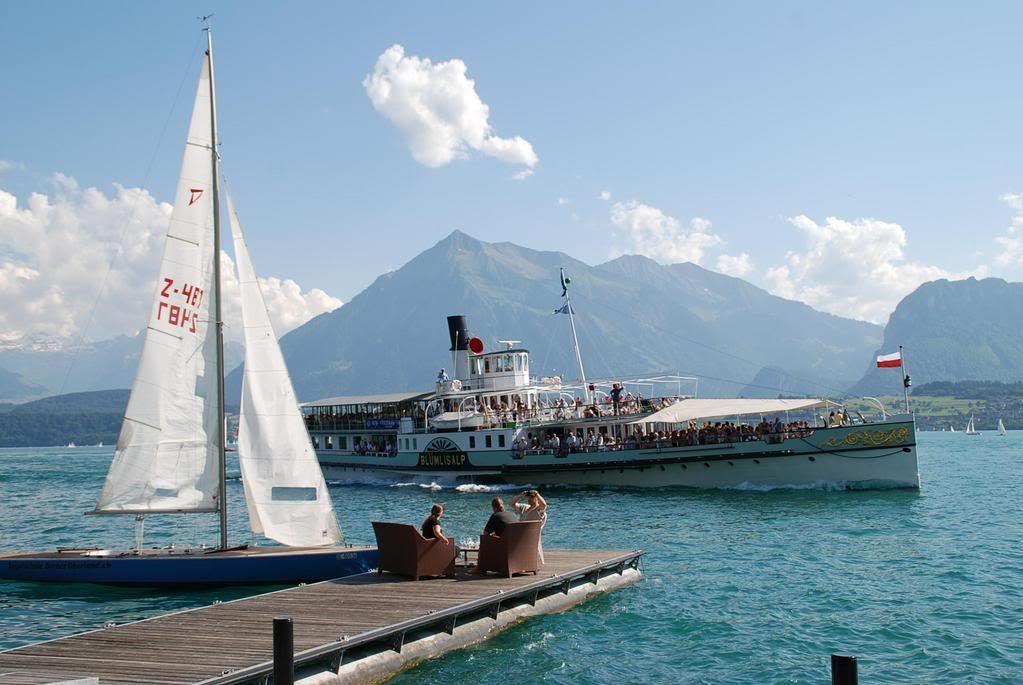 If you have ever wondered which north face all of those "North Face" jackets are referring to, look no further than the north face of the Iger mountain, as seen from my relatives back porch.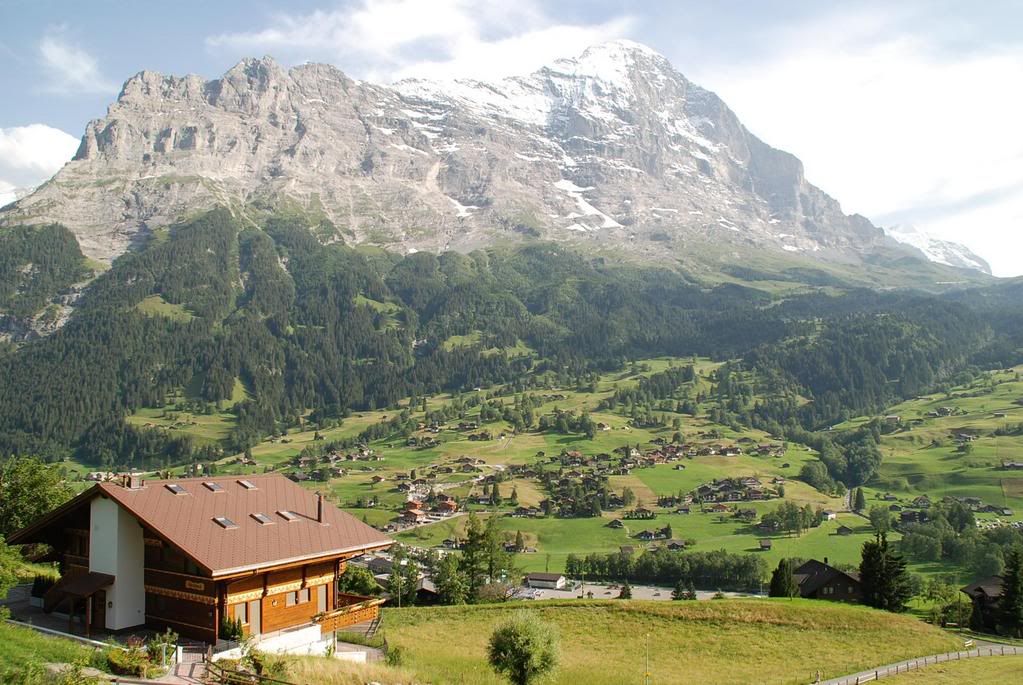 If I wanted to see cows, I would have stayed in Wisconsin. The mountains on the other hand…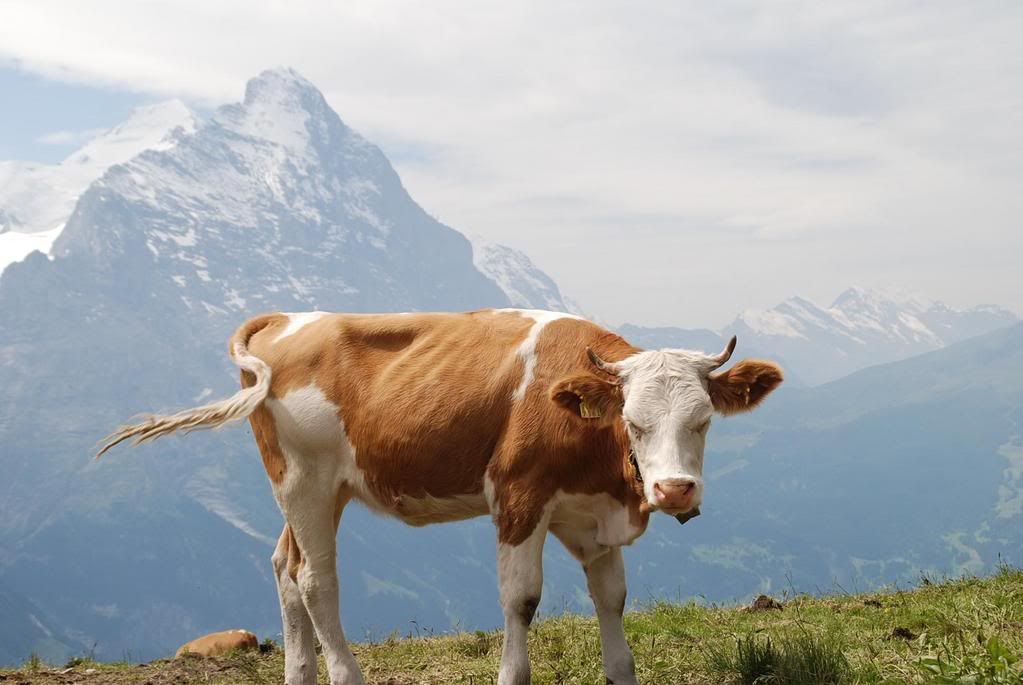 I am slowly coming to realize that I will not be able to post my return trip on this post for sheer number of pictures/length and I will do it in part 2 in a week or so. I hope you enjoyed reading and seeing what you have up until now, and please stay tuned for the second half of this report.
Overall, my experience with US was great. The flights were all delayed, but for some reason, it didn't bother me in the least. It was nice that a non-elite could get bulkhead and exit row seats without too much trouble and do so online. I can get virtually any seat I want on NW, but I have to get to the airport super early, which is not that big of a problem, but still. I will have more to say in the second half of this report.
As far is 4U is concerned, they are a great airline and I could highly recommend them. The seats were comfortable and the cabin clean. Nothing really bad to say at all.
Well, please stay tuned for my flights back to the States as well as pictures of spotting at ZRH. I hope you all enjoyed the read and will post any feedback you can (positive and negative)