Good day A.netters!
This is probably my last trip report of this 2007 with high hopes of having more to write in 2008. This year has been full of express trips around Mexico and the US. So now it was the turn to have a longer trip but WAY much active than the others.
This time destiny took me and my friends to Atlanta. Atlanta was the city chosen for the Southern Region Oirechtas which is an Irish Dancing Competition that gathers all US Southern States from Texas to Florida and up to Washington D.C. In Mexico we have only a few irish dance schools so that's why we are considered part of the US Southern Region.
We bought the tickets with a month and half of anticipation. The fare was excellent ( 268USD w/taxes) as Aeromexico was restarting the route to Atlanta.
MEX-ATL
Aeroméxico
Flight: AM636
Depart: 9:25 /9:30 (Scheduled/Actual)
Arrive: 13:45 / 13:55 (Scheduled/Actual)
Duration: 3h 25min
Equipment: Boeing 737-700
Reg: XA-HAM
Cabin: Business/Premier
Seats: 1A
Seat pitch: Pleasant!
Load: 30%
Gate: 34
Departure Runway: 5L
Arrival Runway: 9R
The alarm went on at 5 am, time to wake up, shower and get ready for a long day. My mom wanted to be at the airport at 6 am, but at that time we were just loading the bags to my dad's car. The ride to the airpor took us around 30 minutes as there was no major traffic at that moment. We arrived to Aeromexico's check in counters where we found my friend and his mom ready to check in as well. Check in was "fast", few people in the line but a bad attitude from the Aeromexico agent. She was basically doing us the favor of checking us in and almost calling our attention for being talking in front of her. Not the nicest welcome.
Dramatic Squirl @ Aeromexico's counters
Arrival level
Immediatly after checking in and getting our boarding passes we went straight to the fast food zone to take breakfast as we knew we couldn't expect too much from what the airline could give us. Other friend and mom joined us and we were there for around an hour and a half waiting to go into the gates.
Getting our hornpipe shoes ready...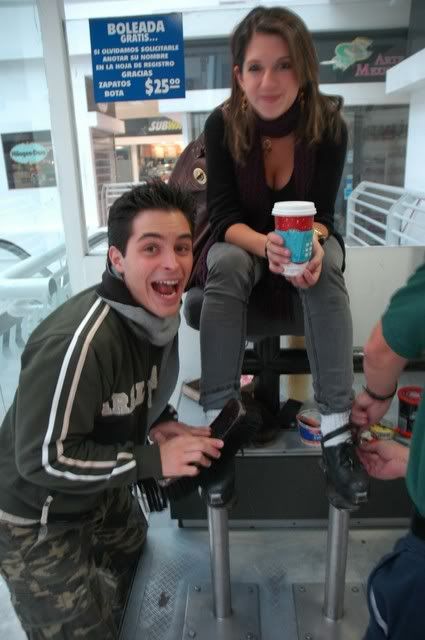 Security Checkpoint
Going to our gate and agreeing with Tiger:
After going through security we noticed we had to go to Gate 19...What a surprise. Fortunately our wait at gate 19 was minimum because the gate for our flight was posted after some minutes. We had to walk all the way to Gate 34 which took us around 12 minutes. After settling down infront of the gate, I took the opportunity to look around the duty free and buy some magazines for the flight. Some minutes later the gate agent called my mom to the desk...they forgot to write down her passport at the check in. Rude and not that efficient agent huh?
I was deciding between buying a tequila or a huge rum bottle when they called us for boarding which was a breeze as we were very few passengers for the flight. Even with the unpacking/packing of your bags by the police before entering the aircraft. They were very polite and talkative which was a plus contrary to other experiences.
At the aircraft we were greeted by very polite FA's.
The whole row to myself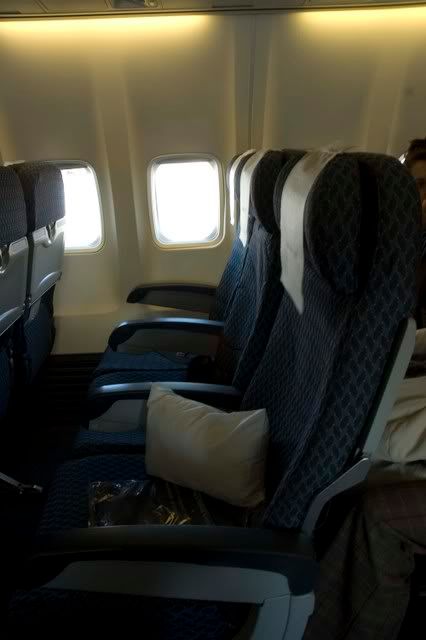 Empty Aircraft
One of my friends with her mom were at row 8, the rest of us were at the row 20. After settling at our seats, I went with one of the FAs to ask who was going to be the pilot for the flight. The conversation went like this:
Me: Who's the pilot for today?
FA: Oh it's Cpt. jflsfjksl
Me: Really? We all used to dance with his daughter.
FA: Wow, i'll let him know.
5 minutes later
FA: Who comes with you?
Me: Well... this three over here and...
FA: No more, you're going to be upgraded.
Me: huh??
So my mom, my friend, his mom and me were upgraded to Premier as there was no one else on that cabin to fill the seats  
We had a row each which made it an excellent way to start our trip to Atlanta!
Still surprised about the upgrade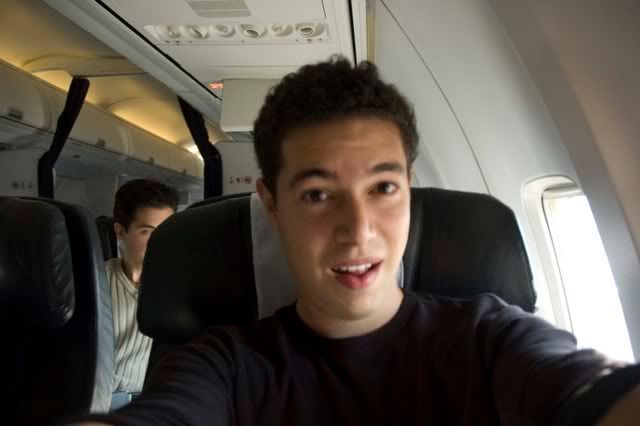 Taxiing to runway 5L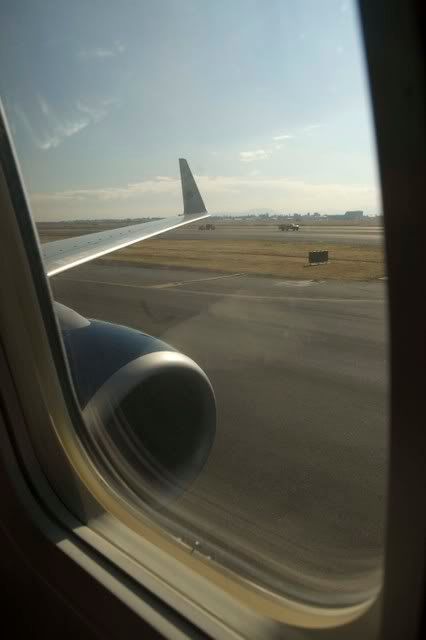 Welcome to Aeromexico
No bags on the way please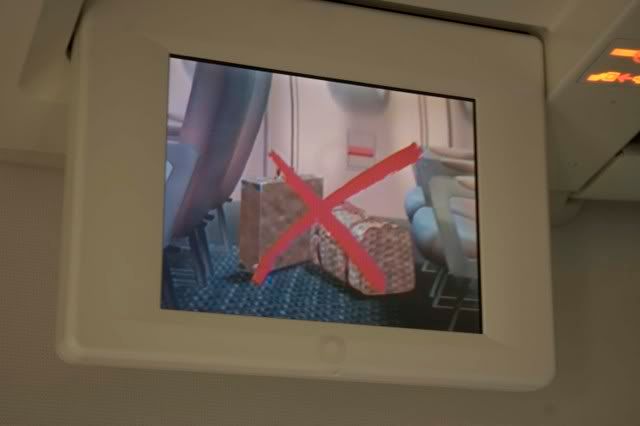 After 10 minutes of taxiing it was our turn to takeoff.
Goodbye Mexico City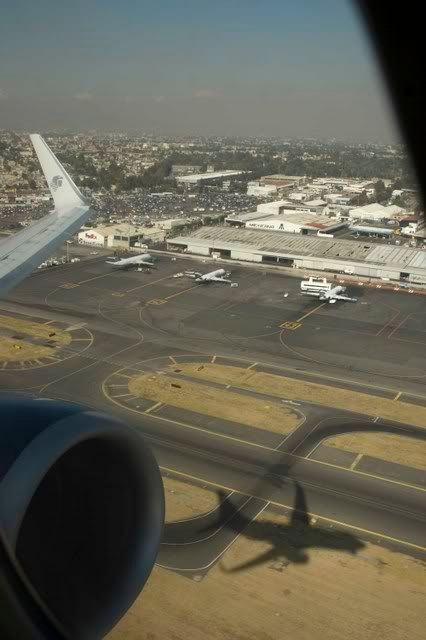 Some aircrafts on the ramp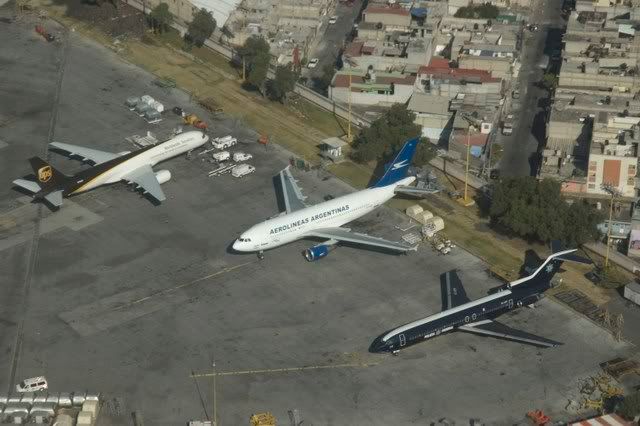 Some minutes after takeoff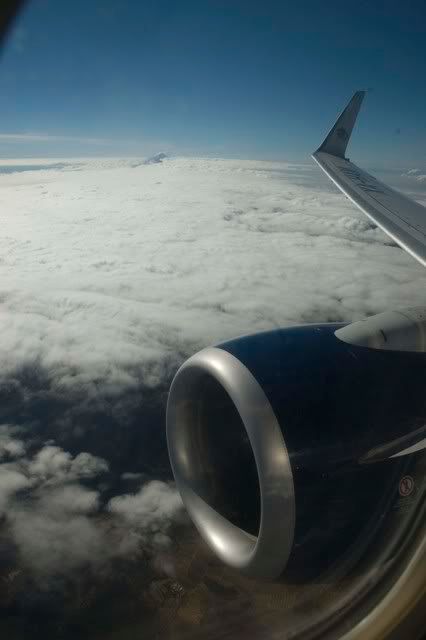 Premier Seats
The seats were very comfortable with not too many features to talk about. Although for sleeping I think I'd rather have my 3 seats.
Around one hour of flight, breakfast was to be served. As we imagined, breakfast was only a dish full of fruit with a small muffin and a yoghurt. For my dissappointment the bar was not opened during the flight as I think it was too early. The pursuer took my as a fool when I told her it's never too early in the day to drink at least a beer. After crying like a baby for 10 minutes because of the lack of alcoholic substances in me I had more than enough of that WONDERFUL coffee the FA were serving.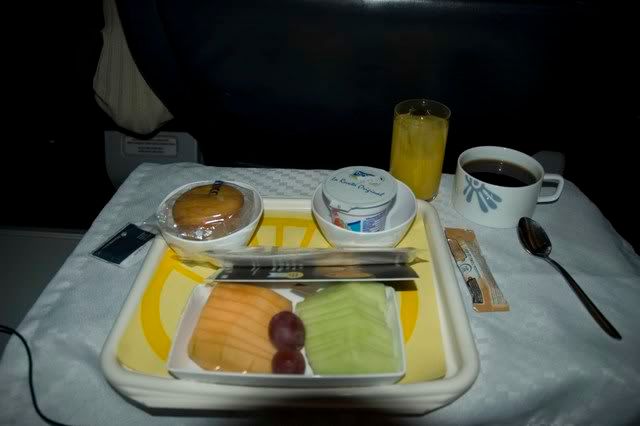 During breakfast a weird tv show was presented on the tv screens above. After that the movie with Catherine Zeta Jones "No Reservations" was shown. Time magazine & Newsweek was far more interesting for me...At least until the time I turned my Ipod with "Hoy no me puedo levantar" soundtrack and fell completly asleep with Newsweek as my pillow.
After waking up I went to chat with the FA until it was time to land.
Welcome to Atlanta!
Tallest ATC Tower
Our Arrival Gate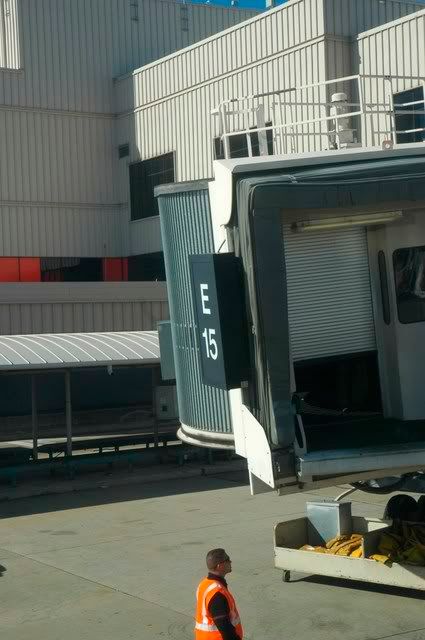 After stepping down to the aircraft we had no ideas about the wonders Atlanta's airport security had for us. First we went to immigration clearance where a VERY VERY rude police threatned my mom with taking her for a 5 hours interrogation only because she had trouble understanding his accent (believe me...he DOES has a strange accent). This of course caused my mom to get very nervous which at the same time made this officer more angry etc... After 15 minutes he finally let us go. Baggage claim was not that hard because there weren't too many flights arriving.
Although it should be called Baggage recogniztion because you have to handle it again to the airport authorities to take it all the way through the main terminal as you can't take them wih you on the airport train.
After the train and all that hassle it was time to throw ourselves into Delta's south baggage claim where you have no idea into which conveyor is your bag going to arrive. After another 30 minutes of asking every airport people about where, how and when and lots of confused people, we finally got our bags.
As we were in a hurry we decided to take a cab instead of MARTA to downtown. I'll let the pictures show you our Atlanta experience:
Airlines at Atlanta: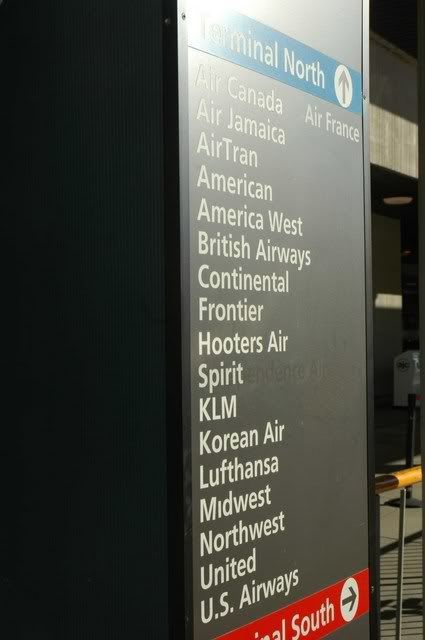 Is the taxi on it's way? ( for the origin of this please refer to the video below)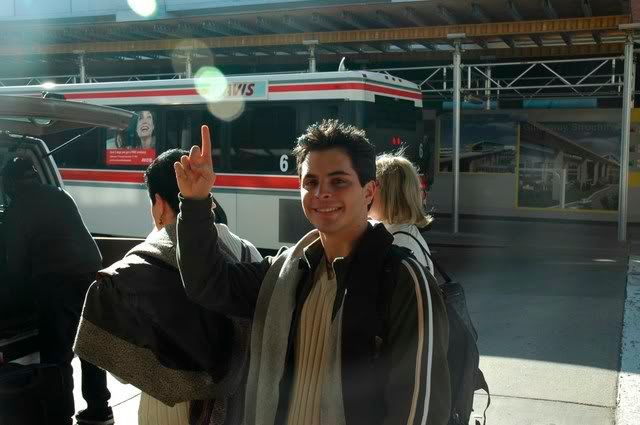 My friend's mom know VERY few English, so this video helped her alot. She did great with English, fortunately she was not robbed and had no need to use the phrases in the video. lol
Arriving to downtown Atlanta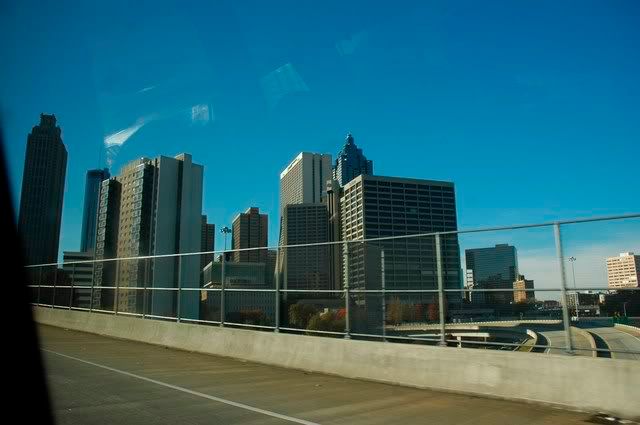 Our hotel
Walking through downtown Atlanta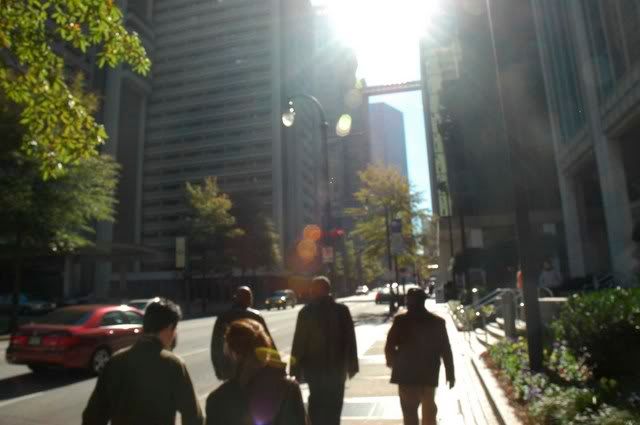 Us Boys at the Southern Region Oireachtas
My friend with her solo dress
8 hand team
Awards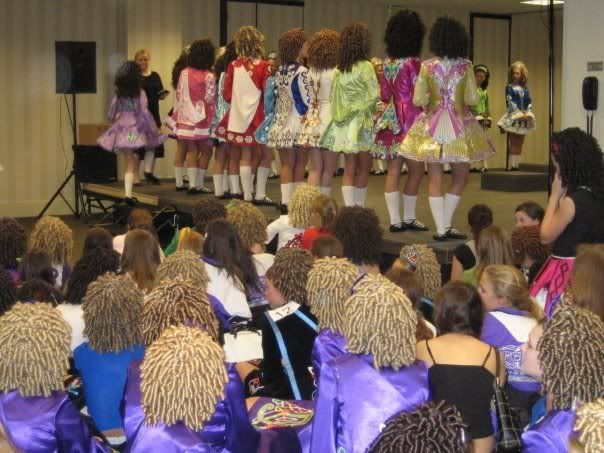 My girls @ the podium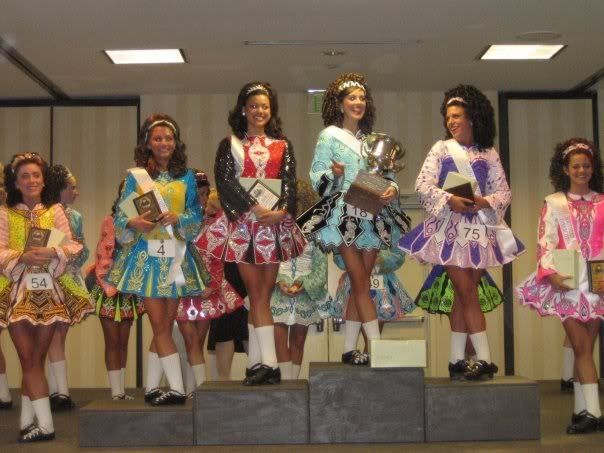 X-mas Tree @ Atlantic Center
Mexican Moment @ Target. We had no idea that after some feet the cars would disable it's wheels to avoid stealing it. lol
Our time to go back to Mexico arrived. We barely woke up on time to finish packing our bags. Even the shuttle that would take us to the airport had to wait us 15 minutes because one of us was not ready. We had no idea when he bought so many things...
Sad about failure and because I had no "ultimate Atlanta experience" we made our way to ATL. Our taxi driver was from Nigeria and he was very happy about DL's new flight to LOS. When we arrived at the airport we went straight to Aeromexico's check in desks just to find that my bag was one lb away from being charged by overweight.
Only then I realized going to Target is dangerous as everything costs you $7.99 and then you have no idea of how many things you have just bought. Or maybe it was the amount of Reeses cereal boxes that were inside making that extra weight. Or was it all the socks I bought? Up to date I have no idea why my bag was so heavy but fortunately not a single penny was spent on overweight.
After check in I went straight to the Coca-Cola store just to feel I was really in Atlanta. I decided that one of those green glasses would look good with some rum and coke inside. Without any pressure, we went to breakfast something before going into concourse E and probably getting naked by TSA's in each stop of ATL's train.
ATL-MEX
Aeroméxico
Flight: AM637
Depart: 15:00 /15:02 (Scheduled/Actual)
Arrive: 17:55 / 17:50 (Scheduled/Actual)
Duration: 3h 50min
Equipment: Boeing 737-700
Reg: N904AM
Cabin: Economy
Seats: 14F
Seat pitch: Emergency exit
Load: 90%
Gate: E15
Departure Runway: 26L
Arrival Runway: 5R
Once as the gate I found this quite interesting
Gate E15
More Concourse E
Some minutes after spotting the flying penis...or corn... I went quickly to buy a coke and The Economist. Not that I was going to read it probably, but at least I would be less worried about being bored on the plane.
Boarding started as usual with Premier class and then with the last rows. Immediately after everyone boarded my and my friend changed to row 14 which was empty.
Delta 767 on gate E16? bound for CDG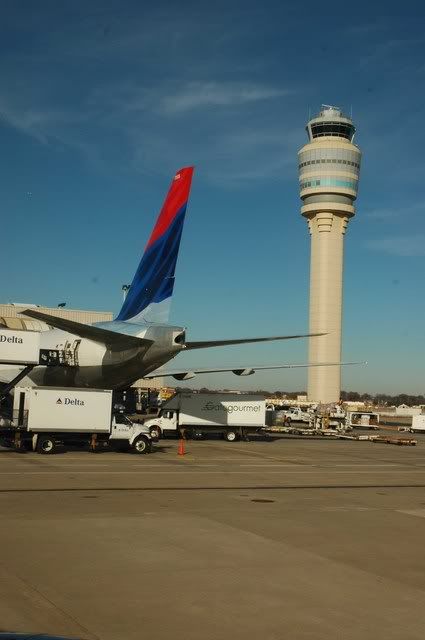 Taxiing towards the runway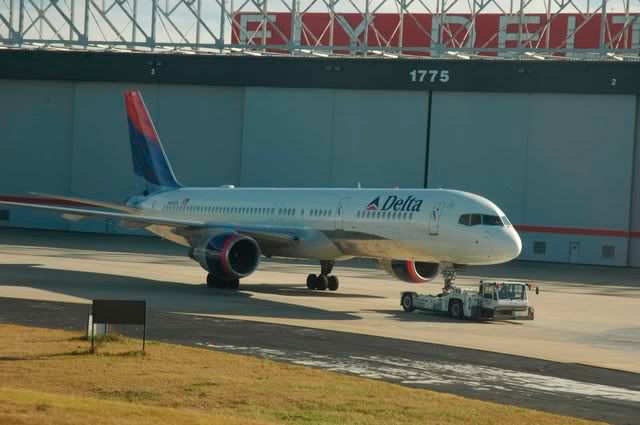 Bye Bye Atlanta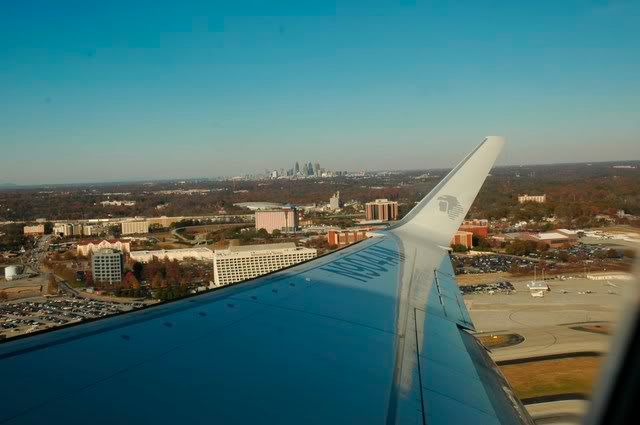 View from my seat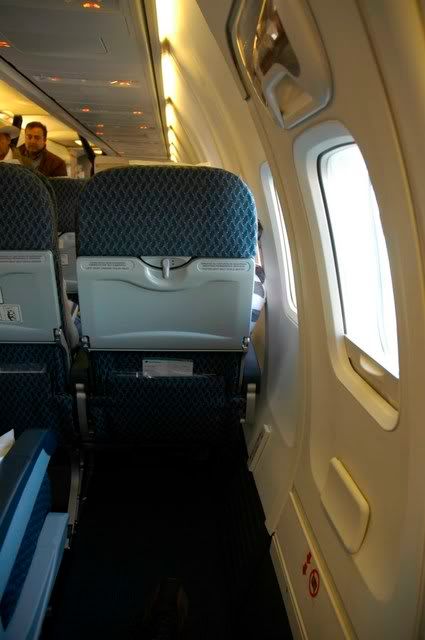 FA's in action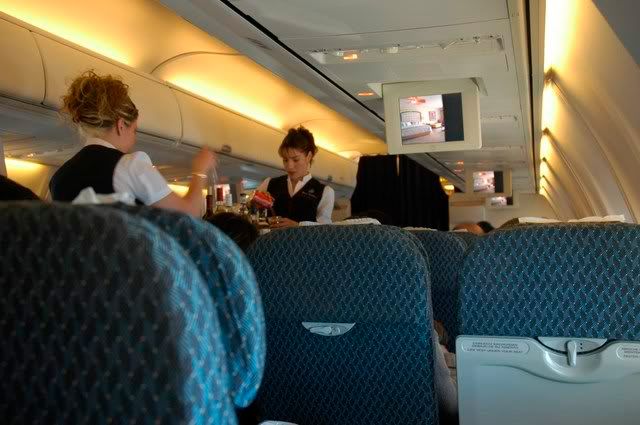 Meal
Again IFE was displayed on the screens ahead with a very weird tv show again ( ?!?!?!?) and the movie Ratatouille which ended up being really nice.
Also in the flight I met one of the 3 hosts from this tv show in the Travel Channel called Travel Spies. This two guys and one girl that go into a hotel and inspect everything passing by weird tourists. I thought it was very cool meeting him but at the same time very random.
Soon enough our dream trip to Atlanta became to an end as we landed on cloudy Mexico City.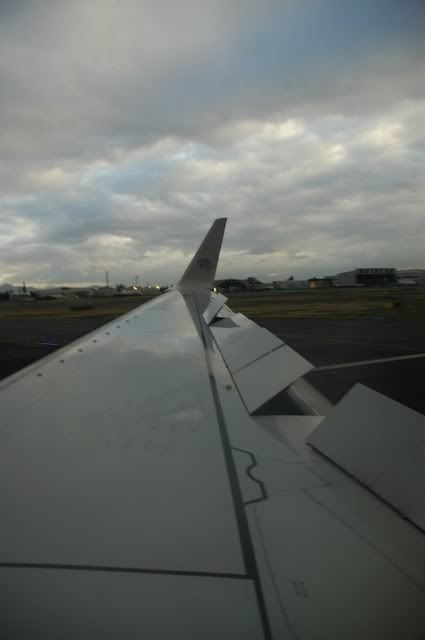 Just for a change we got ramp number #"$"# when one of the mobile gates had to go to our rescue again arriving at Gate 19... Just to make it more fun I guess.
Immigration was a breeze and our bags arrived soon enough KLM, JAL, BA and AF flights came into the baggage claim.
This was my first time in AM 737's and I must say they are starting to look worned out. Service was very good ( specially in the inbound flight) and food was nothing to complain about. I was surprised by Aeromexico's punctuality and controlled boarding.
I hope you enjoyed this trip report. Hopefully i'll have more to come in the future!
Cheers!
Alonso
[Edited 2007-12-07 20:33:28]
[Edited 2007-12-07 20:41:54]