SEA-ORD-IST-ORD-SEA Aug 28th and Sep 17th 2007.
Called AA the night before so that I can at least get a seat assignment as I couldn't check myself online.
Interestingly my TK reservation code didn't match with the AA reservation; it was stored under a different PNR. When I plugged in the PNR in AA.com i still couldn't do the check-in. The lady that I spoke to didn't know much about this flight as she mentioned that this flight was operated by Turkish Airlines. I told her that it's a code share with Turkish but it's operated by AA but she insisted it was TK operation code shared with AA.
We agreed to disagree. At this point the flight was booked heavily and the only seat assignment I could get was 32D.
I then proceeded to thy.com to do my online check in at TK 006. The plane was not booked heavily but I knew that most of the TK customers don't use online check-in; so i decided to take 11A very close to the front section of the coach cabin. Online check-in is really interesting at THY.com, once you chose your seat it's really hard to figure it out to change it. (You need to re login and click on online checkin' again) and to my surprise the website doesn't produce anything in print. So you still go to the coach counter with your reservation number.
AA472 SEA-ORD
Gate : A8
Type : MD83
Ship No: 202
Got to the airport around 6:45 am for a 8:30 departure. Took me a good 1:15 to get to the plane side. I immediately approached the gate and asked for a better seat that 32D. She said that that's all she had available and i should take it.. Then about 15-20 minutes later my name was called and I was asked if i wanted to exchange my seat with a family that wanted to sit together. That would bring the seat number to 16D. What a lovely surprise.. While boarding I thanked the agent and she thanked me for volunteering.
After so many years of heavy flying (United 1K for 3 years back to back until last year) I experienced my first rejected take off. We lined up on 16L , revved up the engines but then all of a sudden we decided to come out of the next taxiway. As I was dozing off during this process I don't remember what was the reason for it, but i remember that it wasn't for something mechanical. (As far as I recall the controller wanted to give priority to the plane behind us ).
Take off was smooth and we turned East over Auburn airport. I will really miss these Mad Dogs as they were extremely quite on 16D. Those engines being all the way back makes the cabin much more comfortable. When I woke up we were approaching to landing. Since I stood up the night before to finish off some work, I didn't even get up for the on board service, but I am sure i didn't miss anything.
We parked at gate K18. In a sick and twisted way i realized that i missed ORD a lot
It was at least 10 years I have been to the AA side of the terminal, even though UA side of ORD was part of my weekly commute.
TK005
ORD-IST
Type; A340-300 "Diyarbakir" TC-JDK
View Large
View Medium


Photo © Marcel Schmidt
The check in counter for Turkish is all the way to the end of T5. I had to go by so many different airline lines to make it there. T5 is really cramped and i don't think the check in area is big enough to accommodate all this passenger load. The check in line was short. I got my boarding pass and then proceeded to the area to get through the security again. I wish they had a system in ORD to get the people coming from domestic flights inside of T5; without going through the hassle of lining up again.. But that would make too much sense for TSA.
I made it to the gate about 35 minutes later and after some pushing and screaming. I asked the TK's gate agent about the load factor and she said the plane was pretty full. This wasn't good news as i wanted to have the room to myself and catch some Zs. I decided not to ask her the names of some of the known flight crew.
At 4:05 pm there was an announcement for preboarding for people with children and that need special assistance. What a change for Turkish. They never did this before. Bravo for the airline. Oh wait, now all the remaining pax are being called to board.. Let's go through the stampede again! For the life of me, I don't understand why Turkish hasn't adapted some kind of boarding scheme for many years that they have been operating these long haul aircraft.
I boarded around 4:15 pm. Despite 'all rows' call the boarding process was very smooth. While entering the aircraft I picked up my long missed 'Cumhuriyet' daily. A blanket, pillow, and overnight set was waiting for me on my seat.. This is still coach mind you. 11A had a partially blocked view but it wasn't that bad at all; not as bad as the windowless section of 767 on DL.
Around 4:30 flight attendants came by to distribute the Duty Free catalogue. Then I realized that I forgot to pick up the Maybeline eyeliner for mom
While waiting for a push back one girl behind me asked the F/A if they served food in coach. She was complained that she was starved in SAN-ORD flight by AA and she didn't have enough time to buy something to eat for hours.. Then she compared the SAN-ORD flight (domestic) to IST-AYT flight (another domestic flight) .. I had a chuckle how she put the whole story together..
At 5:00 pm the welcome announcement made in Turkish and British English by the automated system. I was the only one in the row of two; yay!!!
Gate closed at 5:07 pm and we took off from runway 22R at 5:25 pm. The take off was very interesting. We lifted off around 1500 feet remaining on the runway and made a left turn crossing the approach end of rwy 14L and almost making in a 200-220 degree turn while climbing.
Right after take off flight attendants distributed headsets. The announcement was made for coach pax ; as far as food we were going to get :
- Soft and Alcoholic drinks
- Turkish hazelnuts (yumm)
- Choice of meat or chicken as the main course that was going to be served with another choice of hard or soft drinks.
I went for the chicken and ordered a bottle of Kavalikdere to go with it. Nothing says welcome to Turkey' better than a small bottle of Kavaklidere. (Well, maybe raki too)
Despite being a coach cabin the food was served in real china and real silverware. It almost looked like C class like. This is the time that i regretted forgetting my camera at home.
The food was like chicken stew like meal with side salad, smoked Salmon and cheesecakes. The food was really fresh and tasty. Turns out that either TK double caters the aircraft with some Turkish food or they send it to ORD as comat to be prepared by the local caterers.
The aircraft was not one of the upgraded 340s. So I had to watch what they played on the screen. The promo videos were followed by NTV news brief (Turkey's CNN) and BBC world service news brief. I decided not to wait for the movie and took a nap.... Few hours later I woke up with Kevin Costner and William Holden exchanging some dialog. "Mr. Brooks" was on and somehow caught my attention so i decided to finish the movie where i started from. After the movie air show showed us over Scotland.
I noticed that couple of F/As were offering the choice of water or OJ to the passengers who were awake. While they were offering this some guy ordered coffee and tea for himself and wife. The F/A tried to reason with him that it was not the breakfast time yet and there wasn't any available. She mentioned that they offer these drinks to refreshen the people who are still awake. The guy was quite upset but didn't create a fuss about it ; thank god.
Breakfast was served 2 hrs before landing. It was an omelette, hash browns, laughing cow cheese, butter, strawberry jam, blueberry yogurt. They were out of sour cherry juice (my fav) so I opted for tomato instead. Between the first movie and breakfast I missed the second movie. The third one was a Turkish movie titled 'Balik Eti' but it looked like a crappy TV movie than a good one so after 15 minutes I decided to listen to some tunes and take a nap.
Captain came on the PA system when we crossed the Turkish border and said that we will be landing at 1145 am local time according to his calculation. We all know that this has got nothing to do with 'hic calculations' but he is reading stuff off of the FMS as for arrival time.
Landed on 36L at 11:43 am local time. It's amazing to see BEA (Bosphorus European Airways) A300s to see at Ataturk Airport after so many years. We taxied across 36R and parked on a remote stand before the domestic terminal; which was something i never experienced with TK flights arriving from US.
IST-ORD Sept 17th
Assigned Gate: 219
Boarded Gate : 218
Type: A340-300 TC-JDN "Adana" scheduled
A340-300 TC-JDJ "Istanbul" actual
Scheduled
View Large
View Medium


Photo © Irfan Caliskan - AirTeamImages
Actual
View Large
View Medium


Photo © Jordi Grife - Iberian Spotters
Arrived at the airport at 7:00 am for 9:45 am departure to return the rental car. The owner of Budget and AVIS franchises are the same company so you actually return your Budget rental car to AVIS; there is simply no Budget rental car return location at the airport.
After the return of the car went to the check in counter to be interrogated by Gozen Air Services for my trip to US. Interestingly enough, the good old questions of '"Have you packed your bags yourself?" and "have then been out of your presence ?" questions were asked by the polite people of Gozen.
After going through the passport control I voted for a referendum , as I am still a Turkish citizen and then went shopping. for some Duty Free stuff. Turns out Efe Raki made some small bottles of raki with some special glasses. I had to buy two sets, but I got concerned about getting these into my upcoming American Airlines flight because of liquid ban. As far security measures, i had to leave my Duty Free items at the shop to be delivered to me by the gate.
When I went to gate 219 I saw Adana TC-JDN at the gate with TC-JDJ next to it. I was pretty disappointed that I came really close to riding on the first and (then) only 340 in TK's fleet that had individual IFE. Then some guy started to yell 'Chicago 18, Chicago 18' like if we were in a bus terminal in an Anatolian town. This really non professional and awkward way of gate change announcement was a great news for me. I knew that I was going to get this aircraft as the aircraft was listed as A340 on TK's website. For anyone interested , A340 is the equipment code for the aircraft with new entertainment system; A343 is the one for classic system and A34Y is the one for all coach A340 used for Hadjj flights only.
After boarding I noticed the difference between the legroom on the window seats vs. the aisle seats. I really am skeptical about the comfort level of these seats. Here's the picture:
The expected departure time of 9:45 am came and went but there was no announcement from the f/as or cockpit crew until 10:10 am. Airshow reported the duration of the flight at 11 hrs and 45 minutes with expected flight altitude of 35,000. Pushed back at 10:15 am with a take off at 10:25 am from runway 18R. On the way there I noticed TC-JGU the 100th airplane for TK, 9V-SYH Singapore 773.
Airobics show started right after take off. Funny thing is , the animation made for TK featured a 744 in TK colors. We followed runway heading almost to the Black Sea coast and turned NW bound right before Kilyos, etc.
Before lunch, Turkish hazelnuts and drinks were served. The choice for food was either Turkish ravioli (manti) or chicken. The side items were :
- salad with olive oil dressing
- green beans
- chocolate pudding
- home made yogurt (that was the title, but i am sure it's not home made)
- small water
- fresh baked bread
- Eti Form crackers (diet wheat crackers)
- Spread cheese
- Butter
I went for manti and ordered a glass of red wine. Every single item in the menu was delicious and very filling. Later during the cruise flight cabin crew walked around with treys full of OJ and water. In addition to this I woke up after a few hrs and the F/A left a small bottle of water for me on the seat next to me. That was a great touch.
Over Moncton we received a serving of snack. It 's similar to the breakfast platter served on the other flight I took to IST. Items were:
- Butter
- Chicken salad
- Eti form diet crackers
- White kasar (kasseri) cheese with a slice of cucumber.
- Small water
- Revani (Desert made from semolina floor) with a light cream topping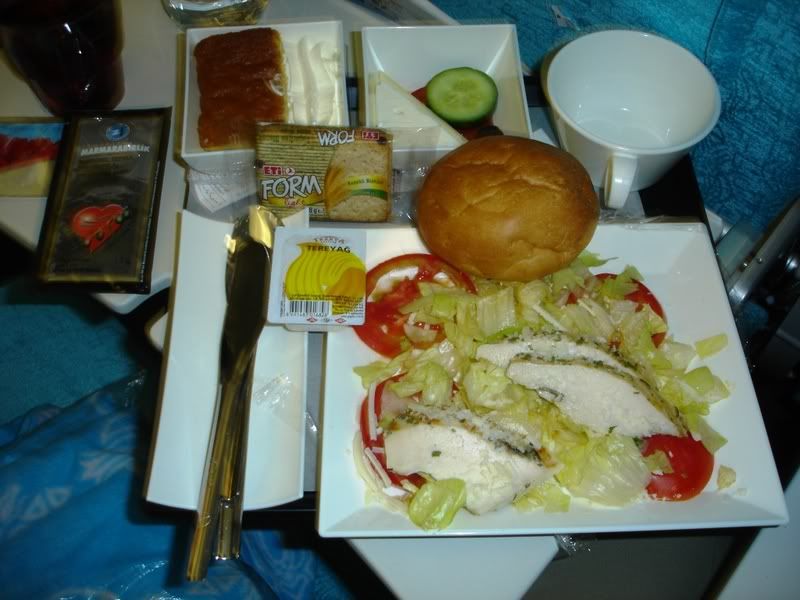 Once again the food was fabulous. I don't think the food service was this good even on the UA C class flights I had in past years.
We started our approach from Norther Lake Michigan area just south of Green Bay. We first made a southbound turn past Green Bay and then a westbound one towards Madison. Over Madison we turned south. The flight crew was not really keen on customer service as there was not a single announcement from the cockpit all this time. We entered a holding pattern at 10,000 feet for a while and the landed on 14R at 19:14Zulu.
I think TK will get my business a lot with this kind of service level. The only ongoing issue is (an this has been going on for years) that the flight crew doesn't understand the concept of customer service. Also, those big screens with good entertainment helps a lot to pass time.
Here's the new interior of this veteran A340:
RAKI , a big problem at ORD:
Remember those drinks that i got in Istanbul? Those happened to be a very bad experience for me. Because of the TSA's liquid ban i was not going to be able to carry those drinks with me. I put the drinks in my checked baggage but looked for a 'FRAGILE' sticker at the arrival part of T5. Not a single airline had one at the arrival lounge.
I was really concerned about them as raki is a really valuable drink to a Turk
AA425
Gate H5
Seat 19F as assigned by TK
MD83 but no reg.
After all this hassle at T5 i made it to my assigned gate. Not haven't slept for more than 2 hrs and the night before i was really tired.. I just wanted to go to my own bed, sleep and not wake up for two days.
At 3:50 pm we didn't have the inbound plane but AA ground crew did an awesome job to turn the plane around. We pushed back 4:55 pm, 30 minutes late. I dozed off and woke up multiple times. Time was not passing without any entertainment system and i was too tired to read anything.. The entire flight was uneventful. They served a Turkey wrap on the flight and that was about it; but i refused to eat it after being fed by TK pretty good.
We arrived in SEA at 7:15 pm , only 10 minutes late. I went to baggage claim to see if my two bottles of raki was broken. It was a good day for me, because I managed to save my raki and two glasses.
Overall :
TK experience:
In flight crew : 9/10 - highest i have experienced
Cockpit crew: 5/10 - Still lacking in communicating with pax. No PA on delays.
Food: 15/10 : It was just yummy
Fare: 10/10 : It was very convenient pricing even though I purchased the ticket few days before departure
AA experience:
In flight crew: 7/10: Very efficient but very impersonal.
Cockpit crew: 8/10: Kept us informed all the time
Food: 3/10 : Buy on board for a 4+ hrs flight ..
Fare: N/A