Date: 5Dec07
Roue: Doha (DOH) – Dubai (DXB)
Distance: 238mi
Flight: QR 100
Flight Time: 0:39h
Dep. Time: 7:53
Aircraft: 777-300/ER
Registration: A7-BAA
Dep. Gate: 4
Seat: 36K
I had planned to fly on Qatar Airways' new 777-300/ER for about two months. The schedules first showed it starting service on 1Dec07 but about two weeks before, the first flight was changed to 5Dec07. I had planned days off from work and couldn't change them to later. Besides since I was flying stand by, I couldn't travel much closer to Christmas anyway. So I decided to give it a try anyway. I was relieved when I saw that QR had taken delivery of the aircraft on 28Nov07. A first flight for the aircraft for 5Dec07 seemed reasonable but I knew that things can change very quickly. I set out this journey hoping that things would work out and that I would be on the first ever scheduled 777 flight for QR as well as the first revenue flight for that aircraft.
As soon as I arrived I went to the transit counter for Qatar Airways and checked in for the flight. The flight was very open and the agent gave me a seat right away. I asked if the aircraft was a 777 and he said probably not since it did not fly yesterday but the seat map for this flight seemed a bit different. I told him that I had come a very long way just to go on the 777 and asked if he could check with someone. He did and came back three minutes later confirming that this flight would be flown by the 77W. I noticed that I had gotten an aisle seat and asked to change to a window which he did. Very nice!
I went and got something to eat at A & W and then did some spotting before the monitors showed "Go To Gate". There were a few people there already but we had to wait another ten minutes before the first bus showed up. I had expected a ribbon cutting ceremony or at least some sort of announcement to mark this special occasion but nothing was said or done that normal. I got on and still not quite sure if this was going to be on the 77W but the bus went the right way and drove around the aircraft just as the stairs were put up to door 5L. I climbed the stairs and headed to my seat on the right hand side on A7-BAA.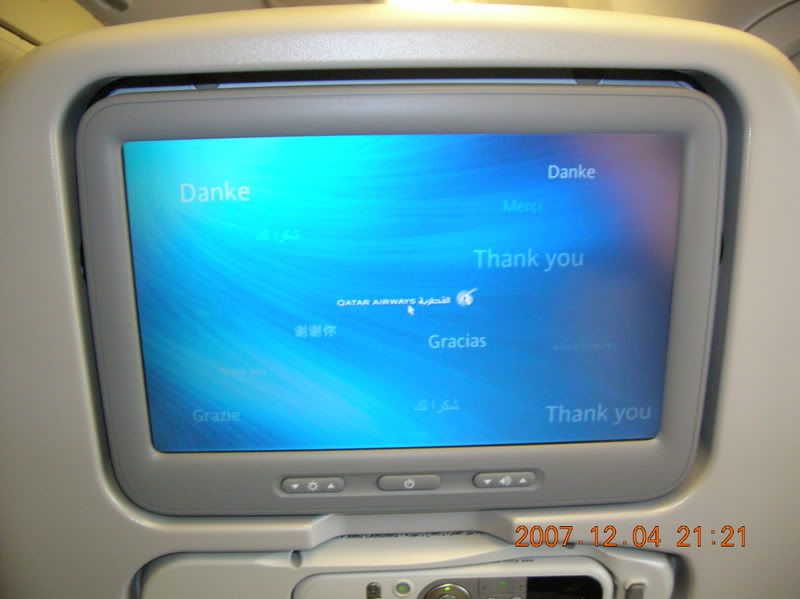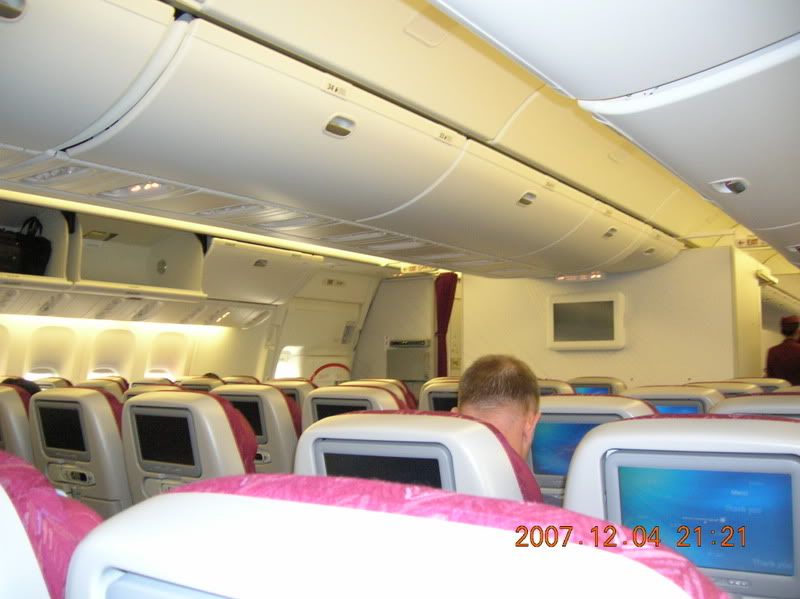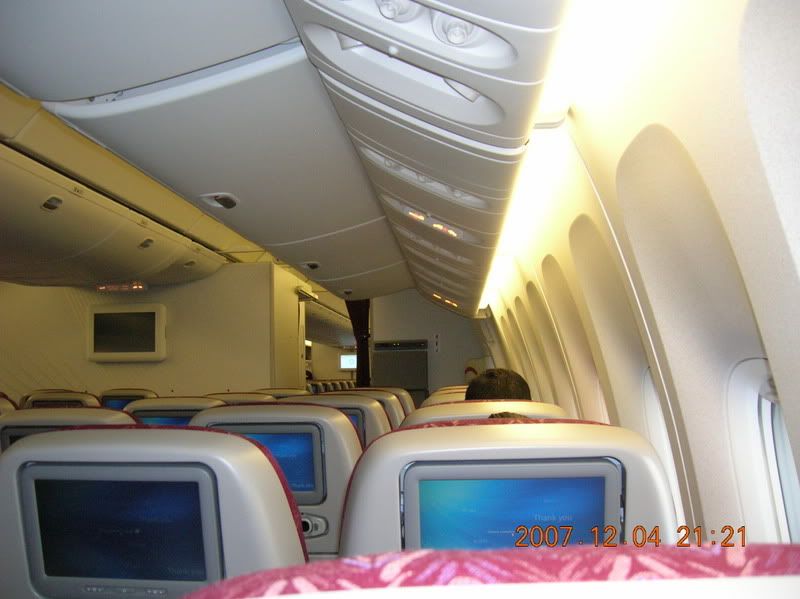 First impression was very nice; very comfortable seat, nice big screen and great legroom.
The seat does not have the winged headrest common on so many airlines and also not footrests. The entertainment screen looked different from their A340-600 that I had arrived on and the 77W features a new improved entertainment system. The remote control looks the same as United's new system and also same as Jet Airways. Also note the location of the remote control in the seat in front. Every seat also had a USB port and what looked like a phone jack. Also different was an extra seat pocket in net where one can put a water bottle or something small. More people boarded but the flight was probably only about 70 % full by the time they closed the doors. There was someone in the aisle seat but the center seat between us was empty. The person behind me remarked to his colleague that a flight attendant had told him that this was the very first revenue flight for a 777 for QR and for this aircraft. Most people on the flight were European but there were some Arab people as well, probably mostly from Doha.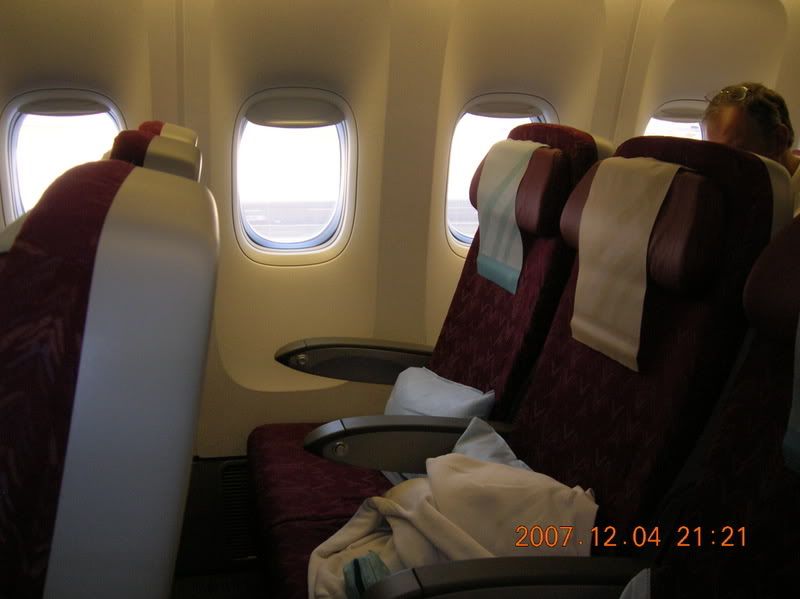 The safety video started but there was no sound…They restarted the video a few times but still no sound so the F/As made a manual safety demo. From the short part of the safety video there was, it looked like the video for the A340-600…We pushed back two minutes early and was told by the captain that we would have about a ten minutes taxi before take off and to expect good weather en route.
I started to explore the entertainment system and noticed that the air show map was similar to the one previously experienced on TAAG Angola, which was very nice and detailed. The take off was very amazing since one could really feel the power of those GE90-115 engines for this short and light flight to Dubai. We had a very short take off roll before we were in the air, perhaps only 10-15 seconds.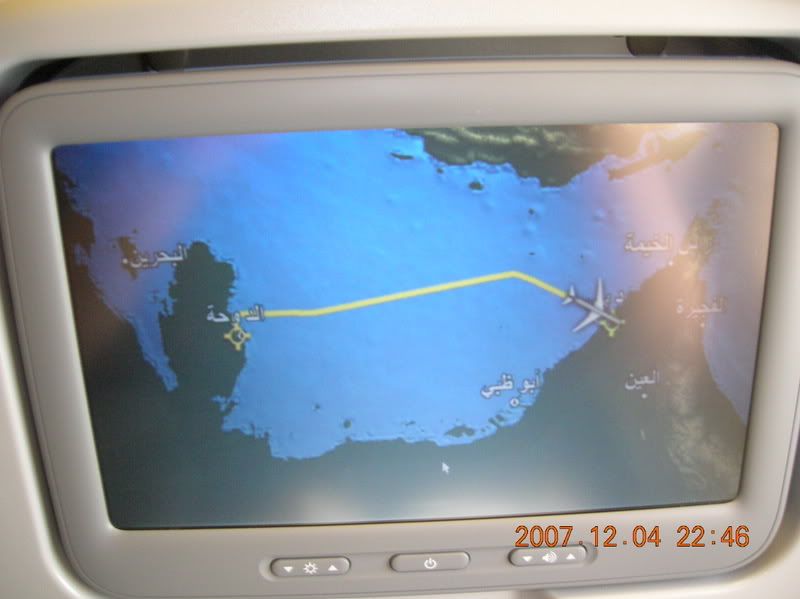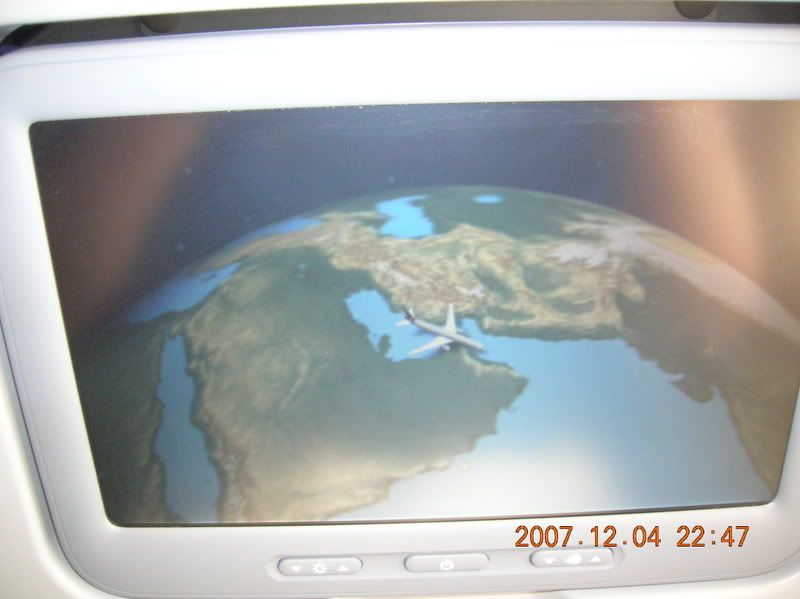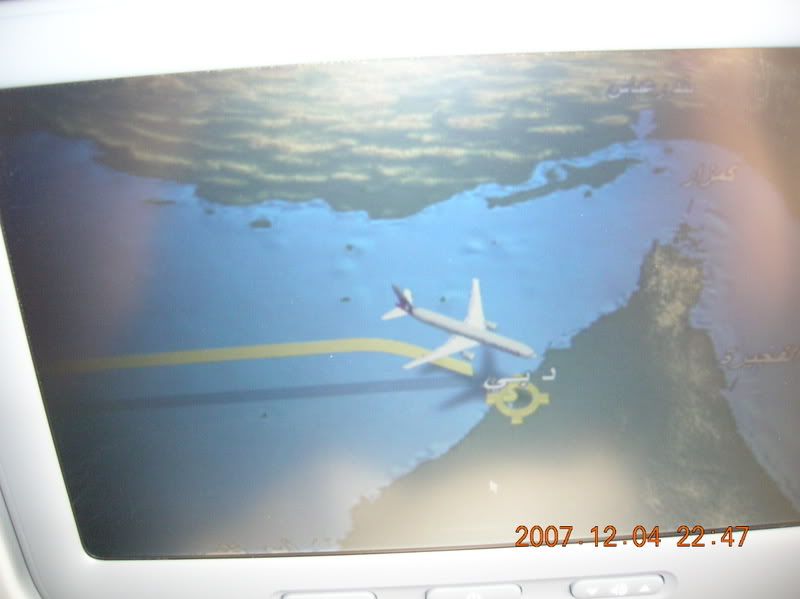 As soon as the fasten seat belt sign came off, the flight attendants were busy handing breakfast. It wasn't very much still very nice to be served something on such a short flight. The flight attendants were mostly European on this flight but some South Asians as well (Philippinas, Malaysians). They were very nice and friendly and very pleasant to be flying with. They were also more personal and approachable than my experiences on EK or SQ.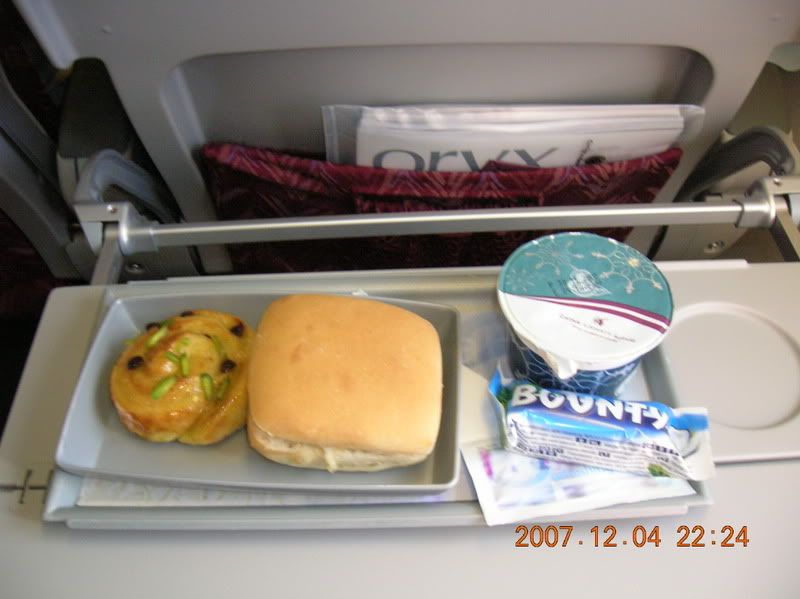 We leveled off for about two minutes before we started our descent into Dubai. I had planned on watching something on the screen but just played around with the system until we were on the ground. We made a smooth touch down and a fairly quick taxi to the gate.
I was very happy that this had actually worked and that the 77W did fly as scheduled. Extra bonus to be on the very first 777 flight for QR and for that aircraft as well. It was understandable with the confusion of safety video since this was the first flight. I really like Qatar Airways a lot and hope to fly them a lot more in the future. I really hope that they will fly their 777-200/LRs to Los Angeles eventually so that I can try that nonstop to/from Doha.
This completes my 777 flying for now. I will not do another new 777 carrier for about two years when I hope to do a RTW for all six continents all on 777s including flights on TAM and V Australia.
The777Man