Rocketing to Tokyo: FUK-HND on JAL (ex-JAS) 777-289
Intro
Fukuoka Airport, JAL's (ex-JAS) 777-289 and Tokyo Narita Airport are featured in part 3 of my Japan Trip Report series. All users who have missed parts 1 & 2 or want to read again about the background and trip planning simply need to click here:
MUC To Nagoya: Finnair E170 & (Old) "New" A340
(by
PlaneHunter
Nov 15 2007 in Trip Reports)
Oddities & Okinawa: JTA 734 & JAL 744D(Domestic)
(by
PlaneHunter
Dec 3 2007 in Trip Reports)
Comfort Hotel Hakata
There aren't any airport hotels around FUK so we chose the Comfort Hotel at Hakata Station. The giant subway/train station is just two stops from the airport, the hotel is just across the street. The price for a double room was 79 Euro (incl. breakfast) which is not bad considering its location. We had booked via asiarooms.com and had picked a double standard room (twin option was not selectable in the list). After arrival we were told that the "standard double room" would be equipped with only one large bed - we explained that the "twin" option was not shown on asiarooms but they didn't care. So we had to pay some 20 Euro extra for getting a room with two beds.
The hotel in general was quite worn-out and room wasn't much larger than the (low cost) Toyoko-Inn room. The breakfast with a wide range of pastries and fresh fruit wasn't bad, though.
View from the room: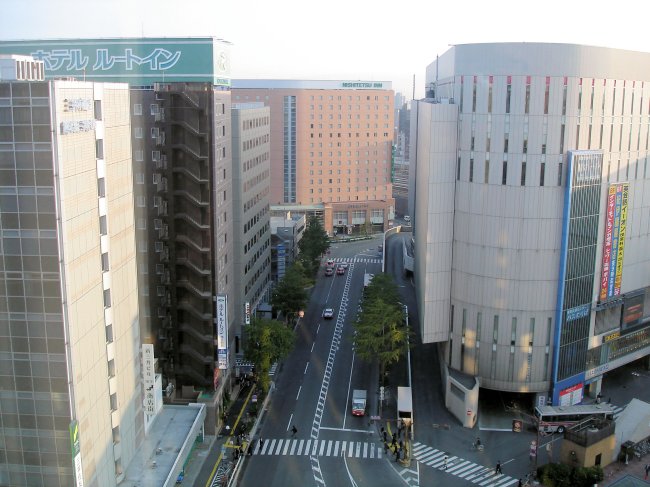 The hotel's front (only the first floor and the upper three floors of the building belong to the hotel):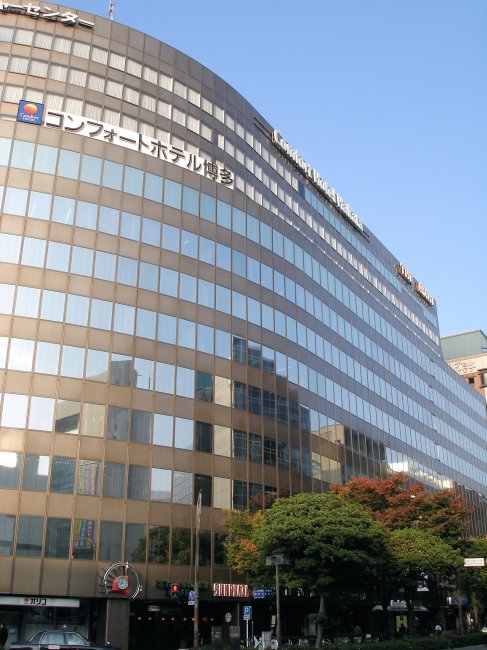 Fukuoka Airport Spotting
Different observation decks are located on the domestic terminals 1 and 2 as well as on the international terminal (all free of charge). I preferred to stay at the terminal 2 facility all day because it offered perfect views of aircraft landing on and taxiing to runway 16. All facilities are open from 07:00 am until at least 20:00 (terminal 2: 21:30). The glass fence may be disturbing for photo spotters as well as the facing sun in the afternoon. However, perfect place for registration spotters: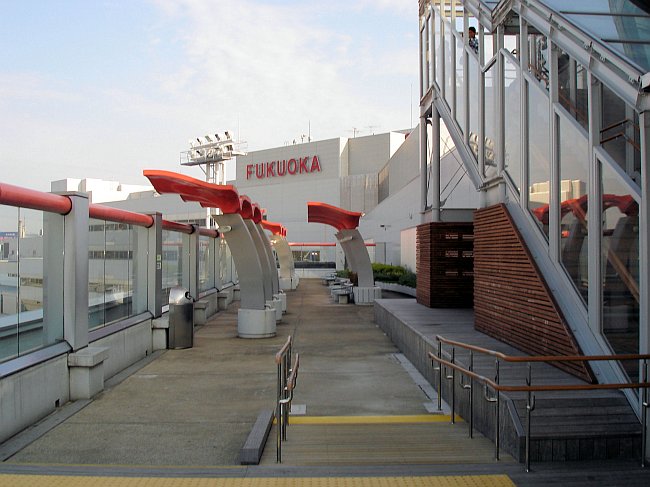 The variety of operators and aircraft is excellent. Examples: Air China (733), Air Next (735), Air Nippon (735/73G), Air Nippon Network (DH8), ANA (A320/763/772/744), Asiana (A320/A333/763), Bangkok Air (A320), Cathay Pacific (A333), China Airlines (A333) China Eastern (A320/321), China Southern (A319/M90), Continental Micronesia (738), Dragonair (A321), EVA Air (A332), J-AIR (CRJ), JAL (M81/M90/A306/763/772/773), JAL Express (734/M81), JAC (DH8/SF3), JTA (734), Korean Air (A333/738), Philippines (A320), SIA (772), Skymark (738/763), Thai Aws (A306), Vietnam Als (A321). In the end I got a total of 77 new registrations.
ANA, JAL & Skymark: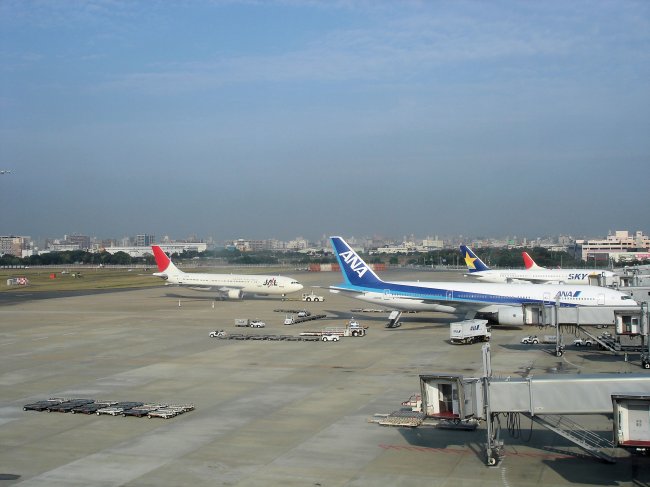 ANA 747-400D: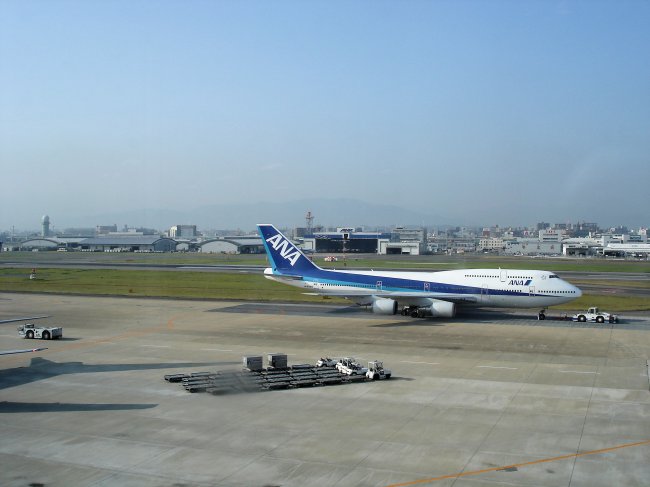 Domestic gates on the left, international terminal on the right: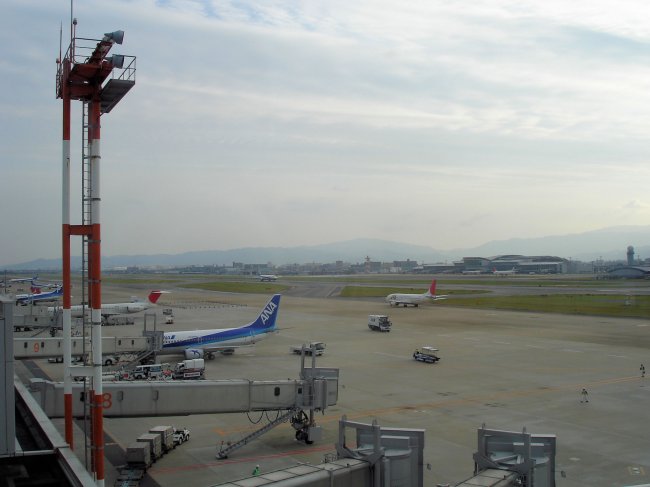 Yesterday at Okinawa-Naha, today at Fukuoka...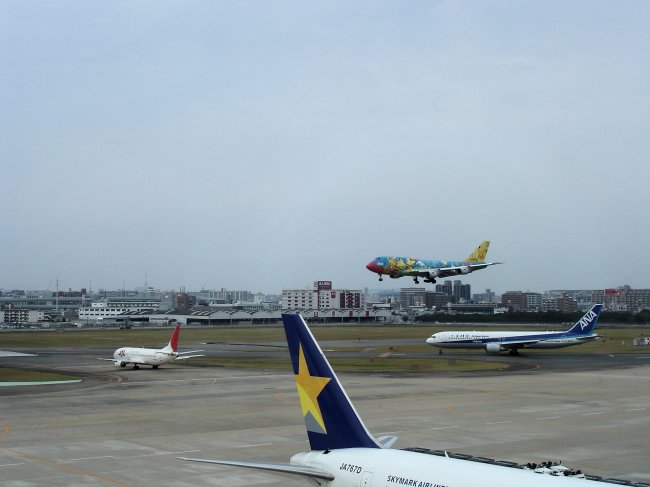 ...ANA's JA8956, one of two Pokemon 747-400Ds:
Picture by Satchmo
China Airlines A330-302 B-18305 in
Butterfly Orchid
colors: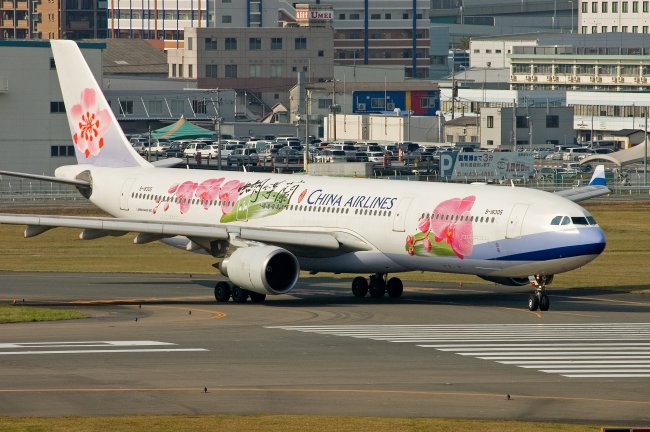 Picture by Satchmo
EVA Air A330-203 B-16303 in
Hello Kitty
colors: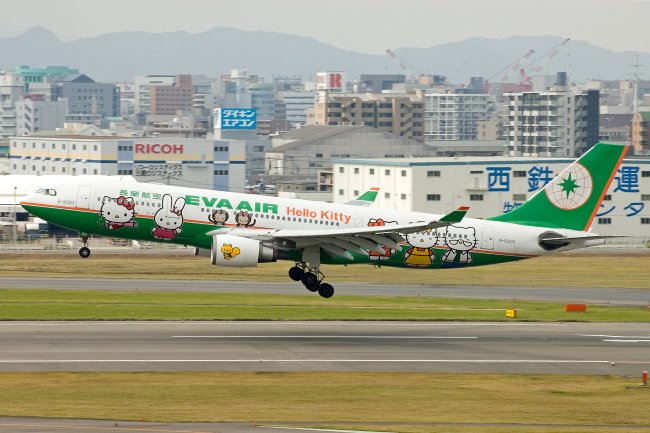 Picture by Satchmo
All those who need a break after hours of spotting can explore an adjoining exhibition area with Boeing aircraft models...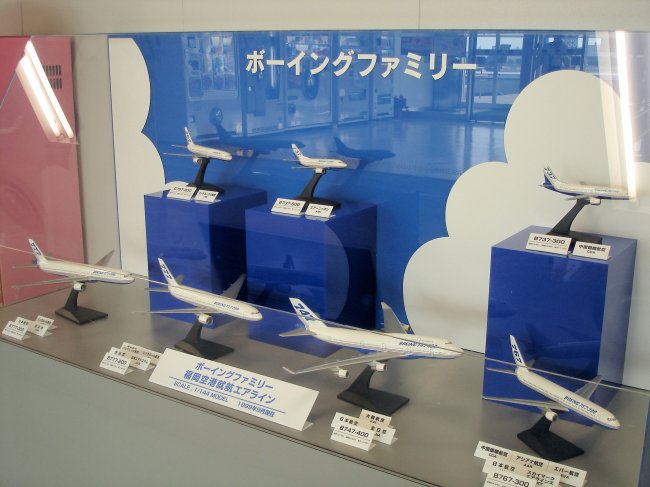 ...777 and engine charts...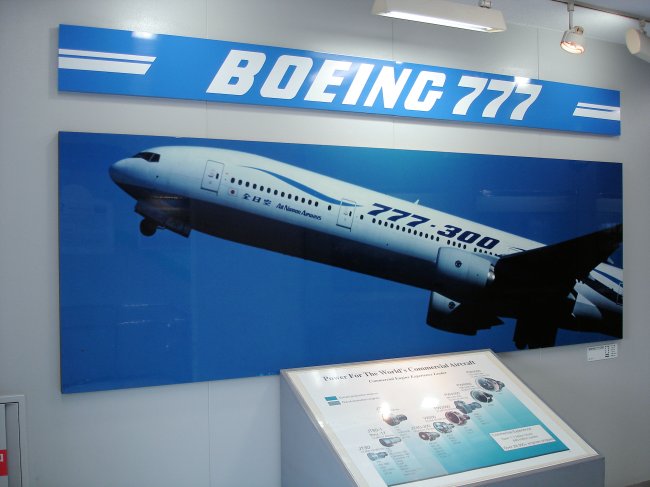 ...a giant 777-300 model and more charts...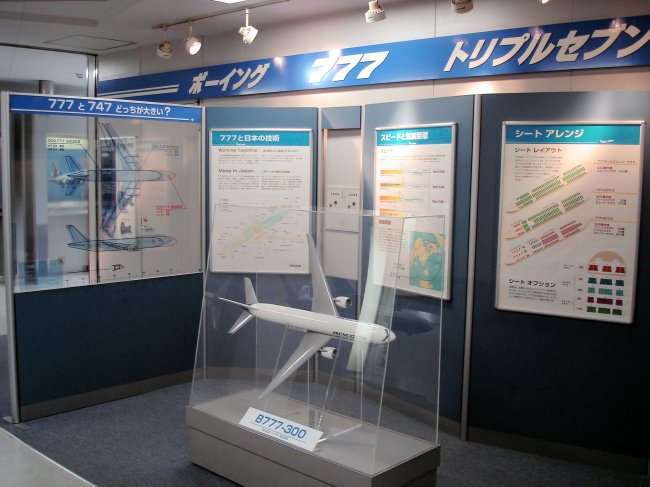 ...an original 777 tire...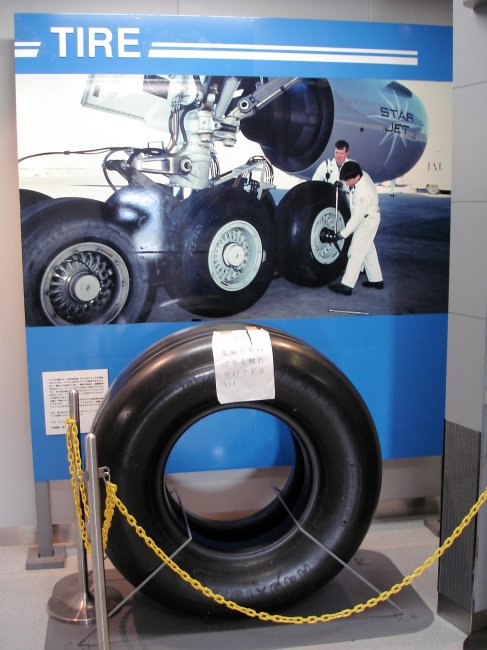 ...and pictures showing the development of Fukuoka Airport.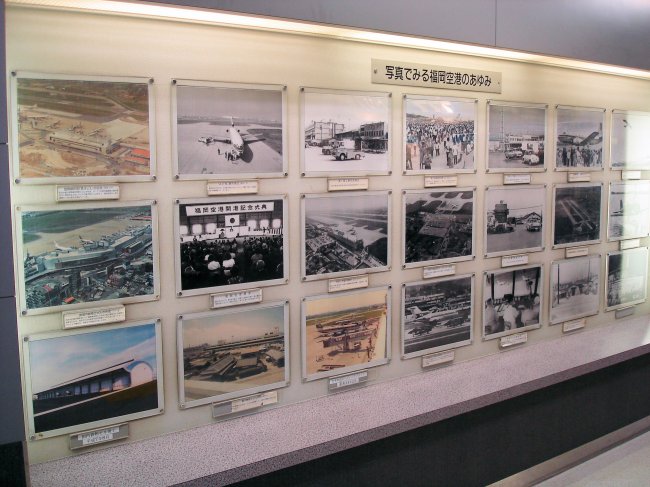 Last but not least: There are many restaurants in the terminal, offering tasty Japanese food, e.g. all kinds of Sushi boxes, at fair prices. Several drink and ice cream machines just next to the observation deck's entry door provide whatever thirsty spotters may need: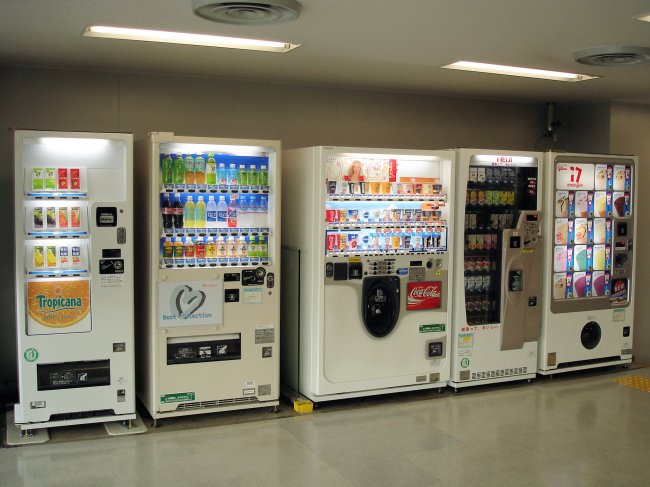 Tuesday, 30 October 2007
Fukuoka (FUK) - Tokyo (HND)
JAL - Japan Airlines, JL334
17:05-18:40 (17:09-18:43)
Flying time: 01:17 (hrs)

Boeing 777-289
JA8979 (s/n 107), delivered in 11/1997 to JAS - Japan Air System
Economy Seat 44A
Former appearance as "Rainbow Seven":
Upgrade Impossible
Checking-in was a pleasure again, just like at NGO. The smiling lady at the counter was very friendly, again she took frequent flyer card and passports with both hands. Again we treated as premium pax even though we had just booked relatively cheap airpass flights. American and European carriers could learn so much in Japan. We asked about an upgrade to JAL's domestic business class for just 1000 yen (some six Euro), but the lady told us C class was already full on that late afternoon service. So we picked seats in the rear part of Economy.
Security: The Japanese Way
Passing the security checkpoint was a pleasure, too. Almost no waiting time, very friendly officers, asking politely to hand out the belt after passing the metal detector. No grim faces, no rude military-style orders like in certain other countries in these days...
Ex-JAS 777
About an hour prior to departure we spotted a JAL 772 on approach - and the very same aircraft taxied to our gate...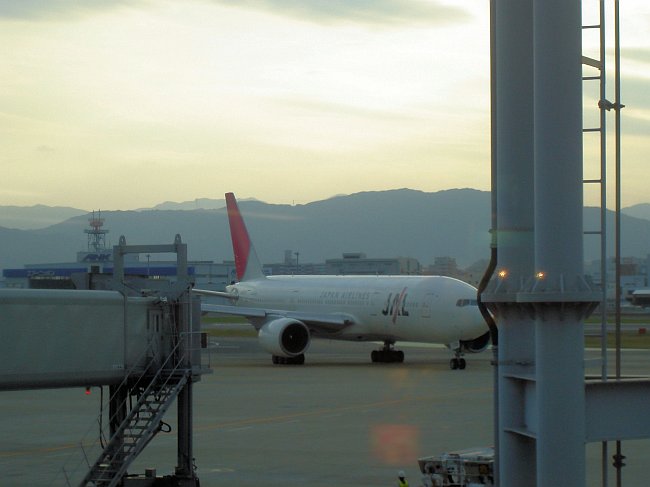 ...we had hoped for an ex-JAS bird and we were glad it was
JA8979
, a 777-289.
Light Load
Boarding was started on time and it was amazing to see a large number of business travelers lining up, mostly dressed in black suits and carrying similar briefcases. We were among a small number of passengers wearing casual clothes. Very friendly F/As welcomed us at the door and we walked down to our row. It was amazing to see that C class was full while Y class was mostly empty. Load factor around 30%. Later I asked an F/A about the light load and she said the return flight to Fukuoka would be full.
Cabin Comfort
While JAL has always ordered domestic 777s in 3-4-3 configuration (397 seats in two classes on the 772), the ex-JAS planes are operated in a more spacious 2-5-2 configuration (380 seats in two classes). And unlike the domestic birds ordered by JAL, the ex-JAS birds are equipped with PTVs (airshow, front/down camera and TV features):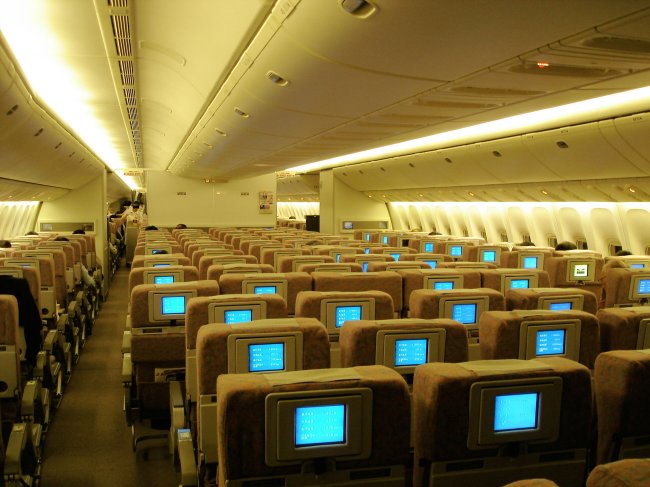 The seats (with headphones for audio entertainment put out on the surface) are quite comfortable...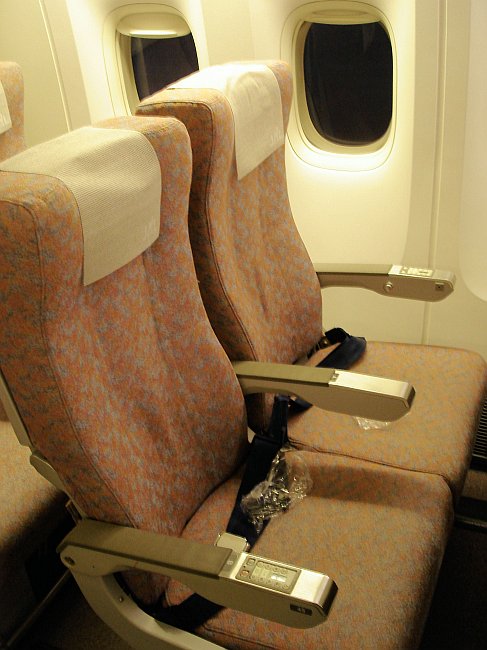 ...and the pitch is absolutely sufficient - much more than on many European short/medium-haul flights.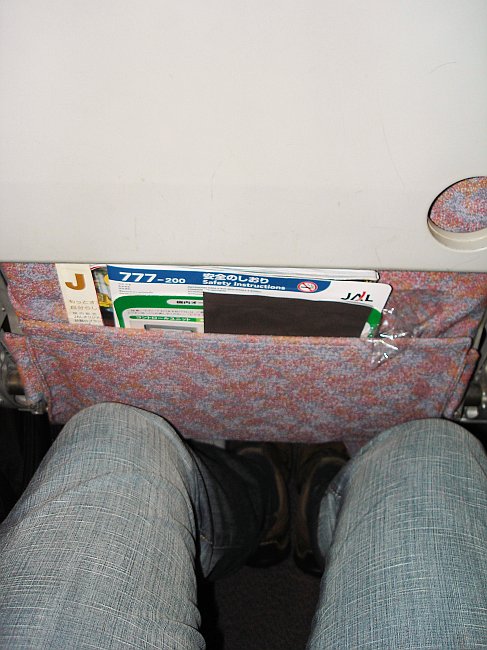 Powerful Takeoff
Boarding was completed soon and we left our parking position at 17:09. Empty gates on our left: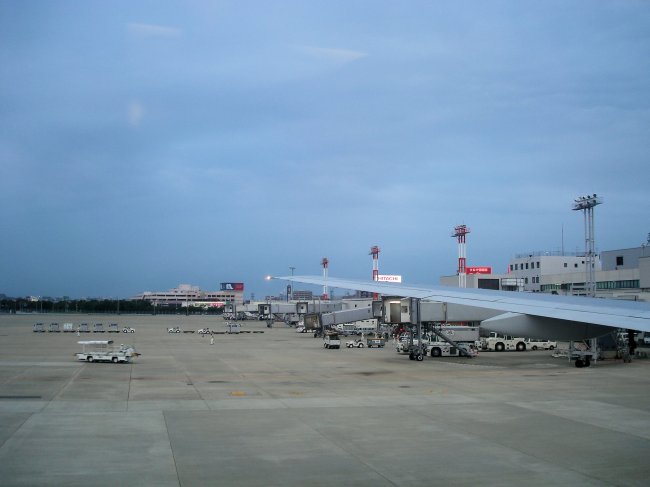 Front camera view...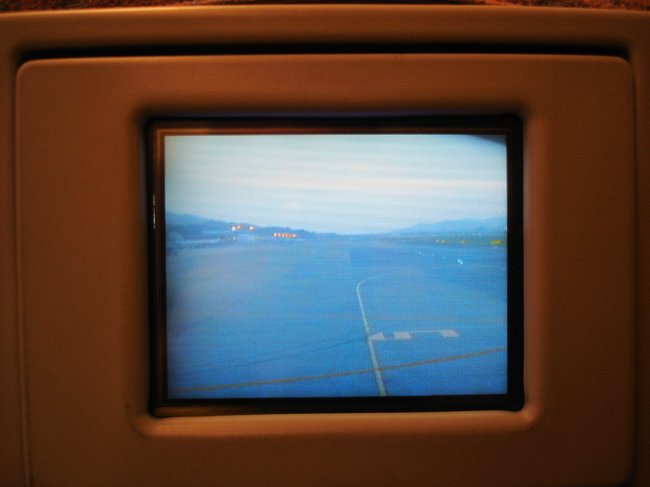 ...on the way to...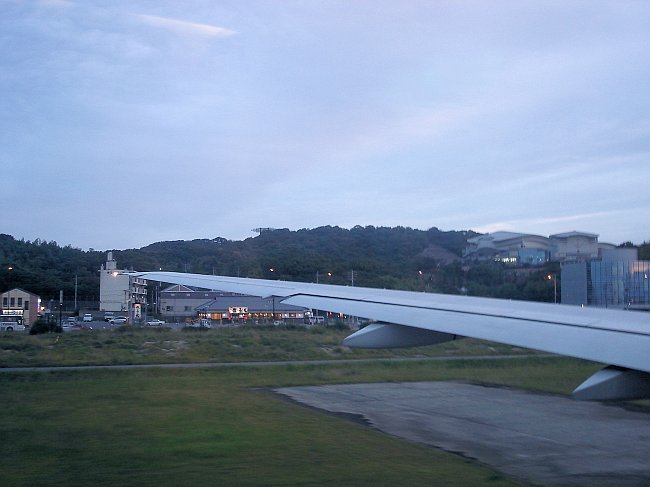 ...runway 34.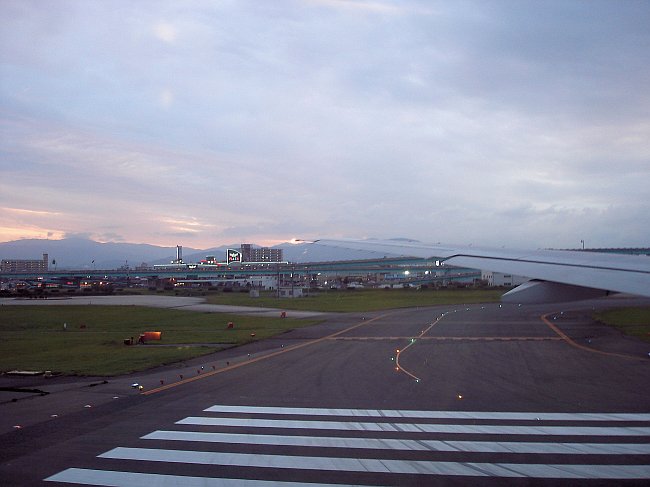 Just after turning in the two PW4084 powerplants loudly howled and kicked the 777 down the runway.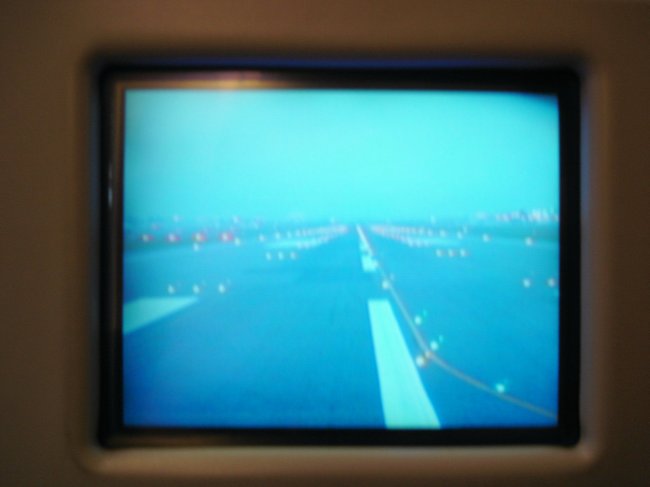 The light 777 rocketed upwards...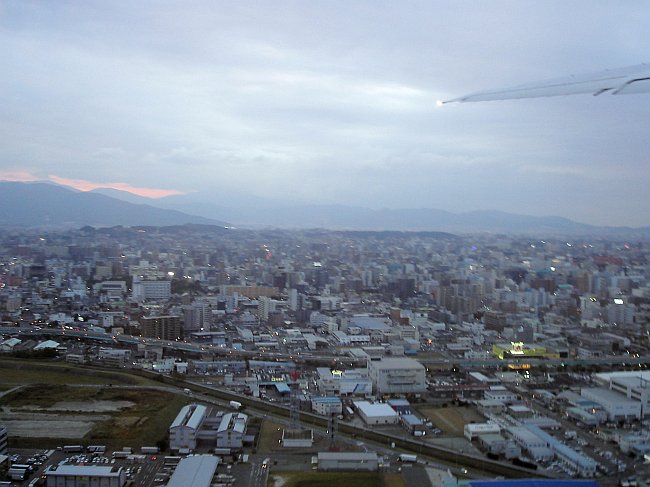 ...and climbed steeply into the skies over Fukuoka. That was one of the shortest and most powerful takeoff rolls I have ever experienced on a 777.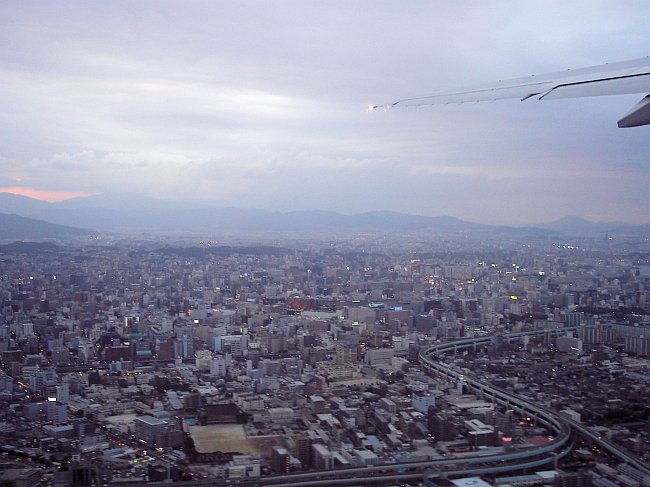 Passing the harbor area: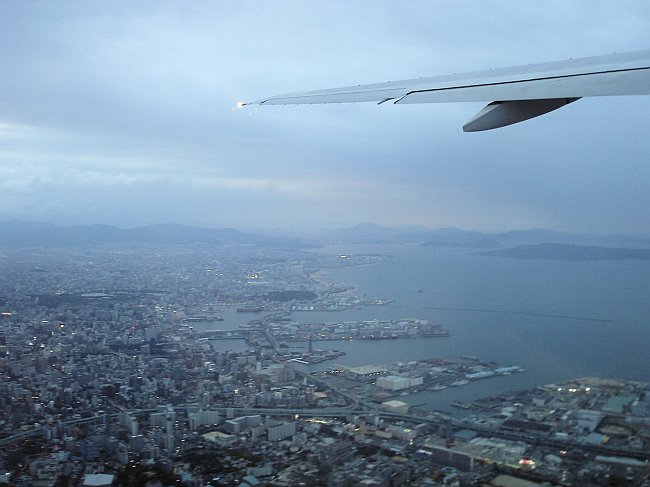 Down camera view: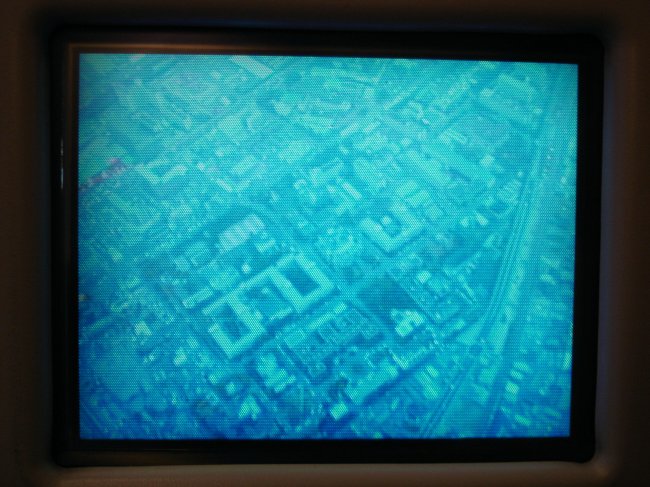 Fast Climb
We broke through the clouds...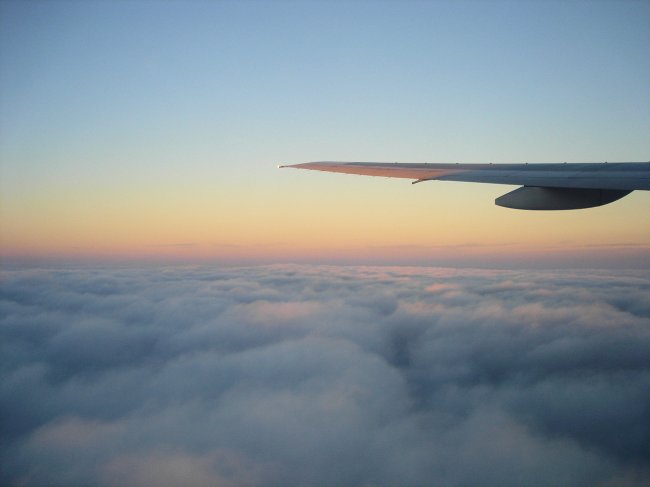 ...and continued to climb quickly after a short brake. Beautiful light effects while setting course for Tokyo: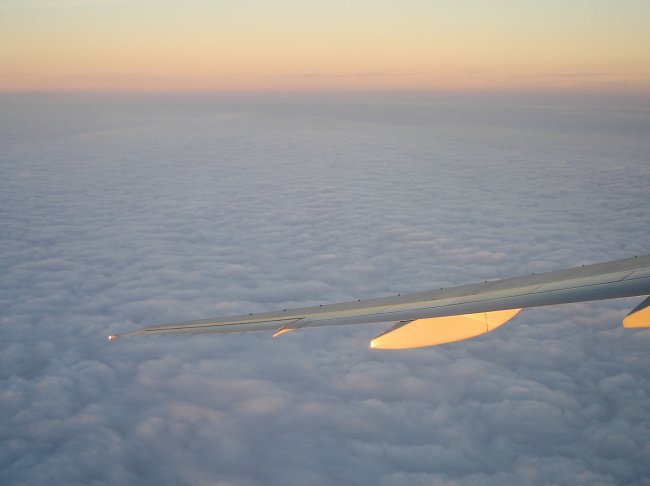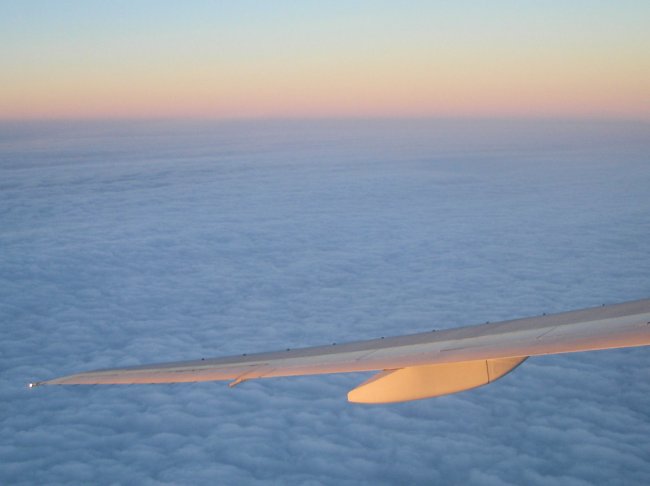 Sunset on a cloudy heaven, with the 777's elevator unit on the left: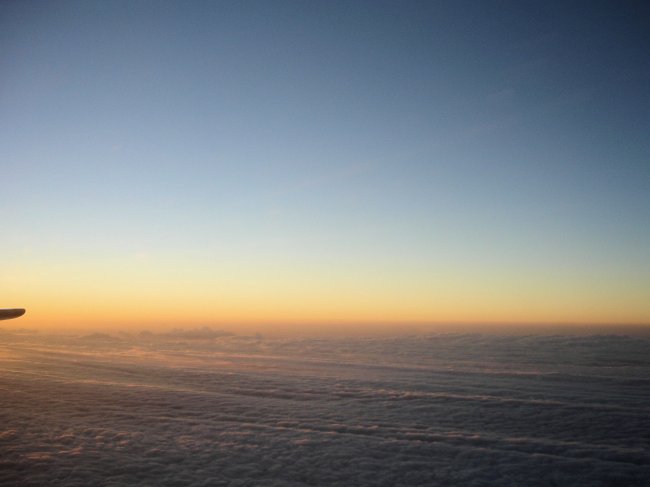 It was time to check the airshow...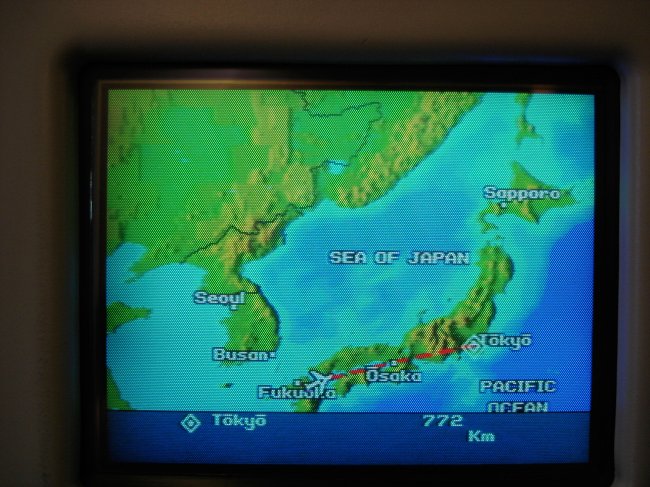 ...and I was surprised when I read the data on the screen: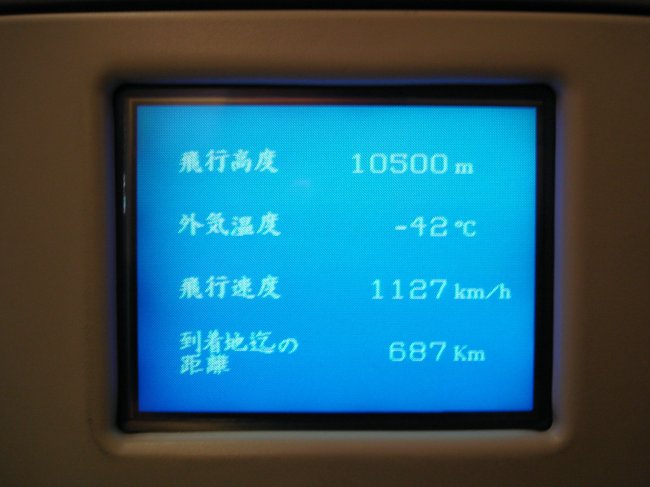 Some minutes later we were cruising at 11,900 meters (39,000 feet), at a (tail-wind supported) speed of
1142 km/h
- and all that only 20 minutes after takeoff!
Floral Room
After a drink service (tea/coffee/juices/soup) I walked through the empty cabin and discovered the sign "Floral Room" on a lavatory door: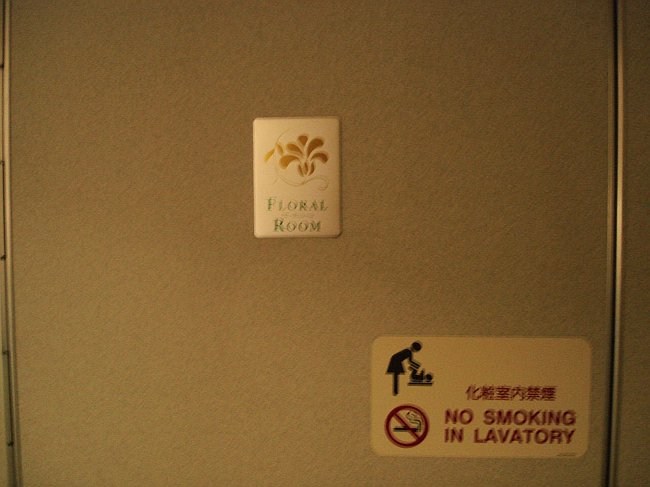 I asked one of the F/As about that and she told me it's a lavatory with additional amenities for women.
"But men have also access",
she added and smiled. Later at home I found out that JAS had actually invented the "Floral Room", becoming the first airline in the world in March 1996 to offer a dedicated lavatory for women. Interestingly, the designation has survived the JAL/JAS merger - JAL had called its lady lavatory "Elegance Room". However, I still don't know whether men can always use the "Floral Room" or whether it was an exception due to the light load.
Apart from a smell of flowers in the lavatory, the amenities include emulsions, hand soap...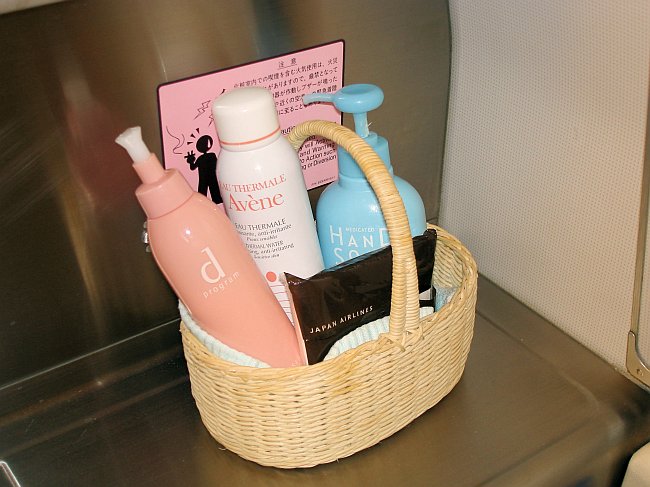 ...and pink and green patterned toilet paper: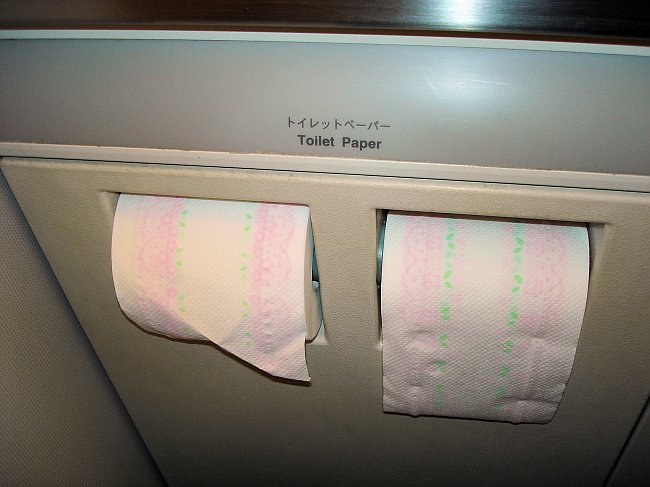 Approach
One hour had passed quickly and we started the descent into Tokyo-Haneda. First heading north to Tokyo-Narita...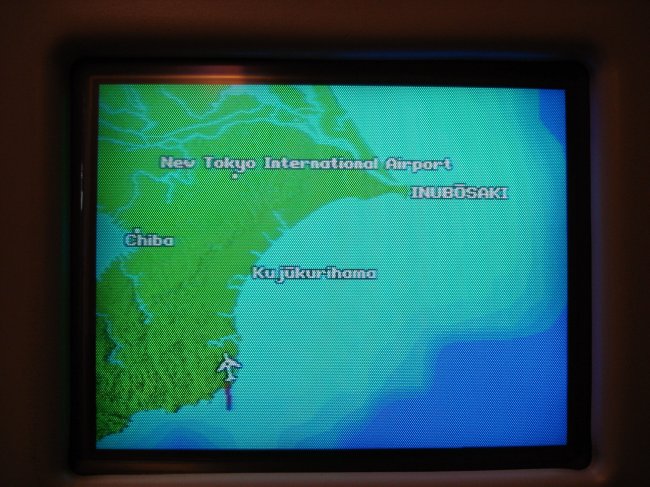 ...then turning left towards Tokyo Bay and Haneda: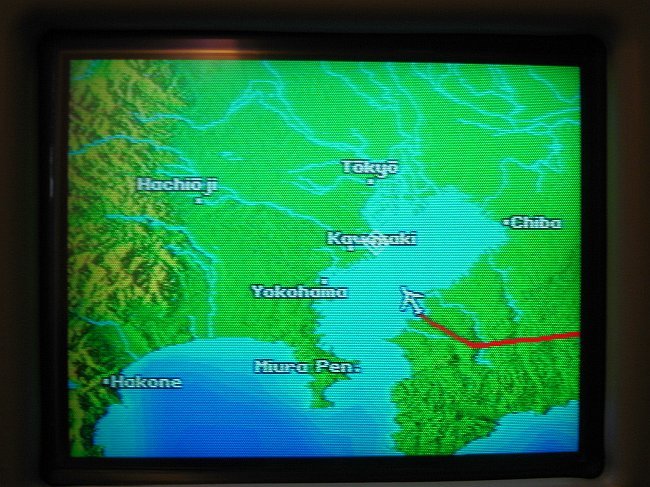 Again the front camera was switched on and offered good views: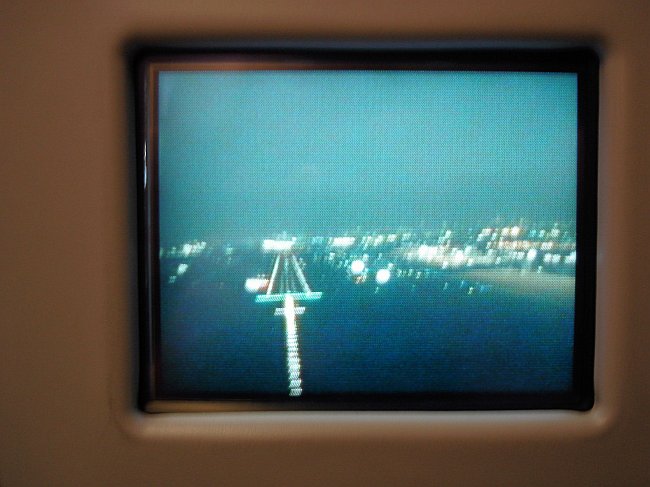 We touched down at 18:37...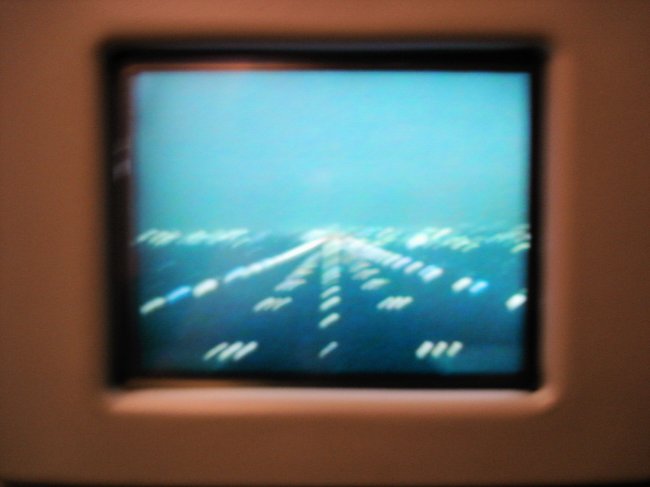 ...and arrived at the gate six minutes later.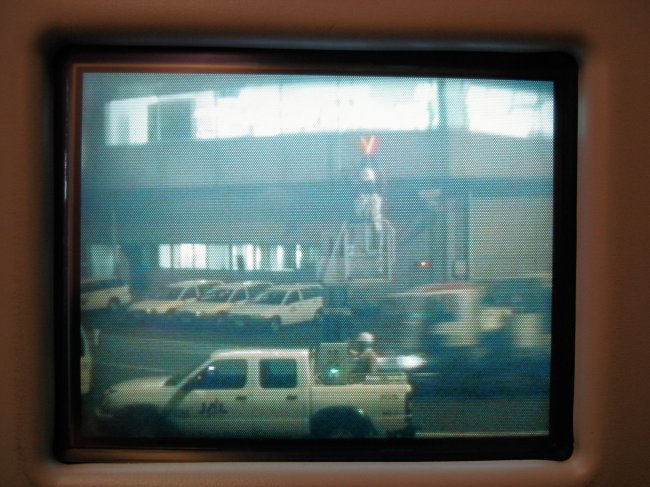 On blocks at 18:43 - three minutes behind schedule.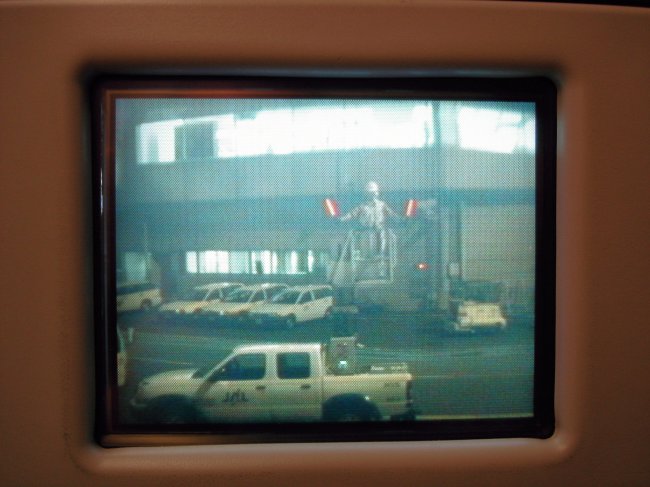 Before disembarking we chatted for a short while with one of the F/As. She asked what we had planned for our visit to Tokyo and we told her about the purpose of our trip. She was a bit surprised and told us about the beautiful countryside in October and November. We assured that we would come back for an extended country tour in the future.
Narita Airport Rest House
Minutes later we grabbed our luggage and bought tickets for the roughly 75 minutes transfer to Tokyo-Narita Airport (3000 Yen = 18 Euro, one way). After arrival we had to take a shuttle bus to the Narita Airport Rest House - a hotel which seems to be just next to the terminal on certain maps. However, you really need to take a shuttle bus and airport view from the rooms may be very limited. The hotel (double room for 88 Euro) is not in good shape any more and the older concierge wasn't friendly at all - I asked for airport view and all he replied was "rooms not for viewing".
Either he was rude or he didn't speak English well, who knows. At least the hotel offered a large breakfast buffet.
Tokyo-Narita Spotting - 31 October
We took the shuttle bus back to the airport in the next morning and went to the observation deck on Terminal 1 (open between 08:00 and 20:00). That facility is facing the main runway used for all 747 operations and all longhaul departures. I stayed there all day and didn't check the observation deck on Terminal 2 (facing the shorter runway) - simply because one would miss more aircraft over there than at the T1 facility. Depending on the time of the day, photo spotters need to switch to another places around the airport.
The variety of airlines is enormous, but numerous Asian carriers use 747s or other longhaul aircraft which also fly to European or American destinations. Japanese domestic aircraft are rare, but ANA and JAL have based a large number of international aircraft at NRT (e.g. ANA 77W in Star colors and ANA 763ER in panda cls). Chinese carriers are limited, some of them fly into Haneda. Despite some well-known European and American longhaul aircraft and other doubles I logged a total of 103 new registrations until sunset in the late afternoon.
In the afternoon an NWA A332 arrived - without its right winglet.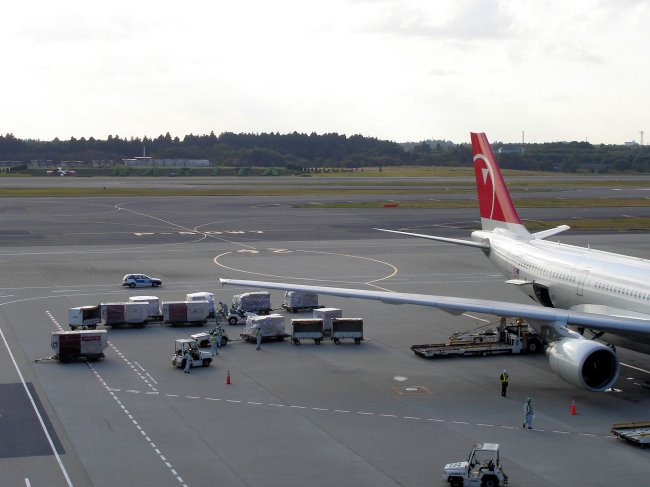 Some mechanics visually inspecting the wingtip:
Evening scenes...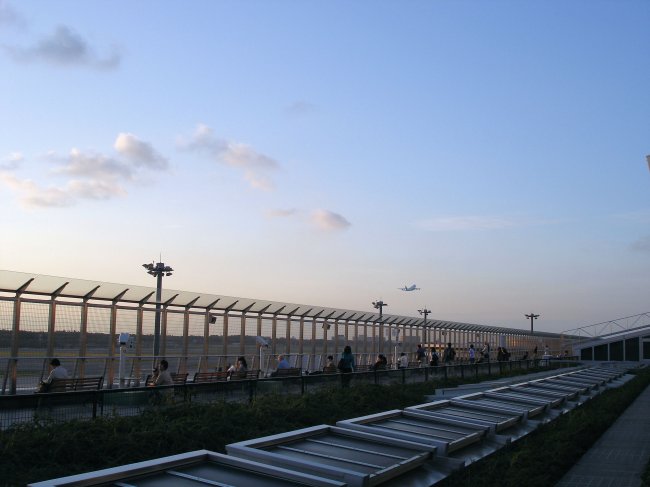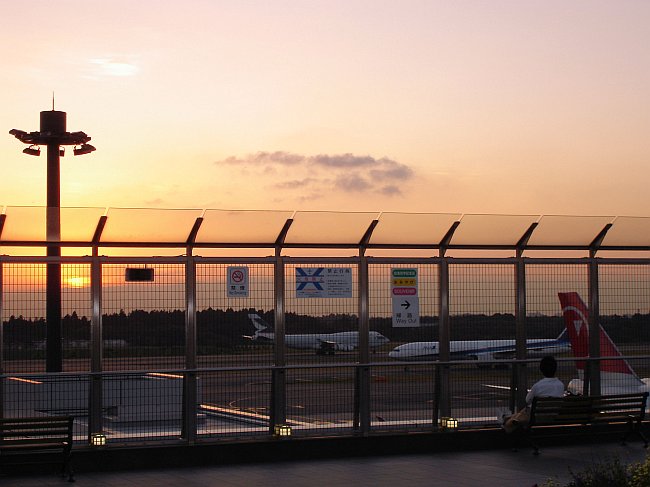 After sunset we bought a return bus ticket to Tokyo-Haneda Airport. This time the journey was a bit longer due to dense traffic. From HND we took the shuttle bus to the Toyoko-Inn Haneda Otorii Honkan, some ten minutes from the airport.
Conclusion
Domestic flying between FUK and HND on JAL was once again a pleasure: friendly, customer-orientated staff everywhere and lots of comfort on the ex-JAS 777-289. The powerful takeoff and fast climb on that light widebody were additional fun factors. No English newspapers this time, but PTVs were a nice compensation.
Next report: HND-UKB-HND on ANA 763 (non-ER) & Skymark 763ER
Best Regards,
PlaneHunter