School Trip to Japan CHC-AKL-NRT-CHC
Hi Everyone
This is my first post here on the site so all comments and suggestions welcome. I hope you enjoy this report as much as I had writing it!
Pre Trip
This trip report is about a trip I took to Tokyo in September 2007. The Reason of the trip was to visit my High School's Sister School in Tokyo. I was accompanied on this trip by 27 other students from my school, the deputy principle and 2 teachers. Planning for the trip began in late April. My mother (who is a travel agent) was put in charge of organizing the trip for our school. She got several different travel options for us to fly there. They were:


Air New Zealand - CHC-AKL-NRT-CHC

Singapore Airlines - CHC-SIN-NRT-SIN-CHC

Qantas - CHC-MEL-NRT-BNE-CHC

NZ managed to secure us a very low fare of $1499 return so in May the school eventually chose NZ over SQ and QF as they were over $2000ret. So we finally found out we would have to fly through AKL and that we would do our long haul on the 772. I couldn't complain about that as I have enjoyed this aircraft before but I would have preferred SQ as I am the No.1 fan of that airline (And that would have involved a 744)
As I was travelling in a large group it was always going to be difficult to do pre-seating. Thankfully my mums NZ representative was able to do some seating on the Long Haul legs for us. I managed to get into the forward Y cabin on the 772 which I was happy about as I really dislike sitting down the back. I was one of three who the NZ rep managed to seat in the fwd cabin and the rest of our group was seated in the very back of the back cabin. The seating was great and kudos to her for her many hours of work that it took her to get me and my friends seats together, anyway time now for the actual trip!!!
Flight 1
Flight NZ500
Christchurch Intl (CHC/NZCH) to Auckland Intl (AKL/NZAA)
DTE: 29Sep 07
A/C: Boeing B737-319
REG: NZ-NGG cn.25606 / ln.3123
SEAT: 18C Moved to 12E
SEAT2: Middle Seat / Exit Row / Economy Class
Sch Depart @ 0540
Dep Gate 16 @ 0539
Act Depart @ 0544 on RWY: 02
Sch Arrival @ 0700
Act Arrival @: 0656 at RWY: 05R
At Gate 29 @ 0657
Aircraft Information
ZK-NGG
First Flight on 17SEP99
First Delivered to NZ 14OCT99
Right down to business now. Of course my flight had 2 leave very early so I was up @ 0330, quick shower and out the door in the taxi by 0410.
My Bag ready to Leave
We took a taxi as my mum and dad were departing to SYD on NZ841 that morning. We arrived at CHC at around 0430 and the place seemed dead outside but we went to the NZ domestic Check In with Intl connection, the area was really crowded. There were at least 3 other school groups there including the Christchurch City Council Japanese Cultural Exchange flying out as well. In the end these other groups ended up heading to KIX instead of NRT.
Check in @ 0440am
We had to wait a while until check-In opened at around 0450 and I managed to be one of the first people checked in. One very helpful man checked our group in one by one and one and I helped to ensure that everyone in the group was seated with someone else on the trip. The entire group of 28 was checked in by 0515 and we headed upstairs to Gate 16. Security was a breeze as always in CHC and we were at the gate in time for boarding @ 0520.
Boarding Pass
NZ-NGG Waiting to take us to AKL (bad pic sorry)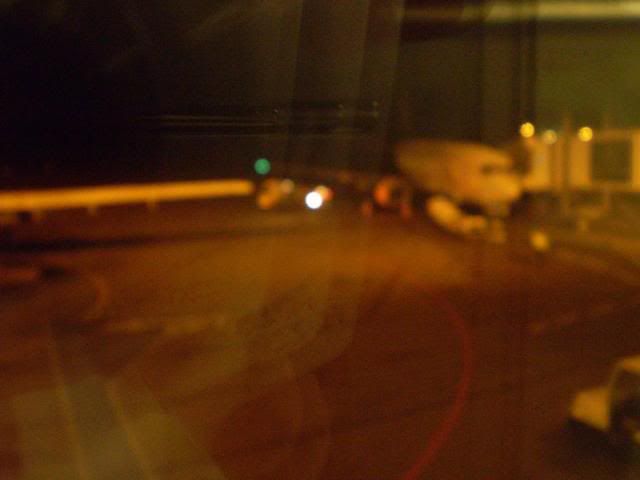 It was really dark when we were boarding and was unable to get the aircraft rego. As we were boarded the A/C a shiny metal plaque inside the door frame caught my eye and written on it was the rego ZK-NGG. Boarding was fairly fast and the front door was closed by 0535. The flight flew about 80-85% full. The safety video played and we departed on runway 2 a few minutes behind schedule.
The flight was fairly uneventful. The flight time announced by the Captain was just over an hour (1:03) with an initial cruise altitude of FL330 later moving to FL350 however this later change never eventuated. The Cabin crew came through at the beginning of the flight with the Buy-on-Board service. Most people in my group bought a "v" energy drink as it was so early but hardly anyone else purchased anything. Read the paper most of the way to AKL and descent was announced at around 0639.
A few pictures from the flight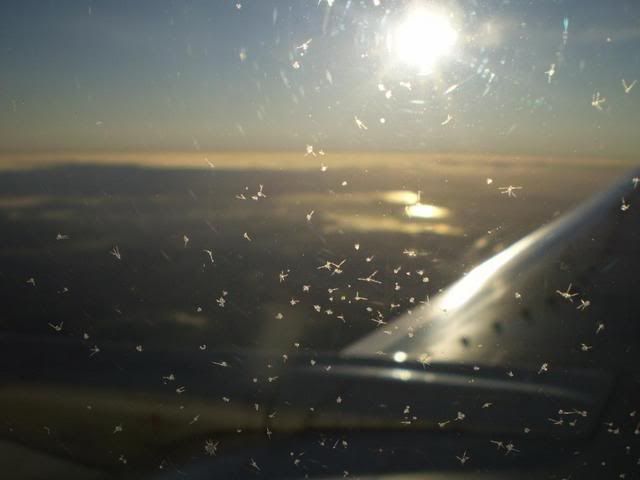 We experienced a few bumps on our descent into AKL but the cabin was cleared very fast and after what felt like 2 or 3 minutes we were almost heading onto final
AKL in the distance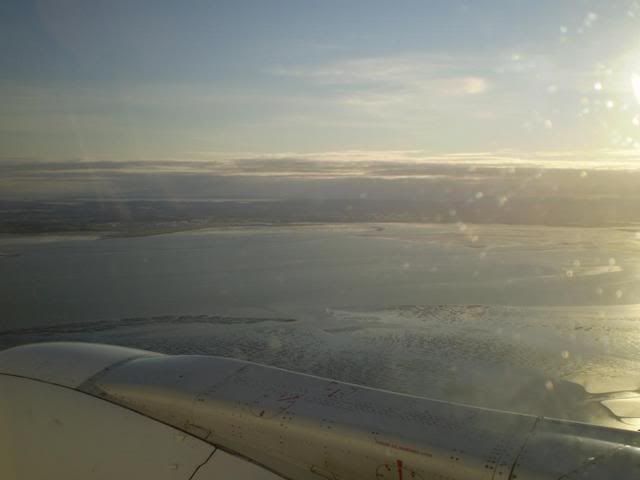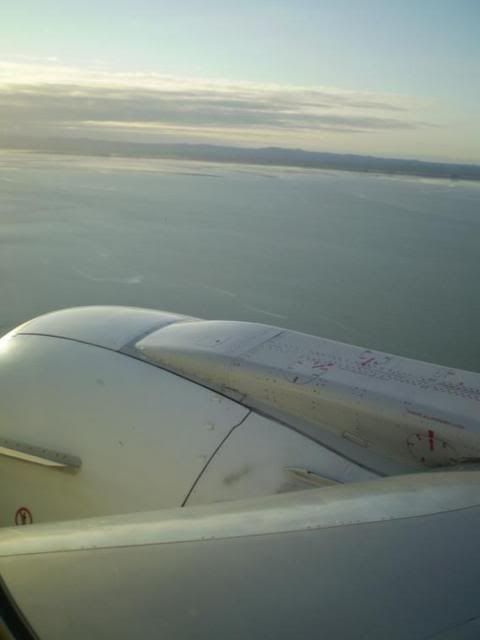 A Second before touchdown on 05R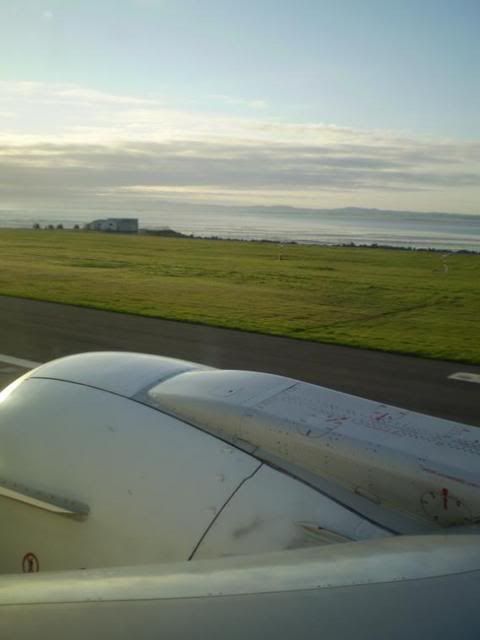 Touchdown was quite rough and we landed a few minutes early. We exited 05R right next to the domestic terminal so it was a fast taxi to Gate 29
ZK-NGG at Gate 29 in AKL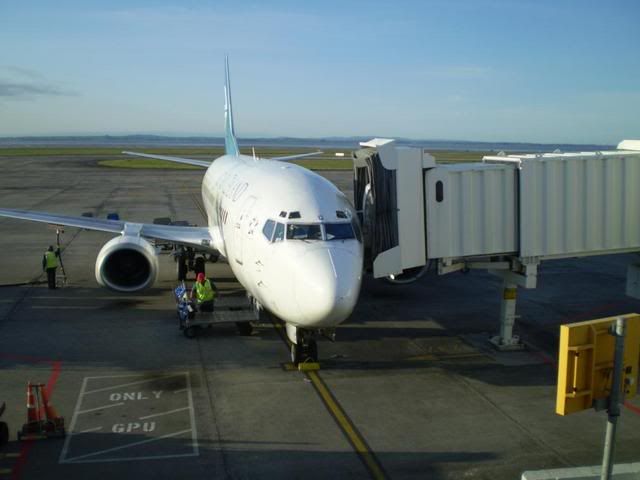 We moved quite fast through the domestic terminal and were outside within about 3-4 minutes. After a quick head count we boarded the transfer bus for the International Terminal. The ride to the Jean Batten International terminal took 5 or so minutes and dropped us at the northern end of the terminal. We then moved directly to Customs where we had to wait 10-15 Minutes. After a few problems at security for my friends our entire group headed to Burger King for breakfast. I ended up heading directly to Gate 7 to change some seats for our teachers where I found ZK-OKG waiting for our 11 hour flight to NRT
ZK-OKG at Gate 7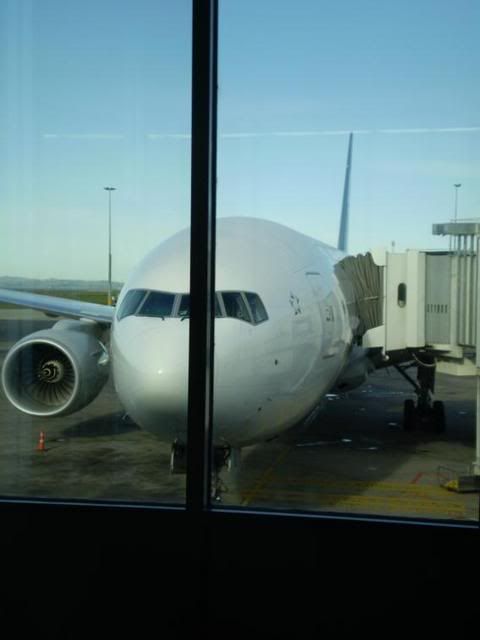 Some other aircraft
NZ772 to KIX at Gate 3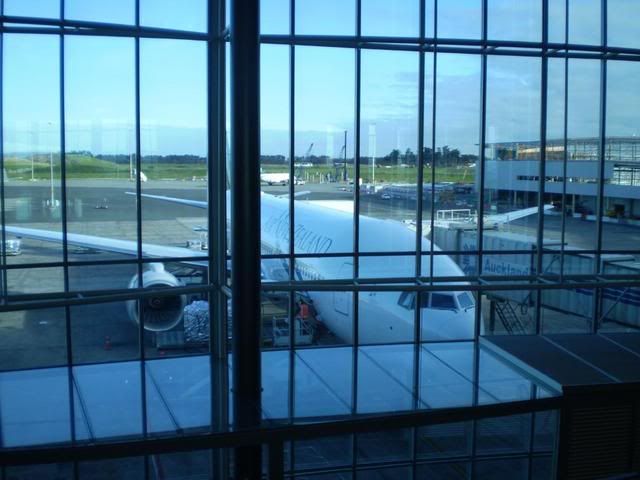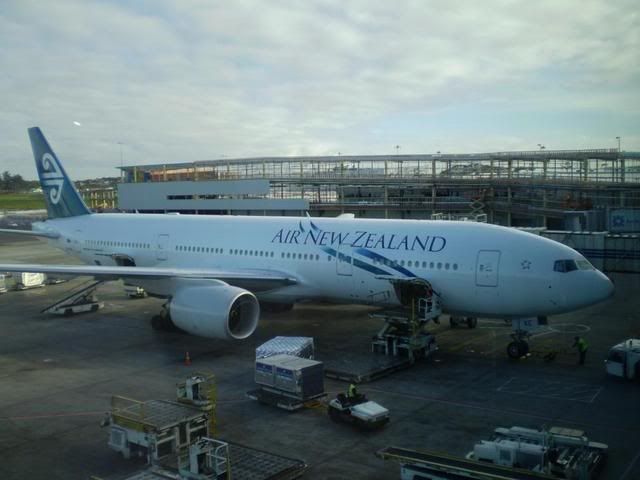 772 Heaven in AKL this morning
(left to right) NZ772 to NRT, NZ772 to MEL, and 2 parked NZ772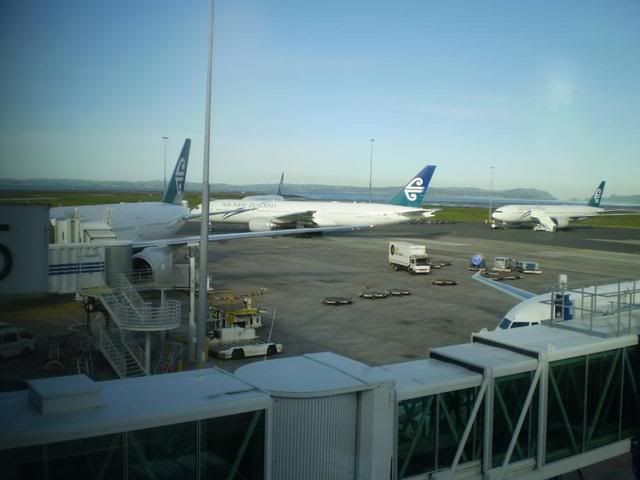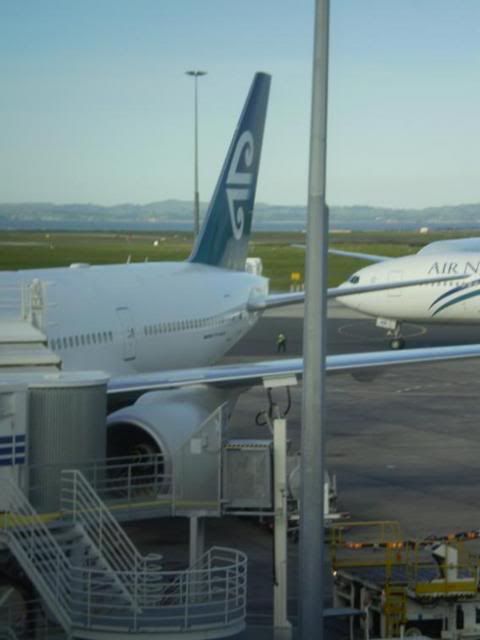 Boarding commenced on time @ 0800 and as always these days everyone pushed and shoved towards the gate. The ground staff however sorted this problem immediately and they were very strict in the boarding process. The Boarding calls were made in Japanese and English
The LCD Monitor at the Escalator to the Gate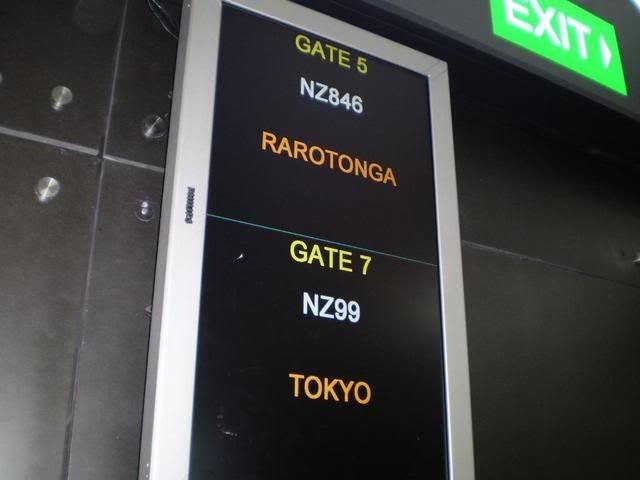 Boarding Gate
The very organised line established by staff
Flight 2
Flight NZ0099
Auckland Intl (AKL/NZAA) to Tokyo Narita International Airport (NRT/RJAA)
DTE: 29Sep 07
A/C: Boeing B777-219ER
REG: NZ-OKG cn.29403 / ln.591
SEAT: 38A / Window Seat / Economy Class
Sch Depart @ 0830
Dep Gate 7 @ 0836
Act Depart @ 0845 on RWY: 05R
Sch Arrival @ 1640
Act Arrival @: 1601 at RWY: 16R
At Gate 97 (T2) @ 1612
Aircraft Information
ZK-OKG
First Flight on 03OCT06
First Delivered to NZ 19OCT06
Boarding occurred through door 2L this morning and were greeted by the Purser and Flight Attendant Tim who I know (more about him later.) Boarding took a while but by 0830 the front door was closed and we were ready to go. The flight was very full with 4 seats left in J, Full in Y+ and Y had only the back 3 seats left. The captain advised us the flight time was around 10 hours 10 minutes and we would expect FL360
Boarding ZK-OKG
Boarding Pass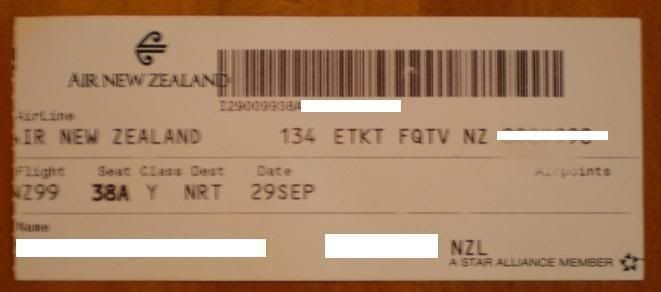 NZ A320 Heading for RAR and 772 in background heading for KIX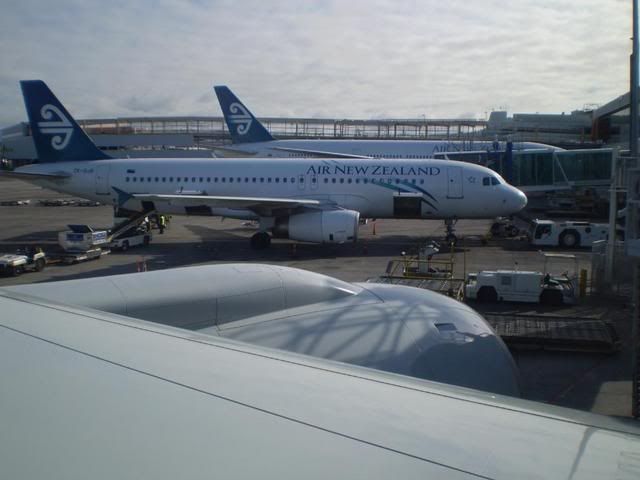 Takeoff from AKL
NZ 772 Pacific Eco Cabin from seat 38A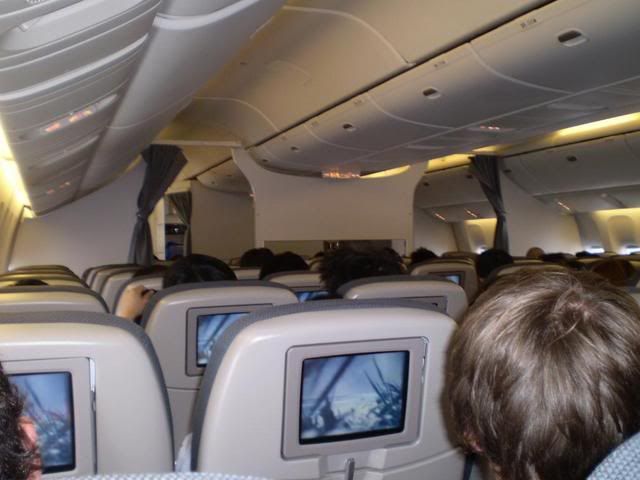 Climbing to FL360
Shortly after take-off the crew began the breakfast service, there were no menus distributed and the options were announced over the PA.
The Main Options were as follows


European Breakfast - Scrambled Eggs, Chicken Sausage and Tomato

Japanese Breakfast – Japanese Meat Dish

Light Option - Preset Tray

Accompanied by fruit and Warm fruit buns
Full beverage service and Tea and Coffee
I opted for the light option as I wasn't entirely hungry. I only found out after I received my meal that the light option is basically the meal without the hot dish. After the FA saw that I was disappointed she loaded me up with fruit buns which were fantastic. The fruit salad was fresh and tasty and the buns perfectly warmed. At this time me and my 2 friends in 38B&C watched the Simpson's. Both of them also enjoyed their European Breakfasts.
After the trays were collected I played with the AVOD system. NZ have a modern and user-friendly system. I had previously traveled on the NZ772 to SIN therefore I knew the IFE system pretty well. The system has an excellent Flight Map and there were plenty of movies choices as well. There were even some very old comedies for my Japanese Teacher. After the meal we all settled into our movies. I remember watching Evan Almighty which was great and also watched a few others which I cannot remember.
At around 4 hours into the flight the crew came round distributing Ice-Cream. That Ice cream was probably the best ice cream I had ever had. It was cookies and cream and made by NZ Natural. In fact an hour later I went to my friend Tim and he gave me plenty of ice cream to give to my group. I ended up having 4 cartons of it by the end of the flight it was so…. good. The crew also handed out many drinks and snacks including snack crackers and fruit on request.
The middle of the flight got very boring and uneventful. The PTV's of my friends crashed several times and I was lucky that mine didn't crash. The problem was apparently due to a lack of memory on the server. At one stage my friends PTV came up with a computer screen!!
At around the 8.5 hour mark after passing Guam we were served dinner. The options were as followed and announced by Tim:


Chicken with Potato

Japanese Meal – Teriyaki Beef with rice

Light Option - Preset Tray

I opted for the Beef and rice which was fantastic considering how long ago it was cooked. The meal was a great chance to clean up on my chopstick skills!!
. Also by this stage in the flight my group had also drunk all the coke on the plane and we were left with juice ha-ha.
With around 40 minutes until landing the captain came over the PA and announced our descent. We were tracking far to the east of Narita and flew in over Hokota and Ishioka before making a left turn onto the final of runway 16R.
Before landing at Narita
Final & Landing at Narita
After quite along taxi to Terminal 2 we eventually pulled into Gate 97. Disembarkation was quite slow as it took a while for the second aerobridge at 2L to get in position.
Managed to get this shot as we entered the terminal.
Customs was fast an efficient and we were out the door of Terminal 2 1 hour after landing
Arrivals Area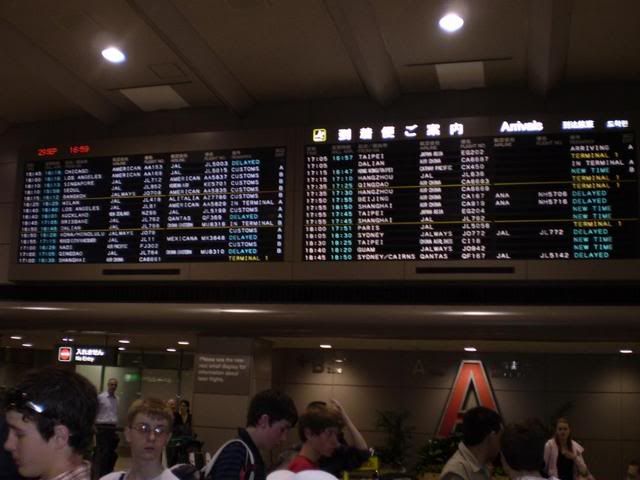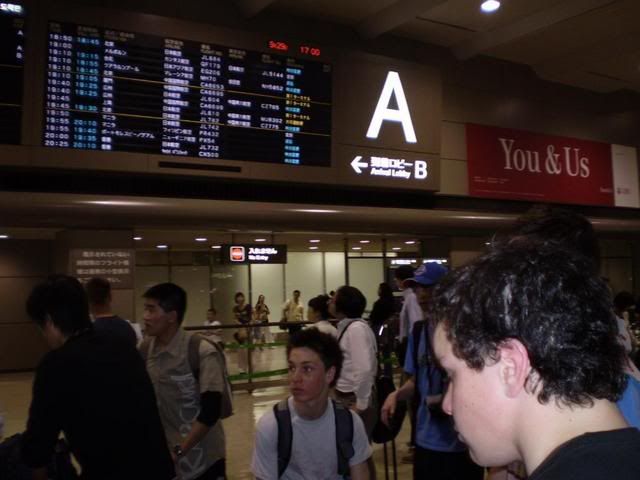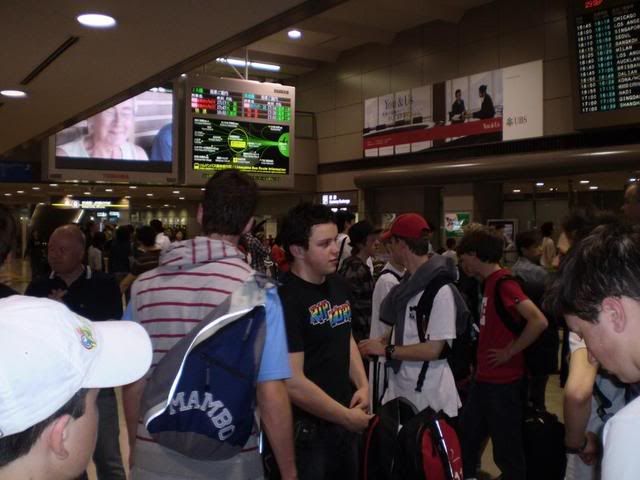 Outside @ T2
We had a fantastic 10 days in Japan and it was time to head home on the 9th of October. We had an entire day of sightseeing in Yokohama before heading to the Airport in the late afternoon. It took around 3 hours to get to NRT today and we were @ NRT at around 1700
After a slow check-in process with only 3 stations open for economy, we finally checked in and managed to change some seats so we could all sit with our new friends we made in Japan.
Boarding Pass
We moved swiftly through security followed by customs and were soon in the transit lounge. I was quite disappointed with the transit area in NRT as there wasn't a huge range of shops. I had quite high expectations but didn't live up to some of the airports like SIN and HKG. I was hoping to find a PSP camera but none of the electronics boutiques sold any Sony products. Considering Sony is a Japanese manufacturer I was quite surprised they only stocked a few products. After having a freshen-up and a shower which was great after a long days sightseeing we were all ready for our flight home. As we were heading for gate 98 we heard over the PA a call for a Mr. Graham Henry (All Blacks Rugby Team Coach) so we started to think that the All Black team maybe on board our flight.
Flight 3
Flight NZ0090
Tokyo Narita International Airport (NRT/RJAA) to Christchurch Intl (CHC/NZCH)
DATE: 9OCT07
A/C: Boeing B777-219ER
REG: NZ-OKE cn.32712 ln.564
SEAT: 37K / Window Seat / Economy Class
Sch Depart @ 1820
Dep Gate 98 @ 1852
Act Depart @1933 on RWY: 34L
Sch Arrival @ 0945+1
Act Arrival @: 1023 at RWY: 02
At Gate 34 @ 1026
Aircraft Information
ZK-OKE
First Flight on 04MAY06
First Delivered to NZ 24MAY06
Boarding began on time and after our teachers had done a head count we were ready for boarding.
We were welcomed onboard at door 2L and went to our seats 37HJK. I took the Aisle for takeoff and managed to get a little close eye before takeoff. We departed the Stand just after scheduled departure time and then we encountered a problem. The APU was not generating enough power to ignite Engine 1. So we pushed pack into the gate to and we used an external source to get engine 1 going. We then pushed back again and cross-feed from engine 1 to get engine 2 up and running. This whole process took over an hour and the crew were great over this time and they handed out chocolate bars to al the Y pax.
And as for the All Blacks, they were seated in J, Y+ and Y. They were flying back from the Rugby World cup after their quarter final loss in Cardiff. The flew into NRT from LHR on NH and were continuing to CHC on NZ
As for the loads the flight was completely full. J & Y+ were completely full and only the back 3 seats in Y stayed free.
@ 1933 the throttles were opened and we were underway
The flight was very uneventful. I can't tell you about any of the meals as I didn't eat. There were no new movies on the plane even though it was a new month and it was dark until just before landing. No-one could get any sleep as the plane bumped around the entire trip so me and my 2 good friends ended up just talking for most of the flight and eating all the chocolate we wasted our yen on at NRT airport. We flew home at FL370 and the flight time was just 9 hours 50 minutes.
At around 9.50am NZT while over Reefton we began our descent into CHC. Our landing track took us over the Canterbury plains and we turned over Rolleston onto the final approach for Runway 2
Landing at CHC
We deplaned quickly and were greeted in the arrivals hall by 1000's of people welcoming home the All Blacks.
Ratings
NZ500
Reservation: 10.0
Check-In: 7.0
Boarding: 9.0
Seat: 7.0
Aircraft Overall Ambience: 6.5
IFE: N/A
Crew Service: 6.0
Food: N/A
Beverages: 9.0
Amenity Kits + Others Freebies: N/A
Disembarkation: 9.0
On-Time Record: 10.0
OVERALL IMPRESSION: 8.17
NZ099
Reservation: 10.0
Check-In: N/A
Boarding: 10.0
Seat: 9.0
Aircraft Overall Ambience: 9.5
IFE: 8.5
Crew Service: 10.0
Food: 8.0
Beverages: 7.0
Amenity Kits + Others Freebies: 4.0
Disembarkation: 8.0
On-Time Record: 10.0
OVERALL IMPRESSION: 8.55
NZ090
Reservation: 10.0
Check-In: 5.0
Boarding: 9.0
Seat: 9.0
Aircraft Overall Ambience: 9.5
IFE: 8.5
Crew Service: 8.5
Food: 6.0 (impressions from others)
Beverages: 7.0
Amenity Kits + Others Freebies: 4.0
Disembarkation: 9.0
On-Time Record: 3.0
OVERALL IMPRESSION: 7.38
I hope you enjoyed this report. My next trips I hope to post are
My Australasia Adventure: Dec 07 – Feb 08
CHC-AKL-SYD-CHC-ZQN-CHC-WLG-CHC
Emirates to Morocco: Mid 08
CHC-SYD-DXB-CMN-DXB-SYD-CHC
My return to Japan on SQ: Late 08
CHC-SIN-NRT-SIN-HKT-SIN-CHC
Until Next Time
NZ99