I get dropped off at Sky Harbor around 4:45, and I proceeded immediately to the check-in counter. There is no line for the self service kiosks, and a few of the stations are occupied, but I'm able to locate a kiosk immediately and check in quickly, checking one bag. After dropping my bag with the TSA agent next door, I proceed upstairs to take a look at the ramp. American usually has 5 planes RON at PHX, and this season they're all Mad Dogs. [Beginning the next day I believe they will have a 738 RON here too, with the start of the PHX-MIA service, which boasted several banners in the terminal.
Two of the Mad Dogs: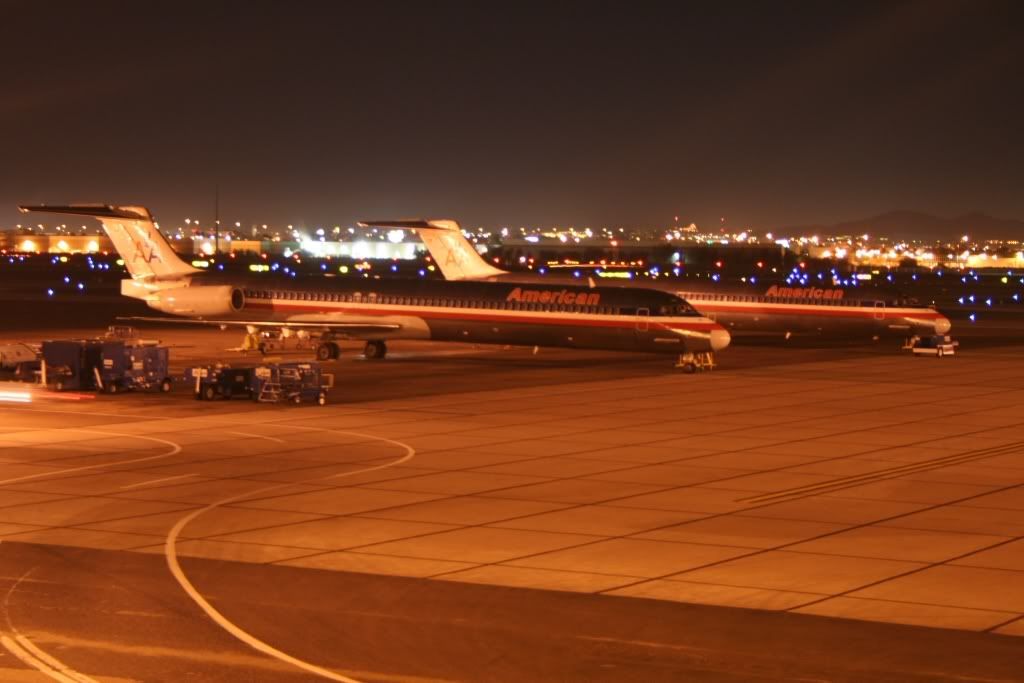 My Mad Dog to ORD, out of gate 2: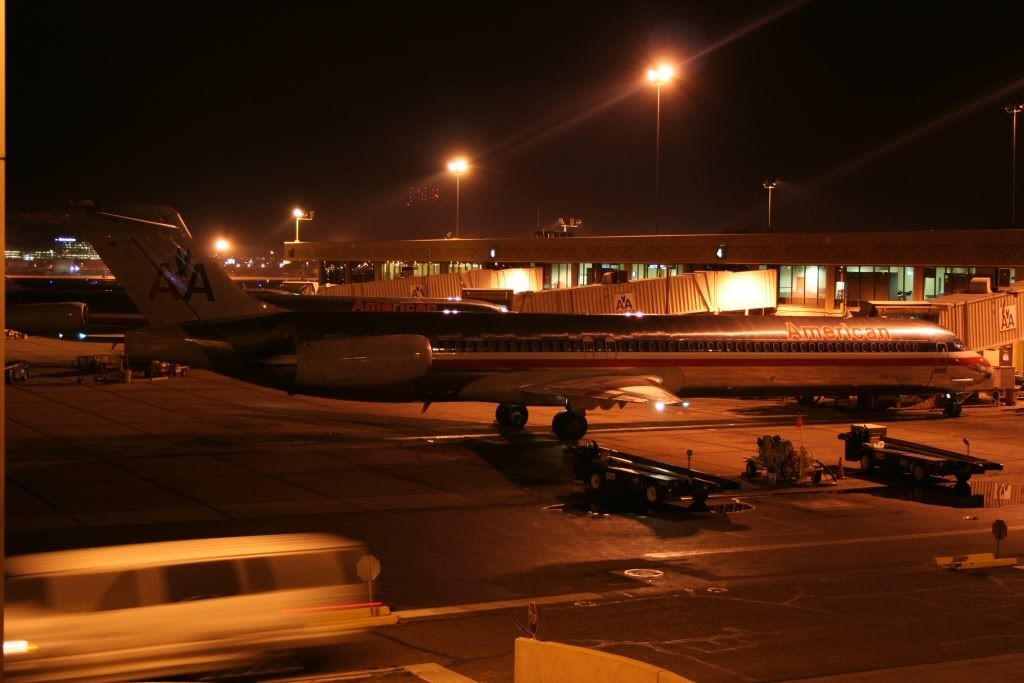 The security queues are already getting long since the checkpoint does not open until close to 5. I take my time and browse through the gift shops until the checkpoints open and the line starts moving.
Boarding begins at around 6:40. It's a completely full flight, and it takes about half an hour to get everyone on board.
Thursday December 13
Phoenix-Chicago O'Hare
American Airlines Flight 2268
McDonnell Douglas MD-82
N587AA (delivered in 1991)
Departs: 7:15 AM (act. 7:20)
Arrives: 11:30 AM (act. 11:53)
Flight time: 2 hours, 45 minutes
Load: 100%
The view outside 24A: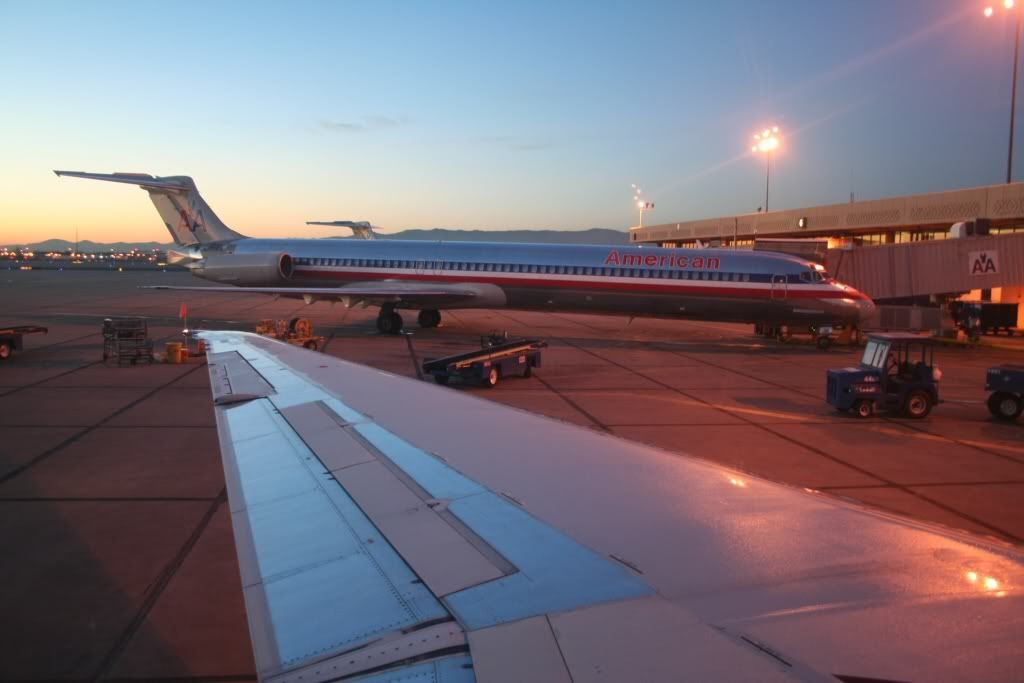 Here's our flight path: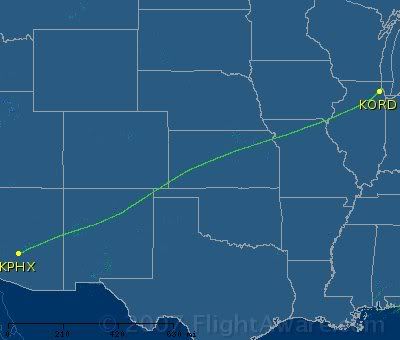 We push a few minutes late, and we sit in the alley beside T3 south for a few minutes longer as we watch 4 737's taxi by us in rapid succession. We follow the Canyon Blue caravan down to 7L for departure. We finally get our time on the runway at approximately 7:35. Ahhh, the sweet sound of JT8D's spooling up. It's a very long takeoff roll that takes us to the front of the T4 gates before we're off the ground. We take a few very gradual turns to the northeast. It's a rather smooth ascent. We climb initially to 32,000, and then later make it up to 33,000 feet. We're rather close to ABQ when the first drink service commences. I order a Coca-Cola, and get the entire can.
I may be wrong, but I believe I snapped this one just after we passed ABQ.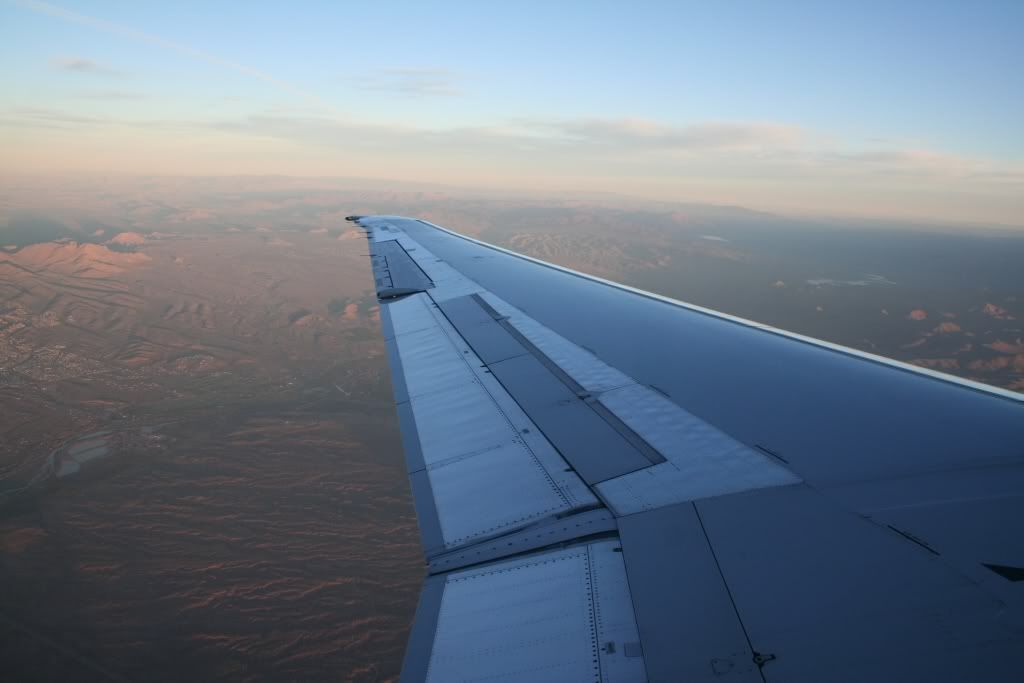 As we all know there's no IFE to speak of in the coach cabin of AA's massive Mad Dog fleet, but I'm armed with reading material. I picked up "No Country for Old Men" by Cormac McCarthy, which I decided I had to read after seeing the amazing movie a couple weeks ago. As an aside, I strongly recommend the movie if you haven't seen it yet. Along with the novel, I also have my standard Sudoku book that I never fly without. Between those 2, I also found time to peruse the American Way magazine. I didn't spend much time with the latter, which was highlighted by articles on Neil Patrick Harris talking about his hometown ABQ and another about a prominent bacteriologist.
Some more window views…
I believe in extreme NE New Mexico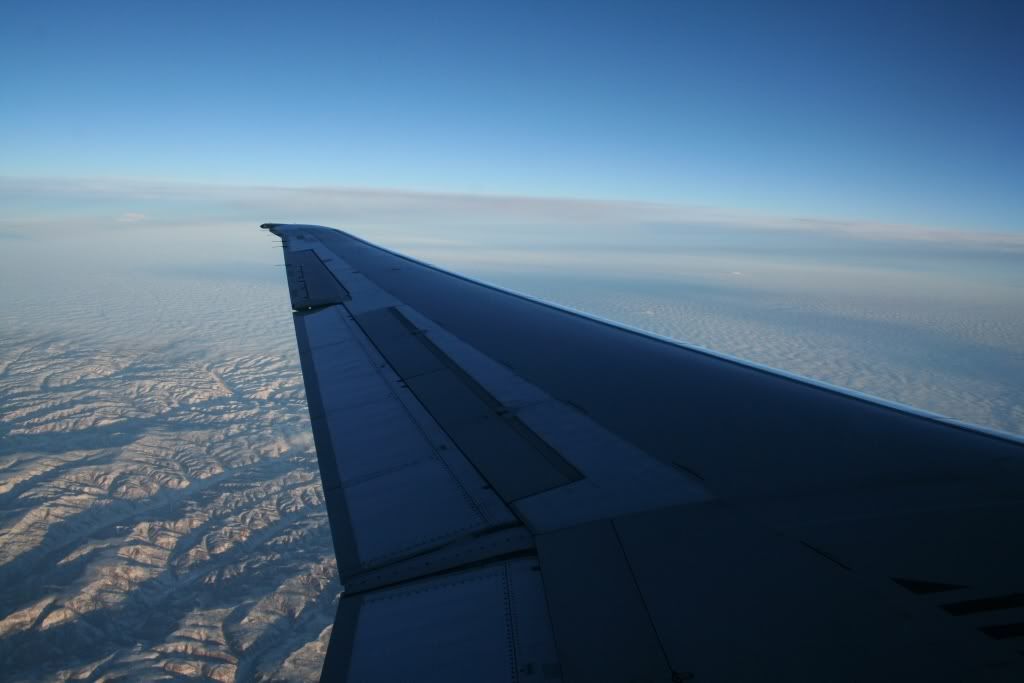 And about 30 minutes later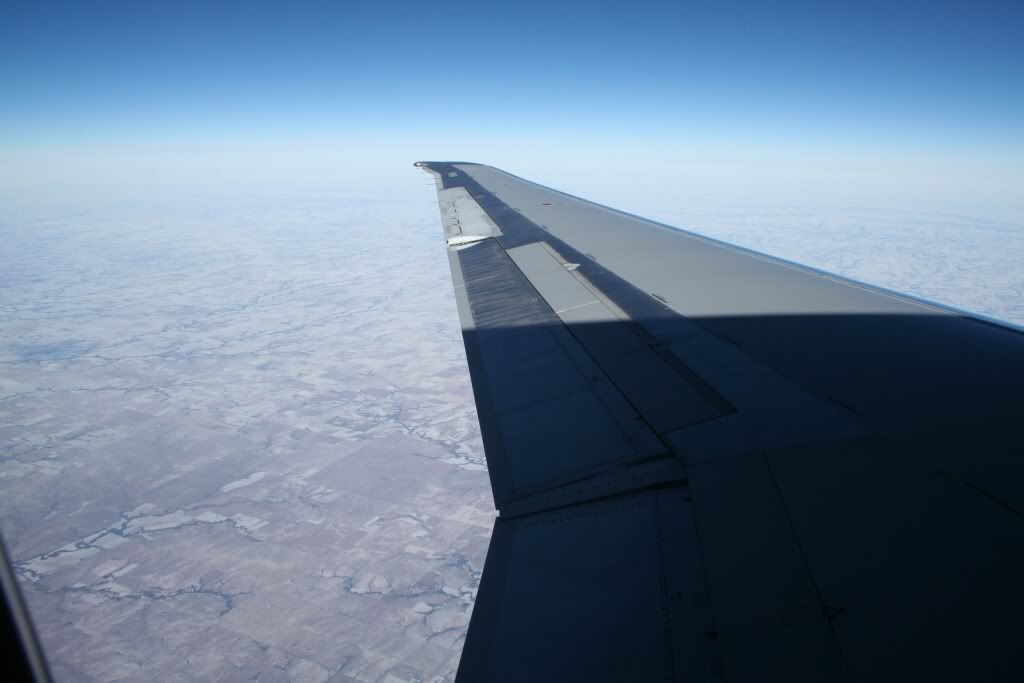 About 45 minutes after the first drink service, I saw the FA's reemerge with the cart and begin a second service. This time I go for an orange juice. The cruising portion of our flight was very smooth, and for the last 45-60 minutes of the flight, this was the view out the window: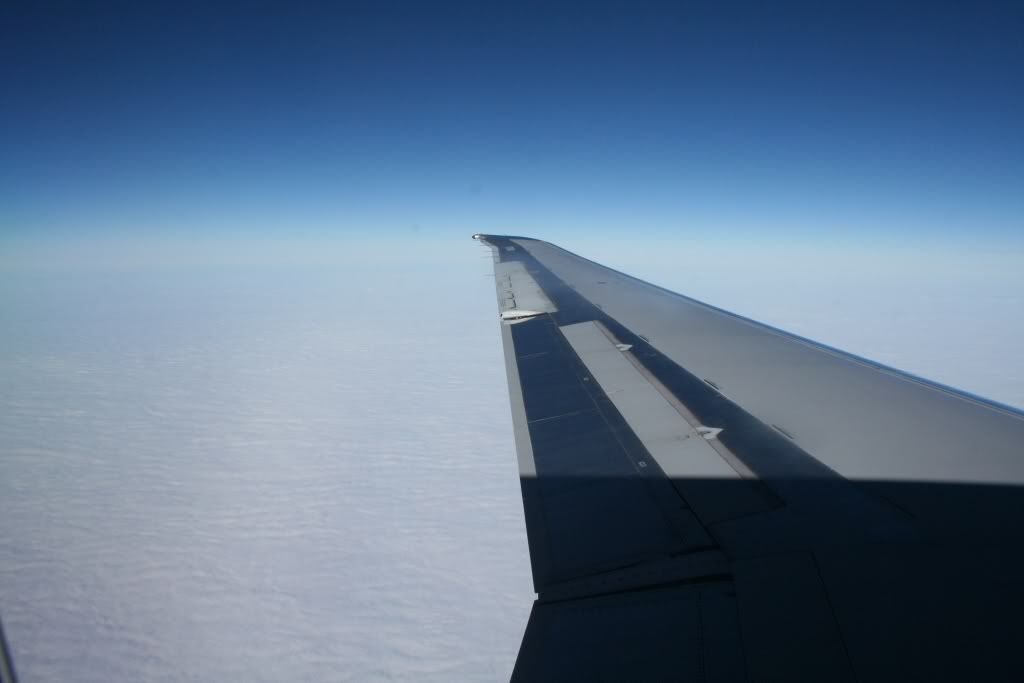 I'd estimate the top of those clouds were at about 9,000-10,000 feet. I say this because on our decent we don't pass through those clouds until after the announcement has been made that electronic devices must be turned off again, and the FA's begin preparing the cabin for arrival. Around this point an FA announces our arrival gate of K19, then gives a moment to locate it on the map in the American Way before reading connecting gate numbers. I enjoy the fact that AA gives gate info on flights into their hubs, as a lot of the other major carriers don't do the same. We hit a little choppy air in the clouds, but once we get below them, then we get thrown around a little more from the crosswinds. Still, relatively speaking, it's not all that rough an approach. Touchdown on 22R is smooth, at around 11:20. After turning on to the taxiway, we head down toward the threshold of 32R, and then stop. The captain announces that the plane ahead of us is still at the gate, so we sit there for 20 minutes. I have an excellent view of the 32R departures though. First is a JAL 744, impressively kicking up snow as it barrels past us. I even hear a passenger behind me exclaim an obscenity as he marveled at the wake it left.
Next: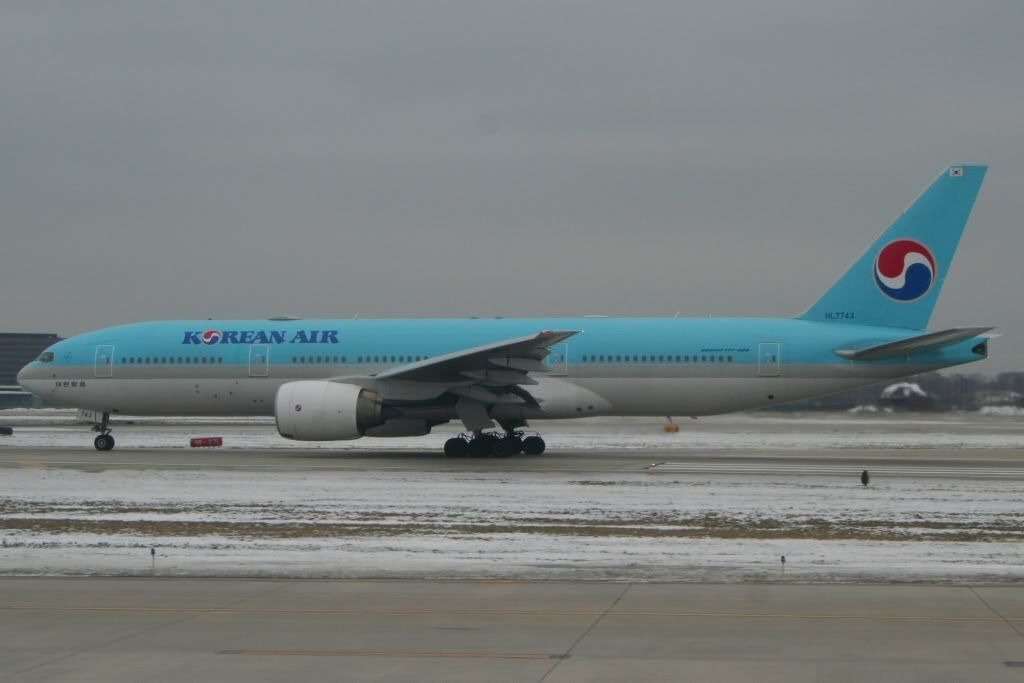 After that: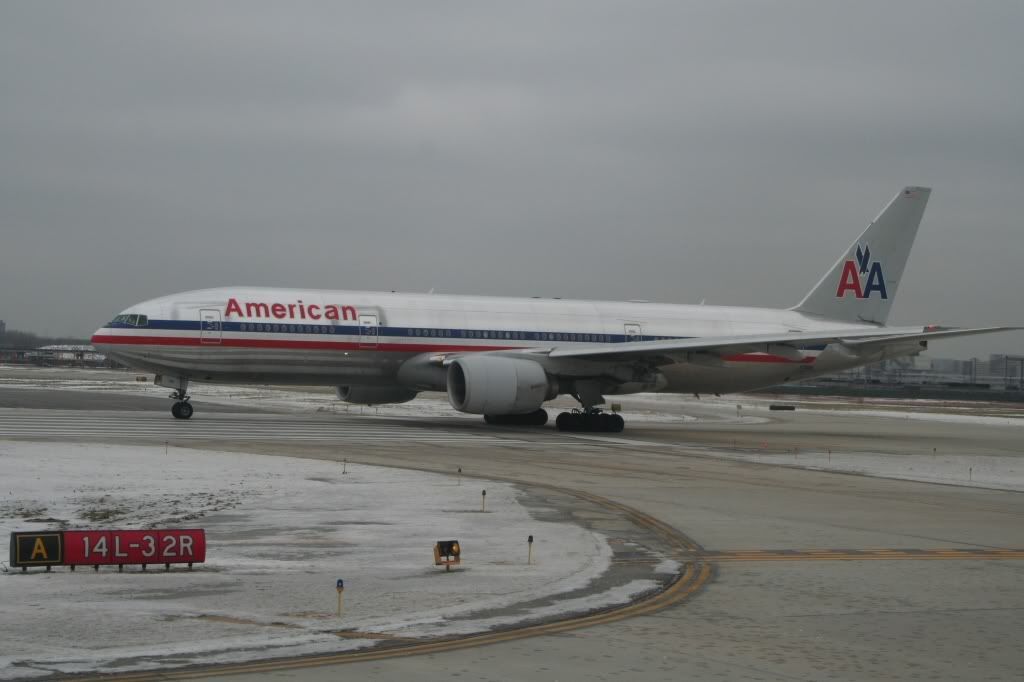 I also see a UA 744 touchdown in the background during all of this. Finally, we learn our gate is now vacant, so we head over to K19, pulling in at 11:53.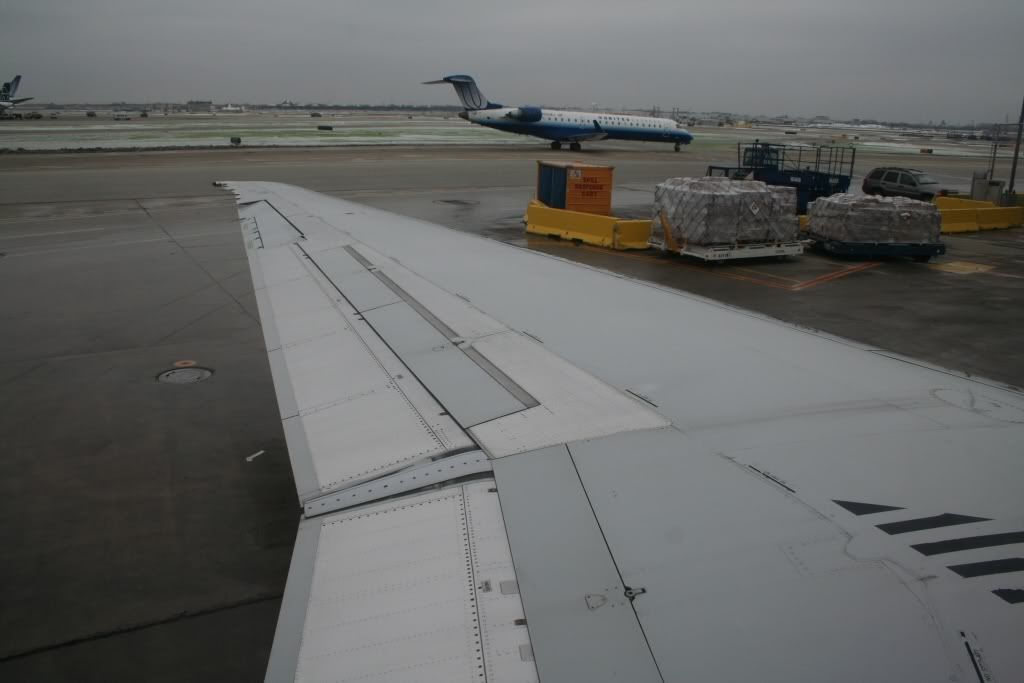 K19 is located at the end of the K pier, and it boasts a very long, jointed jetway. View from the terminal: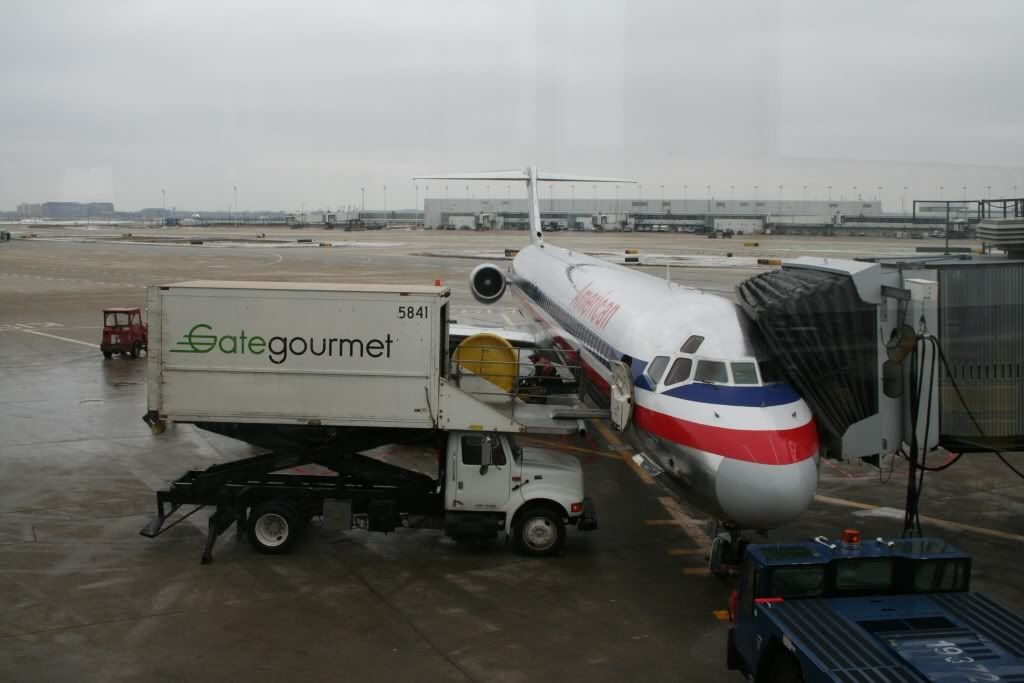 This plane is now headed to AUS.
ORD is bursting with activity at this hour. Over 2/3 of the gates seem to be filled, and nearly every one has an MD-80. I pass departures for DEN, LAS, LAX, and LGA, to name a few. I see a lone 757 [with winglets no less] so of course I venture over to see where it's headed among this sea of Mad Dogs. I assume West Coast or Florida, but I am surprised to see the gate marked for Steamboat Springs. I'm aware that those ski markets need a 757 just for performance reasons, with those small runways and steep ascents, but I still find it funny that Steamboat Springs lands the only 757 in sight.
Once I've had my share of looking at this departure bank, I exit the secure area and head outside. I walk down to the Hilton, on property, in order to visit the "ORD Chicago" gift shop in the basement. It's about 30* outside, and it's beginning to snow ever so lightly. I take my time in the shop, which is quite expensive, though they do showcase a wide selection of memorabilia. I don't spot any models, so I settle for a few new pins for my collection. I pick up BA, which I've wanted for some time now, IB, a retro UA DC10, and a smiling QF 747. I've still been unable to locate the QF tail pin for my collection, but I figure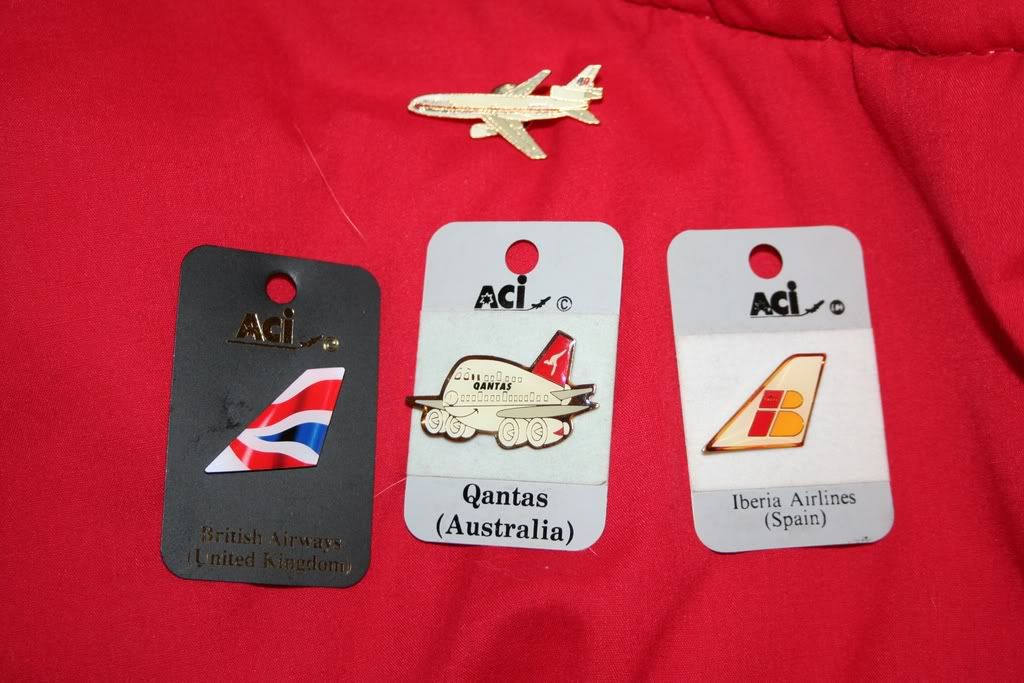 Normally those pins run for $5 at LAS and MCO, but here they're $8. Ouch.
Happy with my new purchases, I return to the security checkpoints, and the lines aren't very long. I pass through the one at the far right end of T3, by the G gates. I stroll down to UA's C gates, which appear to be even busier than the AA gates. I don't remember when, but at some point I snapped this guy arriving at the M gates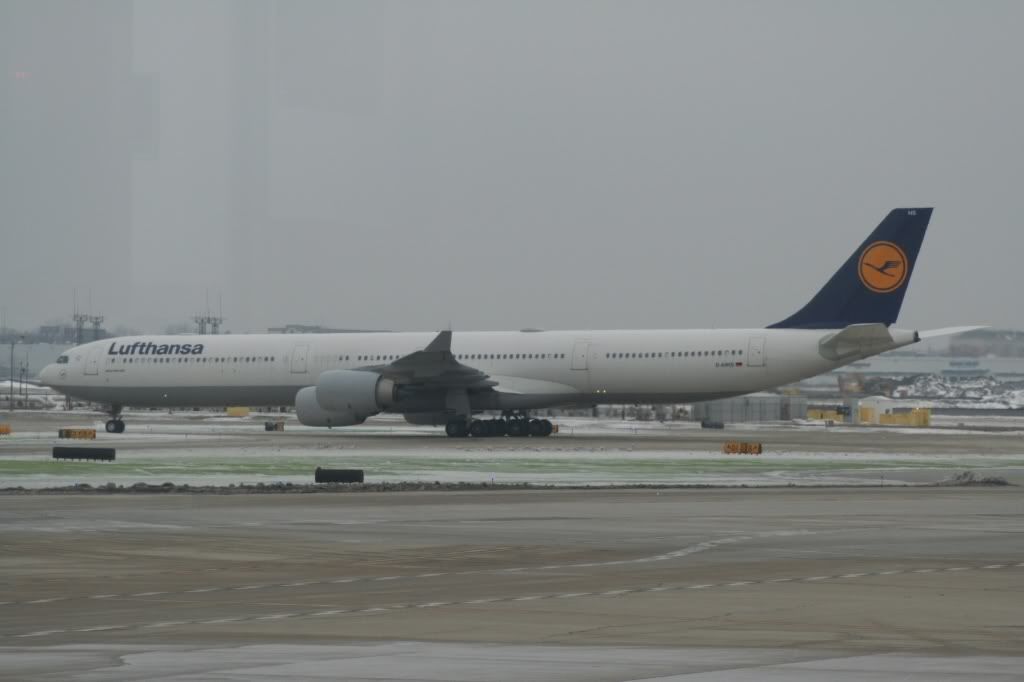 I end up getting McDonald's for lunch, back down at the K gates. Already the international bank is starting to show up. I spot a 763 bound for Rome parked at a K gate. When I finish eating, it's already past 2:00, so it's time to make my way over to G9 for my connecting flight, at 2:40.
Chicago O'Hare-Cleveland
American Airlines Flight 3974
Operated by American Eagle
Embraer EMB-145LR
N925AE (delivered in 2005)
Departs: 2:40 PM (act. 3:10)
Arrives: 4:55 PM (act. 5:10)
Flight time: 45 minutes
Load factor: 95-100%
Flight path: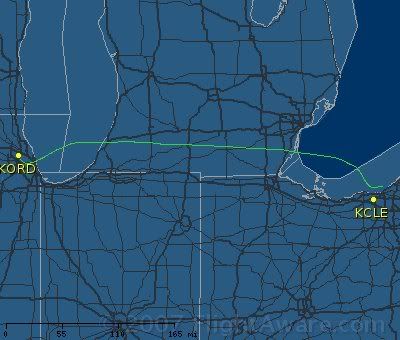 I don't recall seeing any vacant seats on board, but there may have been a couple behind me so the load is just a guess. The inbound a/c is late, it gets in close to 2:30. The way G9 is situated, I was not even able to see that the gate was empty when I got to the gate area. There are no announcements, but soon enough the departure board is updated to show a new departure time of 2:50. Boarding doesn't even start until 2:40. I am excited because this is my first Embraer jet of any sort. I've been on 4 CRJ's before, but I had always wanted to try the infamous 'A' side seat on an ERJ, to get both a window and an aisle seat. Today I finally have my opportunity. I get seat 14A, part of boarding Zone 2.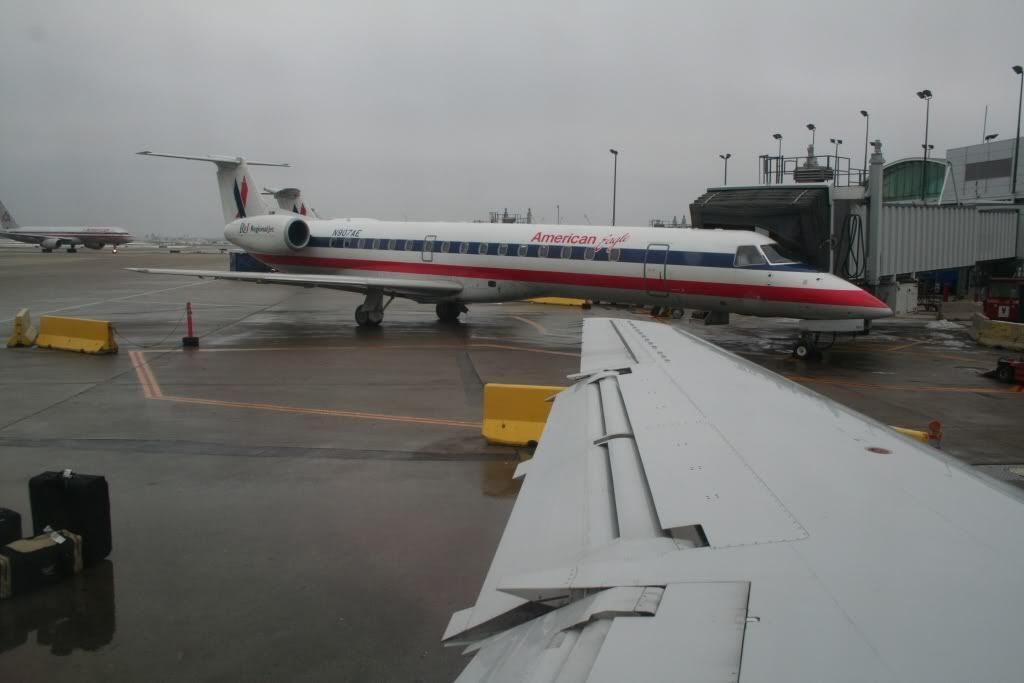 Our flaps are still extended, and the captain soon informs us that it's the case because they encountered some ice on their decent, and that we'd be getting a visit from the deicing truck prior to departure. Boarding the aircraft is an adventure, since I am 6'4 and I have to duck significantly from the doorway all the way back to the rear of the aircraft where my seat is located. The FA wryly smiles as I and the other vertically gifted passengers negotiate the ceiling. The door closes once everyone's on board, and I see the jetway get pulled away, but we still sit in place for a while as we await the deicing truck. When it does come, they treat the planes beside us as well. I don't even have that great a view. Since they concentrated heavily on the wing, my window view was obscured by the cloud of pink vapor. After our neighbors were also deiced, and the one on starboard side pushes, then we're cleared to push. We head directly down to 22L. No other departing aircraft are ahead of us, but we need to wait for 2 other aircraft to land before the runway is ours. It's a powerful takeoff, and we're quickly airborne. As soon as our gear is up, we immediately take a relatively hard turn to the left. We also reach the clouds in no time, and almost the instant we break through on the other side, we hit 10,000 feet.
The scenery looks the same for this flight as it did for the last hour of the last flight. This time, though, we cruised at only 25,000, so the clouds were a little closer.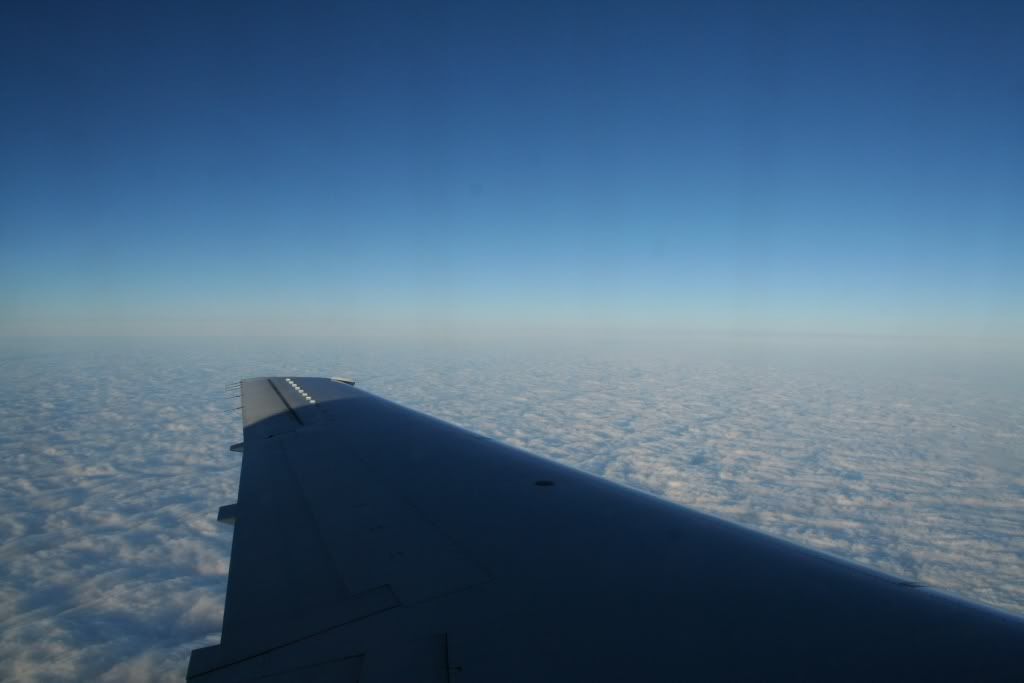 A few minutes before we reached cruise and the seatbelt sign came off, the drink service commenced. The FA warned us in advance that we were not very well catered. I believe I ordered another soda or orange juice on this segment, but my memory is a little fuzzy now 3 days after the fact. Anyway, this flight blows by fast too. Eagle has the usual American Way and SkyMall in the seat back pocket, as well as a third magazine, Latitudes, exclusive to Eagle. I notice that every page has both English and Spanish translations of each article, something you usually don't see in other US carrier's seat backs.
It strikes me funny when the captain announces "Will the flight
attendant
please prepare the cabin for arrival," rather than the usual plural form.
Just like in ORD, we don't get below the cloudcover until moments before landing. We come in on 24R, and then do not retract our flaps even after we turn off, likely for deicing again. The taxi back to the gate, just like the one in ORD out to the runway, was unusually bumpy, I could feel every little bump on the concrete. If we ran over a quarter, I could probably tell you if it were heads or tails. For both taxis I overheard a person on board ask their seatmate whether we blew a tire. I don't know if that's par for the course for just ERJ's or all RJ's in general. It's been 2 years since my last CRJ so I don't recall. I expect us to pull into A3, which seems to usually get the ORD flights, but instead we pull into A1, which most often handles the DFW CR7's.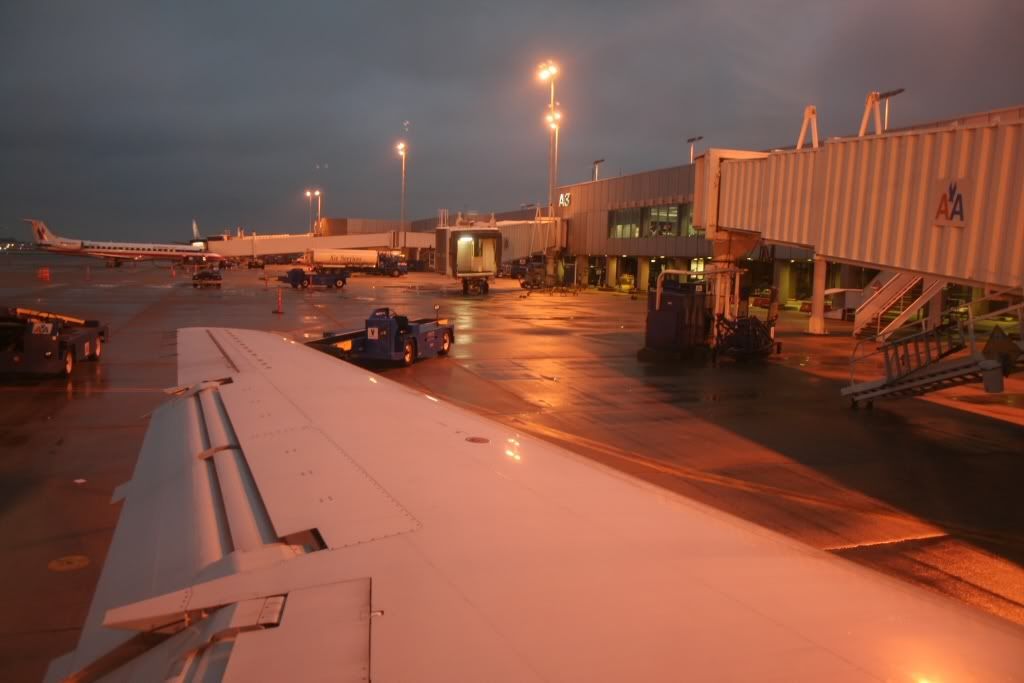 It's nice flying on a small jet because my bag doesn't take long at all to reach the baggage carousels.
Overall, I give AA good marks for this journey. I know I lucked out, getting through O'Hare with precipitation in the area during the winter with no real disruption, as I prefer transiting through DFW when I go AA. I'll get to press my luck again in January, when I do the reverse itinerary again through ORD, with a comparable layover length.
Thanks for taking the time to read!