This past weekend, I flew to BKK for the first time. I also wanted to try some other airlines 777 service.
15 Dec
NRT-BKK
TG 777
At NRT Terminal 1 was remodeled, and it's South wing houses all the Star Alliance airlines. It was very nicely done, and the facilities are very modern.
My flight was due to depart NRT at 9:45AM and I wanted to get to the airport plenty early as I was flying on a ZED (Zonal Employee Discount) pass. Although availability on the flight looked good, I wanted to give myself plenty of time. I arrived at NRT about 1 hour before departure and was dismayed to find there was a long line. There was nothing I could do but wait, but an agent was walking around with a sign for TG 943, the earlier flight. She took me over to another desk, and I gave them my pass. The agent told me to come back at 9:00AM, although she said the flight looked good. Then she told me she could check me in now, which she did and gave me a boarding pass with seat 56K. It was a window seat which I preferred. All Star Alliance airlines leave from Terminal 1.
TG 777's have been repainted in a new design. Here are some pics of the 777.
My seat was in the last compartment in the airplane, several rows from the last row. The cabin crew was composed of both men and women, mostly of Thai descent. There was a Japanese speaker in our cabin.
As I like to do, I asked a flight attendant if it would be possible to visit the cockpit. I showed her my AA retiree card. She said she didn't think it would be possible but she would check for me. Later, she came and informed me, along with the purser, that it would not be possible, because of security.
We pushed back on time, and took off to the north from NRT. We made a right turn and headed south toward BKK.
Because of my being on the right side of the plane, I could see NRT as well as Fuji San, shrouded in clouds. It was a bit hazy so I did not take any pics of these.
The flight took us in a southwesterly direction, where we flew east of Japan, over Taiwan, east of Hong Kong, over Vietnam, Laos, and into Thailand. I would have liked to see Hong Kong, but it was covered with clouds.
The inflight service on TG was very nice. We were give choices of either a beef or fish dish for lunch. I found the seats (they were made by Recaro) comfortable, with adequate leg room. There were sandwiches served before landing in BKK.
My only complaint was the in flight entertainment. There were no PTV's in our seats and even on the main screen, no flight map to show us our flight stats. I'm glad I had my new iPod Nano with me.
The flight was uneventful, and soon we were on our descent into Bangkok's Suvamarbhumi Airport. This airport was opened a little over a year ago and I found it very modern. We had a long walk from our gate to immigration, but I cleared it quickly and met my friend. It had been quite cold in Tokyo, but it was quite warm and humid in BKK.
Bangkok is an interesting city, with canals, temples and it is a mecca for shoppers. I noticed a lot more foreigners, particularly Americans there, than I do in Tokyo. Here are some pics from Bangkok.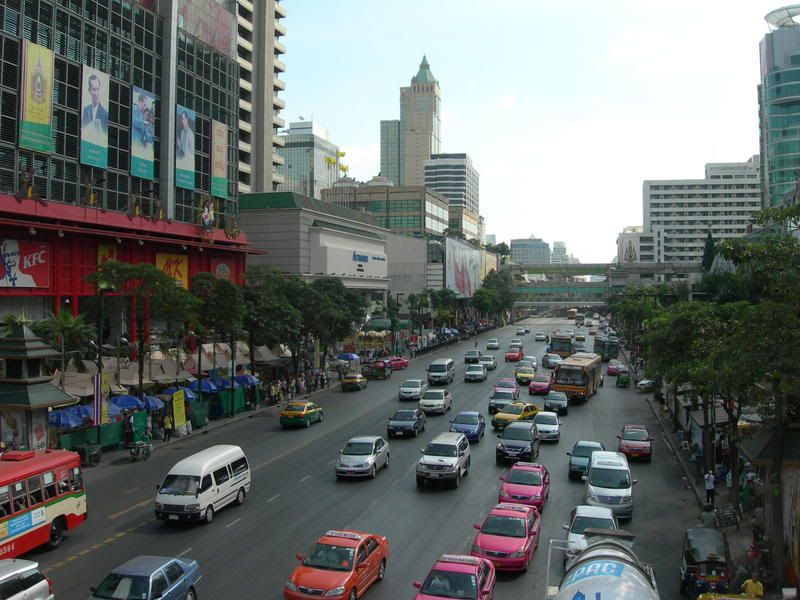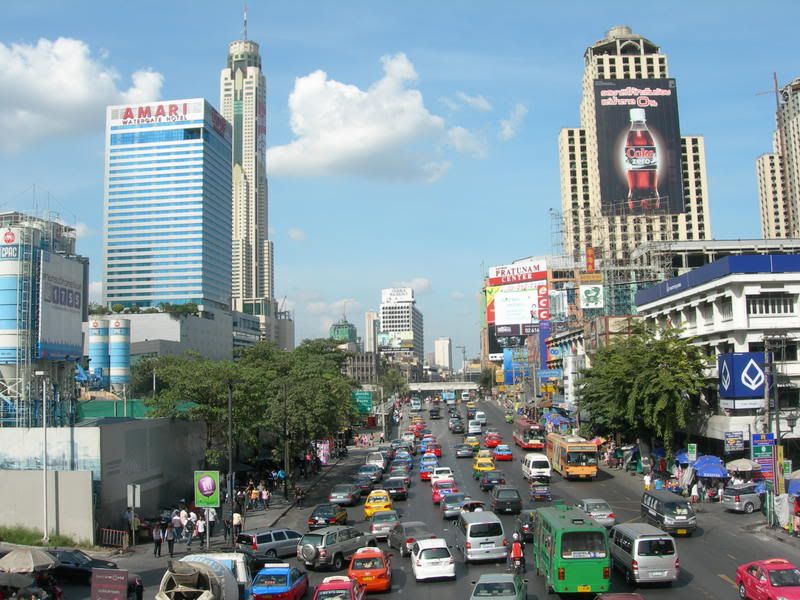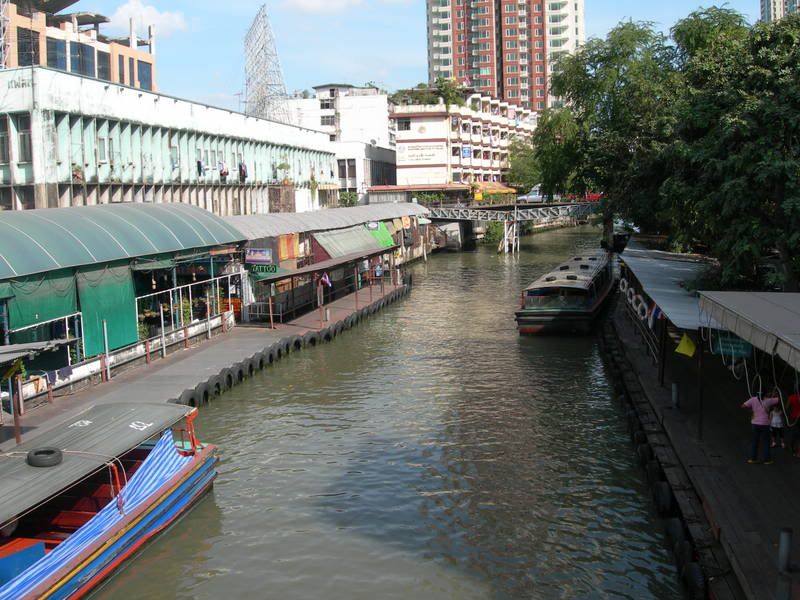 If you ever go to Bangkok, I highly recommend you take the Chaophraya River Cruise. You will have nice buffet dinner, and get to see several temples from the boat. It is popular because we had to try a few different lines as they were sold out.
16 Dec
BKK-NRT
NH 777
It was soon time for me to return to NRT. I flew NH this time, because I wanted to try another airline's 777's. I have flown NH 777's before on domestic flights, and they were very good.
Like NRT, BKK also has a dedicated check in areafor Star Alliance airlines. I checked in and one thing I like about NH is that they always ask me my seating preference, even though I'm just flying as a non rev. I appreciate this and I prefer NH to JL for this reason, although JL's service is also very good. I was assigned seat 20K.
Bangkok's Suvamarbhumi Airport has a lot of stores, once you clear passport control. I might add that I found it strange after clearing passport control that there was no security check. That is because you go through security before you enter the departure concourse.
In the departure I talked with the captain as the crew was waiting to board the aircraft. He told me the flying time to NRT would be 5:17. I also asked him if it would be possible to see the cockpit but he told me it was prohibited because of security. I think that cockpit visits are a thing of the past. It was always very easy before 11 September, but that changed everything. The captain was very nice about it, and I chatted with him again after landing at NRT.
This flight was a midnight departure. I noticed several other airlines, Star Alliance carriers mostly, like TG, NH, UA, OS, SK and LX, but also some OneWorld airlines like CX, QF and BA. Quite a number of flights were departing late at night for Europe.
The cabin crew on this flight, like I have noticed on other JL and NH flights was all women.
On this flights each seat had it's own PTV. We were a little late leaving and in taxiing out there were LH and KL 747-400's, and a TK Airbus 340 ahead of us.
I was hoping that the nosewheel camera would be turned on before takeoff. The Japanese carriers have this, and it is the closest you will come to sitting in the cockpit. Unfortunately it wasn't turned on. Another thing was I noticed other airplanes in line, and it looked like the cabin lights were dimmed. Not so on our flight. As a matter of fact they weren't turned off until after the flight attendants finished their beverage service.
As I mentioned, each seat had it's own PTV and this flight was my first experience with AVOD. There was a nice selection of video and movies, and the airshow map. Of course I listened to my iPod Nano.
On this flight there was no dinner (I'm glad I ate something in the terminal before!), and there was breakfast served before landing.
I was sitting on the right side of the plane, and I always enjoy looking out at the Pacific ocean and the stars, of which they were too numerous to count. I also enjoy watching sunrise and after 3 hours it started to get light. By then we were less than 2 hours before landing at NRT. My only complaint is that while it was still dark out, and I was enjoying watching sunrise, the flight attendants abruptly turned on the cabin lights full blast. It was not done gradually, or like I hear several of the newer 777's have mood lighting. That would be nice.
I will include some pics of sunrise for you.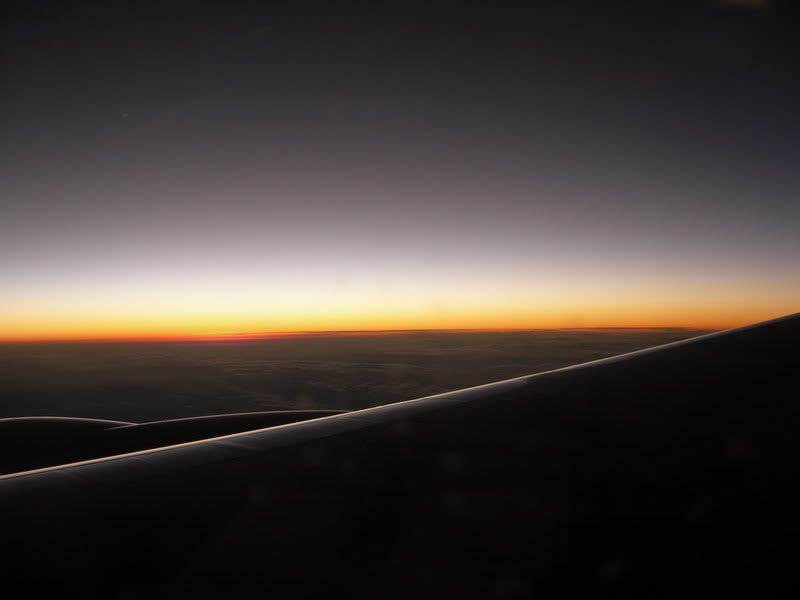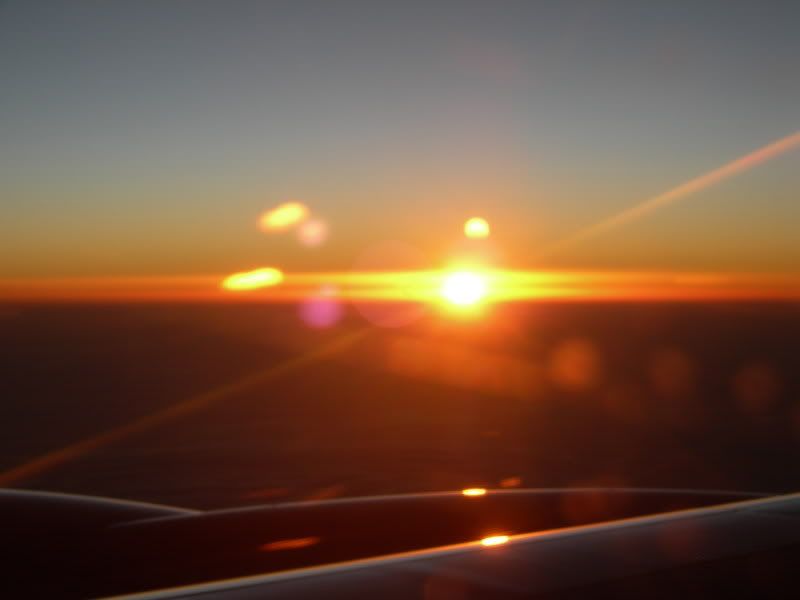 Soon we began our descent into NRT and we made our approach to the south. For the first time, in over 7 years I got to land on the longer runway, 16R. This is because, AA has to land on the other runway 16L/34R. This would mean a 20 minute taxi when we were at Terminal 1, especially when landing to the north.
We taxied to the gate, and I noticed a TG 777-300 taxiing in.
Here are some pics of my NH 777.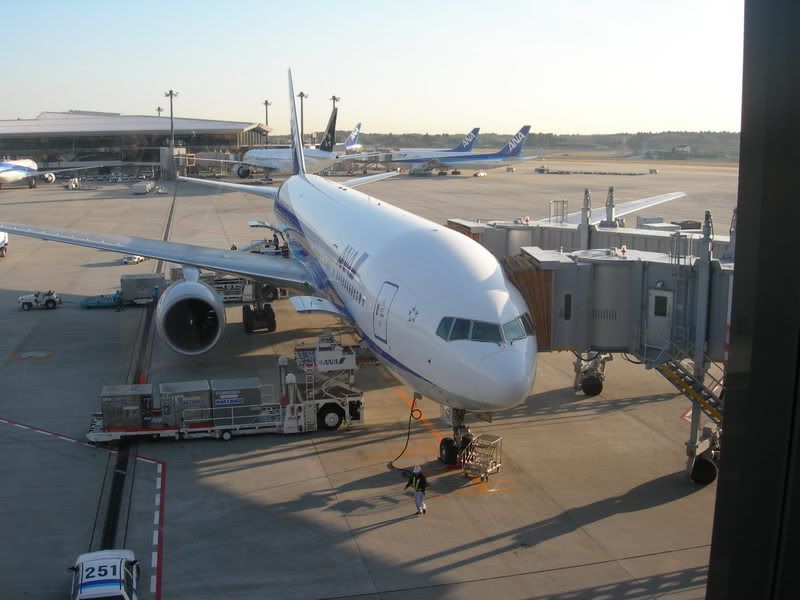 I always prefer the Asian carriers, because their service is so good; even in economy class. I really have no complaints against their service. The only negative points were the no PTV's on TG and the cabin lights being on for takeoff and abruptly turned on later on NH. Otherwise I was very pleased with the service on both carriers and would not hesitate to fly them again. If asked which one I prefer, I would choose NH. I have flown them several times domestically and there service is very good, so I'm gladI got to try them on a longer flight.
Hope you enjoyed this report and comments are welcome.